Choosing the perfect gift for your loved ones can be a daunting task. What do you get your nieces and nephews who seem to have every toy in the world for their birthday? What do you get your dad for Father's Day when he says he doesn't need anything? Candles are great, but isn't there something else we can get our friends for their housewarming? The answer is simple: custom picture frames!
A custom picture frame is unique, thoughtful, and never goes out of style! The best part about designing a frame on our interactive Frame Designer is that we truly leave the customization up to you! From picking what size frame you want to the matboard around your photo, and even the type of paper your photo gets printed on. We'll take care of the hard parts like building your frame and putting it together.
So if you have a special event, occasion, or holiday coming up that you need a gift for, look no further. We're sharing with you a list of occasions and some inspiration on what to frame for them. So let's get right to it!
Valentine's Day
Sure, chocolate and roses are great for Valentine's Day, but why not try something new this year? Here are some ideas on what to frame for your loved one this Valentine's Day
💗 Free Valentine's Day Art! 💕
Subscribe to our mailing list for exclusive goodies, fun quizzes, framing tips and tricks, and so much more!
1. Frame Your Wedding Photos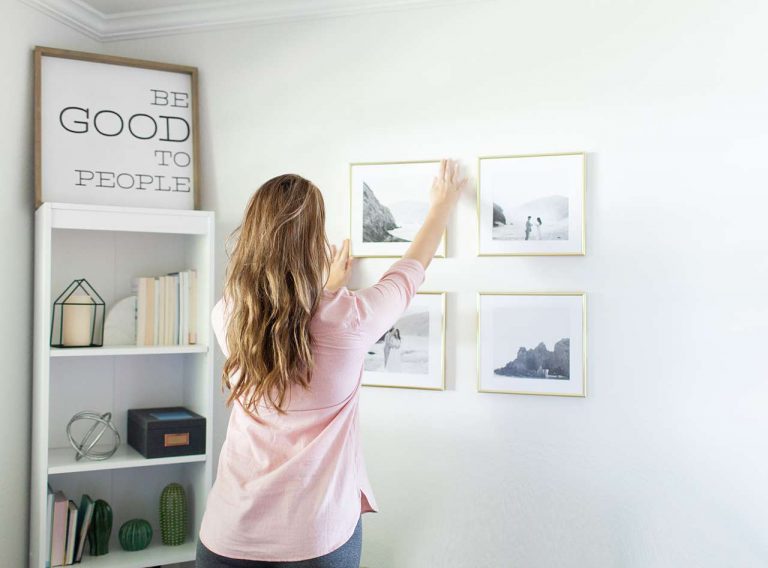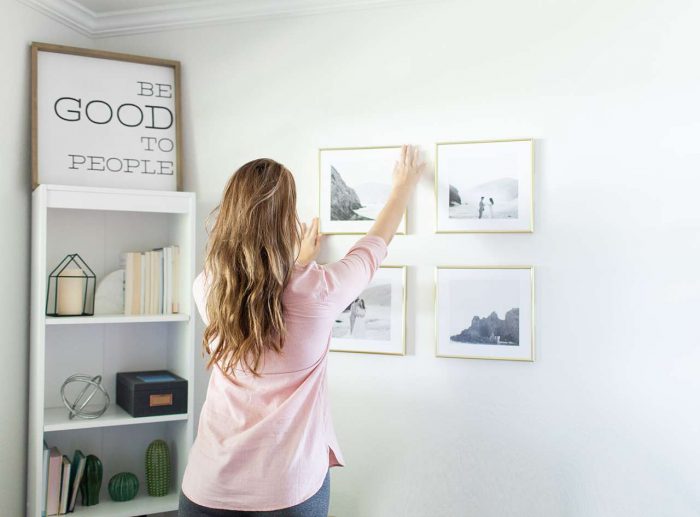 On average, hundreds of photos are taken during every single wedding, yet how many of those actually end up in a physical form beyond a digital file?
As Mike Yost suggests, capturing memories is one thing, but preserving and showcasing them long-term is something we often forget.
Printing and framing some of your favorite wedding photos as a Valentine's Day gift is the perfect occasion to celebrate your love. We know that narrowing down the photos from your wedding to be framed can be a daunting task. Check out our post in our Learning Center for some inspiration on keeping the memories from your wedding day alive
2. Add Sentimental Touches to Your Bedroom Decor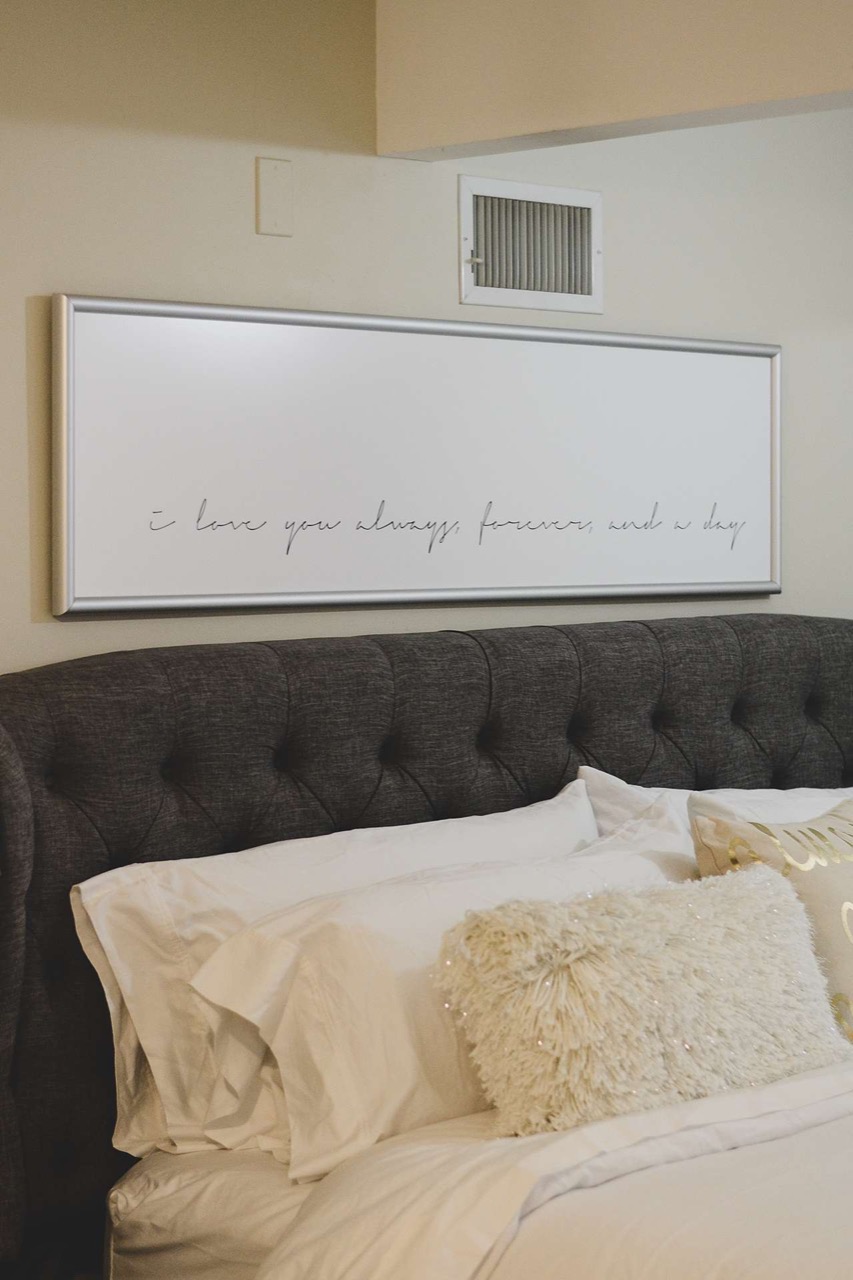 Your bedroom is the perfect spot to add a touch of sentimental decor. Choose a photo or series of art prints that can express your true feelings. Or perhaps frame a print of a saying that means something to both of you. There are tons of places to get meaningful wall decor online, one of our favorites being Etsy.
3. Pop the Question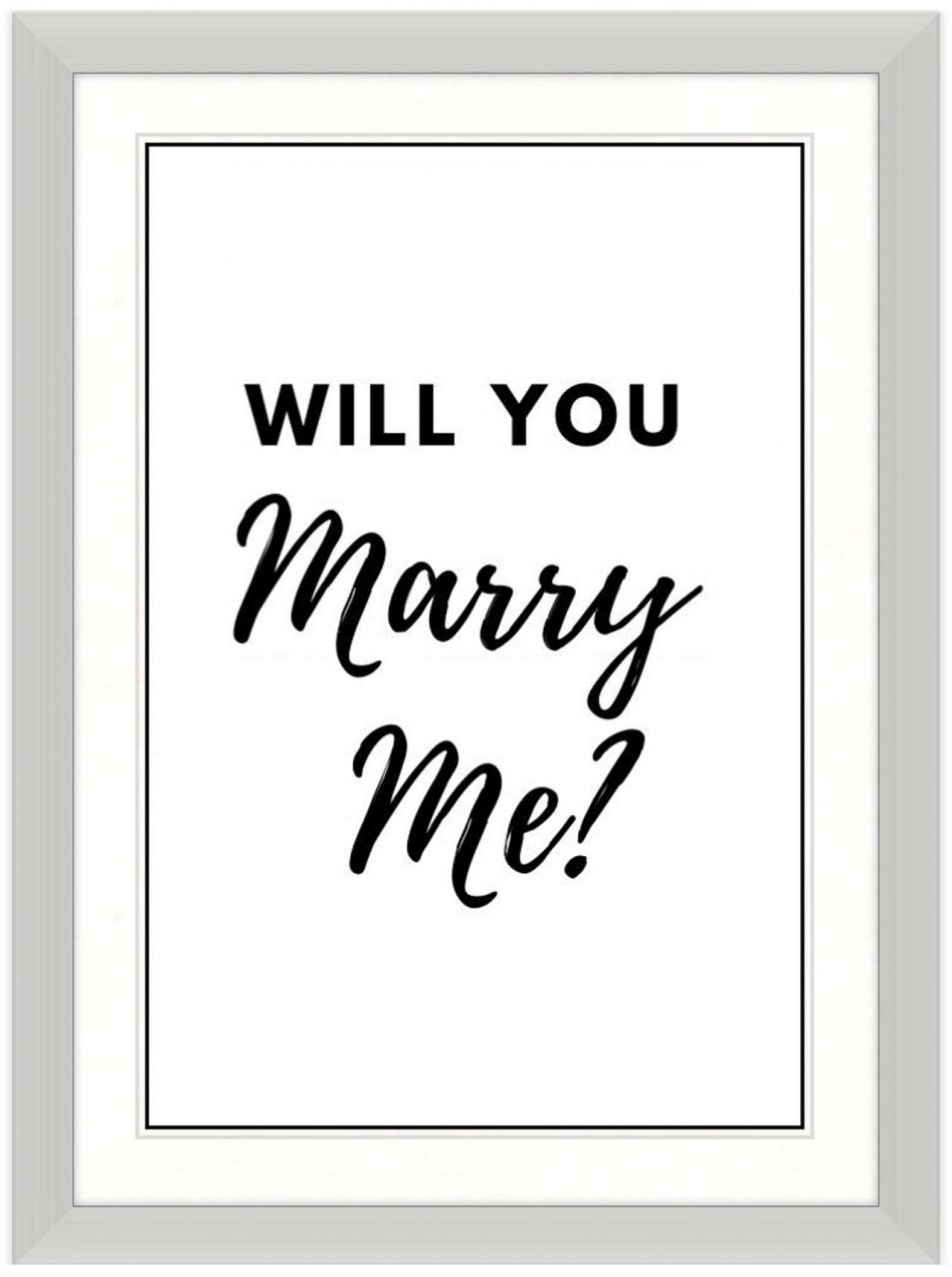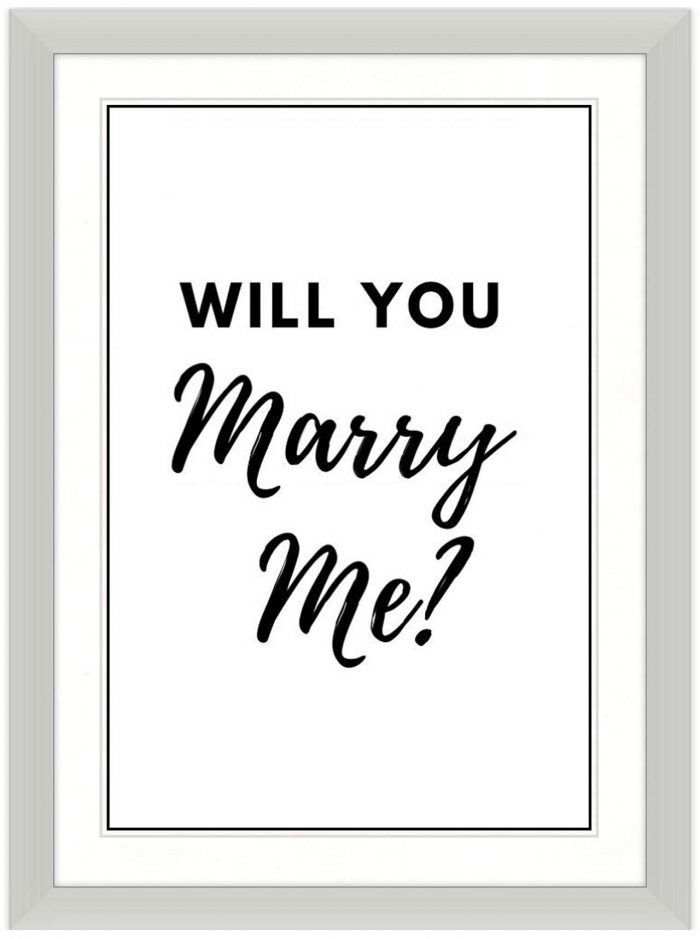 According to a survey, 43% of Millennials say Valentine's Day is their top day to propose or be proposed to. If you plan on popping the question, consider creating a special framed memento you can cherish for years to come. Maybe it can even be the start of a gallery wall of your life together.
4. Create a Gallery Wall of Your Life Together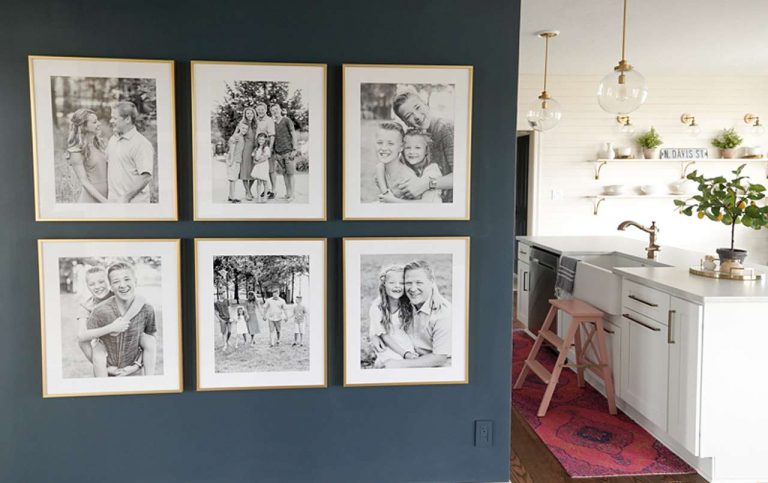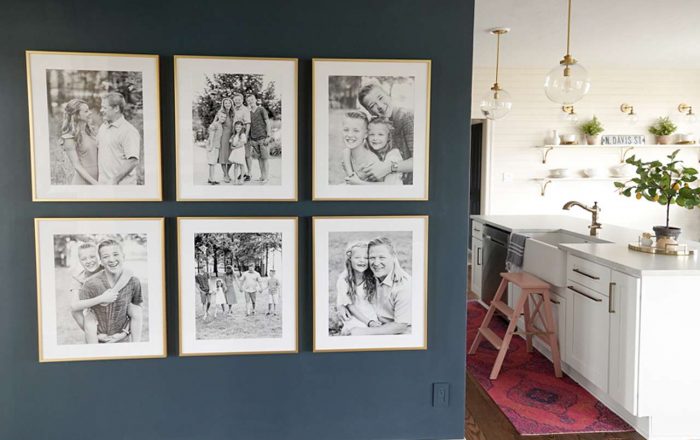 Speaking of gallery walls, they are a great way to showcase a ton of different moments and memories, so creating a wall collage of picture frames from your relationship over time is a fun way to look back.
Tip: You can also combine memories into a digital photo collage to save on space and group similar events.
Make your gift even more personalized with these tips on how to customize your frame after receiving it. Nothing screams "I love you" like a personalized frame!
5. Frame Something Meaningful to Your Relationship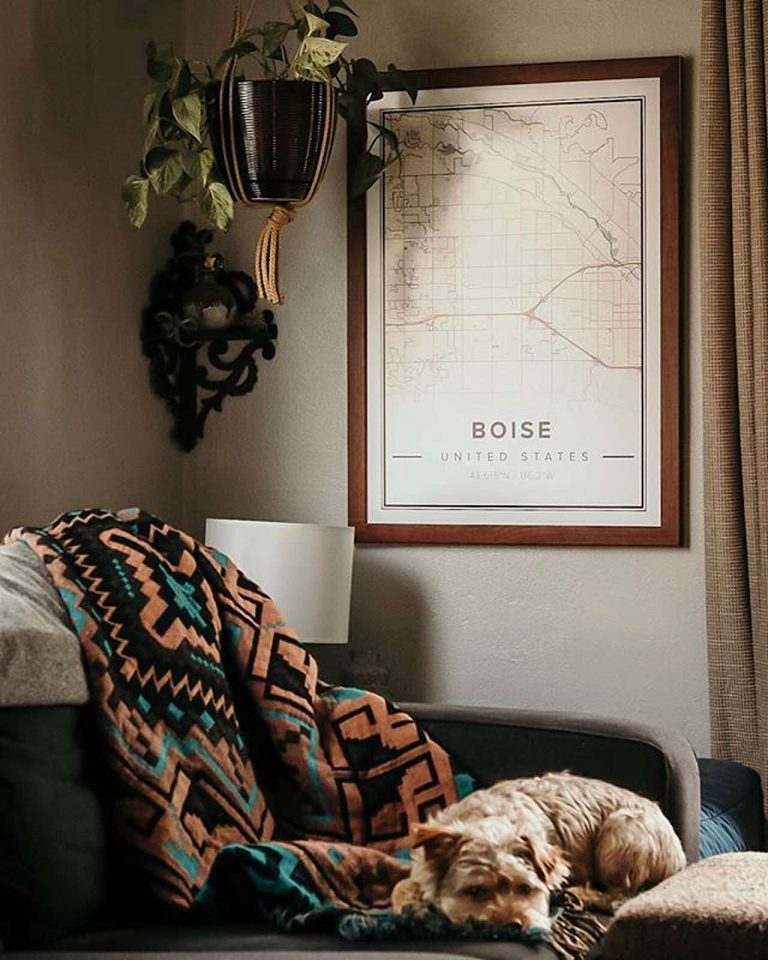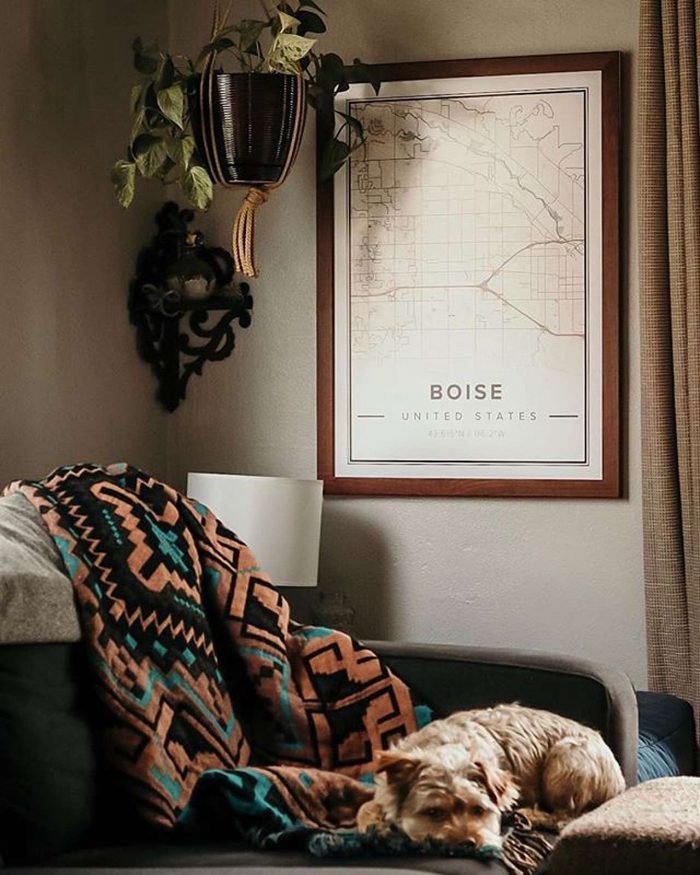 Maybe it's a map of where you met, ticket stubs from your first concert, or a custom piece of artwork you made. Don't be afraid to get creative when thinking about some unique and personalized picture frame ideas.
If you end up using one of our ideas this Valentine's Day, we loved to see them! Make sure to follow us on Instagram, Facebook, and Twitter, and tag us in your posts!
Mother's Day
A Mother's Day picture frame is the perfect gift for Mom, even if she insists she never needs or wants anything. Mother's Day is the perfect time to remind the ones we love about all the good memories we have together.
Think of Your Memories
1. Frame a Family Portrait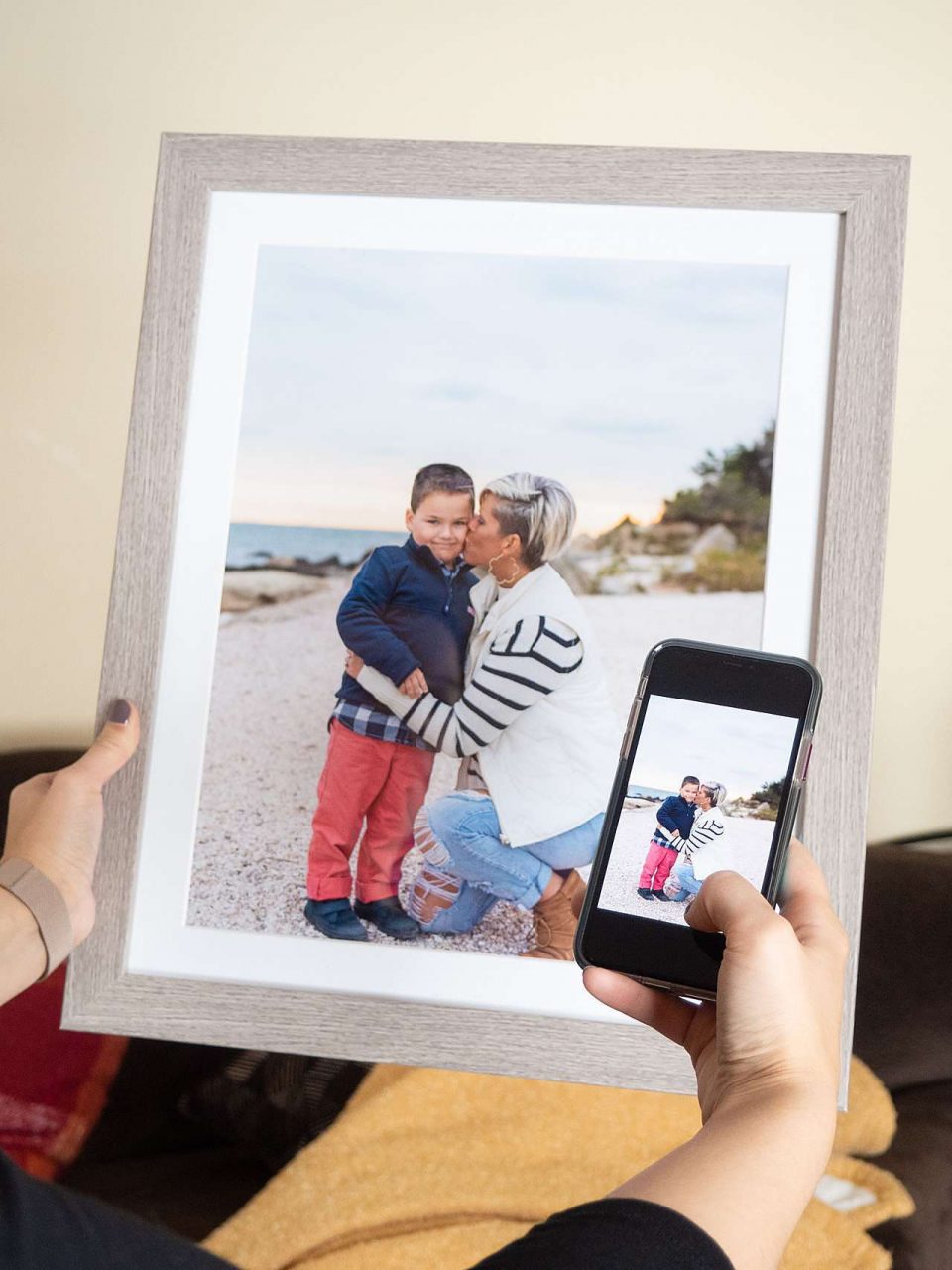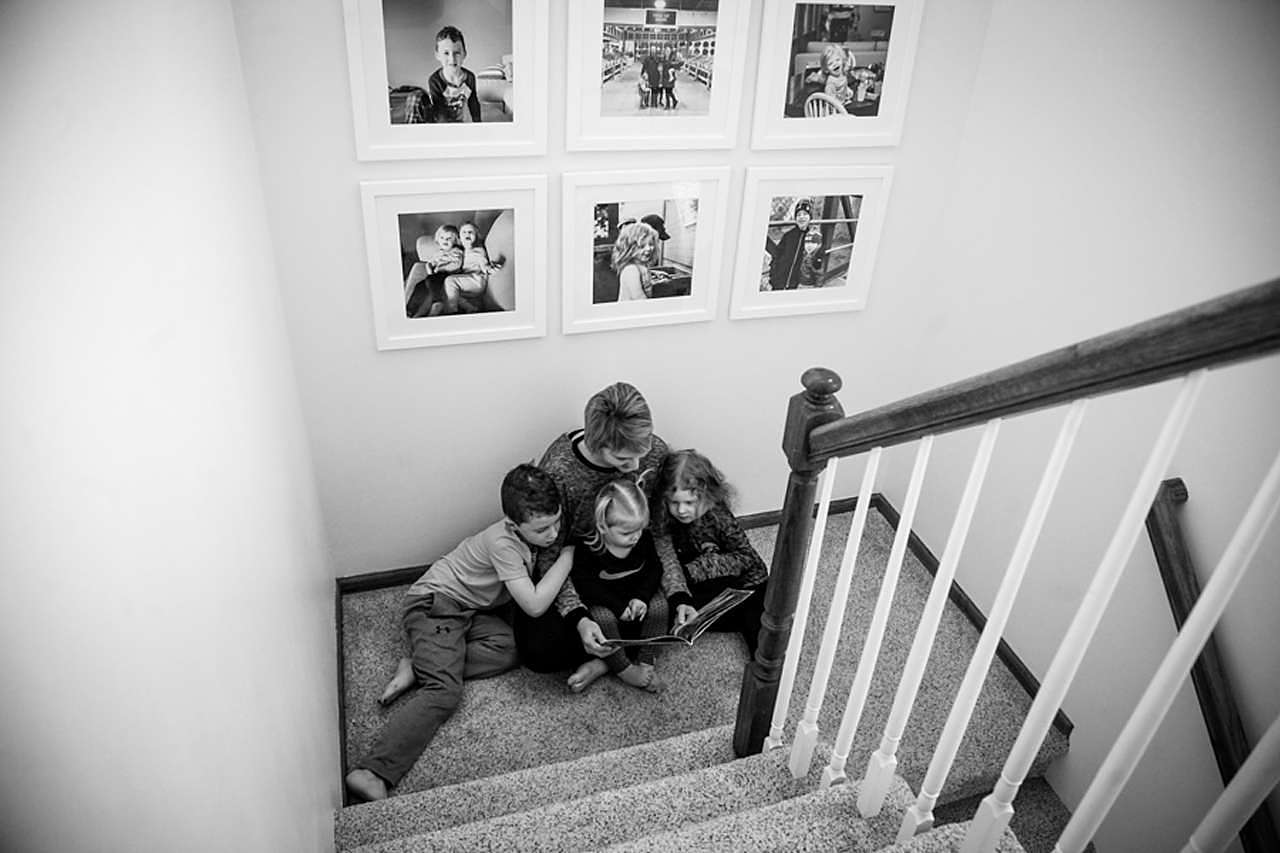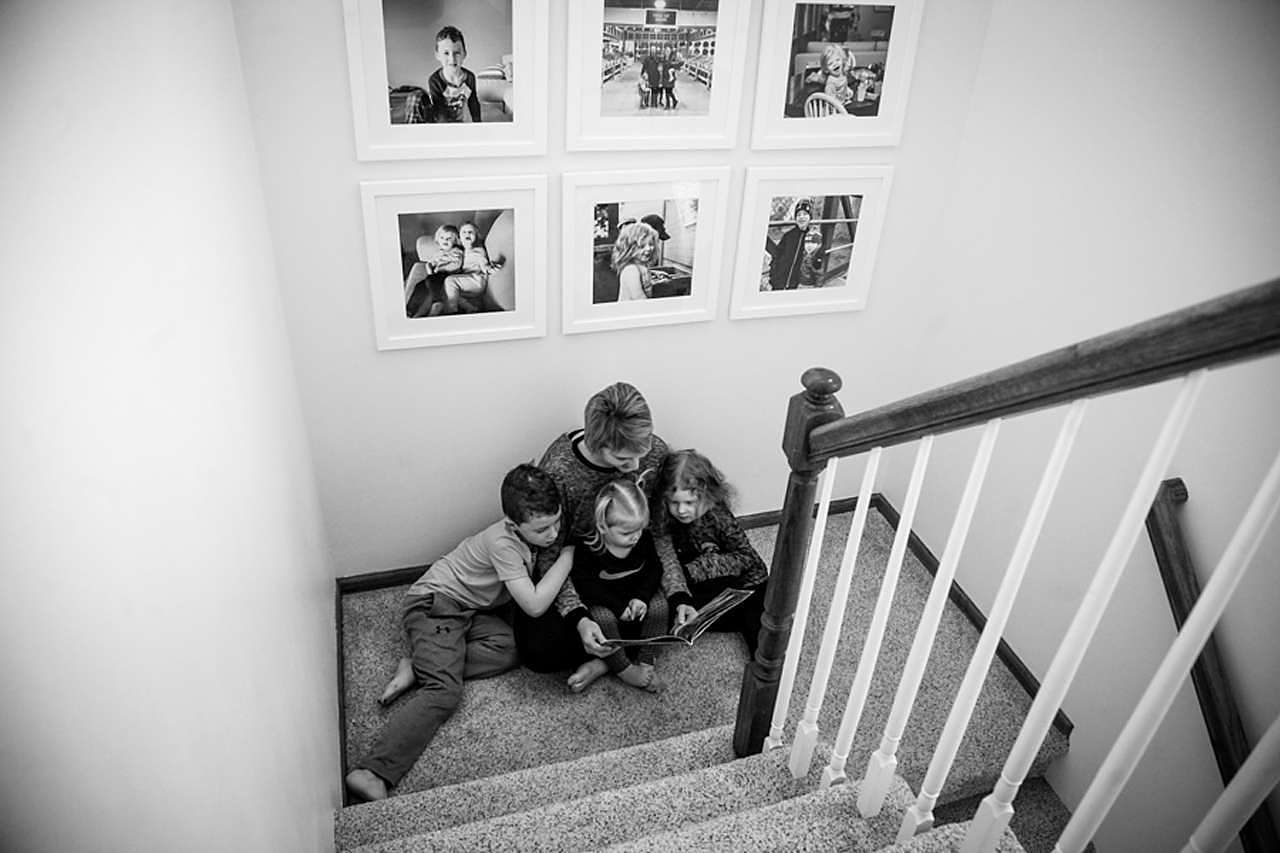 A framed family portrait is a timeless and meaningful gift that will surely be displayed in Mom's place of honor at home. A family photo, no matter how formal, is a time capsule to preserve your family's memories and to remember your loved ones at a certain point in time.
Maybe you have a vintage family portrait of Mom's side of the family, or you have a nice family photo from last Christmas snapped on your phone. Ordering a custom picture frame is simple, whether you are uploading a photo from your phone, or measuring an old photograph to create a frame to match its worth.
2. Display Your Travel Memories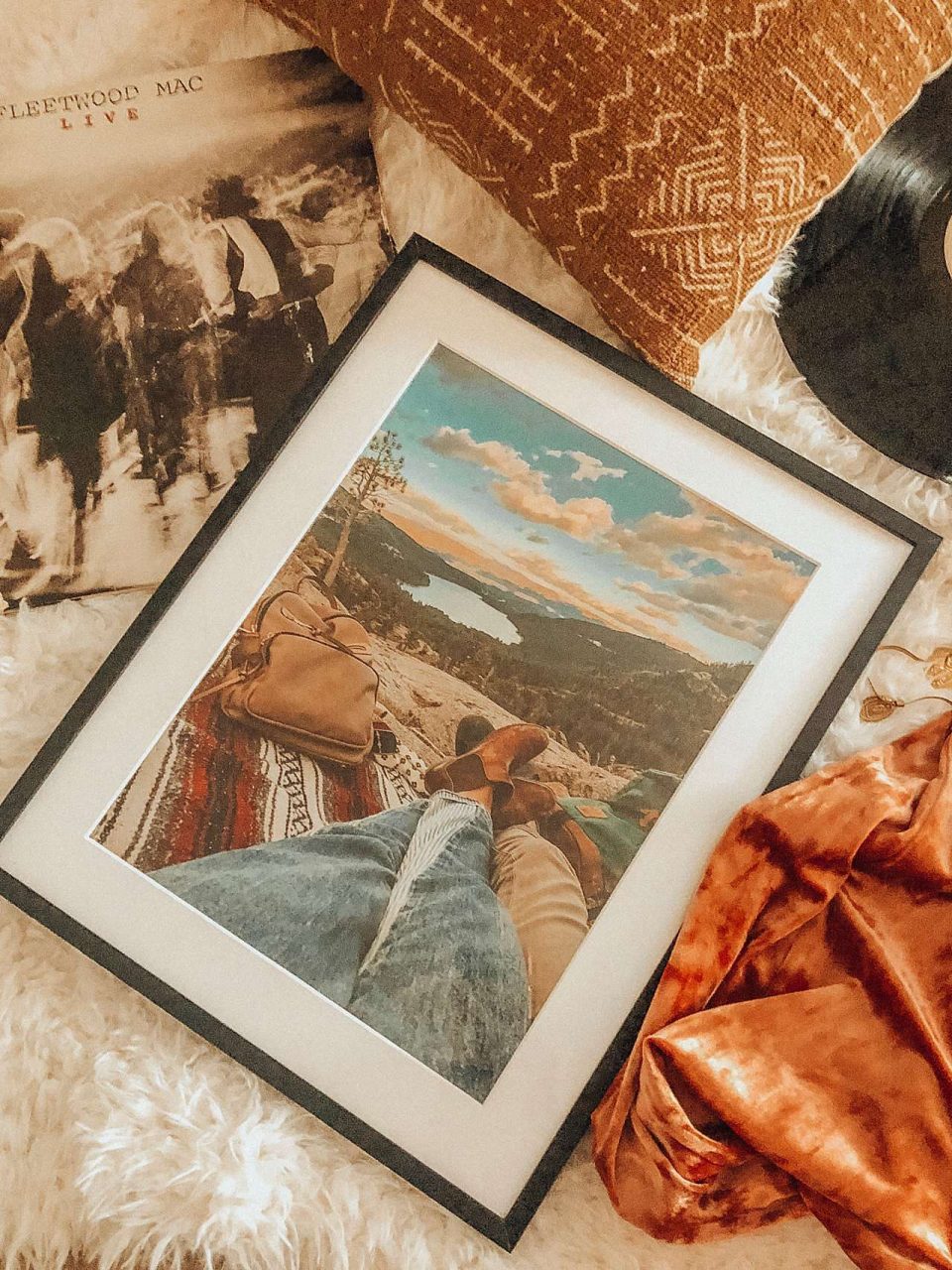 Perhaps the two of you have just taken a weekend trip, or the events of a family vacation from years ago keep coming up at holiday dinners — framing a photo from your travels and shared experiences makes an awesome gift!
Also, think of framing small mementos from your travels, too. For instance, a unique postcard, maps, or metro cards you all used throughout your travels. The shared experiences between you and Mom are everything, so display the memories that hold a special place in both of your hearts.
3. Frame a Throwback Photo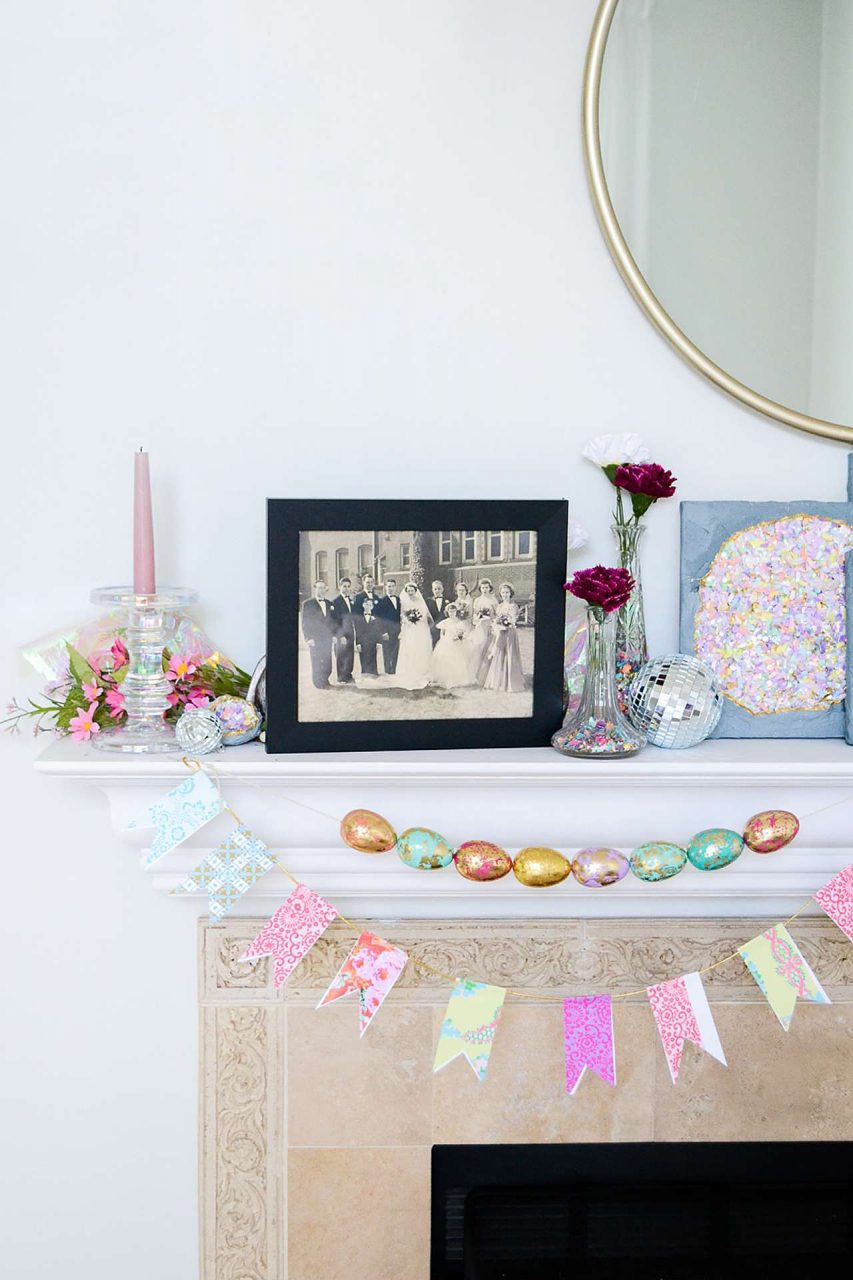 It's time to dive into those bulky photo albums that Mom keeps on her shelf. Find a photo (or a few!) that will remind her of the good times, whether it's from her childhood, your childhood, her college days, or some precious family photos.
A framed throwback photo will truly wow her with how thoughtful it is. Show her you appreciate all the times she's been there for you, as well as the times you might not have been in the picture. Just be sure to take the necessary precautions before framing them, so that they last just as long as the memories will!
What Makes Her, Her?
4. Create a Display of Her Favorite Places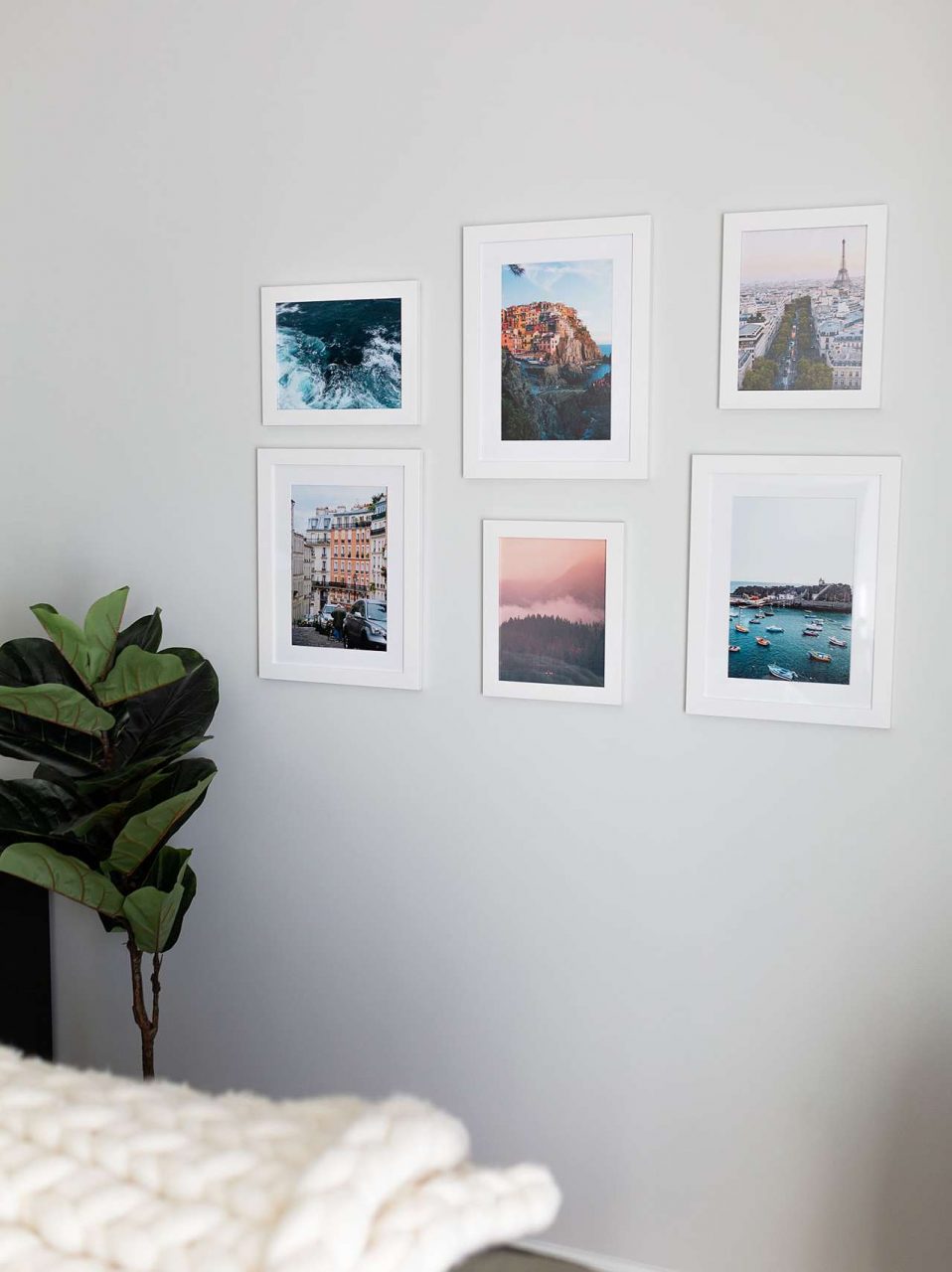 Has she just moved out of the family home of 30+ years? Does she vacation each year to the same beach cottage? Capture the places that are meaningful to Mom in a framed photo, and create a display for her to keep close to her heart.
For instance, a set of panorama landscape photos would make a beautiful gallery wall, or frame a simple and charming photo of home. The possibilities are endless, just think of where Mom loves to be.
If she has a dream vacation spot that she is always talking about, or doesn't have a picture of her favorite place, check Unsplash for free high-resolution photos.
5. Capture Her Hobbies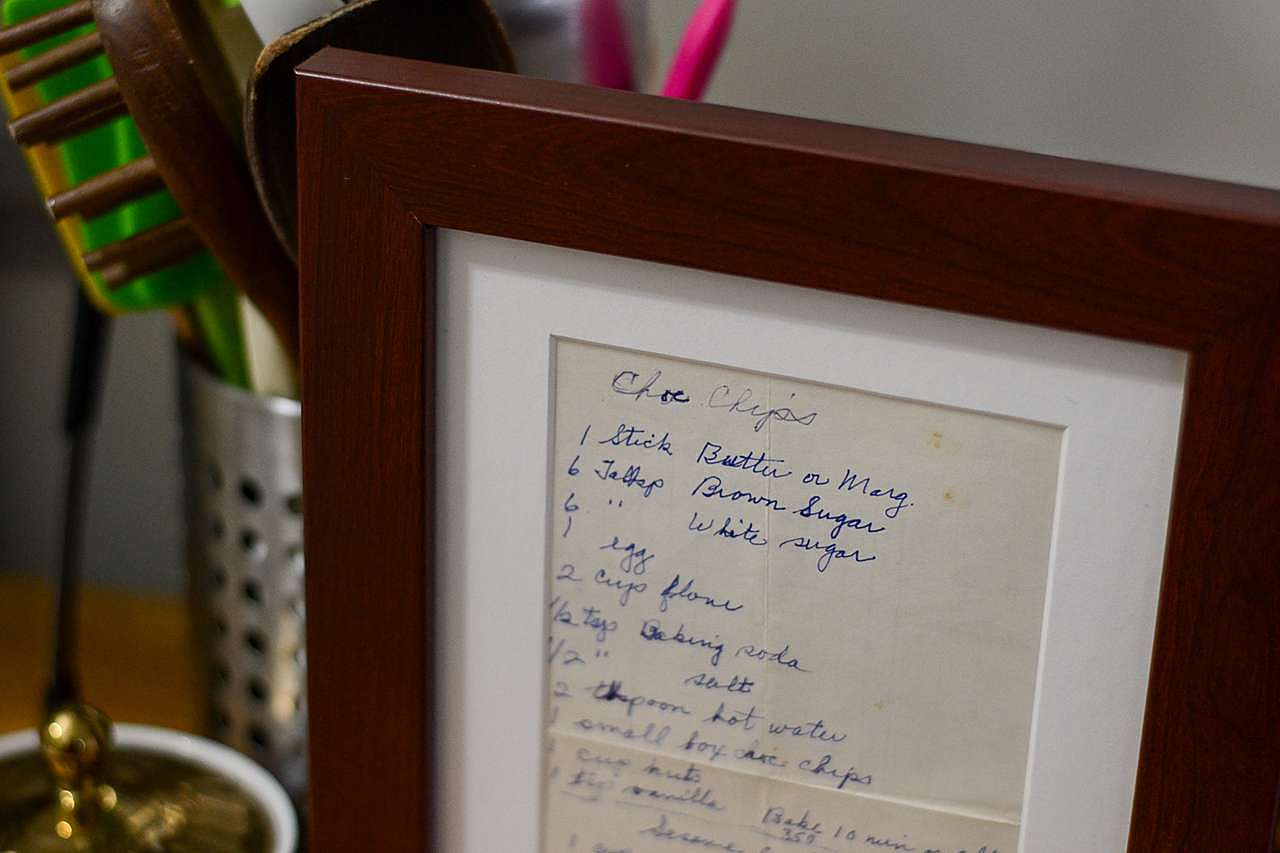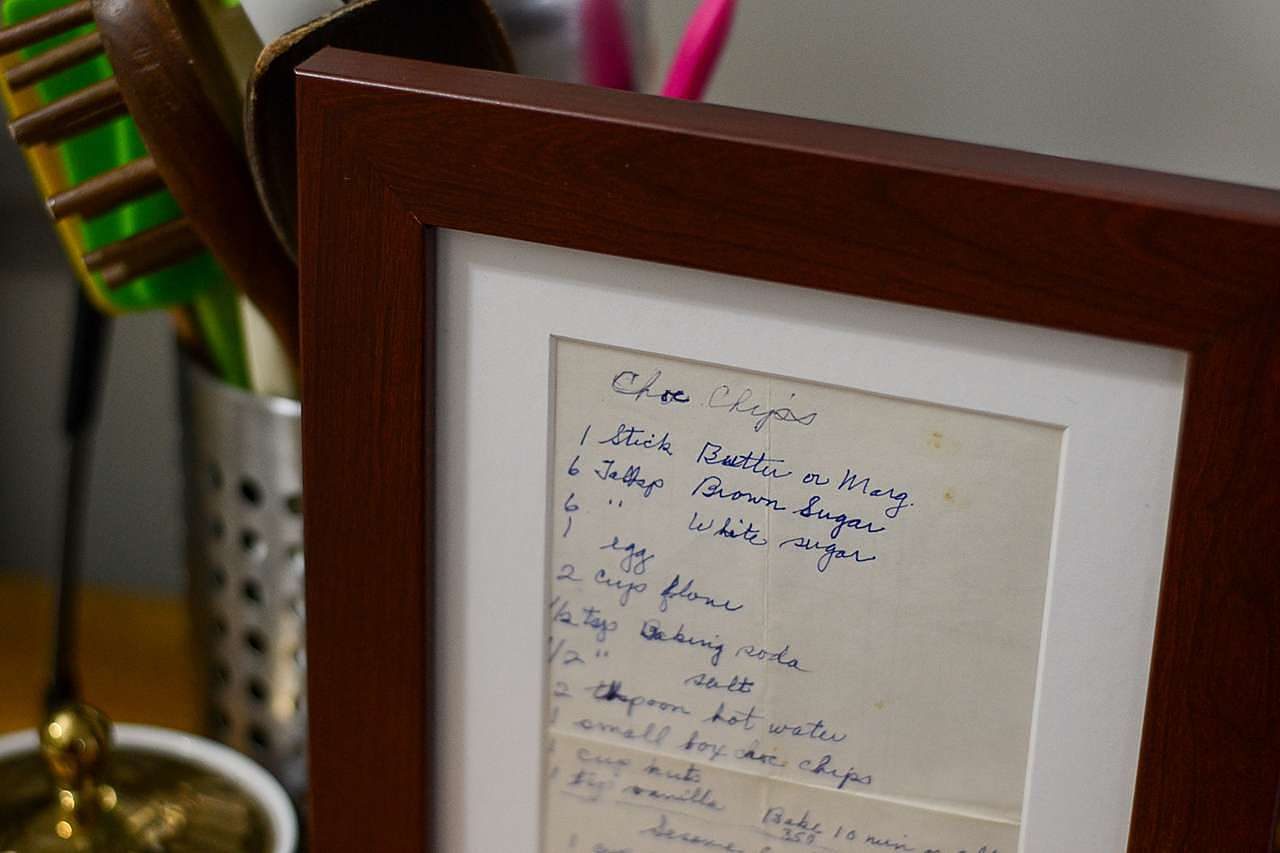 Does she love to cook? Frame one of her family-famous recipe cards. Does she paint in her free time? Display her own original work in a custom frame. Sports? Frame an action shot during a tennis match, or a photo of her mid-pose in a yoga stance.
A memento of how she loves to spend her time is a beyond thoughtful gift for Mom. So show her you appreciate her and everything she enjoys!
6. Frame Her Favorites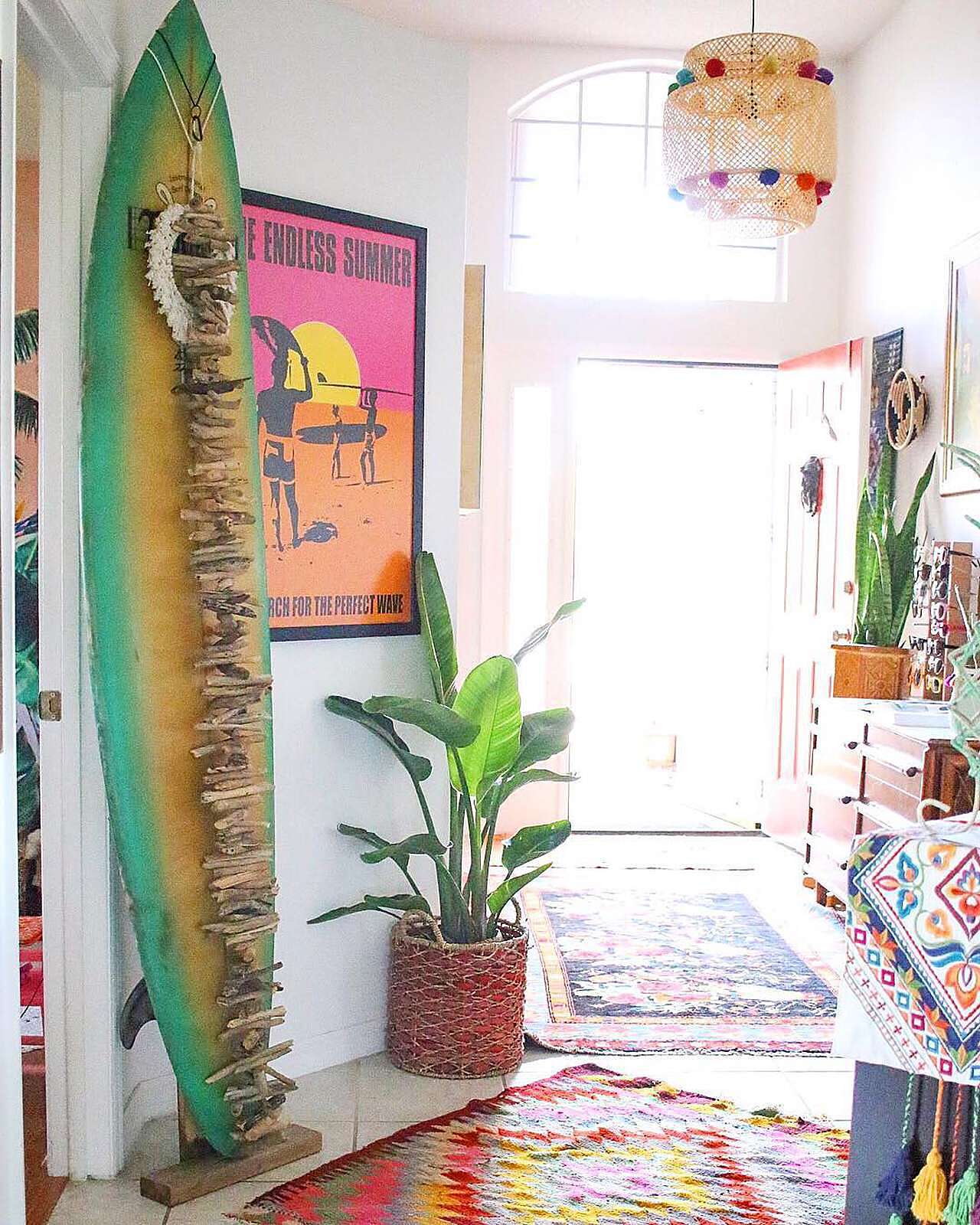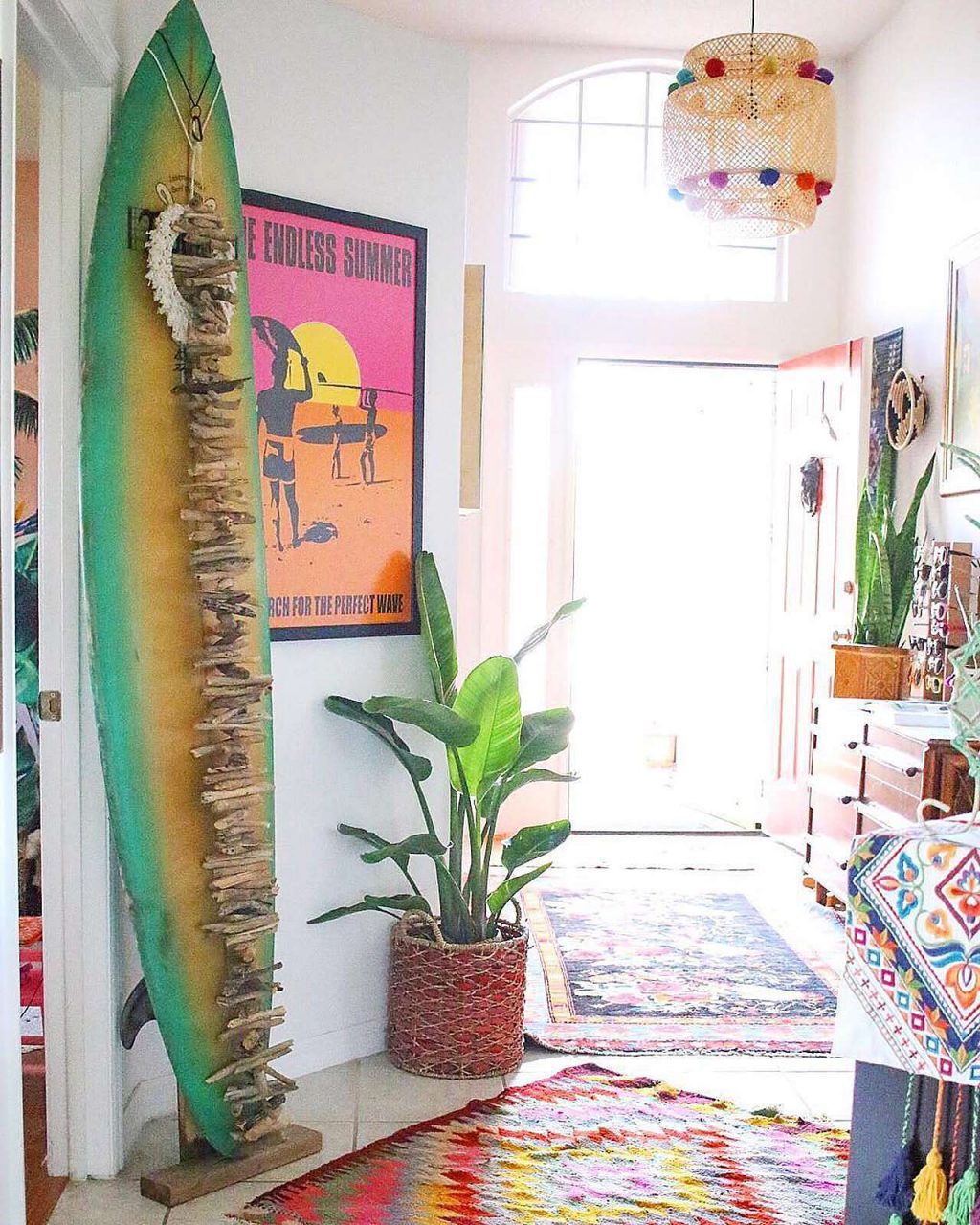 Think of the movies she watches over and over, or the book she recommends to anyone and everyone. Frame a poster or cover of her favorite movie and book to spruce up that empty wall space at home. You could even frame her favorite flowers, that way they last longer, and she doesn't even have to water them!
(P.S. If you need a source, check out our curated guide to find art online. Here, you can find numerous places to find art of all kinds, from pop culture and photography to movies and music!)
What Matters to Her?
7. Frame Her Furry Friend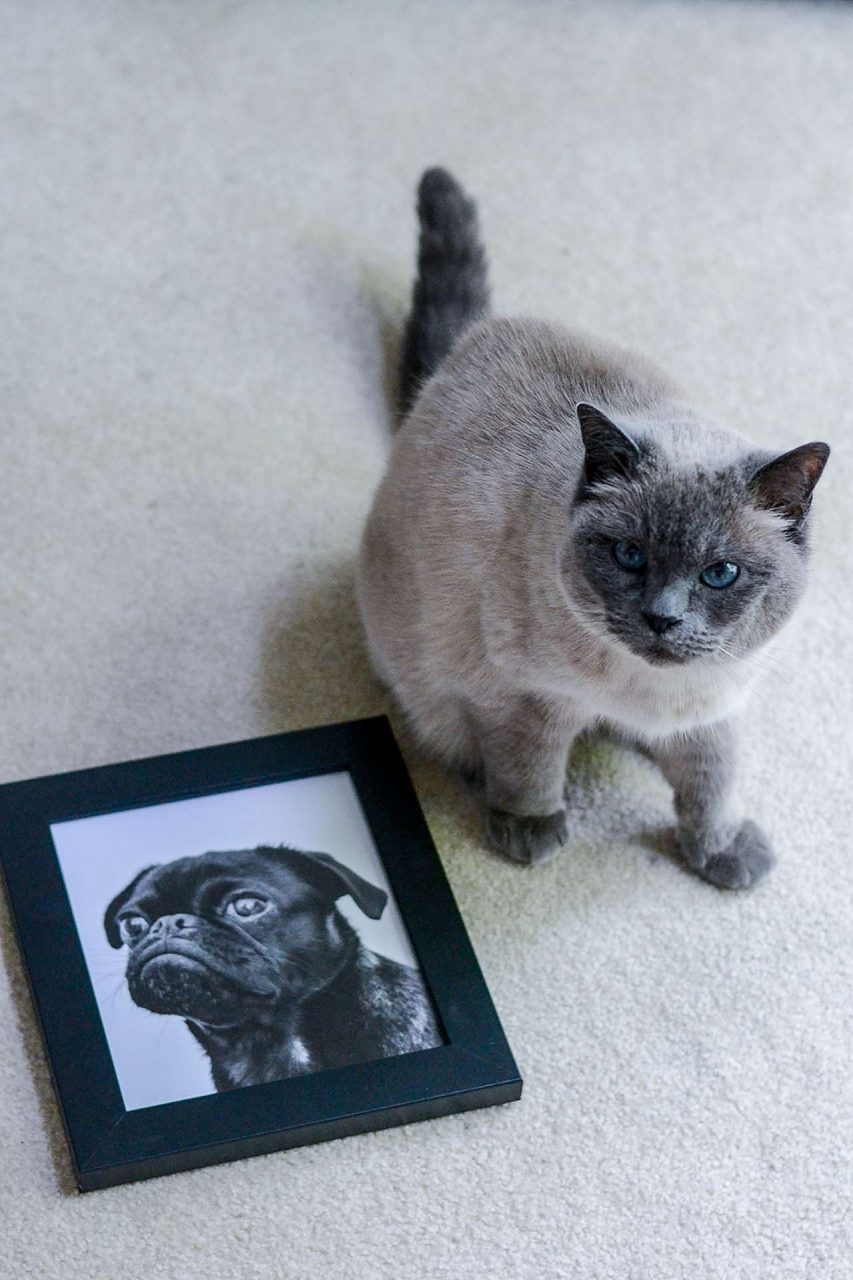 A framed photo of the furry companion she dotes on and spoils would make a lovely gift.
So find that adorable photo of her pet(s), and display them in a custom picture frame for a Mother's Day gift she'll be sure to love.
8. Display Her Old Letters or Postcards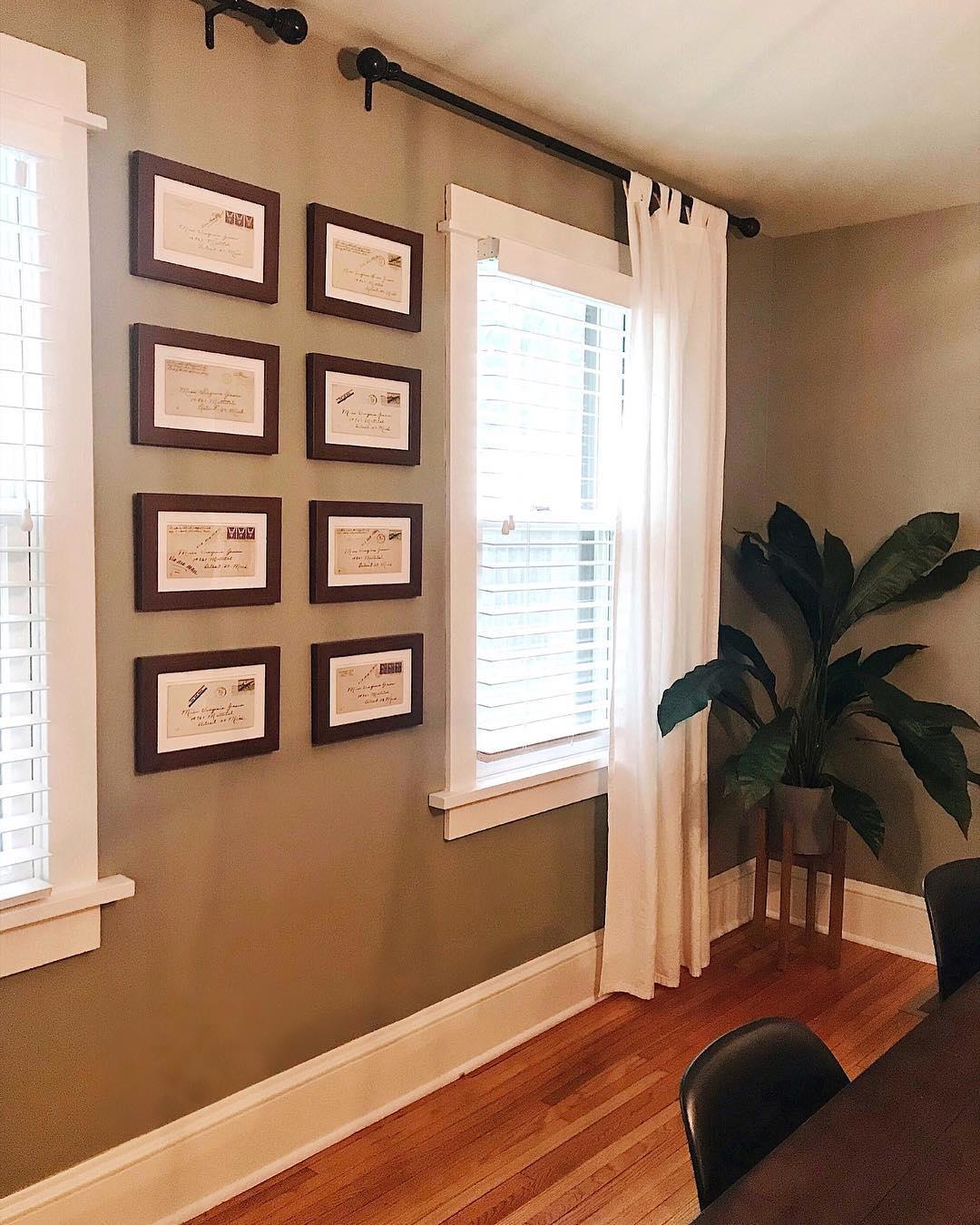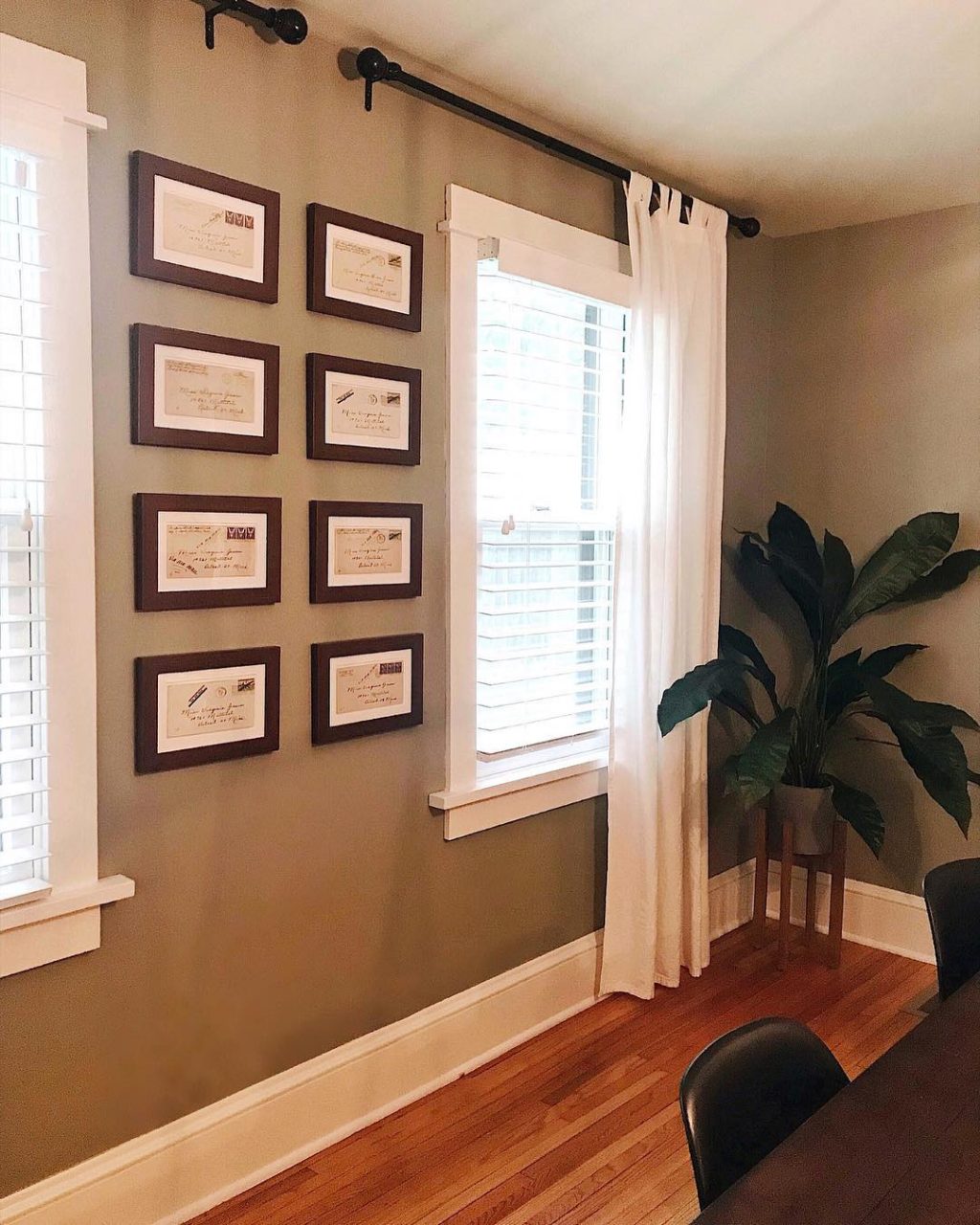 Find her beloved items from that album or box on the shelf, and create a meaningful display. Gifting her a framed display of memories she may have forgotten about makes your present all the more surprising and thoughtful.
In addition, letters and postcards look great in a matted display. Larger matting will draw the eye to the center of the piece and set off its details. (Check out our guide for measuring your art for framing, to guarantee the best results!)
9. Find Some Art Prints She'd Love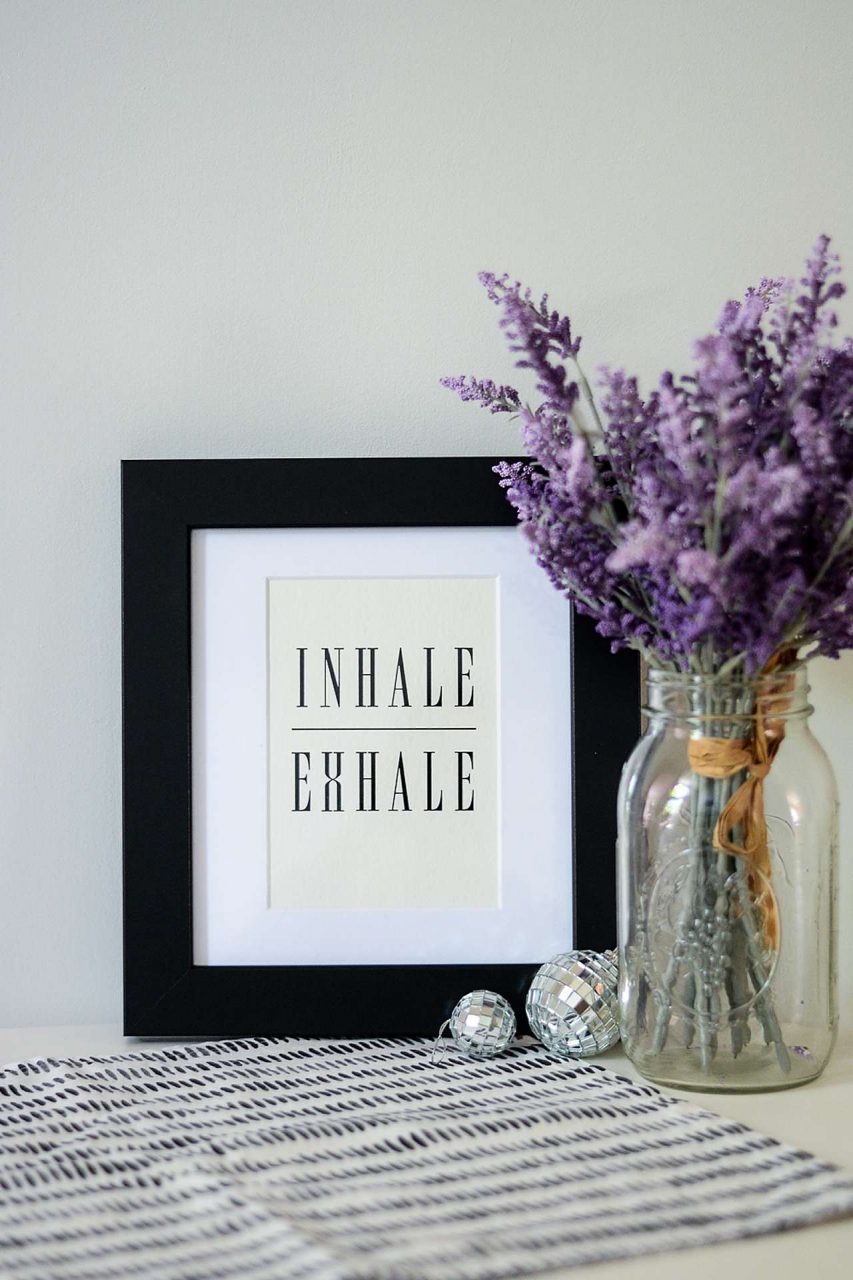 What you frame doesn't have to be extremely sentimental: find and frame a print that would look great in her living room and it's a thoughtful gift all the same!
We have created another guide to where you can find gorgeous and affordable art online, whether you are looking for a photograph, painting, or print.
10. Frame Your Childhood Drawings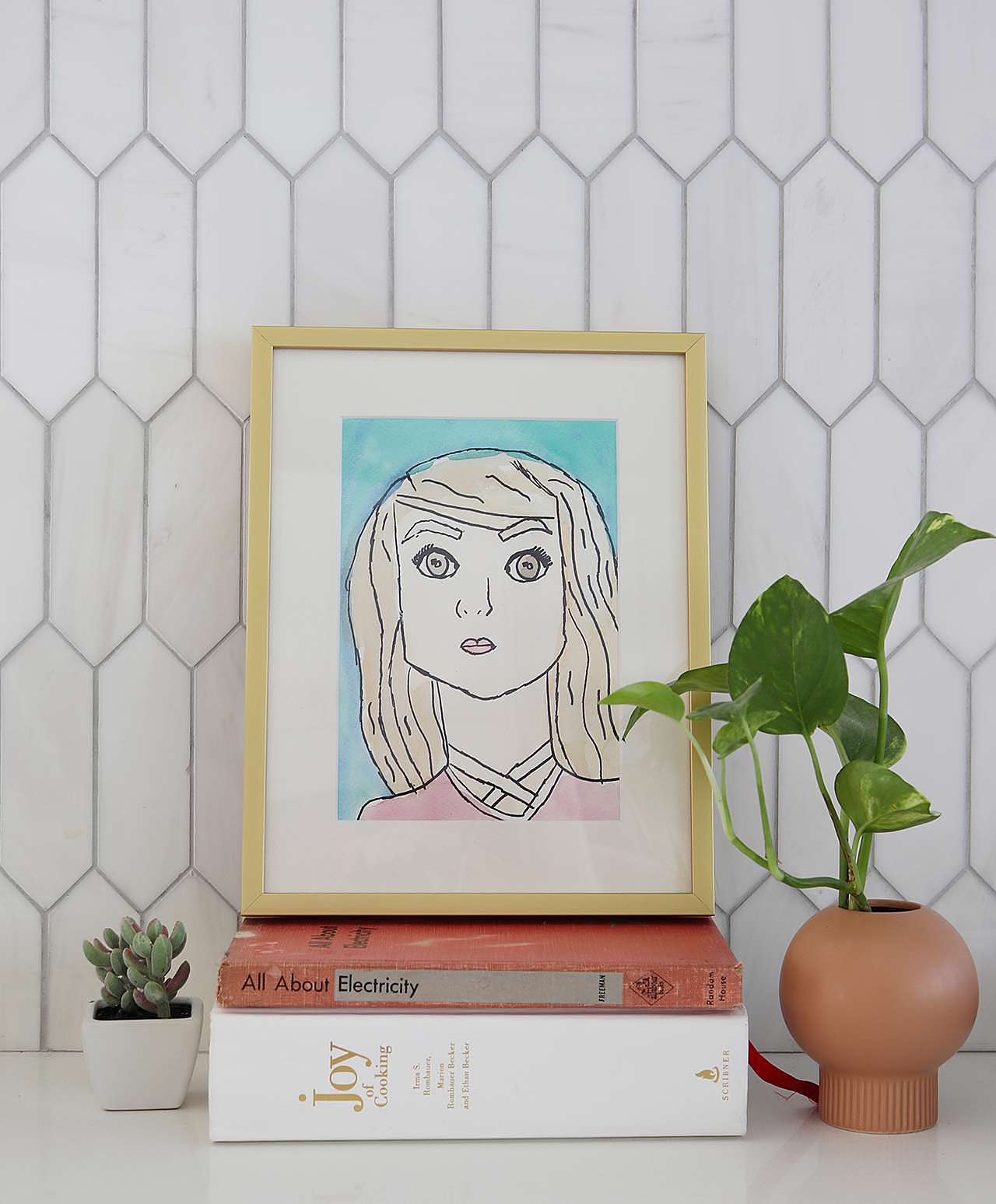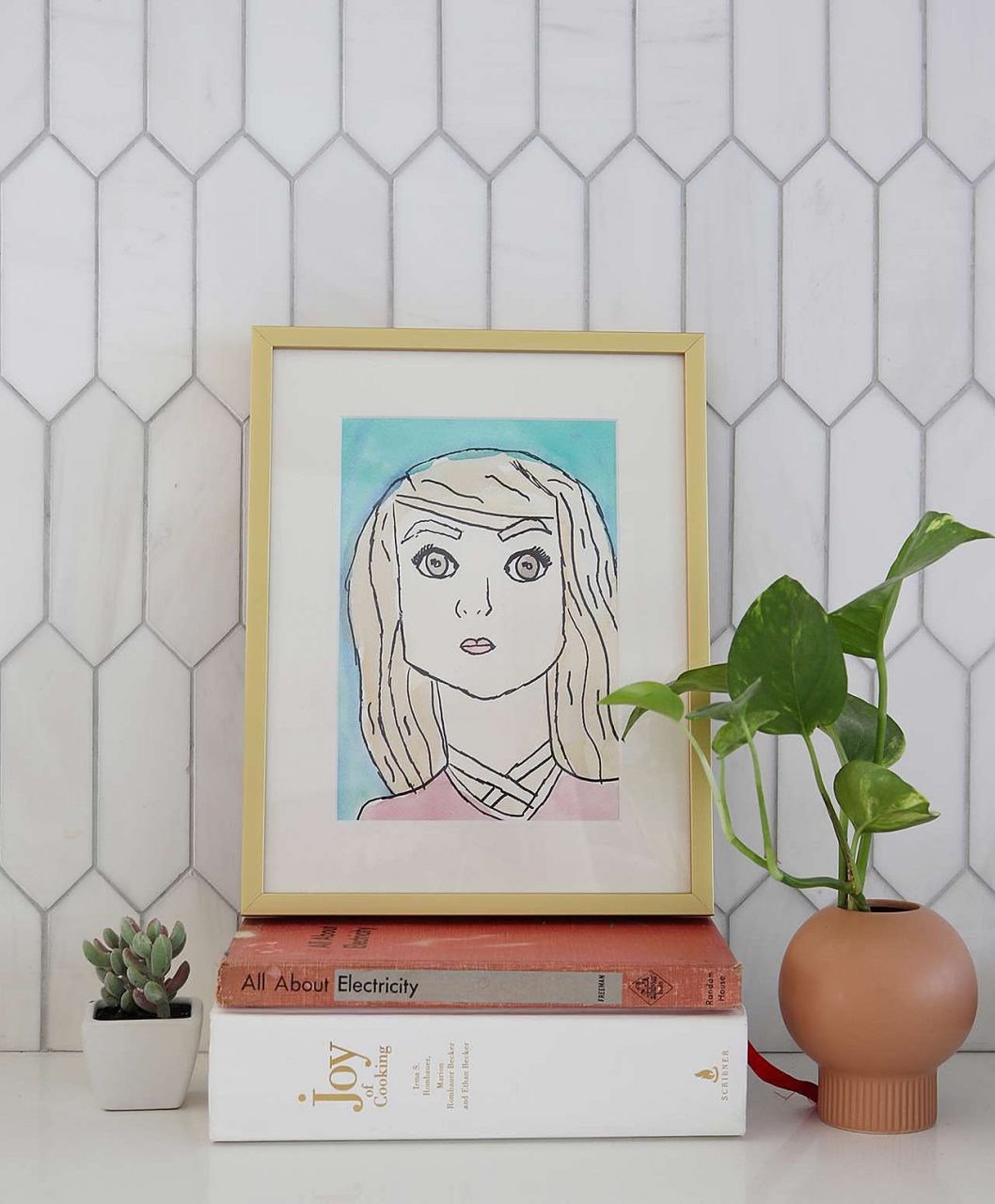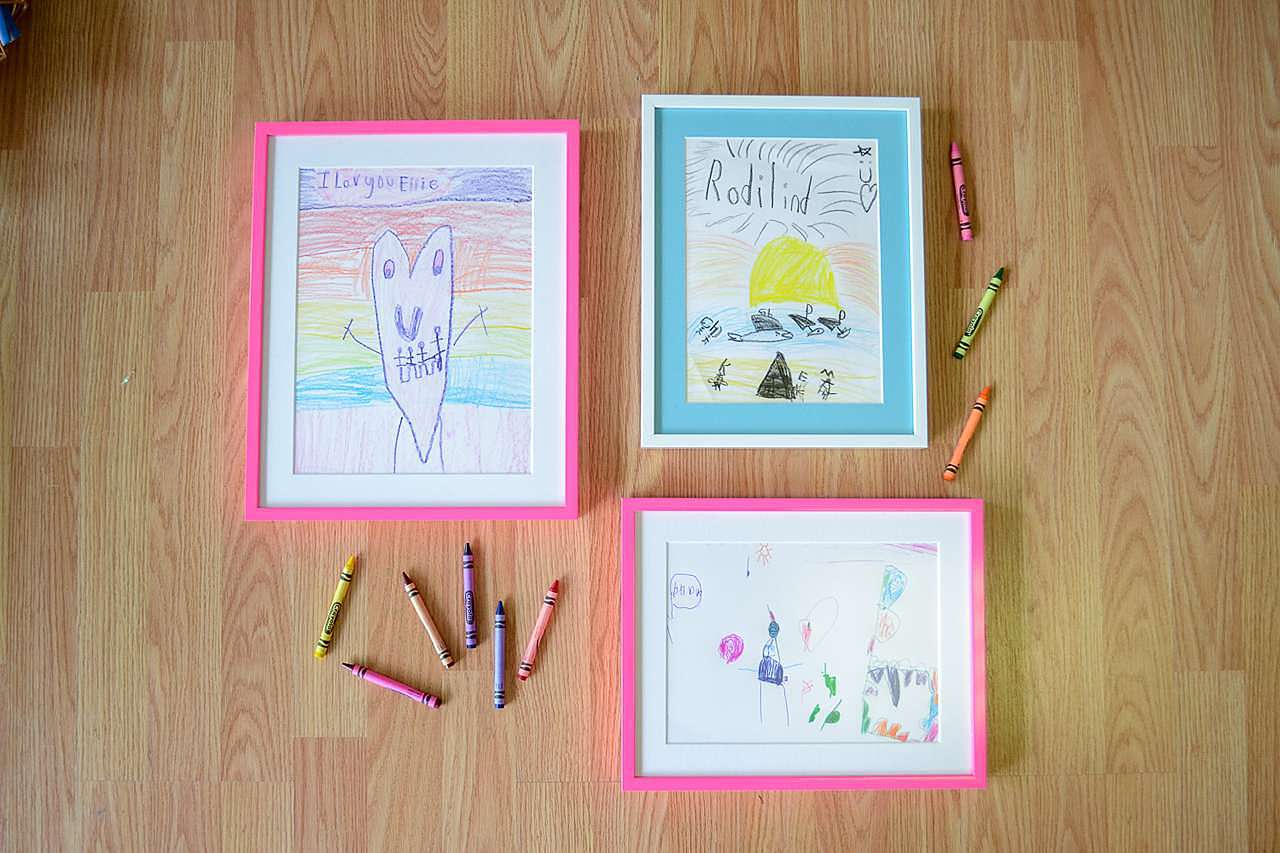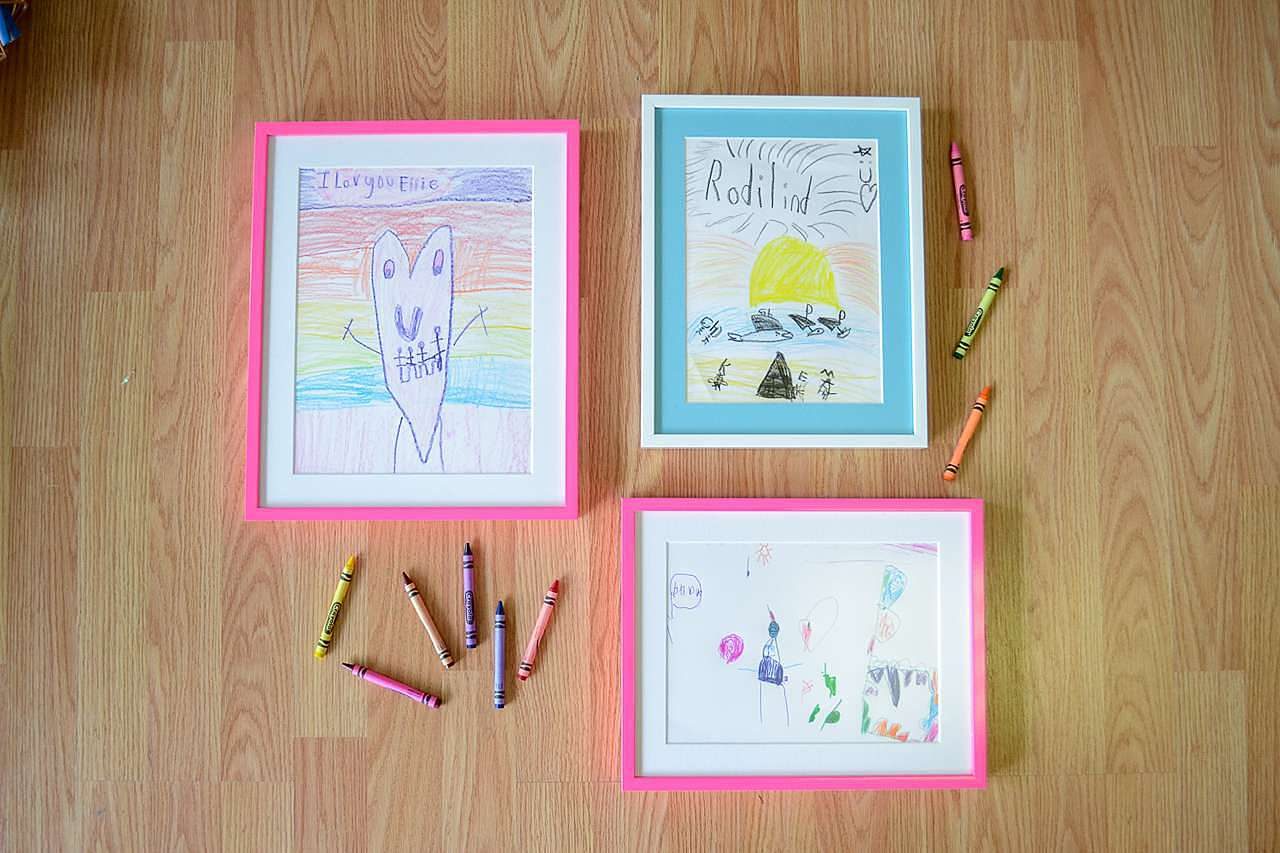 We all know Mom hangs onto most of our childhood mementos, and we're sure you have some original doodles stored in a box somewhere.
Free the art from storage and get it up on Mom's wall — we know she'll love it!
Father's Day
Shopping for dads is tough, but whether you are framing a vintage photo or just a simple picture with Dad, the possibilities for creating the best Father's Day gift are endless.
1. Frame Family Photos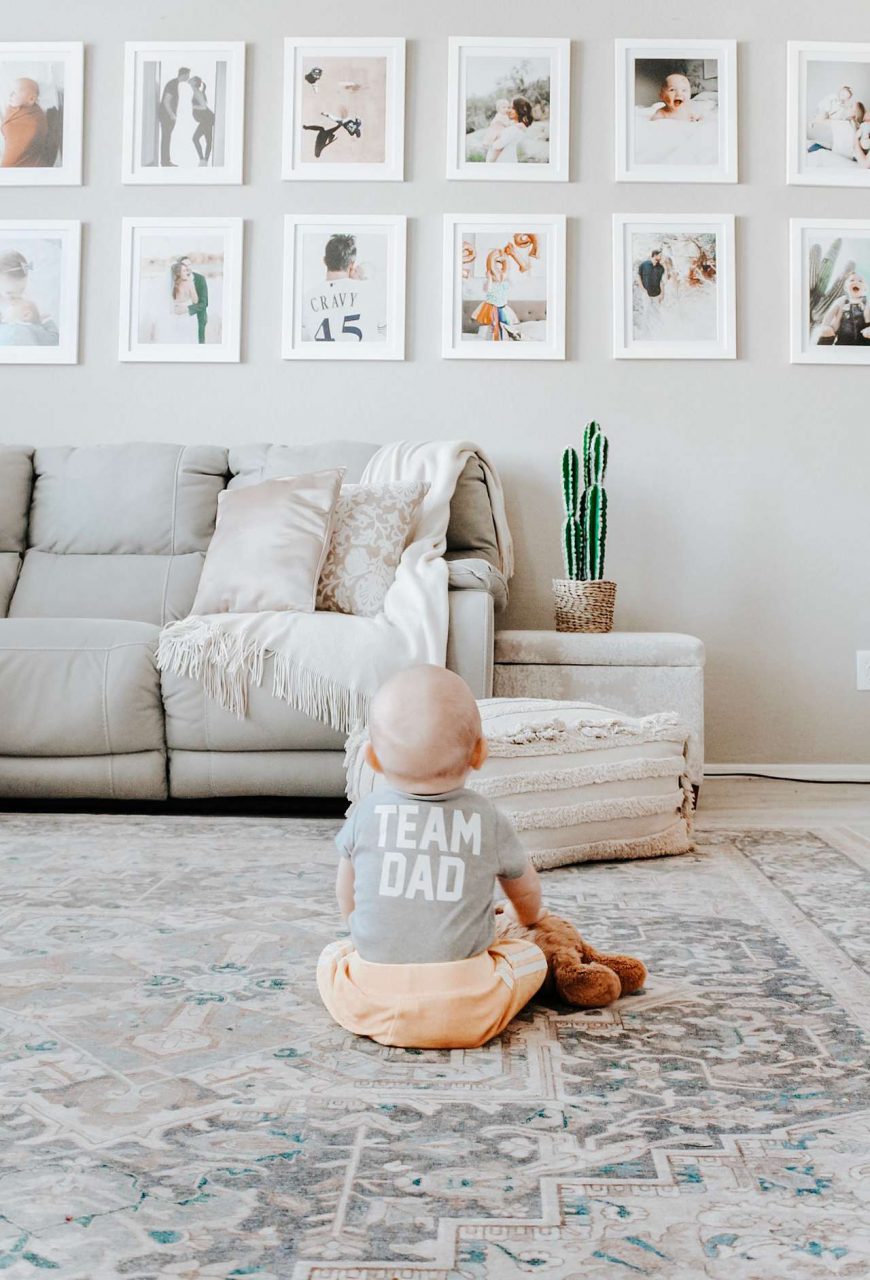 You can't go wrong with framing a classic family photo for Dad. Whether it's a goofy selfie snapped from the holidays, a formal family portrait from years ago, or an entire wall of memories, he'll be sure to love photos of the whole gang.
Family photos truly capture your family's memories and allow you to remember your loved ones at any particular point in time — certainly a gift that Dad will love this Father's Day.
If you are interested in creating an awesome family portrait, check out our list of 10 Family Photo Ideas!
2. Dad's Hobbies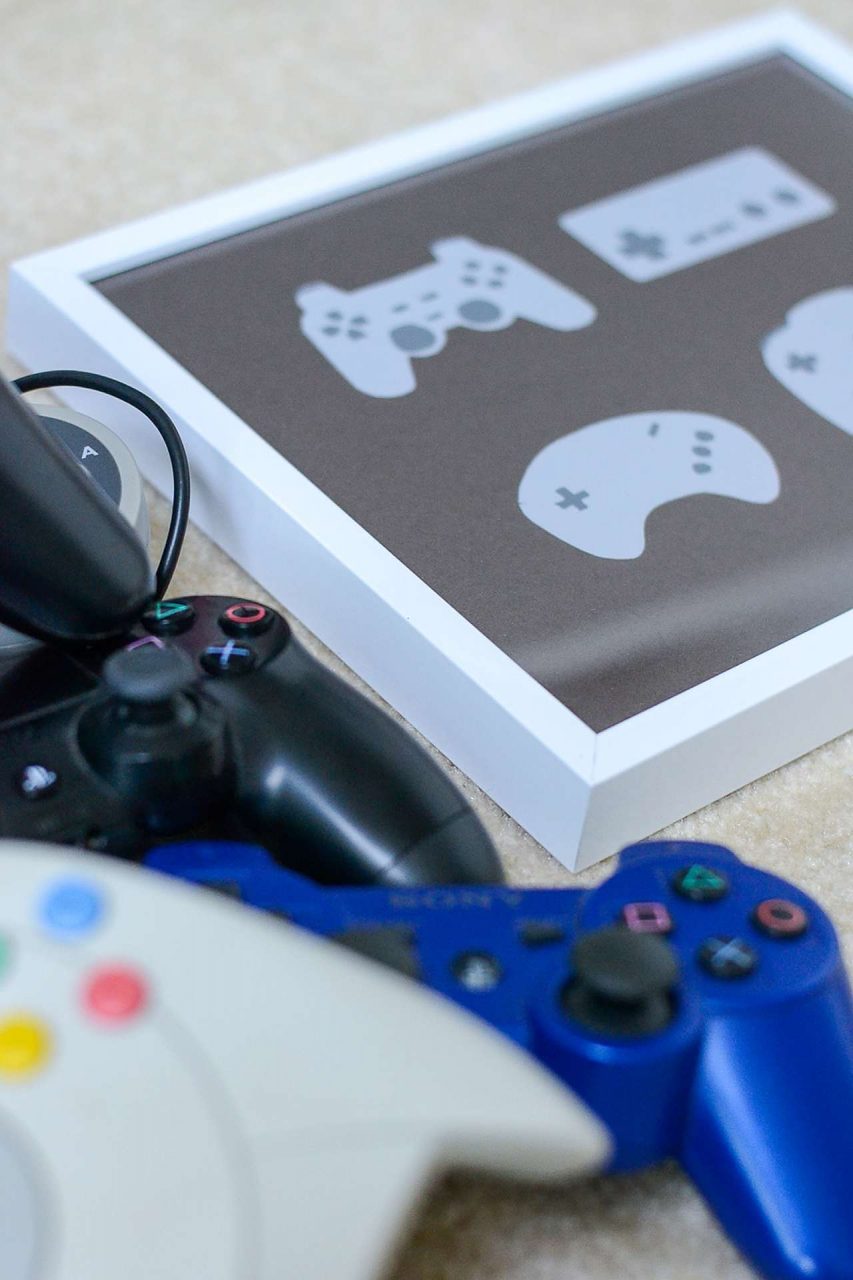 What does your dad love to do? Even if he's a simple guy, we're sure he has at least one or two things that really make him unique. Frame an action shot of him and his slow-pitch team, a photo with friends playing poker, or even a picture of him on his daily walks with the dog.
Also, consider framing mementos of these things he loves to do. He might be a retired athlete, but would love an old framed photo from his playing days? Or if he loves to cook, perhaps frame his iconic family dinner recipe.
3. The Dad Photo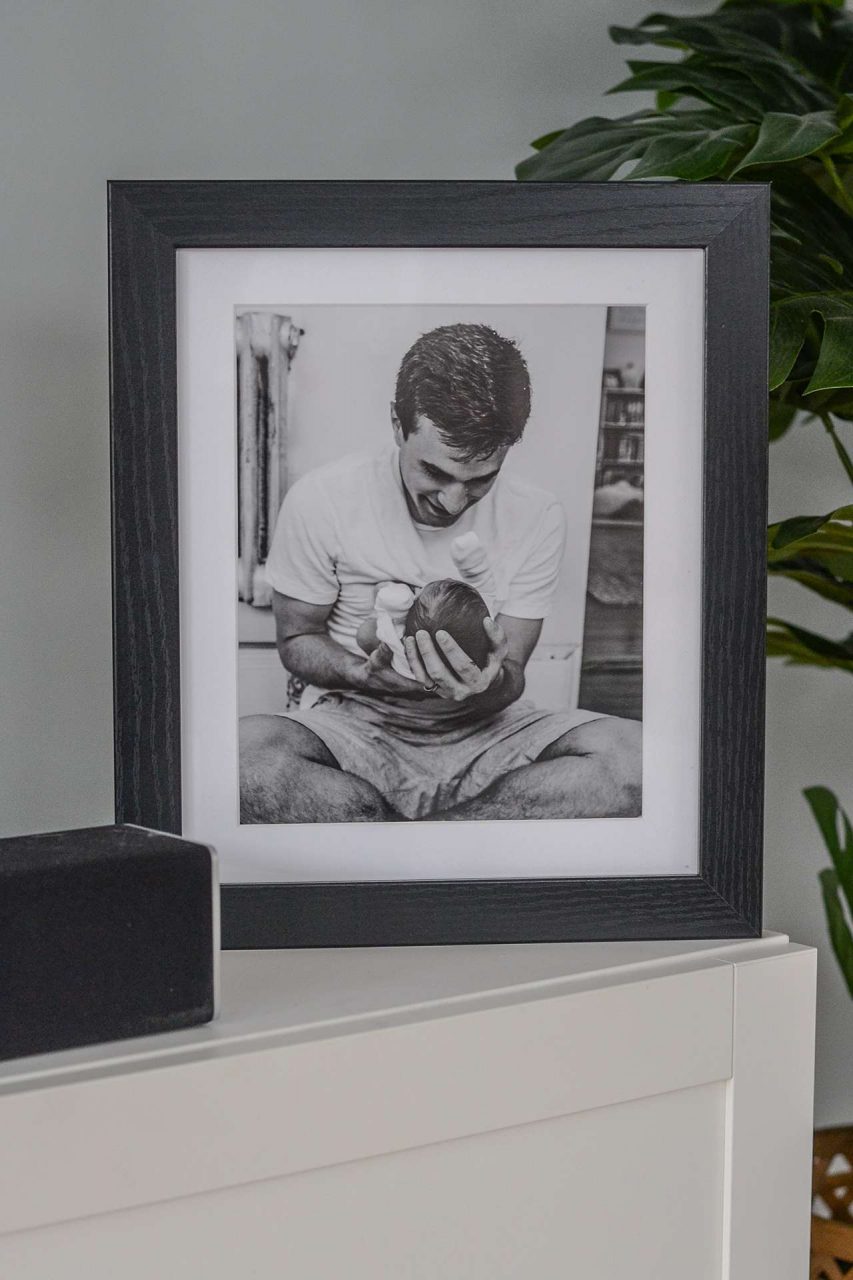 We know your dad is one-of-a-kind, but he's bound to have at least one iconic "Dad" photo. For instance, the "Coach Dad" photo — when he was helping you perfect your free throw, or coaching your little league team. He'll be sure to love a photo of you two on game day. Or the "Dad Toss," the most fun you had as a kid — your dad allowed you to soar to new heights, and always catch you in the end.
Dads do a lot for everyone, but framing your quintessential "Dad Photo" captures those moments he really was just there for you. Whether he is manning the grill or taking a nap with you, you'll know when you find the perfect photo.
4. Frame a Throwback Photo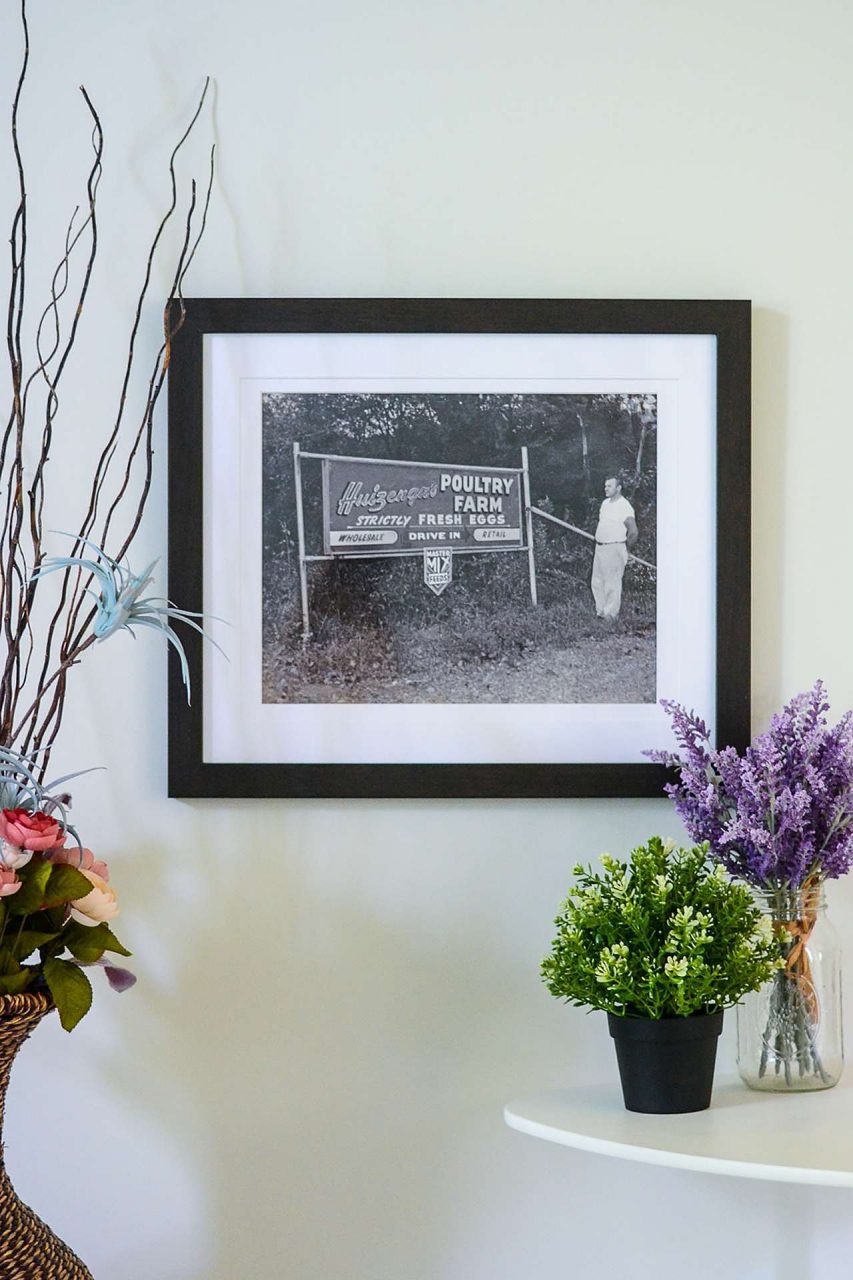 Found an old polaroid of your dad from when he was a kid? Or maybe you have some printed photos in a box up in the attic. Vintage photos are truly thoughtful and make a great gift for Father's Day. A framed throwback photo will remind Dad of his good times, and will wow him with how thoughtful a gift it is.
5. Frame Original Art and Prints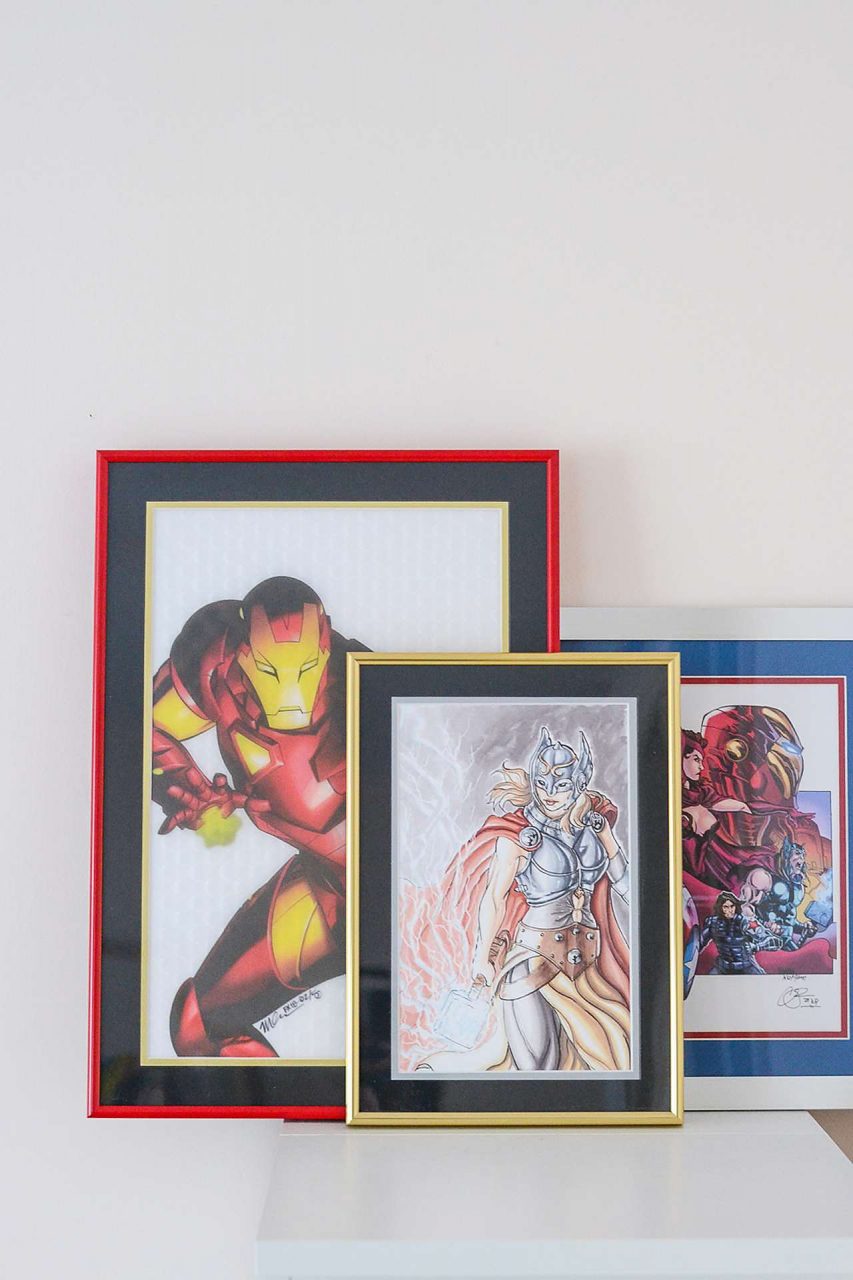 Dad is sure to love custom framed artwork and prints to display wherever he pleases. No matter his own style, take this opportunity to display the passions he has: favorite movies, places, or music. Or just find a piece of work that he would love to show off at home.
Need ideas? Be sure to check out our guide to where you can find a variety of art online, whether you are looking for a photograph, poster, or print.
6. Display Your Travel Memories and Mementos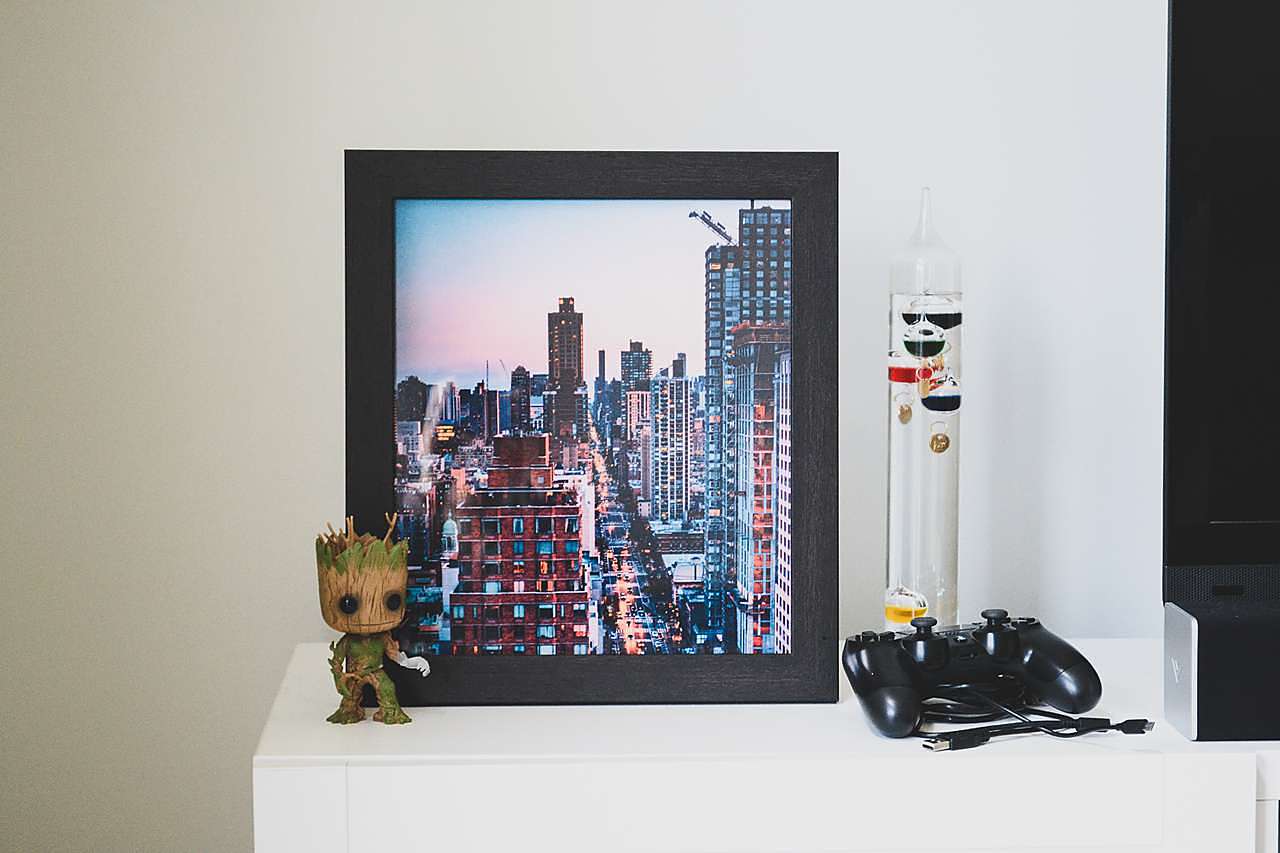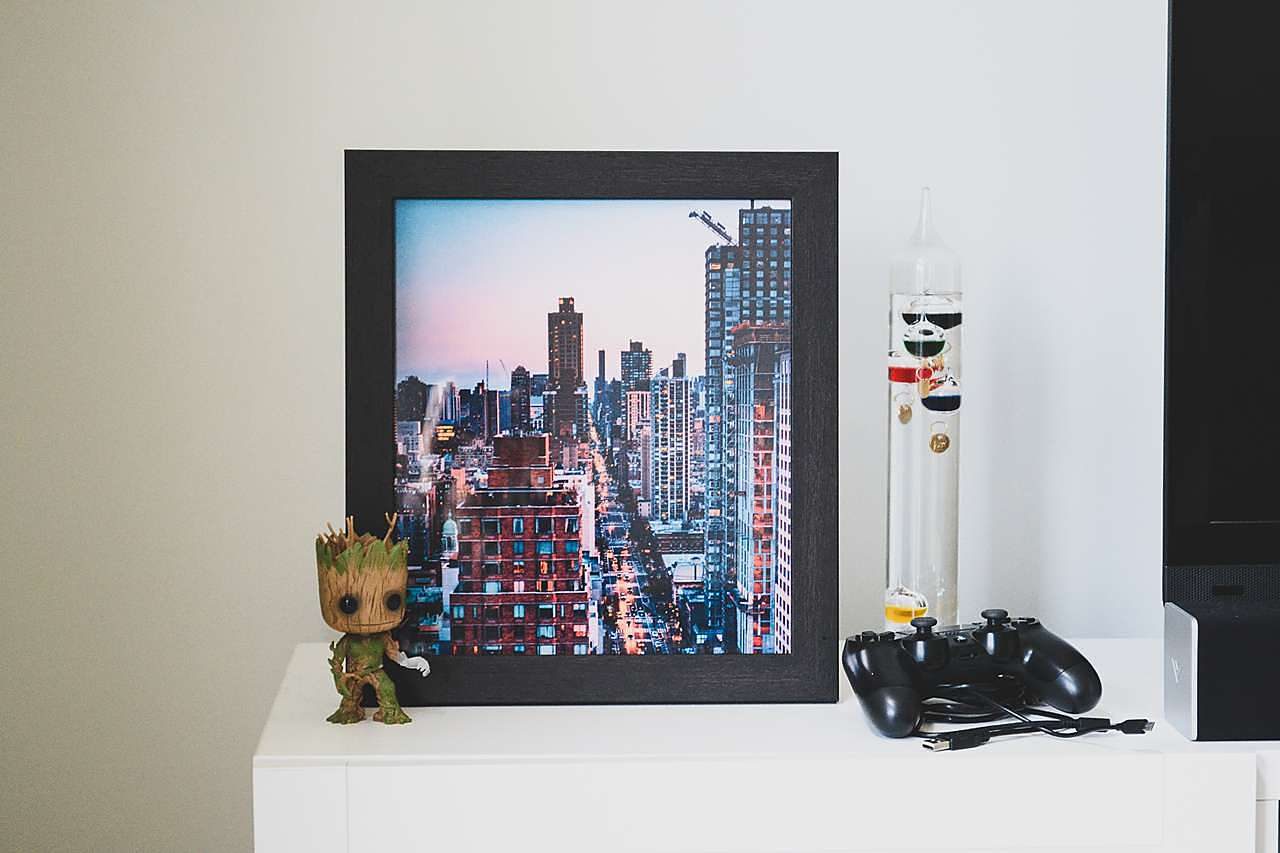 Whether you've taken a camping trip together or went on a cross-country adventure, framing your shared experiences makes an awesome gift for Dad.
Also, think of framing small mementos from your travels such as postcards, maps, or receipts you picked up. These memories between you and Dad are important, so displaying them is a great way to show how much they mean to you.
7. Frame a Photo of His Pet(s)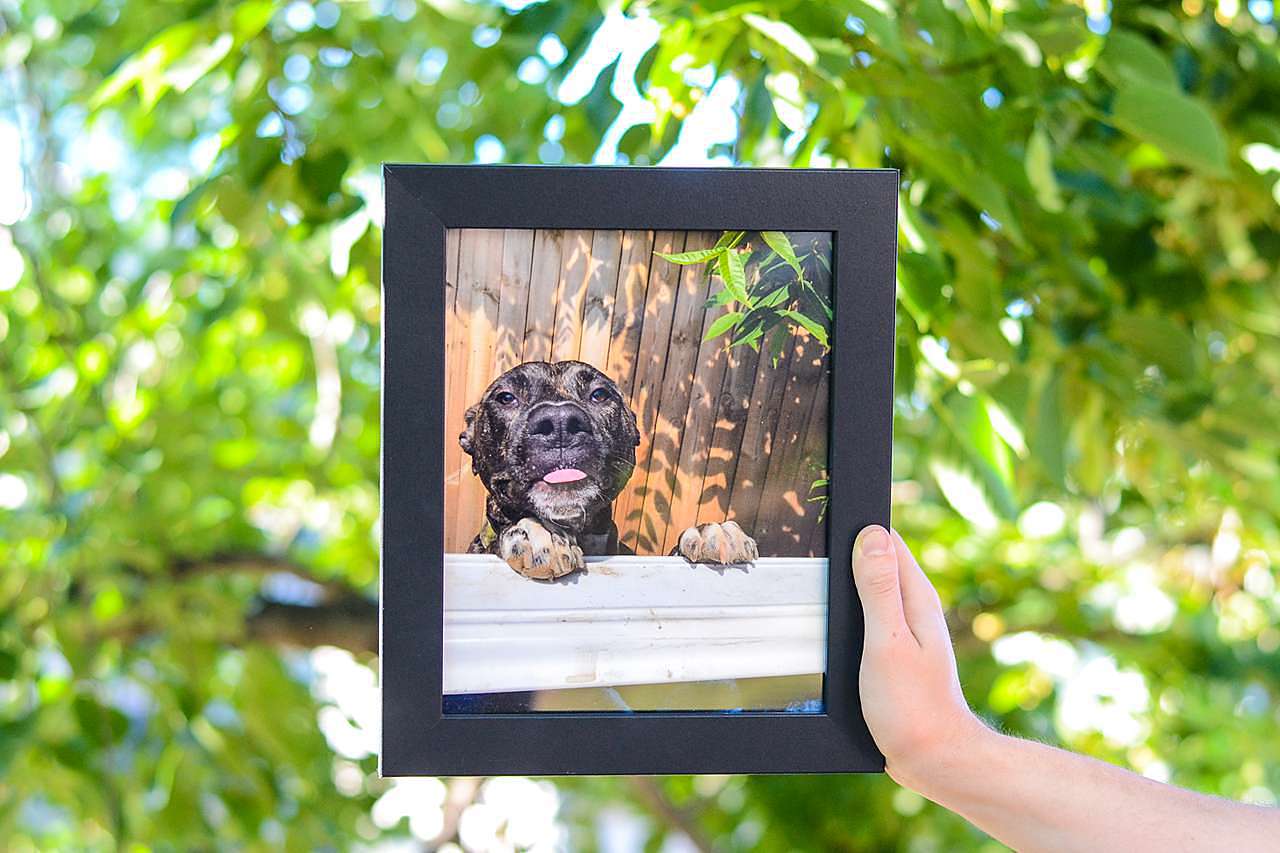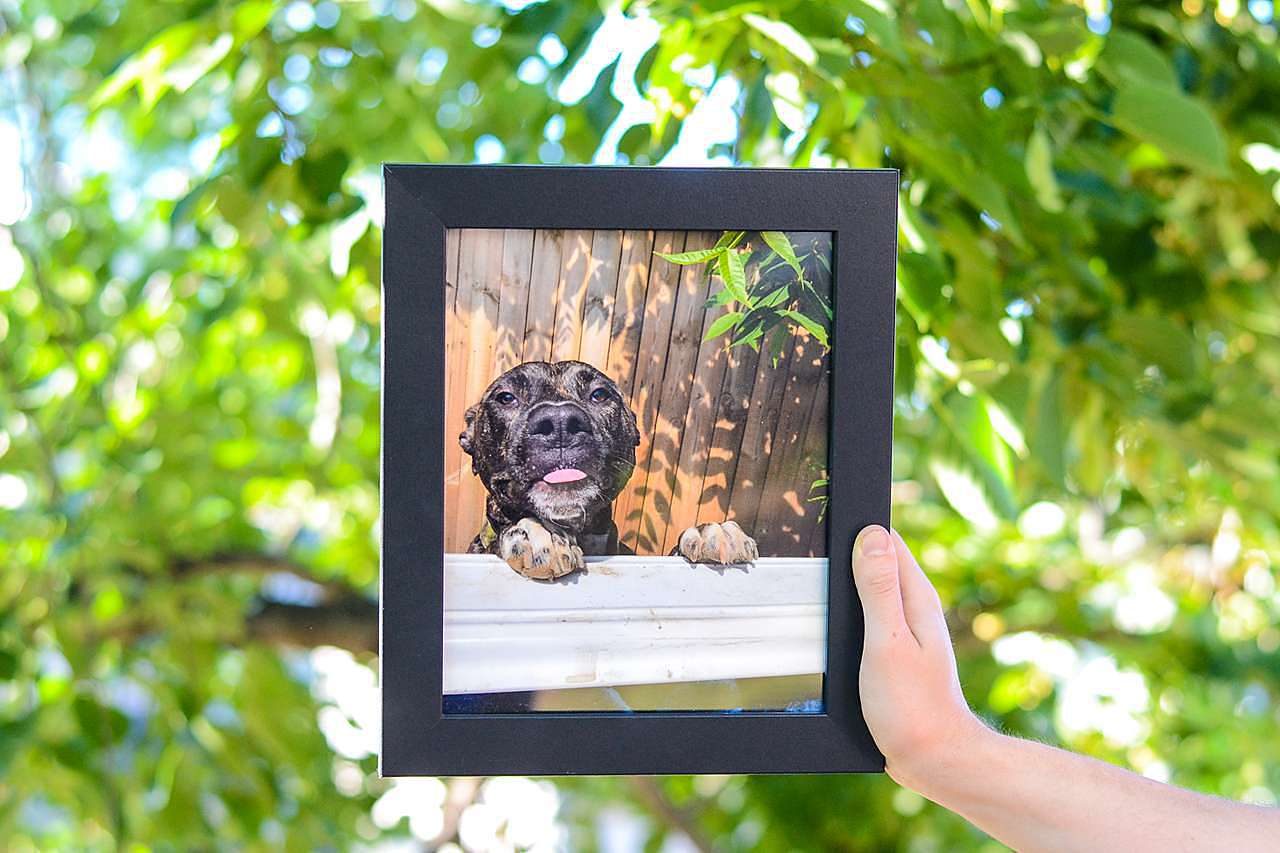 Framing a photo of the man with his best friend will surely make an awesome gift for Dad. So find that precious photo on his phone of his furry friend, or snap a candid of the two of them the next time you're around. A framed photo with his pet(s) would make a meaningful display for Dad.
8. Dad's Sayings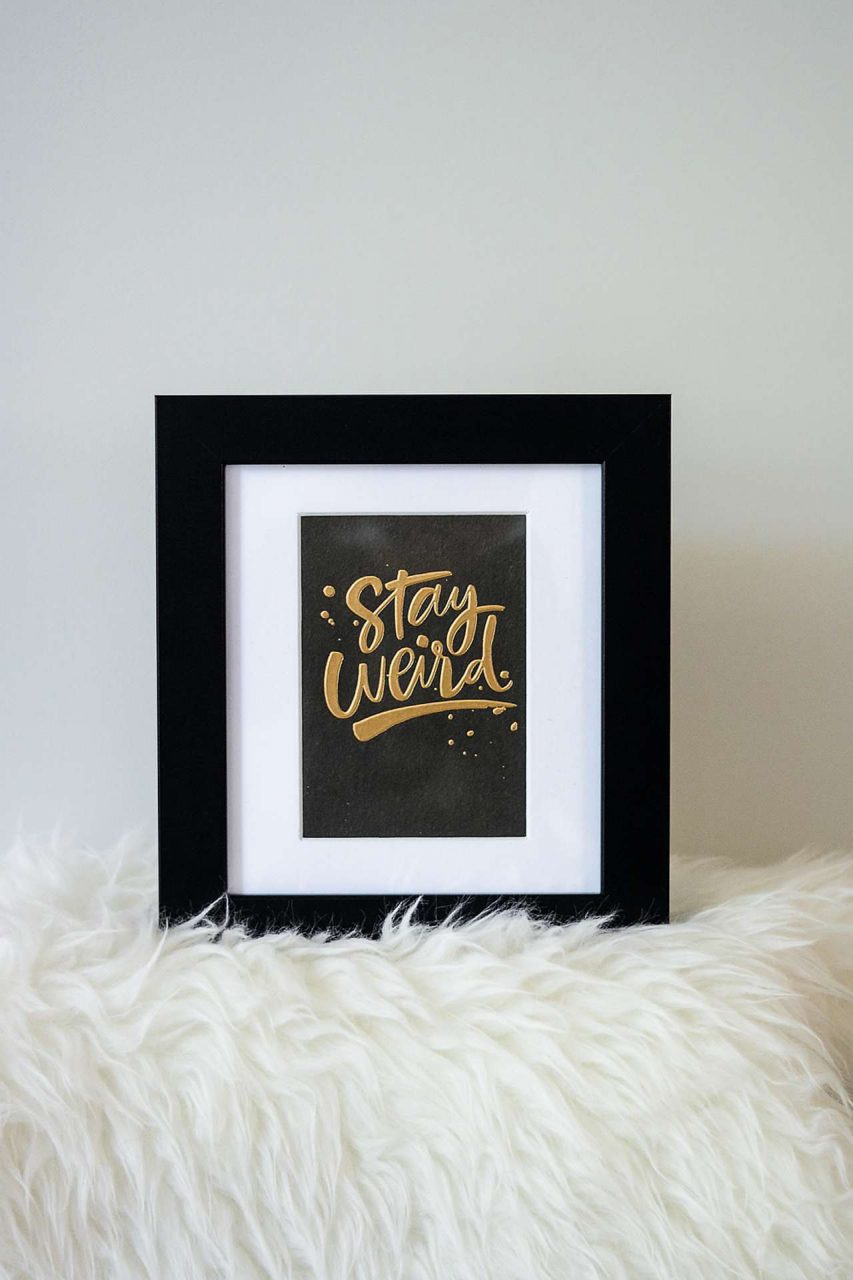 We're sure there are just some things your dad always says. Whether he starts each long speech to you with "When I was your age…" or he has a favorite quote that he seems to think is applicable in every scenario, framing a saying that makes you think of Dad is a great gift idea.
9. Milestone Memories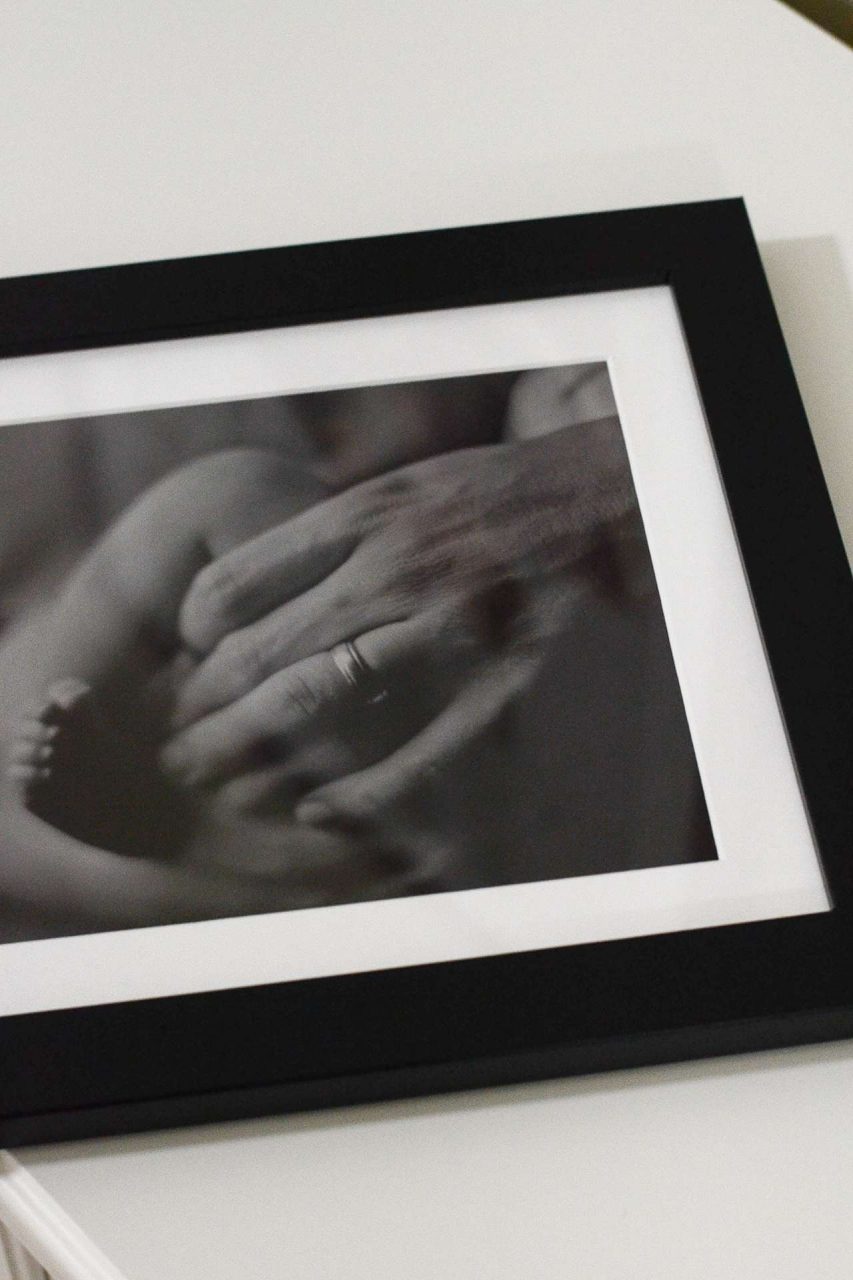 There are some days that just stick out as extra special. Perhaps it was your own first steps, Dad's first debut as a coach, his wedding day, or even a holiday. Framing these milestone moments will truly make a thoughtful gift for Dad to celebrate each and every day.
Also, perhaps think of other milestones to frame for Dad. See if he kept pieces of his favorite events — a concert ticket, an old letter, or maybe an award certificate. Don't be afraid to get creative!
10. Frame a Photo with Dad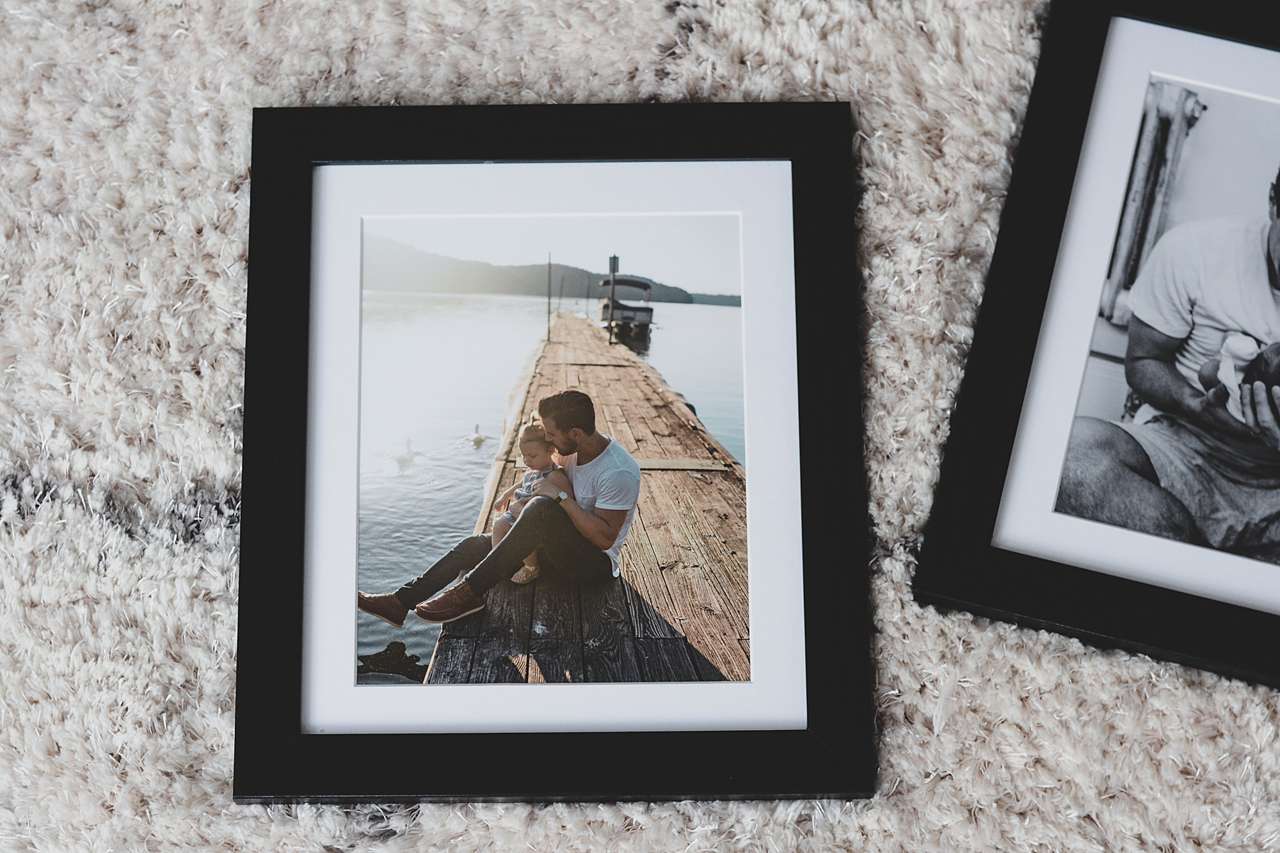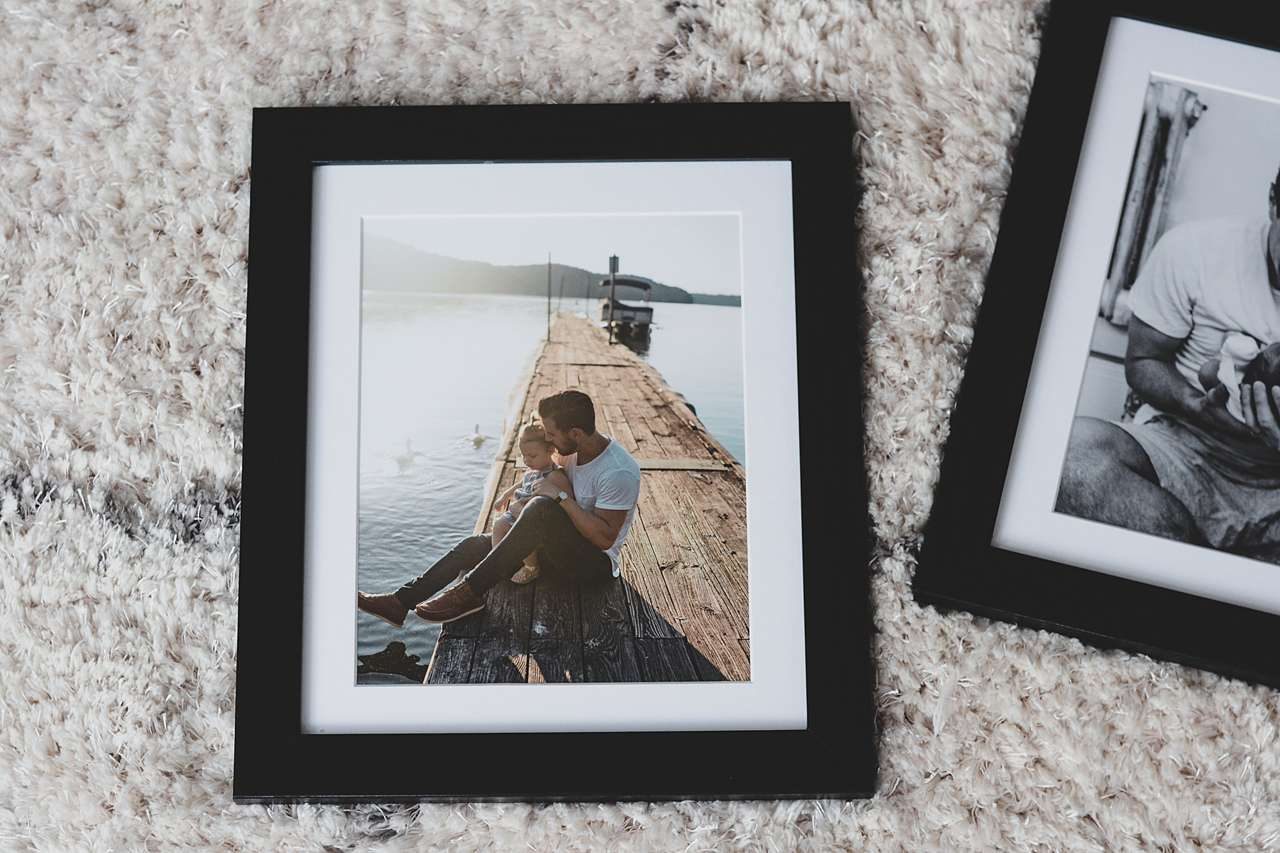 When in doubt, a simple framed photo with Dad will make a classic and thoughtful gift. It could be from decades ago, days ago, or even multi-generational — with your own kid, you, and your dad.
Though it's an obvious one, a framed photo with Dad is an easy yet perfect Father's Day gift.
Graduation
Creating a framed display for a gift or as decoration for your home is a great way to show off your graduate and their accomplishments, as well as memorialize the occasion. Or you can even give your graduate a framed display to take with them wherever they are headed next — a college dorm, an office, or their own home.
1. The Classic Cap and Gown Photo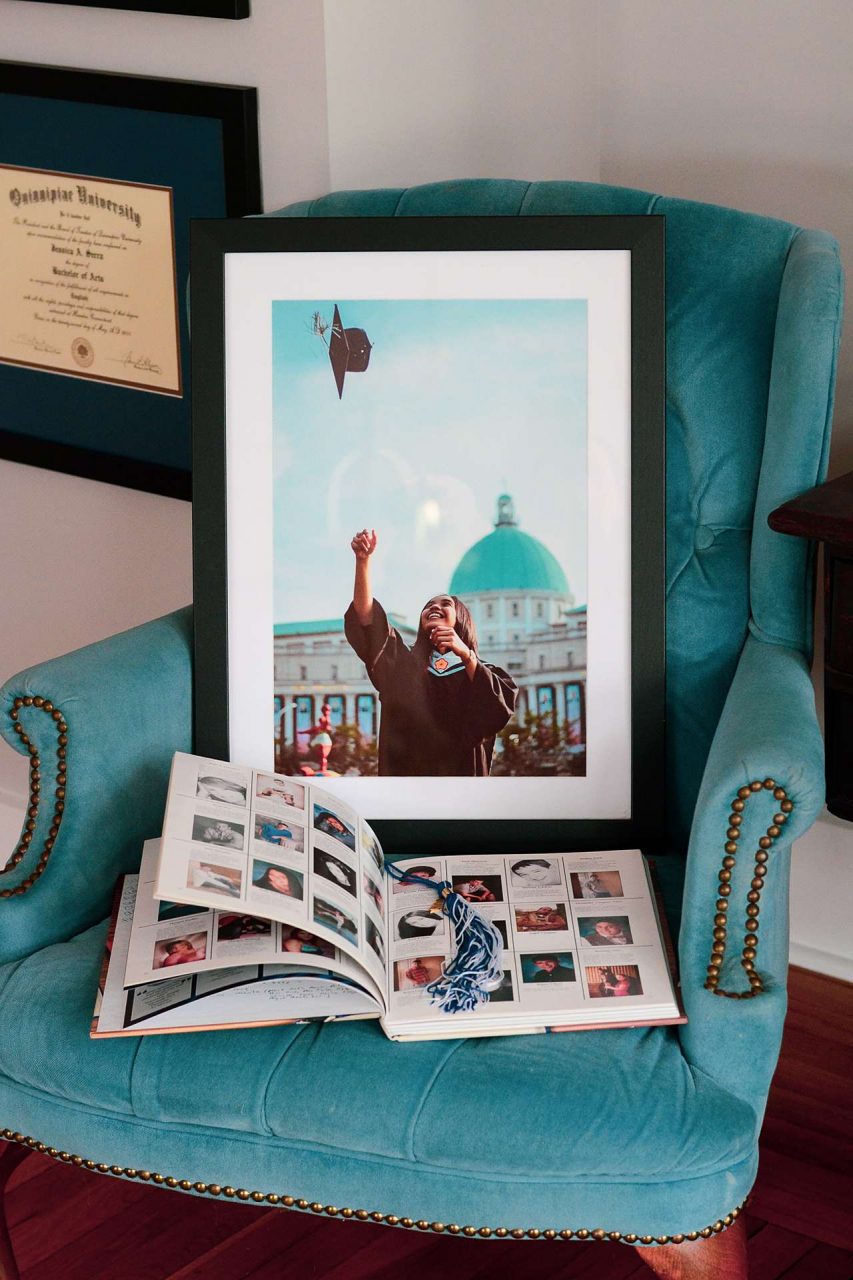 Nothing says graduation like the classic cap and gown photo — almost every graduate has one from their big day! Frame the shot of them as they walked across the stage, or a cap and gown selfie with friends.
Graduation is the day that commemorates all the years of hard work and accomplishment. Giving the gift of a custom frame will be a beautiful display as well as a thoughtful present.
2. Display Their Diploma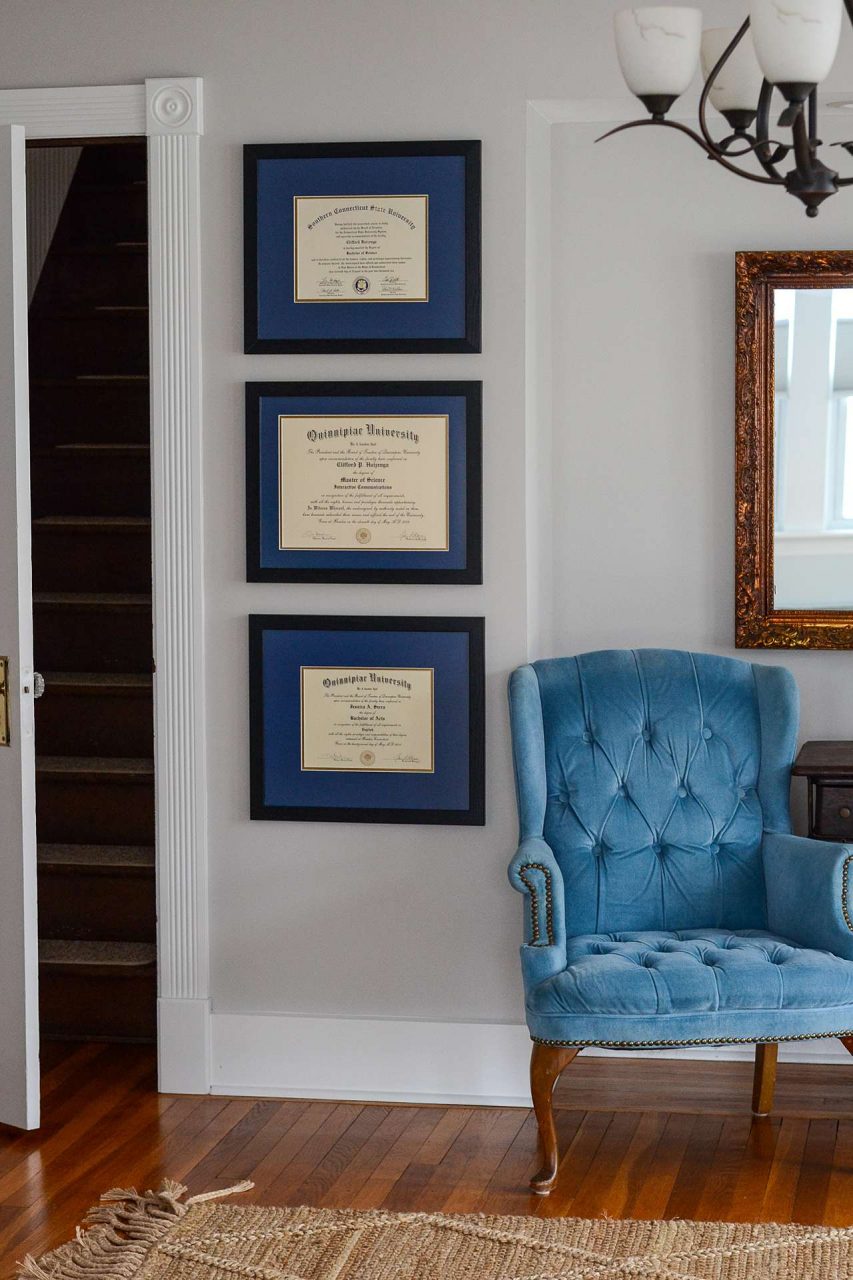 Every student deserves to proudly display their academic accomplishments which took years and years to complete. Frame your graduate's diploma in order to preserve and protect their meaningful document, while also giving them a timeless wall decoration for them to celebrate every day.
For diplomas and certificates, we suggest adding some larger matting in order to truly show off the document. You can even consider double matting and accenting the diploma with school colors!
3. Frame a Photo With Friends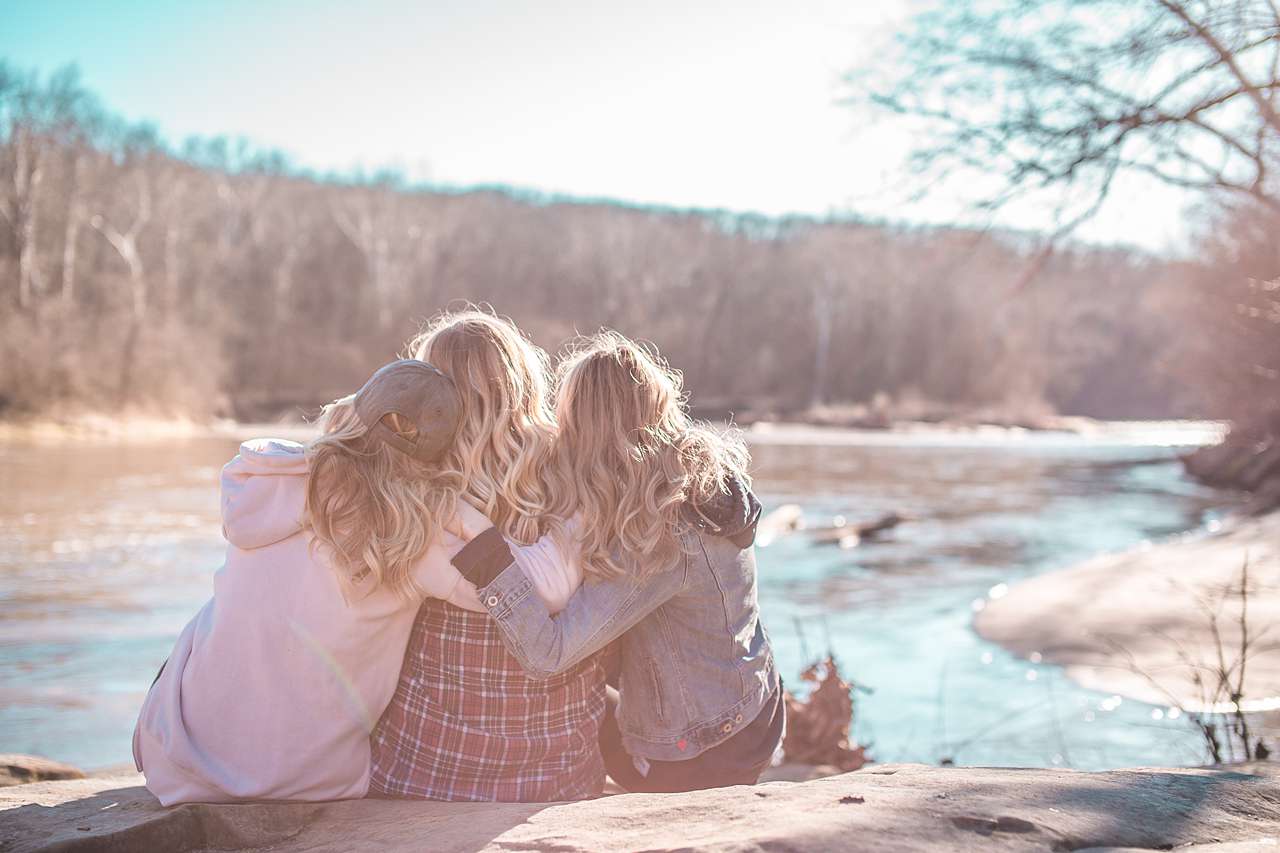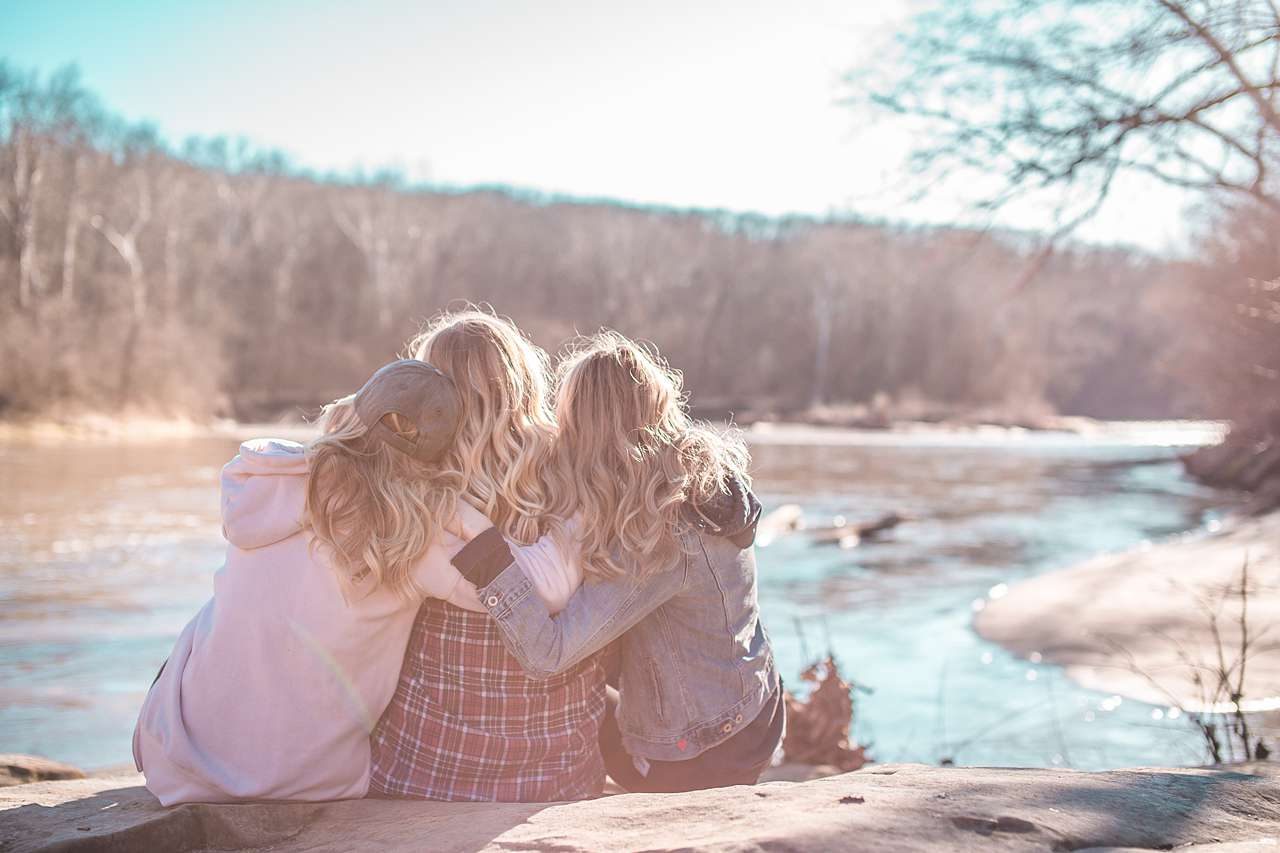 From the all-nighters before exams to the fun of sports games and spring break, the friends that have grown into family have made your graduate's school experience truly the time of their lives.
You really can't go wrong with framing a simple photo with friends for your graduate. Frame a photo from the graduation of the whole gang — maybe they already have a photo printed, or hop on their social media pages to find one of their photos.
4. Showcase Their School Portrait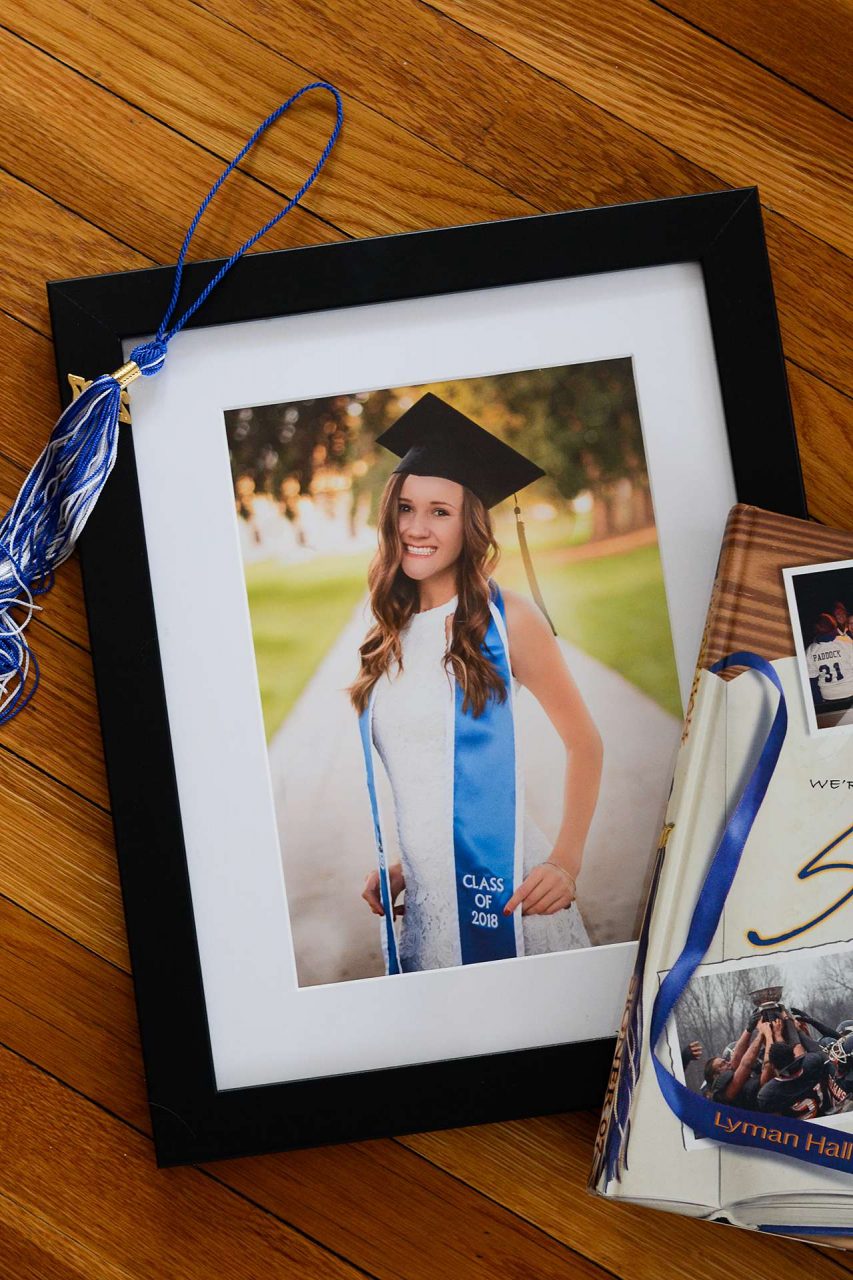 Formal school portraits make a great display for your shelf or mantel. These photos from their final years at school are meaningful and sophisticated, so be proud to show them off!
If you have that folder of extra school photos stuffed in a folder or album, maybe even ranging all the way back to first grade, consider creating a timeline of their school portraits throughout their career. Even two framed photos side by side can create the same effect.
5. Create a Gallery of Their Extracurriculars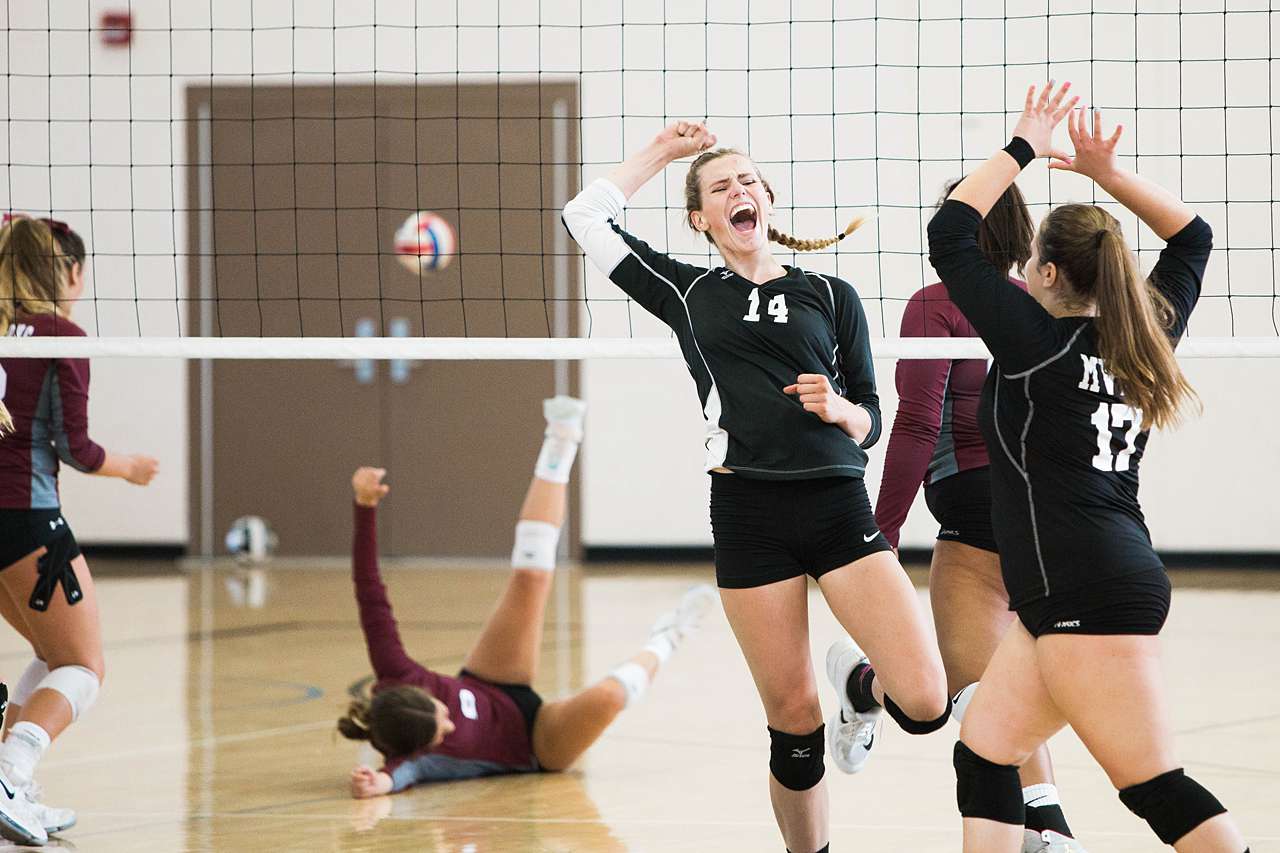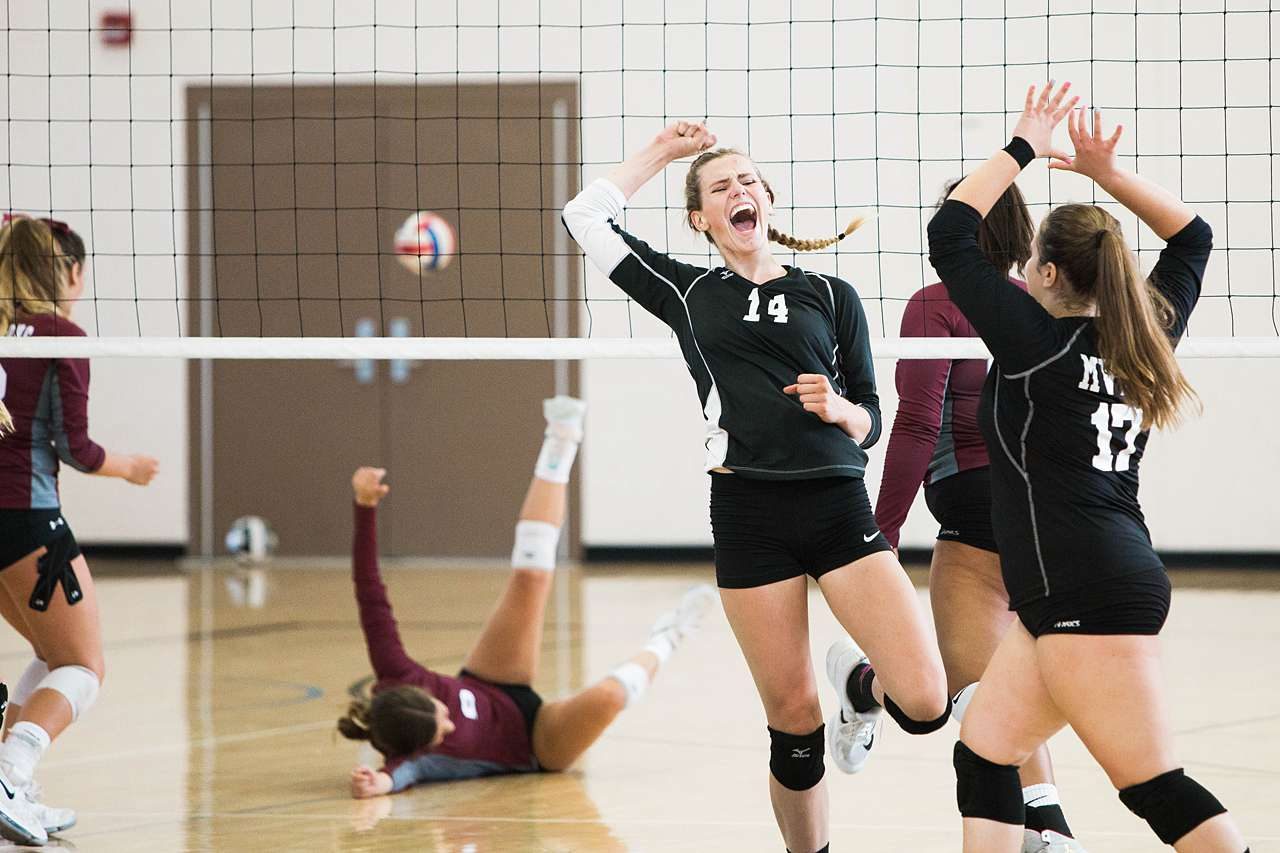 So much of what makes a student who they are are the experiences they gain beyond the classroom. Perhaps your graduate was a sports standout, a theater star, or a spelling bee champion. Celebrate all that your graduate has been involved in beyond the classroom by creating a display of their extracurricular activities.
For instance, frame a shot of them in action, a team photo, newspaper clipping, ribbon awards, or an essay. The possibilities are limitless when it comes to what makes your graduate special, so frame something special to celebrate all they do!
6. Frame A School Pennant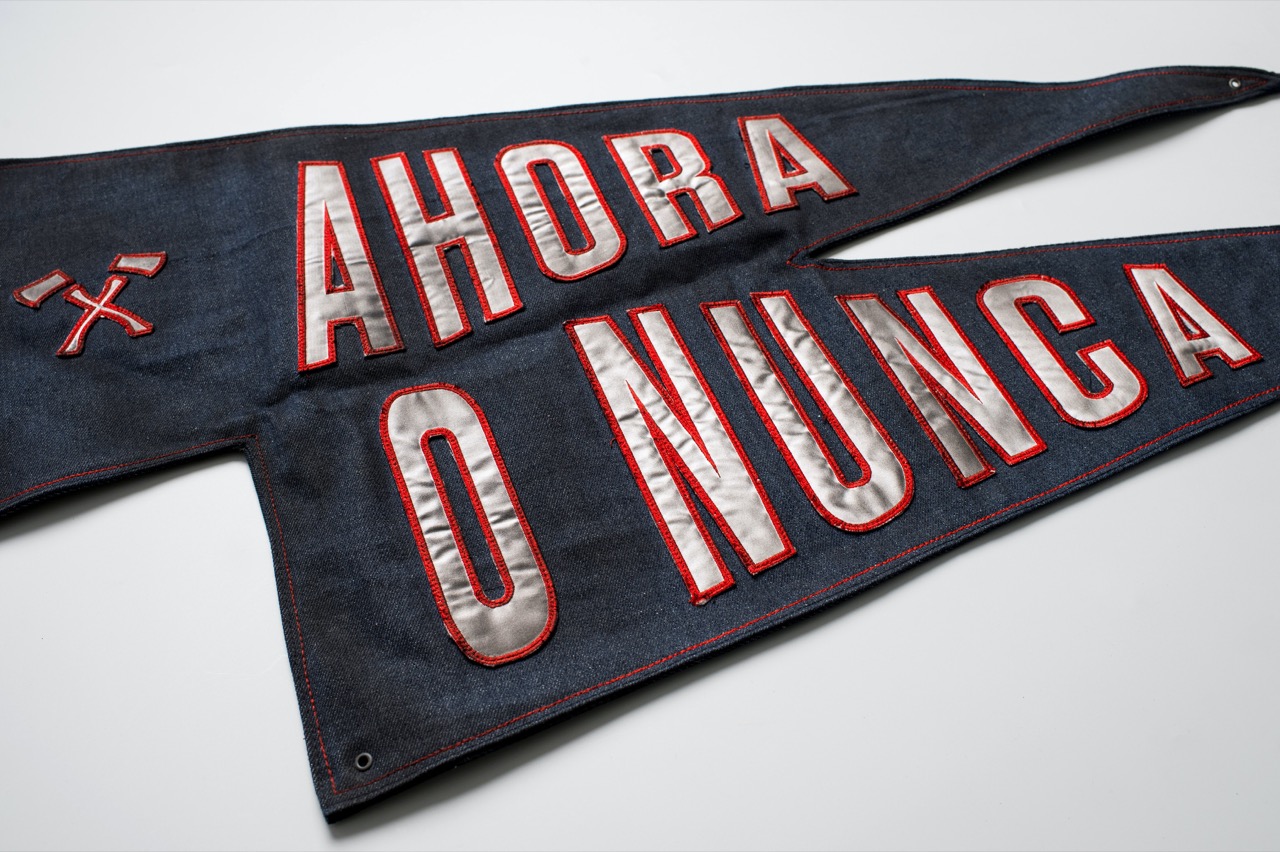 School pennants make a classic and sophisticated wall decoration. Frame a pennant for your graduate for an awesome gift this graduation!
Pennants look great in a large, mounted display, so you just need to make sure the frame size is deep enough. (Be sure to check out our guide for measuring your art to get the best result.)
7. Sign a Matted Photo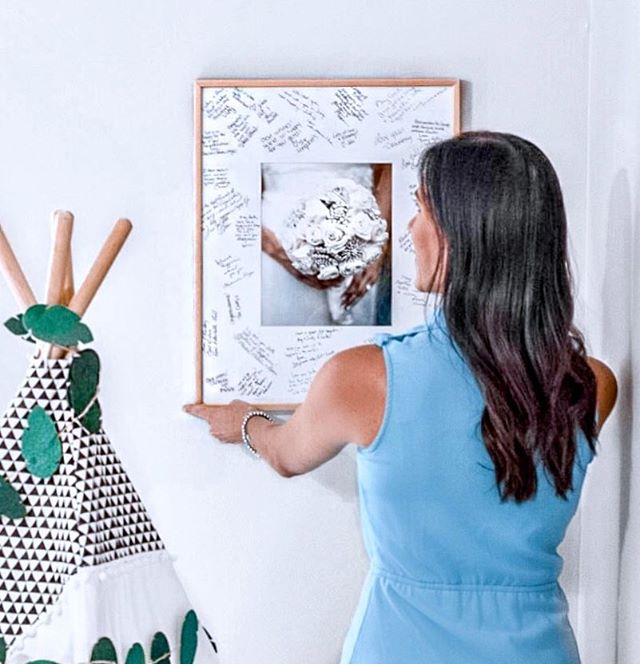 Have the perfect photo to frame, but want to add an even more personal touch? Order your framed photo with large matting, and have family and friends write signatures and messages!
Have the photo ready for your graduation party, where everyone can add their own touch to the gift for your graduate. A personalized matted photo makes an awesome gift that will allow your graduate to look back at all the people in their life and have a meaningful display for wherever they are headed next.
(This is actually a great idea for any special occasion, such as birthdays or weddings.)
8. Frame a Family Photo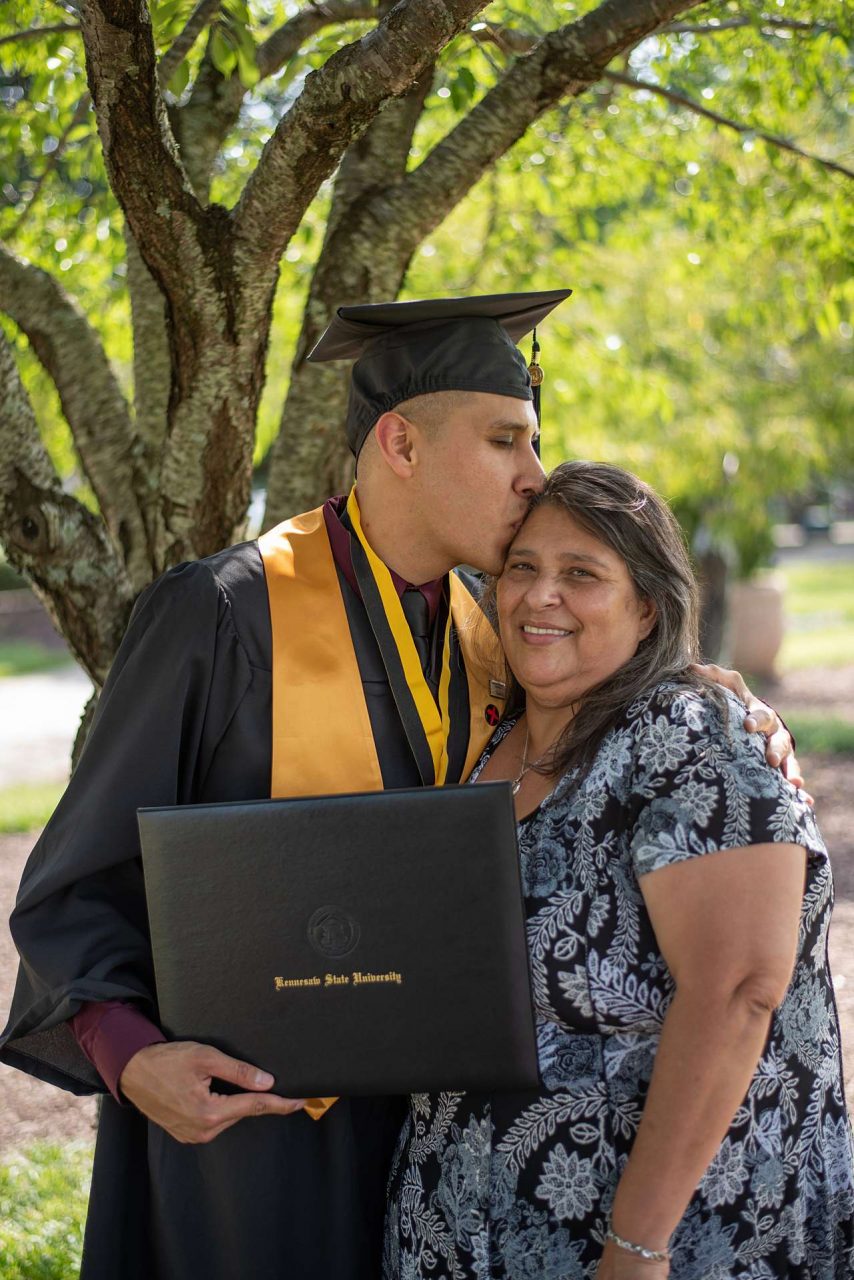 You can't go wrong with a simple framed family photo. After all, who has been there for literally everything, including your graduate's studies and accomplishments? Frame a shot of the family from graduation, a silly selfie, or a photo from the holidays.
9. First Day Of School Photo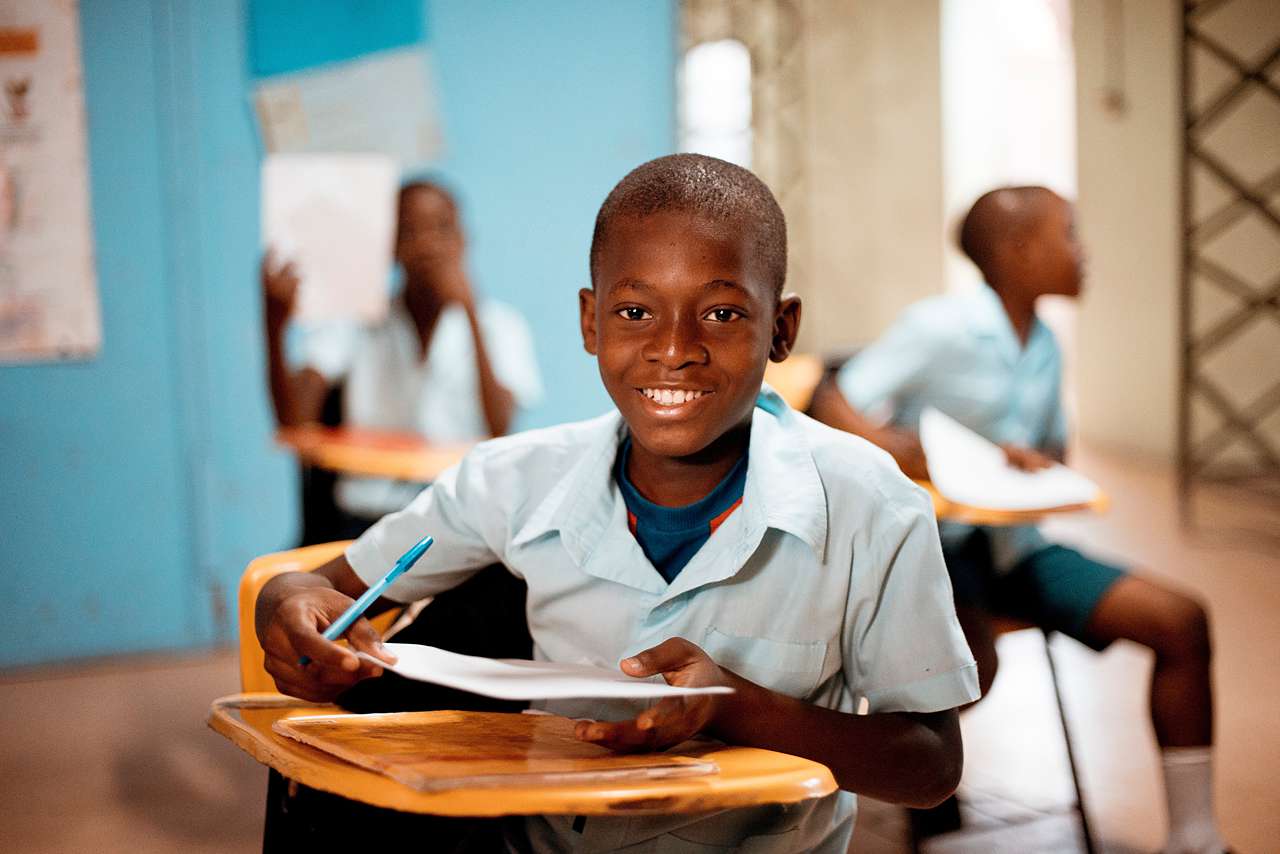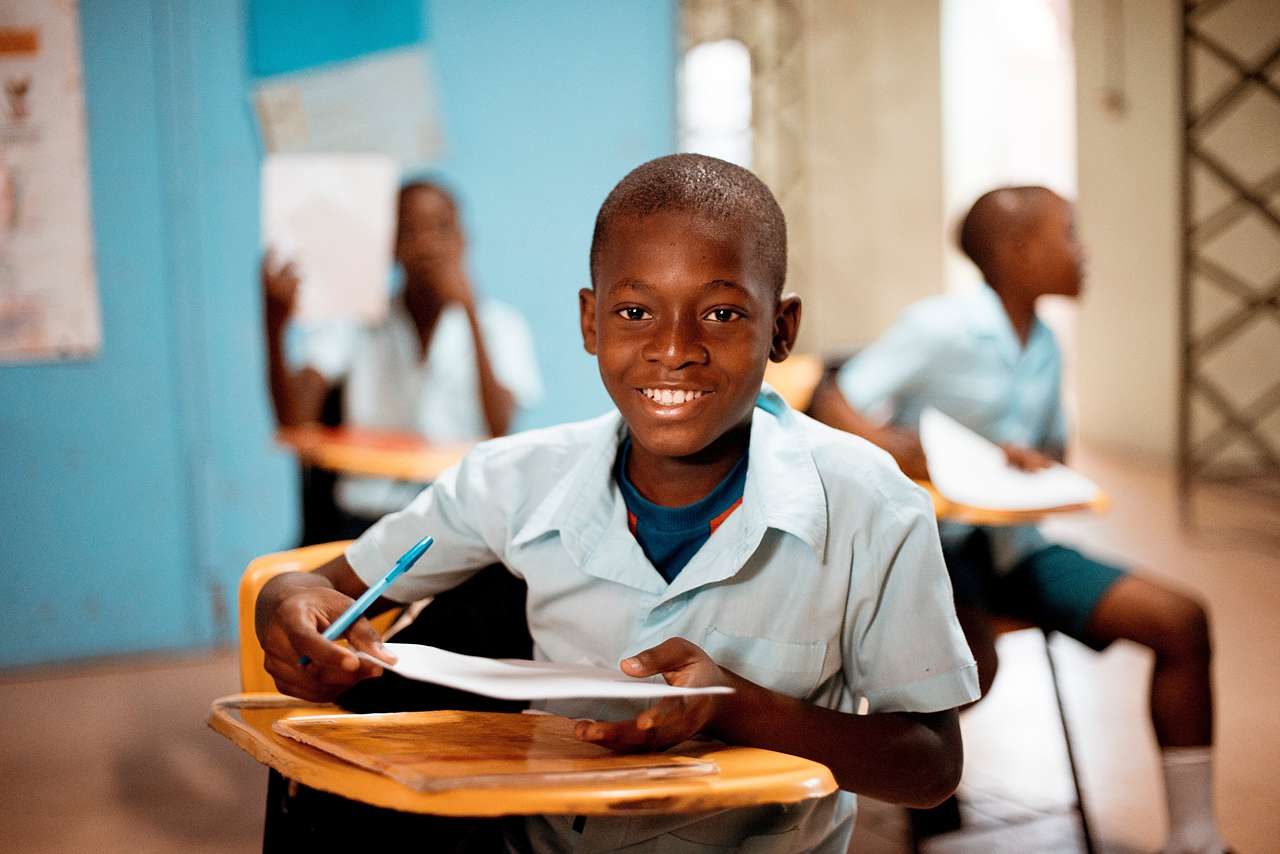 Graduation is emotional — remember when you were sending them off on their first day of school? Considering framing that legendary "First Day" photo, whether it was to kindergarten or move-in day at college. Display this photo to remember how far they've come, and how proud you are of them — you'll love to look back on it!
A Housewarming Gift
Looking for a gift for someone who just moved into a new apartment or bought their first home? Most friends and family will arrive on the doorstep with a candle, bottle of wine, or houseplant. While they are all nice offerings, you can make your housewarming gift stand out.
1. A Map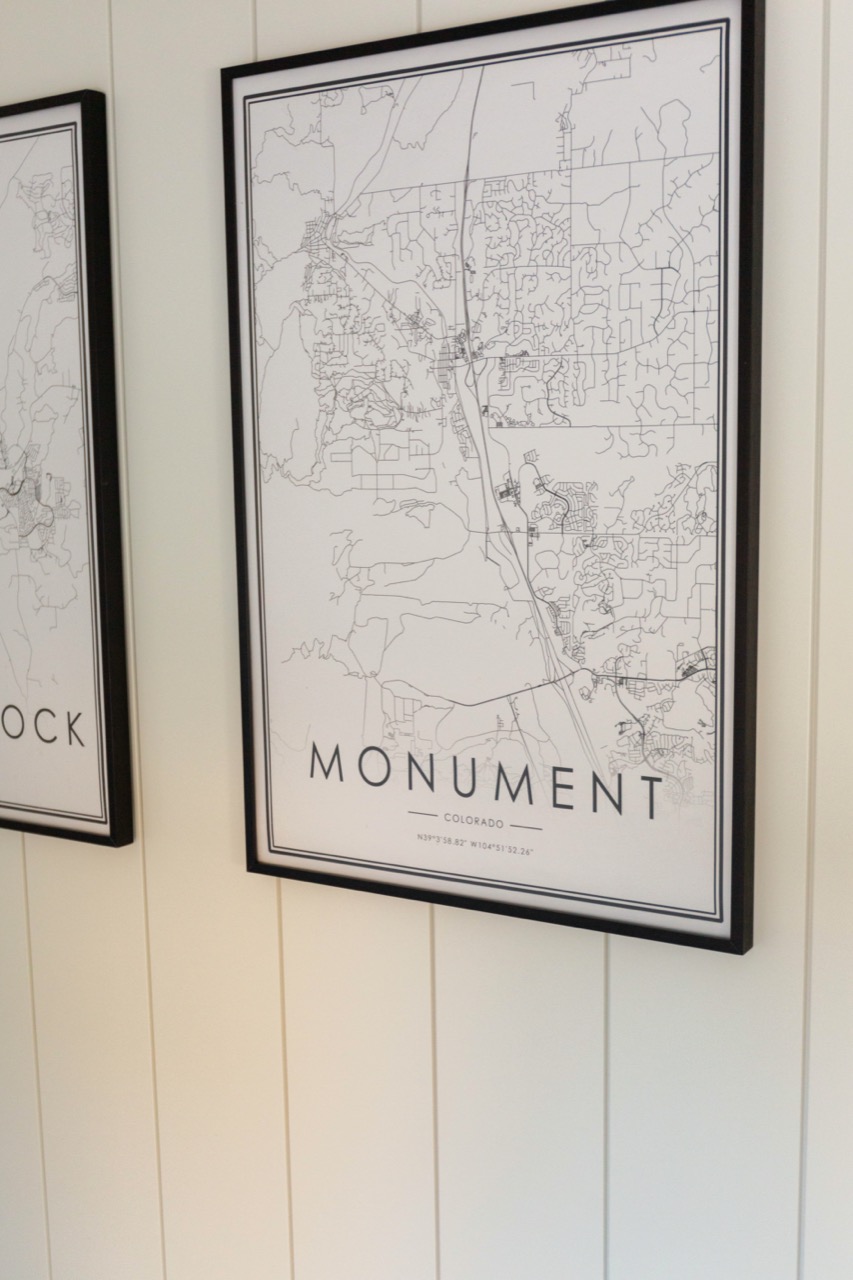 Whether a map of where they used to live, where they currently live, a place that represents an important time in their life, or all three! Custom city maps are a unique and thoughtful gift that will always remind them of important places. Custom prints of the city you are looking for can be found on Etsy.com in different styles, colors, and shapes.
2. A Custom House Portrait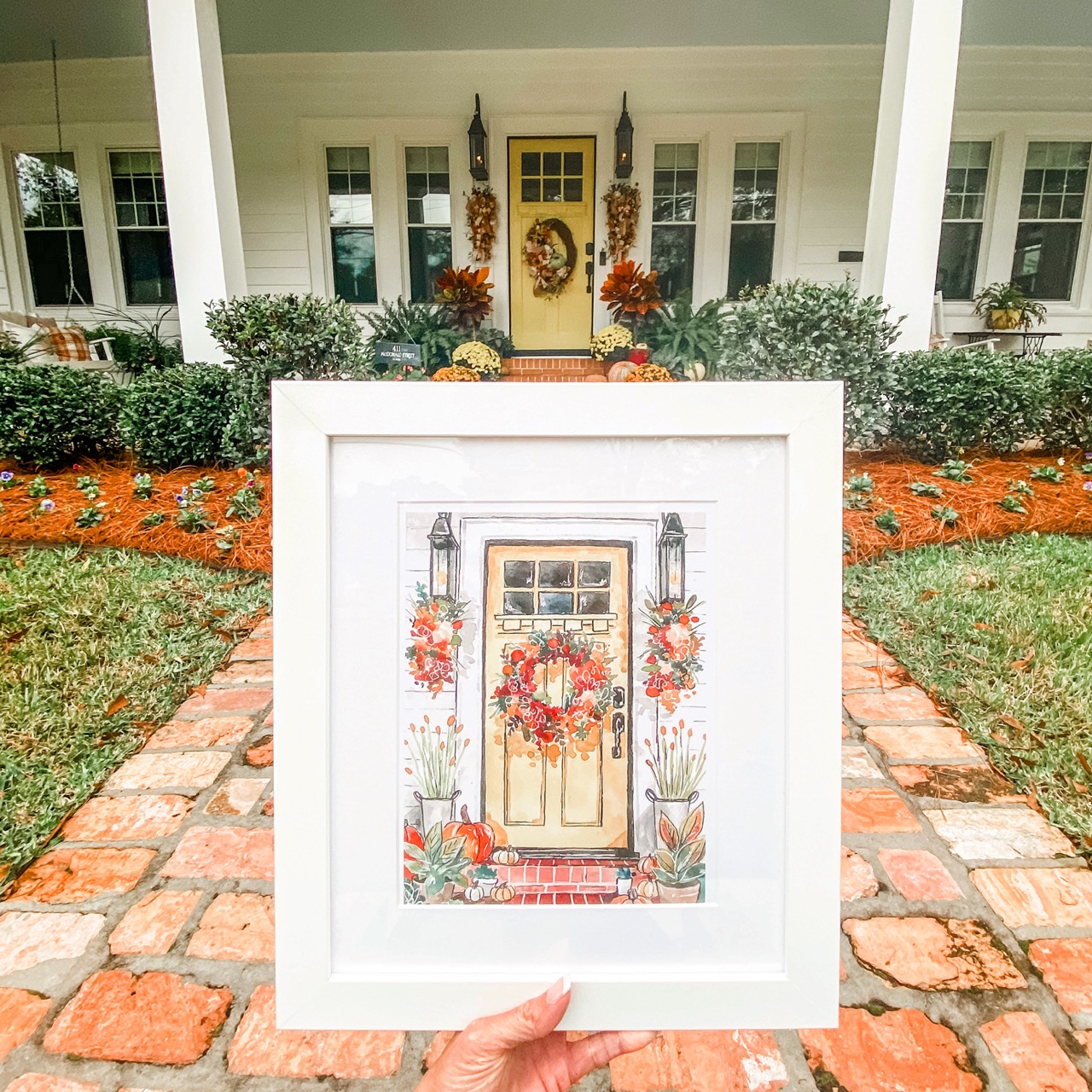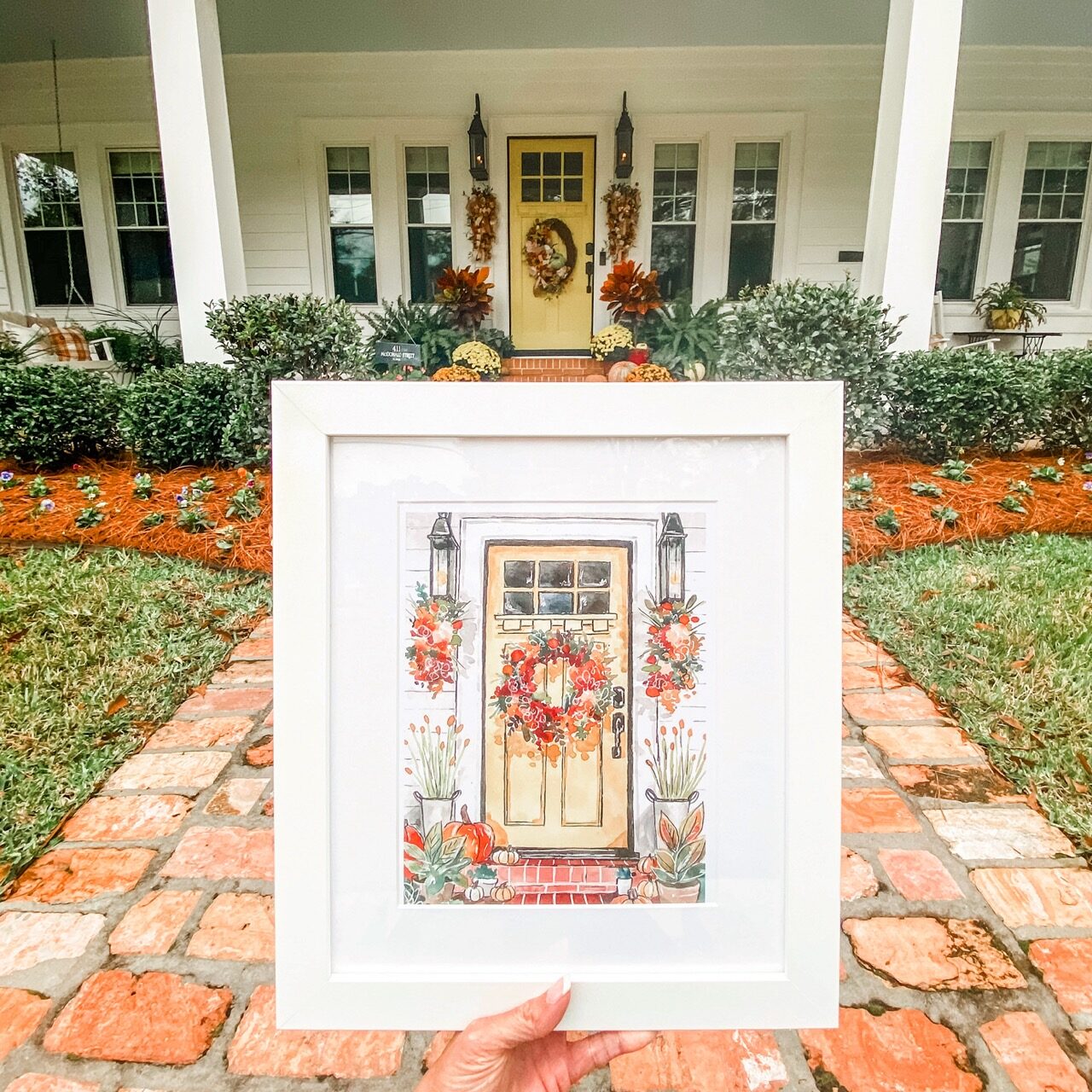 Custom house portraits are custom art pieces of the outside of your home. They are a unique and creative way to display a place that is special. There are many different options for a custom house portrait such as watercolor or acrylic painting, pencil drawing, or even a digital design. As we mentioned above, there are plenty of artists on Etsy that can accomplish exactly what you are looking for.
3. Their First Photo At Home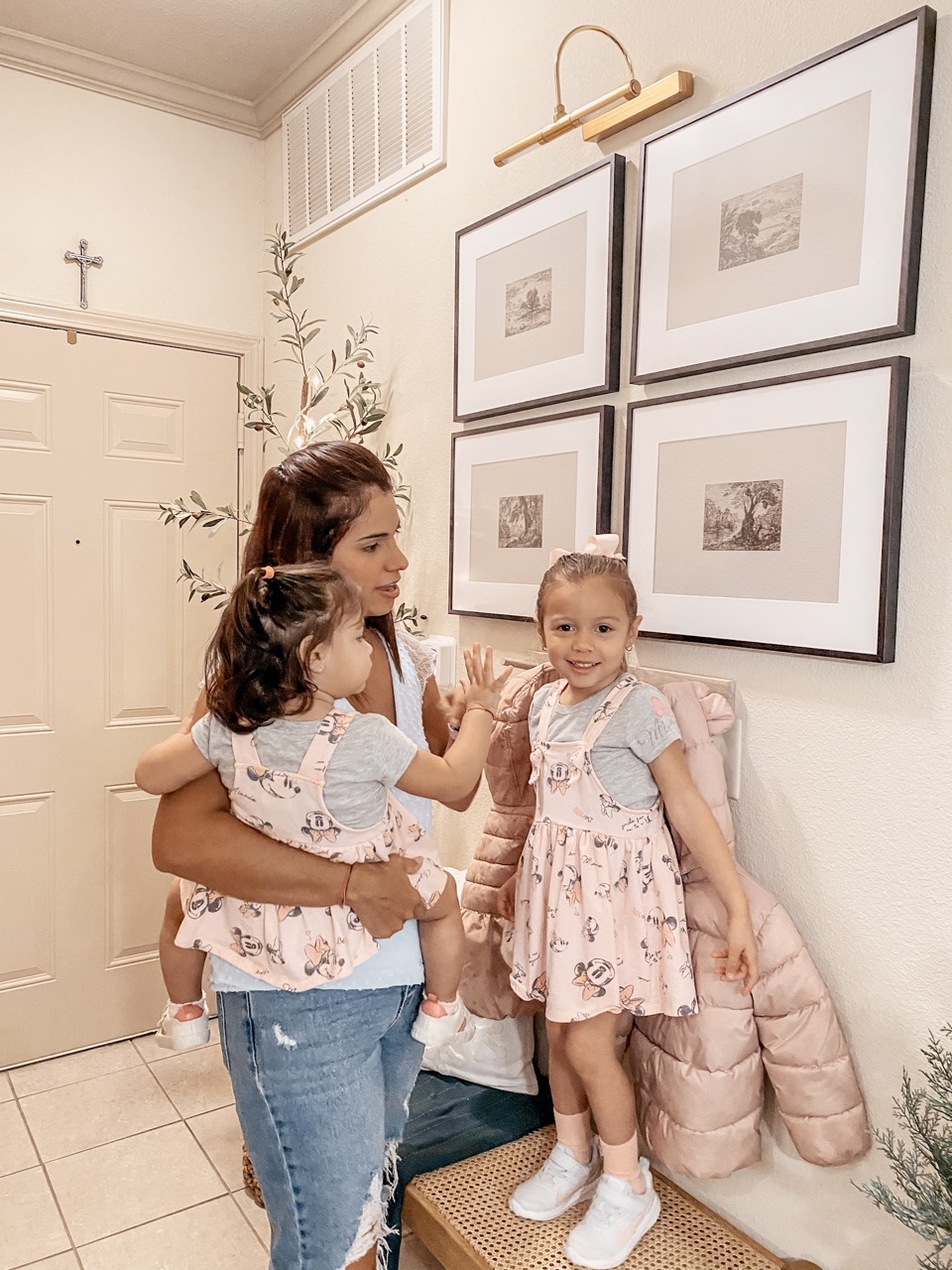 Most people take a picture in front of or inside of their home on closing day. If you have access to this photo, why not get it frames for them to always remember this happy moment? If you are choosing a frame size 13″ x 19″ or smaller, consider adding one of our EaselMates™ to your cart before checkout so that they can display it on their countertop or table.
Wrapping Things Up (Don't Forget The Bow)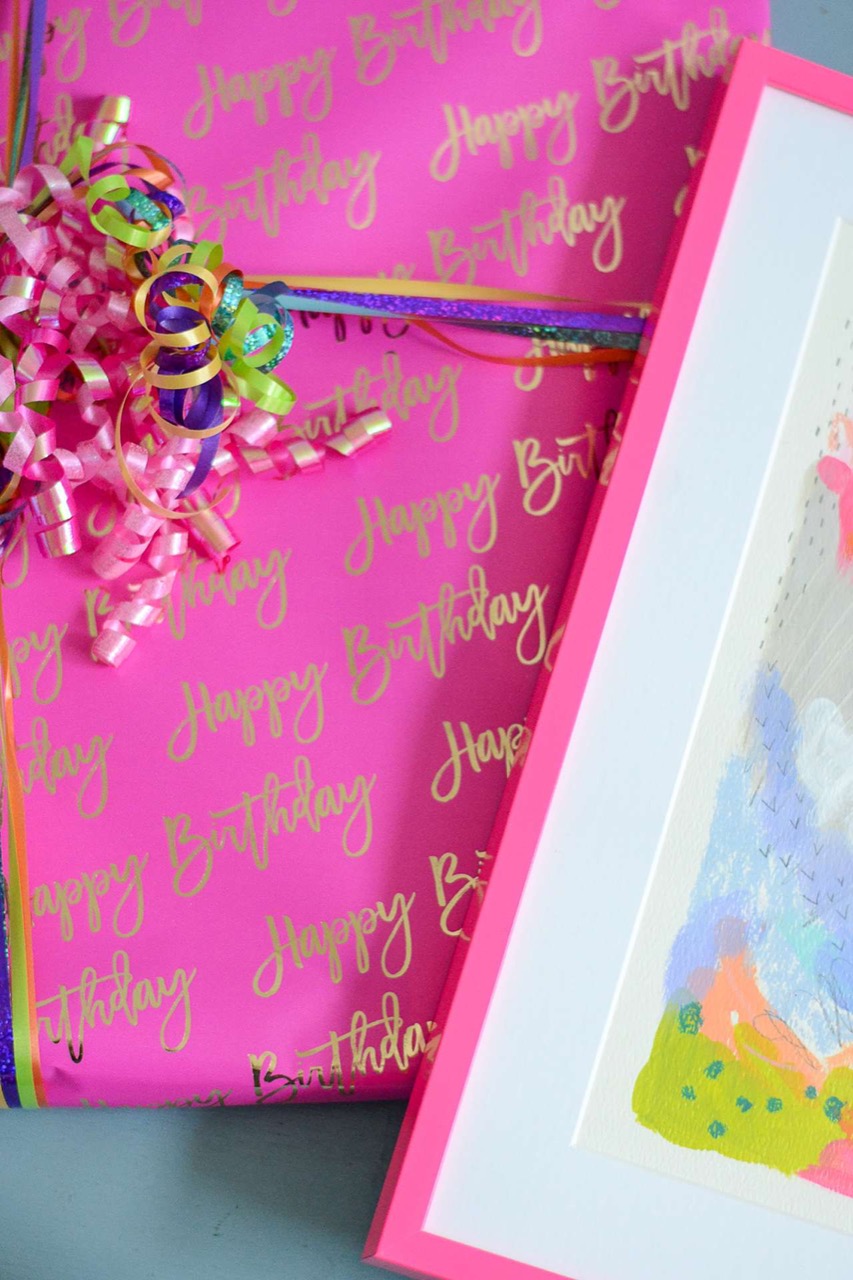 Sometimes, it can be stressful to find that perfect gift for someone you love. You want something unique and creative, but you're running out of ideas! We hope this post gave you some inspiration for the next holiday or special occasion coming up.
Still haven't found the perfect gift? We have tons of more inspiration and gift ideas on our Learning Center so be sure to check it out. Of course, if you framed something that we didn't mention, be sure to share photos with us on social media so we can add them to our list!
Once you do find that perfect gift to frame, make sure to wrap it up special for them. Need some help with that? We've got you covered! Check out our How to Gift a Frame video on YouTube!
This post first appeared as Custom Picture Frames Make The Perfect Gift For Any Occasion: Our Guide To Finding The Perfect Present on Frame It Easy - Learning Center for Custom Picture Framing.