Matboards
This is the same matting we use in our frames, available in any size in a number of colors and options.
We normally recommend that the Inside Dimensions be 1/2" smaller than your artwork's dimensions so that the mat overlaps your artwork by 1/4" on each side. This prevents the artwork from "falling through" the mat. Reach out to us if we can help!
A matboard, sometimes referred to as a mat, is a cardboard-like material, which sits between a frame and your photograph or artwork to give it a more finished look. Matboards range in a variety of colors and cores, depending on your needs.
What is the purpose of a mat?
The two main purposes of matboard are for decoration and protection. Matboards can serve as an additional decoration to your photograph or artwork. When the right color is chosen, it can help draw your eye towards the framed piece. Matboards also protect the photograph or artwork by separating it from the glass (Lens Cover). This is important because condensation can build up inside of the glass, which can result in water damage to the framed piece.
Are your matboards acid-free?
All matboard stocked by Frame It Easy conforms to industry standards. They are marketed as acid free by their manufacturers.
What is a Double Mat?
A double mat is 2 separate mats, consisting of one top mat, and one bottom accent mat. The bottom accent mat opening should be slightly smaller than your print/picture. The top mat opening should be slightly larger than the bottom mat opening.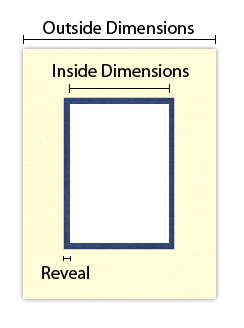 How do I order a Double Mat?
We will explain how to order 16" x 20" double mats, for an 11" x 14" picture. The OD (Outer Dimension) of the Bottom mat would be 16" x 20", the ID (Inner Dimension) would typically be 10 1/2" x 13 1/2". This will allow for 1/4" of the perimeter of the 11" x 14" artwork to be hidden (Essentially taped from the back) underneath the opening of the bottom mat. The Top Mat would also have an OD of 16" x 20", however the ID would typically be 11" x 14". This will expose 1/4" of the bottom mat window perimeter (1/4" Reveal), and will create the accent color or double mat effect. Although the 1/2" increment is typically the norm, we allow our customers to choose what they feel will work best for their artwork by ordering each mat separately. Please just keep in mind that when dealing with matting, correct measurements are essential, and one must always think about perimeter measurements. Hence, if an ID window is 1/2" smaller, the perimeter will be effected by 1/4", not 1/2". Most frames also typically cover 1/4" of the perimeter of what is framed as well. For the majority of customers, 1/2" smaller on the window size works out perfect.
Our line of matboard offers excellent protection for the majority of framing jobs, and provides unlimited matting combinations to enhance artwork and complement interior decor. We carry the very latest trends in matboard colors, textures and patterns offering versatility, affordability and creative options. The 4-ply boards (.052" - .060" thick) have a fine-quality surface paper that is highly fade and bleed resistant with a buffered acid free surface, core and backing paper. Suitable for non-conservation framing of: posters, decorative art prints, craft projects, and professional photos. All orders are shipped with a packing slip which states: Each ordered matboards' inside and outside dimension, opening shape, and color.
Use the matboard builder above to view all of the matboards we currently have available online.
Need a little inspiration on what mats to design for your next frames?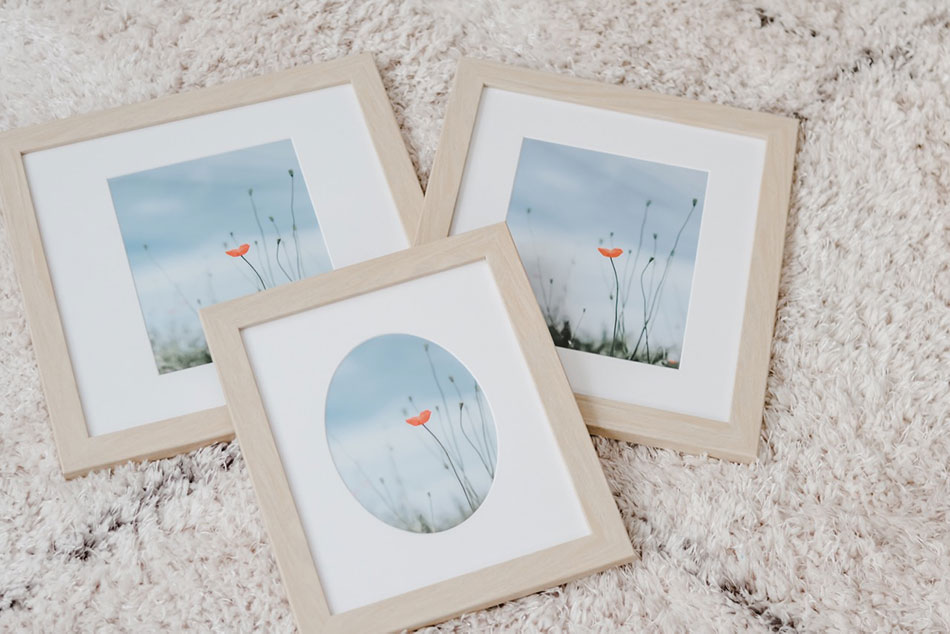 We have a collection of articles in our Learning Center specifically about matting, including posts about choosing the right color, size, and even the opening shape.
Check Them Out!