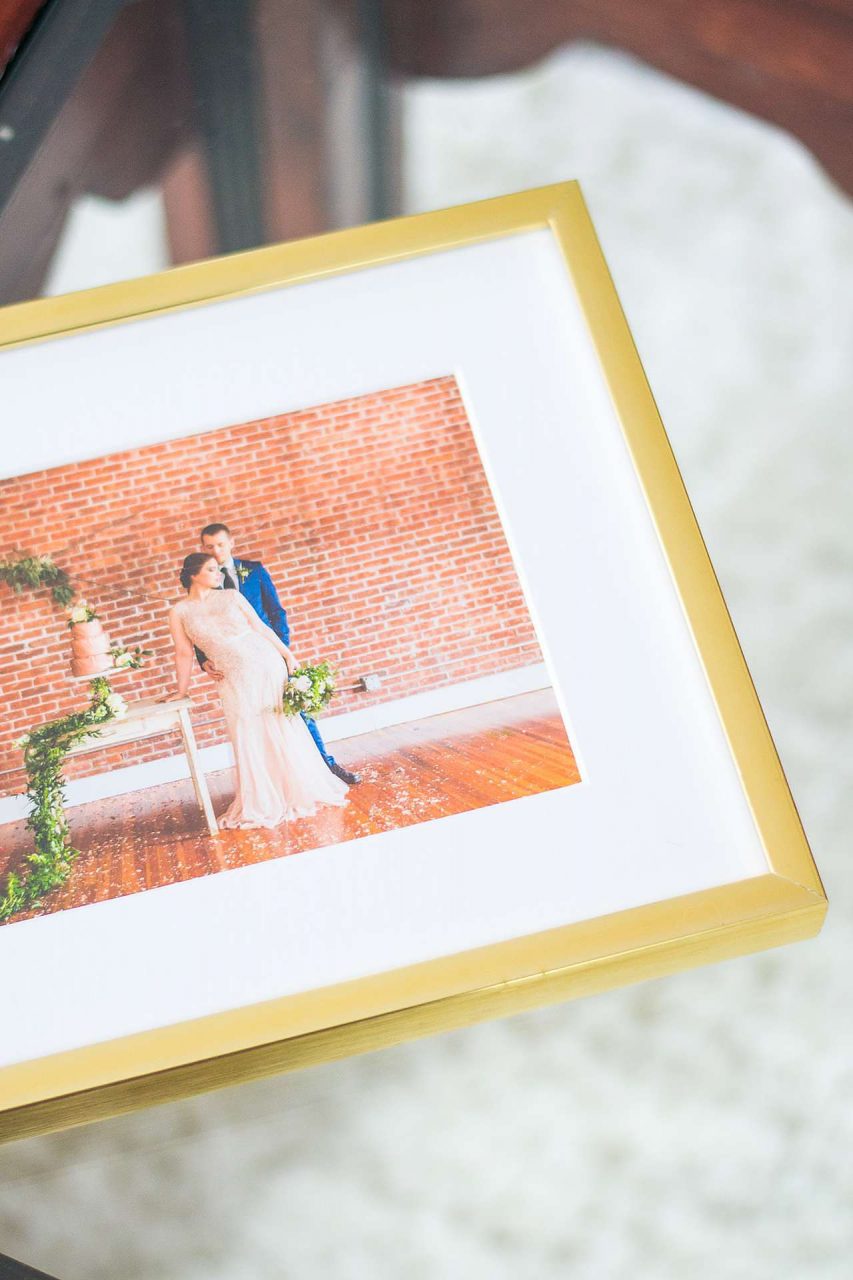 Your wedding is one of the best days of your life, and it's most likely well documented. Of course, you want to preserve these precious memories by framing your wedding photos!
Whether you're creating a display for your own home or giving a gift, framing wedding photos is an extra special way to remember your special day for years to come.
But where do you start? Following your wedding day — along with the events that lead up to it — it's not surprising if you end up with over 1,000 images to browse and choose from.
Framing your wedding photos is its own process, with decision making starting far before the special day. Fear not, though — we're sharing some tips to make it easy.
Here are four steps to ensure you create a great wedding photo display:
1. Getting The Perfect Wedding Pictures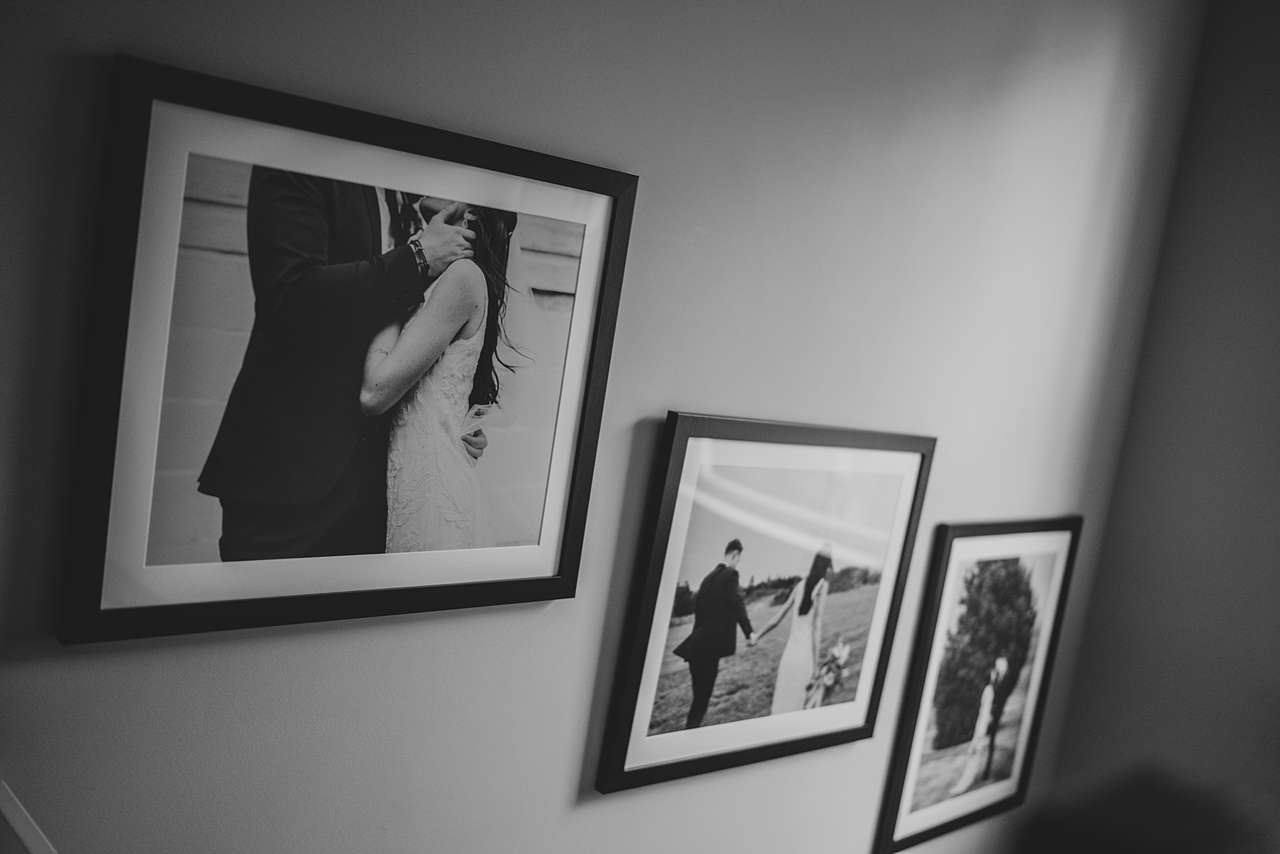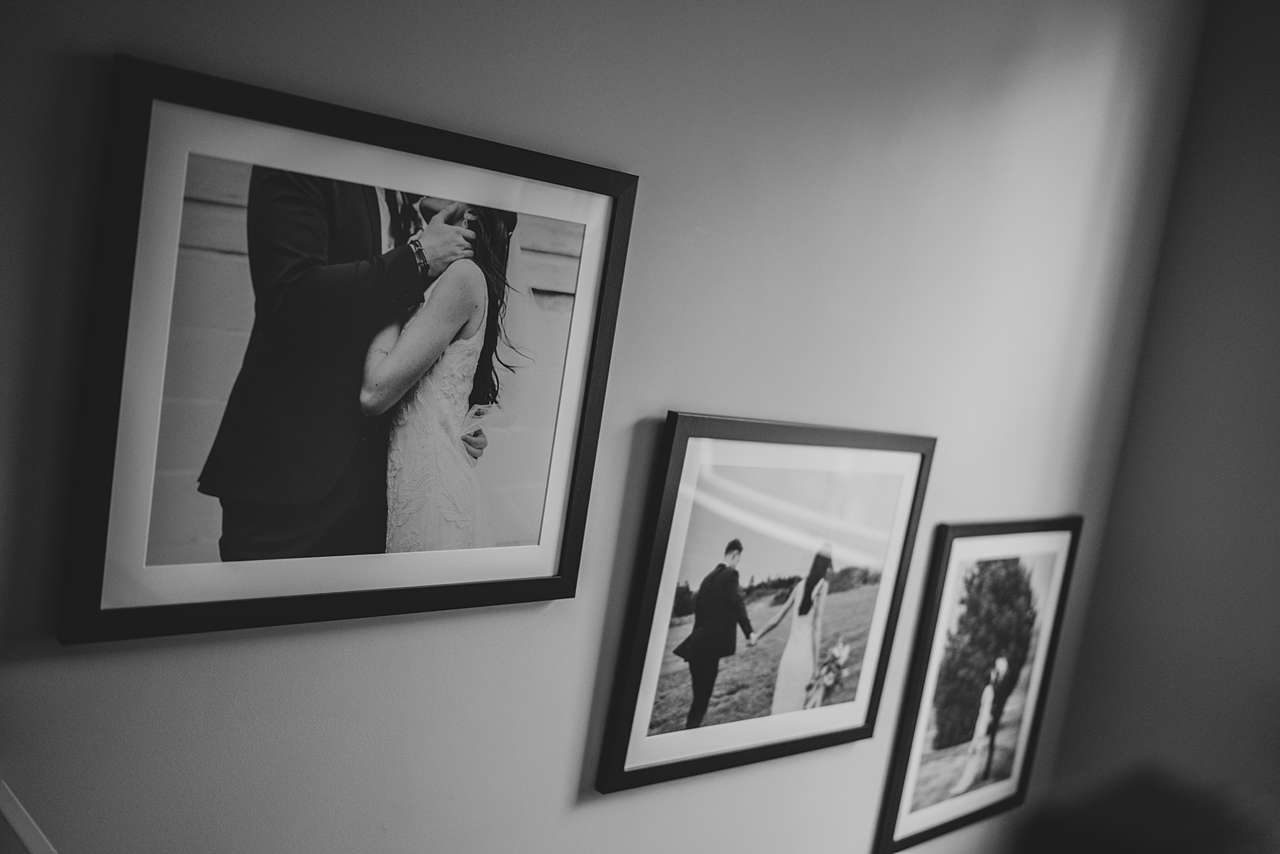 Photographs are unique in that you only have a single opportunity to capture the moment. So when it comes to taking your wedding photos, it's super important to find the right wedding photographer you have all the confidence in.
Everyone will consider different photos as the "perfect" shot, so you must find a professional photographer who's able to identify the shots that you will find perfect, the ones that you're eventually going to want to frame to last forever.
Perhaps you have some ideas on the photos you know you'll want to have taken. Some examples might include: a candid shot of the bride and groom, the first dance at the reception, cutting the cake, the wedding party, a family shot, the groom's reaction when he first sees the bride, or even the full wedding party.
Lastly, to choose your wedding photographer you'll want to settle on the style in which you want your photographs. Be sure to check out a photographer's reviews and albums, consider their personality, and definitely keep your budget in mind.
To read some more in-depth tips, check out our post on how to choose your wedding photographer.
2. Choosing The Best Wedding Photos To Frame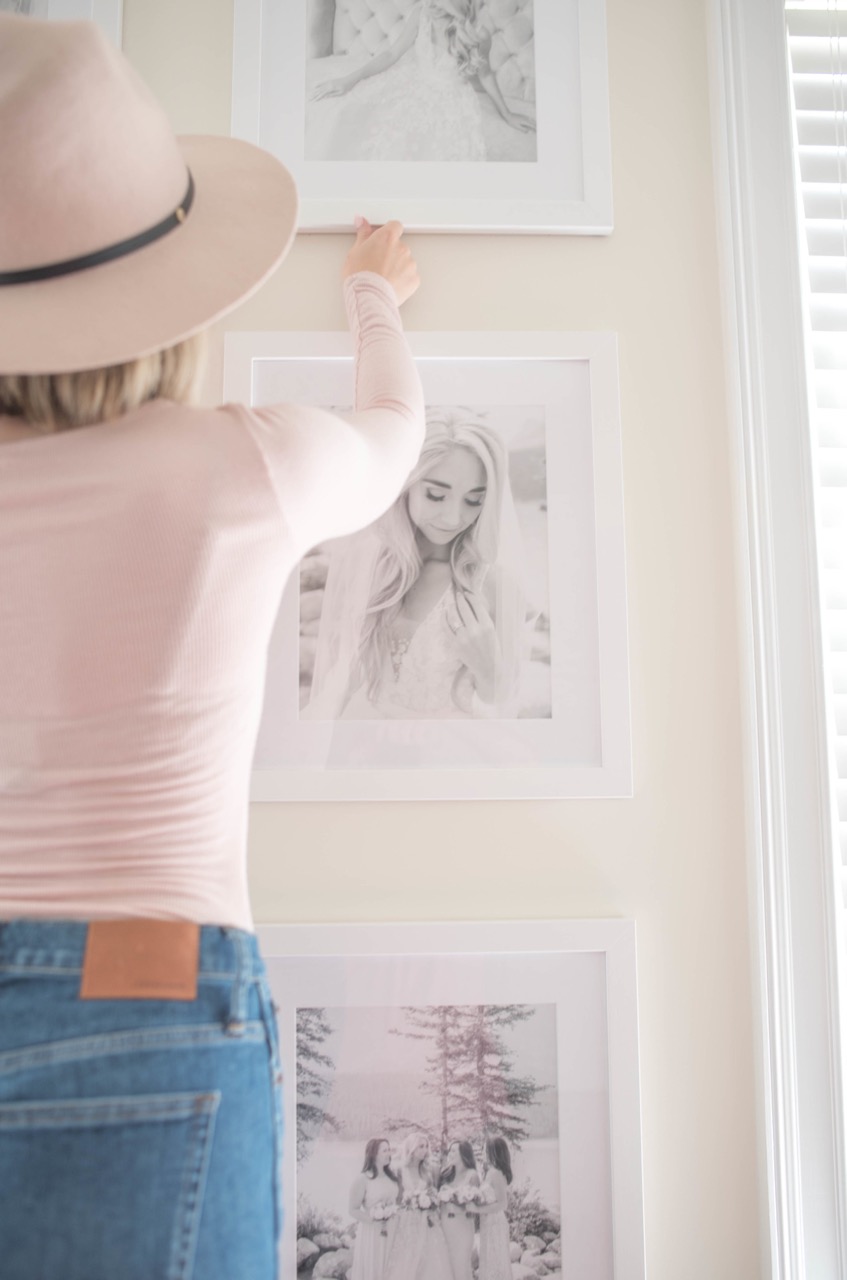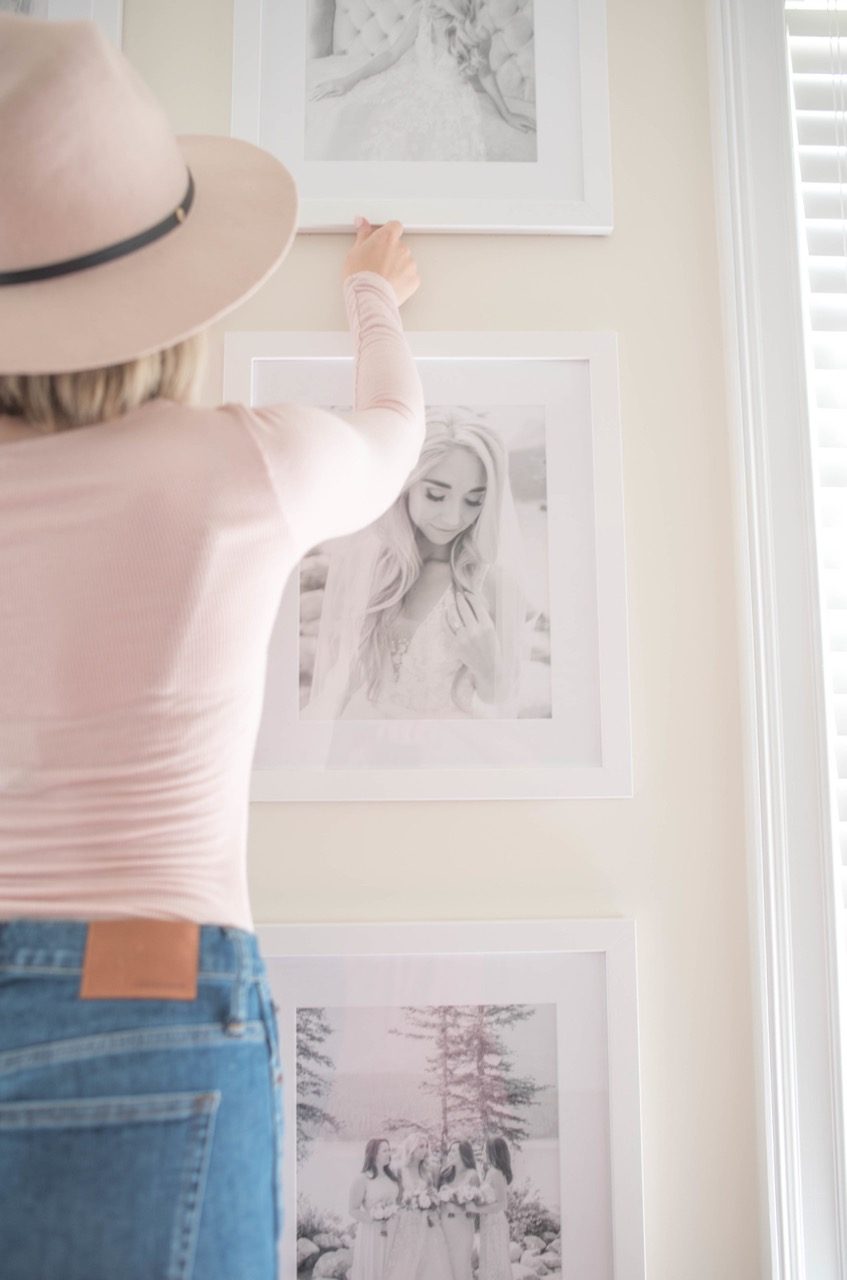 You decided on the perfect wedding photographer, and you had the time of your life on your special day, as well as all the events leading up to it. Now you're home, browsing through a folder of 1,000+ photos, and you simply can't decide on which ones to frame.
Framing your favorite wedding photos is extremely subjective. You have to go with your gut when choosing! Narrow down the photos that'll make you smile when you see them, the ones you can't wait to show off to all of your visitors.
Additionally, you could think first of the area in which you'll display them. Will you put one on top of your nightstand? Choose a photo that would look great when scaled small, perhaps a closeup. Is it a large display that will be the centerpiece of the room? Find a dramatic and bold piece that truly makes a statement.
Planning an entire gallery wall? Consider choosing a series of photos that tell the story of the day in its entirety. Maybe you choose only black and white photos, or do a smaller series from each part of the day (getting ready, the ceremony, the after-party, etc.).
At the end of the day they are your photos and you will have to choose the ones you love best, but going in with some sort of theme or plan should help make the process a bit easier.
3. How To Display Your Wedding Photos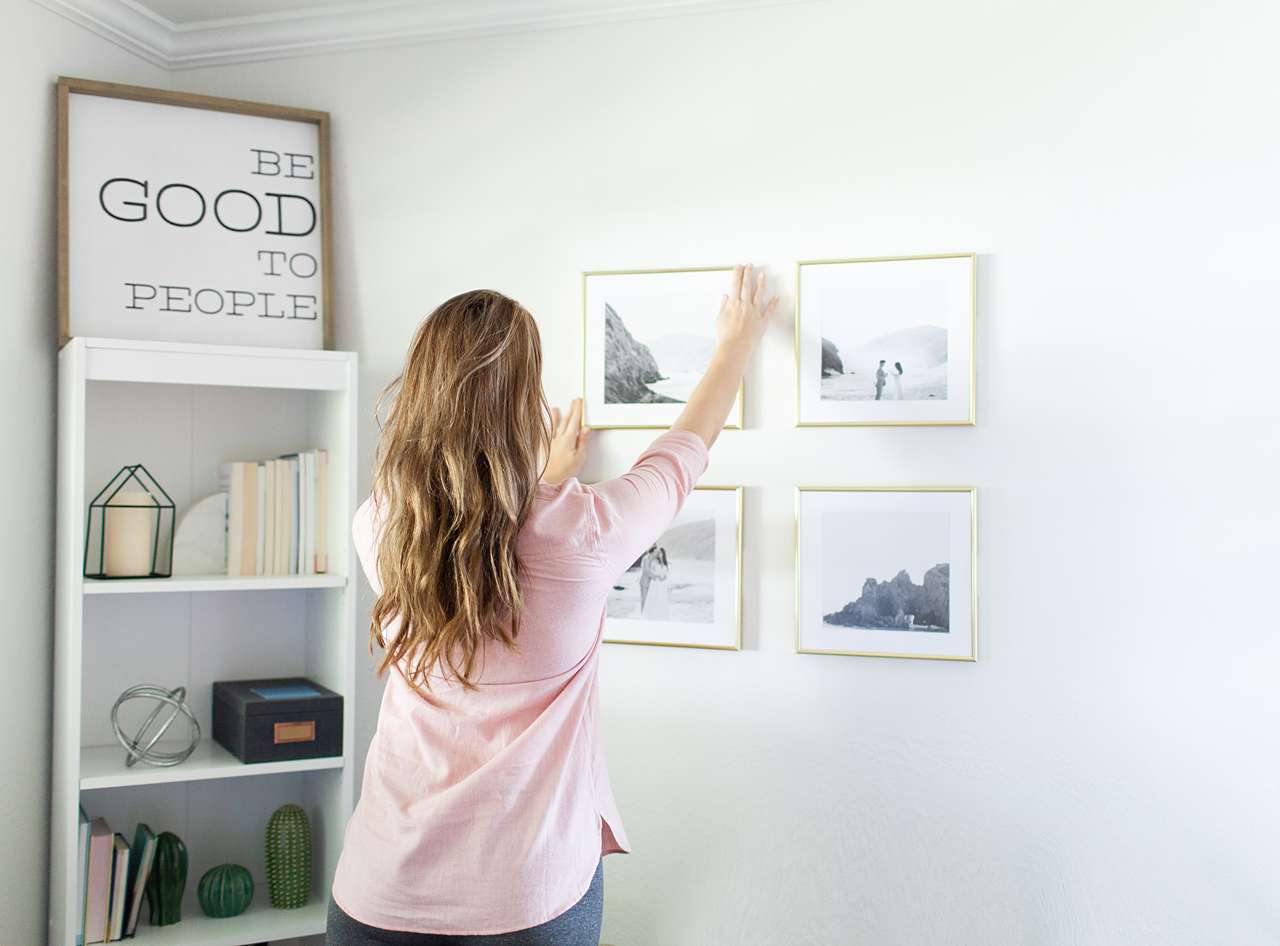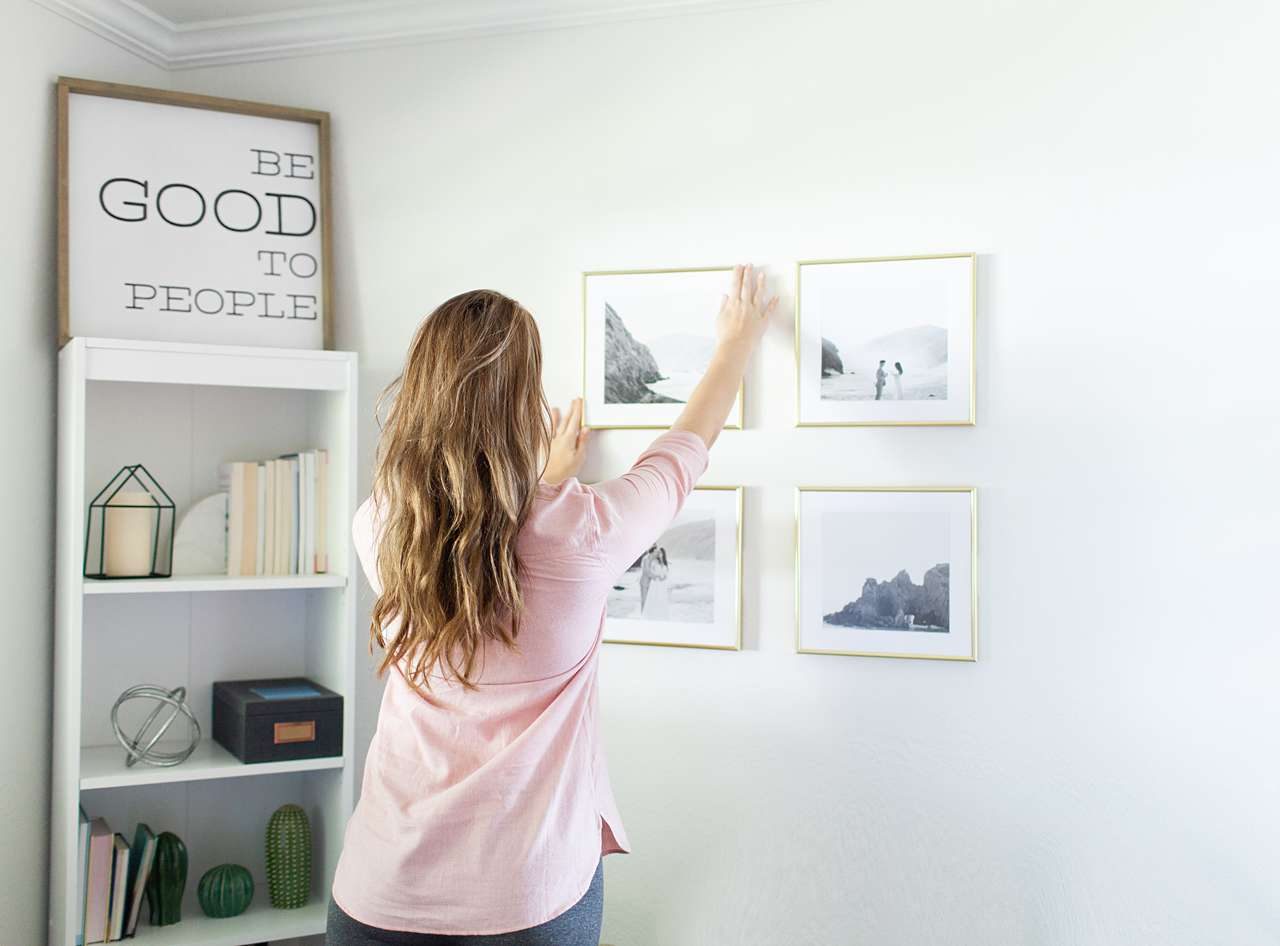 After you've found the right photos to frame, a large part of framing your wedding photos is how you display them. And this depends on your taste as well as the space you have to display your framed photos.
Perhaps the most popular way to display your wedding photos is by creating a gallery wall. From triple frame displays and asymmetrical to grid-style displays, you can create the gallery wall arrangement of your dreams with as many wedding photos as you please.
Would you prefer a larger scaled display? Large picture frames are bold, eye-catching, and can be the main attraction of any space you put them in. Check out our post on how to style your large picture frames!
Even if you have a smaller space, don't be afraid to add some frames! Small spaces still need wall decor to breathe some life into the room, and personal photos do just that. Read up on some tips for styling small spaces with custom picture frames.
4. Where To Display Your Wedding Photos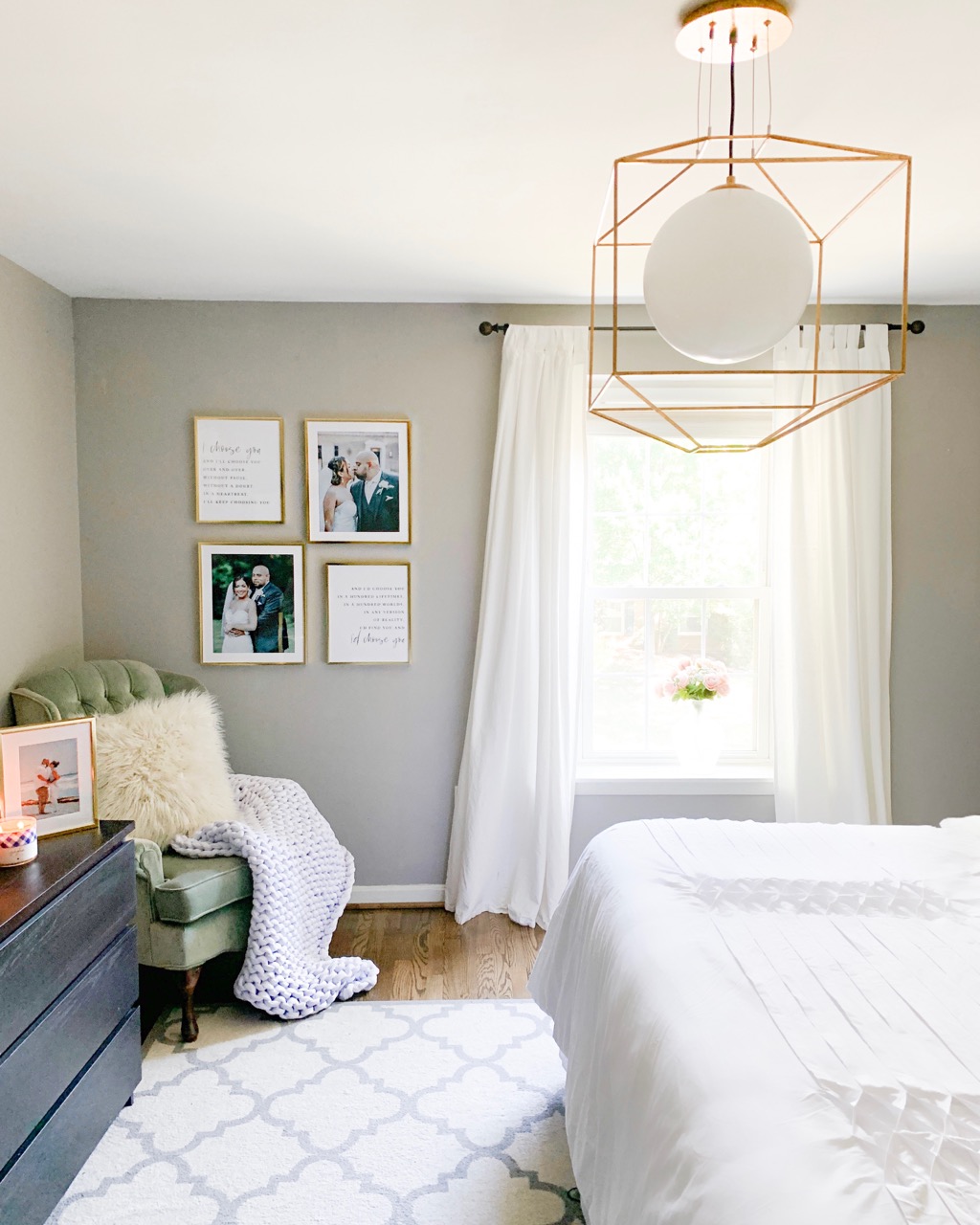 After framing your wedding photos, you can really display them in any space that you please. However, there are certain areas within the home that are always great for wedding photos.
Consider adding them to the areas in your home you either entertain, welcome, or relax, such as:
living room
bedroom
entryway
dining room
Your wedding photos are a visual reminder of such a special day shared with your new spouse, so adding photos to your bedroom can be intimate and cozy.
Alternatively, you probably also shared this special day with lots of family and friends, so adding the photos to shared spaces you entertain and/or welcome others into your home are just as perfect.
Frame Away!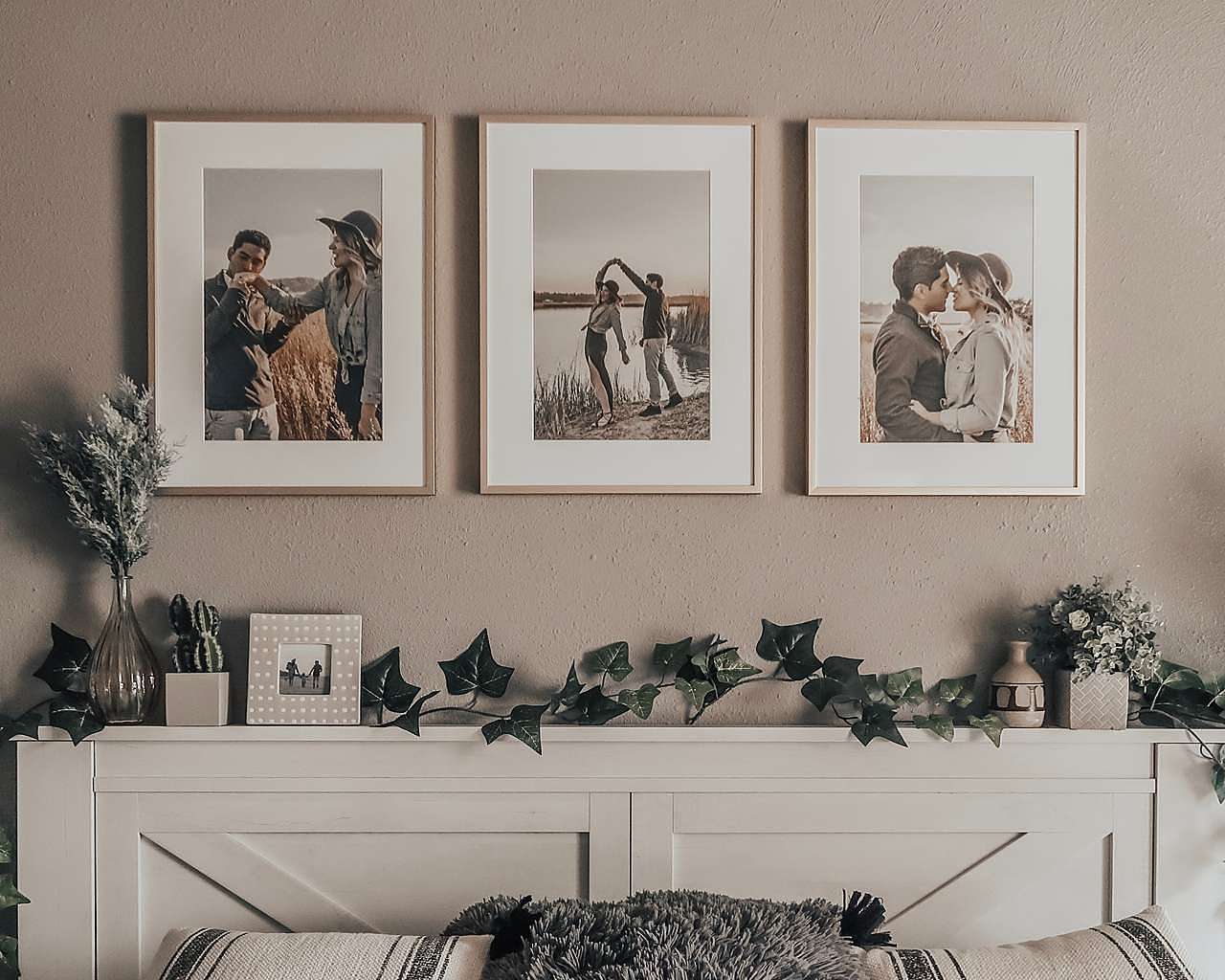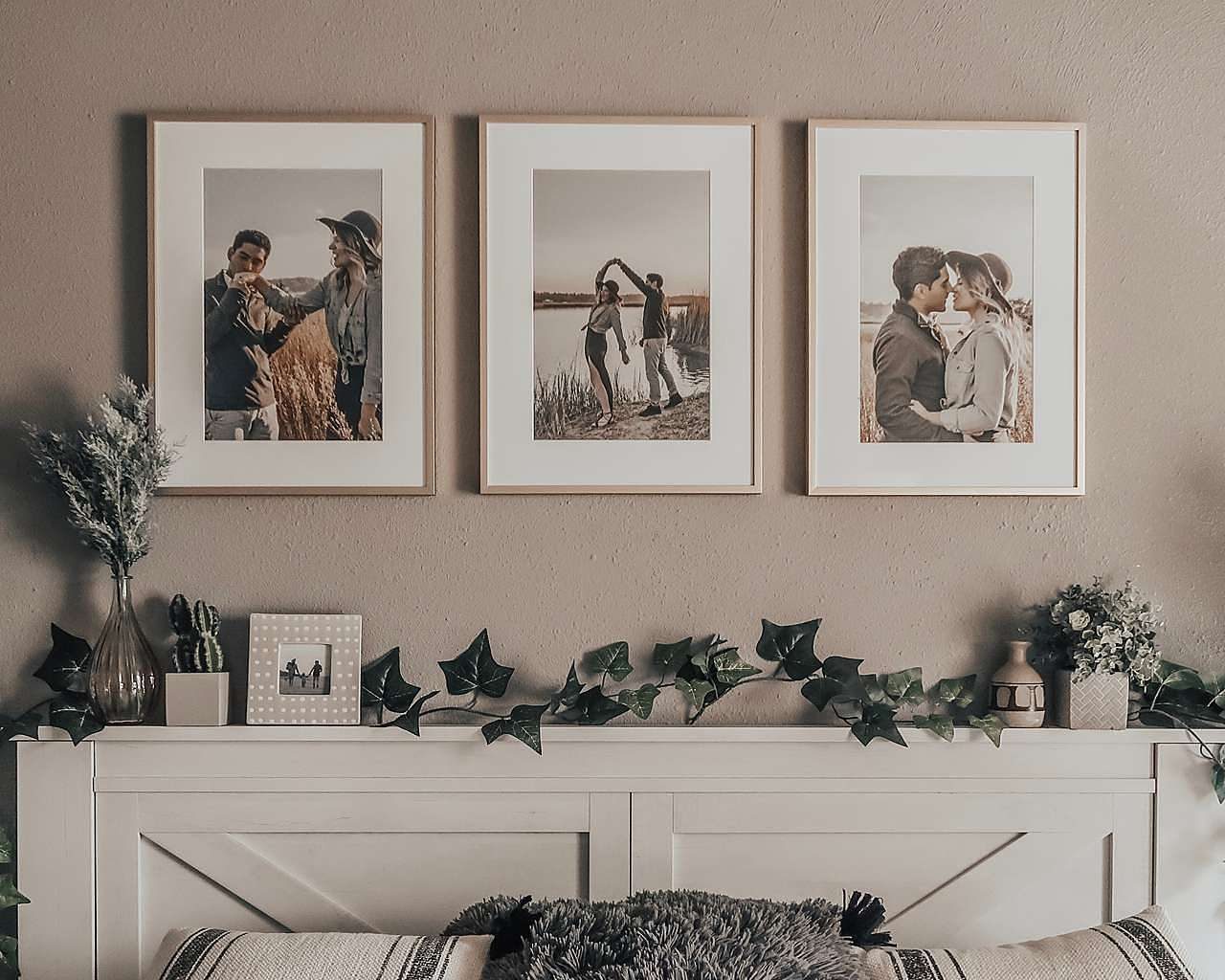 Framing your wedding photos can be a daunting task — after all, narrowing down all those photos to 5-10 for framing can be overwhelming!
The process of framing your wedding photos starts far before the actual event takes place. Your wedding photographer is a huge part of your framed final pieces, so be sure you choose carefully! In addition, perhaps keep in mind a few photo poses/scenarios you know you'll eventually want to have framed.
Choosing your photos to frame is really subjective, but just think of the ones that you know you'll want to look at all the time. Additionally, you can consider where you're going to put the framed pieces, and that could help you choose between a couple of different photo options.
The last step to framing your wedding photos is actually hanging them. Where you frame the photos is up to you, and there are tons of possibilities within your home.
Overall your wedding photos are an important, timeless piece of your personal history. The wedding itself may have been a single day, but choosing to display the photos allows you to relive it for years to come.