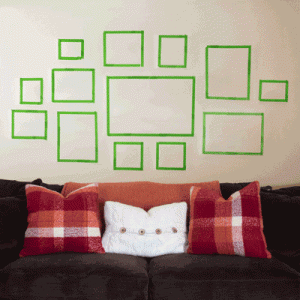 We can all agree that adding framed photos to your walls adds a certain homey touch, and gallery walls are a great way to showcase a variety of favorite memories.
We've seen photos of some amazing collage & gallery setups, but how do you actually go about creating your own?
In this handy guide, we'll walk you through the steps to create a super simple wall collage of picture frames!

Step 1: Choose a Spot for Your Picture Frame Collage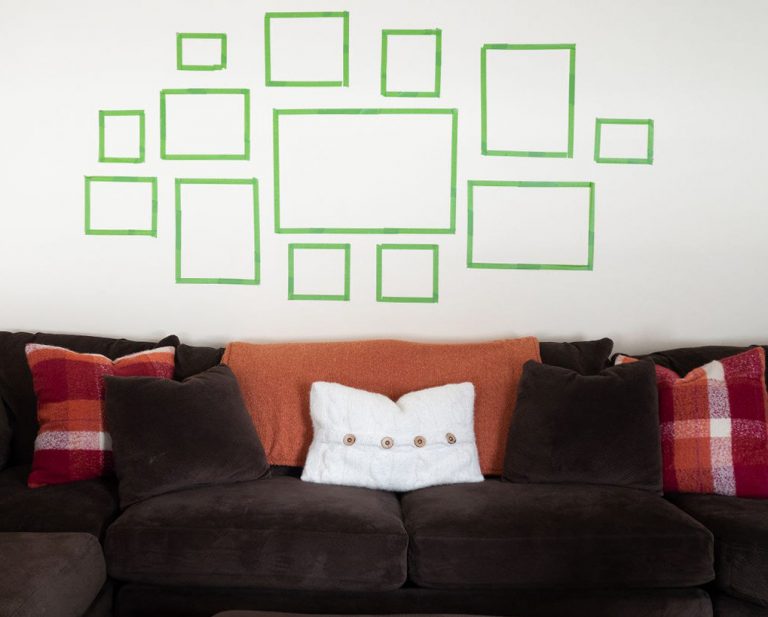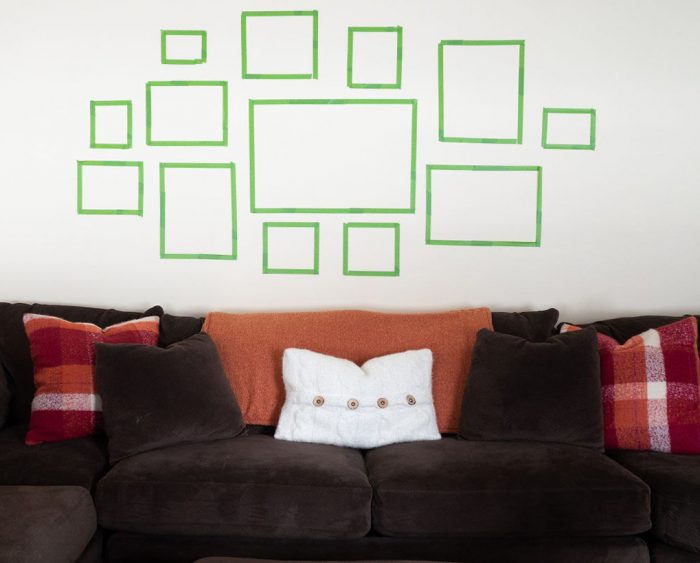 The first thing to do in creating a picture frame collage is to choose where you want to put it.
This ultimately comes down to personal preference, but there are a few things to keep in mind:
Choose a spot that is easily accessible — this will not only make it easier to hang your photos, but it will also be easier to dust, add in more frames, and/or swap out new photos as time passes.
Choose a spot that is well-lit — you want to be able to enjoy seeing your photos once they're up!
Consider a theme — if you're going with a collage of family photos, maybe your living room is the perfect spot. Or maybe you're creating a gallery of your kids as they grow up so you want them to see the photos in their playroom. Sometimes the theme of your gallery will help dictate the perfect location or vice versa.
Don't be afraid to think outside the box. A hallway or bathroom may not be the first place you think of but don't discount any space you can make work.
Step 2: Outline Your Picture Frame Collage with Painter's Tape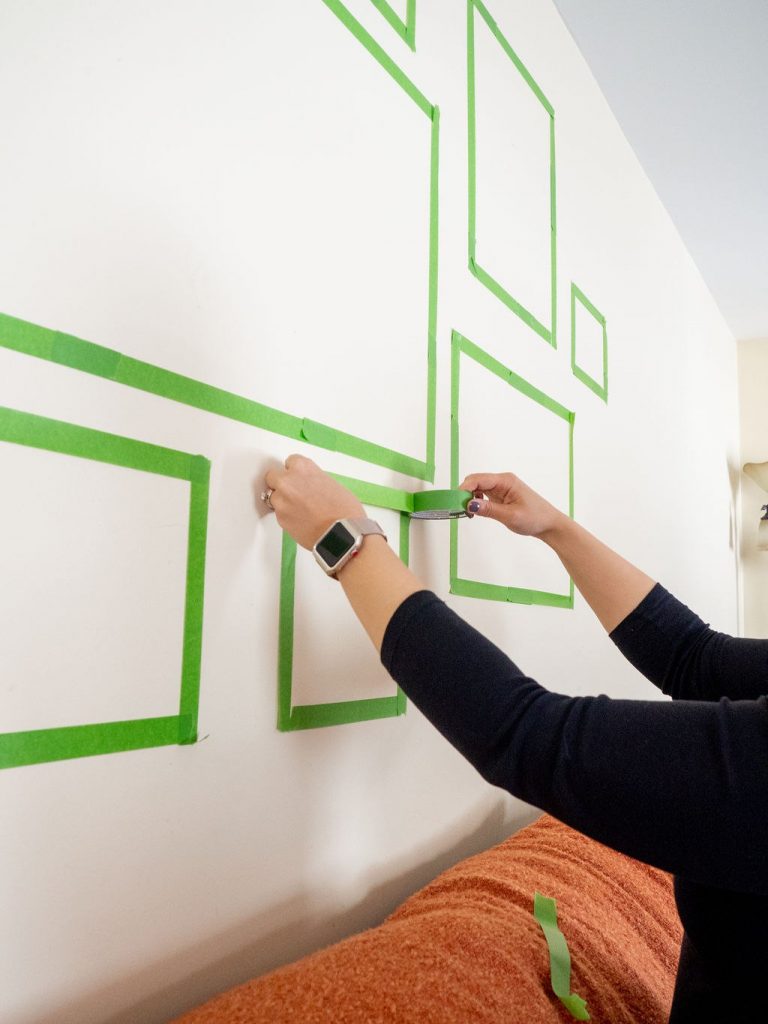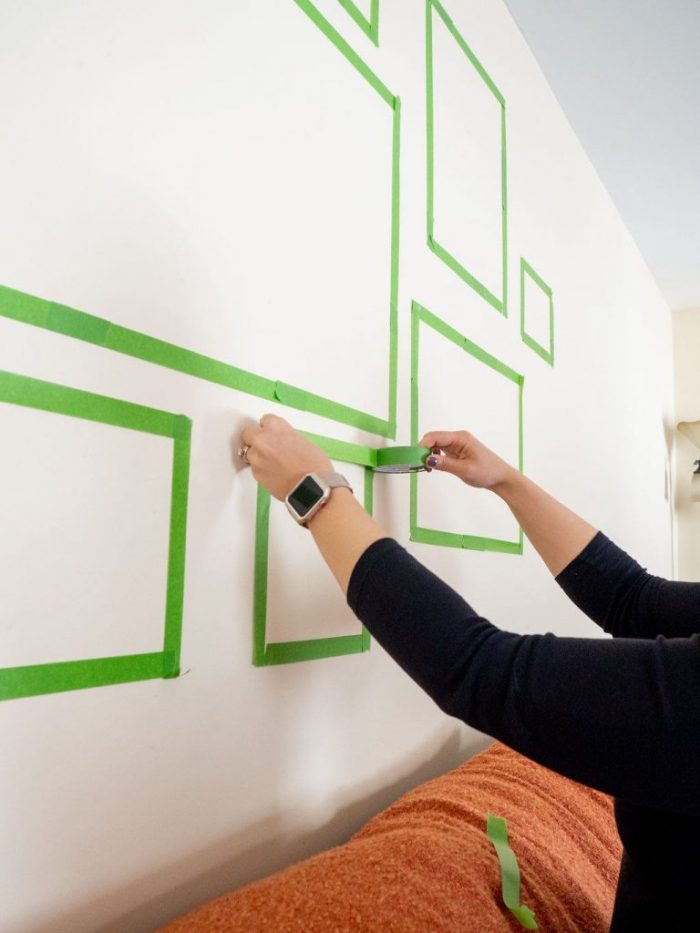 While there are a number of ways you can plan your picture frame arrangement, actually seeing the wall blocked out is the best way to visualize the space. By using painter's tape you have the flexibility to not only adjust and create any size that fits best, but it's also easy to remove.
Now is the time to decide what kind of gallery wall you want. If you want a uniform gallery (where each frame is the same size/style) or an offset gallery (where you arrange all different size and style frames.) If you choose to go uniform you'll want to be extra precise when blocking, and if you're going offset you have a little more creative freedom.
Focus on the overall look of your gallery rather than the exact dimensions of each frame — we'll cover sizing in Step 4.
Consider using a low-tack brand of painter's tape to minimize the chance of damage when you remove or rearrange it.
Use a ruler and/or a level to help get straight edges.
Step 3: Measure Your Picture Frame Sizes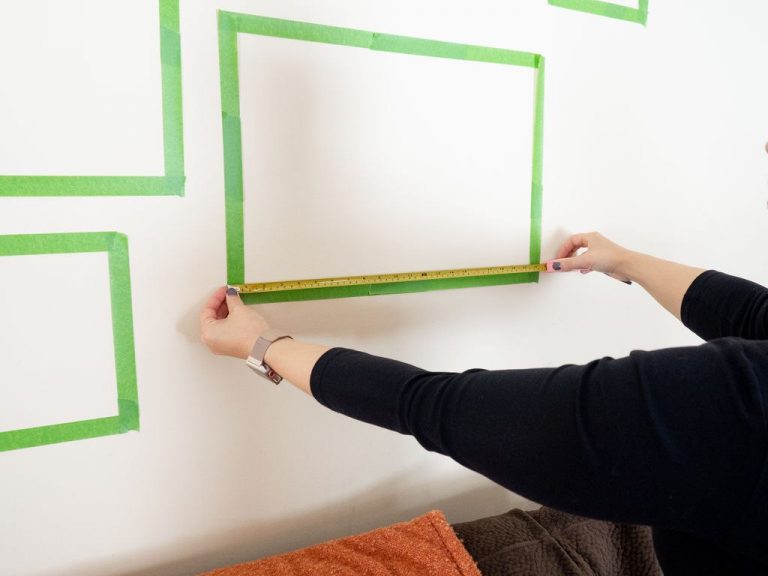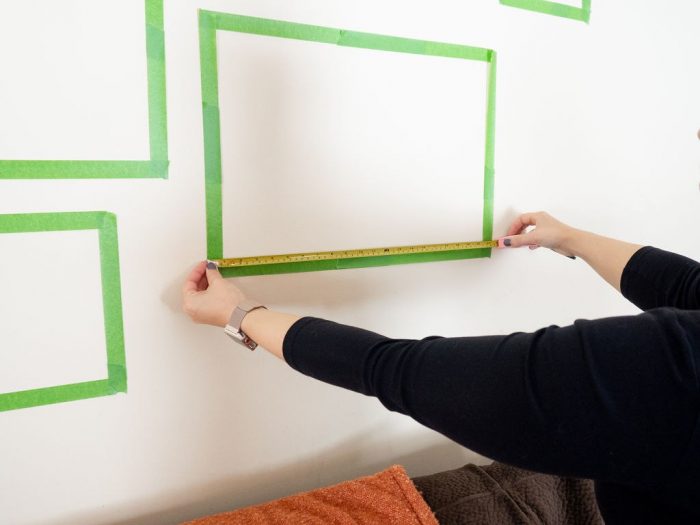 Once you've got your wall outlined and looking fab, use a measuring tape to measure the size of each "frame."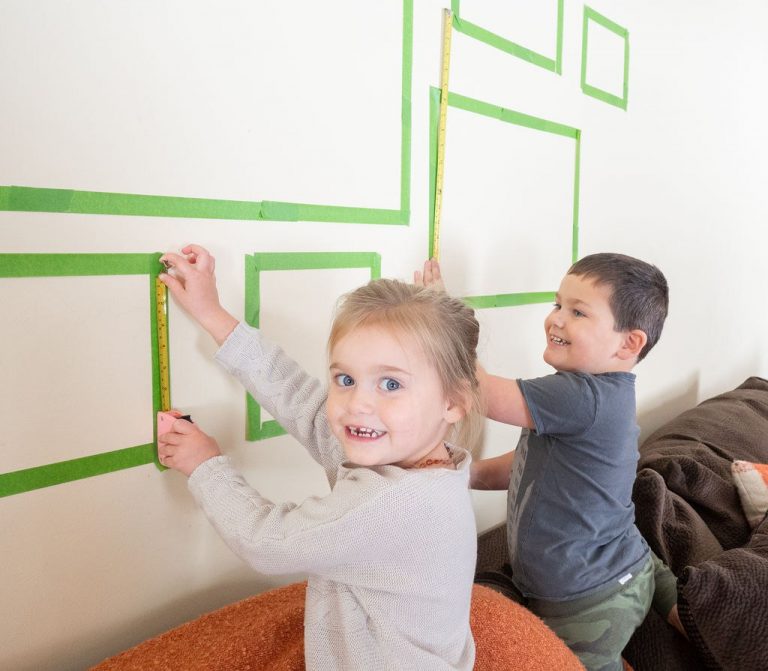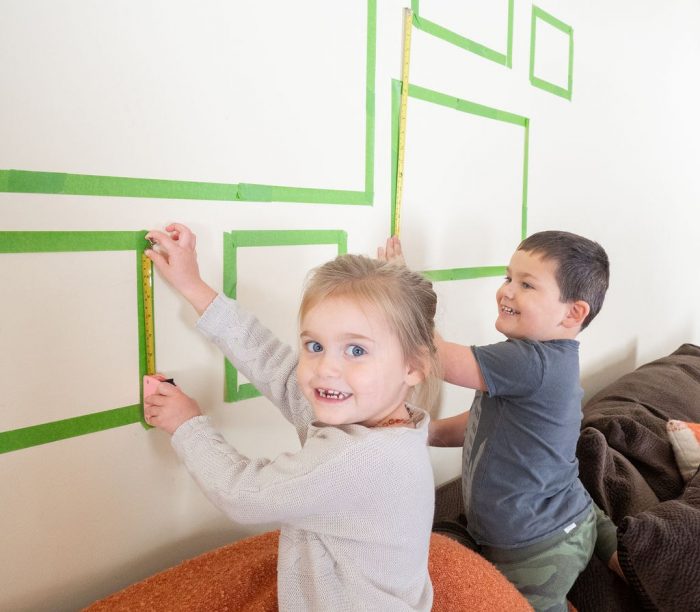 Be as precise as possible, and make sure you measure consistently from the outside edges.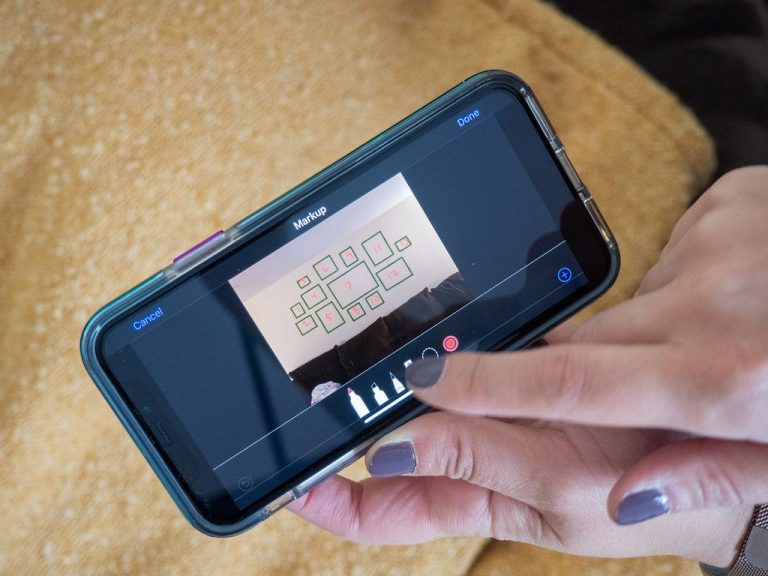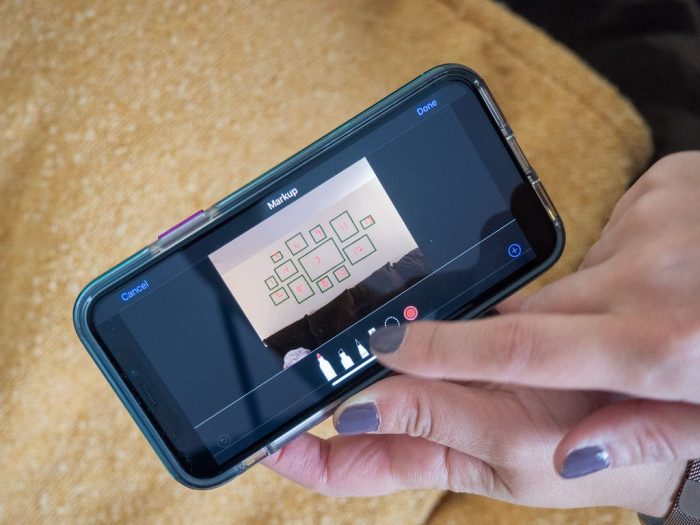 Make sure you make a note of which spot goes with which size. Use a pencil to write on the painter's tape for reference or take a quick photo on your phone that you can digitally mark up.
Step 4: Design & Order Your Picture Frames Online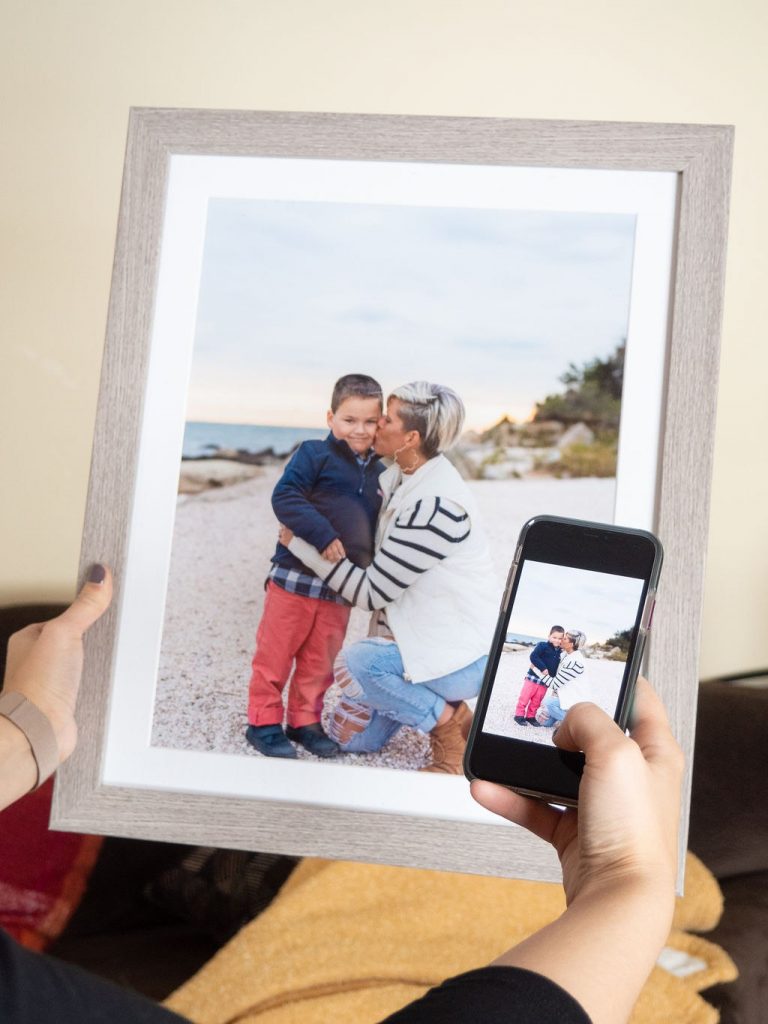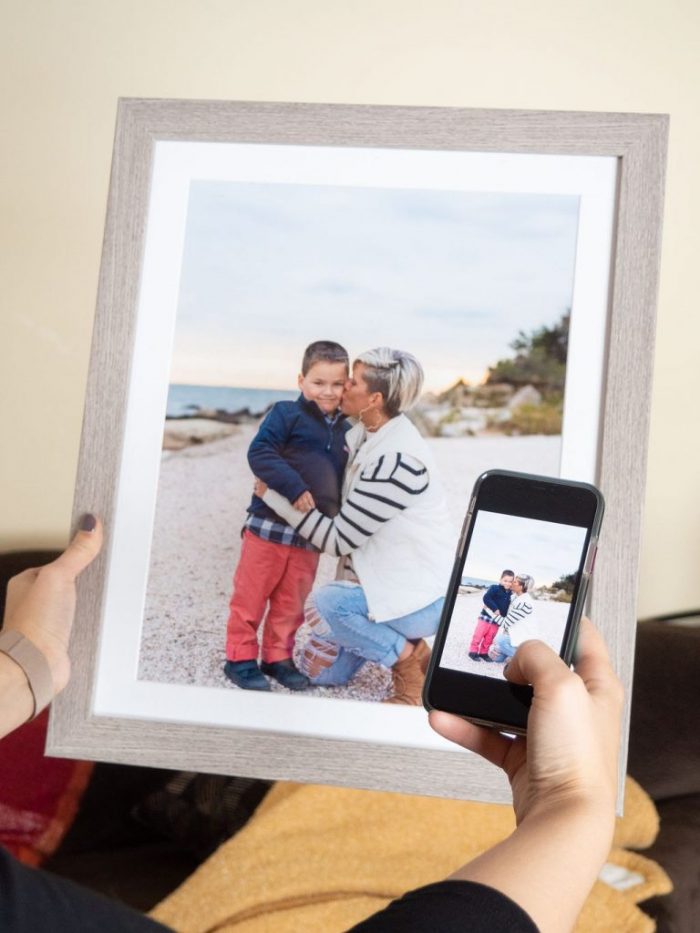 Now that you have all the sizes you need, it's time for the fun part — designing your frames!
The nice thing about ordering custom picture frame sizes online is that you can literally match your frames to the exact specifications you blocked in Step 2. This means your collage will be completely custom to your space, perfectly fitting in size & layout.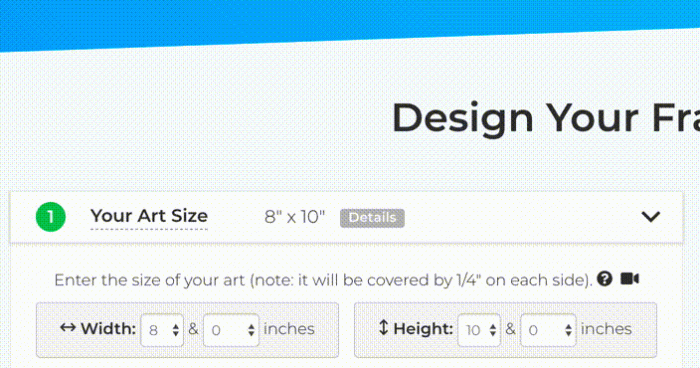 When using our own frame designer, you can upload your photo and we will build the frame around the "Art Size," as different frame styles have different measurements. Because you will be matching the outside frame size to your wall markings, you'll have to alter your "Art Size" until you get the proper full measurements:

Once you upload your file and choose your frame style/matting options, you can then click the gray box labeled "Details" at the top. This box is on the right next to "Art Size," and it will give you your outside frame dimensions.
To adjust to the proper outside dimensions you need for each spot in your collage, simply adjust the "Art Size" of your photo. Just remember that changing your frame style, adding matting, or changing your "Art Size" will result in different outside dimensions, so always check the "Details" box before adding to your cart.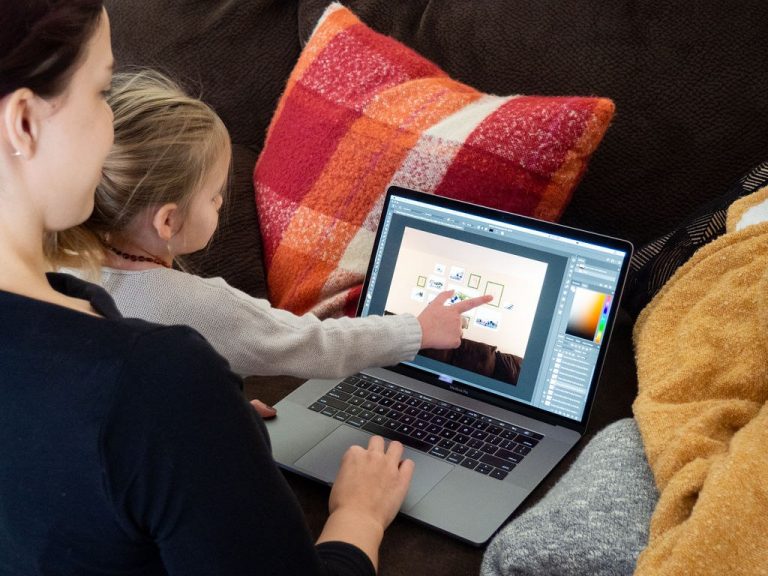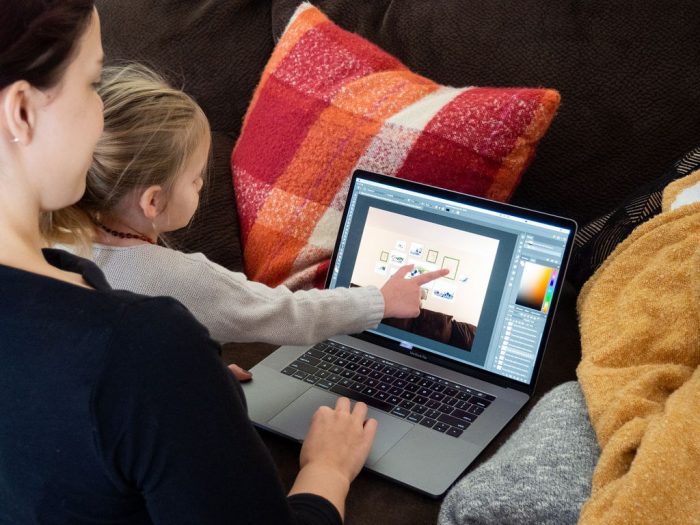 You can also consider using a program like Photoshop to digitally preview your gallery. Take a photo of your blocked gallery, then overlay screenshots of the frames you're designing to see how it's all coming together.

Step 5: Hang Your Picture Frames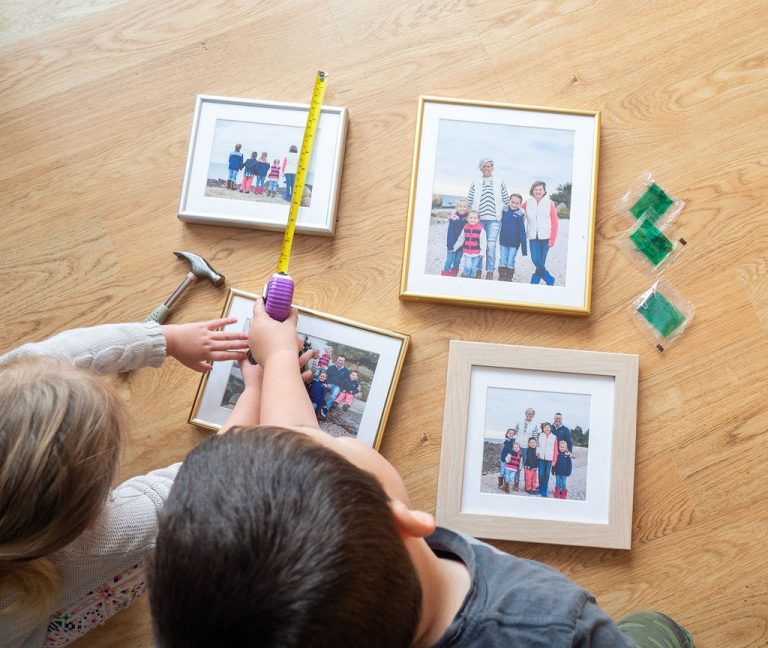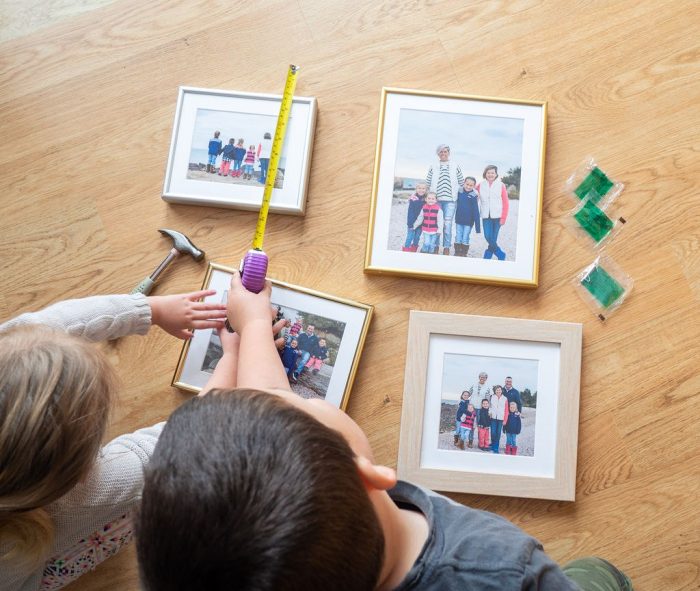 After you order your frames and they arrive, it's time to get them up on the wall.
To do this you'll want to measure the distance of the hanging wire (on the back of the frame) from the top of the frame.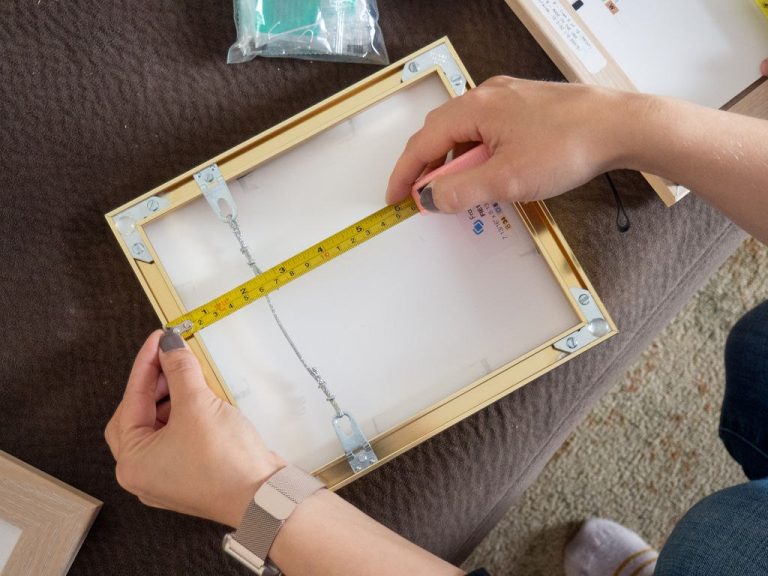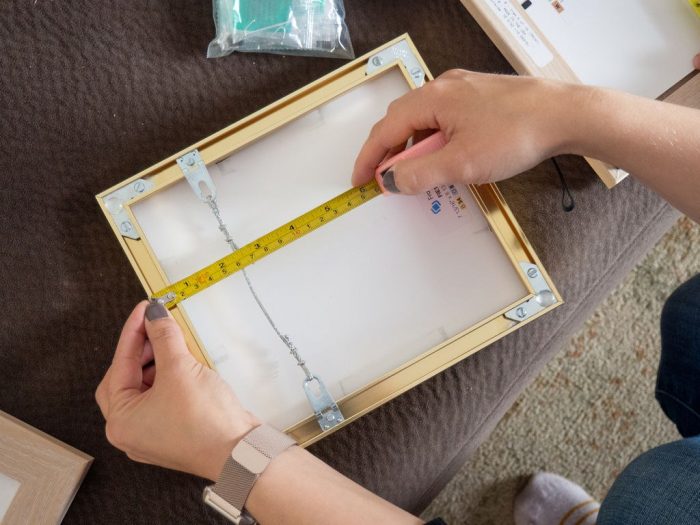 Then you'll measure this same distance from the top edge of your painter's tape (with the corresponding location of each frame), make a small pencil mark in the center, and hammer in your nail.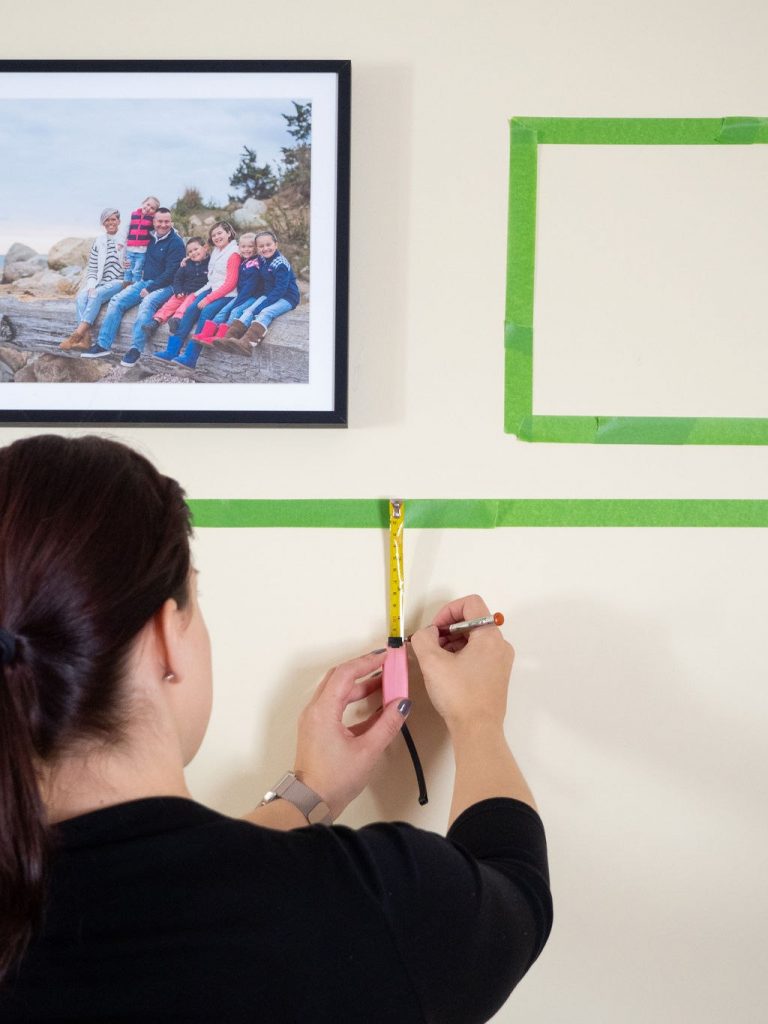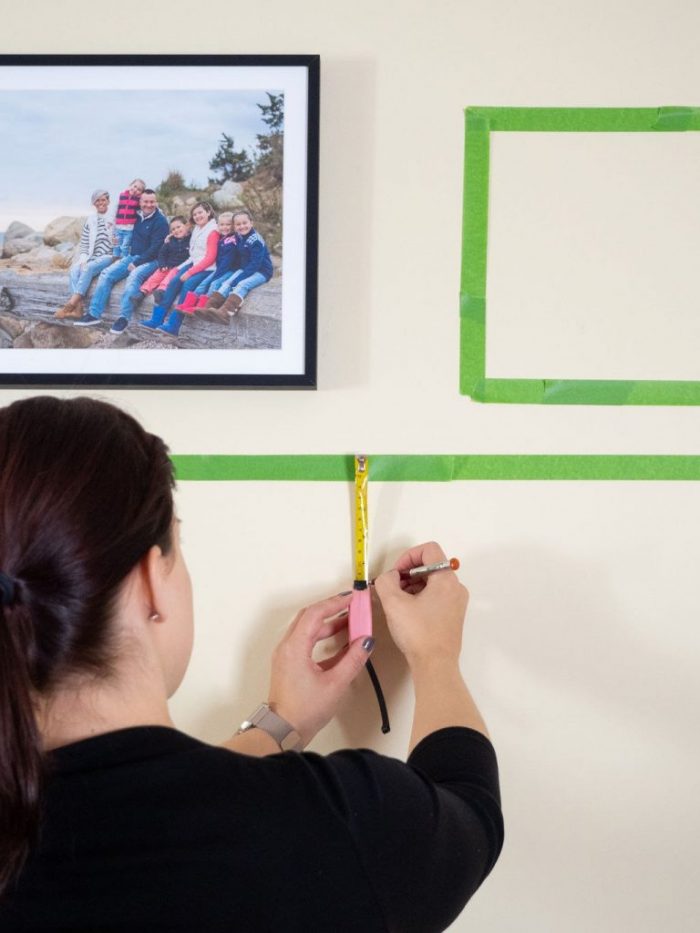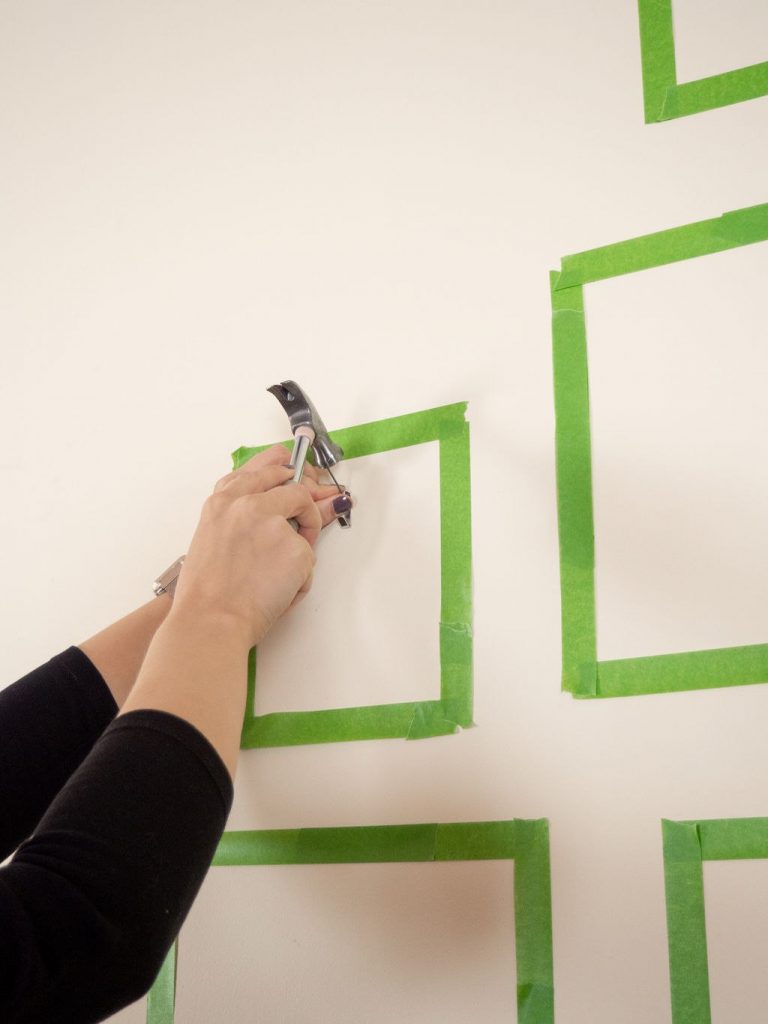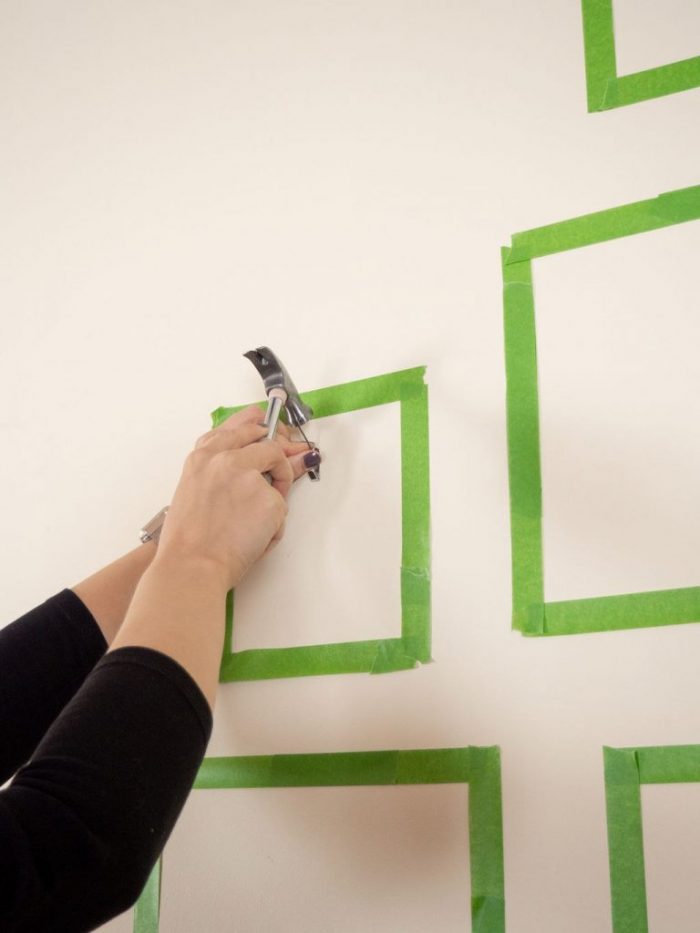 Once your nail is in place, remove the painter's tape.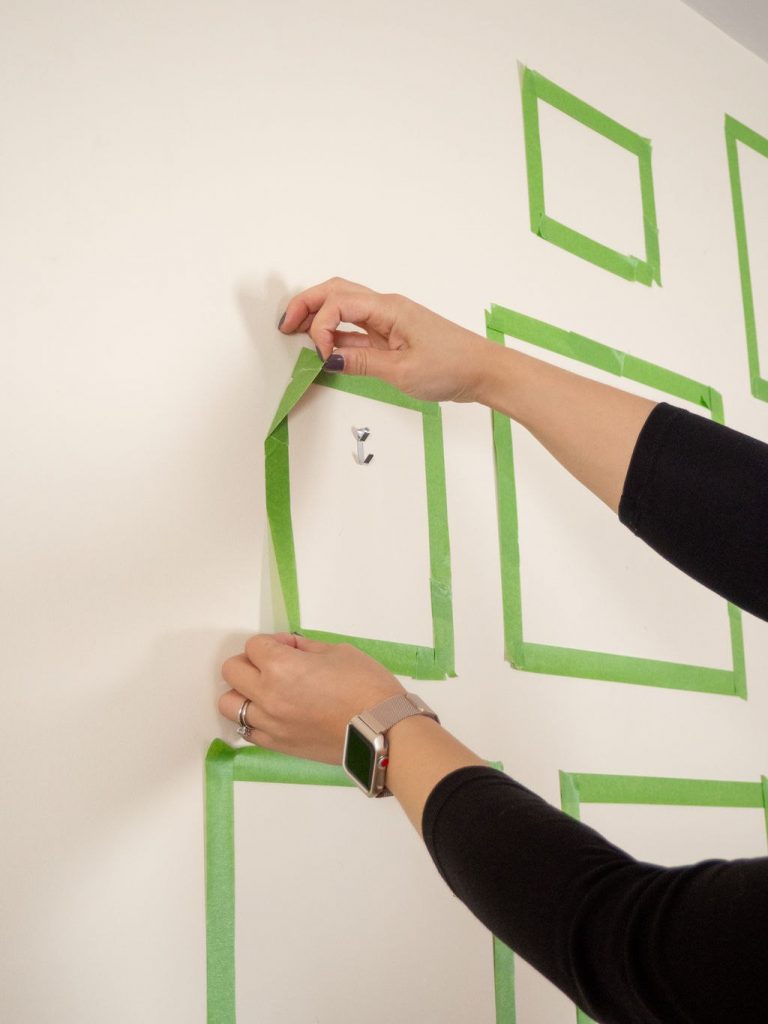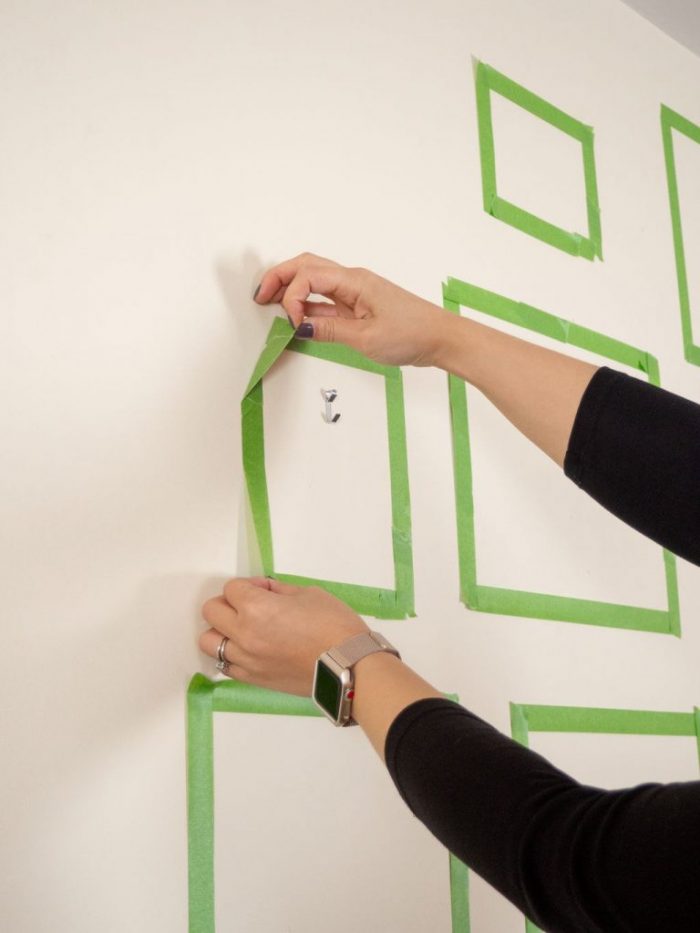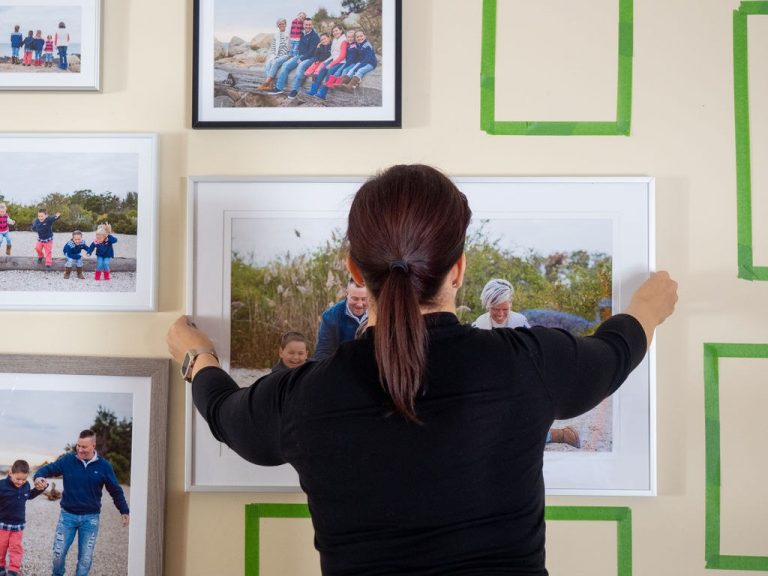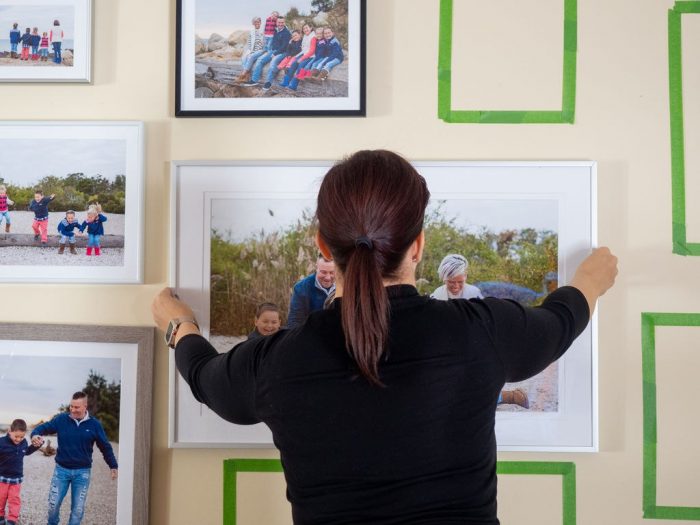 Hang your picture frame on the nail and repeat for all frames until your picture frame collage is complete!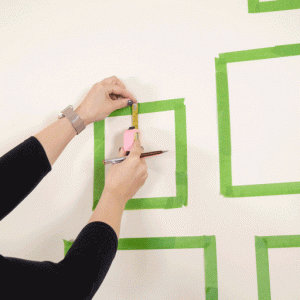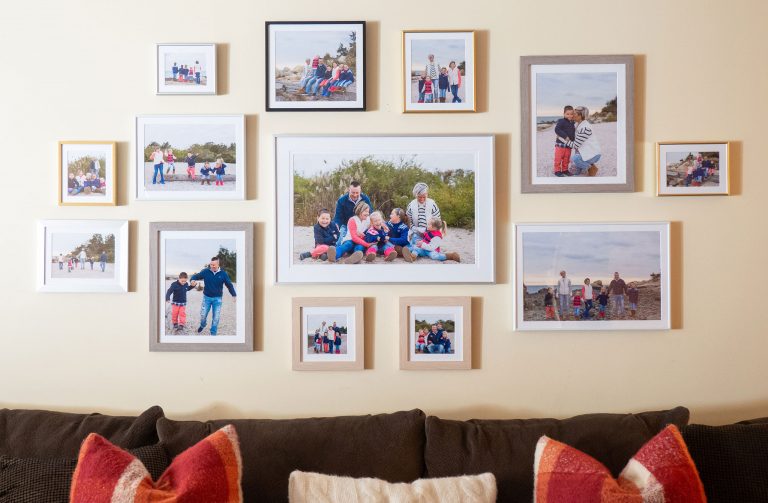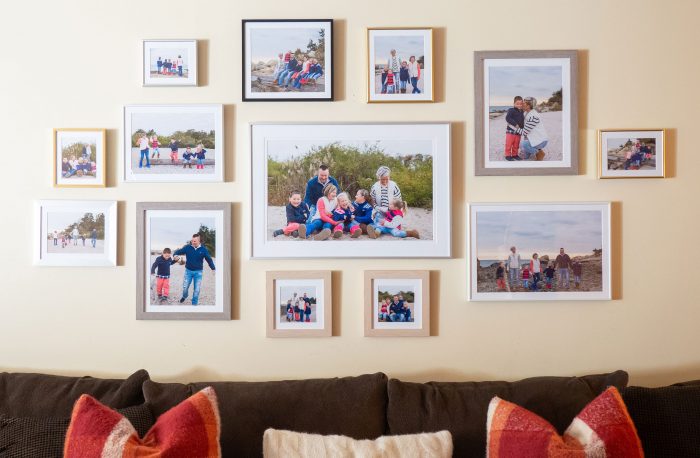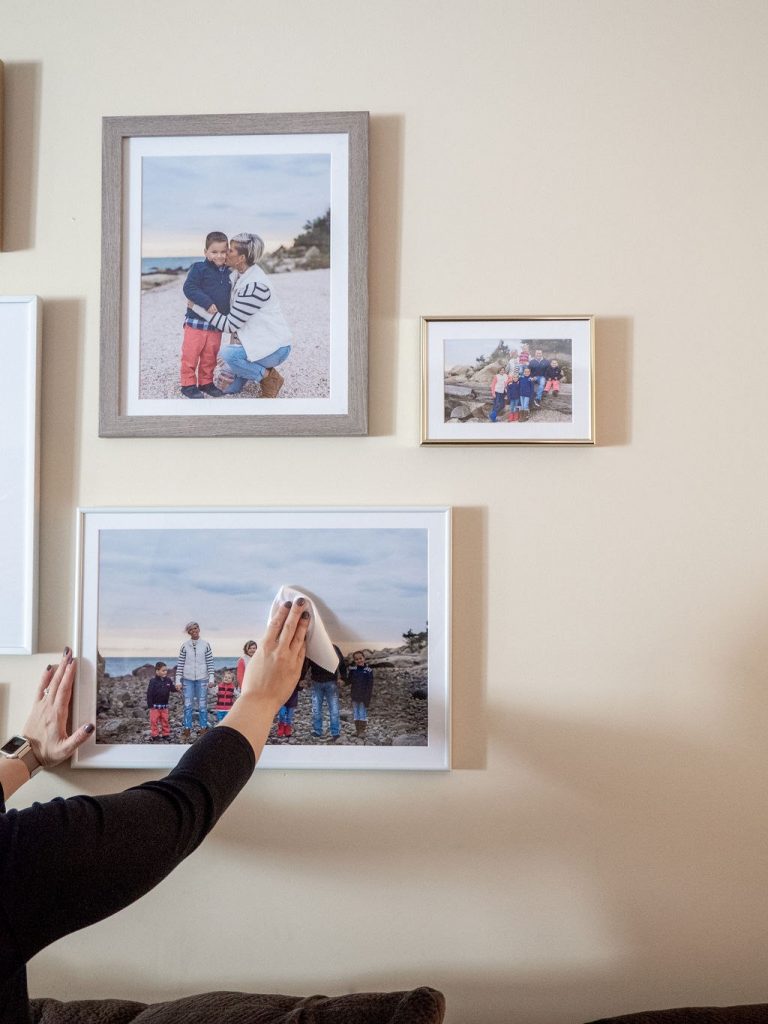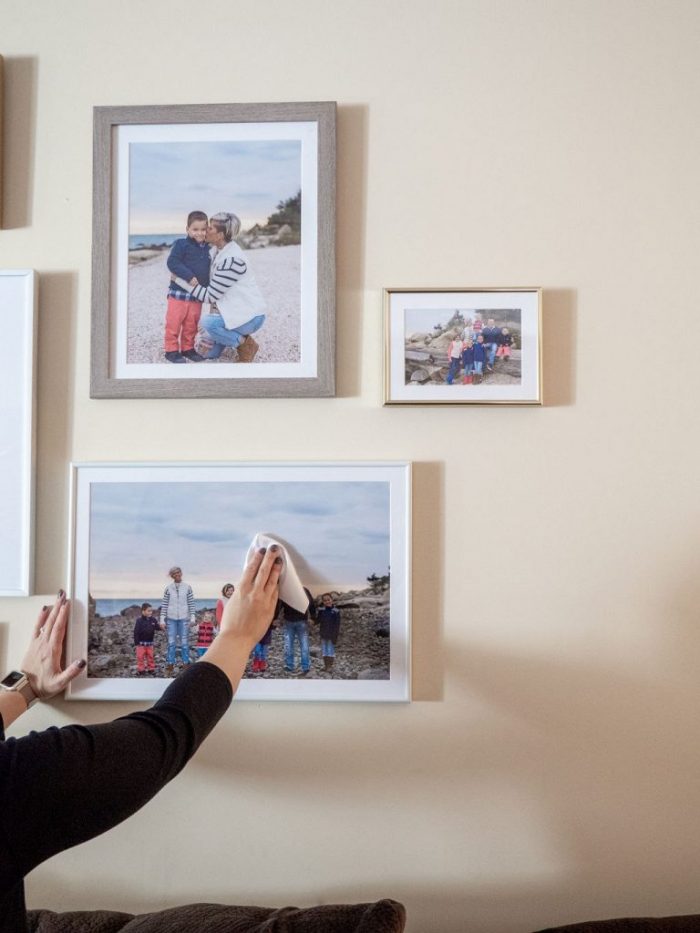 Tip: use a microfiber cloth to remove any fingerprints or dust particles to keep your gallery looking crisp & clear!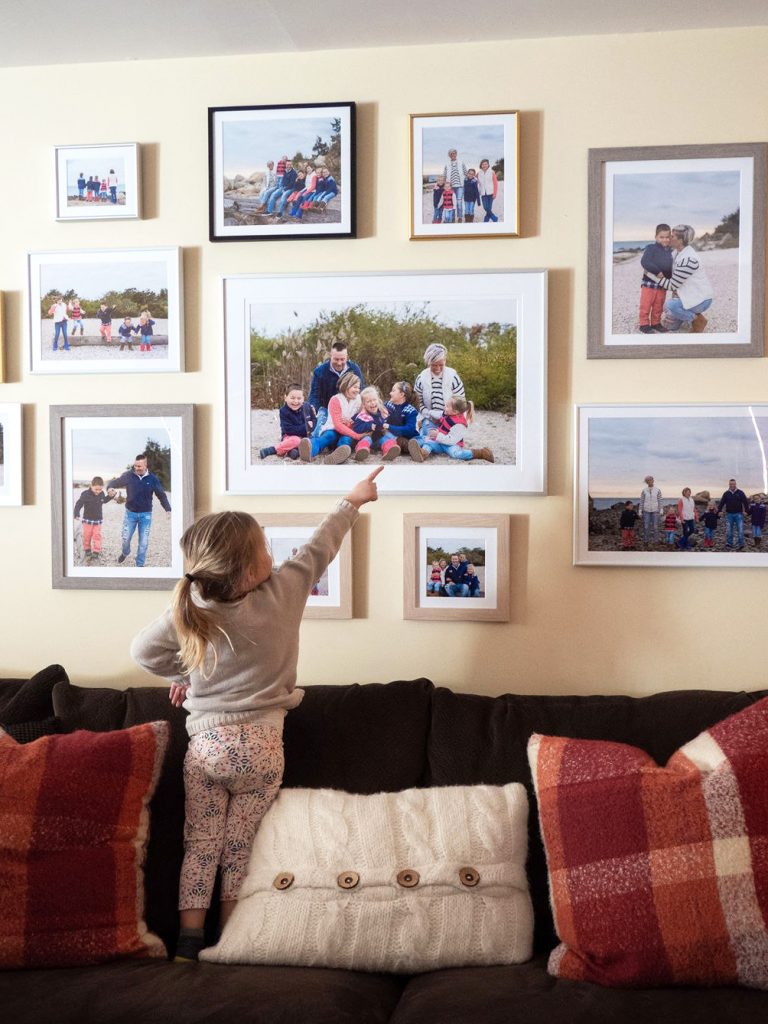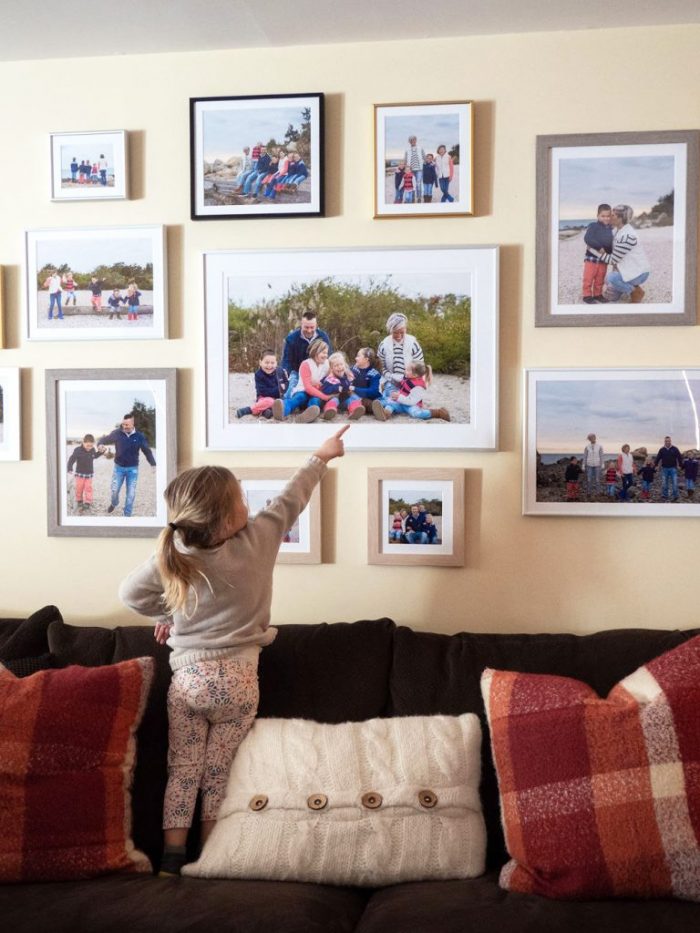 Looking for more inspiration? Sierra from Beautifully Candid shares some great tips for creating a gallery wall, Molly from Almost Makes Perfect will inspire your next frame project with her hallway makeover, and Tina from Eclectic Twist shares a great tip for parents to score some free art to frame.

Photos featured in the above frames were taken by b.cadett photography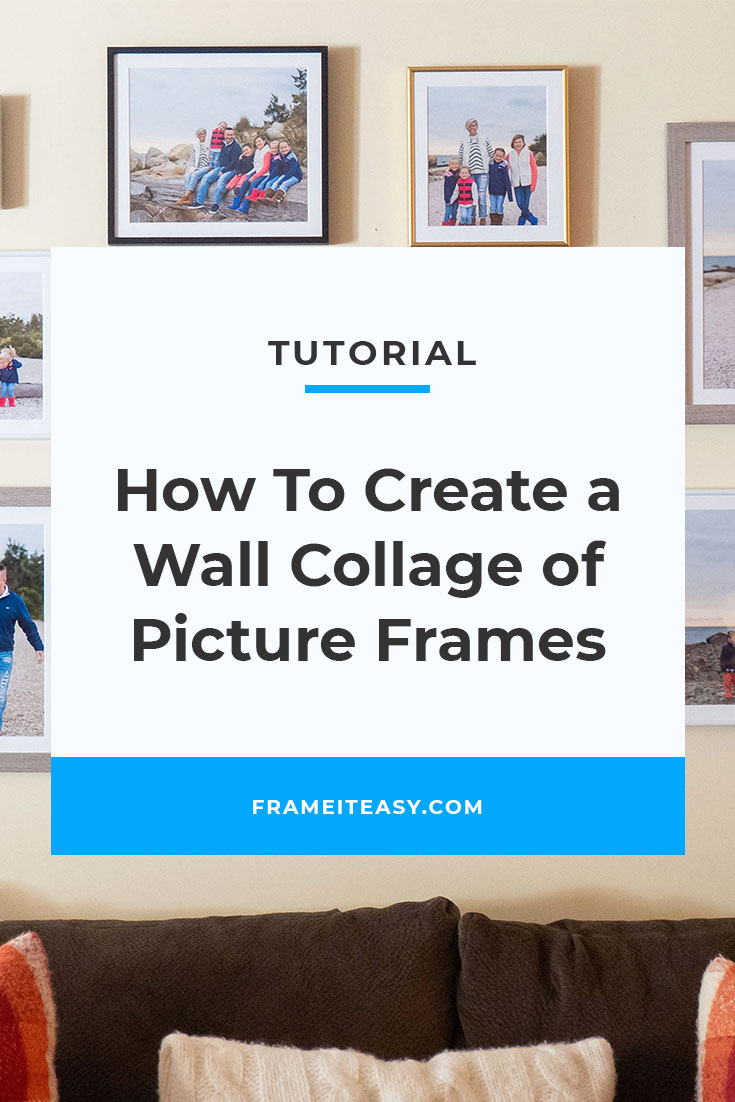 This post first appeared as How To Create a Wall Collage of Picture Frames on Frame It Easy - Learning Center for Custom Picture Framing.