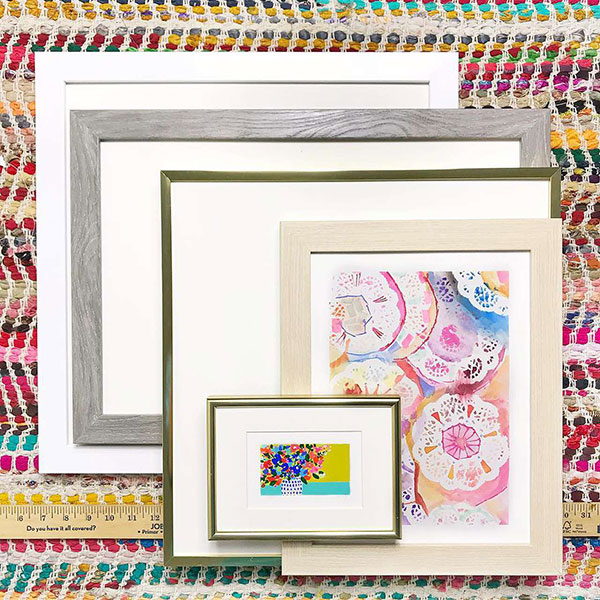 Now that we have what's going in your frame squared away, let's talk about the frame itself — when choosing a style, consider things like color, profile (i.e. shape, thickness), and material. (Note: As mentioned earler, the thickness and size of your art may affect the frame styles that are available, which is why those things are important to note first.)
Frame Types/Materials
Wood and metal are the main two materials you should consider when choosing a picture frame. (There are other options, but they are generally made from less desirable plastic materials that we won't bother getting into here.)
Wood Picture Frames
For wood frames — the most traditional material option — they would likely be either of the following:
solid wood
medium density fiberboard (MDF), or
finger-jointed poplar
Solid wood, tends to be the most expensive and high maintenance material, as well as the least "eco-friendly" option.
Medium density fiberboard — MDF — is one of the more affordable options. Since it is a recycled wood material, made of what is essentially sawdust compressed with some type of binder and wrapped for a uniform finish, it is often the most ecological choice. It's also easy to care for.
Finger-jointed poplar tends to be the best middle ground between solid wood and MDF. While still a recycled wood material like MDF, it's closer to solid wood since it is made from leftover wood pieces that are bonded and joined together.
Here at Frame It Easy, we offer both finger-jointed poplar and natural wood. The poplar is an eco-friendly approach which allows us to ship a sturdy, high-quality, consistently colored wood frames (without requiring any additional trees to be cut down!) The natural wood is either stained or painted, and can have varying grain patterns courtesy of Mother Nature.
Metal Picture Frames
Most metal frames are made from aluminum, a lightweight material that can be extruded, molded, and colored.
Here at Frame It Easy, we offer a variety of metal frames that vary in color, thickness, and style. All are made out of aluminum through a process called "extrusion."

First, an aluminum billet (basically an aluminum log) is heated to almost a thousand degrees and forced (using 750 tons of pressure!) through a die shaped like the style being created.

The newly extruded aluminum is then placed on a "stretcher" where all imperfections are removed.

Finally, the aluminum is either anodized or powder coated, converting the surface of the material into a decorative, durable, corrosion-resistant finish, meaning these frame rails are extremely rigid and high-quality.
For more information on our wood and metal picture frames, check out the Frame Styles page.
Matting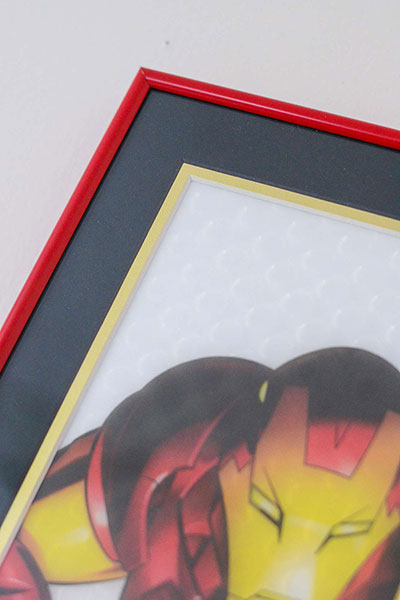 Matting — also referred to as "Mat(s)" or "Matboard(s)" — is a decorative lining that you put into your frame. It can complement or contrast a color in your piece that you want to stand out, or it can simply give your display an elegant dynamic.
The addition of a matboard would make the overall dimensions of your frame larger, as the opening of your matting would then become the window through which you view your art.
We recommend the opening of your matboard accounts for a 1/4″ overlap* with the edges of your art — this will avoid gaps between your artwork and the edge of the matboard, which would cause your art to "fall through" and/or expose the backing.
Here at Frame It Easy, our online frame designer automatically accounts for a 1/4″ overlap when you order a frame (with or without matting). Simply enter the exact size of your art, and we will take care of the math!

Remember that when framing, everything is doubled; two measurements account for four sides. So if there's an adjustment you'd like to make in regards to overlap, be sure to double it.
*If you have important details near the edges of your art, however, you'll want to enter an artwork size that is 1/4″ larger in each dimension than your art. (So for example, if your art was 10″ x 10″, you would use an art size of 10 1/4″ x 10 1/4″) This way, we'll send you a frame that only covers the artwork by 1/8″ on each side, which is the smallest overlap possible without the artwork revealing the backing behind it on at least one side, or "falling through" the mat opening.