Do you dream of vintage tea cozies, checkerboard table cloths, and 70's style mushroom tchotchkes? Love the quaint cottages of the United Kingdom countryside and French shoreline? Maybe you ache for a simpler kitchen without a pesky dishwashing machine and prefer an old stovetop kettle to an electric one. If so, a cottagecore kitchen is for you!
It's easy to understand why the cottagecore decor trend is gaining popularity; as our lives get more complex and busy, we yearn for simpler things! What Is Cottagecore? Cottagecore decor brings a sense of cozy warmth and woodland nature to a space. Think: 🧚Fairytale 🏡Farmhouse!
The cottagecore vibe is all about the mixing and matching, the vintage and distressed, so it's a style that works with any budget! We'll show you 10 tips on how to achieve this aesthetic in your kitchen without breaking the bank!
---
🪑 Tables & Seating
If you're looking for a new table and chair set for your dining area don't run out to the store just yet! A prime element in cottagecore kitchen decor is the "worn" or "tarnished" look. If you have an existing table, don't be afraid to stain it (we recommend a warm maple tone) and sand it down for that "loved" look.
Another great option is, of course, thrifting! There are tons of options to choose from at thrift shops. For this style, we recommend shopping in an area with an older demographic. "Granny chic" is very cottagecore and you're bound to find old, loved, and good-quality pieces! Estate sales, consignment shops, as well as scratch n' dent stores are also amazing places to find hidden treasures!
🔥 Hot Tip: Opt for wooden or metal style tables or chairs as you can DIY varnish or rust these easily! Also, don't be afraid to mix & match styles!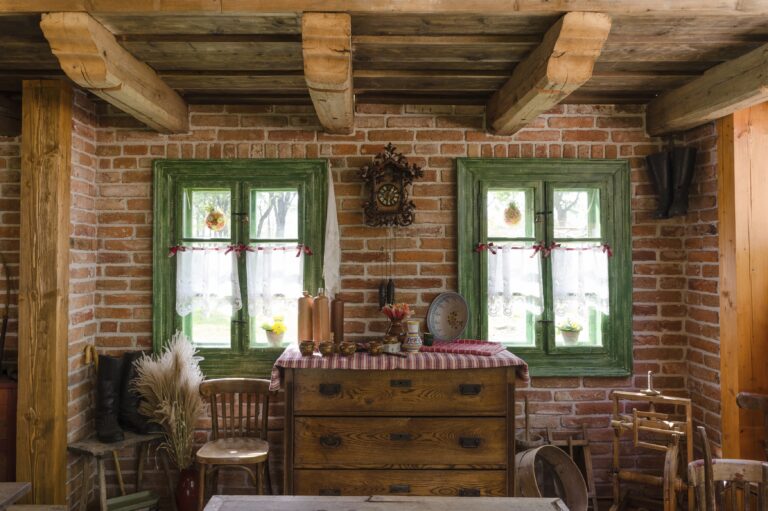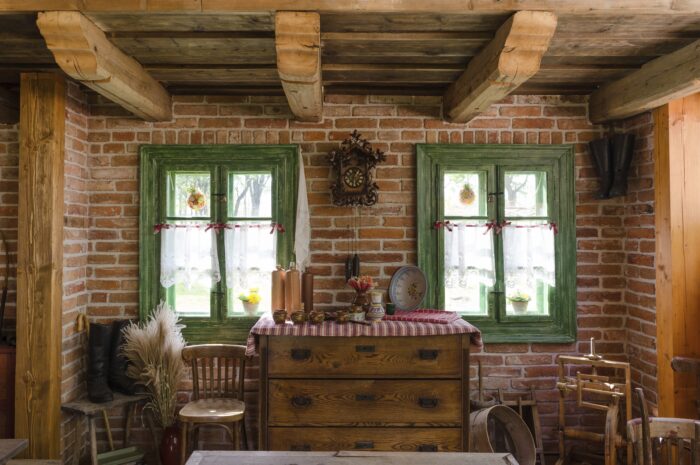 If all else fails, you can always purchase new! When perusing furniture deal sites like Spoken look for distressed and stained wood styles. Extra elements like etching/carvings and worn metal hardware is a major style plus! Go the extra mine and hunt for more unique and artisan pieces on sites like Etsy and James+James.
---
🪞 Wall Decor
Our favorite part of cottagecore kitchen decor – The wall art! Little tchotchkes and knick-knacks are perfect when styling any open shelving or empty bar space in your kitchen. Think gnomes, ceramic salt & pepper shakers, and decorative teacups. Adding smaller/colorful elements brings a cute niche feeling to the space and is guaranteed to bring a smile to any dinner guest's face. 😁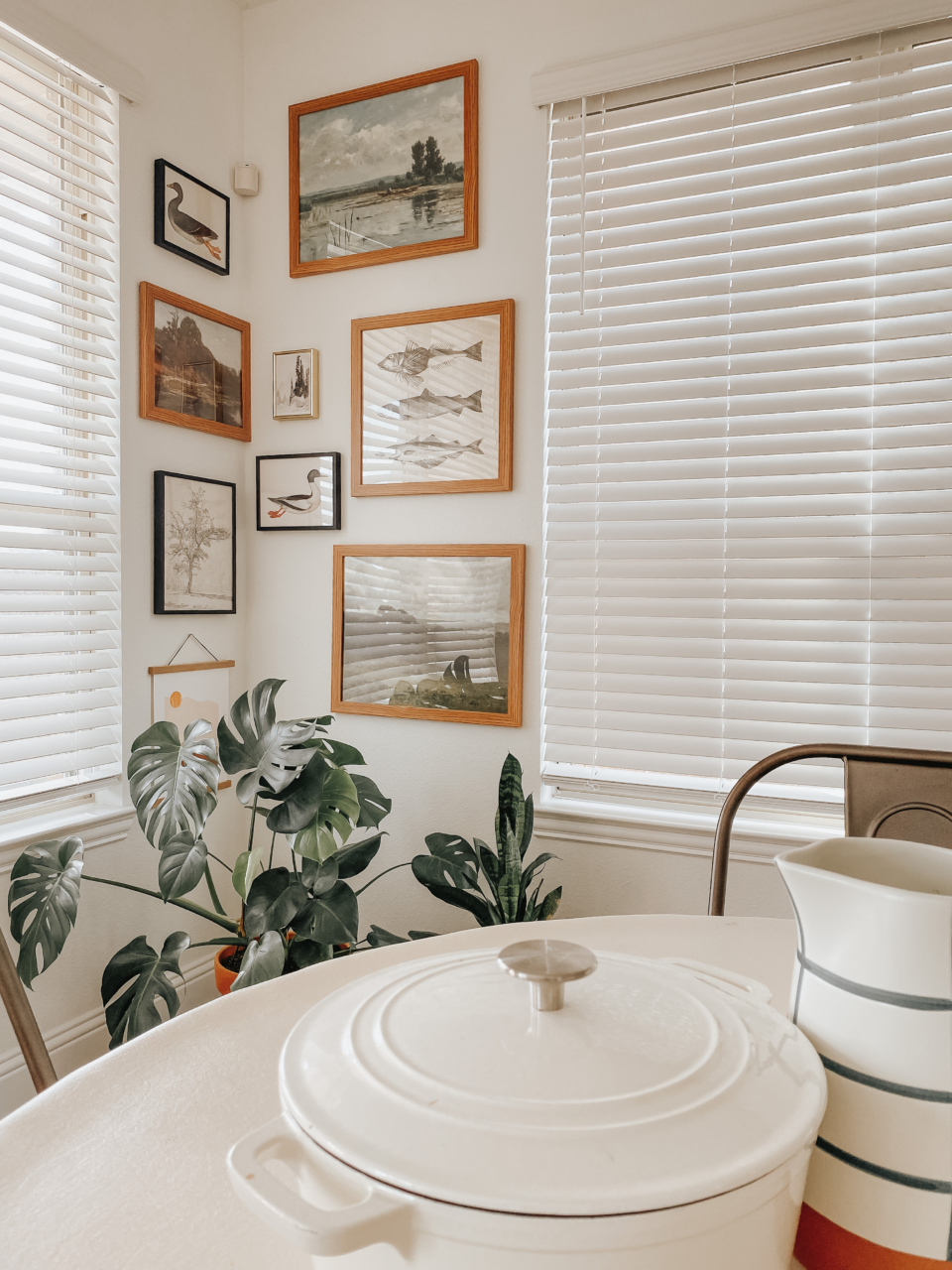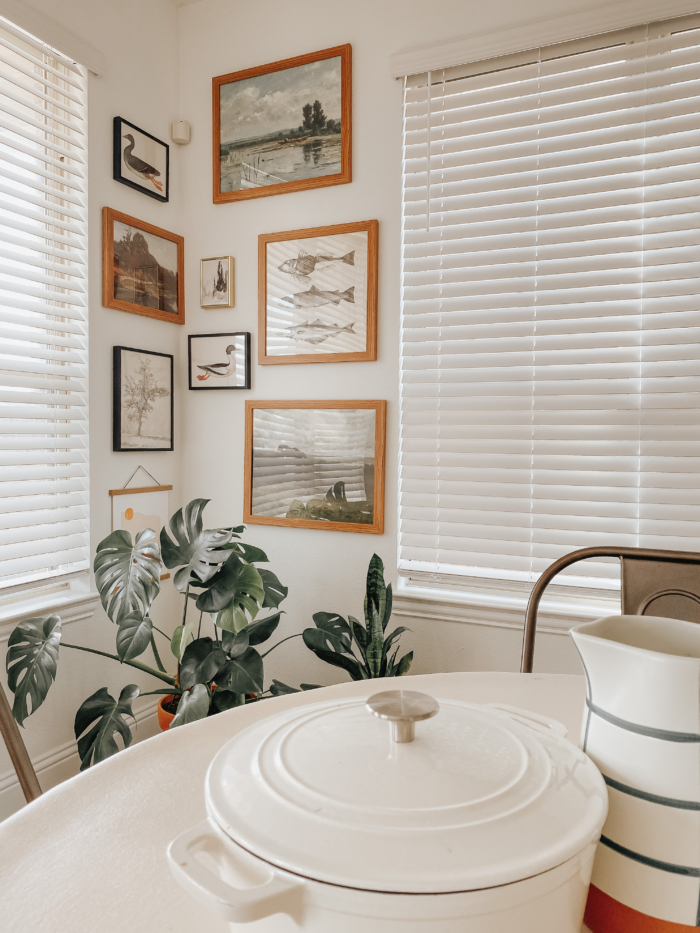 When looking for wall art focus on vintage styles. Food advertisements from old magazines, vintage seed packets, old photos, and pressed flowers make great frameable art! Check out these unique framing ideas and take a look around your home to see what you have to make your own wall art!
If you're looking to buy some art online or maybe snag some freebies we recommend checking out the following:
Once your art bag is secured, it's time to get to framing! Keeping with the cottagecore aesthetic, we recommend our Granby frame in Gold or Silver as well as Derby in Wheat or Rustic Gray. Pairing ornate with natural wood frames is a fun and easy way to create a cottagecore-style collage in your kitchen!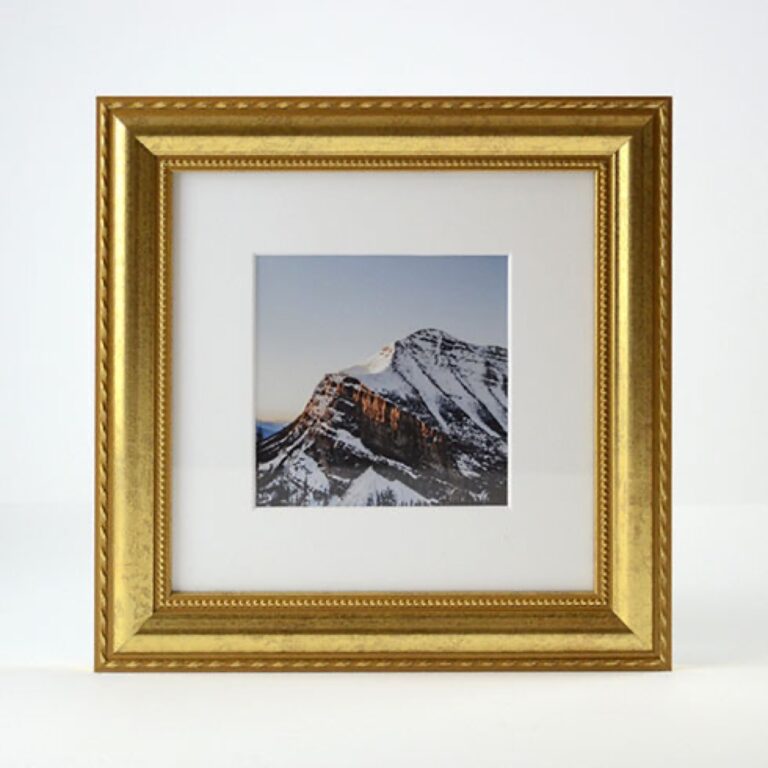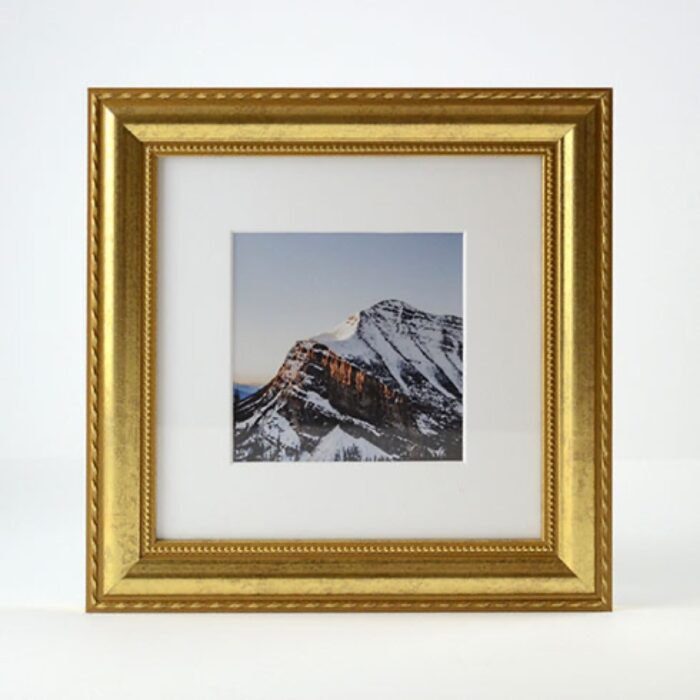 ---
📚 Storage & Shelving
Naturally, cottages don't have a ton of storage space, so floating and hanging shelves line the kitchen walls. If you're going for that traditional look we highly advise adding some shelving to your wall space. Even if you're not using them to hold pots and pans, consider using them as a display element to line with leaning picture frames, potted plants, or even cookbooks. Not into shelving or not enough wall space? Try using metal hooks instead to hang macrame baskets, decorative plates, or fancy patchwork quilts!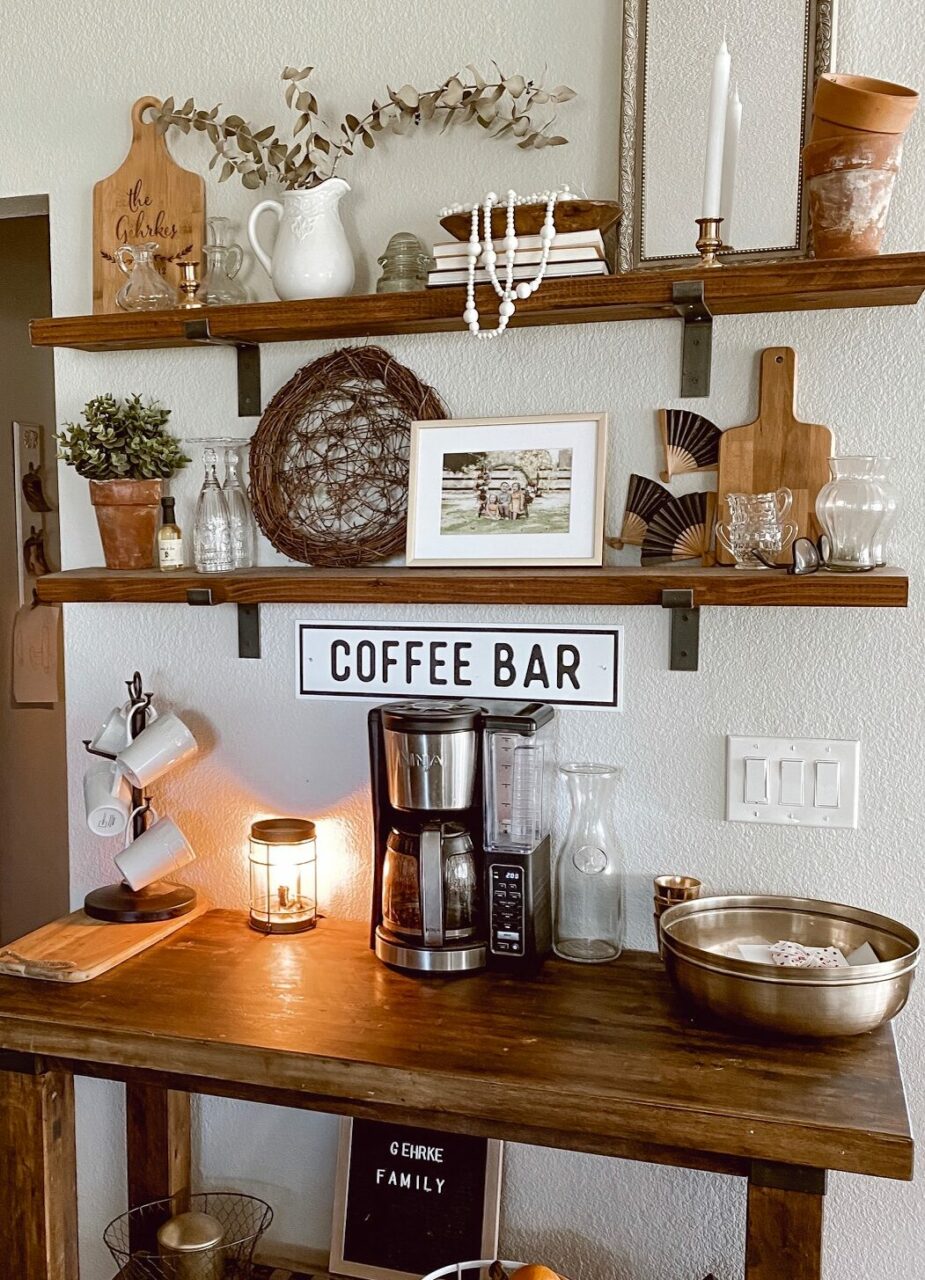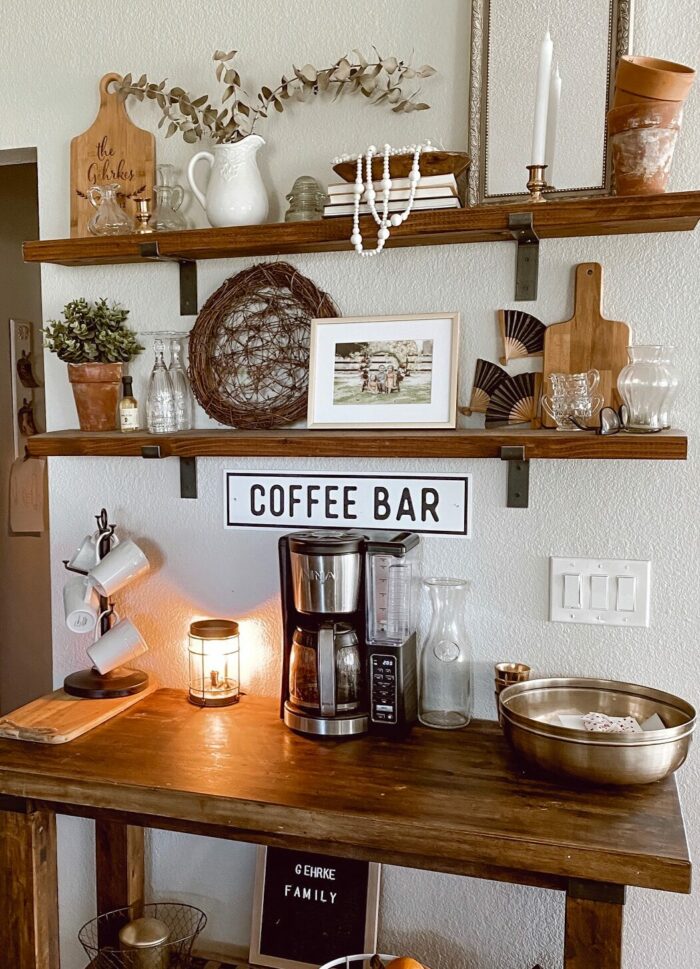 🔥 Hot Tip: Repurposed wood from old shipping pallets can easily be transformed into floating shelves. These make for a thrifty vintage countryside vibe.
---
🫙 Kitchenware & Appliances
Stained woods, coppers, golds, and tarnished silvers are all elements commonly seen in a cottagecore kitchen. Again, don't be afraid to mix and match. When searching for kitchenware choose ones with a "worn-in" or vintage feel. Shiny and new dishware will look out of place and throw off the style you're going for. The same goes for appliances, opt for that old-school mortar and pestle or hand grinder over an electric one.
If you feel like taking it to the next level, swap out your standard electric stop top for an 18th-century range cooker! Cast iron stoves not only look great but will heat your entire house in the winter while you cook! 🥶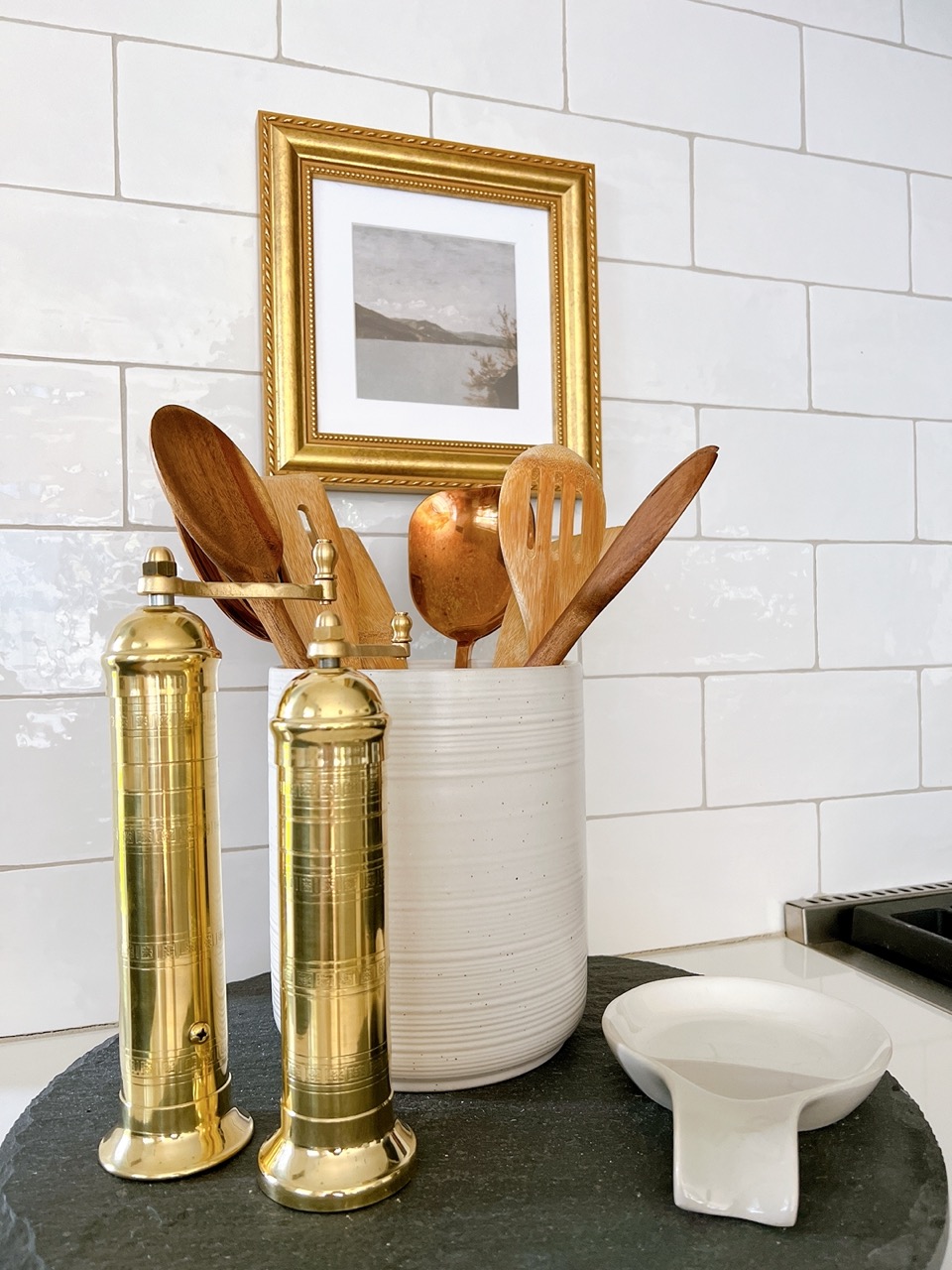 Strapped for ideas? We recommend the following Cutlery & Dishware, Cookware & Glassware:
Mason, jam jars, and assorted mugs (think "world's best grandpa" vibes.)
Hand-thrown pottery plates
Wicker woven bread baskets
English teaware & vintage china
---
🔆 Lighting & Color
You'll want to stick with earthy tones, lots of browns, and grays. Add in color accents that come from nature's flowers and plants! Greens, reds, pinks, purples, oranges, blues, and yellows can be sprinkled in with decor! Our Hanover frame comes in red, blue, and green if you're thinking of adding these colors to your wall decor. 😉 Remember to look to the forest and woods for your color palette inspiration!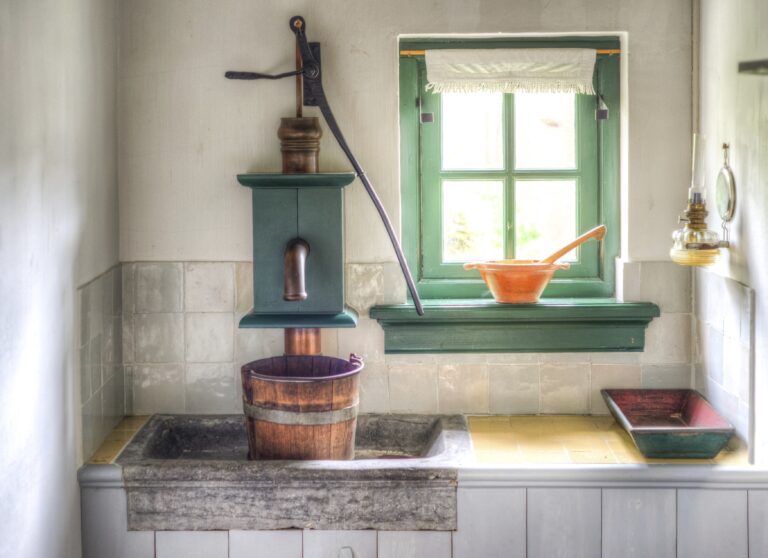 ---
🍄 Wildlife – plants, terrariums, mushrooms, window garden
Probably one of the most important characteristics of this aesthetic is its homage to nature and wildlife! By bringing the outdoors in, your kitchen can be transformed into a countryside cottage (even if you're living in the big city)!
If your kitchen has a window consider starting a windowsill herb garden. You don't have to have a green thumb or a large backyard to add some homegrown goodness to your cooking! Pothos and snake plants make for the perfect kitchen greenery as they can grow in many light settings and do not require lots of maintenance!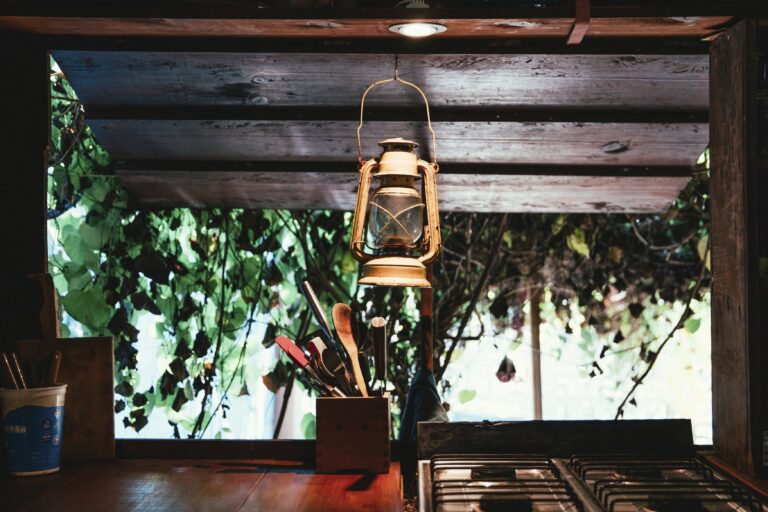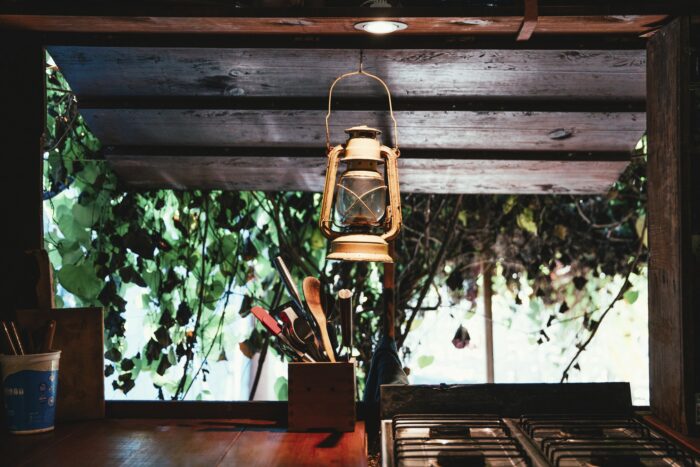 Try hanging dried garlic and other herbs or flowers from your walls if your plant parenthood skills are lacking. Fake plants are an option too, but try to steer away from these if you can! Cottagecore is very much about the "reuse and recycle" lifestyle and fake plants add more plastic waste to our environment!
---
⛓ Natural Materials & Hardware
Reclaimed and unfinished woods, metallic coppers, and dark metals not only add natural and appealing textures to your kitchen space but give off that warm and rustic "lived-in" feel.
When choosing hardware go for the opposite value of your cabinetry. Pair lighter wood with dark metal hardware and couple dark wood cabinets with light brassy hardware.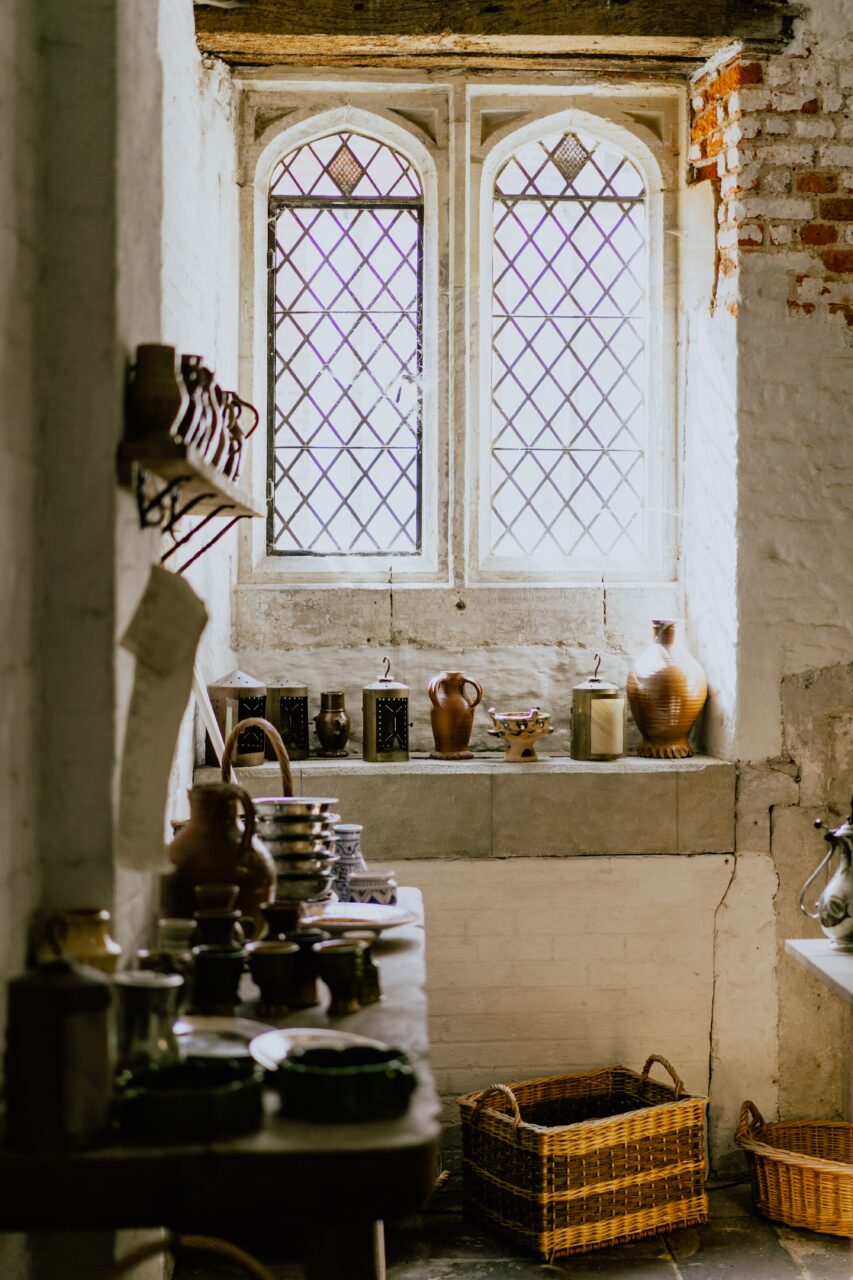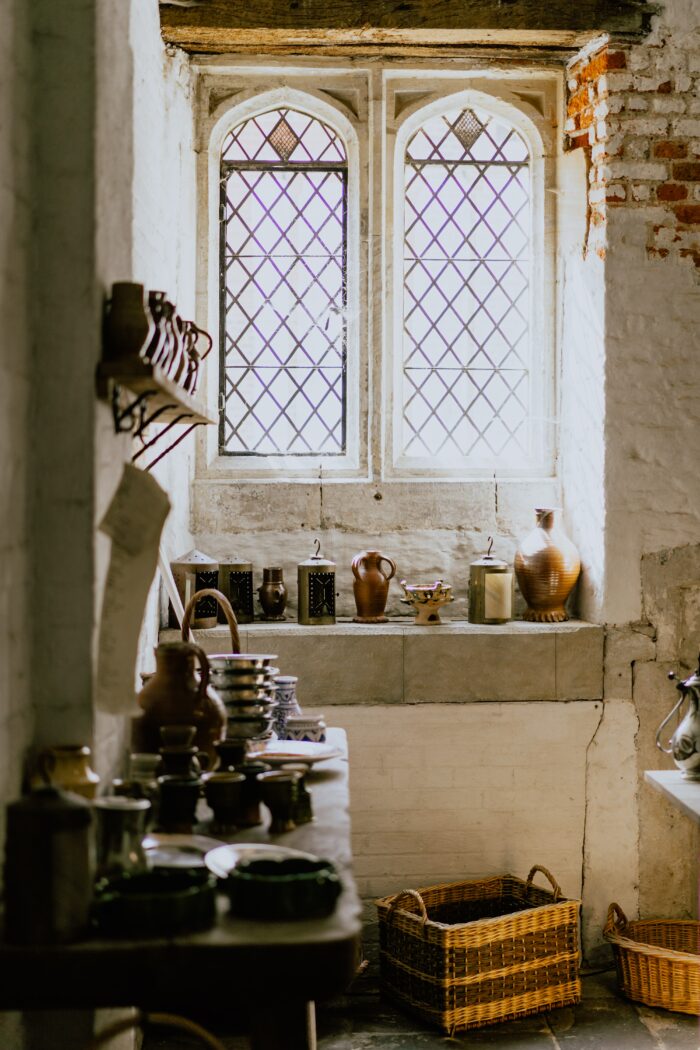 🔥 Hot Tip: Check out unique blown glass hardware or even make your own out of old buttons and tiles.
---
🧵 Patterns & Fabrics
Linens, cotton, and recycled fabric squares are all fantastic fabrics to throw in the mix! Traditionally a red and white picnic tablecloth would be the go-to – but have fun with your print and pattern selections! Think about window trimmings, table runners, and kitchen rugs. Consider your placement and measurement before making any purchases or alterations to your own fabrics!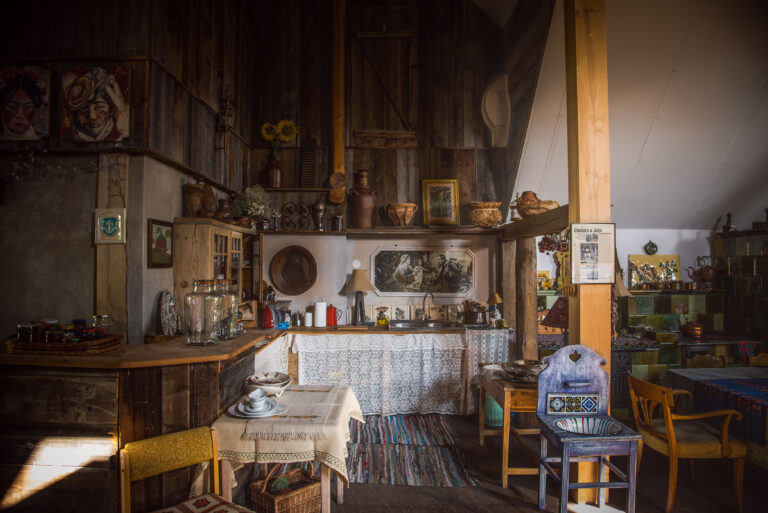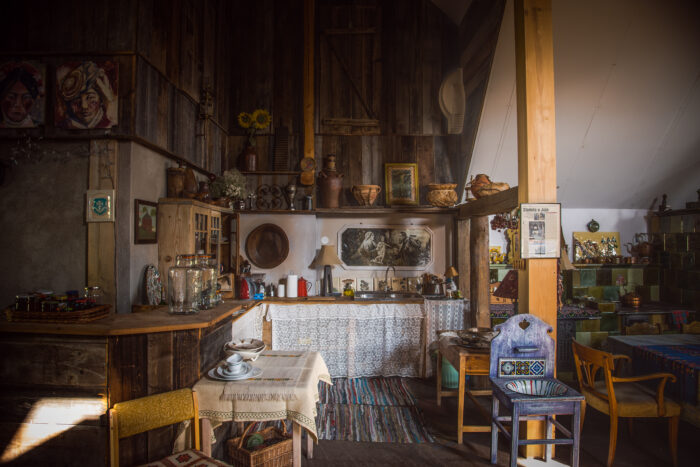 Need some inspo? We love these fabric patterns:
---
🪢 Mix & Match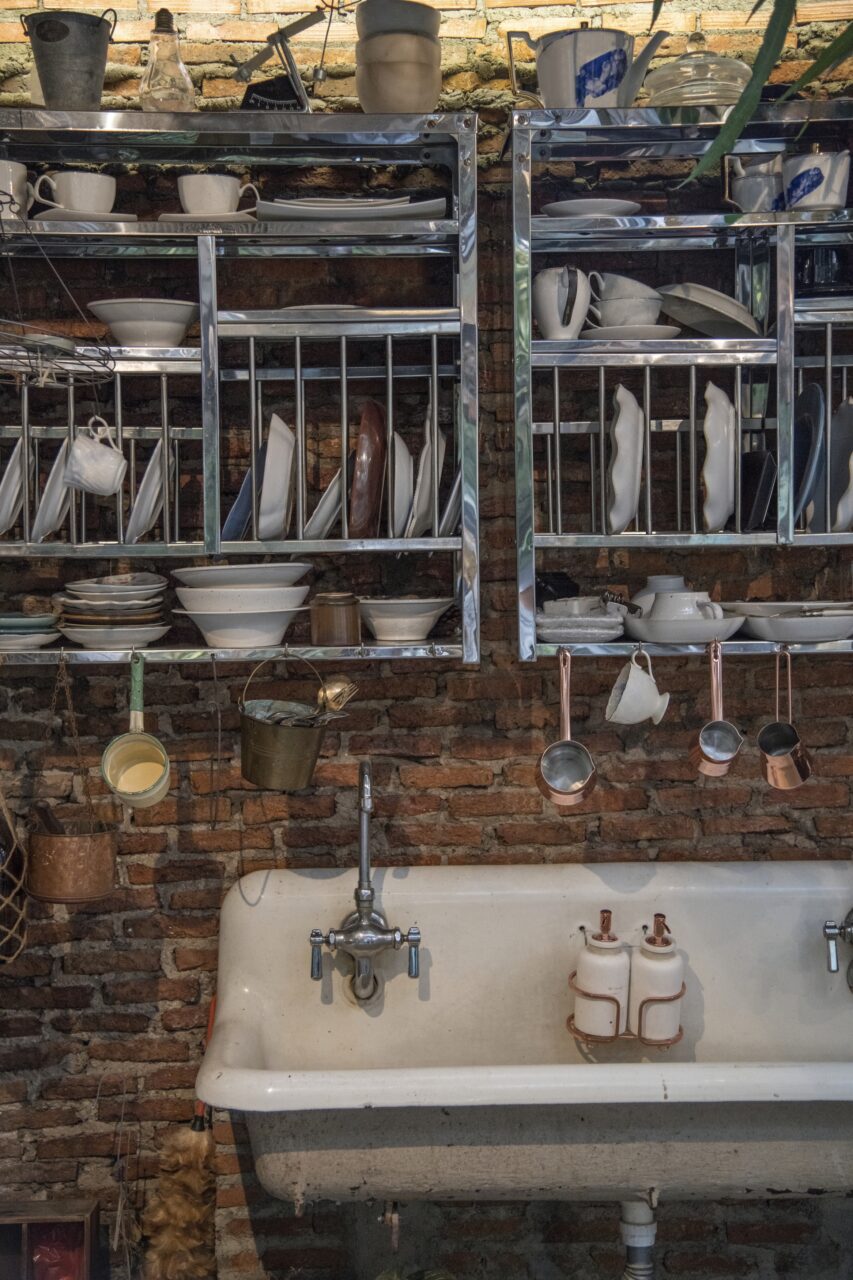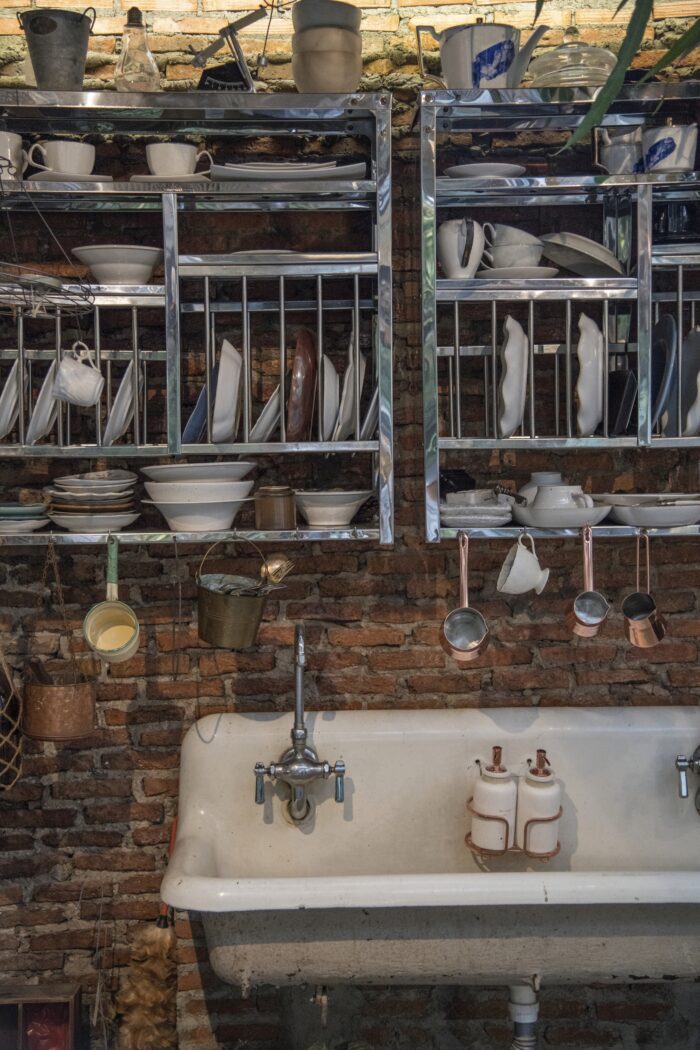 We've mentioned this before, but it's so important to the cottagecore style that we have to touch on it again! It's all about working with what you have, quirky and unusual items all add to the charm of your kitchen. So it's encouraged to think out of the box, go a little crazy, and just have fun with it!
---
🧚‍♀️ Fantasy Finishings! 🍄
Cottagecore Kitchen Complete! Grab your foraging basket, make that homemade sourdough starter, and lay out your wicker picnic basket! Get ready for lots of dinner guests and tea parties because your kitchen is going to be the envy of all your friends!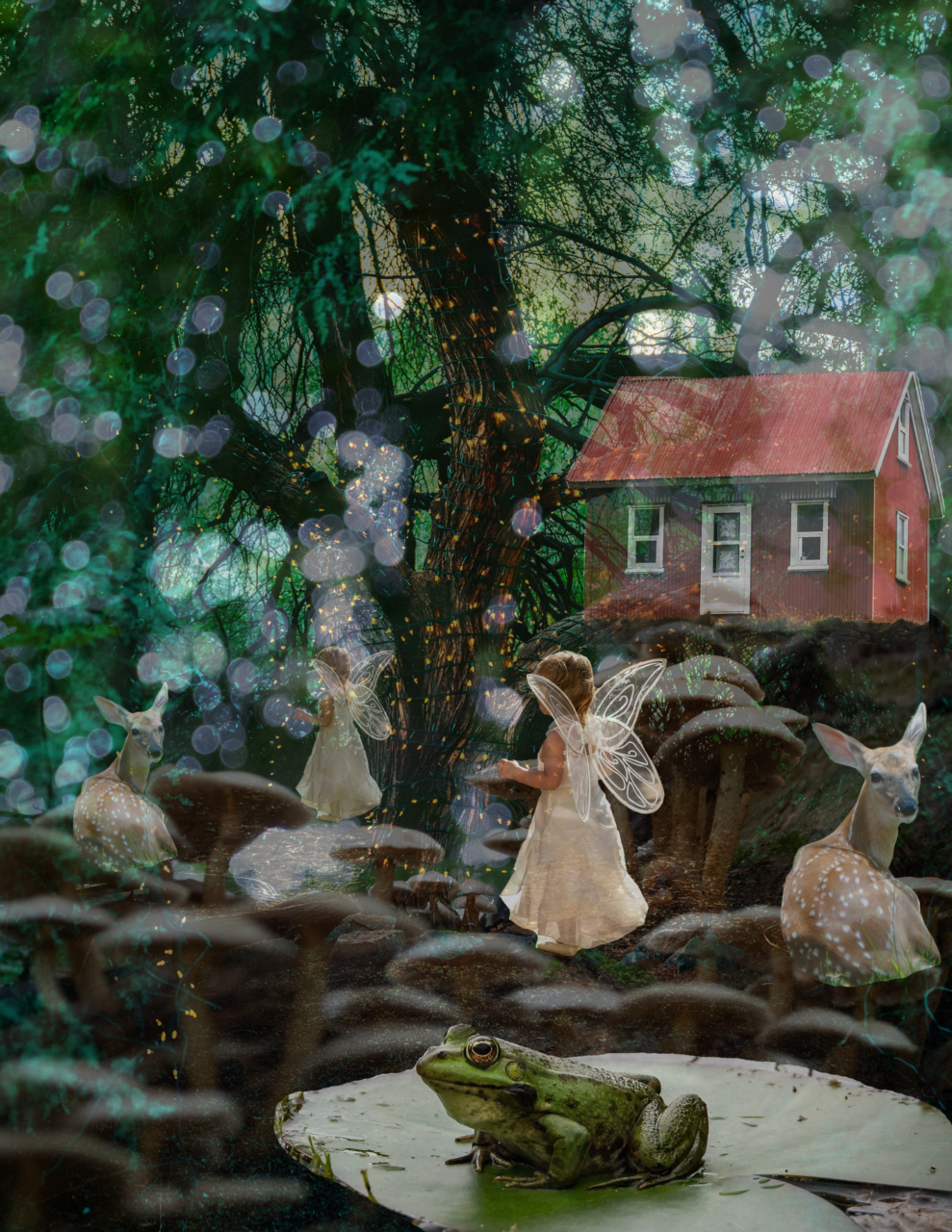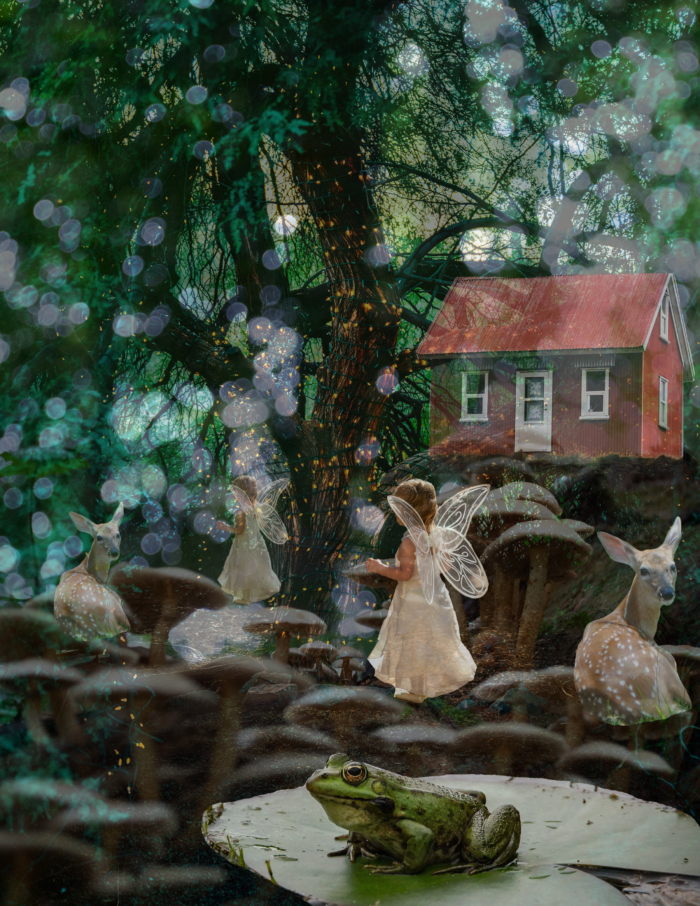 We hope these tips and tricks have sparked some creative ideas so you can craft your own cottagecore designs! If you're really digging this style why not continue the fairytale with a cottagecore style office?
Do you have a whimsical kitchen space you want to show off? Inspire others by sending your photos to creative@frameiteasy.com with the subject line "Featured Friends" for a chance to be featured on our email and socials!
Tag us at @frameiteasy or use the hashtag #frameiteasy for more chances to get noticed!
Cottagecore Kitchen Decor – Free Printables!
Download Cozy & Whimsical Free Cottagecore Art!
Subscribe to our mailing list for exclusive goodies, fun quizzes, framing tips and tricks, and so much more!
This post first appeared as Cottagecore Kitchen Decor: 10 Whimsical & Cozy Tips on Frame It Easy - Learning Center for Custom Picture Framing.