Chances are, you've heard of cottagecore decor because it's one of the hottest current design trends to gain popularity over the past few years.
What is cottagecore decor?
Simply put, it's an internet-based aesthetic style that was born from social media hashtags between 2018 and 2019. It incorporates vintage and nostalgic designs with a dash of back-to-the-basics simplicity and a heavy nod to the traditional English countryside. It's also a lifestyle of sorts, embodying DIY projects like cross-stitch or embroidery, sewing, herb gardening, or foraging and gathering.
Want to get in on this red-hot design trend? Keep reading for easy steps you can take to transform your space into a cottagecore masterpiece!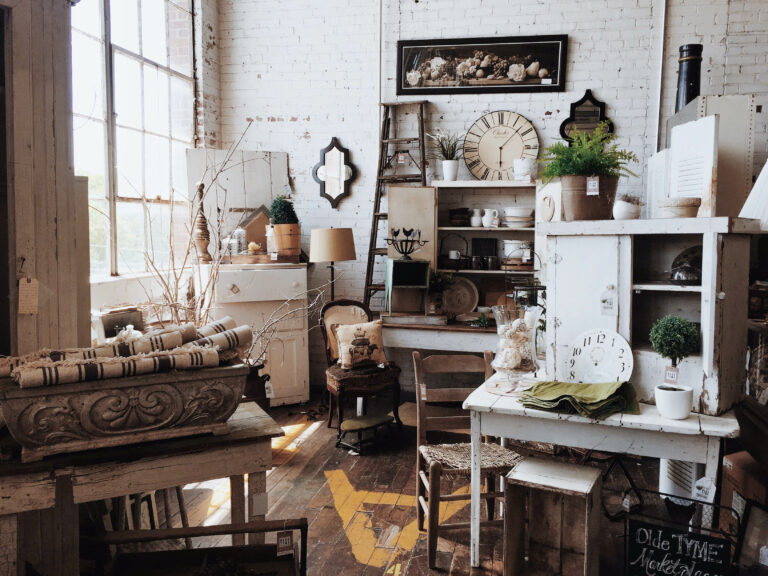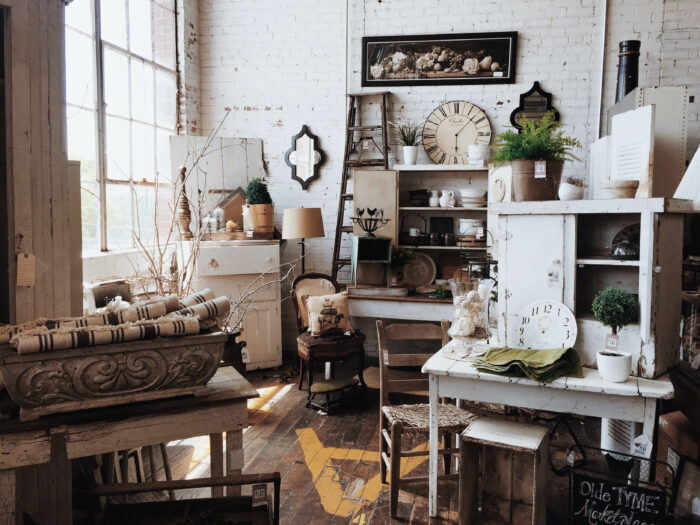 ---
1. Cottagecore Style Furniture
To achieve the cottagecore style, look for furniture that's made from natural sources like wood or stone (antique metal pieces work well, too!). You'll want to avoid pieces made from glass, acrylic, or faux stone, as they're more modern.
Purchasing secondhand: Hunt for secondhand vintage furniture because pieces with minor scratches and dents have added character that will blend wonderfully with your cottagecore style office. Check local yard sales or flea markets for bargains, and estate sales for statement pieces. If you want to search online, Craigslist and eBay are good places to start if your budget is more limited. Everything but the House offers a variety of higher-end pieces if your budget allows.
Purchasing new: If you'd prefer to source new pieces of furniture, look for distressed finishes with extra details like nail-head trim. This will guarantee your new piece won't take away from the overall design. One King's Lane offers a mix of new, made-to-order, and vintage furniture and decor, and is a good starting point for a new desk or chair that looks the part. For more budget-minded designers, we recommend browsing Cost Plus World Market for unique new furniture. Don't be afraid to mix and match pieces from different sets, either. Varying textures, colors, and shapes lend themselves to a whimsical touch.
Refinishing: Family heirlooms make beautiful additions to this aesthetic as well. If your antiques aren't in great shape, consider refinishing or reupholstering them. A little cleaning and elbow grease will save you money and add a ton of cottagecore character to your office!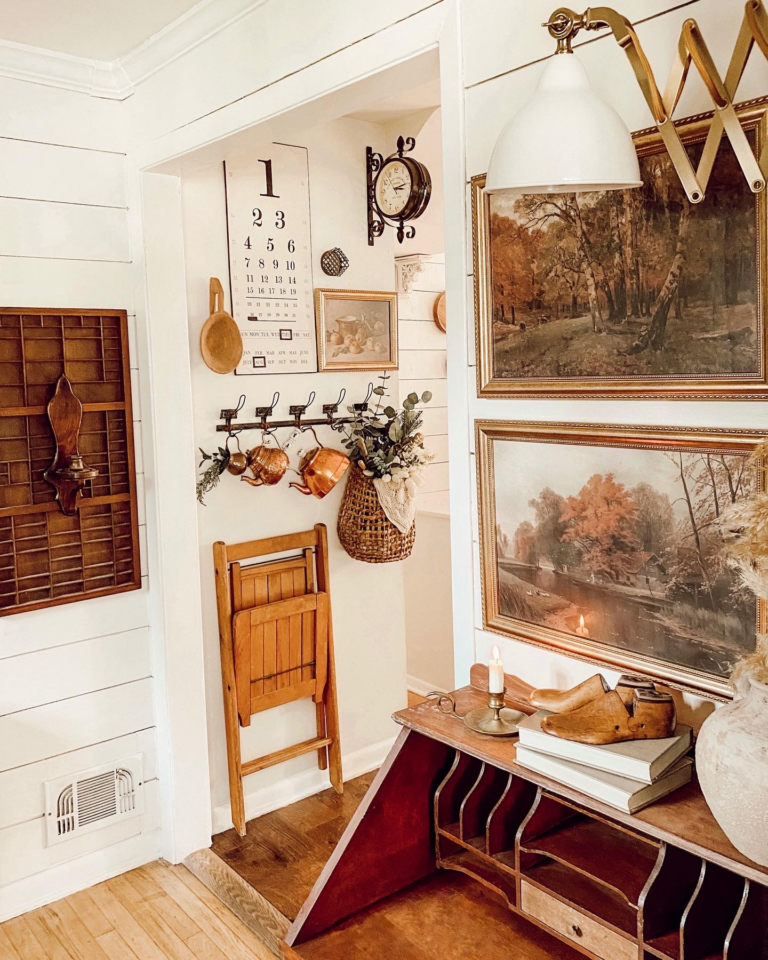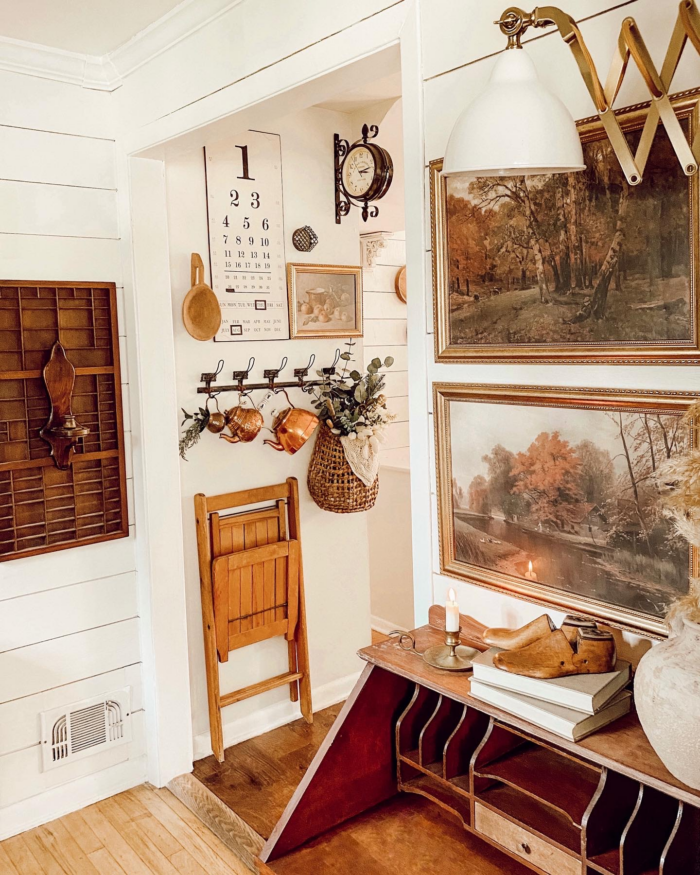 ---
2. Cottagecore Art
Adding art to your office is crucial to get the quintessential cottagecore look. Luckily, there are a lot of options when it comes to sourcing the perfect cottagecore art. Keep in mind, that cottagecore art focuses on vintage design, old photos, nature-inspired prints, DIY wall art, and antique advertisements or signs.
Purchasing art: As mentioned previously, garage sales and flea markets are great starting points to incorporate more cottagecore style. Additionally, sites like Society 6 offer a tremendous variety of cottagecore art that fits any style preference. For those on a tighter budget, the Library of Congress houses tons of historical images that are free to use. If you're still looking for more shopping options, check out this guide on where to buy art online!
Choosing a frame: We're big fans of mixing and matching frame styles for cottagecore style rooms. We love our ornate Granby frame in gold next to our elegant Dayton frame in cocoa as a starting point. Your cottagecore art is sure to look spectacular in these frames, but if you're looking for another style of frame, be sure to visit our guide to choosing the right frame for your office style!
Ordering a frame: If you have a digital image, upload your photo to our interactive frame designer, select your frame and mat style, and we'll print, frame, and ship you a ready-to-hang picture. Don't have a digital image? That's alright! Enter your cottagecore art size in our interactive frame designer, and once you've selected your mat and frame styles, we'll ship you your frame!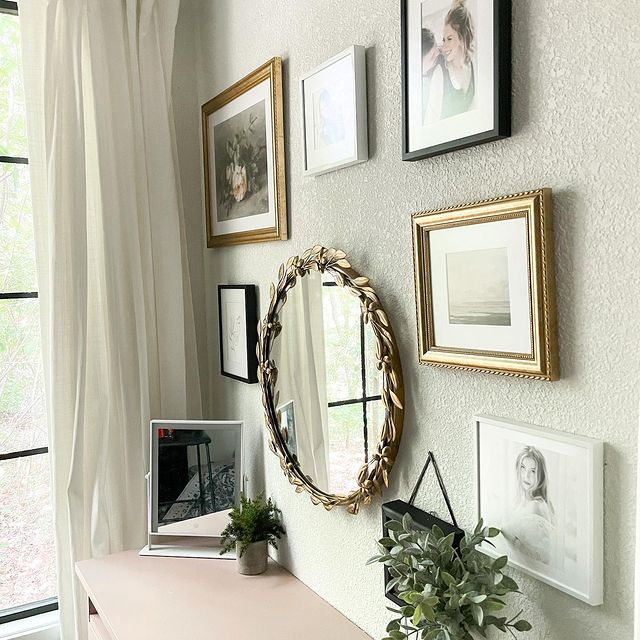 ---
3. Cottagecore Decor
Accessories: Introducing key pieces of cottagecore decor will help pull your entire office together. Add a few indoor plants to the room, or dried flowers in a vase work well too. Showcase family memorabilia, hand-made pottery, cloth or leather-bound books, and candles. You can artfully arrange items on your bookshelf, on your desk, or even on floating shelves. To make things cozier, drape a vintage quilt over a chair or ottoman. Leave a wool braided rug or an antique oriental throw rug on the floor as a finishing touch.
Lighting: Look for a retro desk-top task light and pair it with an antique floor lamp to help bring style-appropriate light to your office. We recommend using warmer-toned light bulbs (or Edison bulbs) to add a homey effect. For window treatments, cottagecore style calls for removing blinds and installing simple white sheer curtains or hanging drapes.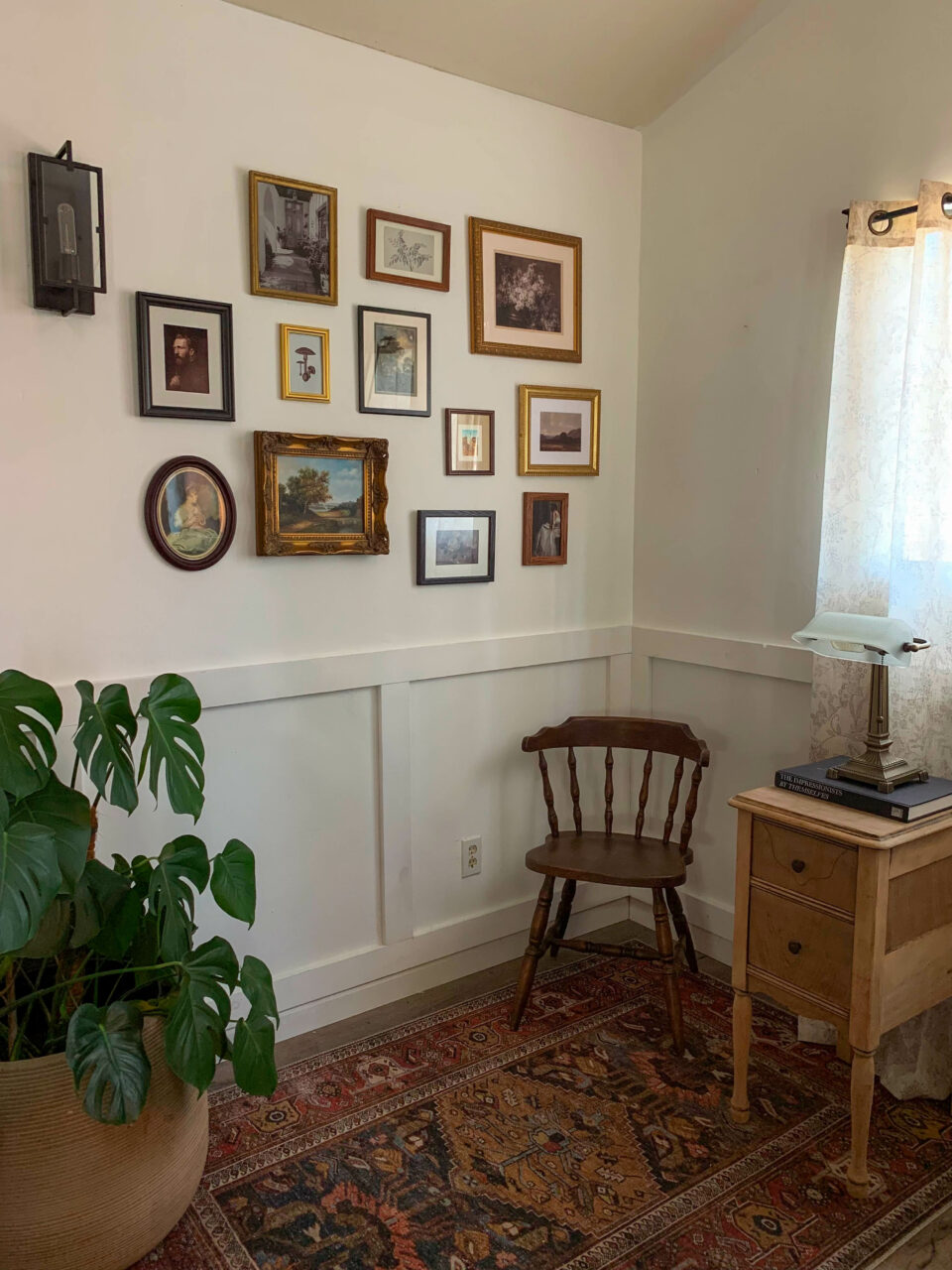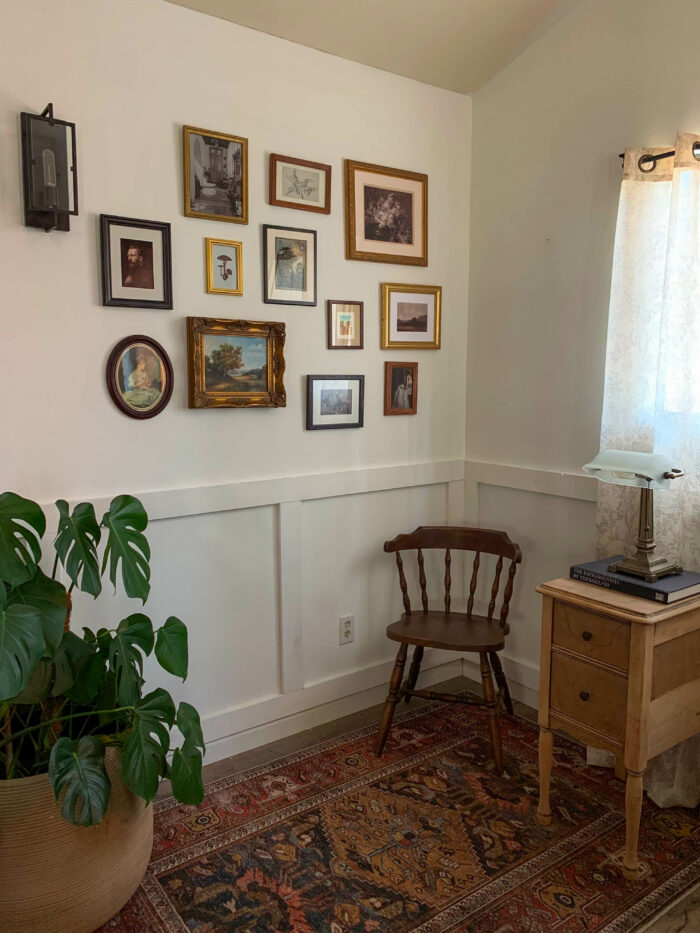 ---
4. Organization & Storage
Desktop storage: It's essential to stay organized and work efficiently in your office. For desktop storage, avoid acrylic and plastic items. Instead, opt for wicker baskets and trays. Throw your pens, pencils, and scissors into a handmade ceramic pencil cup. Add a decorative wooden box to your desktop to collect paper clips and pins. Swap out the plastic waste bin for a natural rattan basket.
File storage: Consider adding a vintage dresser or nightstand next to your desk to hold papers and supplies; it'll keep you organized and give you that authentic cottagecore style look. Plus, you can use the extra surface to create an incredible tabletop display!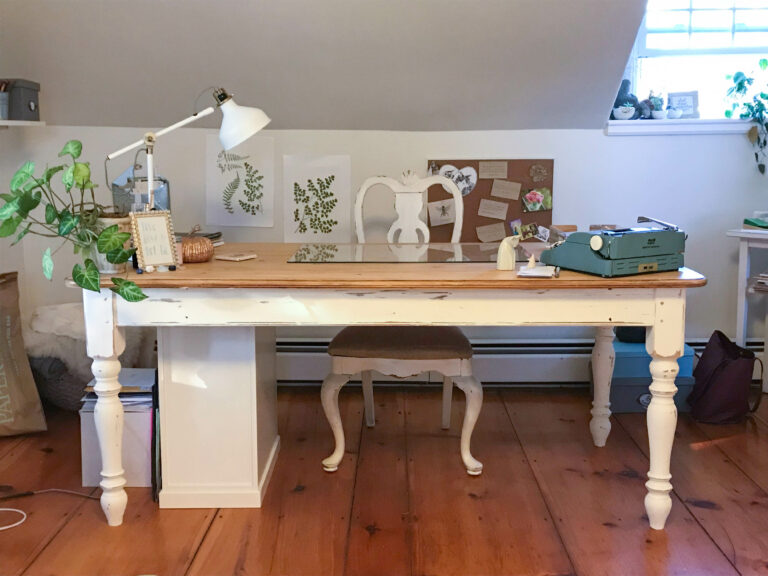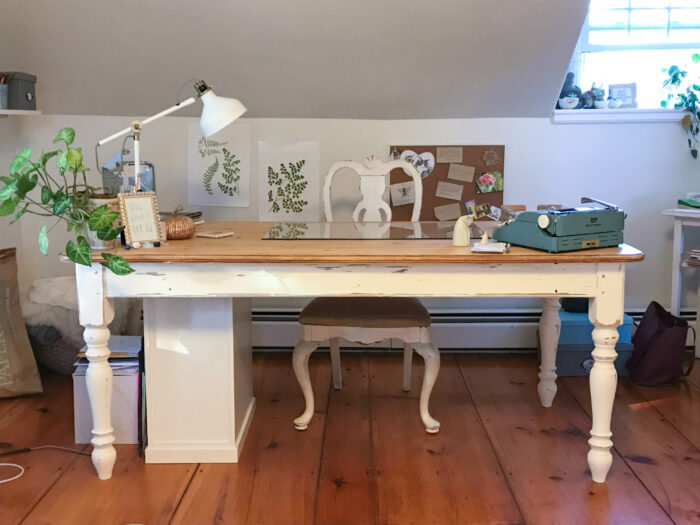 ---
Final Thoughts On Cottagecore Style
Transforming your office into a cottagecore style masterpiece is simple! Choose vintage, secondhand furniture to start. Follow that up with art on a staggered gallery wall in various frame styles to help pull the design together. Then, add a few key decor pieces like plants and handmade pottery. Finally, include some storage items, such as wicker baskets and decorative boxes, to keep you organized. Now your cottagecore style office is complete!
We hope this has given you some helpful ideas, and now that you have the style basics, it's time to start designing your dream workspace! And, if you've finished styling your office, why not think about a break room or conference room makeover? Or, if you're feeling the cottagecore style aesthetic, perhaps a cottagecore kitchen revamp is in order!
Don't forget to share your cottagecore art creations with us on social media!
Join our mailing list for instant access to 2 free cottagecore art pieces, ready for hanging!
This post first appeared as Dreamy Cottagecore Decor For Your Office In 4 Steps on Frame It Easy - Learning Center for Custom Picture Framing.