Creating a gallery wall in your home can seem intimidating, but it doesn't have to be. Of course, a classic gallery wall consists of your favorite photos and art but if you've been to our Learning Center before you know we are all about breaking the rules and doing your own thing! There are plenty of other great things that you can add to your gallery wall to take it to the next level. So let's get into some of those things and maybe you'll find something to add to your gallery wall!
1. Decor Pieces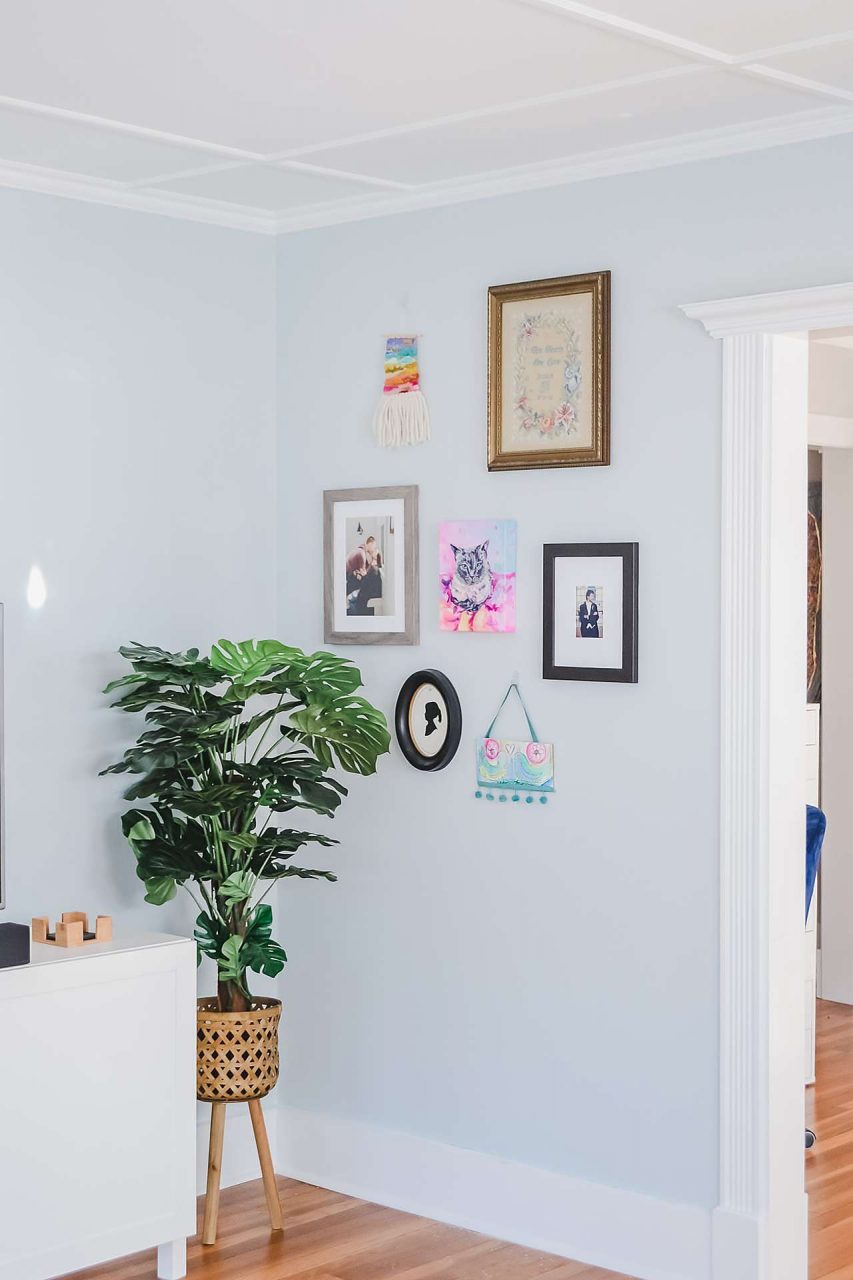 There are tons of decor pieces that you can add to spice up your gallery wall, flags, canvas paintings, and other little trinkets. Remember, your gallery wall should be filled with things that make you happy and are personal to you! So hang up whatever you think will look the best.
2. Lighting your Frames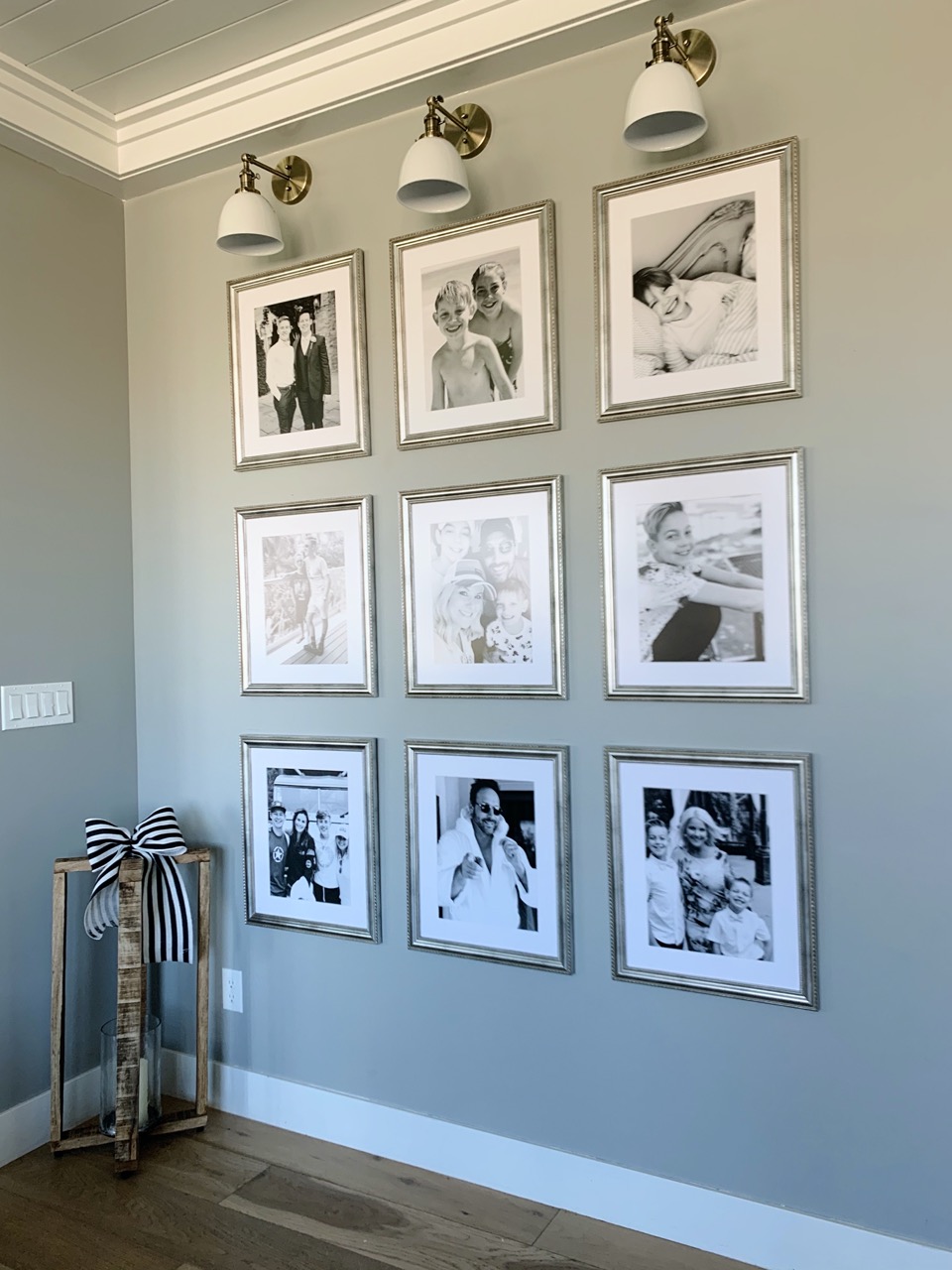 There are many different lighting options for your gallery wall. You can use string lights and wrap them throughout your frames and other decor pieces or you can use sconces and make it look like an at-home art museum. Lighting can be an overlooked yet crucial aspect of creating the right mood in any room and can definitely take your gallery wall to the next level!
3. Framed Mirrors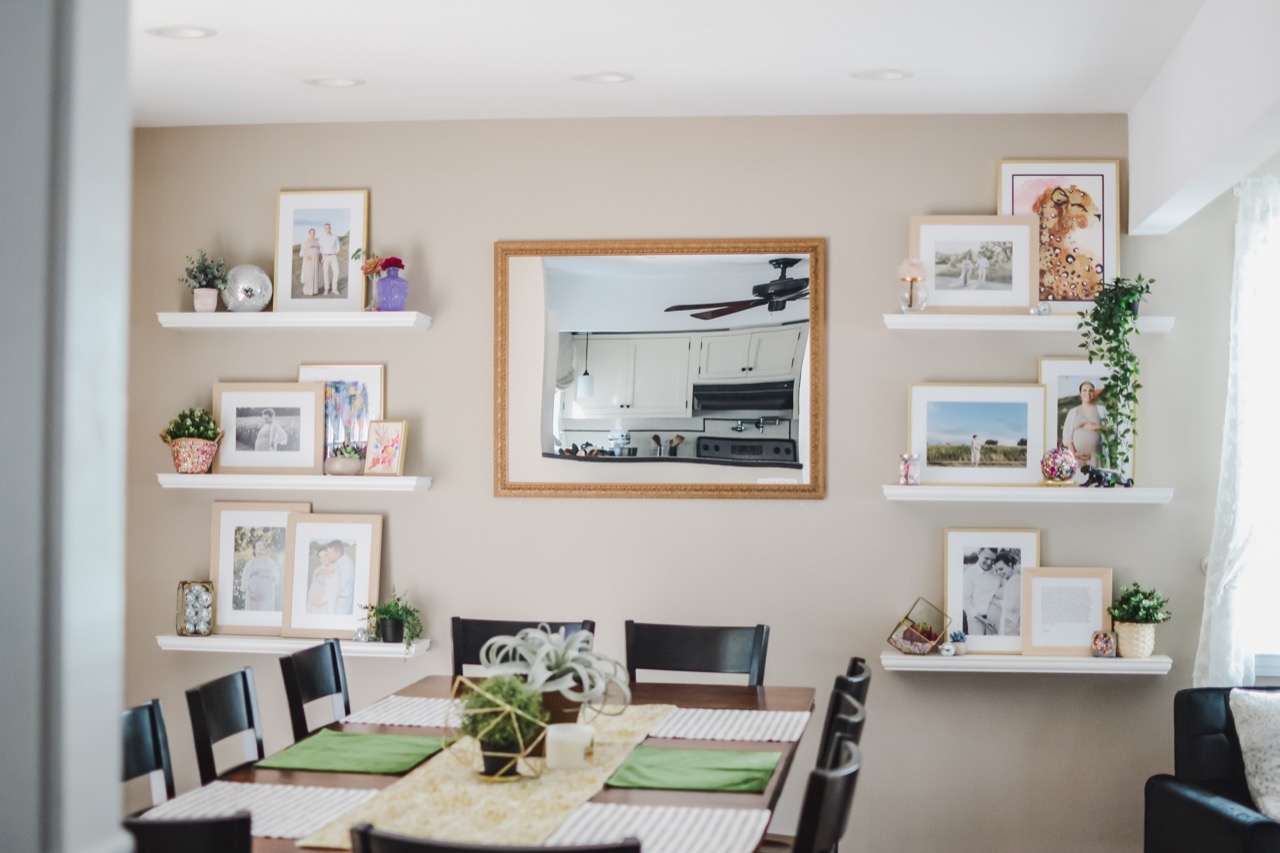 Mirrors not only look great, but they are great for making your space look bigger too! Mirrors can expand your walls, break up any clutter, and boost the light in your room. Whether it's a large mirror that takes up most of your wall or a small mirror that's only really for decoration — they can sure add a lot to your room!
4. Typography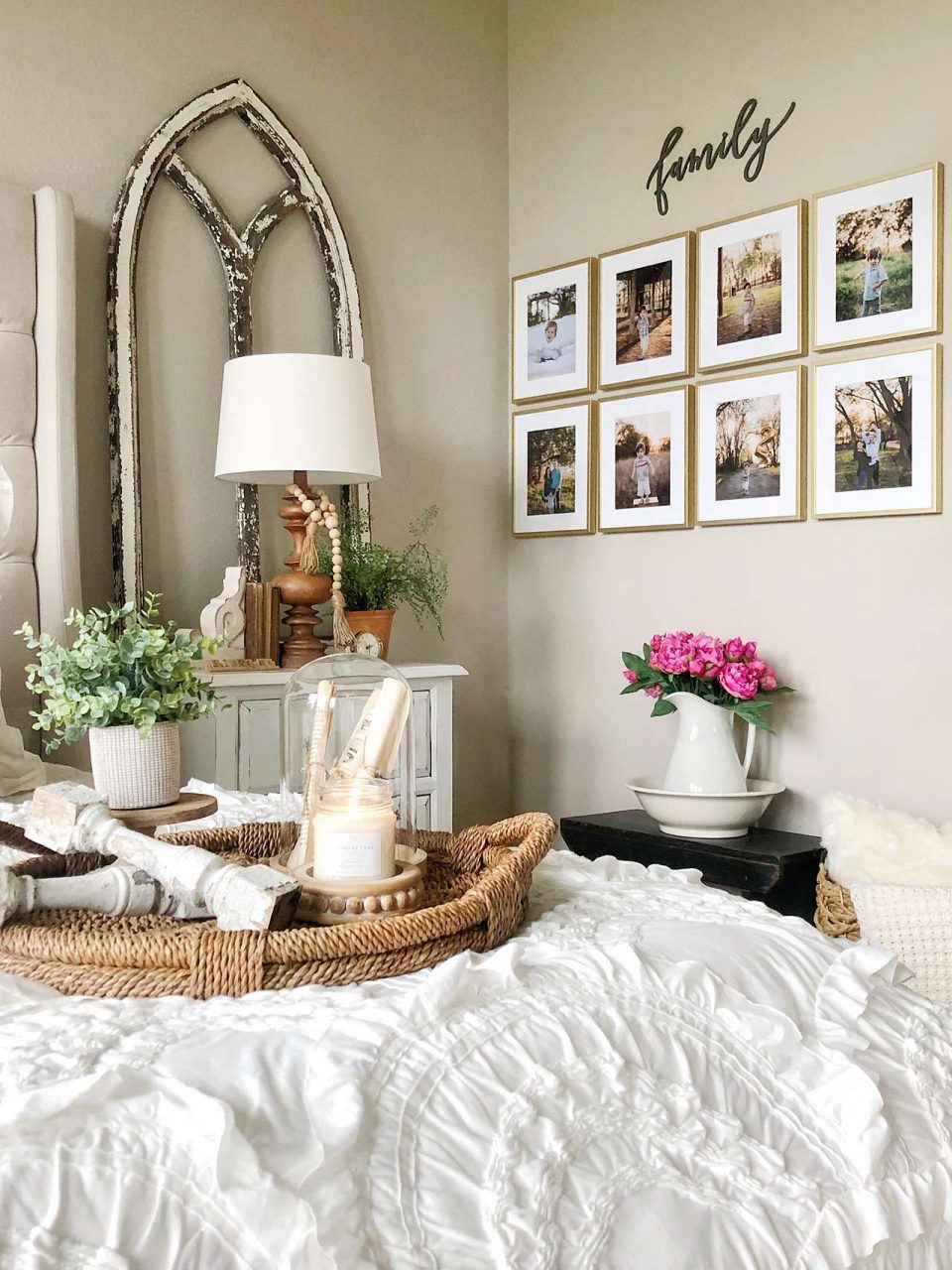 Typography art can be a single letter, an entire text, and everything in between. Typography art creates a fun and artistic way to display names, quotes, and sentiments in your environment. And because most typography art is custom-made, it gives a unique and personal touch to your decorating. Whether it's a sentimental word or your family name, consider adding some typography to your gallery wall to brighten it up.
5. Clocks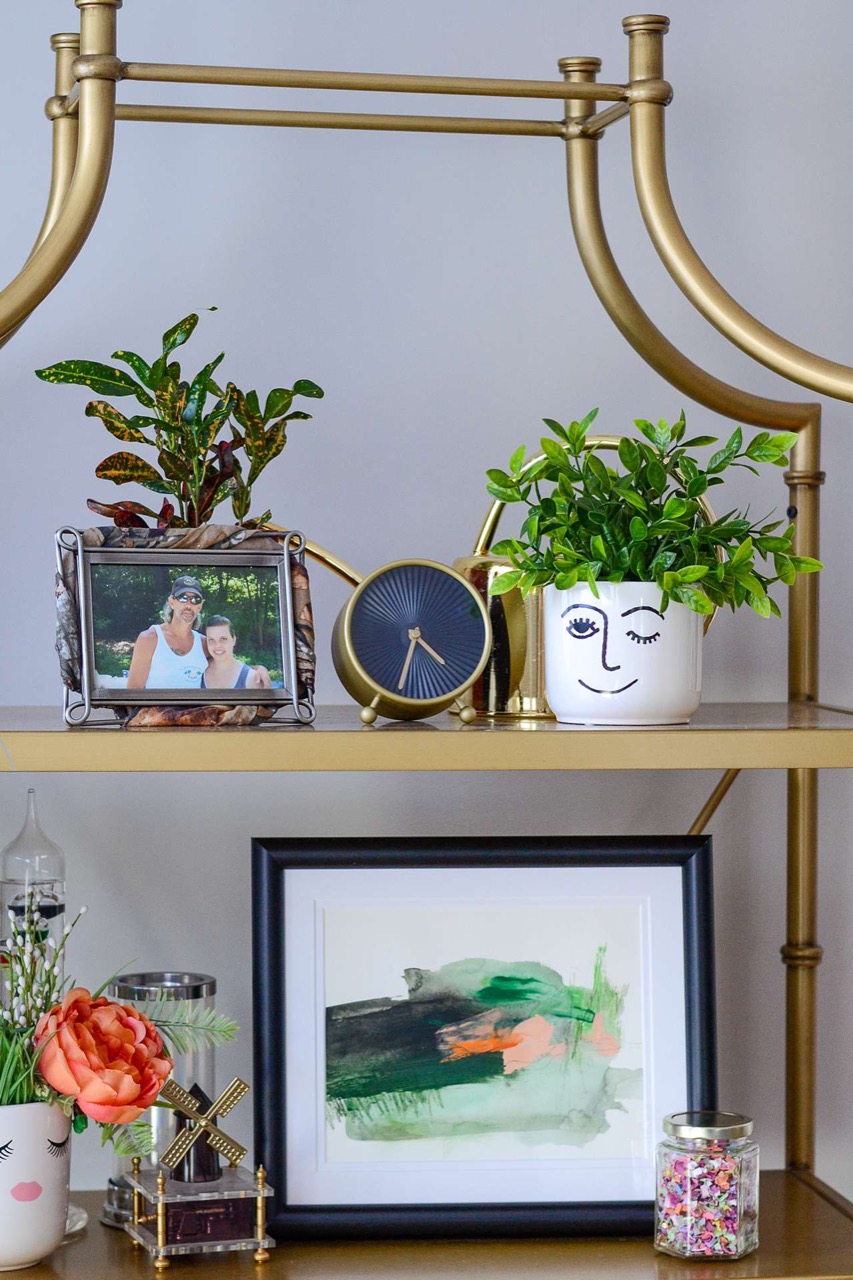 Sure, clocks are fundamental to tell the time, but they also are great for decoration, too! You don't have to spend a lot either, head to your nearest Goodwill or local consignment store and take a look to see what they have. You could probably find a really cool vintage clock that won't break the bank!
6. Plants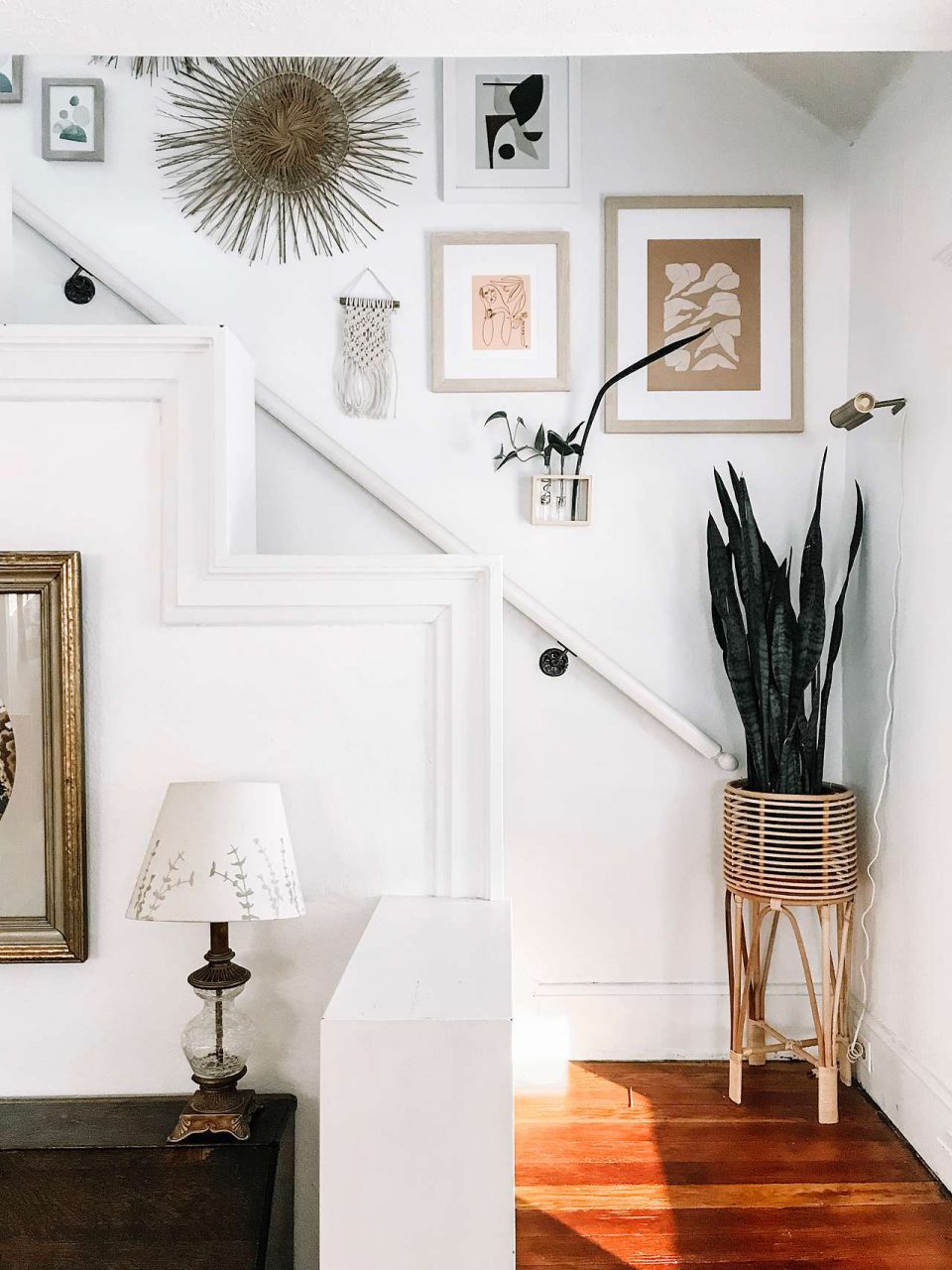 If you've been to our Learning Center before, you know how we feel about adding plants to your decor. It's a simple trick that can really take your decor to the next level. Real plants have many benefits, such as reducing pollutants and dust, keeping your room cool, and reducing carbon dioxide, but we understand not everyone has a green thumb or the time to take care of real plants. That's okay! Faux plants are just as popular and sometimes can even look just as real. Real or fake, plants can add something truly special to your decor. Whether it is a small potted succulent or a large hanging pot, consider adding a plant to your gallery wall for an extra pop.
7. Shelves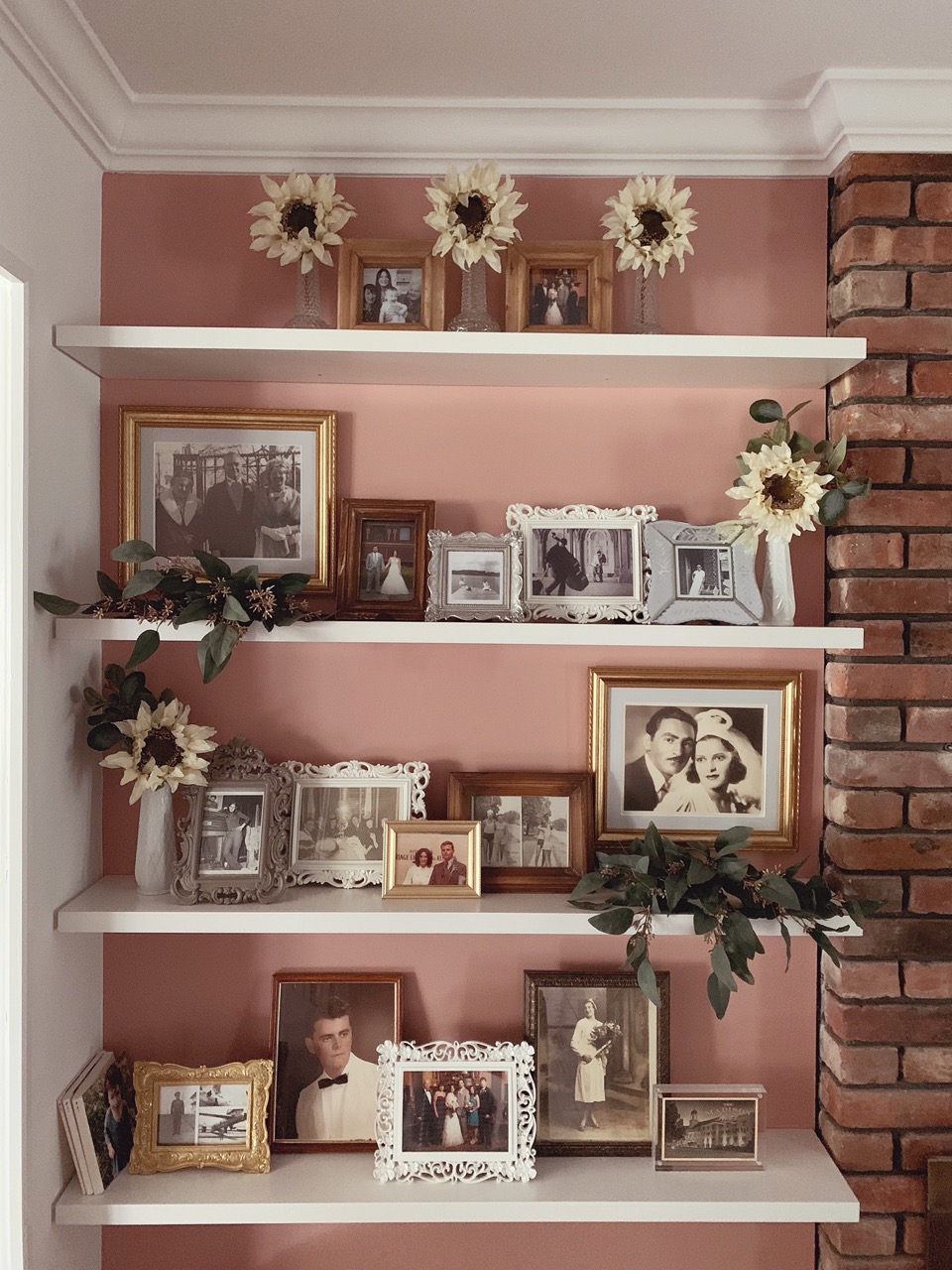 Styled shelves are great because you can constantly switch them up depending on your mood, the season, or current events in your life. Add one, two, or even more to your gallery wall to create the ultimate display! What you add to your shelves is completely up to you. If you are in the living room try adding books, small plants, and other small decor pieces next to your frame. Books, baskets, stuffed animals, and even some building blocks to spell out words or their name would be perfect for a kid's bedroom or nursery. In an office space, your framed diploma or awards add a professional touch. The possibilities are endless!
8. Plates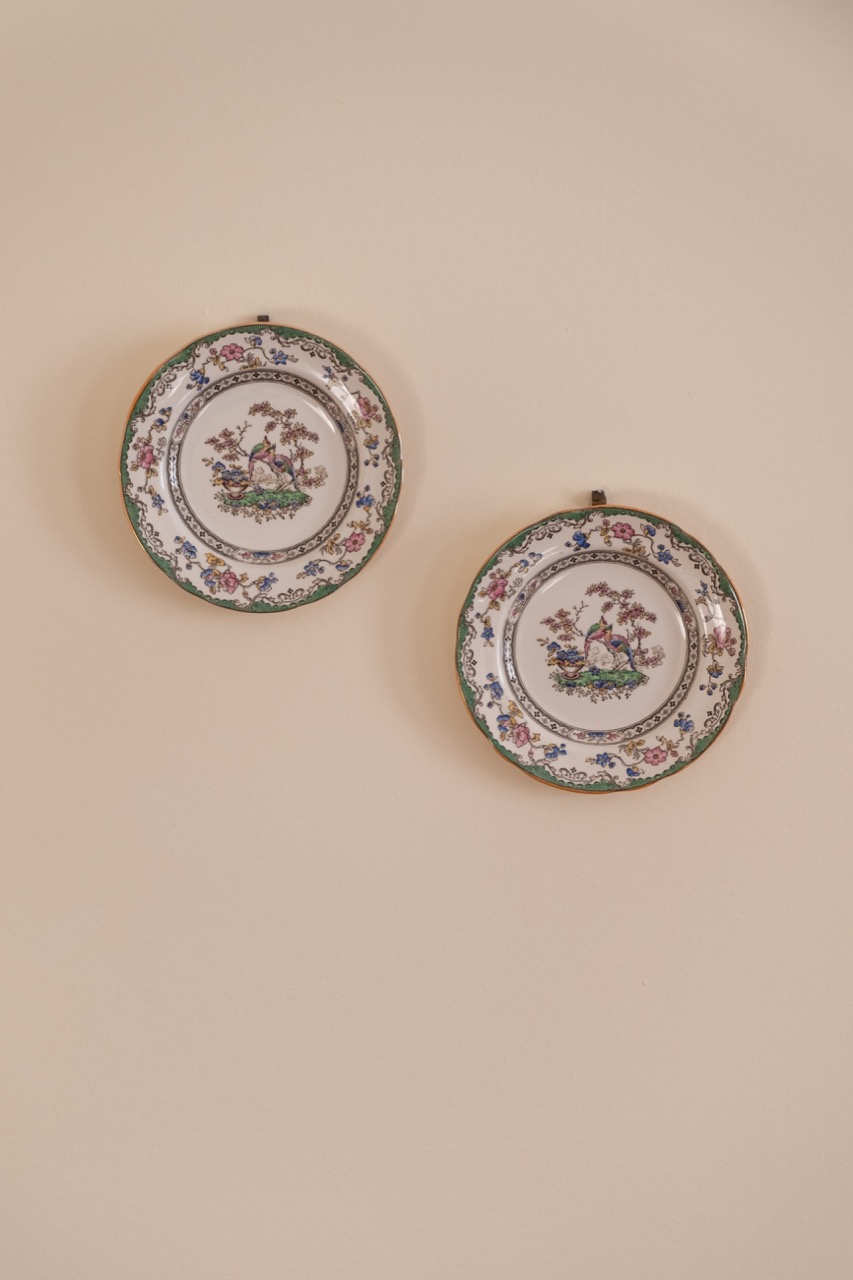 Plates that once belonged to your great-grandmother, vintage plates you found at your local Goodwill, or even plates that your children used to create their latest piece of art, hanging plates on your gallery wall can add something so special. Don't just let them sit in your cabinet collecting dust, give them the grand display that they deserve on your wall. Just be sure to invest in specific plate hangers for your walls so that they won't damage your plates or cause them to easily fall, trust us, it will be worth it in the long run!
9. Texture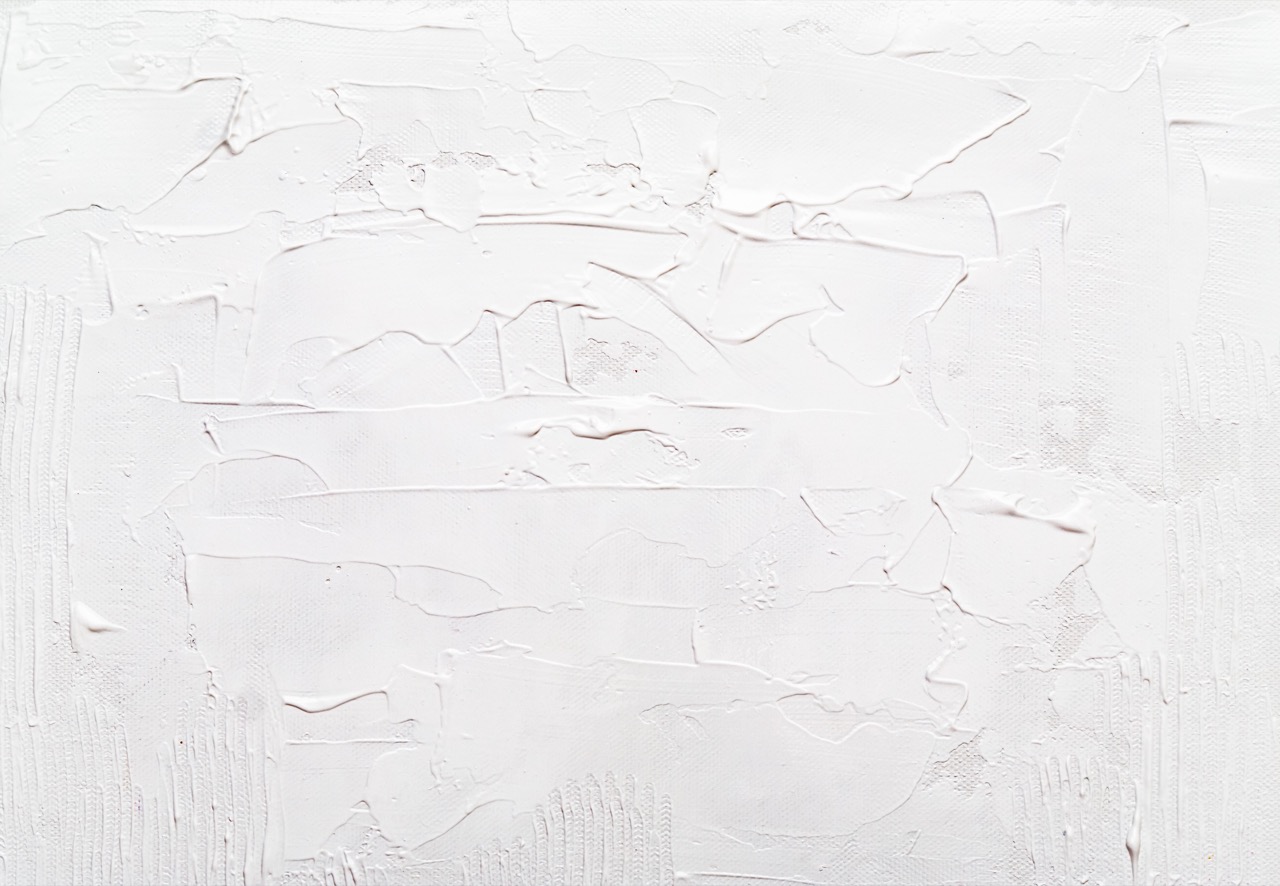 Adding texture to your gallery wall can be a simple step into bringing tons of life into your wall. There are many different ways you can add texture to your walls. It can be a wooden bead garland, a plaster art canvas, 3D art, feathers, or whatever else comes to mind. It's your wall, so do whatever you think looks best! You'll want to mix up your pieces, remember, a gallery wall doesn't have to be perfect and uniform. A little chaos can be a good thing.
10. Hats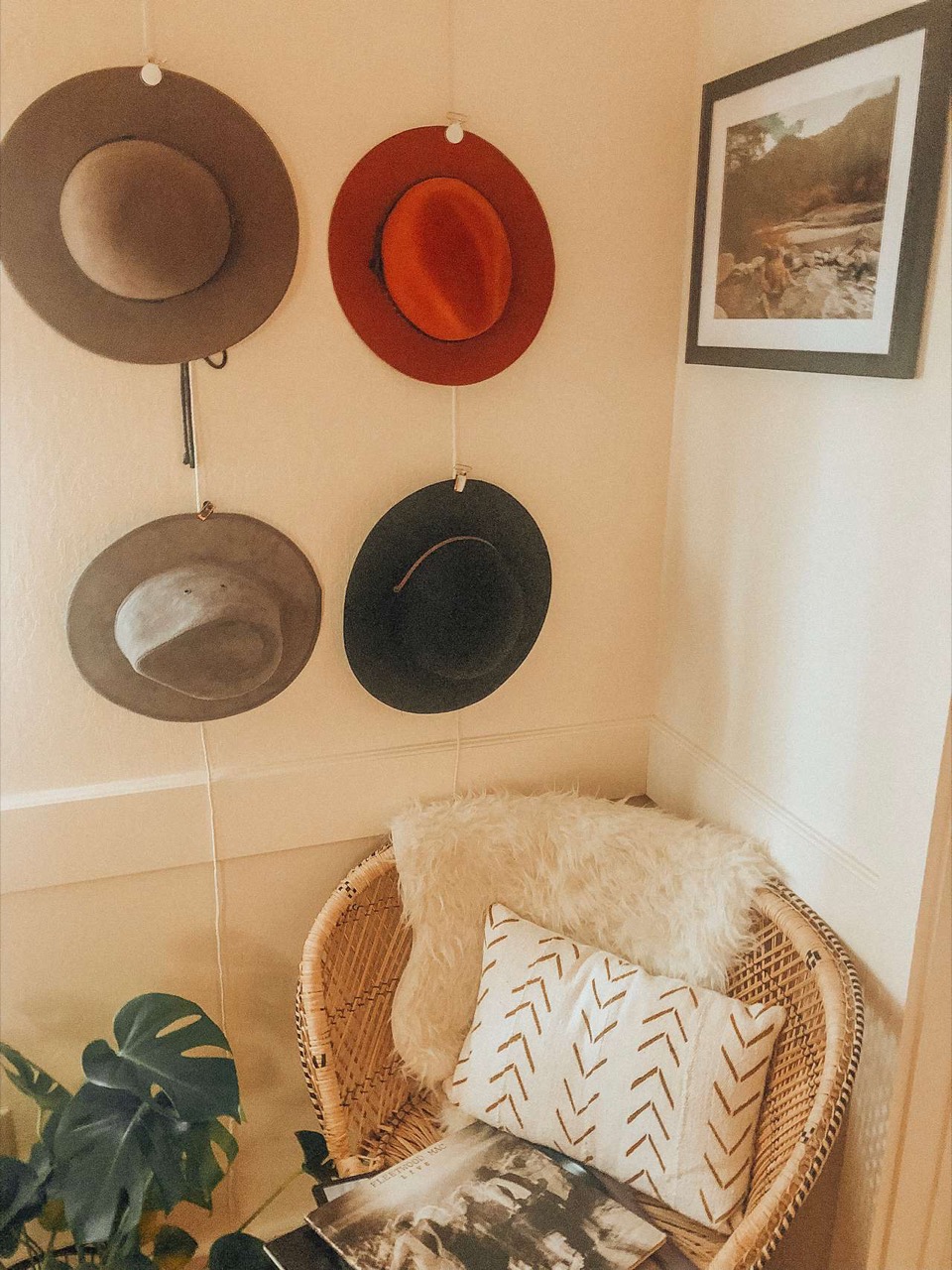 Have a lot of hats and not quite sure what to do with them? Why not display them on your wall! They can be sports hats, important hats, everyday hats, whatever you have! First, arrange the hats on your floor before hanging on your wall. Play around with the shapes, sizes, and textures of the hat to create some dimension on your wall. Figure out what frame or other decor items you want next to which hat. You'll need to get hat hooks to hang so it won't damage your hats and they are easily accessible if you ever want to wear them. Once you have your layout set, start you are all set to hang the hooks and hats on your wall. It's an easy setup for a grand display!
11. Wallpaper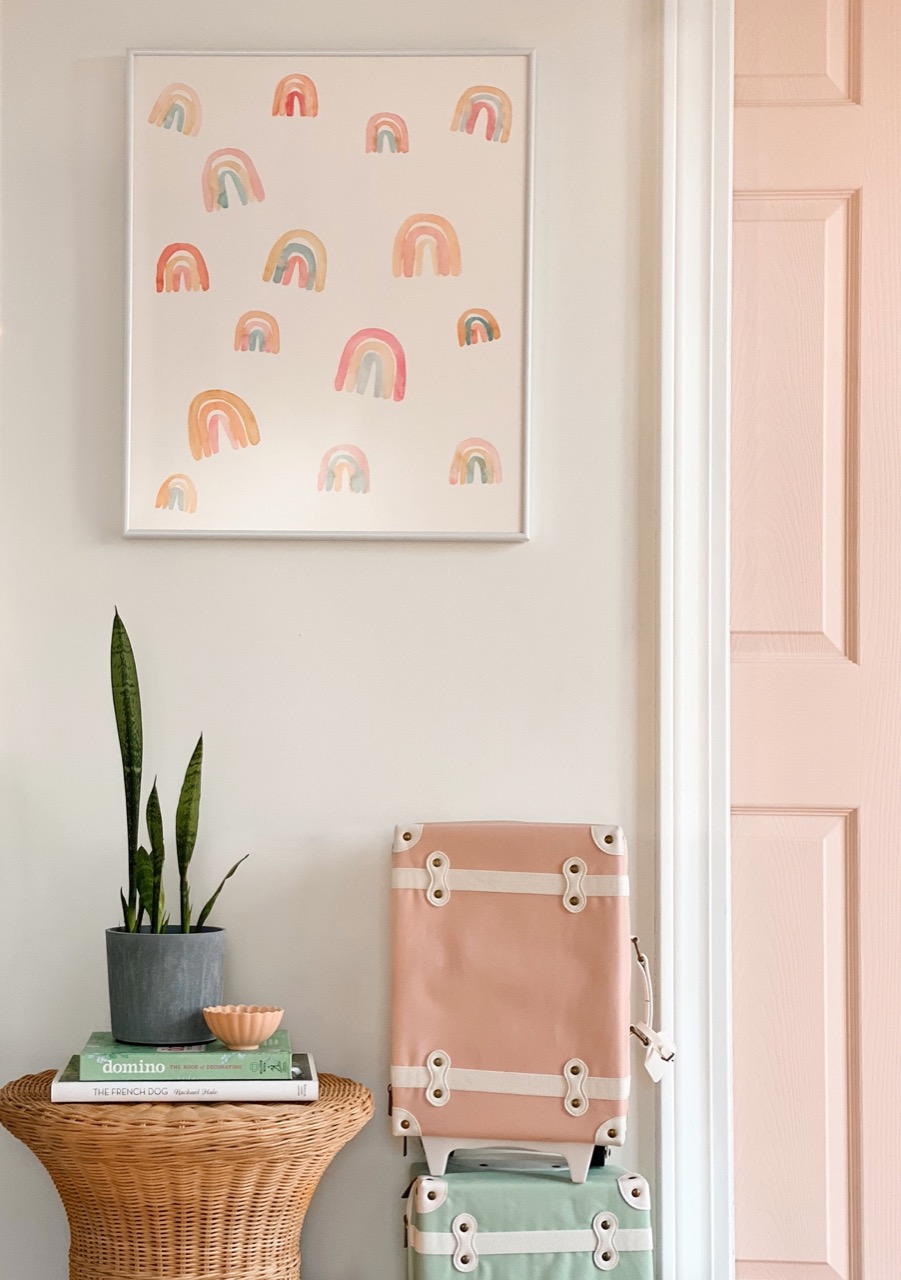 Wallpaper turns the walls of your home into decor itself. It's putting patterns, images, or even art pervasively across the walls of your home. Whether it's floral or plant-printed, or some other type of image or pattern, it could make your walls come alive and exude some extra energy. That said, people rarely use all the wallpaper in the roll on their walls. Indeed, you likely have some leftovers after finishing your project. The question then becomes, what do you do with that extra bit of wallpaper? Why not frame it and add it to your gallery wall? It doesn't even need to be an unused piece of wallpaper. You could have just seen a design on some wallpaper that you like enough to put in a frame, but not an entire wall.
12. Taxidermy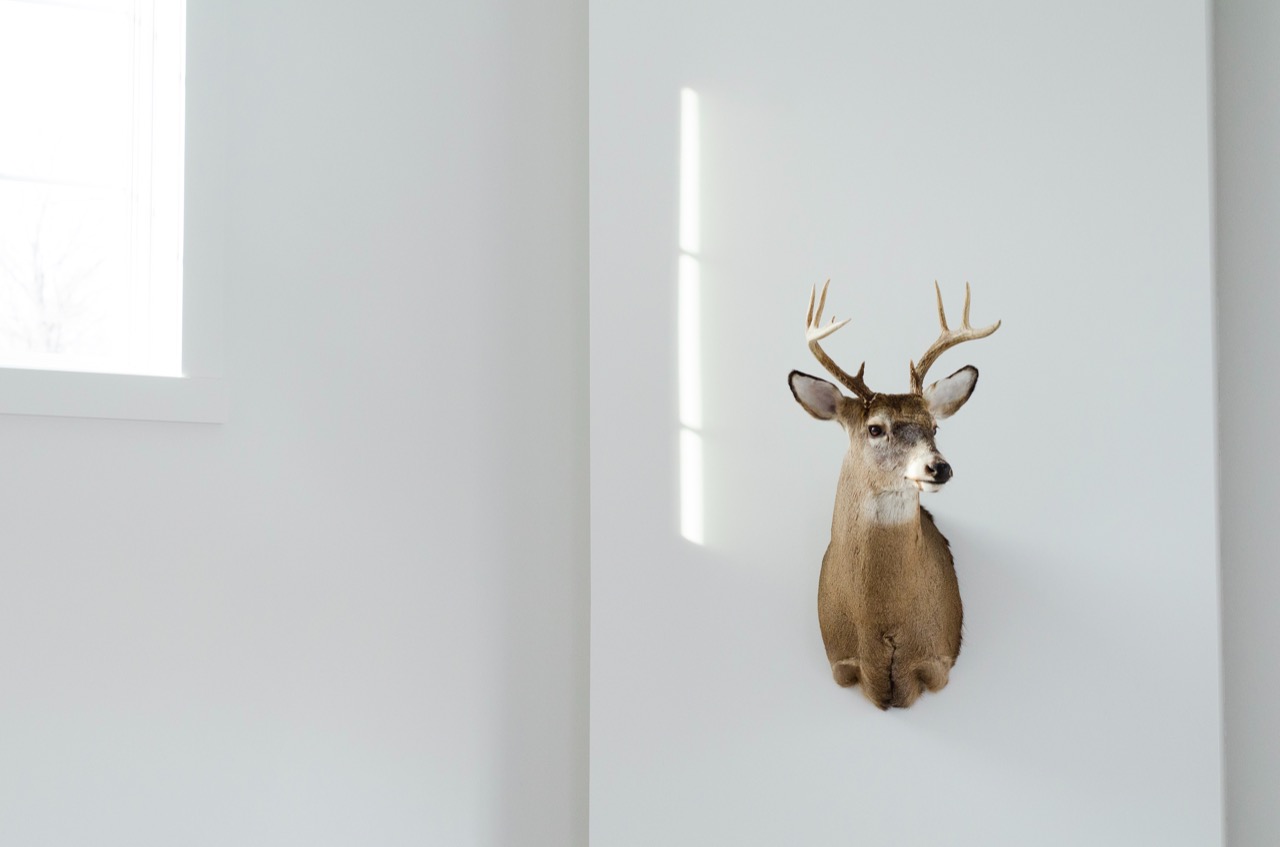 If you're into hunting or animals, taxidermy might be something you want to consider hanging. Are real animal heads hanging on your walls just not your thing? That's okay! In fact, faux taxidermy has become quite popular in recent years that are made out of paper, paper mache, cardboard, resin, wood, wool, or even textiles. They bring a unique vibe to your room, but won't be as lifelike. This would especially be great if you are decorating a nursery or kids' bedroom with a hunting or animal theme.
Final Thoughts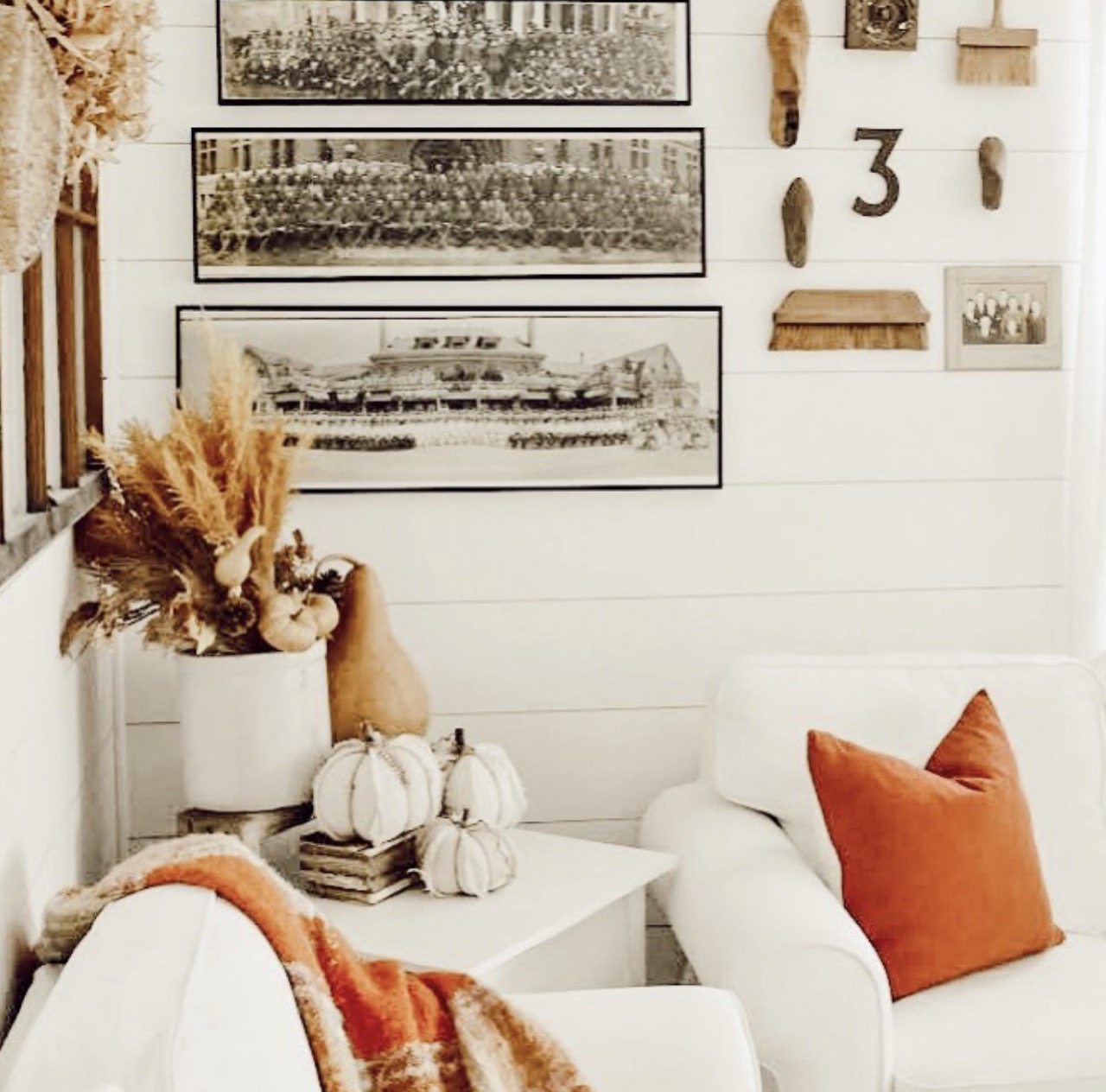 Creating a gallery wall can be lots of fun! It's the perfect way to portray your personality through decor. Of course, you should hang photos that are special to you or your favorite art pieces, but it doesn't just have to be picture frames! When it comes to home decor, you certainly are not limited. As we always say — the space is yours, so do whatever you think will look the best in order to make it truly yours! And of course, these things are not just limited to gallery walls. If you want to keep your gallery wall uniform, consider hanging these items elsewhere in your home.
We hope we inspired you to hang some other great pieces for your gallery wall. Be sure to share photos of your amazing gallery walls with us on social media so we can see what you came up with!
This post first appeared as 12 Things to Add to Your Gallery Wall to Take it to the Next Level on Frame It Easy - Learning Center for Custom Picture Framing.