So you have some empty wall space, and you're wondering how to fill it… why not create a gallery wall? With custom frames from Frame It Easy, planning and assembling your gallery wall is a simple process.
Gallery walls are perfect for home decor for a variety of reasons. For starters, they truly allow you to personalize your home with your photos or art, which is a great way to make a new house feel like home. Also, gallery walls make an awesome centerpiece, while also giving a room a sense of completion and cohesiveness. Rather than have to narrow down your favorite art or photos to just one or two statement pieces, you have the freedom and flexibility to arrange a bunch of different pieces. Ready to find some gallery wall inspiration?
Here are our favorite gallery wall arrangements and themes that are sure to inspire you to refresh your home decor.
Gallery Wall Arrangements
1. Grid Style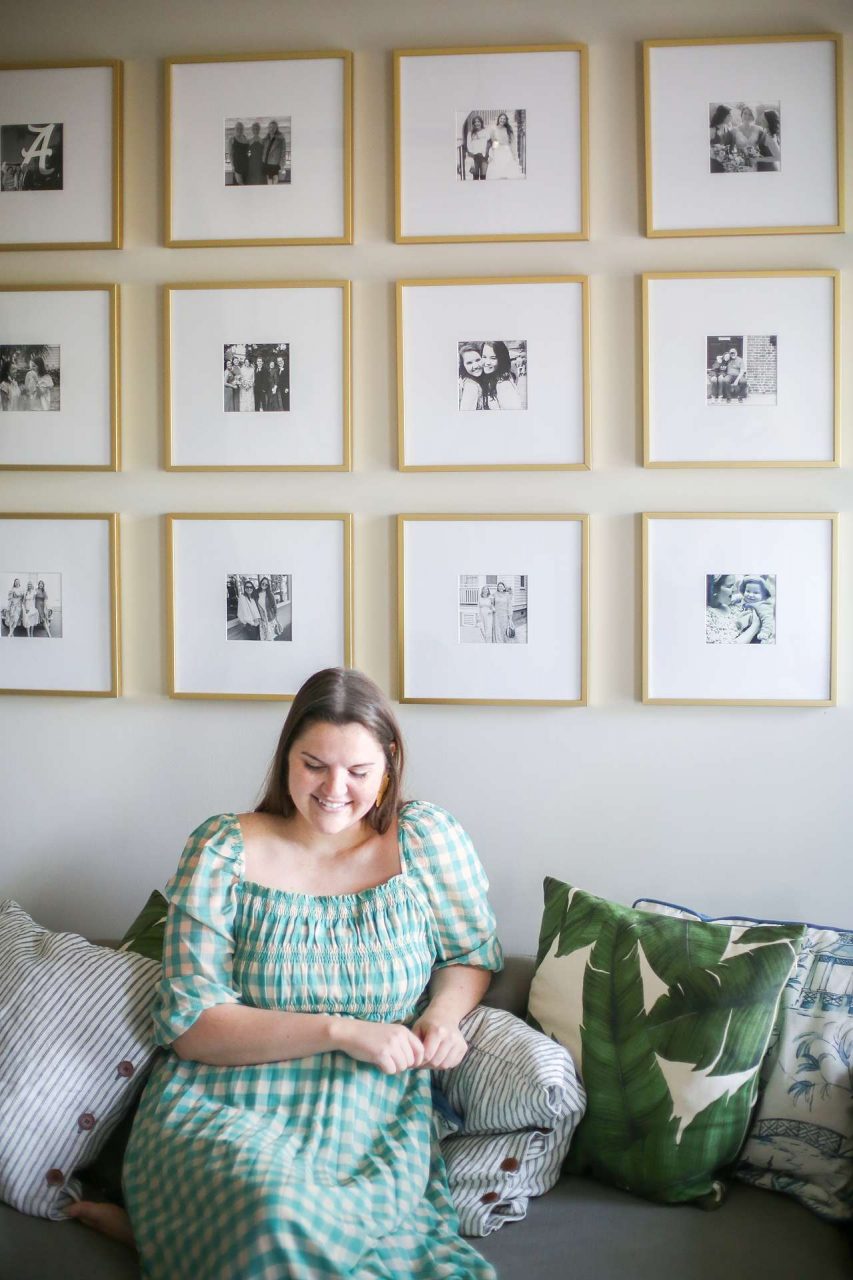 Grid style gallery walls give off a sense of order, cleanliness, and precision. Often displayed in framesets of 3 x 3 or 4 x 4, you can make a grid gallery wall as large or small as you'd like! We suggest using frames of uniform style and size. That way, the frames will fit together in a true grid form.
Placement for grid-style gallery walls varies, and they truly look good on just about any wall. Some popular placements include large hallways, above a couch, or smaller empty spaces that need some decor.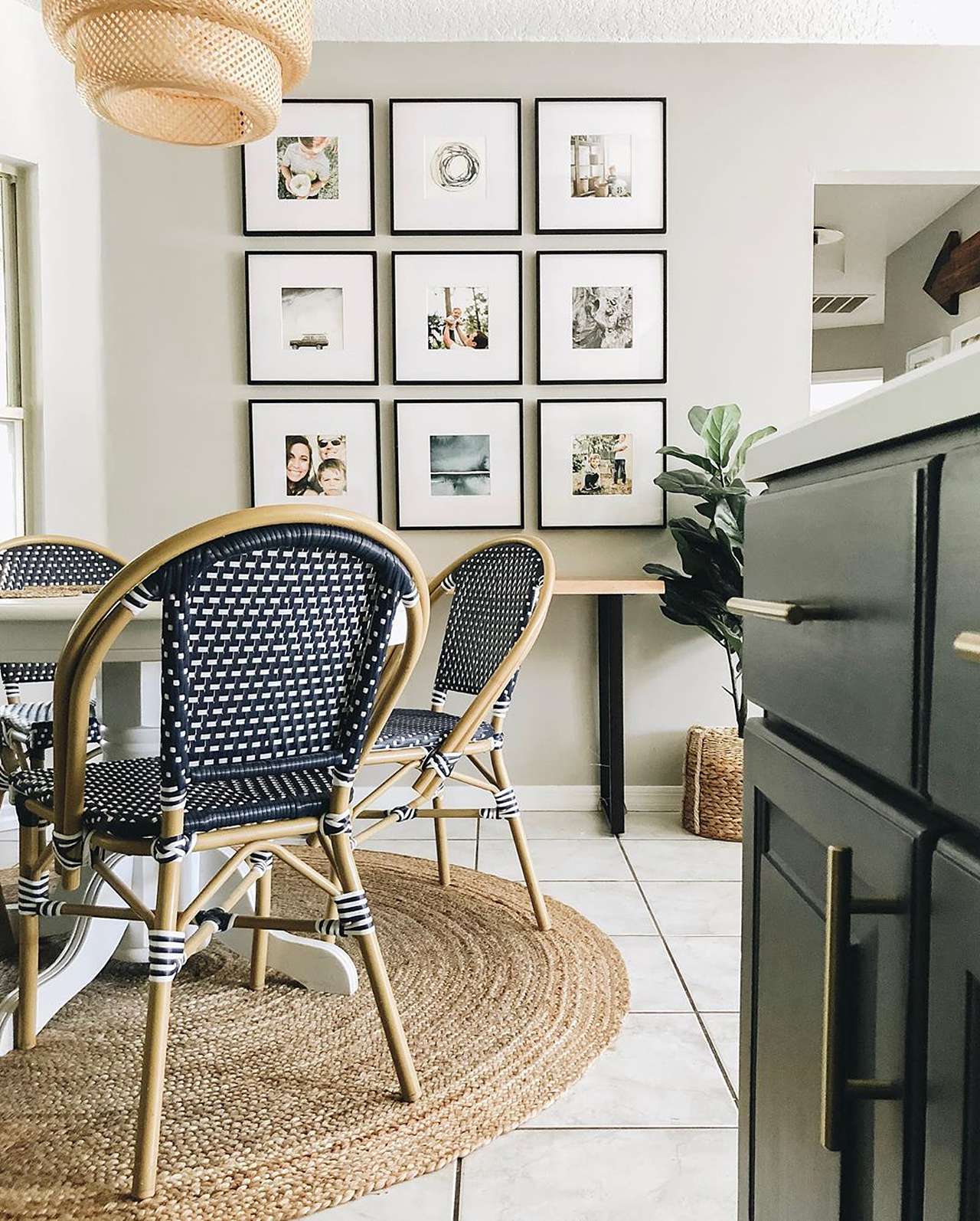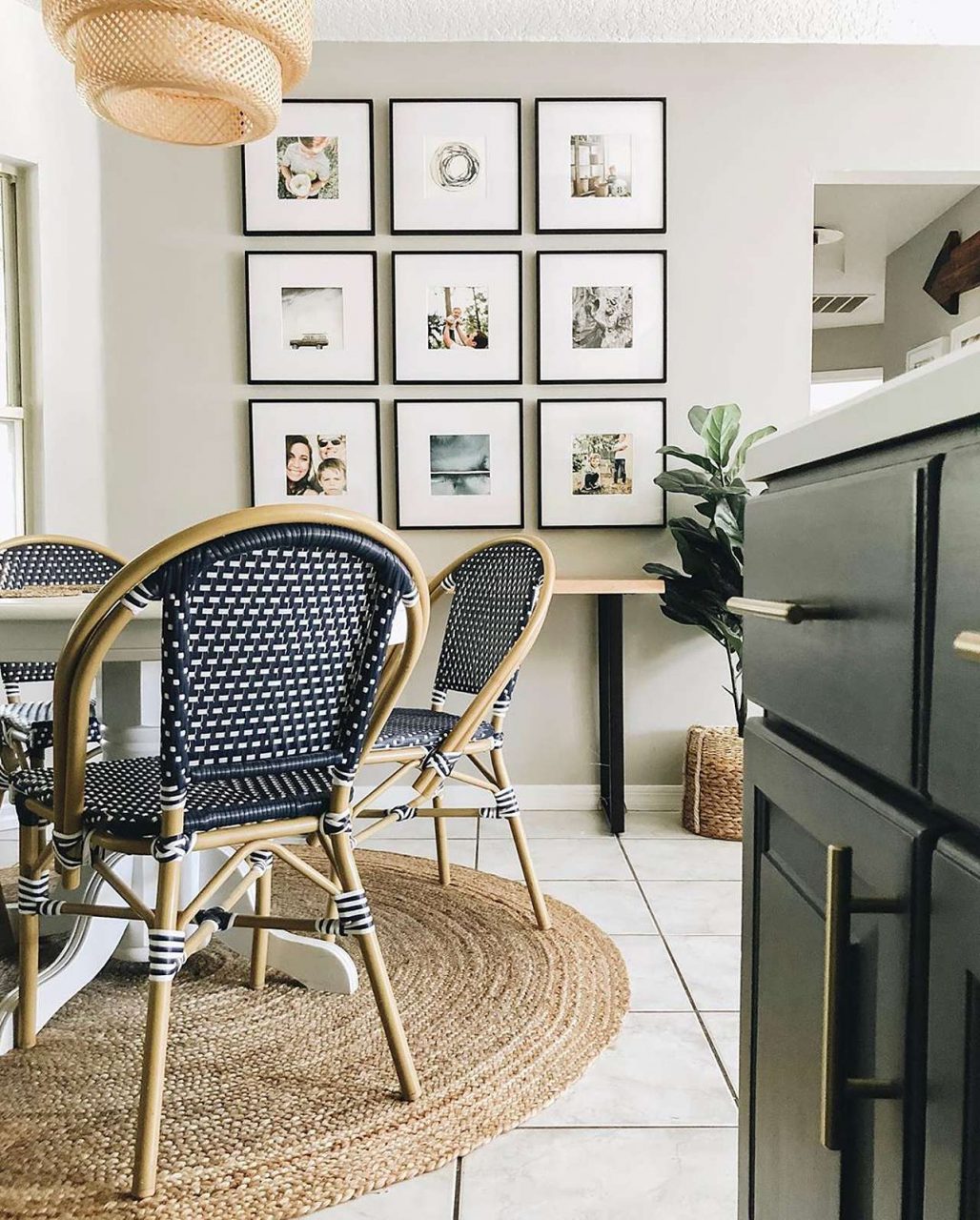 Tip: Measure out the space you'll use for your grid style gallery wall, and be sure the outside frame size you are ordering will fit!
2. Asymmetrical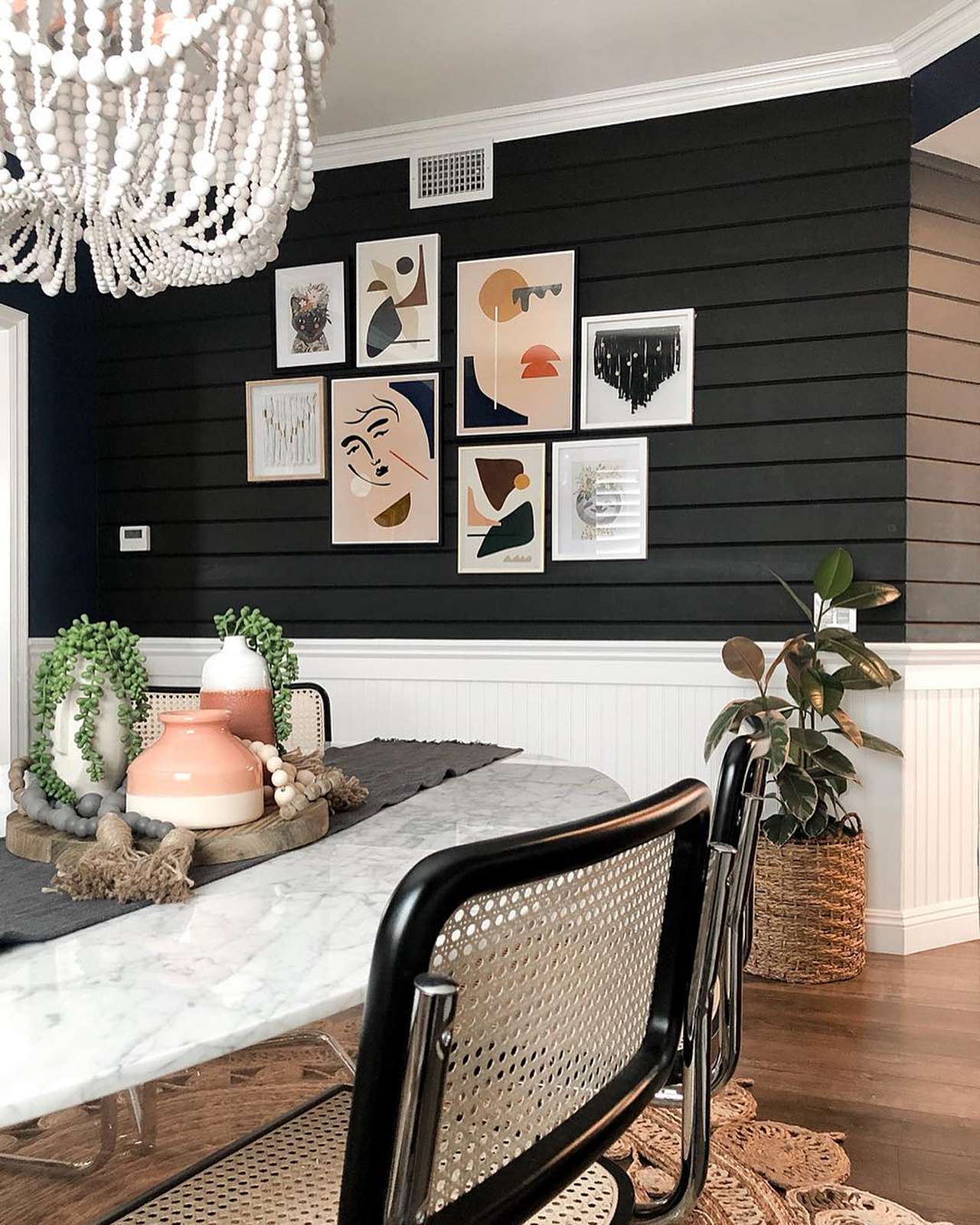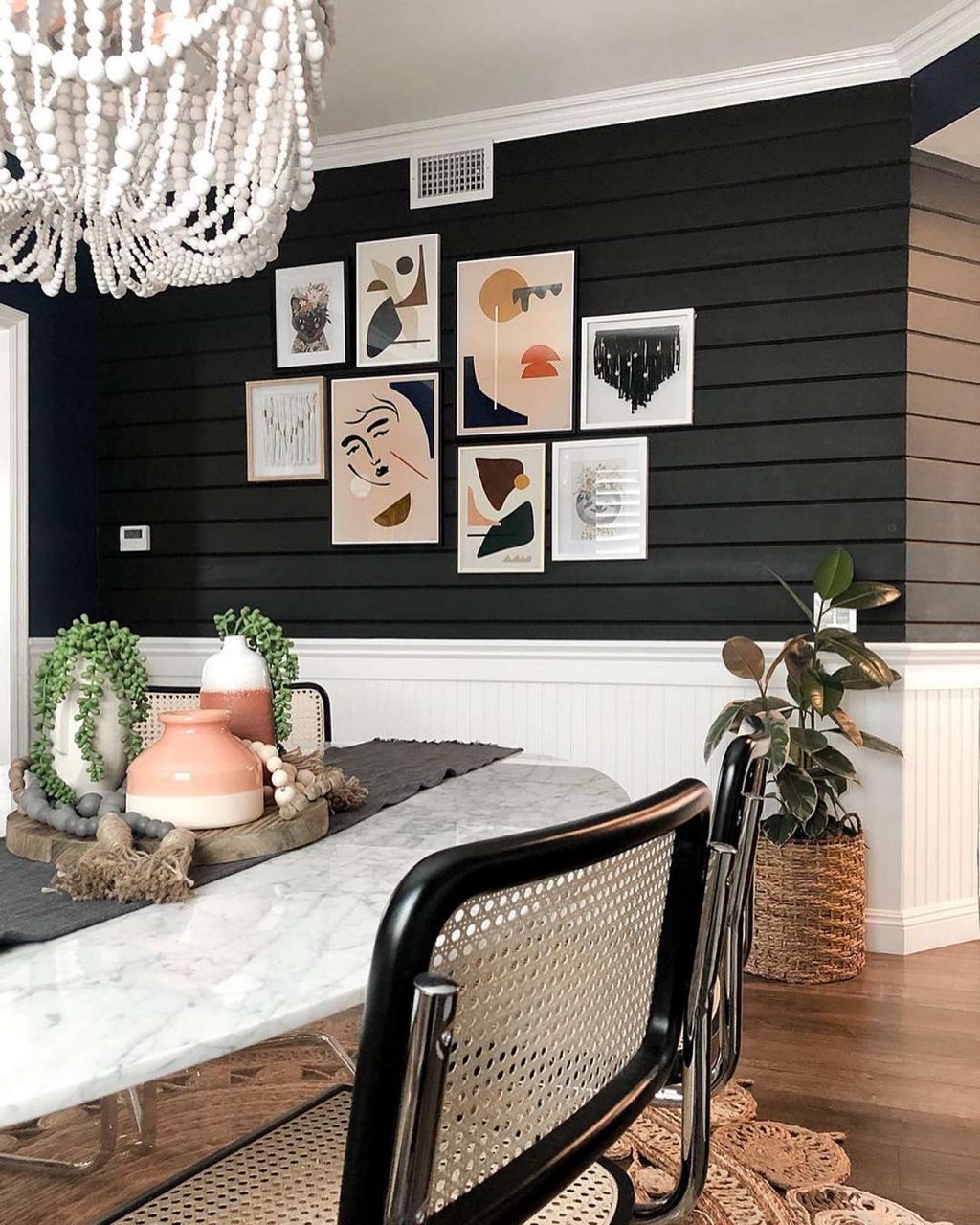 Probably the most popular arrangement, asymmetrical gallery walls are all the rage. Asymmetrical galleries are super easy to create and don't require a ton of planning. Due to the casual and somewhat imprecise nature of an asymmetrical gallery wall, you're able to add or swap photos and items easily.
Asymmetrical gallery walls grant you the most freedom and creativity. Because there is no set pattern or style, feel free to mix and match different frame styles, and change up the frame sizes!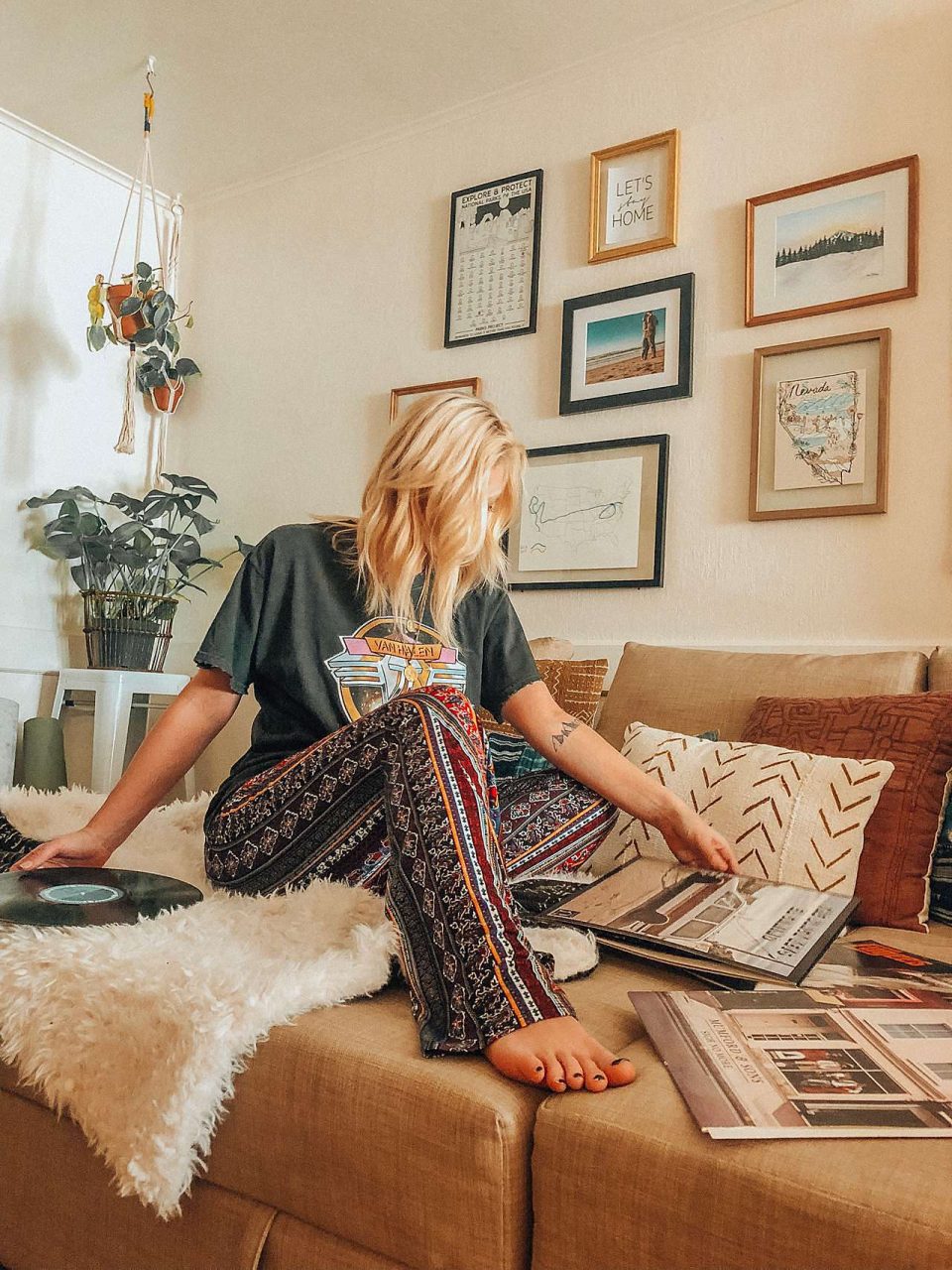 Though a great accent for any area, we recommend you display an asymmetrical gallery wall as a centerpiece to a main room or large wall. They often make a big statement, so definitely create the gallery wall in a deserving space.
3. Triple Frame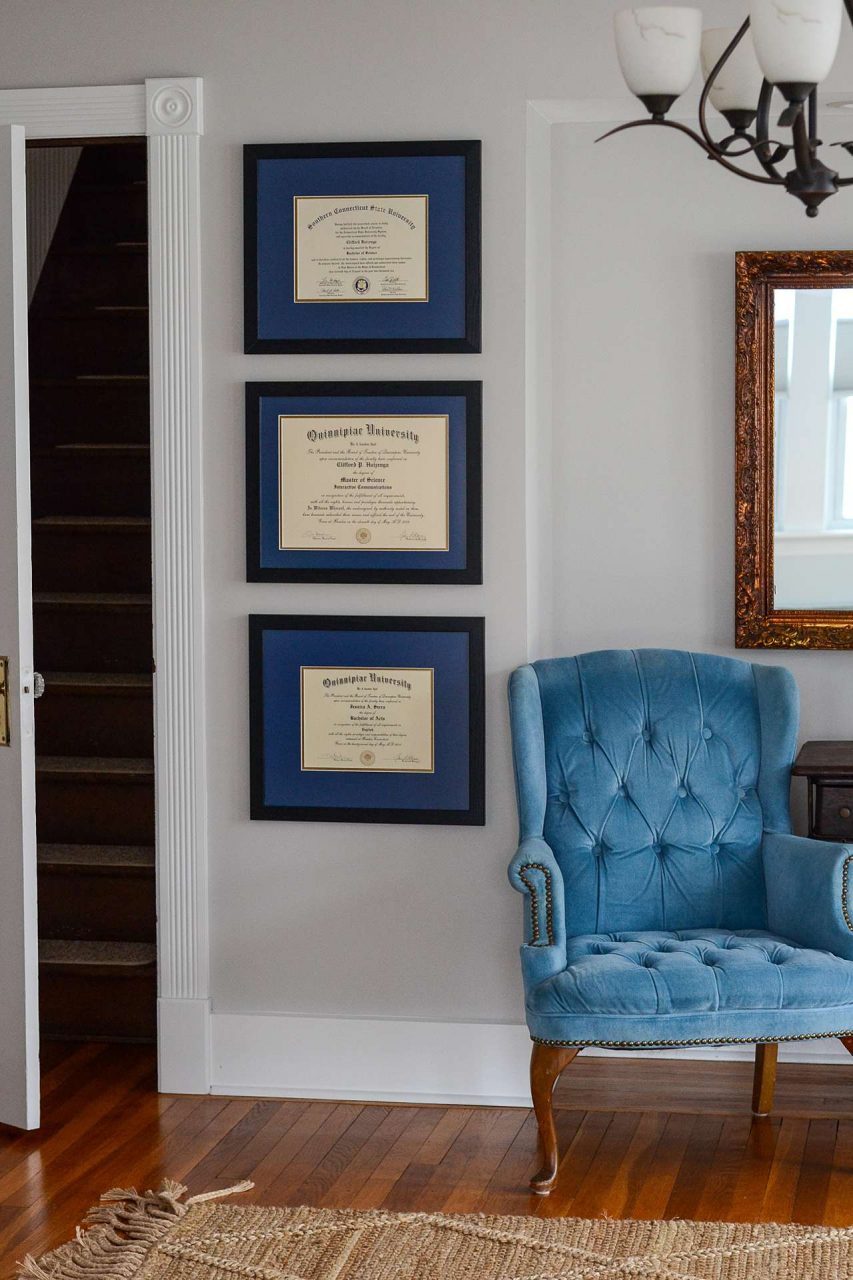 Frames displayed in sets of three evoke a sense of order and harmony within a space. They are simpler than creating a grid style or asymmetrical gallery wall and give you the freedom to vary sizes and styles with just three frames.
There are different takes on triple frame gallery walls that can fit a variety of wall spaces. For instance, there's the 'three in a row', where you stack your frames vertically or display them horizontally.
You could display your three frames diagonally, which looks great on ascending/descending staircases.
Lastly, you could create a pyramid style triple frame display. This involves placing one frame a bit higher than the two next to it. Feel free to vary the pyramid style by making it horizontal!
Check out our blog post for more information and tips on creating triple frame gallery displays.
4. Floor to Ceiling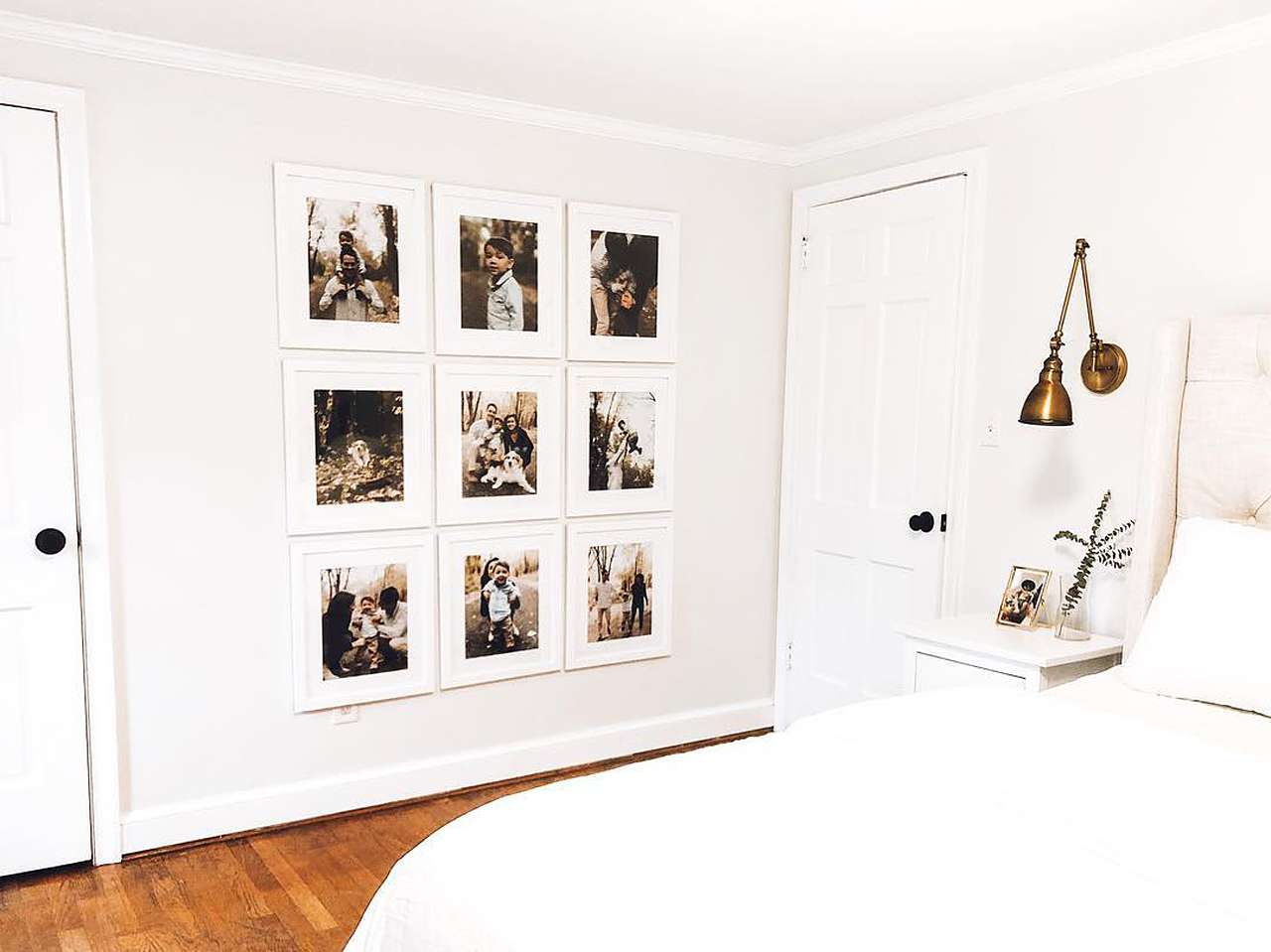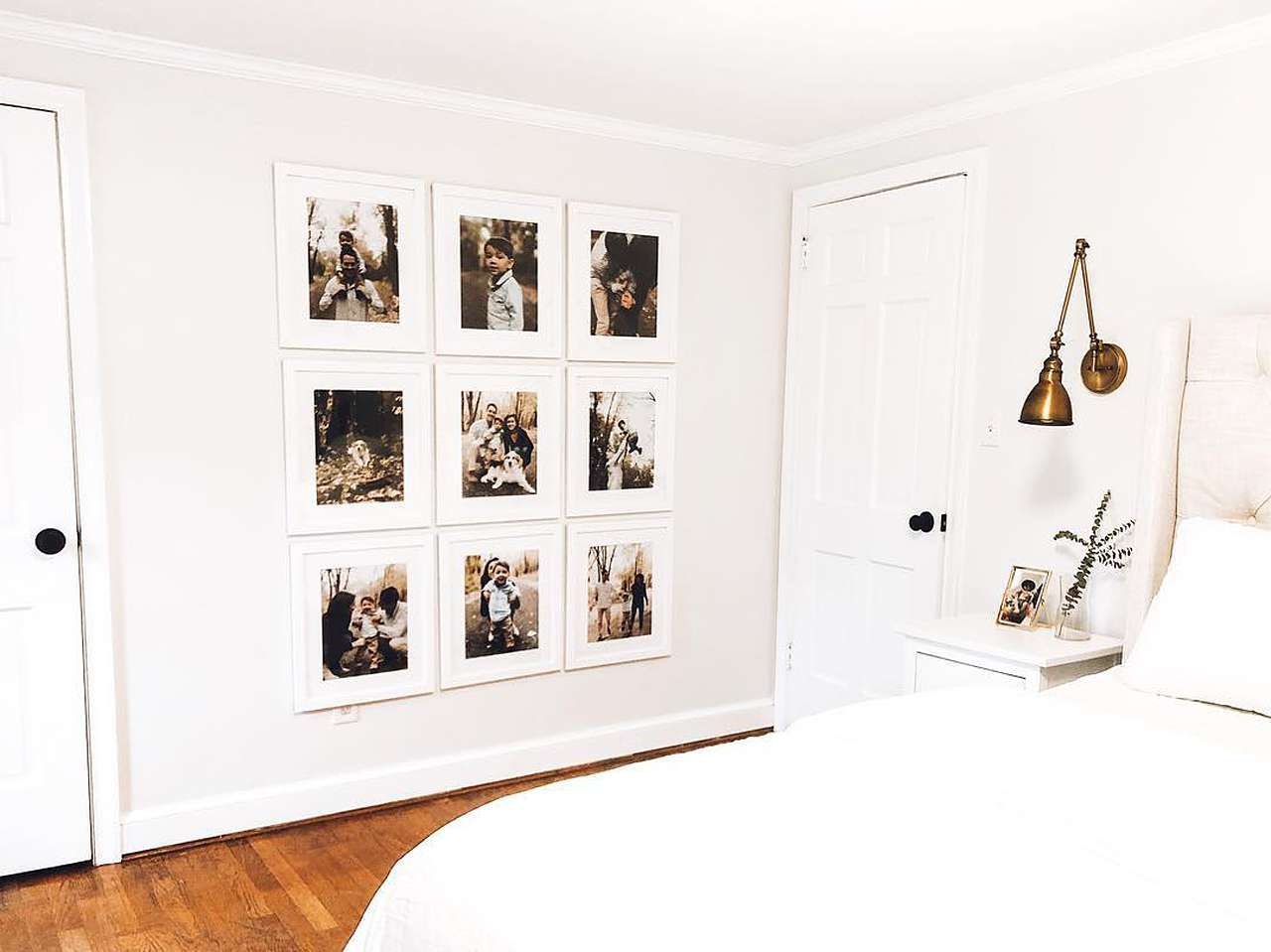 Floor to ceiling style truly goes above and beyond when it comes to gallery walls. They make a big statement and transform a room's vibe!
When it comes to arrangements, we suggest still using either a grid style or an asymmetrical, eclectic style, just taking it to the next level by filling a wall. Grid style will lend a very clean cut and precise feeling into the room, while asymmetrical will be more organic and diversified. Even with floor to ceiling style, remember that with asymmetrical arrangements you will have the freedom to vary your frame sizes and colors.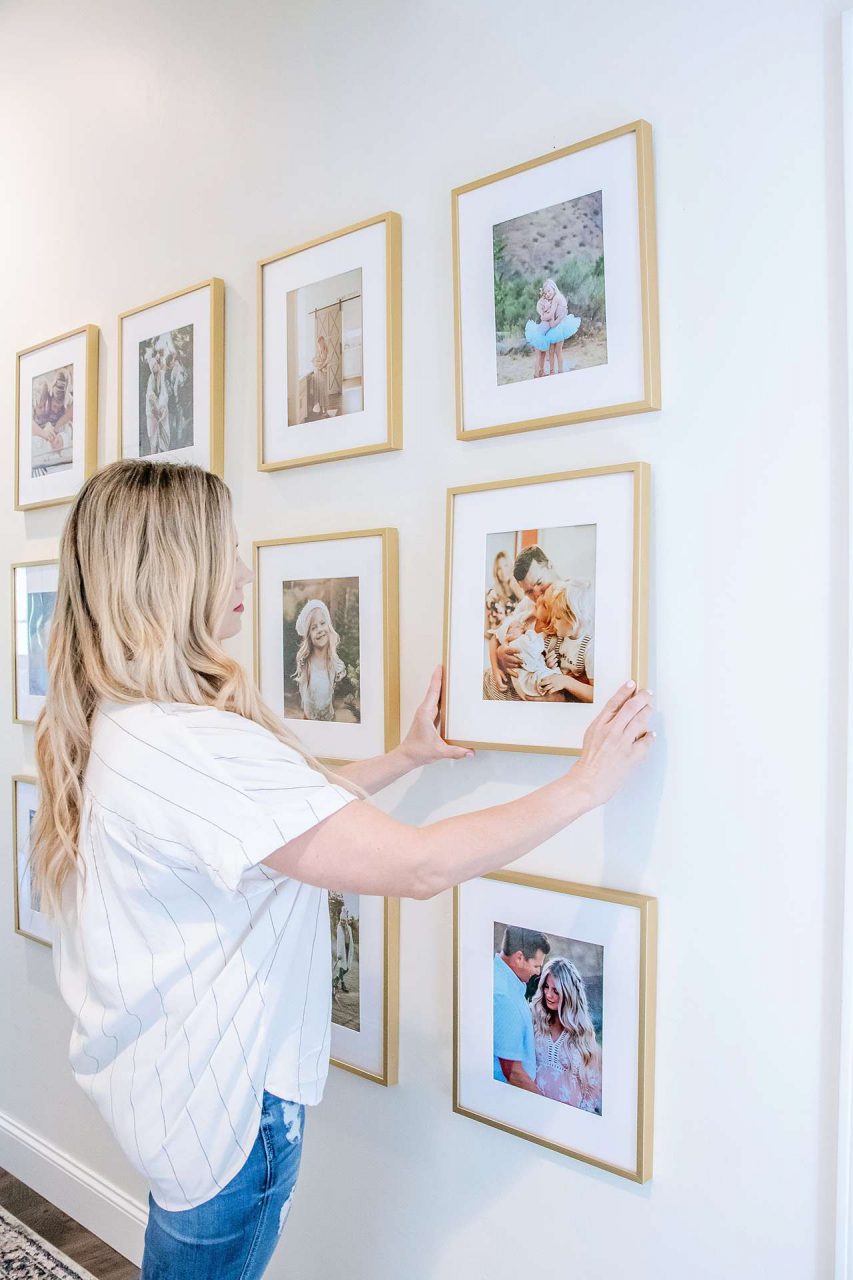 You could create a floor to ceiling arrangement on really any wall in your home — no matter the size. A large wall with a floor to ceiling gallery wall will have a true wow effect, while a smaller accent wall will be less in your face, but equally as stunning. the sky's the limit! (Or rather, the ceiling is. ?)
5. Small Space Gallery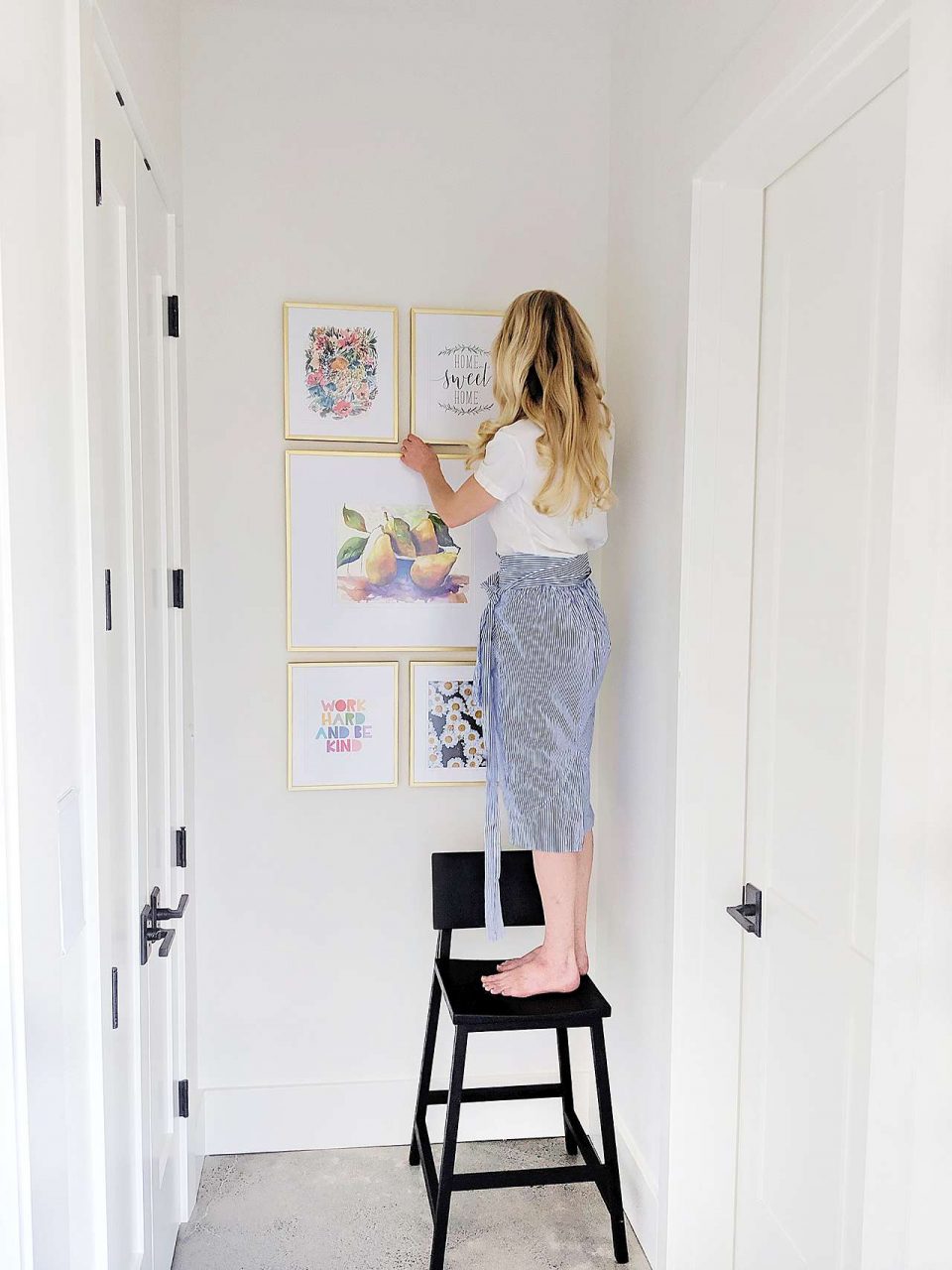 A gallery wall within a small space isn't necessarily a specific arrangement style, but it is still an idea worth considering. We all have those small empty walls, that are not quite big enough to feature anything too bold.
But filling these spaces with your unique gallery wall will bring it to life with color and personality. Your gallery will transform it from dead wall space to something creative and your own.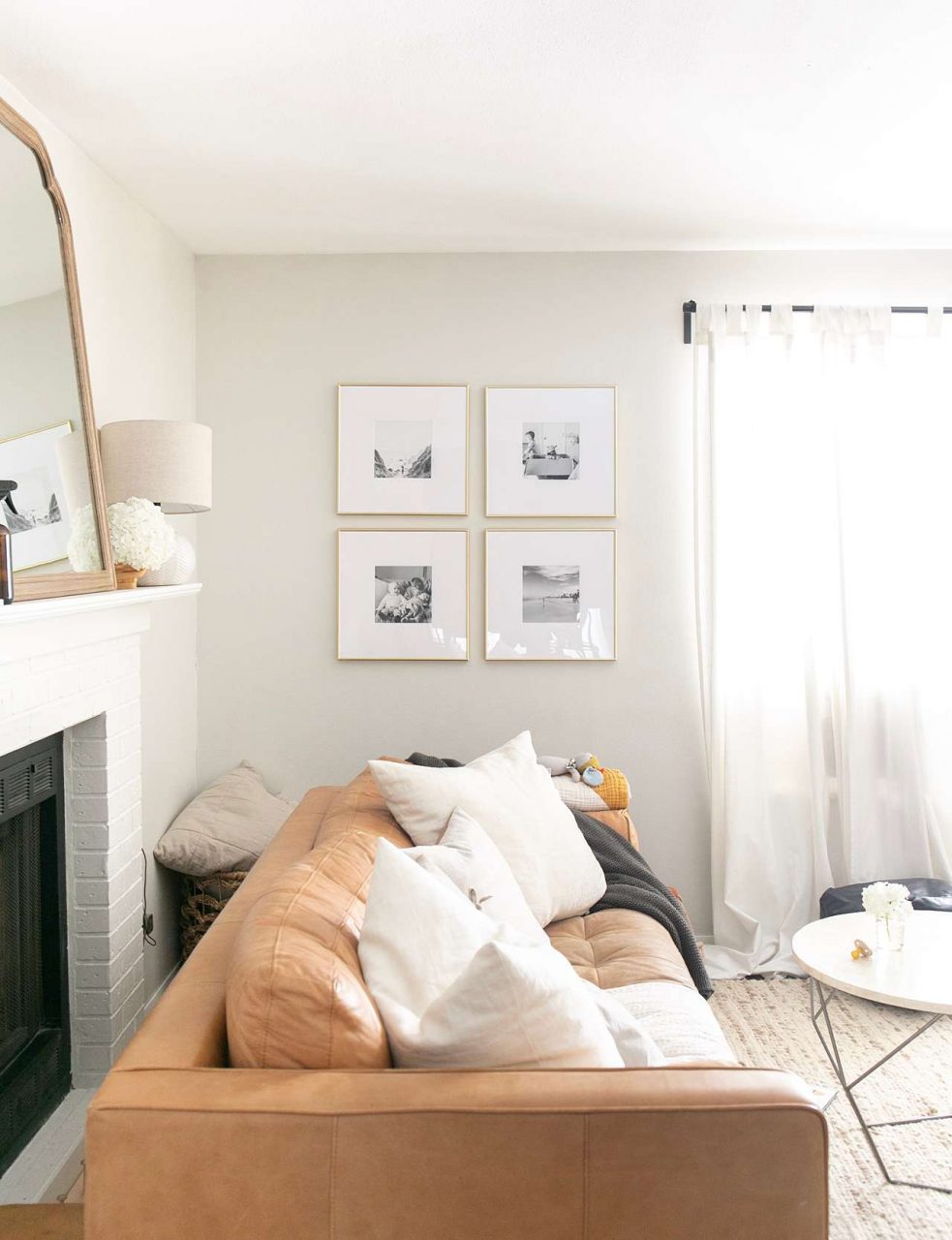 When it comes to creating the gallery wall, really any arrangement will work depending on your space. Whether it's a grid, asymmetrical, triple frame, or floor to ceiling, adding your touch to a small wall will go a long way.
6. Layered Look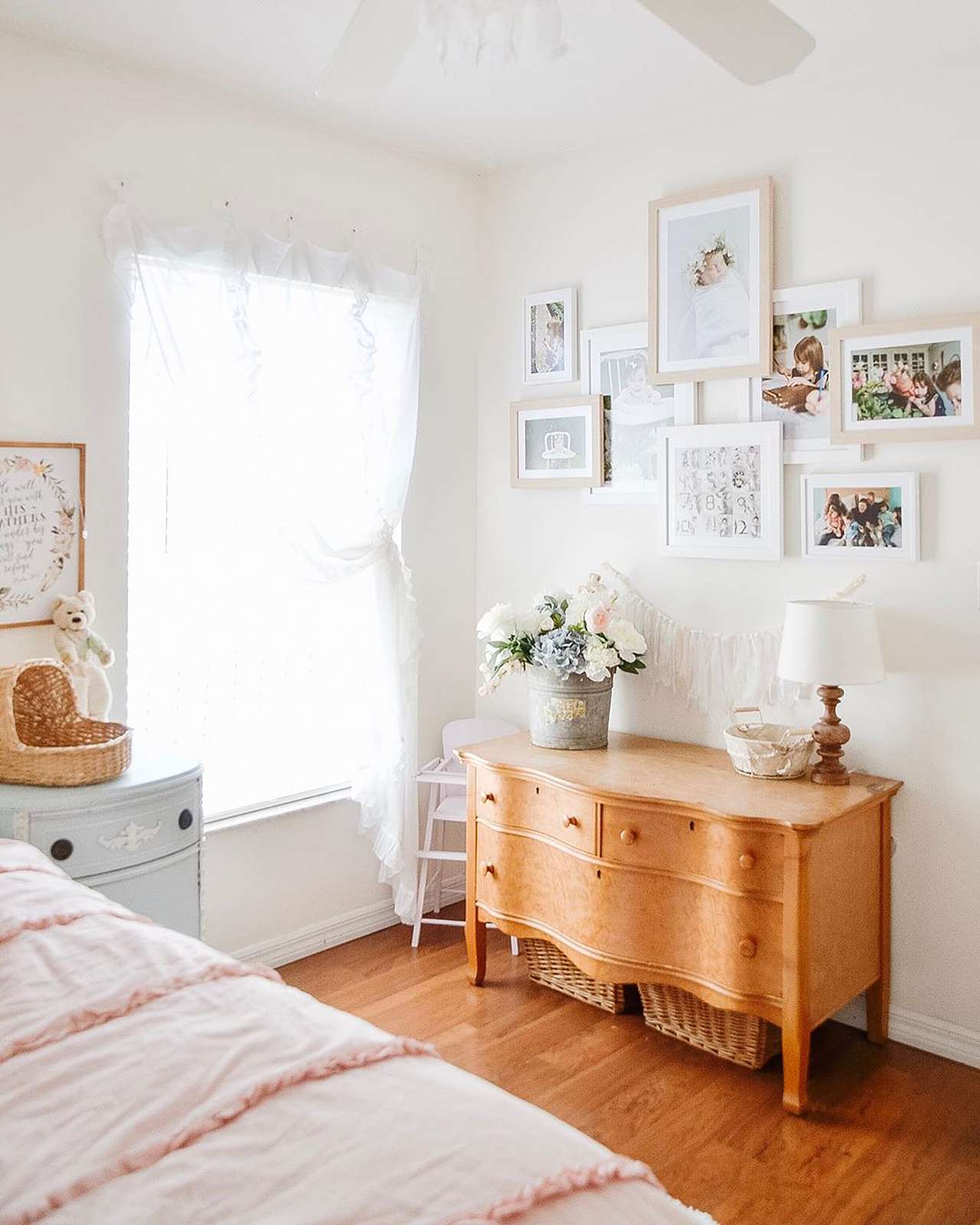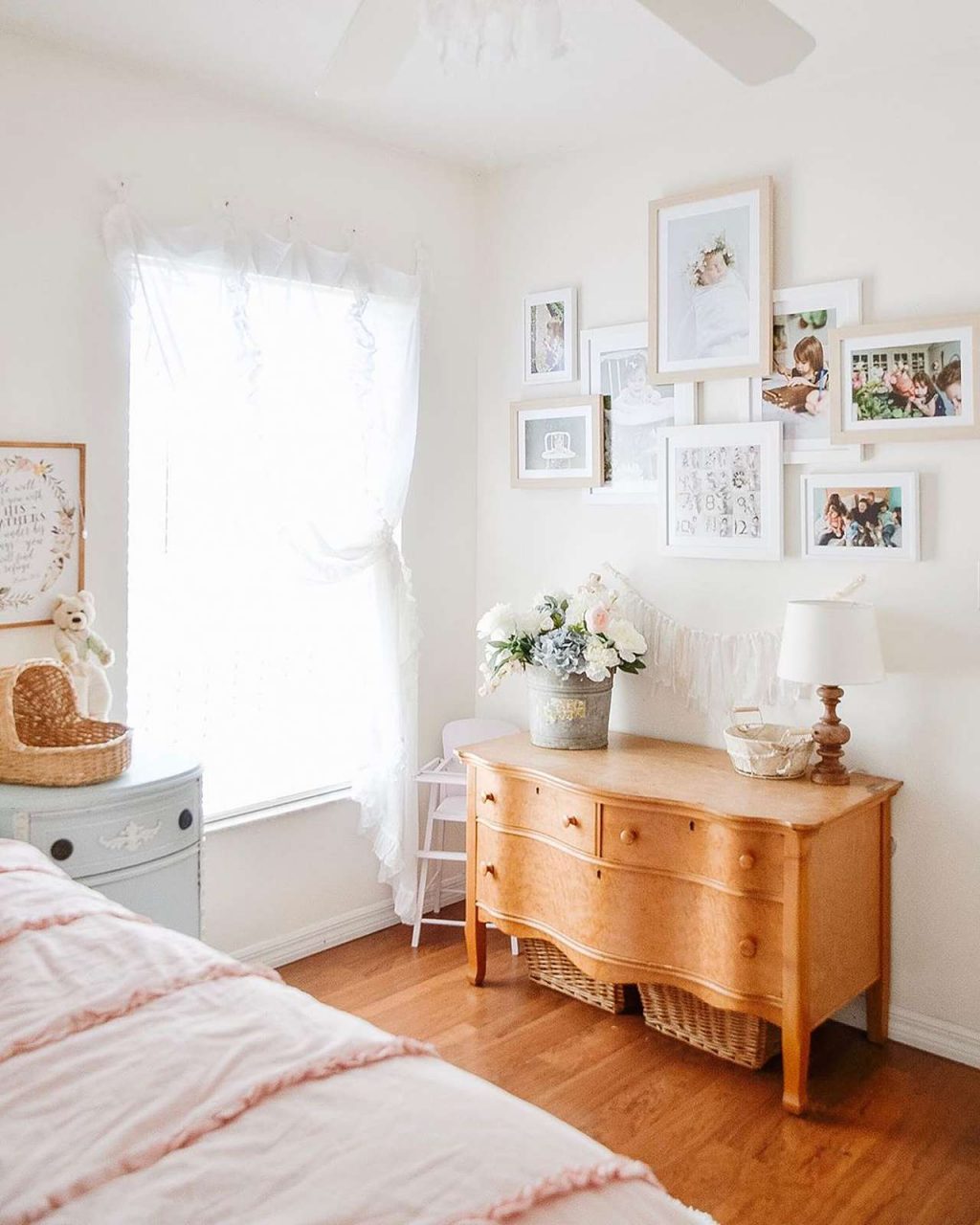 If you want something a bit more dramatic, then the layered gallery wall look might just be for you! While it takes a bit of extra planning and installing, the result can be show-stopping.
This look is achieved by layering frames on top of one another for added dimension and interest. You can try adhering them with removable picture hanging velcro strips, or simply using the standard hooks and nails placed strategically.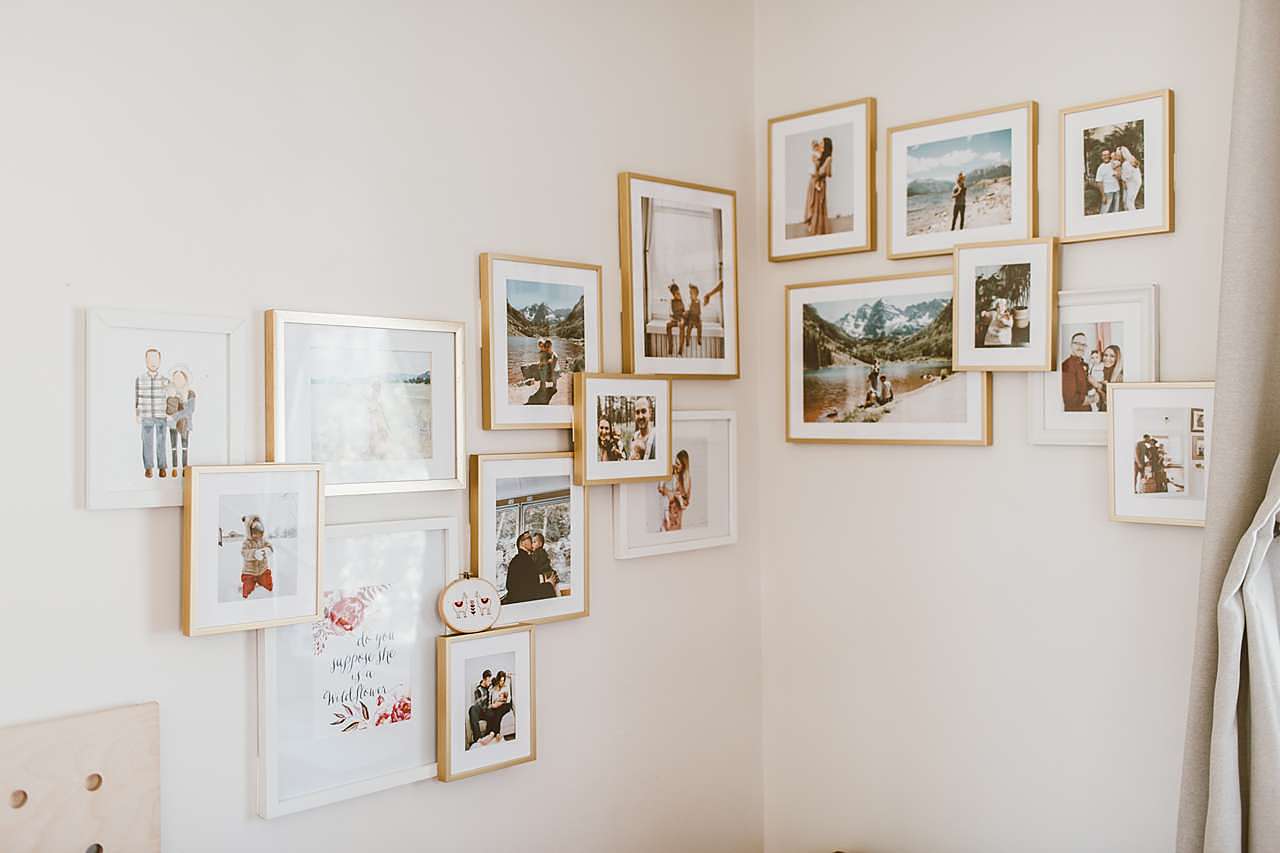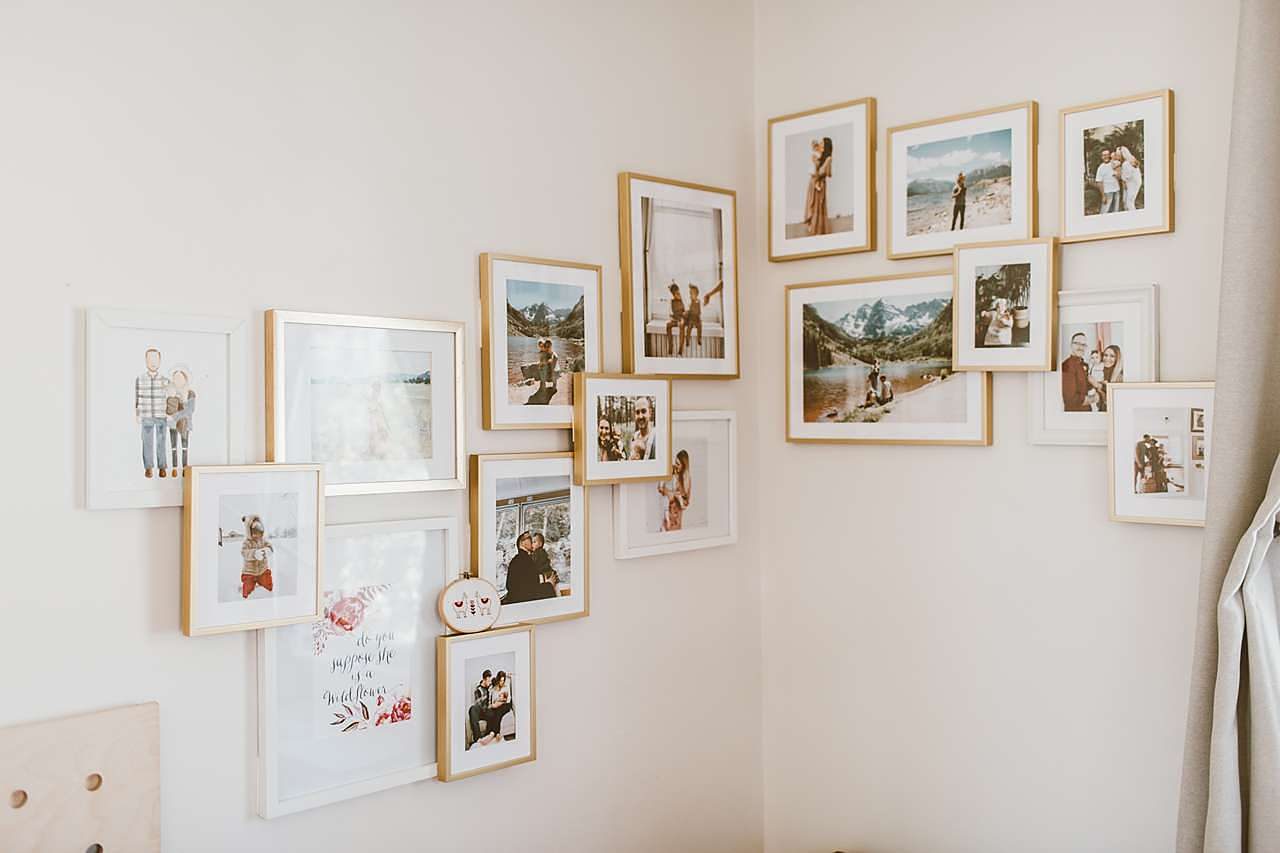 To find out how some of our favorite customers have created their layered gallery walls, check out @camelotartcreations Instagram story highlights, or read about Stephanie Pollack's room reveal.
Our Favorite Gallery Wall Themes
You should always feel free to use any combination of photos and art to create your gallery wall. After all, it's yours! But it's become a popular trend to find a theme for your gallery wall and to carry it out throughout your display. Here's some insight into 3 popular themes to use for your gallery walls in case you need a place to start.
1. Travel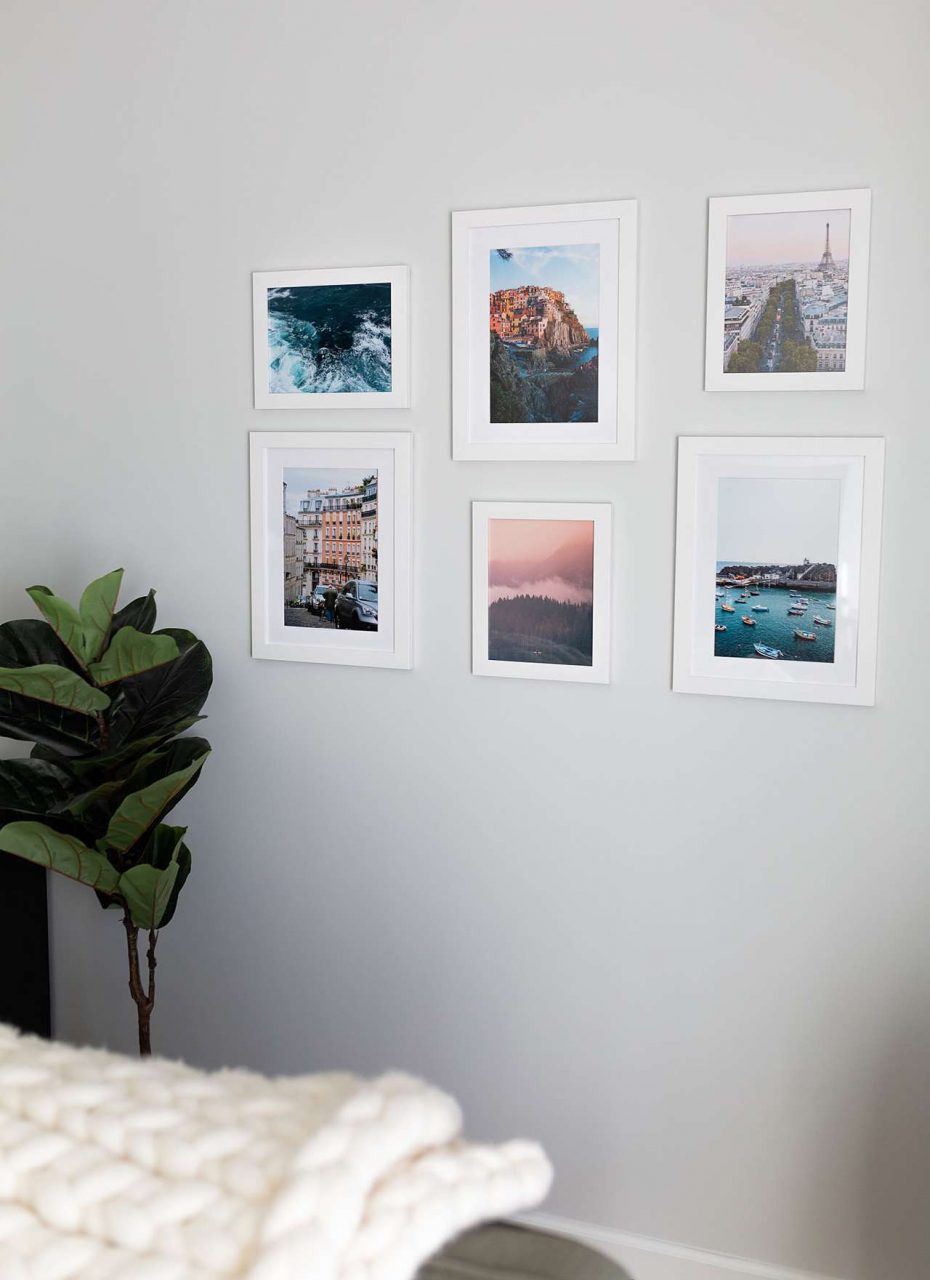 Travel themed gallery walls make displays full of character and vibrant color. They are truly an interesting and visually pleasing type of decor. Whether you have recent photos from a great trip, or you have a collection of your travel photos from the past decade, a travel gallery wall is a wonderful way to display all of your experiences in one place.
Use any arrangement style to create your travel themed gallery wall. It all depends on how much of a statement you'd like to make with your photos — will it be a centerpiece display or more of a room accessory?
Additionally, consider framing mementos of your travels to add to your gallery wall. Think plane tickets, postcards, wristbands — it'll all make the gallery that much more personal.
Tip: If any mementos are smaller, such as a MetroCard or a ticket, check our tutorial for framing small art.
2. Family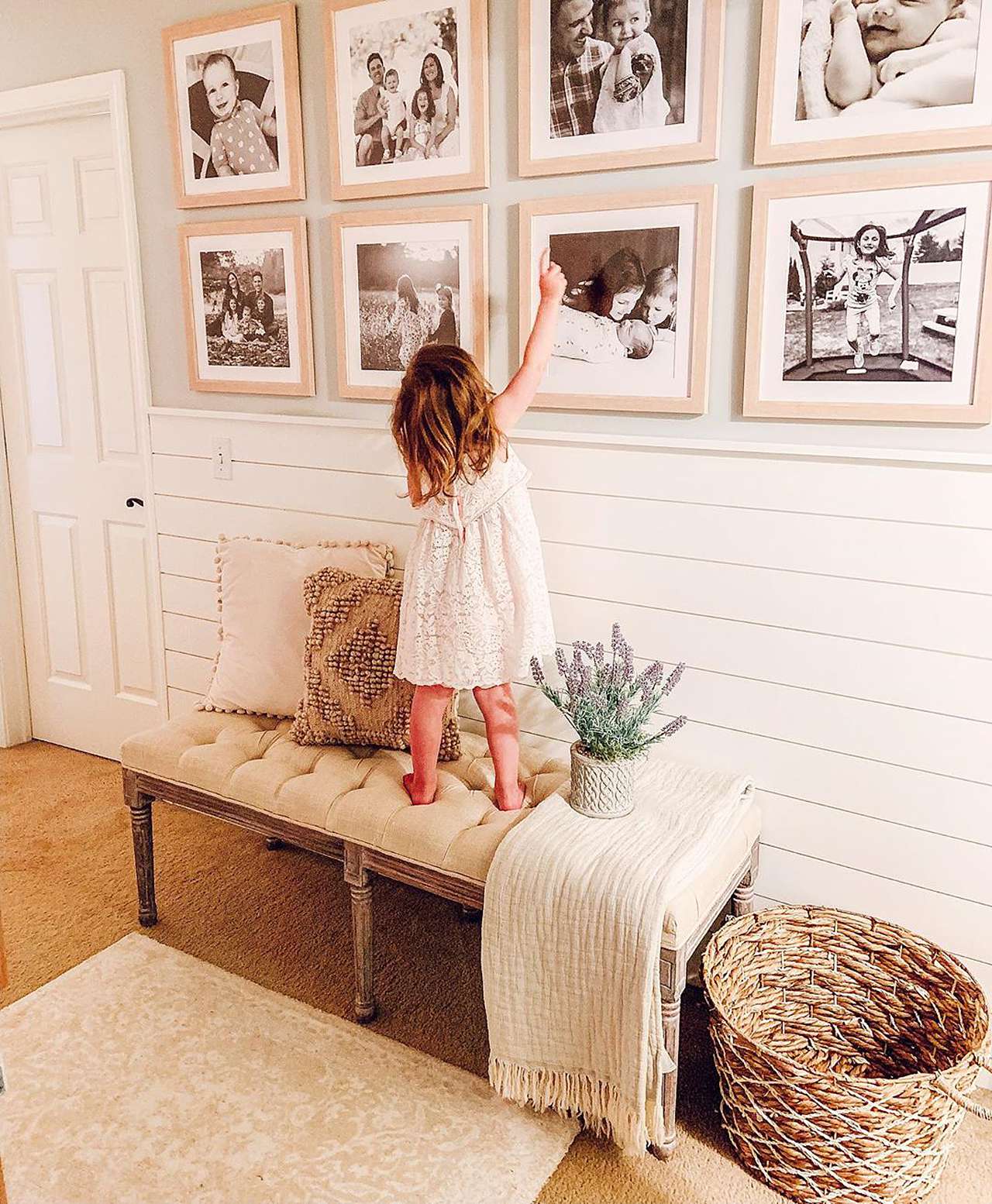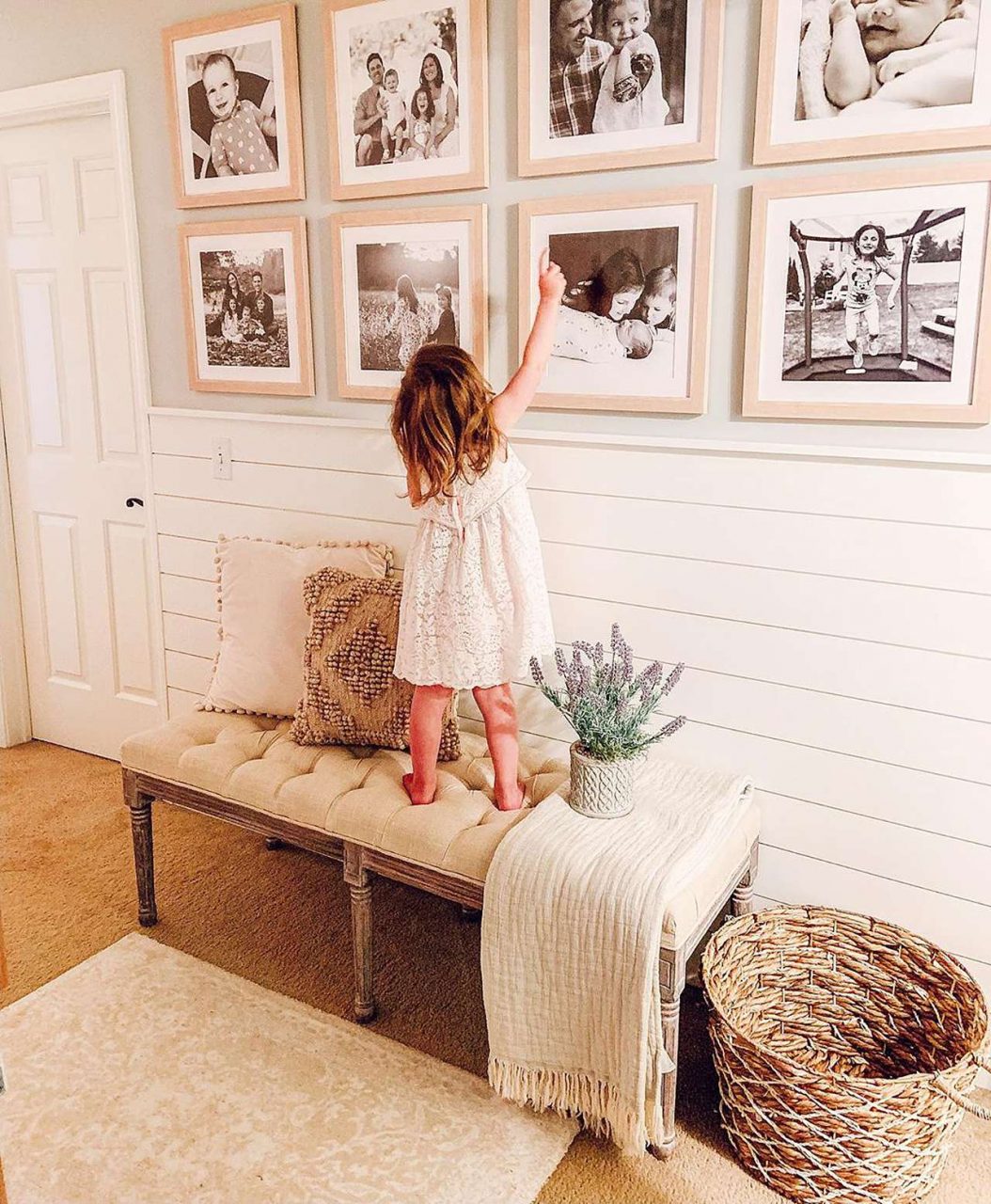 Of course, family gallery walls are a classic display in the home. They give insight to the inhabitants who live in the house, characterize space by giving off a homey feel, and allow you to see your family change and grow over time.
Family gallery walls are our favorite because there are just so many different takes on them. Add in your child's art to the gallery, plus silly photos mixed with formal portraits!
Check out our post for some more family gallery wall inspiration!
3. Art and Design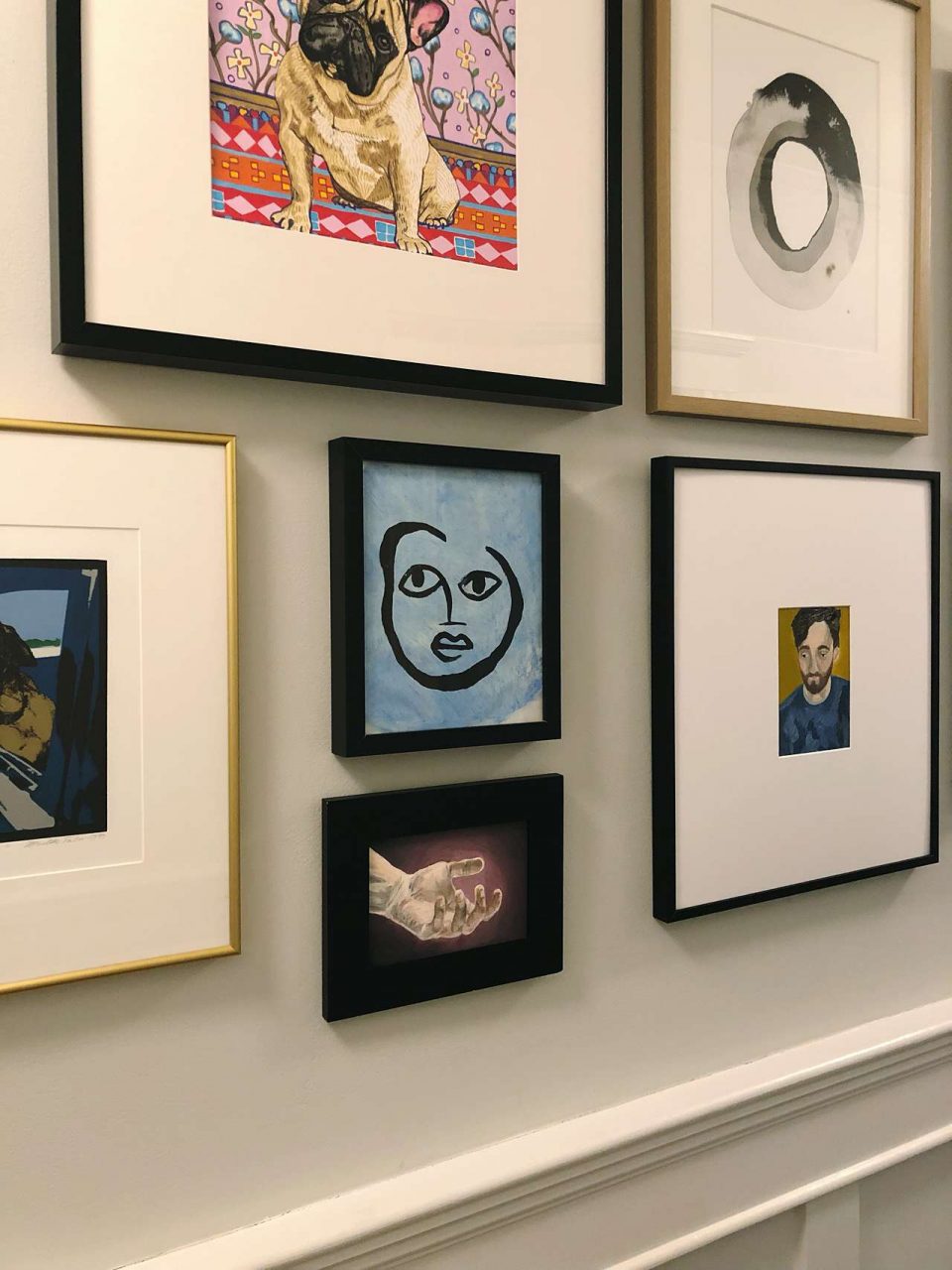 Gallery walls of art and designs can be equally as personal and inviting as those with family photos. Pieces of art can be strategically selected to complement various rooms in your home, as well as to convey your tastes and personality. (Not to mention it can act as a personal home art museum.)
You can curate a gallery by theme, style, color, or even artist. You really can frame anything you'd like and make it into a gallery wall, so try starting with one piece you love and see where that takes you.
Looking for different pieces of art and designs to feature? Check out our blog post with 12 places online to find art online with any budget!
Ready to Create?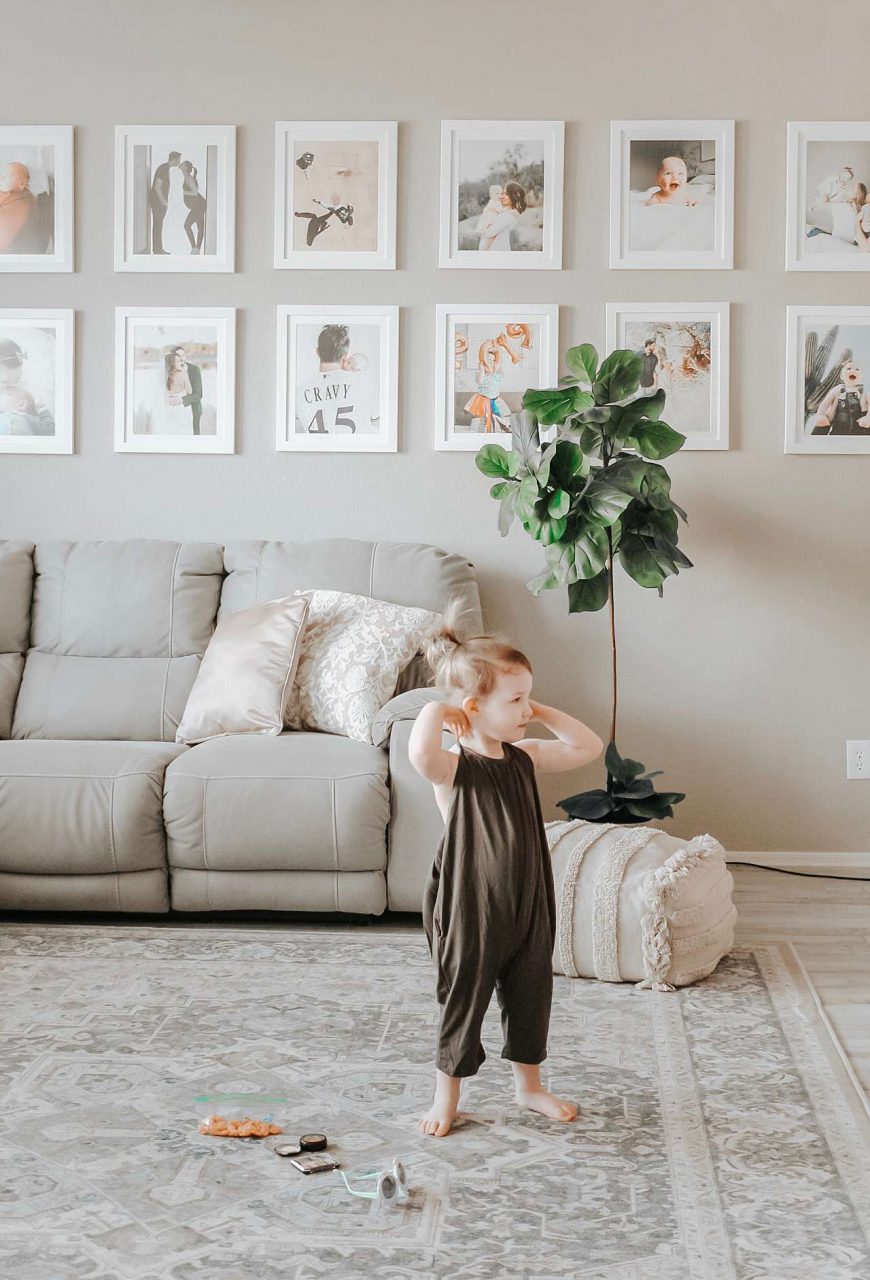 When it comes to gallery walls, there are no rules and the possibility is endless. You just need to figure out what kind of look you're going for.
There are tons of gallery wall arrangements that serve as great inspiration for your own home. We shared some insight on grid, asymmetrical, triple frame, and floor to ceiling style gallery walls. Just remember to take a look at the space for your gallery wall, and properly plan how you'll fill that area with frames.
It's up to you, but themes for gallery walls are great to convey a single idea or occasion. Some popular gallery wall themes include travel, family, and art.
Once you've settled on an arrangement and/or theme, be sure to check out our blog post on how to create and physically assemble your gallery wall. Now go and create!