Plus An Interview with Art Teacher & Design Specialist: Erica Beam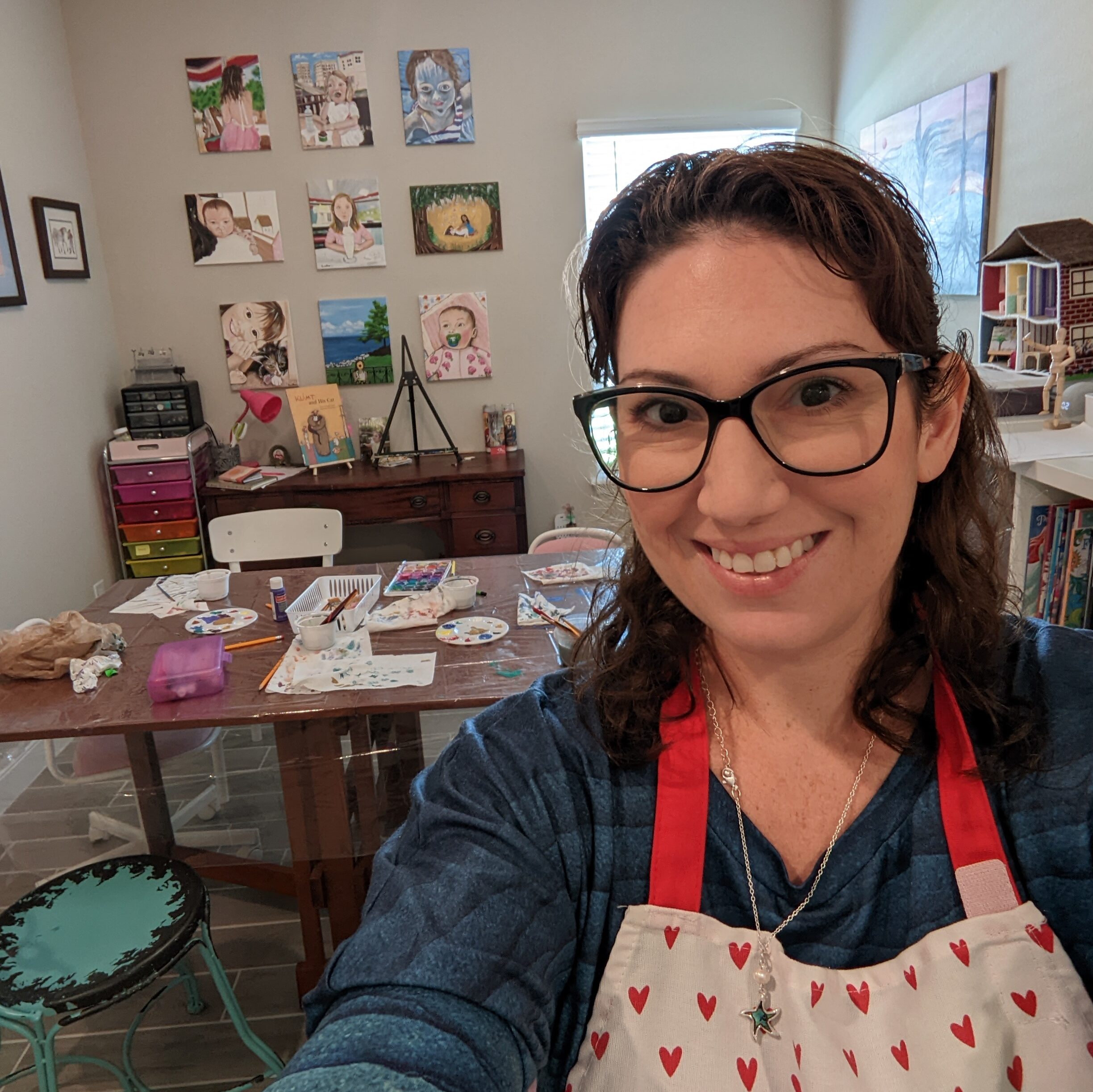 Summer has come and gone but the memories (and art projects!) will last forever! Parents are always looking for ways to keep their kids active and learning during the summer (and to keep them from spending hours on Fortnite!) One way to keep their minds and bodies active is the tried-and-true summer camp! In this article, Frame It Easy team member, Erica Beam shows us a few ways of framing children's art brought home from camp and a few words on what it means to be a kid's art teacher! So don't let that summer artwork pile up – give them a fitting display and show off your little one's artistic spirit!
---
🎨 Gallery Wall Goals!
Between summer camp and school art classes parents and guardians tend to gather quite a large collection of children's art! For some of us, it's harder to let go of these works than for others. If you're the sentimental type that holds on to every single piece (we get you! They're ALL masterpieces! 🥹) it's best to find a solution that display's their work without it becoming clutter!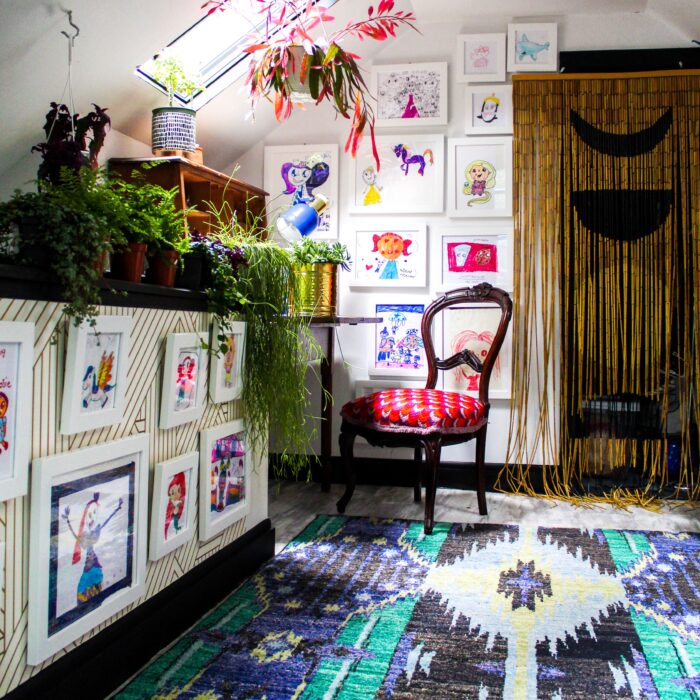 We love a good gallery wall – so why not create one for your kiddo? We recommend sticking to the same frame style and color to give the whole wall a more clean and uniform look. White-colored frames are a great choice as it really lets the 🌈 colors in the artwork shine! Check out our Bradford and Hammond frames – a perfectly elegant fit for this type of gallery!
🔥 Hot Tip: Have a lot – we mean A LOT of pieces piling up? Try out our Kid's Rotating Museum Frame DIY for an easy way to rotate out (or store) your whole collection!
---
🛏 Bedroom Bauhaus
Allow your little ones to boast a bit when they have their friends over, and display their art on their bedroom walls! (Why wouldn't they take pride in that meticulously placed glitter portrait? We sure would!) Let them choose their favorites to frame and display!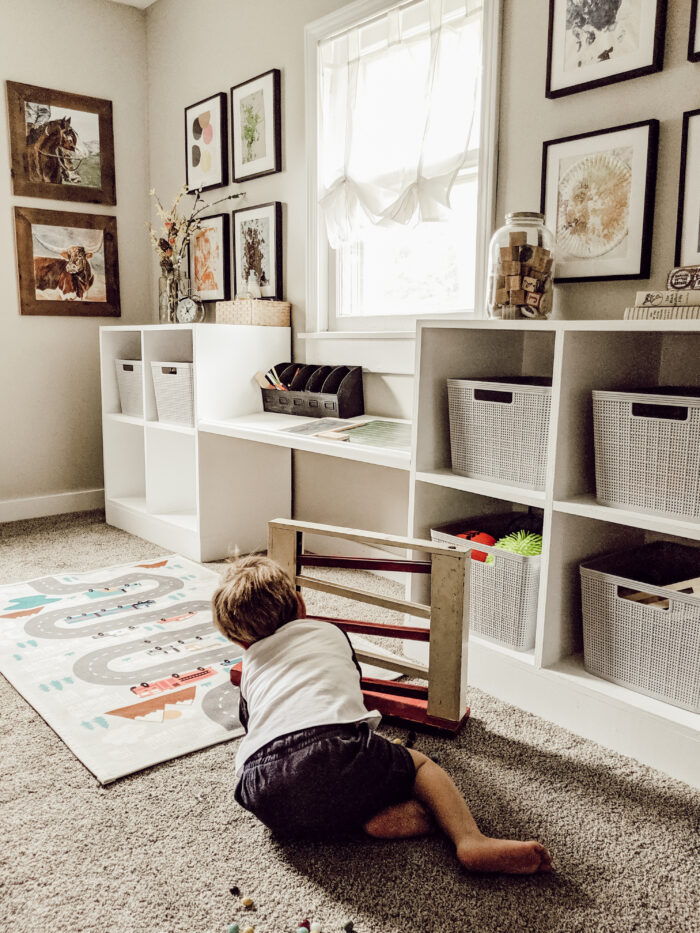 Holidays and season changes are great excuses for artwork changes too! If your kiddo brings home holiday art, swap it out to match the season! For framing a children's bedroom we recommend our Hanover and Ashford frame styles! These frames come in some fun colors like hot pink, blue and red which can better reflect their room theme!
---
🧸 Picasso's Play Room!
Enjoy playtime a tad more with some familiar artwork! If you have a playroom or area where your kids create and learn through play, give them a little something to be proud of. Display their artwork proudly on the wall, bookcase, or even on a floating shelf for easy artwork rotation access.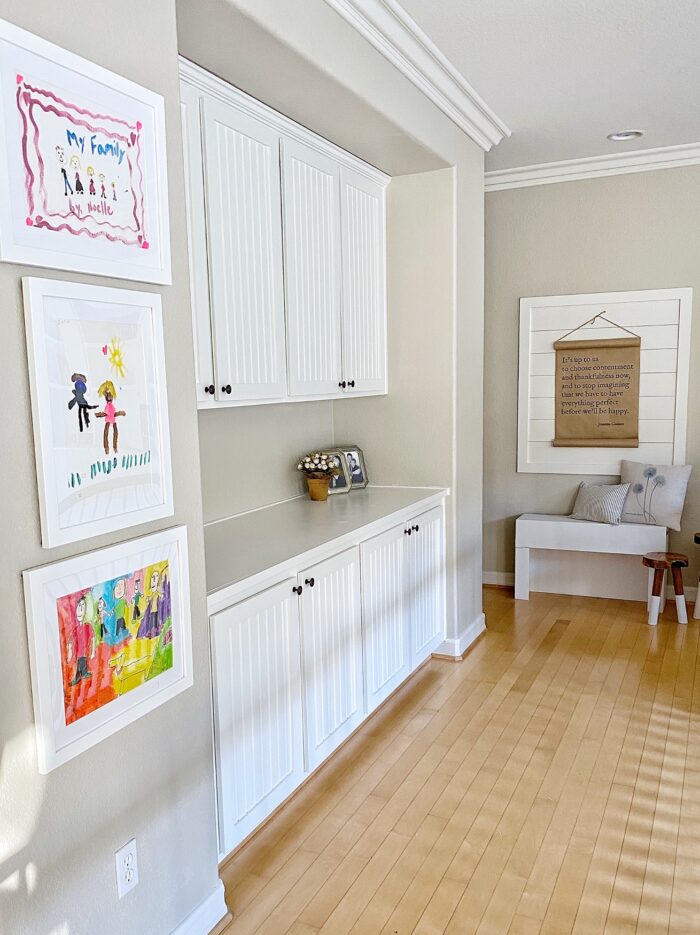 If your playspace is an open floor layout we recommend keeping the house theme flowing! To keep a fresh and tidied appearance consider going for some neutral frame colors like our Dayton frame in whitewash or Derby in Rustic Gray. (Maybe it will encourage your little one to keep their playroom neat too! 🤭)
---
🧑🏻‍🎨 Erica Beam On Art, Teaching, and Framing: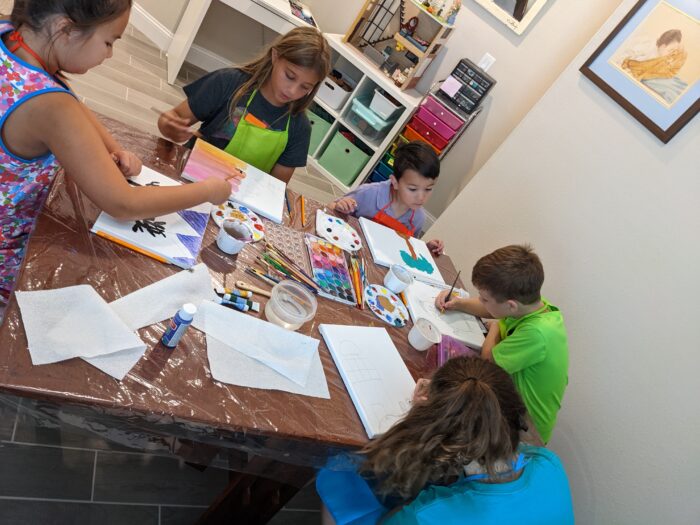 Tell us a little about your summer art camp:
What projects, lessons, themes, or skills were you focused on teaching?
I wanted to connect the dots between art history, creative arts and expressing our emotions through our art! In my classes, we have been learning about a famous artist and their techniques, such as Salvador Dali or Frida Kahlo! Then we practice our own ideas using these different techniques as our inspiration! One of the projects we did was to paint a dream we've had! It has been very rewarding and I hope the kids are loving it and learning a lot as well!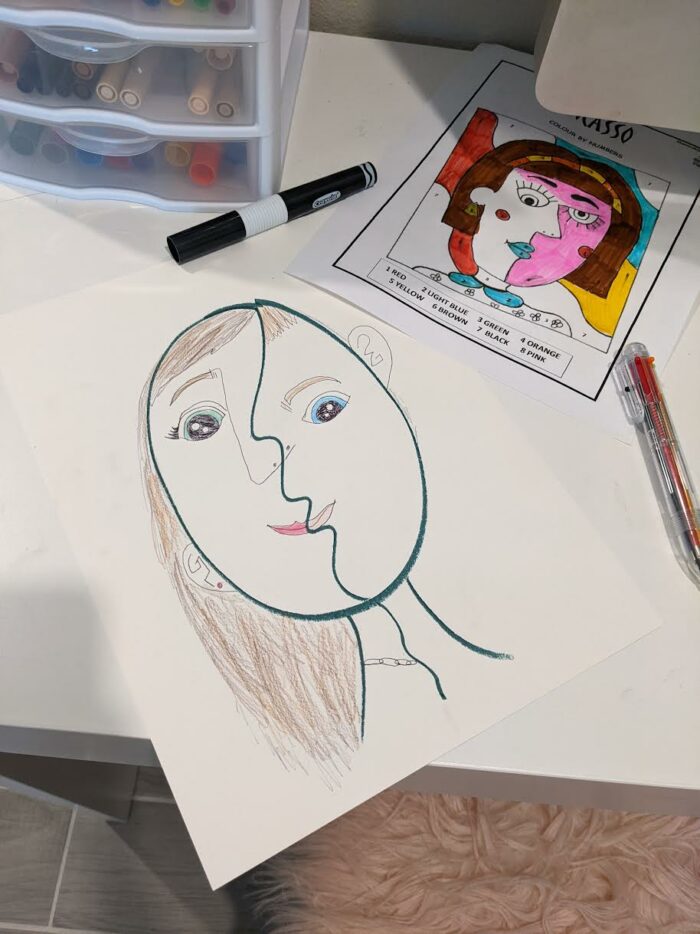 What is your art background, and what made you want to teach art to youth?
I graduated from Florida State University with a BA in Studio Art in 2007. Art class has always been a safe and happy place for me since I was a child, and I wanted to continue that for a new generation with all I have learned! So much can be expressed through art and color! Children are so creative and sometimes just need the encouragement to keep going! (I am also publishing my first children's book this October! The publisher is BeamHaus Books)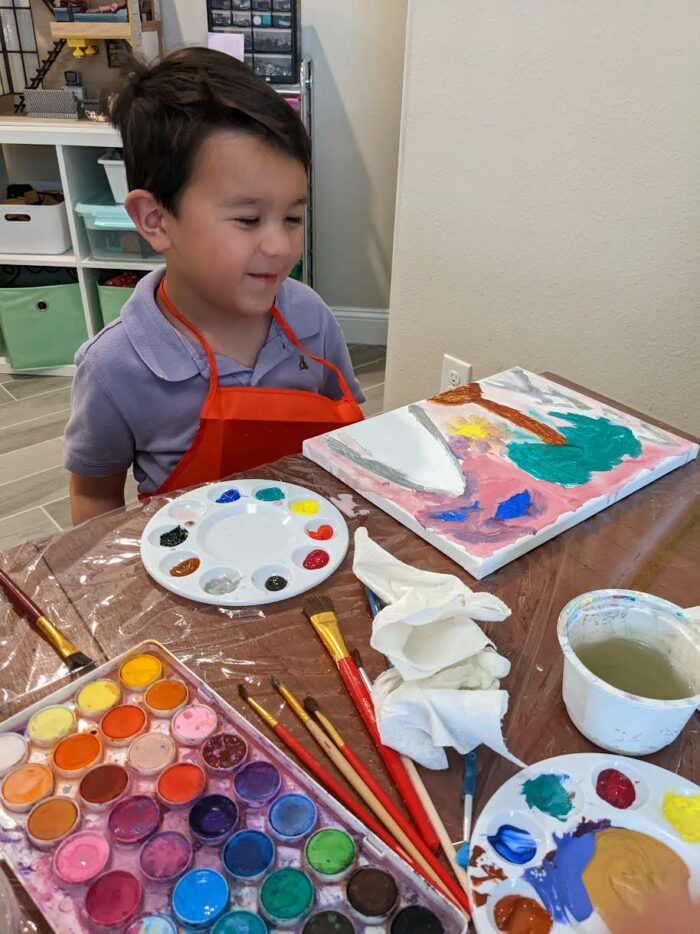 You're also a Framing support expert here at Frame It Easy, what do you look for when framing kids' artwork?
I want to consider if I want to see the edges of the art, or to frame the art inwardly. I also want to make sure to show any part of the child's name that they may have signed! You can also have fun with mat colors and double matting, to compliment the bright colors in the art, and also match the room! The addition of a gold inner mat can add a special touch.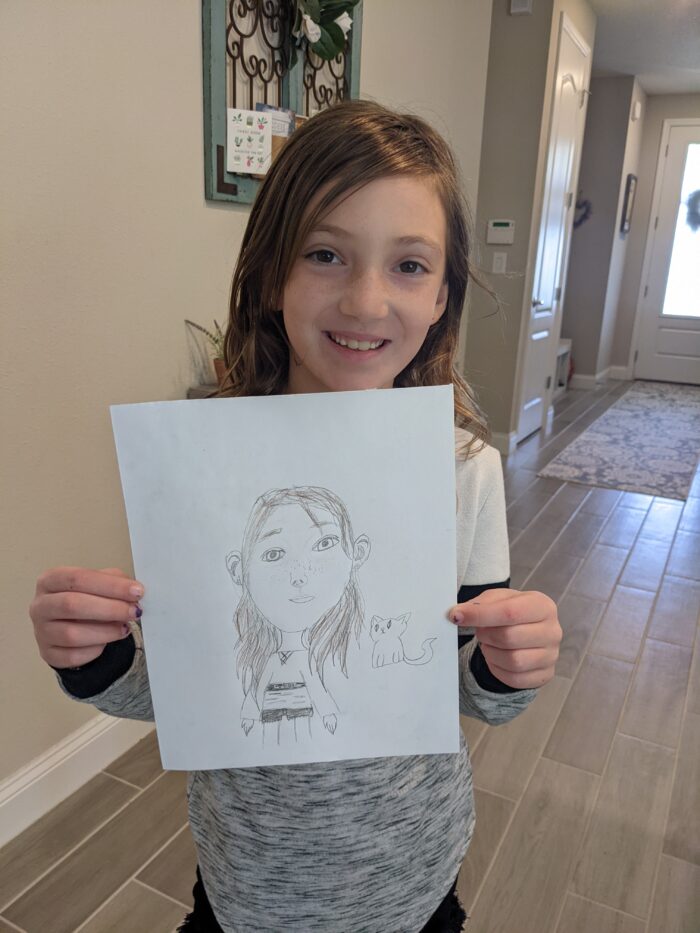 Lastly, what Frame It Easy frame is your favorite and why?
My favorite frame is the Granby, because it has that vintage look that I love! It can make any art look fancier! My favorite matboard is probably the Belgique Antwerpen because it has a slight cloth/canvas texture, and also is fun to say!
---
Final Framing Thoughts
We hope we've given you some creative ideas on how to frame children's art and where to hang them! Or maybe we've inspired you to let your little one have a go at art summer camp next year! (🎉 Yay!) Either way, having children participate in arts and crafts is so important for their social, emotional, and physical development! So supporting your kid's creativity is essential!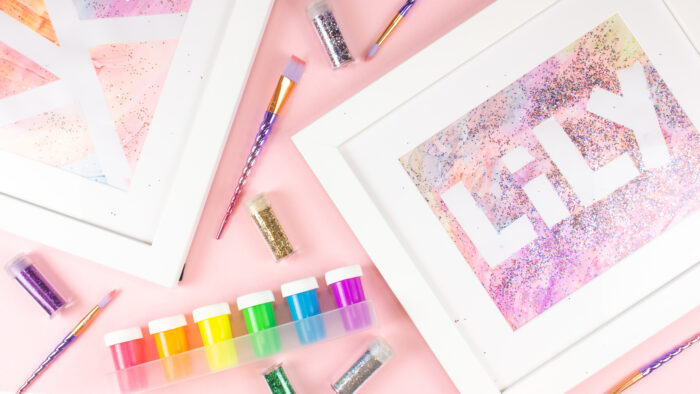 When it comes to framing, we've got you covered! From finger paintings to crayon sketches – just head over to our custom picture frame builder and pick out the perfect frame!
Have you completed a framing children's art project? Show it off and inspire others by sending your photos to creative@frameiteasy.com with the subject line "Featured Friends" for a chance to be featured on our email and socials!
Tag us at @frameiteasy or use the hashtag #frameiteasy for more chances to get noticed!
This post first appeared as Framing Children's Art: 3 Teacher Approved Tips! on Frame It Easy - Learning Center for Custom Picture Framing.