Whether you have a bookshelf filled with books like an at-home library or you just use the bookshelf as a way to display all your little decor pieces, you can make your bookshelf really stand out! While bookshelves normally are displayed in your living room, they can truly be anywhere in your home. When it comes to home decor, it's okay to break the rules, and we fully support it!
First, you will need to decide if you are just decorating the top of your bookcase, or if you are decorating all the shelves in between. From there, you will be able to decide which of these steps you will incorporate into your bookcase. If you are just decorating the top, you may not need all of these decor pieces. As we always say, do whatever you think will look best for your space! So let's get into some great things to add to your bookshelf.
1. Start With The Large Items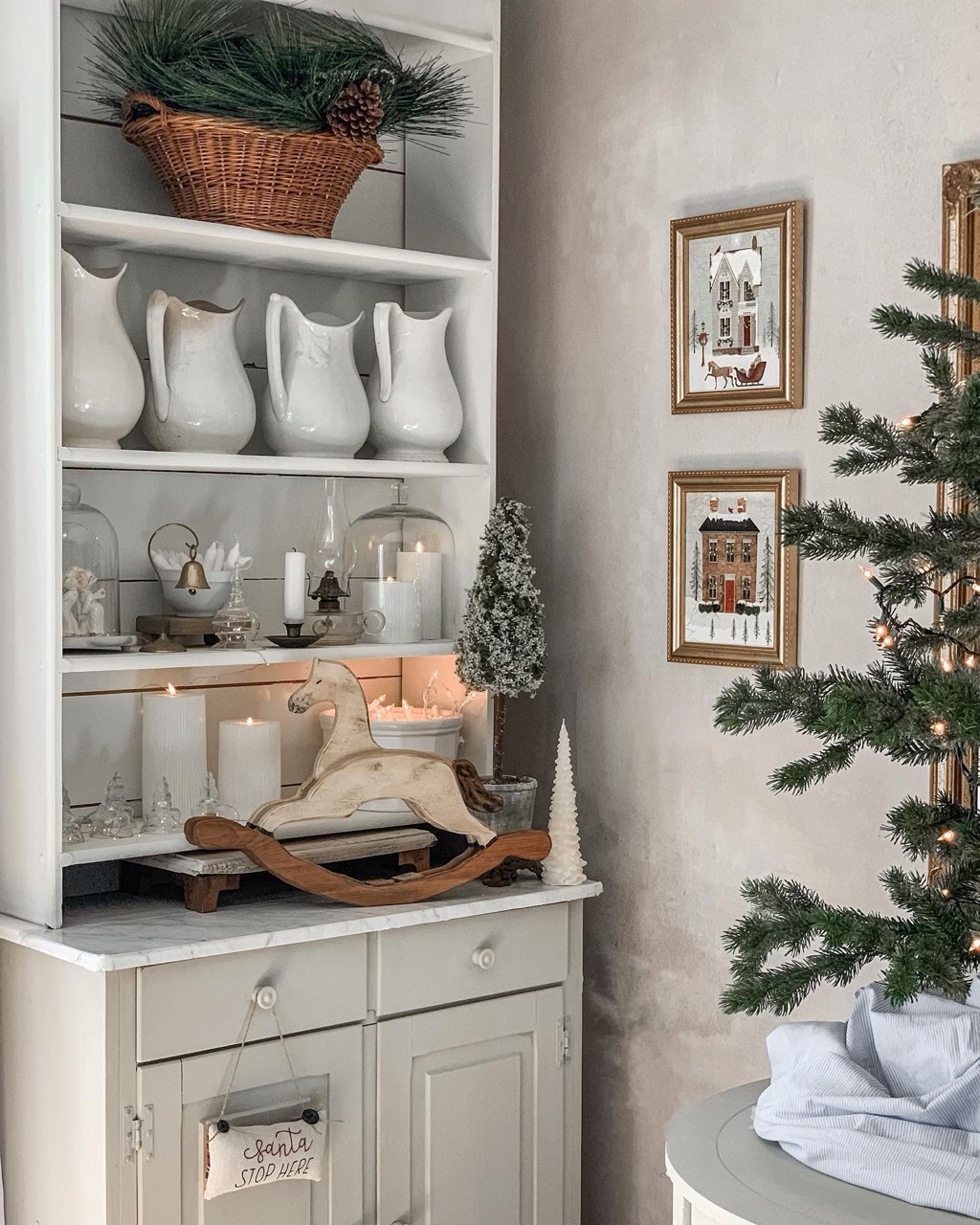 If you already have some of your decor items picked out for your bookshelf, be sure to start with the larger items first. It will be easier to fit the smaller things in with the space left, rather than trying to stuff in that piece of art at the end. This will also help you to be able to see what height differences you need for the bookshelf. Using different heights will create a balance on your bookshelf and will also help the eyes deceive the difference between items. Plus, your bookshelf will look more open and less cluttered, which is always a win!
2. Follow The Decor By Numbers Rules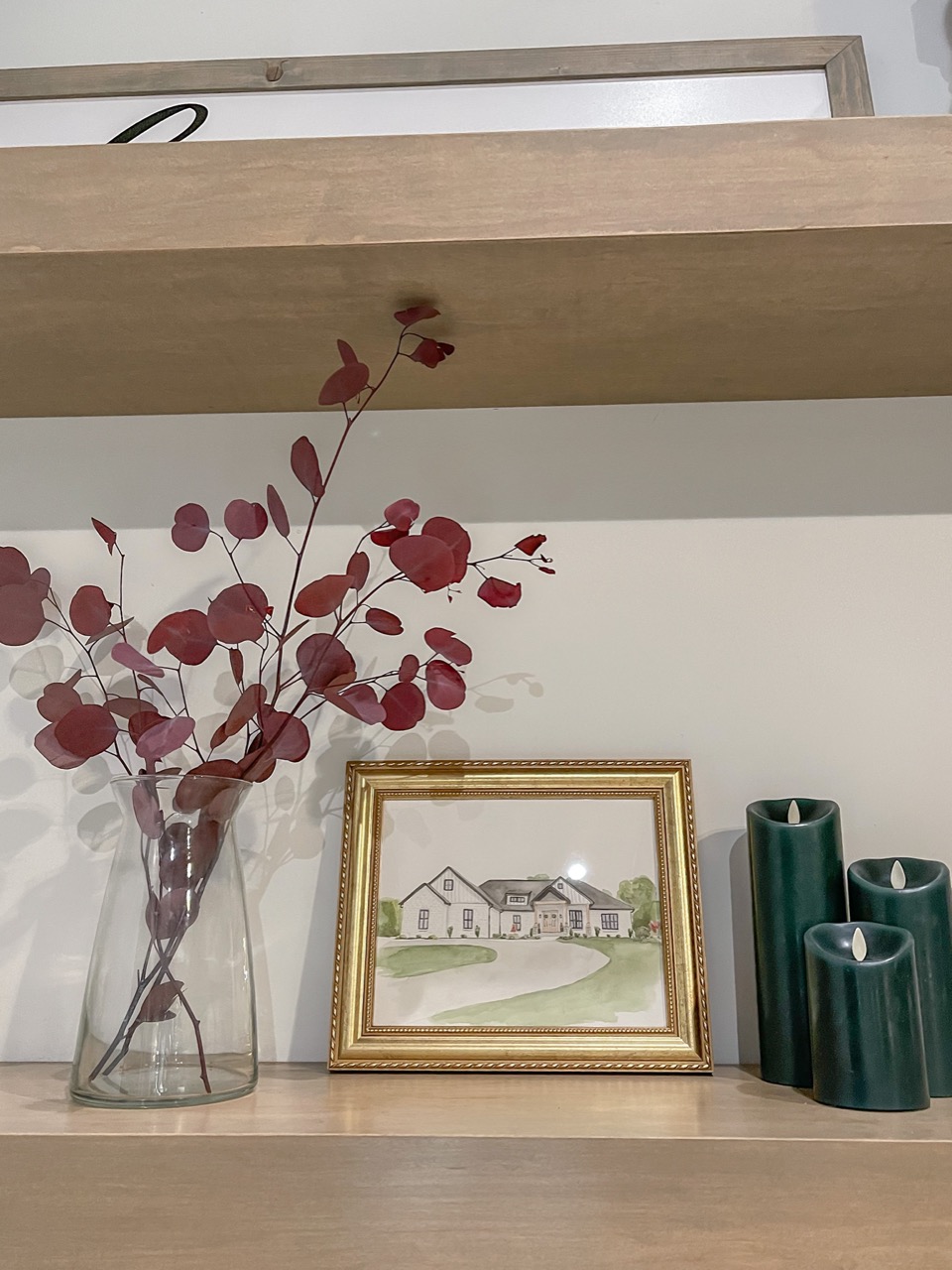 You may be asking yourself what is home decor by numbers? The 'decor by numbers' rules follows the rules of two and three to decorate your home and keep everything well-balanced and cohesive.
The Rule of Two is a rule to keep your room balanced and proportionate. It's simple and doesn't require a lot of handy to work. You really just need to let your eyes do all the work.
The Rule of Three is a design principle set to keep your room looking more appealing and memorable. Interior designers say that you can create a more eye-catching display when decorating in odd numbers. Why the number three? Although it is an odd number, the brain groups things together in three's and can create a focal point, and makes things easily balanced.
When decorating a bookshelf consider grouping items together in sets of three. If you want to add some vases, consider adding three together on one side of the shelf. Stack three books on top of one another with three different sizes of candlesticks on the other side of the shelf. This gives you a chance to get creative with your decor and you don't have to limit yourself.
3. Add A Tall Mirror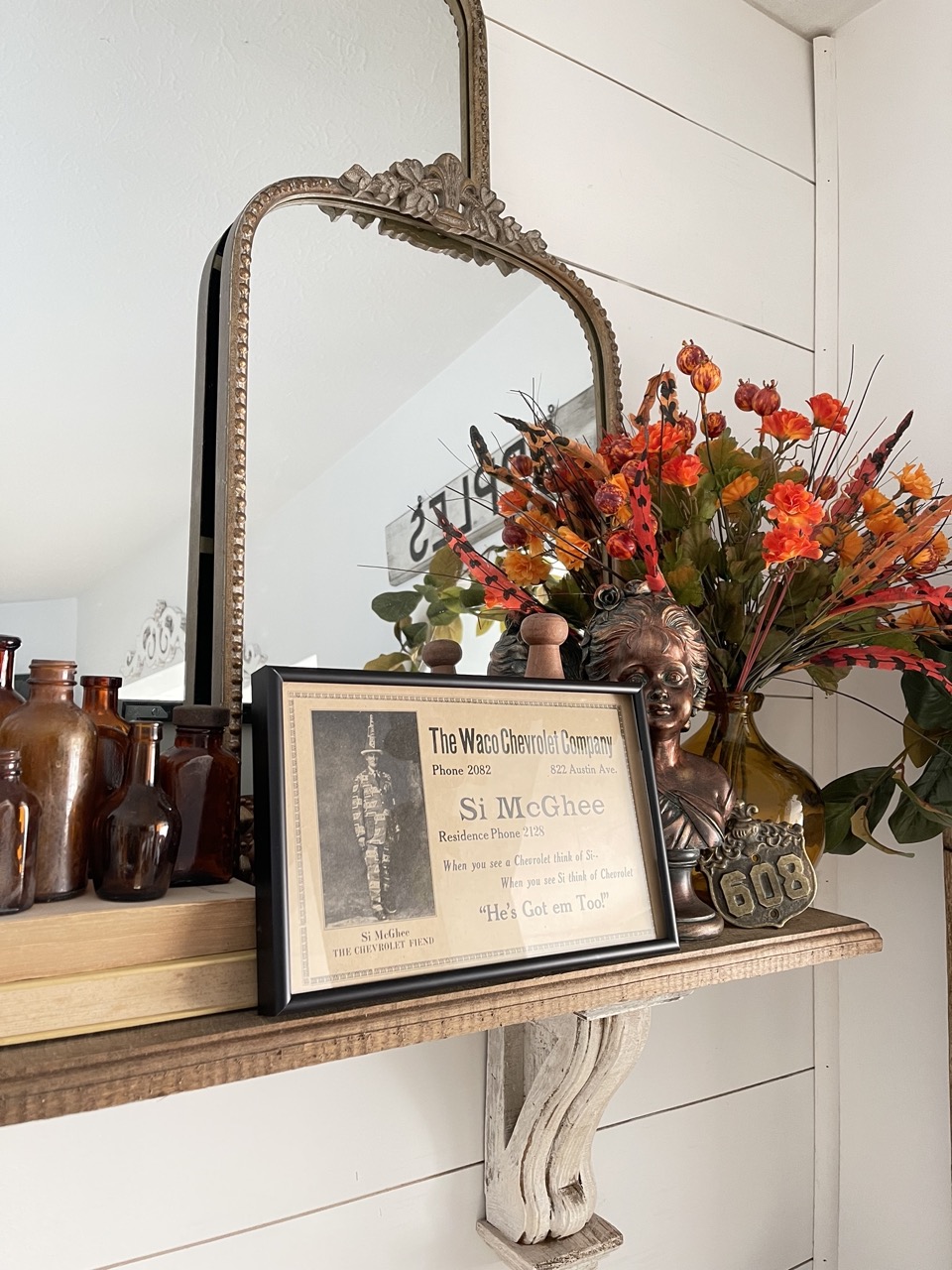 When styling a bookshelf, you will want to use items of different heights. Start with a tall mirror on top. This doesn't mean floor-length, obviously but something taller than the other objects to create some depth on your shelves. Depending on the style and look you are going for, try to find a mirror that will match or coordinate. Check your local GoodWill or thrift store for a less expensive option. Ornate framed mirrors are wildly popular in home decor at the moment and would be the perfect addition to your bookshelf.
Mirrors will work exceptionally well in small rooms because they will helo to make your space appear bigger. As the saying goes "
2. Add Some Greens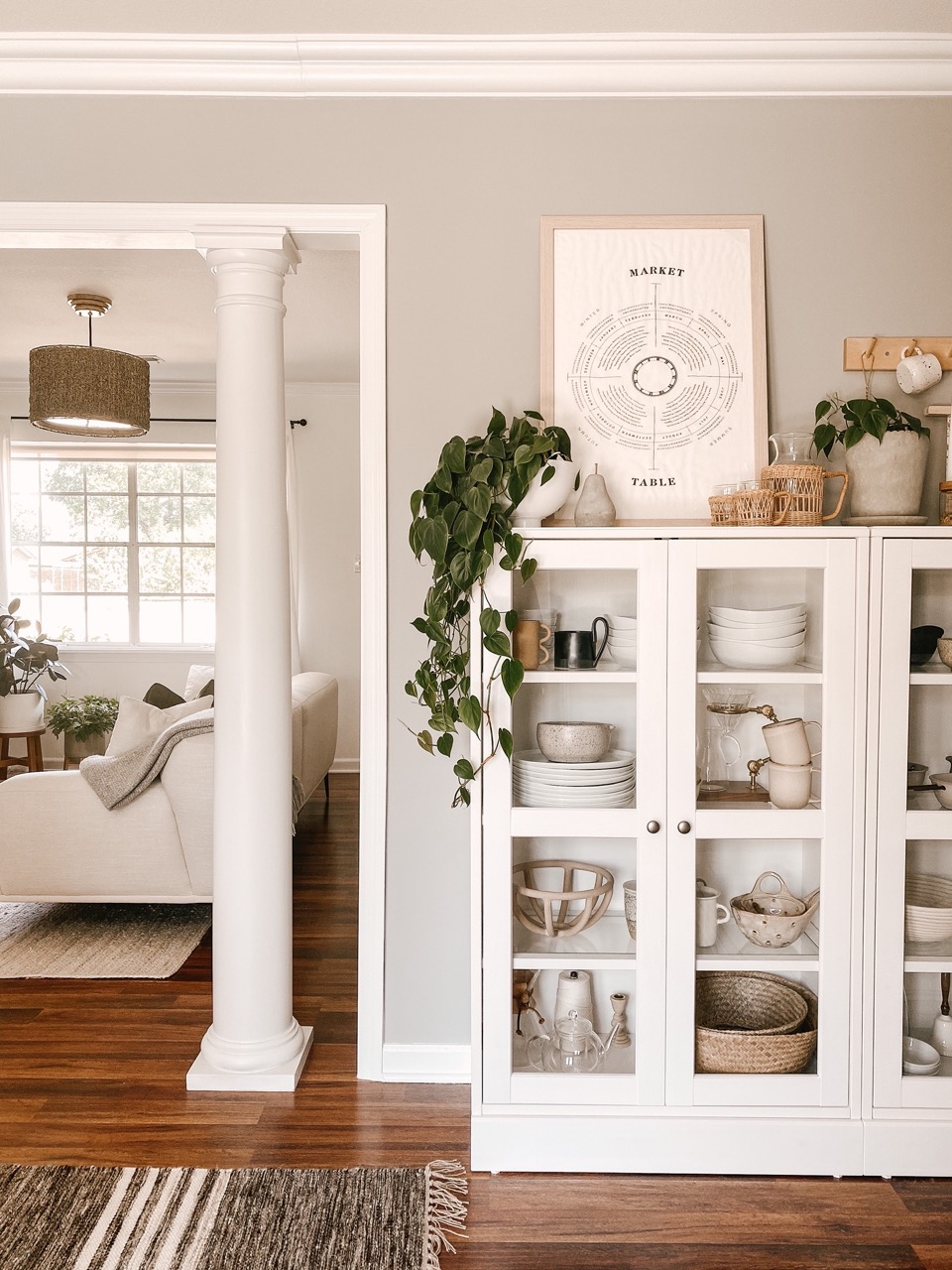 If you've been to our Learning Center, you would know we are huge fans of adding plants to your home decor. They have many health benefits, such as reducing pollutants and dust, keeping your room cool, and reducing carbon dioxide, plus they just look great in your home, so win-win right? To follow with varying heights, try to choose a small or short potted plant, such as a succulent. If you do find a tall plan that you like, don't let that rule stop you, just add shorter items elsewhere.
If you are worried about your skills to keep a real plant alive, faux plants work just as well! Try artificial tree branches, lemon branches, pampas grass, magnolia branches, or even just dried flowers would work well. These days, faux plants look just as good and real as the real things, so don't be afraid to sneak a faux one in there, no one will be able to tell!
3. Add A Picture Frame
Of course, picture frames are a must anywhere — they just make everything better! You can choose art, family photos, pet photos, vacation photos, or even just one of your favorite quotes. Whatever you think will look best. Once you have picked out the photo (or photos, the more the better) you want to frame, head over to our Frame Designer to start designing your perfect frame. You won't want to design something too big, so be sure to measure your shelves before. You will also want to add one of our EasleMates™ to your cart. This acts as an easel for any of our Wood or Metal frame styles up to 13″ x 19″. It installs in seconds and adjusts to any angle! If you are planning to lean your frame against something else, you won't need the EasleMate™ otherwise you will need one to make your frame stand.
4. Add A Trinket or Two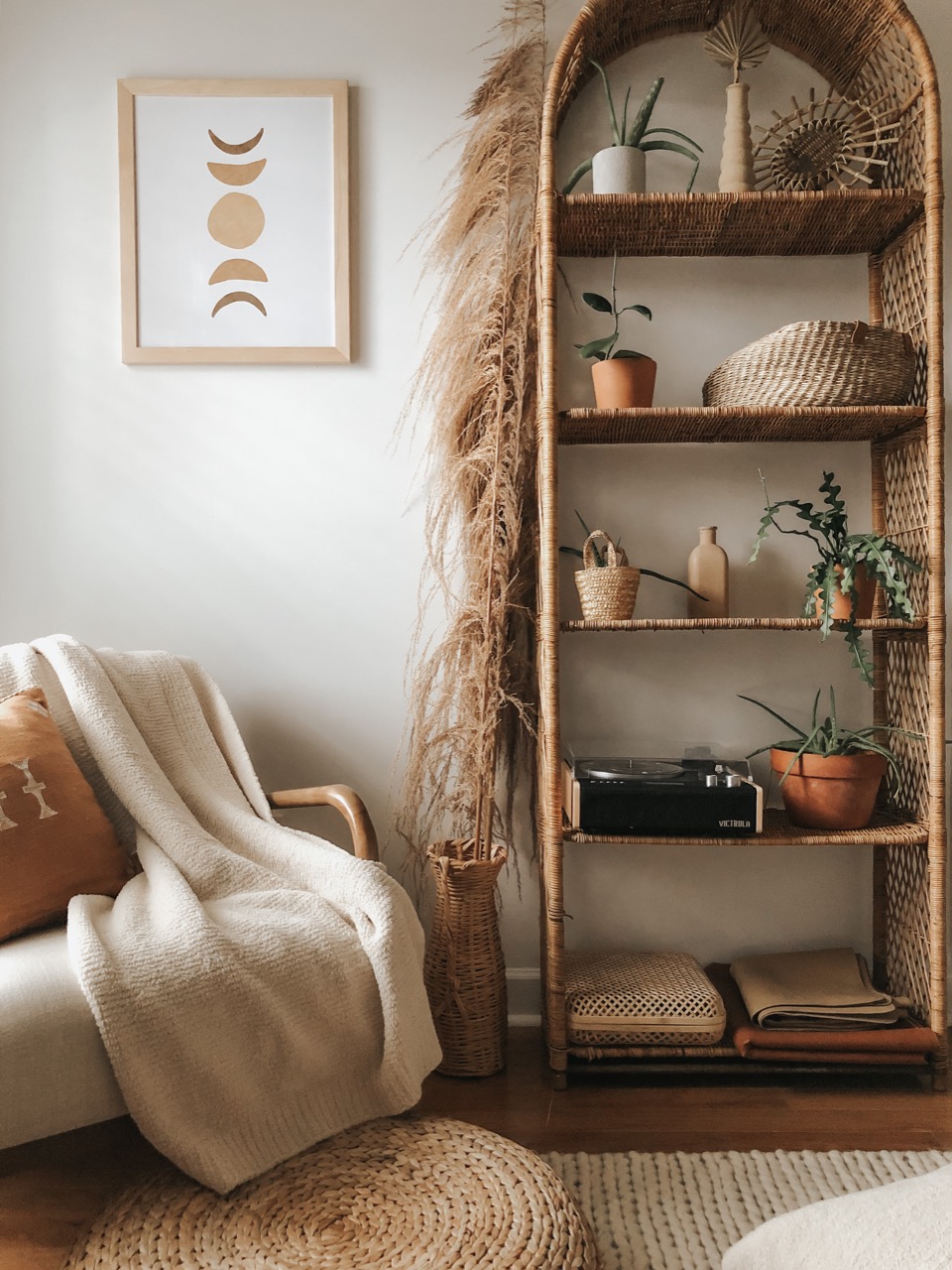 Clocks, candles, stuffed animals, lamps, statues, the choices are endless. Pick a few things to scatter around your shelves. Don't add them all together, instead mix them up and add them all over the place. This will help your bookshelf look less crowded and chaotic, and instead will look more organized and well thought out. You don't have to add them all at once either, save some space in case you find new things you want to add to your shelves over time.
6. Add Some Pottery Pieces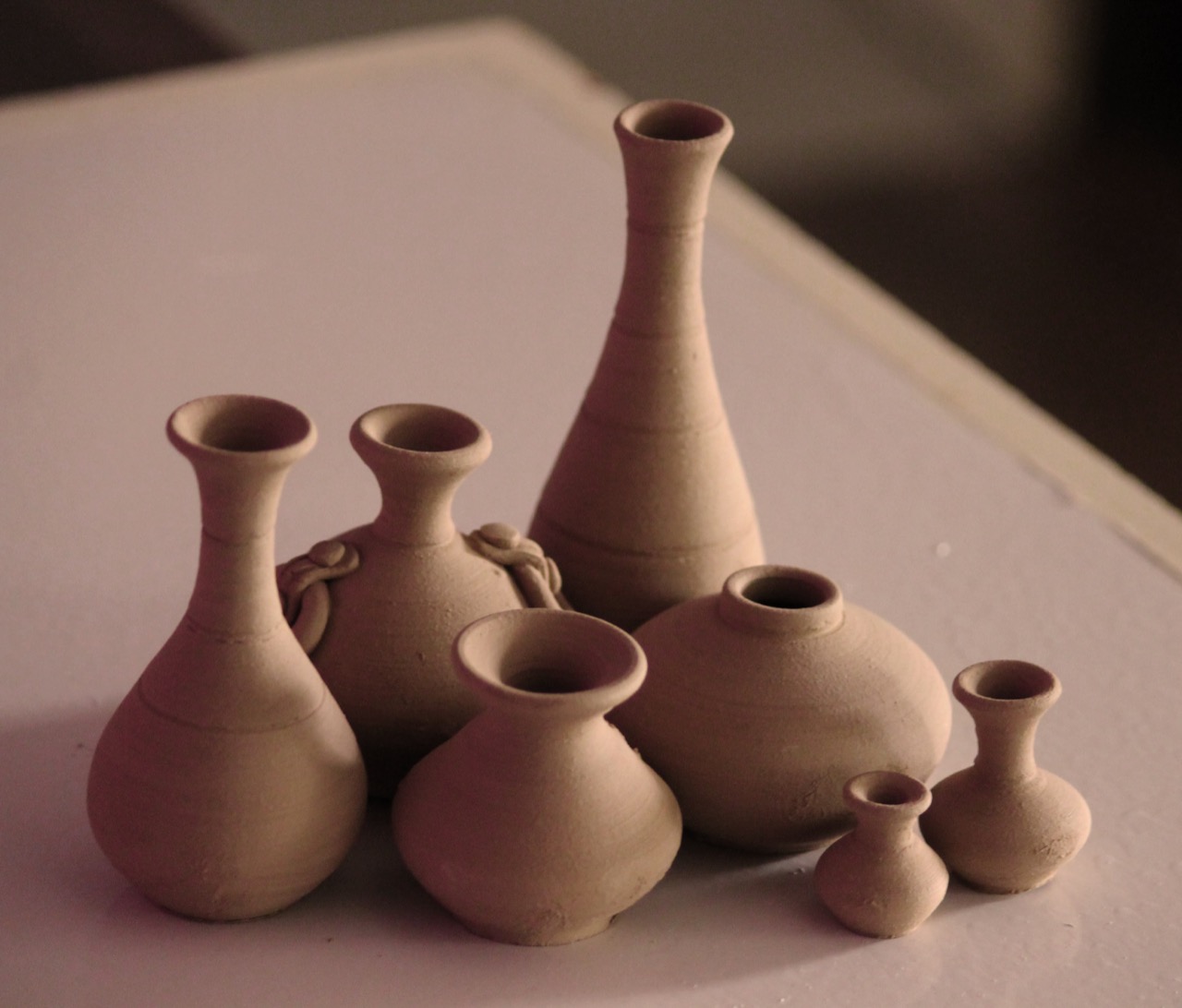 Pottery pieces are a great addition to your home decor. Pottery adds more of a homey feel, it's personal, warm, and cozy. Whether you take a class and make the pottery pieces yourself or find them at your local craft store, consider adding pottery pieces to your bookshelf. They go exceptionally well with rustic or vintage decor styles, but don't let that stop you if you have a different interior design style for your home.
5. Don't Forget Books!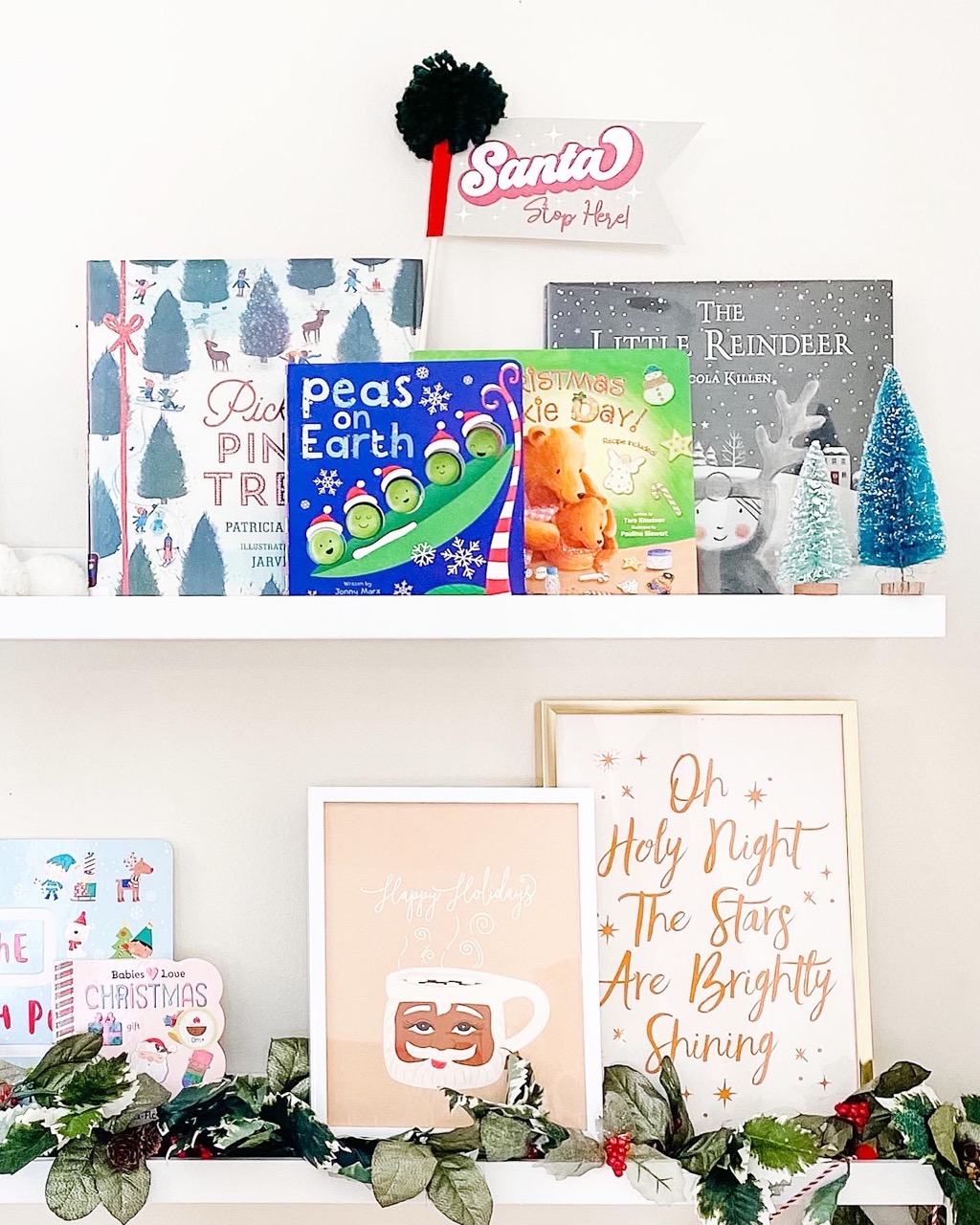 Of course, what is a bookshelf without books? They are right in the name! Pick a few of your favorite books, the classics, or even designer books from Etsy to display. Whether you plan to read them or just display them to pull the look of your bookshelf together, books are a necessity for any bookshelf!
Remember, you don't need to keep all the books on one shelf. In fact, your bookshelf might look better with a mix of placement. Stand some up on one shelf and lay a few down on another. Mixing the books in different placements will add to the balance of the visual weight of things. We've talked about the importance of visual weight before, but if this is your first time at our Learning Center, let us explain.
The visual weight of an object has to do with the way our eyes interact with the object and are attracted to it. In other words — how much your eyes think an object weighs. Bulkier items automatically are perceived as heavier in our eyes, whereas sleek, thin items, are considered lighter. But it's much more than just how heavy an item looks, color, pattern, texture, shape, and proximity also play a part in how much an item visually weighs.
So be sure to vary your visual weight throughout your book shelf. Too many "heavy" items can make your shelves feel over cluttered and crowded, too many "light" items can make it feel like your bookshelf isn't complete or bare. You want to get a nice combination of both.
6. Add Some Sentimental Items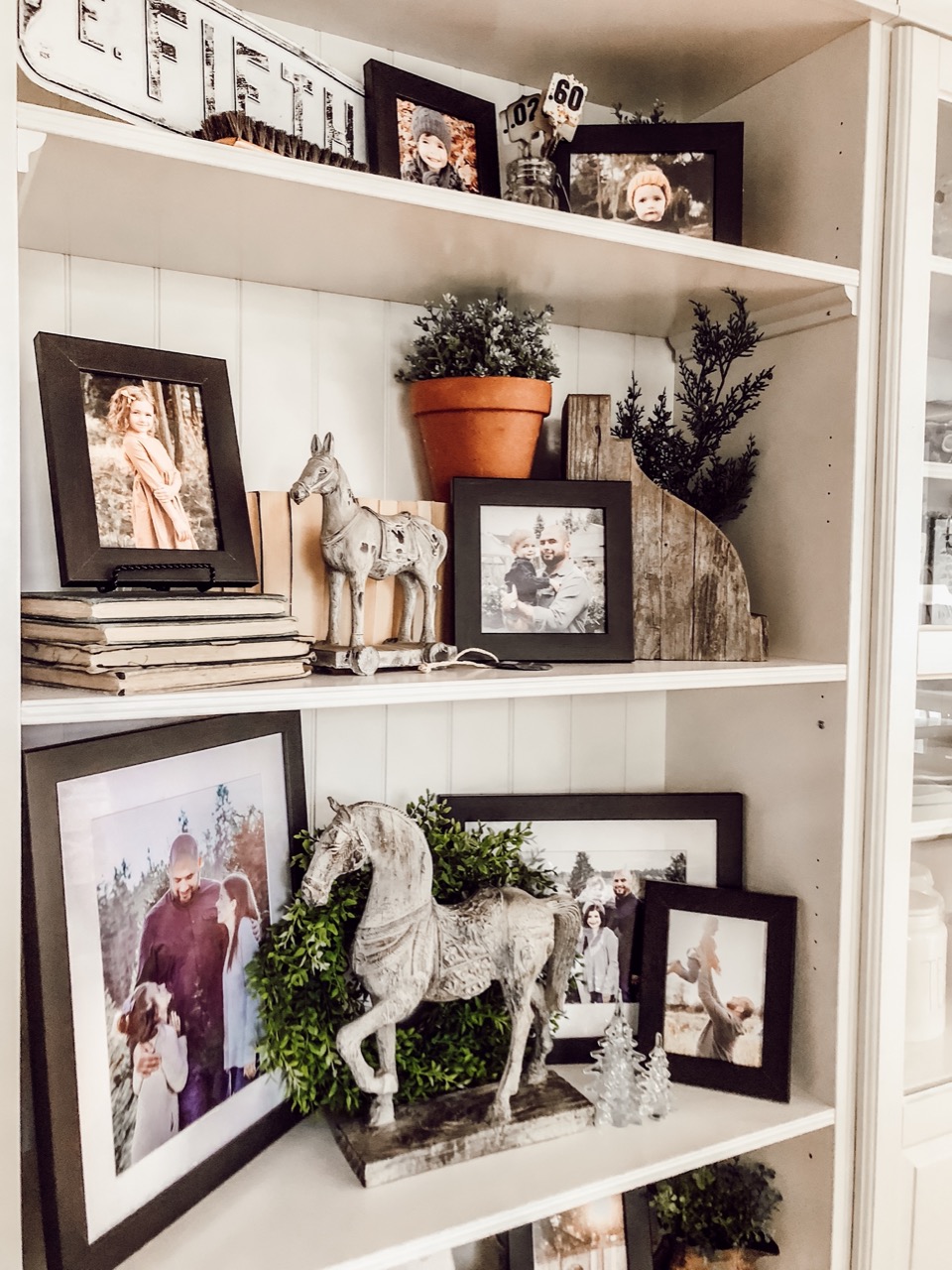 If you have any sentimental items, your bookshelf is the perfect place to display them! With such a great-looking bookshelf, it is bound to catch some attention. Have a picture of your great-grandfather? Why not frame it for all to see? Do you have your mother's jewelry box? Put it on display! These things are sure to be seen by all your guests and will make you smile every time you pass them.
7. Let It Grow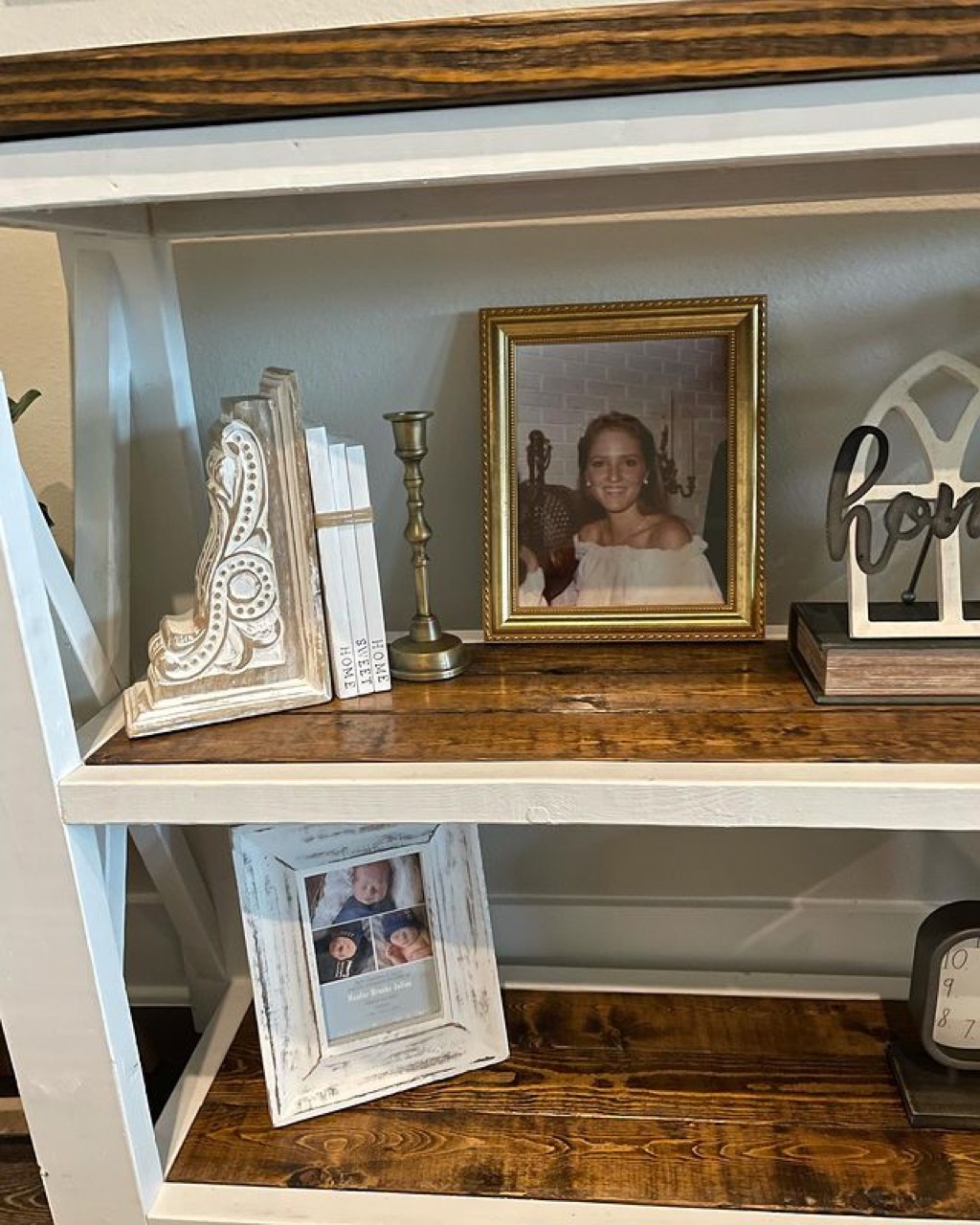 Our best advice is to allow your decor to grow, naturally. It's okay to leave a shelf blank until you find exactly what you want to put there. Don't just try to fill the void with cheap decor items or items you aren't too sure about. It's much more cost-effective to wait for the items you really love than having to switch these cheaper items out every so often. Have your eye on an expensive decor piece that just isn't practical right now? That's okay! Leave an empty space for it to fit once it's in your possession! Home decor doesn't have to happen overnight, in fact, it's best to let it happen naturally over time, that way it will be exactly how you want it once you're all finished!
Final Thoughts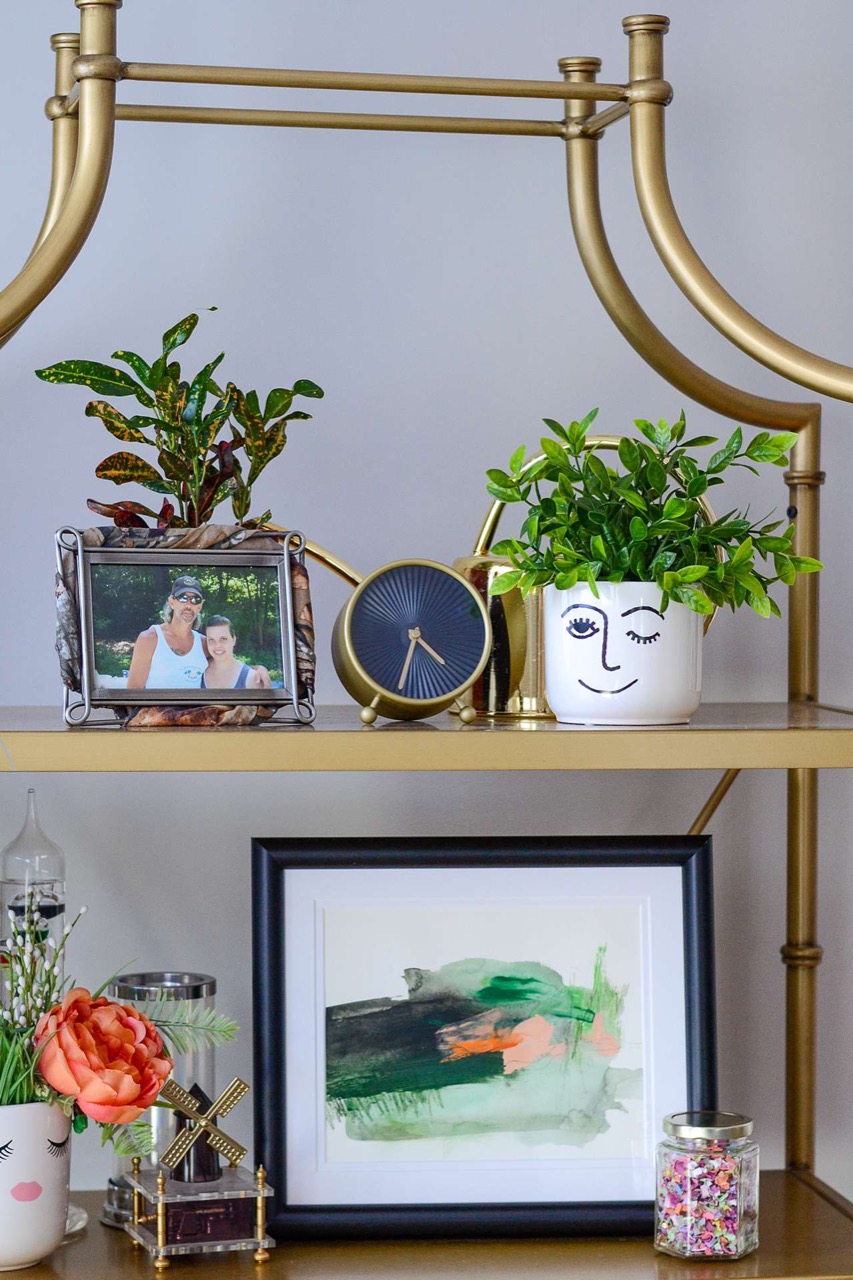 A bookshelf is a perfect addition to any room in your home. It creates a beautiful display without taking up much space, and you have the option to switch up the decor featured on it based on the season, the holiday, or even just your mood!
If you used any of our tips when decorating your bookshelf, be sure to share photos with us on social media. We love to see what you come up with to make your home amazing!