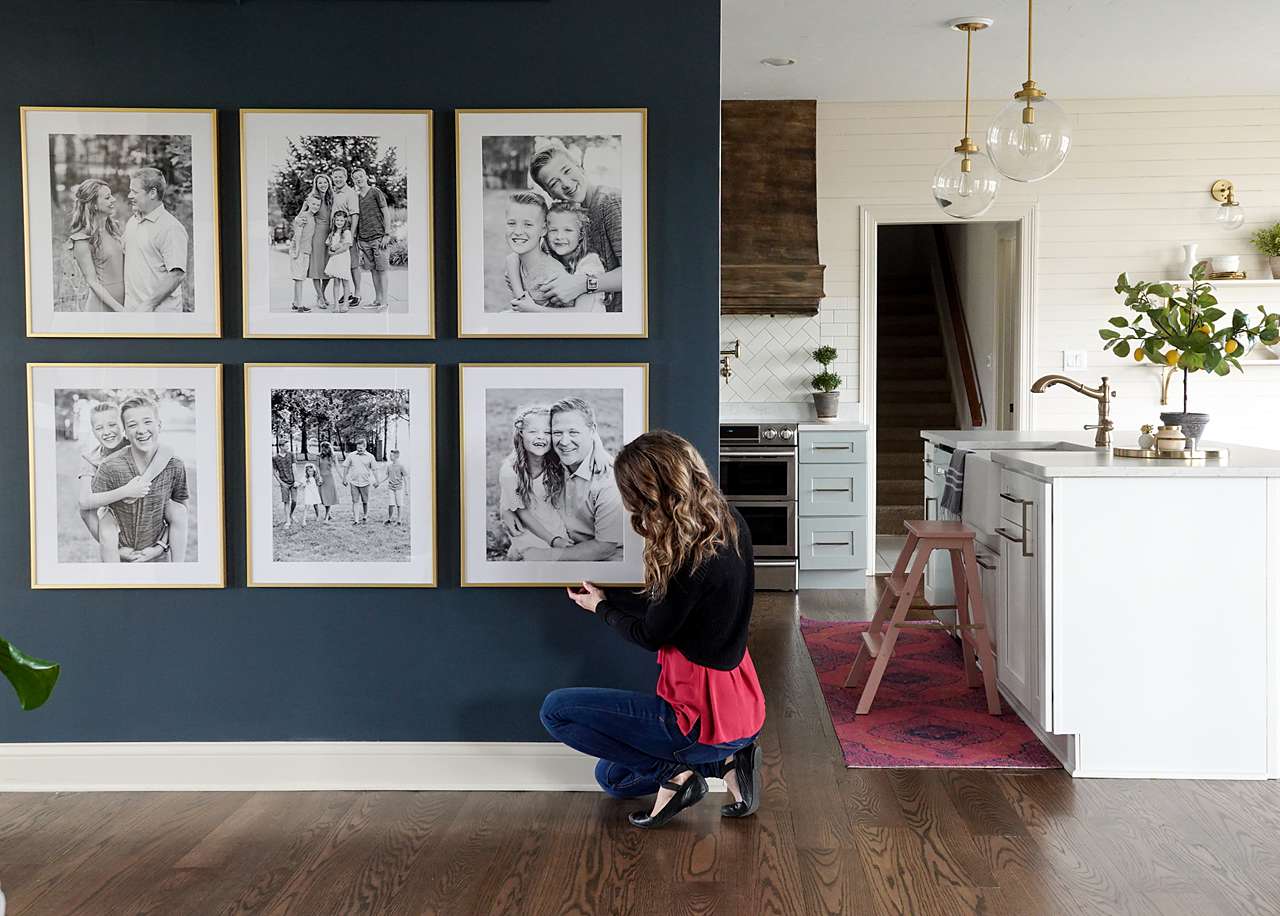 Sometimes you like things to be consistent and sometimes you find beauty in the chaos. When it comes to frame hanging and spacing, they can sometimes be subjective, especially as to what looks best. Intentional randomness is something to be desired for some. And why not? Sometimes the greatest displays and works of art can be achieved by just knowingly breaking every rule in the book. Sure, even displays can be orderly and patterned, but they can also be, well, the opposite — controlled chaos, intentional unevenness.
When exactly should you lean towards orderly, and when should you go crazy with the unpredictability, though? Let's go through all the possibilities; maybe you'll have a better idea of just how to assemble your gallery wall after reading this. Of course, if you have an idea that's not in this post, do that! These are just suggestions and general guidelines — no strict rules!
When To Space Your Frames Evenly:
For Themed Walls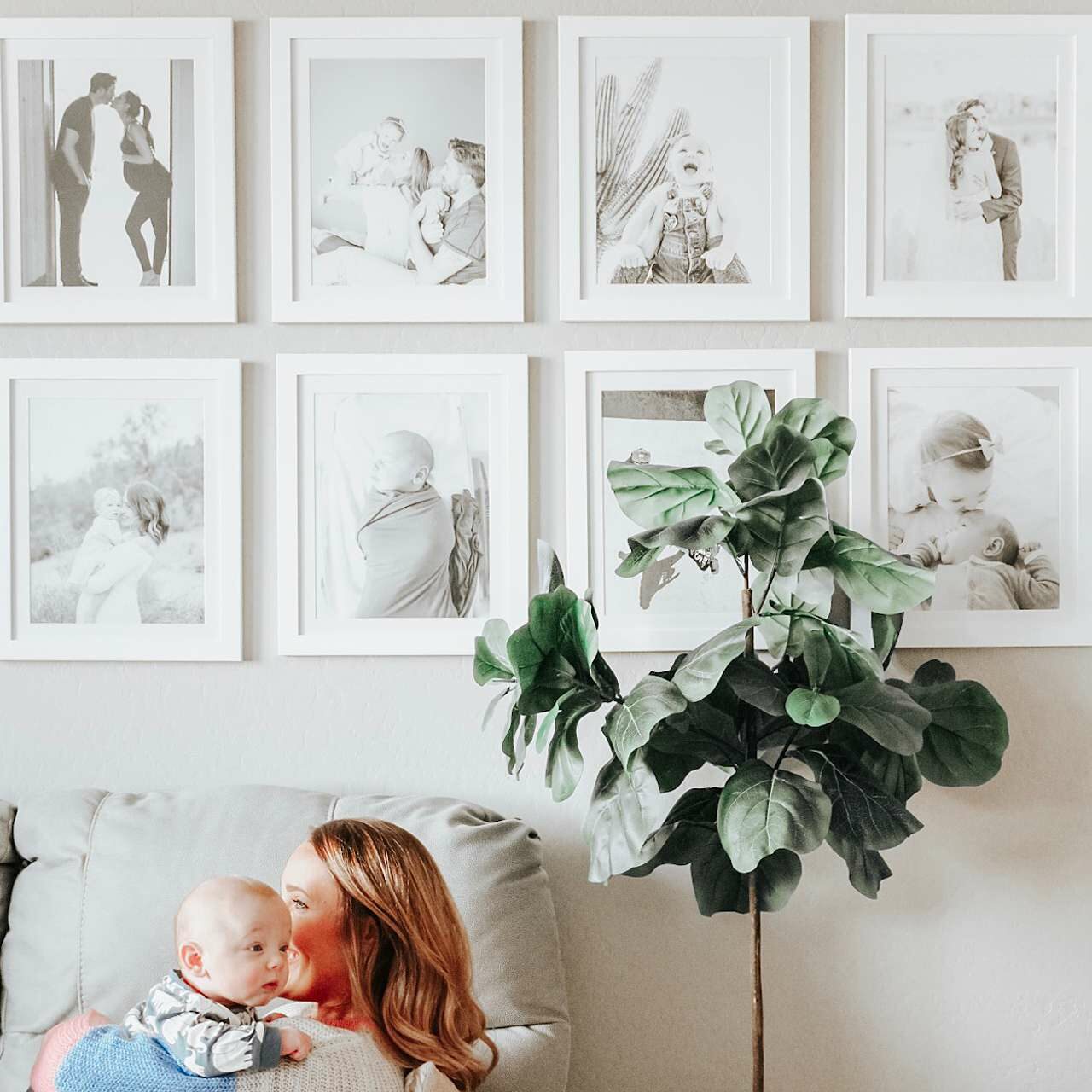 Do you have a theme for your gallery wall? Such as family photos, pet photos, travel photography, or other hobbies and interests? In that case, maybe evenly spaced frames would be best. This is because themes usually imply some sort of consistency. This means that should be reflected in how they're displayed. The theme can be anything, too. Maybe it's the contents of the photo, or maybe just the frame style and color — something simple like that.
How do you hang frames so they're spaced evenly, though? Well, we have some guides on how to do that. All you will need is some painter's tape, a ruler, and a pencil. Once you figure out where you want to hang your frames and how far you want to space them, just mark the spot on your wall. You could also use painter's tape to plan your layout before making any holes. From there, you would just put the frames over the corresponding outlines, like piecing together a puzzle.
For Businesses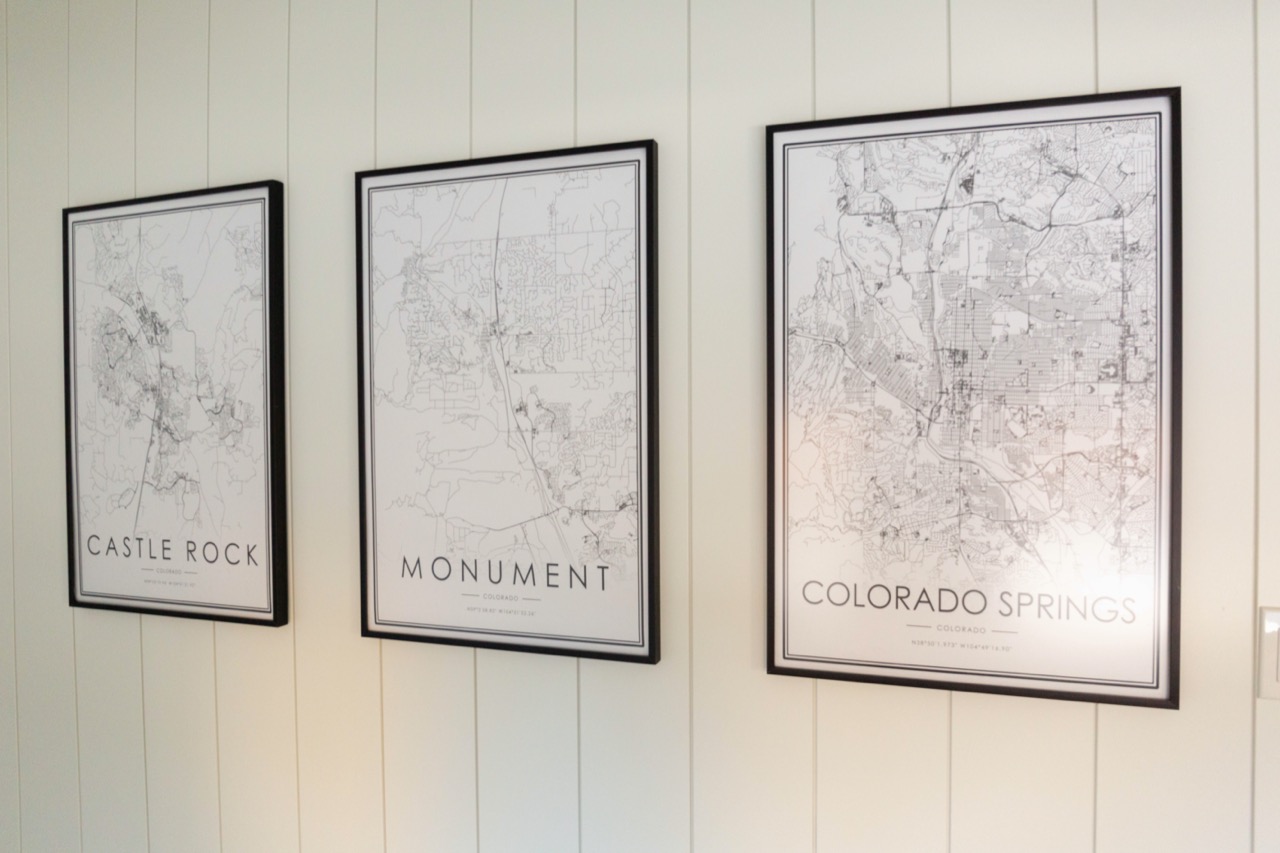 We work with a lot of businesses and entrepreneurs with our white label program — artists, offices, interior designers, etc. If you run an office, and want everything to look as professional as possible, it might be best to go with the more evenly-spaced look. With offices or pretty much any place of business, having a neat look is always the best way to give off a good impression to potential clients or customers that walk through your doors. You could display art that is meaningful to you personally, display posters to advertise your business, or even add family photos to give your customers a glimpse into your life and what is important to you!
Let's take a look at some gallery wall arrangements with evenly spaced frames. They might inspire you to start your next framing project!
1. Grid Style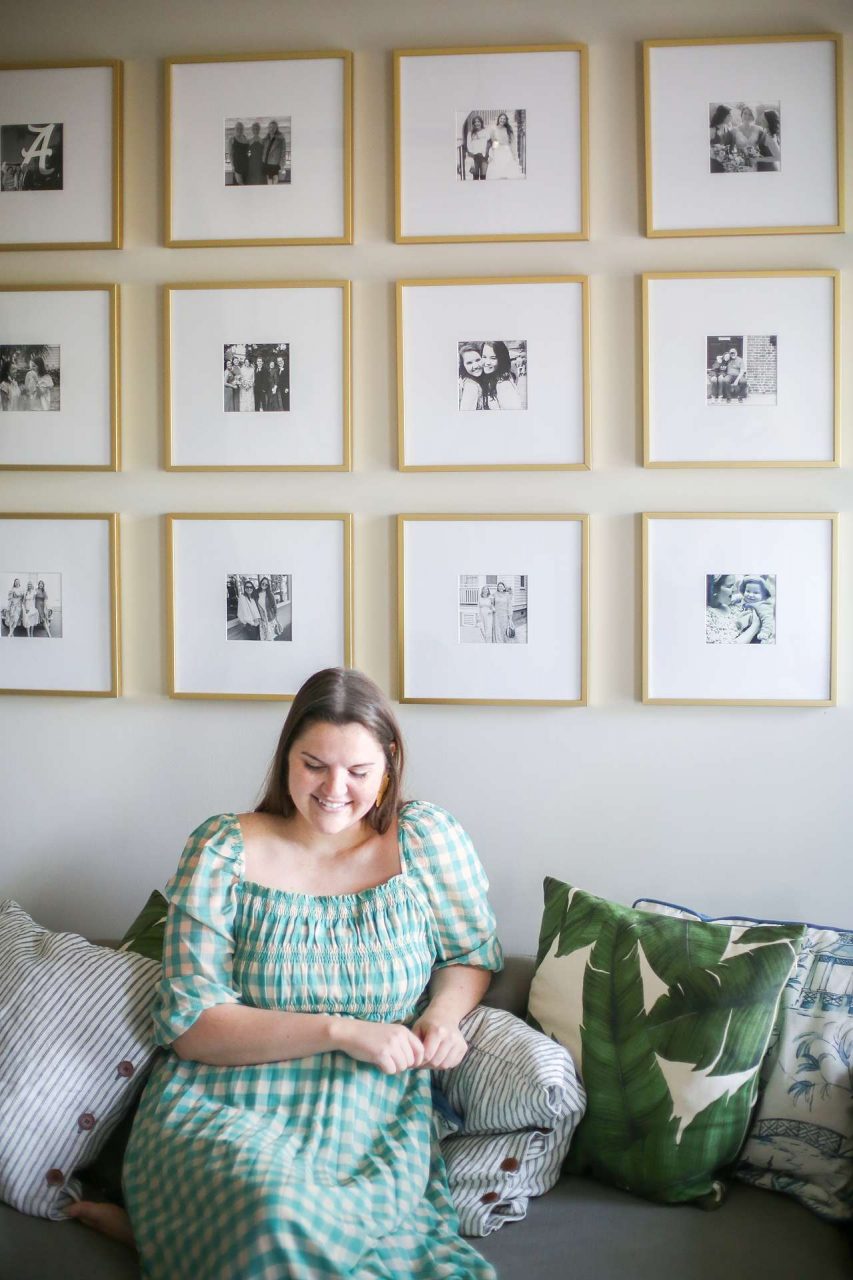 Grid-style gallery walls give off a sense of order, cleanliness, and precision. Often displayed in framesets of 3 x 3 or 4 x 4, you can make a grid gallery wall as large or small as you'd like! We suggest using frames of uniform style and size. That way, the frames will fit together in a true grid form.
Placement for grid-style gallery walls varies, and they truly look good on just about any wall. Some popular placements include large hallways, above a couch, or smaller empty spaces that need some decor.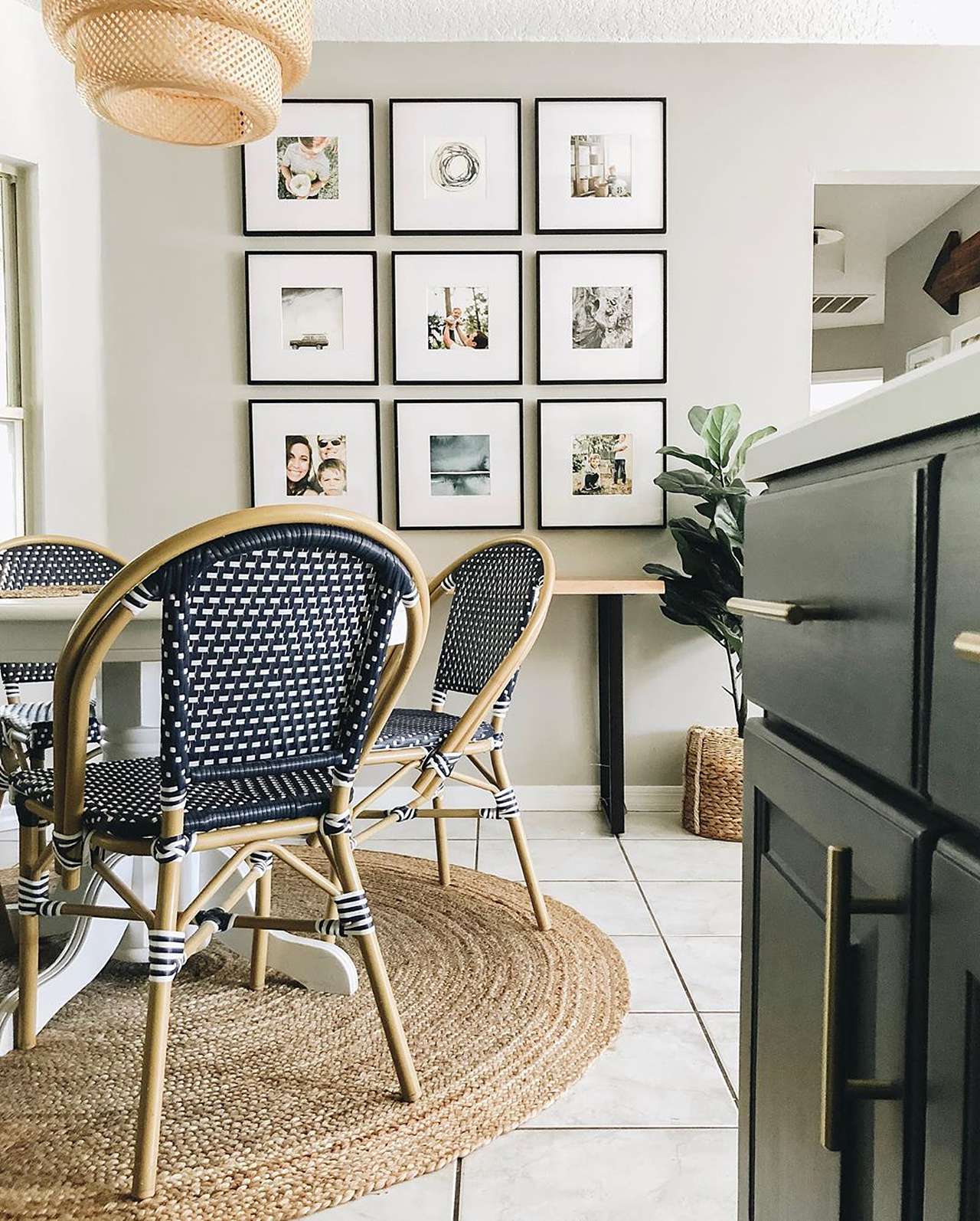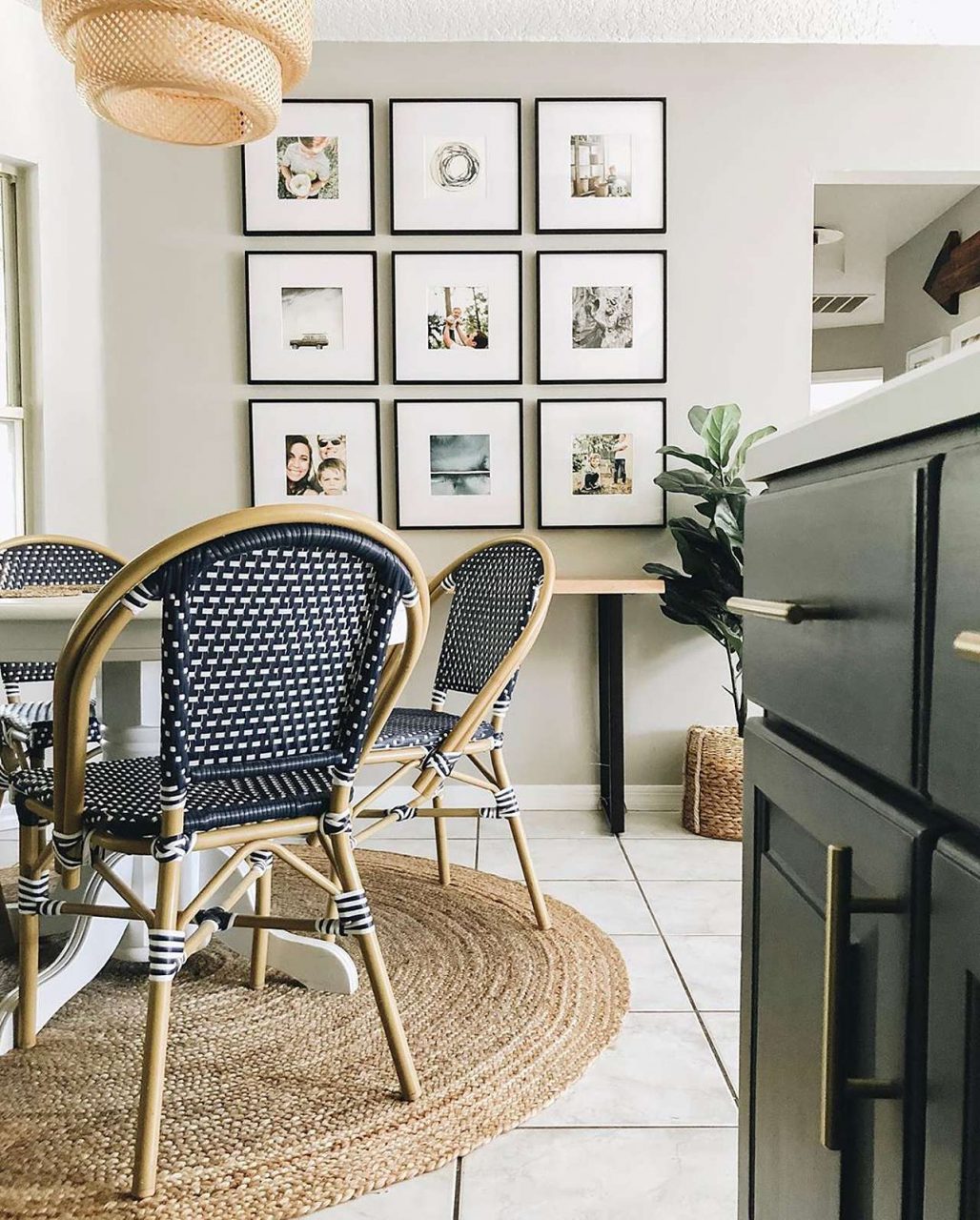 Tip: Measure out the space you'll use for your grid-style gallery wall, and be sure the outside frame size you are ordering will fit!
2. Triple Frame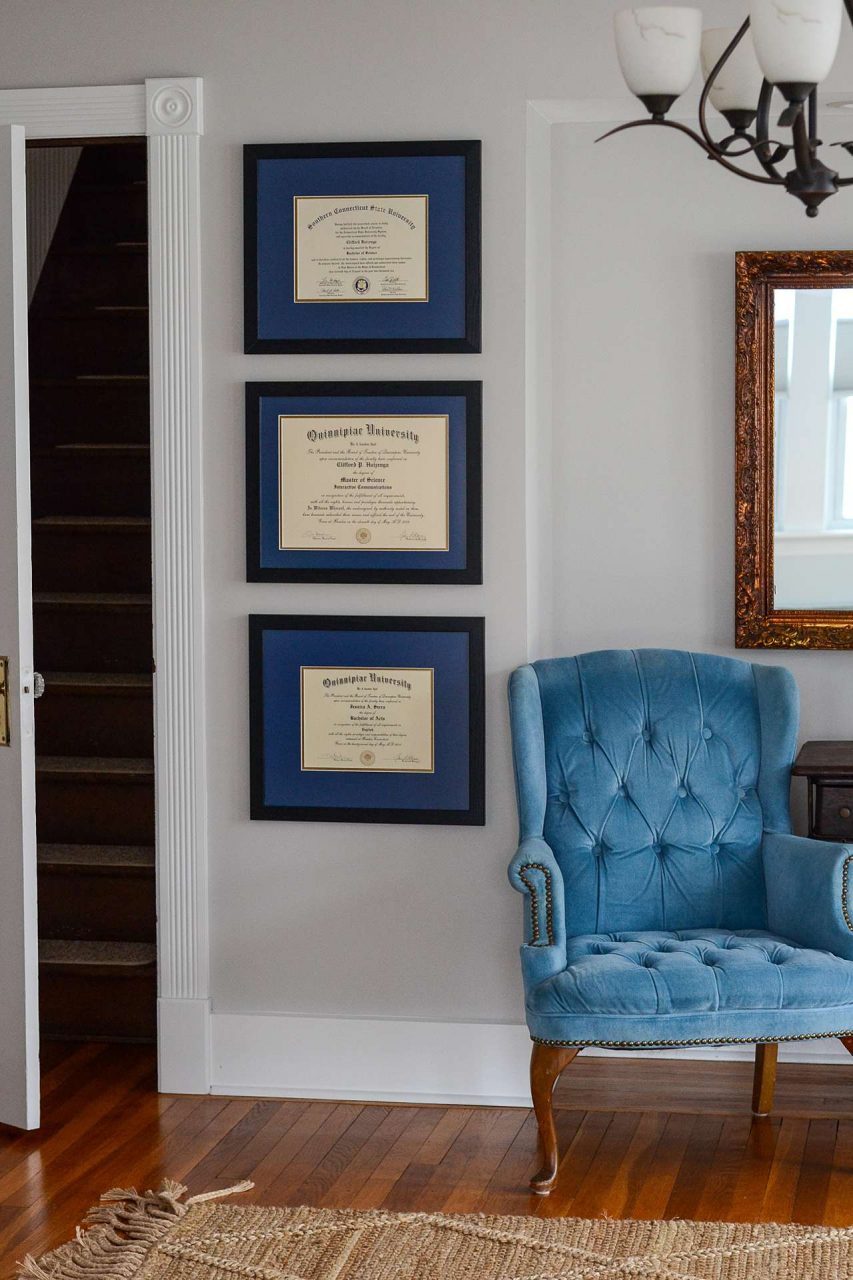 Frames displayed in sets of three evoke a sense of order and harmony within a space. They are simpler than creating a grid style or asymmetrical gallery wall and give you the freedom to vary the sizes and styles with just three frames.
There are different takes on triple frame gallery walls that can fit a variety of wall spaces. For instance, there's the 'three in a row', where you stack your frames vertically or display them horizontally.
You could display your three frames diagonally, which looks great on ascending/descending staircases.
Lastly, you could create a pyramid-style triple frame display. This involves placing one frame a bit higher than the two next to it. Feel free to vary the pyramid style by making it horizontal!
Check out our blog post for more information and tips on creating triple frame gallery displays.
3. Floor to Ceiling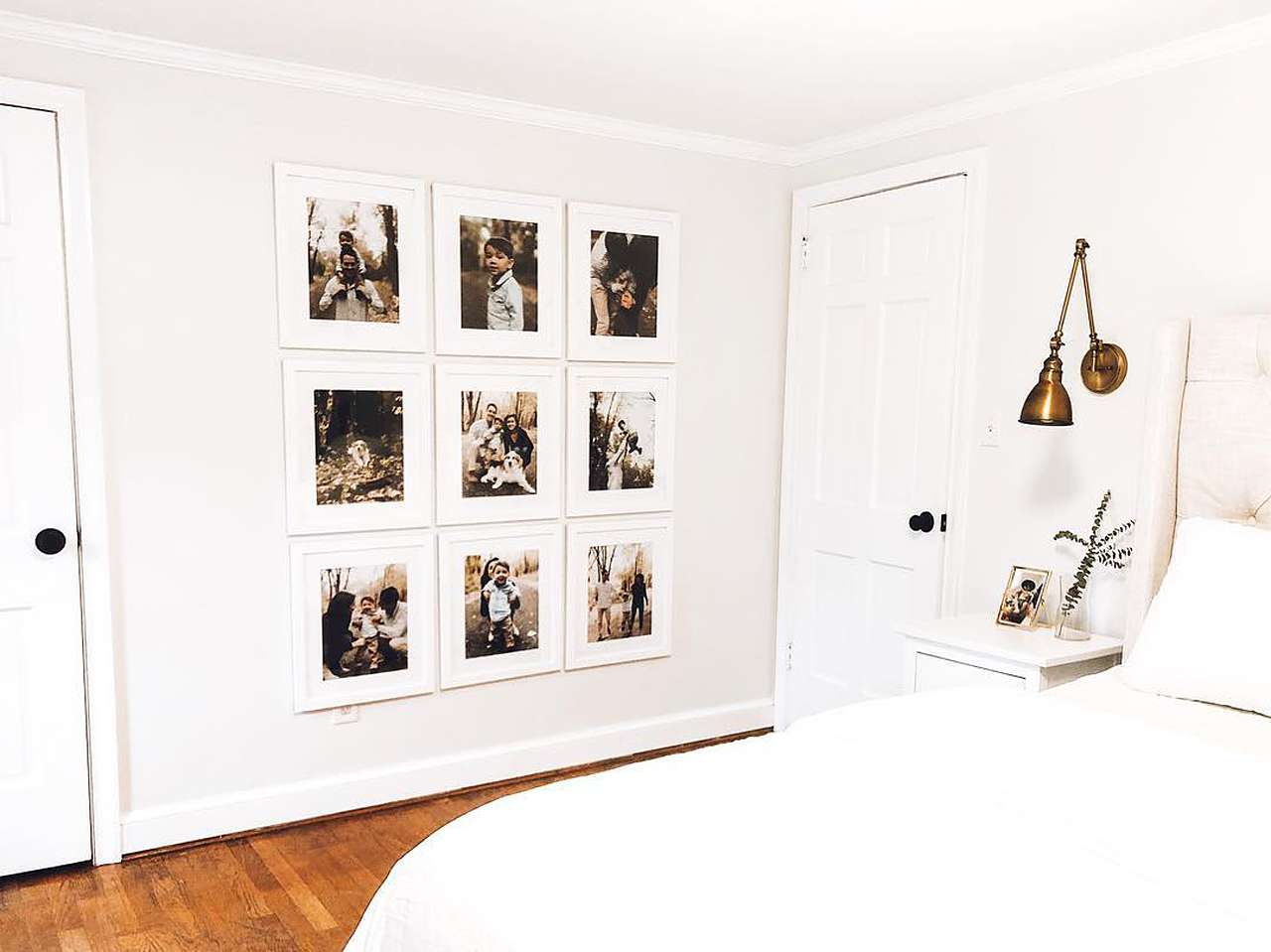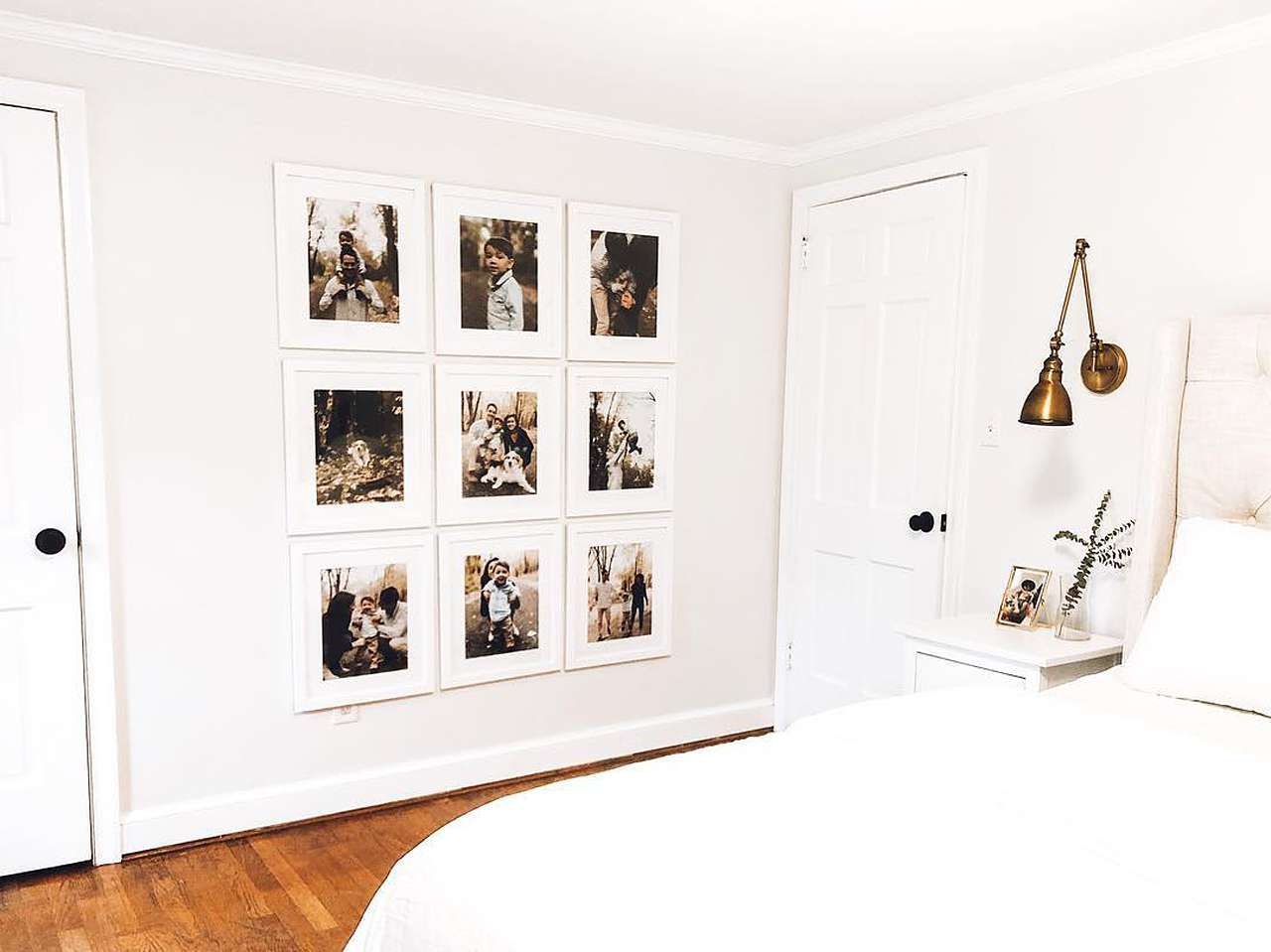 Floor to ceiling style truly goes above and beyond when it comes to gallery walls. They make a big statement and transform a room's vibe!
When it comes to arrangements, we suggest still using either a grid style or an asymmetrical, eclectic style, just taking it to the next level by filling a wall. Grid style will lend a very clean cut and precise feeling into the room, while asymmetrical will be more organic and diversified. Even with floor to ceiling style, remember that with asymmetrical arrangements you will have the freedom to vary your frame sizes and colors.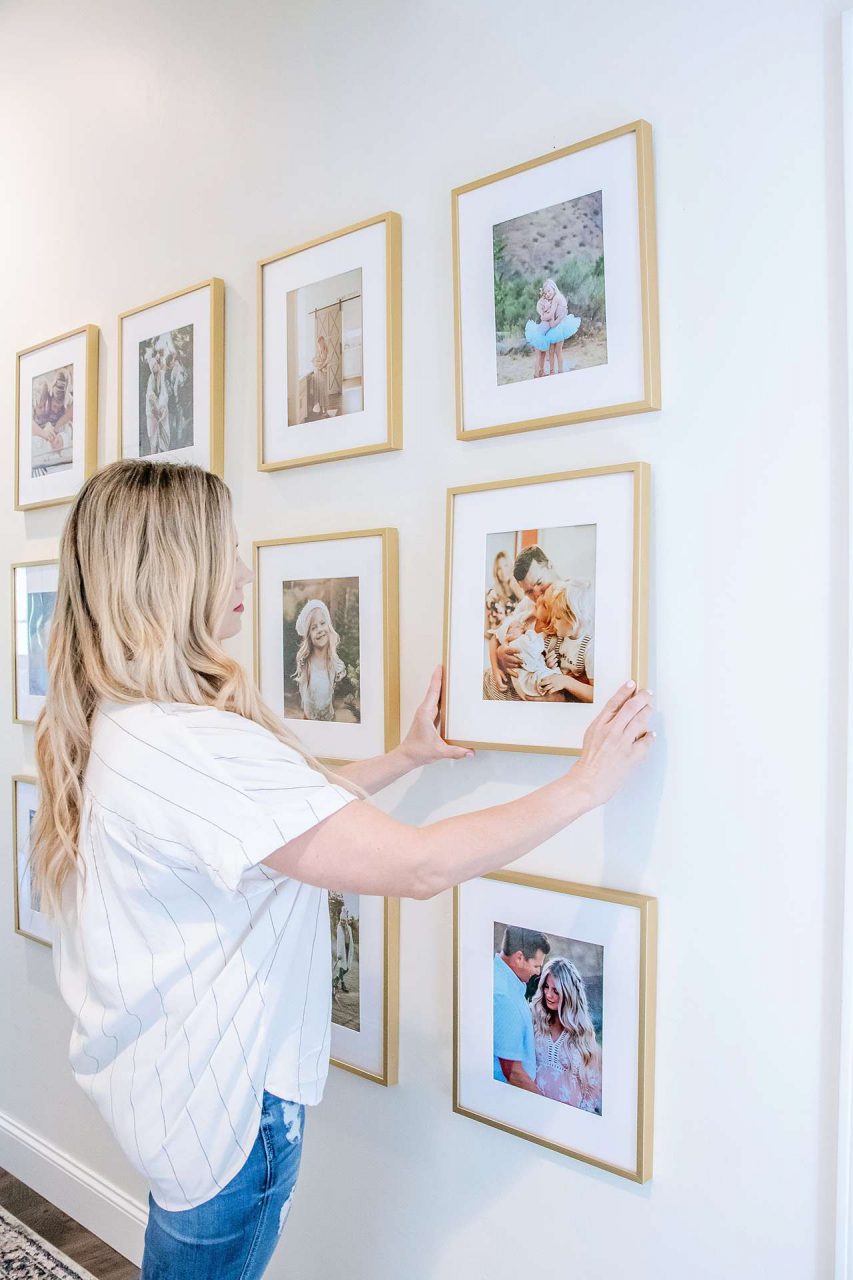 You could create a floor-to-ceiling arrangement on really any wall in your home — no matter the size. A large wall with a floor-to-ceiling gallery wall will have a true wow effect, while a smaller accent wall will be less in your face, but equally as stunning. the sky's the limit! (Or rather, the ceiling is? ;))
4. Small Space Gallery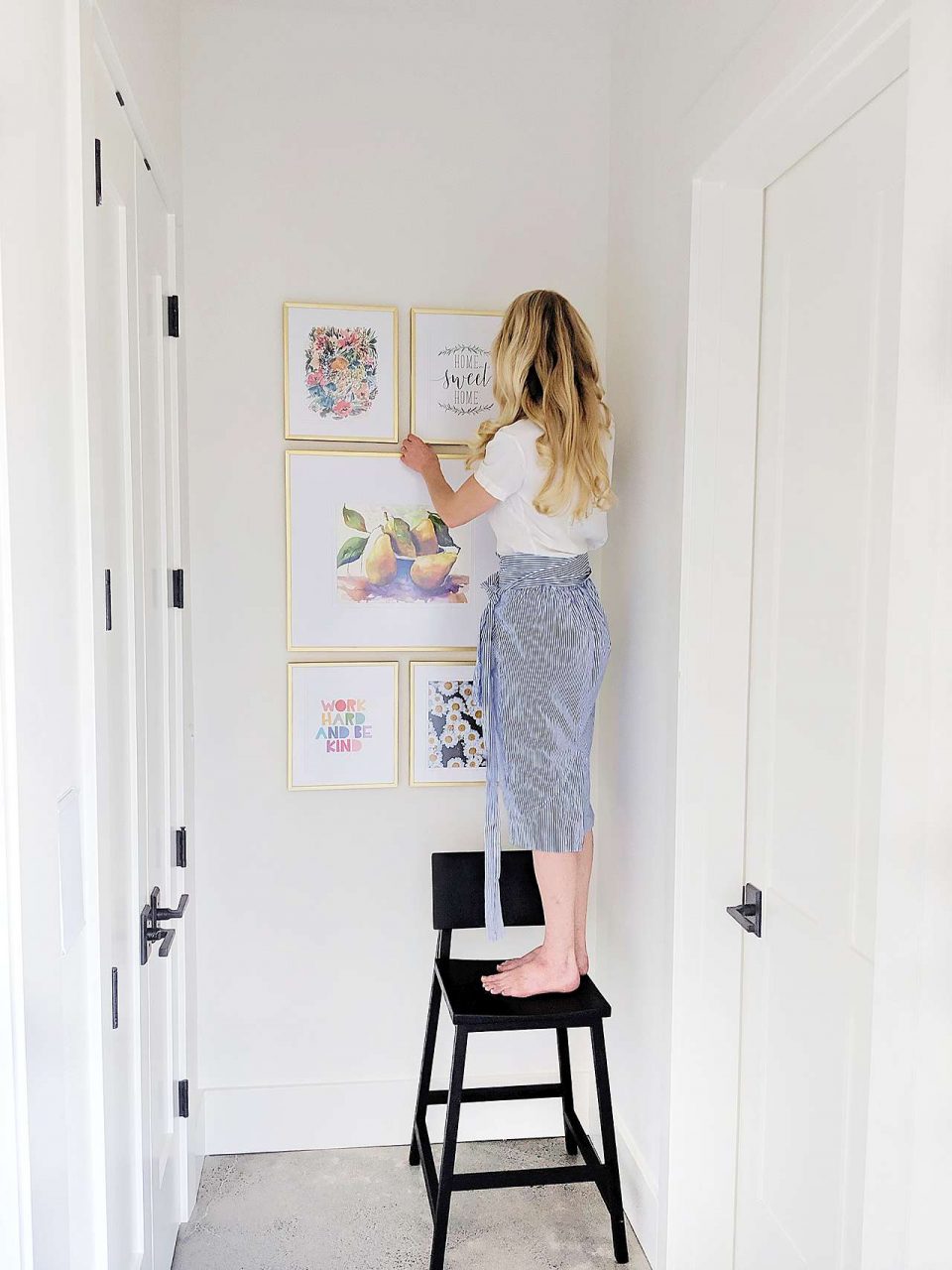 A gallery wall within a small space isn't necessarily a specific arrangement style, but it is still an idea worth considering. We all have those small empty walls, that are not quite big enough to feature anything too bold.
But filling these spaces with your unique gallery wall will bring it to life with color and personality. Your gallery will transform it from dead wall space to something creative and your own. Keeping your frames in a neat arrangement will make your small space feel even bigger! There are plenty of other things you can add to your gallery wall as well, such as a mirror, shelves, lighting, and so much more. Check out these 12 unique things to take your gallery wall to the next level!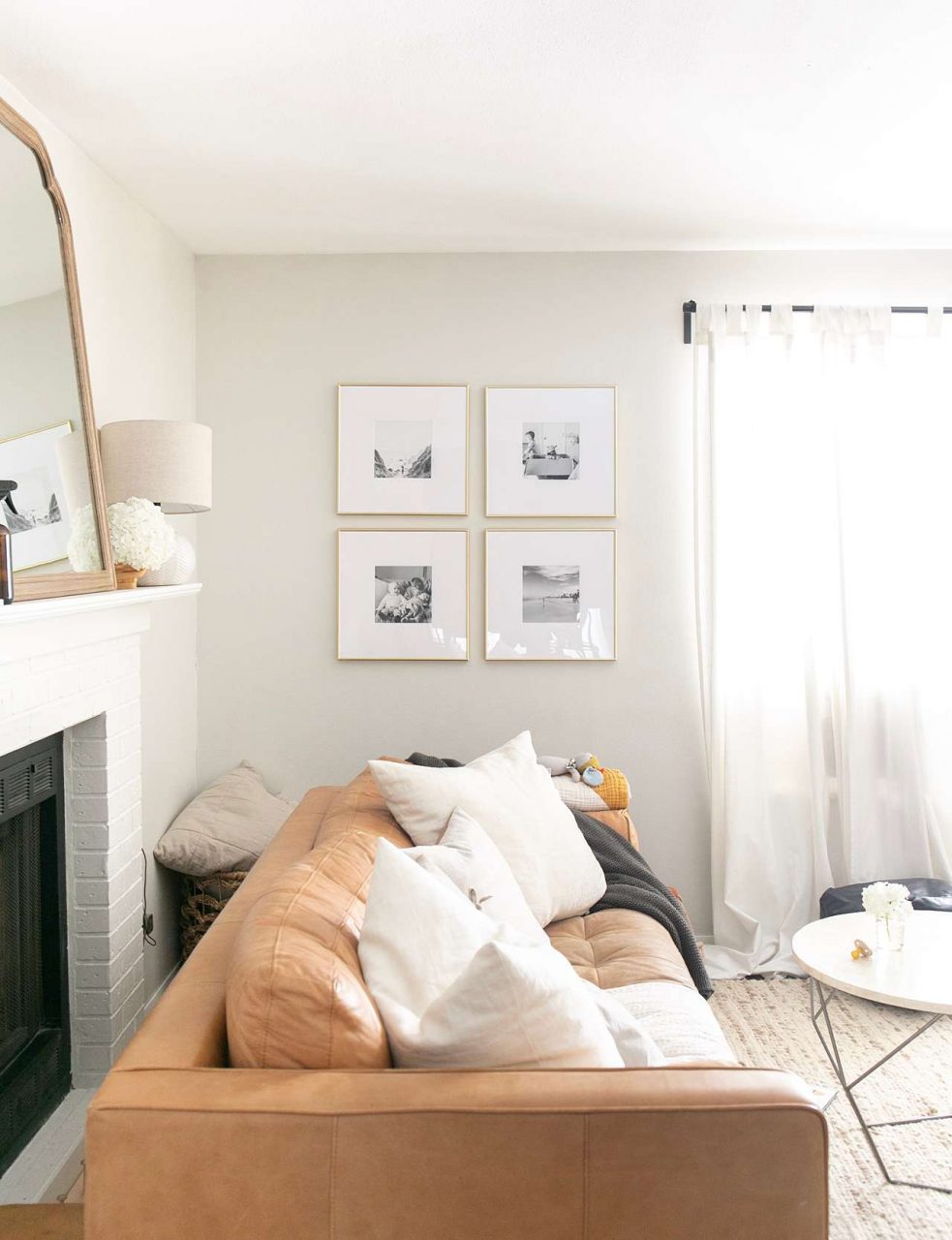 When it comes to creating the gallery wall, really any arrangement will work depending on your space. Whether it's a grid, asymmetrical, triple frame, or floor to ceiling, adding your touch to a small wall will go a long way.
When To Space Frames Unevenly:
For Different Frames/Styles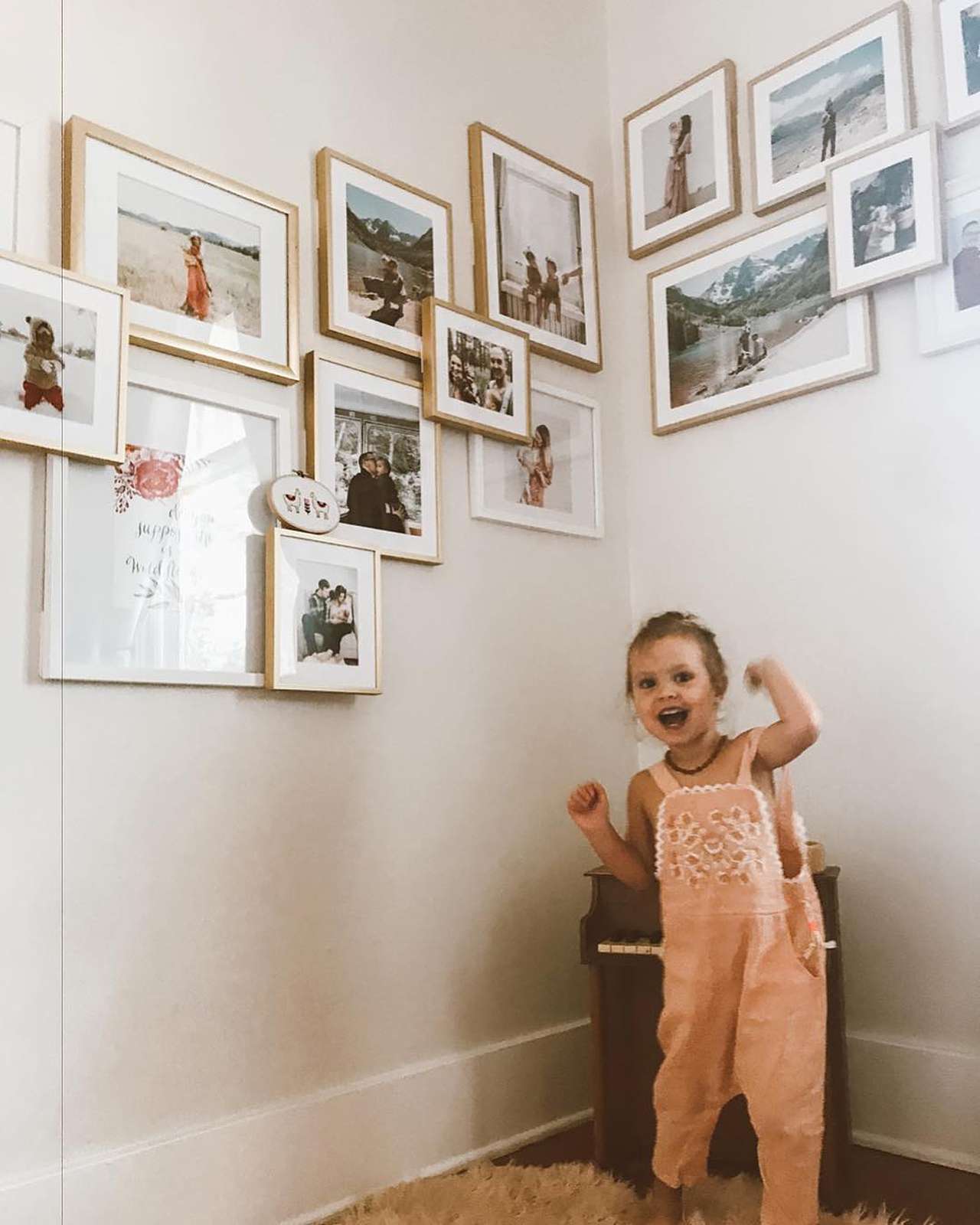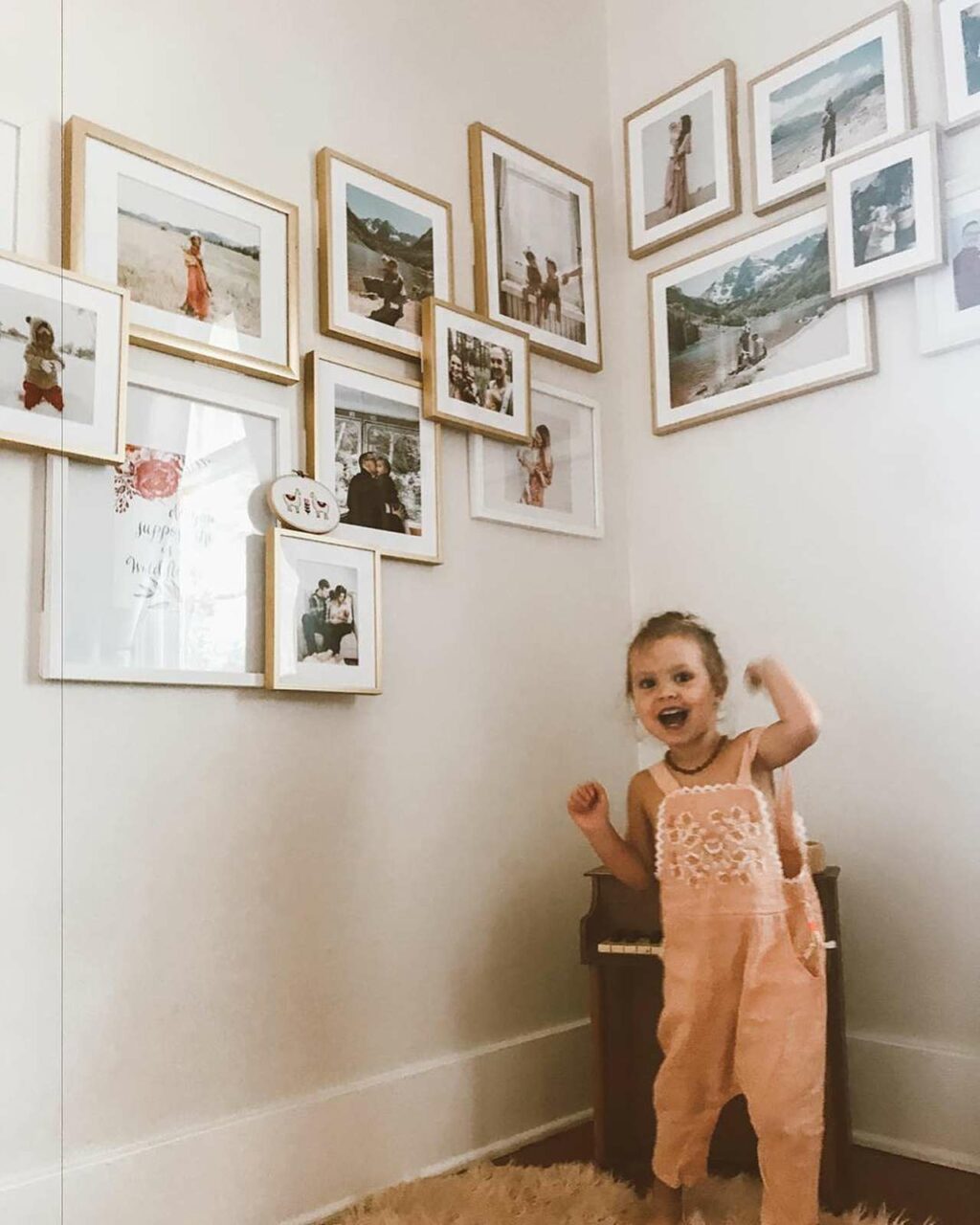 While spacing your frames evenly is great, so is spacing them not so evenly! If you just want to put a bunch of frames on a wall with no real regard to style, contents, or the like, go nuts! You could space frames unevenly, overlap them, mix and match colors and styles. Keep in mind, too, that these don't have to be chaotic, necessarily. Rather, there could be a weird type of order to how unpredictable the wall is.
In the photo featured above, the spacing between frames definitely isn't even, but there is a sort of flow that goes with the display, even though things aren't exactly neat, it still looks amazing! Frames overlap; they're pretty much all over the place. But it works! Maybe this is to capture the unpredictability of family life, or maybe it's just their creative choice. Either way, we love it!
For Boho Decor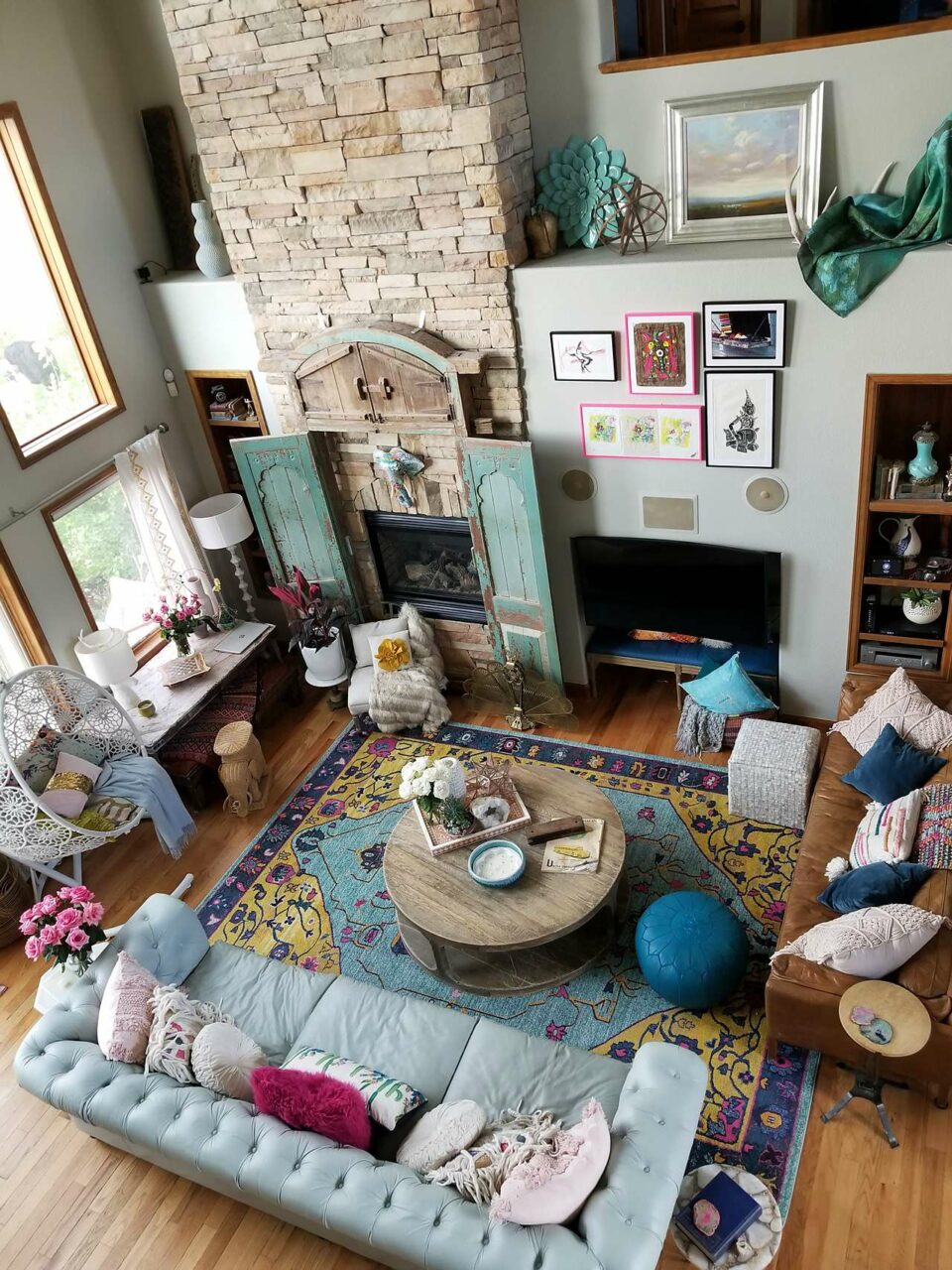 There's a new type of home decor style that's getting more and more popular on Instagram. It's called bohemian (boho) decor. This decor style helps to embrace your inner spontaneity, with a vast mix of different patterns and shapes. This could be a great way to have decor that your guests wouldn't quite expect but still love. Looking for some good inspiration on this? Check out Megan Martinez's Instagram account; she has a lot of good inspiration for your home if you're interested in this style.
Another good account to follow just covers general boho home decor. Either can get you pretty good ideas on how this style, and how you could potentially incorporate an unevenly-spaced frame display with it.
Now, let's take a look at some unique gallery wall arrangements to spice up your gallery wall!
1. Asymmetrical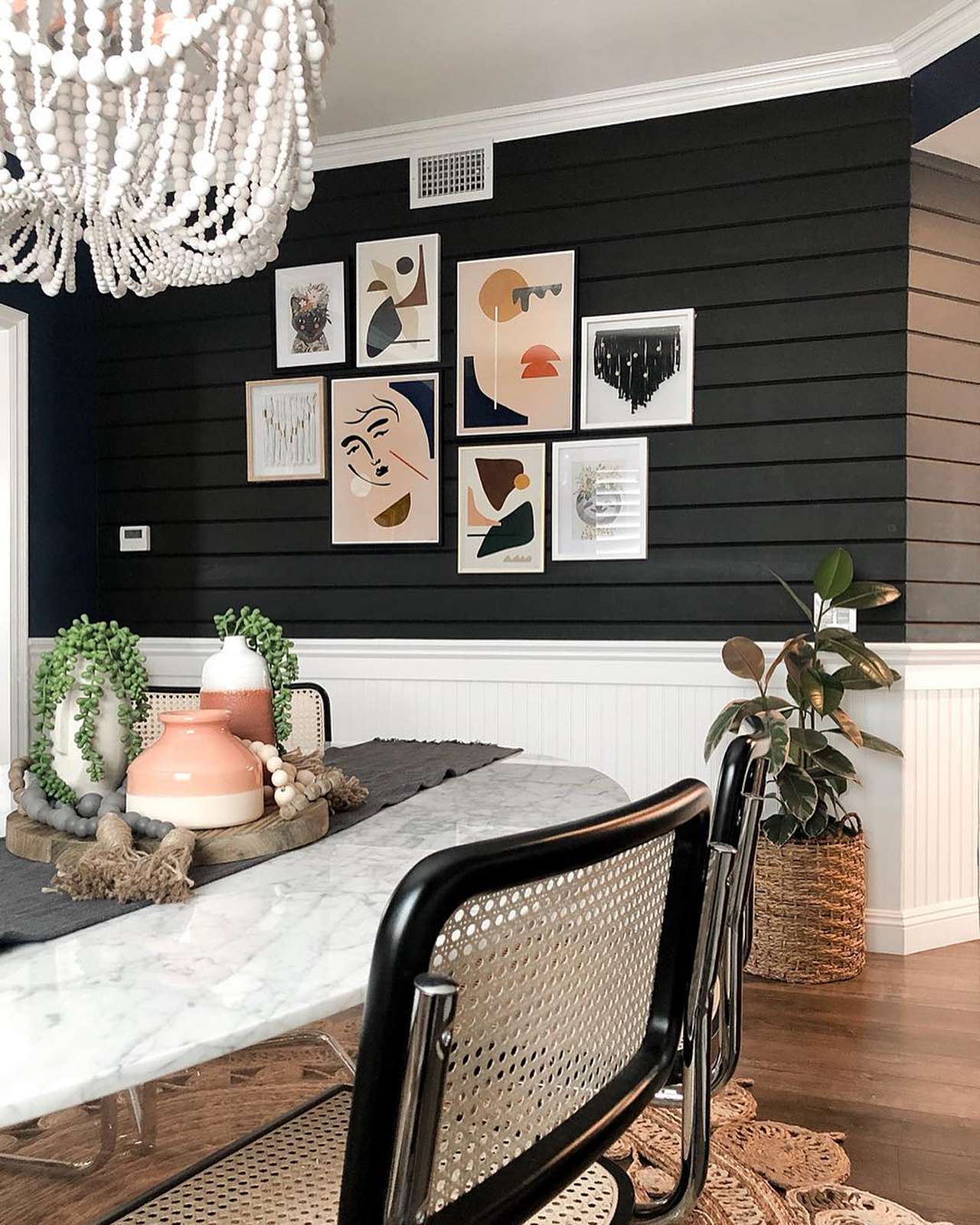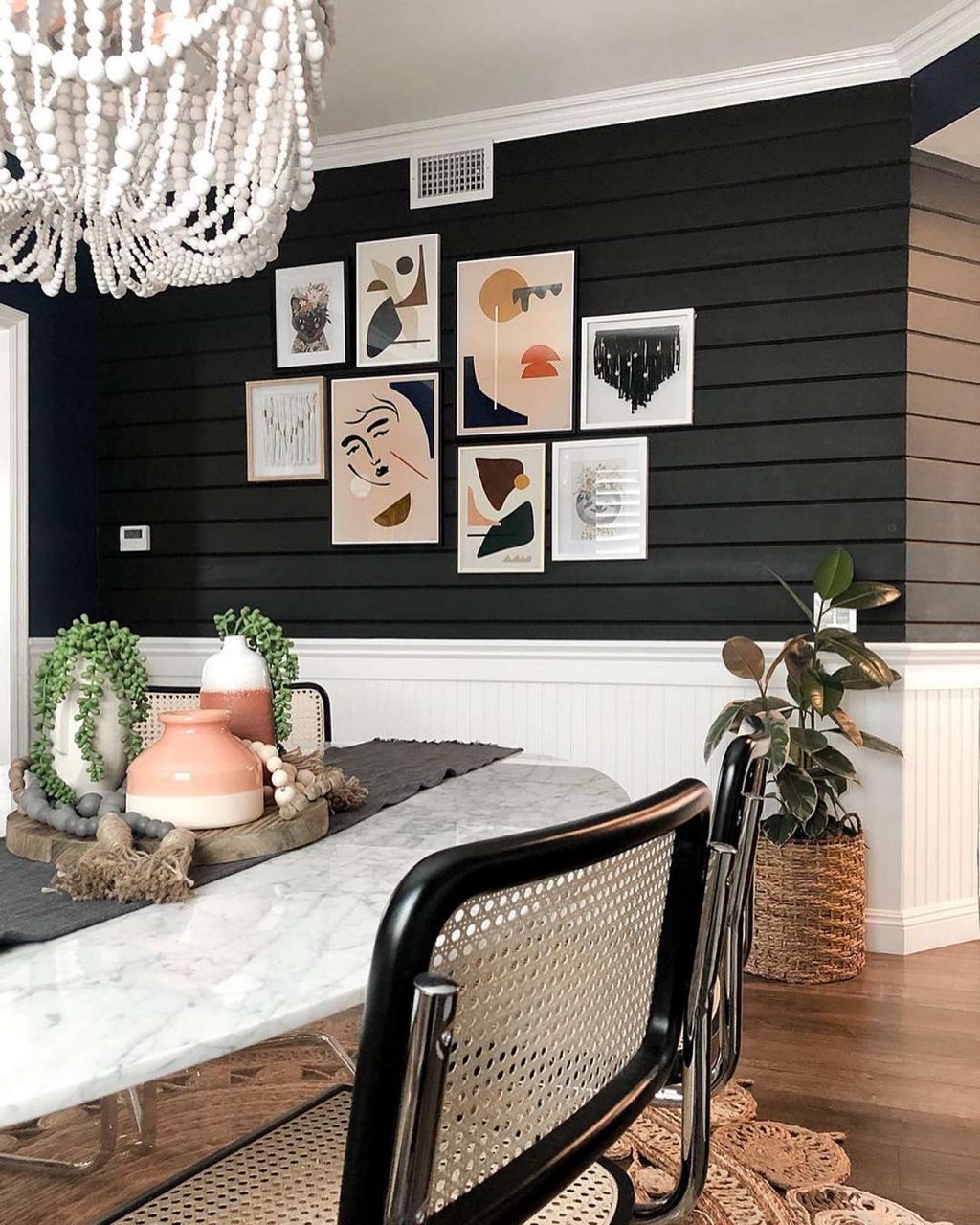 Probably the most popular arrangement, asymmetrical gallery walls are all the rage. Asymmetrical galleries are super easy to create and don't require a ton of planning. Due to the casual and somewhat imprecise nature of an asymmetrical gallery wall, you're able to add or swap photos and items easily.
Asymmetrical gallery walls grant you the most freedom and creativity. Because there is no set pattern or style, feel free to mix and match different frame styles, and change up the frame sizes!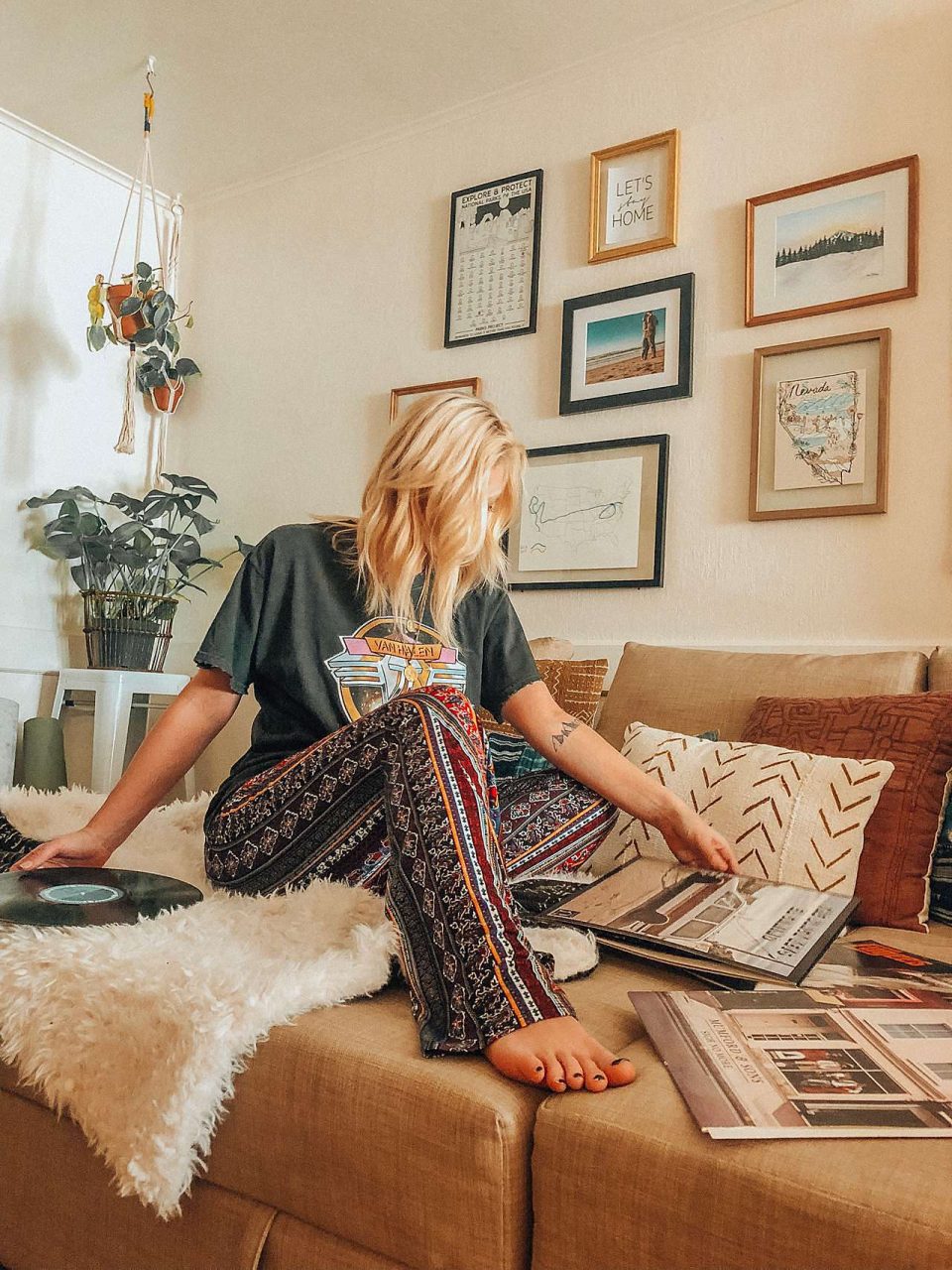 Though a great accent for any area, we recommend you display an asymmetrical gallery wall as a centerpiece to the main room or large wall. They often make a big statement, so definitely create the gallery wall in a deserving space.
2. Layered Look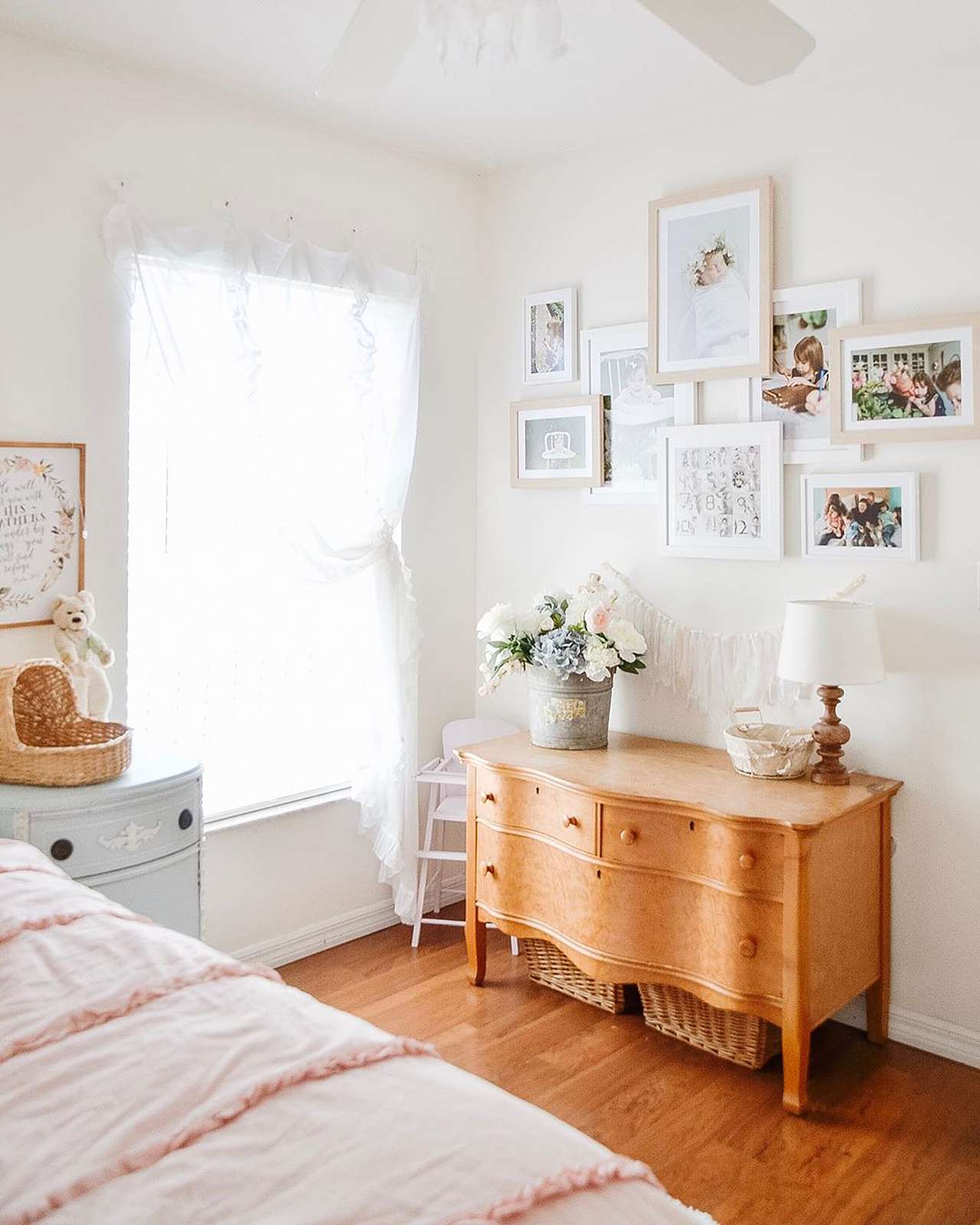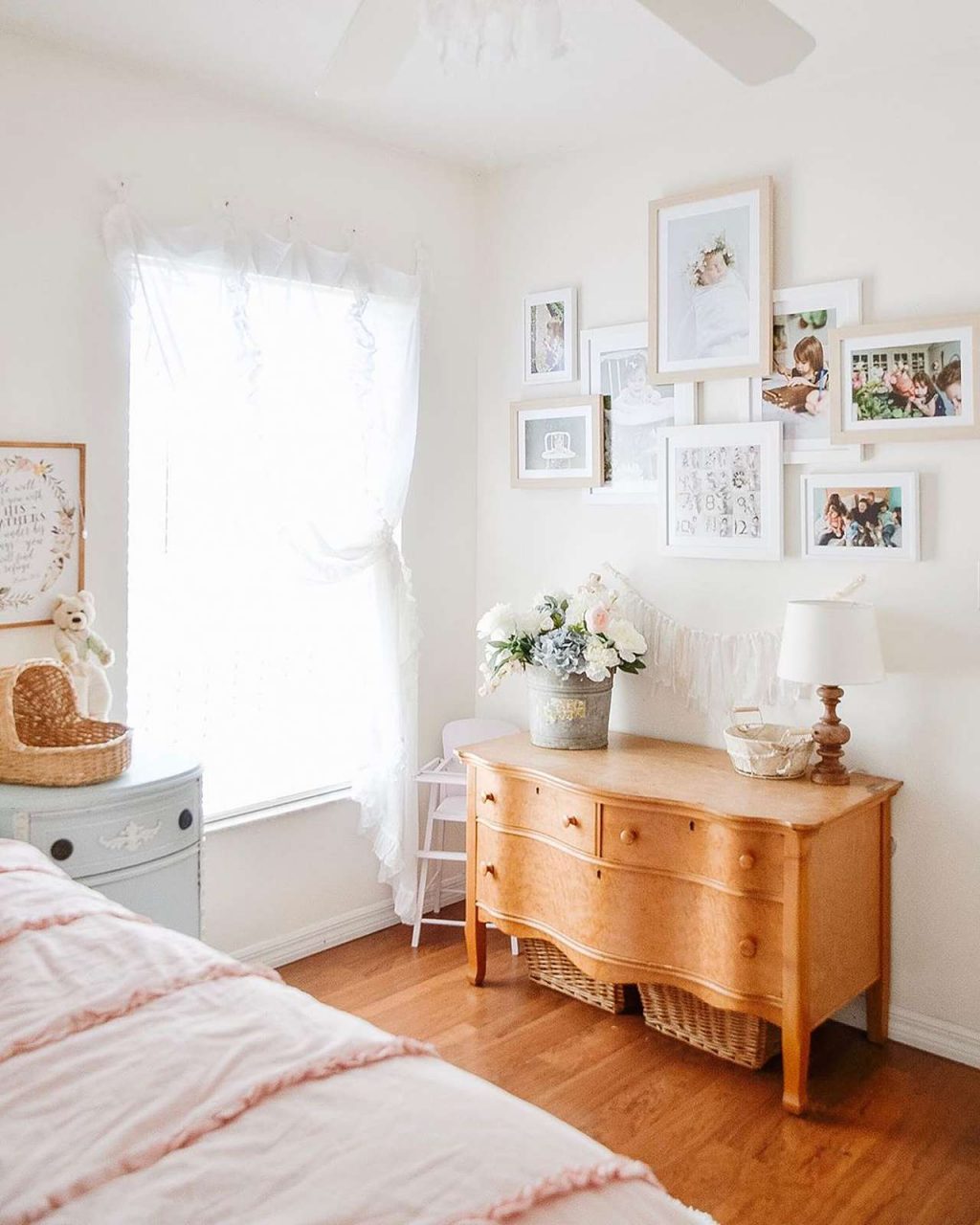 If you want something a bit more dramatic, then the layered gallery wall look might just be for you! While it takes a bit of extra planning and installing, the result can be show-stopping.
This look is achieved by layering frames on top of one another for added dimension and interest. You can try adhering them with removable picture hanging velcro strips, or simply using the standard hooks and nails placed strategically.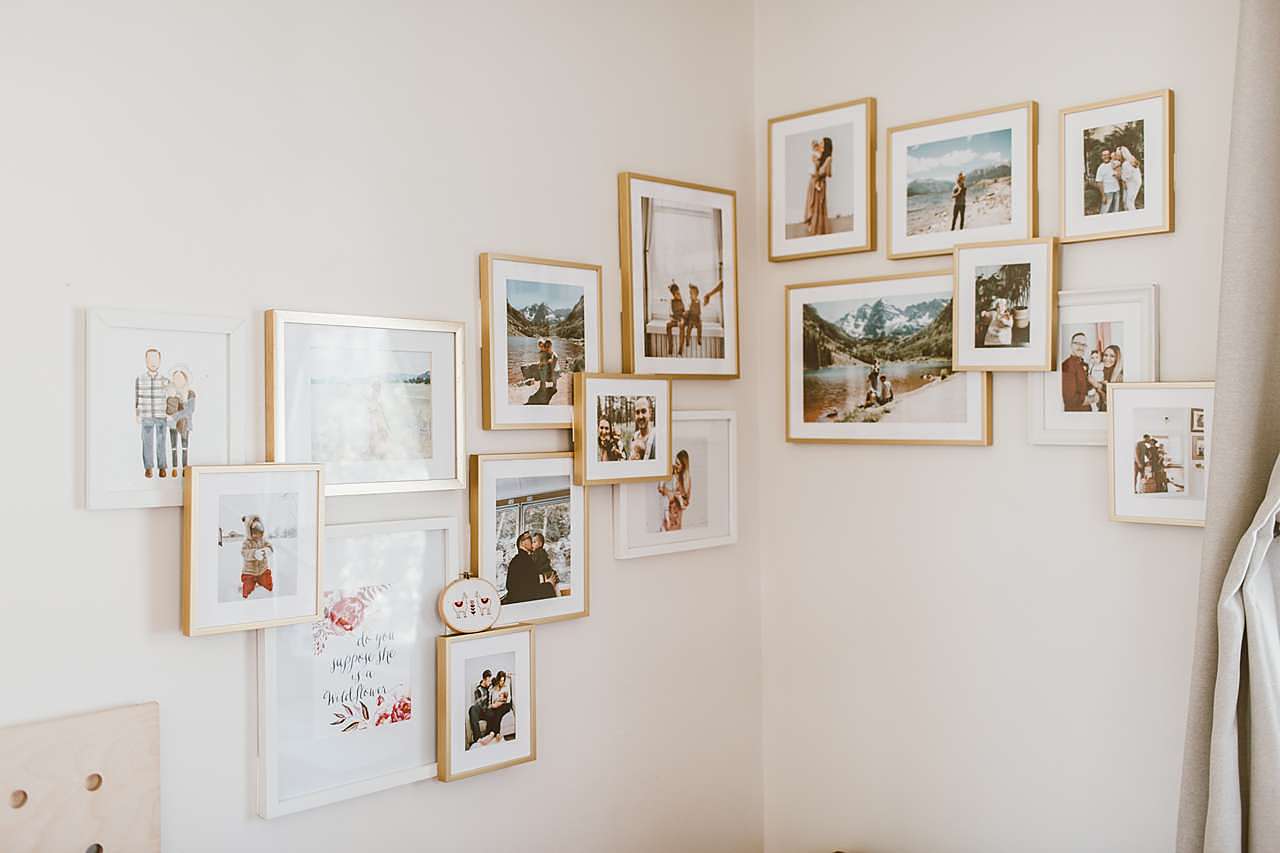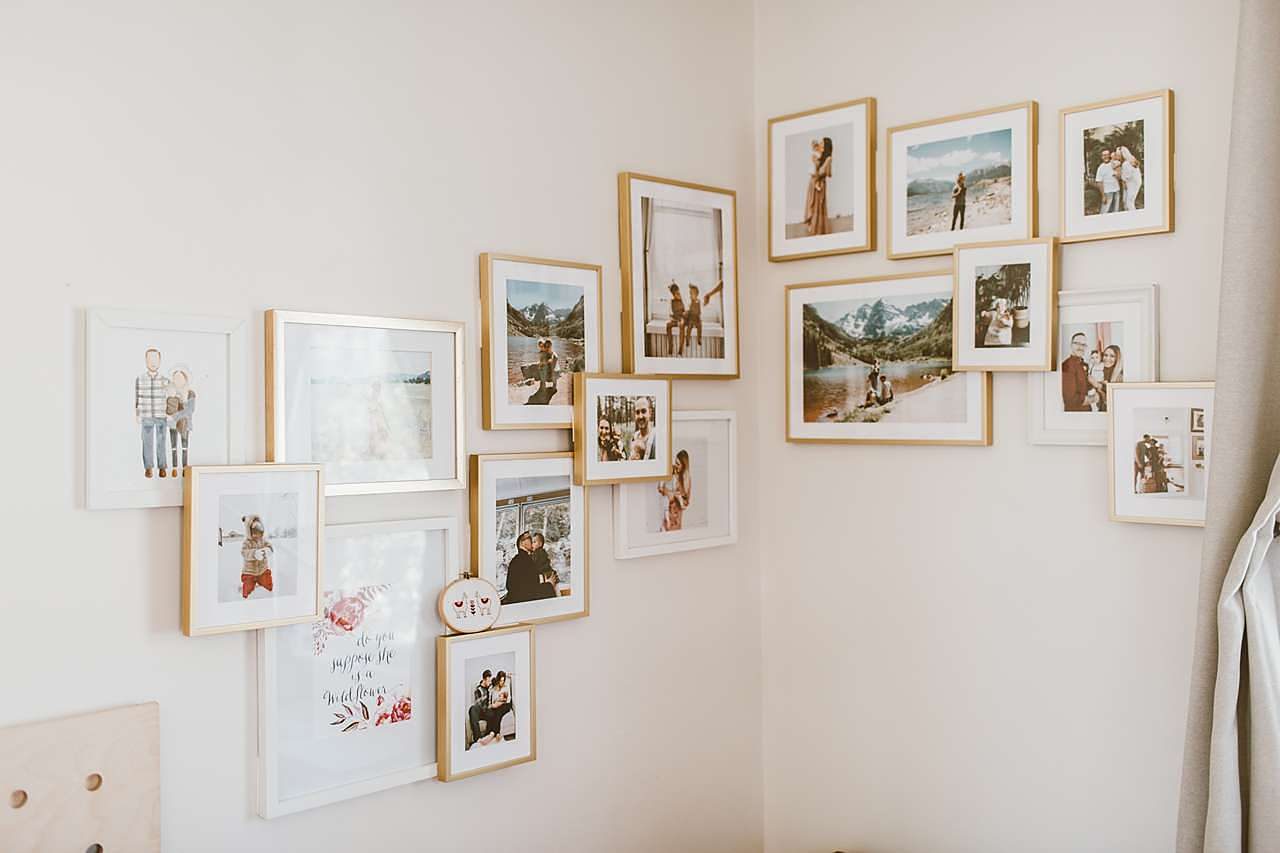 To find out how some of our favorite customers have created their layered gallery walls, check out @camelotartcreations Instagram story highlights, or read about Stephanie Pollack's room reveal.
3. On a Shelf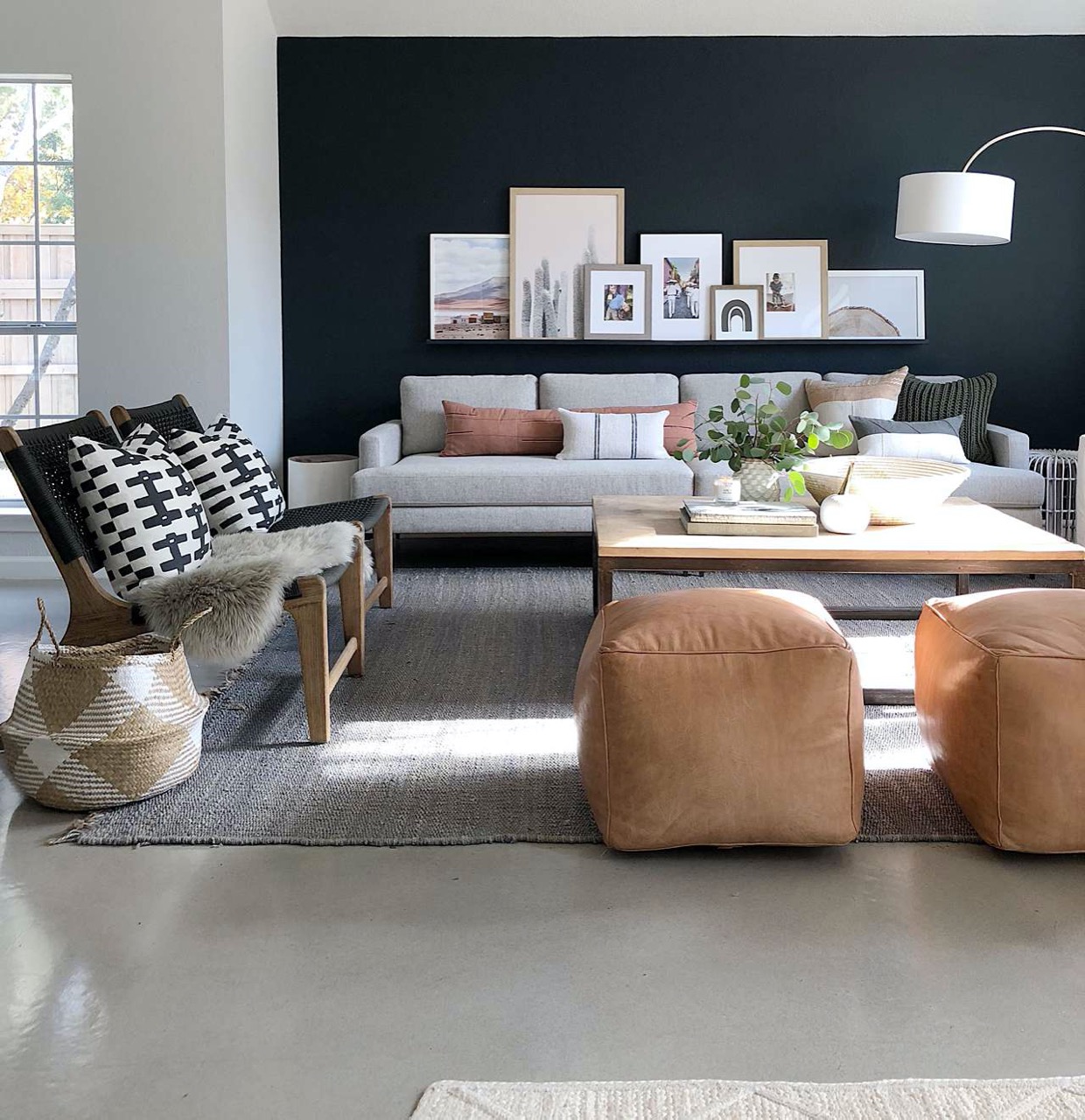 If you don't want to hang your frames up, there is an easy solution — shelves! Shelves are a great way to get creative with your decor. You can mix and match your decor items, switch up the frames as much as you'd like, and they won't take up that much space in your home. That means you can switch up your decor depending on the season, holiday, or just for fun!
Whether you want to style your frames in a neat manner or stack one in front of the other, adding shelves to your room is a great idea to make your decor even more unique and eye-catching. Consider adding all black frames with white matting combined with black letters and other accessories to make a stunning statement. Or try frames and items of varying shapes, sizes, and colors that complement one another can make an eye-catching display. Your shelves don't have to be filled with just frames, however. Try adding things like plants, mirrors, vases, candles, or books to your shelves to really create something special.
As we mentioned, shelves are great for adding decor items in small areas in your home because they don't take up much room. When hanging your shelves, consider the height at which you will hang them so it doesn't become a constant worry with people bumping into them, hitting their heads, or knocking something over.
Even or Uneven?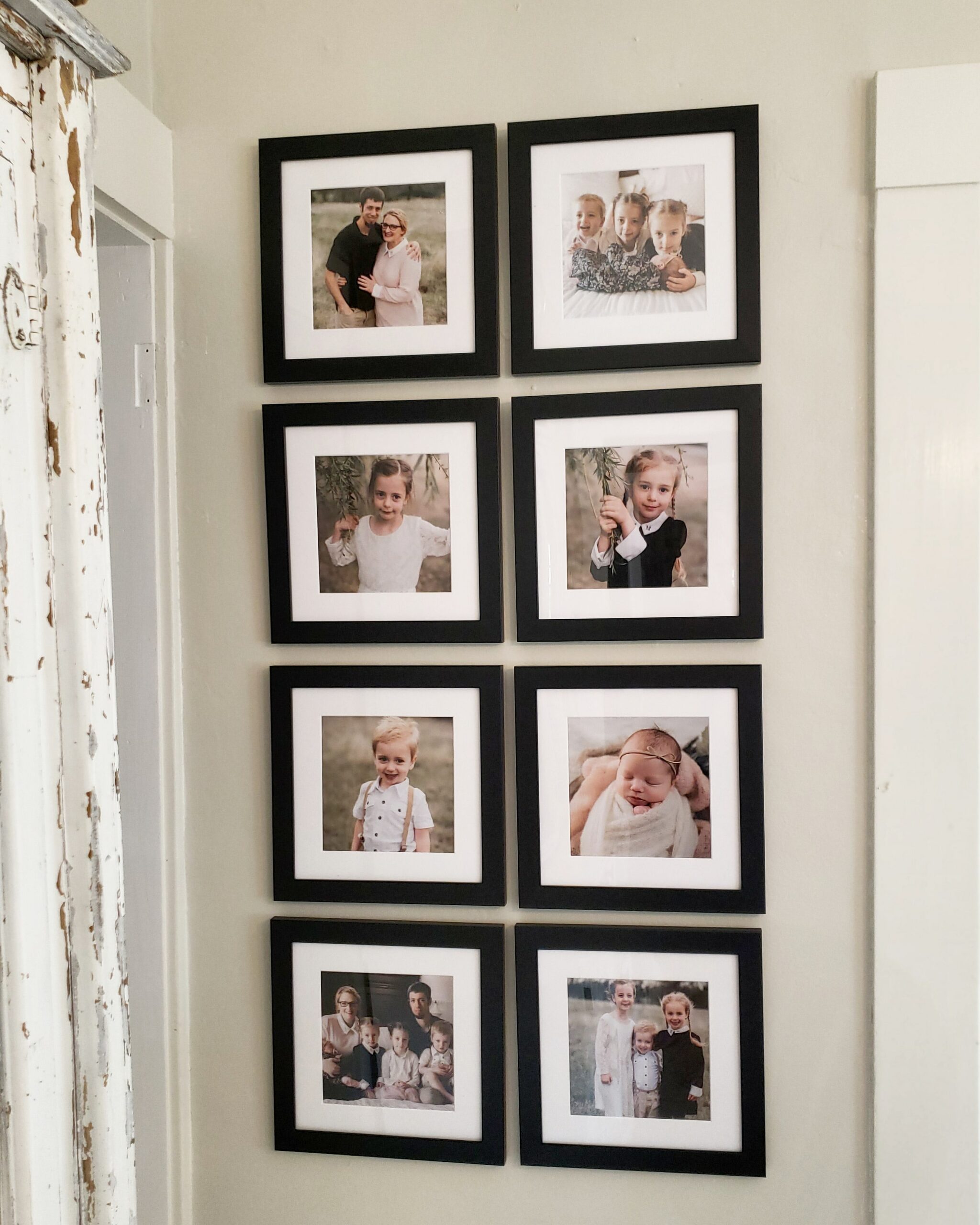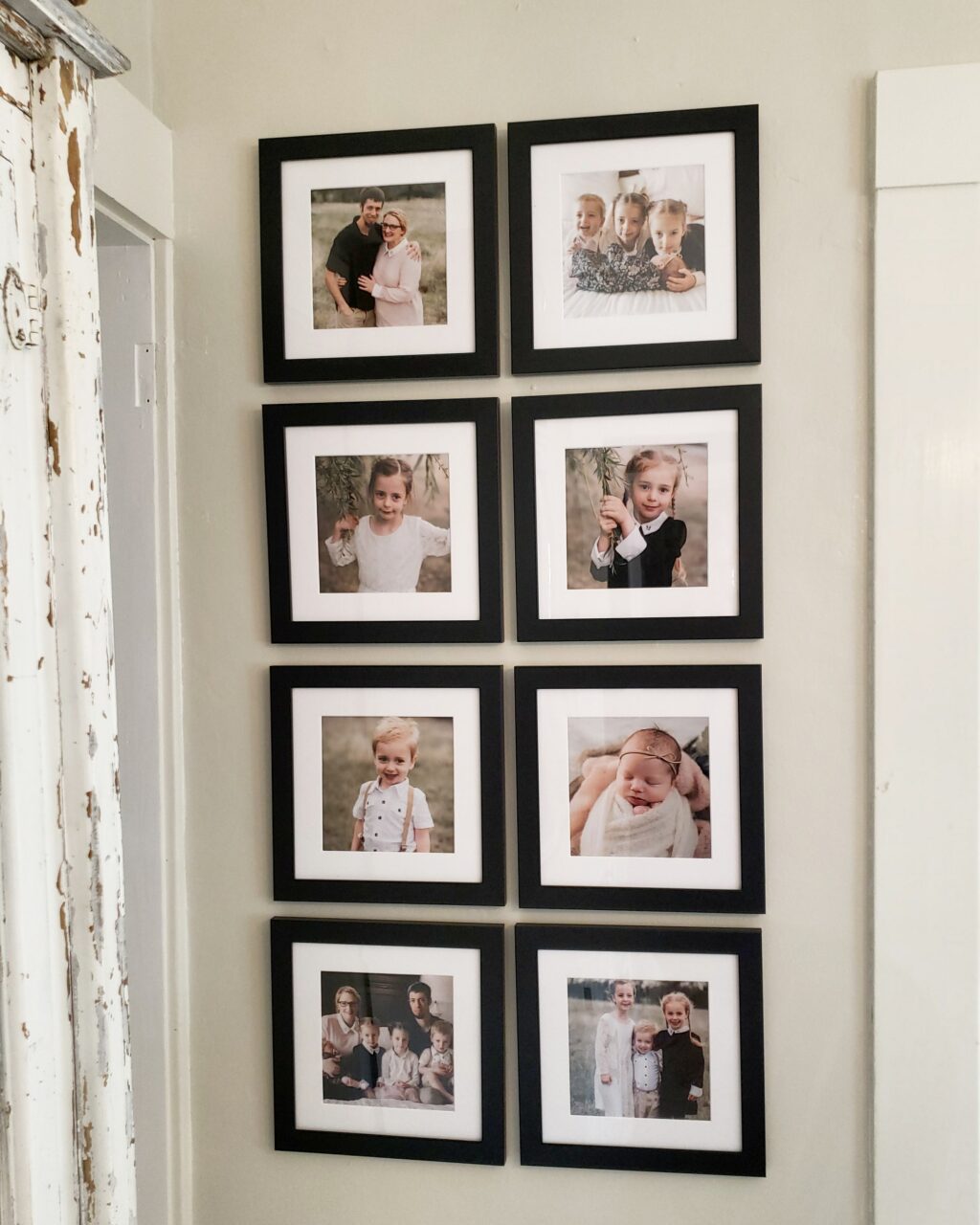 There are pretty much an infinite amount of possibilities to consider when framing your art and photos. Frame hanging is just one of many things to consider. You could have an office, or professional-type location that you want to look orderly. In cases such as this, you'll want to go with a more orderly look. But if you're framing a boho-styled home, maybe you'll want to make things more uneven. In the end it's all up to you!
As you know, we love seeing our customer's gallery walls, orderly or otherwise. So if you have something you want to share with us, just be sure to do so on our Instagram. We always love seeing what you're doing with your home decor.
This post first appeared as Frame Hanging Tips: Spacing And Arranging Your Frames on Frame It Easy - Learning Center for Custom Picture Framing.