When it comes to decorating small spaces, you definitely have to put more thought into what you will use. It's important to consider not only the walking space but also the space on your wall. Adding too much furniture and decor can make your space look cluttered and tight. You'll need to find the right balance so that your space not only looks good but feels good too.
You want to make sure that you are comfortable in your space, and of course, a part of that is decorating the way you want to. So as we always say, take these suggestions as exactly that — suggestions. It's your space, so do whatever you feel is right!
So let's go over some uncommon tips when it comes to decorating your small space!
Decorating Small Spaces #1: Consider The Visual Weight of Furniture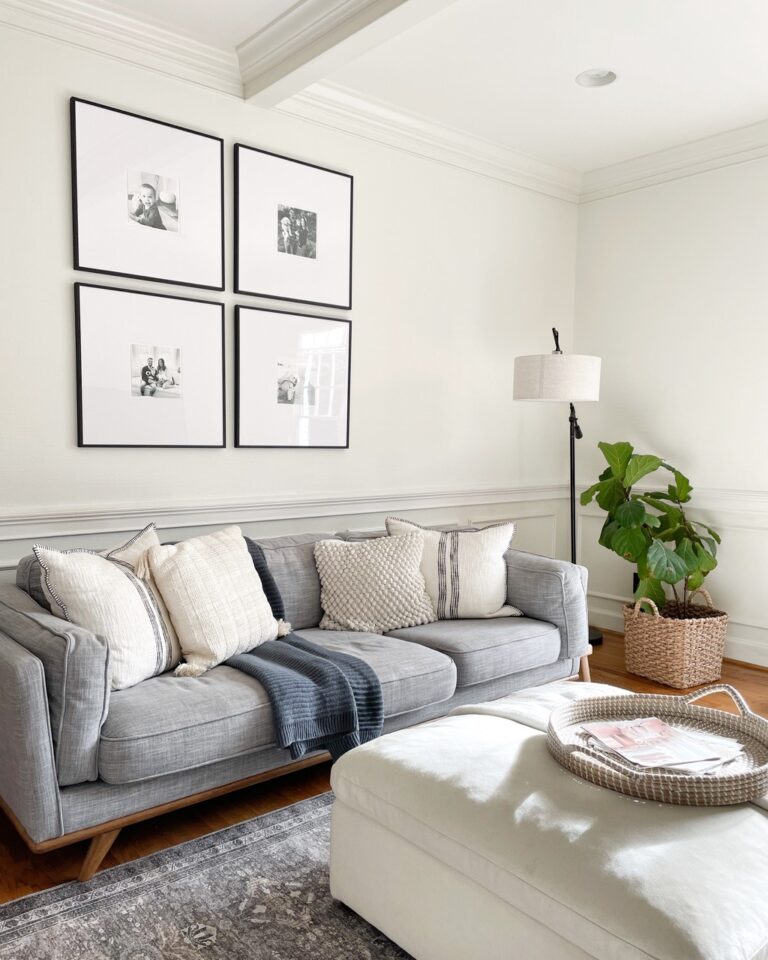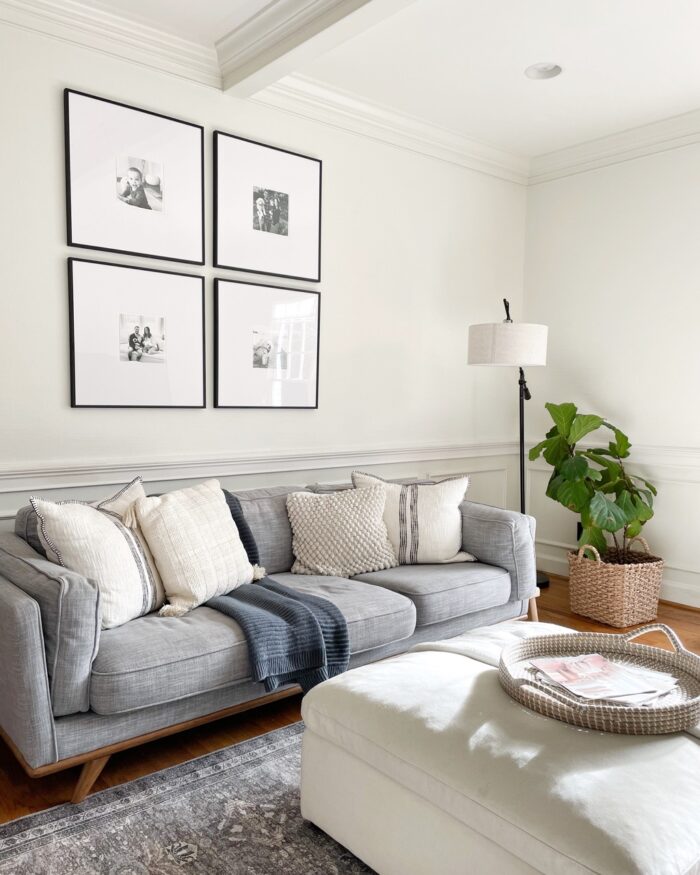 The visual weight of an object has to do with the way our eyes interact with the object and are attracted to it. In other words — how much your eyes think an object weighs. Bulkier items automatically are perceived as heavier in our eyes, whereas sleek, thin items, are considered lighter. But it's much more than just how heavy an item looks, color, pattern, texture, shape, and proximity also play a part in how much an item visually weighs.
With that being said, you want the items in your room to balance each other out and create a comfortable room! Too many "heavy" items can make your room feel over cluttered and crowded, too many "light" items can make it feel like your room isn't complete or bare. You want to get a nice combination of both. If you go for a bulkier couch, consider getting a sleek coffee table. Be sure to distribute items of different "weight" evenly throughout your room to keep it even.
Decorating Small Spaces #2: Avoid Patterns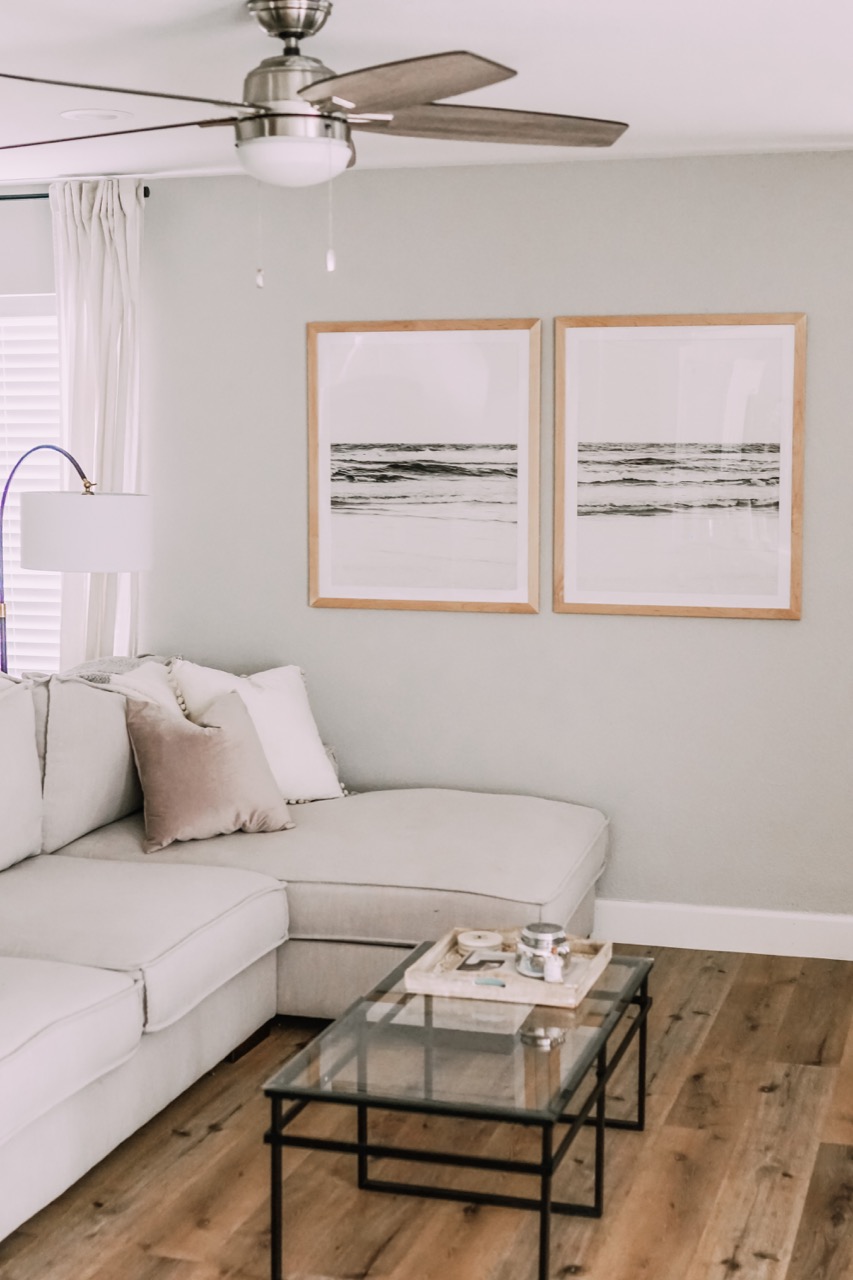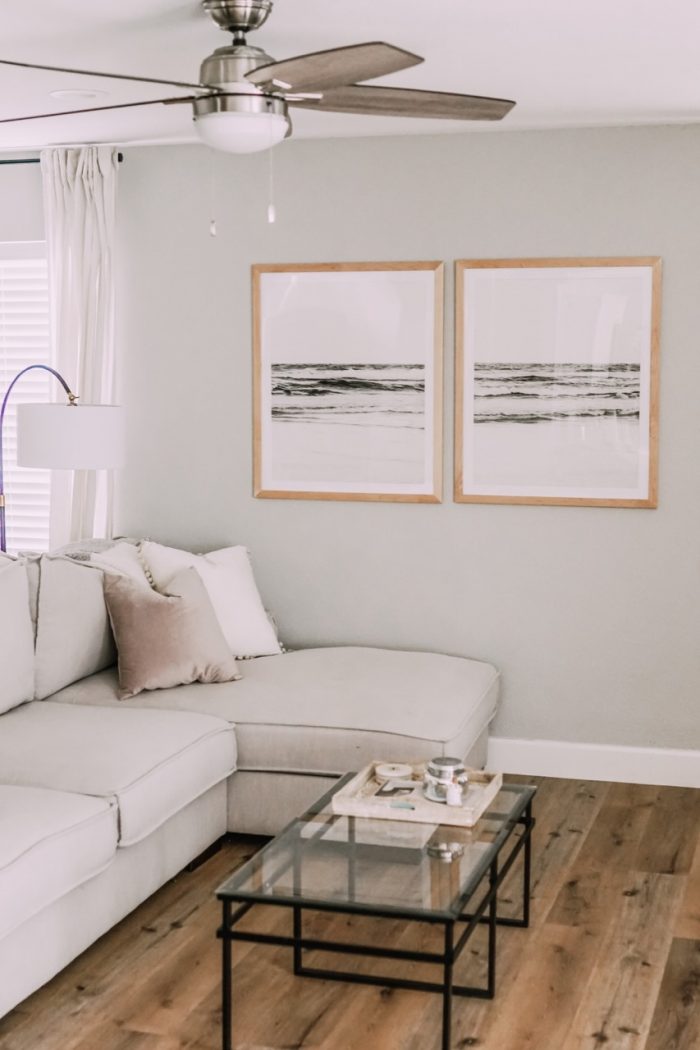 Sometimes, patterns can be a great way to express yourself through home decor. Polka dots, stripes, chevrons, there are so many patterns. And while they are fun, they could make your space feel overwhelming, and in turn, cluttered and smaller.
Instead, opt for solid colors to use around your space. Pillows, throw blankets, wall art, and other decor accessories can help bring your space together, without making it feel jumbled. Muted colors are a popular trend in 2022 that will help elevate your space so look at watery blues, taupes, and greens as well as deep, rich teal or citron colors such as Citron 2024-30 from Benjamin Moore.
Decorating Small Spaces #3: Use Mirrors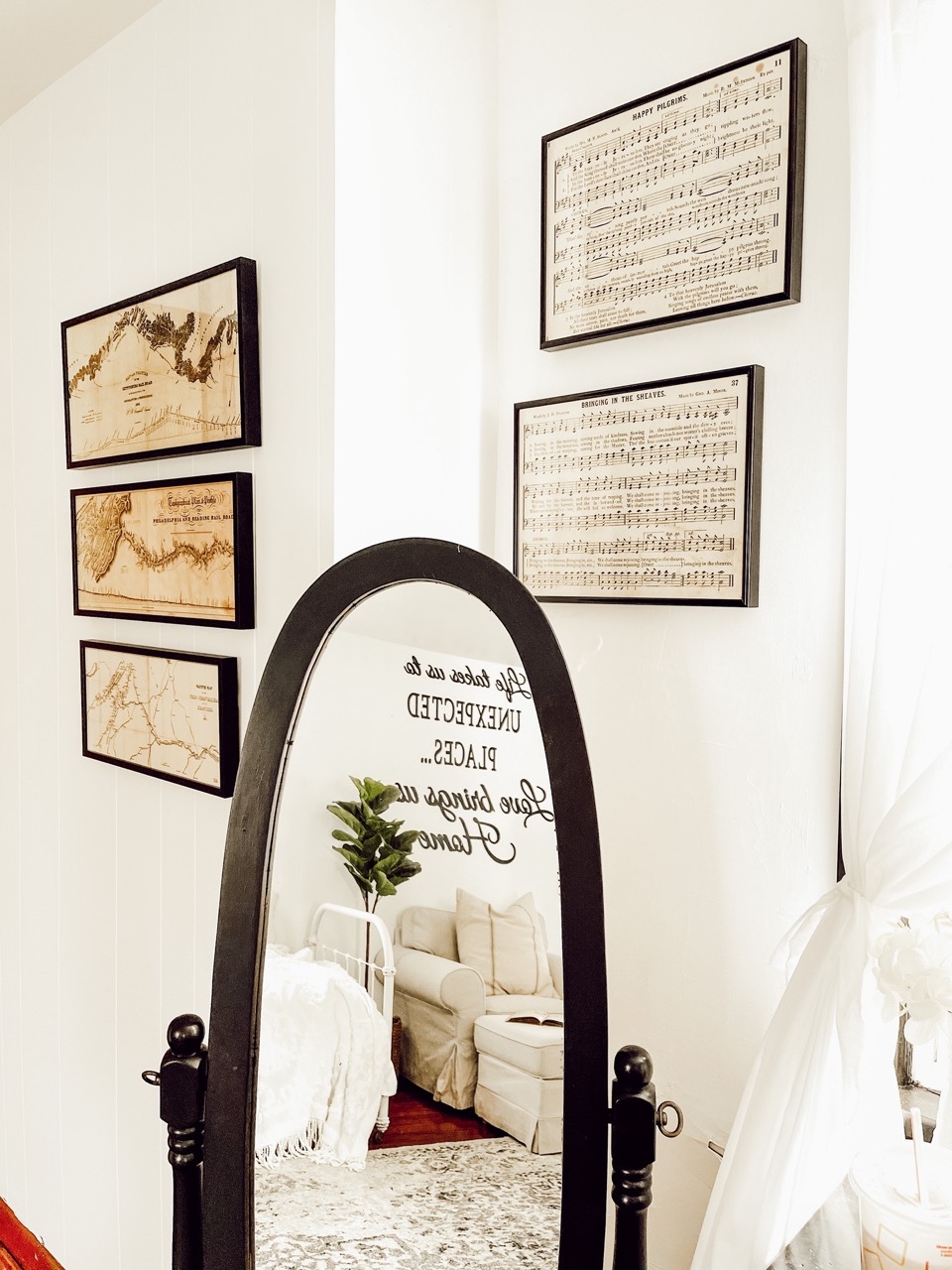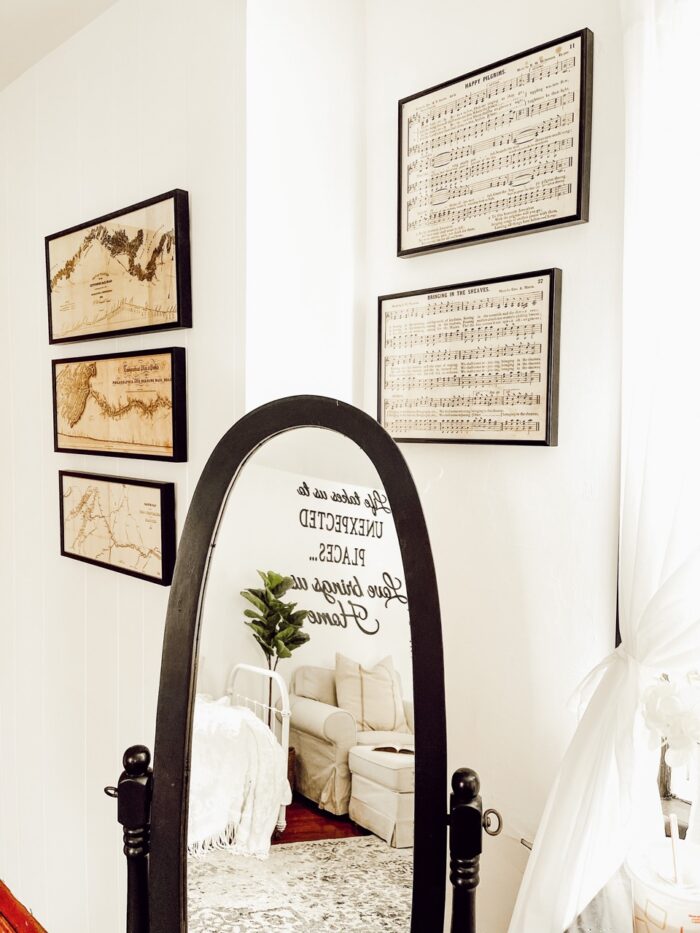 Sure, they're great for decoration, but they can also make your room appear bigger. As the saying goes "the bigger, the better" and this remains true with mirrors. Mirrors can expand your walls, break up any clutter, and boost the light in your room. There are many ways to add mirrors to your room. Wall mirrors, standing mirrors, a mirror above your fireplace or bedroom dresser — the possibilities are endless!
Decorating Small Spaces #4: Use Transparent Items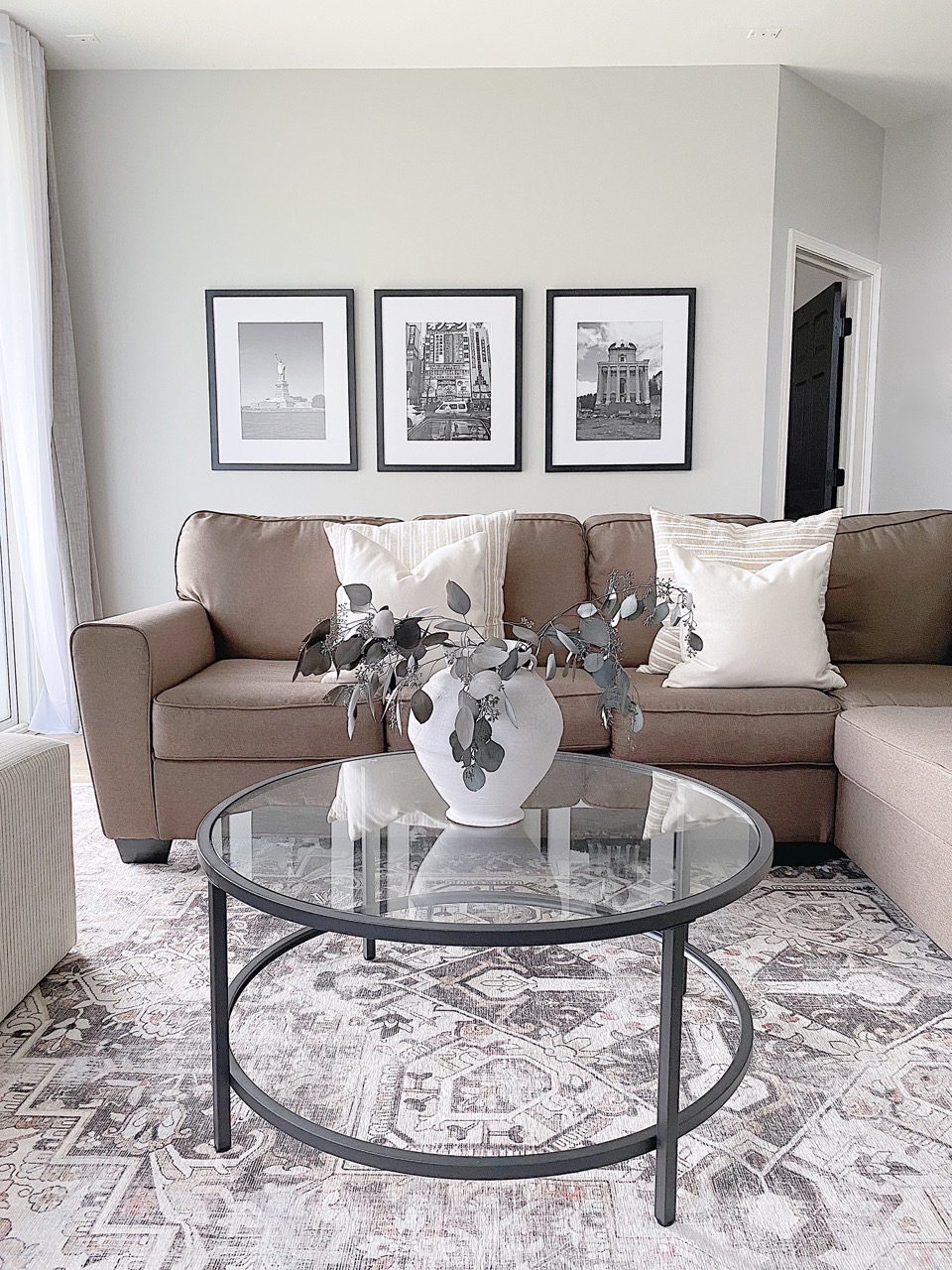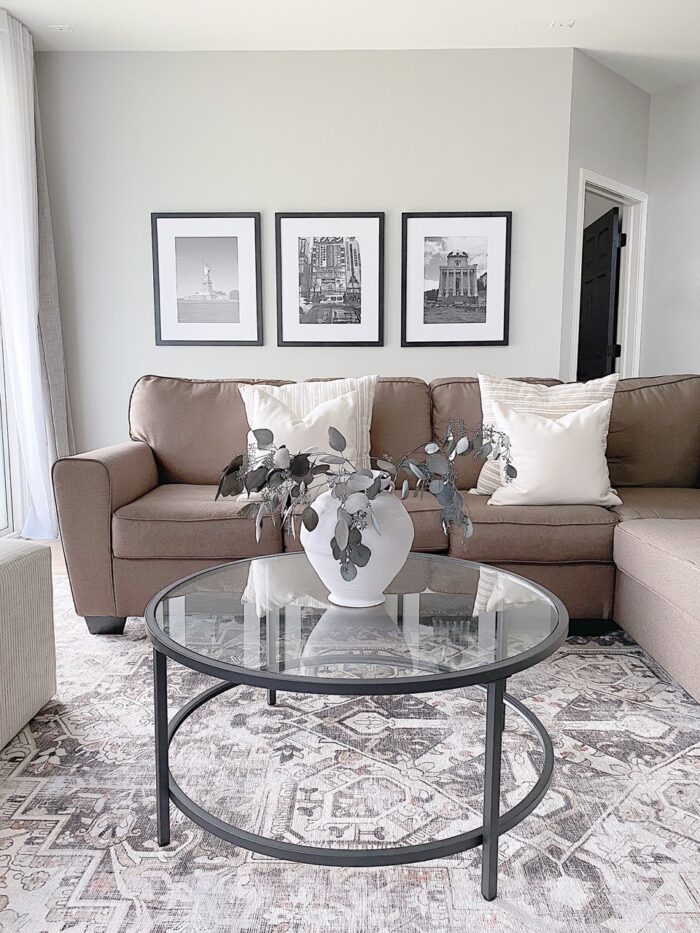 The use of transparent items has the same effect as balancing out the visual weight we talked about in the earlier section. Consider purchasing a glass table for your dining room or a glass entryway table. The use of transparent items gives off an "invisible" look to your space, so while it is still there and is functional, it won't be getting in the way of anything, so to say.
Decorating Small Spaces #5: Storage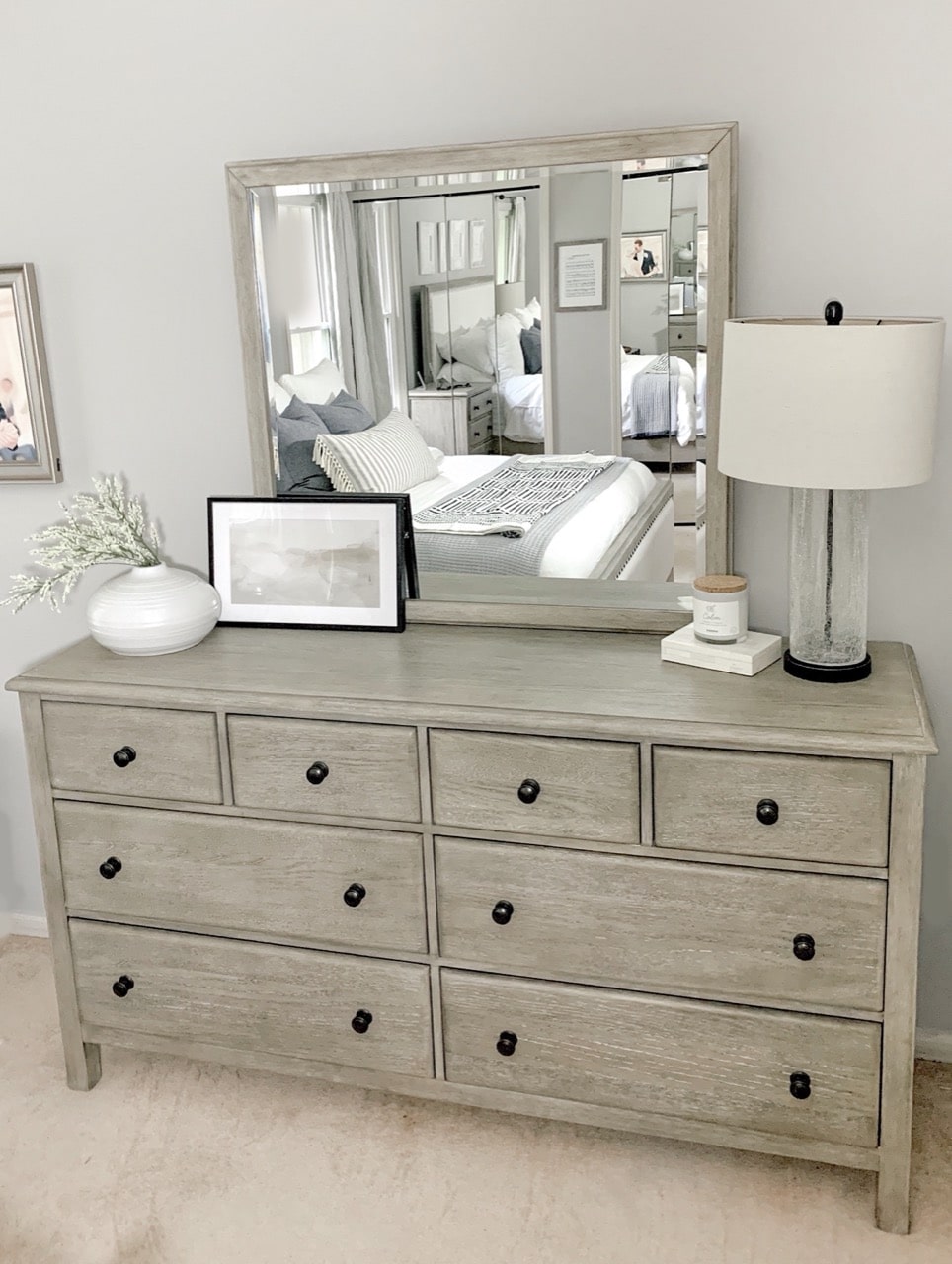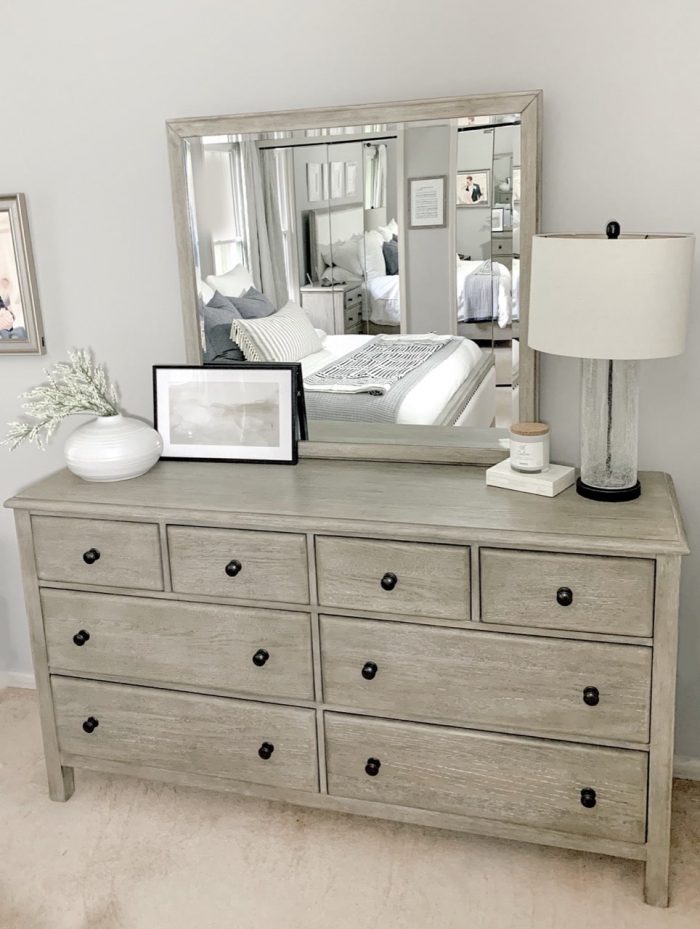 If you've been to our Learning Center before, we've talked about the importance of storage, no matter how big or small your space is. Try to find items that will double as storage and functionality. Add an ottoman to your living room that opens and doubles as storage space. Consider adding more shelving and closet space to your rooms. The less you have out in the open, the less your space will feel congested.
Another way to optimize your space with storage is by adding built-in storage spaces that utilize as much space as possible. When built into the wall, you are using less floor space and it will make your space feel larger.
Decorating Small Spaces #6: Try Vertical Storage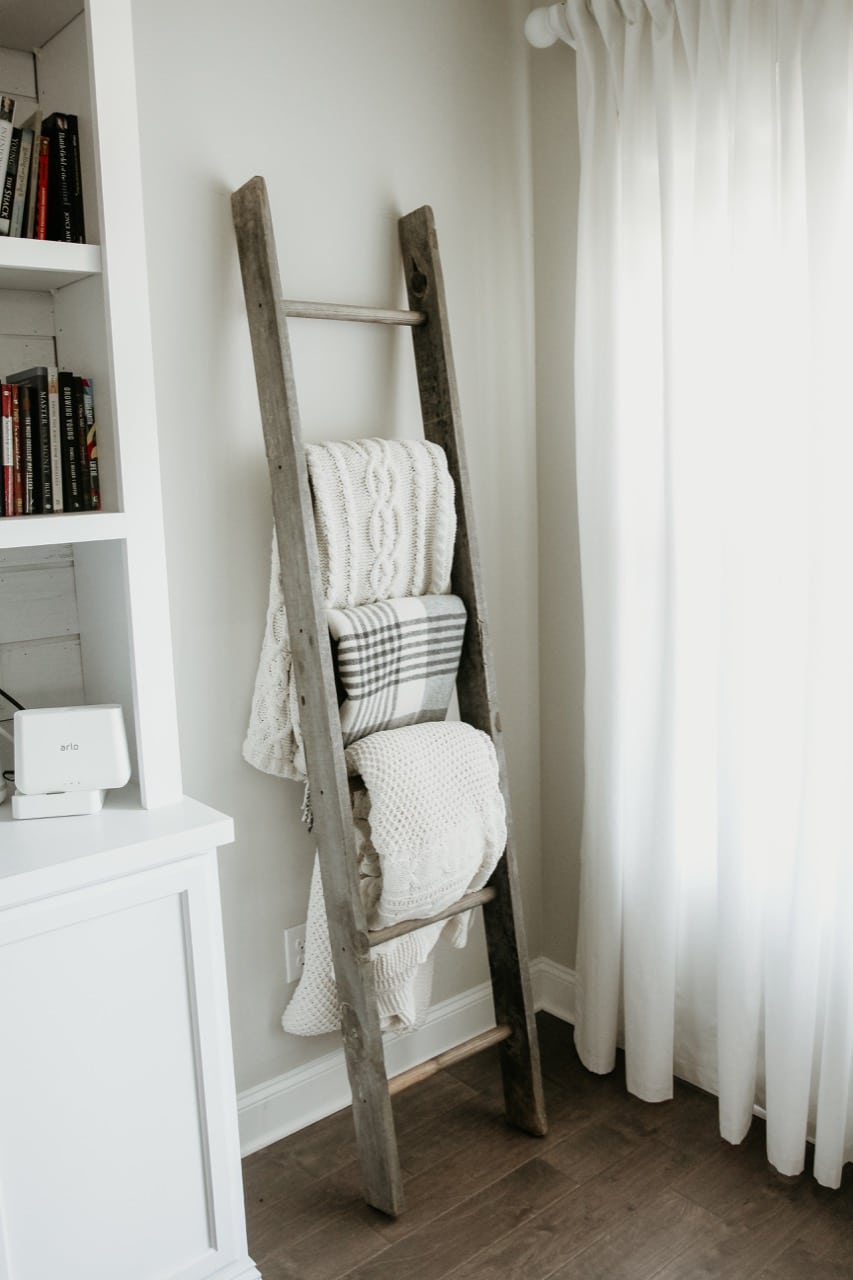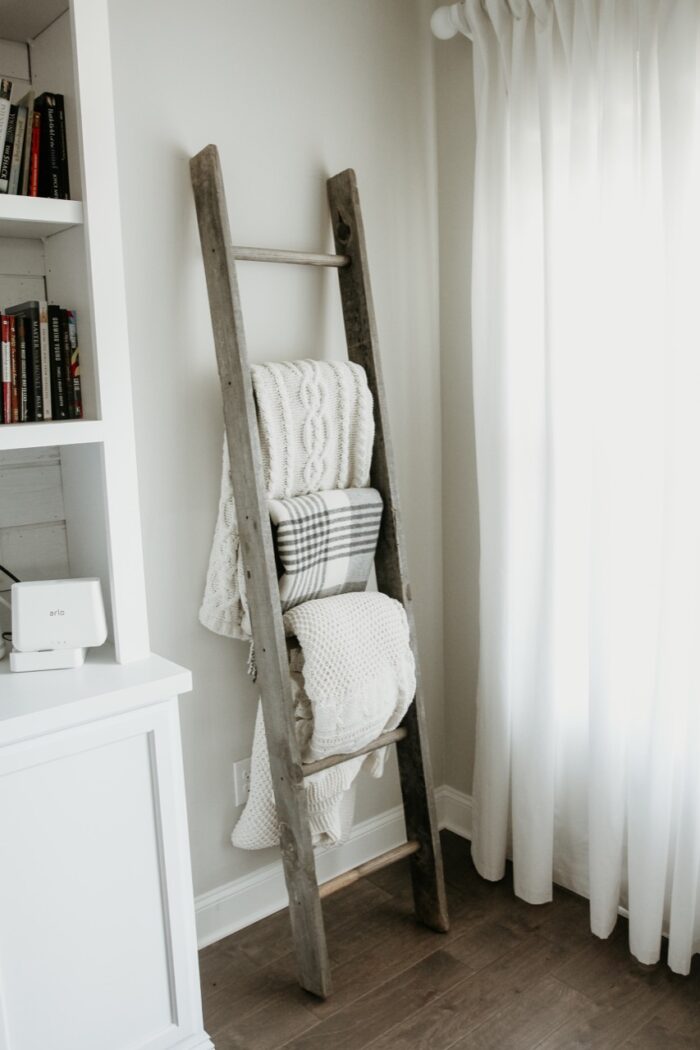 Speaking of storage, if you still need more, try vertical storage such as a blanket ladder, cubicle shelves, floating shelves, and the like. These allow for more space on your floor and less clutter all around. They also double as home decor, so it's a win-win for you and your space!
Try adding these items to the corner of your room to utilize as much space as possible. You probably would be leaving that space empty and open anyways, so instead, use it!
Decorating Small Spaces #7: Let The Light Shine In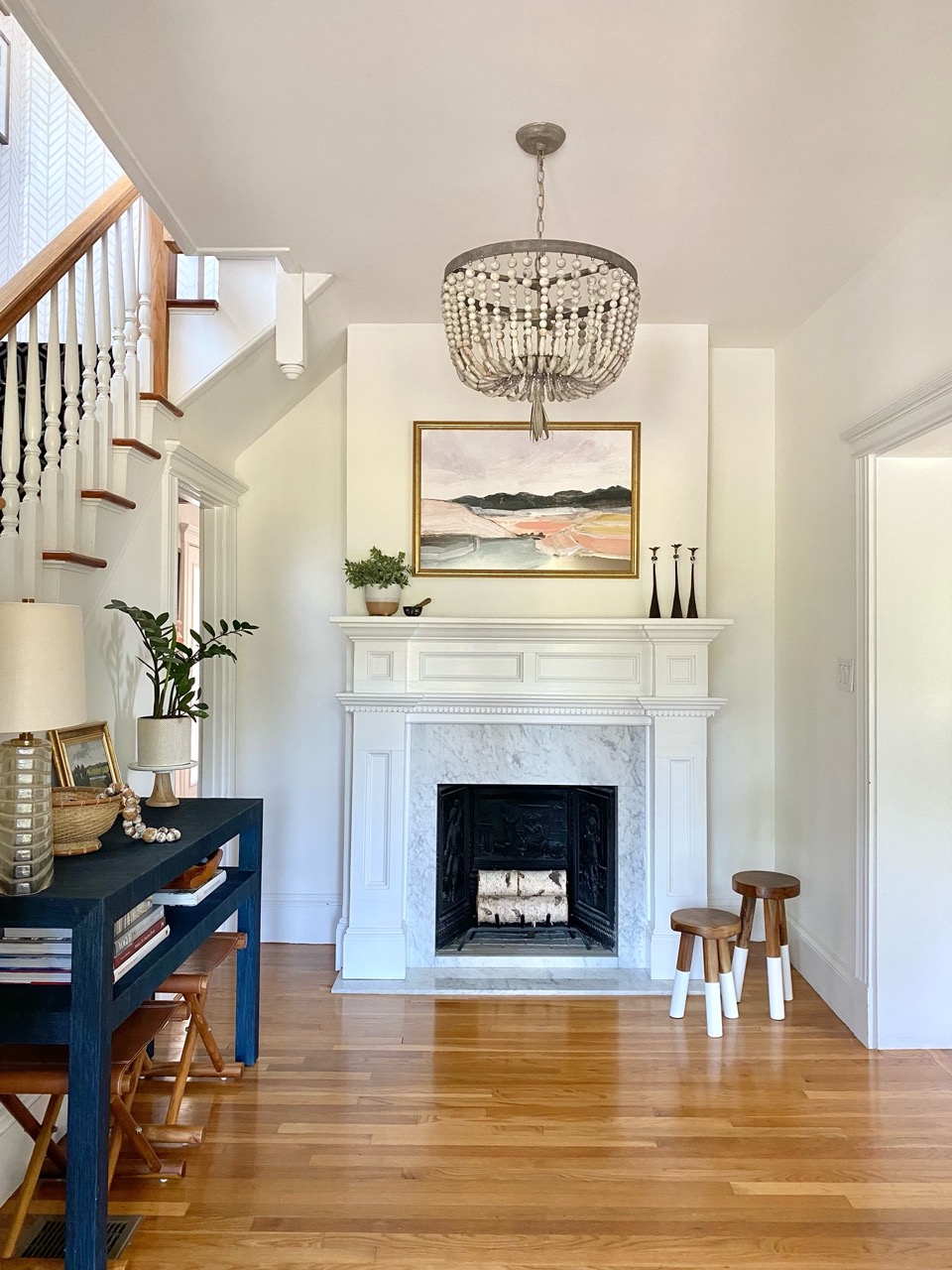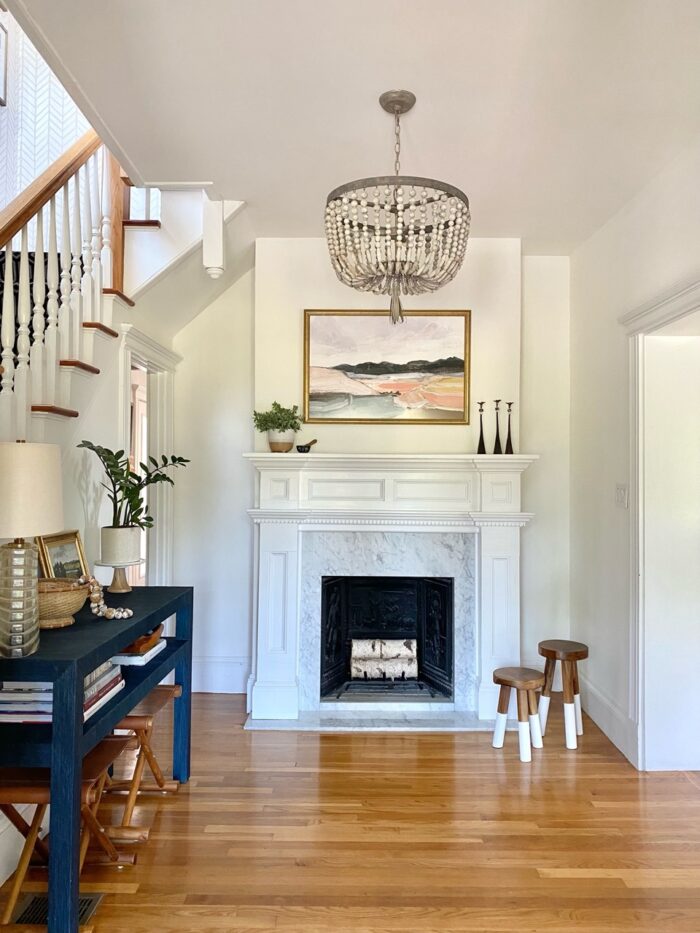 If you have large doors or windows in your room, you already have a major advantage. If you don't, that's still okay, don't fret, there are plenty of ways to bring light into your space. Light, whether natural or artificial, is going to make your space feel more open and airy.
While ceiling lights would work best since they take up practically no room, table lamps and floor lamps will also work if you are not satisfied with the natural light you have throughout your space. Be sure that the lighting works for the different times of days you will need it to. If this is somewhere you read at night, make sure the table lamp will give you enough light to see what you are reading!
Decorating Small Spaces #8: Use Light Colors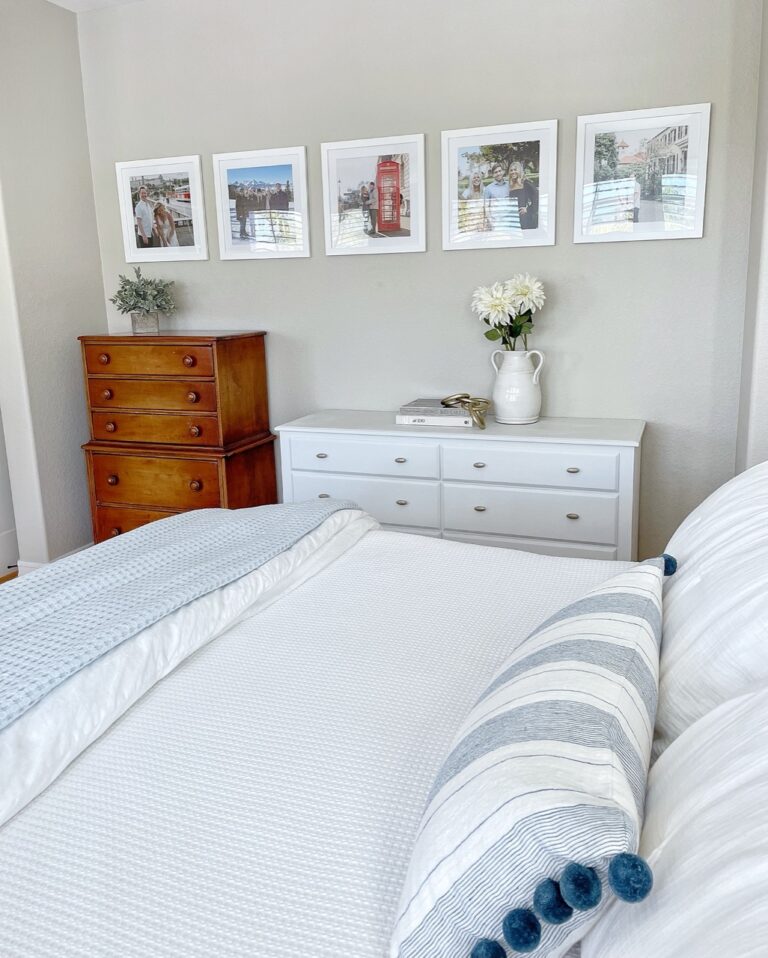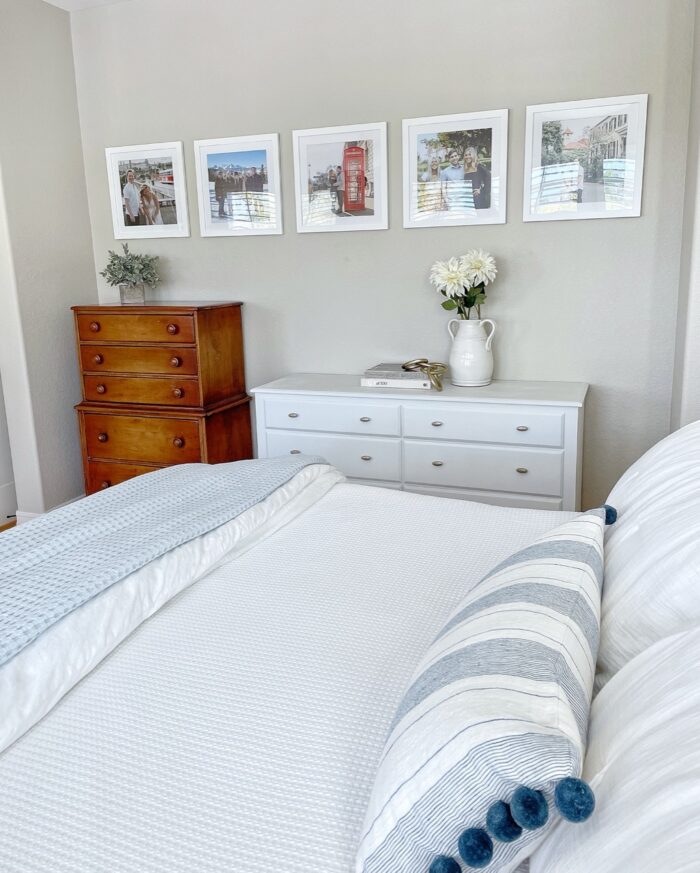 Speaking of light, light colors are beneficial for your small space because they will make your space appear larger. When decorating your small space, opt for light paint colors, light-colored furniture pieces, and other decor items.
White has a lot of power when it comes to making your room feel bigger. The white walls and white ceiling create a blur between the two, causing your eyes to travel up and not be able to distinguish where one ends and the other starts. This makes your room appear bigger because the ceilings seem taller than they really are. Using the color white on your walls essentially does the same thing as using tons of light. It makes the room feel open and airy. It also simplifies a room, and that's exactly what you will want to do in your small space.
Of course, you may be worried that your all-white room may feel bland or boring — but there are ways around that!
Decorating Small Spaces #9: Add a Pop of Color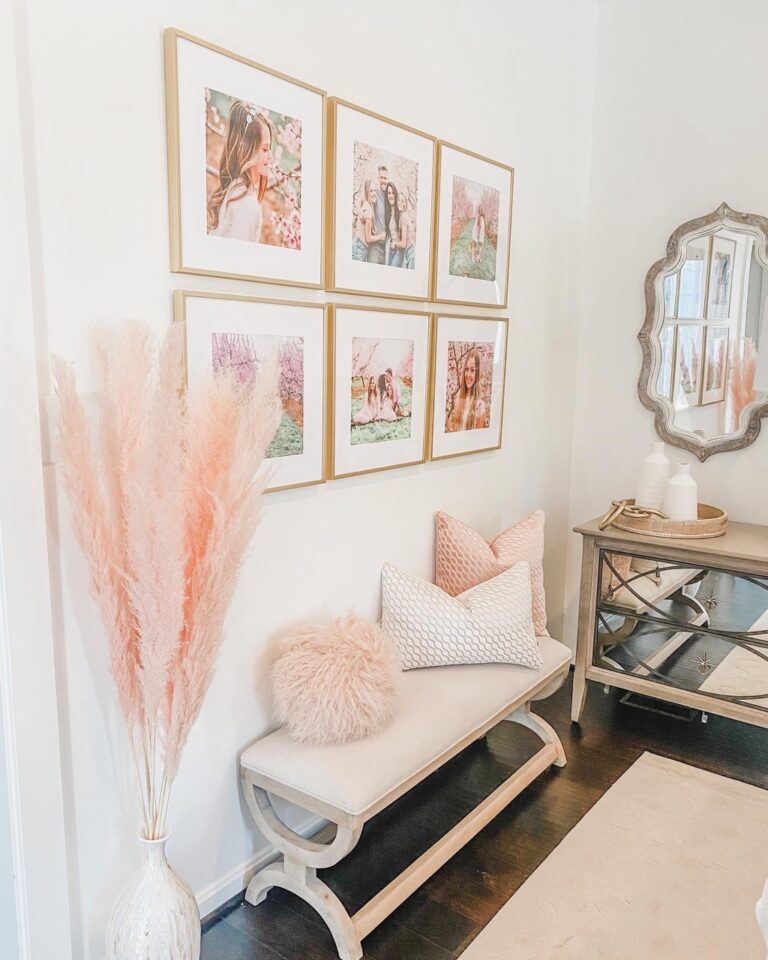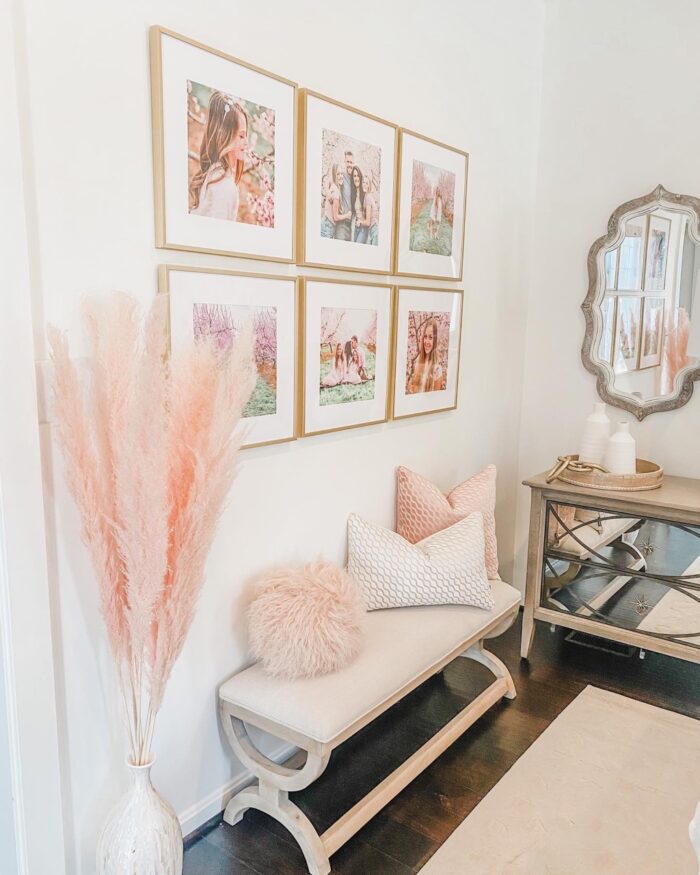 Now we know this may seem contradictory to the previous section, but for those of you who want to add bright colors to your room – it can still be done even in a smaller room. Try to incorporate some bold colors into the rest of your light or neutral room. This will bring some life into your room without being overpowering.
You can easily spice your room up with some accent pieces like colorful pillows or cozy throw blankets and of course, wall art. Now, this may be the only time we don't suggest going crazy with the wall art, only because you don't want your room to feel like it's closing in on you, but adding a picture frame or two will get the job done!
If you have some floating shelves on your wall, try adding some smaller art pieces to the shelves to give the room some dimension.
Decorating Small Spaces #10: Try To Lessen Your Floor Use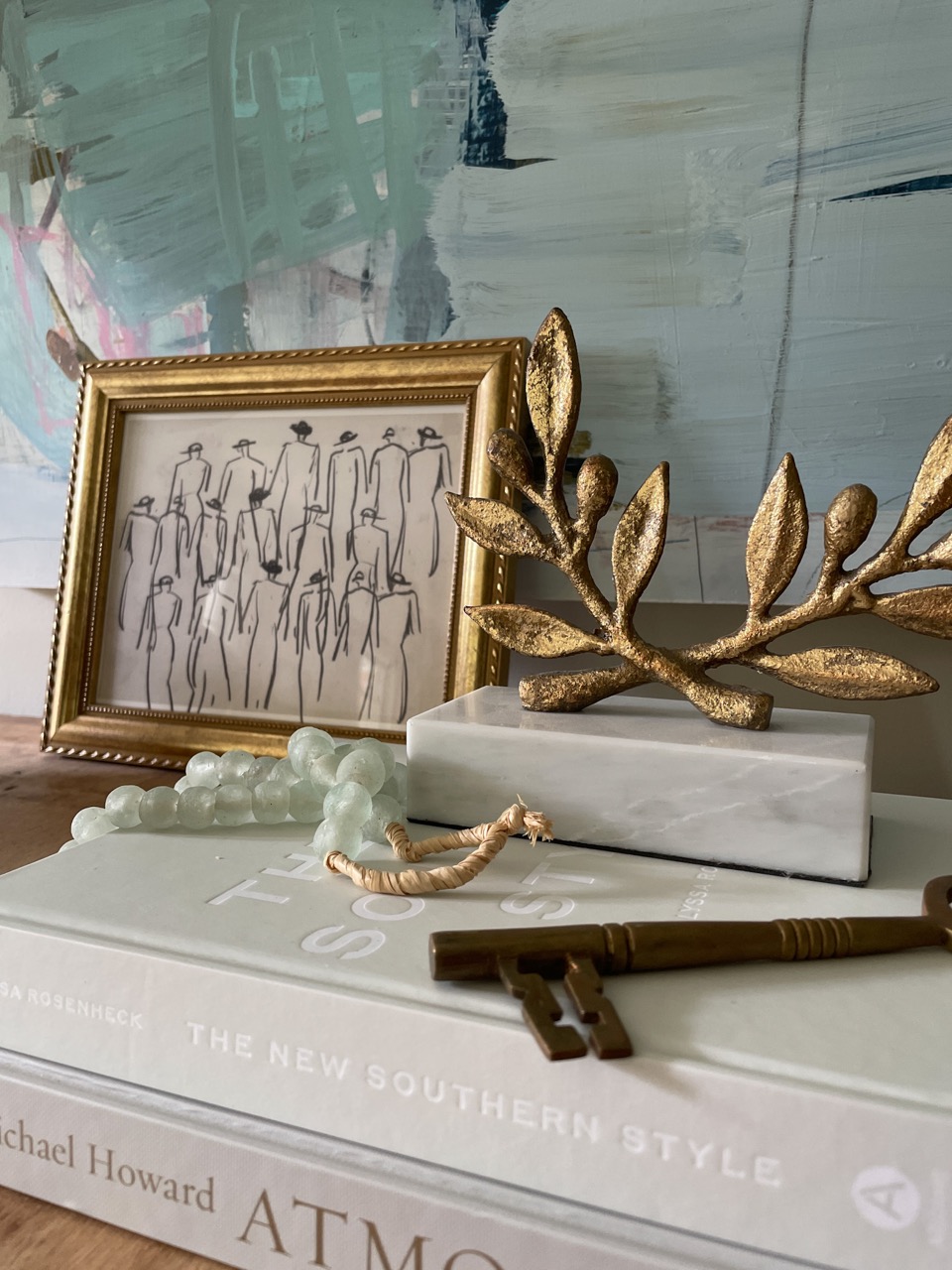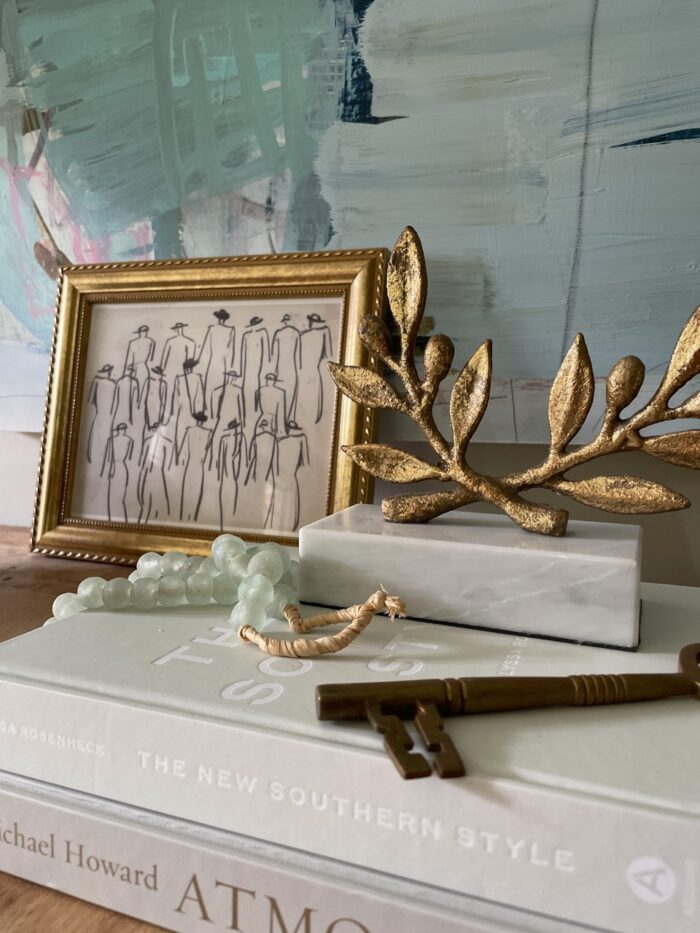 Have you ever walked into a room that has a lot of furniture pieces and felt cramped and overwhelmed? Even if it wasn't necessarily a small room, if there is a lot of floor space taken up, the room just won't work! Instead of floor lamps, end tables, and floor mirrors, try items that won't take up floor space. Try wall lights, floating shelves, and hanging your mirrors instead. This will create a lot more space for feet on the ground and will overall make the room feel less cramped.
Decorating Small Spaces #11: Space Your Things Out — Literally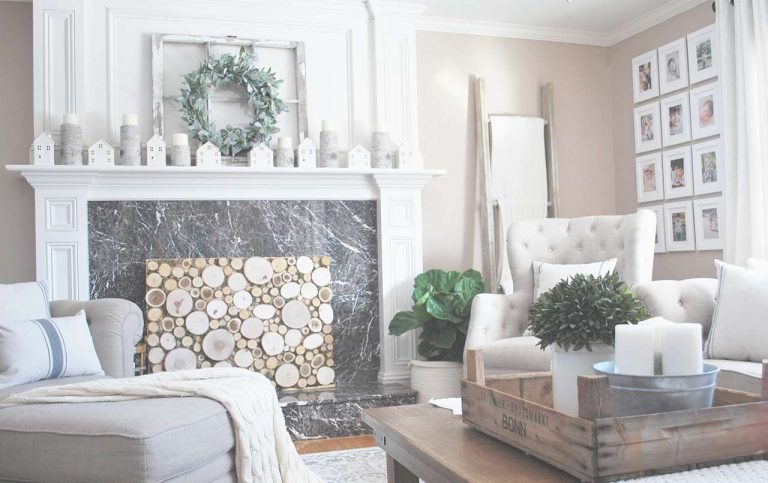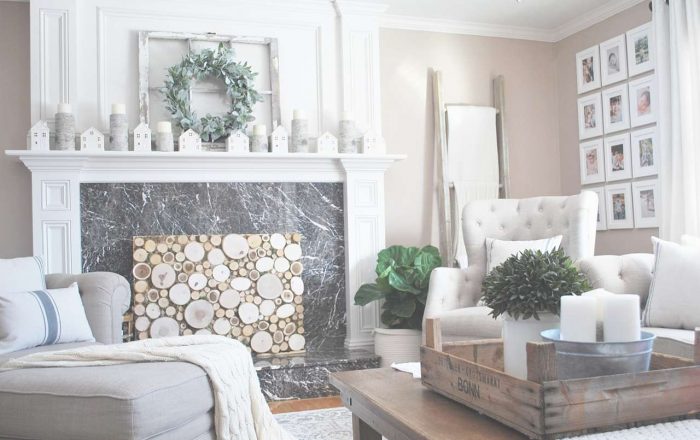 Just like people need breathing room, your furniture pieces do too! Don't have your coffee table and chairs right on top of each other, space things out to make the room feel larger. Try to space things out as much as possible and create an open layout in your space.
You won't want to add too many items to your room since this will make things feel cluttered, so for the pieces that you do have, try to allow a comfortable distance between them, while still making things, well, comfortable. If you're living in an apartment, spacing things out is easier said than done. Check out more tips on making an apartment feel bigger and start living clutter free!
Decorating Small Spaces #12: Add a Rug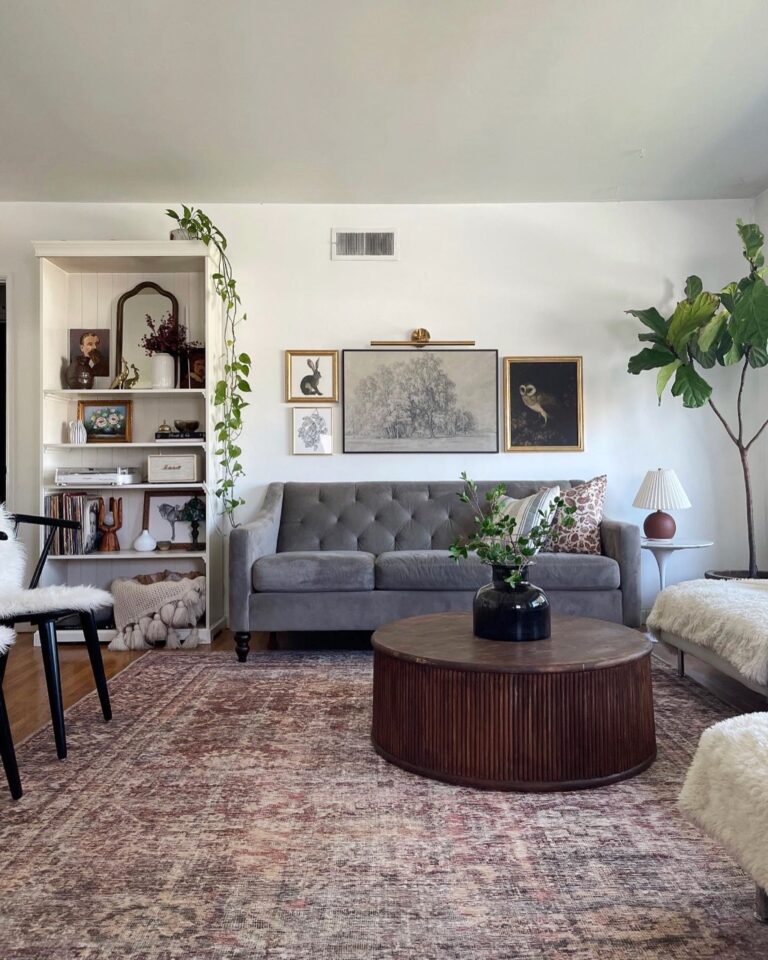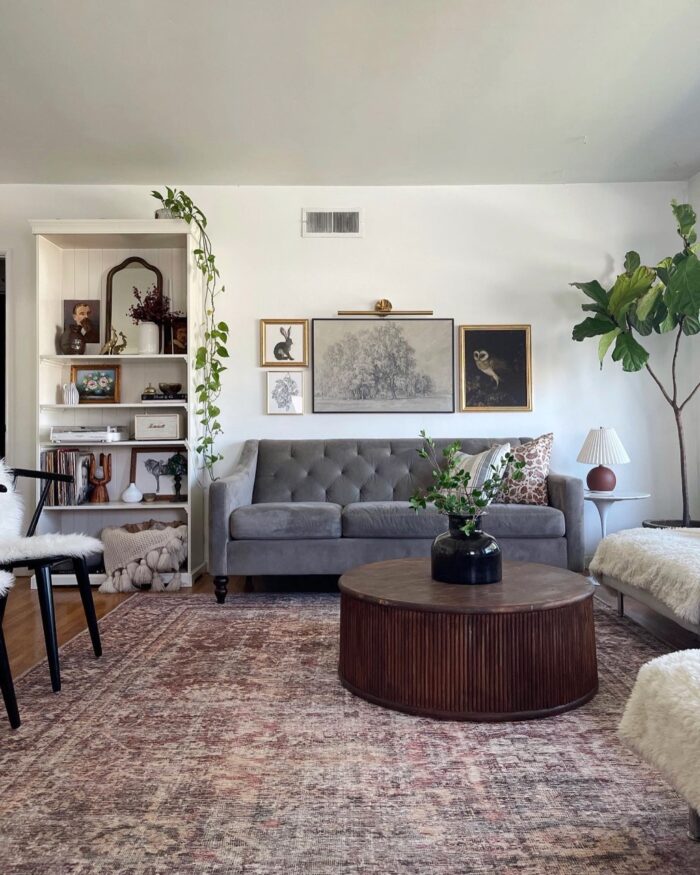 When it comes to decorating a smaller space, the main objective is to trick the eye into seeing more than there actually is (i.e. the use of mirrors). This is also true for the rugs you add to your room. The rule of thumb is that at least the two front legs of your couch or chair should be able to fit onto the rug and for items such as a coffee table, the rug should extend 12 to 18 inches past the furniture pieces.
When choosing a rug for your small space, try to choose a rug that is bigger than what you actually need. This will trick the eye into seeing a larger room. Then you will be able to hopefully fit all of your furniture pieces onto the rug.
As for the color of the rug, we recommend sticking to something neutral or a solid color. This will make the room feel spacious, regardless of its size or what items are taking up space in the room.
Decorating Small Spaces #13: Use A Minimalism Interior Design Style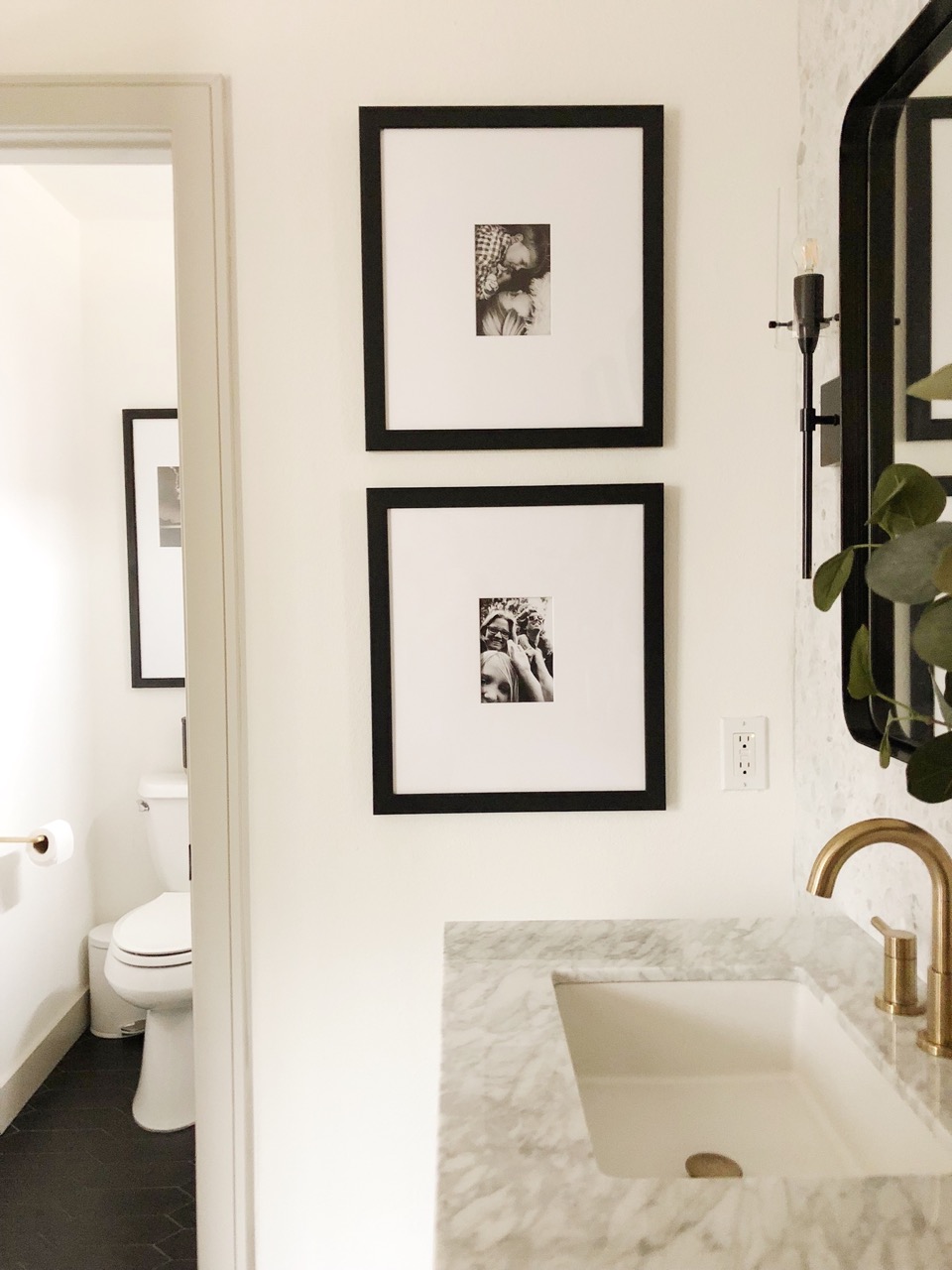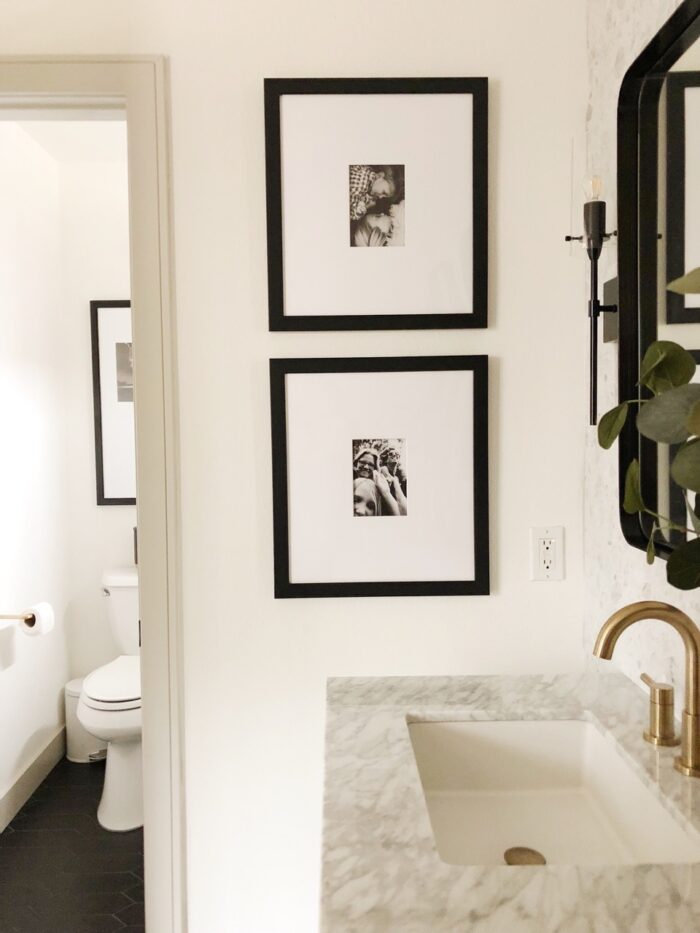 The minimalist home decor is exactly what it sounds like. Clean lines, neutral color palettes, and simple finishes to your decor. Minimalist home decor started in the 1950s as an art movement and follows the "less is more" concept. The minimalist interior design style is the perfect design style for a small room because it will allow your room to feel complete, without having too many items overcrowding your space.
Final Thoughts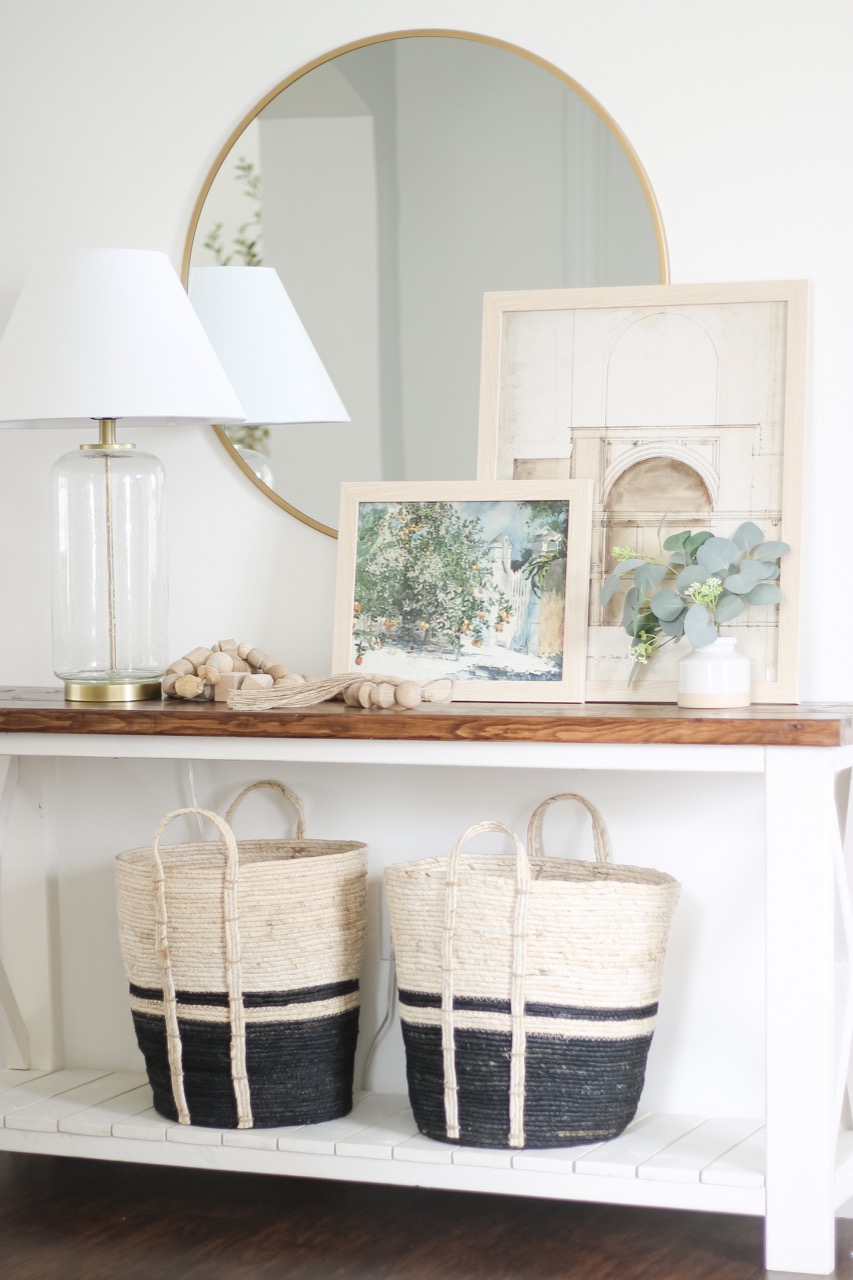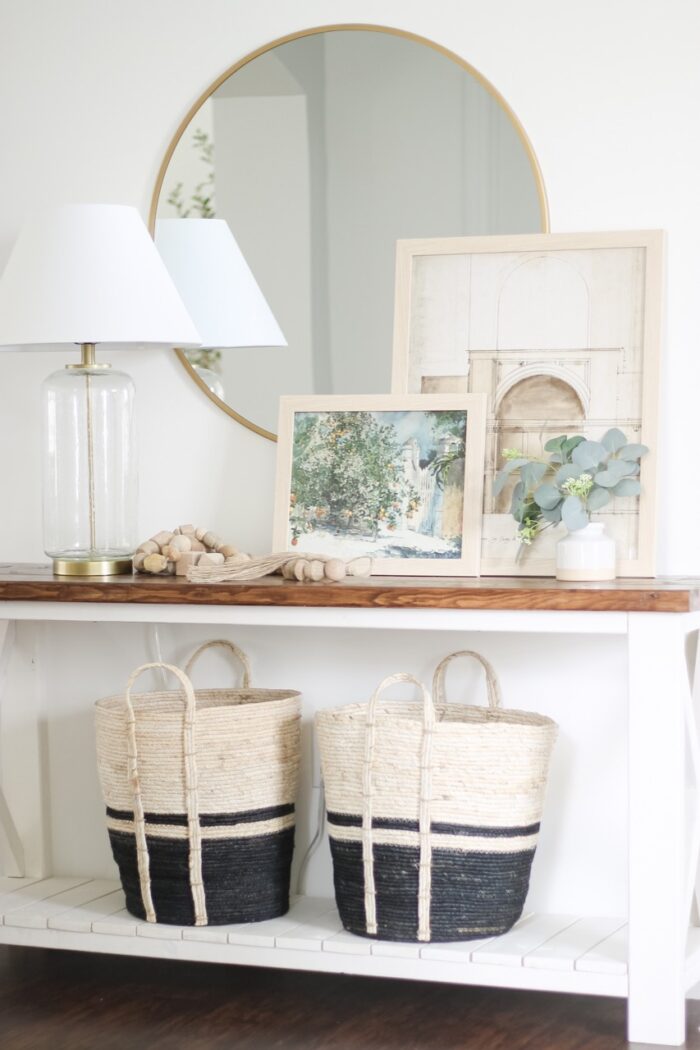 We understand that decorating your small space can seem tricky, but it doesn't have to be! Follow these simple tips and make the most out of the space you do have! If you followed any of our tips and added them to your space, be sure to share photos with us on social media. We look forward to seeing what you have created!
This post first appeared as 13 Tips For Decorating Small Spaces In Your Home on Frame It Easy - Learning Center for Custom Picture Framing.