When gothic home decor is mentioned these days it's hard not to imagine skulls, bats, ravens, and other novelties you may find at a Halloween store. Although spooky season is right around the corner – the historical gothic decor is quite elegant and theatrical! No skulls or spider webs required (unless you're into that! 💀🕷)
The Victorian Gothic style comes from the Gothic Revival movement of 19th century England. Mixing medieval architecture, Romanticism, and 19th-century literary themes (think Dracula and Frankenstein). Dramatic atmospheres and lushly romantic compositions envelop any room styled in this fashion. (No creepy haunted houses here!)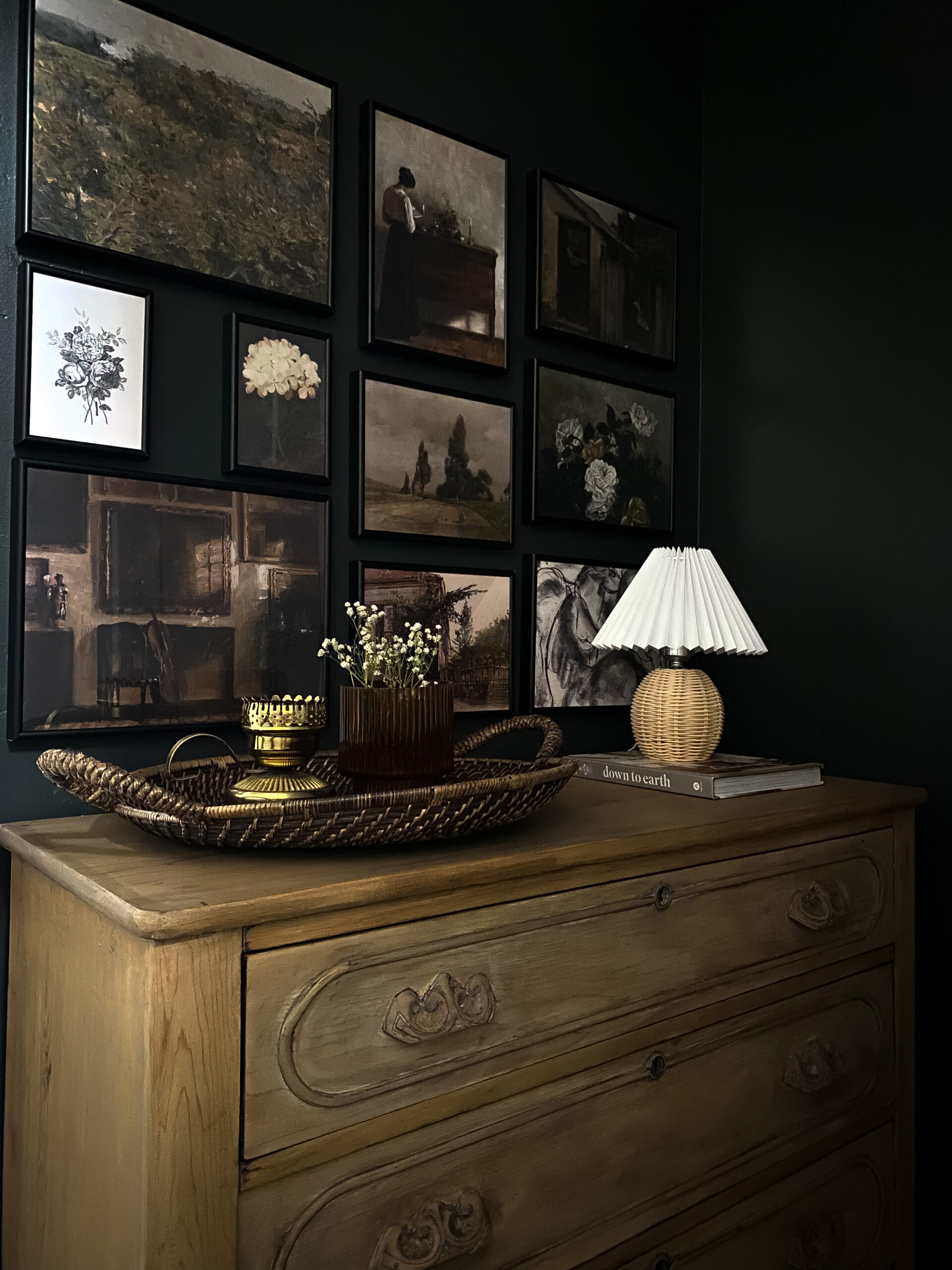 Gothic home decor has seen a recent uptick in popularity on TikTok and other media, with new homeowners eager to jump on this revived decor trend! "How do I add Gothic home decor to my space?" You may be asking.
We've got the tea on the latest and greatest ways to transform your space into an all-out drama bomb! So if you're looking to add more suspense and elegance to your space keep reading.
---
Color Story
Victorian homes were built and designed to show off the status and wealth of those who lived in them. Huge windows, grand fireplaces, and ornate moldings are all indications of a traditional Victorian Gothic home. One of the biggest tell signs is the home's color palette.
Wall colors & papers
Black is the unmistakable color choice. While we don't recommend painting your walls entirely black, incorporating it into your color palette is a wise choice. We advise adding a black or dark-colored accent wall, even black-colored wall art, picture frames, or furniture pieces.
Remember that dark wall colors trick the eye into visually shrinking a room. So if you are styling a small space go for wall colors like a dusty rose or ash grays.
That being said, there are various other ways to create a gothic mood outside of the usual black shades. Gemstone or jewel colors like amethyst purples, emerald greens, sapphire blues, and ruby reds all resonate a sense of richness and royalty. Pair these with gold and you can bring out a gentler more romantic feel to your interior.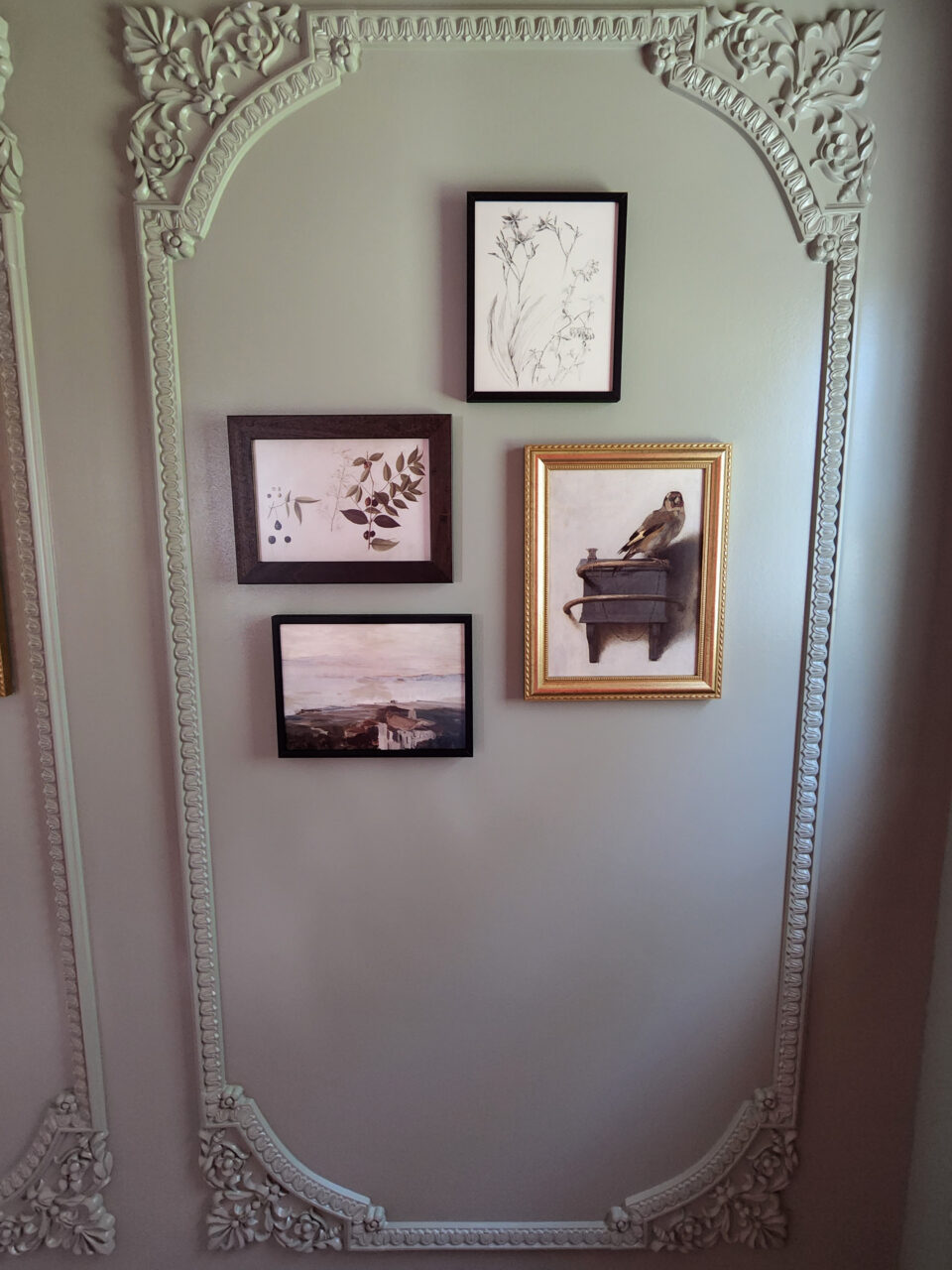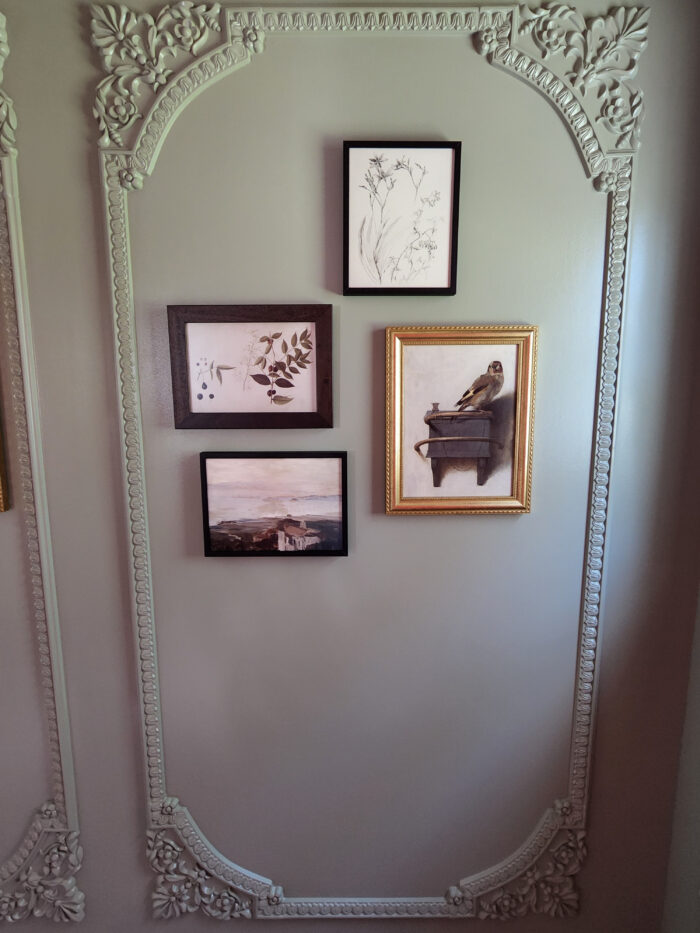 Wallpaper is another way to create a statement without committing to a bold dark wall! Opt for an elegant patterned paper in a flocked velvet, Damask, Jacquard, or Brocade style. These patterns scream drama and add magnificence to a room! Here are a few that we love:
"All that glitters is not gold" 🧙‍♂️
Gold, a symbol of wealth and class, was displayed prominently in Victorian homes. Wall sconces, mirrors, and picture frames were lined with ornate gold moldings and castings. We suggest adding pops of gold amongst your darker elements to bring warmth and light to these areas. Gold-painted bookends, candle holders, and vases are the perfect Gothic home decor items to add to any shelf or bookcase.
A touch of softness
Keeping in mind that the Victorian Gothic style is not all doom and gloom, it's important to add soft and gentle accents. Baby blues and pinks, lavenders, and rich greens are all great choices to add a little romance. Whether you add these colors in by using flowers, curtains, or wall decor is up to you!
🔥 Hot Tip: Framing dried or pressed flowers is a popular and inexpensive way to add elements of romance, even science shows the emotional effects they have on us! Check out our guide on framing flowers for your Victorian Gothic home decor.
---
Light and Shadow
Victorian Gothic homes are all about balance, to offset the dark walls massive windows let natural light in. While many modern homes don't have these classic Lancet windows, there are still other ways to find the balance between dark and light.
Dramatic drapery
Heavy luxurious drapery is canon to gothic decor! The density of drapery is ideal for casting shadows and adding dramatic effect. If you've ever wanted blackout drapes for the bedroom – Victorian Gothic home decor is the way to go! Feel free to layer over your existing curtains for a more weighted and heavy look. Crushed velvets and satins look fantastic in the sun and add great texture to a room.
Chandeliers, candles & oil lamps
For this style LEDs or any type of bright white light is not recommended. To stick with your theme change your bulbs out for warm low lighting like Tungsten lights, Edison bulbs, or vintage oil lamps. Chandeliers, wall sconces, and candelabras also work extremely well with this period-inspired decor.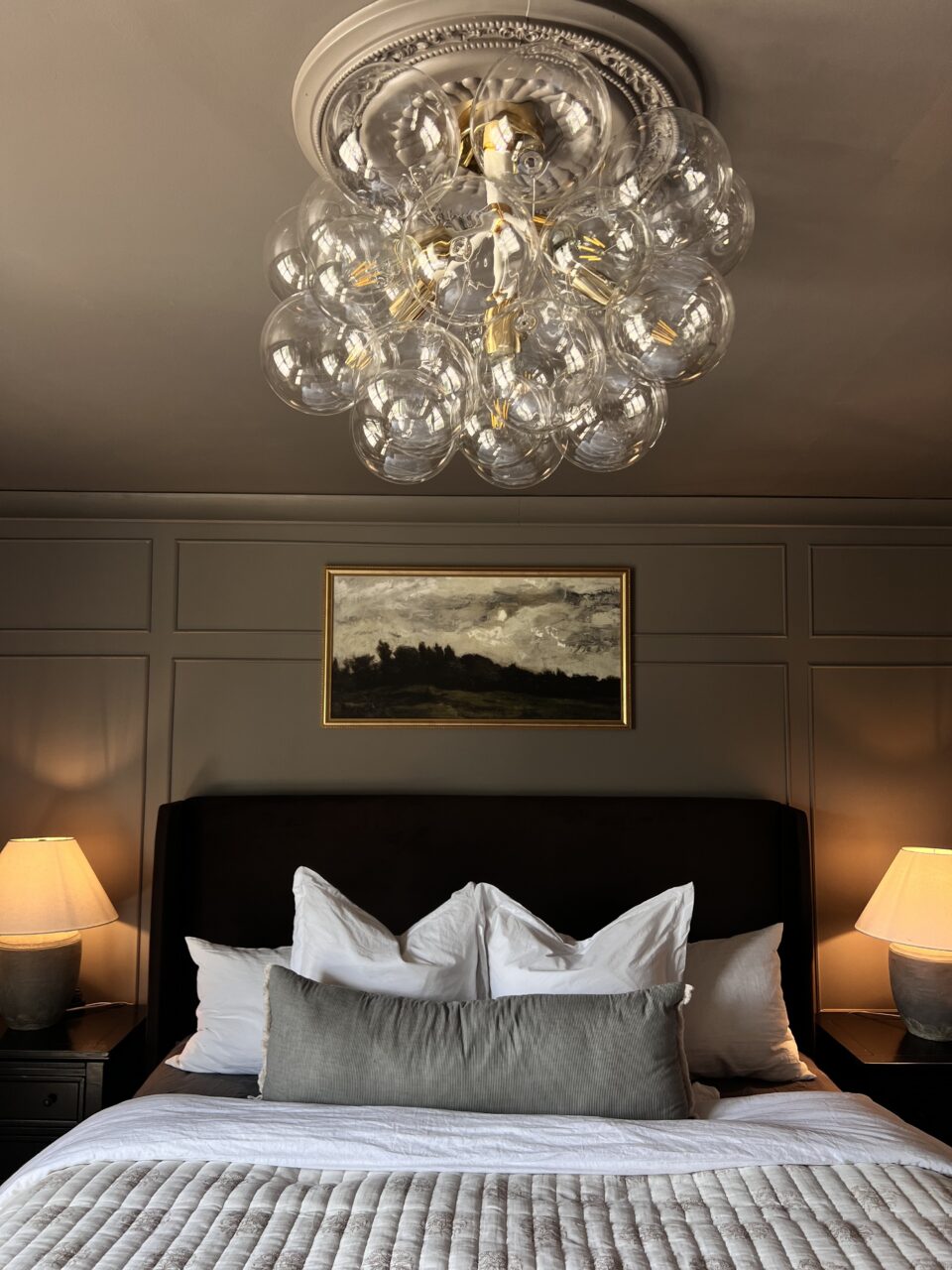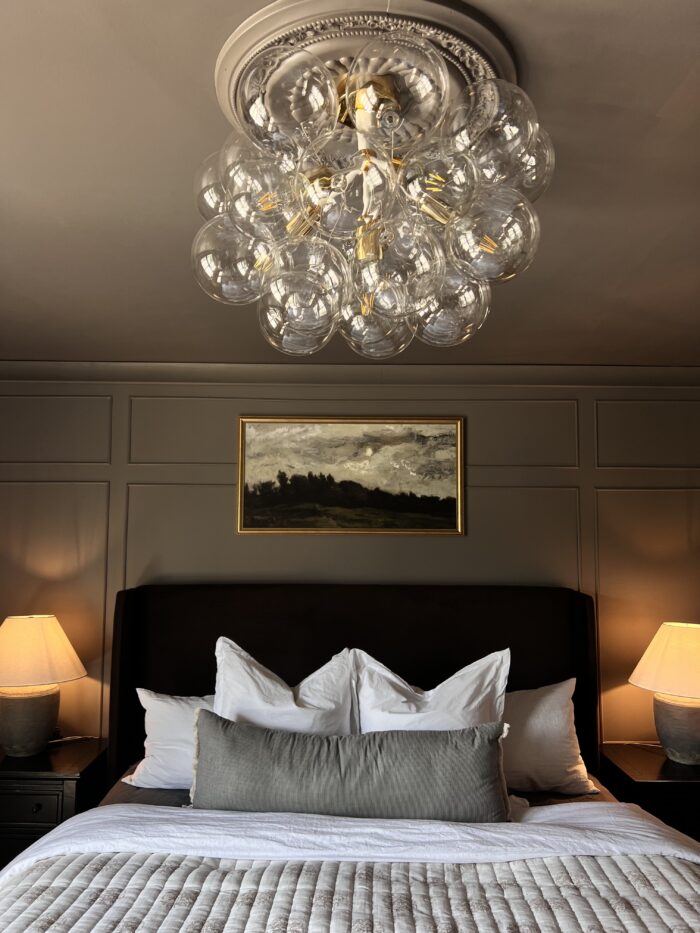 Candles are a must-have for many of these fixtures. Taper, tealight, and pillar candles are great options due to their flat bottoms. This allows for a safer burn and for an easy swap to change with the seasons. When using lighting fixtures like oil lamps and wall sconces we highly recommend using ones with glass protection sleeves. Especially if you have pets or small children!
---
Ornate Decor
Our favorite part, the decor! As you can imagine Victorian Gothic decor can be a bit…well, extra, but that's what makes it so fun! Intricate patterns, lush fabrics, and glistening gold trinkets make this aesthetic shine.
Romantic frills
It's important to not get lost in the dark with this style, adding romantic elements here and there will bring warmth to your room. If you're styling a bedroom or living room, add soft-colored blankets and pillows in velvet, faux furs, and silks. These textures not only add richness but look inviting and welcoming to guests who may be unsure of your dark interior!
Romantic-style wall art makes a perfect pair with dark walls. Consider adding some botanical, wildlife, or landscape imagery to add flecks of Earth-toned colors to your room. Or, if you're into keeping it historically accurate, hang art with mythological or religious subjects as these were the prominent themes of the time. You can even find art online that replicates celebrated 19th-century artworks.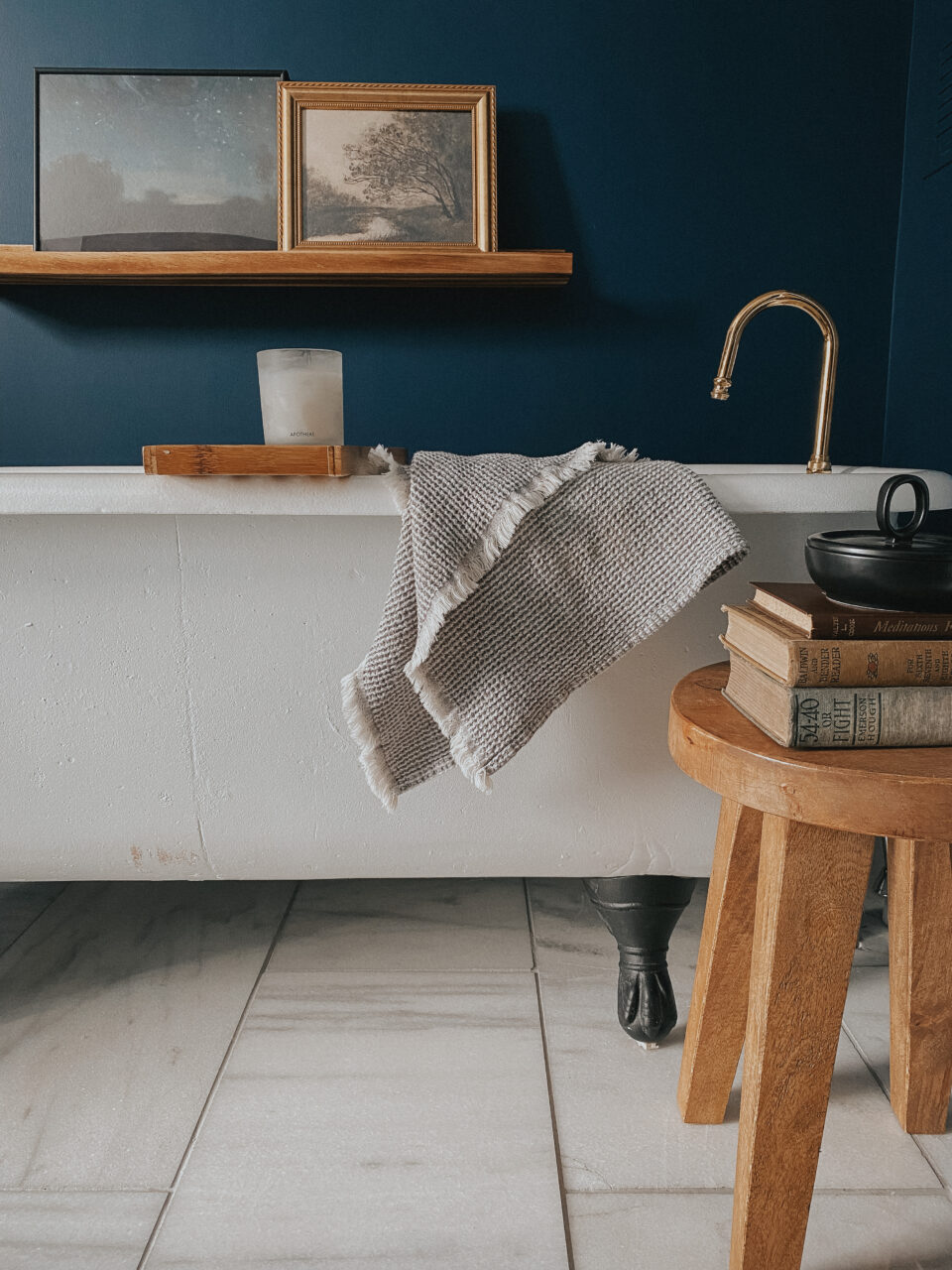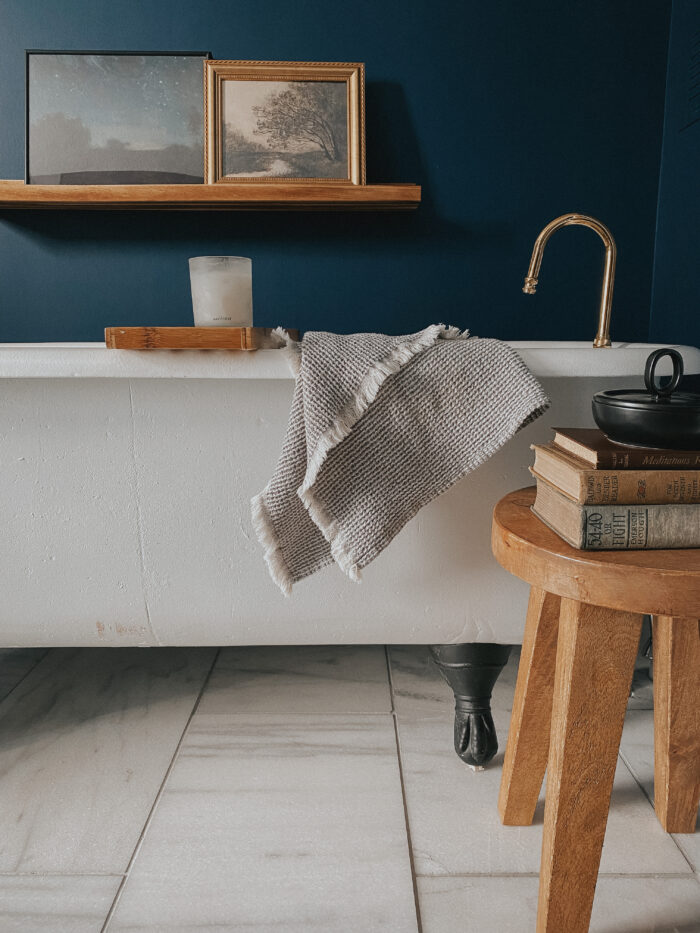 Moldings & crowns
The architectural accents of Victorian Gothic homes replicate that of huge cathedrals and arched English castles. These moldings, carvings, and crowns are extremely common and found around walls as well as pillars. It's hard to find these in most modern homes nowadays, but adding wall moldings is pretty easy and fun!
You can honestly add them anywhere and get away with it for this aesthetic, the more the merrier. Interested in adding some more flair to your walls? We recommend looking into the following:
Crown molding is a traditional trim at the top of a wall meeting ceiling, often pronounced with ornate carvings.
Chair rails were originally designed to stop chairs from hitting and scuffing the walls. These were most often found in dining areas and are super easy to install!
Picture rail moldings were commonly found in New England townhouses, traditionally a picture rail was used to hang and enhance pictures and their frames on a wall. Want to get extra luxe? Go for a two-tone wall and separate wall color with your rail moldings!
Pictures & paintings
Hanging pictures became a very popular interior decor trend in the 19th-century Victorian period. The more wall art displayed – the more power and class you had. Mirrors, decorative plates, and gold sconces lined the walls alongside frames. Walls were often covered from head to toe with embellishments and large gallery walls were quite popular!
So get your gallery wall game on! Check out a few of our perfectly Victorian frame styles: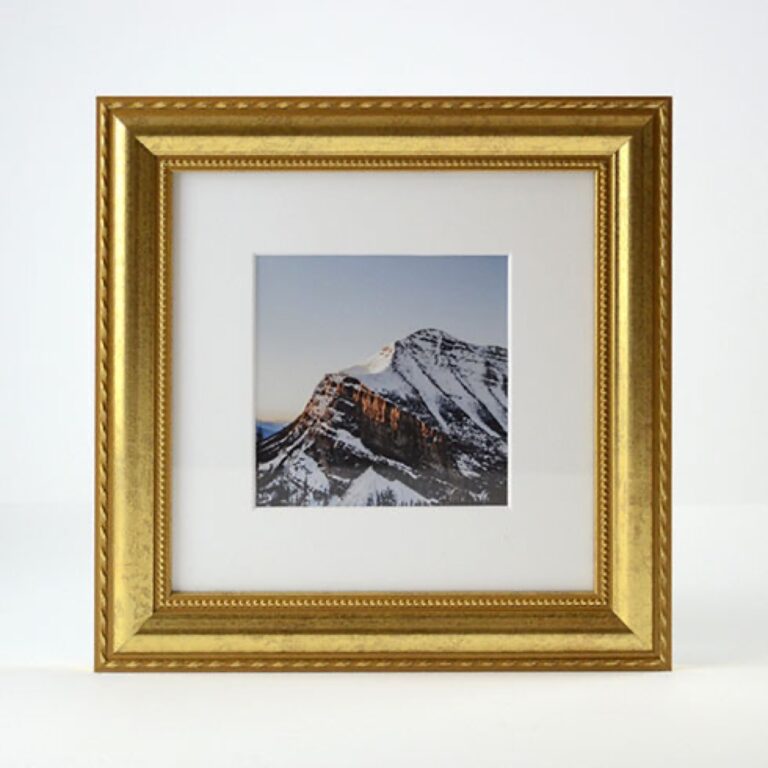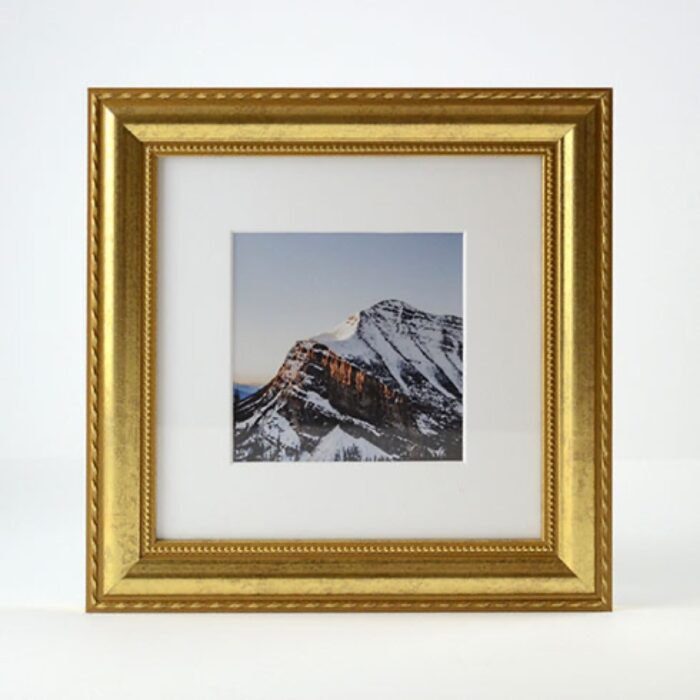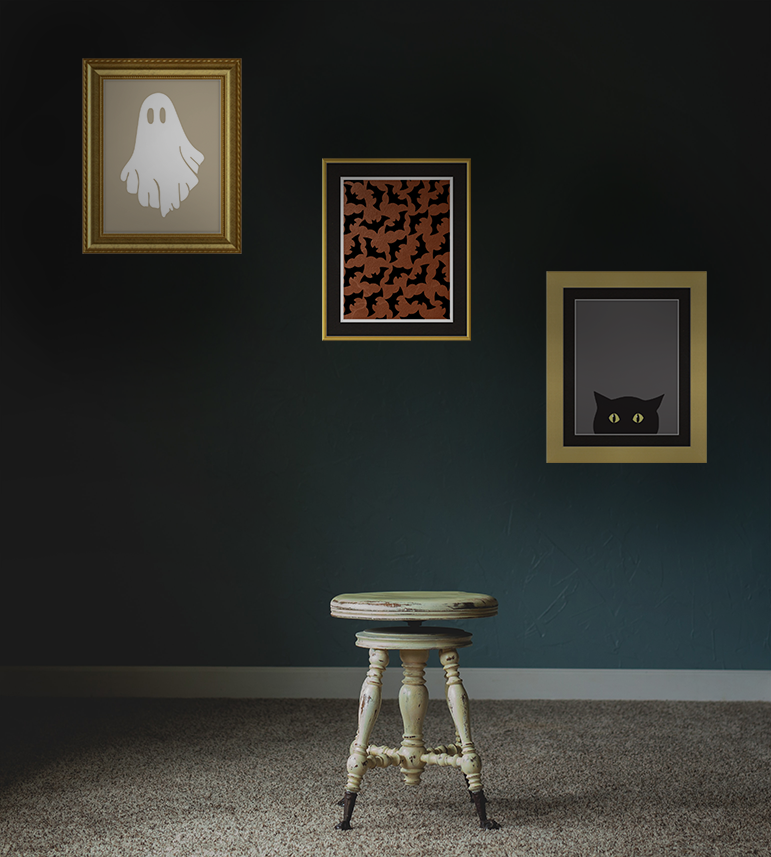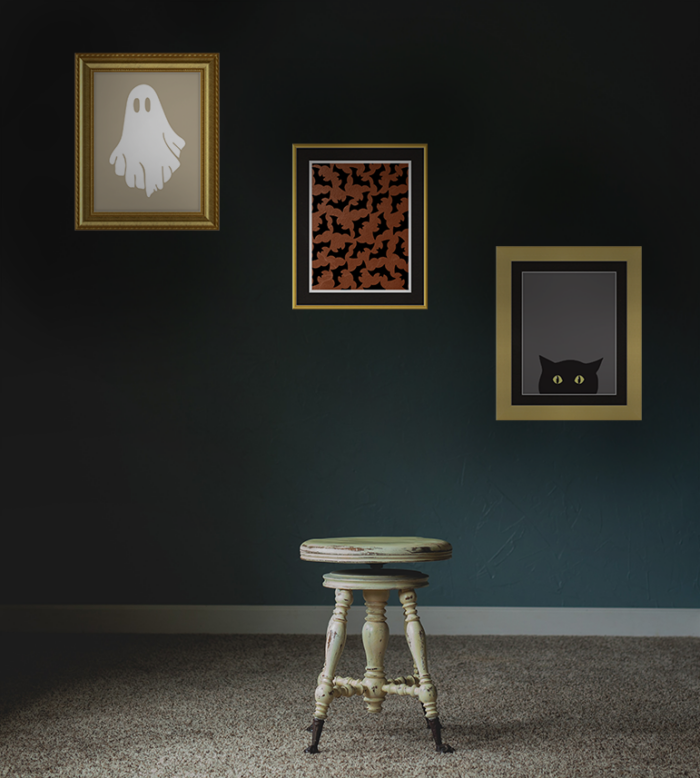 Granby in Gold – Our top pick for this style! Granby's ornate wood pattern and radiant gold finish make this frame the perfect choice for displaying some romantic artwork!
Dayton in Gold – Dayton's 1 1/4″ thick face profile is sure to grab some attention! Made from natural wood with a gold finish, this frame also gives off an antique and natural feel.
Hanover in Satin Gold or Gloss Gold – A thinner metal frame that still packs a glossy punch; Hanover lets your art shine while encased in an elegant glittering gold!
Once you chose your preferred style be sure to head over to our custom frame builder, select your size or drop in your image, and that's it! We'll have your frame assembled, mounted, and ready to hang in a few business days!
🔥 Hot Tip: Going for the gold? Check out our Matboards in Frosted Gold and Classic Gold for that extra metallic finish!
---
Final Thoughts
Alright, we've set the tone and given you all our best tips to create the victorian gothic space of your dreams! No matter which way you choose to design your space, whether it's full-on black walls and giant chandeliers, or pink walls and velvet drapery. Remember, think: drama, opulence, and romance! With this mindset, you'll be sure to nail this aesthetic and be the talk of the neighborhood!
We can sense the drama already. 😉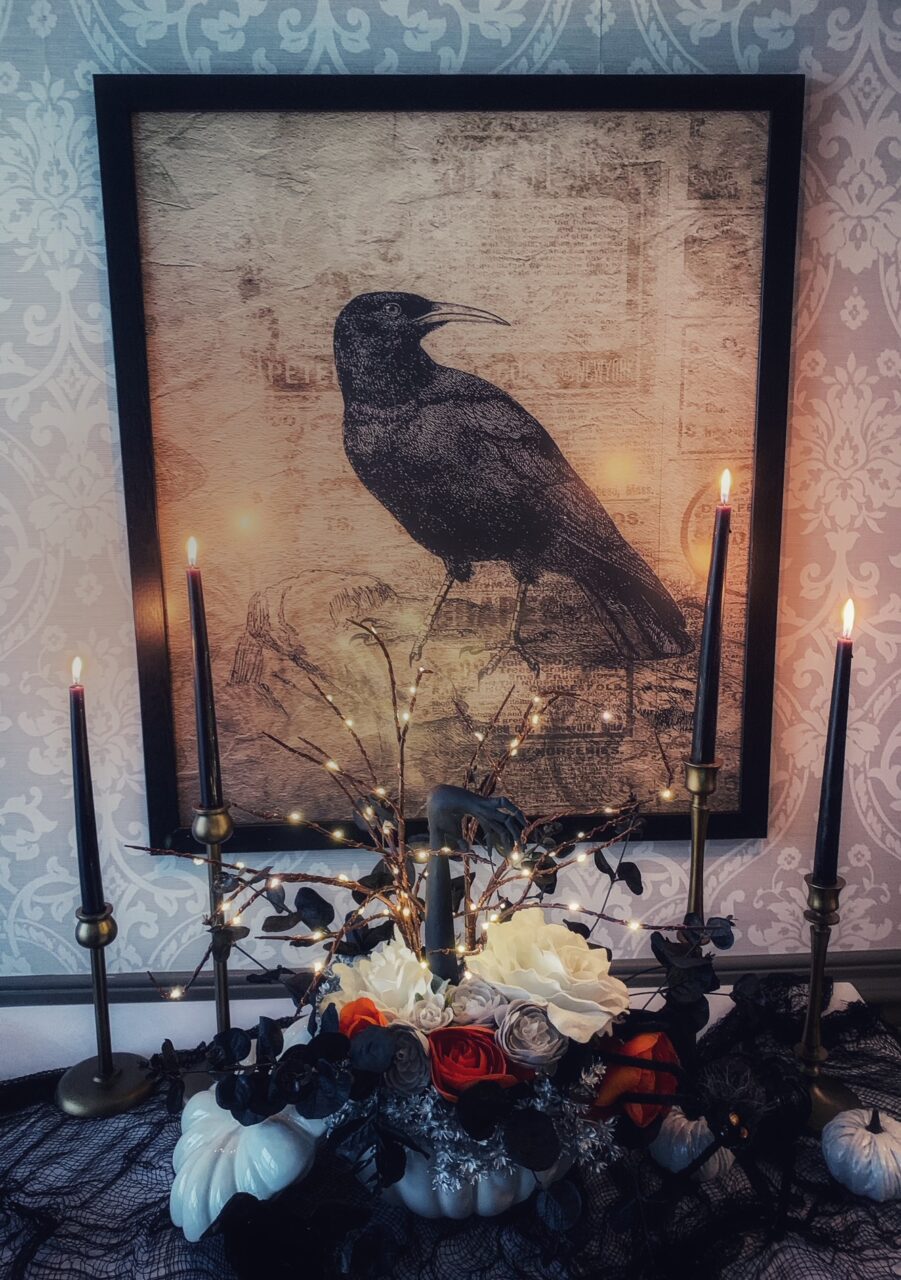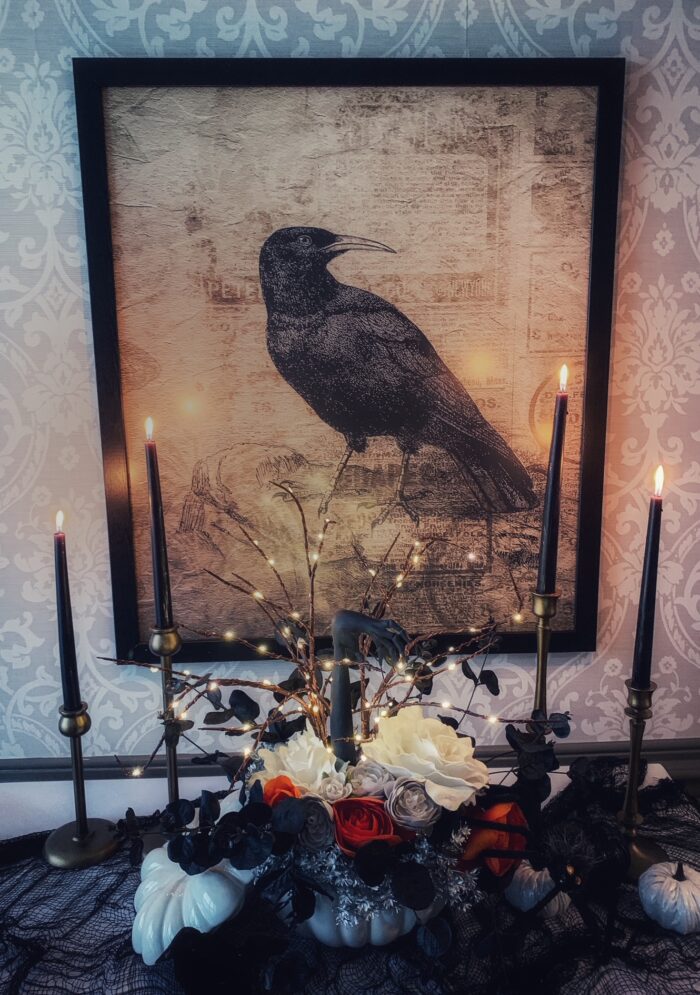 Do you have a romantic Victorian style or Gothic decor you'd like to showcase? Inspire others by sending your photos to creative@frameiteasy.com with the subject line "Featured Friends" for a chance to be featured on our email and socials!
Tag us at @frameiteasy or use the hashtag #frameiteasy for more chances to get noticed!
 Free (Not So) Spooky Printables!
It's Almost Spooky Season 🎃, Download Free Art Here!
Subscribe to our mailing list for exclusive goodies, fun quizzes, framing tips and tricks, and so much more!
This post first appeared as The Victorian Gothic Home Decor Guide on Frame It Easy - Learning Center for Custom Picture Framing.