Incorporating dark walls into your home can be a challenge. You run the risk of making your space feel too dark or dreary, but when done well, dark-colored walls are a great feature to incorporate into your home design style.
With dark walls, you're able to create a sleek and finished design, that highlights all of the other features in your space. Perfect for dramatic furniture and bold accessories, it certainly is worth trying out some dark wall decor in your home.
Dark wall decor is the ultimate fall home update. We're sharing why dark walls are our new favorite, and some tips for styling your own.
Why Choose Dark Walls?
1. They Highlight The Room's Other Features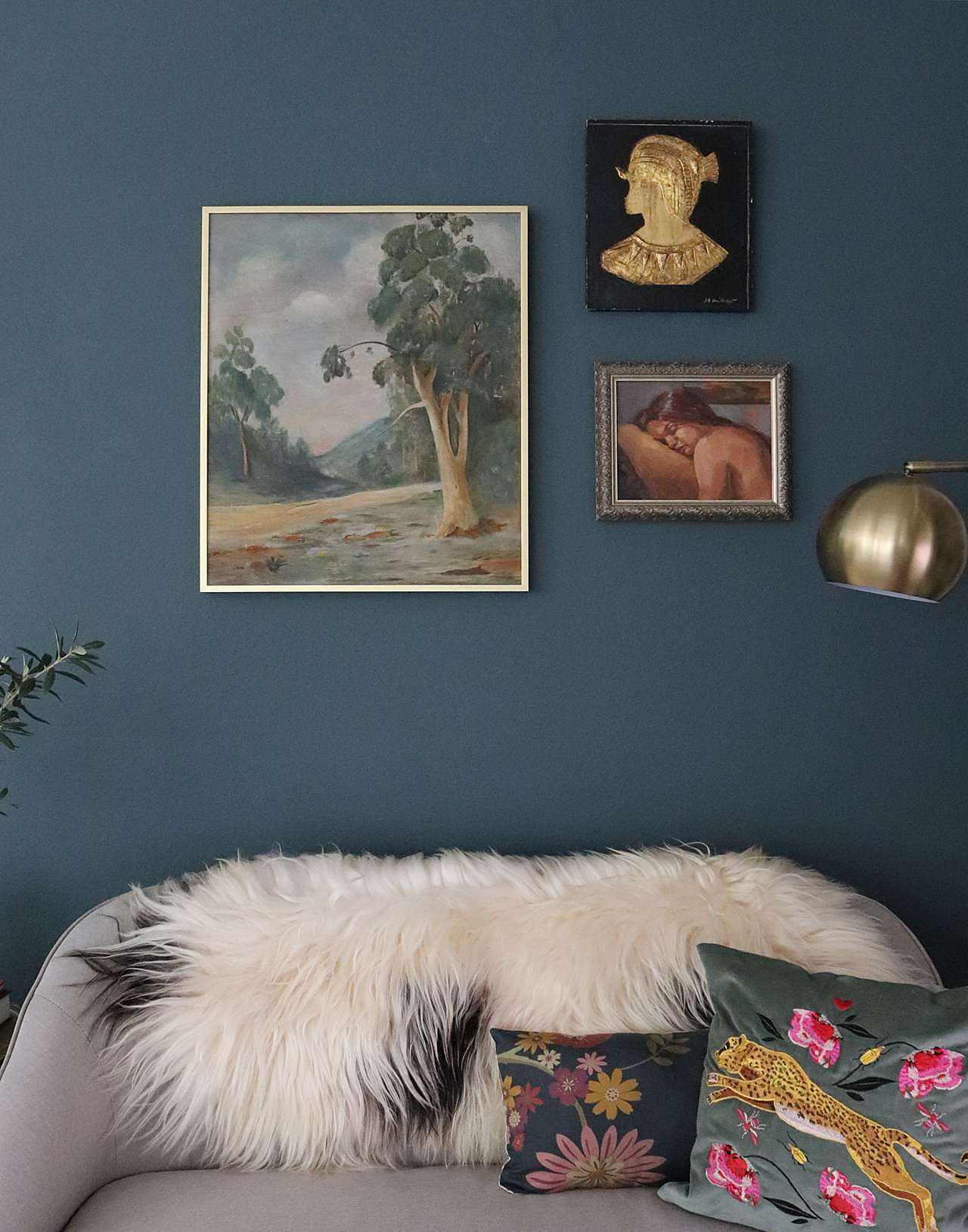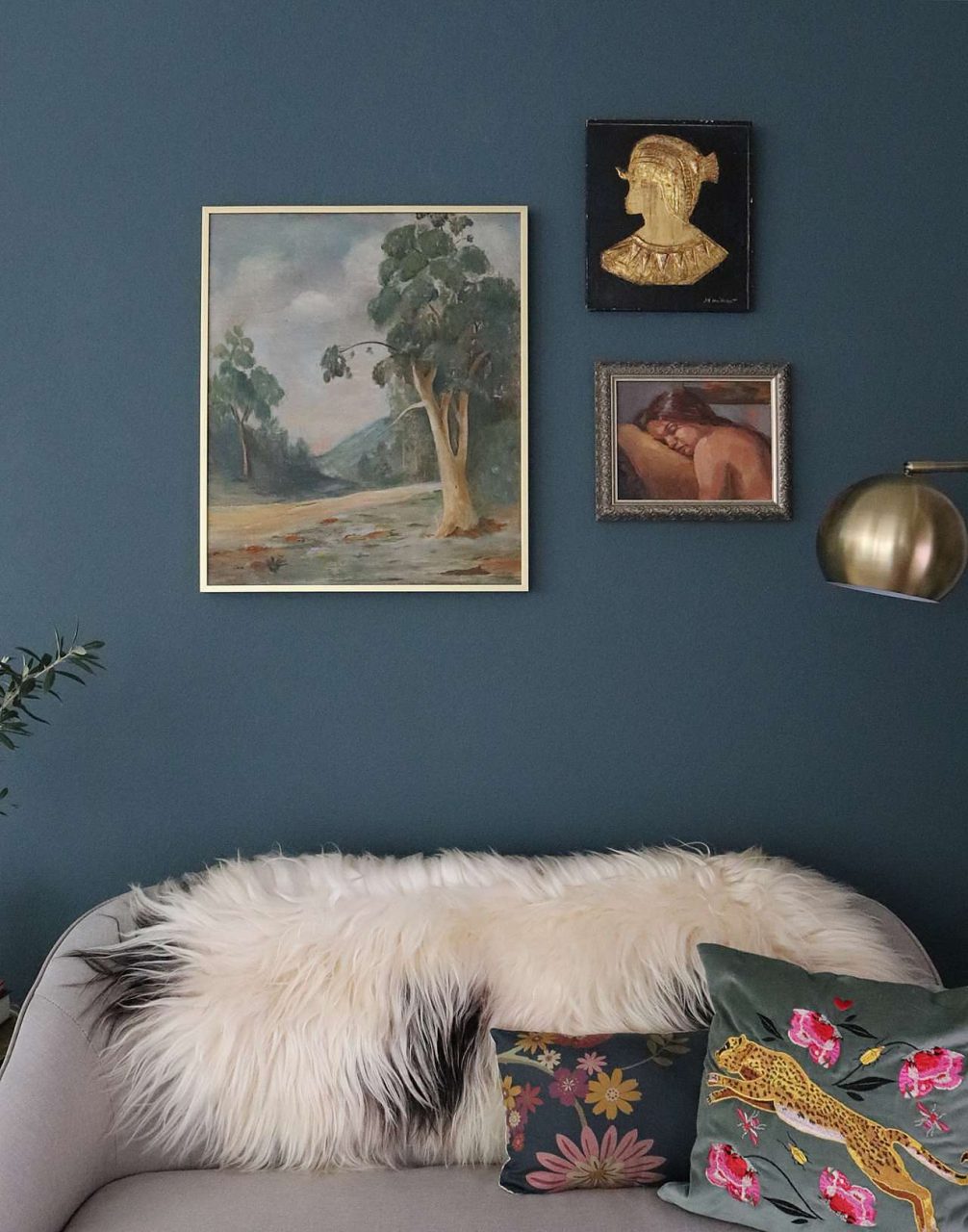 Nothing shows off your wall decor and furnishings better than a dark wall backdrop. From picture frames to bold furnishings, your pieces will stand out when provided with such a sleek background.
The simplicity of a dark-colored wall is key! This leaves room for creativity in other aspects of the room. If you're looking to make a statement with your furniture and accessories, dark-colored walls are the way to go.
(P.S. Looking for inspiration for picture frames as your dark wall decor? Check out 12 places to buy art online, or our 25 personalized picture frame ideas!)
2. They Emphasize Interior Design Styles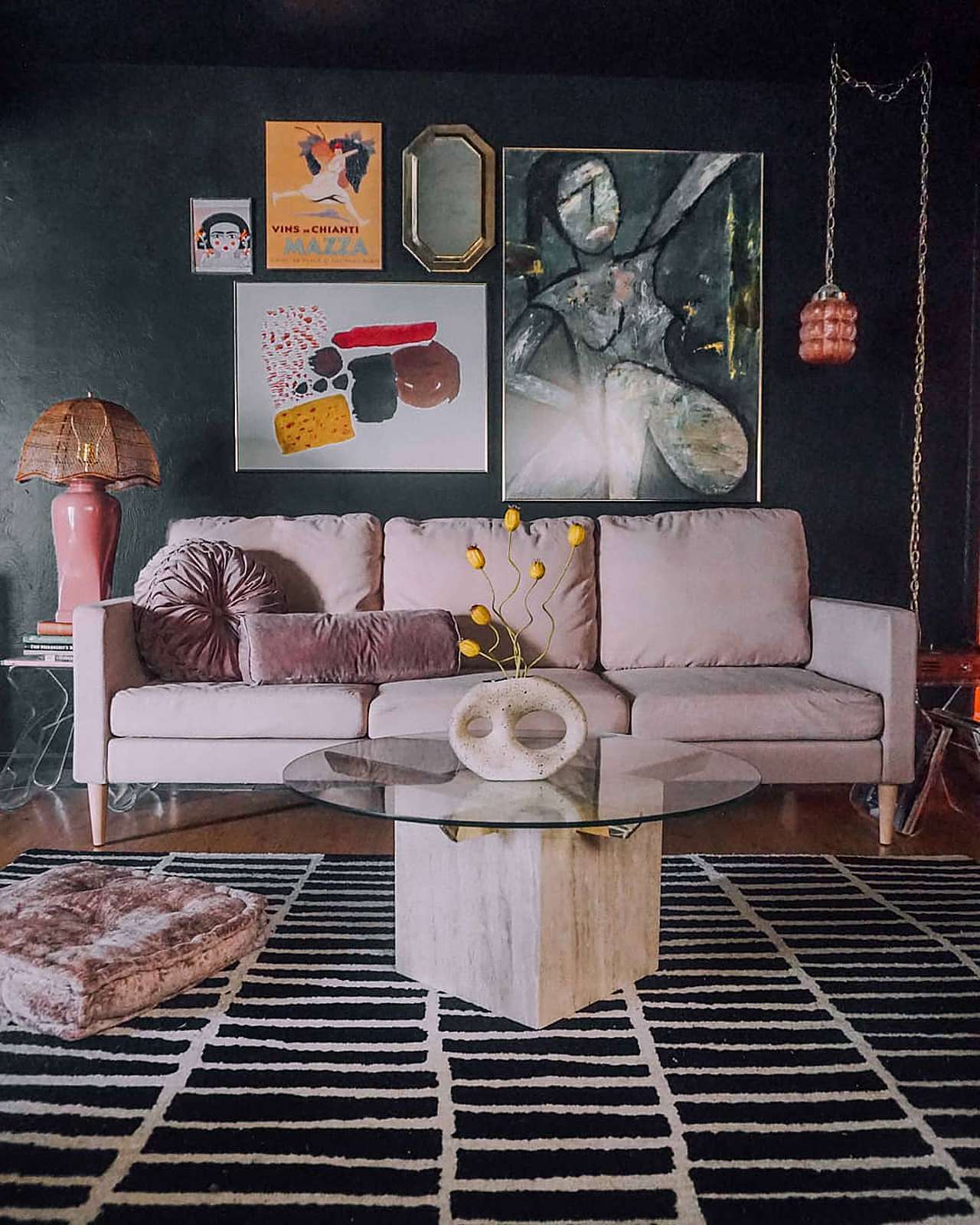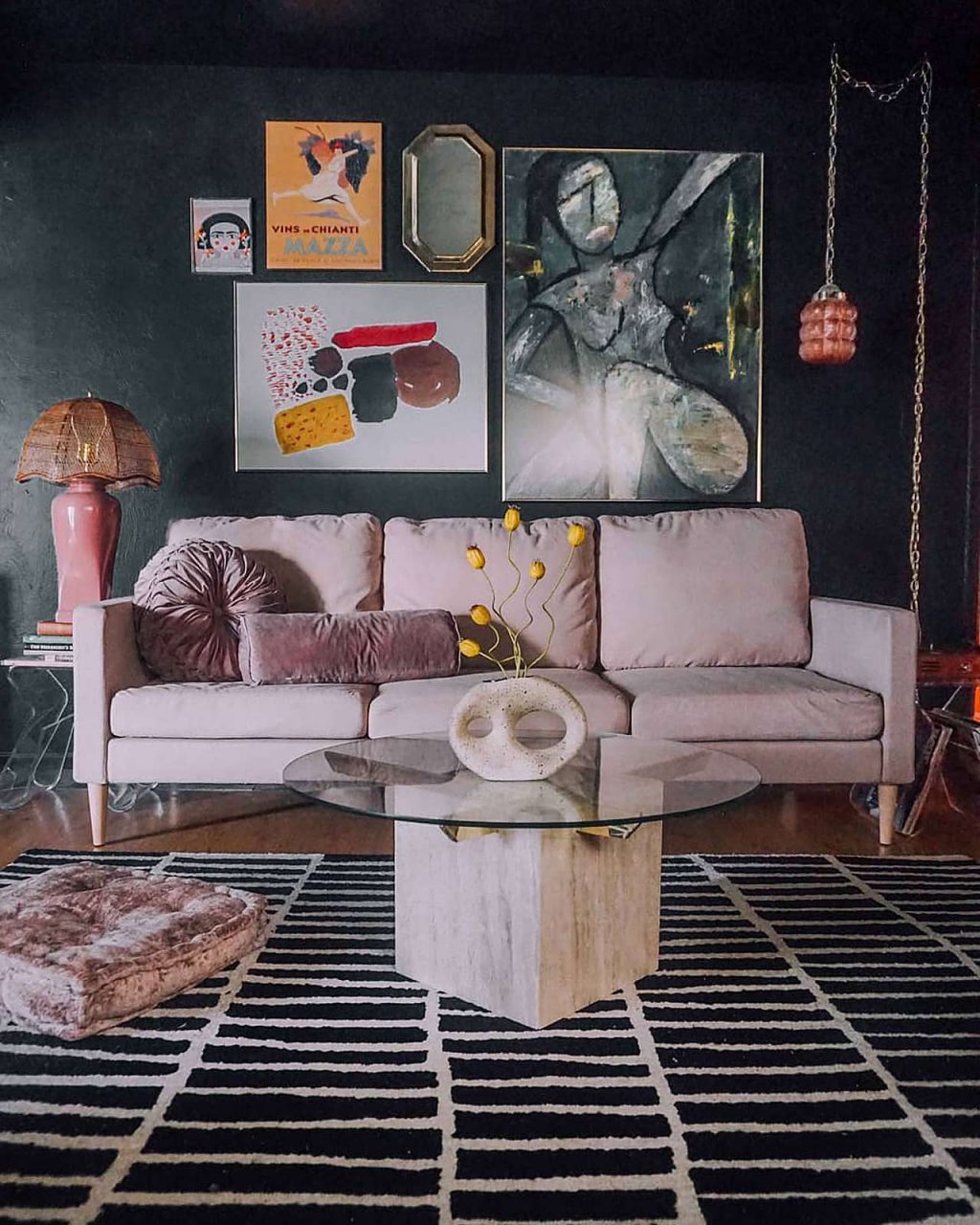 From modern minimalist to rustic and traditional, there's an abundance of interior design styles to experiment with and to incorporate into your home. Dark walls may not capture your desired style on their own, but they will surely emphasize it in a dramatic yet tasteful manner.
The specific dark color of the wall doesn't matter when you're trying to highlight your design style. The furnishings and accessories do all the work! Your dark wall simply provides a contrasting backdrop that is sleek, simple, and perfect for any dramatic furniture or wall decor.
Curious about how to incorporate dark walls and other accessories into your chosen design style? Check out our blog post with 10 different home design styles and our favorite frames to accessorize with!
Tips For Styling Your Dark Walls
1. Create Contrast With Furniture And Accessories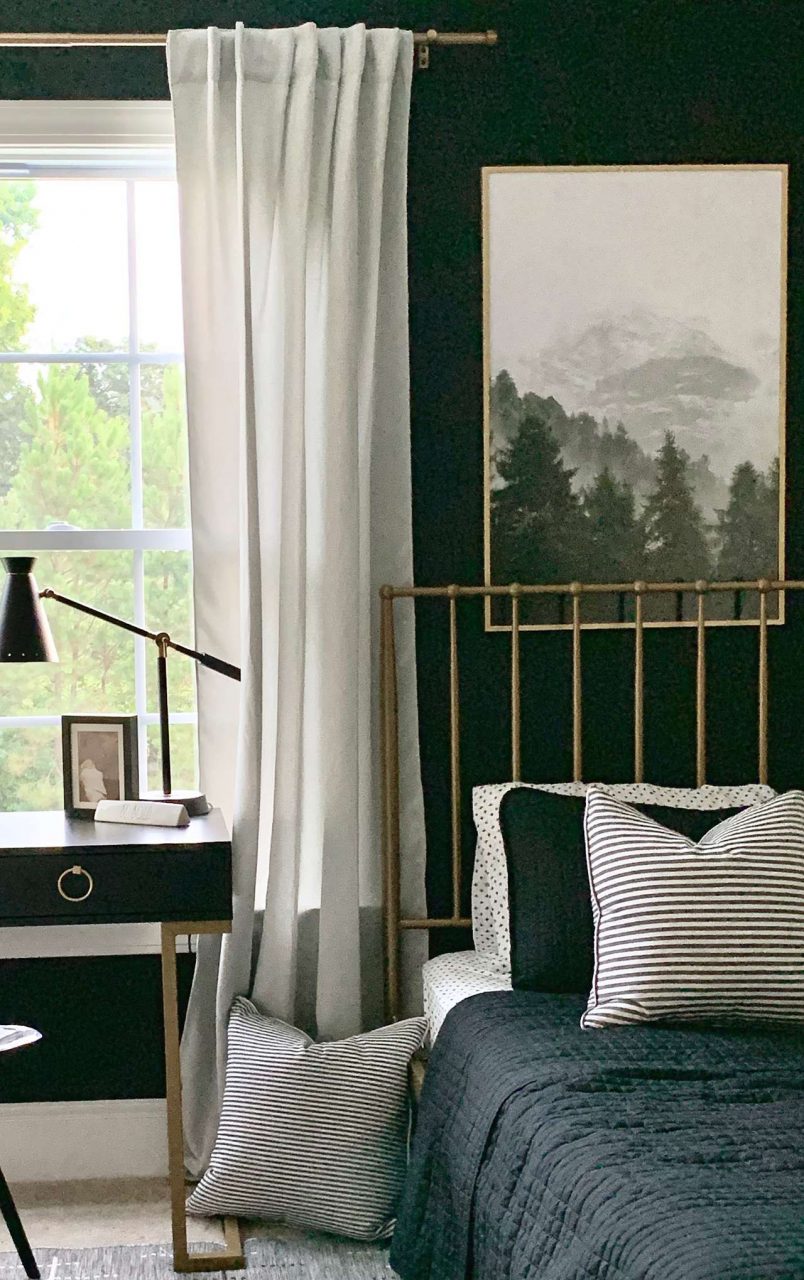 Black furnishings on black walls will make the space seem monotonous. Therefore, it's important to create contrast within your space by strategically styling your furniture and accessories.
To create contrast within a space, you need to find colors that will pop against one another, but simultaneously compliment. Think black walls with white pieces of furniture, or dark gray walls with silver trim accessories. The color combinations used to create contrast are truly limitless, so experiment within your space to find tones that work well with each other.
Using custom picture frames to provide contrast is perfect for your dark wall decor. It's a simple way to not only create a finished and bold style, but you're able to personalize the space with your photos or favorite pieces of art.
Here at Frame It Easy, we offer a variety of frame styles and colors that are sure to fit your dark wall home design. We particularly suggest browsing our metal styles that are sure to be highlighted against your dark-colored wall! Check out our post on the top gallery wall trends and arrangements that will look great atop your dark wall.
2. Use Dark Walls Sparingly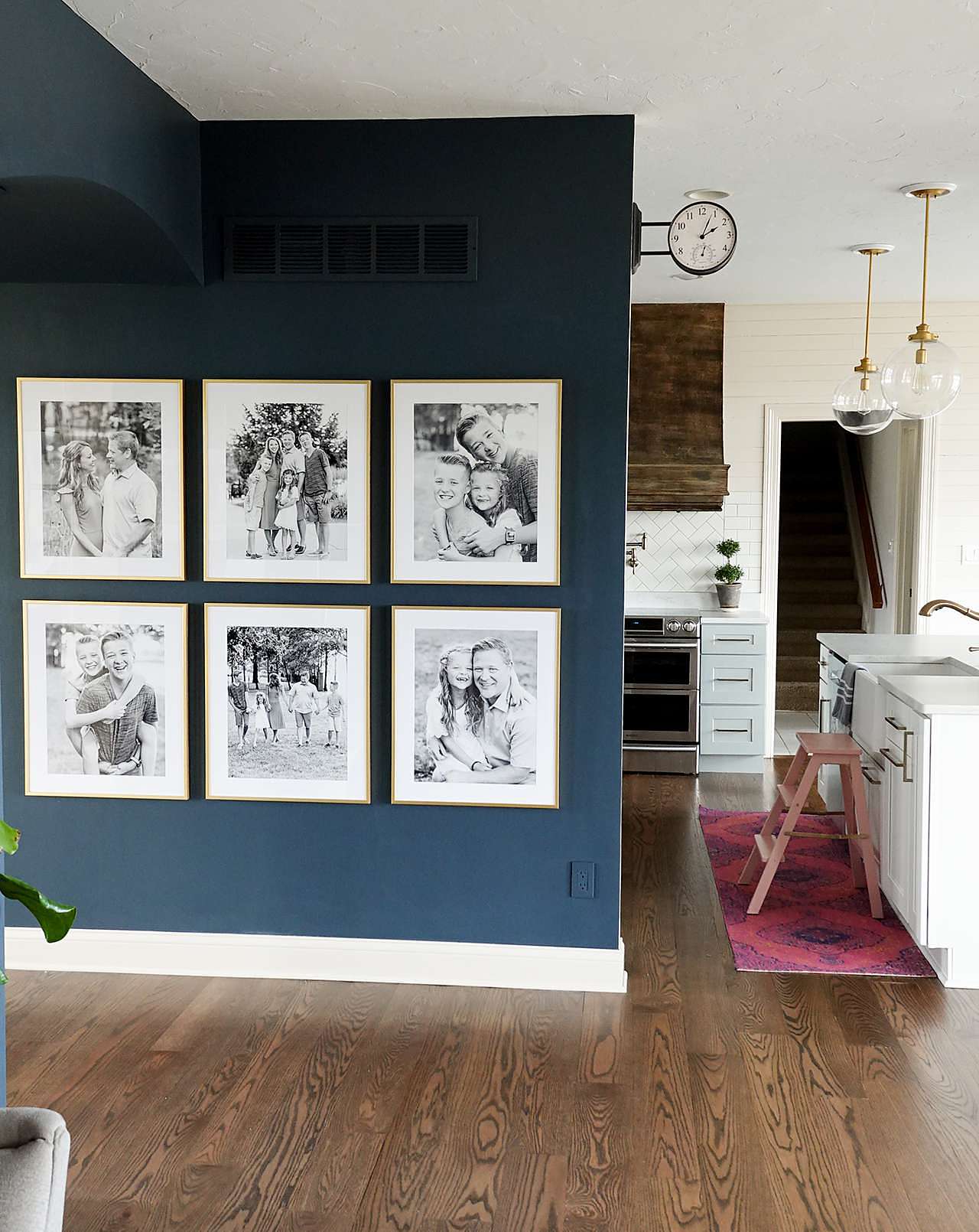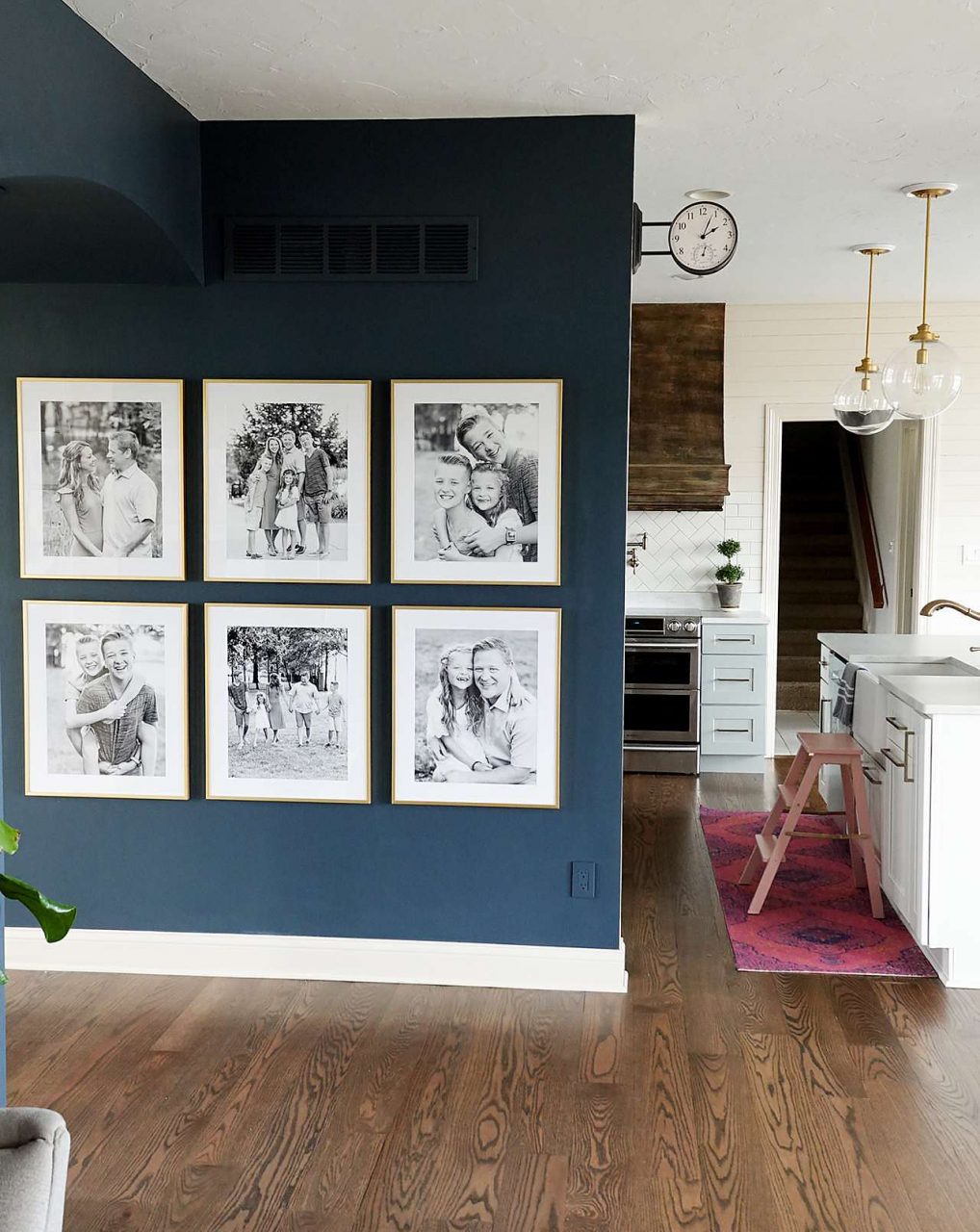 When working with dark walls you run the risk of making the space seem bleak or simply too dark. Therefore, we suggest using dark walls sparingly, and at least initially limiting your dark walls to accent walls to get the hang of styling them.
Perhaps start with one major wall in a room where you have more dramatic pieces or complicated accessories. By starting small with a single wall, you'll be able to highlight your wall decor and furniture, while avoiding the risk of overdoing it with dark walls.
If you're varying the wall colors of a single space, be sure you find a broad color scheme to incorporate into the many aspects of the room. This is especially important if you are making a single wall a dark shade to ensure the room feels cohesive.
3. Consider Dark Walls You May Have Already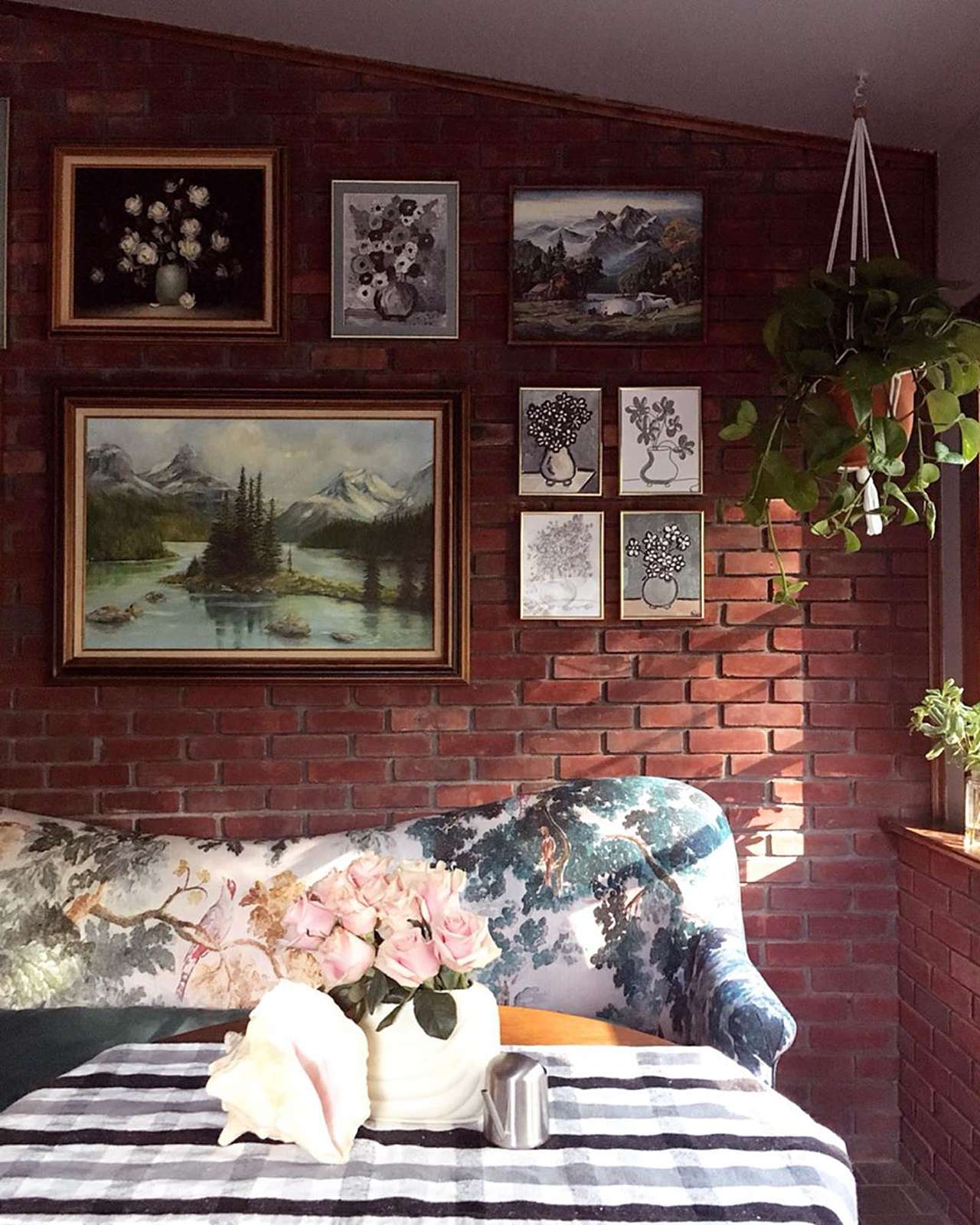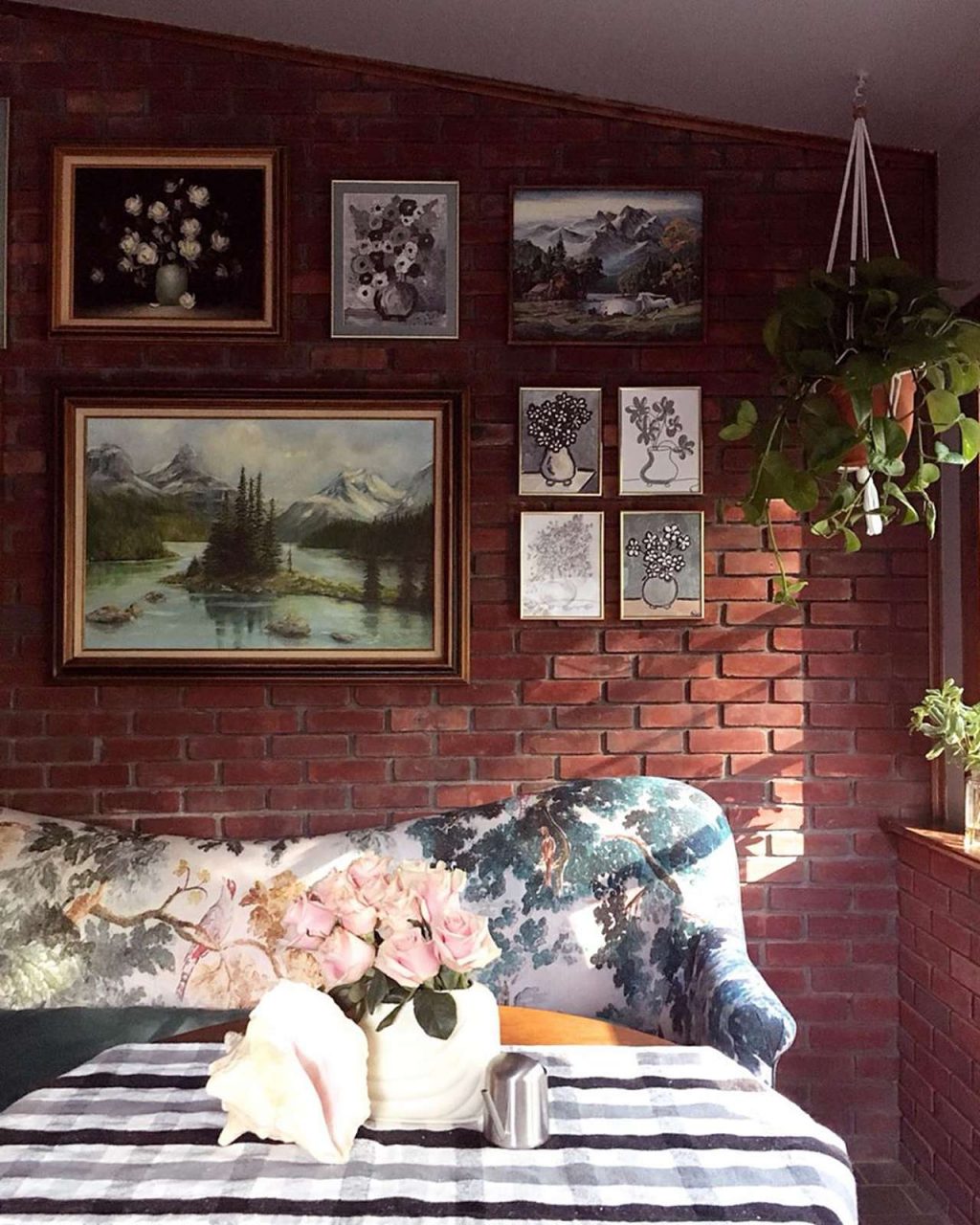 The dark wall look doesn't have to be difficult to attain. You may have tons of dark walls you haven't even considered! Dark walls that are textured are just as dramatic and vibe enhancing as a classic painted wall. However, if you're unhappy with the color of your textured wall, a fresh coat of paint couldn't hurt!
Different types of textured walls include brick, panels, or exposed wood. Whatever the texture, be sure you keep things simple to keep the space from feeling like too much. Rather than a plain and simple backdrop for your furniture and accessories, textured walls provide that background with a little more action!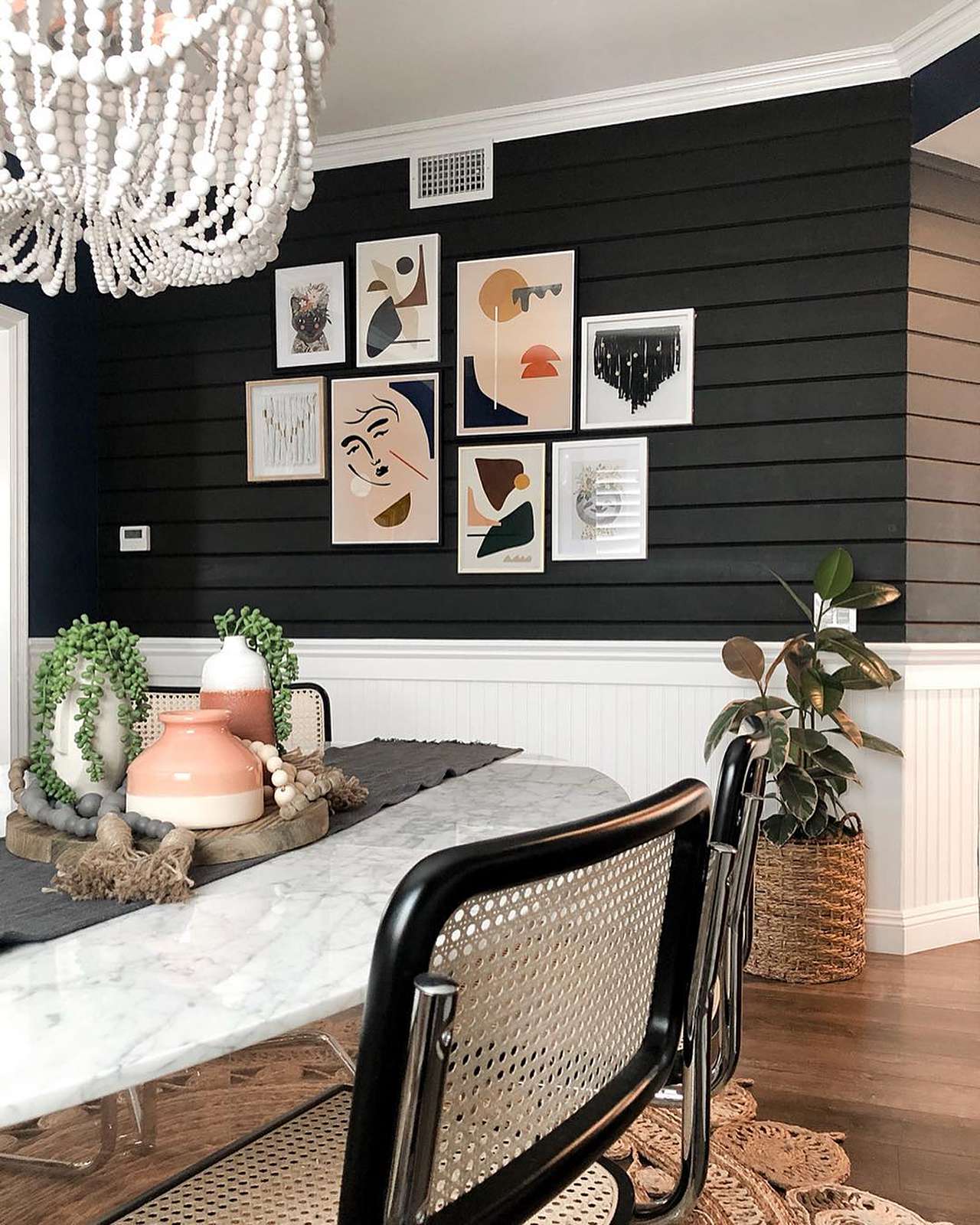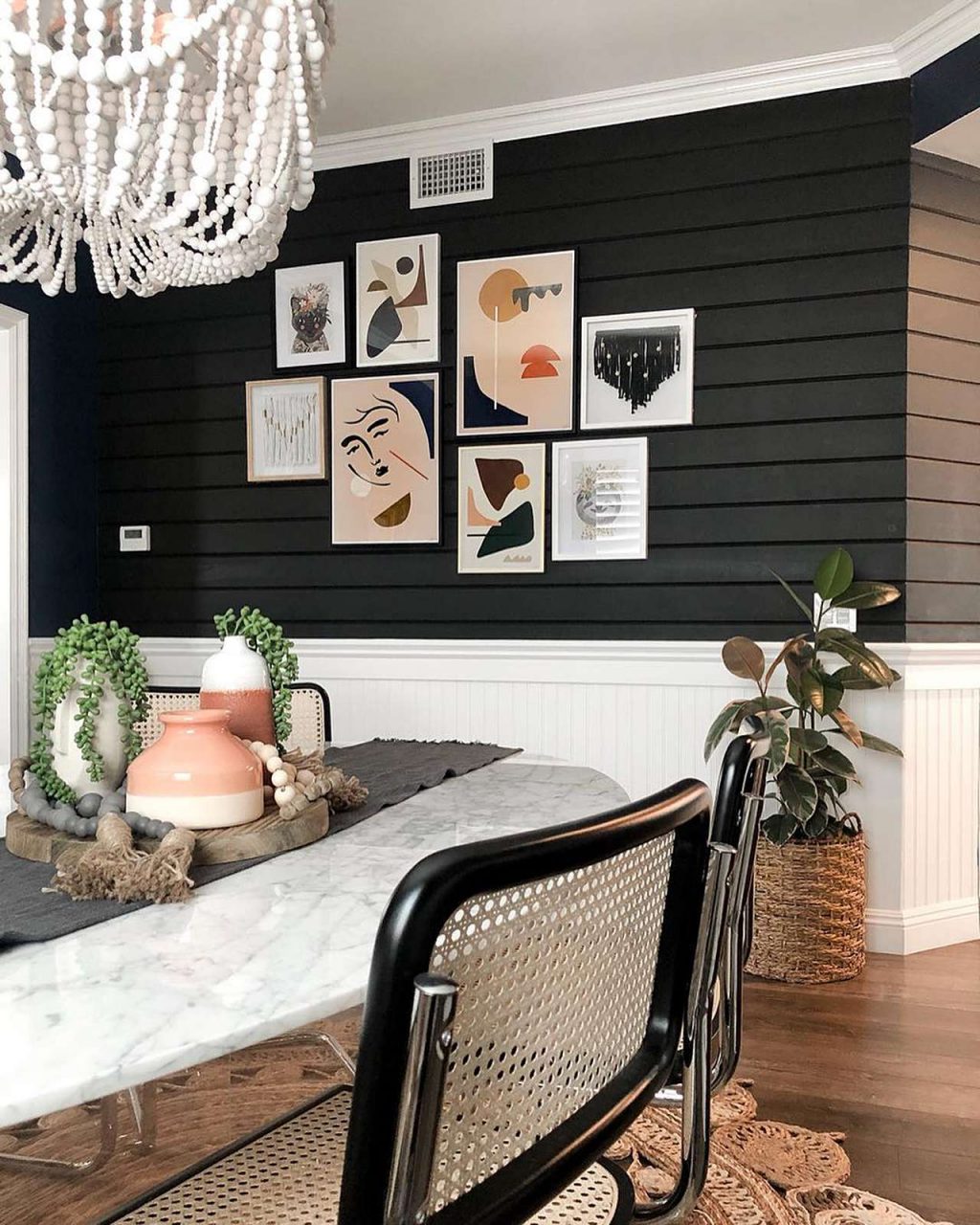 Think Dark!
We hope you enjoyed this journey to the dark side, and you're confident to bring some new vibes into your home by switching up your paint or wallpaper! Remember, with dark wall decor, you're able to emphasize other furniture and accessories. Also, you can truly highlight the design style you're after in your home.
Don't forget to create contrast with different pieces in your room. After all, make use of that sleek backdrop you create when you use a dark wall! Additionally, use dark walls sparingly — perhaps start with an accent wall — to avoid overdoing it. Lastly, textured walls can provide a similar feeling to just classic drywall, but will give you a little more character in the backdrop.
If you're still looking for ideas to revamp your fall home decor, check out our 10 favorite decor blogs for more inspiration.