When you design custom frames for your home, you want to actually be able to enjoy them. That is why lighting for framed photos is very important! We've talked about the importance of lighting in your room before — not only does it (literally) help you to see, but it can also help to create an open and airy feel for your room. If you have large windows or doors in your room, you are already at an advantage, since you won't need to add as many artificial lights to your space, but you will still need something for nighttime viewing.
Proper lighting for framed photos is important because the lighting will enhance your art or photos. While natural light is great for so many reasons, if you are placing your frames near a window or door, you are going to want to use a non-glare cover to diffuse any light or glare. Our non-glare acrylic does exactly that— diffuse glare from the sun or other light sources. In order to do that, there's a translucent coating on the front of the acrylic. (The other side, however, is glossy. So just be sure that the coating is on the outside after ordering your art. If you ordered a print with us, your frame will arrive ready to hang — no extra steps needed!)
So if you need to add artificial lighting to your framed photos, what type of lighting should you add? Is there a certain brightness? What style of lighting will look best with your home decor? We are going to get into all of those questions and share some inspirational photos along the way! Let's get right into it:
Types Of Light & Light Bulbs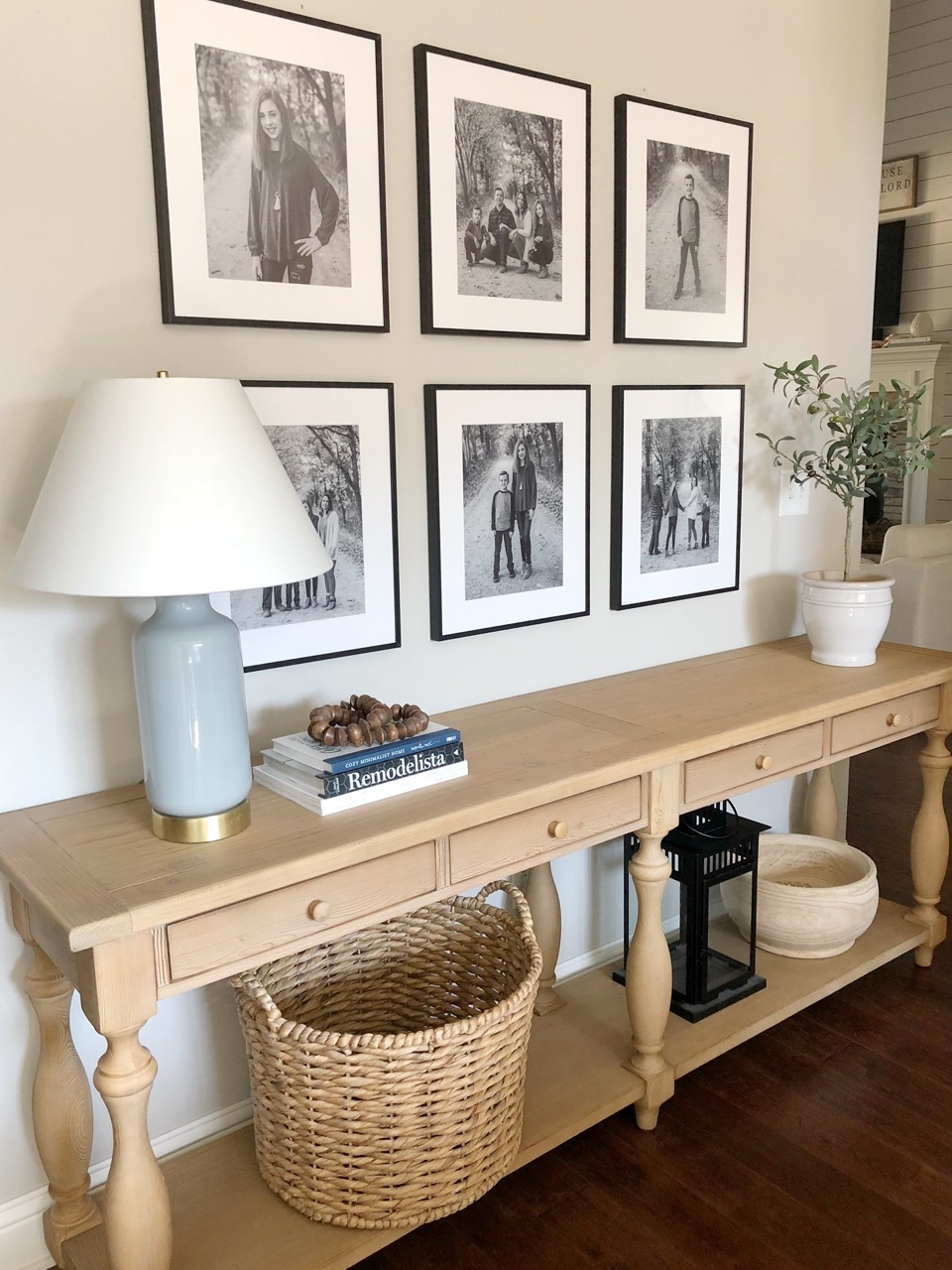 There are three basic types of lighting that are generally used to describe the various light sources in a given space.
Ambient lighting is the general lighting that is in a room or area. This lighting can come from a floor lamp, table lamp, ceiling fans, or the like. Ambient lighting is your normal everyday lighting that will give your room an overall glow.
Next is task lighting, which is the lighting that helps you to do everyday tasks. In addition to your ambient lighting, task lighting is brighter lighting and should be bright enough for you to accomplish whatever task it is, without causing any eyestrain.
The final type of lighting is accent lighting — also known as highlight lighting — which is used to create dramatic effects in your room. Your accent lighting is used to create a focal point on something. Have you ever been to a museum and seen an important piece of art with ropes surrounding it and overhead lighting shining down on it? That is accent lighting!
In addition to the types of lighting, there are also four types of lightbulbs.
Incandescent is your most common type of light bulb. This can be used for ambient lighting or accent lighting. They do give off a warmer light, however, so keep that in mind when considering the tone and temperature of the room.
Light-Emitting Diode, otherwise known as LED lighting — is the most energy-efficient lighting and is great for your task lighting since they provide bright light.
Compact Fluorescent otherwise known as CFL is another energy-efficient light bulb choice. They give off a cooler light, so they would be great as your ambient lighting and don't create many shadows, so they would also be great for accent lighting.
The final type of lightbulb is Halogen. Halogen lightbulbs provide you with a bright white light, that mimics daylight. (They do, however, get very hot quickly so it would probably be best to stay away from Halogen lightbulbs when lighting your framed artwork.)
Light Fixture Styles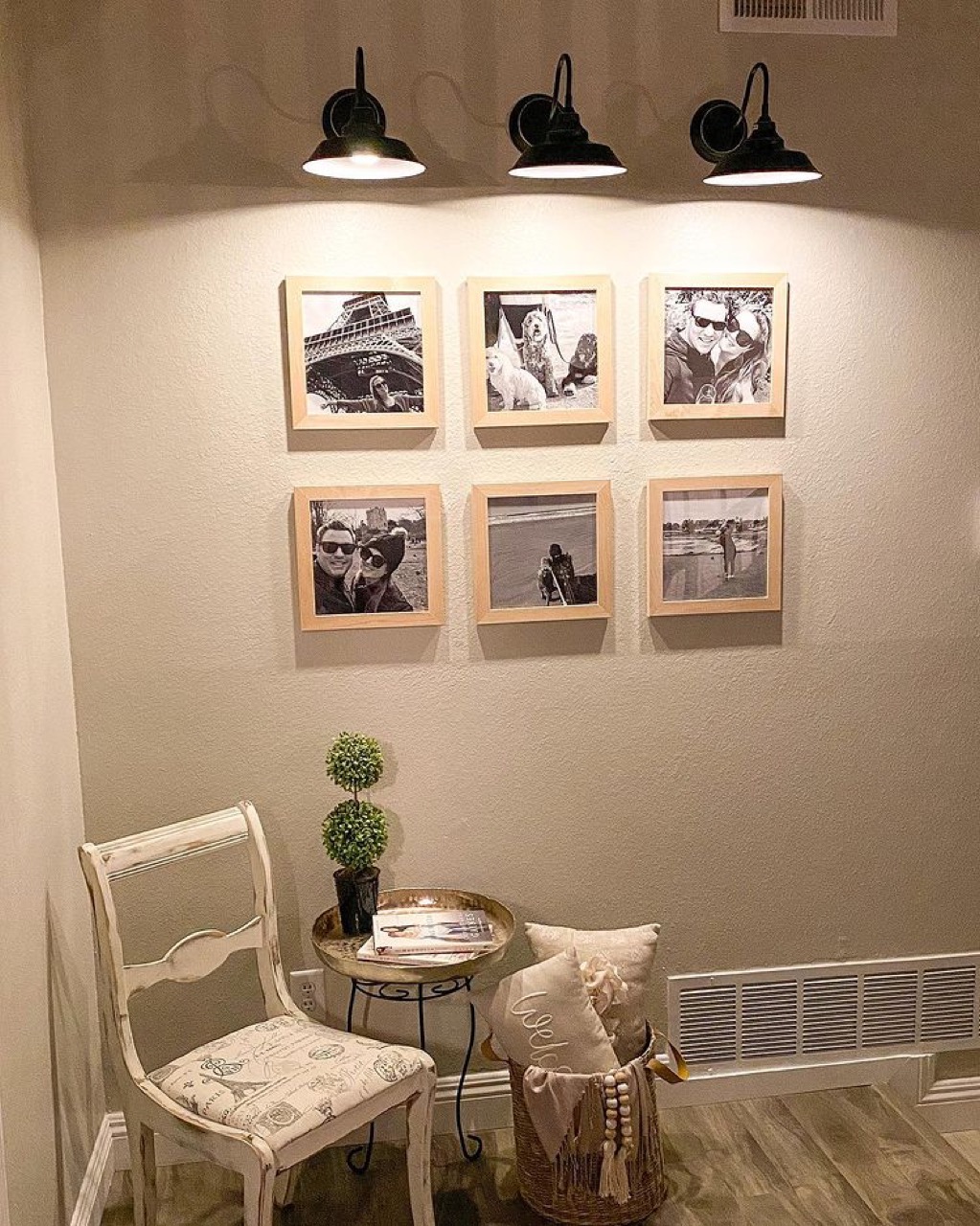 There are many different lighting styles to choose from, and which you choose for your space will all depend on the look you are going for. There are floor and table lamps, chandeliers/ceiling lights, recessed lighting, pendants, sconces, strip LED, track lighting, puck lights, and so much more!
If you want your home to look like an art museum, consider hanging ceiling-mounted accent lights. These lights will create a spotlight on your artwork or photos. A rule of thumb for how to angle your light to shine on your artwork perfectly it to hang it at a 30-degree angle, that way it will hit the center of your photo.
Recessed lighting is also another great lighting option for your framed photos to give off a ton of light. Not only will recessed lighting distribute light off to your art, but will also be great for lighting the rest of your room as well, making it easy if you ever want to relocate your art.
Wall sconces are great for casting the light directly onto your picture frames. If you are creating a gallery wall in your home, sconce lights would be the perfect addition above your framed art or photos! The sconces will create a personal feel with your photos, so it would be a great choice for family photos.
If you're worried about the electrical aspect of things, maybe you don't have an outlet nearby where you want to hang your frames and lights, don't fret! Puck lights are a great alternative. You can get a 6 pack of battery-operated, remote-controlled puck lights that have a total of 16 colors you can choose from on Amazon. You can then either leave the puck lights by themselves or stick them inside a wall sconces if that's the look you are going for!
3 Considerations for Lighting Artwork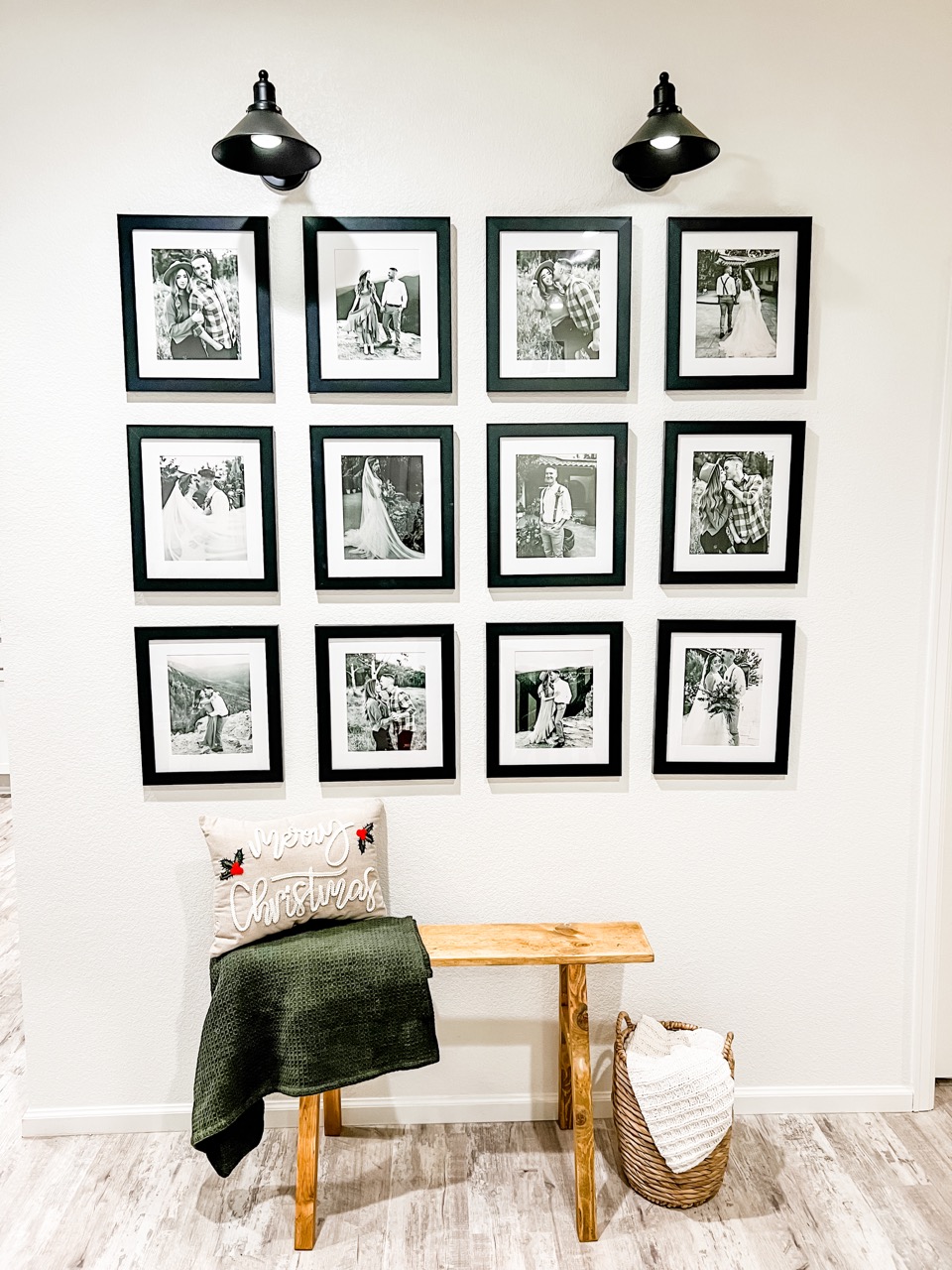 There are a few key things that you will want to consider when choosing lighting for framed photos.
Heat: The first is that you want to make sure the lightbulb you choose does not give off heat, and if it does give off slight heat, be sure that you are placing it far enough away from your art or photo to prevent heat damage. Our acrylic covers absorb most harmful UV light before it gets to your artwork, but you still want to take precautions. We talked about the different types of lightbulbs above, so how do you know which is the best choice to use? LED lightbulbs would be best since they are energy-efficient and don't give off any heat, so you won't have to worry about any heat damage.
Glare: The next thing you will want to consider is the glare that the light may bring. Of course, as we mentioned above, our non-glare acrylic will diffuse sunlight that hits your piece, however, it will also soften the color of your artwork, so we recommend using it if your overall piece doesn't have bright colors, or is entirely in black and white.
Distance: We mentioned that we suggest angling your lights 30 degrees above your photo to not be able to see the glare from the light. But how high should you be placing your lights above your artwork? We suggest anywhere from 5-7 inches above your artwork, depending on the size of both your light and picture frame. You want the light to be able to show off the piece, without harming your artwork.
Lighting For Framed Photos Inspiration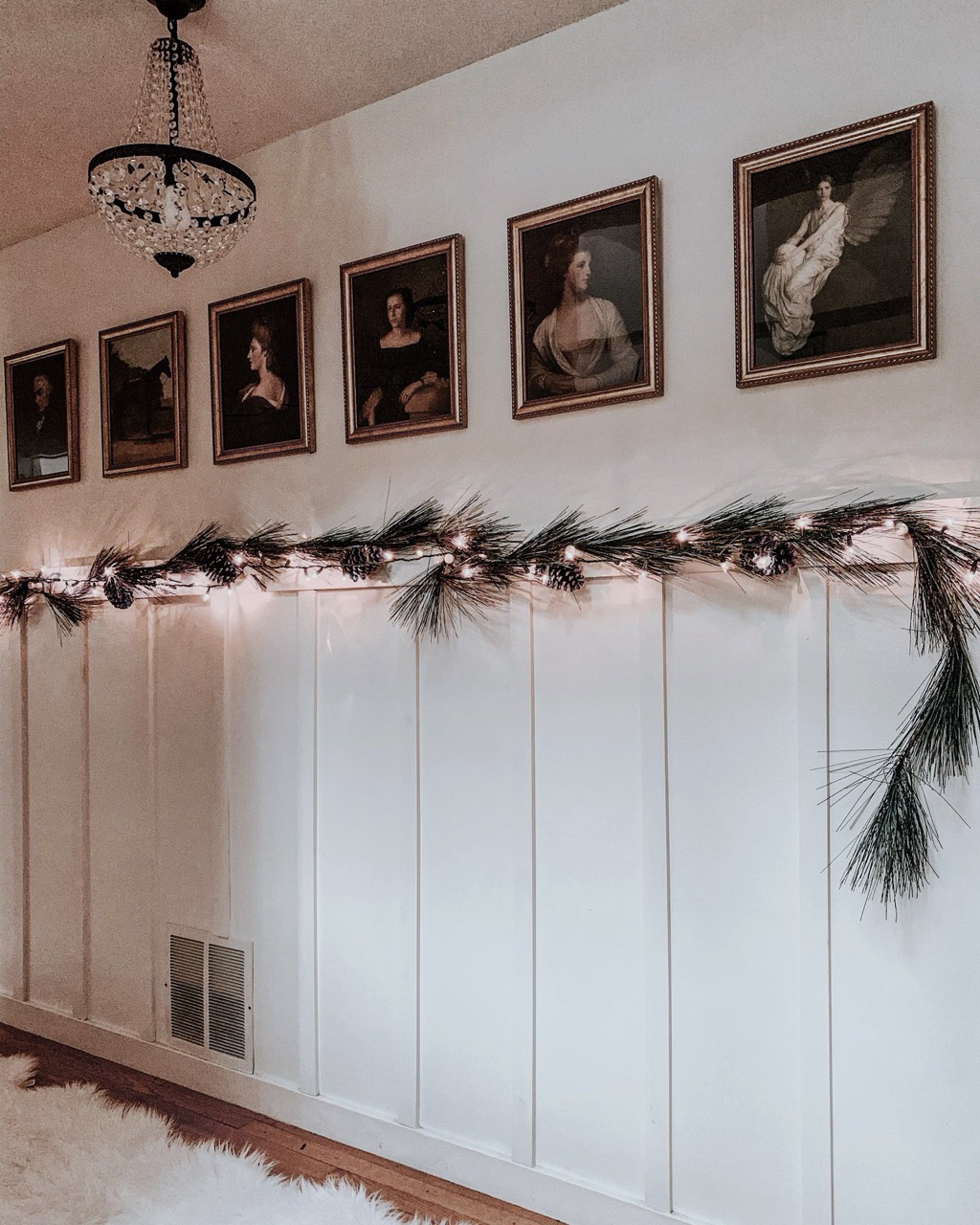 Chandeliers add tons of personality to your space year-round, but adding some garland and string lights during the holiday season can give your frames an extra pop!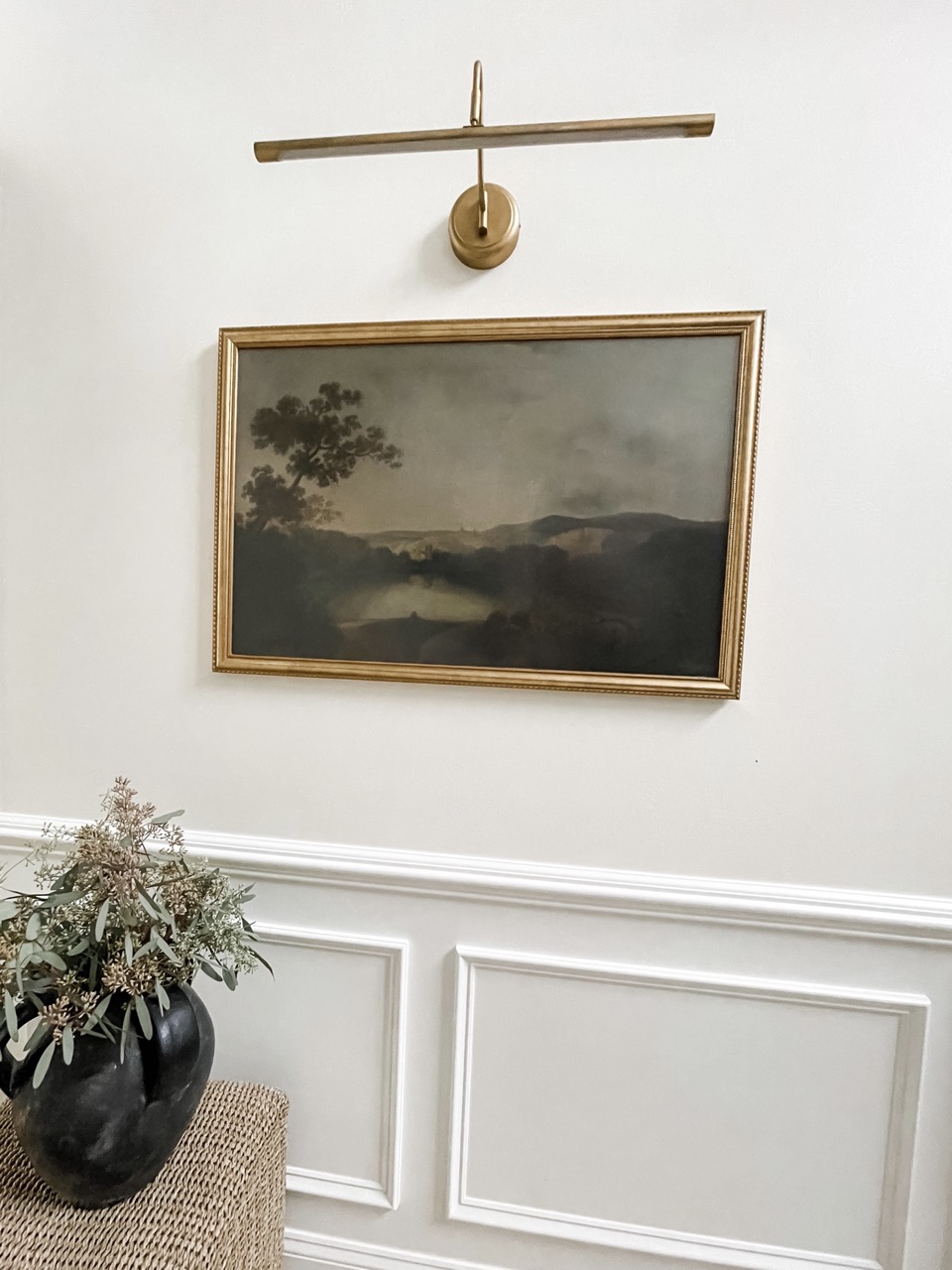 Create your own at-home art museum using horizontal wall lights to display an important art piece. The wall sconce creates a focal point on the art piece without being too distracting. Tip: use our Granby frame style in Gold to give your piece an elegant touch. The ornate wood frame will make your piece look and feel even more important!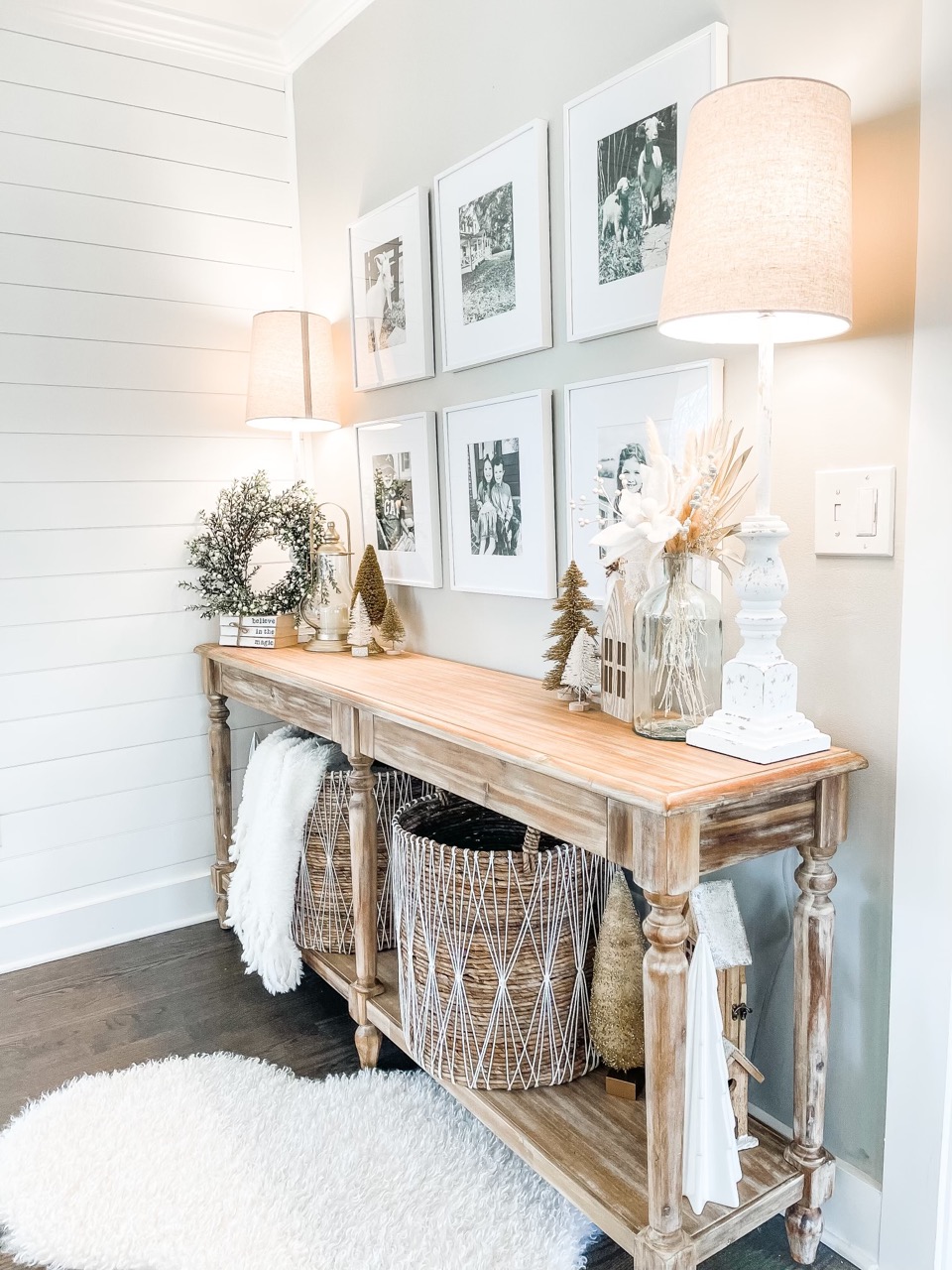 Creating an entryway in your home is important since it is the first thing your guests will see when they come inside. Add some family photos and warm table lamps to your entryway to create a cozy and welcoming vibe!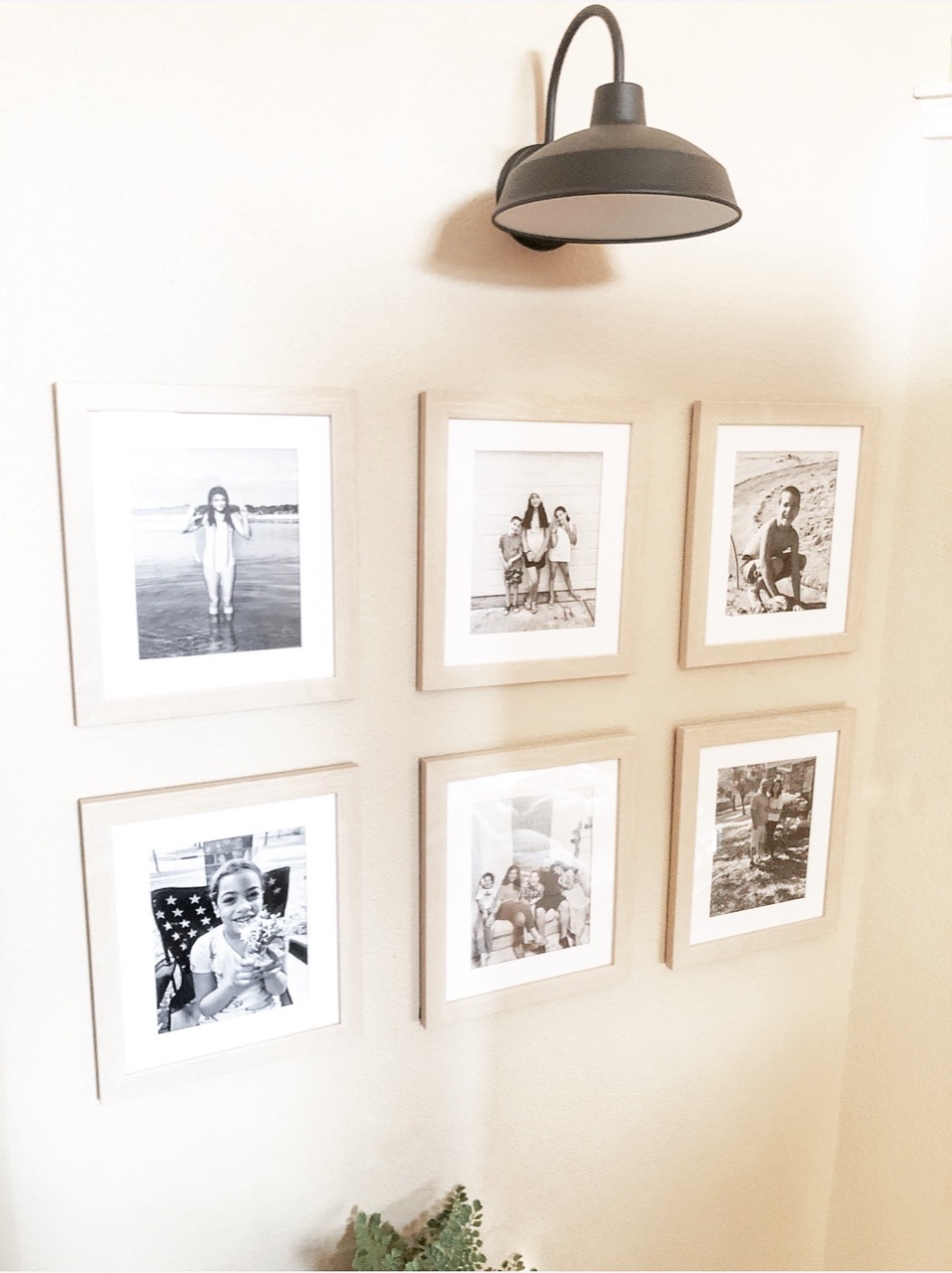 Wall sconces are great because they won't take up any space, provide intimate accent lighting, and make for great decoration. Wall scones would be great to feature your family photos in a creative way.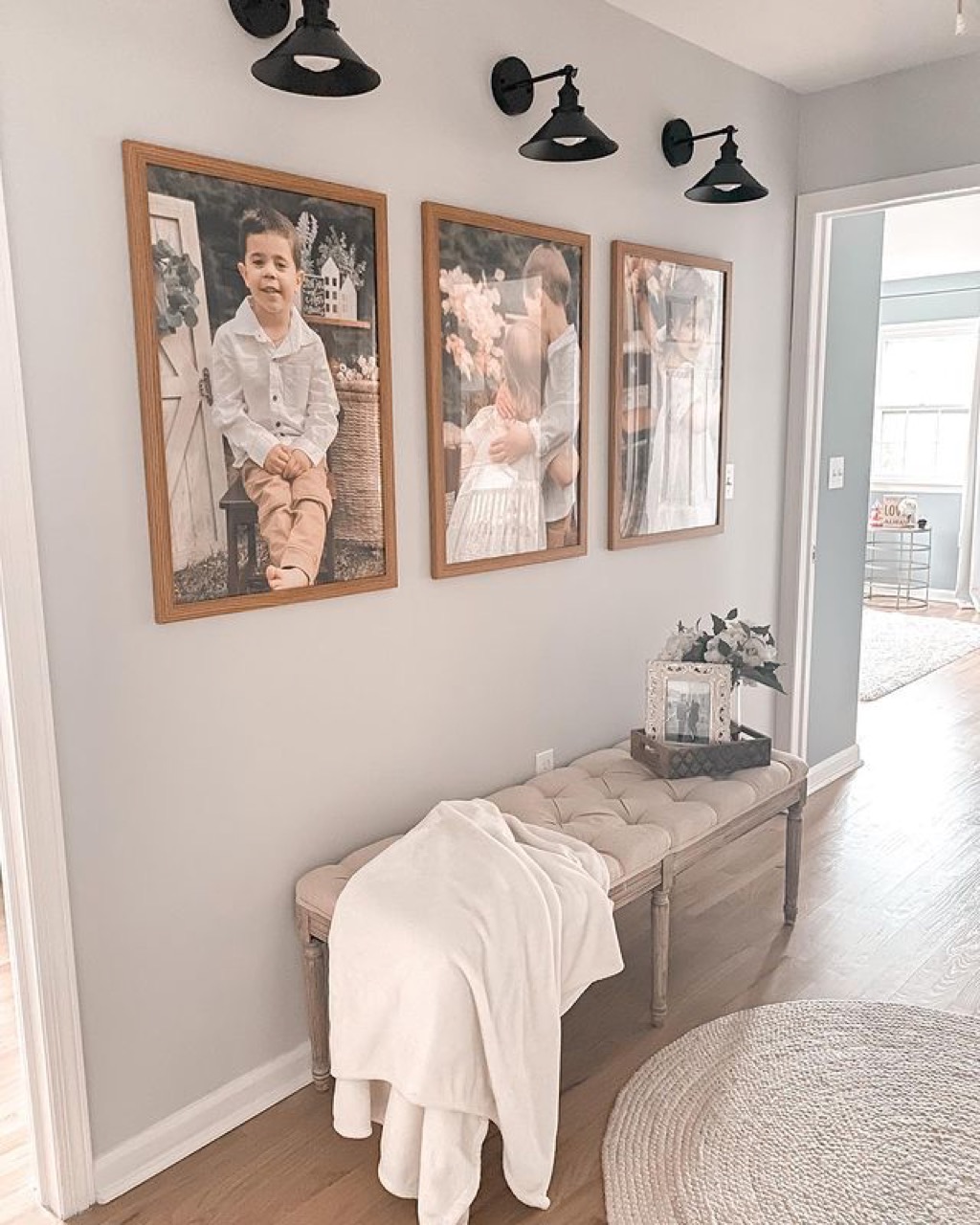 If you have portraits of your family or children, give them the grand display they deserve with a large frame and wall sconces.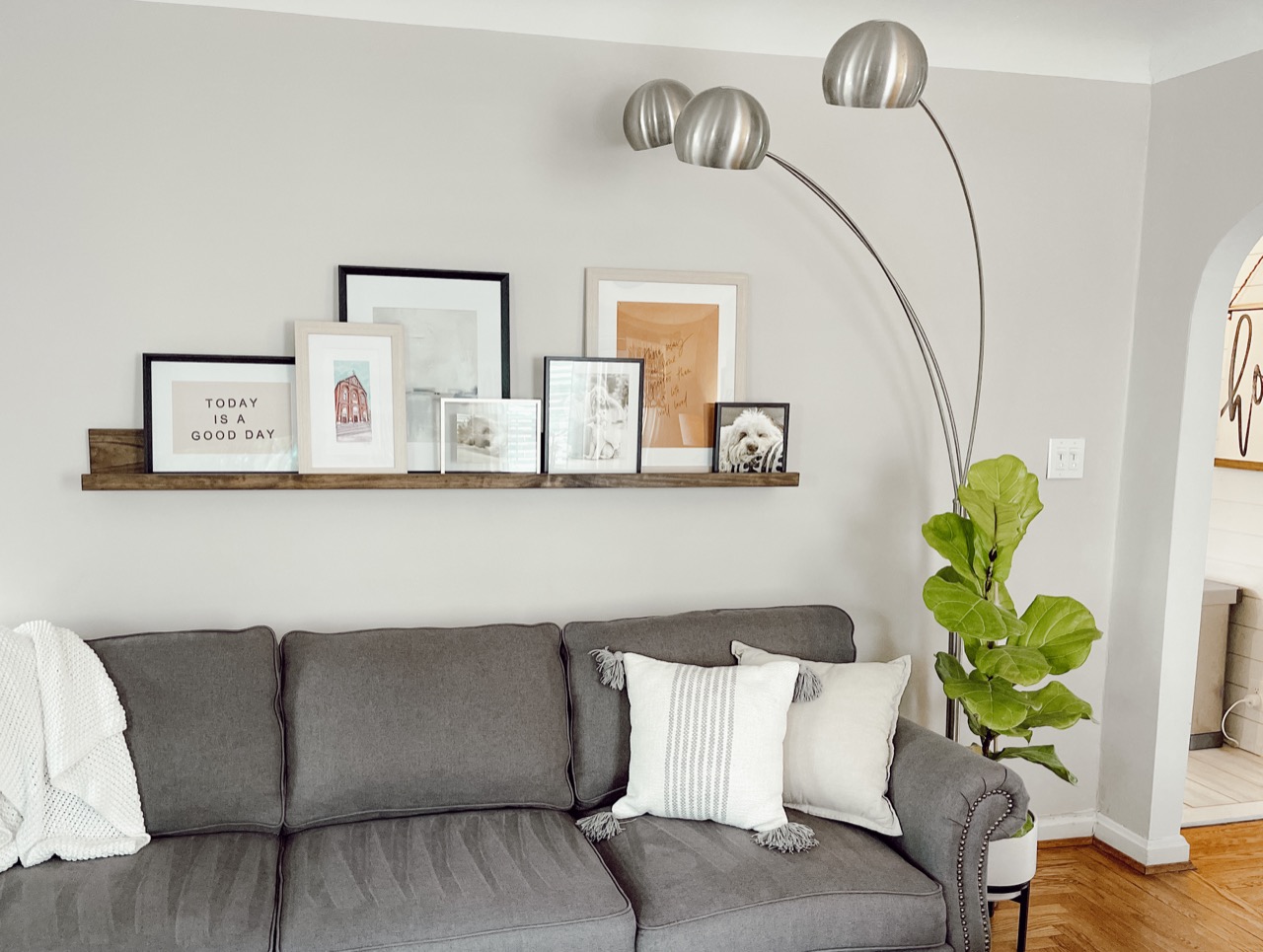 Not only does the floor lamp provide great task lighting, but the lamp can also be moved to provide lighting to your shelving decor.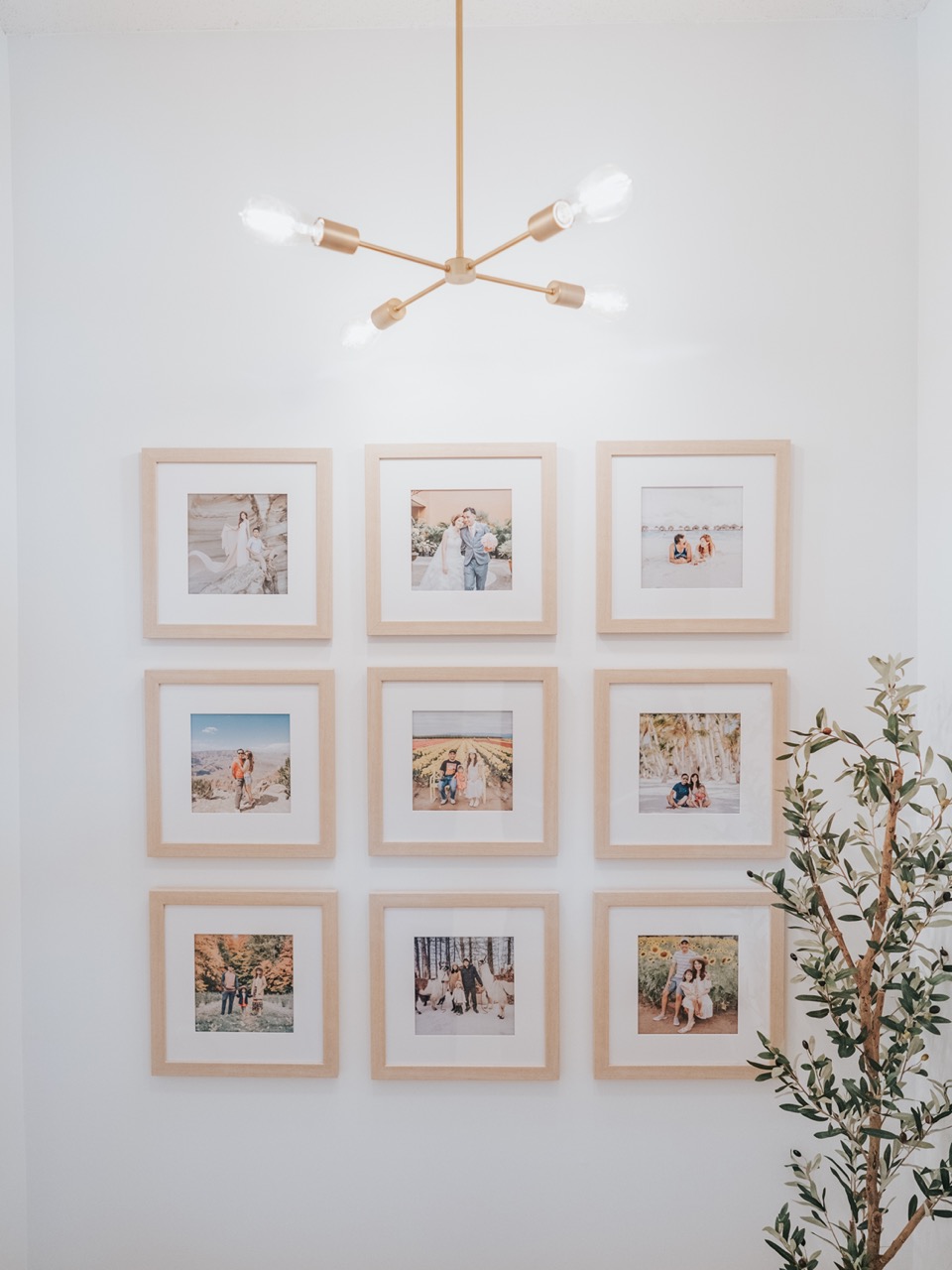 The chandelier in the photo featured above is a great addition to your hallway and features your framed family photos. The light bulbs are bright enough to use as your general lighting for your space and add character to the gallery wall.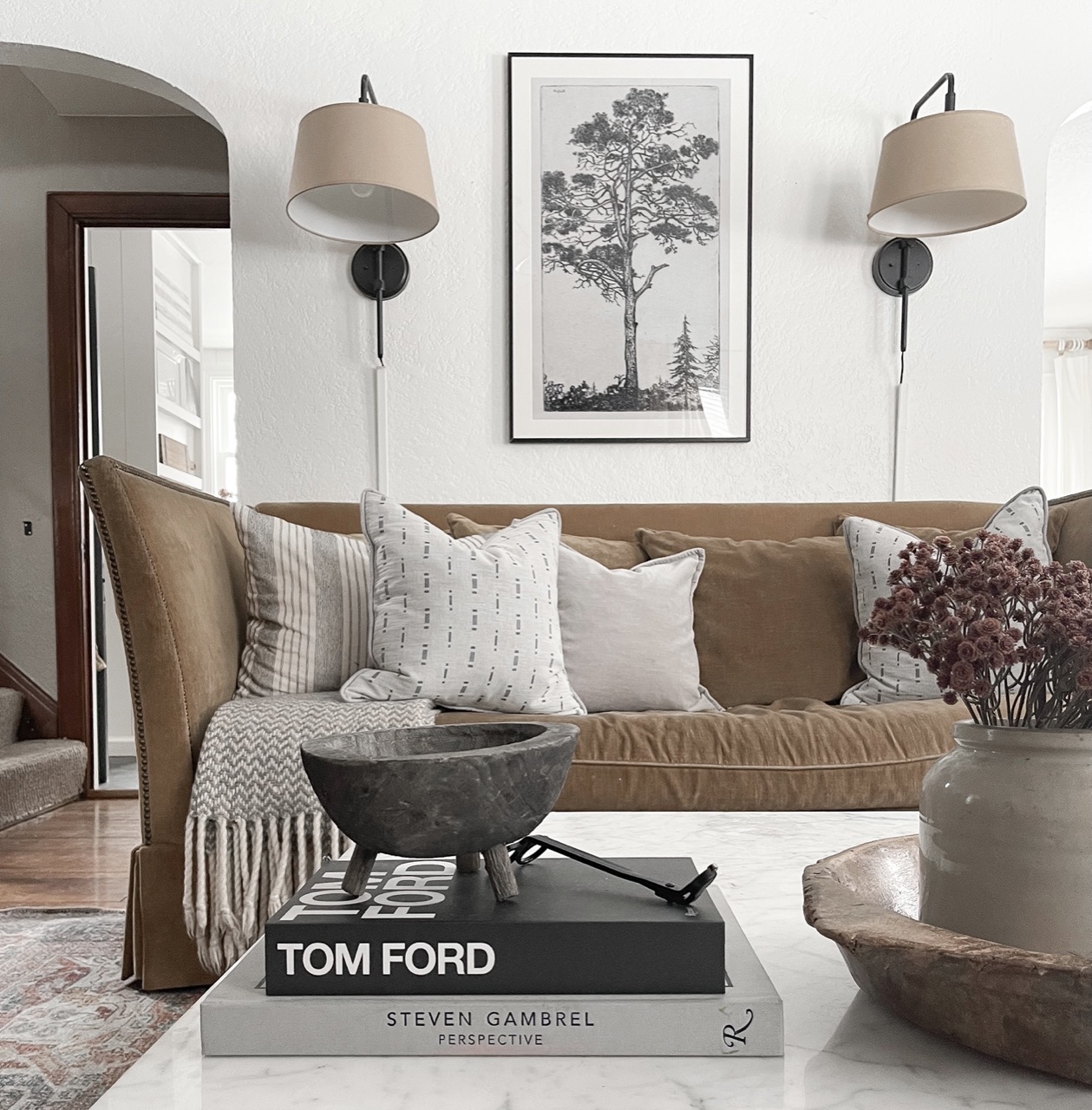 The wall lamps featured in the photo above are a great addition to the large poster frame in the middle. The lamps provide accurate task lighting without distracting from the beautiful print.
Final Thoughts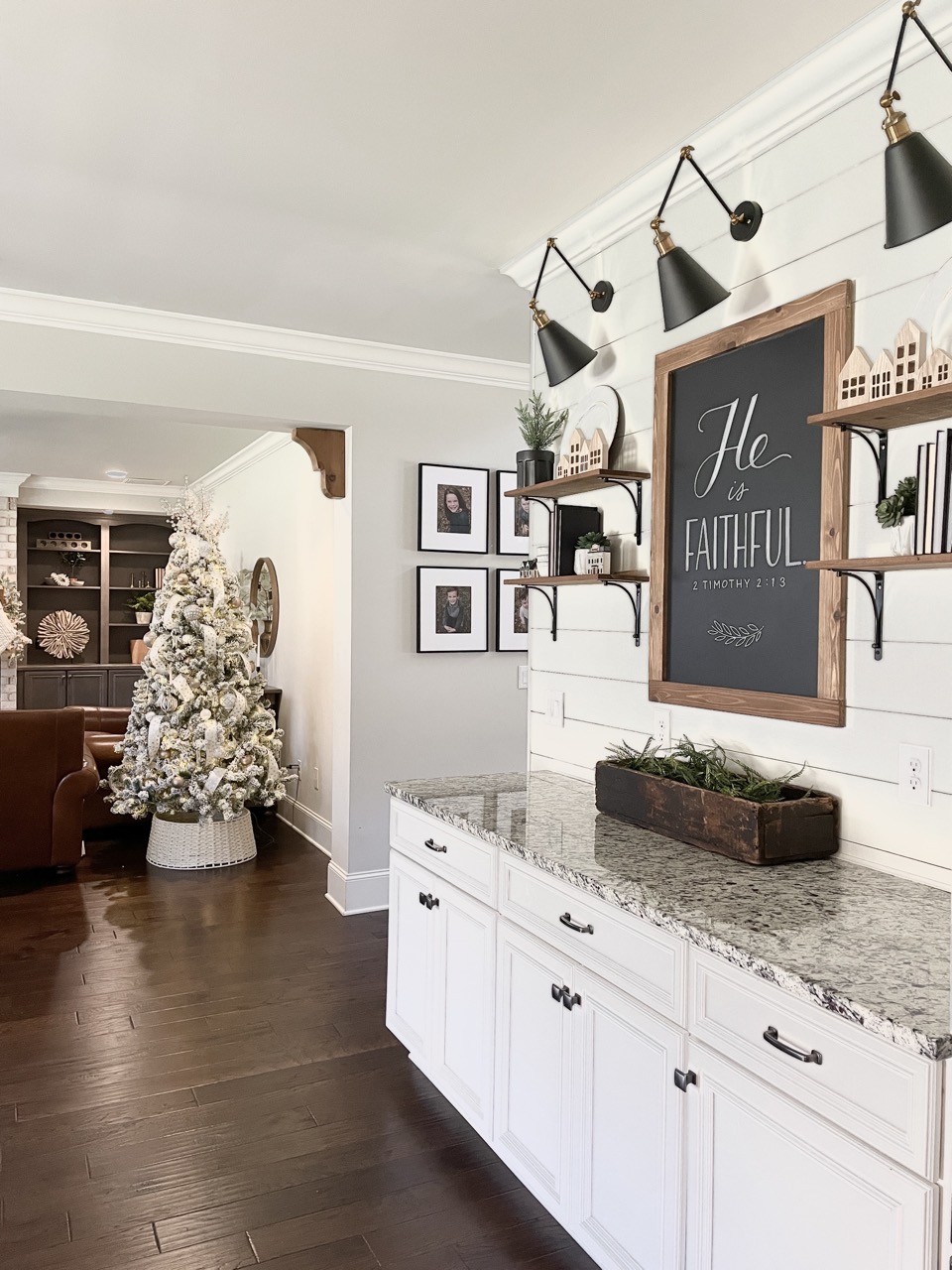 If you are planning to add lighting to your framed photos or artwork but didn't know where to start, we hope that you found this post helpful and now feel ready to complete your project! Once you have finished your lighting project, be sure to share photos with us on social media or send your photos to creative@frameiteasy.com with the subject "Featured Friends" to be our next Featured Friend!
This post first appeared as Lighting For Framed Photos: Tips and Tricks on Frame It Easy - Learning Center for Custom Picture Framing.