The entryway to your home is what welcomes guests into your home and will give them a hint for what they can expect the rest of your decor to look like. If your entryway is messy and unorganized, they may hesitate to keep walking. That is why creating a welcoming entryway is important. An update or upgrade to your home decor doesn't have to break the bank, however, and lucky for you we have some tips and tricks to do so on a budget!
If you are looking for some ways on how to upgrade your entryway in order to wow your guests from the second they step in, keep reading. Of course, we will also be sharing some amazing photos for inspiration to get the ideas flowing!
1. Add a Table or Bench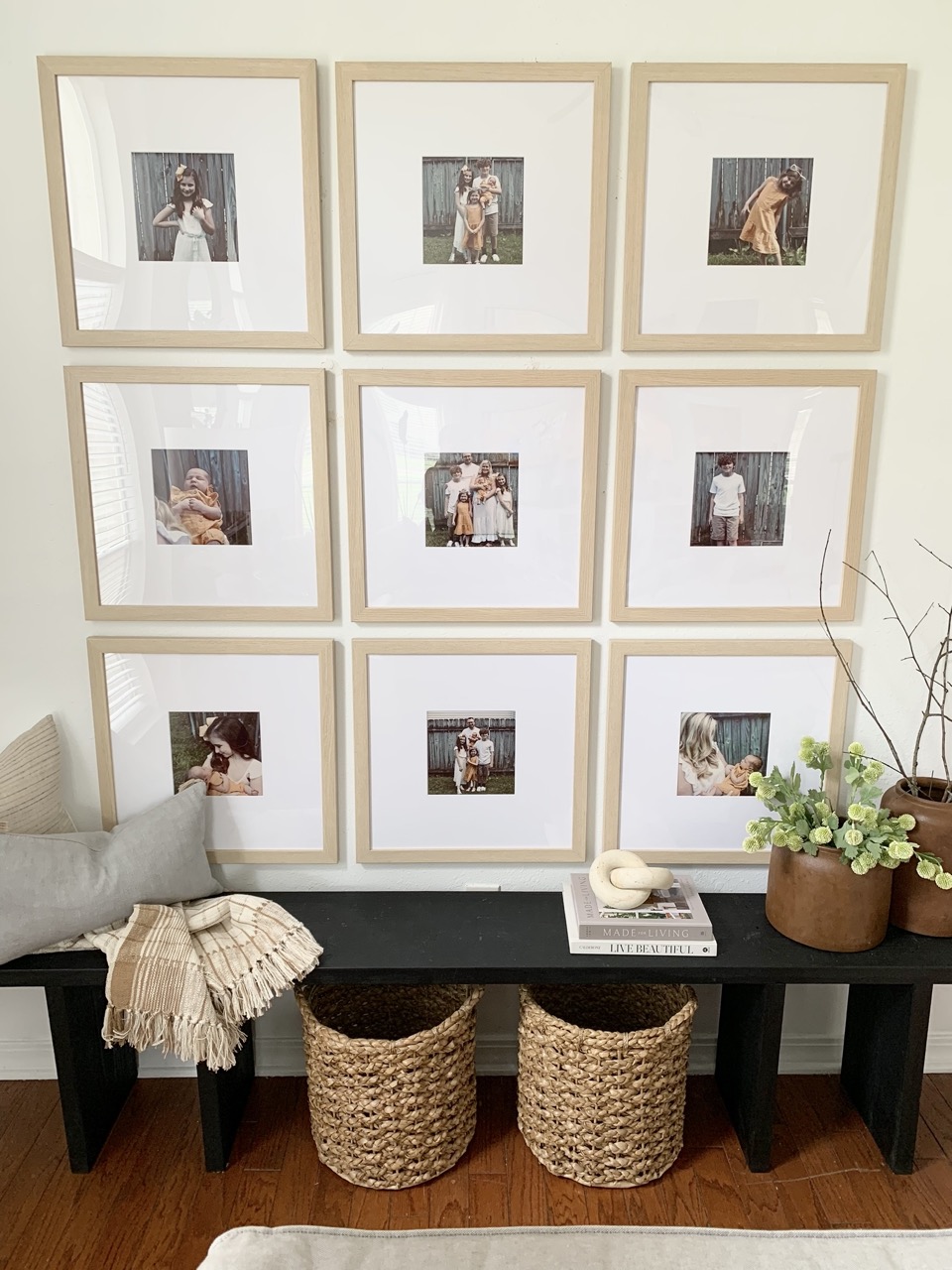 The first step is to add a table or bench to your entryway to enhance your look. Bonus points for using furniture that is multifunctional. Look for a bench that doubles as storage or a table with space underneath to hide your shoes when not in use. Chances are, your entryway isn't a huge area with tons of space, so you will want to keep your furniture pieces small and sleek.
A beautiful table can also be great to hold your decor pieces such as mirrors, frames, books, and a dish for your keys. You won't want to overcrowd your entryway table since this will make it look messy and unorganized, but a few pieces to spice up your table will work perfectly. Consider adding candles, flowers, or a stylish lamp to really take it to the next level.
Storage will also be very helpful. As we mentioned earlier, you probably don't have a ton of room in your entryway so you will want to keep it simple and neat. Opt for some storage to hold shoes, bags, umbrellas, and hooks for coats.
2. Add a Pop of Color
You'll want to make your entryway inviting and fun for your guest, and what better way to do that than with a pop of color? There are a few ways to add this color into your entryway without going overboard. Remember, you just want to give them a little taste and transition into the rest of your home. Consider adding an accent wall with paint or wallpaper. You could choose a fun color or print to create that focal point. Don't forget to add accessories like a mirror or a few frames of your family. If your entryway isn't a big space, a large framed mirror might be the best option to open your space a little more and trick the eye into making the room appear larger than it actually is. If you don't want to go crazy with the color, consider adding a unique lamp or use one of our colored picture frames such as our Ashford frame style in Hot Pink or our Hanover frame style in Red, Blue, or Green!
3. Lighting is Essential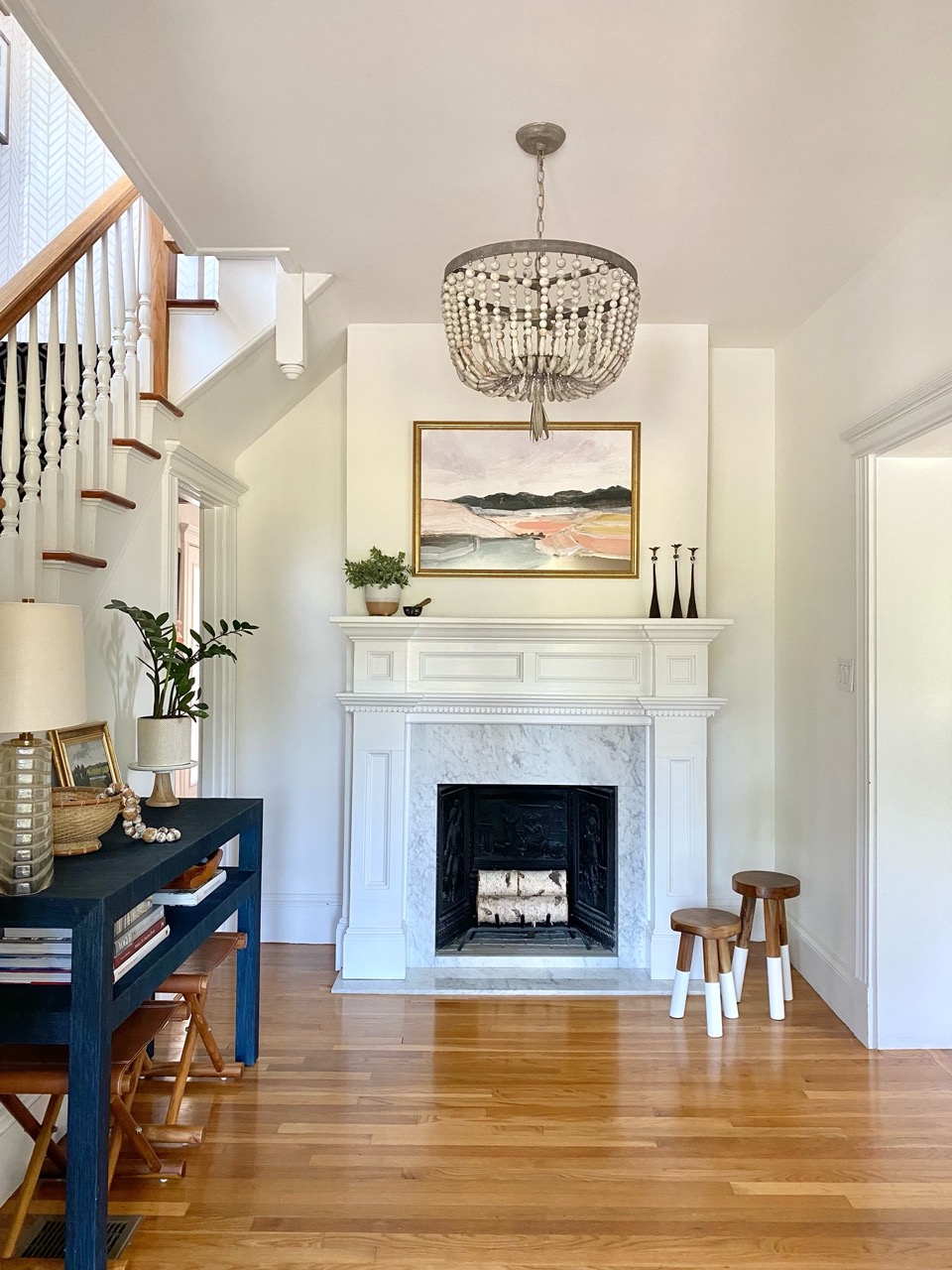 Lighting in your entryway is very important. You don't want your guests to walk into a dark home with no idea where to go. If you have high ceilings, consider adding a beautiful chandelier. You could also add a floor lamp or table lamp that will give off enough light. Remember, your entryway is your first impression to guests, so we recommend getting a light fixture that is bolder than the rest of your decor, while still staying true to the overall design style of your home. Take a trip to your local Target, Homegoods, or even thrift store to find a unique lighting fixture that can be a conversation starter when people walk into your home.
4. Get Crafty With The Wall Art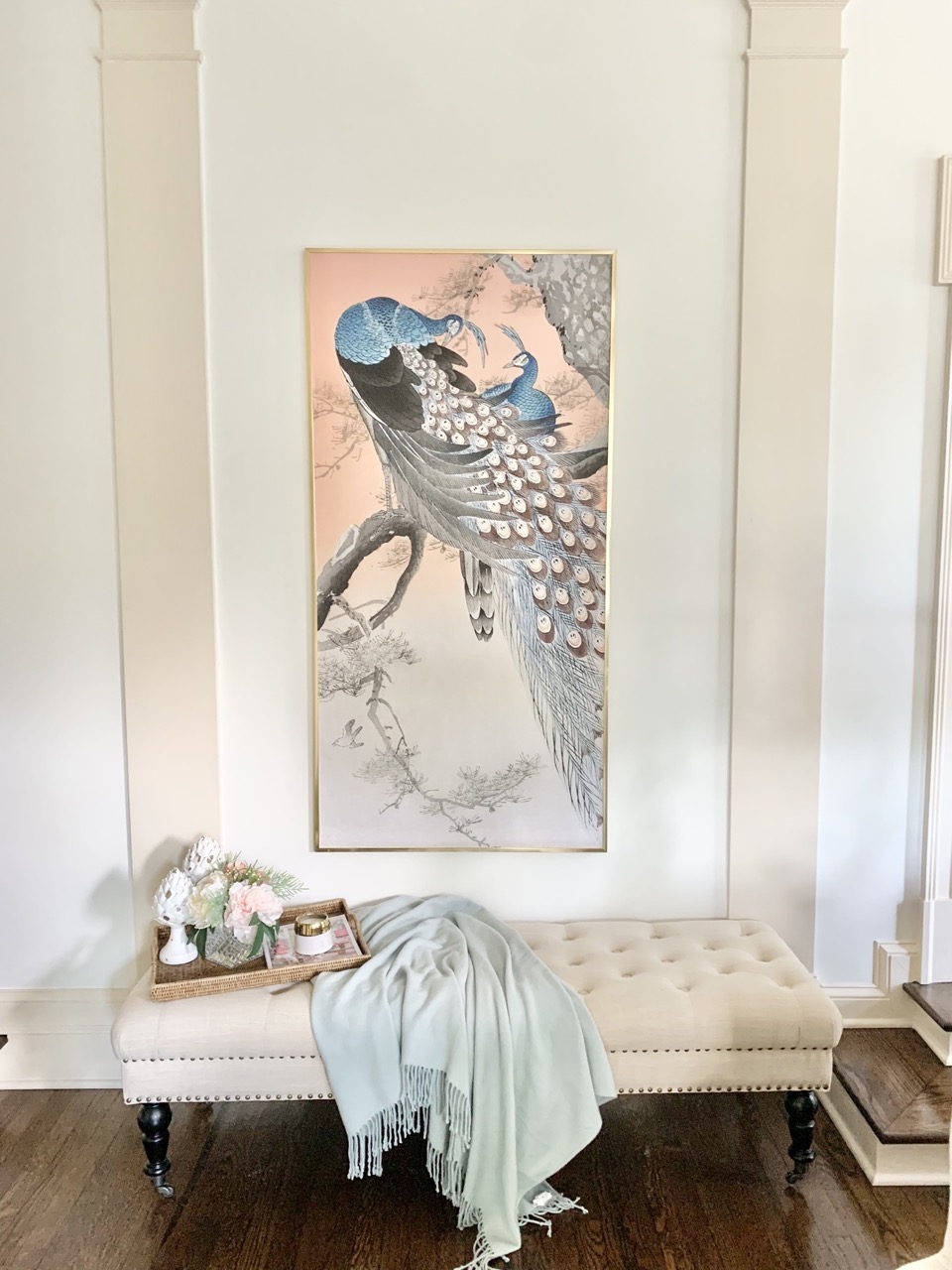 This is the perfect place to display all your best art pieces. Whether it is an original piece that you created yourself, your child's art project, or something you found online. You could even create a small gallery wall that shows off all your favorite pieces. This is also the perfect place to display your family photos for everyone to see so try to create an eye-catching display that will make them stop and stare!
If you only have one photo that you want to display, consider doing a large print of the photo as a statement piece. With our interactive Frame Designer, you can create a custom frame up to 42″ x 42″ in our wood frame styles and 42″ x 62″ in our metal frame styles.
5. Plants Are Always a Great Idea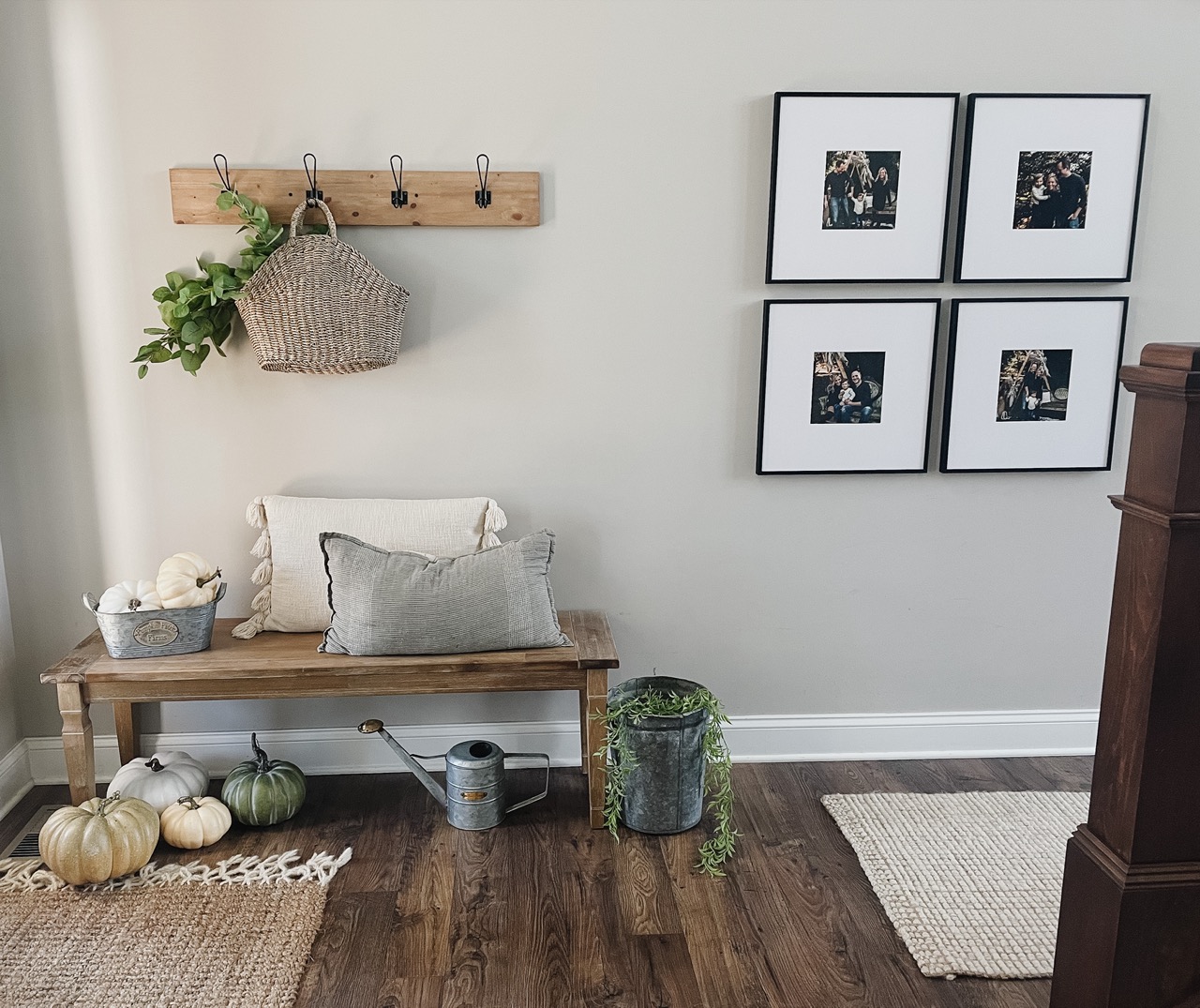 If you've been to our Learning Center before, you probably know that we are big fans of adding plants to home decor. Real plants have many benefits, such as reducing pollutants and dust, keeping your room cool, and reducing carbon dioxide, plus they look great! If you don't have a green thumb and are worried about being able to keep your plants alive, don't worry, faux plants look just as great! You can go with a large floor plant to stand tall beside your other decor pieces or stay small with a succulent or small cactus.
Traditional plants just not your jam? A great way to coordinate plants and flowers into your home decor without having to water them every day is to frame them! This is a simple way to brighten your day every time you walk into the room but requires very little care.
6. Consider Adding a Rug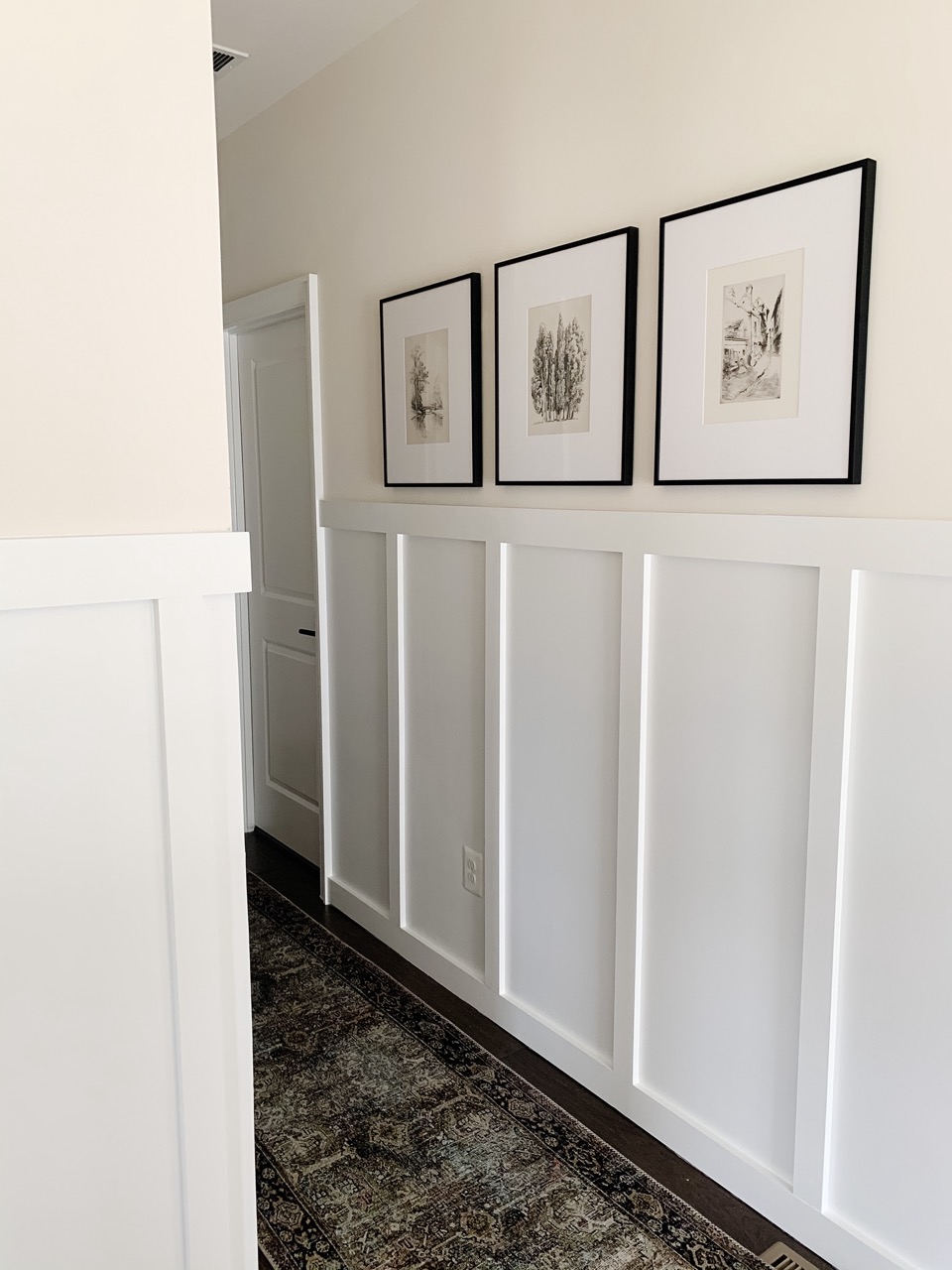 Whether it is an area rug or a runner, adding a rug is a great idea in order to protect your floor, since this is a high-traffic area. Look for a rug with a fun design or color that is inviting to guests. Adding a rug can make your home look cozier and will "warm" your home up a bit. If you don't have a hallway that leads from your entryway to the rest of your home, a runner will create a faux hallway and will make your space feel bigger and longer.
Final Thoughts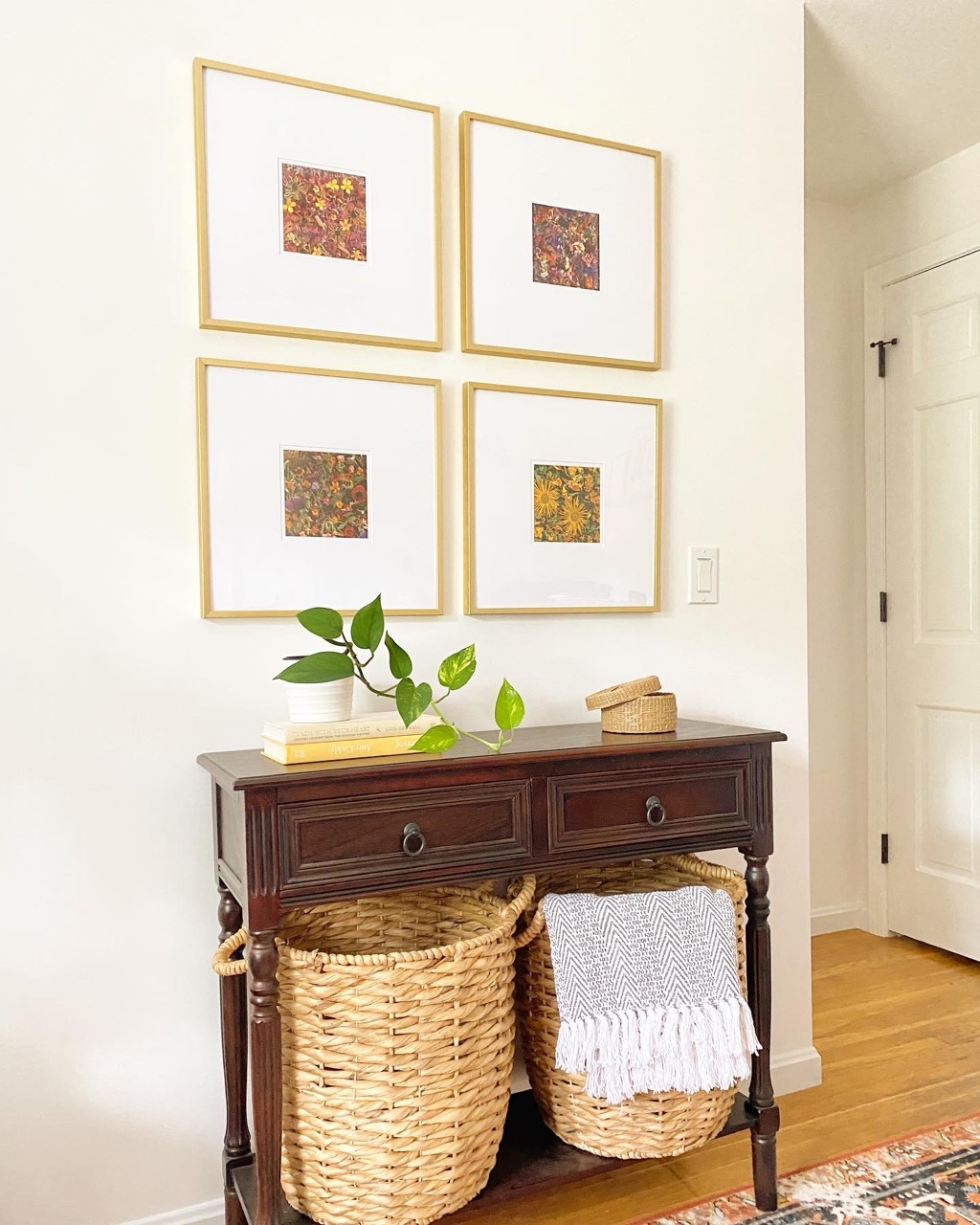 Your entryway is important because it leads your guests into the rest of your home. You'll want to create a welcoming space that makes people intrigued to see the rest of your house. Of course, it's important to keep this space clean and organized, while still having enough space for shoes, coats, and anything else that they would need to store while spending time with you.
We hope you found some inspiration throughout this post to add to your own entryway. If you used any of our tips, be sure to share some photos with us on social media so we can see how you designed your entryway!