Modern home decor is a simple yet stylish way to decorate your home. In a modern-styled home, you will find clean lines, neutral colors, and sleek surfaces. You'll find lots of natural materials like glass, metal, and steel. But you won't find ornate, fancy pieces. Don't confuse it with what is known as contemporary style (which is more about trendy). Modern interior design became popular in the mid-20th century and is more about living in a fuss-free environment.
At Frame It Easy you know our philosophy on custom framing is that there are no rules….if you love it, go for it. We say the same thing about decorating. So if modern home decor appeals to you, give it a try. While you look for decor pieces and inspiration to create a modern style in your home, keep the word simple in mind. But remember, simple doesn't mean boring, especially not in home decor.
So let's explore some ways to bring modern style into your home. And along the way, we'll share some of our favorite artwork along with frame styles we offer that will complement the modern look of every room in your home.
Modern Décor Kitchen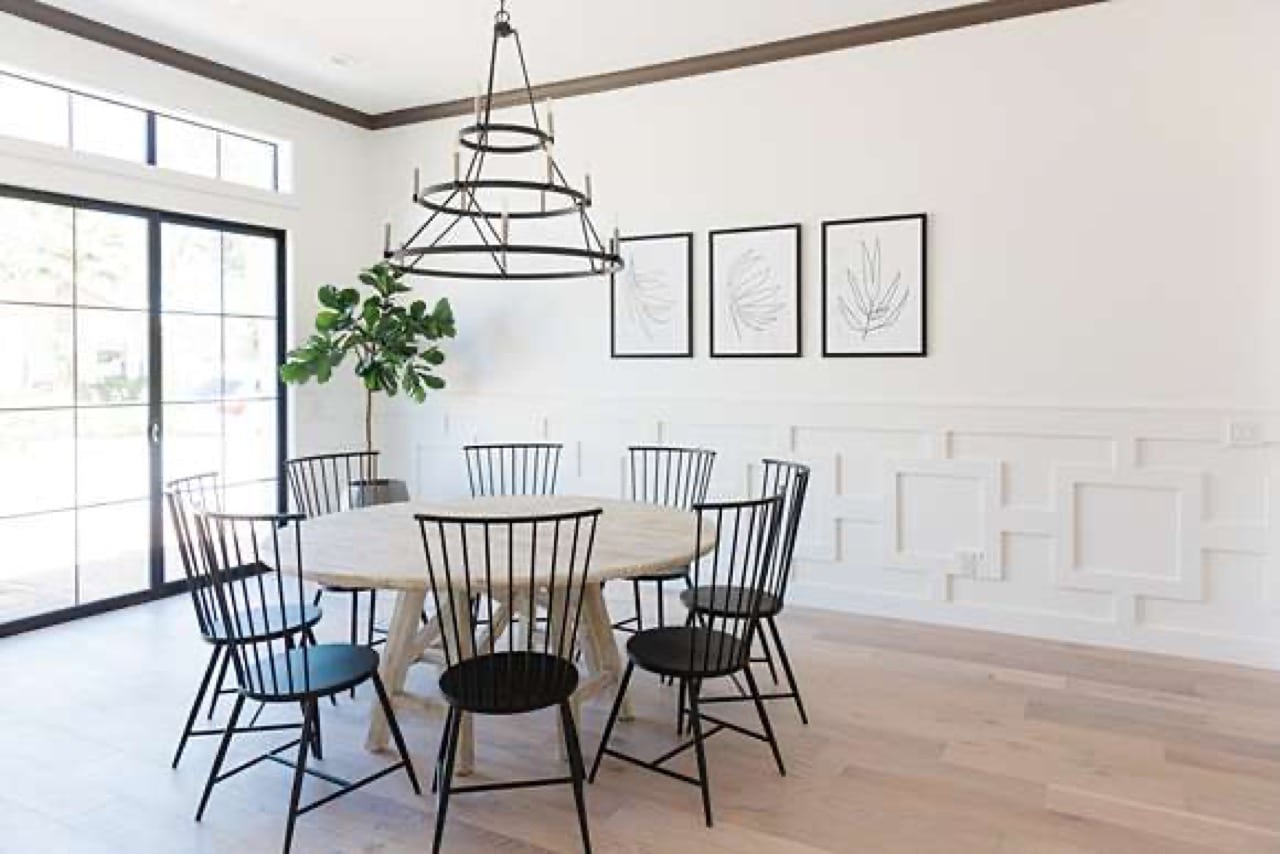 When creating a modern-style kitchen, think sleek but functional. If you are fortunate enough to have large windows or doors in your kitchen area, use them to your advantage! If privacy is not an issue, skip the window treatments to allow natural light into your space. Use neutral colors that won't make too much "noise" but instead make a subtle statement. Skip the hardware on cabinets, keep the countertops uncluttered, and keep the entire area monochromatic.
Follow through with these concepts in your dining area. Natural wood table and chairs with clean lines. Hardwood floors. A plant or two. The modern look is also the less is more look. An unadorned table makes a bold statement!
Of course, no room is complete without some art hanging on your walls. Line art is the perfect addition to your modern decor. Line art is an image that consists of distinct straight or curved lines. There is no shading to represent two or three-dimensional figures. Line art is simple yet beautiful art that holds lots of character in a small amount of art, yet still manages to express massive amounts of feeling. Our Bradford frame style in Satin Black is a wider metal frame that will give your line art the grand display it deserves!
Modern Décor Living Room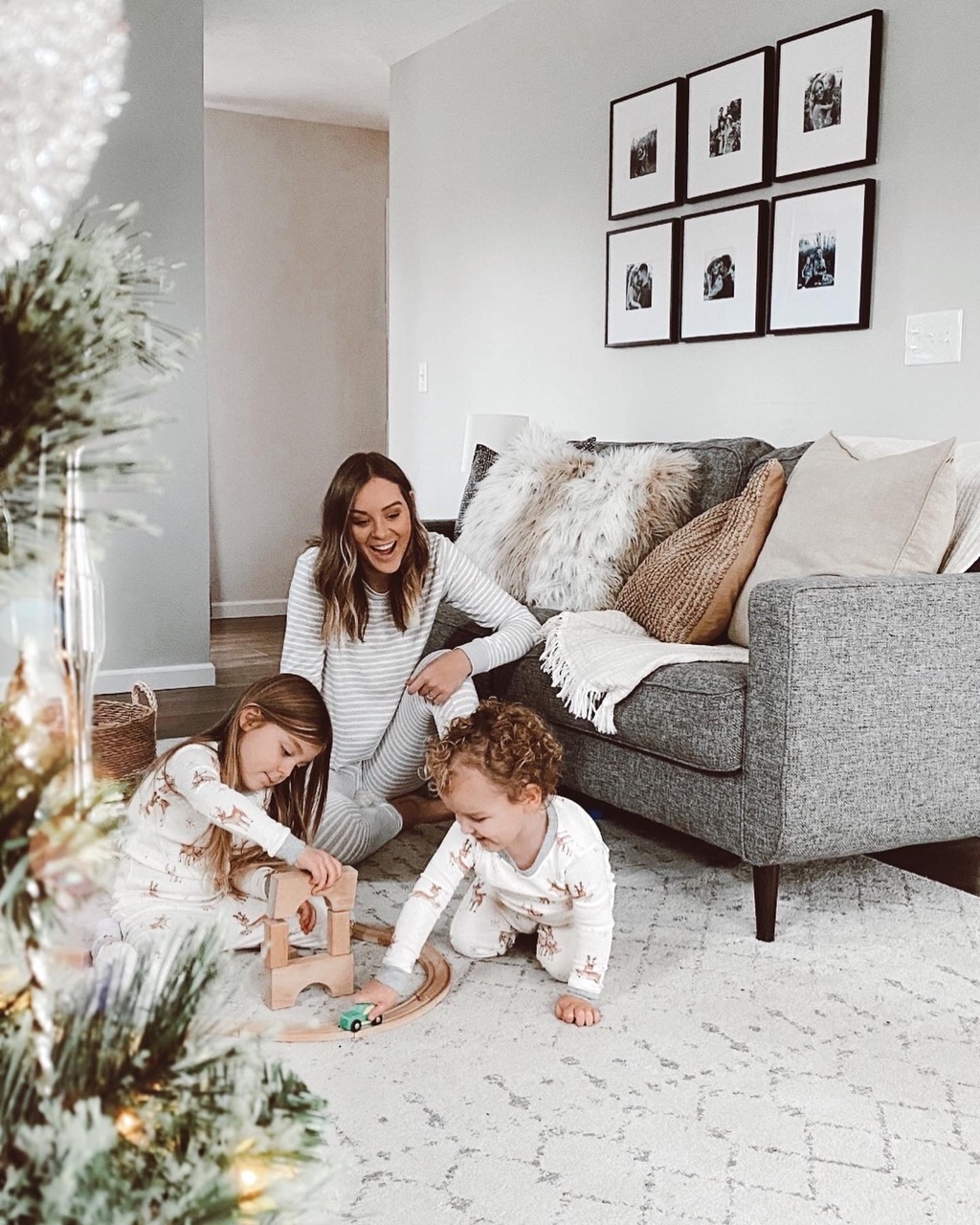 As we mentioned, modern style decor is all about simplicity. When decorating your living room, aim for low-sitting furniture using natural materials like wood, leather and wood. Another characteristic of modern design is that everything should serve a purpose. A wicker basket can hold magazines, toys, or blankets. A floating wall shelf can hold books, artwork, and CDs.
Of course, you spend a lot of time in your living room, so make sure that it is comfortable and feels like home. It's the perfect spot to create a gallery wall of your favorite family photos as the focal point of your room. Our Ashford frame style is a simple, metal frame with a flat profile face that would work perfectly for your gallery wall. Or if you prefer, match any wooden furniture you have with the color choices we offer in our Derby and Dayton frame styles.
Modern Décor Bedroom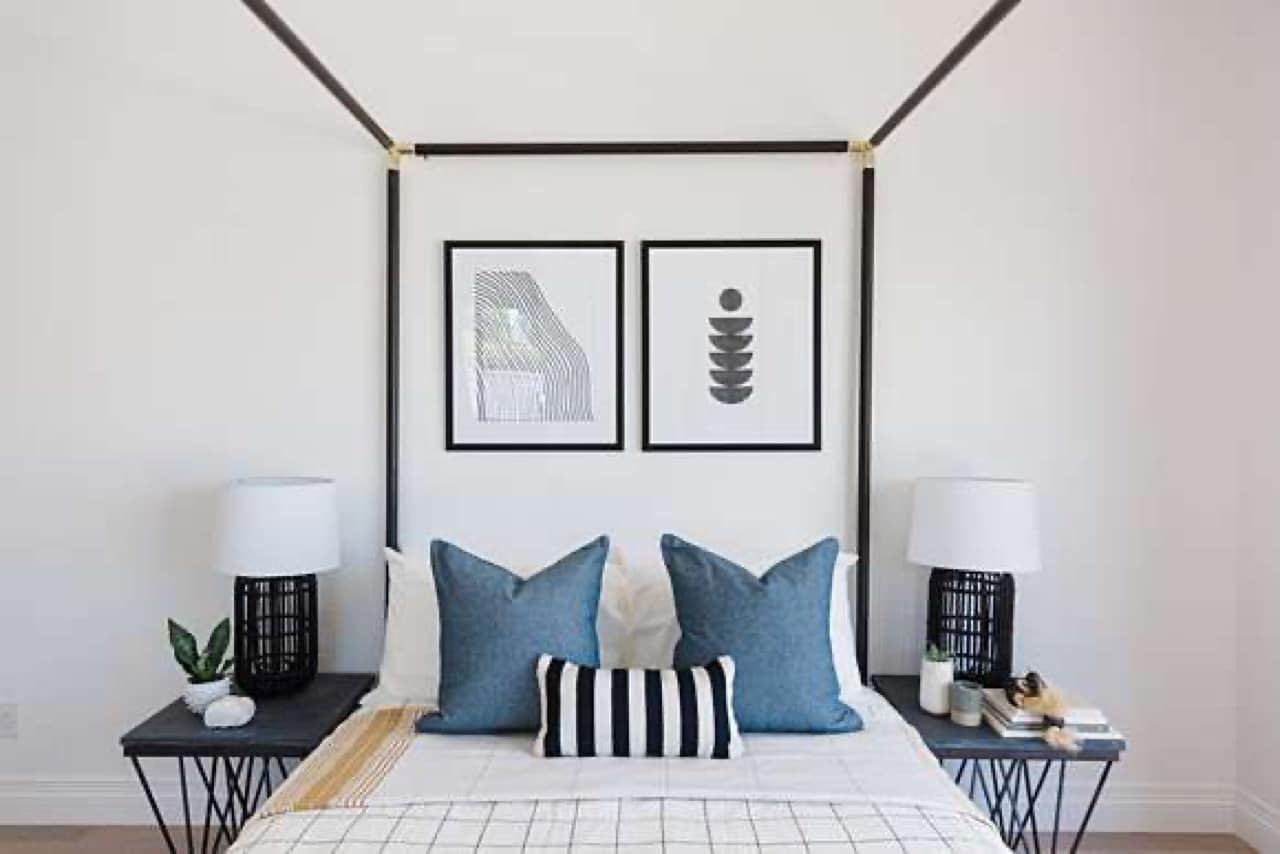 If you're going for a modern style bedroom, choose muted colors that bring a tranquil mood to your space. But don't be afraid to add a statement wall behind your bed. It can add a wow factor without going over the top. Consider adding some texture in as well. Wood molding adds a decorative element to the room without taking up needed space. A natural fiber area rug can add warmth. Metal reading lamps can be functional and beautiful.
Your statement wall can also hold a single piece of artwork that will enhance it as the focal point of the room. We can make frames as large as 42″ x 42″ with wood styles and 42″ x 62″ for metal styles, so don't let the size of a piece you've been wanting stop you from getting it. And all our frames come with everything you will need to hang it….well, you just have to supply the hammer!
Modern Décor Bathroom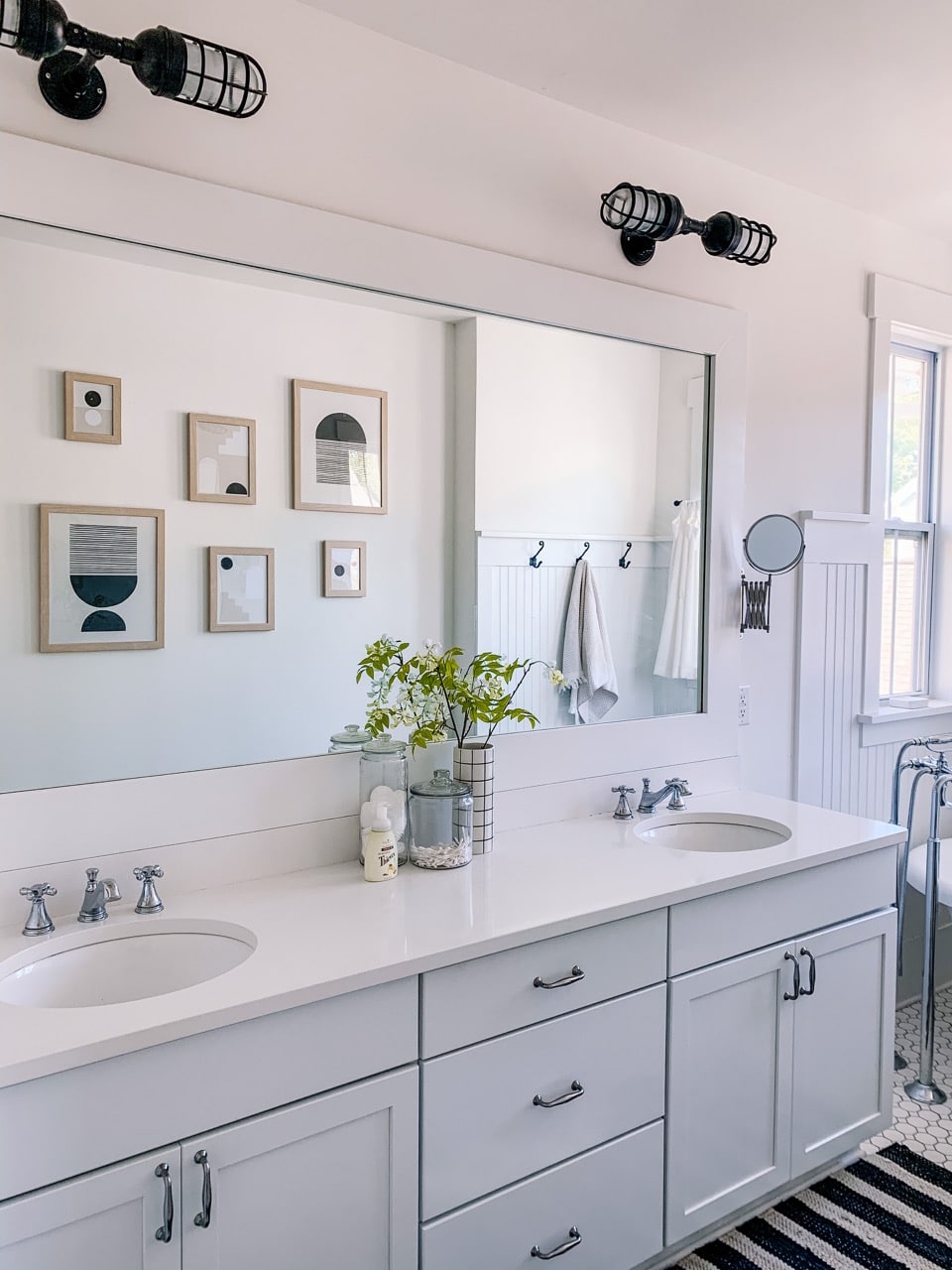 When styling your modern bathroom, remember that storage will be important in order to keep your space clutter-free and clean. If you have the luxury of lots of cabinets, shelves, and drawers, keep personal items stored away when not in use. If you're doing a remodel, opt for a walk-in oversized shower with glass doors instead of a traditional bathtub/shower combination.
If a remodel is not in your near future, you can still achieve a modern look in the bathroom with a few inexpensive tricks. A simple wooden mirror over the bathroom sink. Stacked storage containers that keep your items easily accessible but hidden. An environmentally friendly bamboo bathmat, trashcan, and towel holder. You can even find bamboo toothbrushes!
Although the bathroom is not the first place we think of to hang artwork, it can be a perfect place to display some unique pieces. Consider matching your fixtures with one of our metal frames, or if you used the bamboo idea, our Derby frame in Wheat, Hazel, or Russet might be the perfect match!
Final Thoughts on Modern Décor & Frames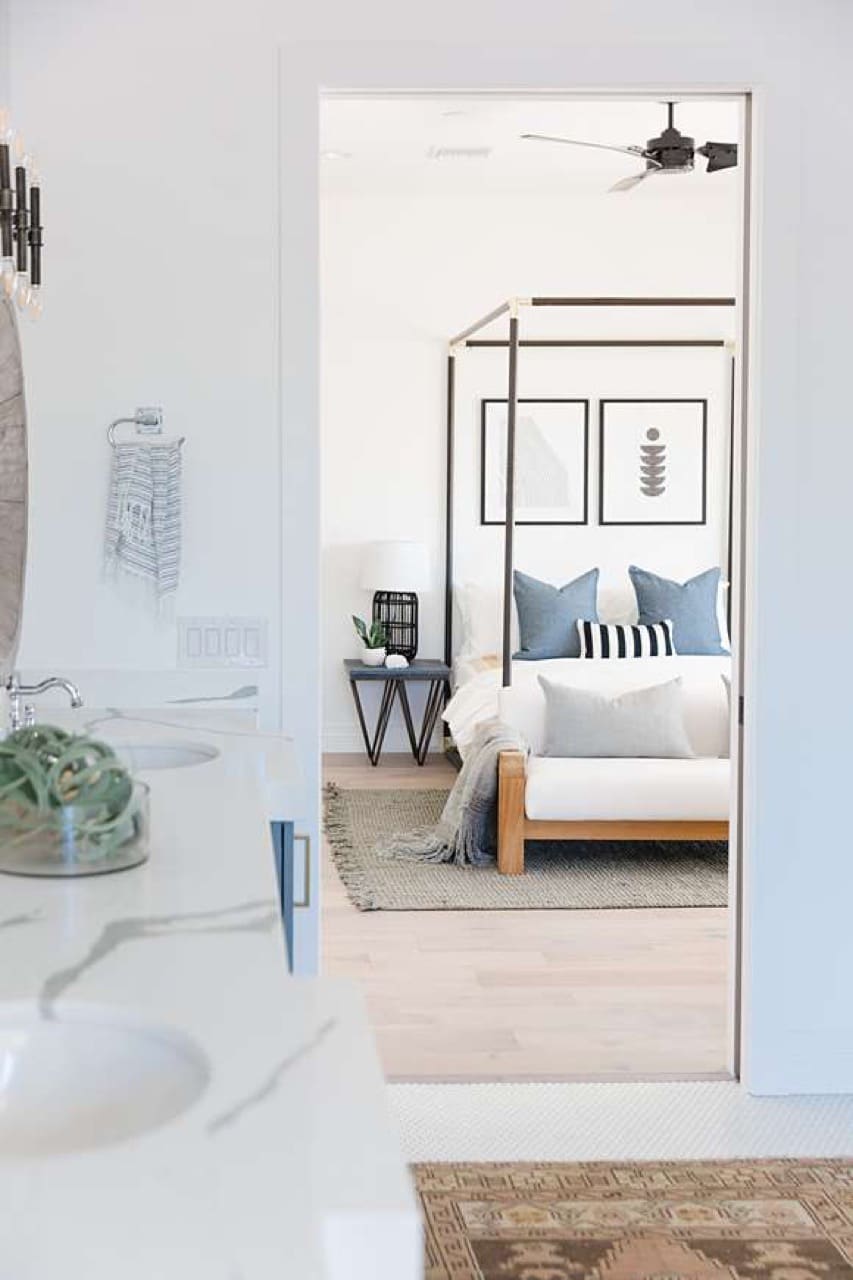 We hope we inspired you enough to create your dream modern-style home. Remember, try to find pieces that will serve a functional purpose. Modern decor should be simple, clean, natural, and minimalistic.
If you took any of our suggestions, be sure to share a photo with us on social media. If you have any suggestions of your own, be sure to share those with us too so we can add it to our list! We can't wait to see what you create.