Here at Frame It Easy, we strive to provide our customers with high-quality, affordable frames that are completely customizable. We have 8 different frame styles, which include 5 metal frames and 3 wood frames, which means we have tons of options for you to create your perfect, custom frame for your home. We've covered light and dark wood frames in our Learning Center before, so today we will be covering our metal frames' color options.
There are a few different materials frames can be made out of, both metal and wood. Here at Frame It Easy, all of our metal frames are made out of aluminum, through a process called "extrusion" that's either anodized or powder-coated, which are processes to create a decorative, durable, and corrosion-resistant finish. Plus, all of our frames — metal and wood — are made in America.
Between all of our metal frame styles, there are 12 different colors to choose from — Satin Black, Silver, Gold, Gloss Black, Silver, Gold, Rose Gold, White, Hot Pink, Red, Blue, and Green. Whether you choose to design all of your frames using the same color for a uniform look or mix and match your frames to create an eye-catching display, we will be going over some options for choosing the best frames for your space.
So what is the best choice for your home — light or dark? Satin or glossy? Neutral or a fun color? Maybe mixing and matching is the best option? Let's find out more!
Satin vs. Gloss Metal Frames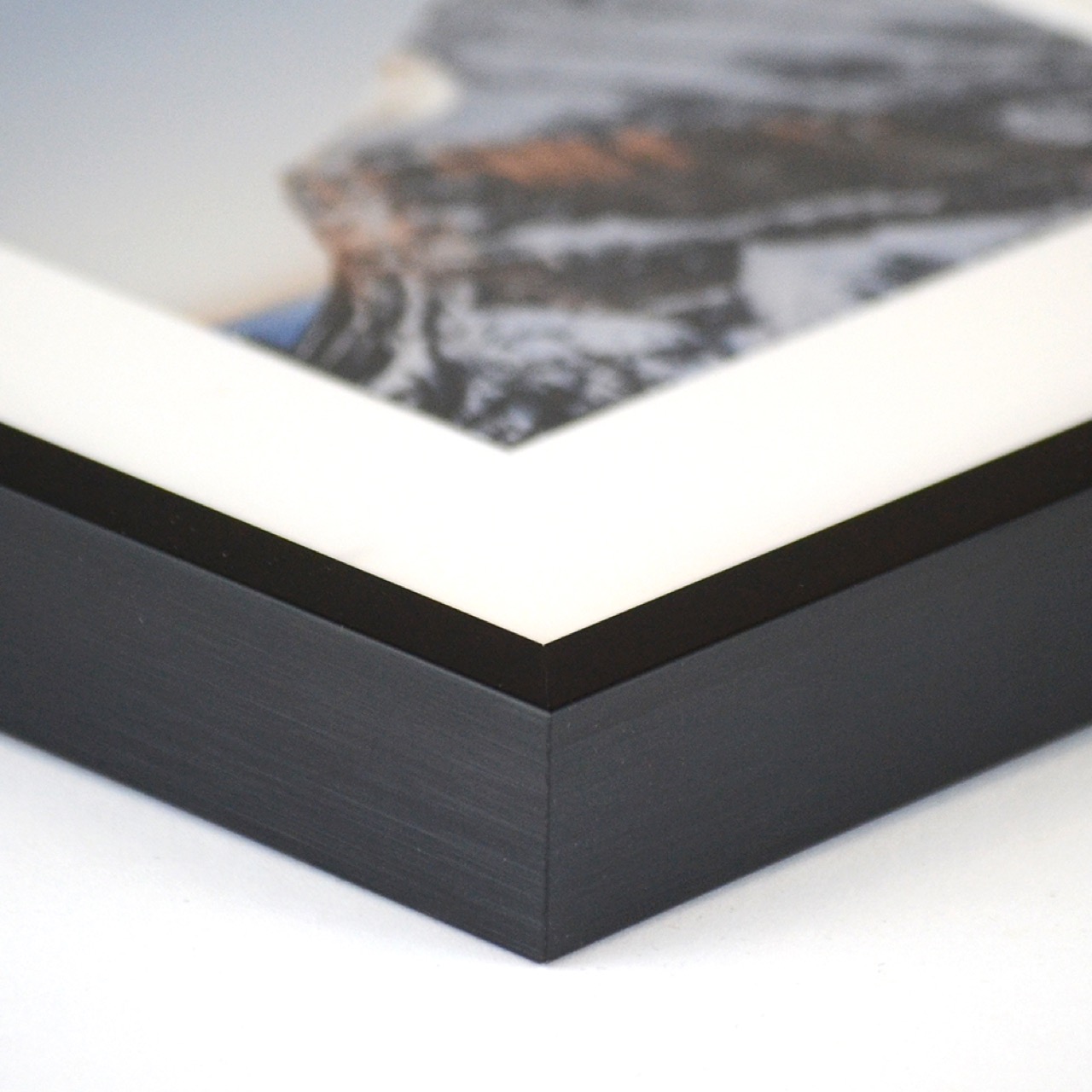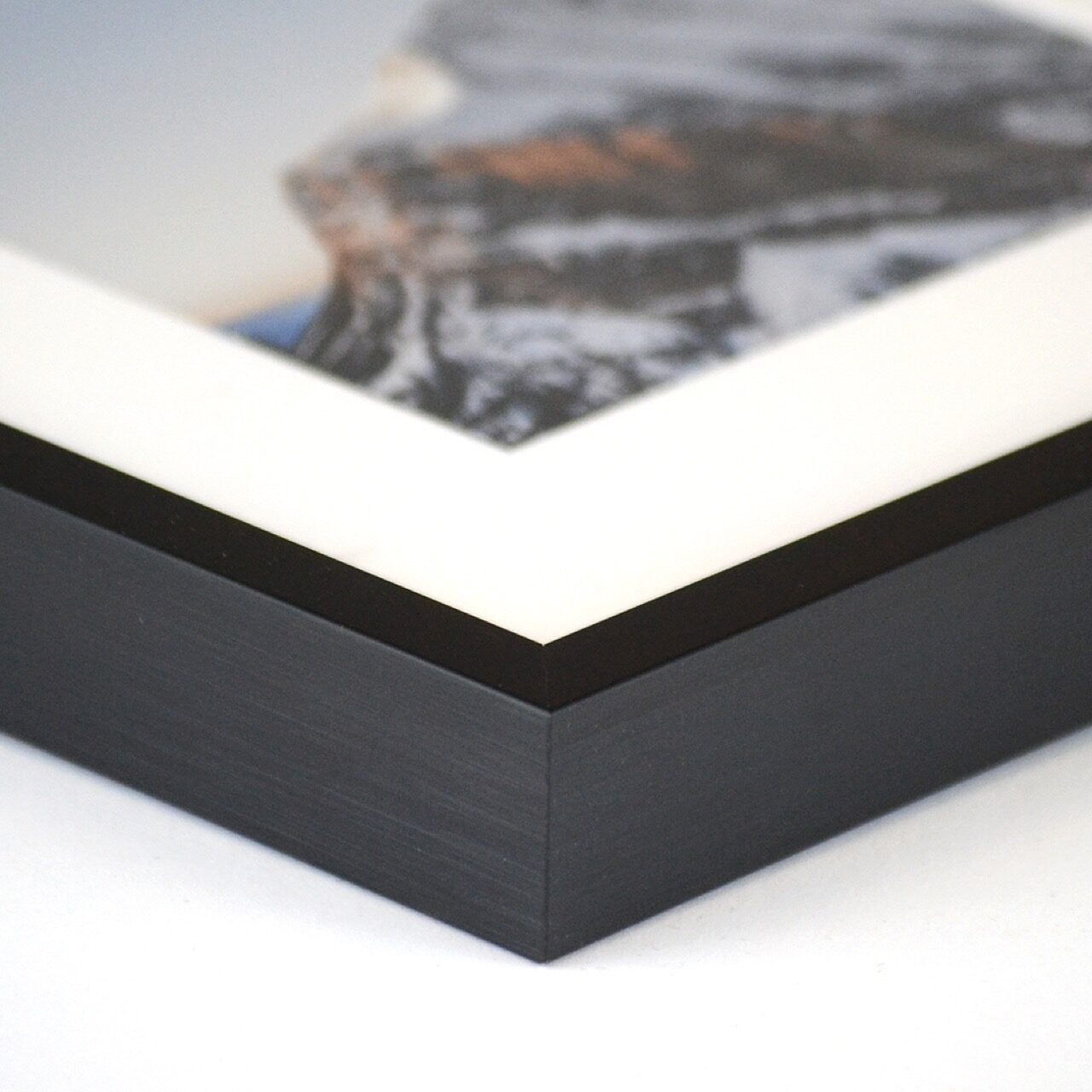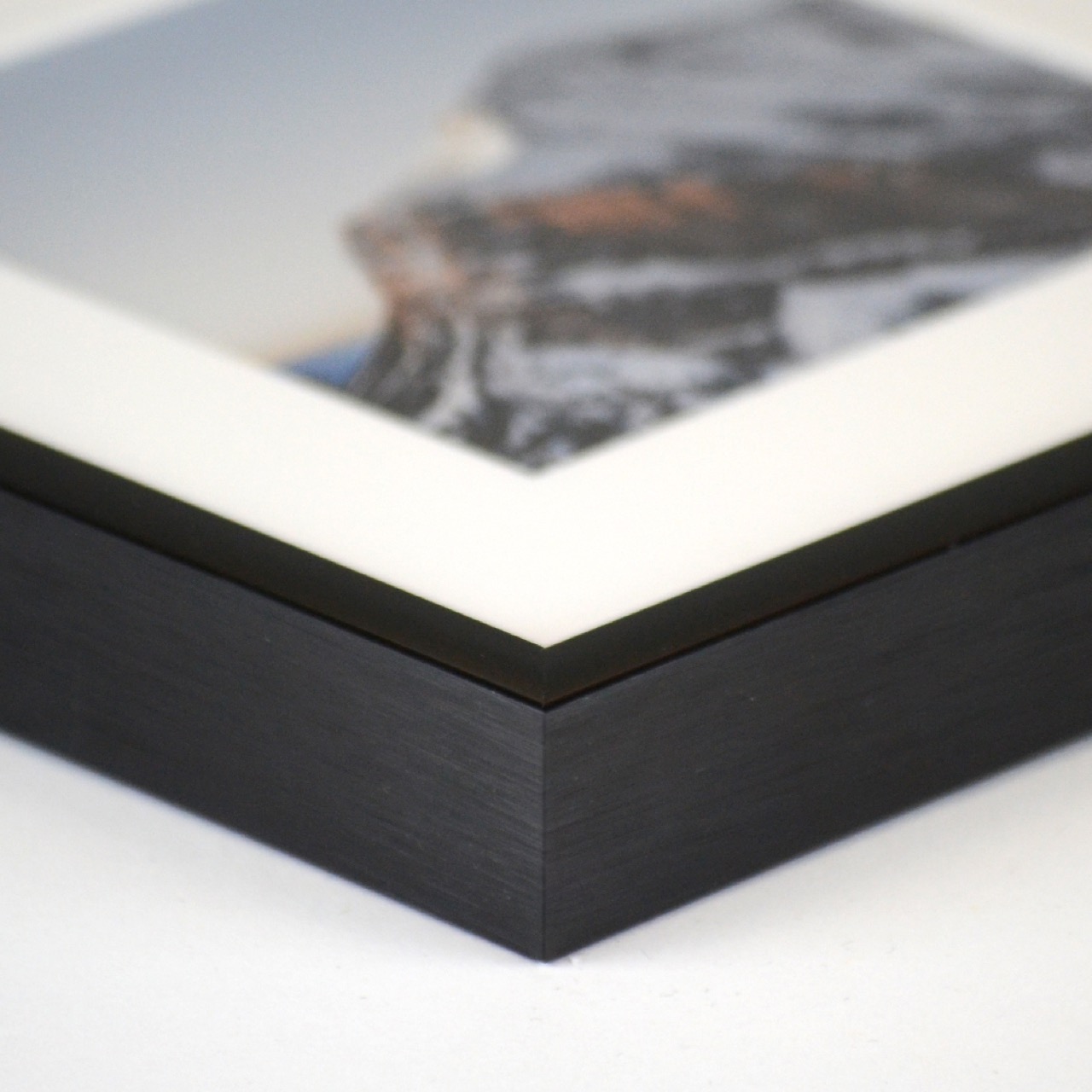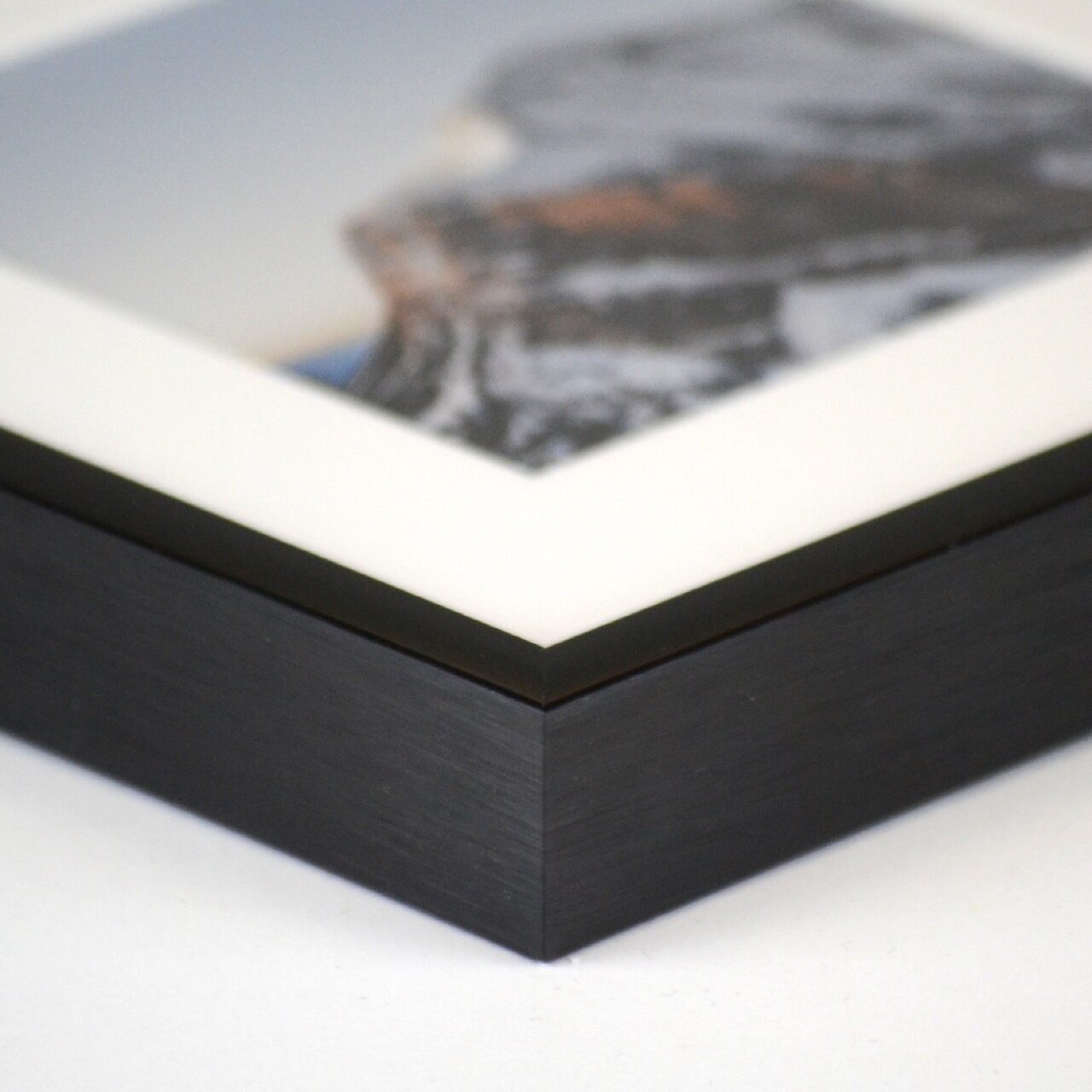 First, lets talk about the difference between our Satin and Gloss frames. These variations are offered in Black, Silver, and Gold. While the verbiage might be self-explanatory to some, we figured we'd go over the differences in how they look — just so you have a better idea of what you're getting.
Our gloss option is the shinier variation. If you're looking for a classic look, it's not quite that glossy, but it is a good in-between; if you're looking for a color that's shinier than our satin, but isn't quite chrome, a gloss color would be a good pick for you.
Then you have our Satin finish, which offers a more contemporary look with a matte finish. Our Satin finish frames would be perfect for those modern and minimalistic styles.
Silver Metal Frame Styles
Let's take a look at all of our Silver options in your metal frame styles. Silver frames have a hue that makes you think of something expensive and sleek. Silver is just one of those colors that go well with everything, will enhance any color it accompanies, and, luckily, is available on our site in tons of different styles of silver picture frames.
Ashford and Hanover Silver Frames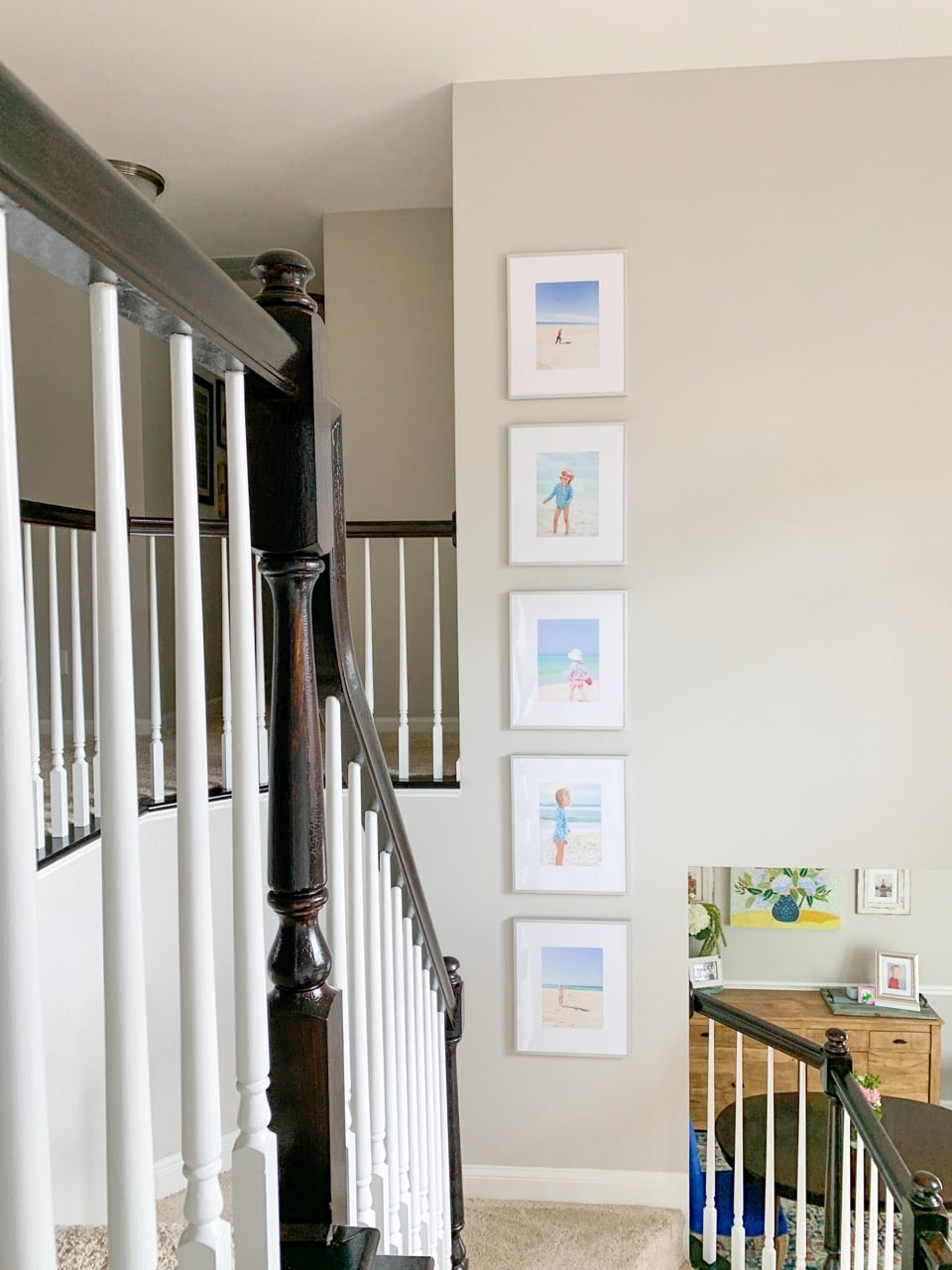 Here are the two most popular metal frame styles — great for just about anything! They're only 3/8″ in width when looking at them from straight ahead. This means they don't really take up much of the viewer's attention when looking at them. This allows for the art itself to shine through the brightest.
What's the difference between our Ashford frame and Hanover frame styles, though? They are similar, but of course, are different and unique in their own way. Ashford has a flat profile face while Hanover is rounded. For a more in-depth look at the difference between these two styles — check out our frame styles page.
So while they're similar, there is a key distinction that could impact your display. Again, there's no right or wrong choice here — just whatever you feel would be most appropriate for your walls.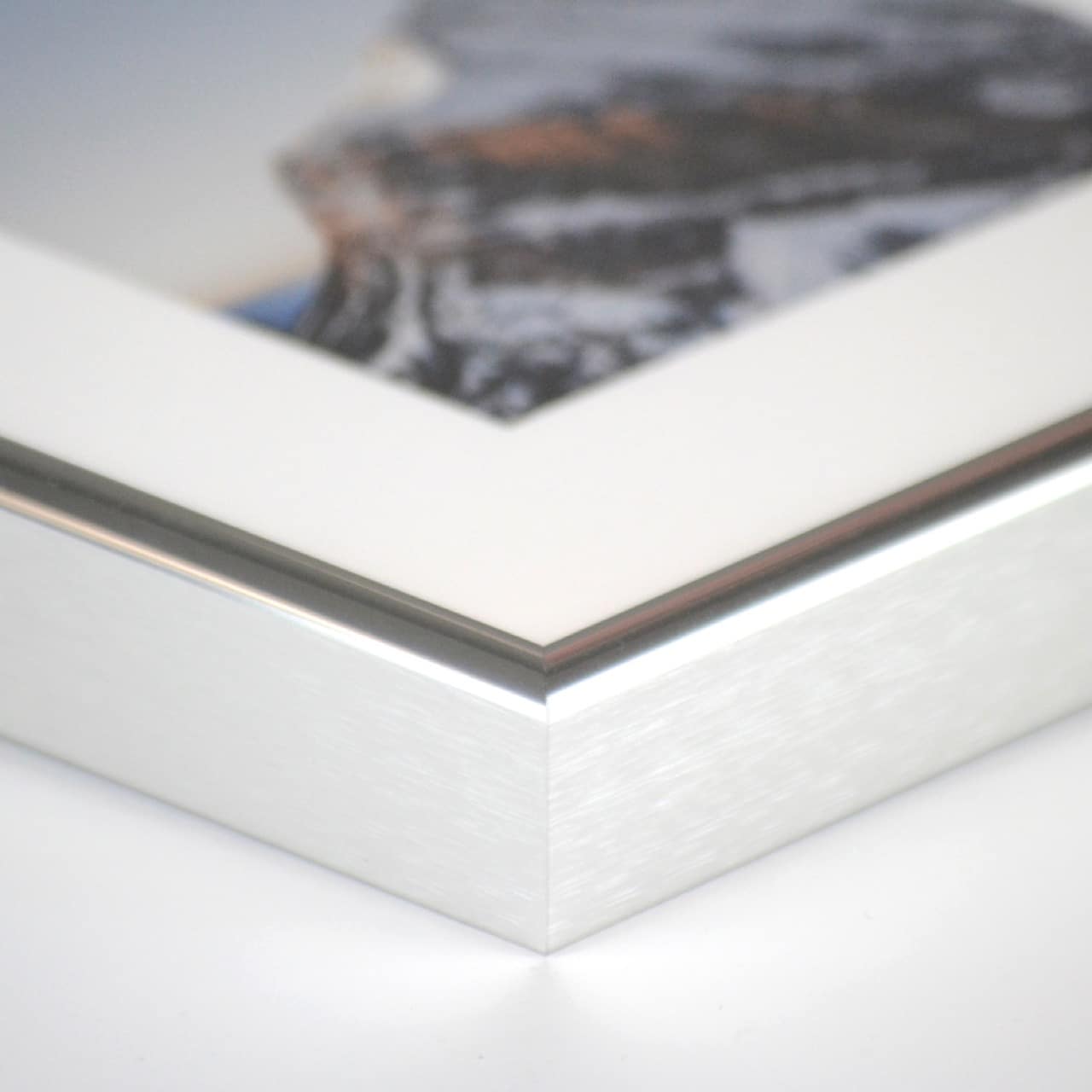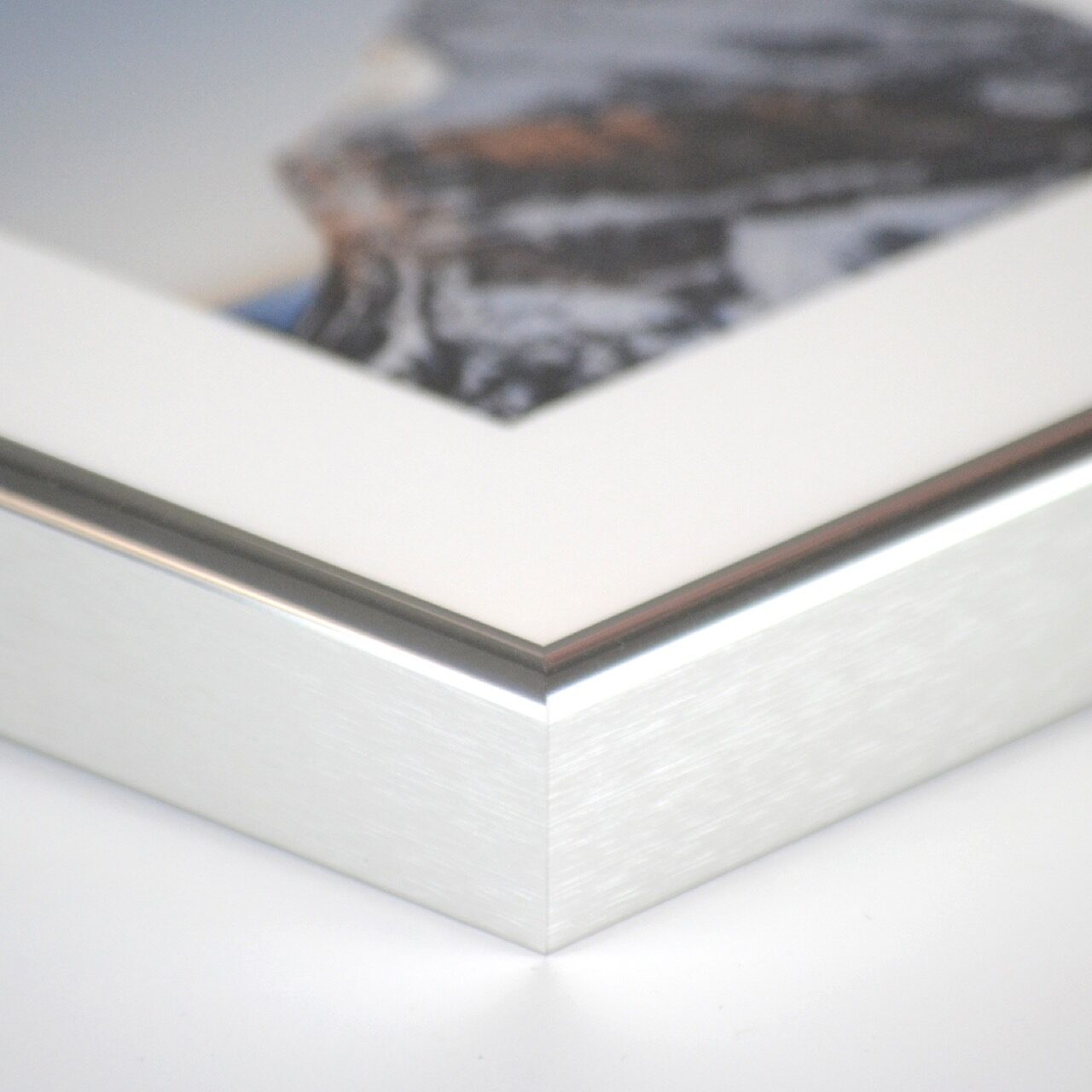 Hammond Silver Frames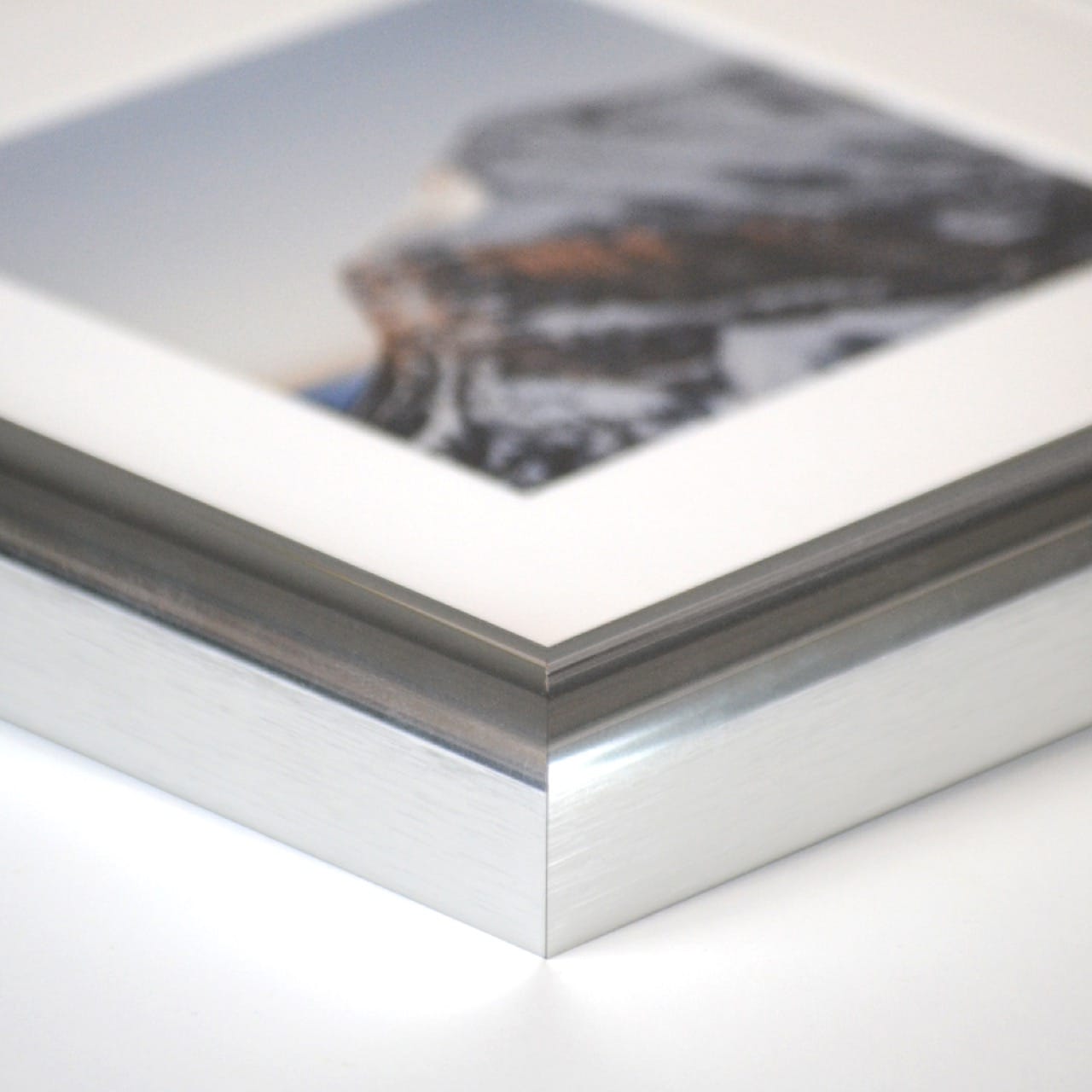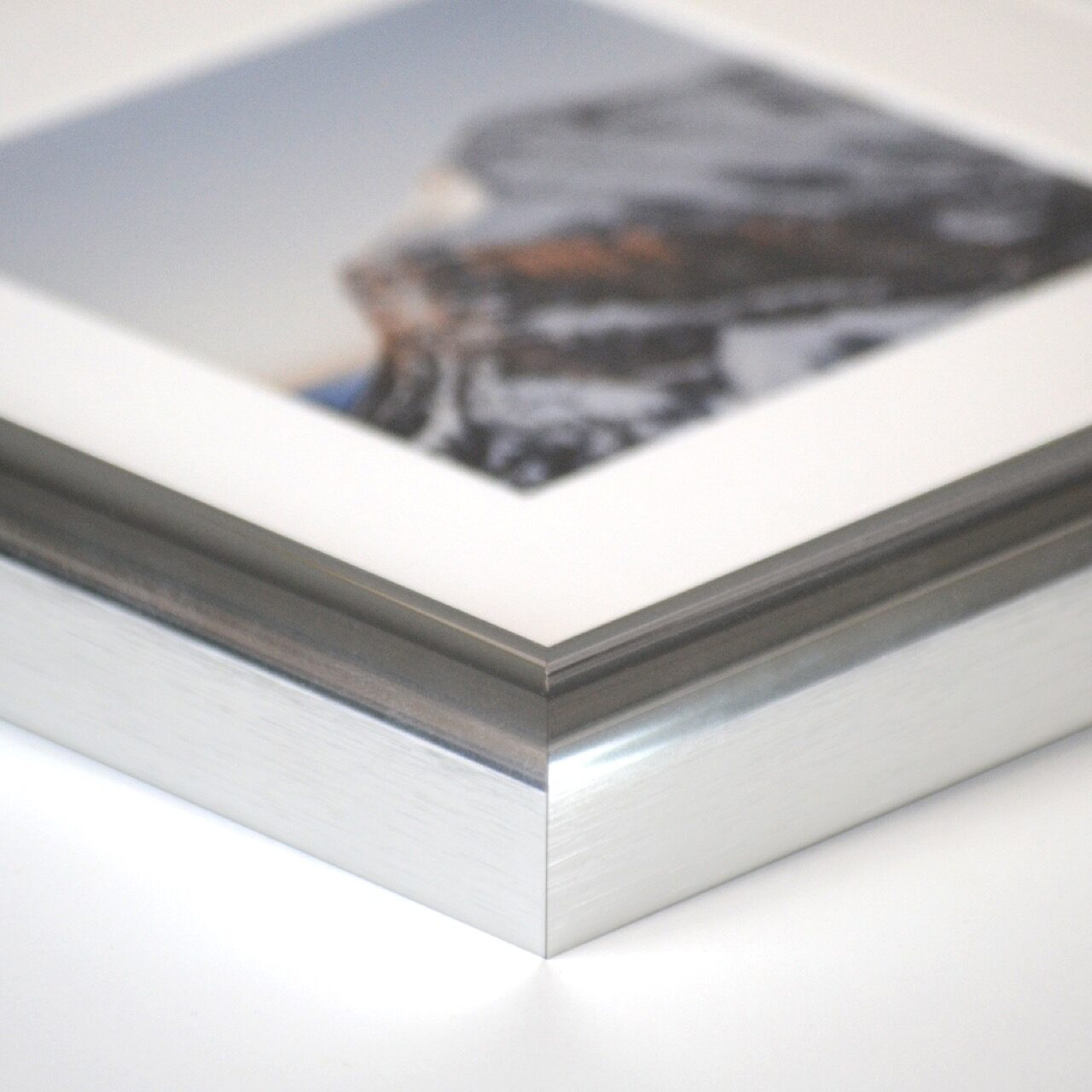 Our Hammond frame style is 7/8″ wide when looking at it from straight ahead and has a rounded profile face. It's not quite as thick as the styles we're going to talk about in the upcoming section, but it's much thicker than the two previous ones.
That said, it does have more noticeable frame rails than our Hanover frame. So if you want the frame to occupy just a little more space in the display, this could be a good choice. This is a great choice frame for precious art that you want to display around your home because it is simple, yet classic and beautiful.
Bradford and Stafford Silver Frames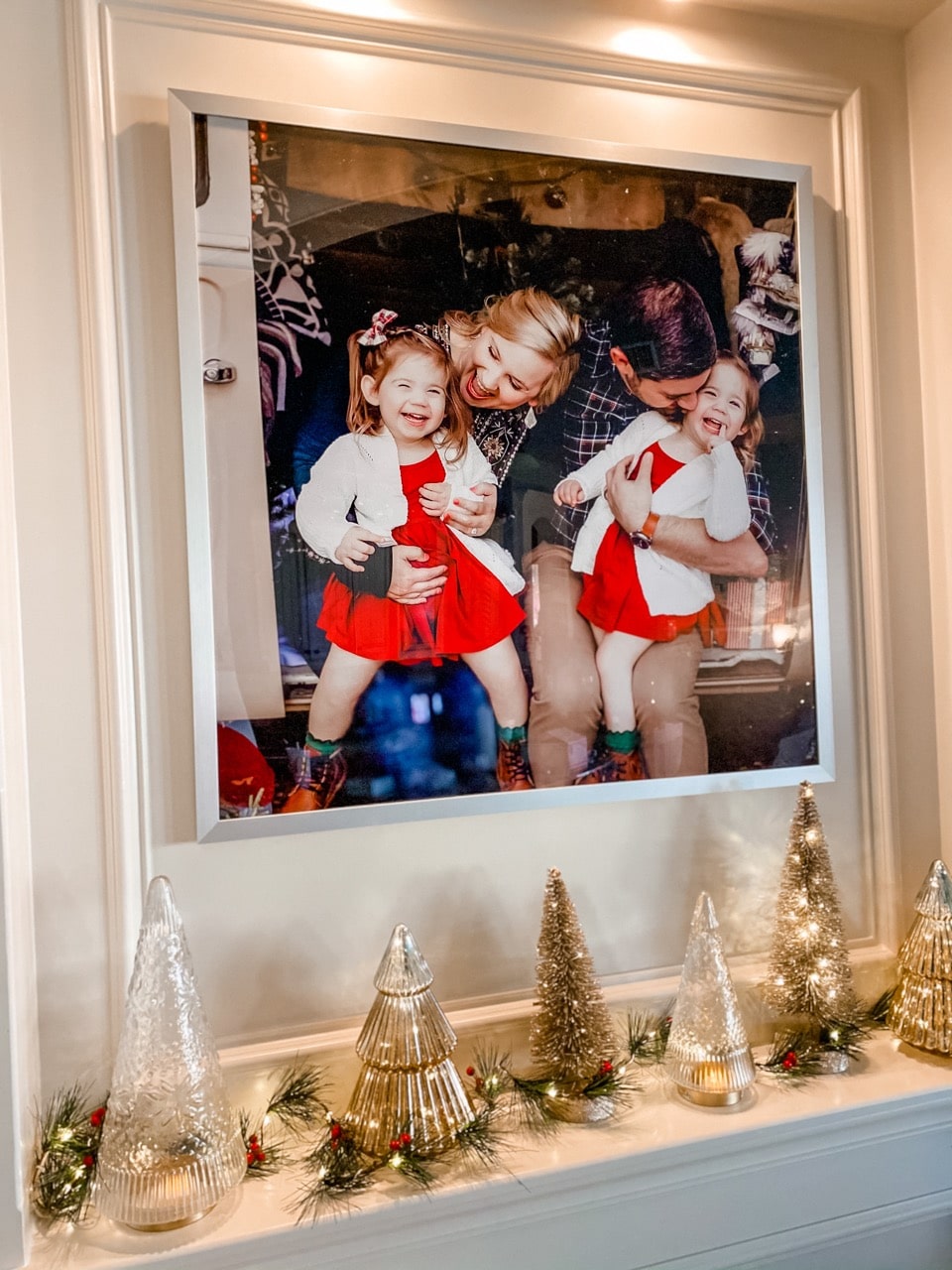 Our final two styles are our two largest frames, profile face-wise. Our Bradford frame style measures 1″ and our Stafford frame style measures 1 1/2″. The two frame styles are similarly shaped, just one is a little thicker than the other.
What would be good to put in one of these frames? Well, again, that's up to you, though we do recommend these for much larger pieces. A large family photo, a sign for your office, or even a large flag! These frames are big, and they'll catch people's attention.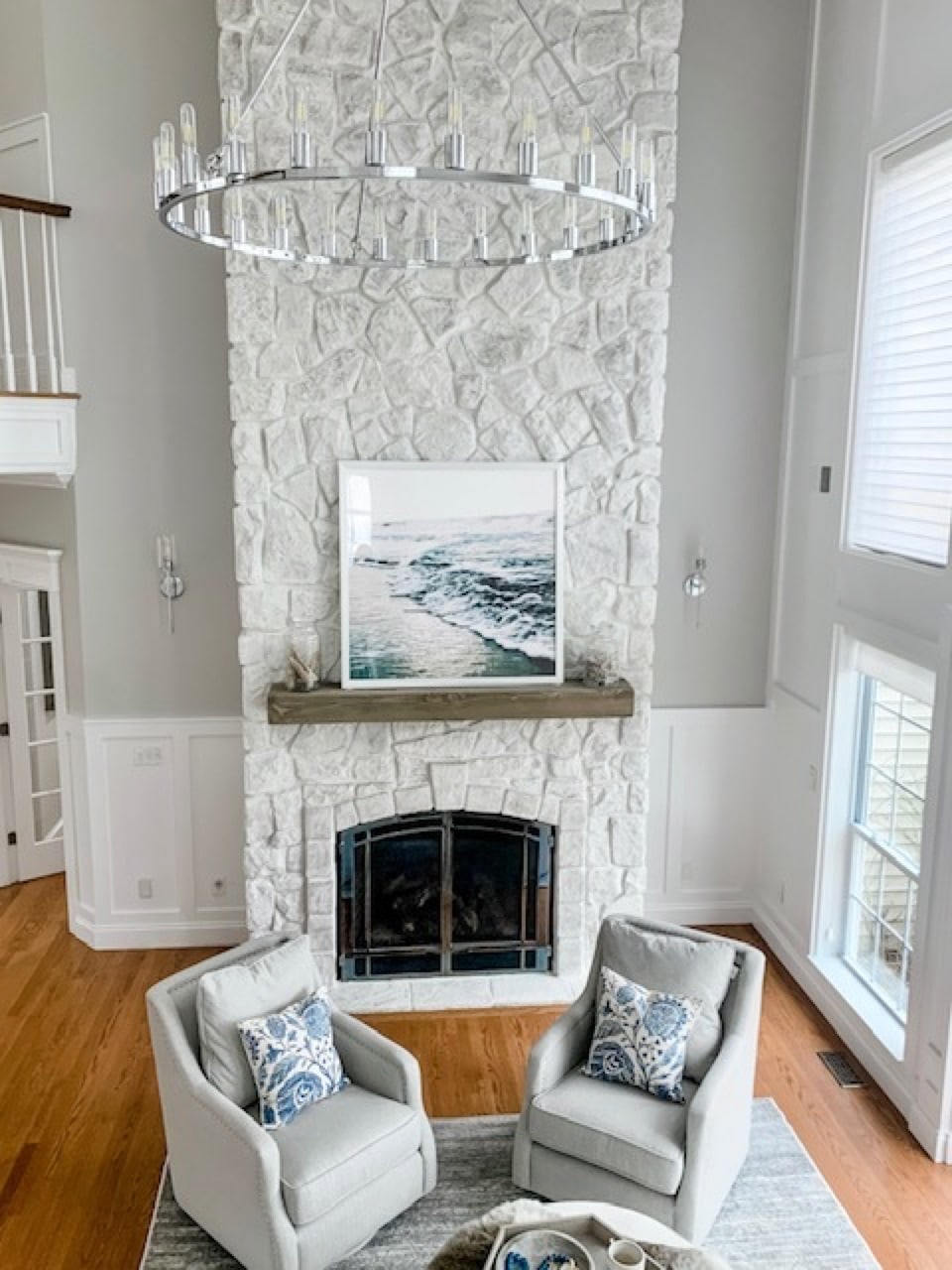 Gold Metal Frame Styles
When you think of gold, you likely think of victory, royalty, or something else of high prestige. This is why gold picture frames are so popular! Chances are, if you're planning on framing something on your wall, you hold what you want to display in high regard. It could be an award, a certificate, or it could be a diploma, or a nice photo of you and your closest friends all dressed up.
So let's take a look at all the gold frames we have, and what they might be best for.
Hanover Frame In Satin and Gloss Gold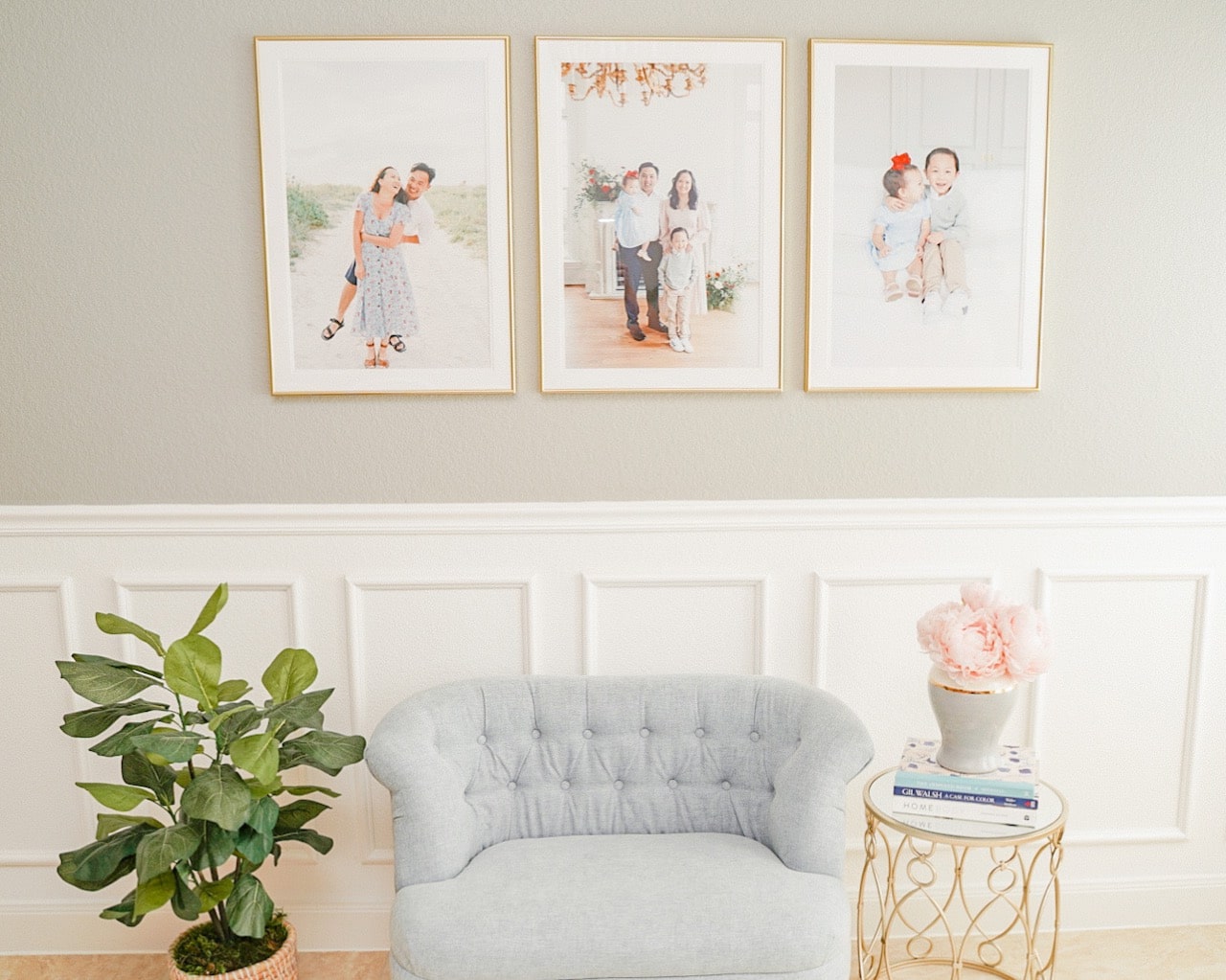 Let's start with the Hanover style.
The satin gold is a lighter shade, and it's more matte. The satin has a more contemporary look, while the gloss has a more classic look — so choose which you would like best! We also have photos of all our colors and profiles on our Instagram page, if you want to get a better idea of what they look like.
That said, our Hanover frame is thin, only 3/8″ thick when looking at them from straight ahead. This makes it a minimalistic frame great for someone who wants their art to be more prominent when displaying it. If you want to give your frame a thin golden halo to make it shine on your wall, the Hanover might be your best bet!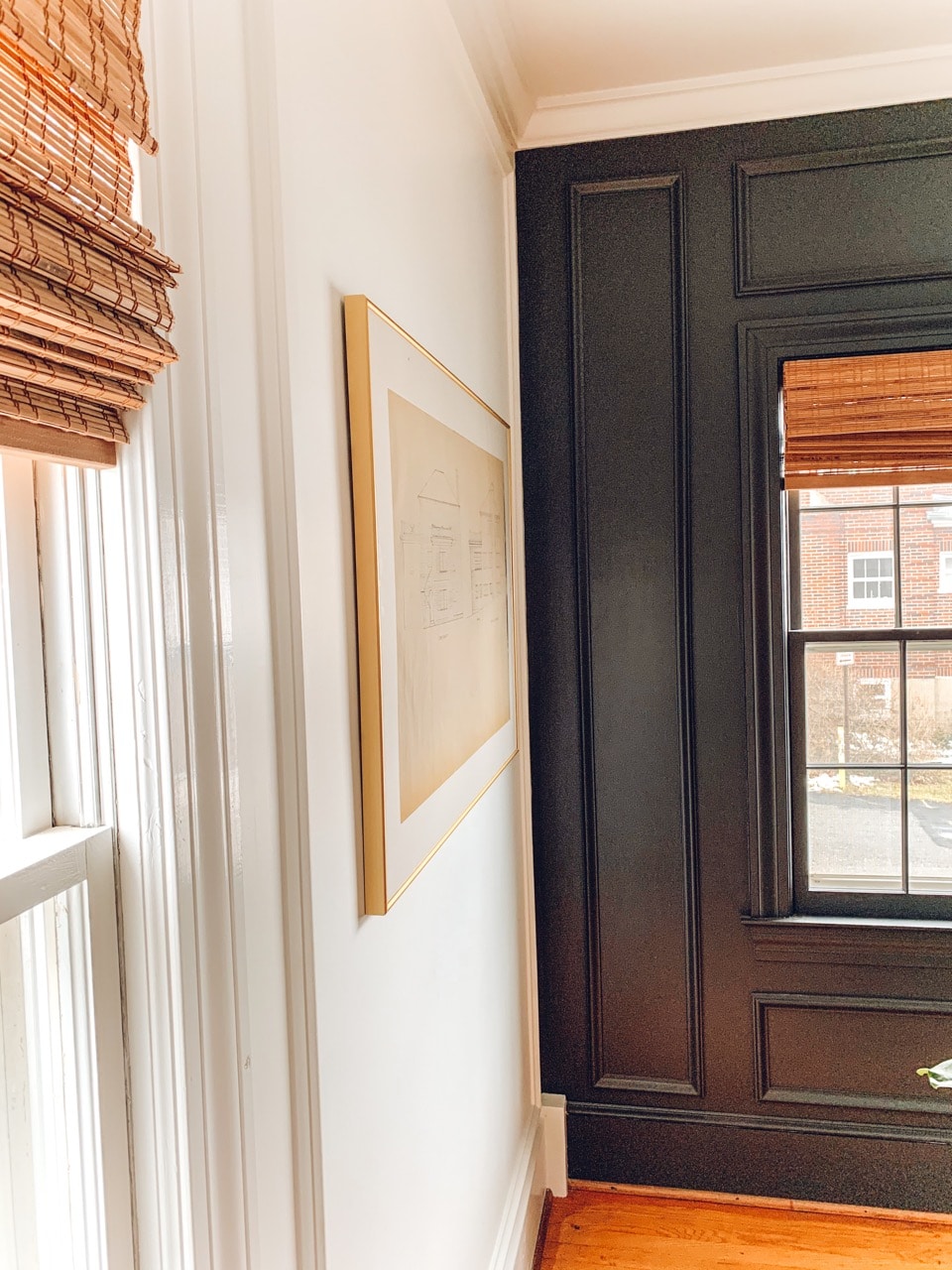 Ashford Frame In Satin and Gloss Gold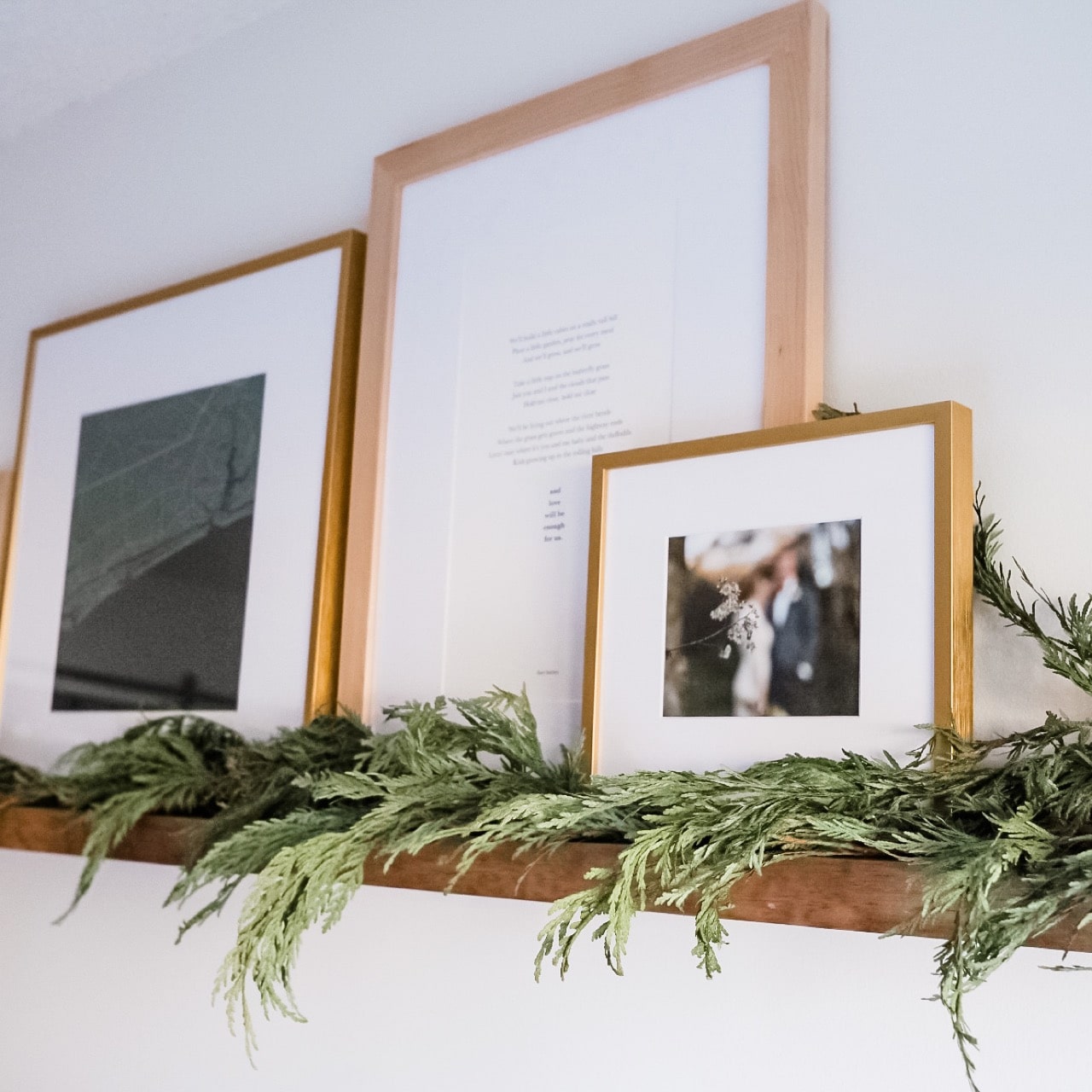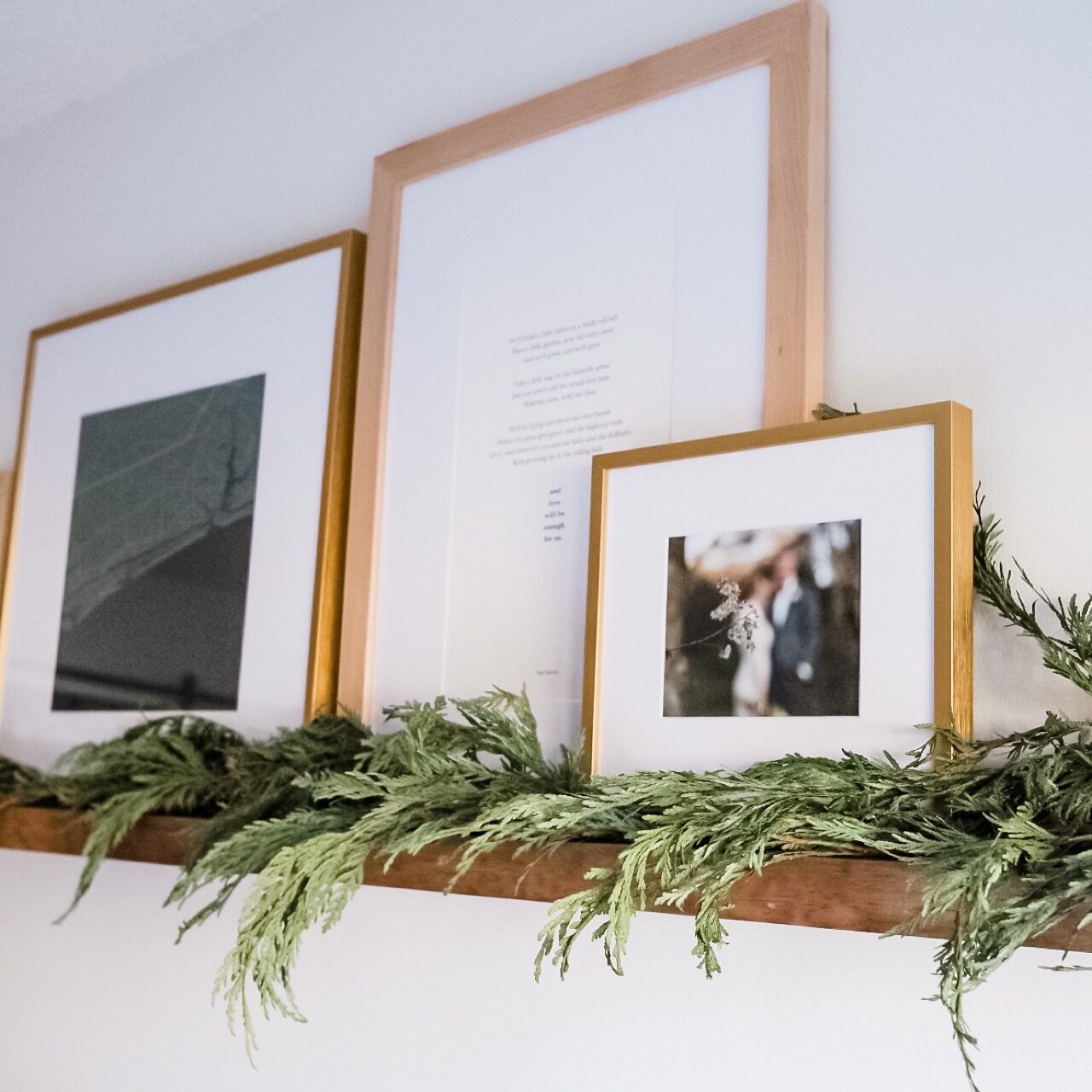 As we mentioned, the Ashford frame is similar to the Hanover frame. There are two main differences: it's slightly more expensive, and it's flat in the front rather than rounded. This difference is subtle, but it makes a big difference in your display.
The Ashford frame in gold would be great for wedding or engagement photos since it can add that tasteful look to your photos. Consider framing your first dance photo or a photo of the two of you in front of the sunset in either our Satin Gold or Gloss Gold Ashford frame style.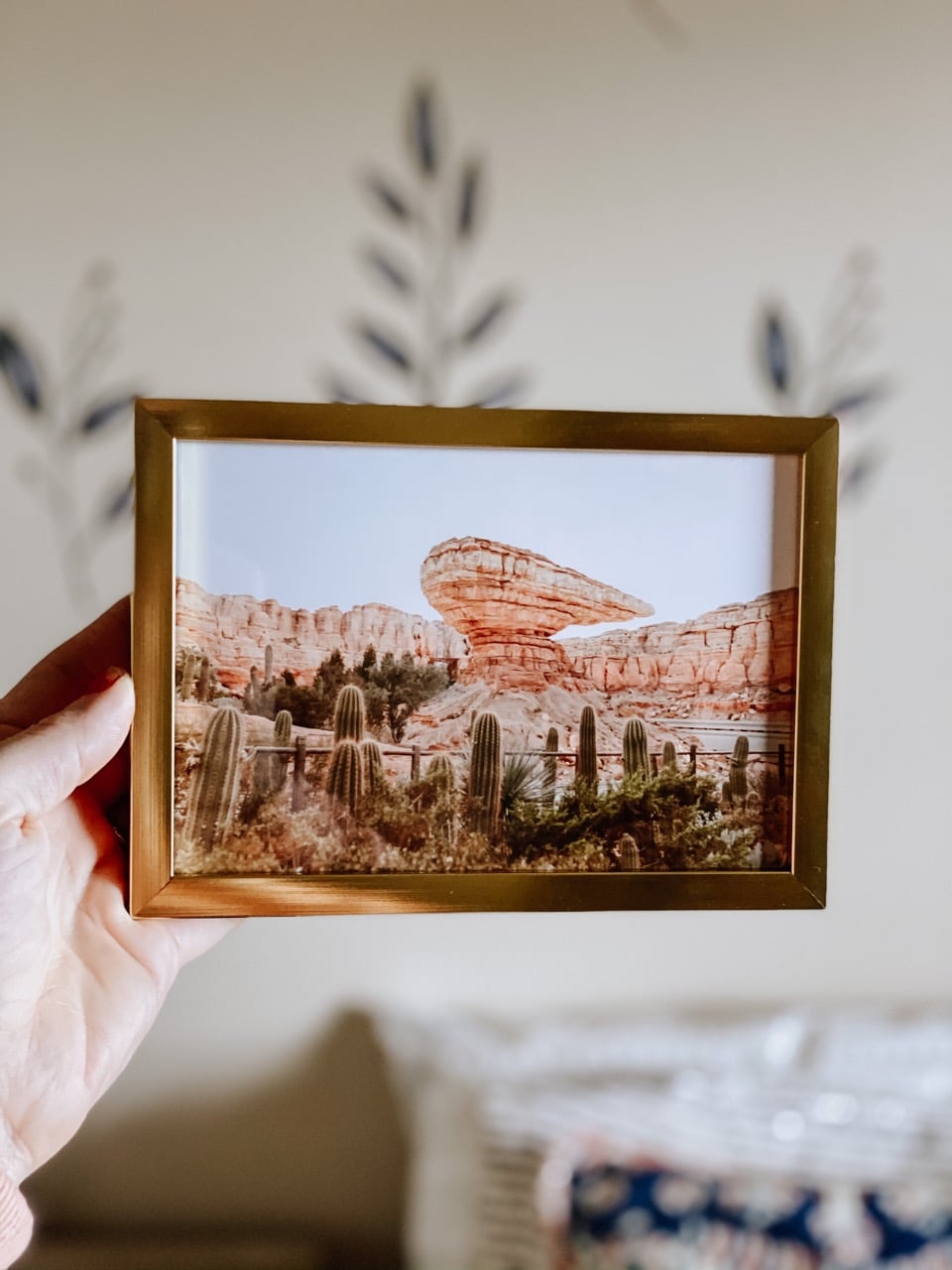 Black Metal Frame Styles
Black picture frames are great for creating a bold look on your walls that are elegant and tasteful. They also match with pretty much any decor style or color you choose for your home, so if you decide to switch up your decor in a few years, you won't need to order new frames to match!
Ashford and Hanover Frames in Satin or Gloss Black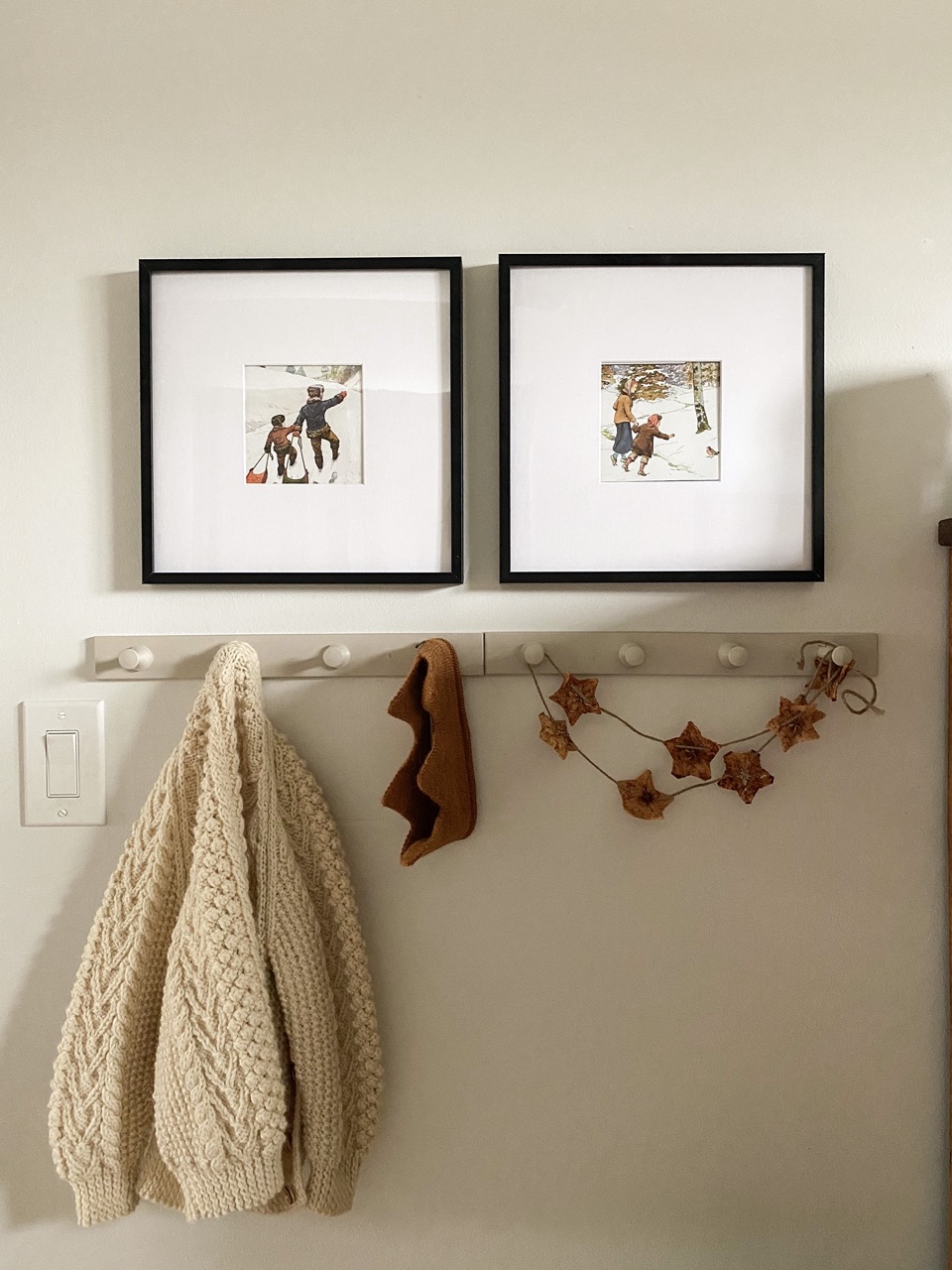 If you've been on our site, you'll know that our Ashford and Hanover are our two most affordable metal frame styles.
In black, these frames are great with movie posters. They almost have that feel of the old movie theater frames — the ones that always advertised the upcoming pictures coming to that cinema. Have some movie posters you want to frame? If so, Ashford or Hanover in black could be the right color and style combo for you.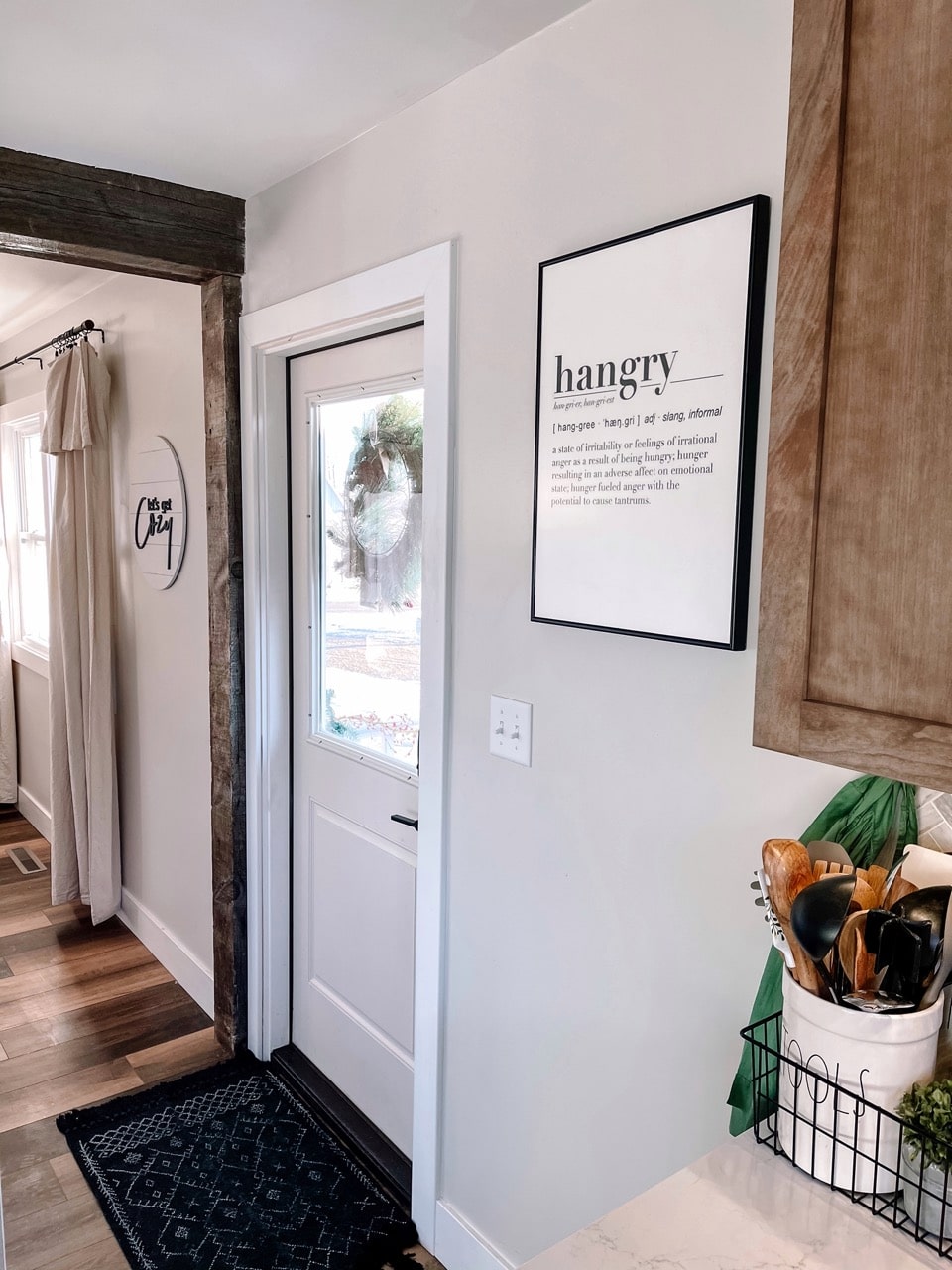 Hammond Frame in Gloss and Satin Black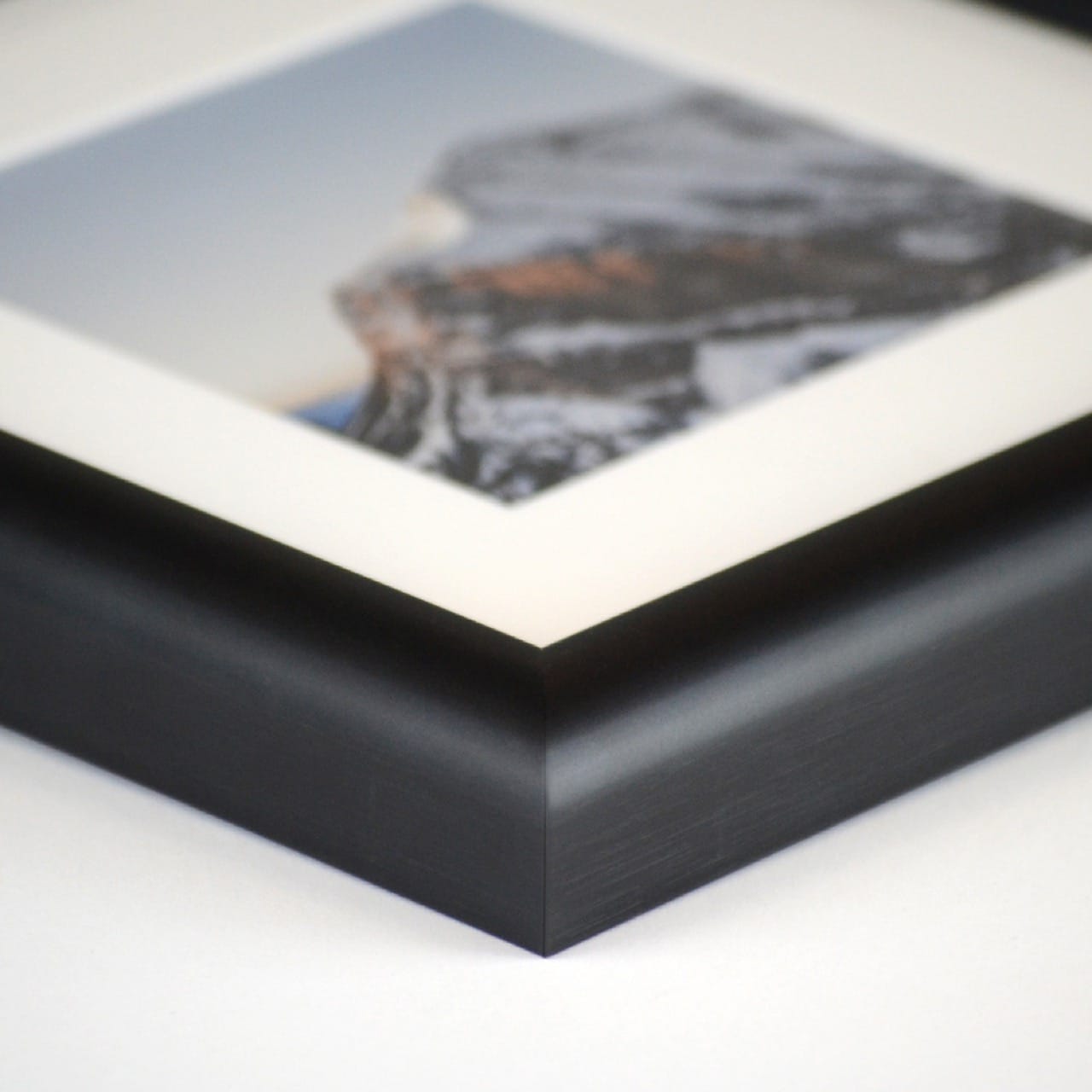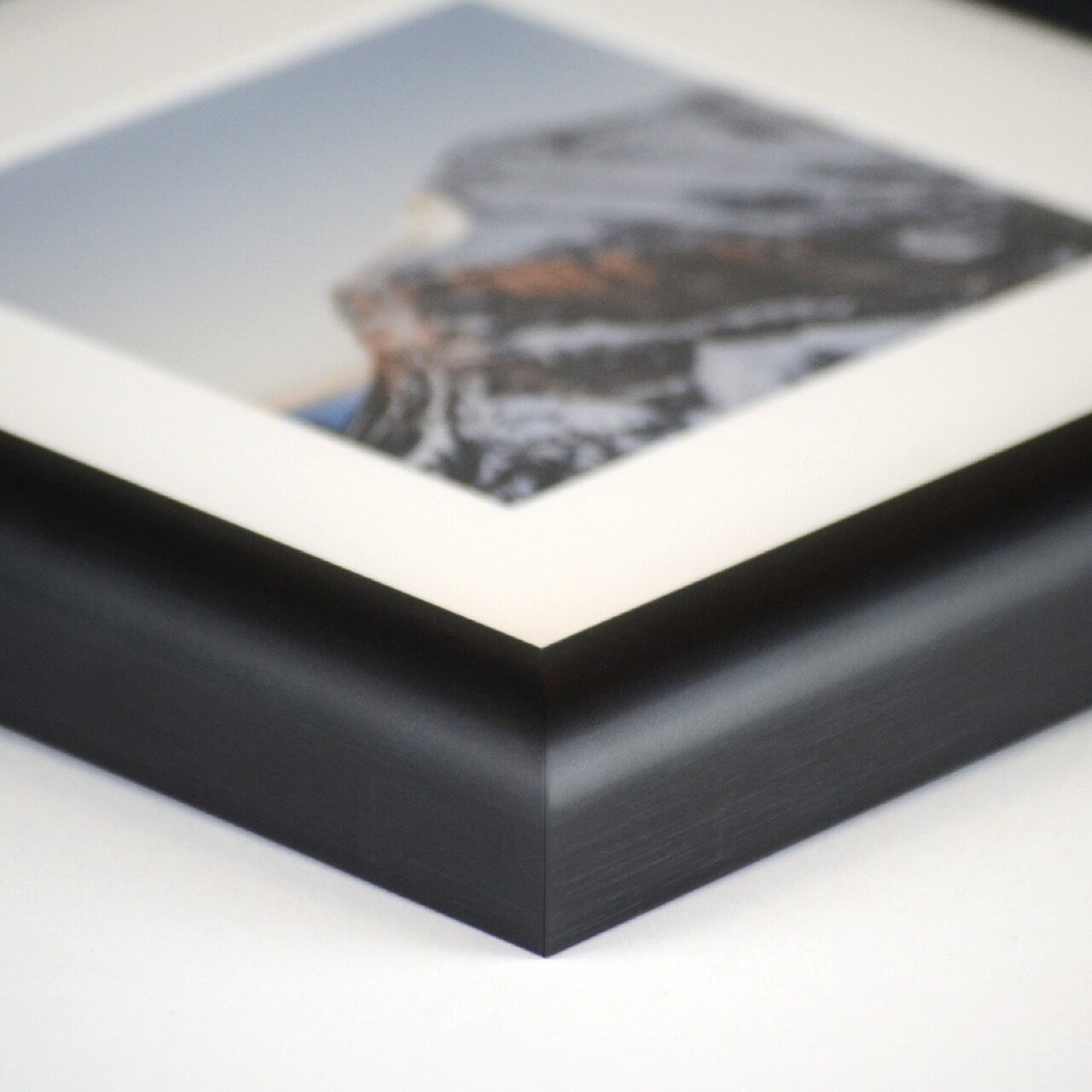 Our Hammond frame style is our median metal frame option. It's not quite as thick as our two final styles, which we'll get to in just a moment, but it has more mass than the Ashford or the Hanover. It also has a rounded front. This means that if you liked the aesthetic of the Hanover, but wanted something with just a bit more mass to it, the Hammond might be right in line with what you're looking for. It's 7/8″ thick when looking at it from straight ahead, and it would go great with posters, as well as corporate ads, or things of that nature.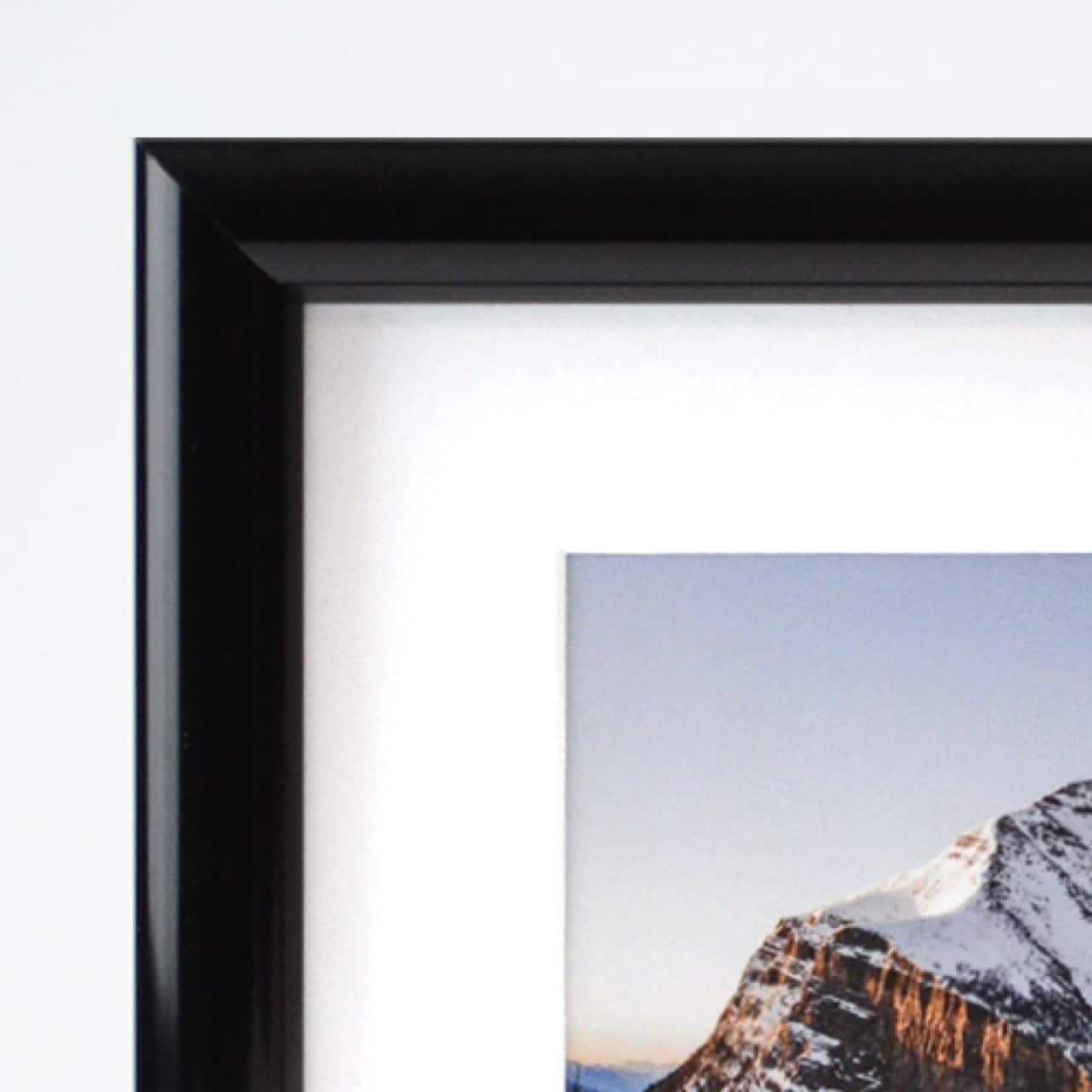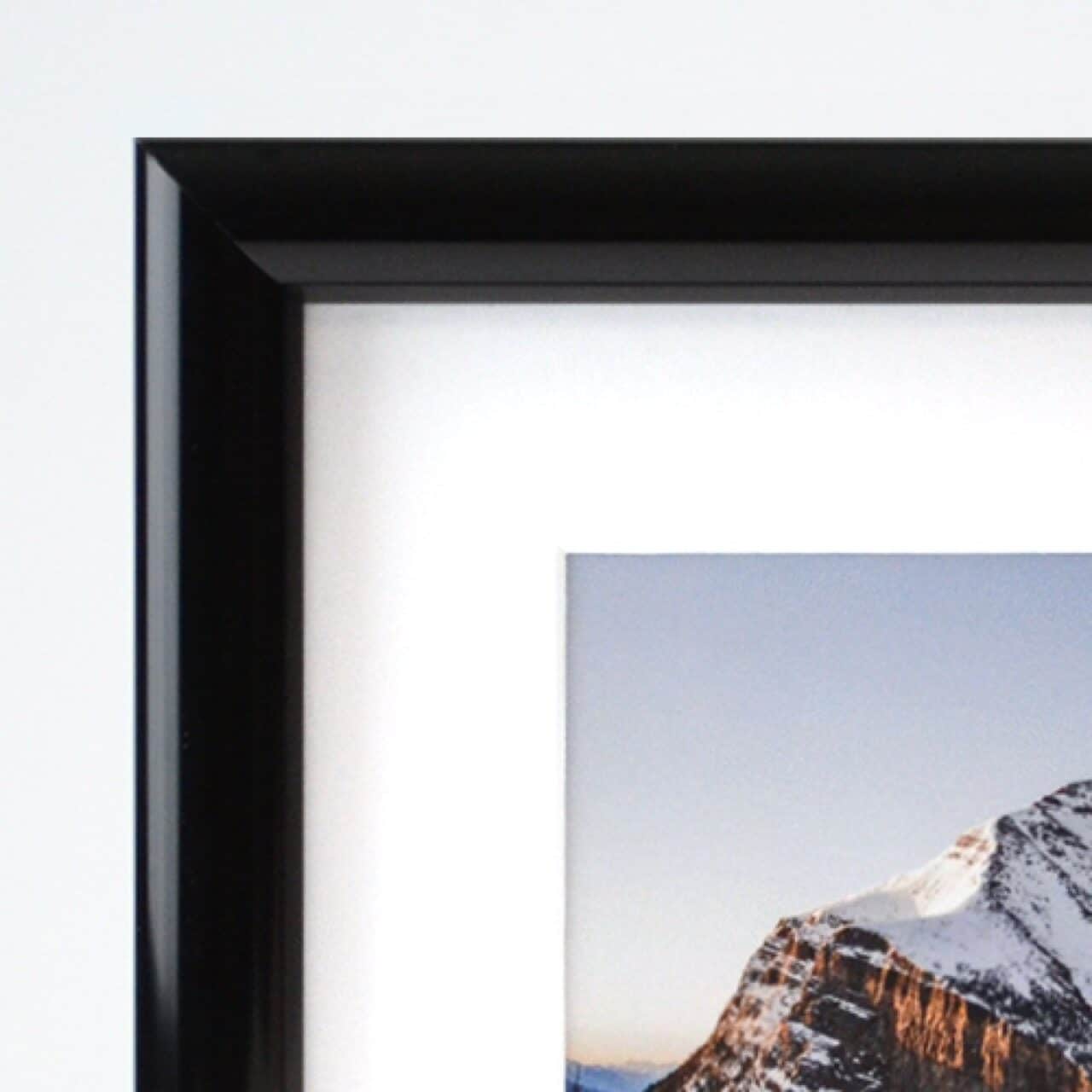 Bradford and Stafford Frames in Gloss and Satin Black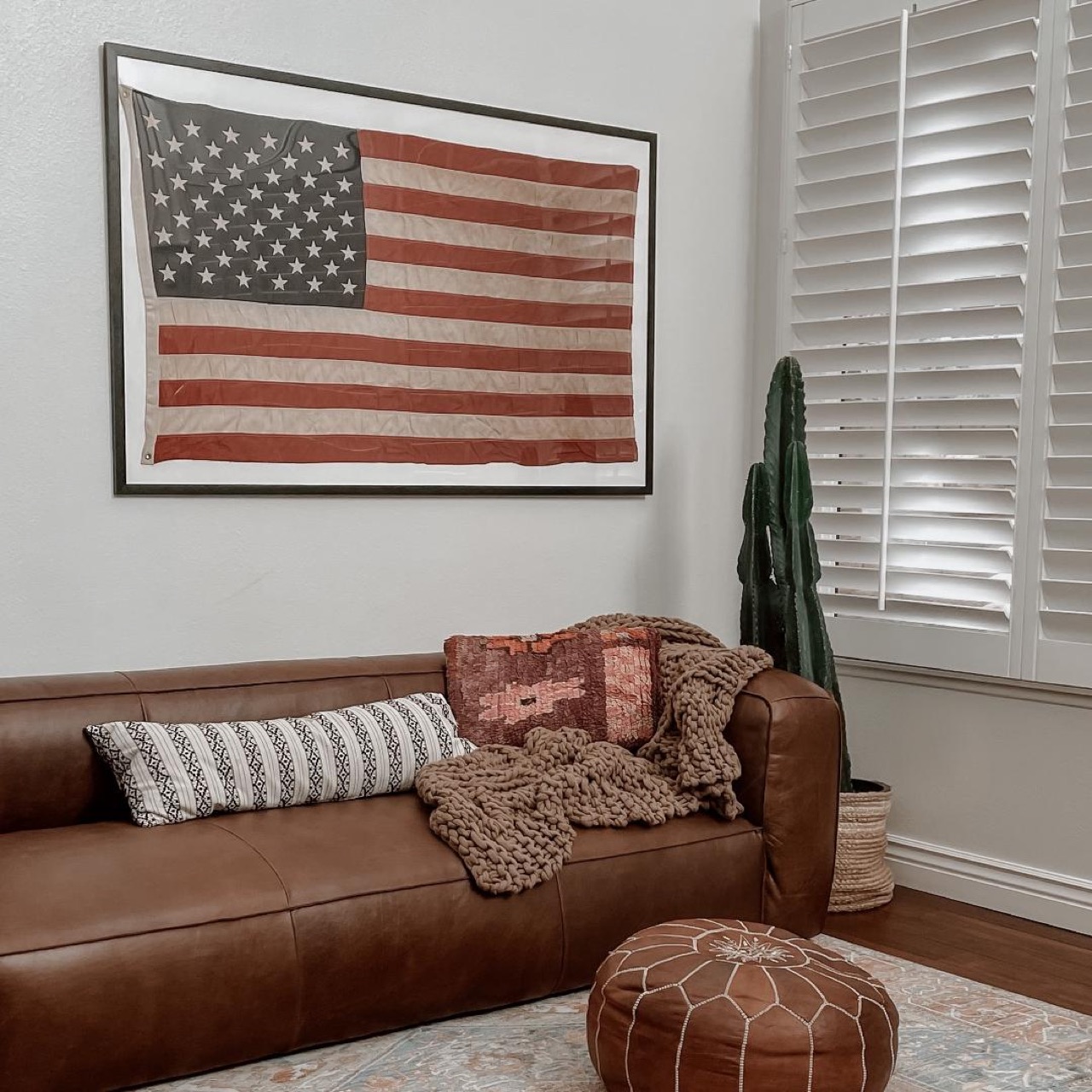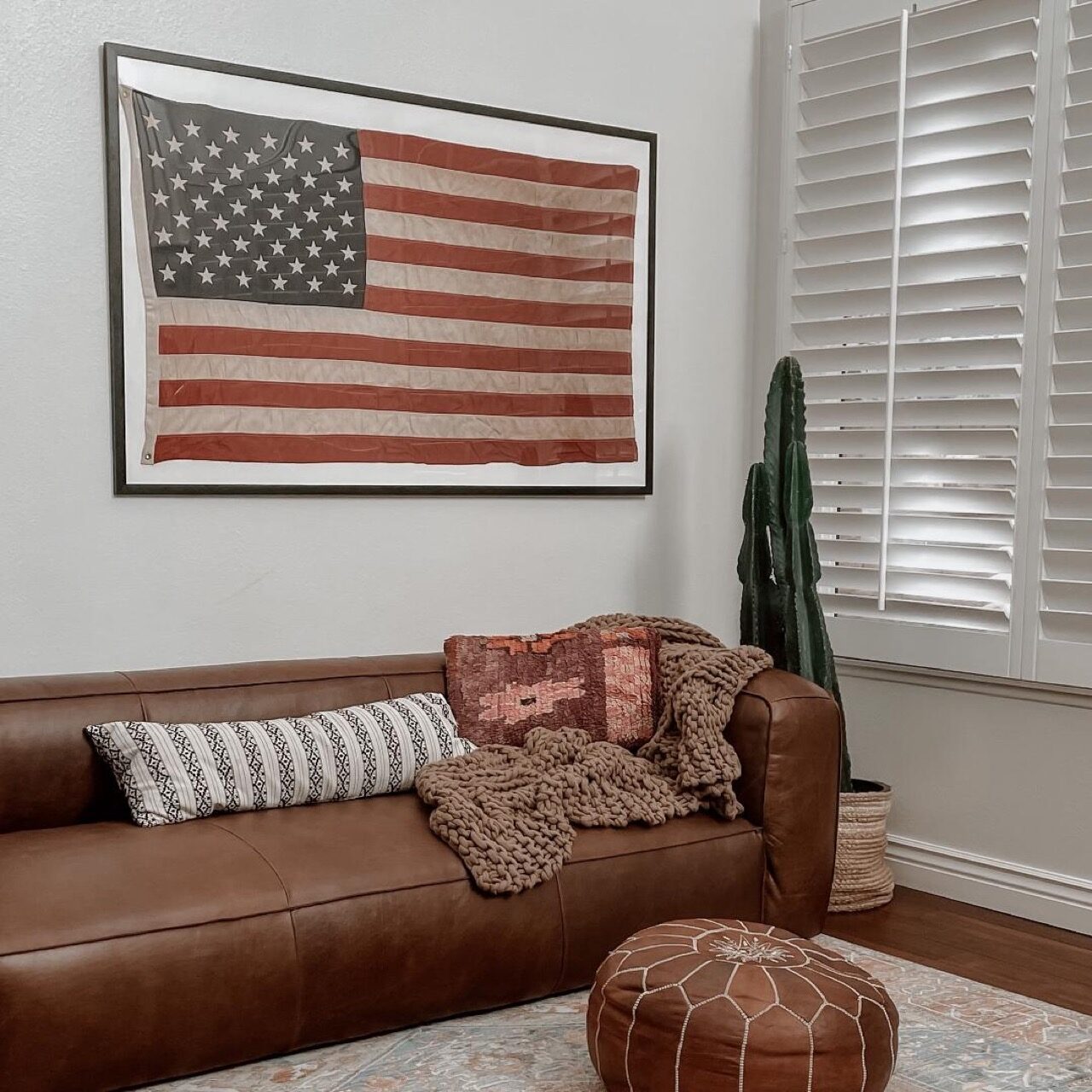 Last, but certainly not least — especially when talking about their size — are the Bradford and Stafford. They're both similarly shaped, just with different widths. The Bradford is 1″ thick when looking at it from straight ahead. A style with a commanding presence, indeed, and our third biggest style. The Derby and Dayton are tied for second, and the Stafford is the first; it's 1 1/2″ in thickness, but despite that, is shaped similarly to the Bradford.
So what are these frame styles good for? Well, if you have a sign at work — something that you want everyone to see — either of these would be a good option. Because they are metal, too, they can accommodate our maximum "Art Size," which is 42″ X 62″.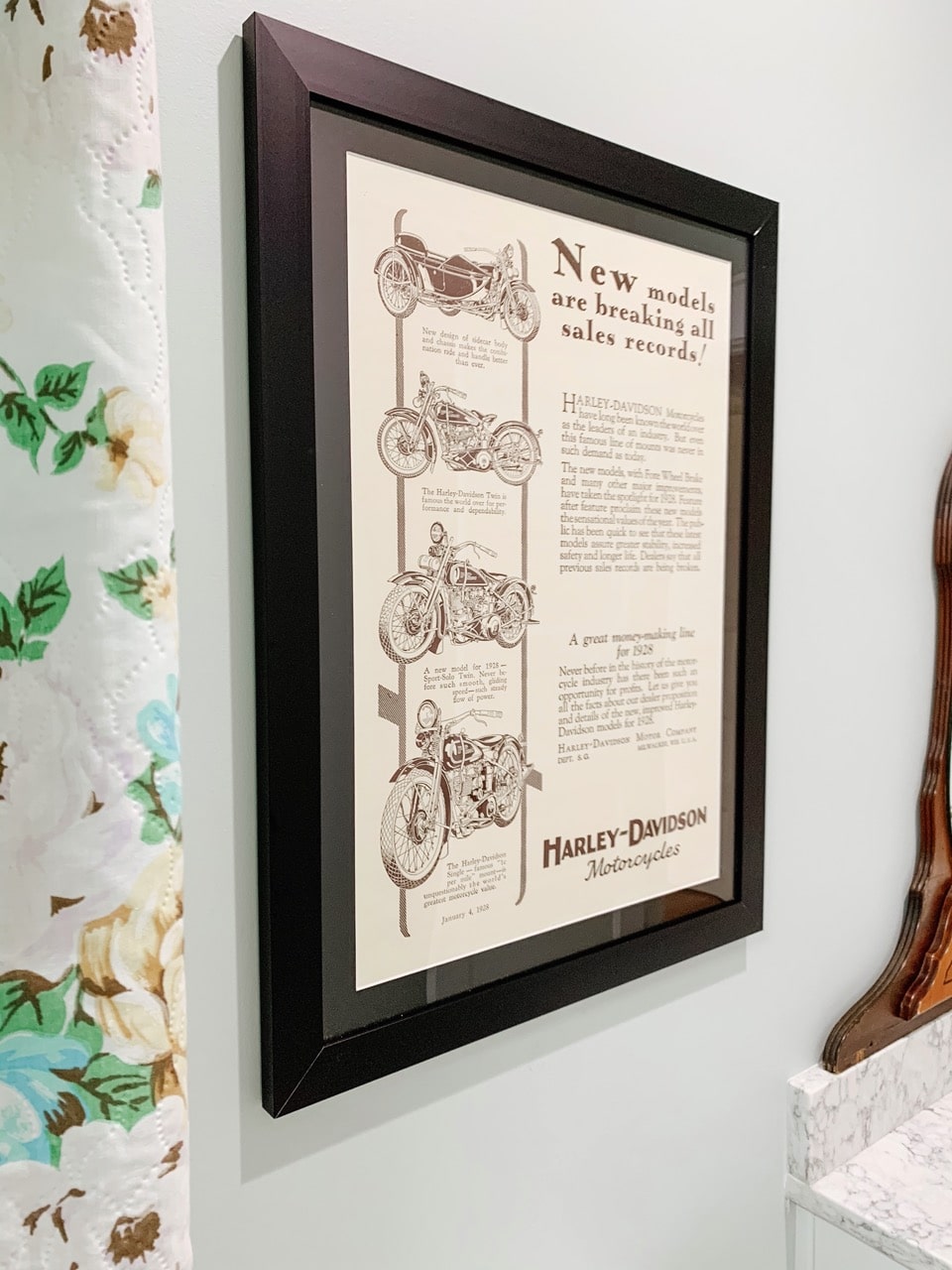 White Metal Frame Styles
Ashford Frame In White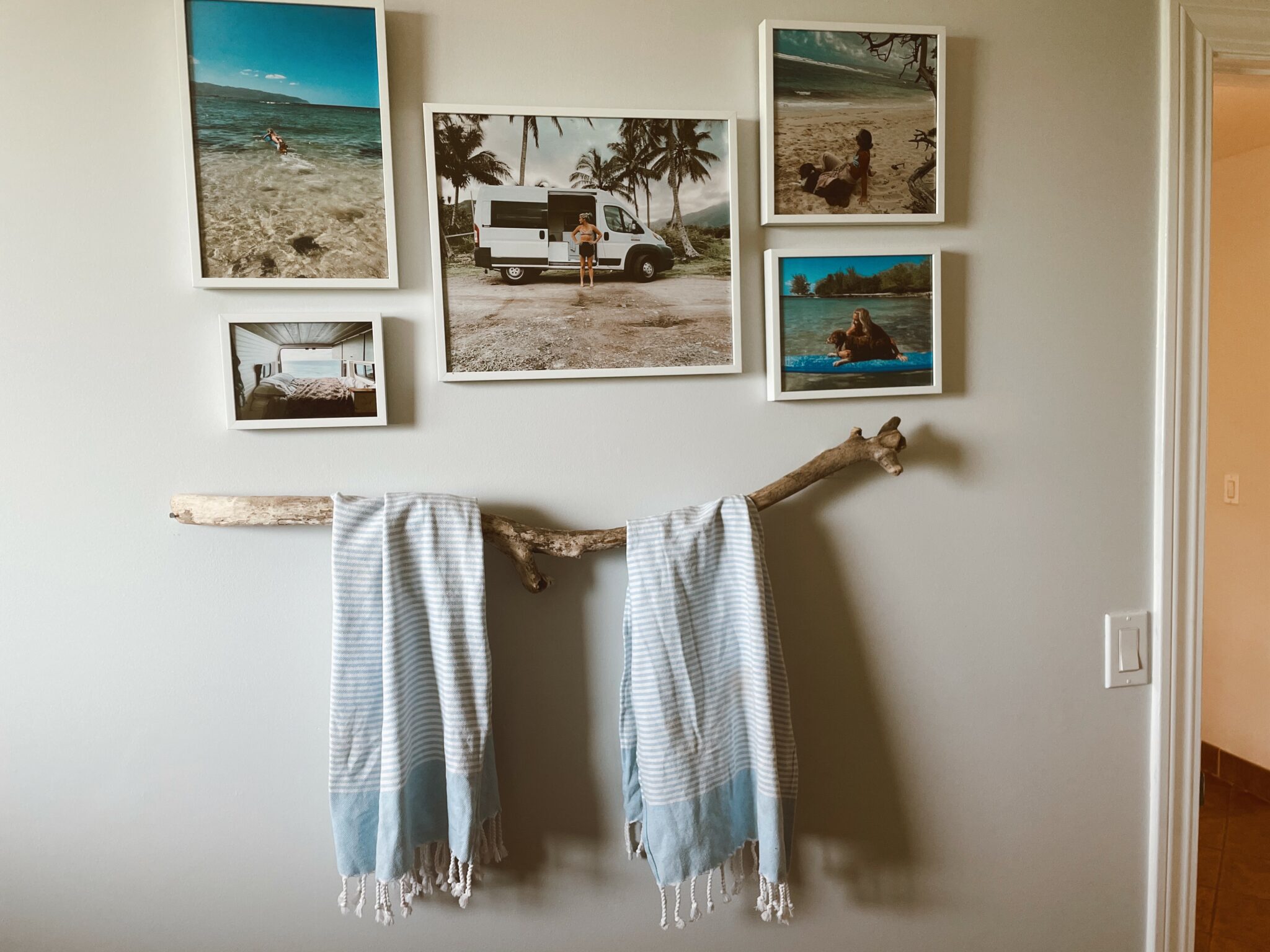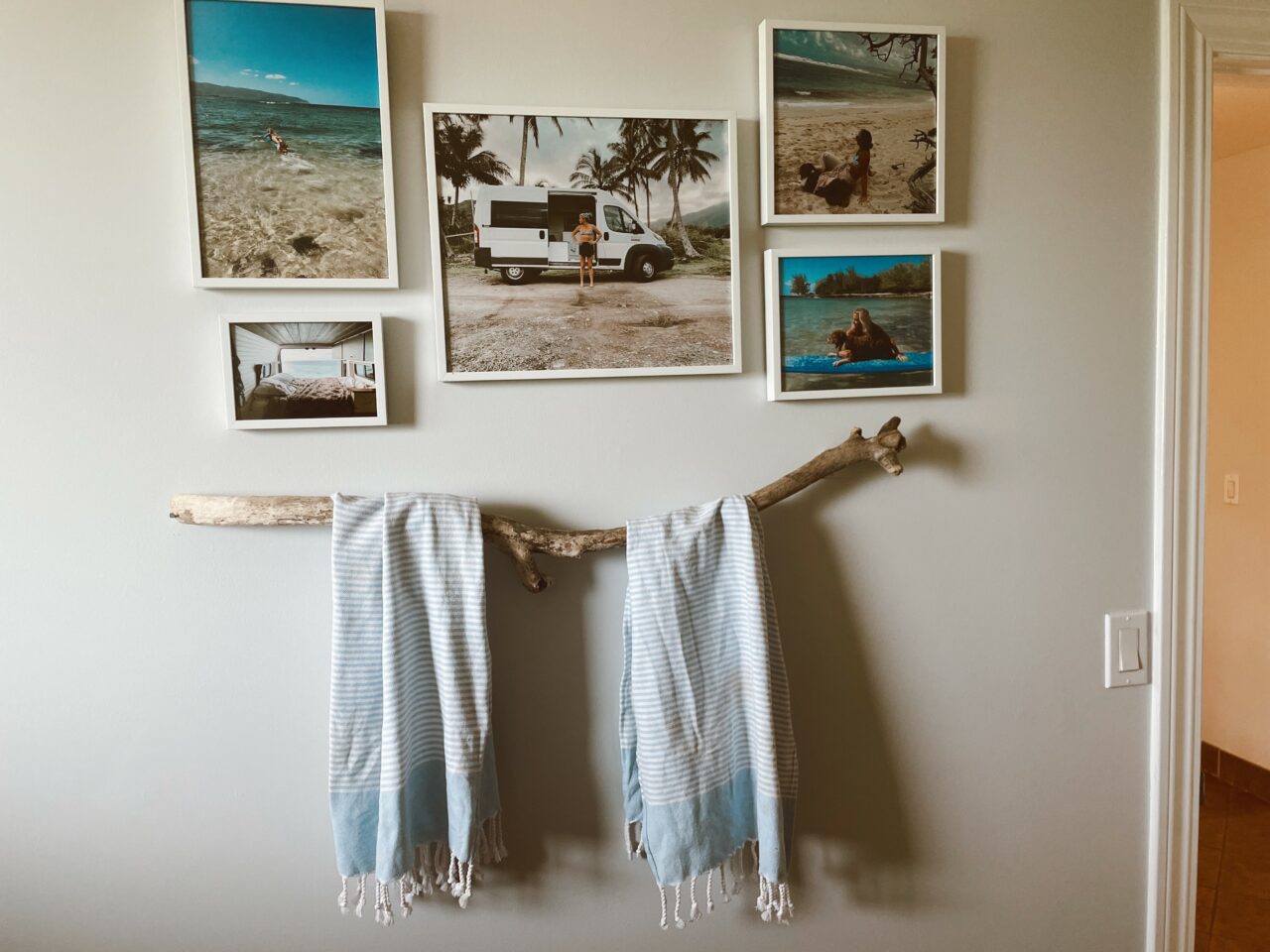 The Ashford frame style in white has an especially contemporary look, which pairs well with more modern or abstract artworks — the profile is thin enough to provide a subtle border without being overpowering.
Our Ashford frame style in white would be perfect for your beach photos. What is usually associated with a beach day? Bright colors and nice days. And nothing would help bring about those thoughts better than a white frame. Have a photo of you in front of the water or of your dog playing in the sand. Why not give it the display it deserves on your wall in our Ashford frame in White? It will make you smile every time you pass by it.
Hanover Frame In White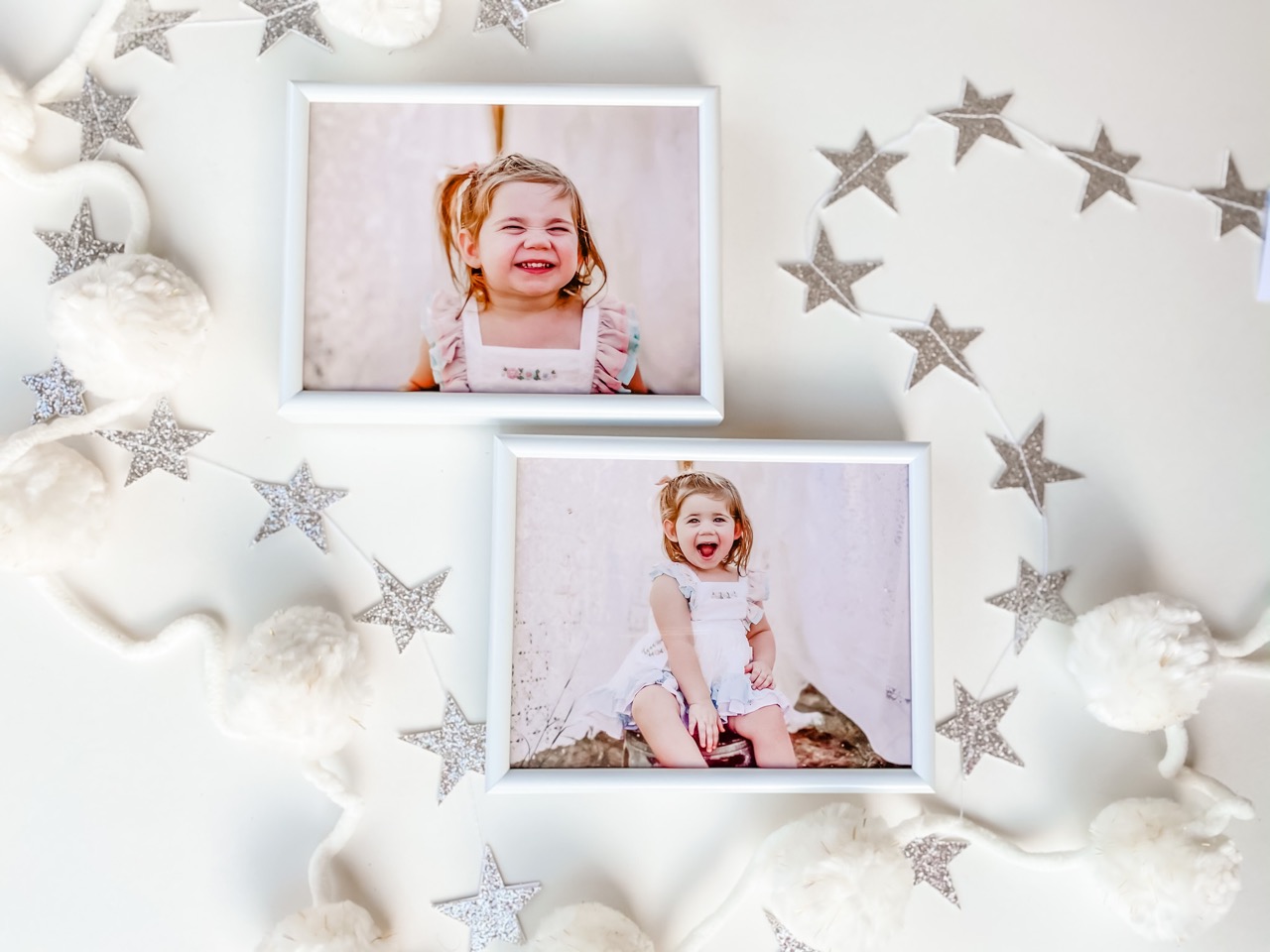 Our Hanover frame style in white would be the perfect display for any portrait photos. School photos, a headshot used for your LinkedIn profile, or photos you used for your last holiday card, whatever portrait you have of yourself or your family would look great in our Hanover frame. The soft touch of the rounded edges makes it perfect for those more serious photos that you want to make fun!
Colored Metal Frame Styles
Ashford Frame In Hot Pink and Rose Gold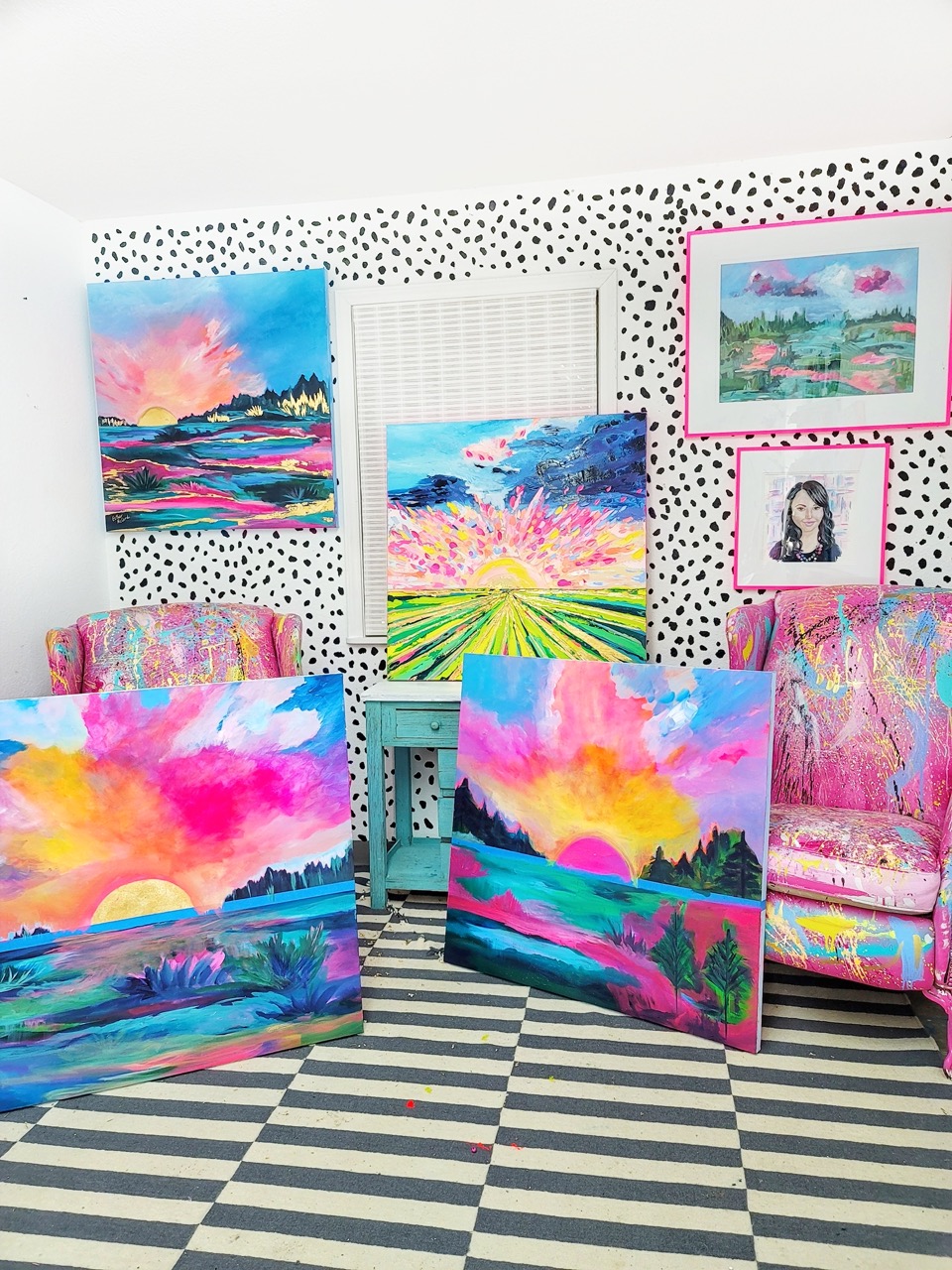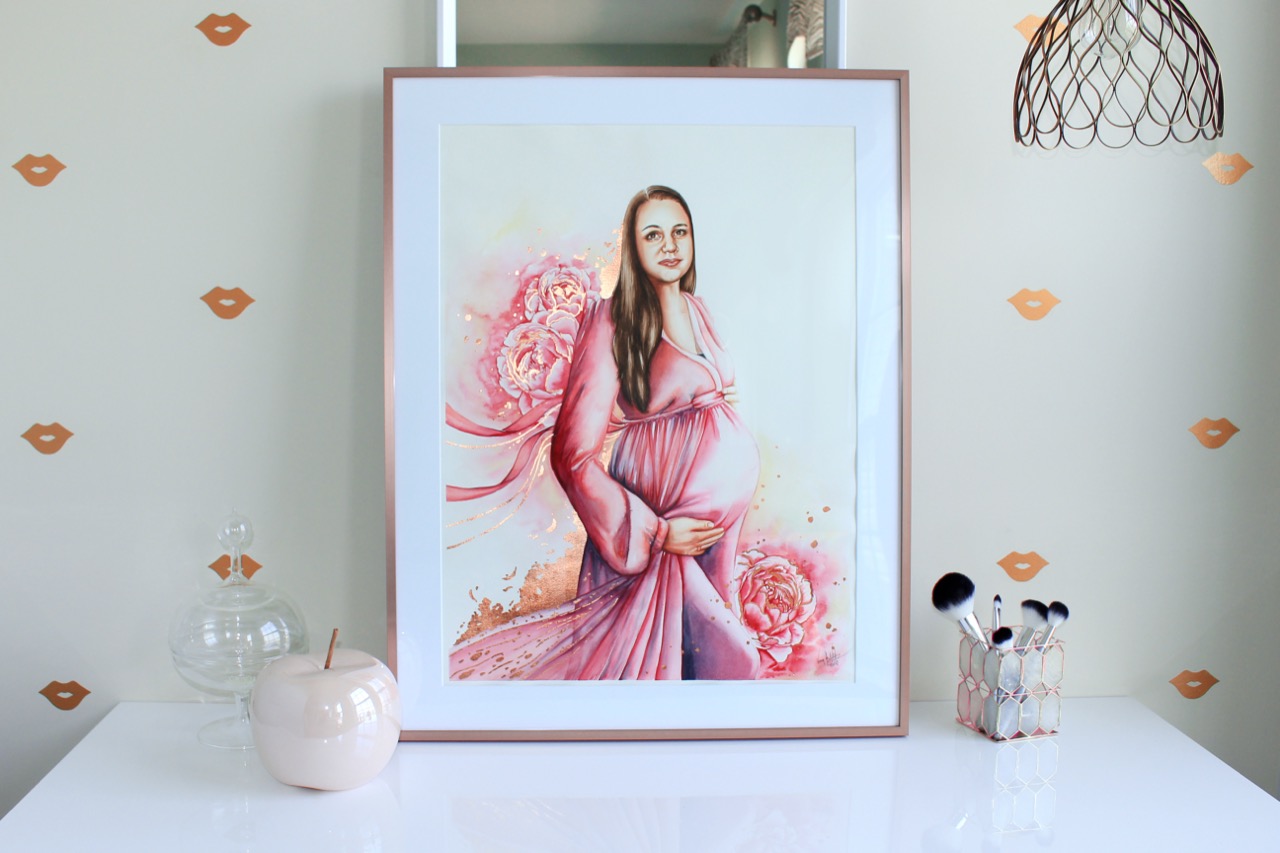 When it comes to our Ashford frame style in Hot Pink and Rose Gold, we understand that they may not be everyone's cup of tea. But for those of you who are looking for a fun and unique way to add a pop of color to your home decor, either would be a perfect choice to add to your home.
Either frame color would be the perfect choice for your colorful art. What better way to display a bright and fun colored piece of art than with a bright ring around it? If you've been to our Learning Center before, you know that we are big fans of colorful art. What better way to add some depth to your neutral-colored walls than with some colorful art? And both of these frame colors would be a great addition to your piece.
Hanover Frame In Red, Blue, and Green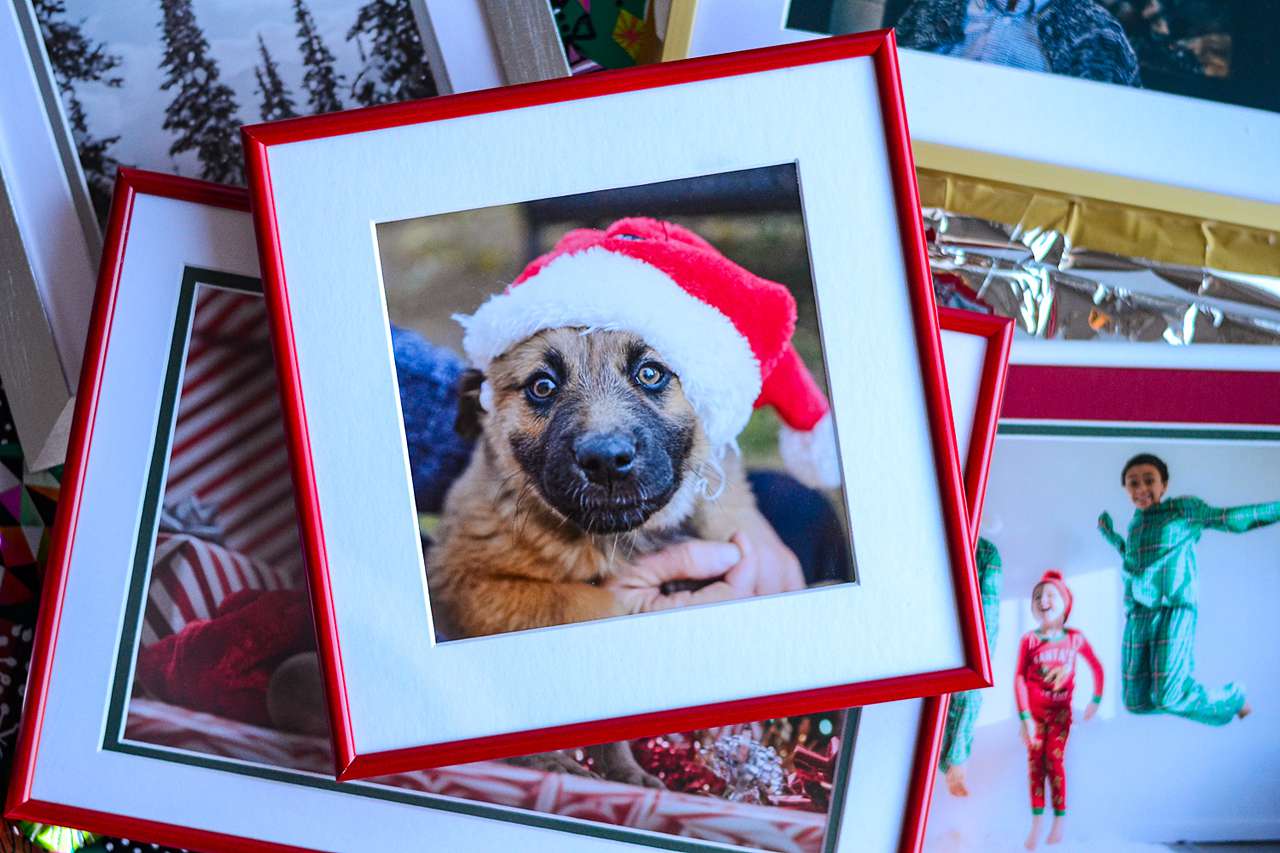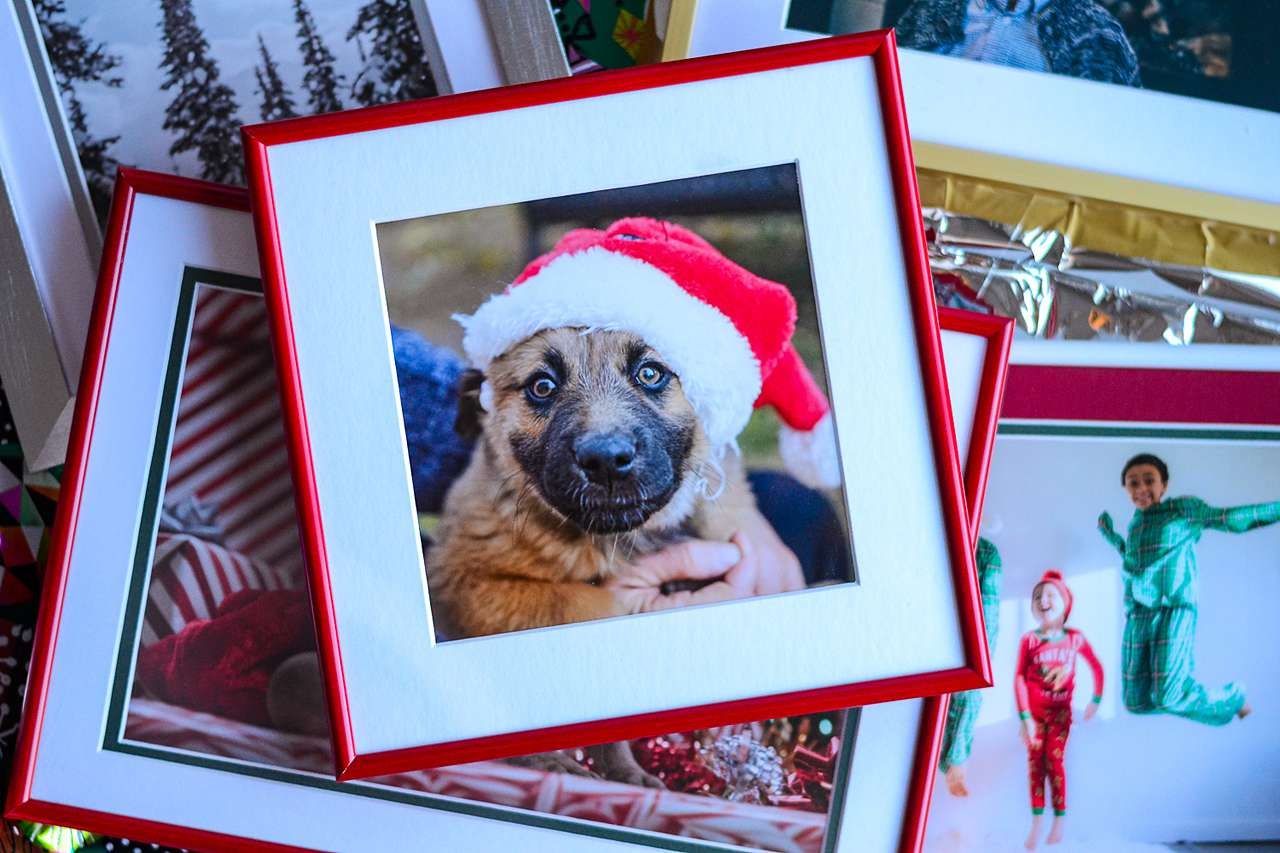 Along with the other options that we've talked about, our Hanover frame style is also offered in Red, Blue, and Green, and there are many ways to add these to your home.
Our Red and Green colors would pair perfectly with a holiday photo that you may want to display on your wall or tabletop. You can add a coordinating matboard color or choose white to make the frame color stand out!
Our Blue frame color would be perfect for framing for your kid's room. The fun color can add a nice touch to artwork they made comic book covers, sports pictures, or any of their interests.
Framing Things All Together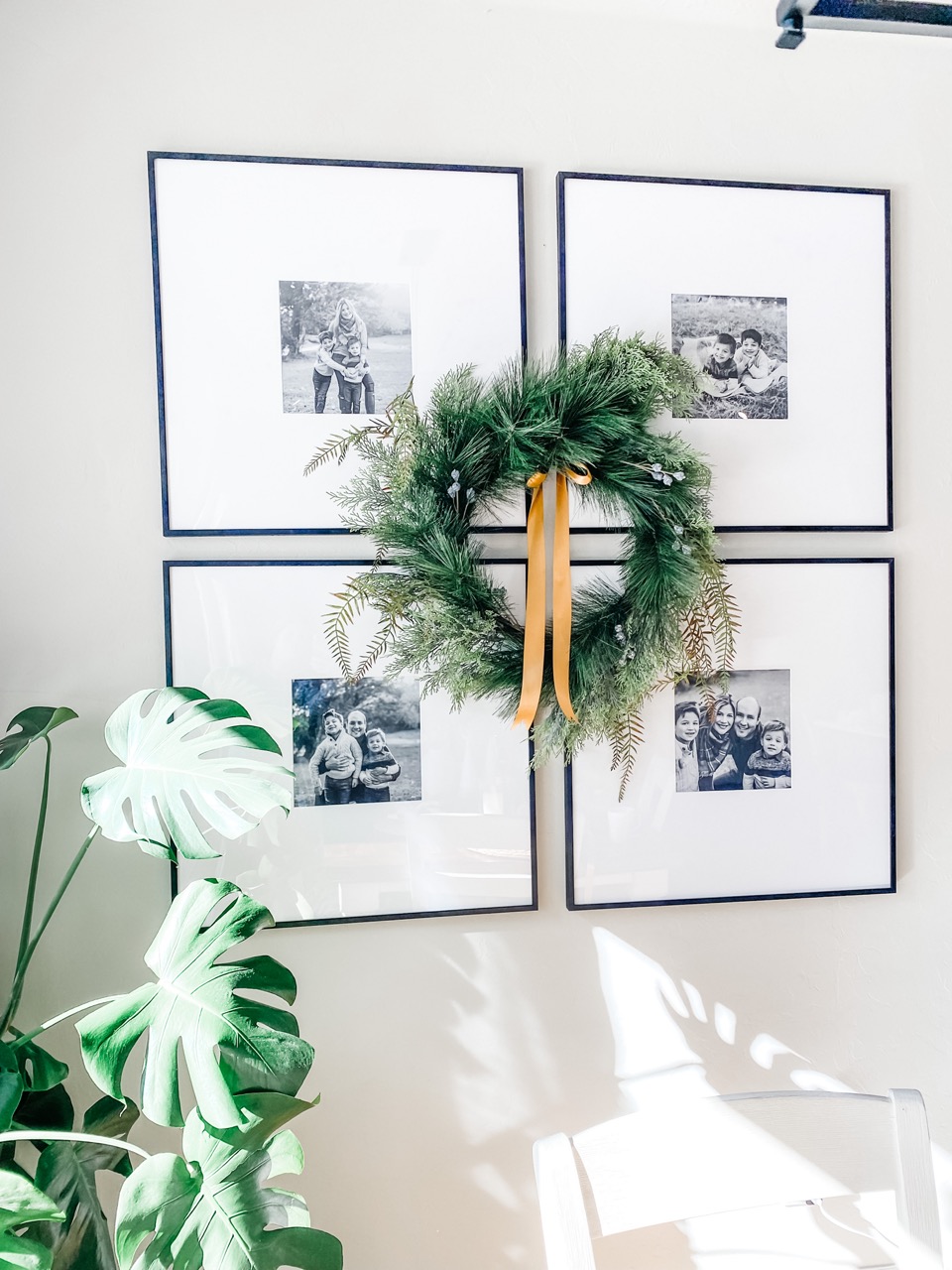 As you can see, there are tons of options when it comes to choosing the perfect metal frame for your house, but don't let that limit you to just one, why not mix and match a few (or all!) different frame styles? We hope this post helped you to narrow down your choices and find the best option for your space!
Once you've figured out which frame style and color is the best for your home, head over to our Frame Designer to start creating your custom frames.
As always, if you took any of our ideas, be sure to share them with us on social media so we can see what amazing things you created with your decor.
Want to be one of our Featured Friends? We will share your photo in our weekly email for all our framing friends to see. Join our mailing list and send your photos to creative@frameiteasy.com with the subject "Featured Friends" and tell us why you love Frame It Easy!
This post first appeared as An In-Depth Look At Metal Frames: Which Style and Color Is The Best Choice For Your Decor? on Frame It Easy - Learning Center for Custom Picture Framing.