When looking at wedding photography you notice the incredible capturing of these celebrations of commitment & love. With friends & family near, great vibes, & good music – capturing the moment, the people & the scene is essential. With wedding season in full swing, we'll dive into the essentials when it comes to planning for & photographing a perfect wedding!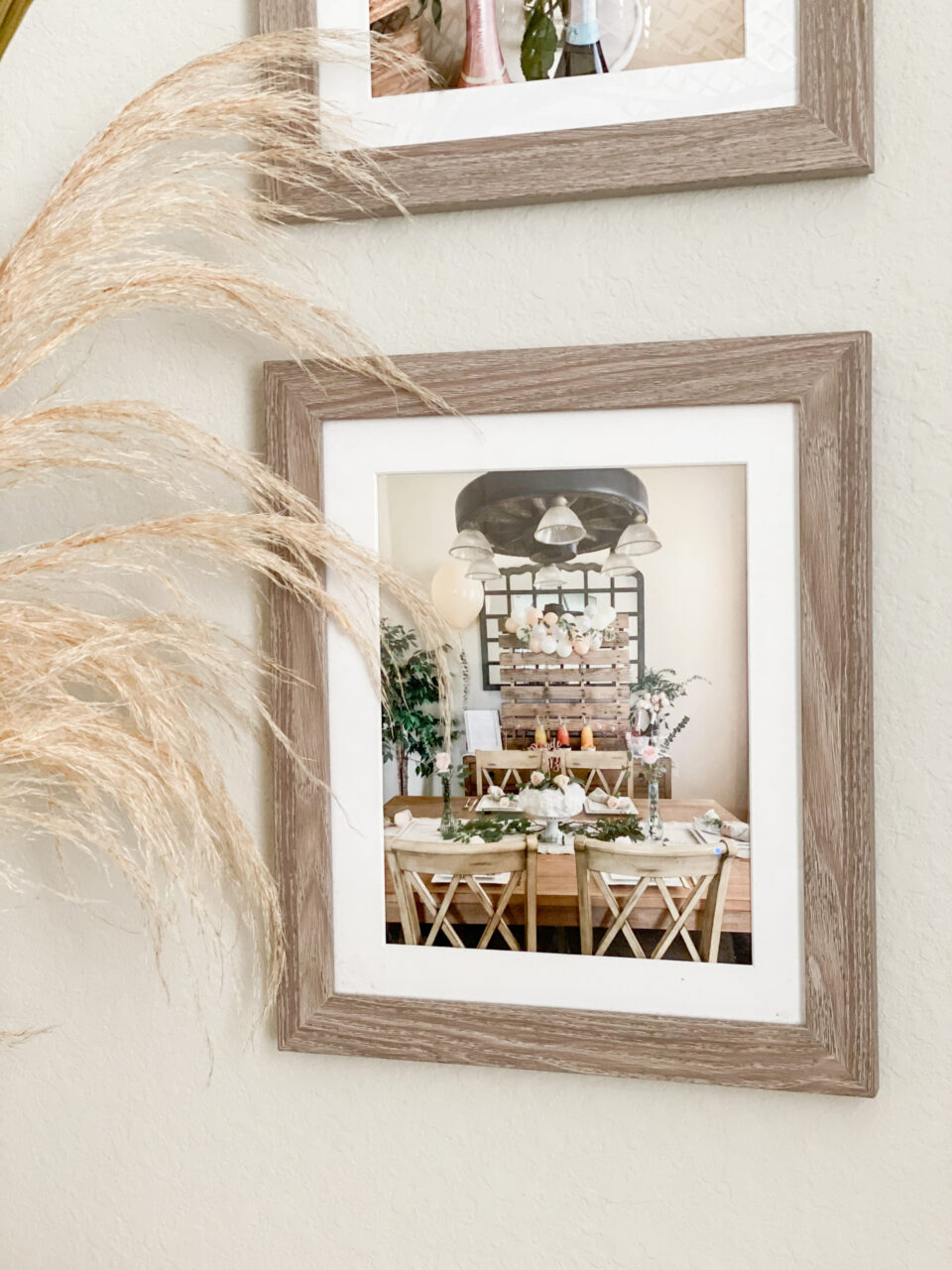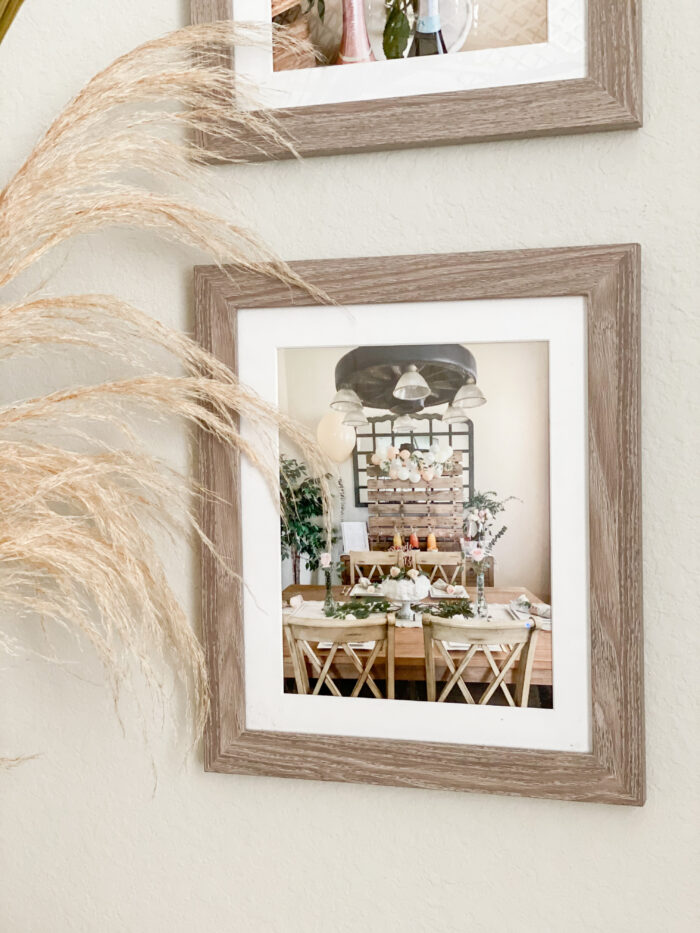 Keep reading to discover the best shot list for planning a wedding, & creating a beautiful wedding photography display, as well as tips & tricks for photographers to grab the best possible wedding day shots, & essential gear to have on deck!
Wedding planner? You may have asked…
As a photographer, you may have asked…
•How do I choose the right wedding photographer?
•What pictures should I have in my wedding photo shot list?
•What's the best way to display my wedding photos?
•How can I display my wedding photos?
•What settings should I use for wedding photography?
•What cameras, lenses, & other equipment should I have for wedding photography?
•What props or accessories should be included in a wedding photography session?
•What is the best lighting for wedding photography?
---
---
Planning A Wedding: An Outline For The Best Wedding Photos
Planning a wedding is no joke! It's hard work & requires meticulous attention to all the fine details including food, guest list, & so much more – the event photography is no exception. To ensure that your wedding photos turn out stunning & are of the best quality, it's essential to take note of the following…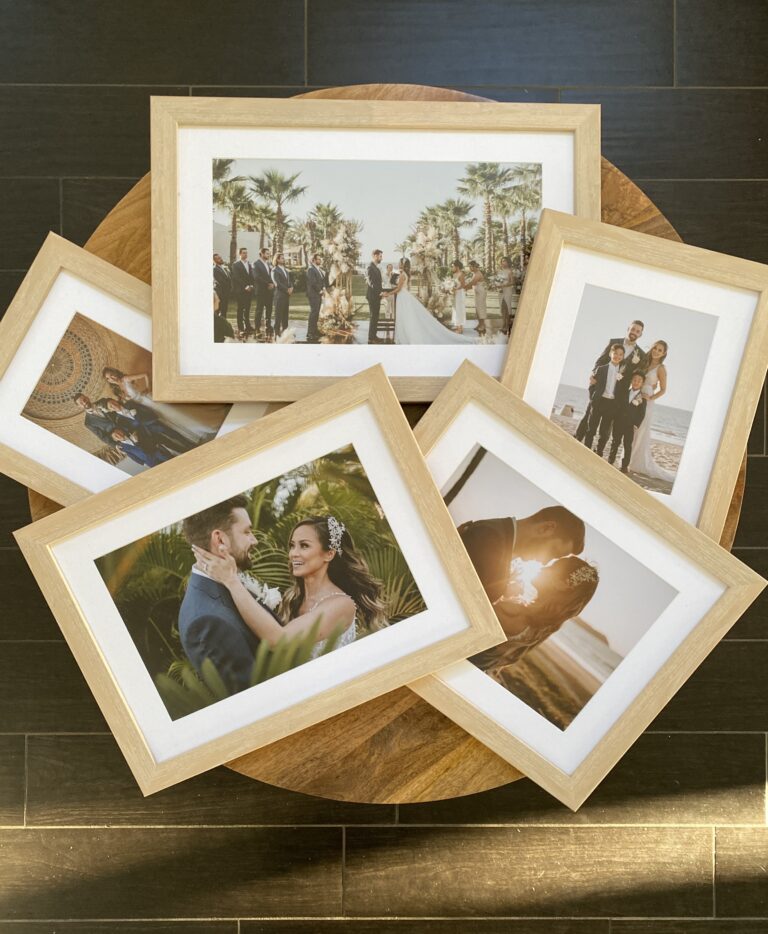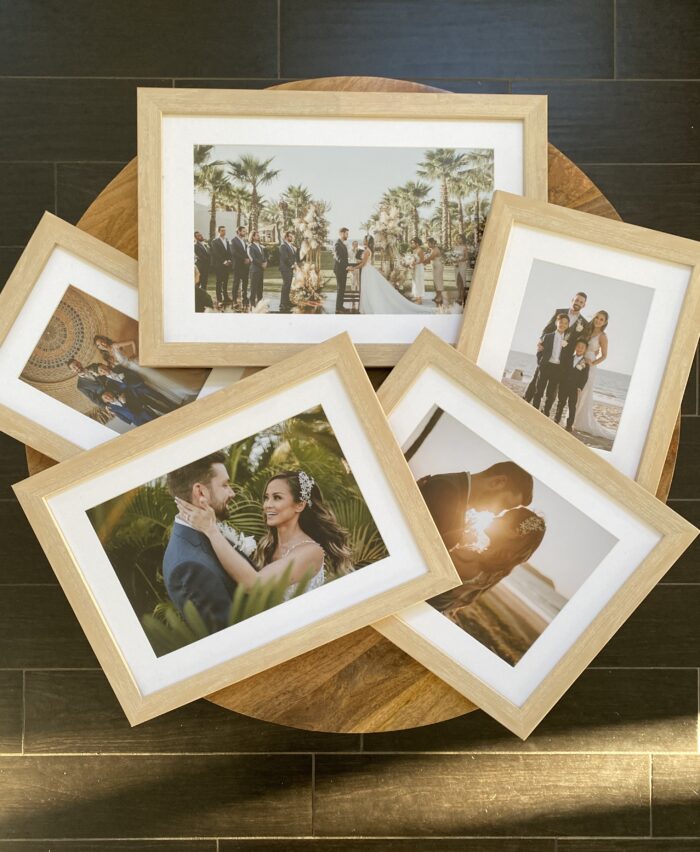 Choosing The Right Photographer
Selecting the right photographer for the job is essential! Start by researching photographers in your area, look at their portfolios, & set up a consultation in person to make sure your vision, style, & creative vibes align.
Consider any important factors you may have when it comes to selecting your ideal candidate, like job experience & package rates to name a few.
Setting A Budget
After you've done your research & met with a few potential wedding photographers, it's time to sit down & crunch some numbers. (Ugh, not fun, but you gotta do it! 😖) Determine a reasonable wedding photography budget that's within the party's means.
Keep in mind other costly factors like venue & floral costs you may also have to budget for!
Preparing For The Big Day
Once you've created a budget & selected your photographer, start preparing for the big day by visiting the wedding venue together. Familiarise yourself with the location & pick out potential locations for some picture-perfect shots! Be sure to check outside the venue as well for any outdoor or nature shots you may have in mind.
🔥 Hot Tip: Guests camera shy? Consider scheduling a fun pre-wedding shoot for your party & guests to build rapport & ease any camera shyness! 🙈📸
Creating A Shot List
From the exchanging of vows to the first dance, capturing these emotional moments & other sometimes spontaneous events (bouquet throwing anyone?! 💐) is essential! Discuss with your photographer the style & mood you're looking for in photos, as well as come up with a shot list of "must-have" moments to capture!
Need help creating The Perfect Wedding Photography Shot List? We've listed all the essentials & more!
📸 The Perfect Wedding Photography Shot List! 💒
Subscribe to our mailing list for exclusive goodies, fun quizzes, framing tips and tricks, and so much more!
Planning A Wedding: Displaying The Memories
Once the "I Do's" have been said & the photos are ready, the next step is to display & transform your favorite wedding moments into some gorgeous wall art that compliments your decor. It may be hard to whittle it down to just a few photos but keep in mind you can always swap them out from time to time…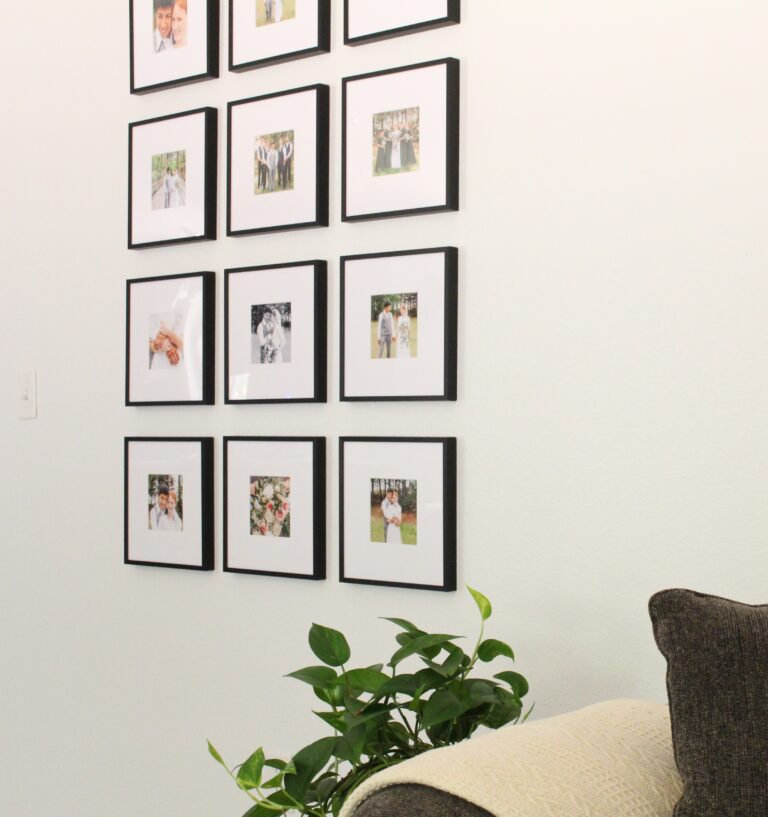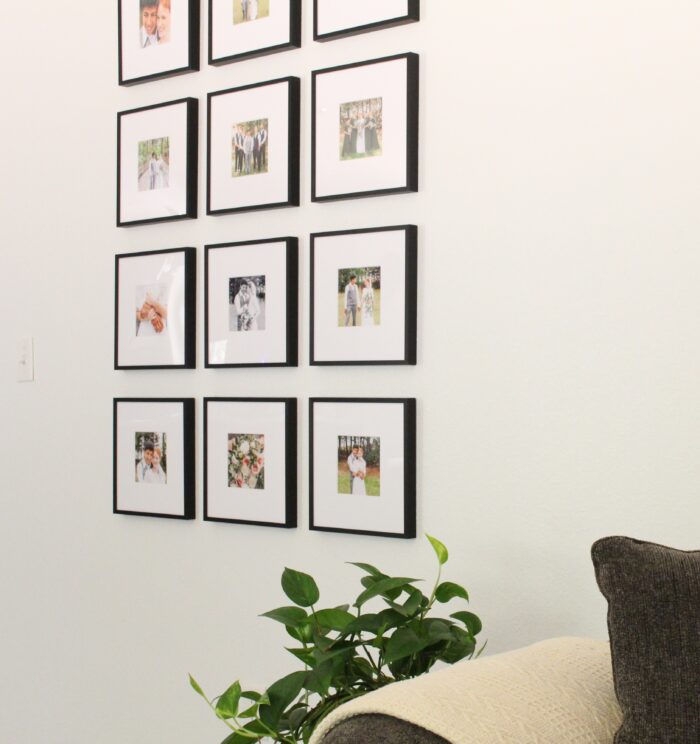 Frames & Wall Displays
Picking out your favorite shots may be hard but there's a simple solution! If you have plenty of wall space, opt for smaller 5″x5″ photos & create a grid display. If you only have room for a handful, consider 8″x10″ shots of the essential first kiss, dance, & walking down the aisle.
How you choose to display them is up to you! If you're looking for a more classic display we recommend housing your photos in our Derby or Ashford style frames, both come in timeless black colors to fit in with any style. Looking for a little more pop? Try framing your photos with our Hammond or Granby style frames, these styles offer a lot of personality & glamour to go along with your photos! We recommend both in their silver options – classy yet fun!
Prints, Albums & Digital Media
We love the classic photo album but, in this digital age, it's much safer (& easier!) to store your digital images on a drive or on the cloud. Send your guests a link to a digital folder to access all your wedding photos (we recommend using google drive). If you or your guests ever want to print & frame an image, just drag & drop your file into our custom frame builder – & in a few days, your new framed print will be delivered right to your door ready to hang!
🤔 Did you know? You can save your photos right to your Image Library on your Frame It Easy account, making it super simple to organize & order ready-to-hang prints in your favorite frame styles!
---
Capturing The Perfect Shots
Your client's big day has finally come! You've got your shot list, camera gear, & you're on location. Now it's time to wait readily for all the big moments to snap, just make sure you're aware of the following…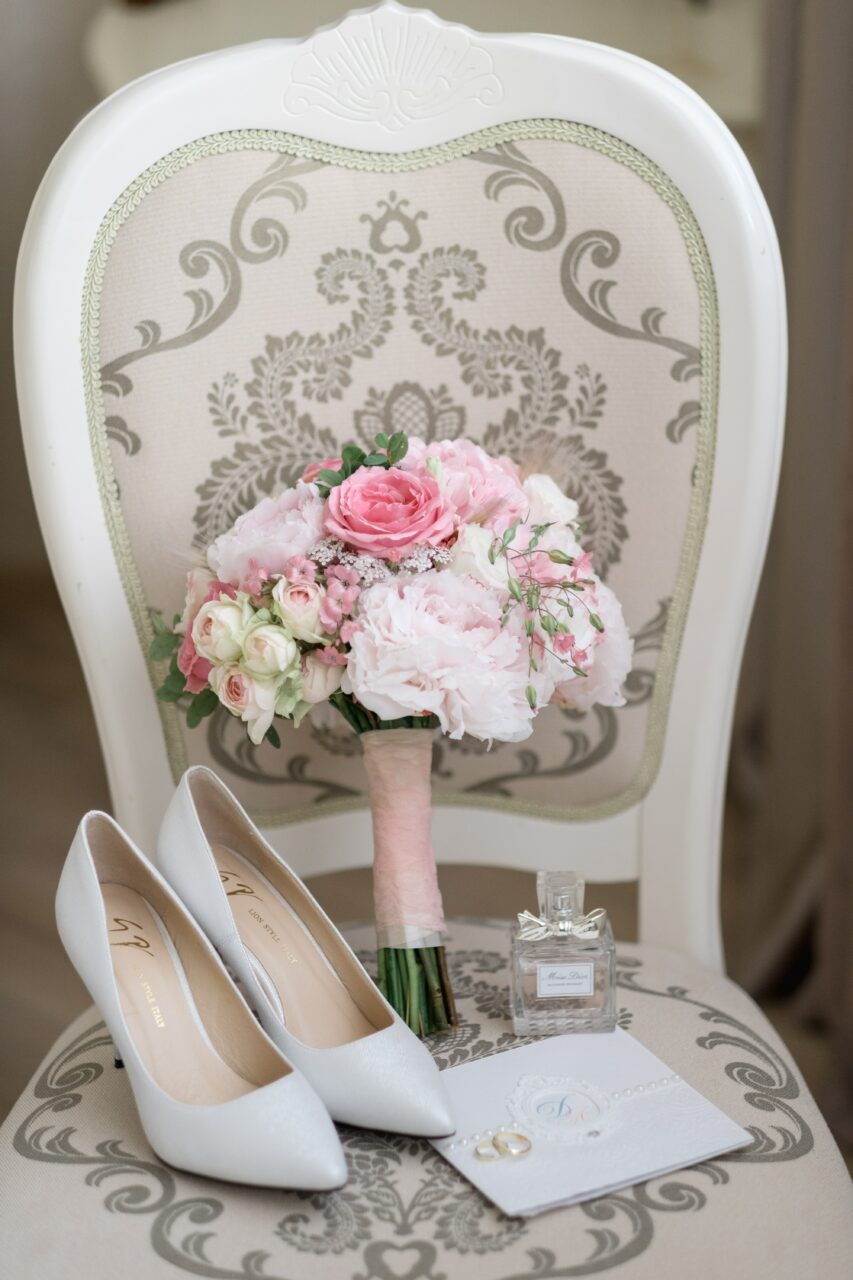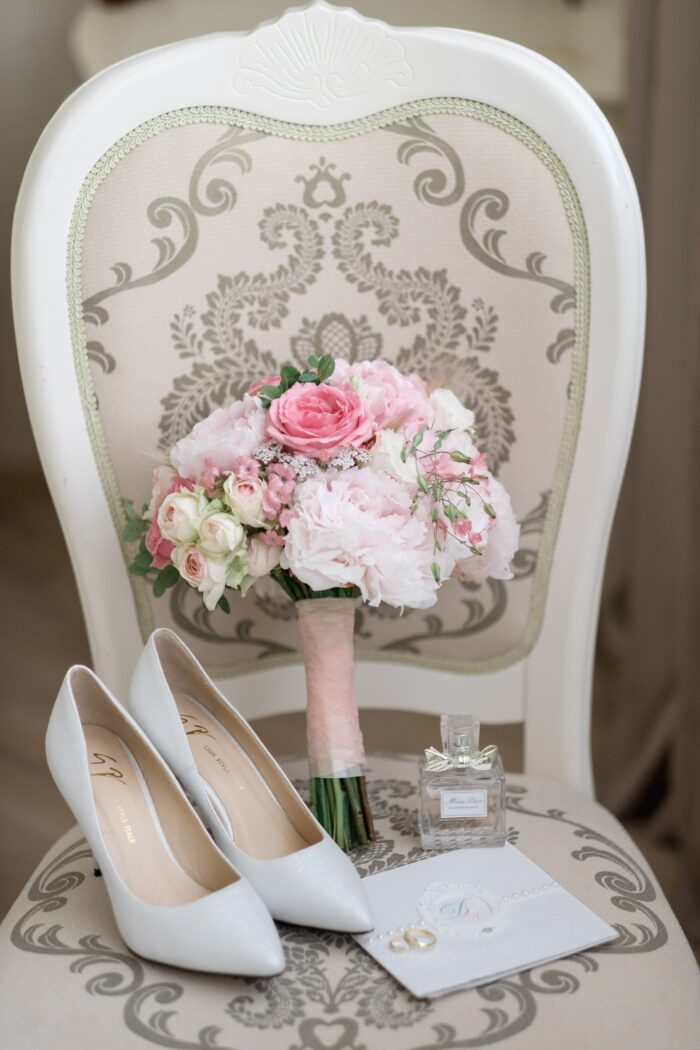 Using Props & Accessories
Incorporate props & accessories like champagne glasses, a cake cutter, & wedding bouquets into your client's photos. Flowers don't last forever – but their photos will! These sentimental objects will enhance the storytelling aspect of your images, & your client will appreciate your attention to detail!
Lighting & Composition
The wedding party is counting on you to effectively compose shots that emphasize the beauty & emotion of the moment. No pressure, right? 🫣
As a photographer, you already know that understanding the importance of lighting & composition is crucial for creating captivating images. The same applies to wedding photography – catching your subjects in the right light to create a certain mood or feel is an art in itself. Be aware of any natural or artificial lighting in & outside the venue as you set up shots & group photo locations with the wedding planner.
Wedding Photography Gear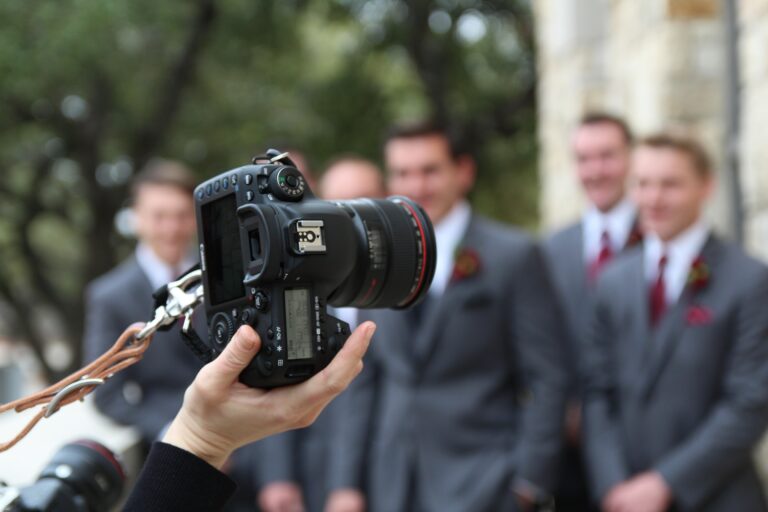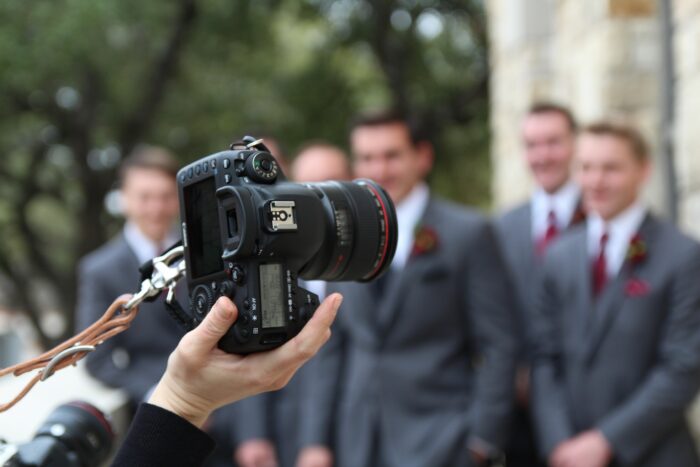 Cameras For Wedding Photographers
When choosing the best cameras for capturing weddings, consider factors like low-light performance & weight as you will find yourself moving to & from different locations with multiple light sources. Ultimately, choose the equipment that best suits your shooting style & preferences whether it's a full-frame DSLR or a mirrorless camera.
Lenses For Wedding Photography
We recommend having these 2 lenses on hand when shooting a wedding:
📸 16-35mm or 24-70mm lenses (Wide-Angle Lens) – Perfect for capturing the environment as well as the people celebrating in it! Wide-angle lenses are perfect for venue & landscape shots, they set the scene for the big day!
📸 35mm or 50mm (Prime Lens) – Super versatile & well-rounded, If you're just starting out, the 50mm lens is essential before anything else! Perfect for portraits, ceremonies, & reception shots. Talk about a lens that can do it all!
Other Equipment & Accessories
📷 Macro Filters – Super fun & lightweight! A great addition to a 50mm lens – no need to purchase a macro lens! Perfect for capturing all the wedding details at a fraction of the cost of a macro lens.
🎞️ A Trusty Tripod – Great for reception shots while the guests are dancing – heck, it also gives your arms a break!
💾 Extra Memory Cards – Don't get caught snapping away without extra memory cards – especially if you tend to be "snap-happy" It's better to have too many shots than not enough!
🔋 Battery Packs – Essential in any photographer's kit – make sure all batteries are charged the day before, and bring a charging station for even better backup.
📸 Small Flash Units – If the venue is particularly dark, it's beneficial to keep a small flash unit on hand, or if you have a fun photo booth set up for guests during the reception!
While all of these extra equipment & accessory suggestions can be helpful, remember to prioritize the gear that aligns with your shooting style & grants a seamless workflow – don't weigh yourself down with extra bells & whistles you won't necessarily use!
---
Final Thoughts
Wedding photography & displays are art forms that allow couples to cherish their special day forever! Being prepared by planning a shortlist, creating a budget, & exploring creative display options allow anyone to plan a great wedding (& showcase!) successfully
As a photographer, understanding the importance of lighting, composition, props, & having the proper gear while understanding the couples' needs will ensure great photos & happy clients!
Couples & photographers can work together to capture beautiful images that tell a unique love story to frame & display for years to come!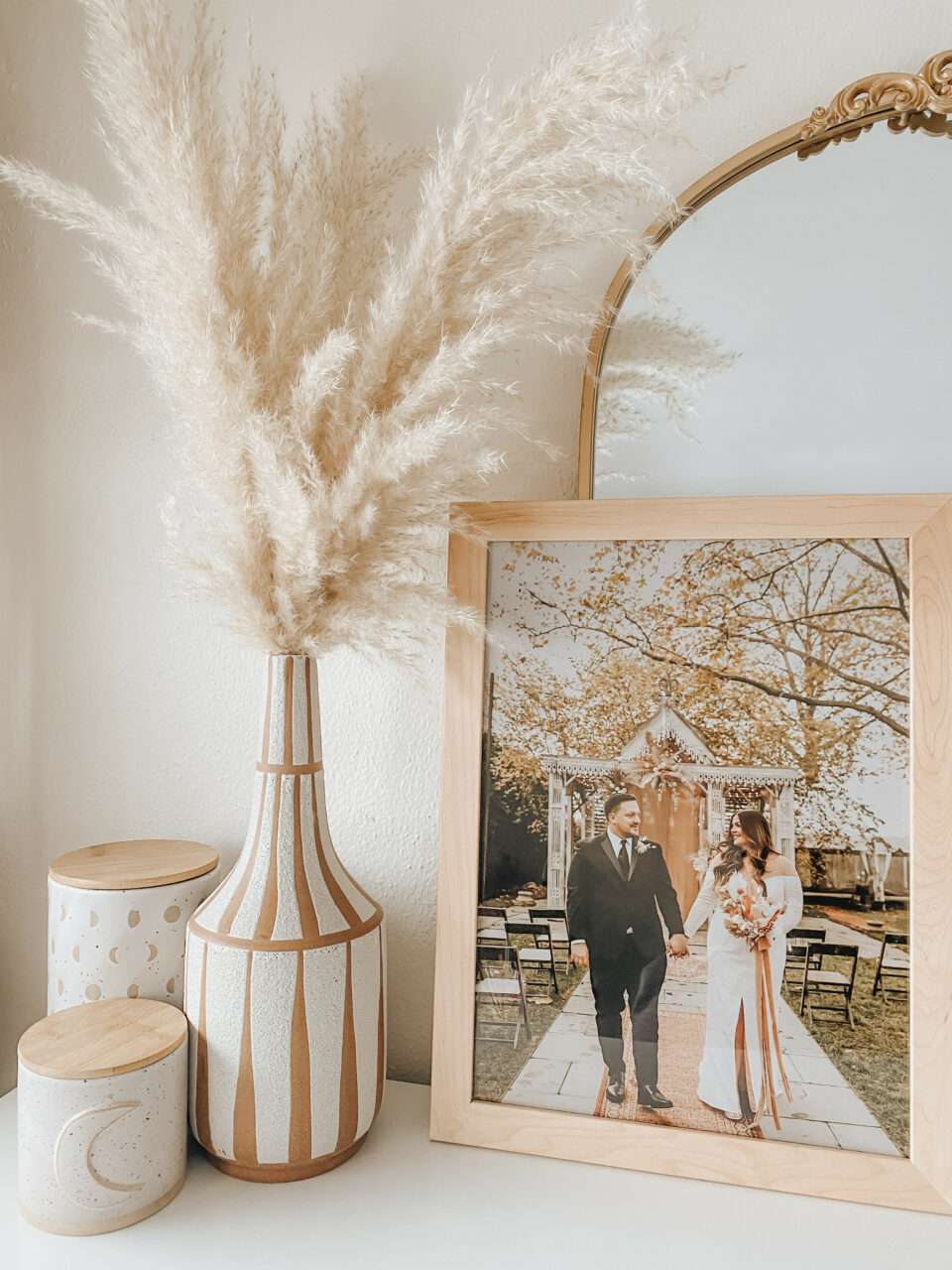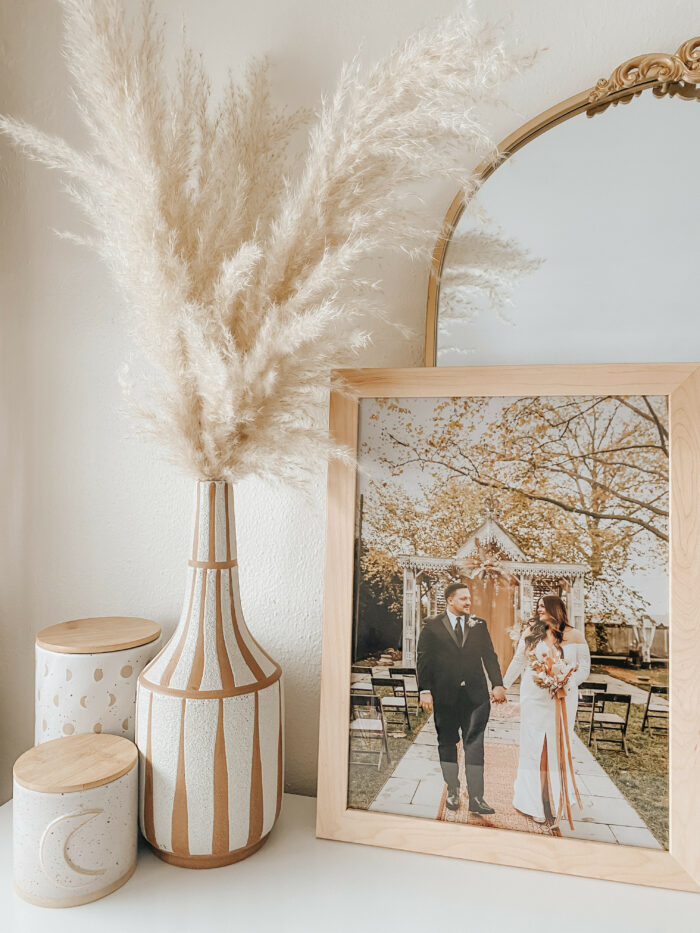 Show off your framed artwork, photos, & other items! – Inspire others by sharing your photos, tell us your story! If we share it, you'll receive a coupon for 15% off your next order!
Be sure to follow us on our socials for more daily inspiration – check out our Shopify app to start selling your own framed prints!
This post first appeared as The Ultimate Wedding Photography & Display Guide: 2023 Edition on Frame It Easy - Learning Center for Custom Picture Framing.