One trend we've seen a ton of lately is black and white photos, and today we're exploring how to incorporate black and white photos as part of your gallery wall. Of course, a gallery wall can be made up of pictures in color, but there's something about a gallery wall filled with black and white photos that are so aesthetically pleasing and create a dynamite display!
If you've been to our Learning Center before you know that we are big fans of gallery walls. Gallery walls are a great way to display all of your favorite family photos, travel photos, or even just art you've collected over the years. There are no real rules when it comes to home decor, as we've mentioned before, so it all comes down to what you want to do in your home. Here at Frame It Easy, we like to stay current on all home decor trends, which seemingly change every so often, so it may be hard to keep up.
What Is A Black And White Photo?
Before we get into framing and styling your black and white photos, we should first talk about what exactly a black-and-white photo is. You may think it is as simple as putting a filter on a photo and printing it, but it's not always that easy! When it comes to making a photo black and white, some colors may blend into each other, so your photo may turn dull and lifeless. A black and white photo is one that uses different tones of gray — from black to white — to create a captivating photo. Some cameras and cellphones allow you to take a photo directly in black and white, that way you won't have to use a photo editing app afterward, but in order to make sure that the photo is well-defined, you must first learn about how each color reacts differently with a black and white filter. For example, a red filter will increase contrast while a blue filter will decrease contrast and make your photo extremely dark and dreary looking.
A black and white filter is great to add to a photo that you want to eliminate color and distraction from, to draw in the focus to other aspects such as texture, shapes, or just the subject of the photo. If you have taken a photo in color and later want to change it to black and white, there are many photo editing apps that offer this feature, but just be sure to play around with it so that you can get the best result for each photo since it's not always a one size fits all feature.
So what type of photos look best in a black and white filter?
Portraits
Landscape
Architecture
Line Art
Now that we've covered that, let's get into some gallery walls featuring black and white photos to hopefully influence your next picture framing project, and later we will share some of our favorite frame styles to complement your black and white photos.
Black Frames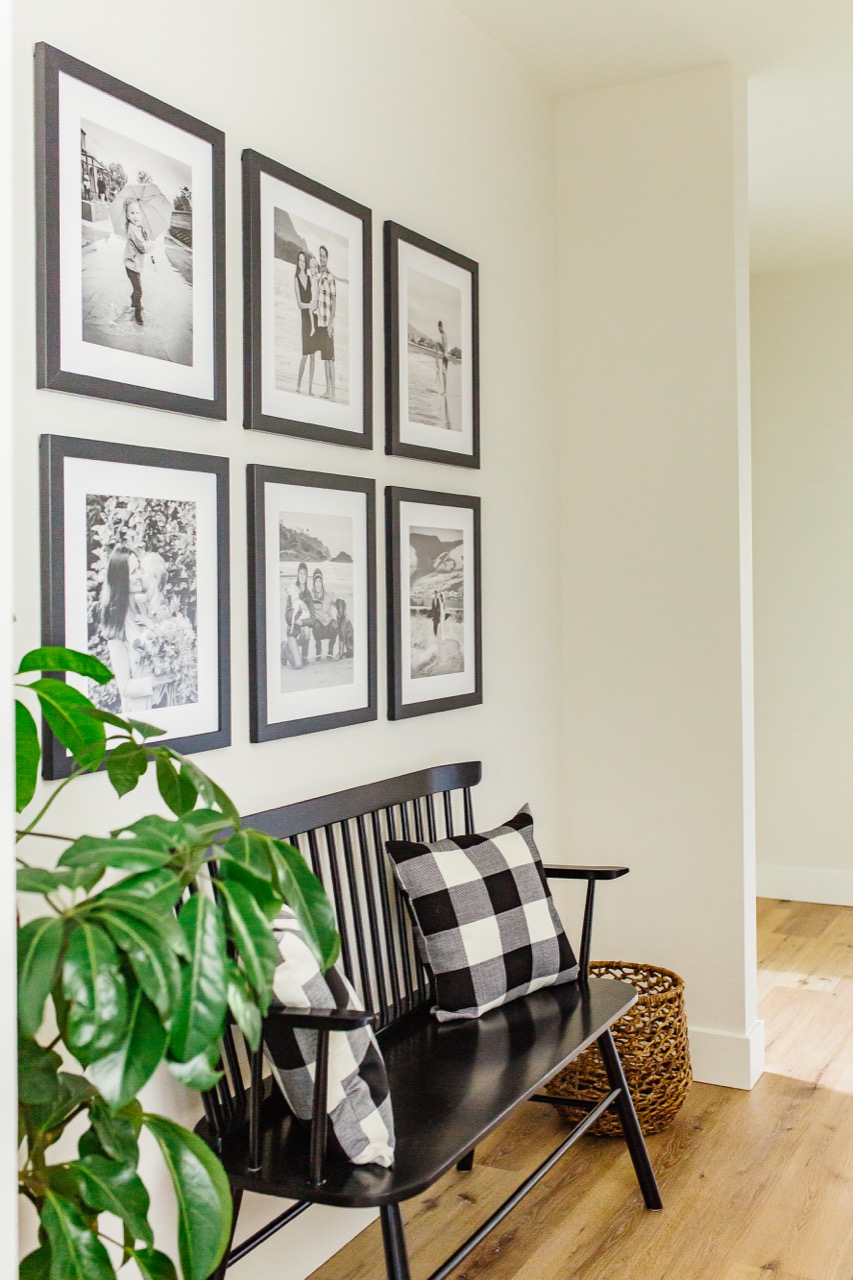 Sticking to the black and white theme, black frames make the perfect addition to your black and white photos. They keep things clean and organized, while still making your photos stand out. They won't distract from what really matters here, your photos, but instead, just add to it. Adding a large white matboard around your photo will also give you a modern look.
White Frames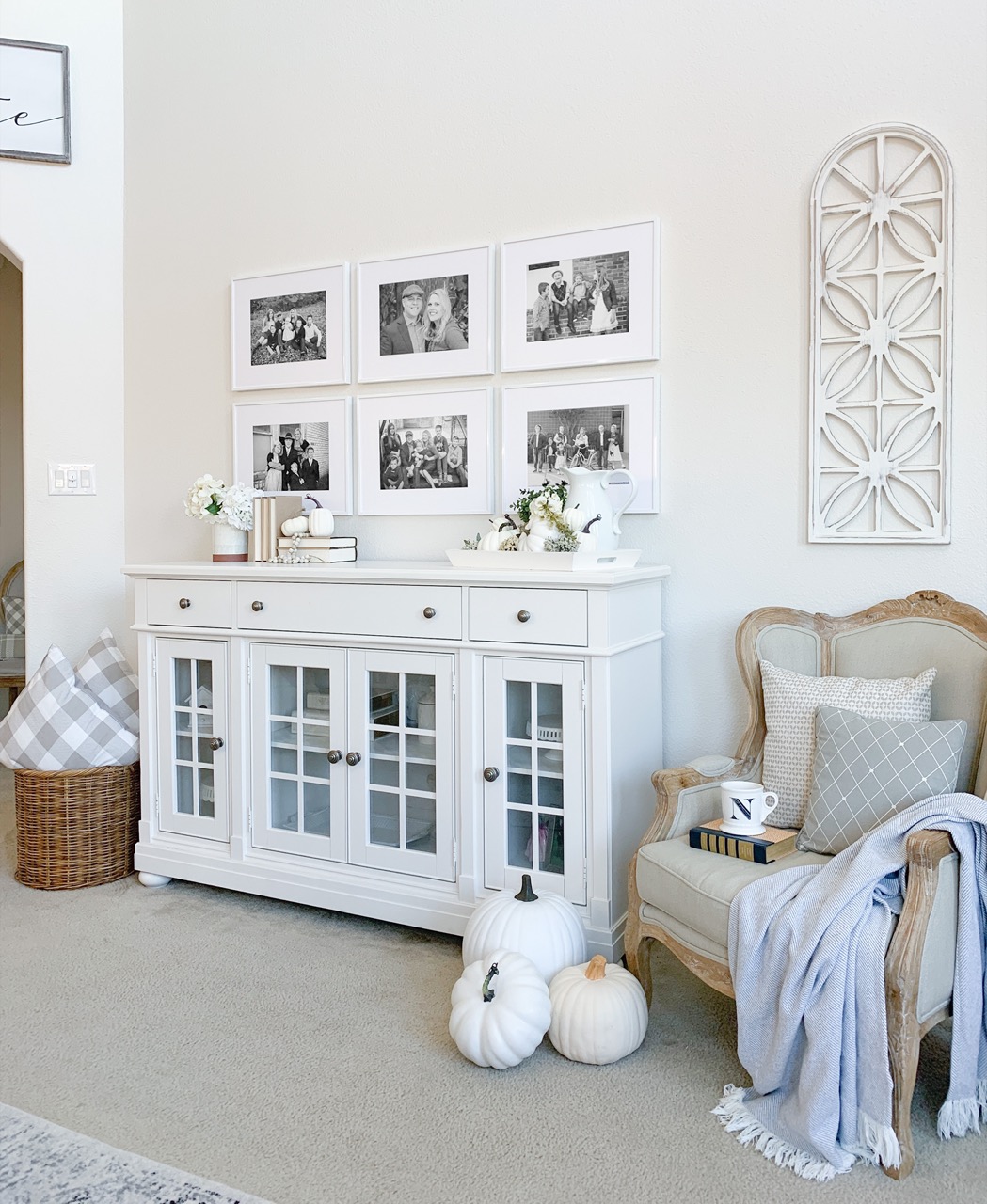 As we said, there is something so uncomplicated about a white and black gallery wall, so keep that going with a white frame to display all your great family photos. The grid-style look is perfect to keep things in an orderly fashion and keep your wall looking neat and put together.
Wood Frames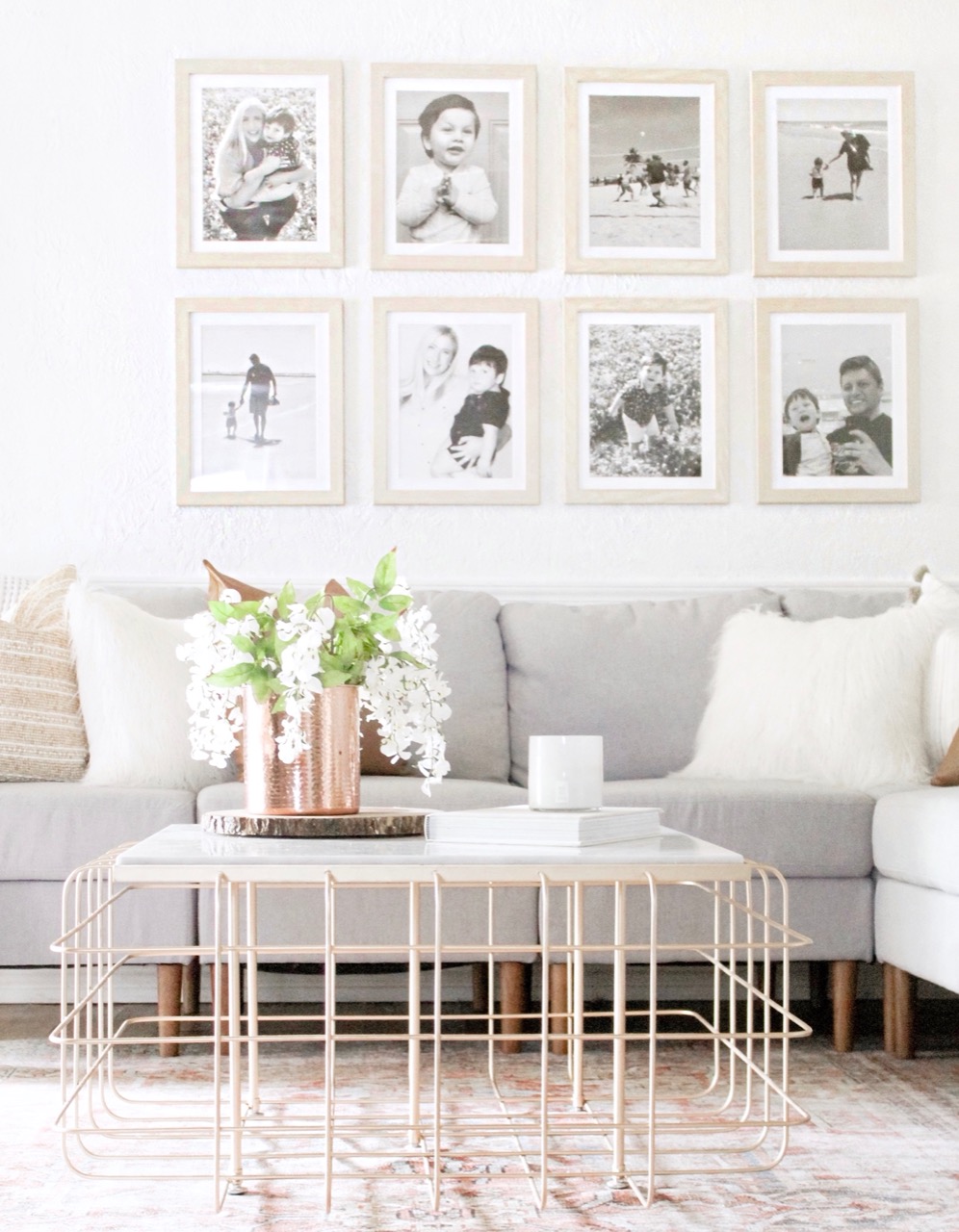 The wood frames seen in the photo featured above add a simple touch to the gallery wall without taking things over the edge. The wood frames tie into the monochromatic look to create an elegant display that will definitely catch your guest's attention anytime they come over! As we mentioned before, you can't go wrong with framing family photos, especially for your living room, so be sure to choose your favorites for this eye-catching display.
Gold Frames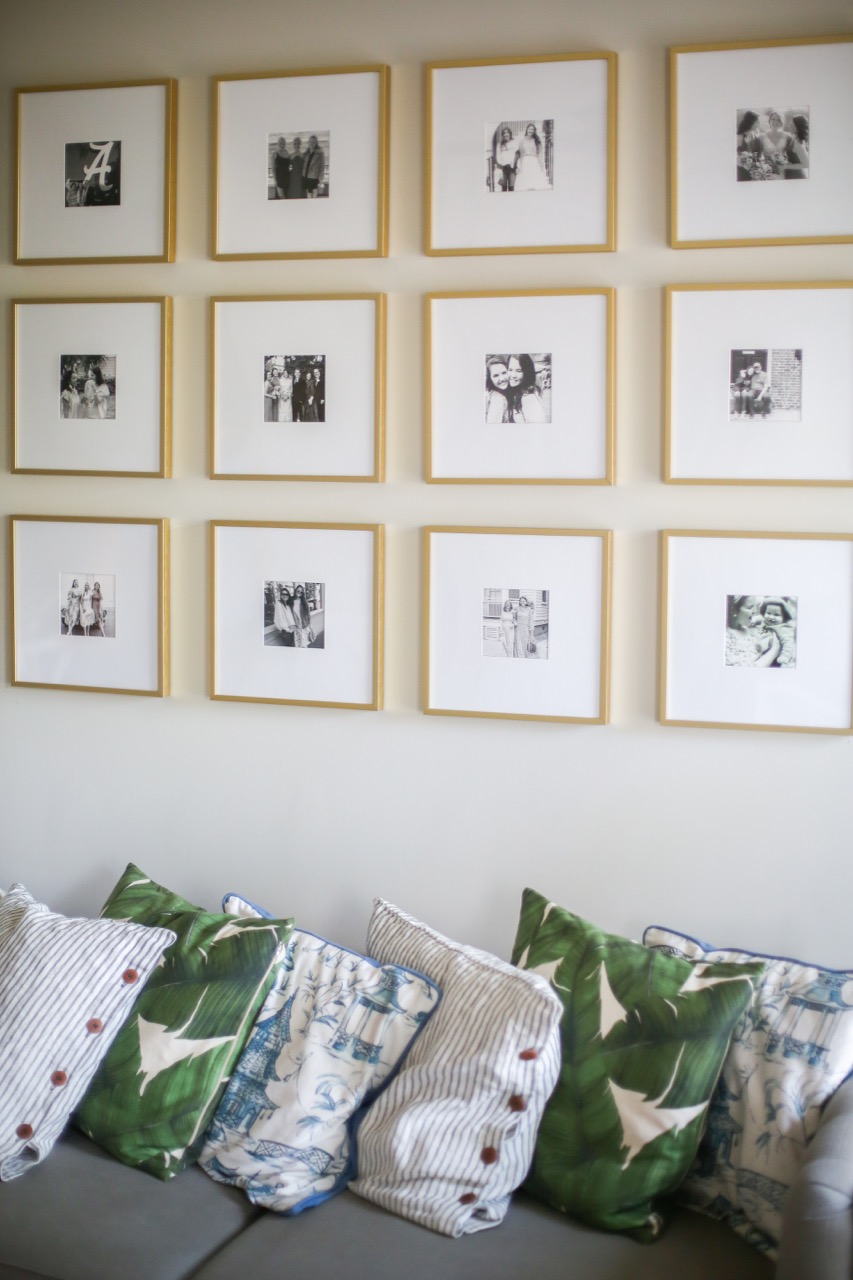 Gold is the color of luxury and magic, so why not create a luxurious, magical display in your home by adding our Ashford frame style in either Satin or Gloss Gold to complement your black-and-white photos. The gold color frame will give your black and white photos a stylish look, still without making things look too crowded or chaotic. The photo featured above shows a symmetrical gallery wall, but don't be afraid to mix things up and create an asymmetrical look or layer your frames to really give your gallery wall a pop!
Asymmetrical Gallery Wall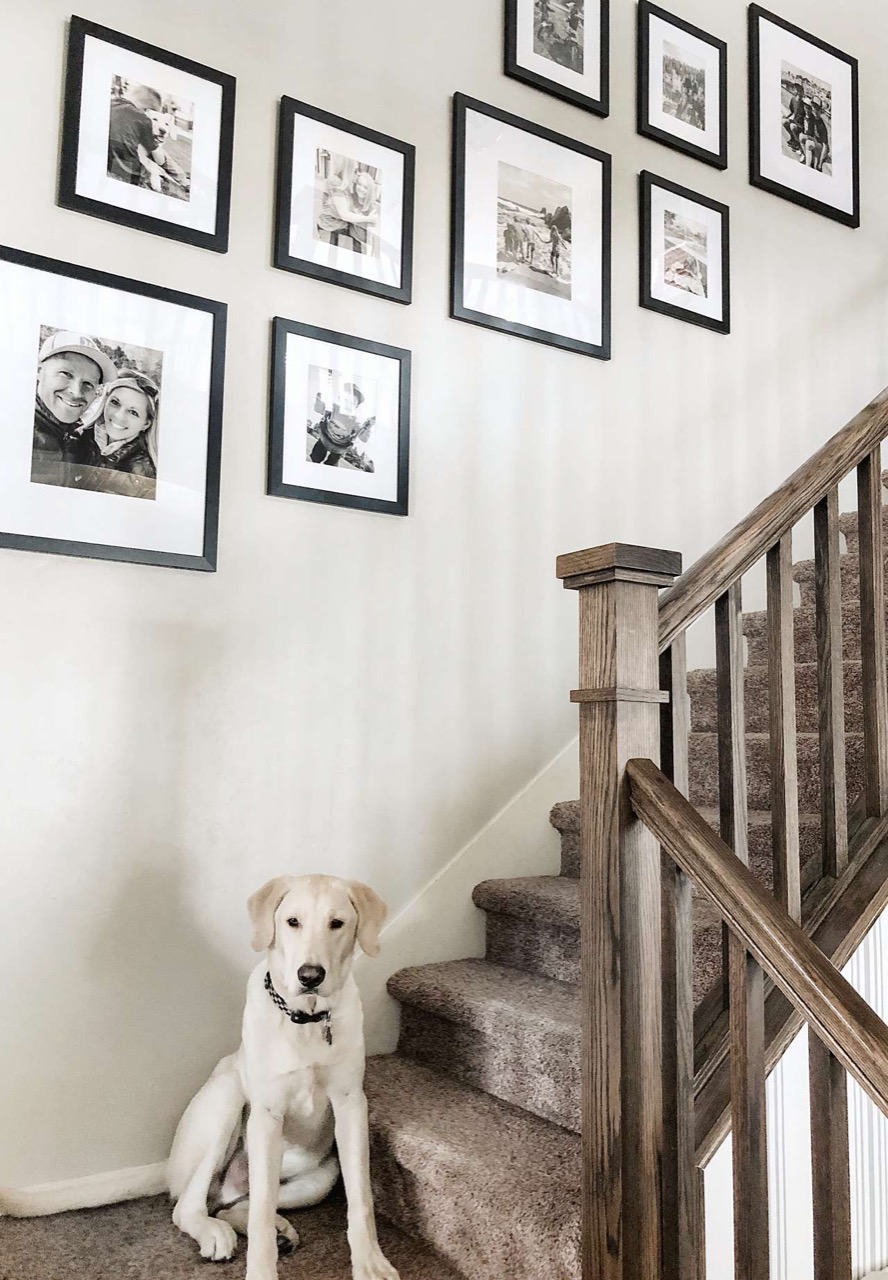 We talked about how black and white photos create a clean, organized look, but that doesn't mean your frames need to be organized! Asymmetrical gallery walls are all the rage these days because they add more visual interest. Creating an asymmetrical gallery wall gives you tons of creative freedom to get frames of different sizes and orientations, while still having things look put together. They would be perfect for your stairwell, just like the photo featured above, or in your dining room for the ultimate display.
Large Matboard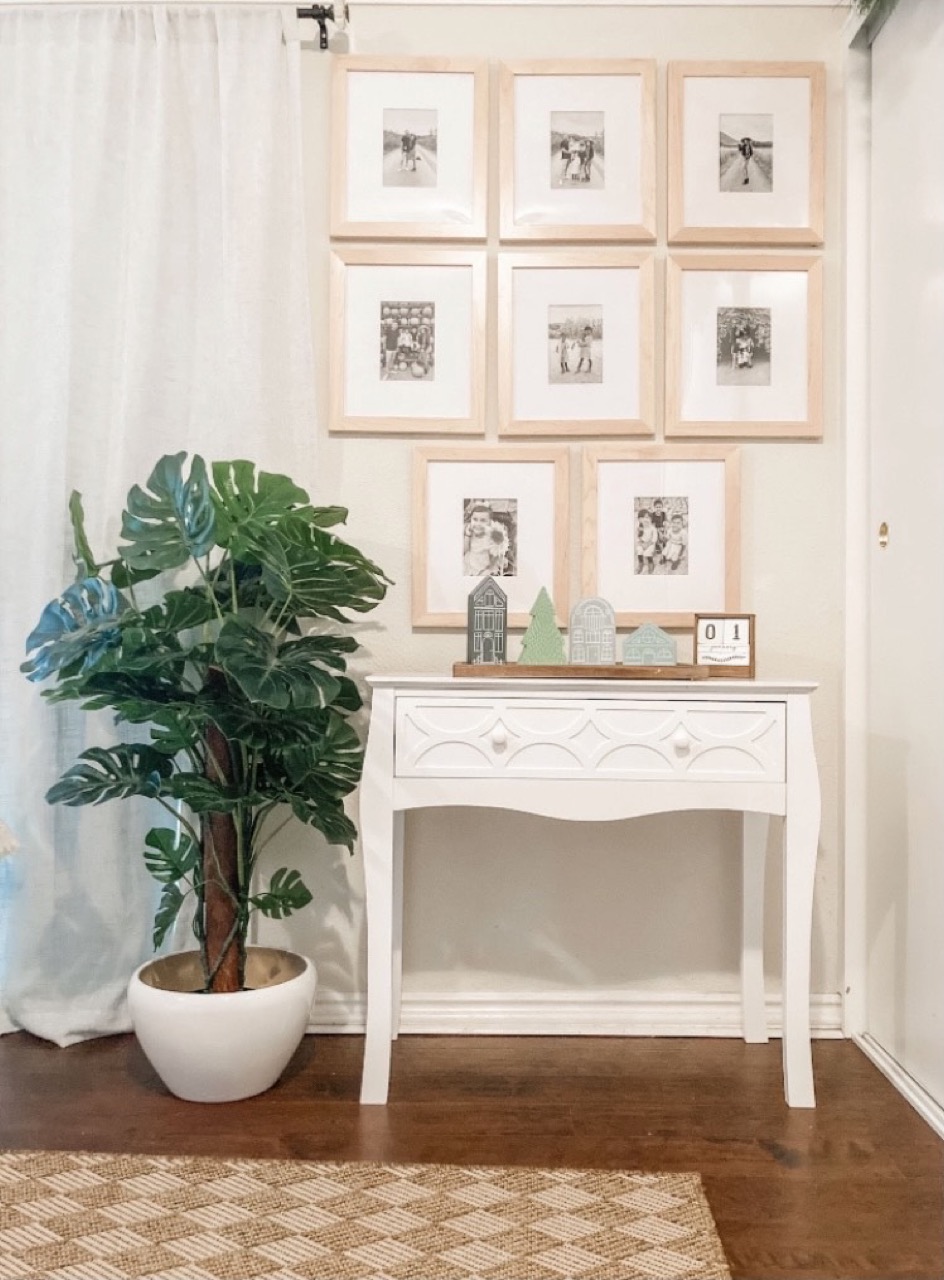 There is something so aesthetically pleasing about large matboards surrounding photos. There are many reasons someone may choose to add a large matboard around their photo such as: the photo is too small, to fill up more wall space, to fit a certain size frame, or just to give all your photos that cohesive look. A matboard has two main purposes. 1. To add a decorative touch around your photo, accentuate your artwork, and give it a more sleek and finished look, and 2. To help preserve your photo by creating a barrier between your artwork and the cover. Adding a large matboard to your gallery wall will keep things proportionate and can help separate your photos or art from one another and the other decor in your room.
Our Favorite Frame Styles For Black and White Photos
Now that you've chosen the color of your frame, let's get into some of our favorite frame styles that will give your black and white photos the grand display that they deserve.
Ashford Frame Style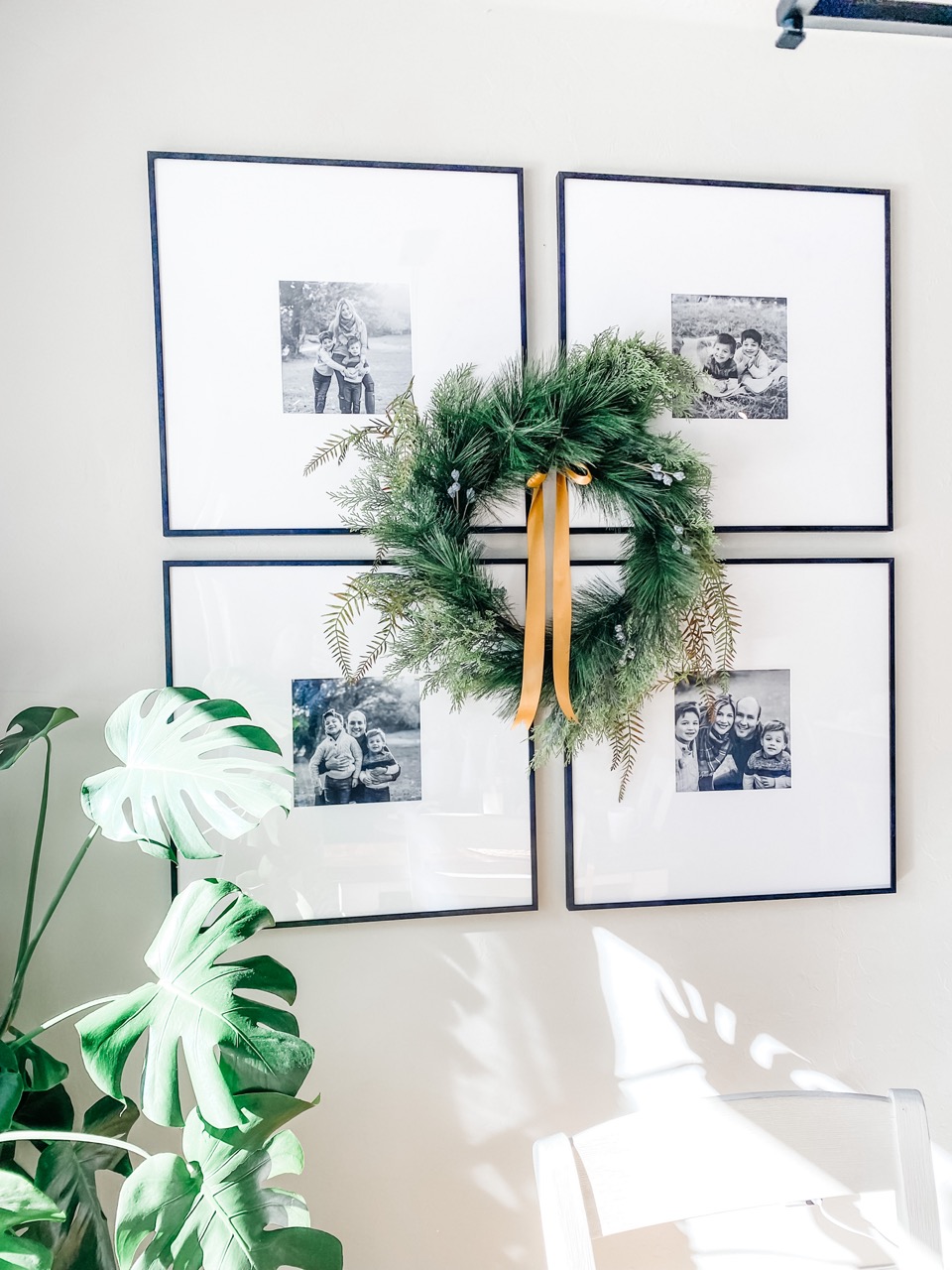 Our Ashford frame style is a thin metal frame style, with a flat profile face that is ⅜" wide. It comes in eight colors, satin black, silver, and gold, gloss black, silver, and gold, white and hot pink, so you have plenty to choose from. We love this frame style because it won't be too distracting and take away from your art or photo, but will simply add to your piece and create a classy and stylish display.
Derby Frame Style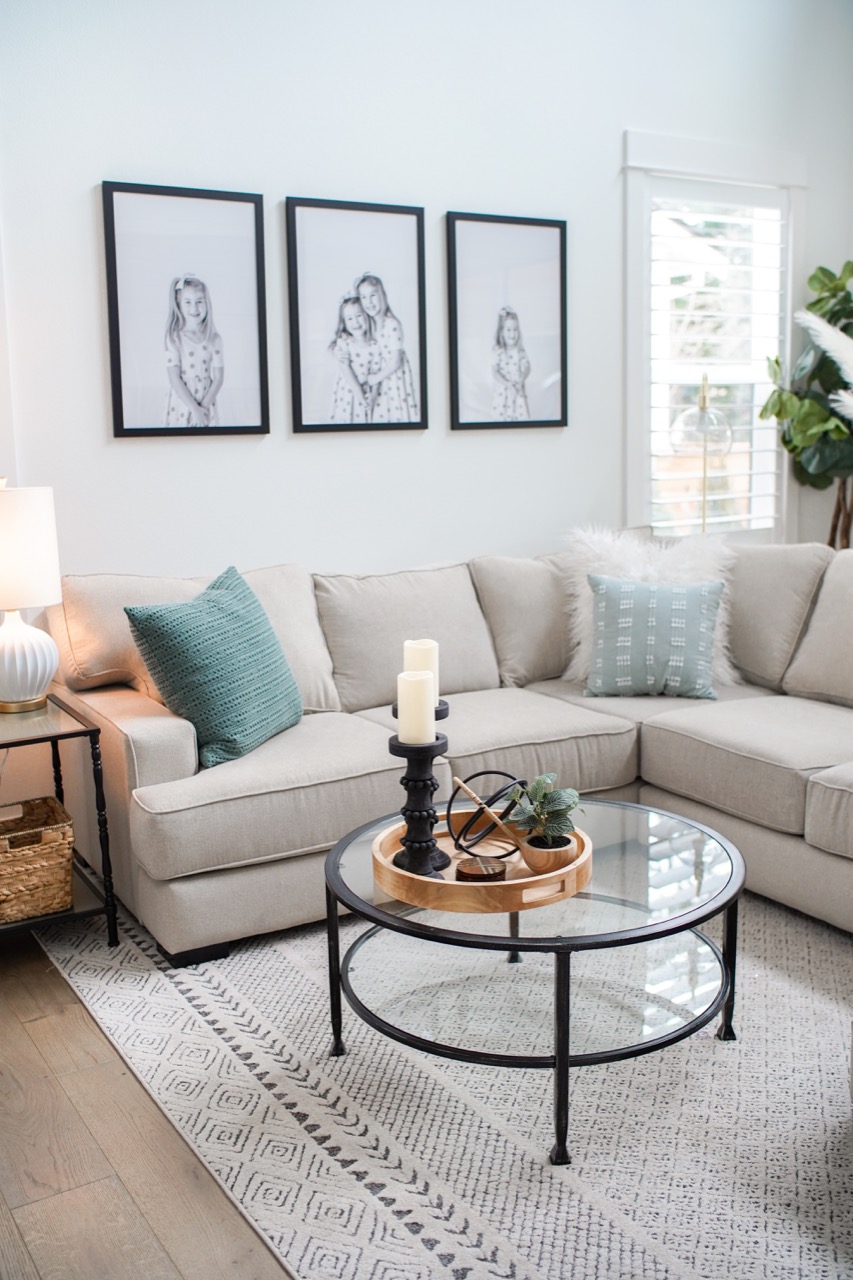 Our Derby frame style is our most popular wood frame style, with a flat profile face that is 1 ¼" wide. It comes in nine colors, black, black grain, merlot, coffee, rustic gray, wheat, hazel, russet, and white. This wood frame is thicker than our Ashford frame style, but still won't overpower your photos. Our Derby frame style would be great to display your portrait photos in, just like the photo featured above.
Granby Frame Style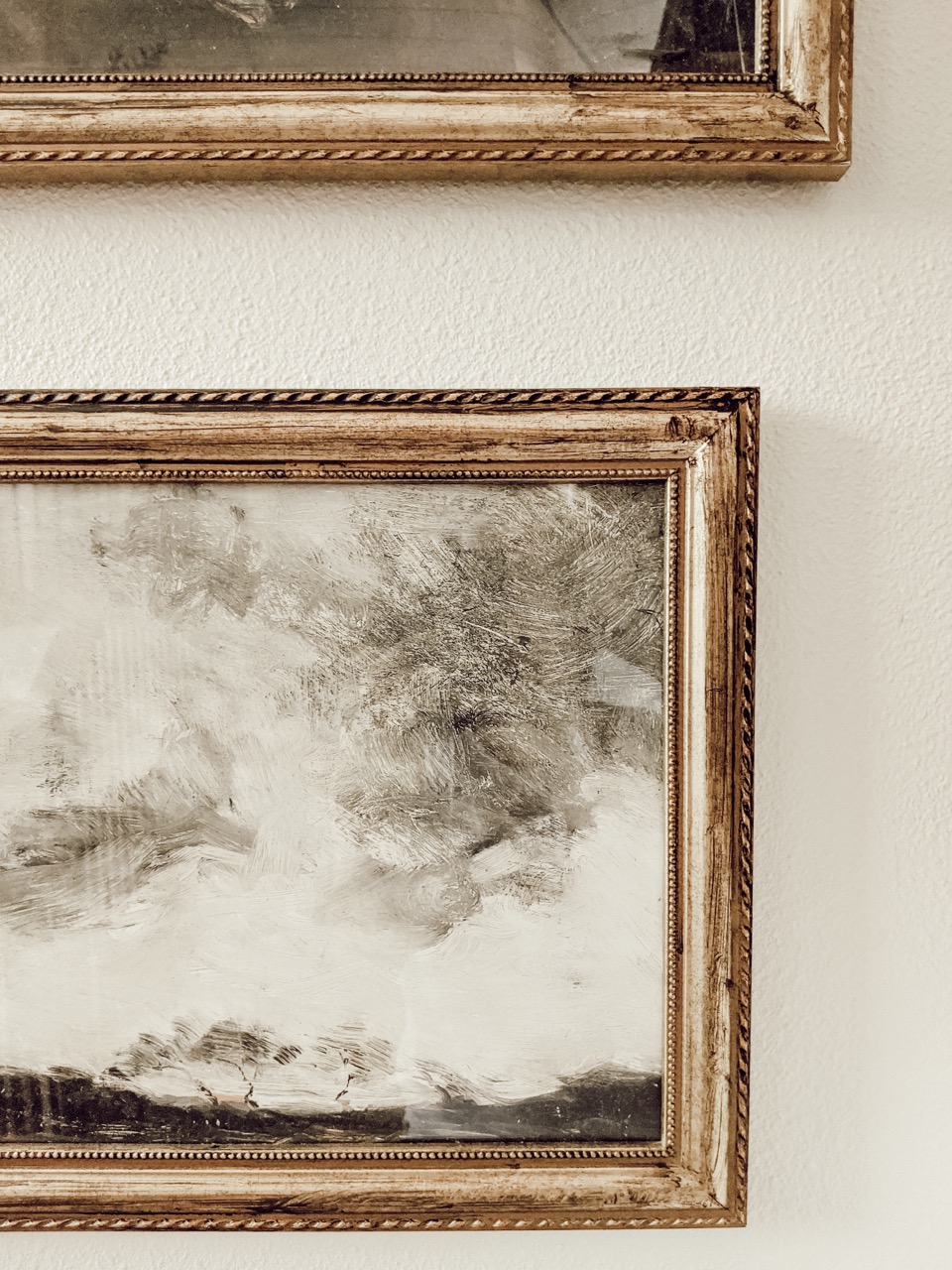 If you're looking for an elegant way to style your frames, look no further! Our Granby frame style is our ornate wood frame style, with a flat profile face that is 1 ⅜" wide. It comes in two colors, silver and gold, and is a sure way to give your photos or art a royal display. If you have an old painting or piece of art, adding our Granby frame in gold will make it feel like you are looking at this piece in a museum.
Hammond Frame Style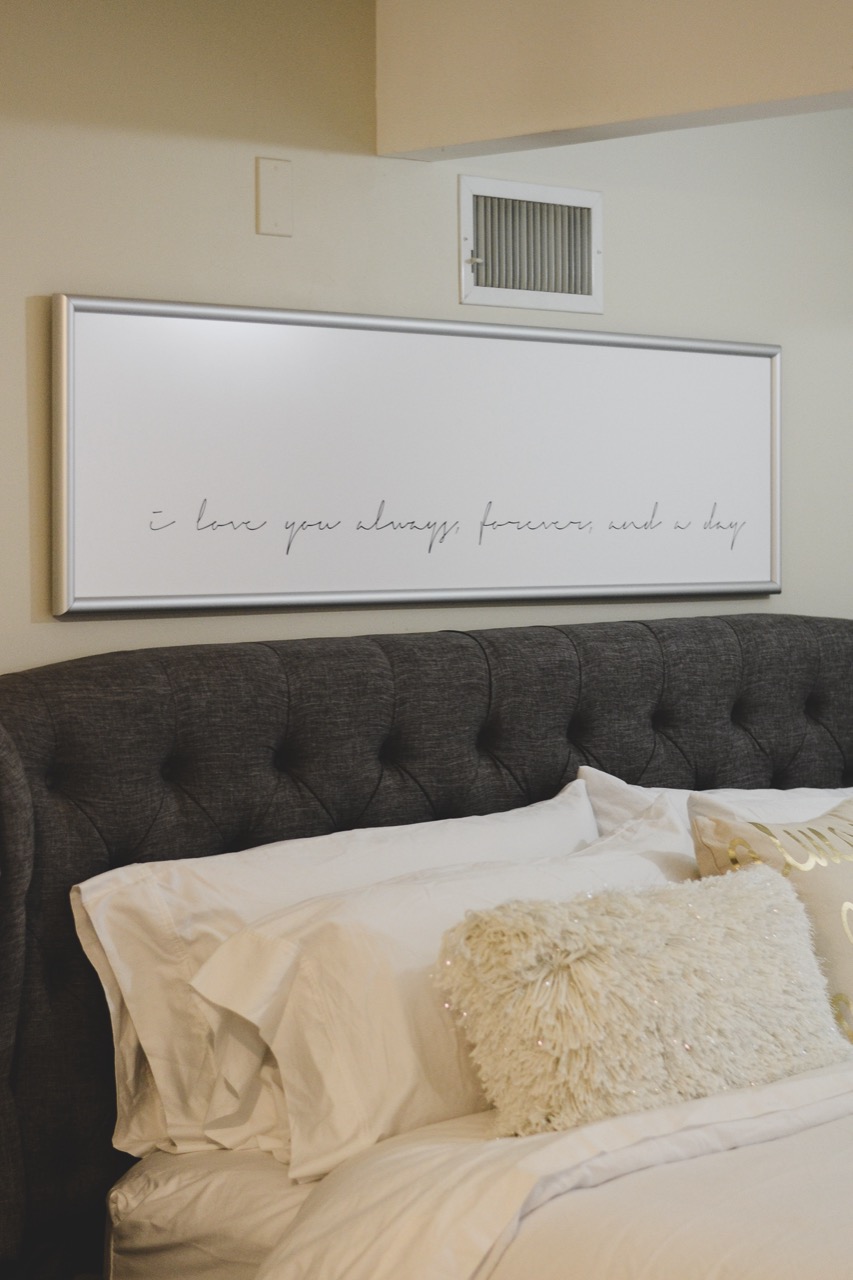 Our Hammond frame style is a wider, rounded metal frame style, with a profile face that is ⅞" wide. It's not flat, like our Ashford frame style, but it is not the thickest frame style we have. It's available in four colors, satin black, gloss black, satin silver, and gloss silver. If you have a quote, lyric, or line art piece that you want to frame, our Hammond frame style would make the perfect frame to display it in.
Final Thoughts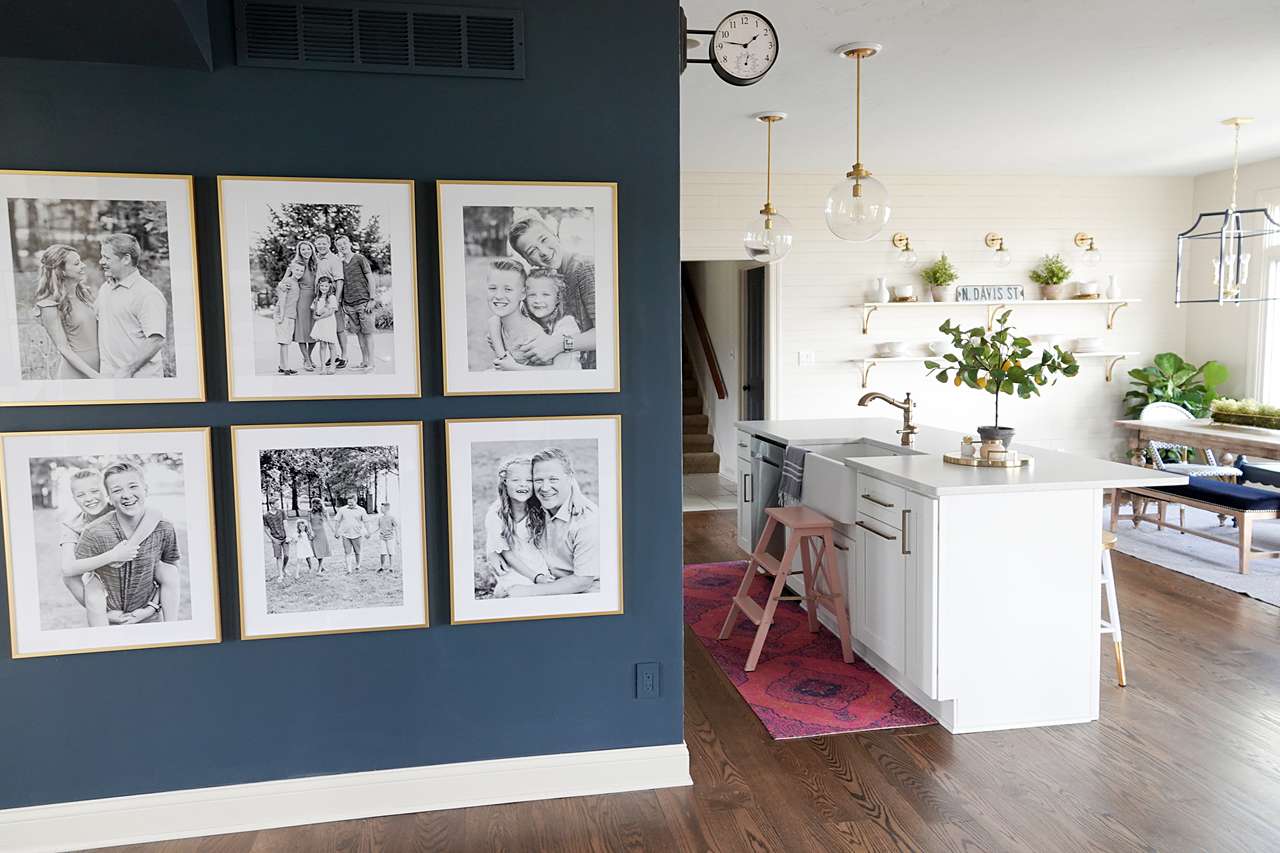 There is truly something so pleasing about black and white photos that we can't get enough of. If you have a colorful room, black and white photos will allow you to decorate without distracting from your other decor. On the other hand, maybe you have a minimalistic room that you want to keep simple, in that case, black and white photos are the perfect addition. You may think black and white photos won't stand out against your other decor, but it's quite the opposite. They are bold and will surely make a grand display, wherever you choose to add them.
We hope this inspired you to create a gallery wall filled with black and white photos or to add just a few around your home. Of course, don't forget to share your finished project with us on social media so we can see what you created!
You could also be featured in our weekly email as our "Featured Friend" Simple send your photos to creative@frameiteasy.com with the subject "Featured Friends" and tell us why you love Frame It Easy!
This post first appeared as Create An Eye-Catching Display For Your Black And White Photos on Frame It Easy - Learning Center for Custom Picture Framing.