We all love the look of classic white picture frames, but what is the best one to get? What makes one white frame different from another?
While we, unfortunately, can't speak to every single white frame on the market, we're sharing our top three best white frames here at Frame It Easy!
Why White?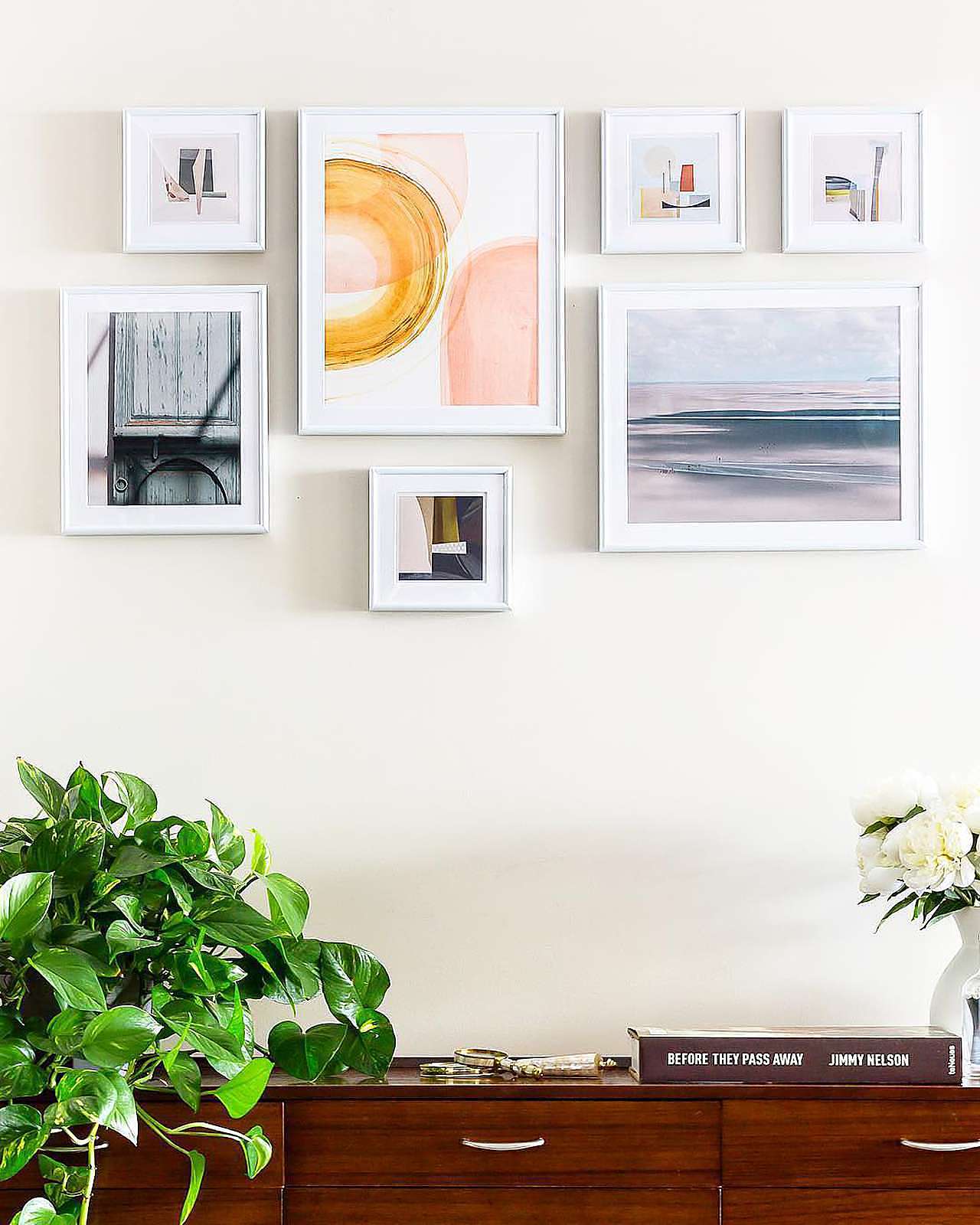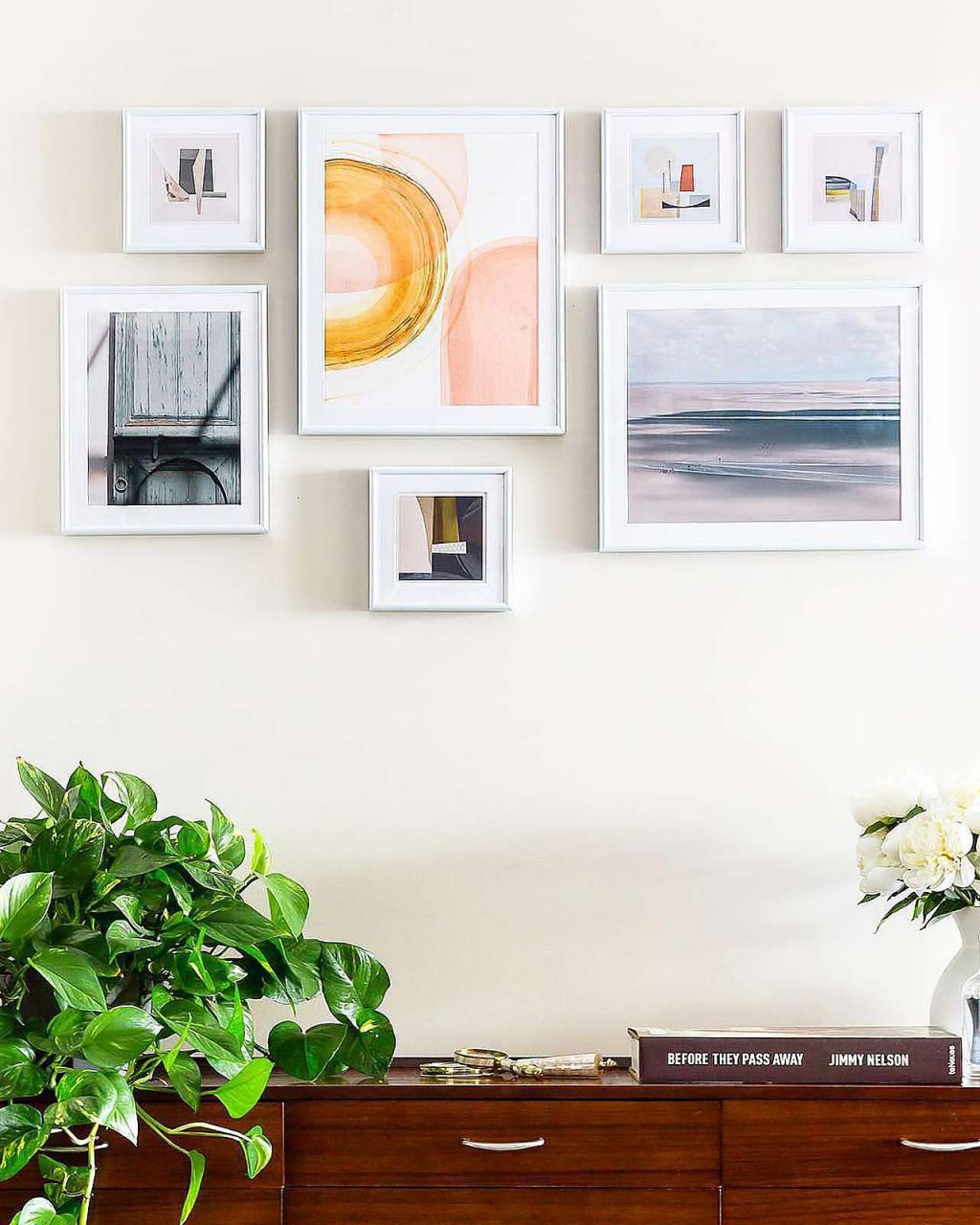 First things first, why white?
While there's nothing saying you have to get a white frame for your project, if you're unsure about what style or color to go with, white is a popular choice for a few good reasons.
1. It's Clean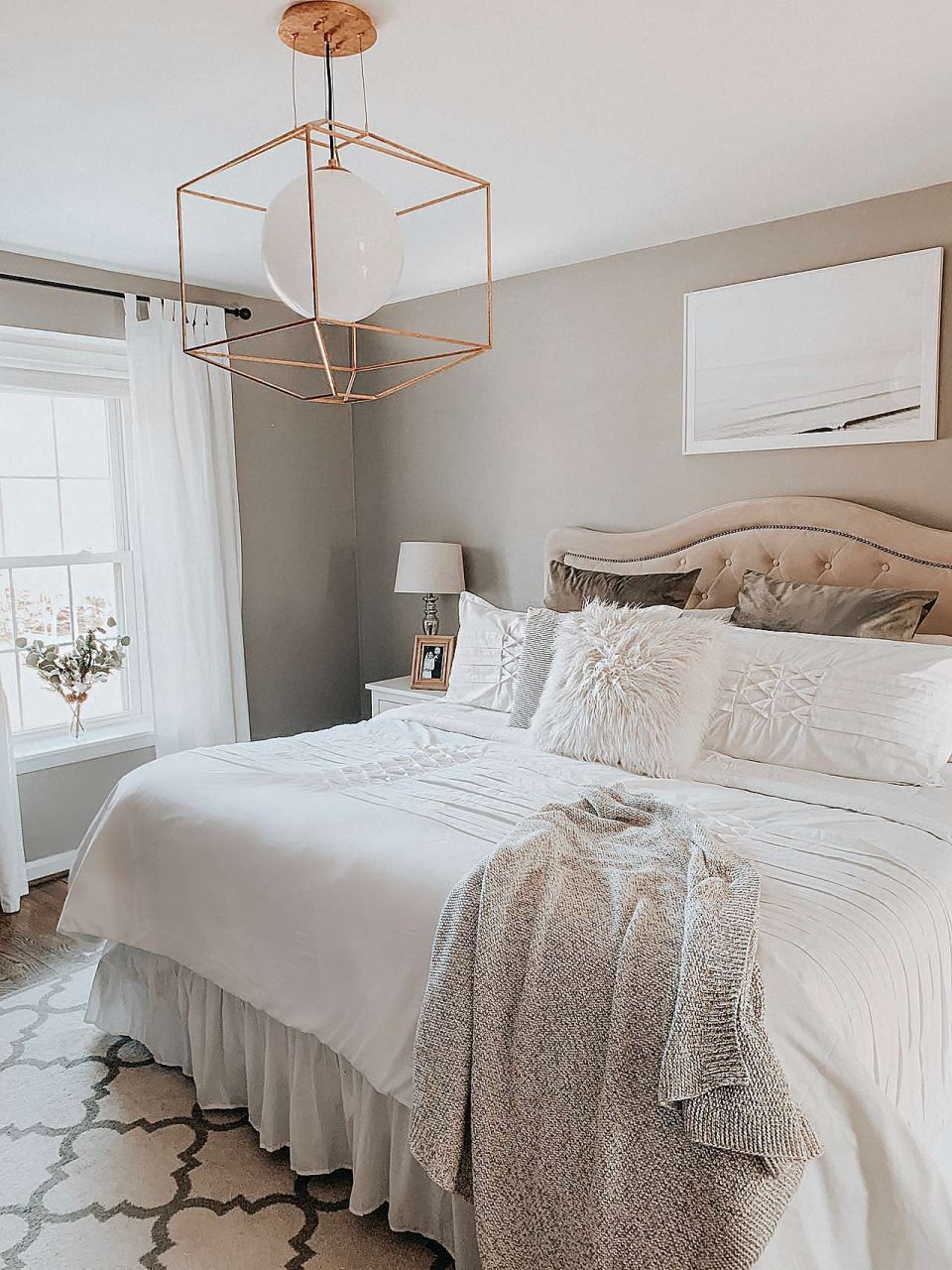 From an aesthetic standpoint, white is clean and crisp — it's also light and airy which makes a space feel brighter and more open. Where darker colors can weigh down a room, lighter colors often elevate it.
When we get into the color psychology of the color white, we note that white often makes us feel like we have a sense of space, making rooms feel larger. It can also symbolize a fresh start, furthering its cleanly connotation.
2. It's Classic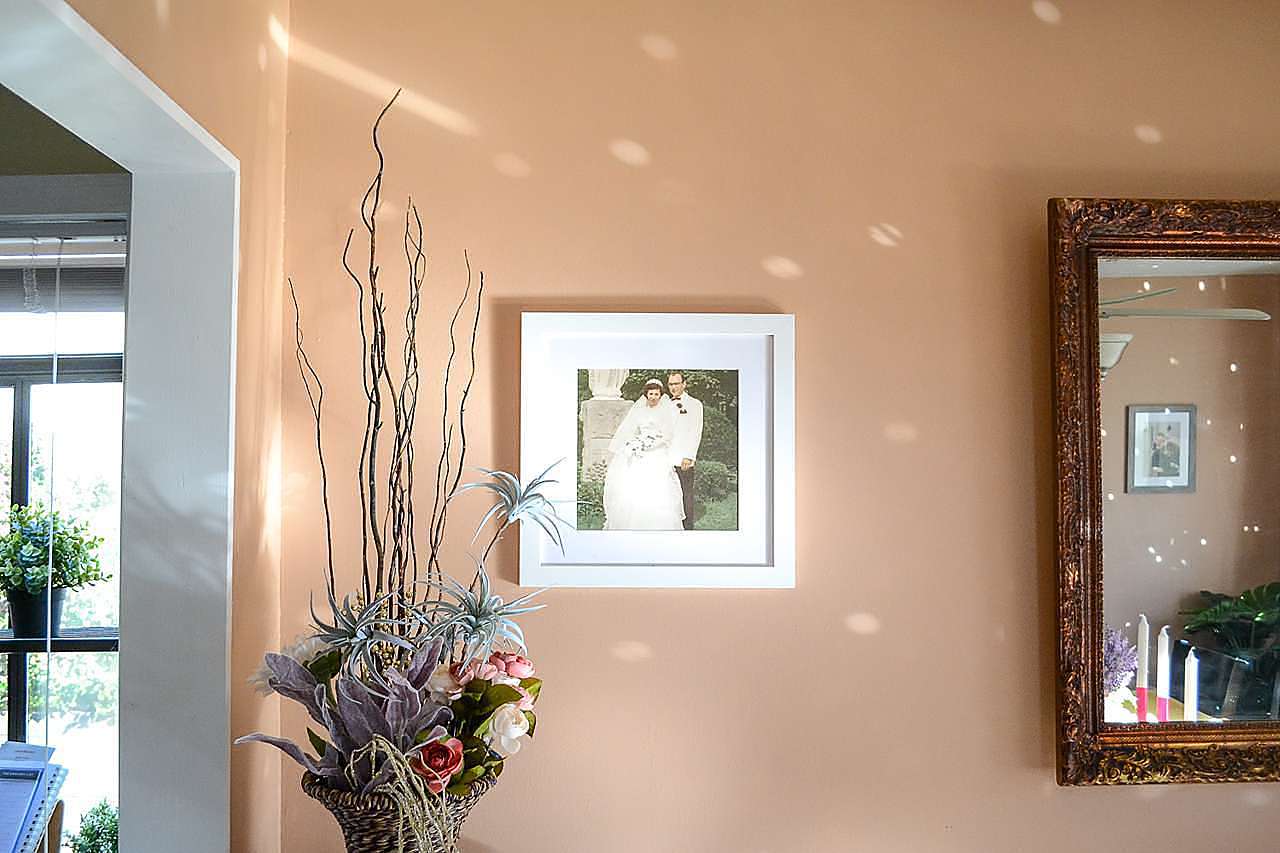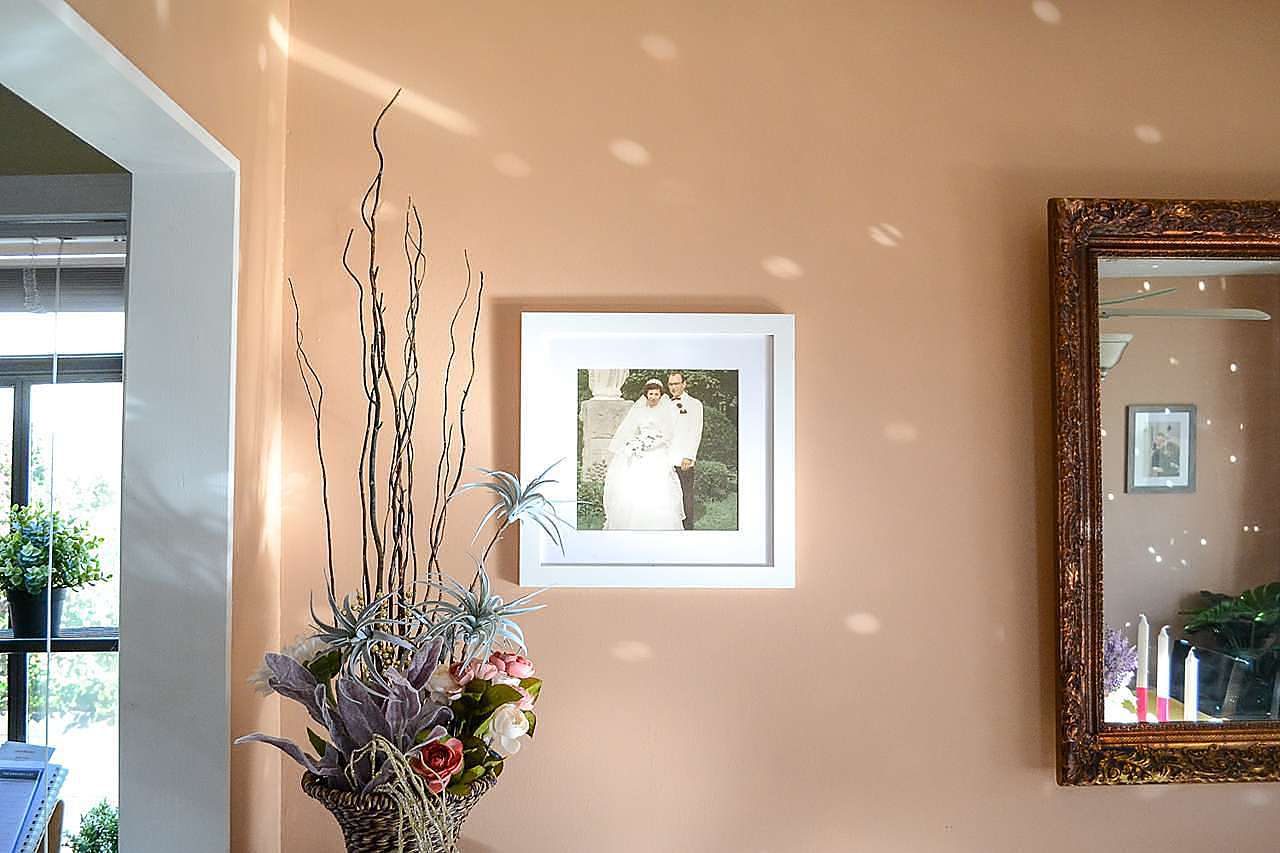 In addition to making a space feel light and bright, the color white is also a classic choice. White is simple and neutral, so it can be a great, universal color to compliment whatever colors are in your art, photo, or room.
From a fresh coat of snow to Marilyn Monroe's iconic dress, white is a color with many associations that will never go out of style.
When we think of the most timeless and precious moments — such as weddings or baptisms — white is often connected. It's also commonly found in nature, meaning our senses are already attuned to it as a calm and comforting hue. (In contrast, bolder, more "unnatural" colors such as hot pink or neon orange draw attention far faster.)
3. It's Neutral, Yet Provides Contrast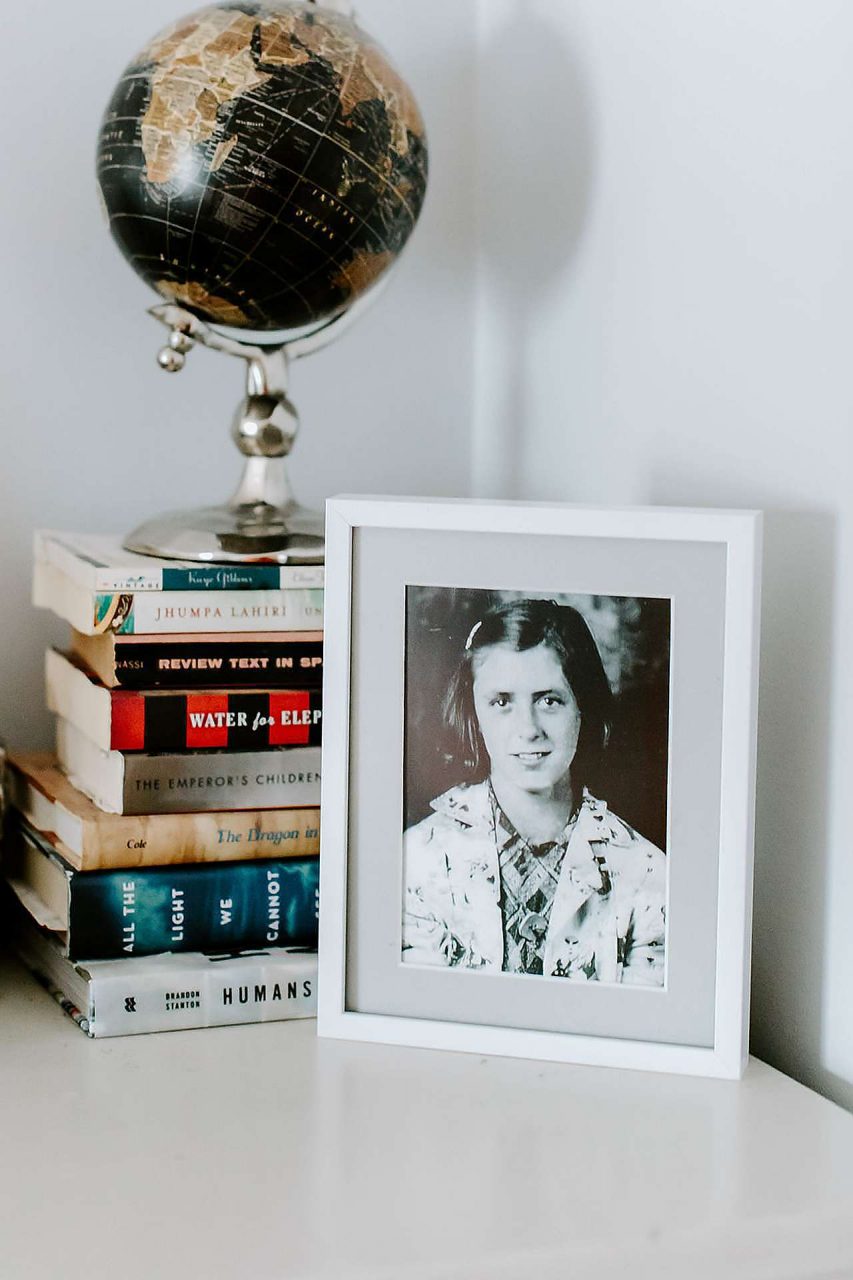 If you don't want to exaggerate or compliment any specific color in your art or photo, then white is a great blank canvas. It can make all the hues pop — particularly for colorful works — and can also be a great way to lighten up any matboard color you choose.
And while it's true that white alone is the obvious choice to brighten up your display, there's a reason black and white is such an impactful combo. If you have dark colors in your print (or room) and you want to provide a good balance, a white picture frame could create an interesting and stark contrast.
Frame Styles
Ok, now that we've decided white is the perfect frame color, we need to decide which white picture frames in-particular are best.
While this will vary based on personal preference and desired outcome, we'll go through some of our favorites.
There are three white frames that we currently offer here at Frame It Easy (both wood and metal), and they might be better served for different looks as they have different measurements and aesthetics.

Here, we'll discuss our three white frame styles, their specifications, and what they might best be used for.

White Wood (Derby in White/Dayton in White)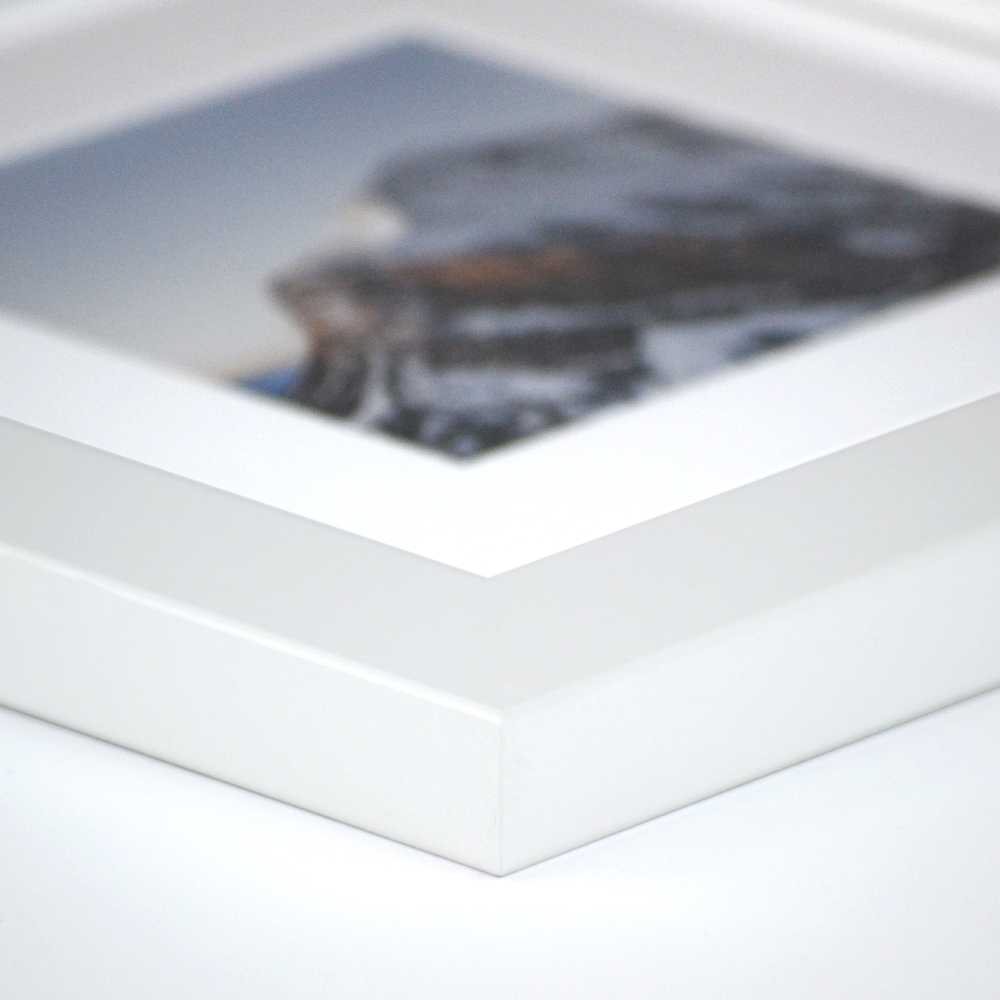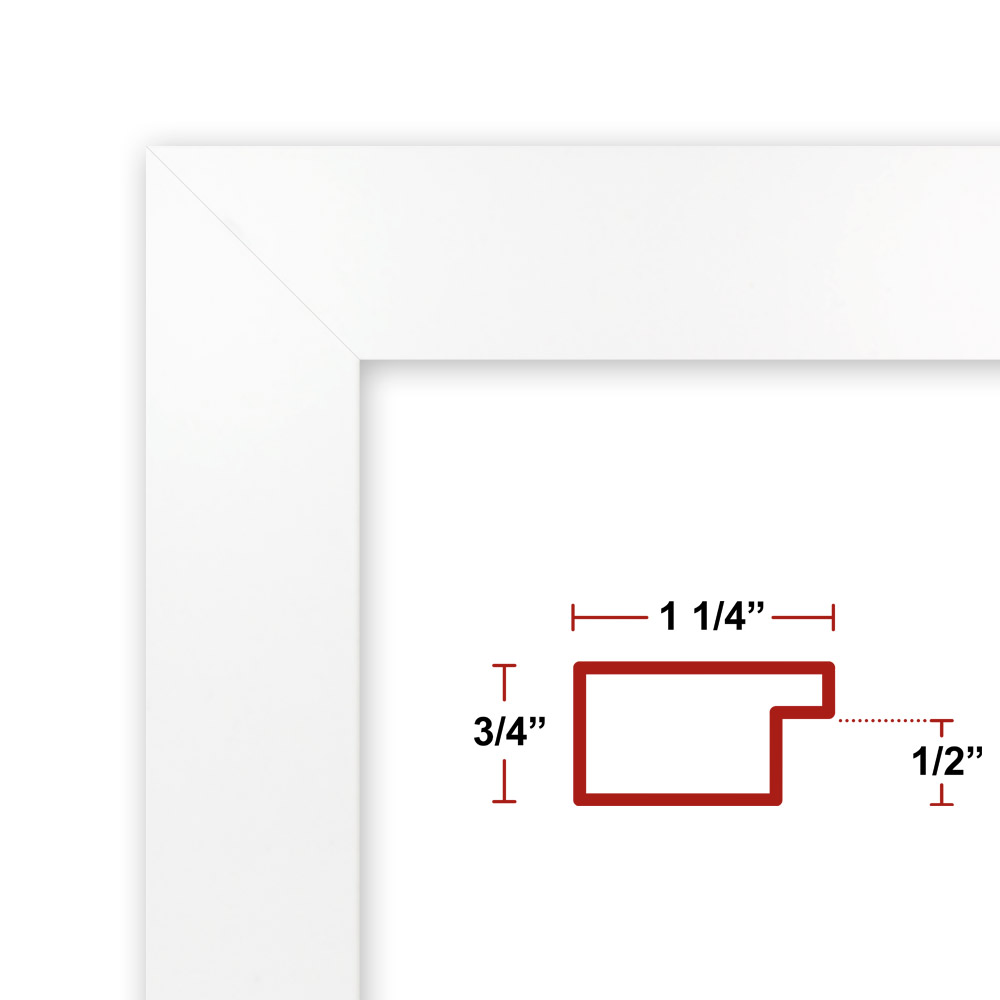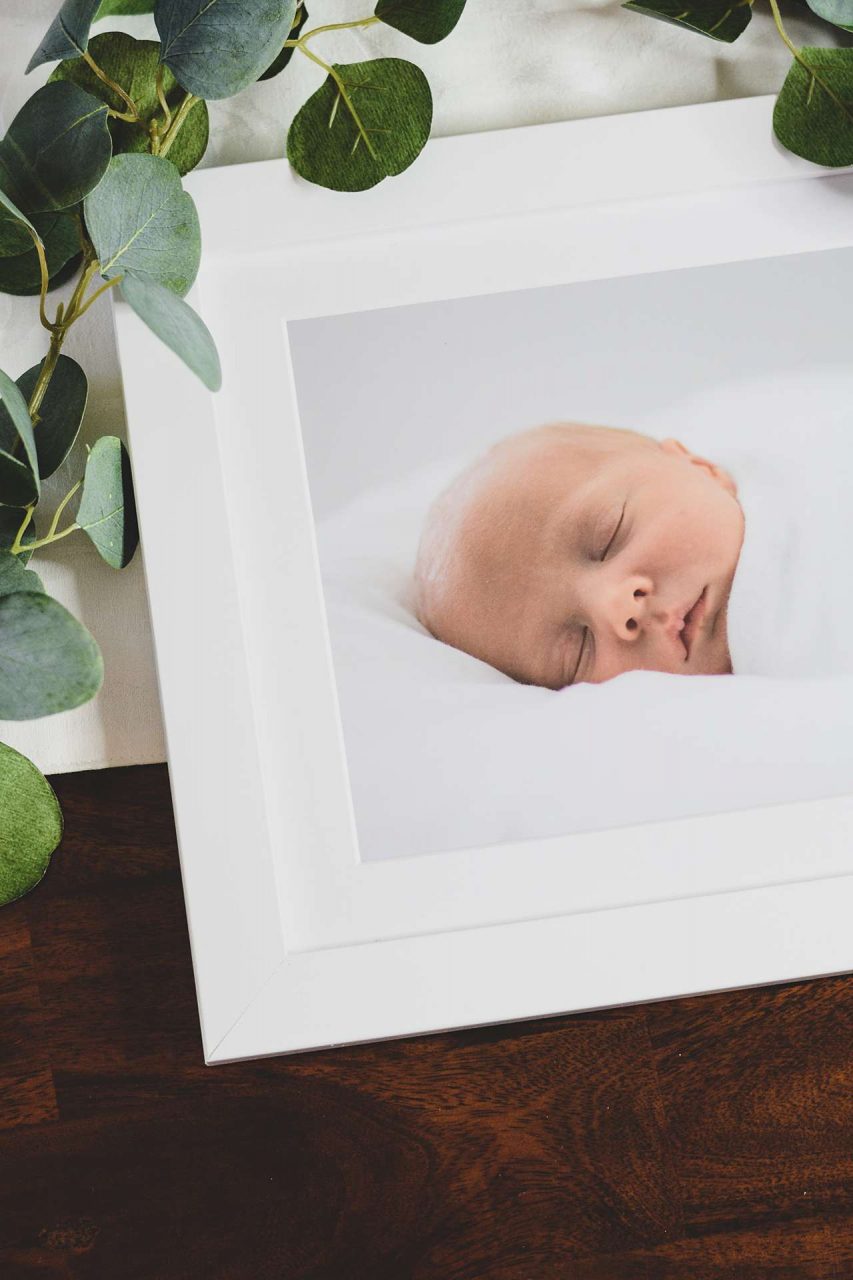 Our Derby and Dayton frames are 1 1/4" thick, making them the widest of the white frames that we offer. It's made from finger-jointed poplar, which is a good low-maintenance framing material.
For this, smaller items are better, as our maximum size for wood frames is 32" X 42". (So if you want any really big posters framed, and you think white would be the best color, you might want to consider a metal frame.)
The wood frames have more of a homey feeling, too — great for family photos, engagement photos, typographic art prints, or really any general home decor.
This style pairs well with any mat color, especially on the slightly thicker side.
White Metal, Flat (Ashford in White)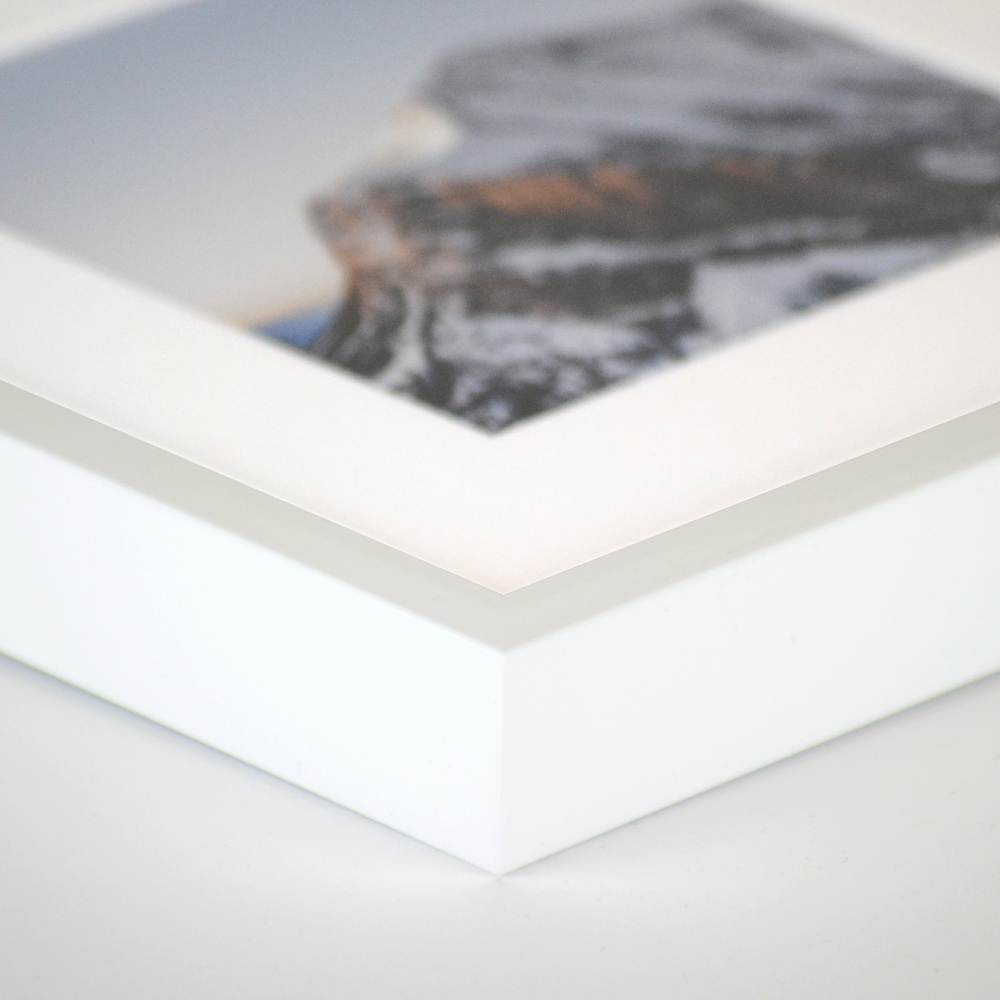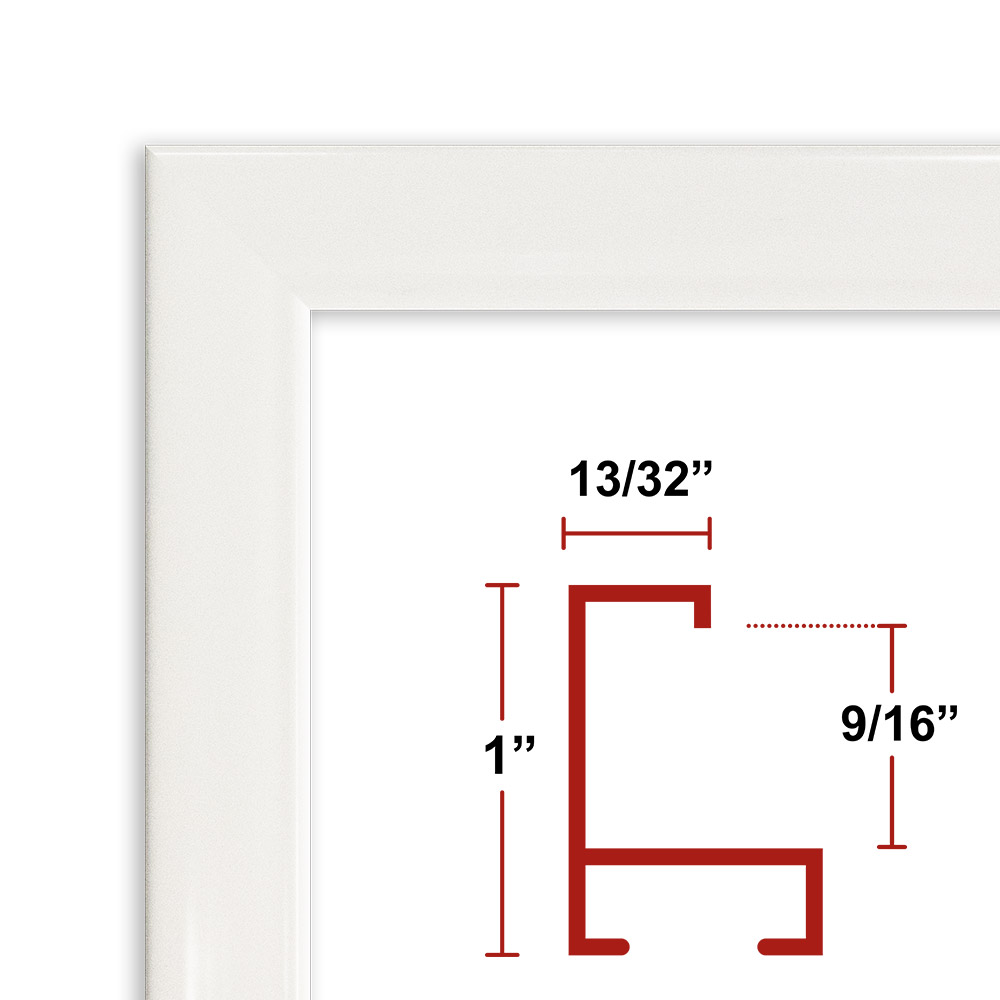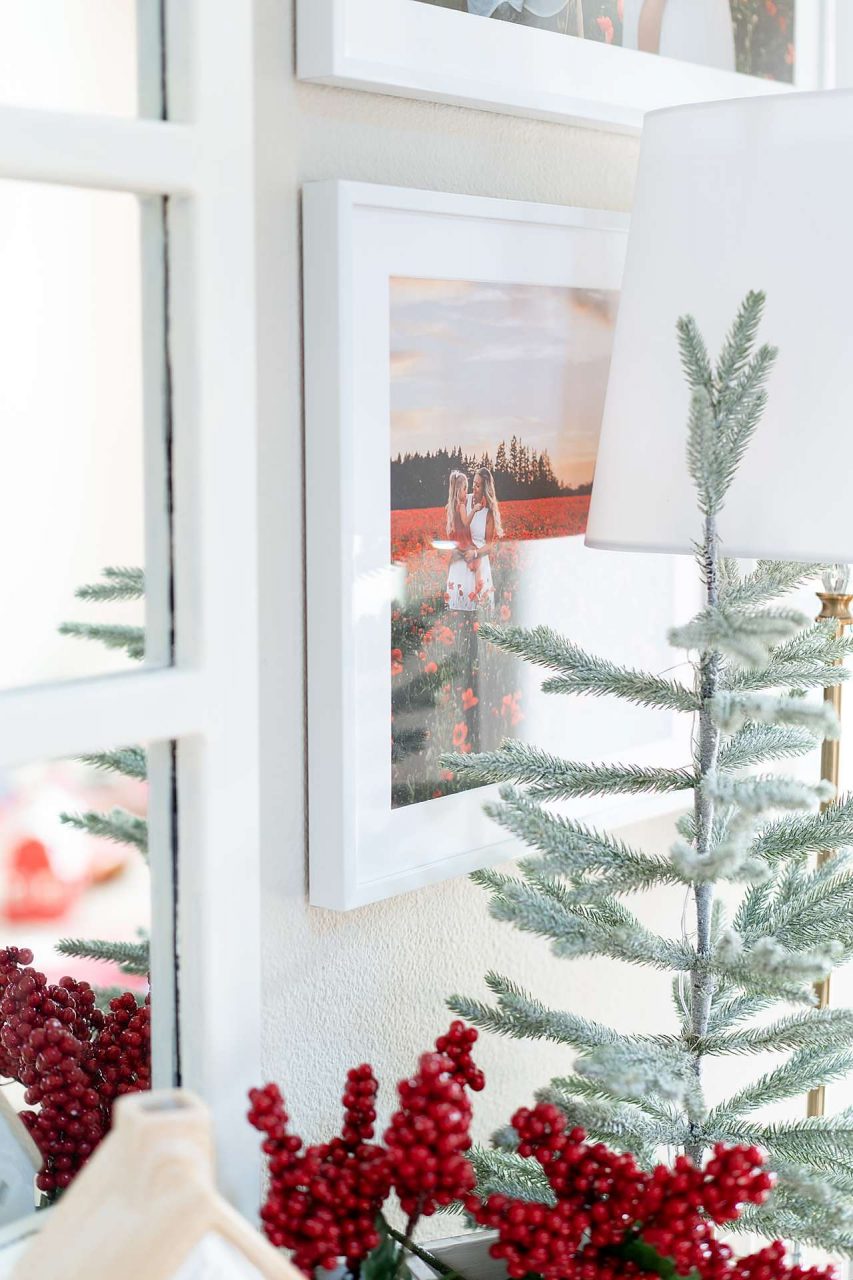 Our Ashford style is 3/8″ thick (just under 1/2″) with a flat front-facing profile.
As with all of our metal style frames, they are powder-coated (which is a process that binds the paint to the aluminum) giving it a glossy, consistent finish. The "Art Size" can be up to 42″x62″ so metal is a particularly great choice for larger works.
The Ashford in white frame has an especially contemporary look, which pairs well with more modern or abstract artworks — the profile is thin enough to provide a subtle border without being overpowering.
White Metal, Round (Hanover in White)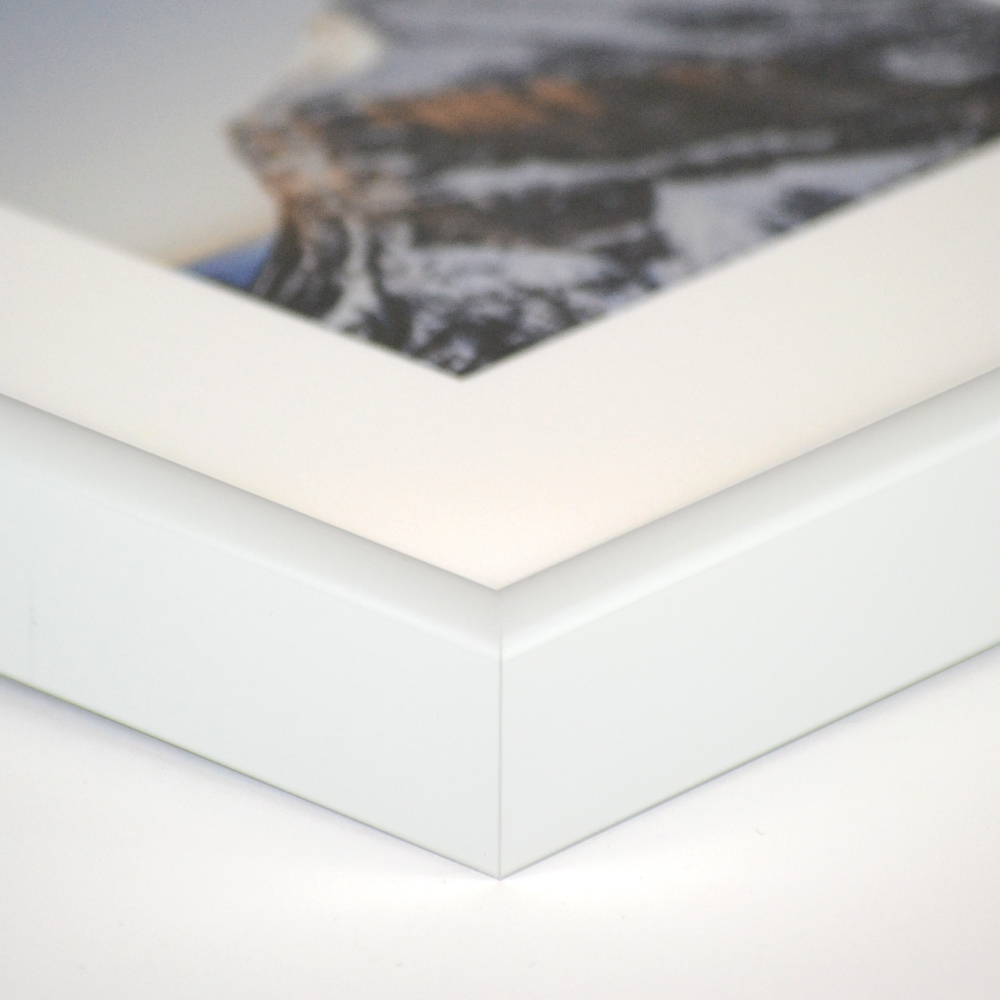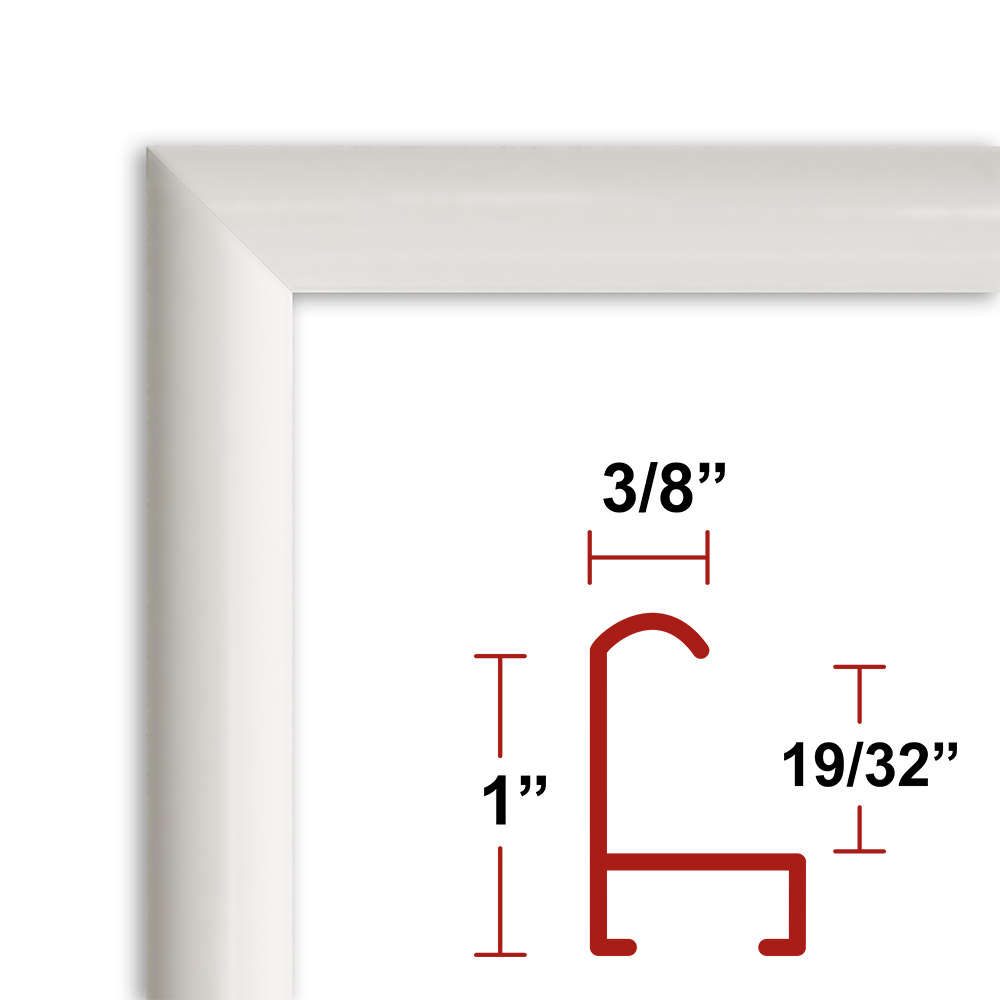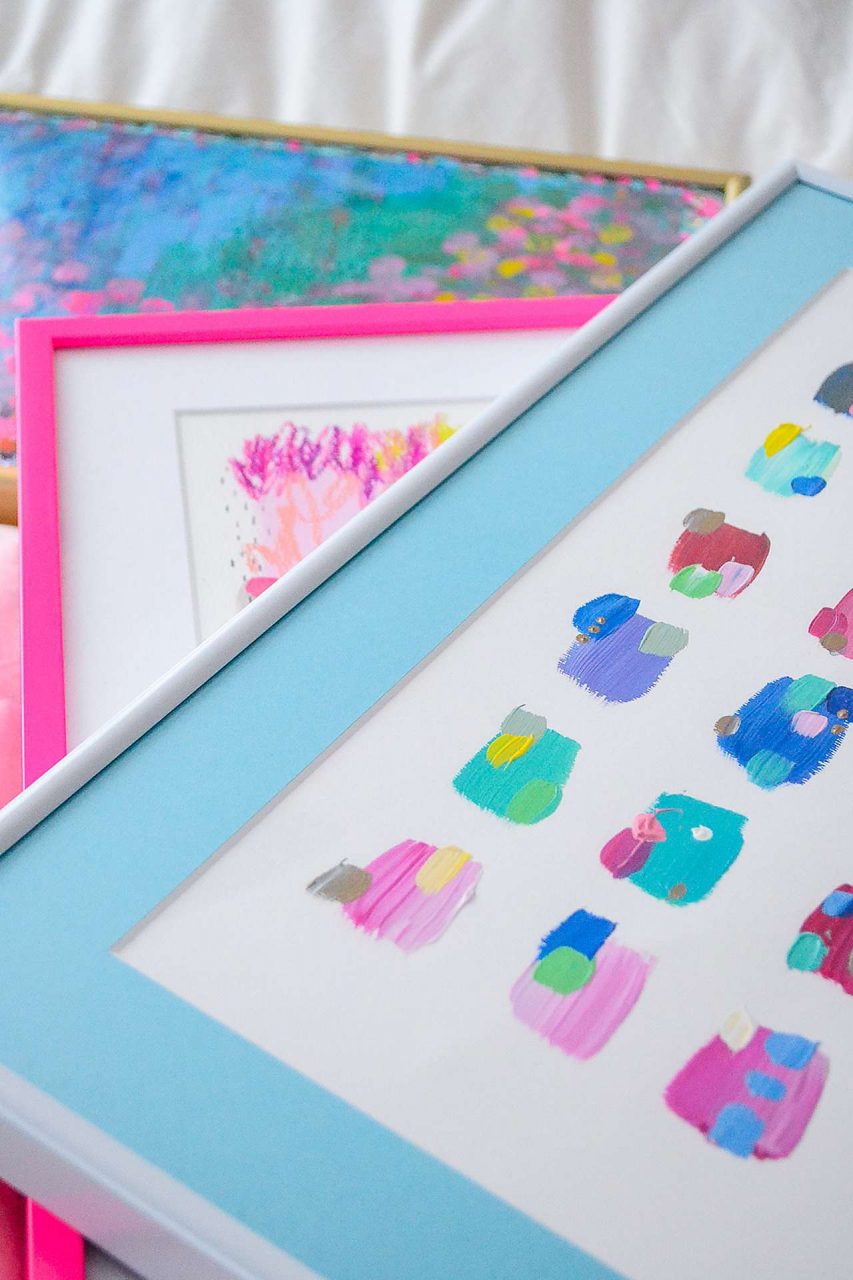 Our Hanover style is also about 3/8″ thick, but rather than the flat/square edge of the Ashford it instead has a rounded front-facing profile.
This adds a softer touch, perfect for nurseries, baby photos, or colorful artwork.
Inspiration
Now that we're clear on the nuances between these three frame styles, how about some inspiration for using them?
Add An All White Gallery Wall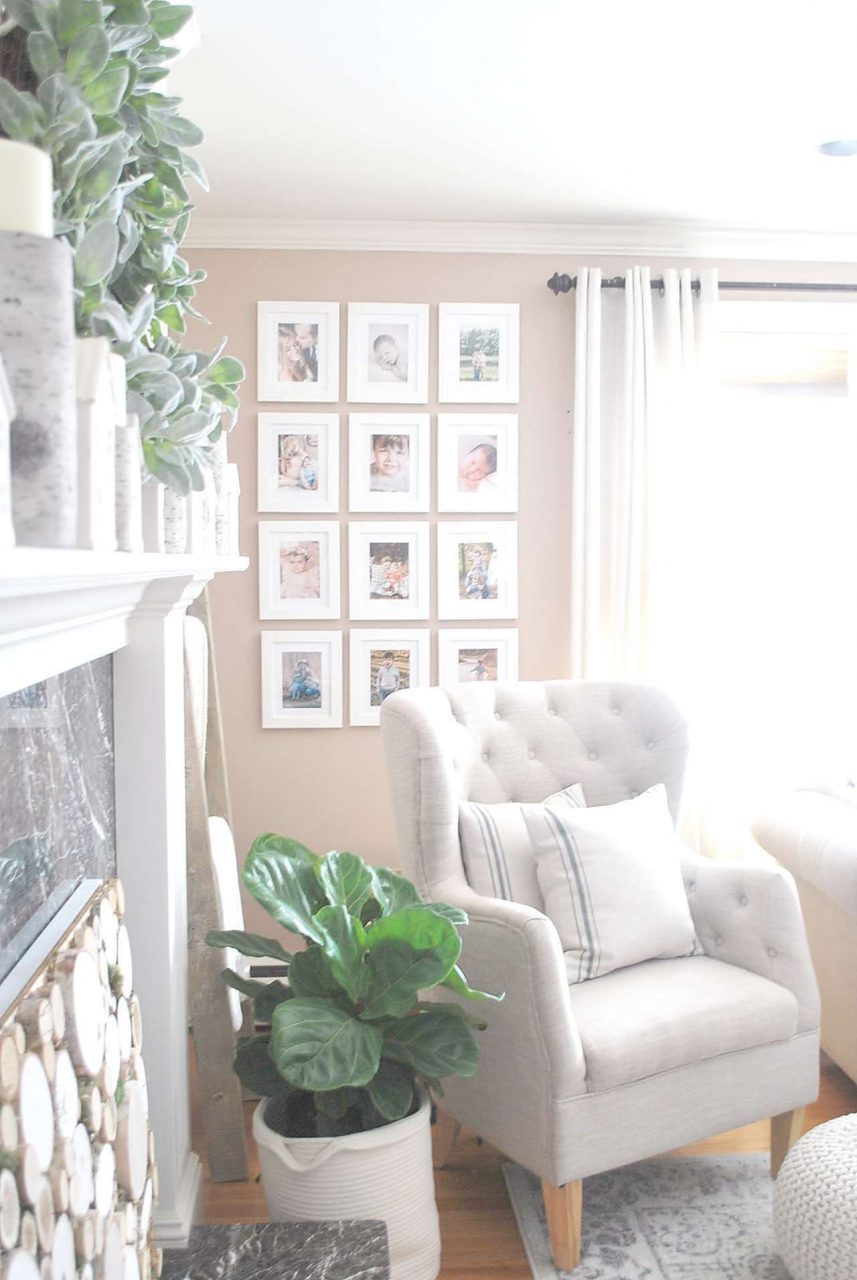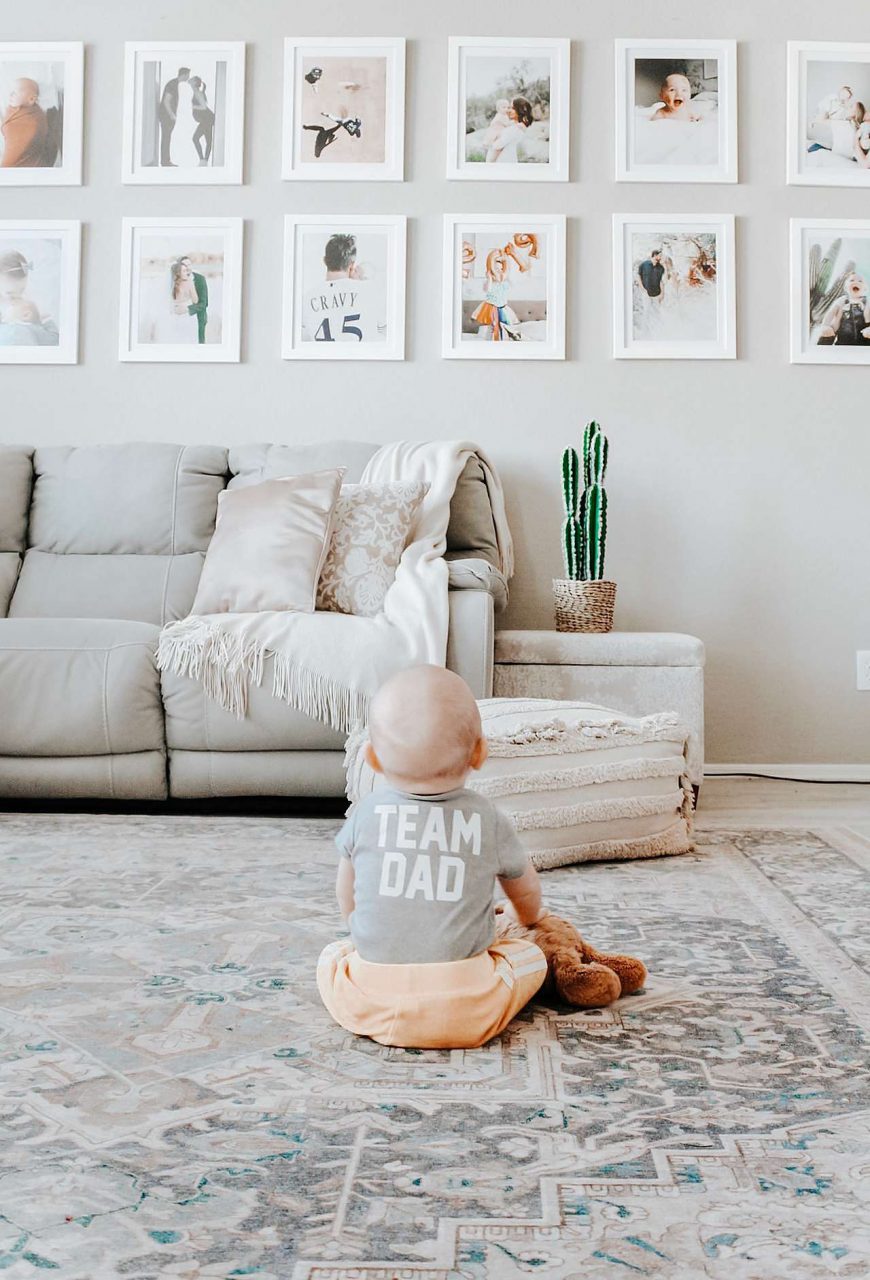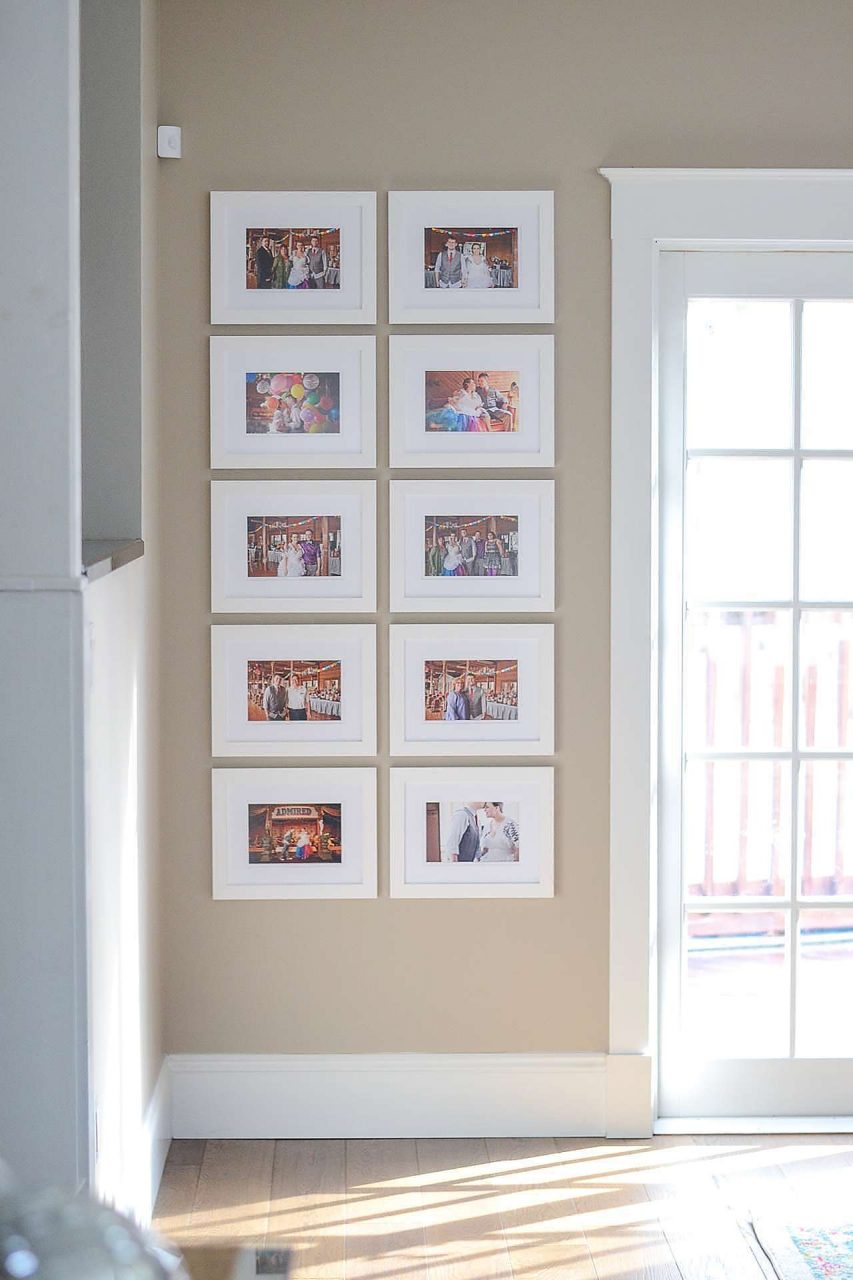 One of the cleanest and most classic looks around, an all-white picture frame gallery wall is sure to make a statement in your home — especially if you compose it with 10+ frames!
Mix Things Up With A Contrasting Frame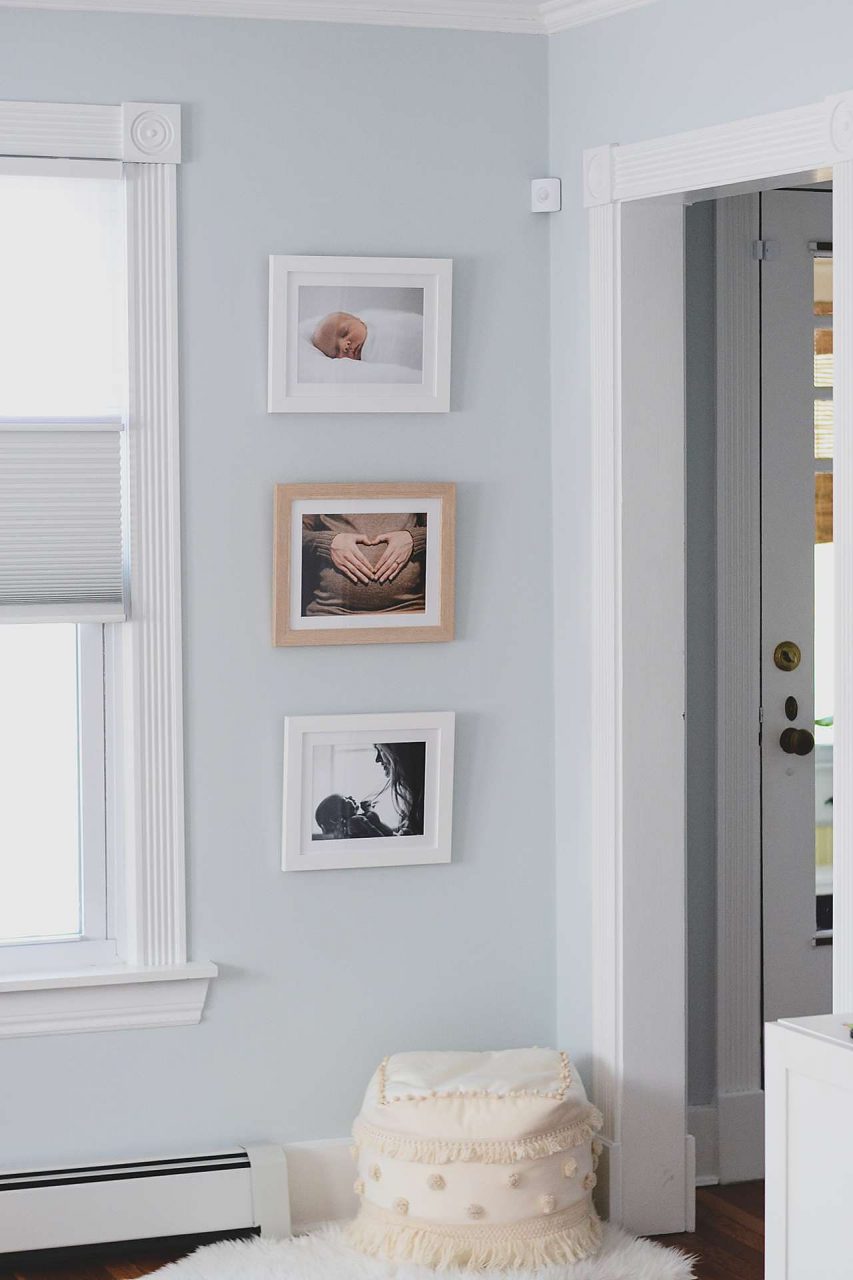 Want to take your gallery to the next level? Or maybe you have one photo/piece of art, in particular, you'd like to draw special attention to. By adding in a single frame of a different color to your white frame collection, it's sure to provide a unique focal point.
Choose Black & White Photos For Extra Drama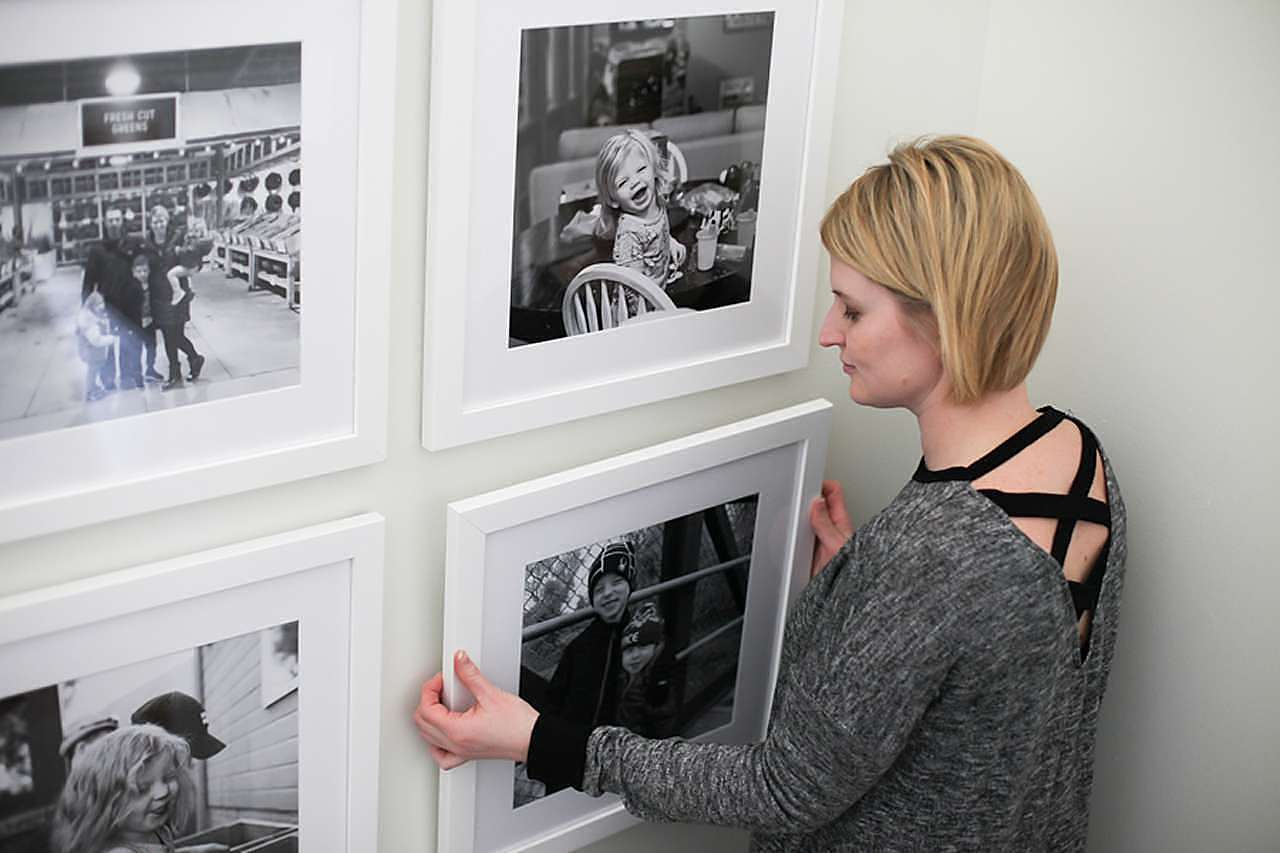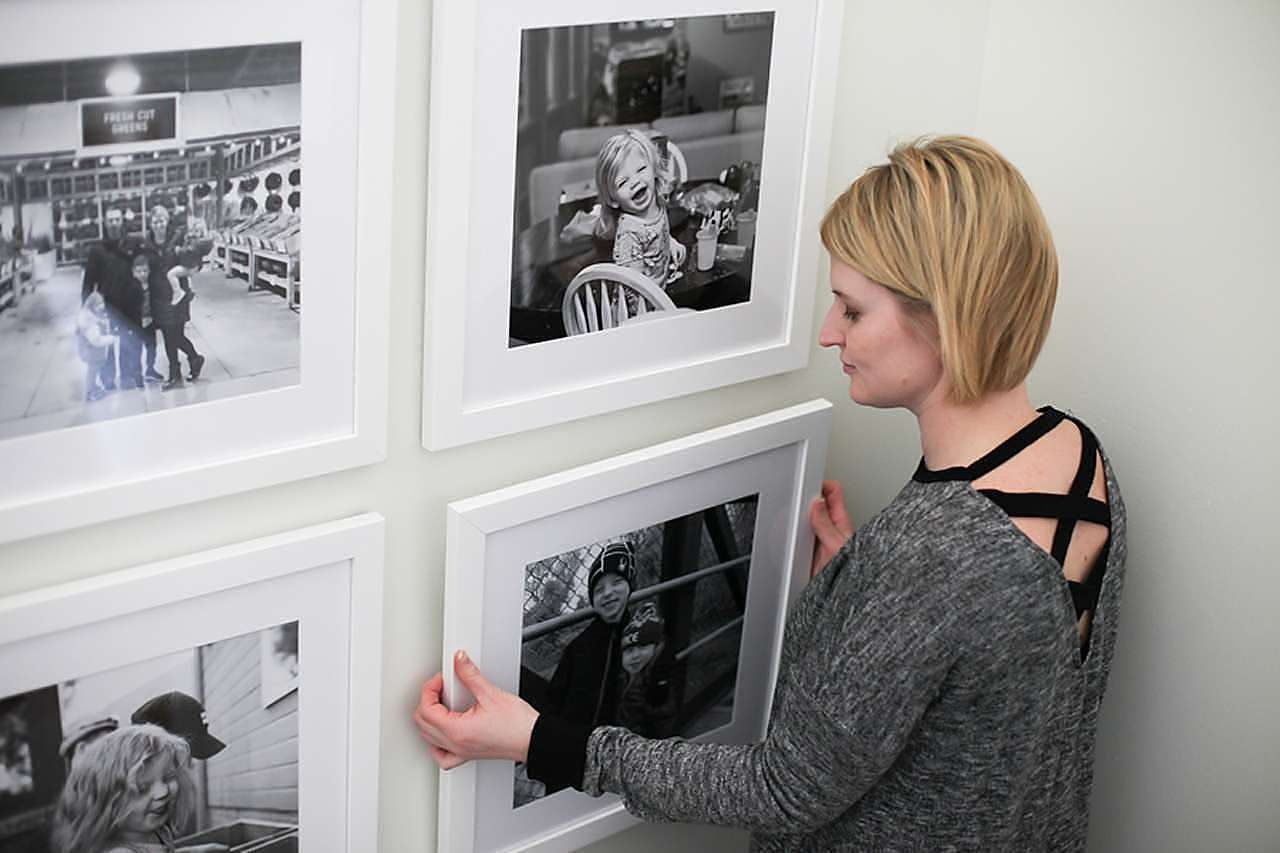 Earlier we talked about how white makes both a great neutral and contrast, which particularly holds true when your photos are striking on their own. Black and white photos inherently hold more contrast, so pairing one with a stark white photo frame will add a bit of dramatic flair to your gallery.
Pair With White Matting For An Even Brighter Effect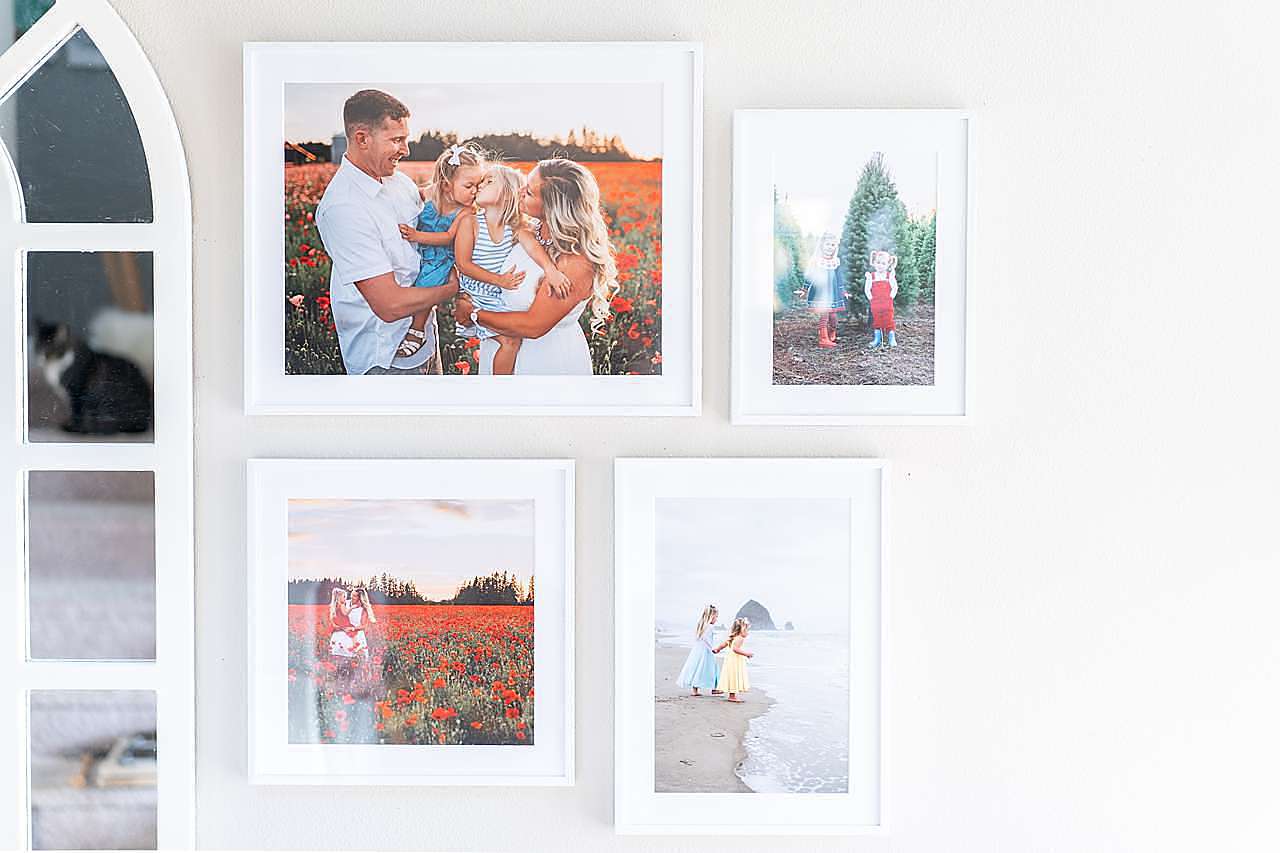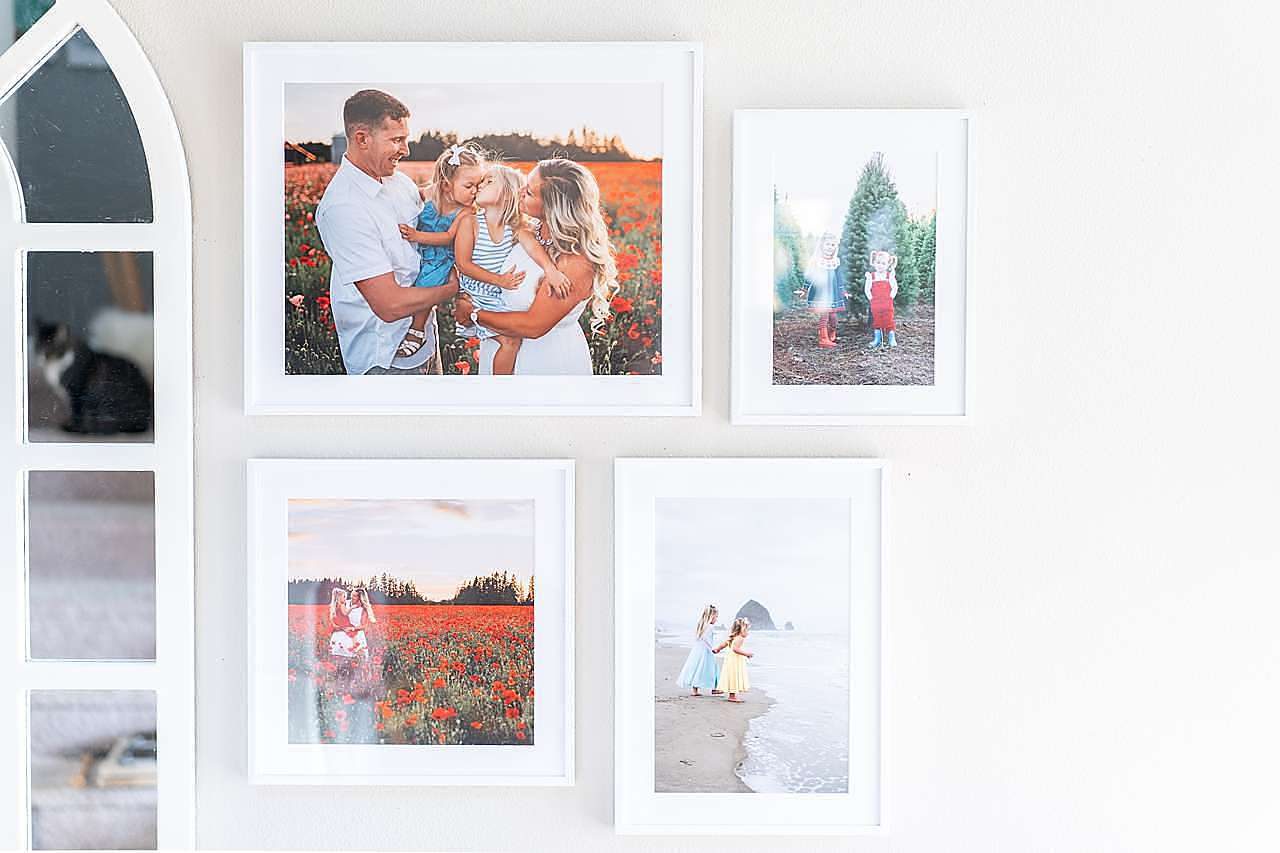 A white picture frame on its own adds that brightness we mentioned, so when you pair it with white matting the effect is multiplied! (Bonus points for double white matting. ?)
Or Add A Colored Mat For Added Dimension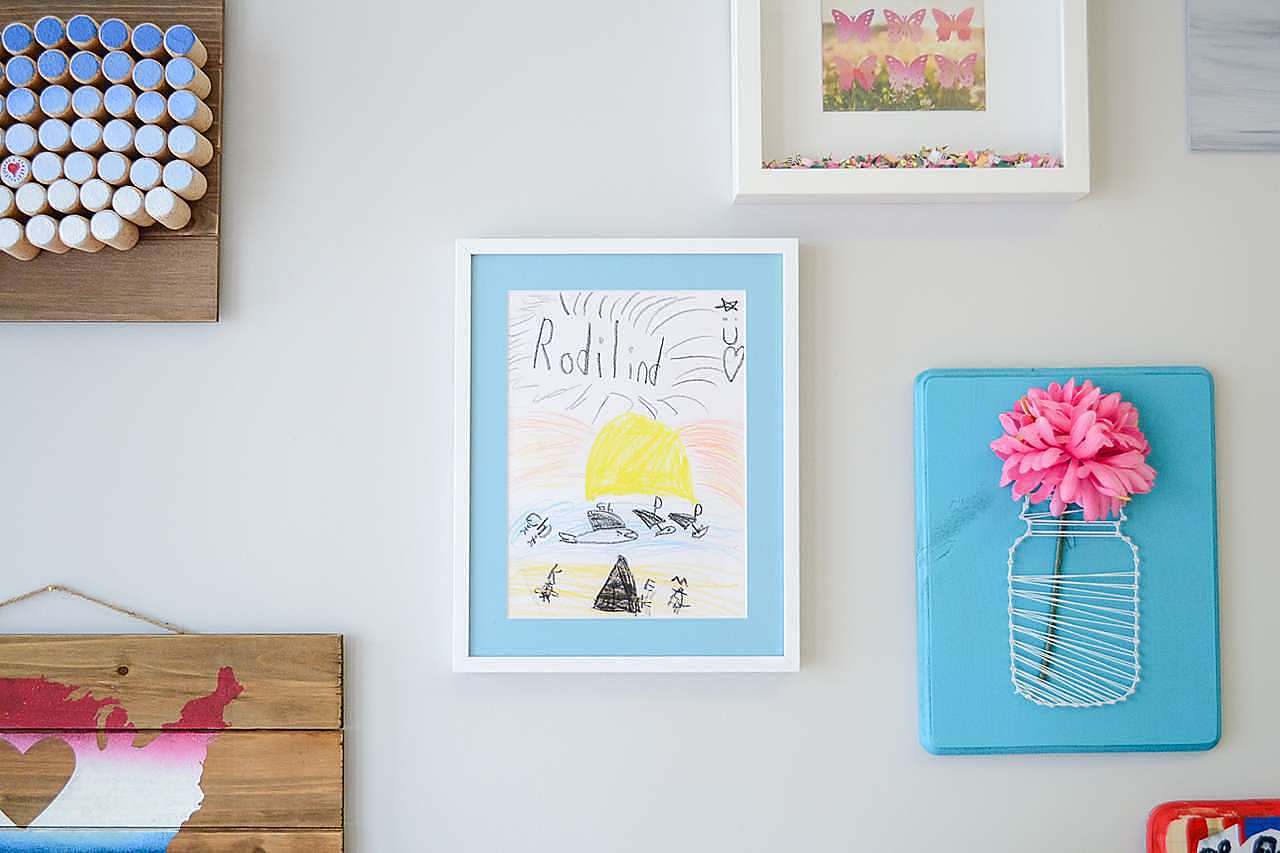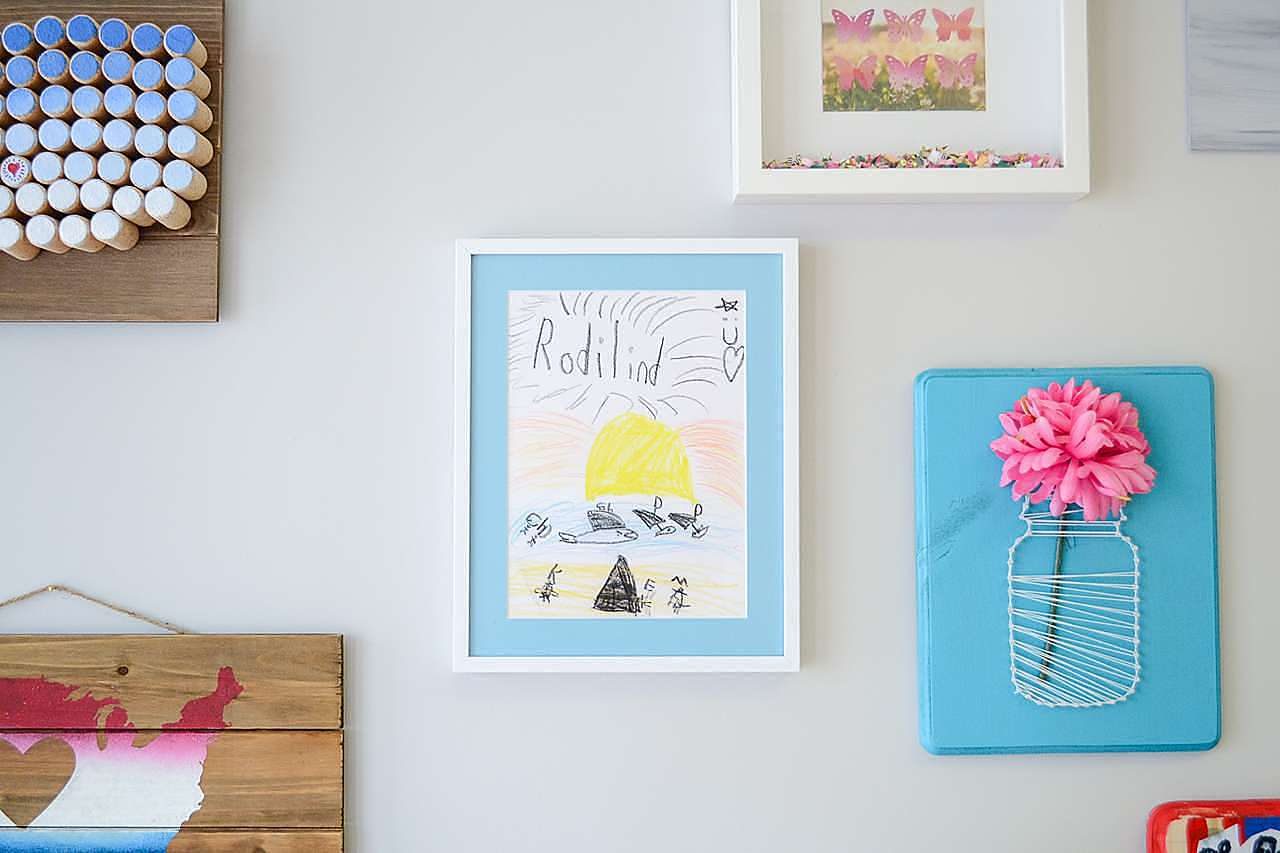 But if the extra brightness may be a little much, you can always pair a white frame with a colored mat to enhance some of your art's colors.
Final Thoughts
While white picture frames may not be right for every single framing project, it's clear they're usually a good bet when looking for something simple, classic, and clean.
From brightening up rich artworks to contrasting impactful black and white photos, a white frame can serve as the perfect base for a variety of home decor looks.
So the next time you're hoping to frame a special photograph or a meaningful piece of artwork, consider going with white to truly make it shine.