Need some help choosing where the best places to add frames in your home are? We've got the simple answer: anywhere! But more specifically, each room in your home can be styled with frames in a way that will truly complete the space depending on its purpose.
The function of the room or space will help you determine your plan of action: a centerpiece display for guests to enjoy? Pieces to accent your existing decor? Photos that spark memories and bring you joy?
Of course, space often dictates what kind of display you can choose. A large statement display may look "crowded" on a small wall, and a single framed print may be "dwarfed" by a large open space. Ultimately your decision is dependent on the available space of each particular room.
Frame It Easy can help make your decisions easier. Here are our 7 top places to add frames in your home and some tips for styling them to add that finishing touch.

1. The Entryway or Hallway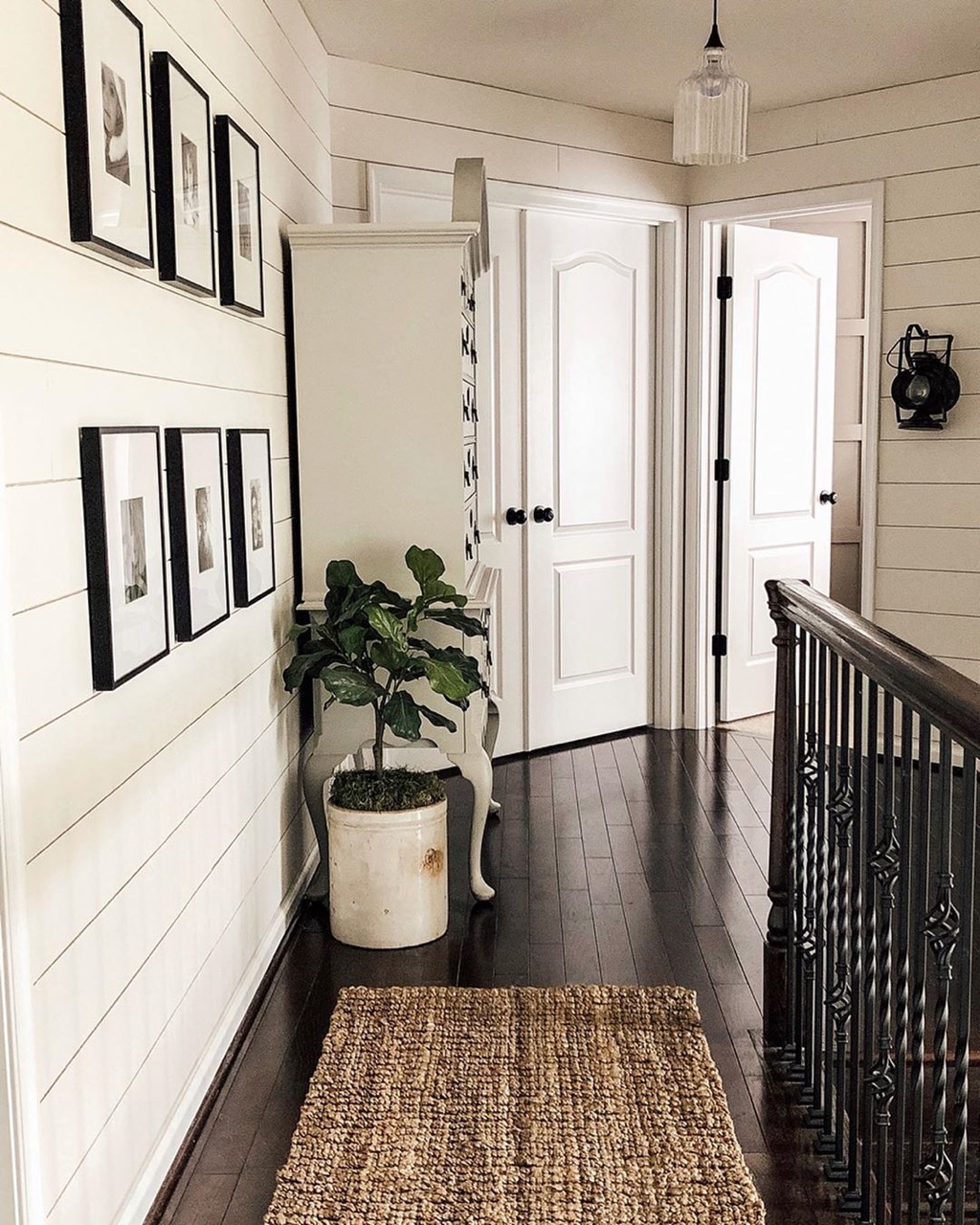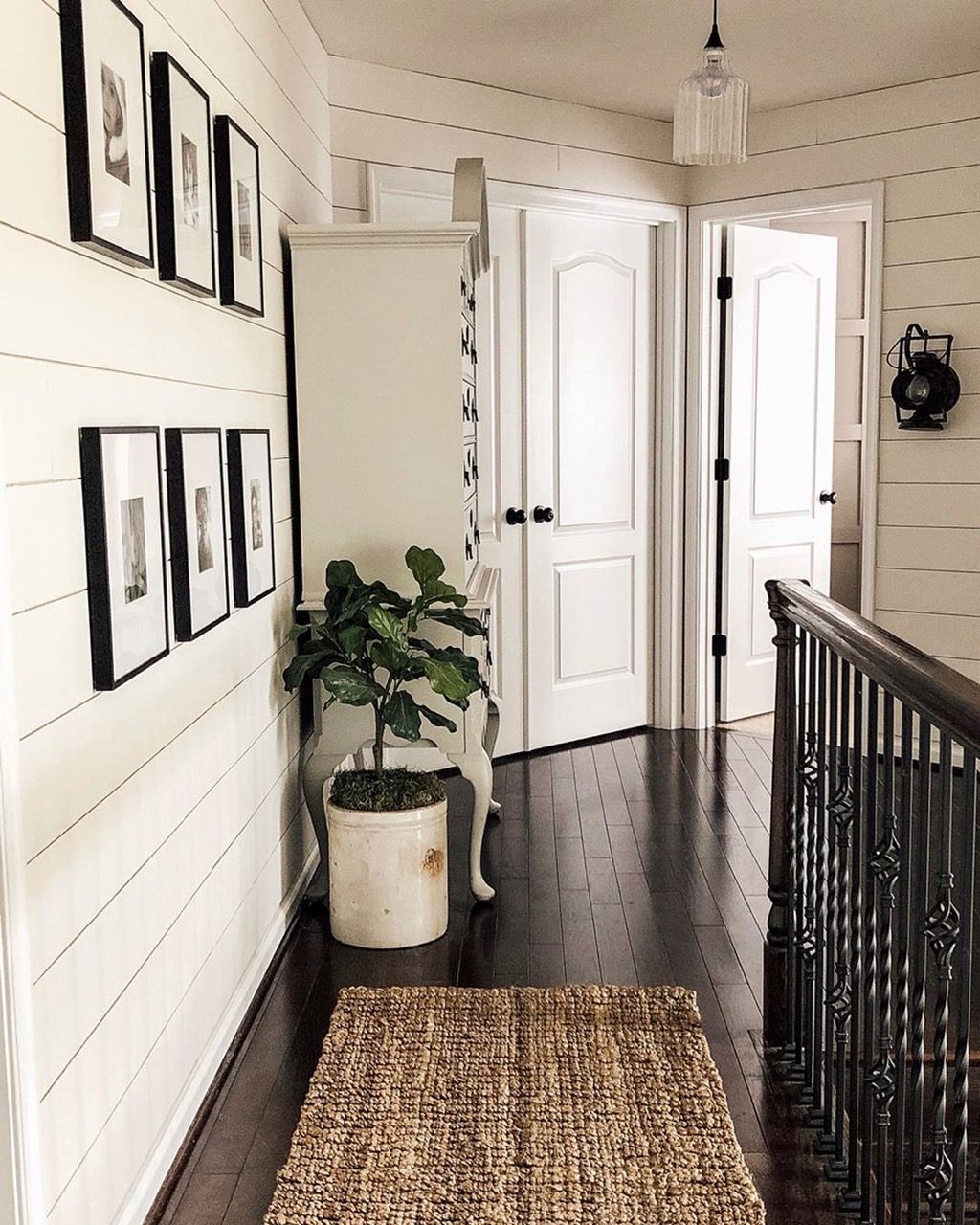 Empty spaces in entryways are often overlooked, but they are your chance to make a first impression, so make the most of these areas by creating a framed display! Frames along hallways or entryways are a great way to create a welcoming environment to all who pass through, set the tone of your decorating style, and showcase some of your favorite artwork or photos.
Triple frame displays are an easy fix to filling long and empty hallway wall space. But think big! Large picture frames not only fill the space but add lots of character and make a bold statement. And if your entryway can only accommodate one wall hanging, make it count! Choose one of your favorite photos or artwork, design a frame and matting to complement it, and you have one stunning way to greet your guests.
2. The Living Room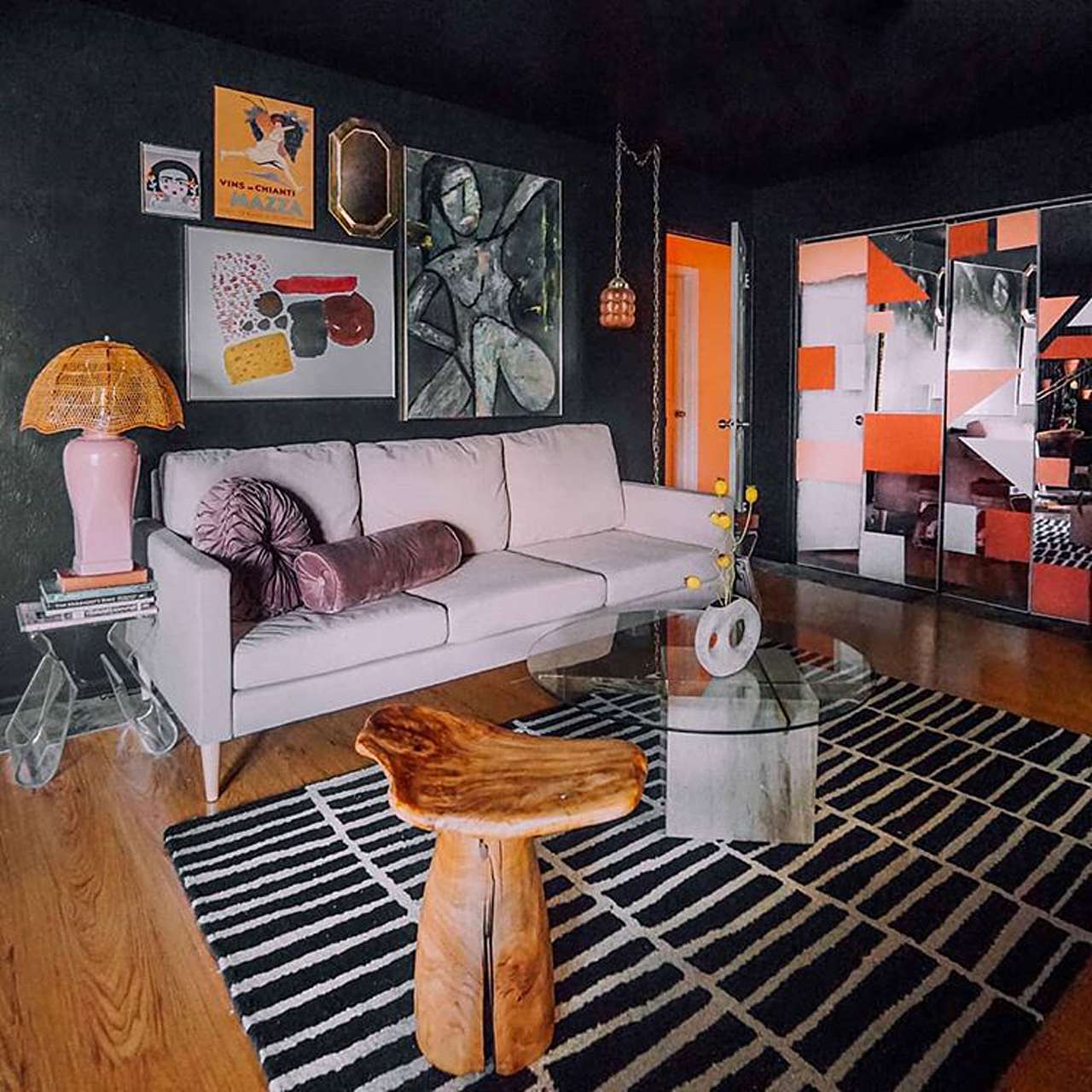 Living room picture frame displays serve as perfect centerpieces (think over the fireplace or couch) or as needed space filler (think around the TV or clustered on a side table). It's another area to share your treasured pieces with family and friends. They make the room feel cozy and personal, establish the tone of your decorating style, and tie all the elements of the room together!
Displaying your favorite photos or art in custom picture frames can help convey the personalities of those who live in the home. This is essential for a space as central as the living room where you have both quiet nights with family and less quiet nights entertaining friends! Try to find pieces that speak to your style and persona. (Hint: Find some inspiration for what to frame and how to display it from our list of 25 personalized picture frame ideas.)
Gallery walls look great in living rooms, no matter the amount of wall space you have. Just scale up or down using the dimensions you're working with. A grid-style gallery can be used to style large areas, a three-in-a-row vertical display works well on narrower walls, or an asymmetrical gallery wall style is perfect to customize any space that needs an added something. Check out our guide to gallery wall styles for more information on grid, asymmetrical, or triple frame displays!
3. The Kitchen and Dining Area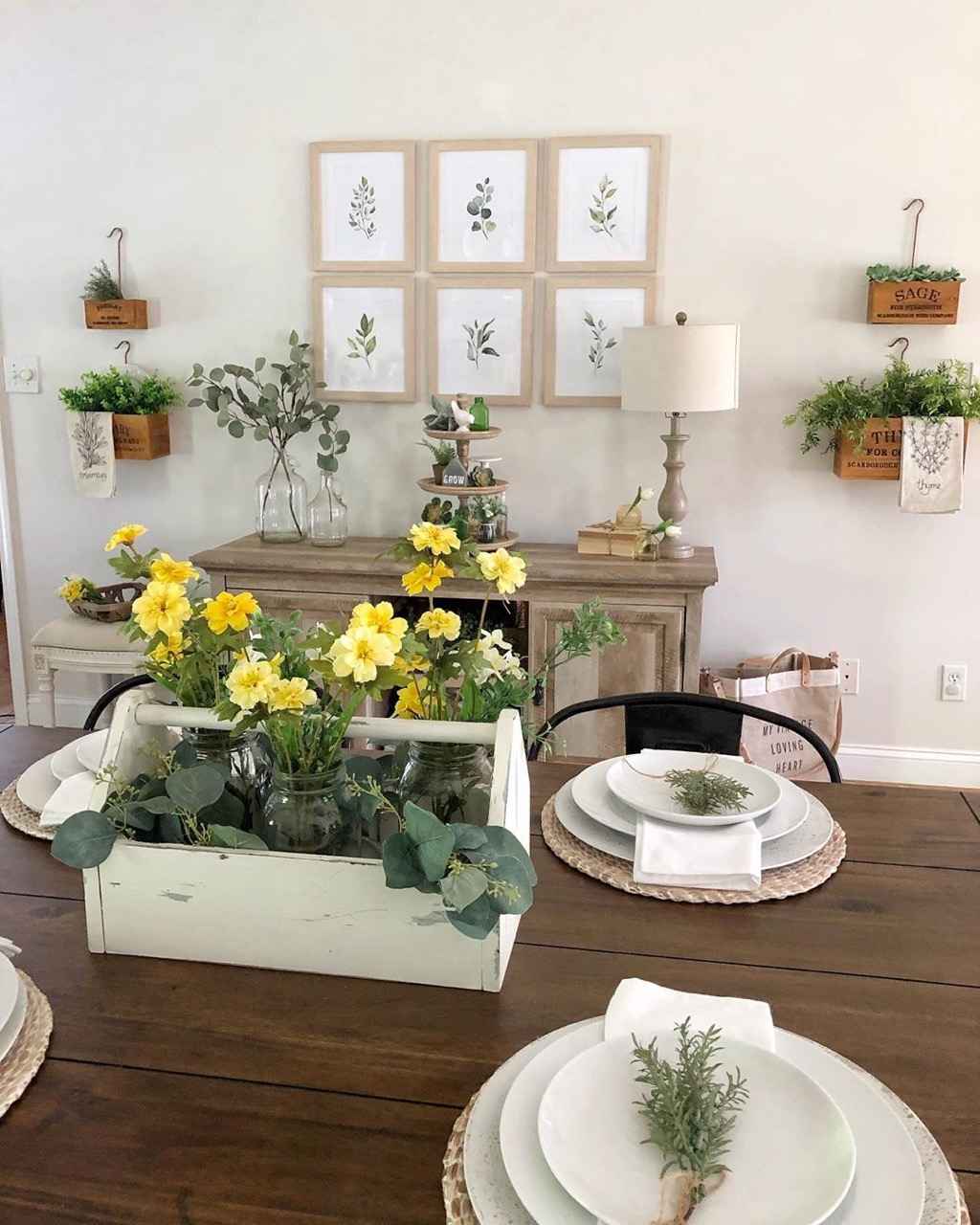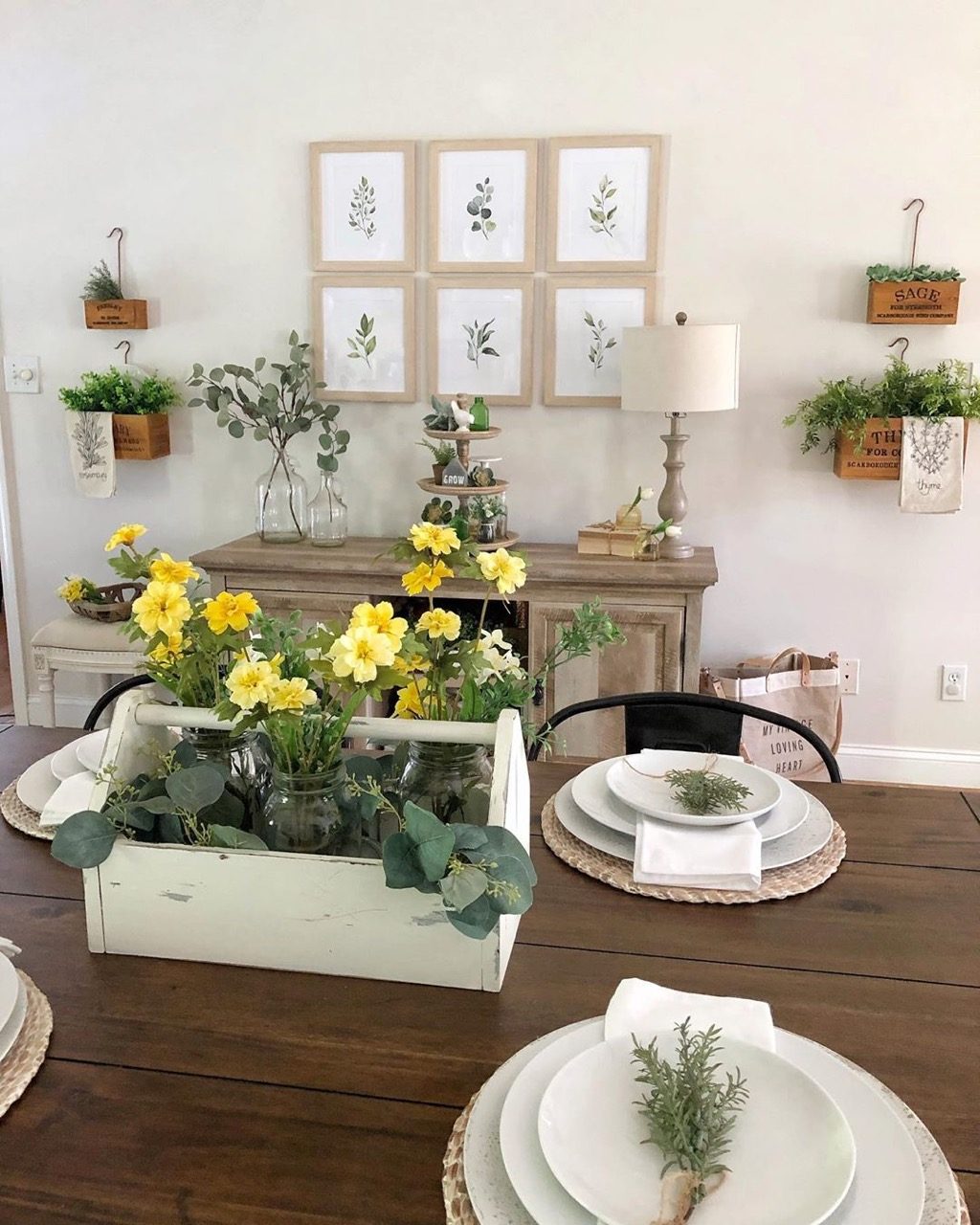 Empty wall space in kitchens is hard to come by. But when it does, picture frames are the perfect way to add a dash of design style to your cooking area.
Simple triple frame displays are the perfect recipe for small wall spaces in your kitchen. Or your grandmother's handwritten recipe adds the perfect mixture of whimsy and nostalgia on your countertop. You don't want to overwhelm the area, so less is more when it comes to adding frames in your kitchen!
On the other hand, you'll have more freedom when it comes to styling the dining areas of your home. Dining areas tend to have more wall space, so feel free to experiment with the different gallery wall styles. Additionally, we love using a series of large picture frames in dining rooms, to really make a statement! Check out our tips for creating a large picture frame display!
4. The Bedroom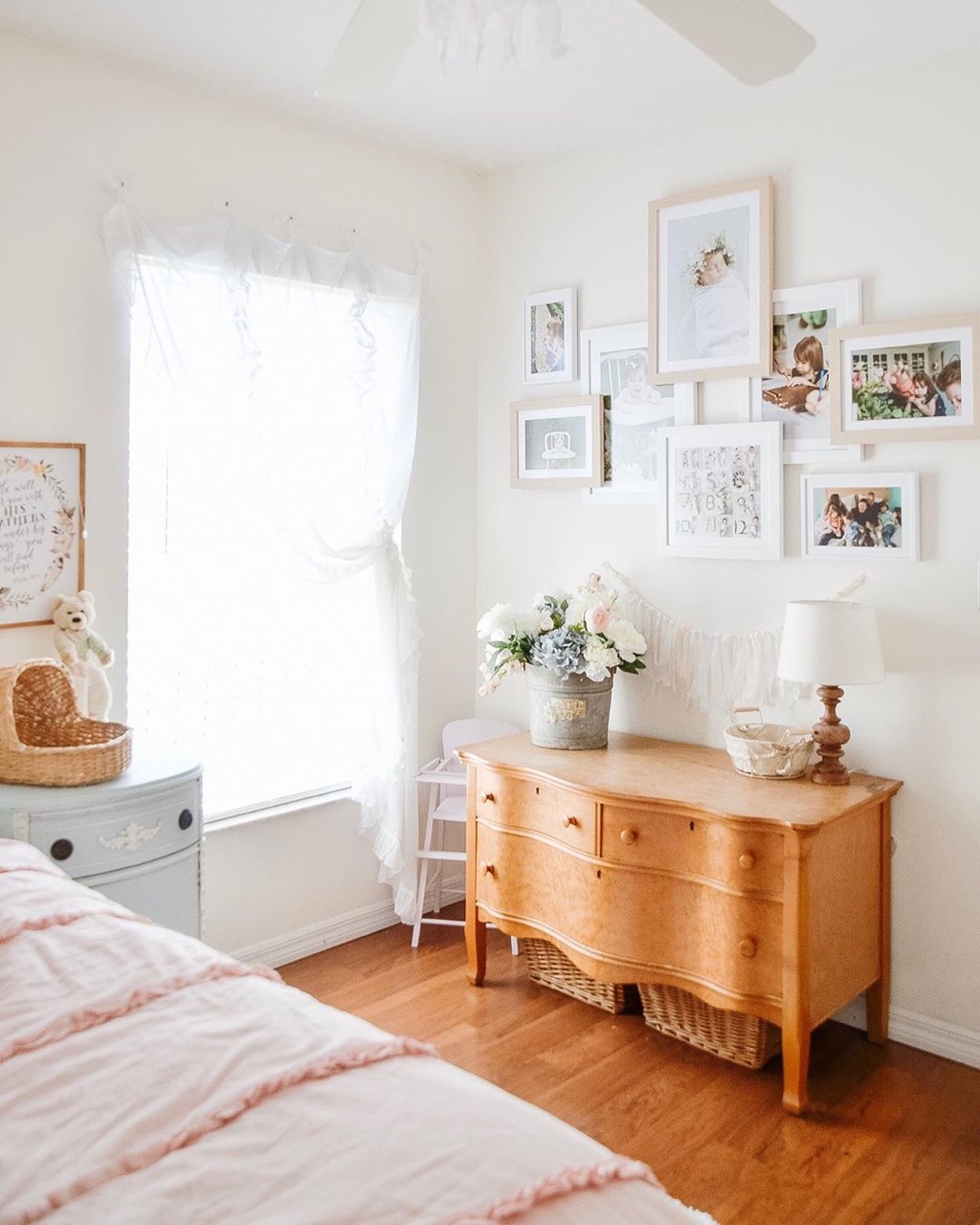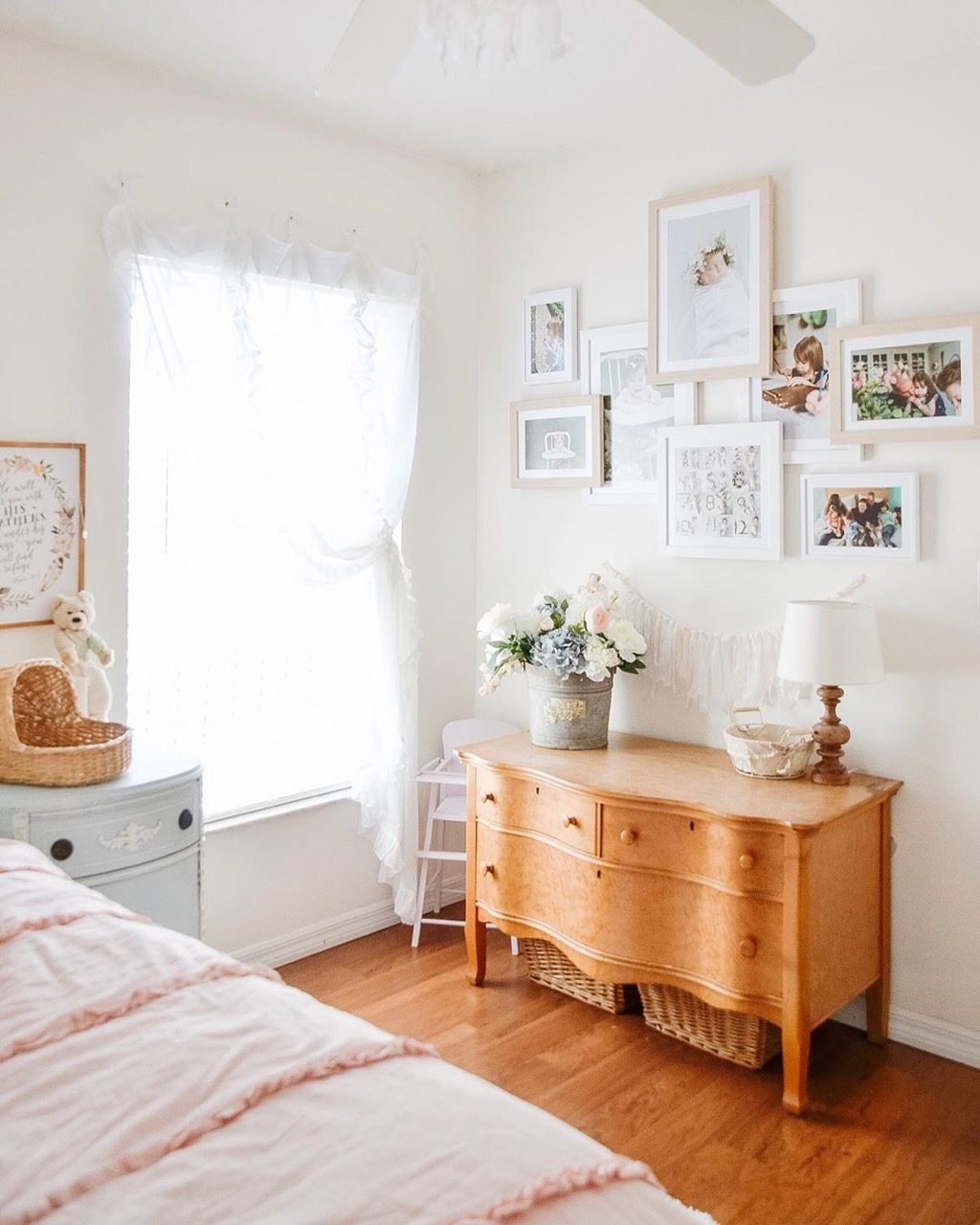 In addition to living rooms, bedrooms are a great place to add personal frames as centerpieces or just accent pieces. Displayed above the bed or arranged on the dresser, framed artwork and photos are a classic feature in many bedrooms and are the perfect place for more intimate pieces that bring you comfort and joy. A large print of your favorite vacation spot or an abstract print that "speaks to you" above your bed evokes tranquil thoughts. Wedding photos and candid shots of loved ones propped atop dressers, mantel-pieces, or shelves bring a smile to your face.
Try not to overdo it though! Bedrooms are our place to get away from it all, so too much art can make a space feel cluttered. Be sure to space them out depending on your wall space, remember that hanging your frames will allow you to maximize table-top or shelf space. Keep the peace and quiet vibe going by choosing wisely and keeping your selection simple.
5. The Home Office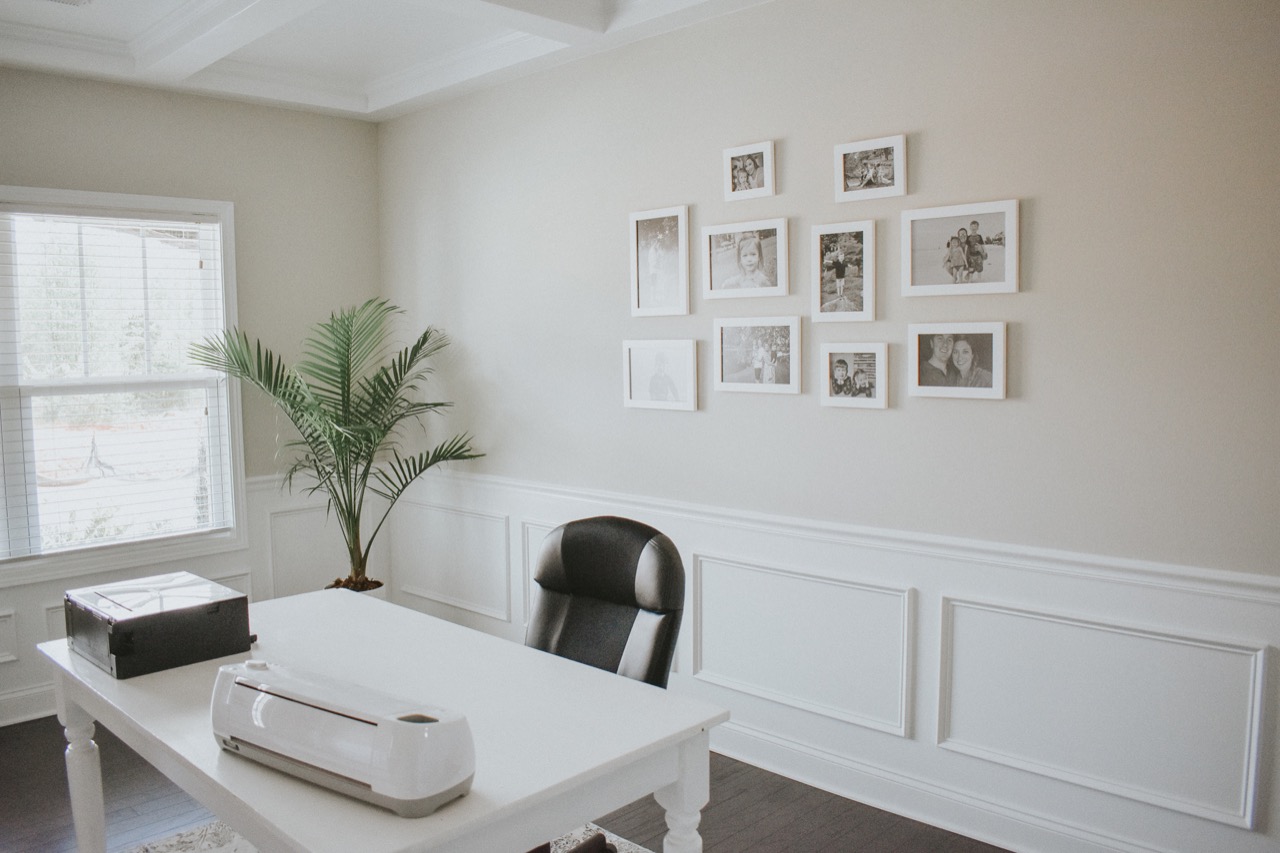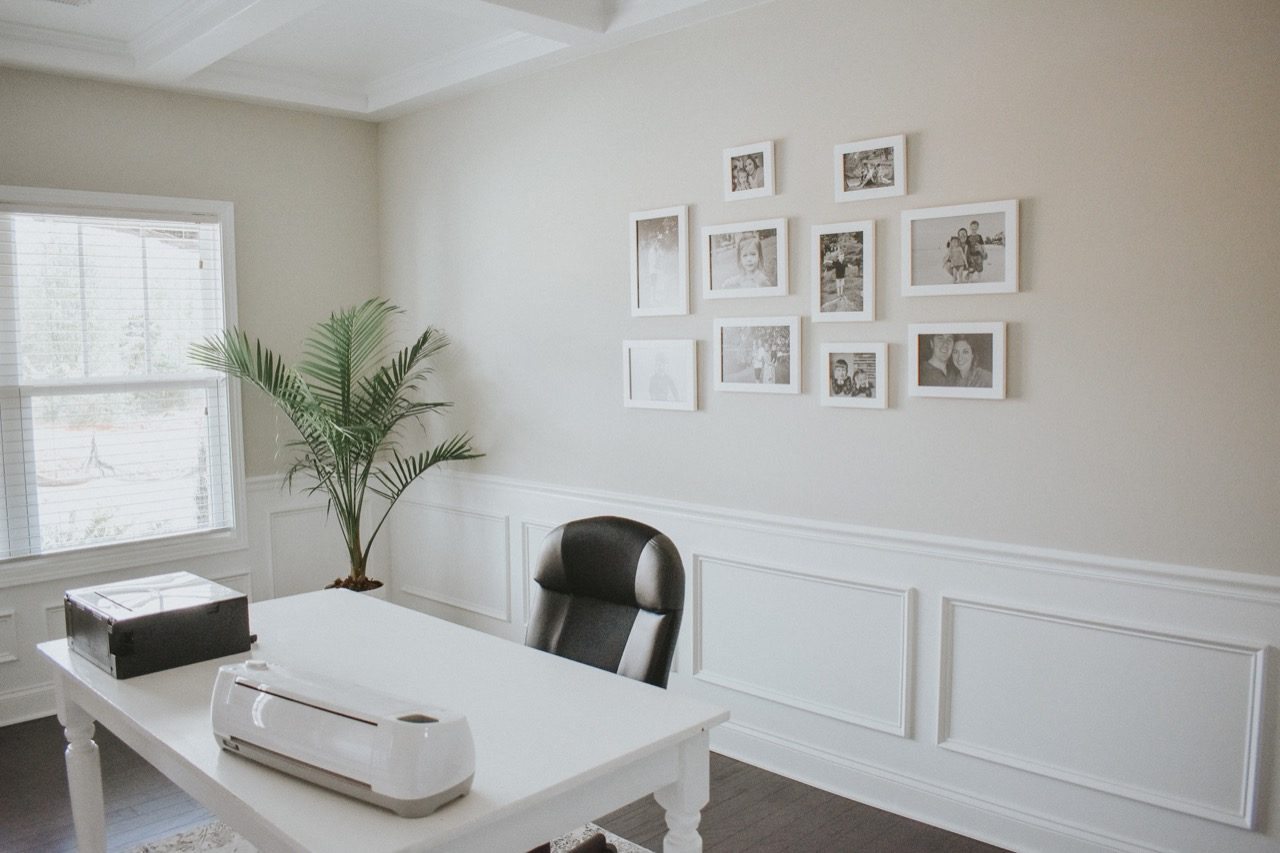 Offices are perfect places to add frames, and office no longer means only your workplace away from home. More and more people are working remotely and have a home office, so it's another opportunity to let your personality shine while creating a productive environment. Over-desk centerpieces make a big statement, whether it's a piece of art, a great photo, or your company's logo. And don't forget your diploma or any awards you've received. You worked hard for them, so show them off! In addition, to personalize your office space and add little touches, propped up frames look great as accessories on desks, shelves, or tables.
When it comes to offices, most people prefer a neat and simple design. You can go with a strictly professional look or — especially in a home office — add a touch of your own personality. Here at Frame it Easy we have a variety of frame styles to fit your office decor, whether you choose a traditional wood or metal frame with neutral matting or decide to add some color to one or both! Just be sure you have a good grasp on sizing — check out our first time ordering guide before you hit the order button.
6. The Kid's Room or Play Room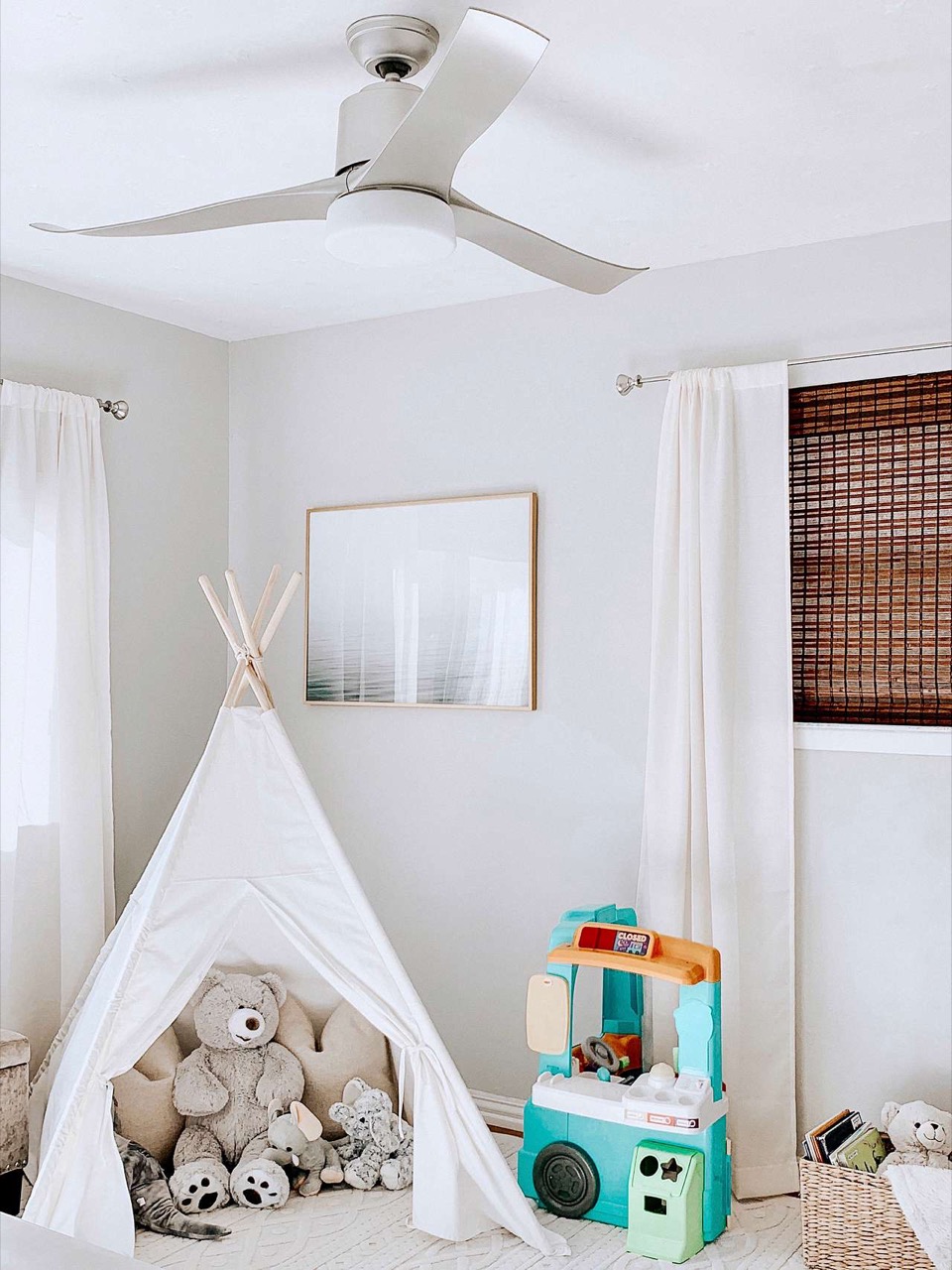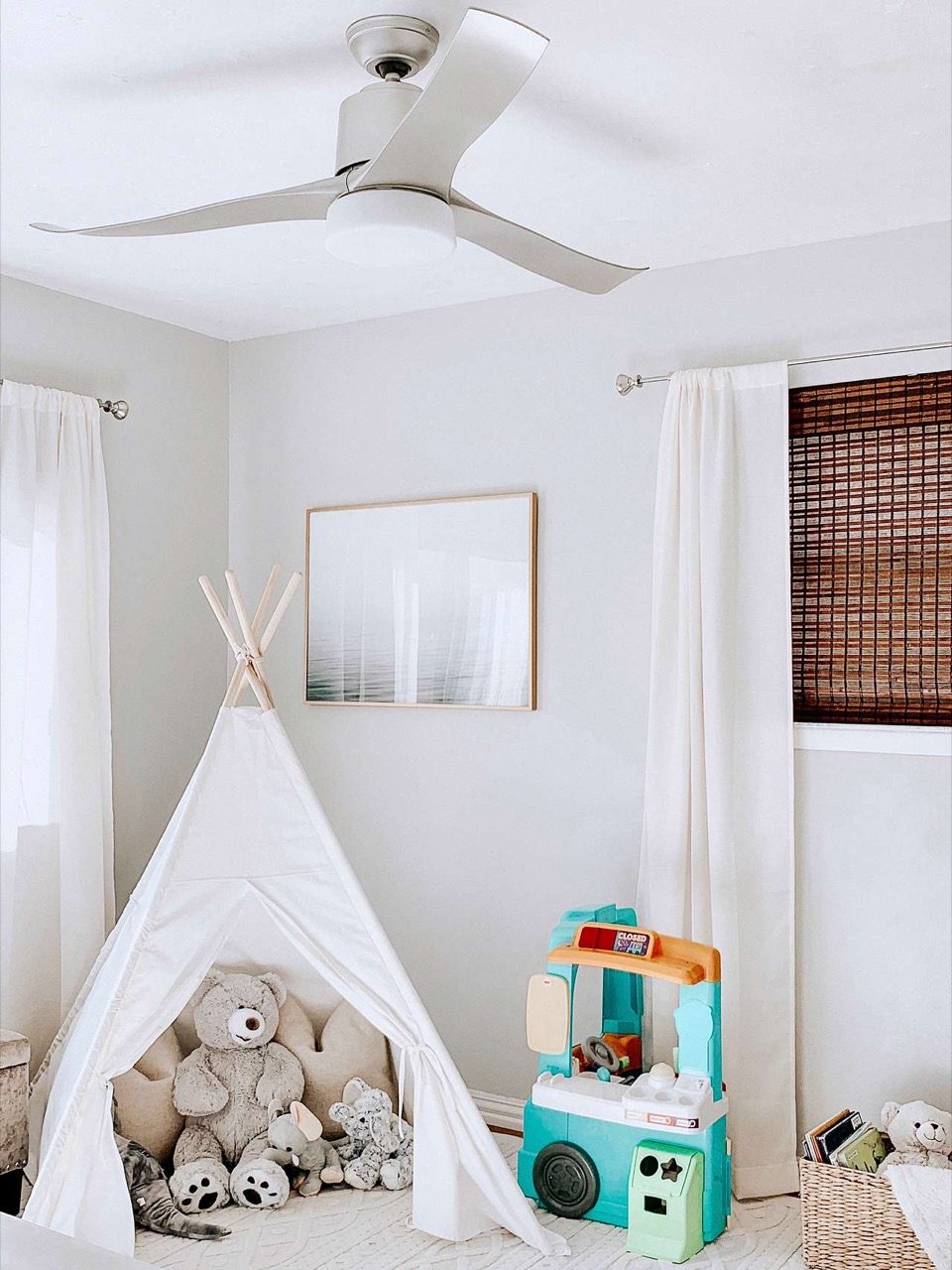 Kids' bedrooms are all about creating a fun and safe environment that reflects their interests and personalities while providing a soothing place for them to sleep. But a child's bedroom can have other functions too. You may want to create separate areas for sleep, arts & crafts, or playtime. With a little imagination, frames can help create this vibe, whether it's with a large gallery wall or a single frame.
As with any other room, the arrangement of your display will depend on your wall space. To make a statement, think gallery wall or large frame. To accessorize a small area, think small triple frame display, or a few scattered frames.
Does your child have a favorite character from a book, cartoon, or movie? A framed poster over the bed is all you need. Or perhaps your child is obsessed with a sport. Hang a framed pennant, an autographed picture, and other framed memorabilia for a unique display. A small table in the corner of the room can serve as an arts & crafts area, so why not frame some of their masterpieces to hang over it! Is your child a reader? A beanbag chair, area rug, and some framed pages of classic children's books makes a perfect reading nook.
Remember, take the lead from your child when decorating his or her room. Focus on what makes them happy, and the rest is easy!

7. The Bathroom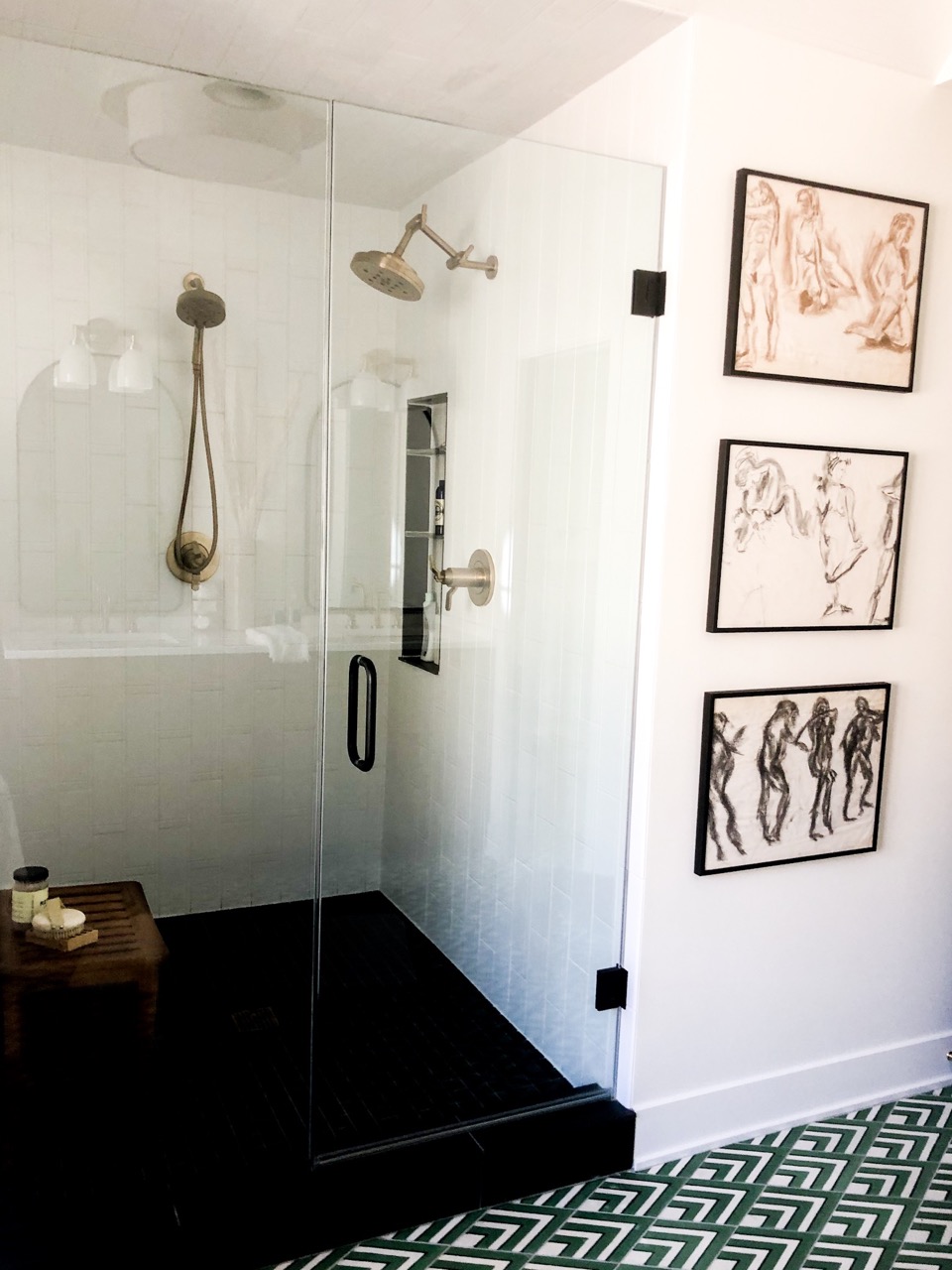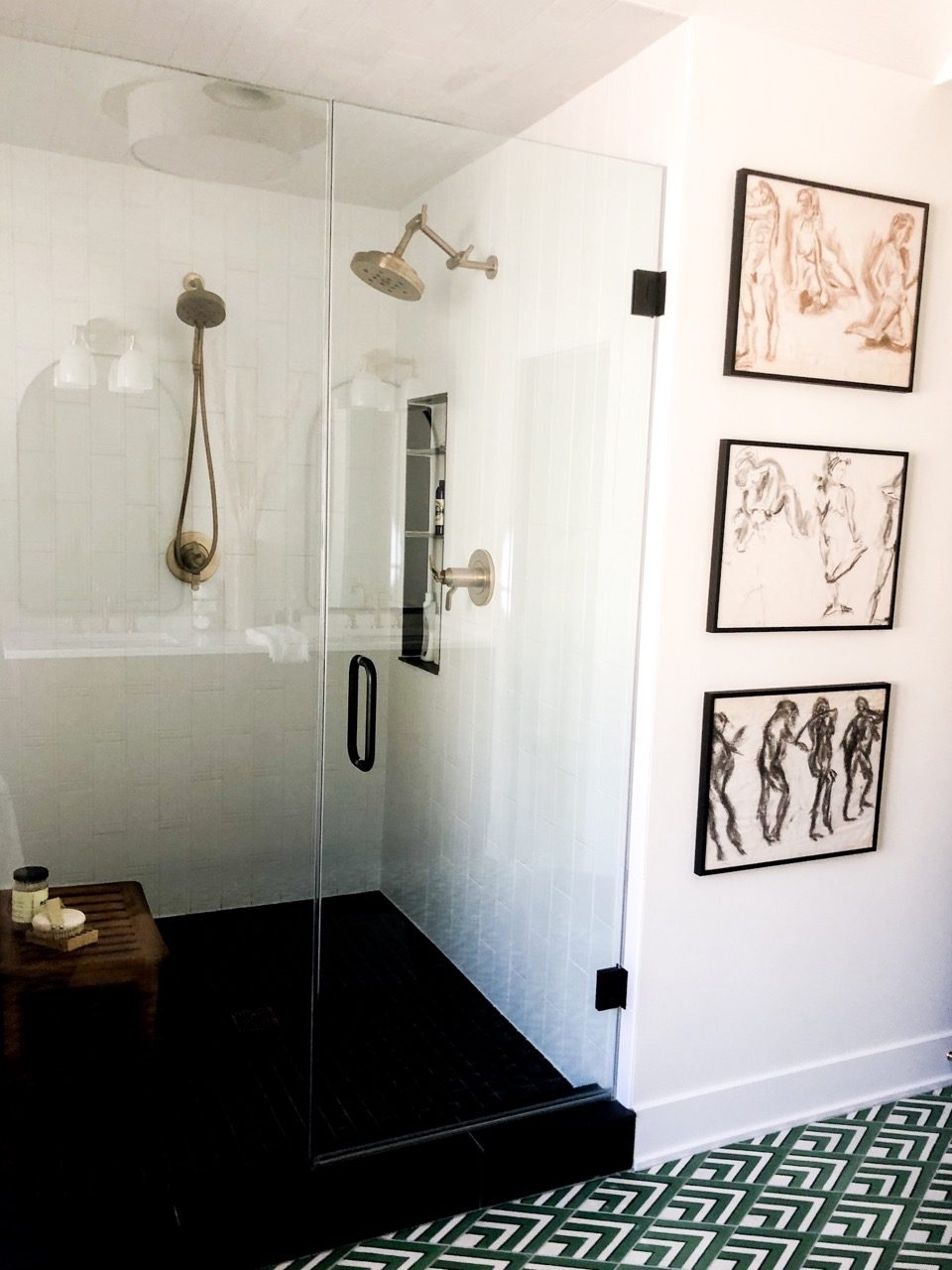 Bathrooms are often overlooked when it comes to decorating. And to be fair, there are some problematic concerns: is there potential for damage from moisture? What artwork is appropriate for a bathroom? Is wall space tight?
If you decide to take the risk, we suggest using simpler, replaceable pieces that fill that empty wall space, don't make too much of a statement, and add to a cohesive design.
A guest bath can take its inspiration from simple things. If you love the floral hand towels you found, frame a few prints of those flowers and you're done. If your tile is black and white, go for a simple message in black lettering and frame it in a black frame with white matting. For a master or family bathroom, functionality is key, but you can still add a few decorative touches. Again, take a cue from what already exists in your bathroom (wallpaper, shower curtain, towels) and let it inspire your artwork selection.
For more information check out our post on hanging picture frames in your bathrooms and other "risky" places.
All Set?
Hopefully, you've found some insight and helpful tips when it comes to places to add frames throughout your home. However, it truly comes down to the actual amount of space you have when deciding how to style your frames in various rooms.
Large gallery walls make great centerpieces, whereas single frames hung up or propped are perfect to accent different areas. Just think of how big a statement you are trying to make when considering different sized framed displays.
Styling your home is all about making it your own! So don't forget to choose pieces that speak to you and will really personalize your area. Adding a family touch is always a safe bet when looking to add personality! Check out our post for more ideas and inspiration on family picture frames.
On the other hand, if you're looking to complete a design style and compliment your space, be sure to reference our guide on design styles and frames to accent with, or 10 of our favorite home decor blogs for ideas and inspiration!