With our essential gold frame guide, you'll learn the secrets and techniques used by professionals to create stunning displays that enhance any artwork or photograph. Plus, you'll get the insider scoop on our favorite gold frames to make sourcing the perfect piece easier than ever! Whether you're a seasoned decorator or just starting out, these tips will help you achieve a luxurious and polished aesthetic that will impress your guests and elevate your home or office decor.
Get started on your gold frame journey today and unlock the potential of your space with our designer tips and tricks you won't want to miss!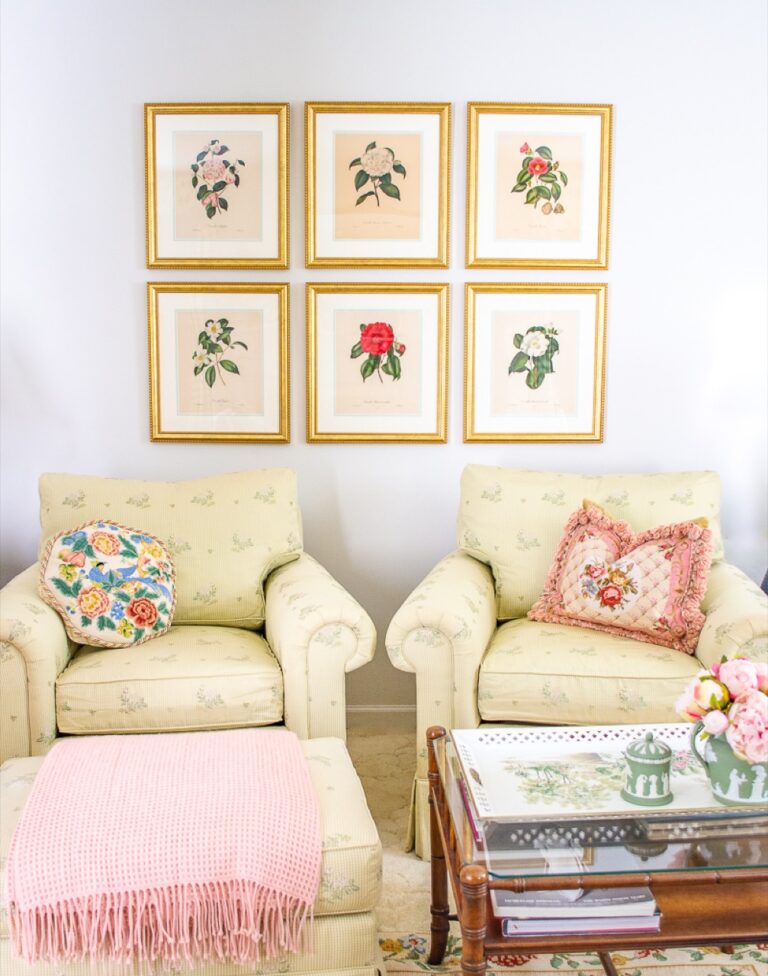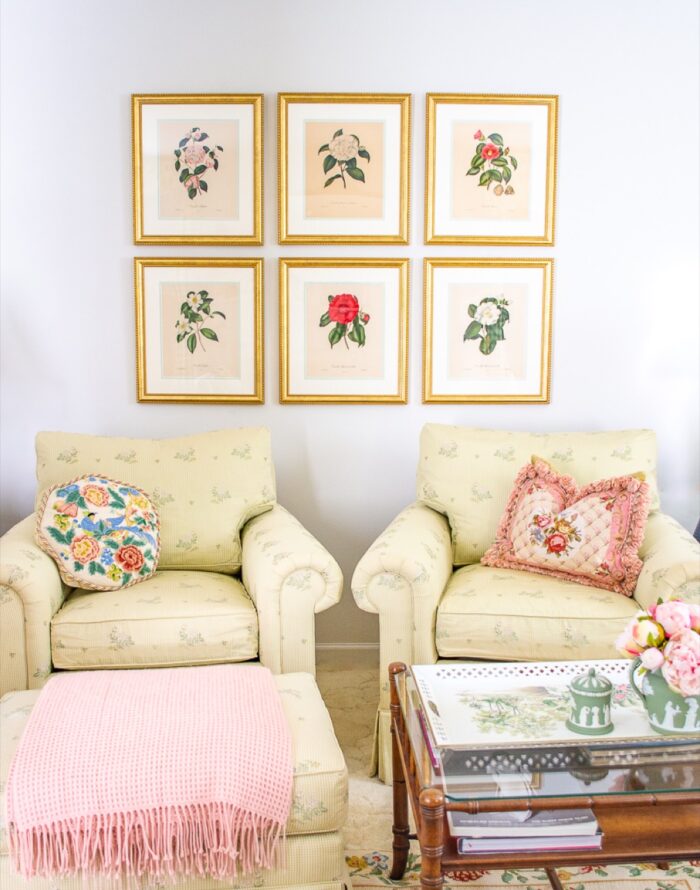 ---
Gold Frame Options
Gold frames add a touch of elegance to any room in your home or office – but not all gold frames are created equal! When it comes to Frame It Easy products, our frames are fully customizable and made using sustainably sourced, eco-friendly materials crafted right here in the USA! Plus, your favorite art or photos will be protected for years to come from UV damage, dust, and staining. Compared to big box options, our frames are made to last and stand the test of time. Check out our favorite gold frame selections below to get started.
Granby Frame
Our Granby frame is a beloved customer favorite! Made from wood and filled with ornate detailing, this is the perfect frame for traditional or eclectic spaces that need a dash of sophistication. Even better, the finish options include Gold!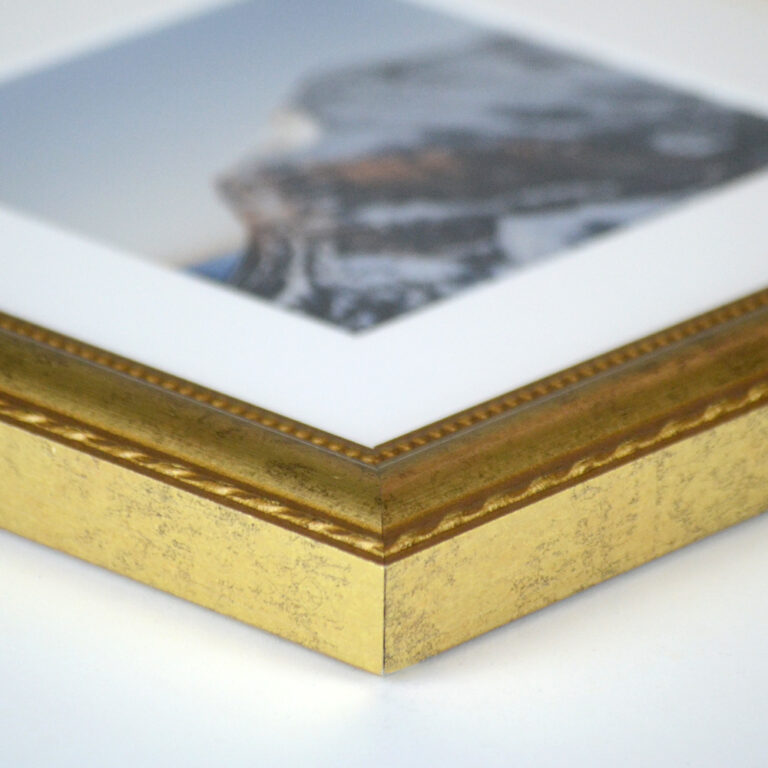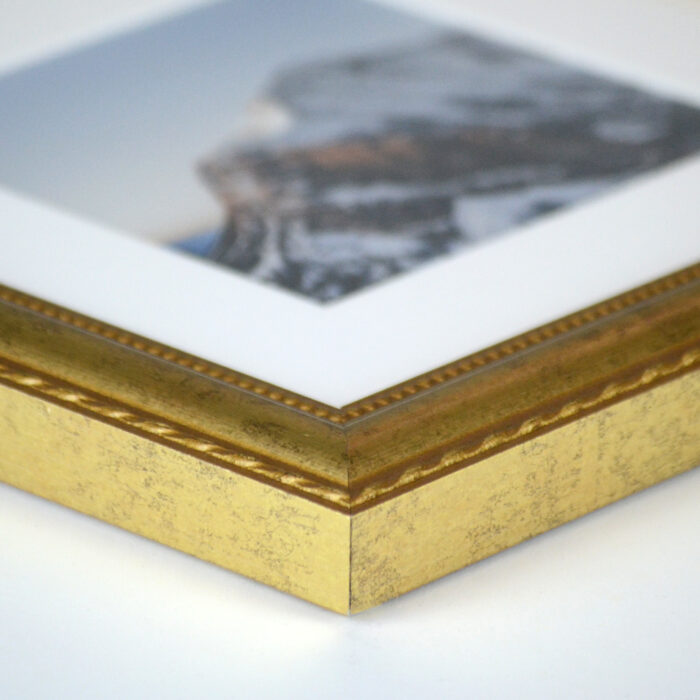 Ashford Frame
For a more modern option, look no further than our Ashford frame! Its thin metal face and clean, straight lines, will feature your artwork in a sleek design! This frame looks fabulous in both the home and the office with various finish options including satin, gloss, and rose gold!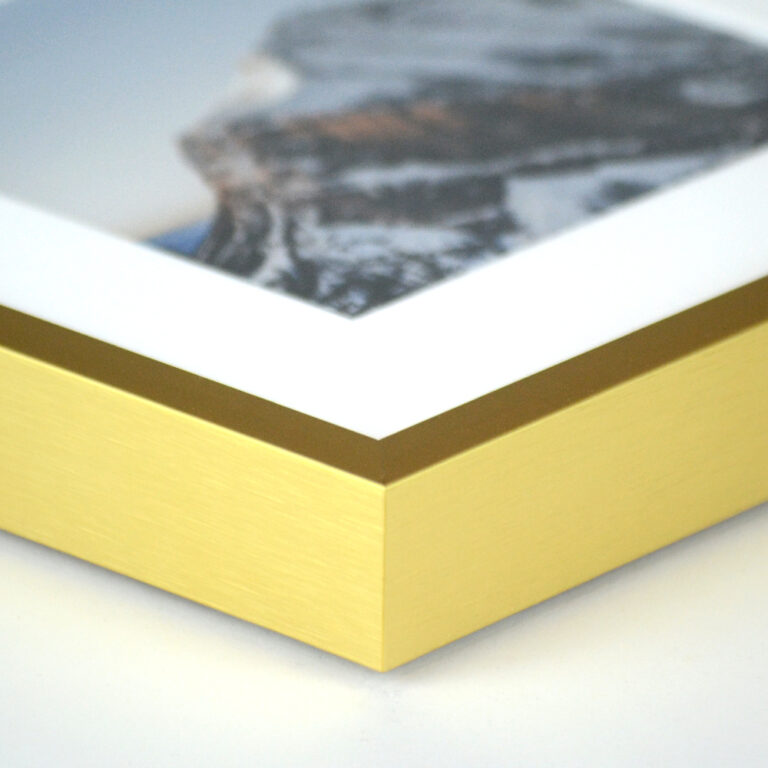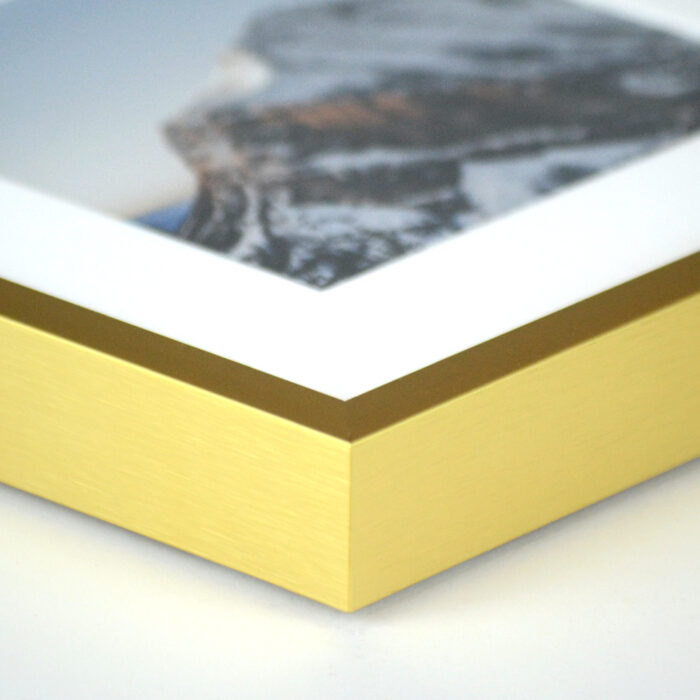 Dayton Frame
Our Dayton frame is a traditional style approach made from natural wood with handsome proportions sure to fit in well with a variety of decor! With a thicker frame face, this will display your art or photos beautifully! Plus, it comes in a lovely gold finish!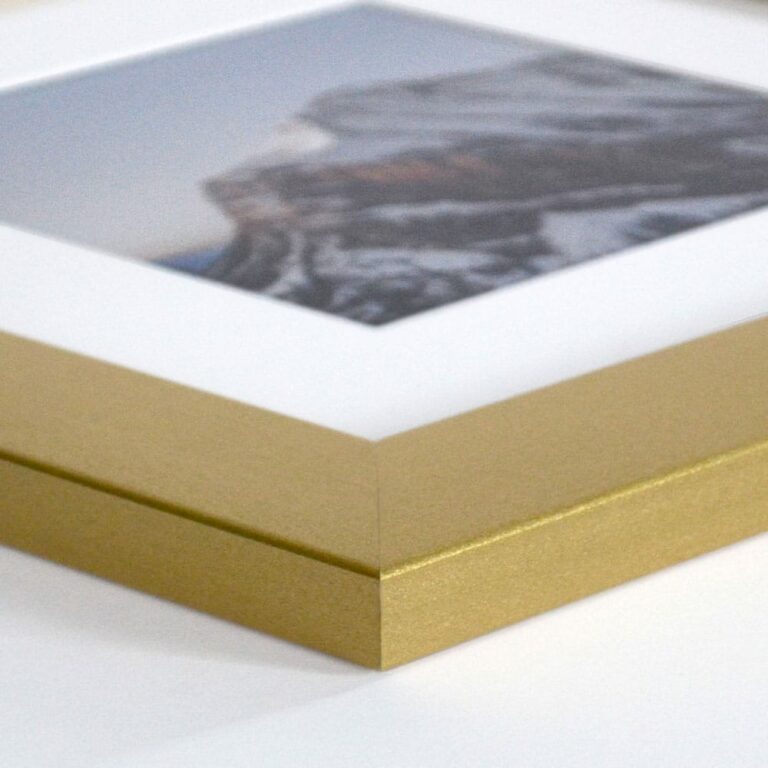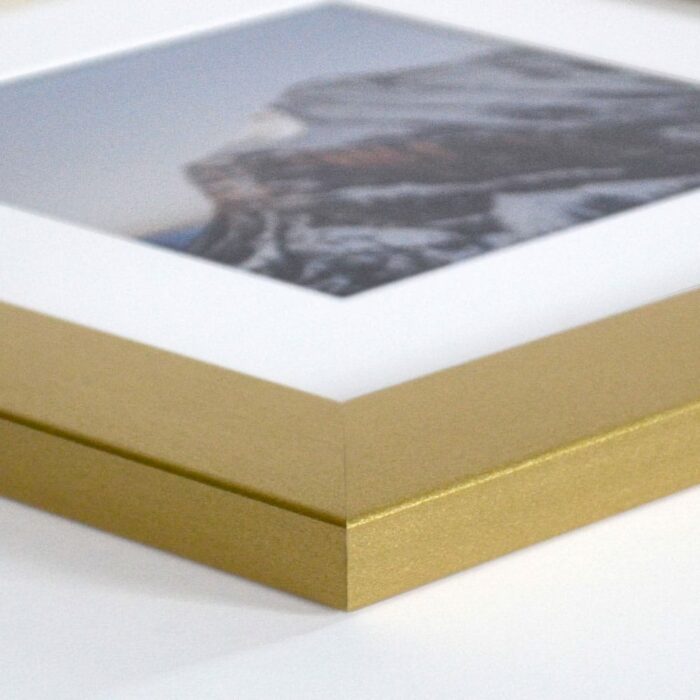 Hanover Frame
With a more playful design, our Hanover frame is a rounded metal frame with a thinner face that looks fantastic in contemporary or youth-oriented spaces in your home or office! It's a customer favorite for a reason! And with a variety of fun finish colors (including satin and gloss gold), you can't go wrong!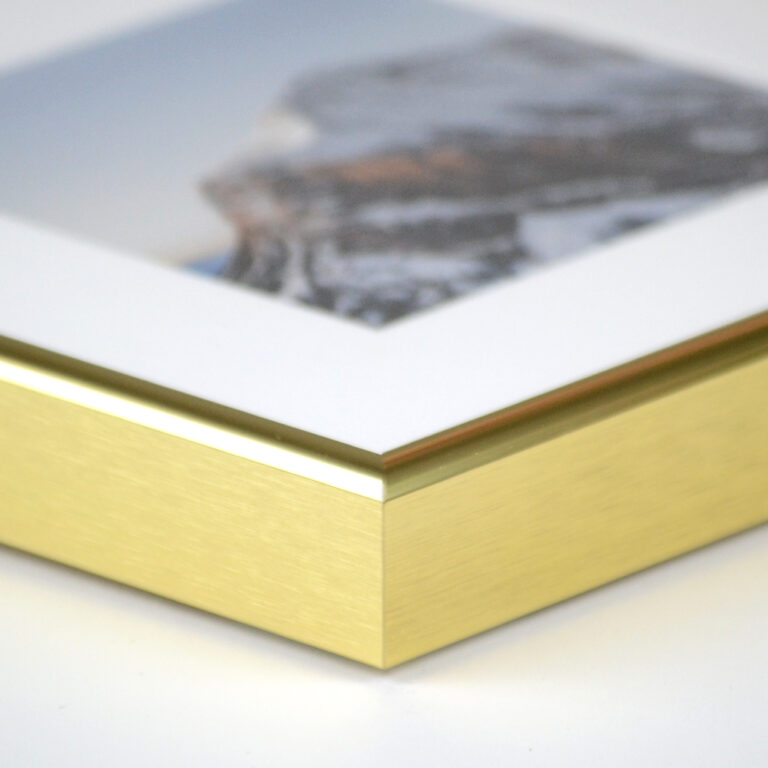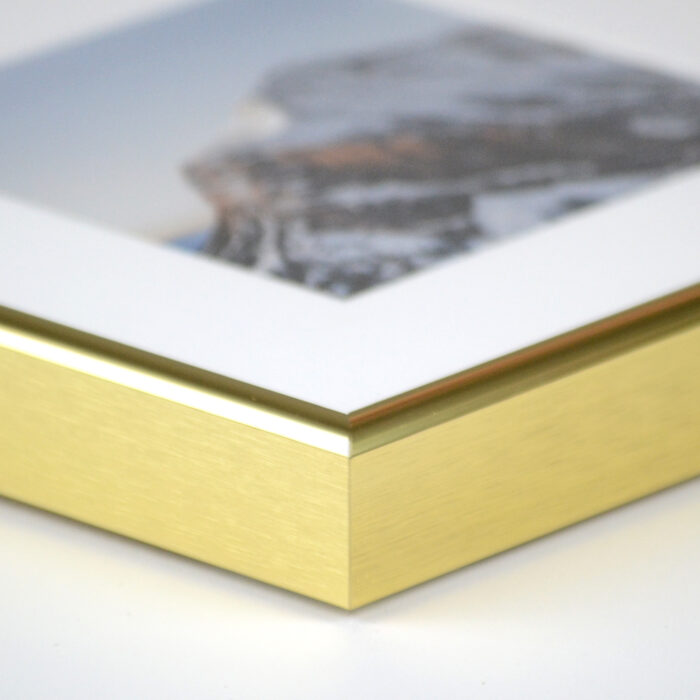 ---
Matboards For Gold Frames
The key to getting the perfect designer look for your framed art is to add a matboard! Matboards help give your piece a polished, refined look that draws your eye to the art or photography housed in it. Luckily we have a few tasteful options to give you inspiration in your framing journey!
For a classic look, you can't go wrong with a white matboard. It's every framer or designer's default choice for good reason: White matboards look great no matter what art or photography they're paired with. This is why we recommend, at a minimum, adding a white matboard to your framed art.
For a more creative option, we also offer a classic and frosted gold matboard option! So if you're a fan of metallics, you'll definitely want to explore these! Beyond that, if you'd like to introduce color to your space, try matching a matboard color to a throw pillow, rug, or curtains in your room. It'll give your space a more curated look!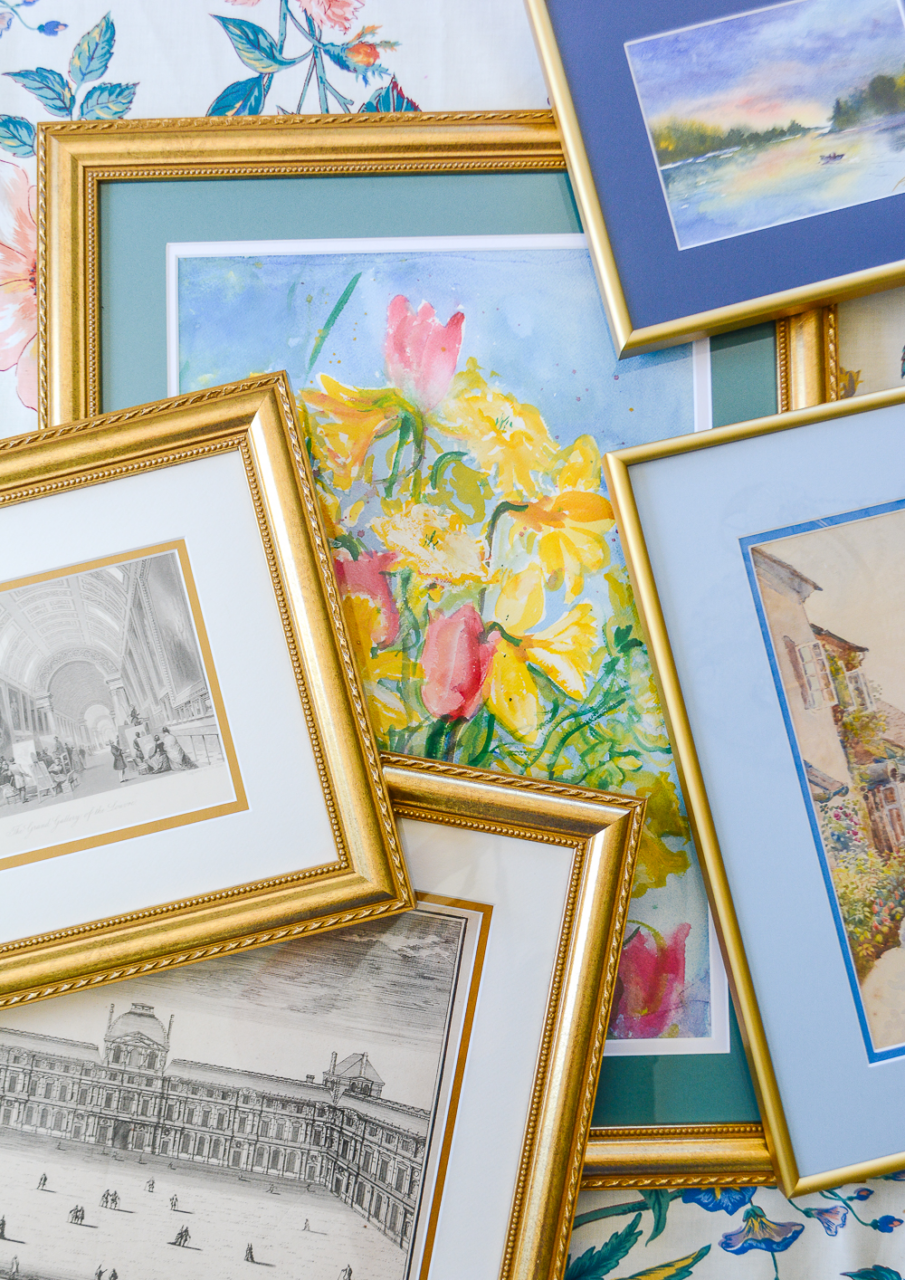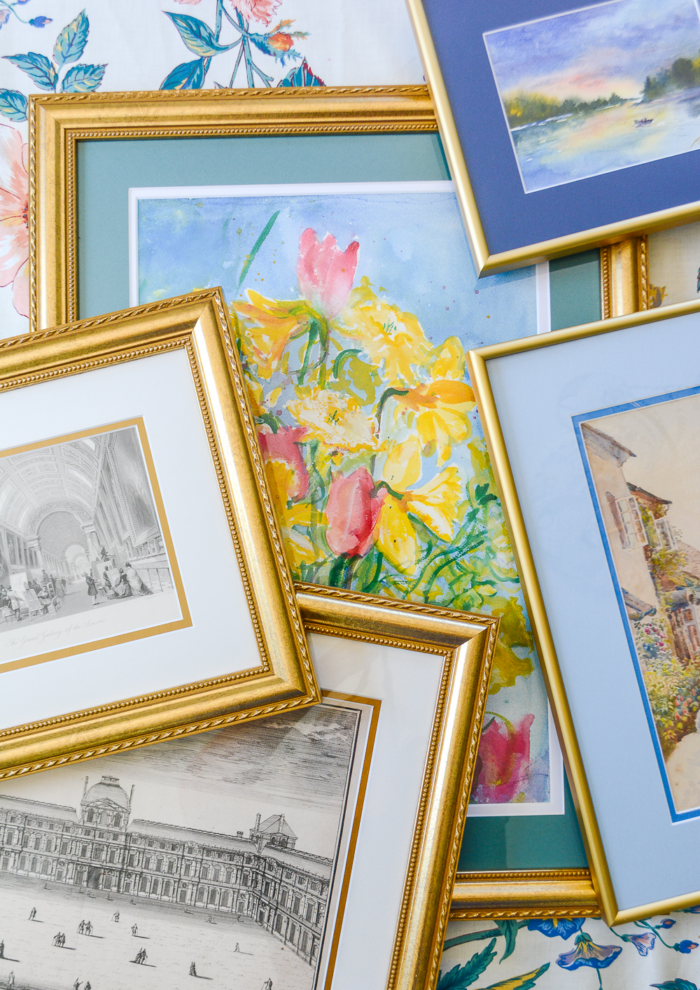 ---
Ordering Gold Frames
Once you've sourced the art and frames you'd like, we've made ordering frames simple and affordable! Head to our interactive frame designer to start the process. From there, you'll enter your art dimensions, choose your cover (standard acrylic and non-glare acrylic are available), select your design options, and we'll send you a custom frame directly to your home or office.
If you need us to print your art or photos, we can do that! We use large format, professional-grade printers, and archival-quality ink. Additionally, we never resample or perform destructive edits on your digital files, so your prints will always be vibrant and sharp. Just upload your file to our frame designer, choose your cover, paper (both photo and art paper are offered), and design options, and we'll print, mount, and send you a ready-to-hang picture.
---
Display Options
Once you receive your frames, you'll need to consider how and where you'll display them. And if you ordered from Frame It Easy, your package will come with everything you need to hang it – just bring your hammer! Don't miss our hanging guidelines and display options for your new art below:
The center of your image, frame, or art piece should be at your eye level. This is commonly called "The 57 Rule" meaning that the midpoint or center of your frame should be roughly 57 to 60 inches from the floor.
Hanging artwork above a couch or table? The recommended measurements are 6 to 8 inches above the furniture piece.
If you're creating a grouping or gallery wall, the center of your collection should be at eye level, following the 57 rule. The rest of your gallery images can be staggered and aligned as you please!
Whether in the office or at home, if you're running low on wall space, you may want to try a tabletop display for your framed art with our EaselMate accessory. This acts as an easel for any of our wood or metal frame styles up to 13″ x 19″. It installs in seconds and adjusts to any angle!
And if have more than one art piece you'd like to showcase, a good option may be a gallery wall! Gallery walls are great for collecting and exhibiting your favorite art in a single location, but they do require some planning, so watch the video below to get started on your dream gallery wall!
---
Final Thoughts
It can be overwhelming and time-consuming to search through countless gold frames, only to end up with one that doesn't do justice to your masterpiece! Our Essential Gold Frame Guide provides expert tips and insights from the pros, ensuring you make the ideal choice every time. Plus, with our easy and affordable custom sizes, you'll never have to settle for anything less than perfection when it comes to framed art for your home or office!
Don't miss the framing fun! Follow us on Instagram and LinkedIn for exclusive content, framing pointers, and decor advice!
This post first appeared as The Essential Gold Frame Guide: Tips From The Pros on Frame It Easy - Learning Center for Custom Picture Framing.