Kitchens have a way of bringing people together. Yes, you may gather with your guest in your living room, but in the kitchen, you create a bigger connection. That is why choosing the best photos and frames for your kitchen is an important step in your decorating process!
Before we start, though, let's always reiterate what we say before we do anything aesthetic-based: There are no rules! If you think something looks good, that isn't mentioned on this list or goes against what this list says, we say go for it! It's your home, and all that matters is that you like it. This is just a list to hopefully get your creative spirits kindled.
We also should note that when hanging frames in your kitchen, you will want to take extra precautions. Naturally, along with the cooking (and cleaning) that comes with a kitchen comes water, steam, and changing temperatures, so artwork needs to be protected and safely cleaned. And since we tend to gather in the kitchen, we want to be sure that our artwork is secure and safe from accidental damage!
So let's get into some ideas for what you can add to your kitchen decor, and we will also go over a few things you will want to consider when hanging frames in your kitchen.
Your Favorite Dish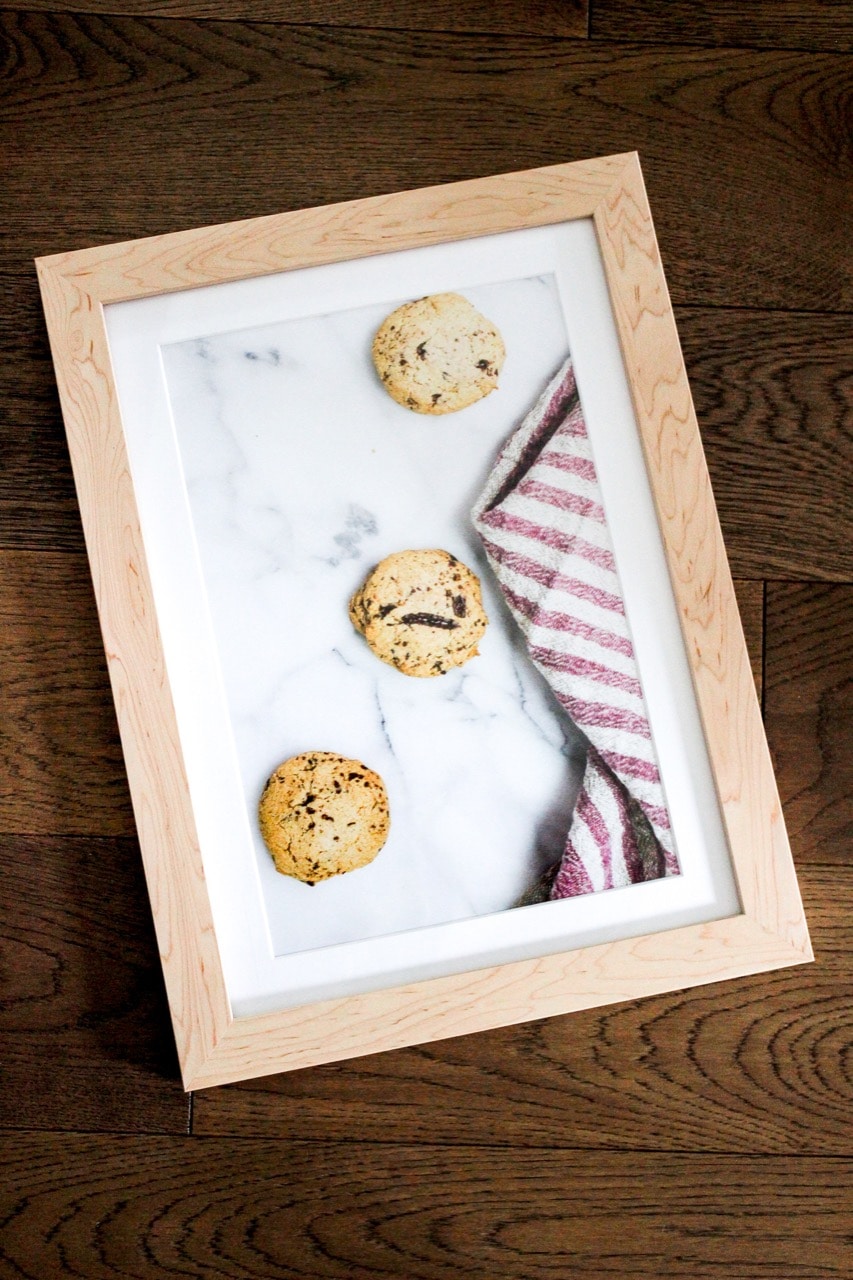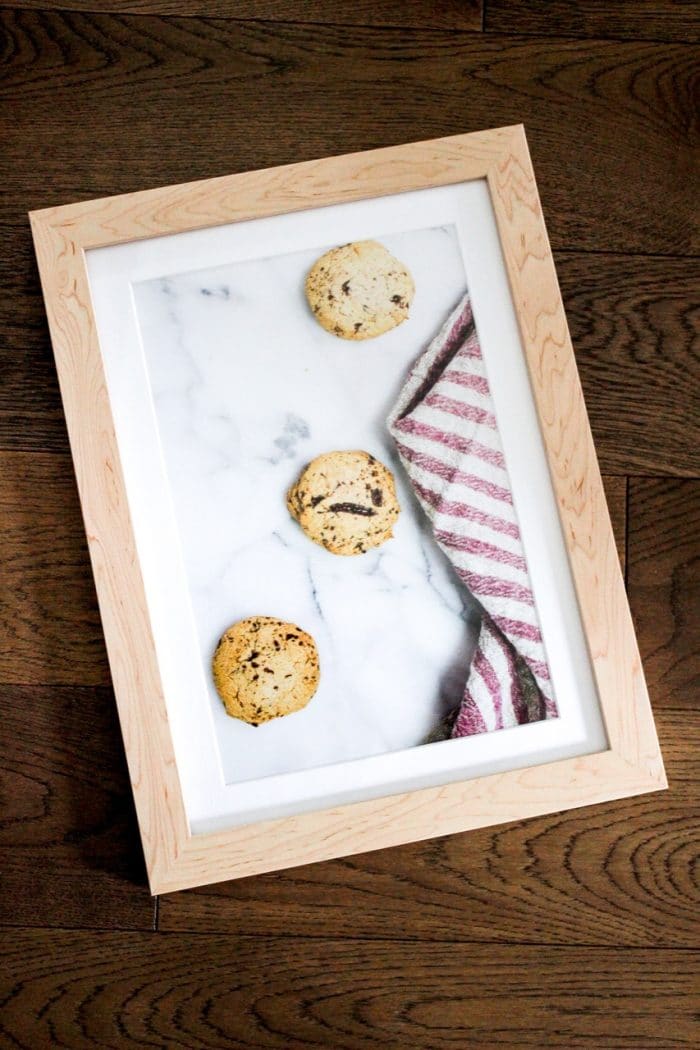 Whether it's a dish you make all the time for your family, one from your favorite restaurant, or even just something you make for your kids, why not feature a photo of your favorite meal? A photo of your favorite dish will make a great addition to your decor, because not only does it fit the theme of a kitchen, but will always inspire you to get creative in the kitchen!
When choosing a frame style for your favorite dish, find one that will compliment your photo. Our Derby frame style would be the perfect frame to display your favorite dish. The frame is 1 ¼" wide, so it won't be distracting, and comes in 9 different colors, so you are sure to find the right one!
Family Recipes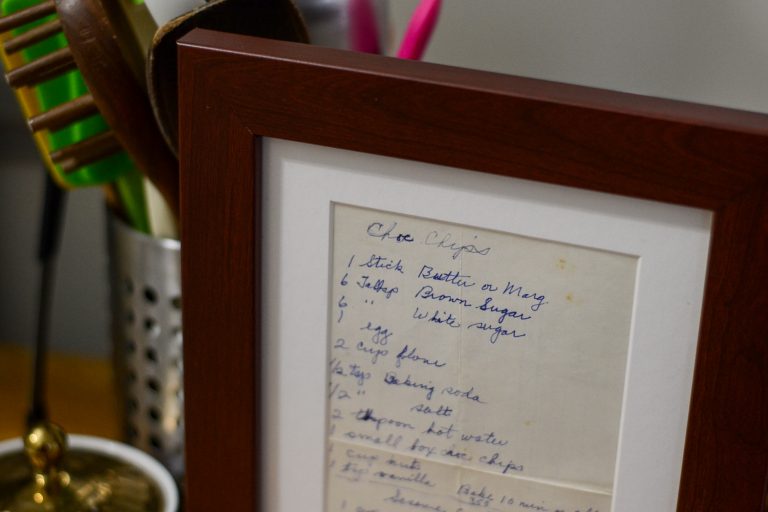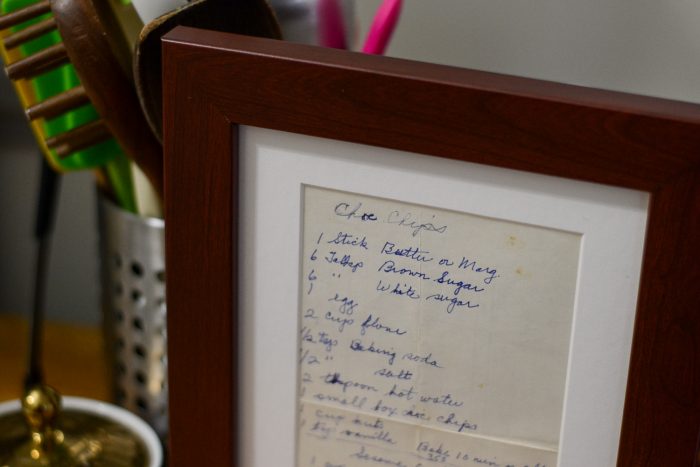 Handwritten recipes are truly a one-of-a-kind piece that will add so much character to your kitchen. Whether it's your grandmother's famous chocolate chip cookie recipe, your mom's chicken noodle soup recipe, or even a recipe that has been passed down from generation to generation, consider framing it for your countertop to cherish every time you put on your apron. Just be sure to not place framed recipes close to your stove, oven, microwave, or sink and try to keep them as far as possible. Especially if this is your only copy, you don't want it getting damaged in any way.
Choose a frame that won't be too distracting, as you want the recipe to be the main focus. You can choose a wood frame style to match your kitchen tables such as our Dayton frame style or a metal frame style to coordinate with your kitchen appliances, such as our Ashford frame style.
Family Photos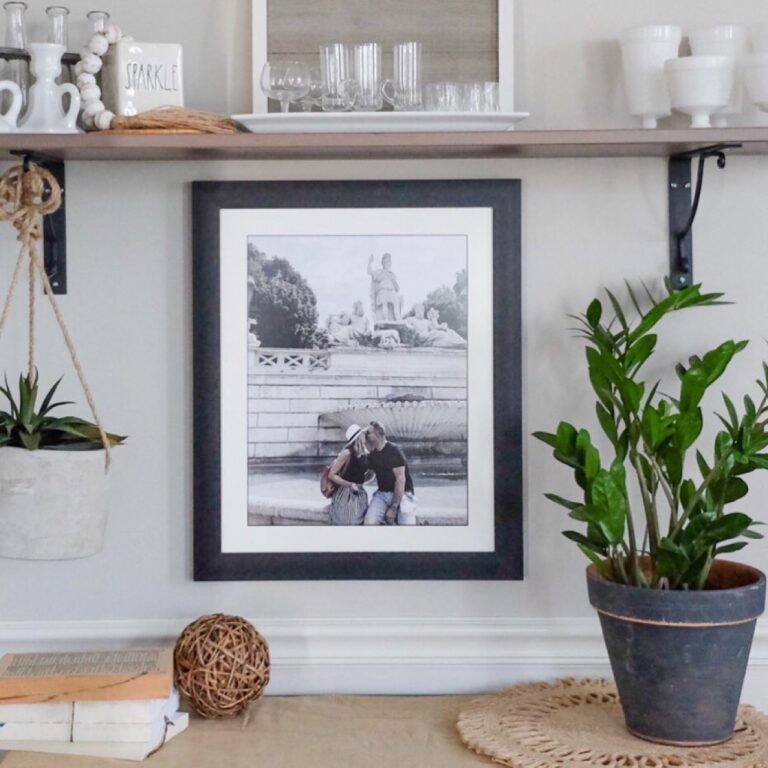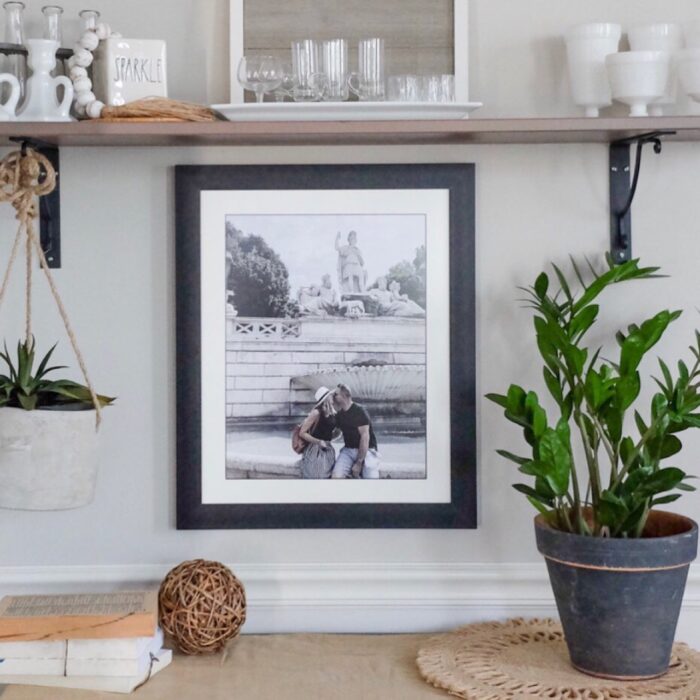 Of course, no room is complete without a photo of your favorite people! Family photos look great in any room, so consider framing your favorite one to add to your kitchen. As we mentioned, kitchens are a place where families and friends gather to create memories and share laughs. The kitchen is known as the "heart of the home" so a picture of your family would make the perfect addition to your walls or countertops. Whether it's professional photos or just a candid cellphone picture that you snapped, it will sure make you smile every time you see it!
For family photos, any frame style will work! Just be sure the color coordinates with your photo, and won't be too distracting, of course!
Meaningful Quotes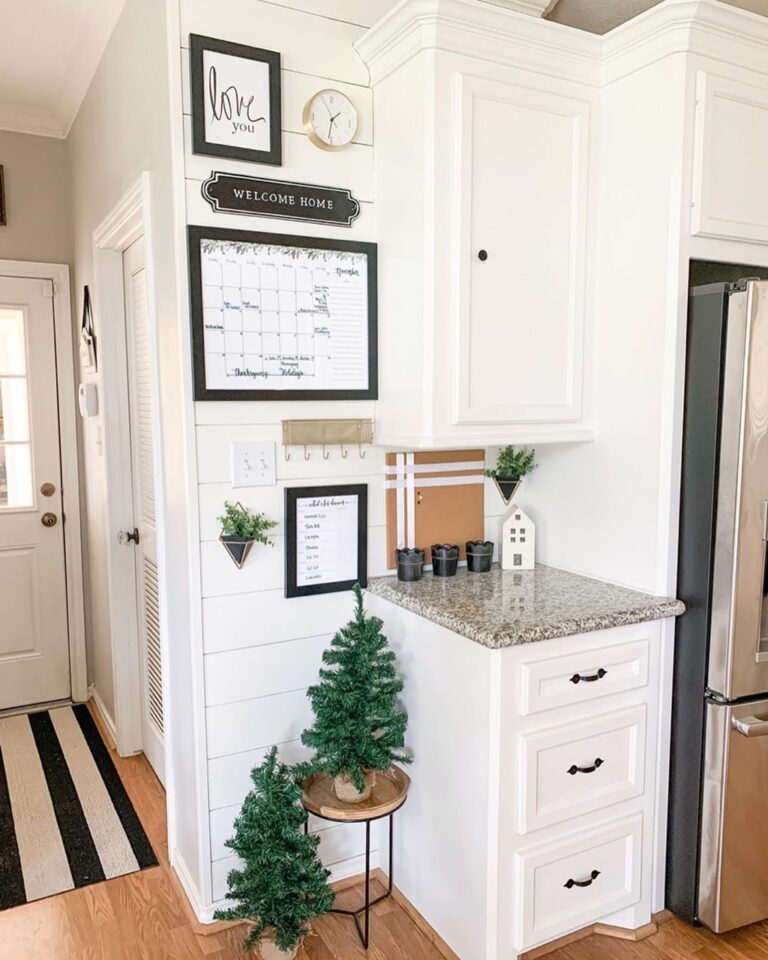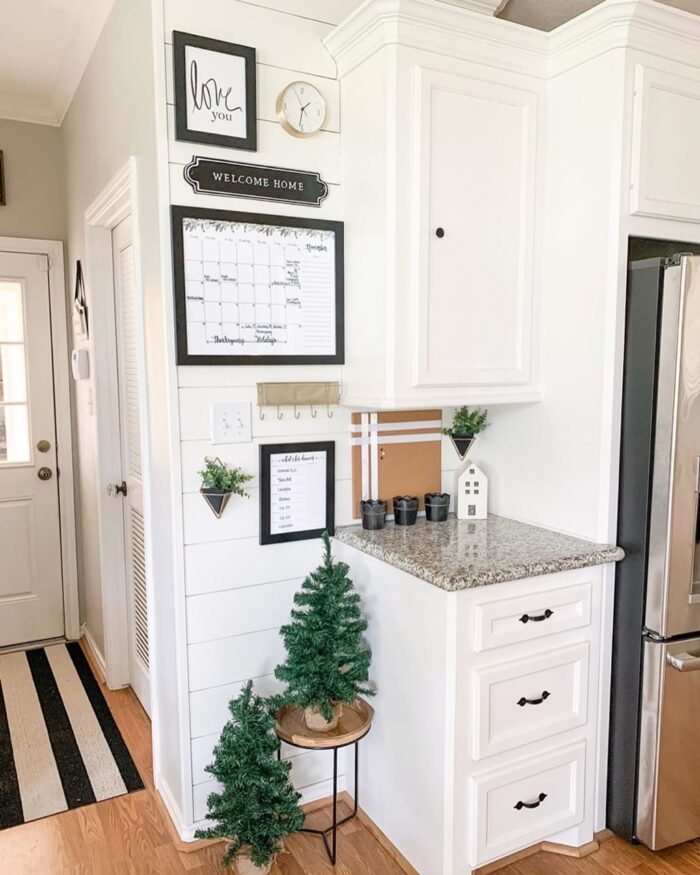 If you have a quote that is meaningful to you or your family, why not frame it so you can see it every morning while you enjoy your morning coffee? It is the perfect way to start your day off on the right foot. You can also add meaningful song lyrics or poems to your kitchen decor, too. Anything that will put you in a good mood to start your day.
For your inspirational quotes (or the like), take into consideration where you will be hanging them. You can choose a frame to match your hardware, just like the featured photo above, or choose something to coordinate with the accent color in your home, such as your dish towels or floor runner.
Art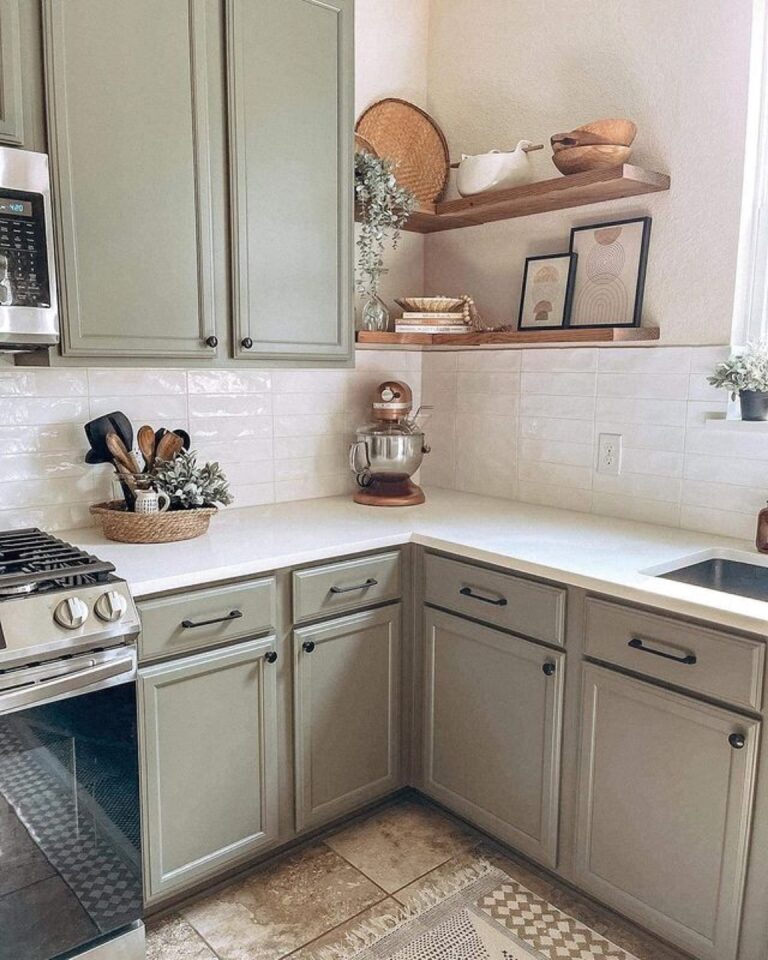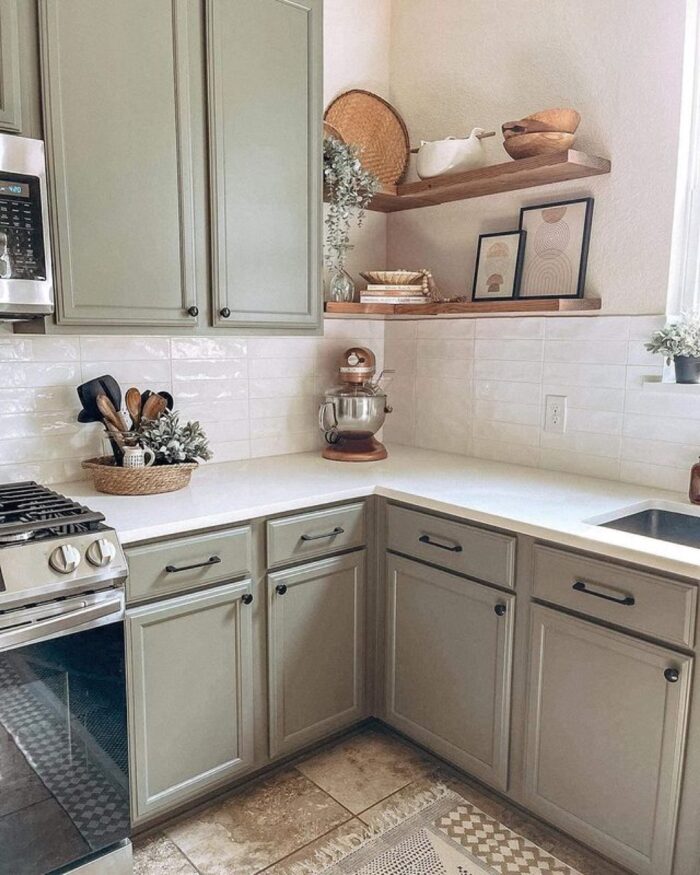 Adding your favorite art pieces, whether they are by a well-known artist or your kids, to your kitchen is always a good idea. Art is a way that we can express our personalities through our decor and will make your space unique. Plus, they can be a great conversation starter for new guests. A kitchen can be pretty boring with the same cabinets and appliances, so art is a great way to spice (no pun intended) things up!
For your kitchen art, try to use a simple frame style such as Ashford frame style or Hanover frame style, and let the art do all the talking! Both frame styles have a flat profile face that is ⅜" wide, the only major difference is that the Hanover frame style has rounded edges, so it's just about the look you are going for.
Kitchen Related Decor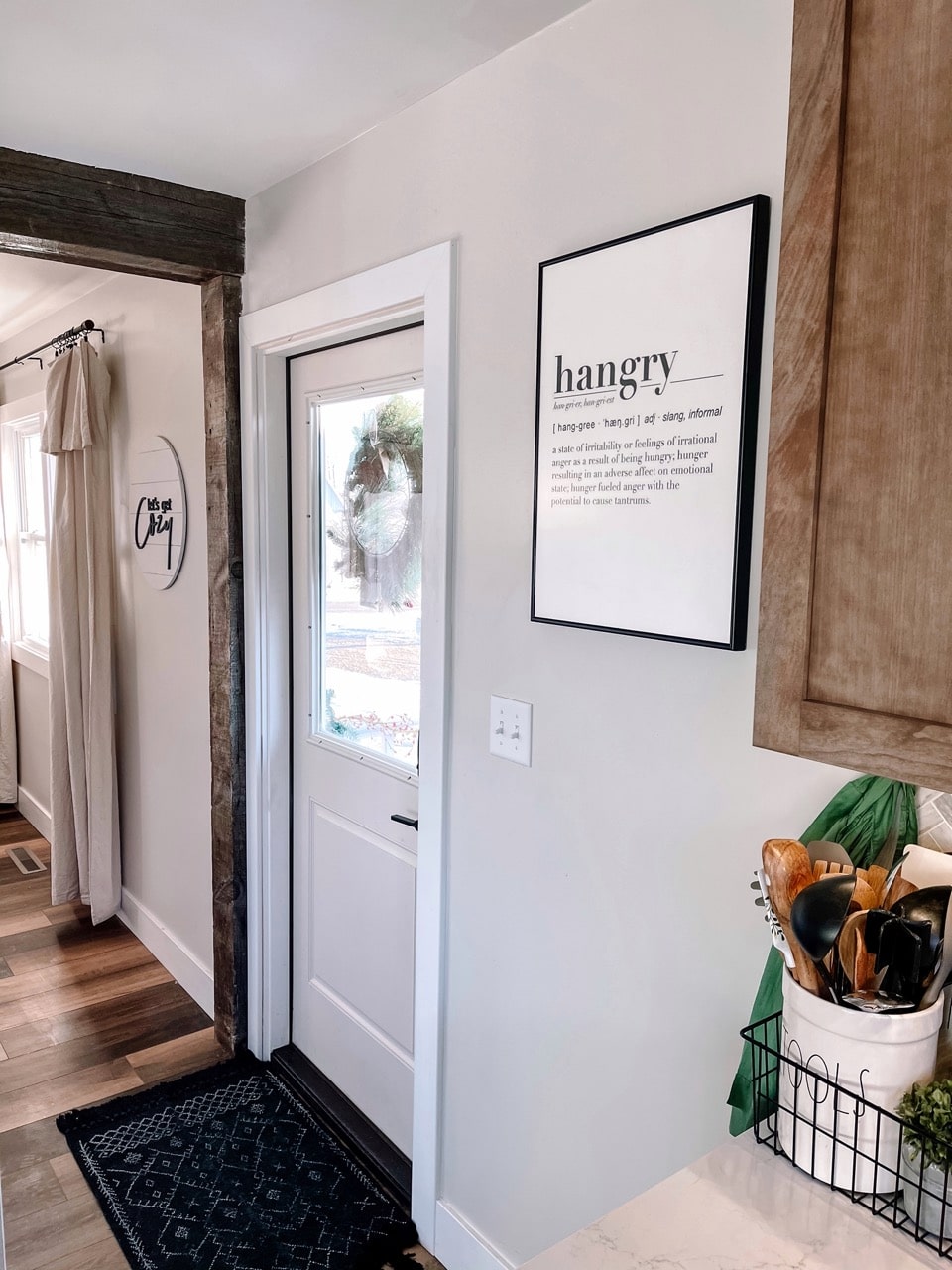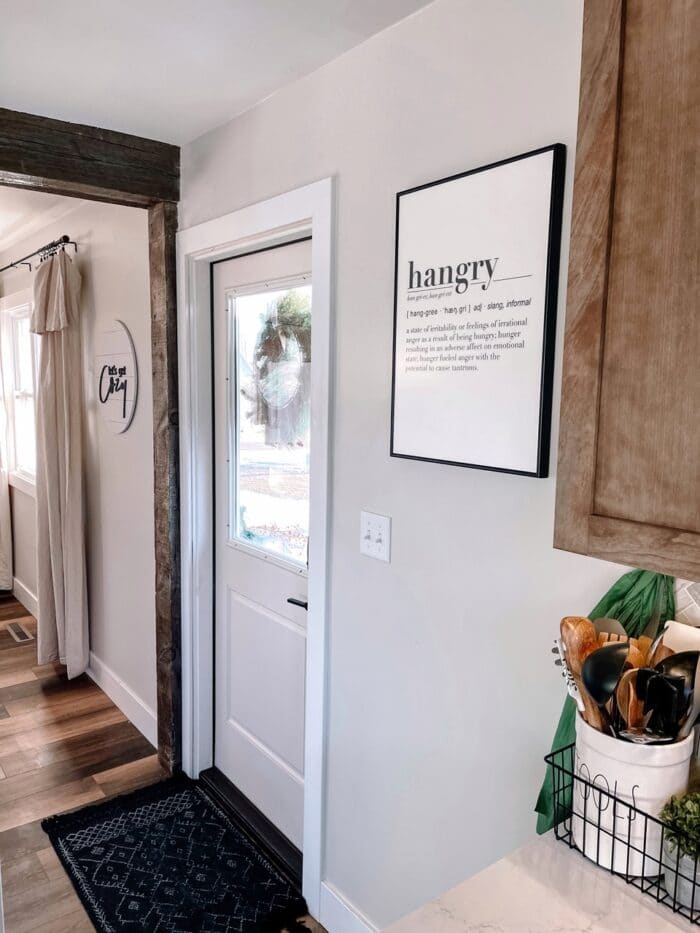 If you've been on Etsy before, you have probably seen the thousands of kitchen-related decor items that you can purchase. Whether it's the definition of "Hangry" like in the photo featured above, a triptych drawing of a spoon, fork, and knife, or line art drawings of wine, coffee, or utensils, there are plenty of kitchen-related wall decor items to choose from. These would make the perfect addition to your wall and add a ton of personality to your space.
You aren't limited on the frame choice for these items. If you are framing a drawing, consider choosing a frame color that will make your art pop, or keep it simple with a black frame.
Decide Where To Hang Them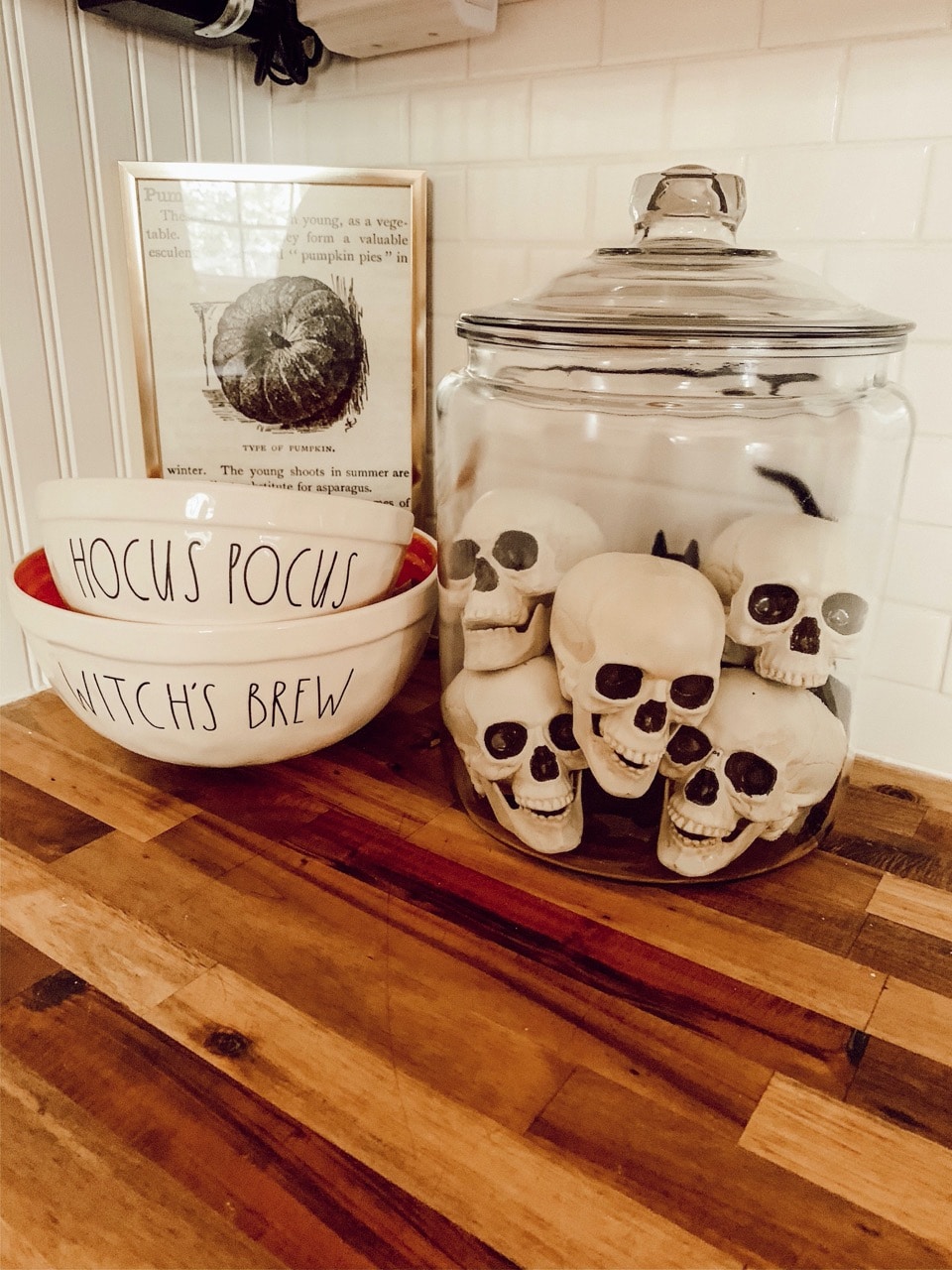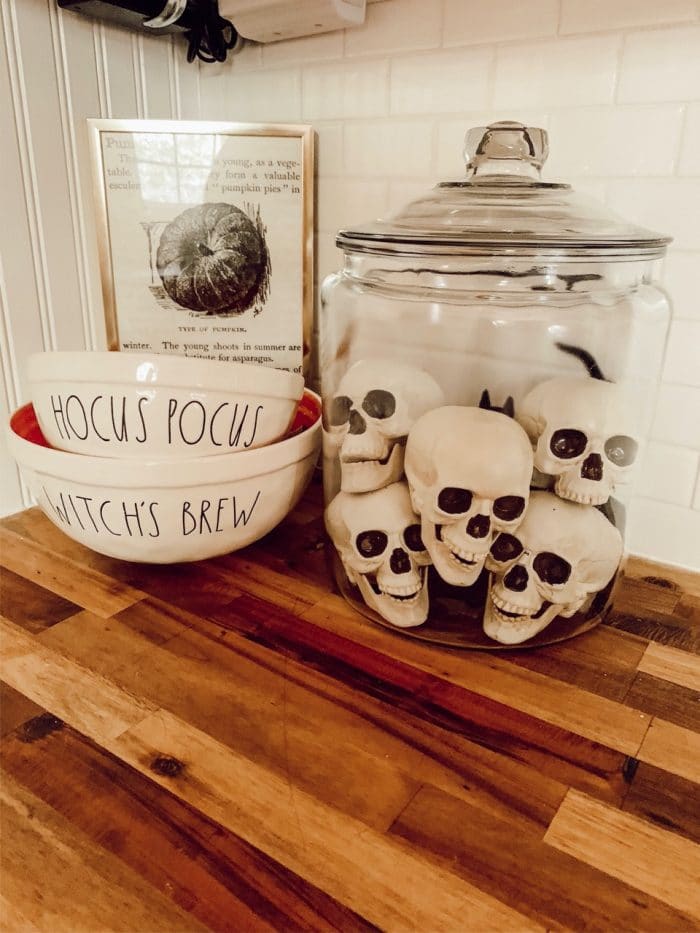 Now that you have chosen what you will frame, you will want to take a look around your kitchen to decide where you will hang them. This will make the design stage easier so you know what size your art (and frames) should be and whether to add matting or not. If you have the wall space, perhaps over the kitchen table, consider framing a large piece to be your focal point. But don't neglect smaller spaces. Cabinets come with kitchens, but consider the space above them and even between upper and lower cabinets.
Stand Frames Up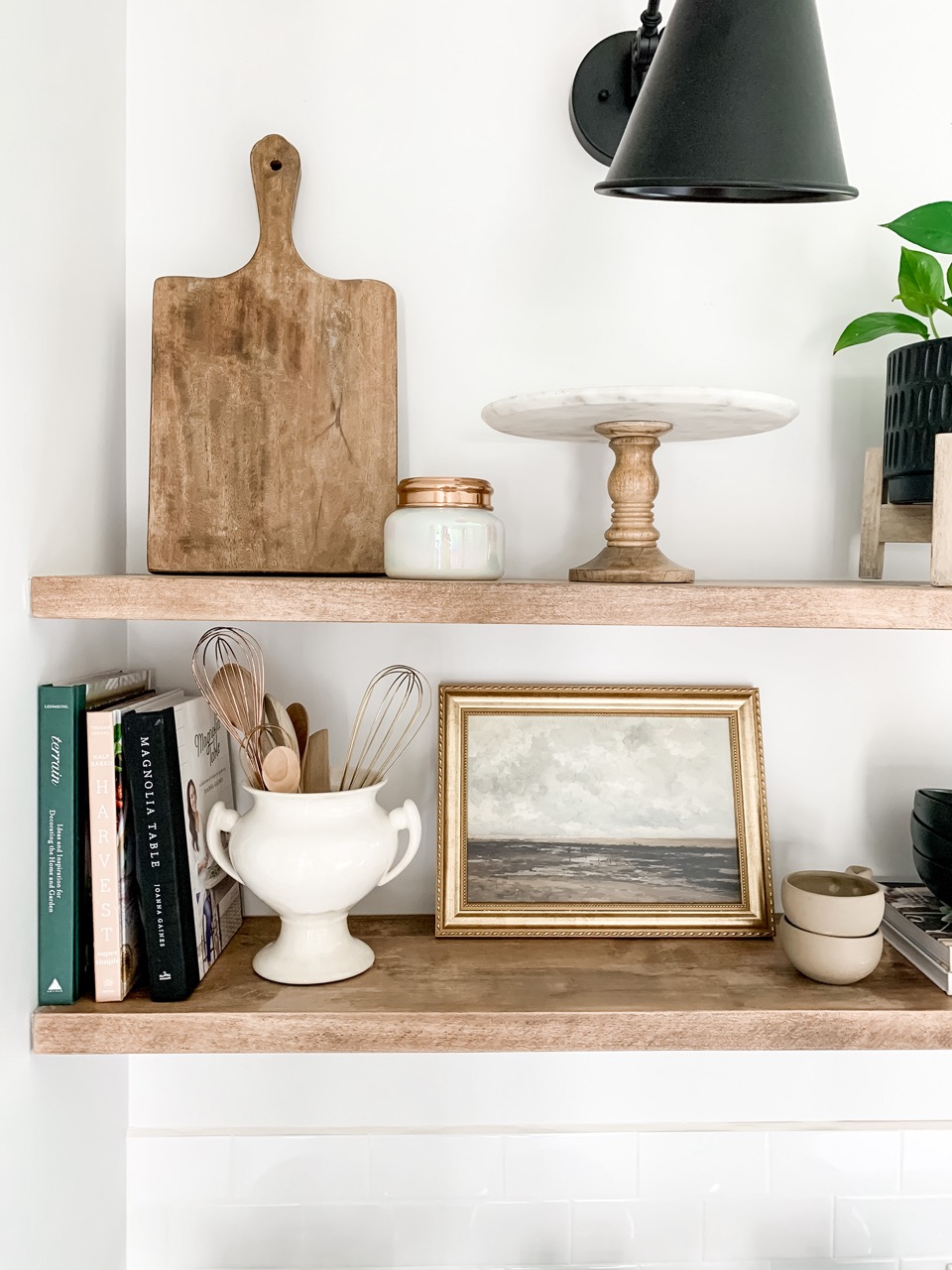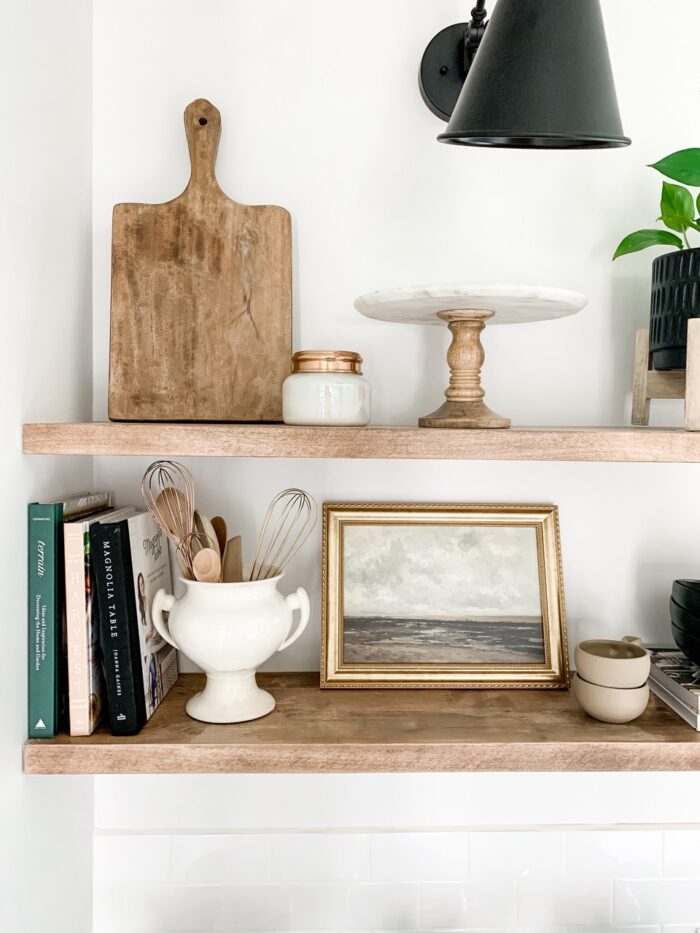 It's no secret that most kitchens have, well, cupboards, cabinets, stoves, counters, and other things in and on the walls. Depending on where you live, this might leave little space to put an actual frame. No worries, though! There's always a way to enhance all the basic appliances that come with a kitchen. You just need to get a little creative.
One thing you can try is standing your frame on a countertop, bartop, or table. Sure, the frame would need to be on the smaller side. But it would still be nice to look down at a nice family photo, a picture with your friends, or maybe a memorable postcard whenever you're getting a meal ready, or just walking through the kitchen and into another room.
Here at Frame it Easy, you can purchase an EaselMate from our "Accessories" page and attach it to any frame of ours that has an "Art Size" of 13″ X 19″ or less. Any greater than that, and you're running the risk of it not being structurally sound.
But, let's say you have some wall space in your kitchen. Awesome! We'll go over some recommendations to decorate the walls where you make your food…
Cooking Up Ideas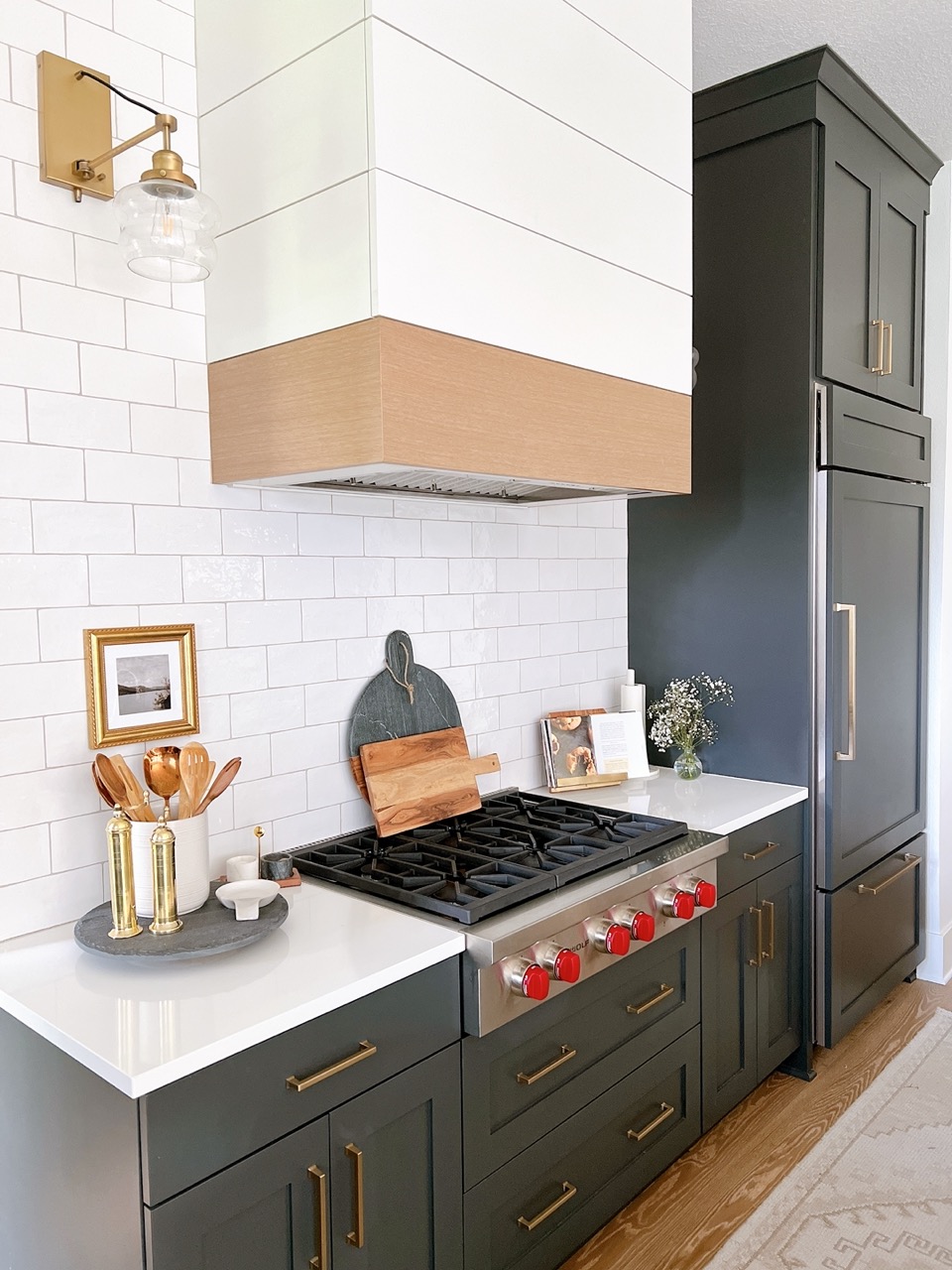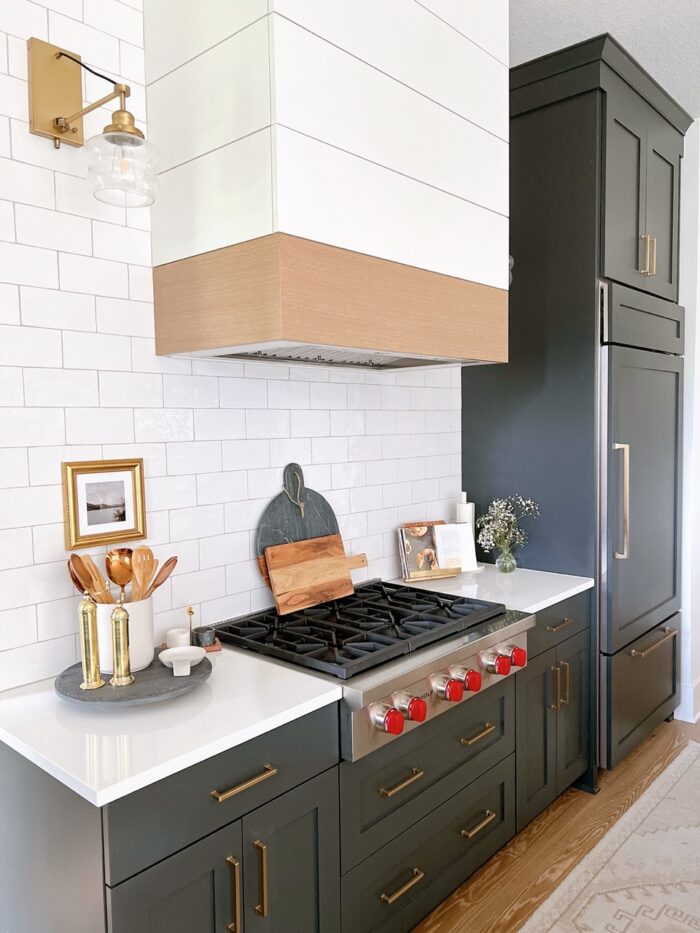 The purpose of these posts isn't to tell you exactly how you should decorate your home. That'd be no fun! The whole point of them is to get your wheels turning and share some inspiration photos with you so you can start picturing the things you want to see in your own home.
Of course, if you took any of our suggestions or created something of your own in your kitchen, be sure to share the final results with us on social media! You can also share your photos with us by emailing creative@frameiteasy.com with the subject "Featured Friends" and tell us why you love Frame It Easy for your chance to be one of our Featured Friends in our next email.
This post first appeared as Framing Around The House: Best Photos and Frames For Your Kitchen on Frame It Easy - Learning Center for Custom Picture Framing.