Decorating your home can be quite a task, especially with all the "rules" there are. It can be exceptionally hard to figure out the importance of art placement such as how high to hang your piece, how far away from furniture or other wall decor items should it hang, and how big it should be. Lucky for you, we've got all those answers and more for you so that you can hang your art like a pro!
Before we start, we want to remind you of what we always say when it comes to decorating your home. There are no real rules that you must follow. The following are simply suggestions to make your place look as best as possible, but if you have something else in mind, go for it! It's all about what makes you happy and what you think will look best. After all, you are the one that has to love it!
So let's get into some of the tips and tricks for your art placement and how to make the process easier on yourself, so your decor will look like it was hung by a professional!
Hang Your Art At Eye-Level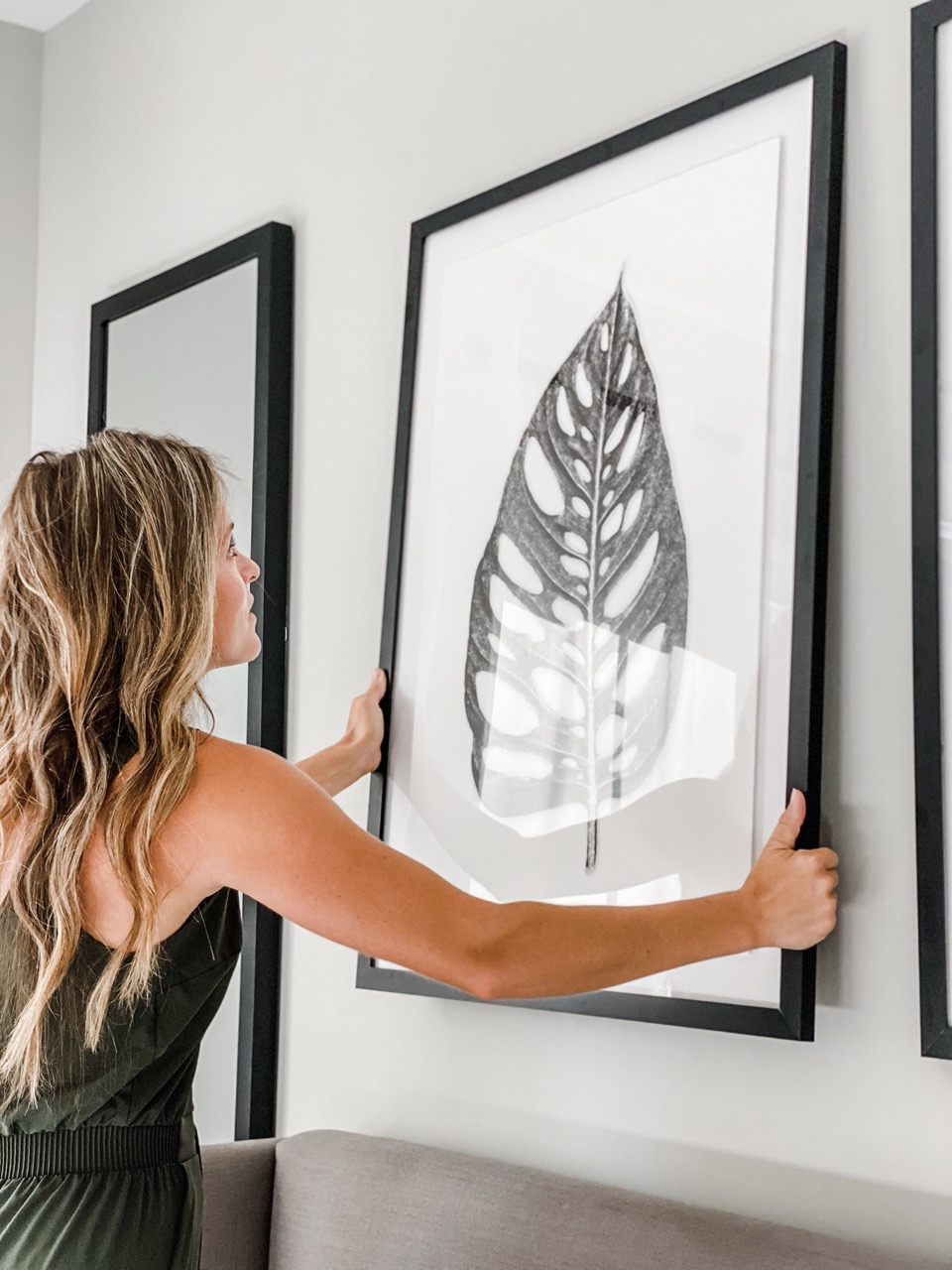 Hanging your art at the right height is important. You don't want it to be too high where people need to stand on their tippy-toes to see it or too low where they will need to bend down in order to get a good view. Hanging your art at eye level is a happy medium between the both, and will work for most places. You may be asking yourself, what is eye level if everyone is at different heights? A good rule of thumb is to hang the center of your art 57″-60″ above the floor. This rule will work if you are hanging one single piece of art or two identical sizes of art next to each other. If you are planning to hang a gallery wall, we will get more into that later.
It's important to hang your art at eye level so that your piece can be viewed and appreciated comfortably. What's the point of hanging something up if no one can see it? Just remember, the center of your photo should be 57″-60″ from the ground, so that won't be where you hammer in the nail, so be sure to measure accurately!
Hanging Art Above Furniture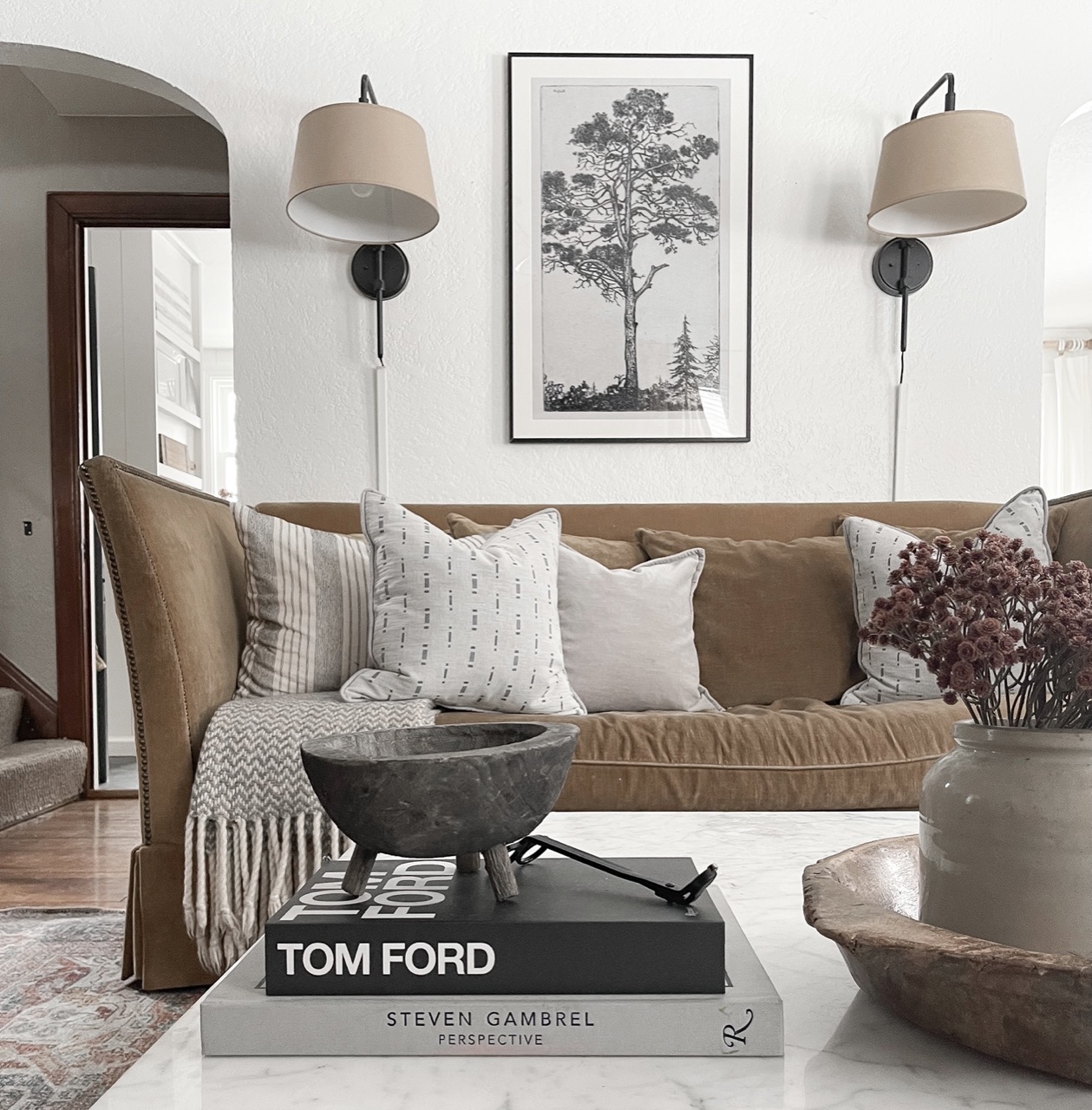 When hanging an art piece above furniture, you don't want the frame too high above your furniture. You want the frame and furniture piece to feel connected with each other. Your art should be hung 6″-8″ above your furniture and fill 2/3 of the width of your furniture. If you feel like the piece looks like it is hung too low, you may be using an art piece that is too small for your space. It will feel like your room is not balanced, and can throw off the entire room.
Be sure not to hang any artwork before choosing your final furniture pieces in your room. As we mentioned above, if you hang your art too high above your furniture, it will look like it doesn't belong. You should also wait to hang any frames until you have your final window treatments, lights, and the like. You don't want your lovely art to be hidden behind a curtain or lampshade. That is why it's best to decorate your place with furniture and bigger items before focusing on your wall decor. You also don't want to hang just anything. So let yourself adjust to a room so you get a feel for what belongs in there.
Hanging Multiple Frames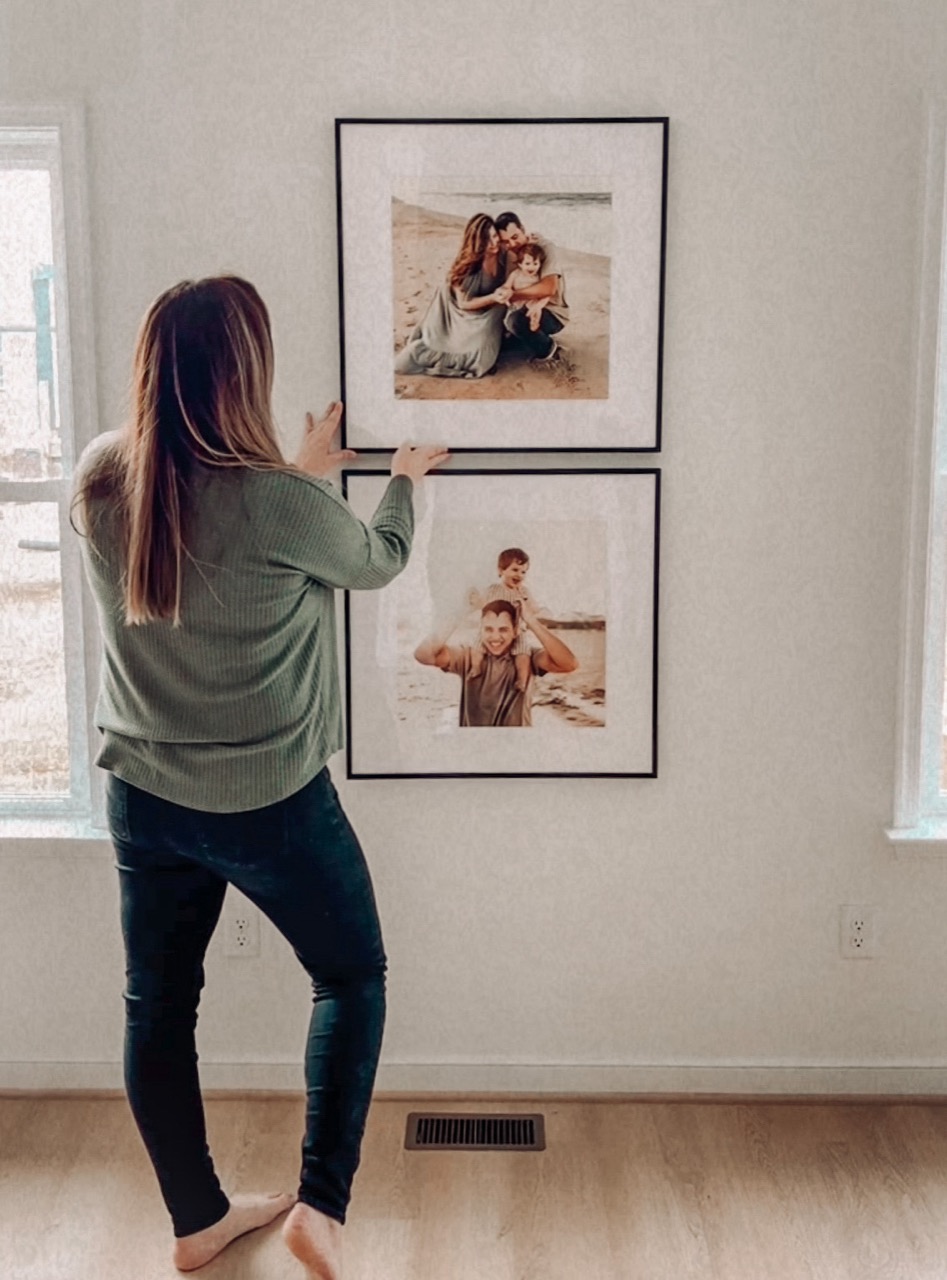 If you are planning to hang a gallery wall or even just more than two frames, you'll also want to hang your frames close enough for them to appear as one unit. Whether you are hanging a grid-style gallery wall or an asymmetrical gallery wall, you will want to hang your frames about 3″-4″ apart from each other. This will give them enough room to shine on their own, but won't make it seem like they aren't meant to be viewed together. We understand that placing your frames evenly can be a daunting task because even just one being uneven or not leveled can throw the entire thing off. Check out these tips for hanging your frame and keeping it looking great to get you started.
There are so many fun and unique ways to hang your frames, from a uniform look to a layered look, you don't have to just be creative with what you frame, you can be creative with how you frame it too! Check out these awesome ideas that might just inspire your next gallery wall!
Scale Your Art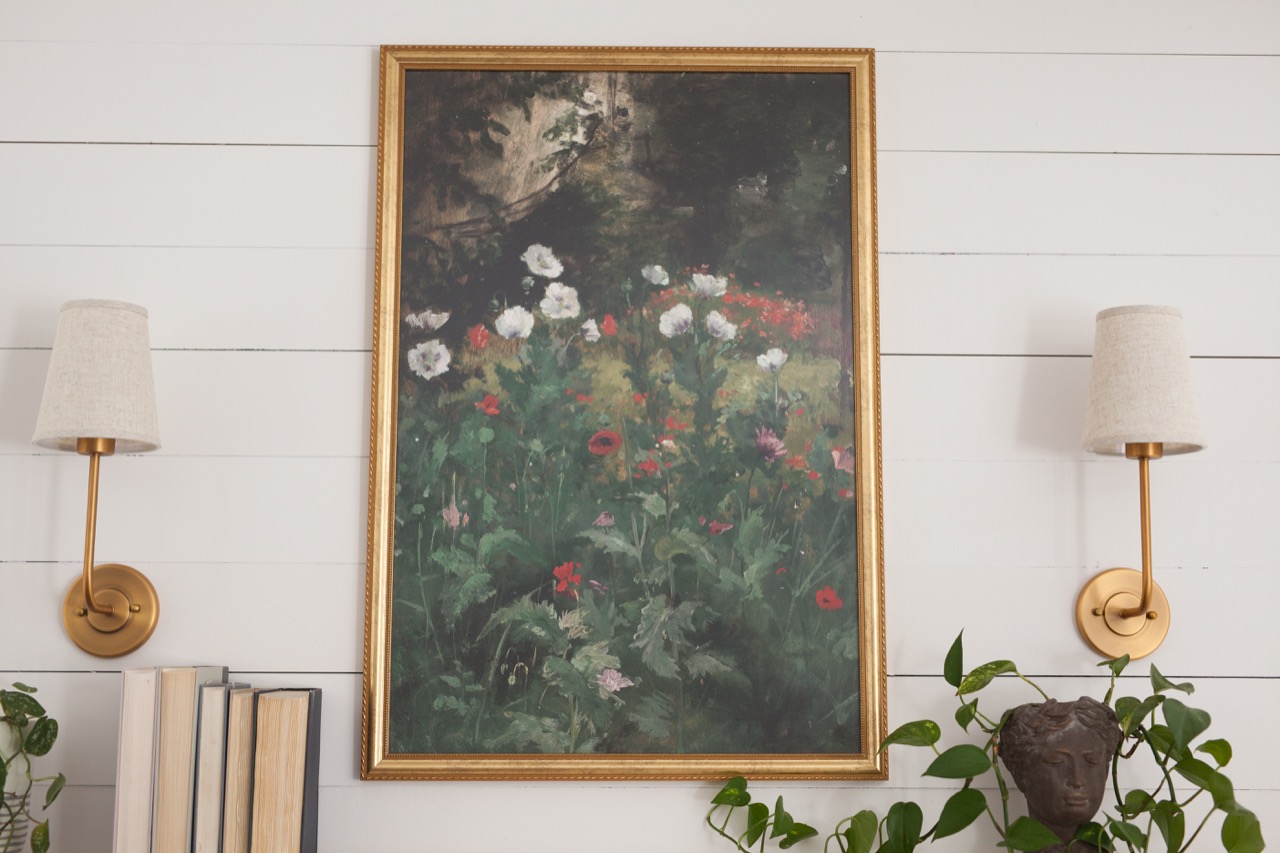 As we said, you don't want to hang just anything up on your wall just to get something up there. Instead, allow yourself to get a feel for your space so you know what to hang and where to hang it. When it comes to sizing for your art, your art should cover about 65-70% of available wall space. That means anything that isn't being covered — from your trim to your molding. Whether you decide to hang a painting, an art print, or even a family photo, be sure that the sizing of your art will work for the space where you plan to hang it. If it is too large or too small, you can throw off the entire room.
Arranging Art On Shelves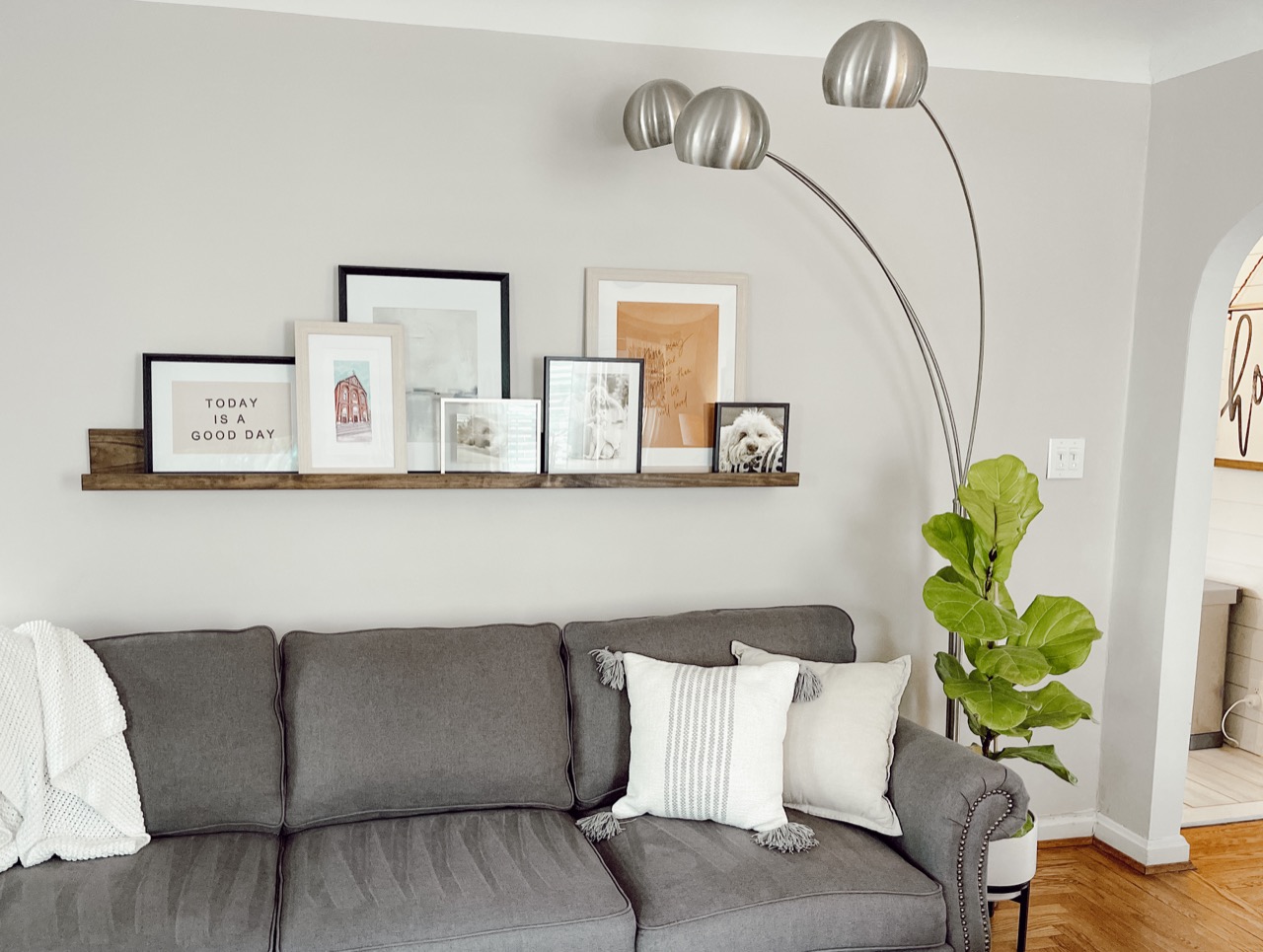 Built-in shelves or floating shelves are the perfect addition to any space because they give you creative freedom. They make it easy to switch up your decor based on the season, the occasion, or even just your mood, without having to add any holes in your wall. The same rule goes for shelves when it comes to where you should hang them. Shelves should be about eye level or about 5 feet from the ground. If you are hanging above furniture, be sure that they are far enough away so that no one will accidentally hit them or knock something over.
When arranging your shelving decor, be sure to follow the decor by numbers rule. If you haven't heard of decor by numbers, essentially it's to keep your decor cohesive and balanced. When you decorate by the Rule of Three, you can create an appealing and memorable display. Simply group objects together in groups of three on each side of the shelf to create a balanced look. You can use candlesticks, vases, books, etc.
When arranging your art on shelves, be sure to use frames of varying heights and sizes to create visual interest. If you want to stand your frames up, be sure to add our EaselMate™ to your cart which acts as an easel for any of our Wood or Metal frame styles up to 13″ x 19″. Or you can lean your frames up against your wall or other frames for a layered look.
Final Thoughts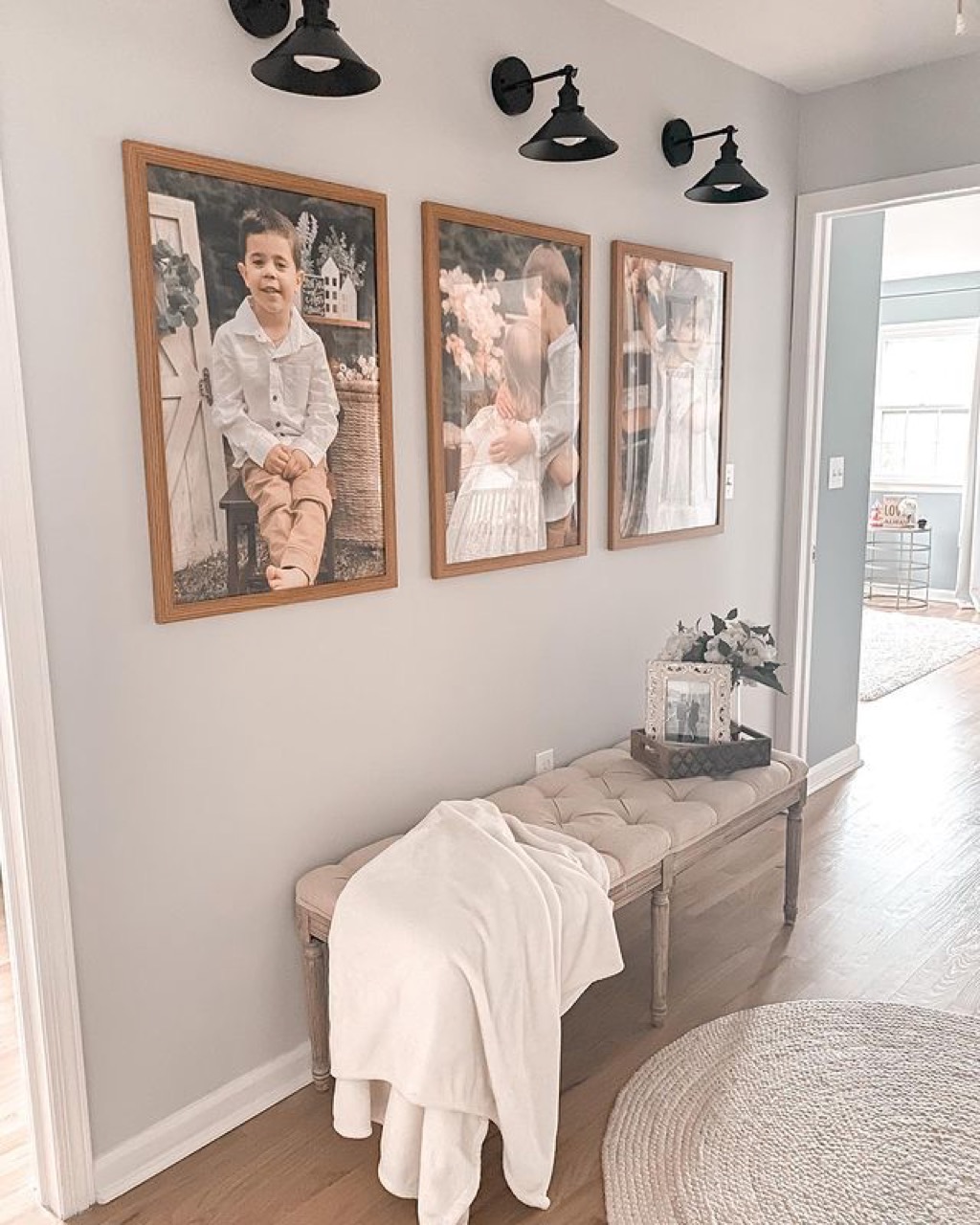 Figuring out your art placement may seem like quite the task. You want to make sure everything looks good and feels balanced in your room and that it will stay that way! It may take some extra time, but in the end, it will all be worth it!
Just remember these things and you'll have a great looking display:
Art should be hung at eye level, which is 57″-60″ from the floor.
Art should be hung 6″-8″ above furniture.
Your art should take up 2/3 of the furniture for a balanced look.
When hanging multiple frames, consider them one unit.
Frames should be hung 3″-4″ apart from each other
Your art should cover 65-70% of your wall space.
Shelves are a great way to switch up your decor easily.
We hope that you found this post helpful and that you are now ready to take on decorating your space! Be sure to share photos of your finished projects with us on social media or send your photos to creative@frameiteasy.com with the subject "Featured Friends" for your chance to be featured in our weekly email!
This post first appeared as Tips and Tricks For Your Art Placement on Frame It Easy - Learning Center for Custom Picture Framing.