Looking to understand what really makes a quality frame? Are you tired of buying picture frames without knowing what you are getting? Keep reading to learn more about the anatomy of a picture frame, what to look for when it comes to quality materials, and learn some tips and tricks to help you make more educated decisions on your next frame purchase.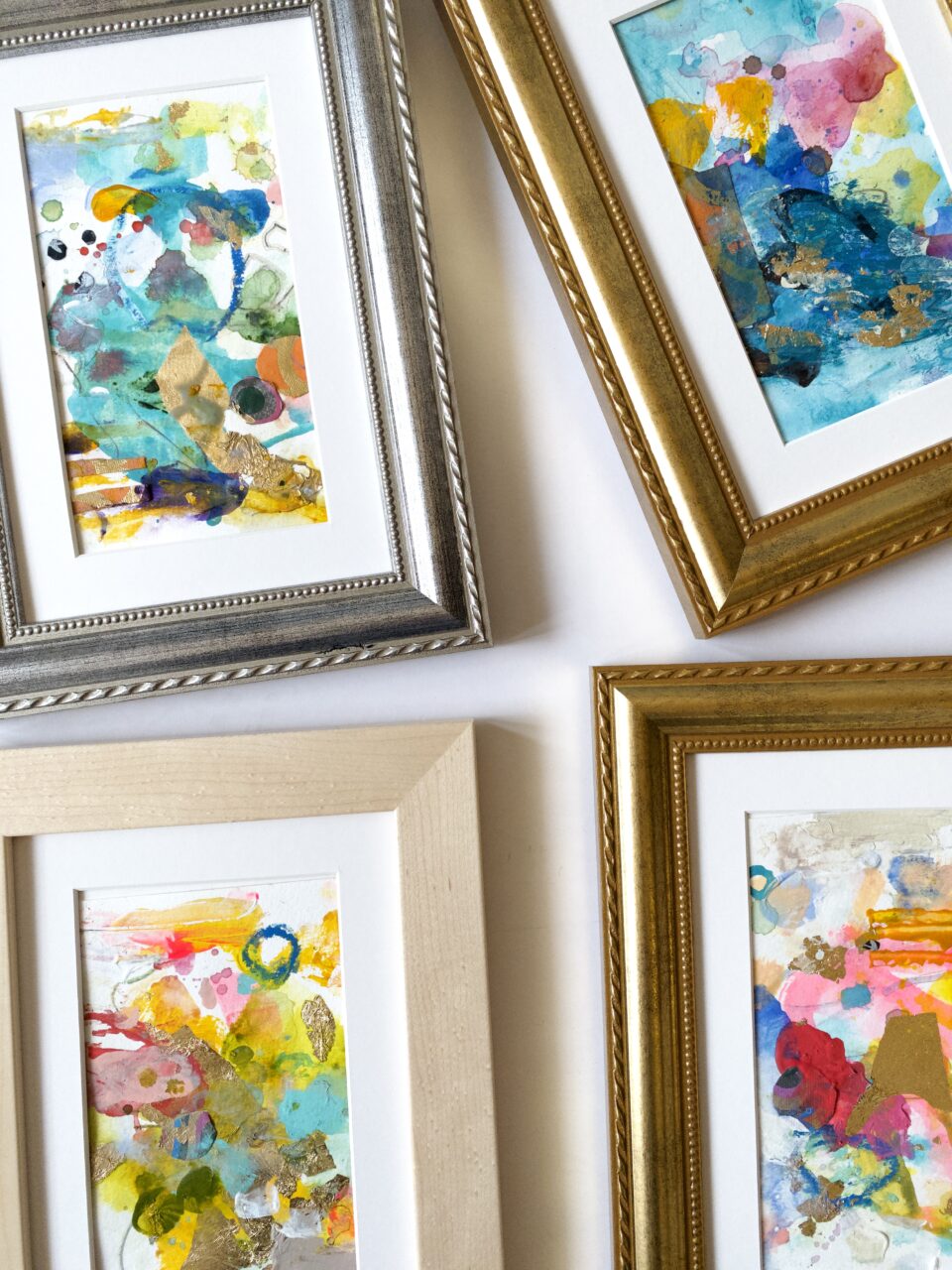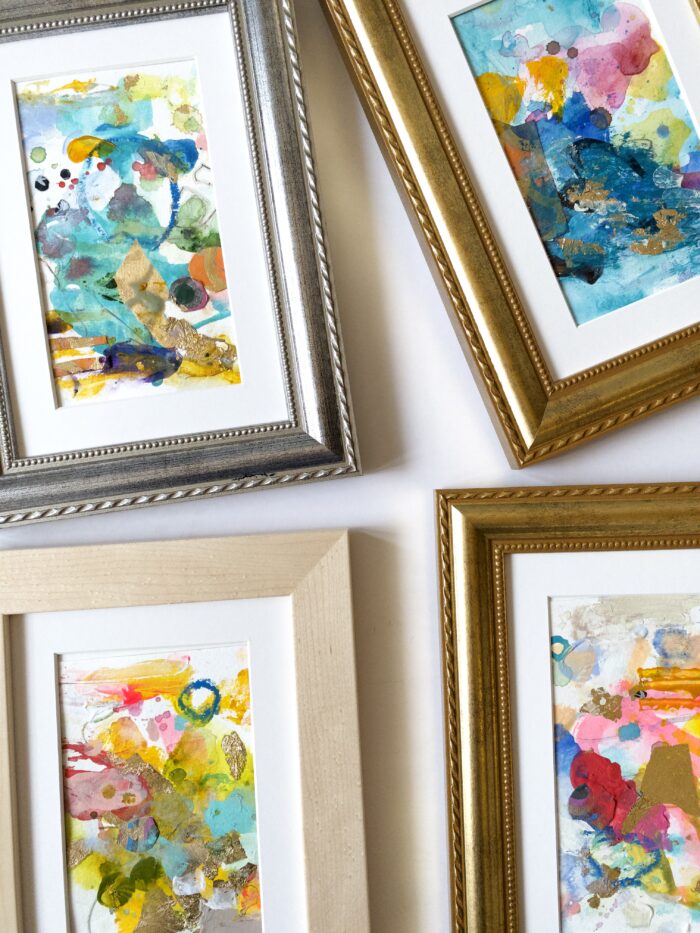 ---
---
Anatomy Of A Picture Frame: Materials
When it comes to the main body of a frame, Frame It Easy carries two main materials, wood and metal frames. Depending on your taste or the style you're going for one may be better than the other. We'll show you what to look for and what to avoid when it comes to these framing materials.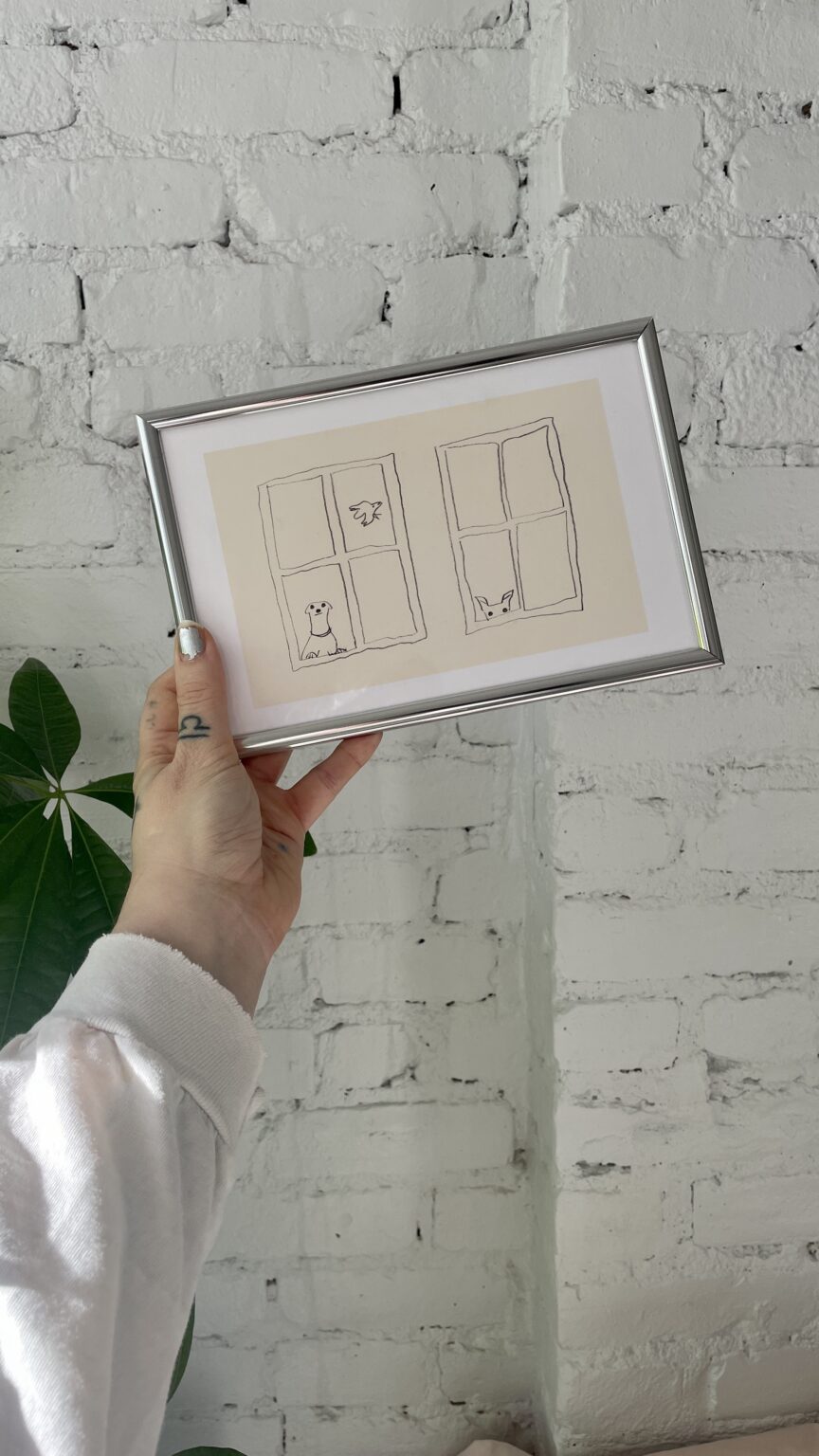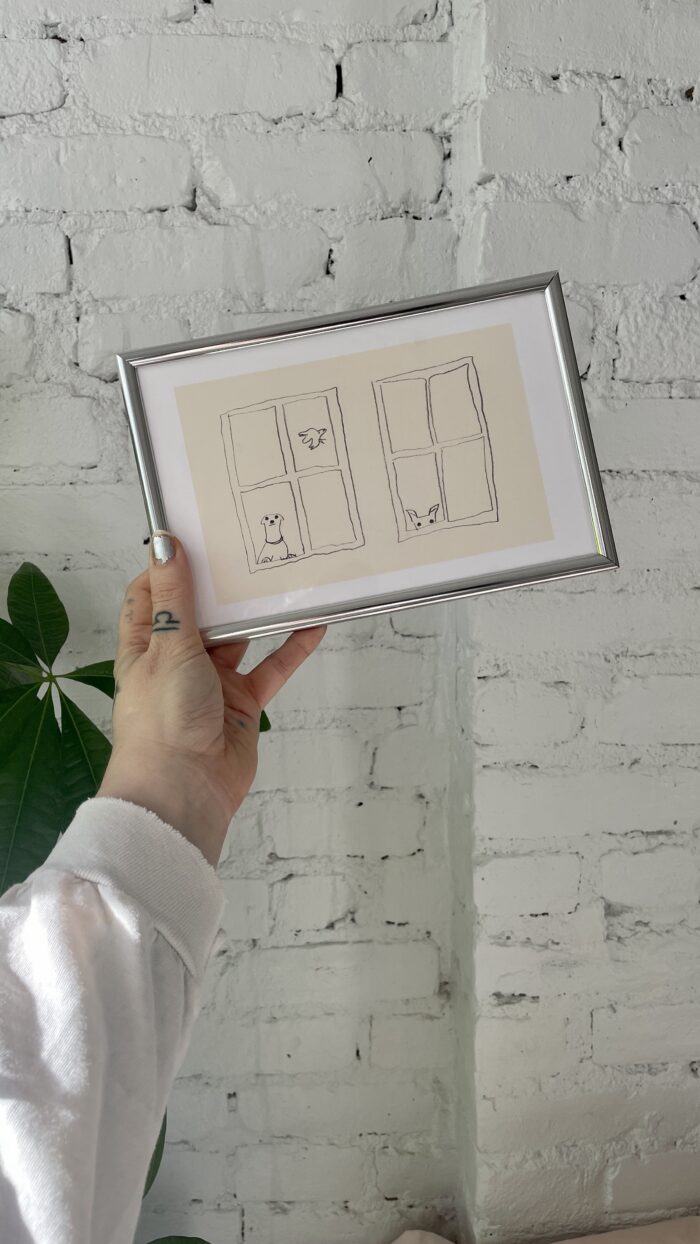 What To Look For & What To Avoid
Not all frames are made equal! That being said here are a few tips on what to avoid while frame shopping:
No Backing Or Cardboard Backing – Always check every angle of your frame, and if yours comes with a paper covering or cardboard back, stay away! The acid in cardboard and some papers can break down art over time.
Loose Hardware – Always check on hardware by giving it a little tug – what's worse than hanging a frame only for it to come tumbling down?! 😰
No Label – Quality framers are proud of their work – so a label should be on the back of your frame. Chances are it wasn't handled by a professional if one is missing!
Construction Gaps – Any gaps can lead to humidity and creepy crawlies 🐛 getting inside your frame – that's a BIG no bueno!
Rest assured, when you order from us you'll be given a quality custom frame at an affordable price! Take a look at our material frame offerings below and learn more about our process and standards here.
Wood Frames
All of our wood frames here at Frame It Easy are made from repurposed natural wood pieces that are cut and bound together, and finished with a wood pattern wrap – all sourced right here in the USA.
Metal Frames
Frame It Easy metal frames are made from aluminum sourced from vendors who recycle 100% of their scrap. You can rest easy knowing that when you order from us you're getting a quality USA-made frame as well as an eco-conscious product!
The rest of the frame (like backing and cover) includes materials sourced and made by American vendors, and all paint finished meets Green Seal Standards.
---
Anatomy Of A Picture Frame: Components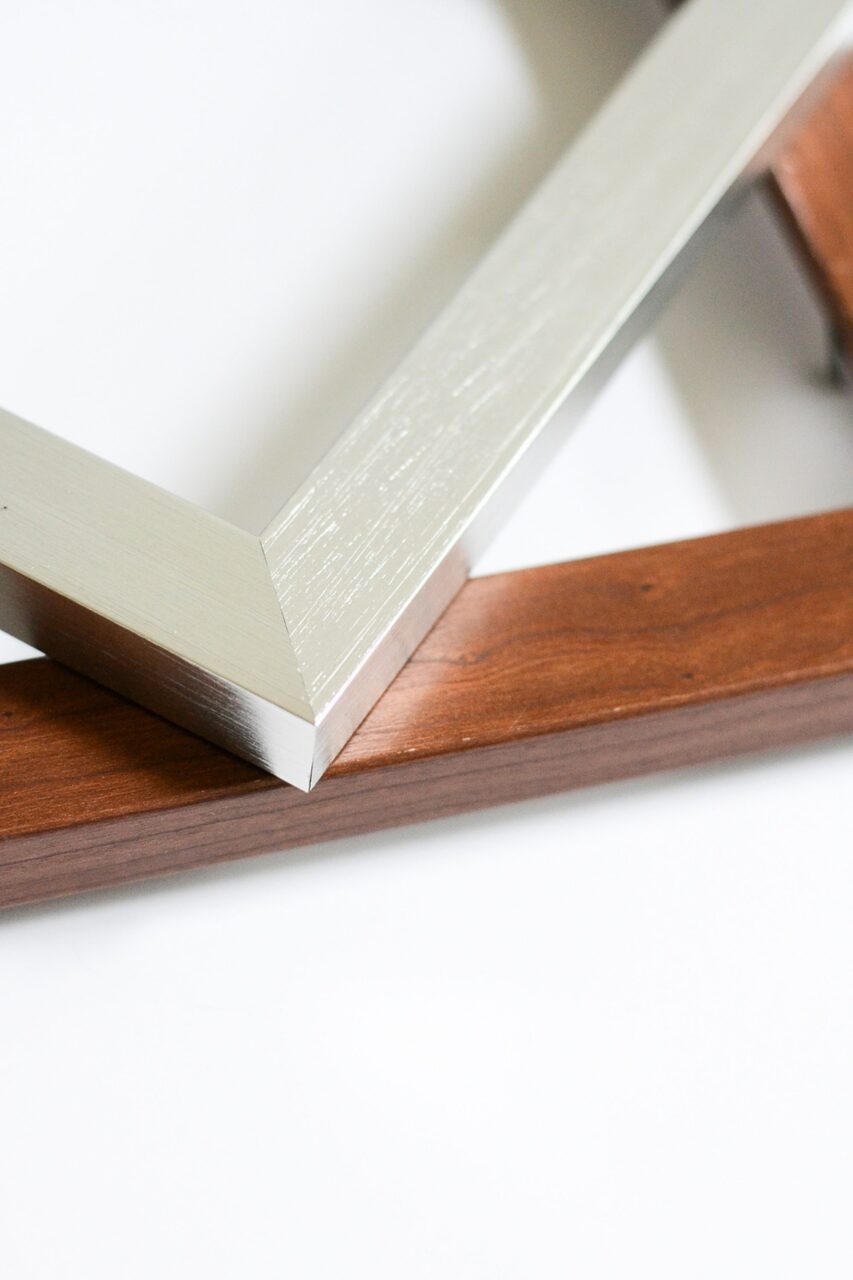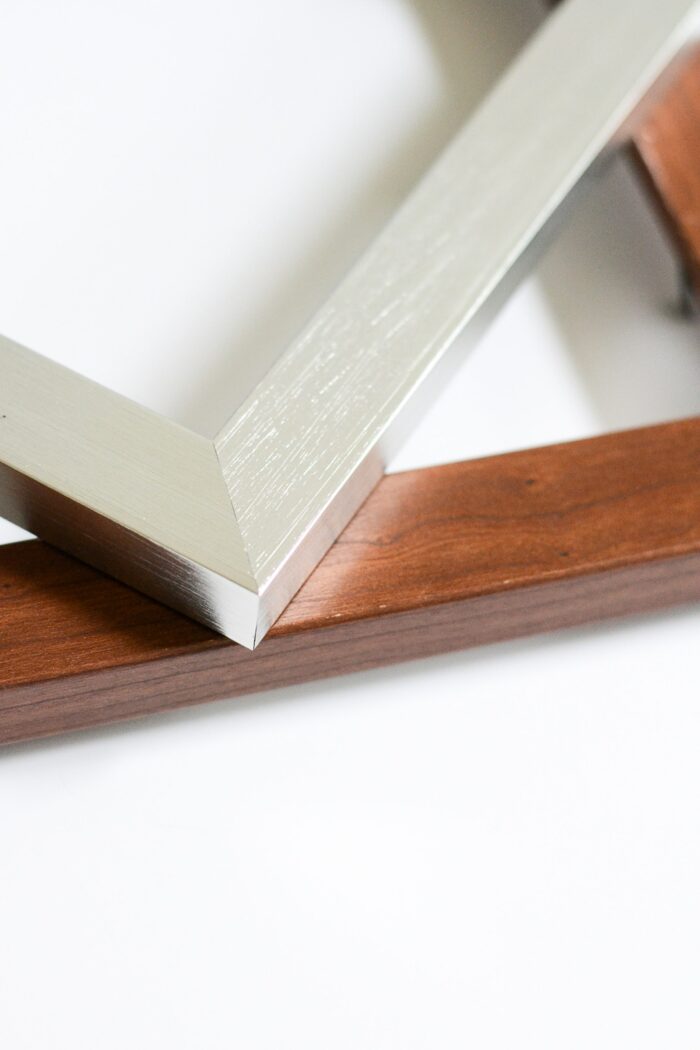 Frame
The foundation of the picture frame! It's what gives the frame its shape, holds everything together, and comes in a variety of colors, styles, and materials.
When searching for the perfect frame for your artwork remember that wood is seen as the more "traditional" choice, while metal frames can add a more modern or contemporary feel. Wood frames are great for style choices like cottagecore and farmhouse vibes. You may also hear the term "molding" or "frame moldings" which simply refers to the wood outer part of the frame
Rabbet
The rabbet is the indented area on the back of the frame which allows for placement of the artwork or photo. This is a very important element, as it ensures your artwork will be held securely without the risk of movement or shifting.
Mounting
Mounting is how artwork is secured to the frame. There are many different options on how to secure your art rather than just pacing it within the rabbet. We've discussed a few different ways to mount your artwork on the blog before!
Float mounting is very popular for works in which you want to show off the edges, it's also a great option for smaller pieces (under 5×5″).
The T-Hinge mounting method is perfect for more delicate works, or those who prefer more security for their artwork or photos.
The H-Mount method – like float mounting – ensures the safety of your artwork as well as allows the edges of your artwork to be shown.
Backing
The backing is what holds everything in place from behind the frame. Typically made of foam board and sometimes cardboard (cardboard is a big NO-NO, but we'll talk more about this later…). The backing also aids in protecting your artwork from dust and other outside debris.
Our backing is a smooth, rigid, and acid-free foamcore that we include with all our framing orders!
Cover
The cover acts as the protective layer that goes over the front of your artwork. This is sometimes referred to as "Glazing". Typically made of a sheet of glass or plexiglass/acrylic.
Glass – about 1/8″ thick – much heavier and more fragile than an acrylic option.
Acrylic – A lightweight alternative to glass, 1/16″ thick with non-glare and UV-filtered options.
At Frame It Easy we choose to use acrylic covers due to the tendency glass has to add a green tint to artwork, as well as it's lightweight and shatter-free design! (No bad luck!)
Matting
Matting is one of the fun flairs in framing! Matting refers to the decorative border that goes around your artwork or photo. It can also add an extra protective layer between your cover and the artwork.
Matboards range in a variety of colors and cores, depending on your needs. When the right color is chosen, it can help draw your eye toward the framed piece.
All Frame It Easy matboards conform to industry standards and are acid-free!
Hanging Hardware
The metal hardware that attaches to the back of a frame and some that goes into your wall too, for secure and safe wall art display! Many different frame parts like brackets, wires, and nails qualify as hanging hardware. If you're looking for a more in-depth guide to ours head over to our Guide To Hanging Hardware.
---
Anatomy Of A Picture Frame: Final Thoughts
We hope this post has helped you better understand what goes into the anatomy of a picture frame. You're well equipped to make better and more informed purchasing decisions when it comes to materials and components. Whether you're an interior designer, photographer, or a homeowner looking to display some family photos, having a better understanding of framing will ensure that your artwork is displayed in the best possible way and safe for years to come!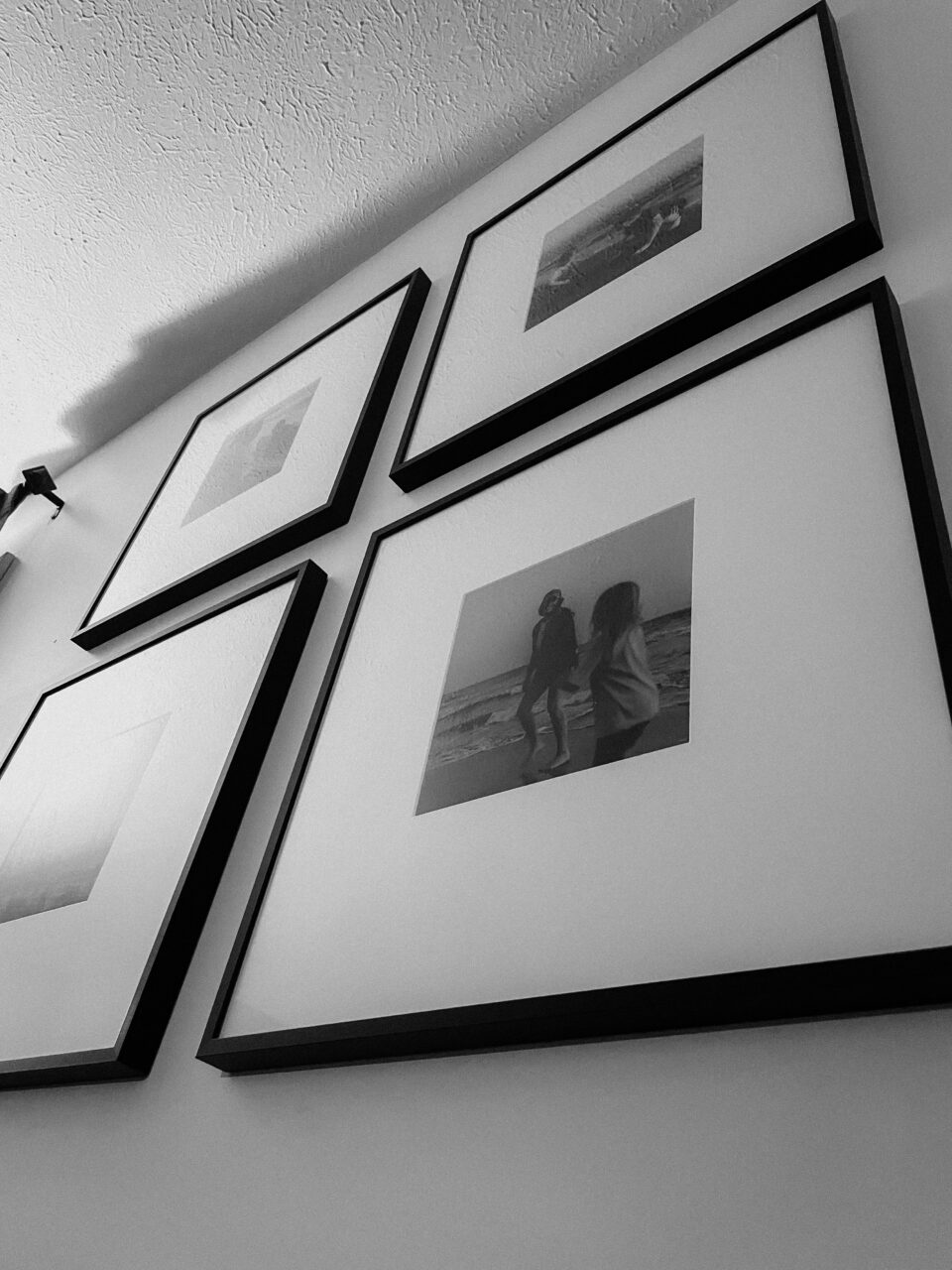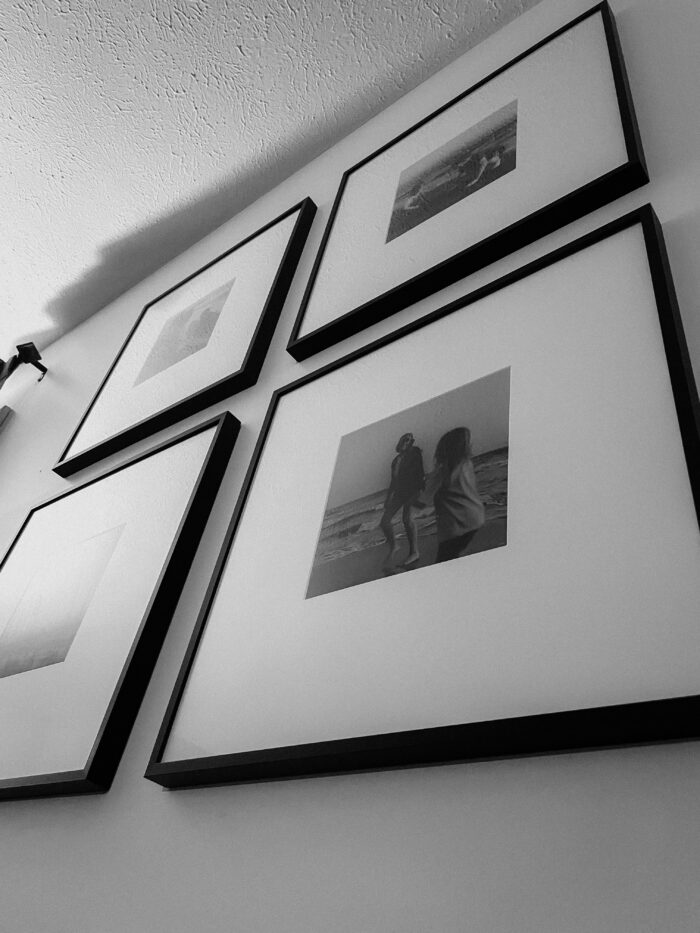 Show off your framed artwork, photos, and other items! – Inspire others by sharing your photos, and tell us your story! If we share it, you'll receive a coupon for 15% off your next order!
Don't forget to follow us on our socials for more daily inspiration and check out our Shopify app to start selling your own framed prints!
This post first appeared as Anatomy Of A Picture Frame: A Deep Dive Into Frame Dissection. on Frame It Easy - Learning Center for Custom Picture Framing.