Modern farmhouse decor is a relative newcomer to the design scene, quickly rising to popularity over the last decade. Taking cues from rustic and country decor, modern farmhouse style has a more contemporary edge without losing its sense of casual comfort. Cleaner lines and a streamlined design language help differentiate it from its more rustic siblings, while vintage touches and classic neutrals help it feel familiar and warm.
If you're interested in exploring this popular design trend, keep reading to see our favorite tips and tricks to transform your space from drab to a fabulous modern farmhouse masterpiece!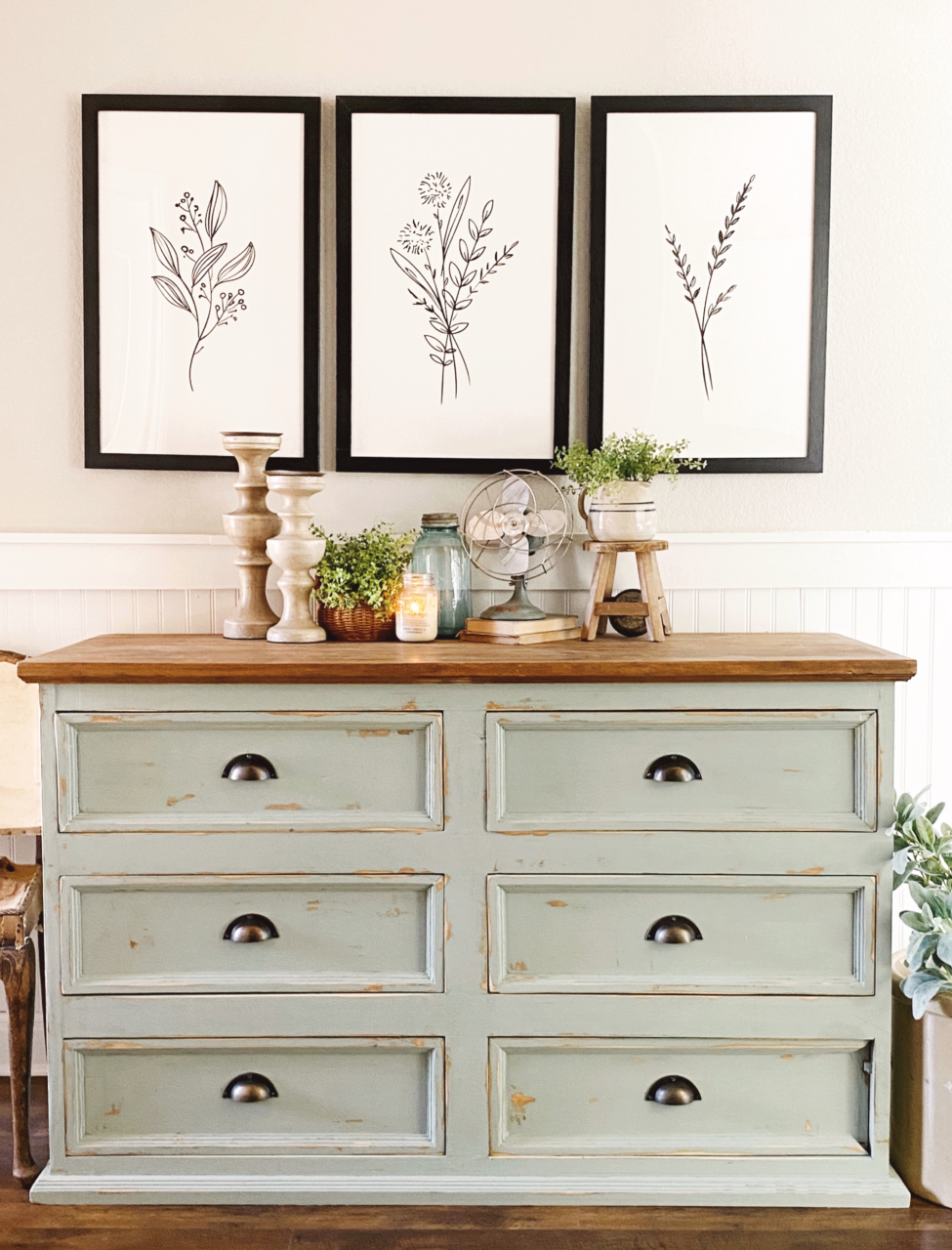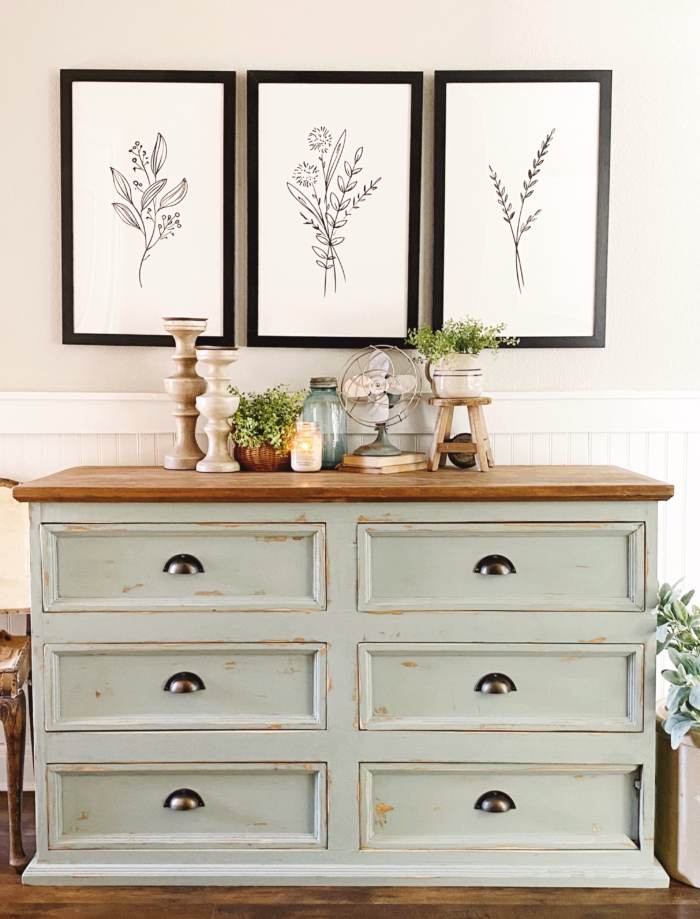 ---
🪑 Modern Farmhouse Decor: Furniture
Modern farmhouse decor calls for sturdy/oversized pieces (new or vintage), neutral tones (sage, beige, and gray), wrought iron, distressed finishes, and reclaimed wood. Furniture should be comfortable with cleaner lines and some character details. Try sourcing organic materials for your fabrics, and look for wood furniture with expressive graining.
Selecting Furniture
Secondhand, vintage, and antique furniture look great with modern farmhouse decor! We always recommend starting with yard sales, flea markets, and estate sales to source desks, bookcases, or chairs for your office. You can also try your luck online with sites like Craigslist. When buying secondhand, don't worry about small scratches or dents, it actually adds some character and definitely won't feel out of place. If you'd rather purchase new, there are plenty of options available.
Refinishing & Reupholstering
If you already have what you need, but it's just not fitting the look, why not try painting and distressing it, farmhouse style? For an even faster update, a quick coat of neutral paint can work wonders towards making over a piece that was starting to feel tired.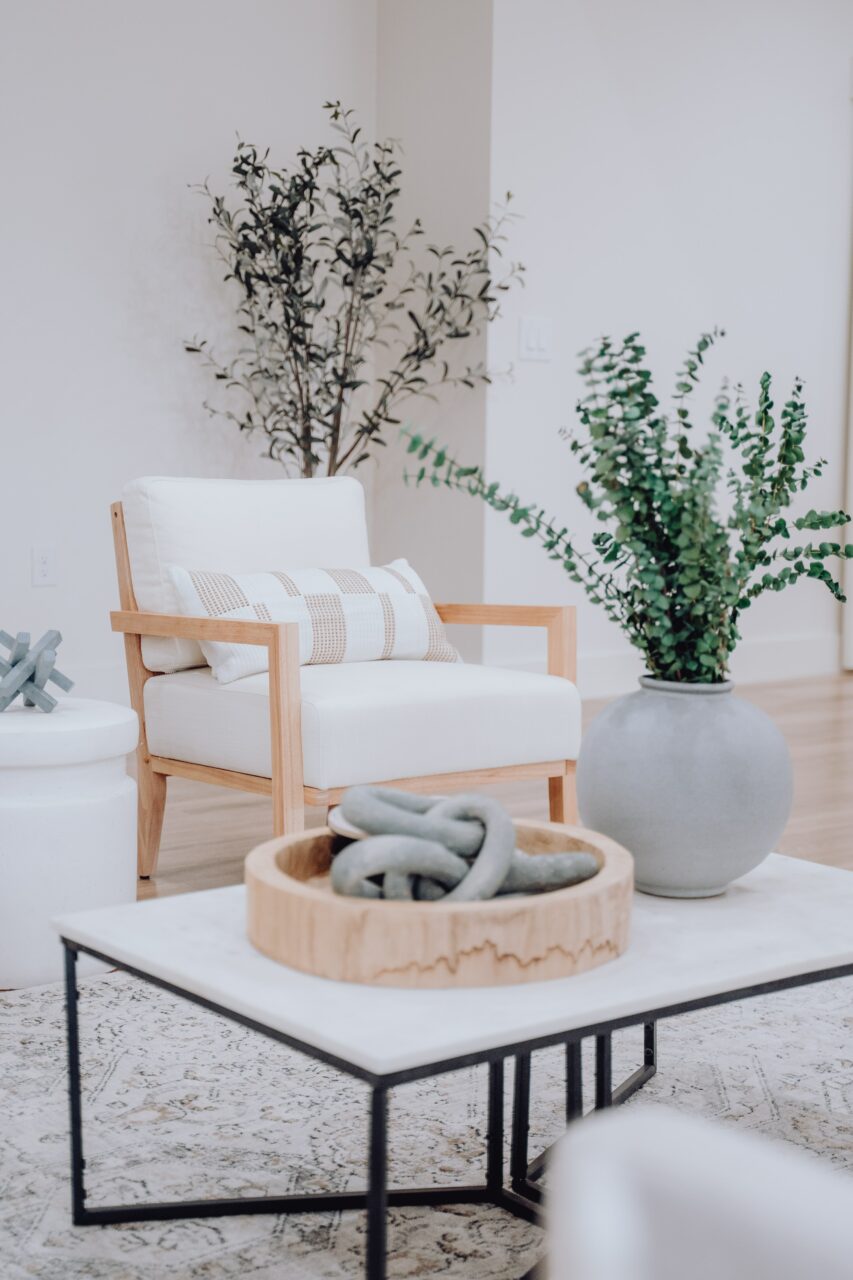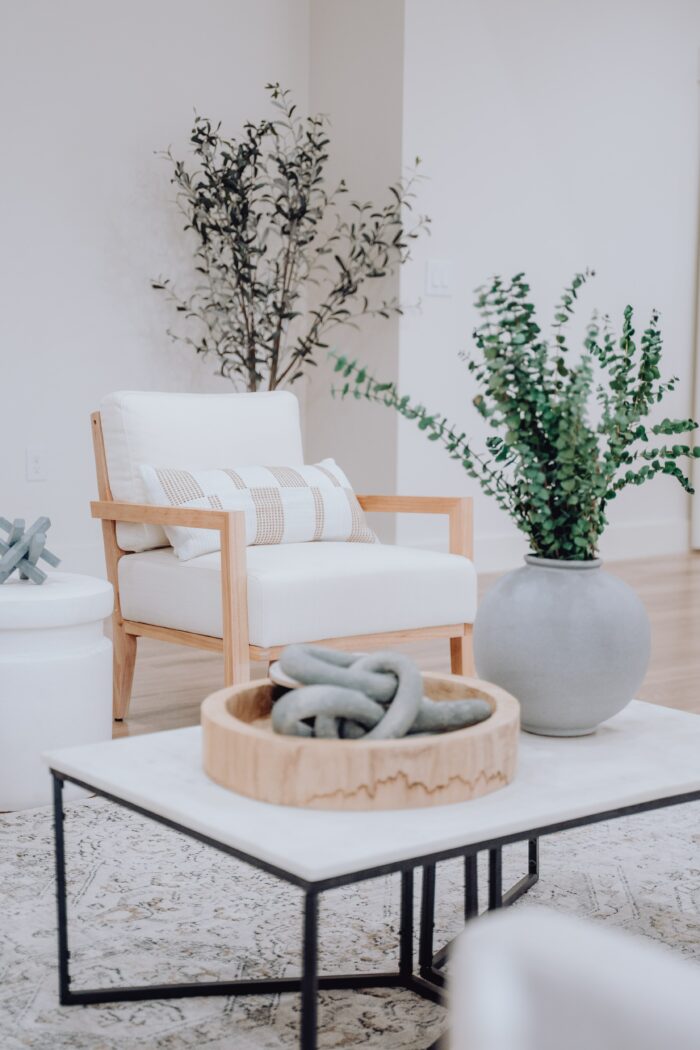 ---
🖼 Modern Farmhouse Decor: Artwork
Don't overlook the importance of putting artwork on your walls! It'll tie your whole design together and give your space a unique personality. Remember, stick to neutral tones (a pop of blue or green as an accent is totally fine!), and look for art that reflects this style's rustic roots (think farm animals, barns, plants, landscapes, or floral patterns).
Selecting Artwork
If your budget is tight, we have you covered with our guide on where to find free downloadable art online! Or, if you'd like to try a DIY approach, you can always create your own farmhouse wall art! Additionally, if you have artwork that's a little tired, try swapping out the frame and adding a new matboard for an instant art makeover (pro tip: adding a thinner frame, like our Hanover frame, with a white mat, will modernize any piece of art)!
An alternative to sourcing free artwork, or making your own, is to find something new! Luckily, we have a handy guide to show you where to buy art online. Be sure to visit Etsy for the sheer variety of prints available, you'll definitely find something that blends well with your home or office!
Choosing Frames
Once you've selected your prints, it's time to choose a frame! We have a few fantastic frame styles to choose from that look outstanding in modern farmhouse rooms. Our Hanover frame has a thin profile, and being metal gives it a modern twist that is perfectly suited to this style. Our Bradford frame and our Hammond frame have thicker metal profiles, but they blend classic style with industrial elements that mix nicely with other details in modern farmhouse spaces.
If you're looking for a different style, check out our nifty guide on how to choose the right frame for your office decor style!
Ordering Frames
If you have a digital image, upload your photo to our interactive frame designer, select your frame and mat style, and we'll print, frame, and ship you a ready-to-hang picture. Don't have a digital image? That's alright! Enter your artwork size in our interactive frame designer, and once you've selected your mat and frame styles, we'll ship you your frame!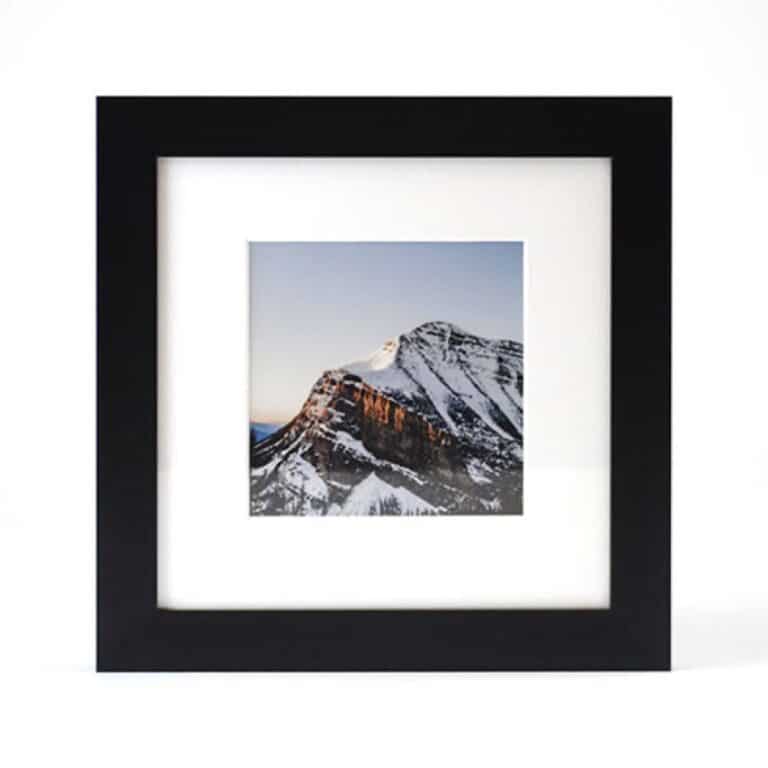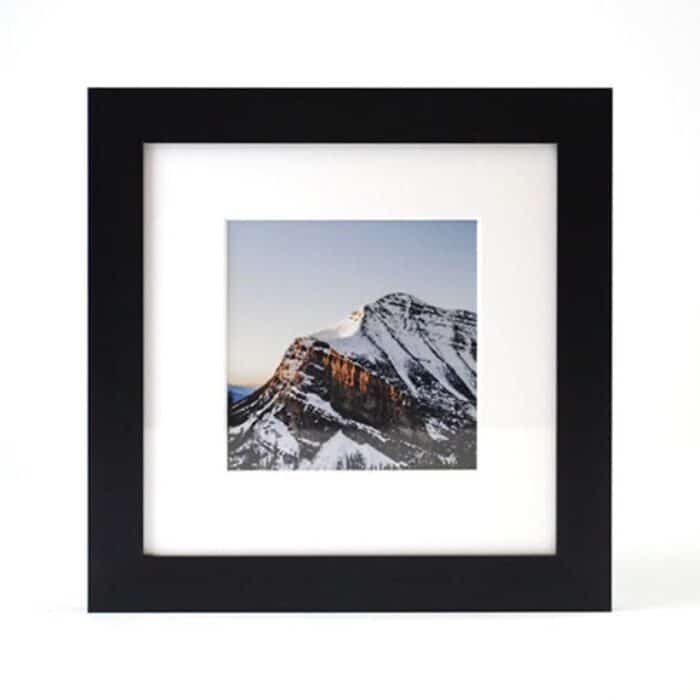 ---
🪴 Modern Farmhouse Decor: Accessories
Plants
Plants are an essential part of modern farmhouse decor. They bring a vibrant pop of green into a room and help ground a space. Dried flowers in a vase can also work well as an organic element if you prefer a no-maintenance option. Try to incorporate at least one indoor plant into your decor (we recommend trying Peace Lilies because they tolerate low light and have beautiful white flowers that blend well with the neutrals and creams found in modern farmhouse decor).
Desktop Accessories
Start with a ceramic pencil cup (look for colors like sage, gray, and taupe) or an old mason jar for pens, pencils, and scissors. Replace your plastic paper trays with black metal or wooden paper trays. Source a decorative vintage box for paper clips, staples, and push pins. Add a potted plant to complete the look. If you'd like to include framed artwork on your desk, check out our EaselMate accessory, which acts as a stand for our frames (why not try a small tabletop display while you're at it?).
Rugs & Pillows
Rugs help pull a design together and add a sense of warmth to a room. Search for a rug with a white, gray, or cream base. Designs should be simple and elegant with a softer color palette that doesn't overpower the room. Secondhand or vintage rugs work well, too! If you have an accent chair, make sure to add a throw pillow that follows the same design language.
Decorative Accessories
Consider adding a few decorative accessories to your office. Items like pottery or scented candles make a space feel a touch more comfortable and warm. Group them together in an empty corner or a bookshelf that needs a little sprucing up. For the modern farmhouse look, we'd recommend matte pottery in pastels or black, iron candle sticks, wooden candle holders, distressed wooden architectural pieces, or cloth-bound hardcover books.
Lighting
Good lighting is essential for a productive workspace. We recommend mixing and matching styles: try pairing a vintage desk lamp with a more traditional floor lamp for background lighting. Look for finishes in black metal, ceramic, or painted pastels.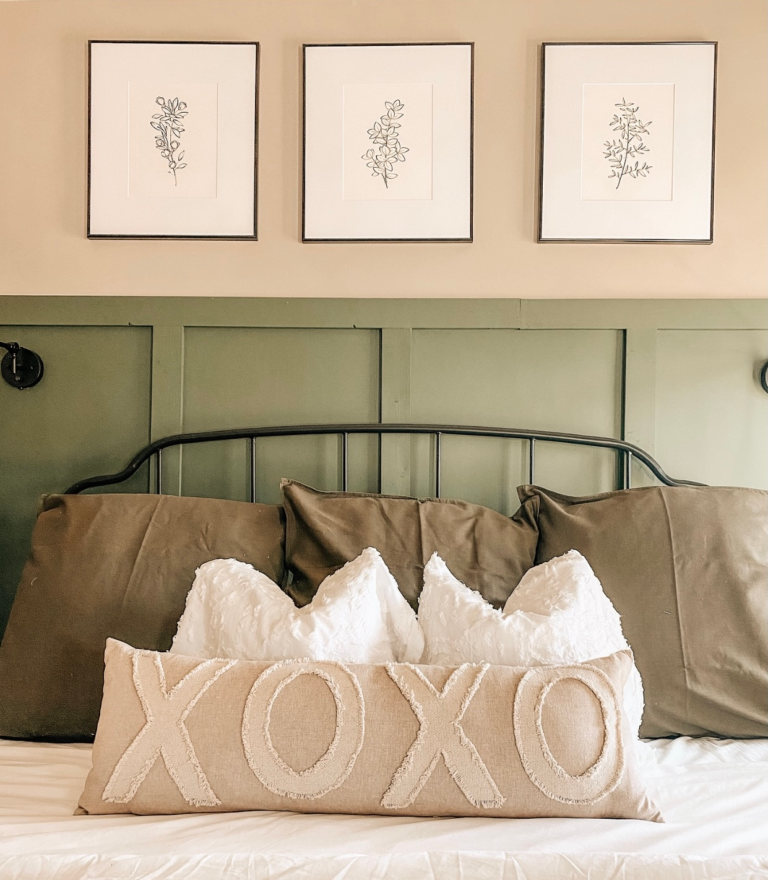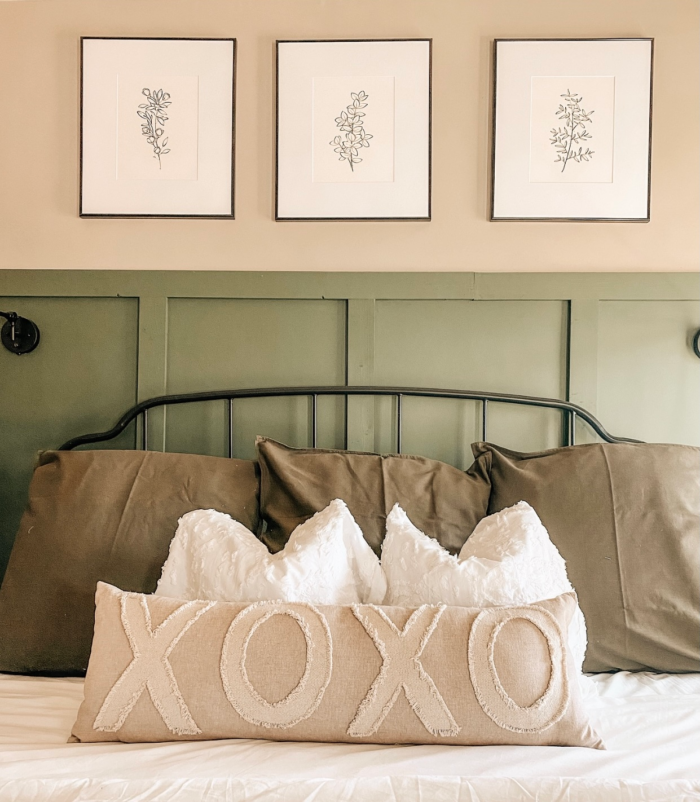 ---
🎬 Final Thoughts
Since its arrival on the design scene, modern farmhouse decor has become hugely popular! The cozy yet elegantly contemporary look effortlessly blends classic style with a modern twist for something that is comfortable and classy. We hope this has given you some fantastic design ideas, so make sure to share your creations with us on social media!
Are you interested in exploring even more interior design styles? Don't miss the video below – learn all about cottagecore decor and get expert framing tips from the pros 👇
This post first appeared as Inspiring Modern Farmhouse Decor For Your Home And Office on Frame It Easy - Learning Center for Custom Picture Framing.