As a creative, it can be difficult to find a reputable site to sell your art or photographs successfully. That being said, Etsy is a well-known and established online marketplace for independent artists, and by setting up your own Etsy store, you can reach a global customer base click of a few buttons. But, with stiff competition and lot's of selling options, it can be daunting opening your own shop!
Keep reading to discover everything you need to know to master selling art on Etsy, including tips on pricing your art, writing awesome product descriptions, and marketing your work!
---
---
What Is Etsy?
Etsy is an e-commerce platform that provides a marketplace for people to buy and sell handmade, vintage, and unique goods. The platform has a significant community internationally and offers a range of products, including home decor, art, and craft supplies. With nearly 60 million buyers and over 2 million sellers, it's one of the largest and most well-known marketplaces today.
What makes it popular? First, it's easy to use for both buyers and sellers with a platform that is user-friendly; Second, the platform supports small businesses and allows them a wider audience reach; Third, it offers unique products that are often customizable.
With that in mind, if you've decided this platform works best for you, keep scrolling to learn how to open an Etsy store and begin selling art successfully today!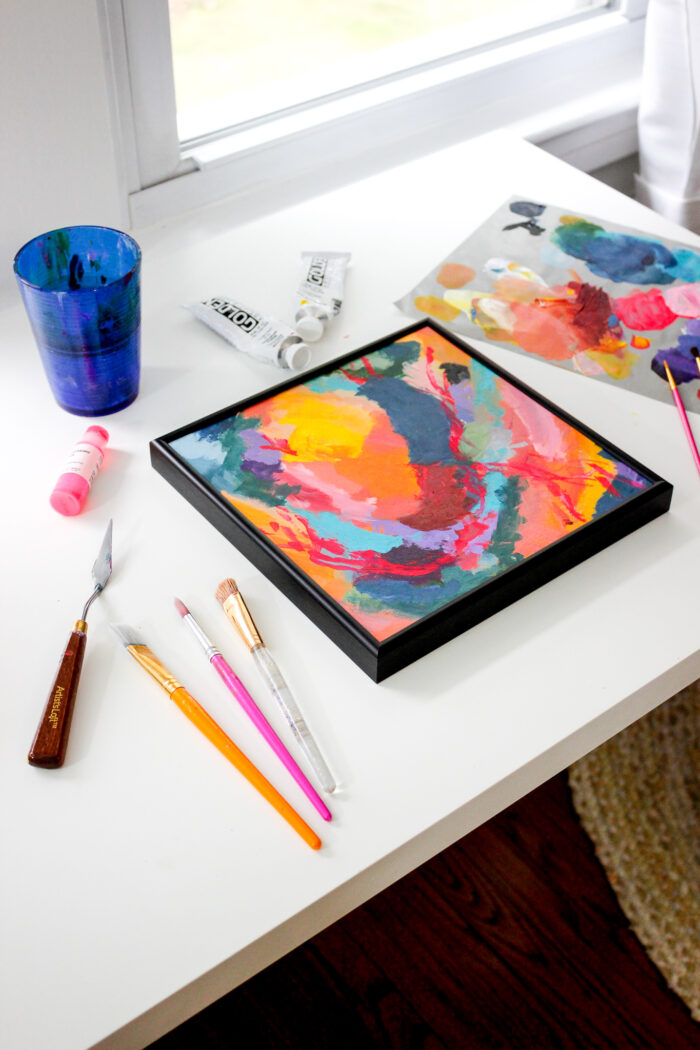 ---
Selling Art On Etsy: Getting Started
Opening An Account
To begin selling art on Etsy, you'll need to open an Etsy account. This is the same account you use to purchase any goods on Etsy and will be attached to your new storefront. Visit the Etsy homepage, and click "Sign In" in the upper right corner.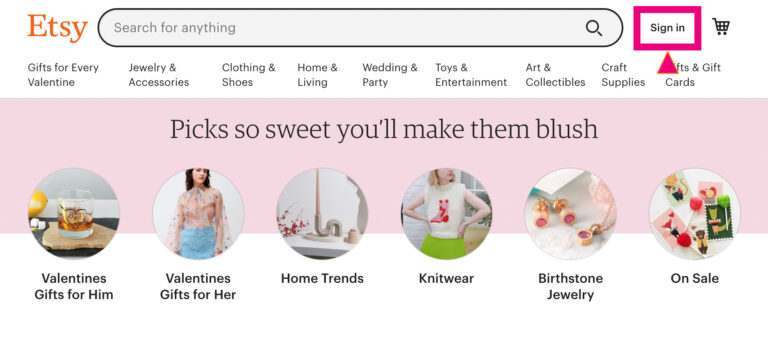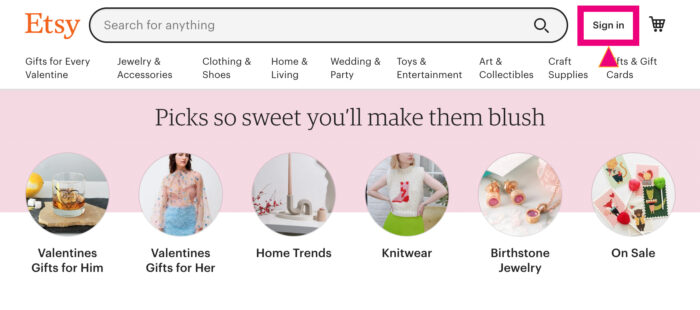 Getting Started
After adding your profile picture and a short bio to introduce yourself to others, visit the Etsy sellers page and click the "Get Started" button. From there, you'll select your location and currency. It's important to note that Etsy is available in many countries, but not all!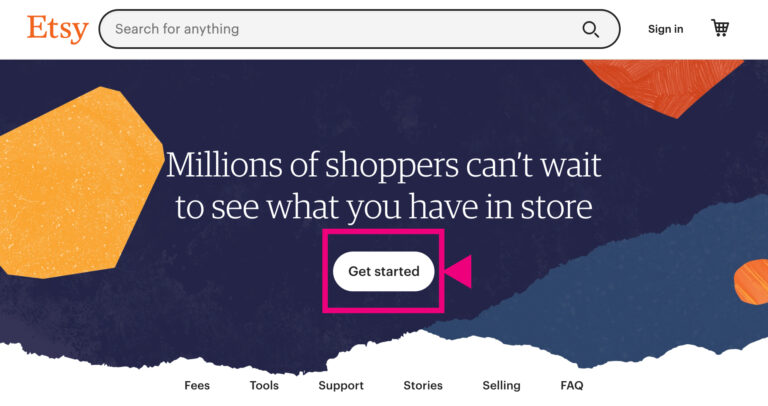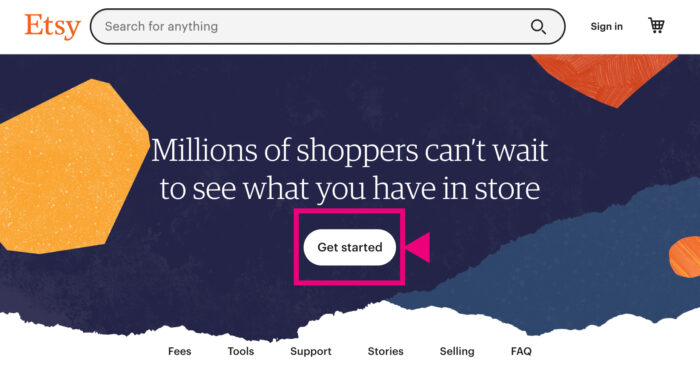 Choosing A Shop Name
After saving that entry, you'll choose your shop name. Etsy limits this to 20 characters and you have to choose a name that isn't already in use. If your desired name is in use, you'll get suggestions for similar names that are available. Try to be thoughtful with your selection; you want something unique that speaks to your art but is not off-putting to potential customers.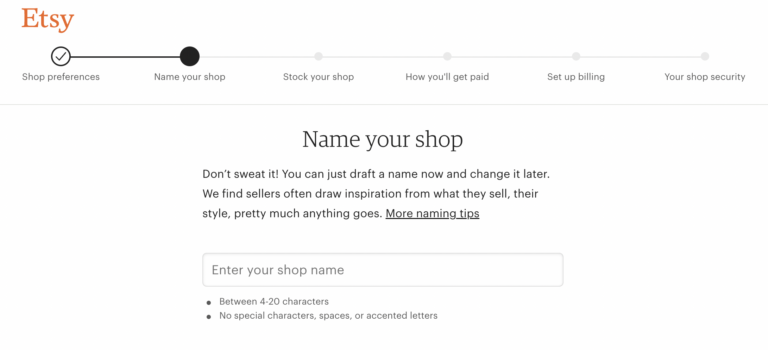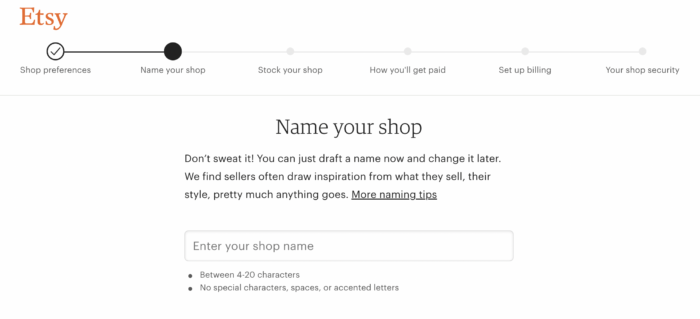 Build Your Etsy Store
Next, you'll need to finish your storefront. Here you'll upload your shop logo and banner, shop policies, and shipping profiles. Don't forget to include any additional photos of your shop, your creative process, or your team in the "About" section.
You'll also want to add the rest of your listing photos at this point. Include as many high-quality photos of your art and the frames you're offering as you can! Additionally, use the product descriptions to answer any questions that might arise as well as what makes your product unique compared to competitors.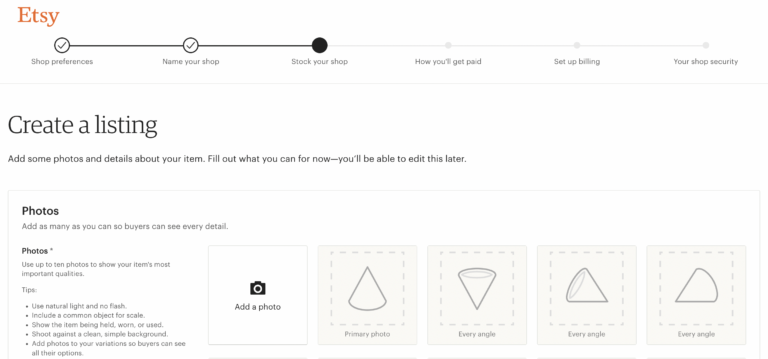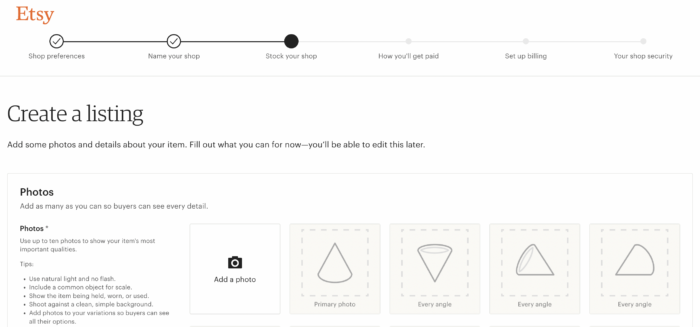 Enter Your Banking Information
Finally, you'll want to enter your banking information so you'll get paid for your sales. Etsy uses a third-party system to verify bank details and ensure your deposits are secure.
Once that's been completed, you're ready for your art listings to go live!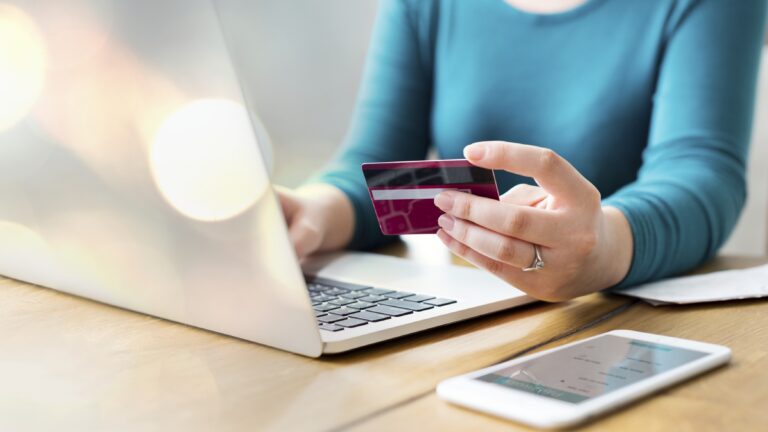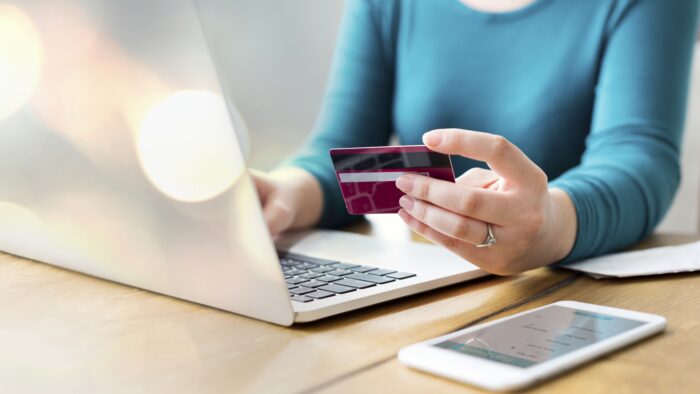 ---
Selling Art On Etsy: How To Price Your Art
Knowing how and what to charge for your time, materials, and creativity can be a tricky task, but we're sharing a few tips for artists on pricing your art so that you can transform your hobby into an income-producing business!
Time-Based Pricing
Typically artists using this method will decide on an hourly wage for themselves. This can be anything from the minimum wage or it could be the hourly rate the average fine artist makes. The more skilled you are, the higher you can raise your hourly rate.
After you multiply your hourly rate by the number of hours you worked to complete a piece, add in the cost of your supplies plus the cost of your selected picture frame, and you'll arrive at the amount you can sell that particular piece of art for!
💡 Example: You worked 15 hours to complete a piece, and the minimum wage in your state is $9.00/hour. First, you'd multiply 15×9, and get 135. Then, add in a $45 dollar frame, plus about $35 worth of supplies. That totals to $215 for your framed art.
Size Based Pricing
Another method for pricing your art is using size to determine a dollar amount. Artists will multiply the height and width of a finished art piece which will give you the total square inches. Then, the artist will multiply that number by a predetermined dollar amount which determines the art price. This dollar amount is directly related to skill level, so newer artists might choose a $2-3 fee, while more experienced creatives will be closer to the $6-8 dollar mark.
Once that is calculated, you'll add in your supplies and frame cost to come to the final price.
💡 Example: Your finished art piece is 6 inches by 6 inches. When multiplied, you get 36 square inches. Then you'll multiply that with your pre-determined dollar amount, which we'll say is $5. After multiplying 36×5, you'll add in a $45 dollar frame, plus $35 in supplies, and arrive at an art price of $260 dollars.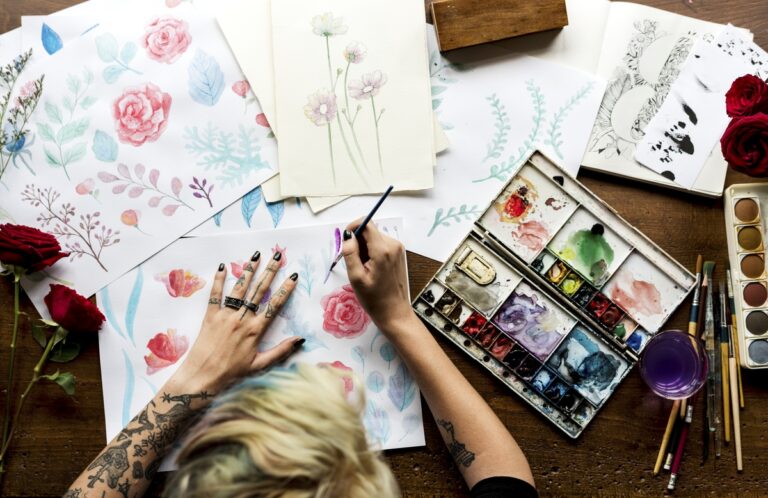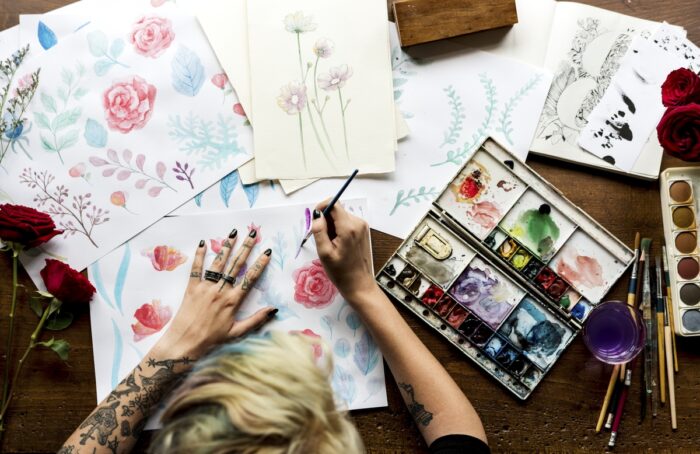 ---
Get instant access to our Artist Onboarding Guide, plus can't-miss advice for creative professionals, delivered right to your inbox! 
---
Add A Framed Option To Your Etsy Store
When you begin selling art on Etsy, you could offer digital files or art prints. It's inexpensive and generally easy to manage. However, you'll be competing against millions of other sellers offering the same thing. Let's explore why offering a framed version of your art is a smart business move:
Additional Revenue: You can charge a higher markup for your art or photographs if they're framed which means you'll get additional revenue with each piece sold.
Perceived Value: You'll get more sales with framed art as customers associate it with a higher perceived value meaning they'll be willing to spend more for your art.
Fewer Purchasing Barriers: When purchasing prints, a customer also has to take framing and matting into account which may cause them to move on to pre-framed options. If you offer a framed version, it's one less barrier your customer has to consider.
Differentiation: Adding framed art helps you stand out from countless other sellers, leading to your artwork getting noticed (and sold) more.
Bragging Rights: Our frames are eco-friendly and our packaging is fully recyclable, which means you can brag about it in your product descriptions!
🚀 Want to learn more about framing for your Etsy store? Check out this guide: How (& Why) To Add Framing To Your Art Business.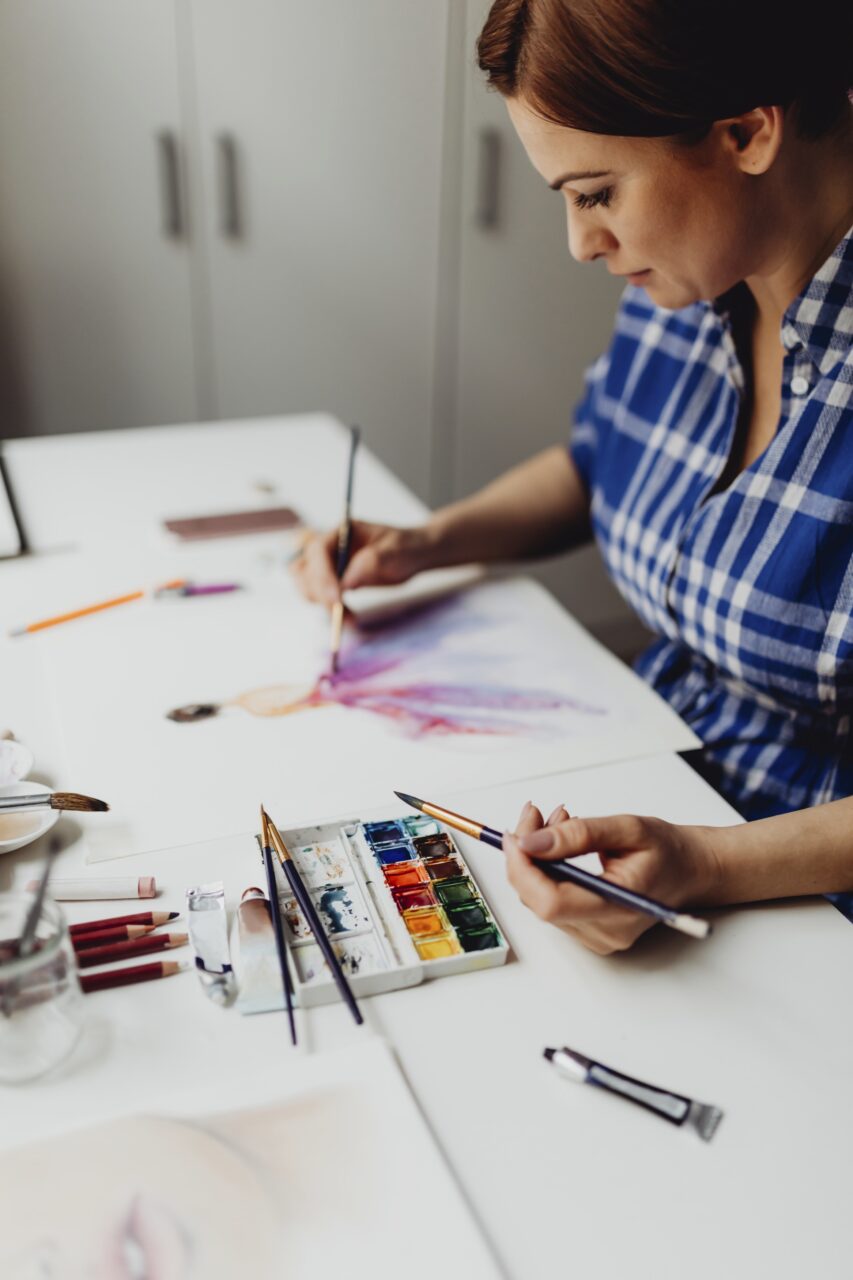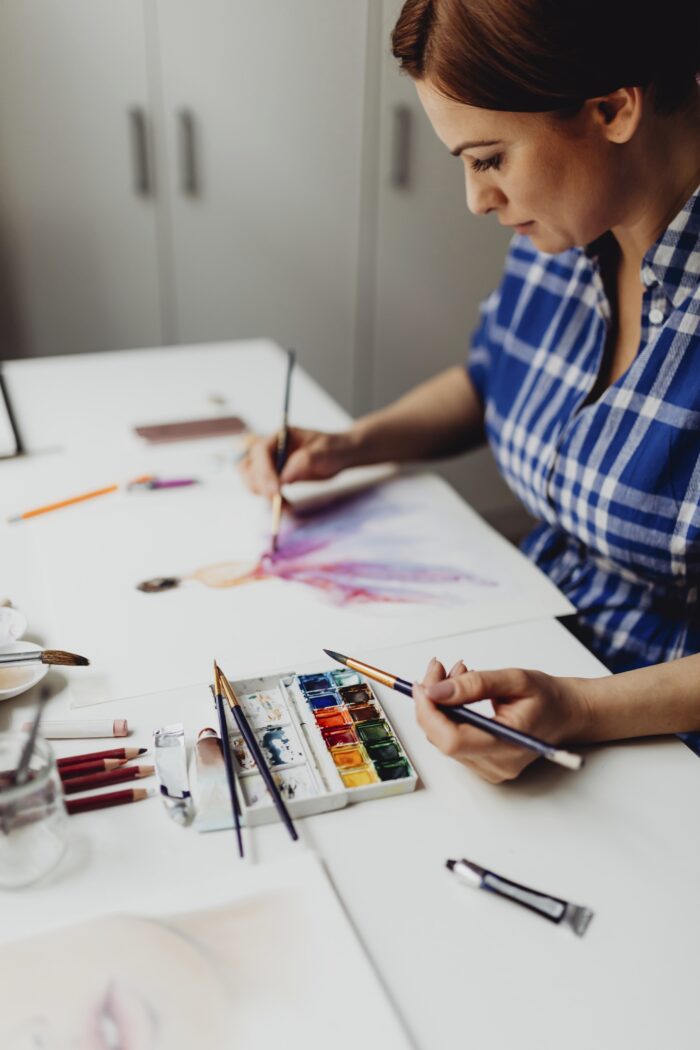 ---
Selling Art On Etsy: Marketing
Once you're ready to start selling art on Etsy, you'll need to spread the word and let as many people know that your fantastic art is available for purchase! We've listed some of our favorite social media strategies below:
Choose the right platform: Depending on your target audience, you may want to focus on different platforms such as Instagram, Facebook, or Twitter.
Build your brand: Develop a consistent visual identity and tone of voice to make your art easily recognizable.
Share content: Share images of your work, behind-the-scenes glimpses of your process, and other content that showcases your art and style.
Engage your audience: Respond to comments, repost user-generated content, and interact with other artists to build a community around your work.
Use relevant hashtags: Research and use relevant hashtags to increase the visibility of your posts and reach a wider audience.
Collaborate with others: Partner with other artists or influencers to reach new audiences and create a buzz around your work.
Utilize paid advertising: Consider using paid advertising options on social media platforms to reach a larger audience. Note that Etsy has a paid advertising platform for artists as well.
Remember that building a strong online presence takes time and effort, so be consistent and patient in your marketing efforts.
🚀 Learn how to market your Etsy store like the pros! Don't miss Art Marketing Like A Pro: 4 Proven Must-Have Tips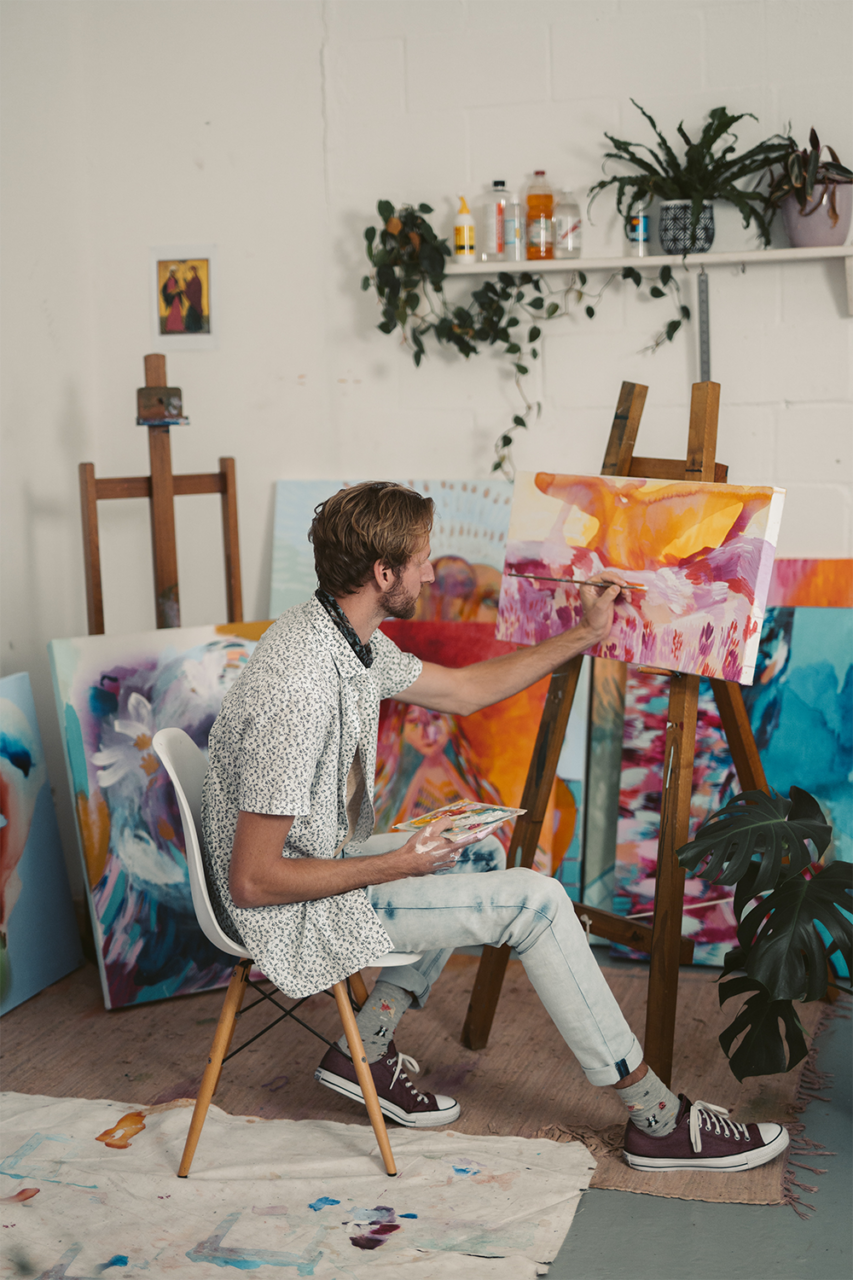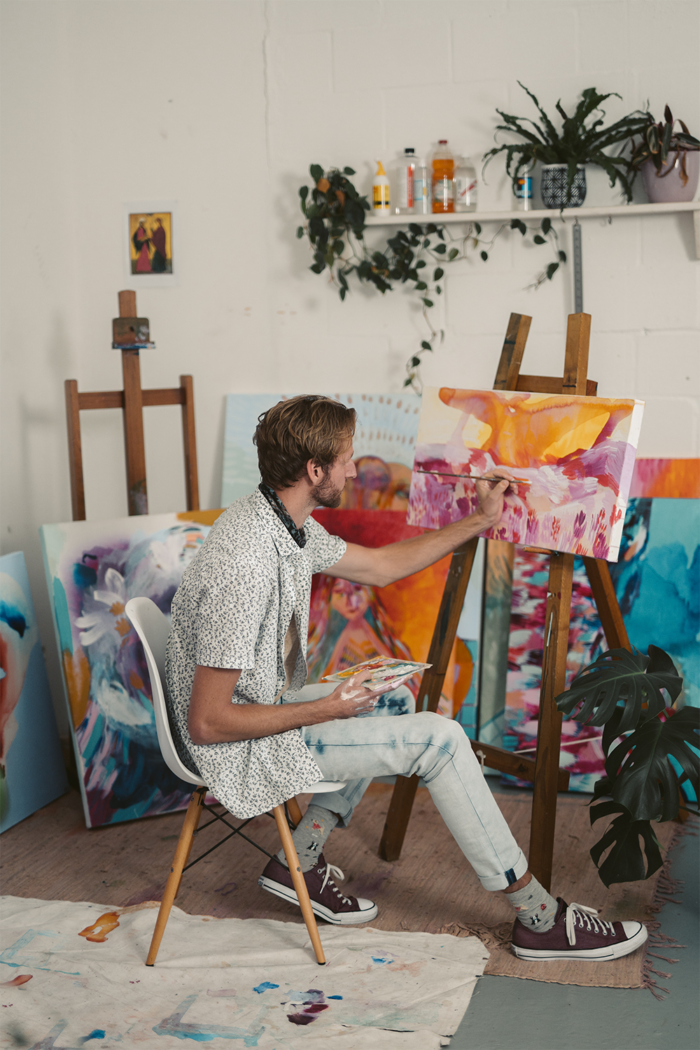 ---
Art Sales Made Easy
Are you searching for an easier way to sell your framed art or photos? Consider Frame It Easy's Shopify app! With full printing, framing, and dropshipping support, our Shopify app offers artists the ability to sell fully framed and ready-to-hang art with no upfront inventory costs and no minimums! It's designed to save you time so you can focus on what's most important – your art, while we take care of everything else!
---
Final Thoughts
While there are a plethora of sites to sell your art, none are quite as large and well-known as Etsy. With a user-friendly interface, accessible features, and an international reach, selling art your own Etsy store has never been easier! Plus, with a little creative marketing and awesome listing photos, you could be on your way to a successful art business.
We hope this guide has given you all the information you need to get started selling your art! And before you go, don't forget to share your framed creativity with us!
Get instant access to our Artist Onboarding Guide, plus can't-miss advice for creative professionals, delivered right to your inbox! 
This post first appeared as Getting Started Selling Art On Etsy: Best Tips & Tricks on Frame It Easy - Learning Center for Custom Picture Framing.