For many, there's nothing quite as relaxing as the beach: Warm sand, rolling waves, and a fresh ocean breeze. It's no wonder so many want to bring a casual island vibe into their homes and offices! Nautical decor fills this role and helps remind us of our carefree time by the sea, combining tropical, maritime, and coastal elements.
If you're interested in a breezy beach theme, keep reading to explore our favorite nautical decor ideas for your space!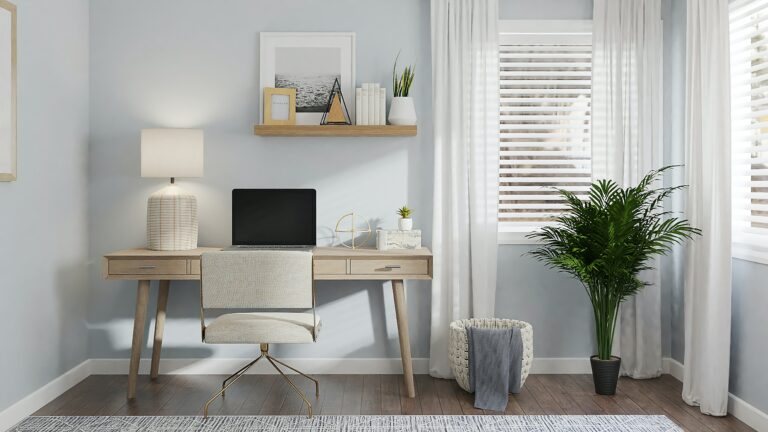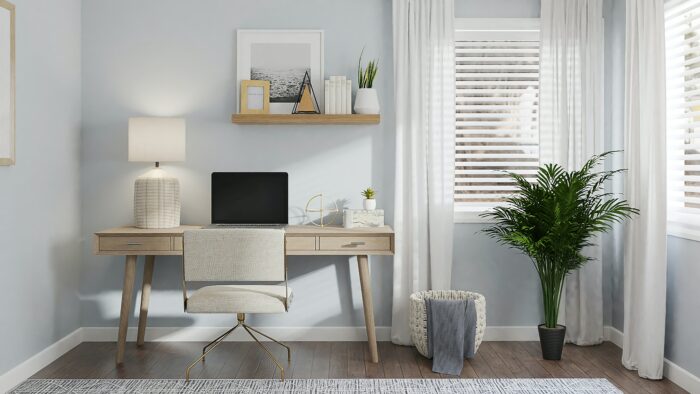 ---
🪑Nautical Decor Ideas: Furniture
To get your coastal transformation underway, your search for nautical-style furniture should include wicker, rattan, or white-washed pieces. Look for fabrics or paint colors that mimic ocean scenery: Blue, green, white, taupe, pastel pink, and pastel orange. Vertical and horizontal stripes are perfect too!
Whether you choose to go with a more modern theme (newer pieces with straight lines and contemporary accents) or a more cottage-chic theme (vintage pieces with distressing and decorative detailing), don't be afraid to mix and match to get a room that's both functional and stunning!
Nautical decor ideas to look for:
White-washed wood
Rattan and wicker
Blue, green, white, taupe, pink, or orange color family
Vertical or horizontal stripes
Slipcovers
Sourcing Furniture
There are a few sites that offer pieces perfectly suited to a nautical-themed office. First, you'll want to visit Our Boat House for a curated variety of sea-worthy selections. Then, take a look at the budget-friendly options that Hayneedle has to offer. If you'd prefer to source vintage pieces, you'll want to check Chairish for a large selection of pre-owned finds.
Refinishing and Slipcovers
If you have pieces that are functional but don't look the part, consider refinishing or reupholstering them! Adding a coat of white or taupe paint or simply whitewashing furniture can instantly transform any piece. Additionally, if you have a small couch or accent chair in your office using a slipcover will give it an instant beach vibe makeover!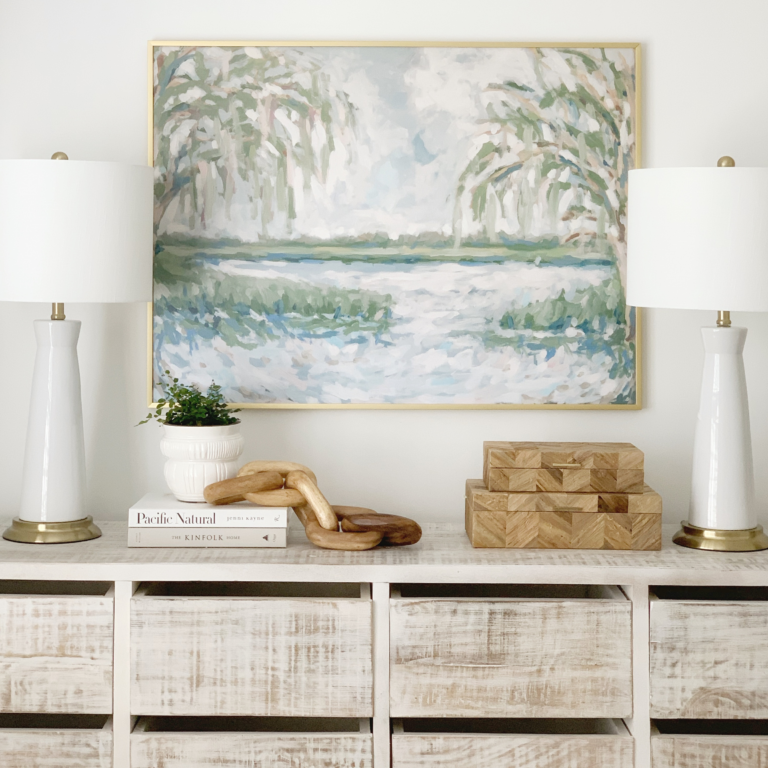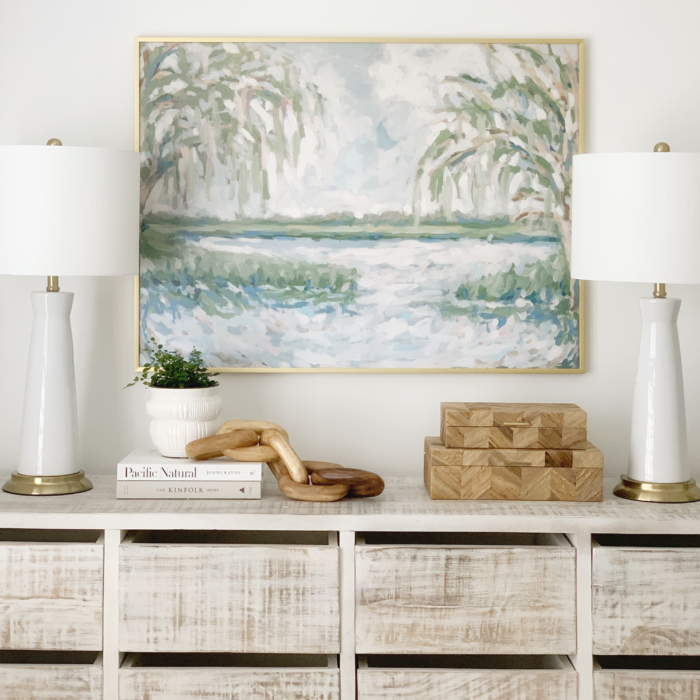 ---
🖼Nautical Decor Ideas: Artwork
When sourcing nautical-style artwork, you'll want to look for a color palette with white, blue, green, pastel pink, or pastel orange. Stick to subjects related to coastal life like sailboats, lighthouses, palm trees, beaches, sea life, vintage maritime maps, and tropical flora. For a more modern approach, organize your artwork on a standard gallery wall.
Nautical decor ideas to look for:
White, blue, green, pastel pink, or pastel orange color family
Subjects related to coastal life
White-washed wooden frames
White metal frames
Selecting Artwork
First, you should explore our guide on where to find free downloadable art. You'll be able to source awesome free art from across the web! Even better, we can print any of the digital images you find! If you have your own beach photos, those are absolutely frame-worthy, too!
Selecting Frames
We have several fantastic frame options that will blend beautifully in a nautical-themed office. First, our Dayton frame in Whitewash is the perfect seaside compliment, as is our Derby frame in Rustic Gray. For a more modern look, we recommend our Ashford frame or our Hanover frame in White. Additionally, we recommend a matboard in Smooth White, Seafoam, or Fountain Blue for your framed images.
Purchasing Frames
Ready to order frames? We've made it simple! Upload your images to our interactive frame designer, select your frame and mat options, and we'll print, frame, and send you your custom, ready-to-hang picture. If you have an art print, measure the height and width and add it to our frame designer. After selecting your frame and mat options, we'll ship your frame right to your doorstep!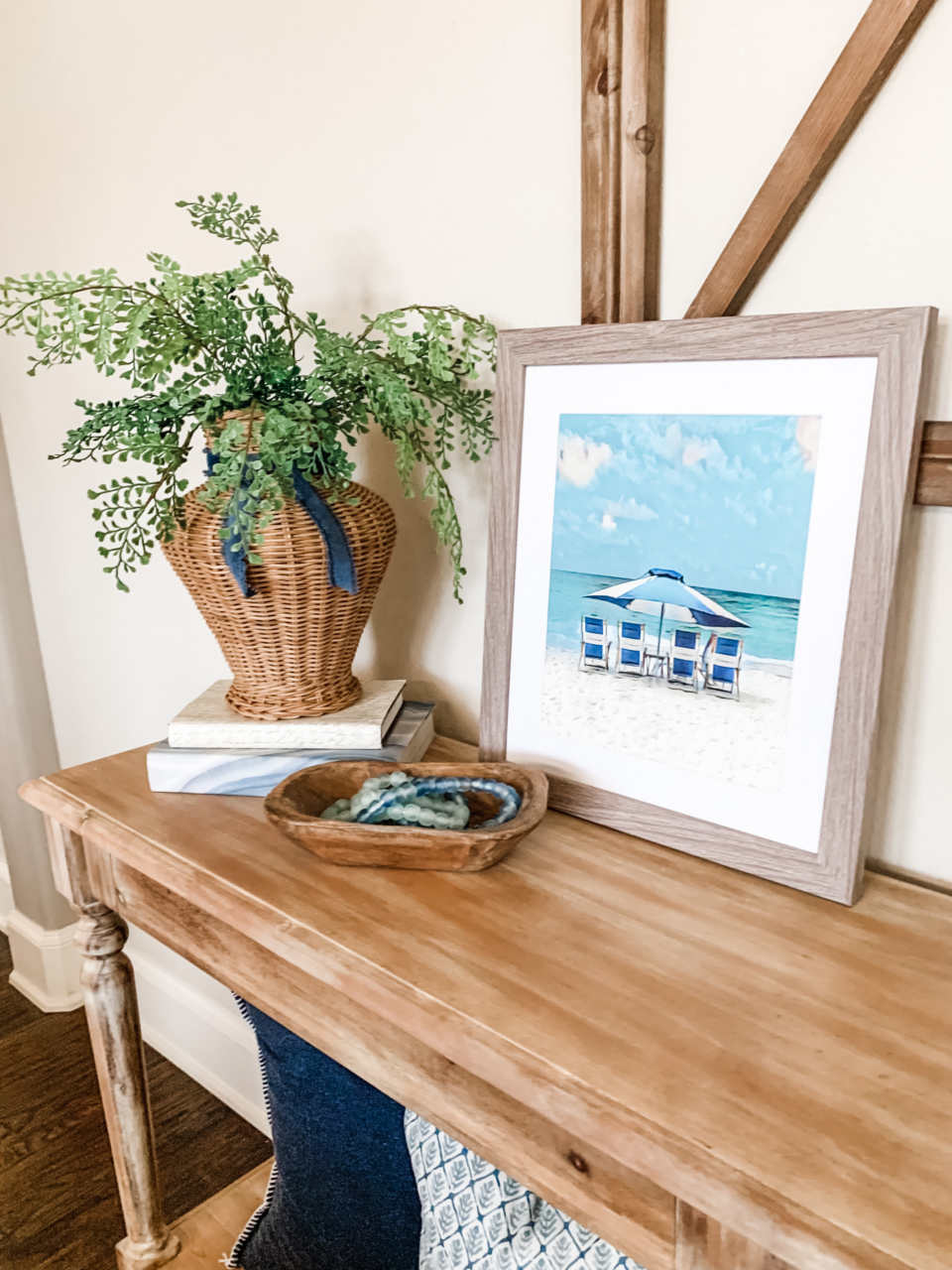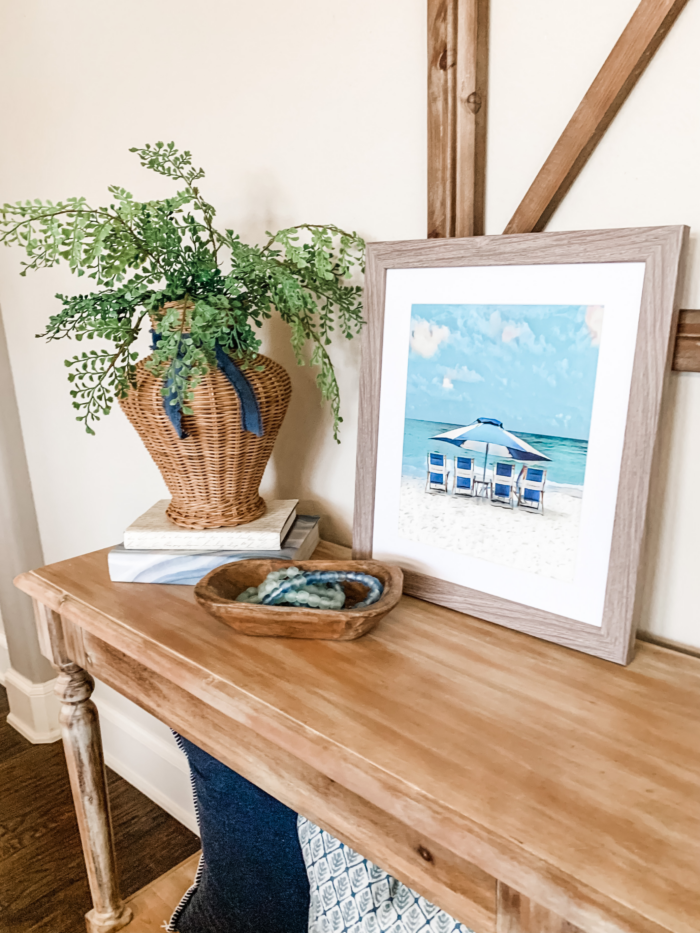 ---
🪴Nautical Decor Ideas: Decor
Adding decor to your office will help pull your entire design together. Again, look for color inspiration from the sea (white, blue, green, taupe) or a beach sunset (pastel pink and orange). Additionally, wicker, dried flora, or collections of seashells are totally appropriate here for setting the scene.
Nautical decor ideas to look for:
White, blue, green, pastel pink, or pastel orange color family
Bird of Paradise and Areca Palm plants
Wicker/rattan desk accessories
Neutral rug, or sisal/jute rug
Ceramic table lamp and wooden floor lamp
White and blue pottery
Wicker baskets
Colored glass
Plants
Not only will plants boost your mood but they'll add an organic layer to your room that makes it pop. First, we recommend a Bird of Paradise. It's a beautiful, lush plant with flowers that'll remind you of an island vacation. We also think the Areca Palm lends itself to a tropical feel with sweeping palm fronds. Both require moderate care and sunlight but, regular watering should reward you for years to come!
Desk Accessories
Swap out your plastic paper trays for wicker, rattan, or painted wood versions. Add a white or blue ceramic pencil cup for pens and scissors. Use a whitewashed wooden box or small wicker basket for odds and ends. Stick a potted plant or two on a corner. Feel free to add other decorative objects, and if you'd like to display some photos on your desk, consider a tabletop display using our EaselMate accessory.
Rugs and Pillows
Rugs add a focal point to your room, while throw pillows help soften things. We recommend rugs and pillows with a neutral base in light gray, white, cream, or taupe, whose designs bring in your accent colors of green, blue, or pastels (plain sisal or jute rugs blend nicely, too!). Vertical or horizontal stripes are a hallmark of nautical design, so rugs and pillows that have this detail are especially appropriate for coastal spaces.
Lighting
Good lighting is essential for a functional space, so plan on selecting one task lamp for your desk and a floor lamp for background lighting. For your desk, look for a ceramic table lamp with a bright white shade that has a base color matching your accent color. Look for a white metal or white-washed wooden floor lamp.
Decorative Accessories
Feel free to sprinkle a few decorative accessories around your space or your shelves! Scented candles, blue and green colored glass, wicker baskets, blue and white ceramic pottery, wooden candle holders, driftwood, or maritime knickknacks all work well. If you have seashells, consider displaying them in a tall, clear glass jar or candle holder.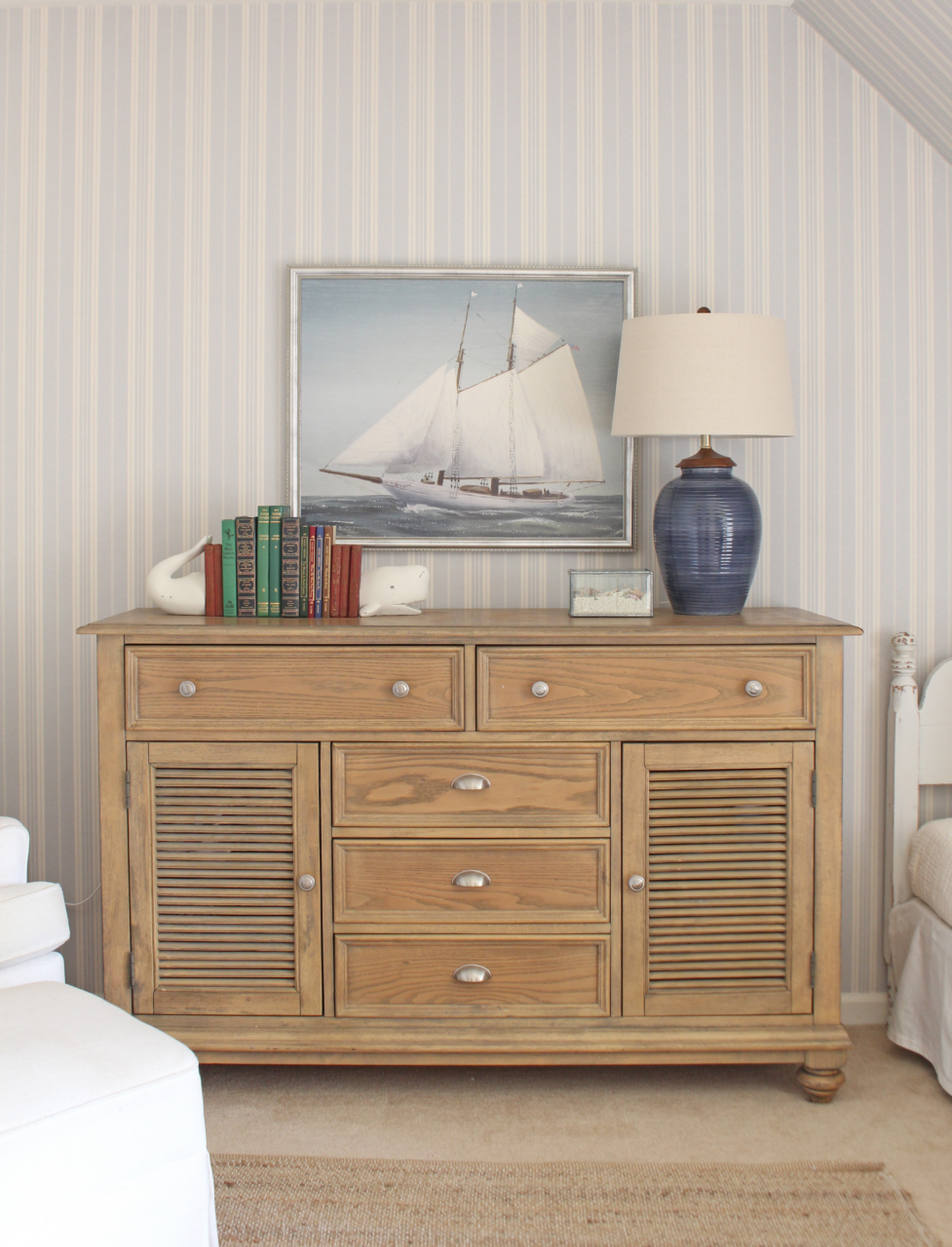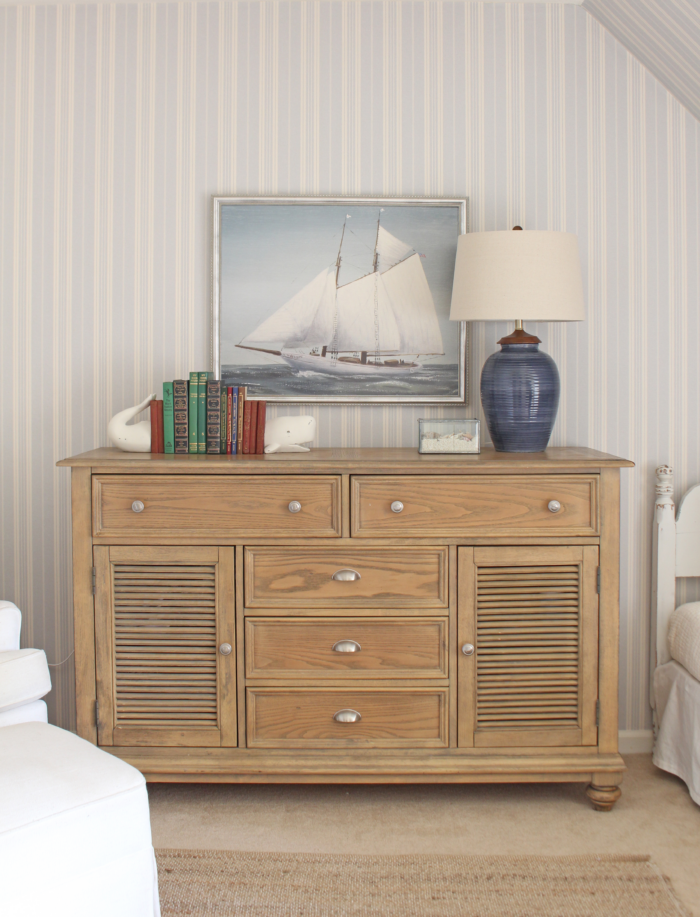 ---
Nautical Decor Ideas: Final Thoughts
There's something so special and relaxing about the beach. Maybe it's the sunshine, the salty air, or the gentle rolling of the waves, but it's no surprise that nautical decor is a trend that's here to stay! We hope this has given you some brilliant nautical decor ideas for your own office, so don't forget to share your coastal creations with us on social media!
And before you go, do you have a dusty shelf that could use some sprucing up? Watch below and discover design tips to decorate your shelves like a pro 👇
This post first appeared as Charming Nautical Decor Ideas For Your Home And Office on Frame It Easy - Learning Center for Custom Picture Framing.