Do you yearn for sunshine, clear blue skies, and fields of wildflowers? It might be time to add southwestern decor to your office! Southwestern decor originated in the western portion of the United States and takes its cues from rustic, Americana, and Spanish colonial styles for something comfortable, approachable, and timeless. It's a nostalgic nod to simpler times, wide-open prairies, and ranch life.
Characterized by earth tones and with a heavy influence from tribal textiles, southwestern decor calls for handmade items and character-infused pieces that have a history or tell a story. Natural materials such as unprocessed wood, clay, and distressed leather add an organic layer to this style, and pops of turquoise or aged metallics add a decadent element.
How do you incorporate southwestern decor into your space? Keep reading for our favorite tips and tricks that will have you in a spectacular southwestern-style room in no time!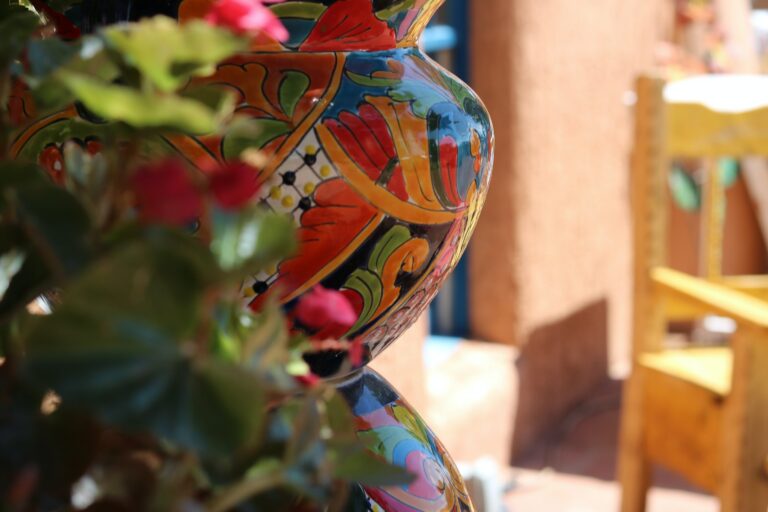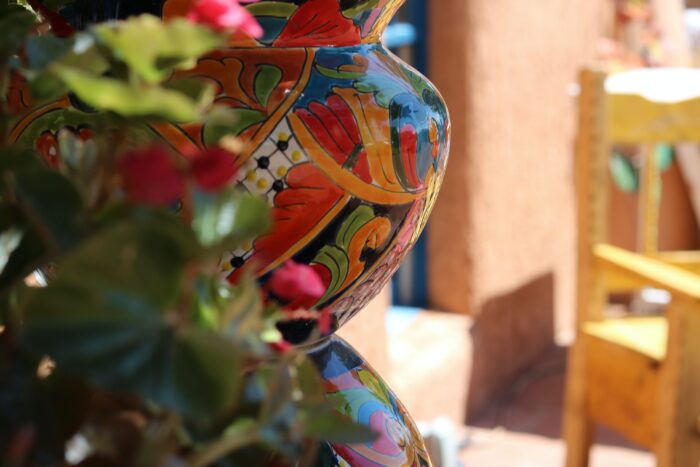 ---
🪑Southwestern Decor: Furniture
Refinishing: The good news is that southwestern decor isn't so style-specific that you can't mix and match pieces from various sets and styles. So, if you have sturdy wooden bookcases, shelves, or a desk, you can most likely use them moving forward. And, if you're a fan of DIY projects, you can always refinish the wood furniture that you currently own to save money.
Purchasing secondhand: If you need to purchase or replace furniture, the most economical solution is to source secondhand pieces. When you buy secondhand, don't worry about dents, dings, or scratches. Leather that's distressed or slightly cracked is fine, too! It all adds character and personality that will blend well with other rustic elements. Look for solid, unpainted wooden furniture with straight lines and a simple design. For seating, distressed leather, suede, or fabric in earth tones are all appropriate. Start your search at local garage sales, flea markets, and estate sales.
Purchasing new: There are many excellent options for purchasing new furniture. If you're shopping locally, keep in mind that handmade is always preferable to mass-produced furniture for this style. For your desk, bookshelf, and storage, we recommend natural wooden pieces that are solid and sturdy with minimal processing, and if the wood shows the natural grain, even better! Seating should be neutral-toned in natural materials like leather or suede, however, fabric is fine too. Look for extra details like nailhead trim and distressed finishes.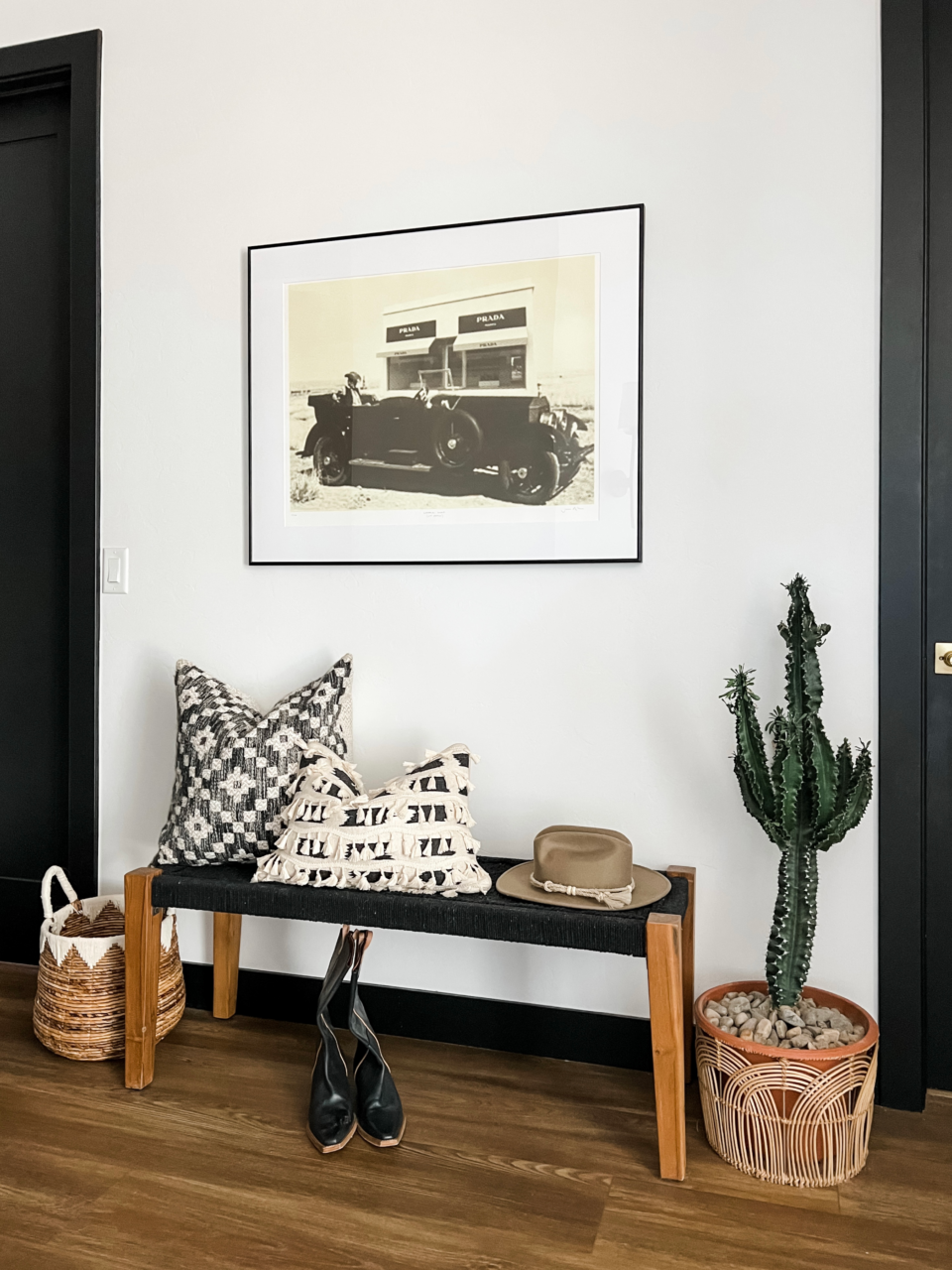 ---
🖼 Southwestern Decor: Artwork
Free artwork: There are so many options for sourcing great southwestern art for your office! Your first stop should be this handy guide that covers where to find free downloadable art. Vintage images always work beautifully with southwestern decor, so perhaps a vintage, free-to-use image of horses might work well. Historical farm-life photos would blend nicely with the decor, too! If that's not exactly your style, try a serene desert landscape picture. Additionally, if you have old black and white photos at home, this is the perfect room to display them in!
New artwork: If you're not finding what you like, consider purchasing artwork to compliment your space. Be sure to browse our guide that covers where to buy art online as a starting point! Society 6 has a variety of unique southwestern-style photographs and illustrations, as does Etsy. If you're having trouble deciding on content, look for landscapes, farm animals, tribal life and textiles, cow skulls, and images of adobe buildings.
Choosing a frame: Once you've found artwork, you need to frame your pieces. We think there are a couple of amazing options to compliment your southwestern-style office. We'd recommend the Dayton frame in cocoa for its elegant, clean lines and old-world coloring. We also love the Derby frame in russet for its simple design and expressive graining. If you want to incorporate a metallic, our Granby frame in silver makes the perfect southwestern compliment, or for a more modern look, try our Ashford frame in rose gold.
Ordering a frame: If you have a digital image, upload your photo to our interactive custom frame designer, select your frame and mat style, and we'll print, frame, and ship you a ready-to-hang picture. Don't have a digital image? That's alright! Enter your artwork size in our interactive frame designer, and once you've selected your mat and frame styles, we'll send you your custom frame!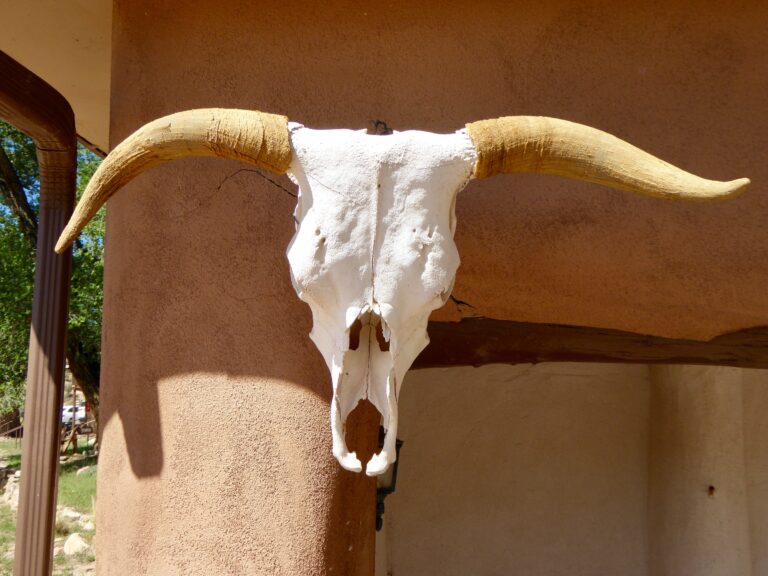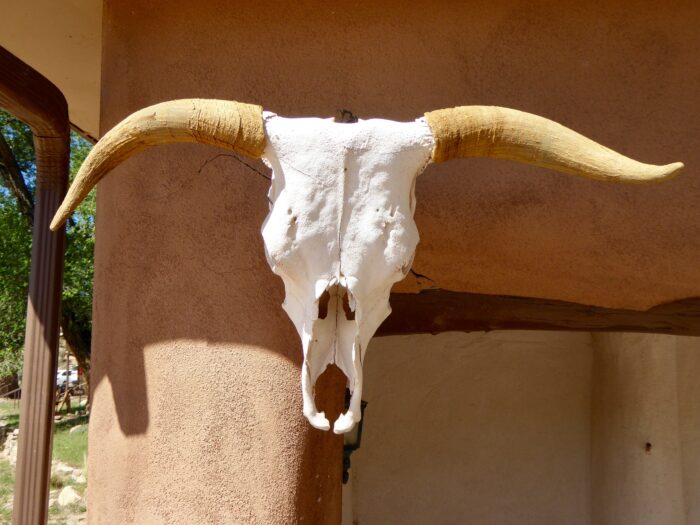 ---
🪴Southwestern Decor: Accessories
Plants: Plants are essential in any design because they bring a beautiful organic layer to a room with a vibrant pop of green. Plus, studies have shown they reduce stress and boost productivity! For southwestern decor, you'll want to focus on cactus and succulents. Although they may need a bit more light and slightly less water than traditional house plants, they're relatively easy to care for and make a big visual impact that screams desert southwest!
Desk accessories: For pens, pencils, and scissors, source a handmade clay, ceramic, or leather pencil cup. Toss the plastic organizers and swap them out for wood or hammered metal trays and tubs. Add one or two of your potted plants to the desktop to complete the look.
Decorative accessories: Handmade clay pottery with tribal patterns are hugely popular in the southwest. Sometimes referred to as terracotta pottery, it comes in a variety of shapes and sizes, usually in earth tones with exterior designs and patterns. You only need a few pieces to make a big impact, so choose pieces that speak to you, with designs or patterns that mirror your other design choices. For your bookshelf or tabletop displays, Kokopelli and kachina dolls are the perfect traditional southwestern accessories.
Rugs and pillows: Nothing pulls a room together like a beautiful throw rug! You'll want something that is mostly earth-toned (think rusty reds, burnt yellows, muted greens, muddy browns, with a pop of turquoise) with a tribal pattern, although oriental rugs in the right color scheme work wonderfully too! Follow those same cues when selecting throw pillows.
Lighting: Good lighting is key to beautifully designed room. We recommend one tabletop lamp or task lamp, and a single floor lamp for background lighting. In terms of style, we prefer craftsman or mission-style lighting. Its warm colors, elegant lines, and simple design make this a sure bet for your southwestern-style office.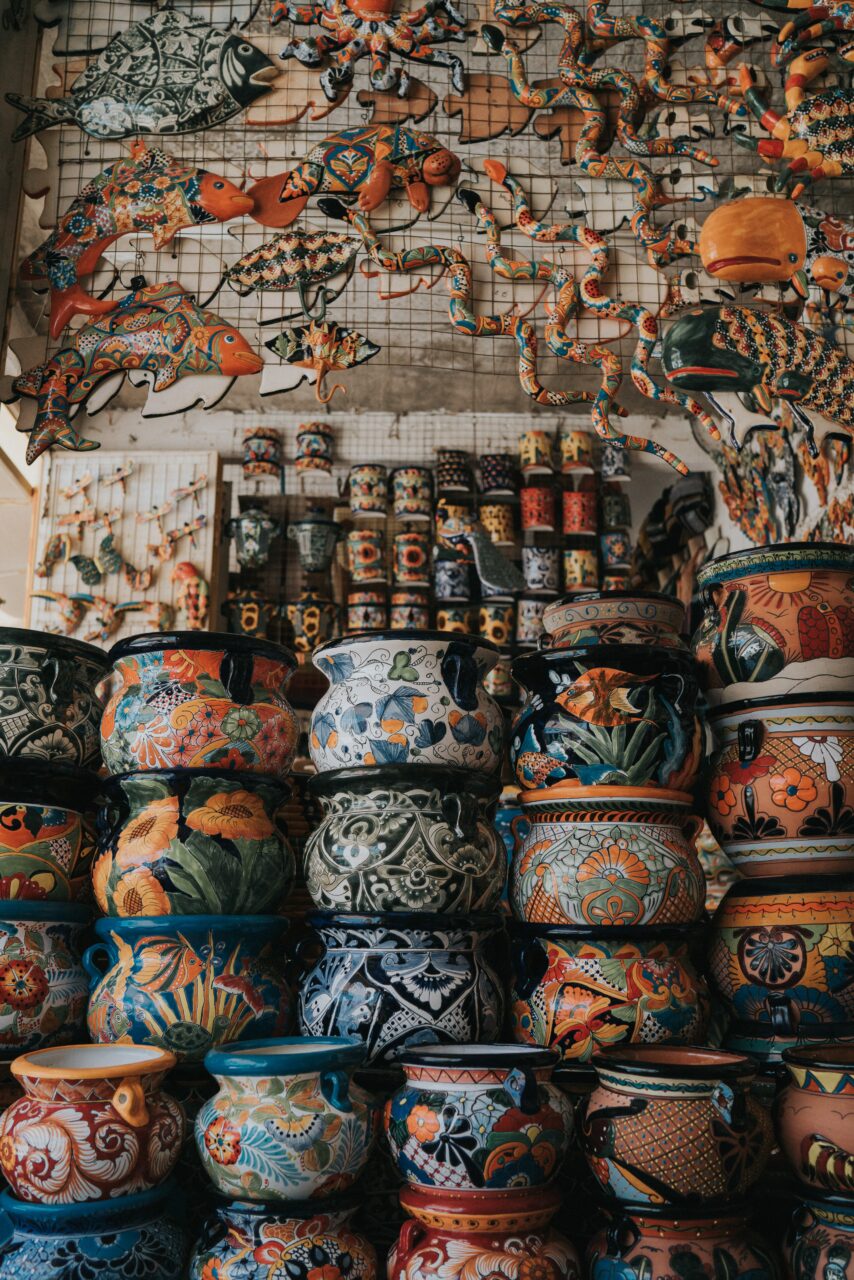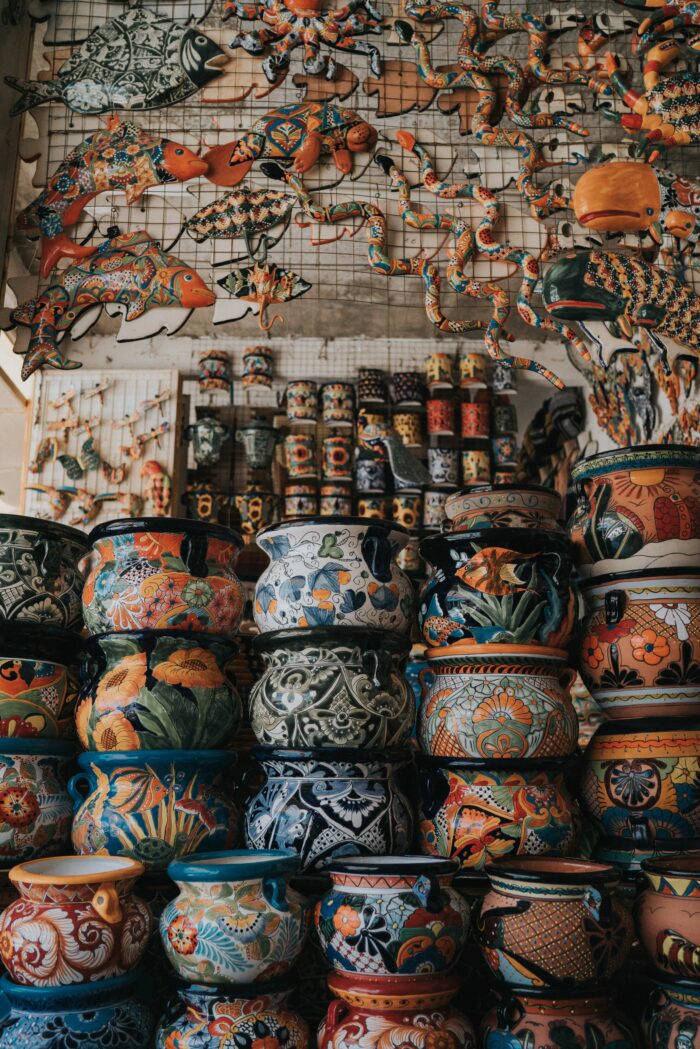 ---
Southwestern decor: Final thoughts
Adding a little southwestern flair to your office is simple! No matter your budget or location, by selecting key pieces of furniture, artwork, and decor, you'll have the southwestern workspace of your dreams. Whether you crave wide open spaces, sun-drenched stretches of sand, or quaint adobe abodes, flex your creative muscles, go forth, and design! Once your project is complete, be sure to share it with us on social media!
Interested in exploring even more interior design styles? Check out the video below to learn all about cottagecore decor, plus get framing tips from the pros 👇
This post first appeared as Spectacular Southwestern Decor Ideas To Elevate Your Home And Office on Frame It Easy - Learning Center for Custom Picture Framing.