From movies to promotional material, posters are a staple in our advertising culture — even in the era of digital marketing. They can also make for some pretty cool home decor! If you are a movie buff, comic book addict, or music and pop culture enthusiast, framed posters are the perfect decor to add to your walls.
That said, if you have a poster that you'd love to frame and are in the early stages of planning a display, you might have some questions — especially if you've never done this sort of thing before. Your poster might require an extra bit of planning before hanging. That's why we're here! We'll help you along with the process and give you everything you'd need to know. That way, if you want to frame another poster (and we're sure you will after you receive your first!) you will handle it like a pro.
There are lots of questions to ask, too, especially if you want your poster to look great, and for a long time: What frame style and color will look complement my poster? How should I mount it to reduce folding and creases? If I decide to use a matboard for a smaller poster how can I ensure it is centered? What precautions do I need to take to make my piece look great for as long as possible?
All these questions, and more, will be answered in this post. By the time you finish reading this, you'll be ready to frame those large images of your favorite actor, movie, video game, etc. With our quick turnaround time, you will be hanging your poster very soon.
Where Can I Find a Poster?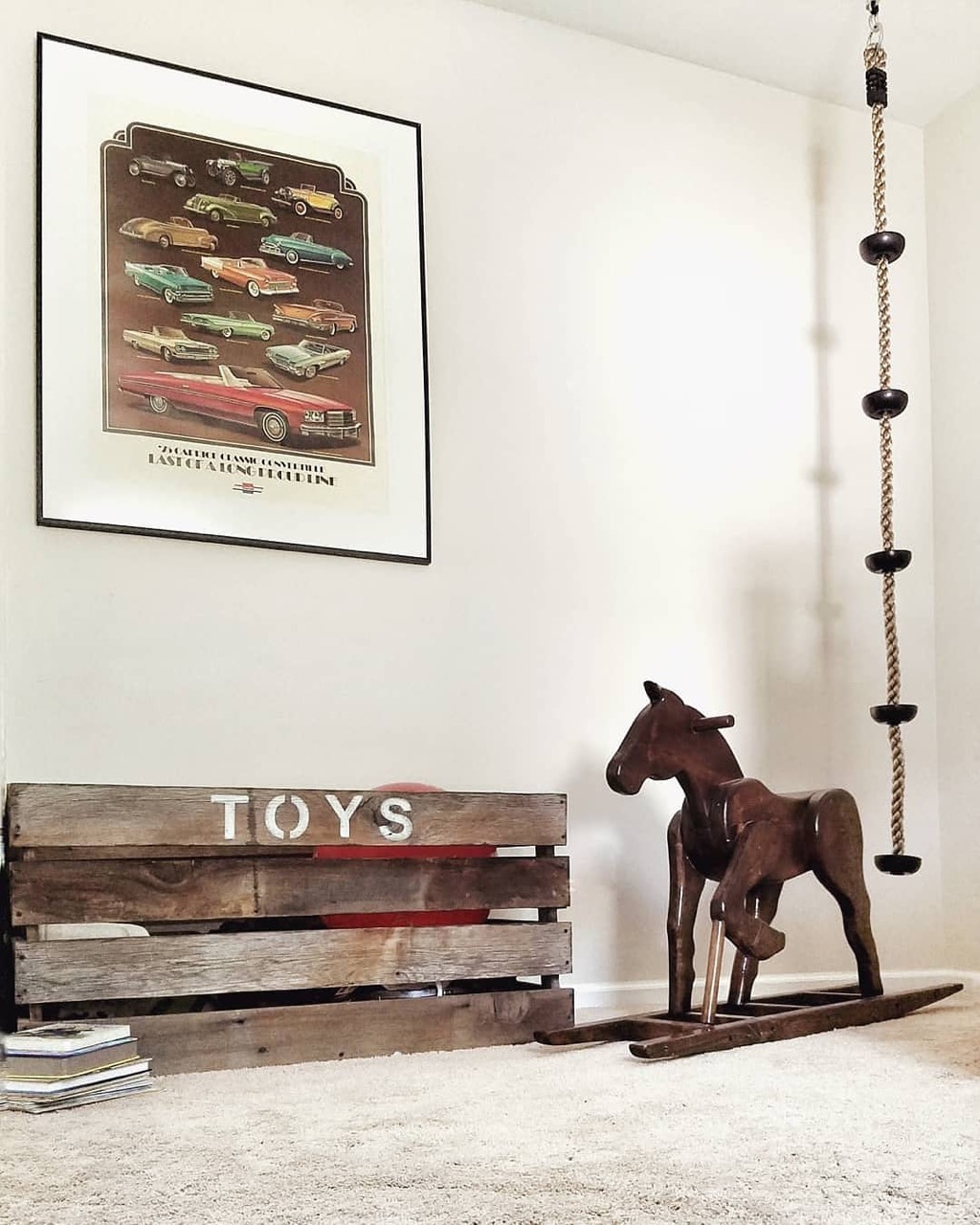 You may have a poster already, but if not or you're looking for something special, AllPosters is a good option and definitely has no shortage of posters. Browse through categories such as anime/comics, sports, or celebrities. There's even motivational or teaching aids to choose from. Clearance items can start as low as $3! Of course, there's some "collectibles" that go for much more. But on average, a good quality poster will only cost you around $10. Check out their Exclusive Products tab for really unique posters!
If you're looking for movie posters in particular. Movie Posters is an excellent resource. With options of original posters arranged by genre, decade, format and franchise, you are sure to easily find what you're looking for. You can even search by poster size. Collections arranged by top sellers, award winners, actors/actresses, or simply A-Z make your search easy! You can also find posters by your favorite poster artist! Highly coveted posters can cost hundreds of dollars (or even be sold out) but the majority are reasonably priced. Or the next time you're at the movies, ask if they sell old posters. Some theaters will even give them away!
You can also check out our post about the best places on the web that we recommend to buy art where you can find posters (and much more) for your wall decor. (P.S. We have asecond post about great places to buy art if, by chance, you didn't find anything you like on the first one!)
But What Looks Good With My Poster?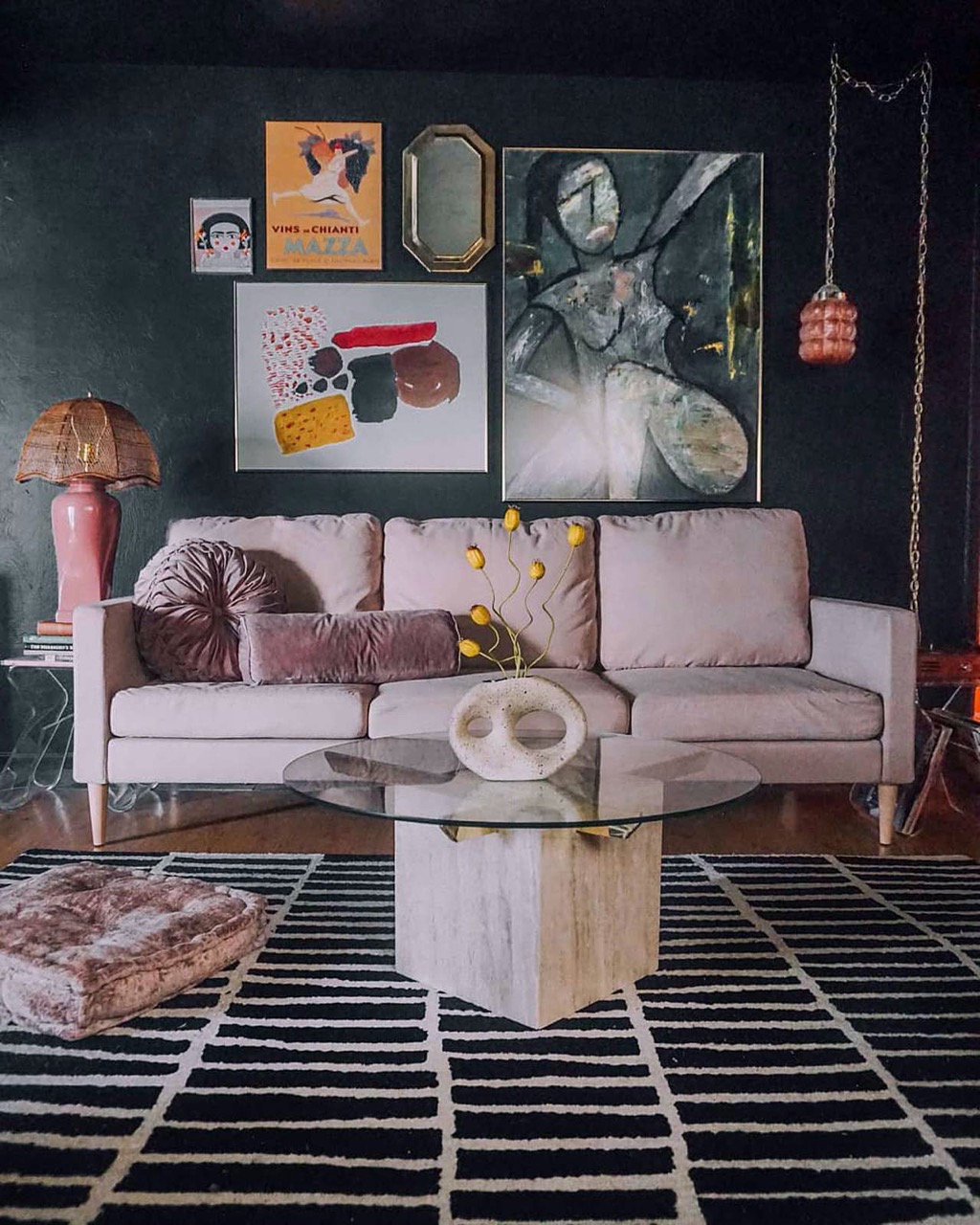 This is certainly an important thing to consider. Some colors and styles work better with each other. We've covered this in a prior post, but we'll touch on it briefly here, too, before getting into the more technical aspects of framing posters.
Here is a brief recap of things to consider about the aesthetics of poster frames:
Metal frames can be made to larger sizes, at least with us.
We recommend metal frames if you have more neon or vibrant colors in your poster. So if you have something super flashy-looking from the 80s, for instance, a metal frame would definitely be the way to go.
Try and find opposing colors on the color wheel for great contrasting colors. For instance, if you have a poster with lots of orange colors, try going for a blue frame. We have one available in the "Hanover" style, in case you were wondering!
For another look, match your frame to a secondary or minor color in your poster to give it a pop on your wall!
How To Mount It.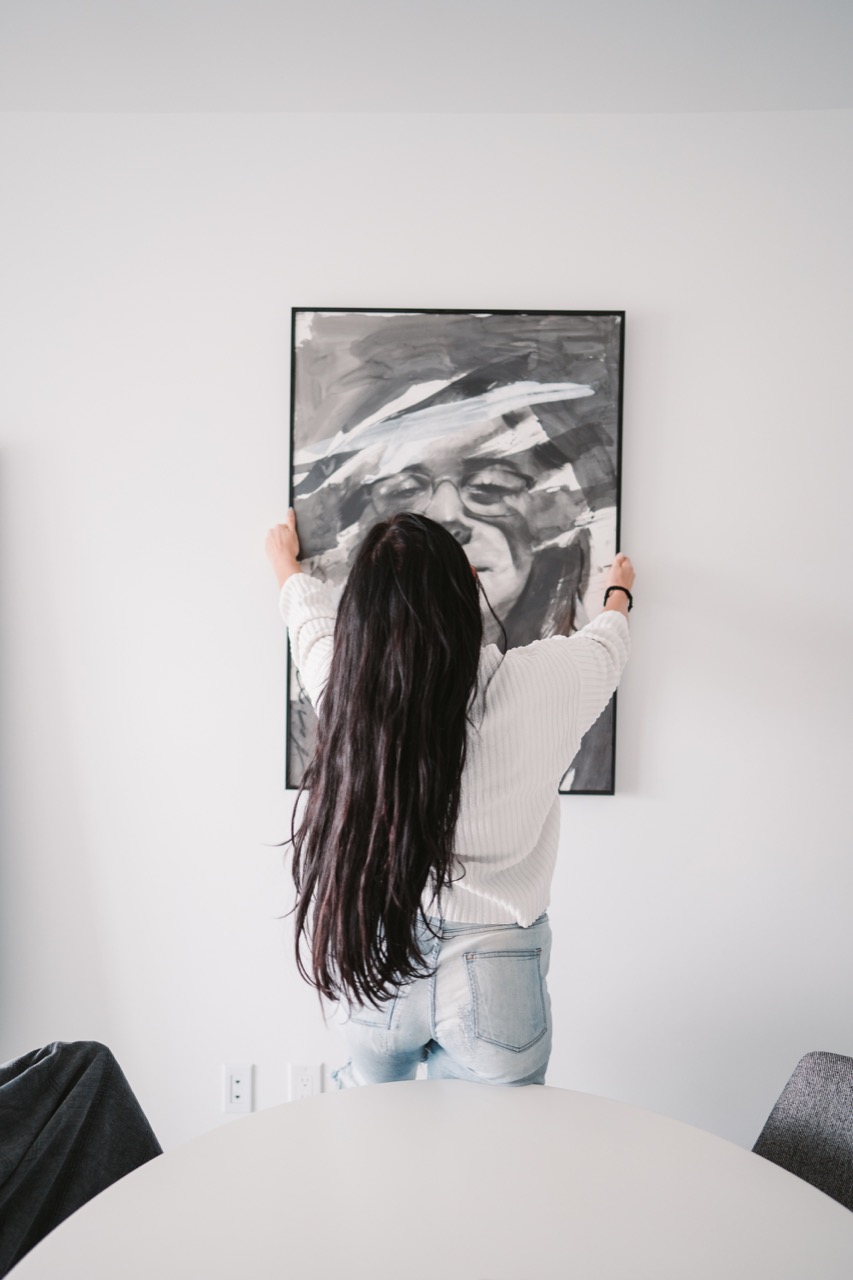 For our frames, as long as you measure correctly, there should be a quarter-inch overlap that holds everything snug in place. That said, some people want that extra bit of security, or they want to negate the overlap, as they have important details near the edge of the piece (especially true in poster art).
If that's the case, we recommend the "H" method of mounting. We have a tutorial for it on our YouTube page, but we'll give you a quick rundown of how it works here. In the video, we use Framer's Tape sold on our "Accessories" page.
First cut three separate strips of tape. One will be used sticky side up while the two others are used sticky side facing down. Simply lay the two sticky sides facing down pieces perpendicular to the sticky side facing up piece — making an "H" shape.The sticky side-down pieces hold the tape in place, while the sticky side up piece adheres the poster to the backing of the frame.
Our Framer's Tape is acid-free and won't degrade your art over time. We couldn't guarantee this of other products, though, so if you do choose to purchase tape elsewhere be sure it won't harm your art.

How To Center It If You Want Matting.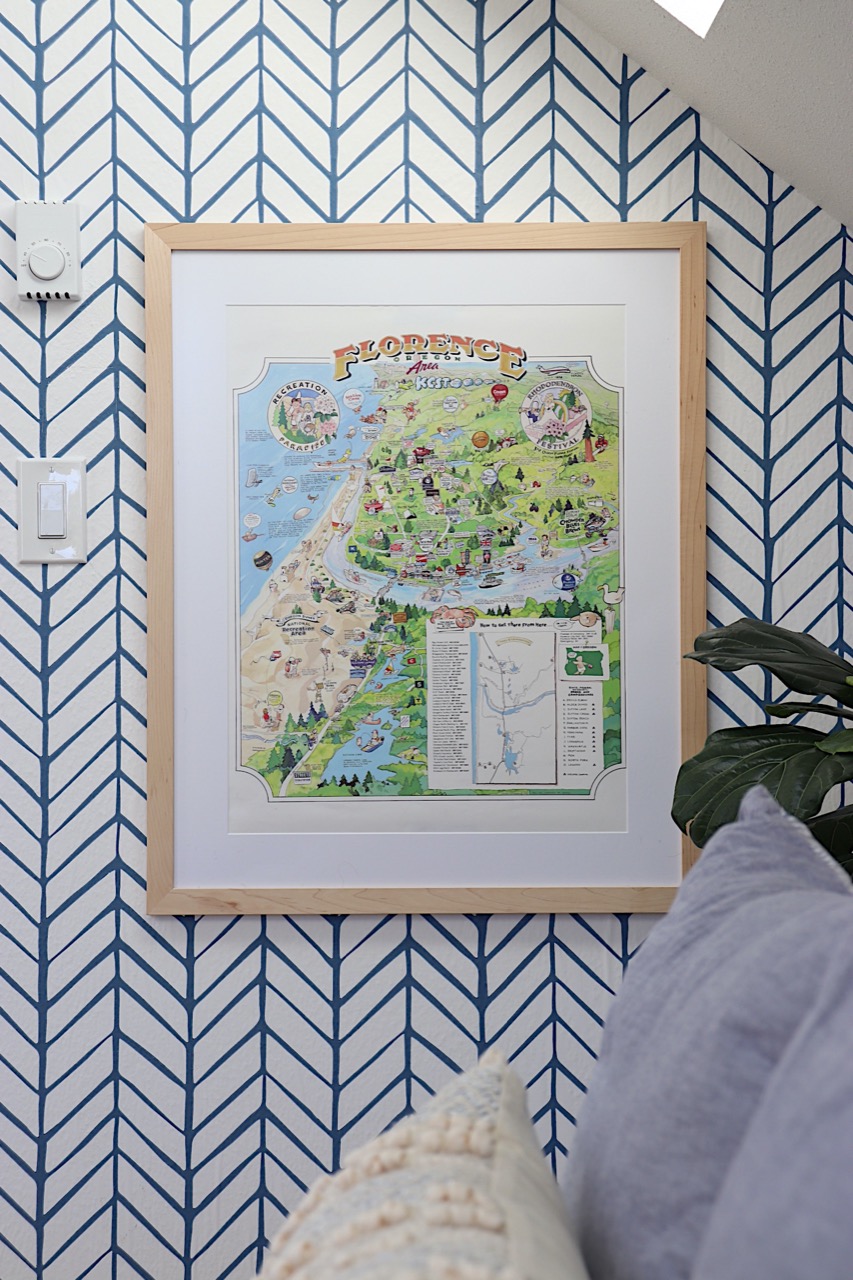 If you choose to add a matboard to your frame there are a couple of things to keep in mind. Some posters would be too large to add matting on our site. (The largest "Art Size" we can accommodate matting for is 28″ X 36″.) And, of course, you don't want to "lose" any of the art in your poster by hiding it under matting. For these reasons, most of the framing we do for posters is done without matboard.
However, if your art falls into the size that can accommodate matting, and if the poster has a "border" that has no artistic value, or if you've purchased a frame from a different vendor and are on this blog seeking advice — welcome, if that's the case — you should use the "T-Hinge method."
This is even easier than the "H" method and works great if you are adding matting to your frame. It's actually easier to watch how it's done in the linked video than explain, but all you need to do is flip your art over and lay two pieces of tape (acid-free applies here, too!) across the top. From there, you would just attach two pieces that go perpendicular to the previously set pieces.
Then just attach the art to the top of the mat from there. The result should be the matting and art becoming attached as one unit, with the art being able to wave back and forth — almost as if the tape created a hinge! Again, watch the linked video to see how simple it is. Once that's done, you just slide everything into the frame.
How To Remove Creases in Posters for Framing.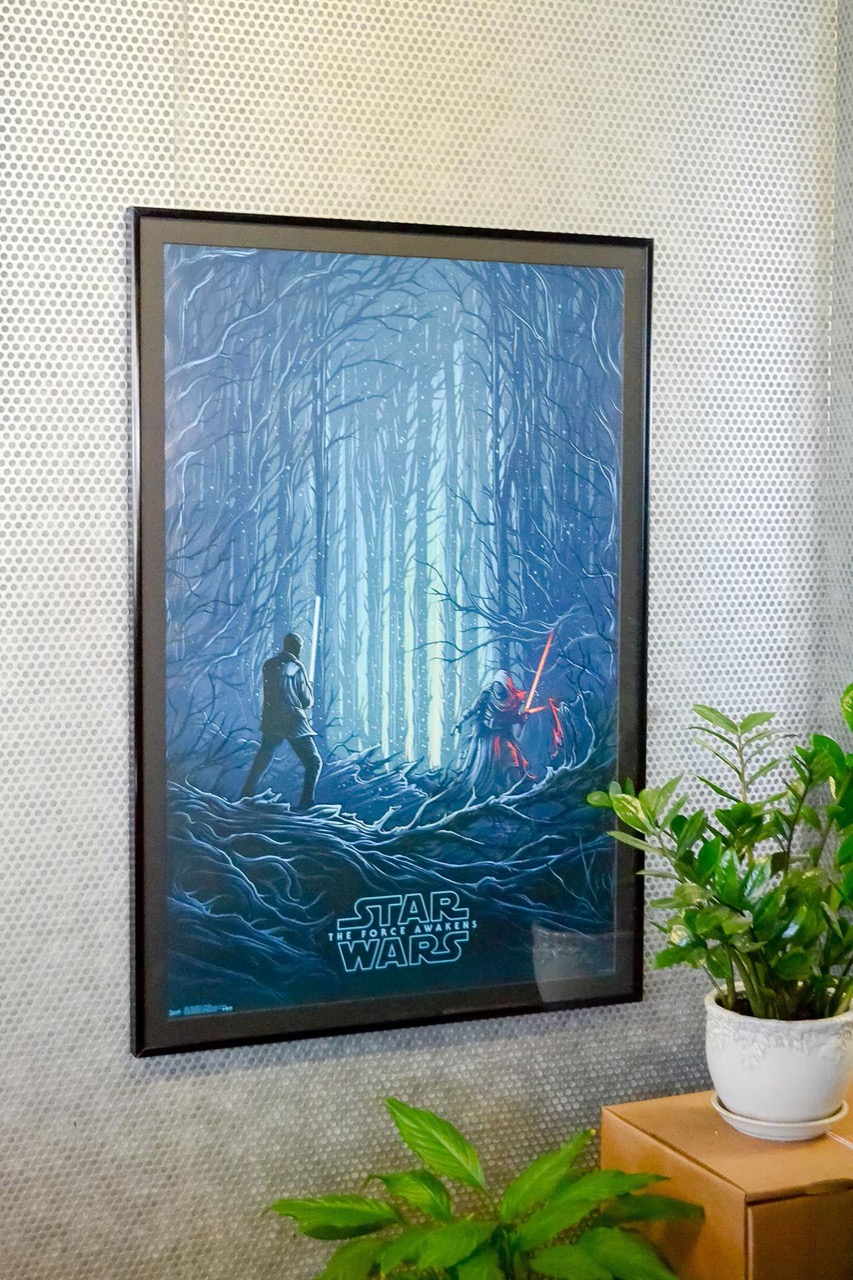 Now we'll discuss some (pardon the pun) wrinkles that can occur and get to some of the logistics of ironing them out before you frame your poster (again, sorry for the pun!). Creases, lines or ridges in your poster from folding, pressing or crushing are frustrating, but there's rarely a situation that you won't be able to fix.
Maybe your poster is a pull-out from a magazine and has a massive fold going through the middle of it. Or it has lines and ridges in it from being improperly stored. These blemishes will detract from your display, but here are a few ways to fix this issue. Some are more involved than others, but all should give you a good result.
Steam It.
Sometimes, you just need to get the paper more malleable before trying to get it totally flat again. A great way to do that? Steam it, of course! While this might seem difficult, it's actually pretty easy. As long as you have some cardboard, a shower curtain, and, well, a shower, you should be able to do this.
(If you don't have the piece of cardboard and need it, check out your local packing supply store and give them the measurements you'd need. They might be able to help you out.)
The first thing you'd need to do is lay the poster over the piece of corrugated cardboard. You would then place the poster with the image side facing down on top of it.
From there, turn the shower on and leave the room for about a half-hour. After you let it sit, just remove it and place it back in a normal environment — this time with another piece of cardboard on top of it. You can use something heavier, too, for the top piece if you feel it's necessary.
This should solve the problem. But there are also other options if you don't feel like running up your water bill or this method hasn't resolved the issue.
Iron It.
This option certainly will take less time. Again you will need a piece of cardboard to fit the size of your poster, an iron and ironing board, and a piece of cloth so that nothing will get burned. With the image facing down, place the cardboard on top. After you do this, just iron away! You want to set your iron to the lowest possible heat setting without steam. Heat and paper-materials usually don't mix well, so minimal heat will do — as well as eliminate the likelihood of a mishap.
Check out these links for how-tos:
https://homeguides.sfgate.com/fix-crease-poster-75872.html
https://www.doityourself.com/stry/how-to-iron-the-wrinkles-out-of-a-poster
https://www.ehow.co.uk/how_7722090_protect-movie-posters-sun-damage.html
Framing Old Rolled Up Posters.
Posters most often are delivered in tubes, which is great for shipping efficiency but it can create some issues when you're trying to display it — whether it's with some thumbtacks or in a frame. While we're assuming you're trying to display it with the latter, there are some great ways to get a poster laying flat before beginning the framing process and putting it on your wall.
In order to reverse the curling, you'll want to roll it the opposite way it naturally balls up into. So get a few rubber bands and do that! Roll it up in the direction that's against its natural bend. Carefully place a rubber band or two to hold it in place and just leave it alone for a few hours.
After some time has passed, unroll it; it should have lost much of its tendency to roll back up. That said, there still might be some curving. To completely eliminate that, just set a few heavy weights — such as books — on top of the poster and let it sit that way for a few more hours. Once you do that, you should be all set! Your poster will lay flat enough for you to mount, frame, and hang it perfectly!
Here are some more guides:
https://www.designdifferent.ca/pages/flatten-your-poster-step-by-step-guide
https://www.wikihow.com/Flatten-a-Rolled-Map-or-Poster
https://www.craftsuprint.com/projects/paper-craft/posters-and-signs/how-to-flatten-a-rolled-map-or-poster.cfm
Be The Poster Child Of Framing!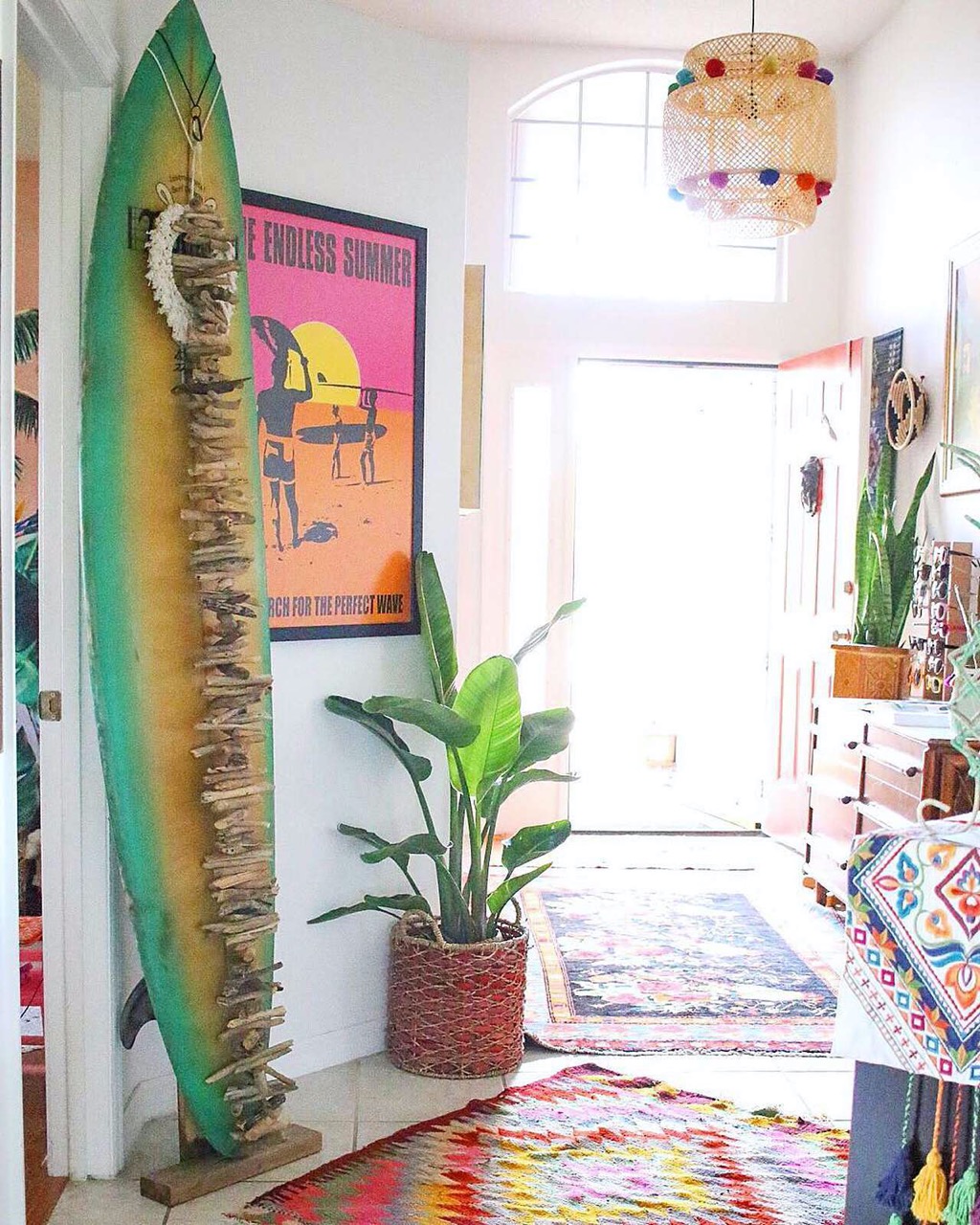 Posters are some of the most commonly-framed items. While framing them isn't quite as technical as other items, there are still some details that you want to get right — as well as some adversity that you might want to overcome. If you keep the following in mind, though, you will be a pro at framing posters in no time:
If you're wondering what frame colors work best, the color wheel is always a good place to start. With our interactive website, you can actually see how the color of the frame will look with your poster before you purchase it. Experiment!
The "H" and "T-Hinge" mounting methods are great for getting your poster flat on the backing of the frame and perfectly centered in the middle of the matboard.
If you have a poster with a lot of creases, steam or iron it before you frame it.
If you have a poster that rolls up easily, roll it the opposite way!
If you have a poster project that's all framed and want to share it with us, feel free to show us on our social media! We always love seeing the creative ways our customers display their art!