Building a brand is crucial for any business; the art industry is no exception. A strong brand can help you stand out from the competition and attract your target audience. Plus, with a well-crafted brand, you can establish yourself as a professional artist and create a loyal following. But whether you're just starting out or are a seasoned pro, understanding and marketing your art business can be a challenge!
In this guide, you'll learn how to build a brand for your art business, from defining your brand identity to creating a memorable visual identity.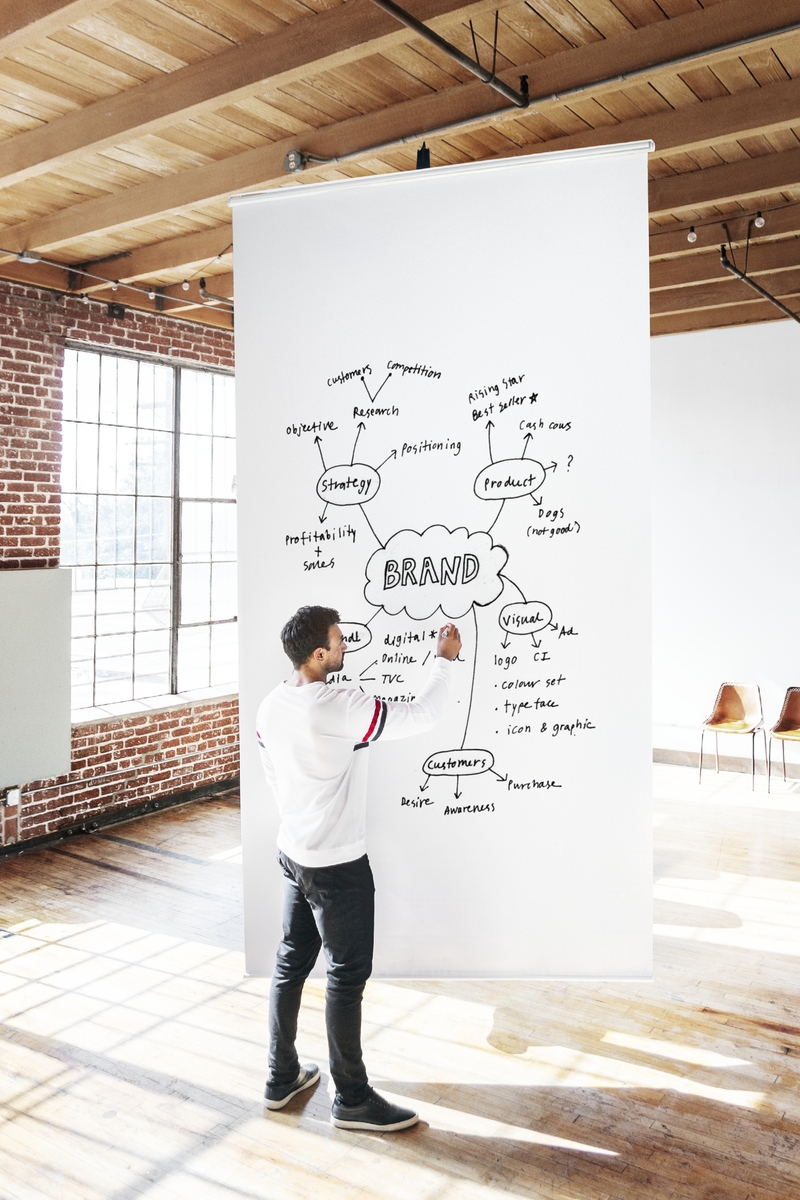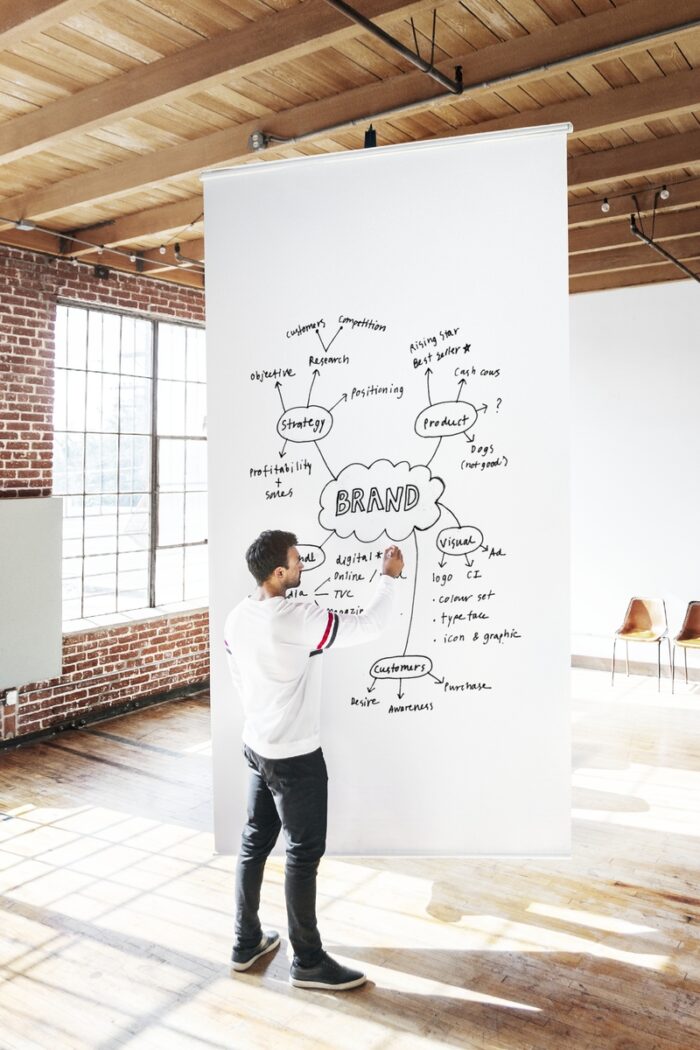 ---
What Is Branding?
Before we get into how to build a brand for your art business, it's important to understand what branding is and learn why it's essential for small businesses. Overall, branding is useful because it acts as a unique identity that sets you apart from the competition. It goes beyond a mere logo or a catchy tagline though; it encompasses the emotions, values, and perceptions associated with your art business.
Branding isn't just reserved for large corporations either; it plays a vital role in the success of small businesses too. A successful brand helps establish credibility, build trust, and create a memorable impression in the minds of your target audience.
In the competitive landscape of art, branding becomes even more crucial. It acts as a powerful tool to differentiate yourself from the sea of competitors and attract customers who resonate with your artistic vision. A well-crafted brand strategy can elevate your art business, enabling you to communicate your unique story and connect with your audience on a deeper level. It instills confidence in potential customers, making them more likely to choose your products or services over others.
Ready to take your art marketing to the next level? Don't miss Art Marketing Like A Pro: 4 Proven Must-Have Tips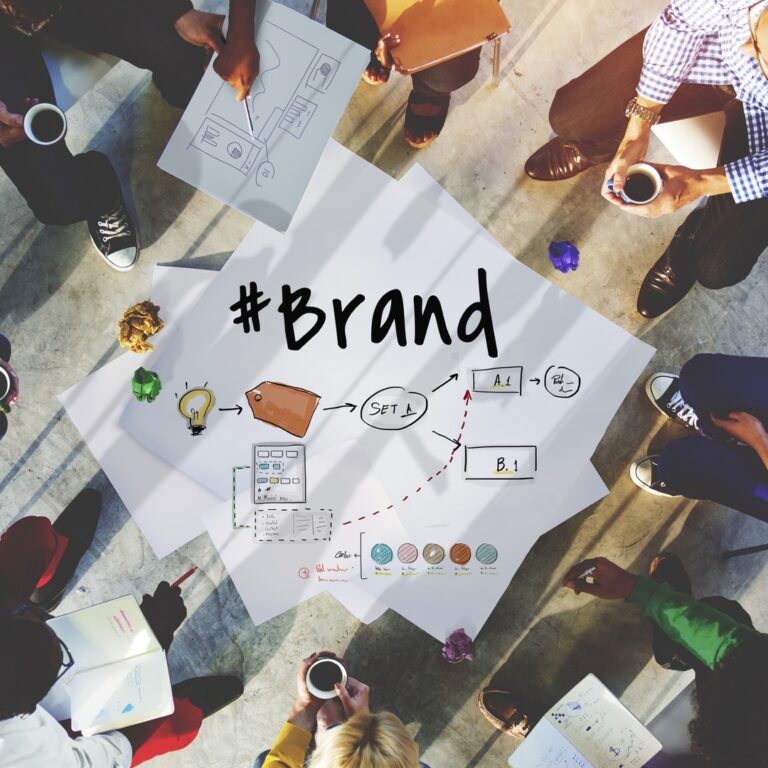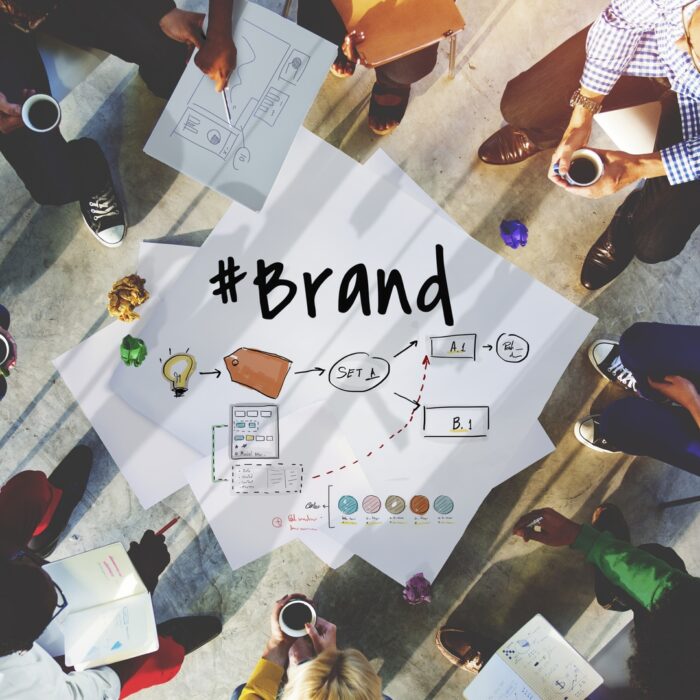 ---
Branding Elements
Because branding is so important for art businesses, it's essential you don't overlook certain key elements. To help get you started, we've rounded up some of the more important pieces of the branding puzzle you'll want to address and build as your business grows!
Mission or vision statement – Statements that declare either what purpose your company serves, or as a roadmap to show the direction it's headed. Learn all about them here.
Logos and graphics – A symbol based on a combination of images and text that represent a company.
Name – The name of your company needs a lot of consideration. It's the one element of your branding that won't change, so make sure you like it before you commit!
Tagline – A catchy phrase that represents your brand's product or purpose. Like a company name, a tagline sticks with a brand so choose carefully.
Color Palette – A selection of colors used on your website, letterhead, packaging, business cards, or any other branded items you use. Use the same colors to promote consistency.
Tone of voice – Is your company friendly or informative? Knowledgeable or laid back? Choose a tone of voice that resonates with your audience, and stick with it!
Positioning – What benefit does your company provide over your competitors? Is it the cheapest, the fastest, or the most popular? Find that niche and use it to shape your name, tagline, or mission statement.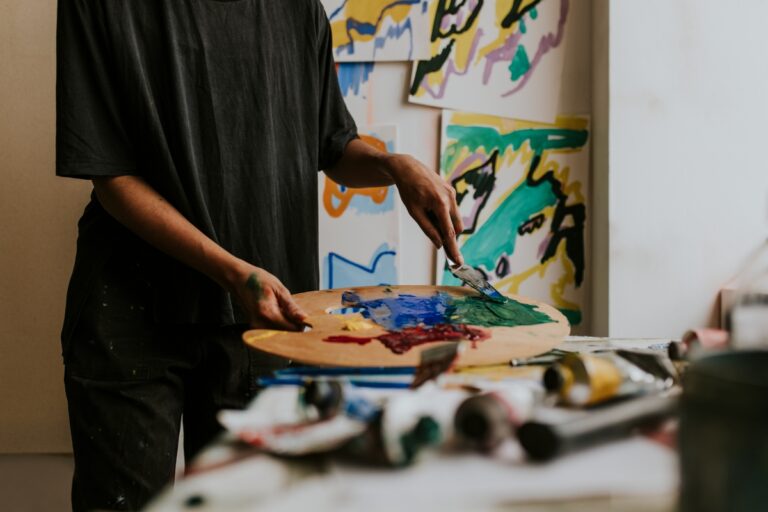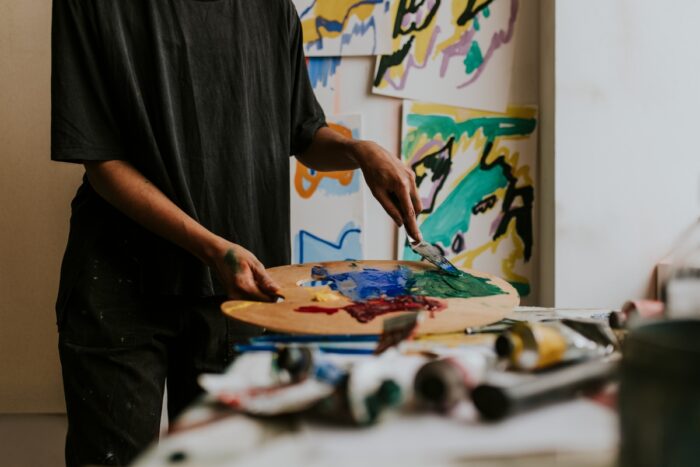 ---
Get instant access to our Artist Onboarding Guide, plus can't-miss advice for creative professionals, delivered right to your inbox! 
---
Branding Tools
There's a lot of support out there for artists looking into branding for their art business! Technology has improved so much that doing things that used to require a specialist can now be done by artists with almost no extra software skills. We've compiled a list of our favorite tools available online below, designed to help build a brand and save you time!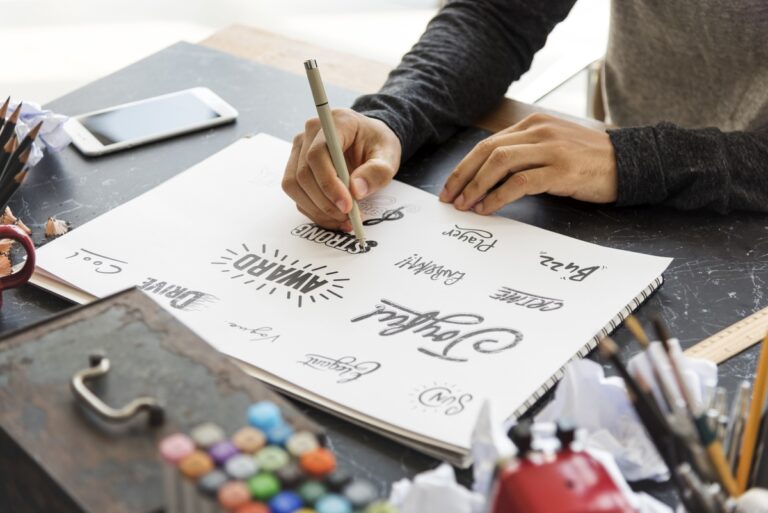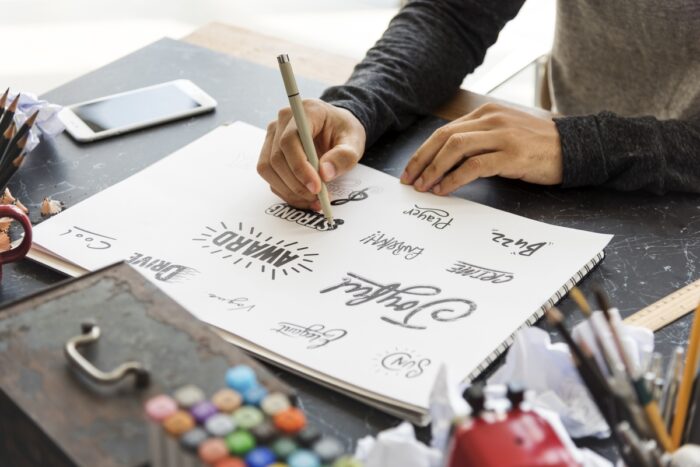 ---
Branding Tips & Tricks
Now that you've learned all about branding basics and how to build a brand for your art business, it's important to continue evolving and refining your brand. Take a look at the branding tips and tricks below to take your art branding to the next level and boost your art sales today!
Consistency is key – Crafting a brand takes dedication and patience; consistency in your branding across all channels is the key to your branding success. Ensure you're using the same colors, taglines, logos, and fonts with each touchpoint.
Utilize social media for brand promotion – Given that social media is free to use with a built-in international audience, it makes a lot of sense to promote and share your brand on as many platforms as you can.
Seek guidance from industry experts – Look to artists who have established a strong brand presence. Learn from their experiences and apply their strategies to your own art business. They can provide valuable insights and help you navigate the branding landscape.
Share your story – Share the inspiration behind your art and connect with your audience on a deeper level. By doing this, you promote your art and help build trust with potential customers which makes it that much easier to earn a sale!
Use impressive visuals – It'll be difficult to make a sale if you use low-quality images of your art. Instead, find a product mockup generator (learn how, here) or if you're looking for a snazzy art and frame image, head to our frame designer, upload your art and choose your design options, then click "Share or Save", then "Download Preview Image" for a high-resolution preview.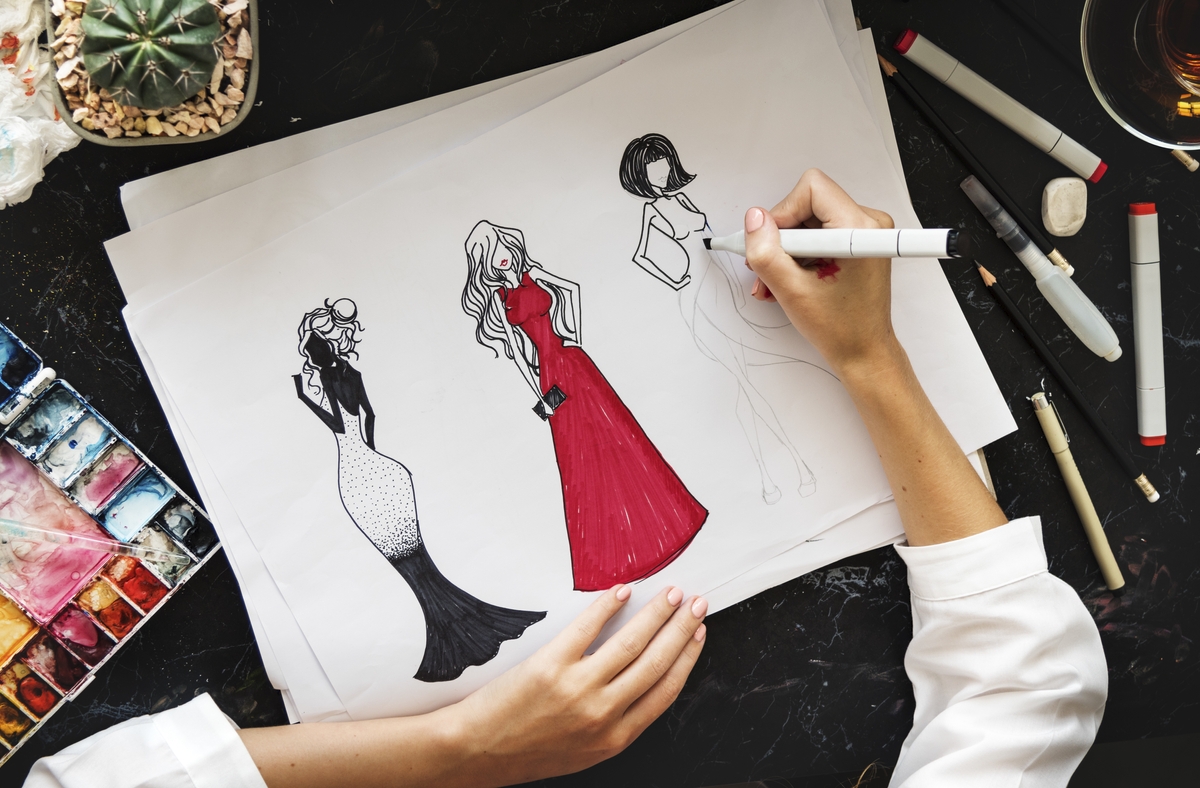 ---
How To Build A Brand: Final Thoughts
Are you struggling to stand out in the crowded art market? Branding can help you make a lasting impression and attract more customers. With this guide, we hope you've learned how to build a brand that captivates your audience and sets you apart from the competition, with creative branding solutions, ideas, and tools you can start using today!
And don't forget, if you're an artist looking for an easy passive income, our Shopify app gives you the ability to sell framed and ready-to-hang art with no upfront inventory costs and no minimums! It's designed to save you time so you can focus on what's most important – your art, while we care for everything else! Watch to learn more 👇
Get instant access to our Artist Onboarding Guide, plus can't-miss advice for creative professionals, delivered right to your inbox! 
This post first appeared as How To Build A Brand: Easy Art Business Branding 101 on Frame It Easy - Learning Center for Custom Picture Framing.