Bohemian decor first appeared on the design scene in 19th century France as artists and gypsies, pushed out of traditional areas by the bourgeois, converged into the same neighborhoods and began sharing cultures.
This melting pot of ideas developed into an aesthetic that's well-known today for its casual, eclectic, international vibe. Given its rise in popularity, It's not hard to see why so many want to incorporate this red-hot trend into their workspaces.
Keep reading to learn how to transform your office into the sophisticated bohemian sanctuary of your dreams!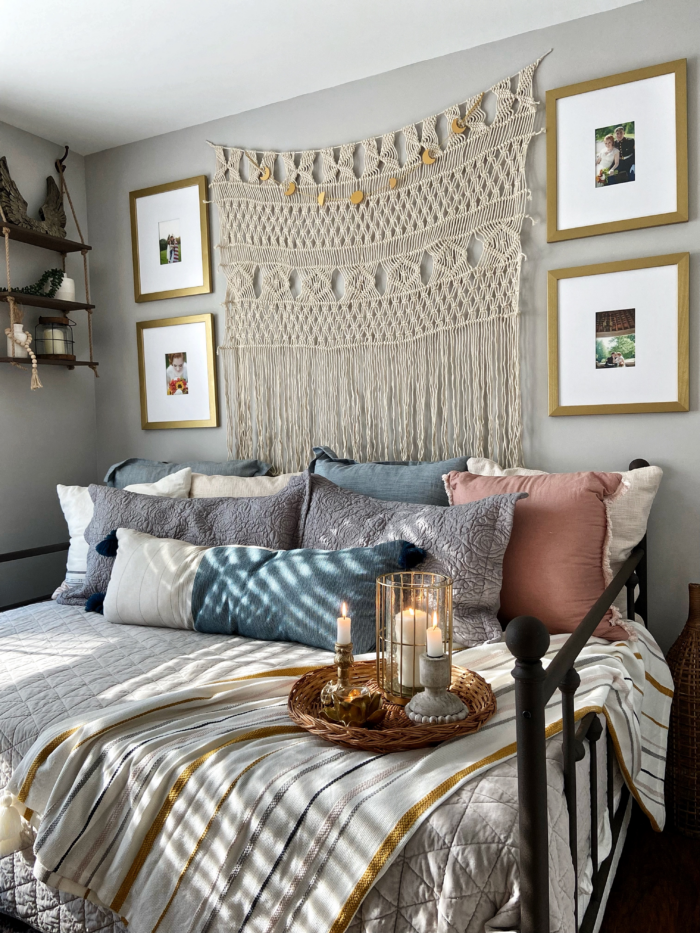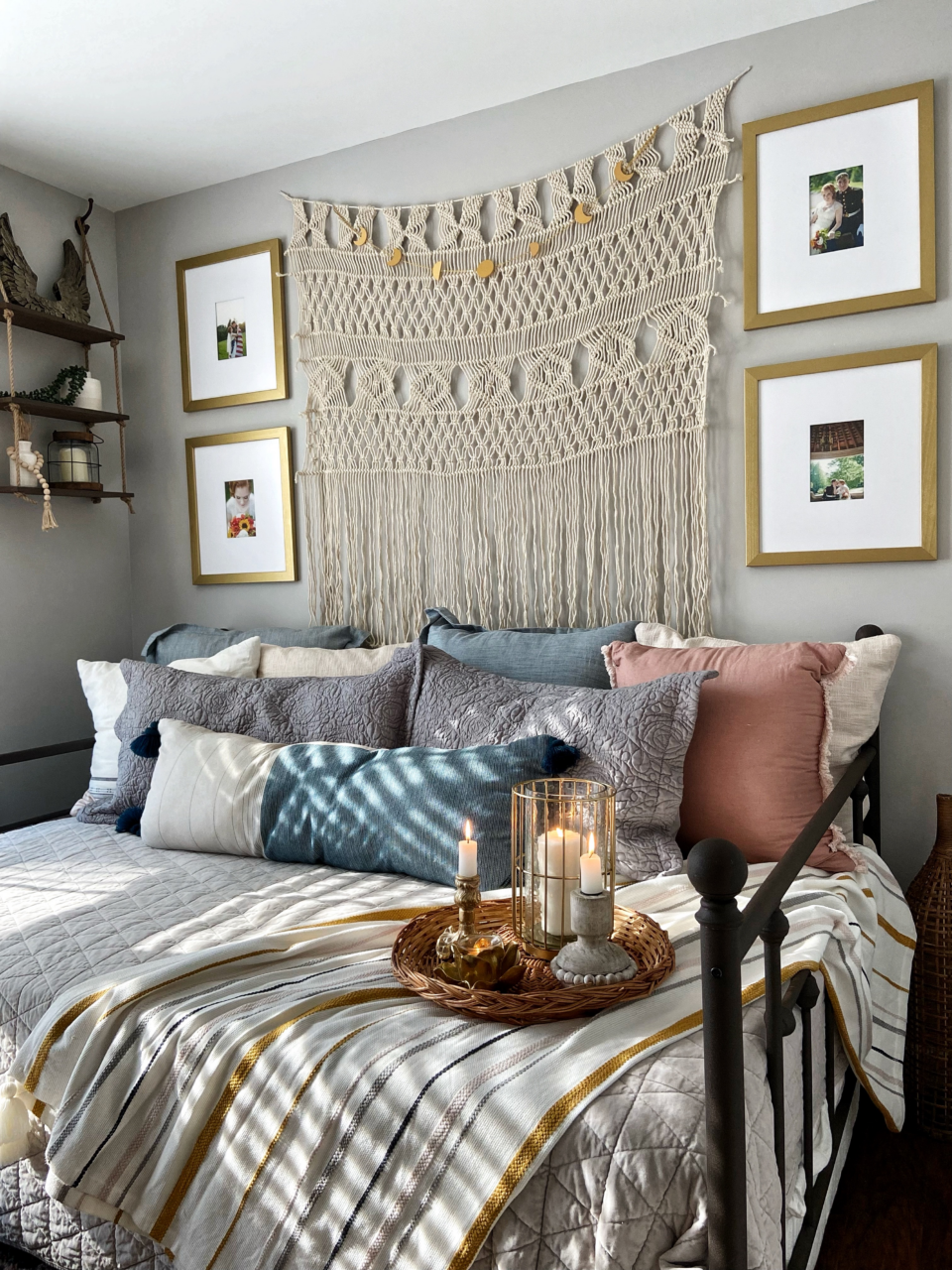 ---
Amazing Bohemian Office Decor Ideas: Furniture
There is no tried and true scheme to follow when sourcing furniture for your bohemian office, so instead, you'll want character-infused pieces collected from different sources. Look for items with traditional lines that are comfortable and casual in earth tones. Wicker, rattan, and some mirrored elements work well, too.
What to look for:
Character-infused pieces
Earth tones
Wicker and rattan
Comfortable and casual
Light stained or whitewashed wood
Vintage furniture is a hallmark of boho design, so try to source as much secondhand as you can. You'll want to visit flea markets, estate sales, and thrift stores. Don't worry about scratches and dents as they add some much-needed character.
Try to stick to lighter stains or whitewashed wood; painted is fine, too (earth tones, white, or light gray). Rattan furniture is also popular with this style.
If you decide to purchase new, keep your eye out for extra character details like worn edges, aged finishes, or inlaid carving. Avoid furniture sets if you can as they tend to take away from the eclectic vibe that boho spaces are so well known for.
If you're on a budget or want to try some DIY, you can refinish a piece to fit in perfectly with your bohemian office. Your first option is to whitewash furniture; you can also paint it in a beautiful earth-tone palette. Additionally, you can always sand and stain a piece (stick to lighter stains).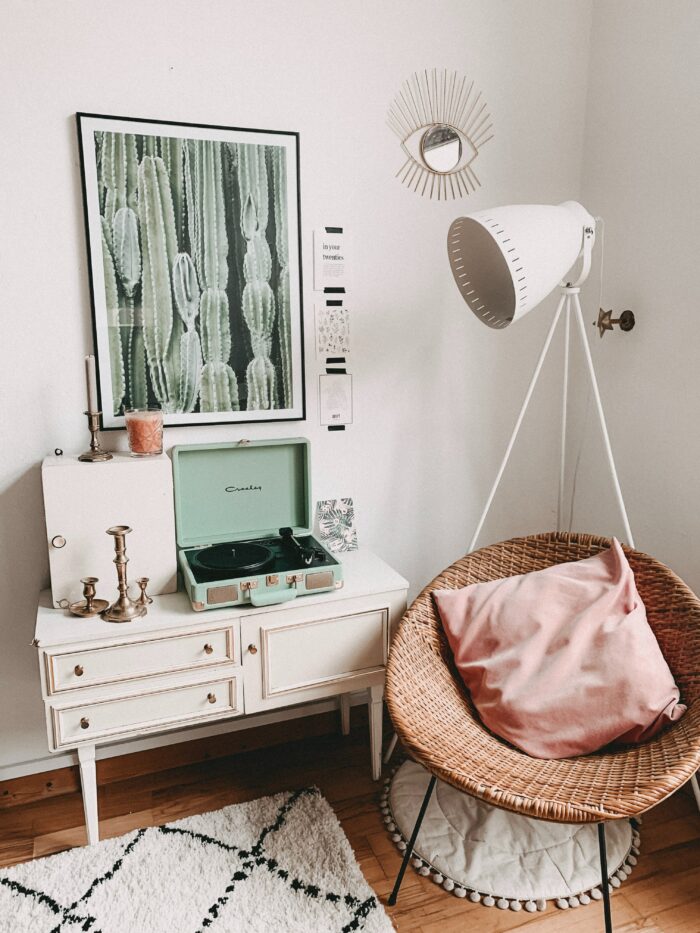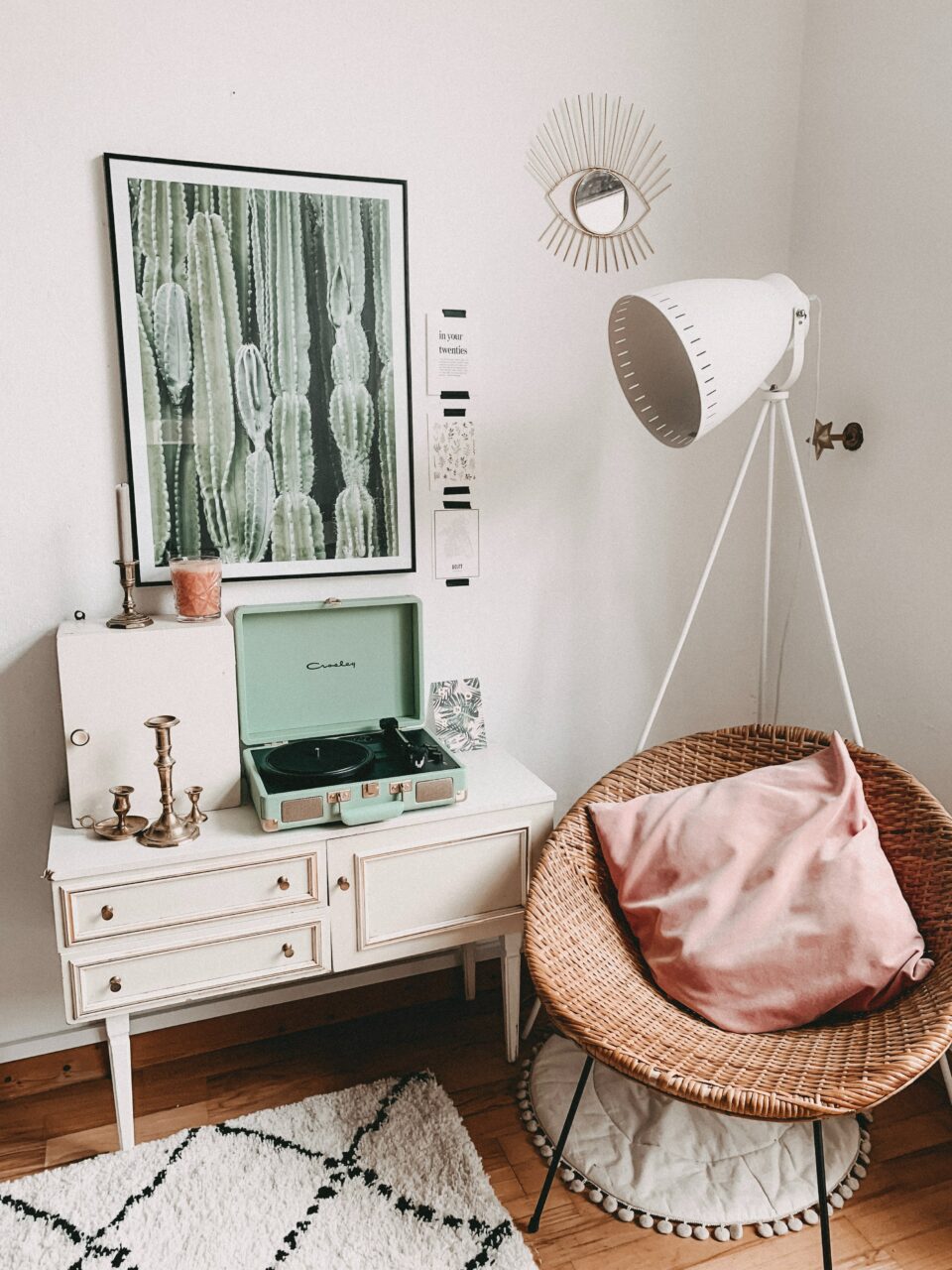 ---
Amazing Bohemian Office Decor Ideas: Artwork
Whether you purchase art or download a free image online, look for nature prints, curvy abstracts, and line drawings predominantly in browns, greens, oranges, and pastels. Feel free to mix and match styles, subjects, and sizes.
To get a genuine bohemian feel, we recommend you feature your art prints on a staggered gallery wall (aim for 4-8 framed pieces) with varying frame styles.
What to look for:
Art featuring curvy graphics, nature, or line drawings
Colors in orange, brown, green, or pastels
Various frame styles
Organize on a gallery wall
Your first stop should be our nifty guide on where to find free downloadable art online. Or, grab a few pieces of bohemian-approved graphic art from Raw Pixel along with some earth-toned nature prints from Unsplash.
And if you're feeling creative, why not try a DIY boho landscape painting? Additionally, if you have art you love, but that's looking a bit tired, try swapping out the frame and mat board for an instant art makeover!
➡︎ Check out our guide on where to buy art online.
Selecting frames and matboards
We have a few spectacular frame options for bohemian offices: Our Hanover frame in Satin Gold or Black is unpretentious yet modern, perfect for a casual look. Our Derby frame in Rustic Gray has a warm, weathered look wonderfully suited to boho spaces.
Finally, our Dayton frame in Whitewash, White, Sand, or Gold is a nice compliment to a bohemian workspace. We recommend a variety of frames in similar finishes for your gallery wall, as well as a matboard for at least half of your pieces.
Ordering frames
We've made it simple to order picture frames online! If you have a digital image, upload it to our frame designer, choose your frame and matboard options, and we'll print, frame, and ship you a ready-to-hang picture. If you have an art print, add the height and width to our frame designer, choose your frame and matboard options, and we'll ship your custom frame to your doorstep!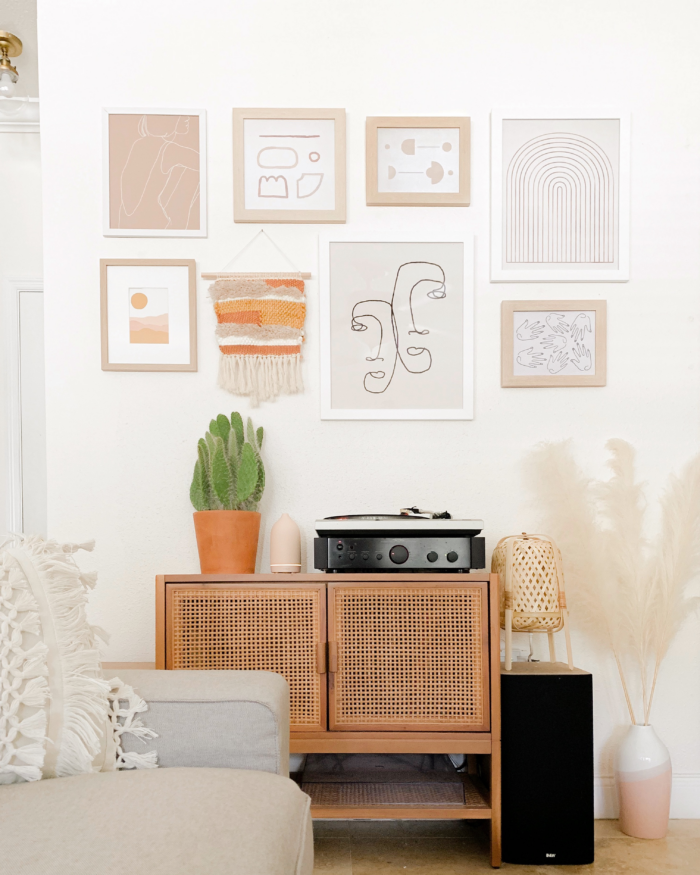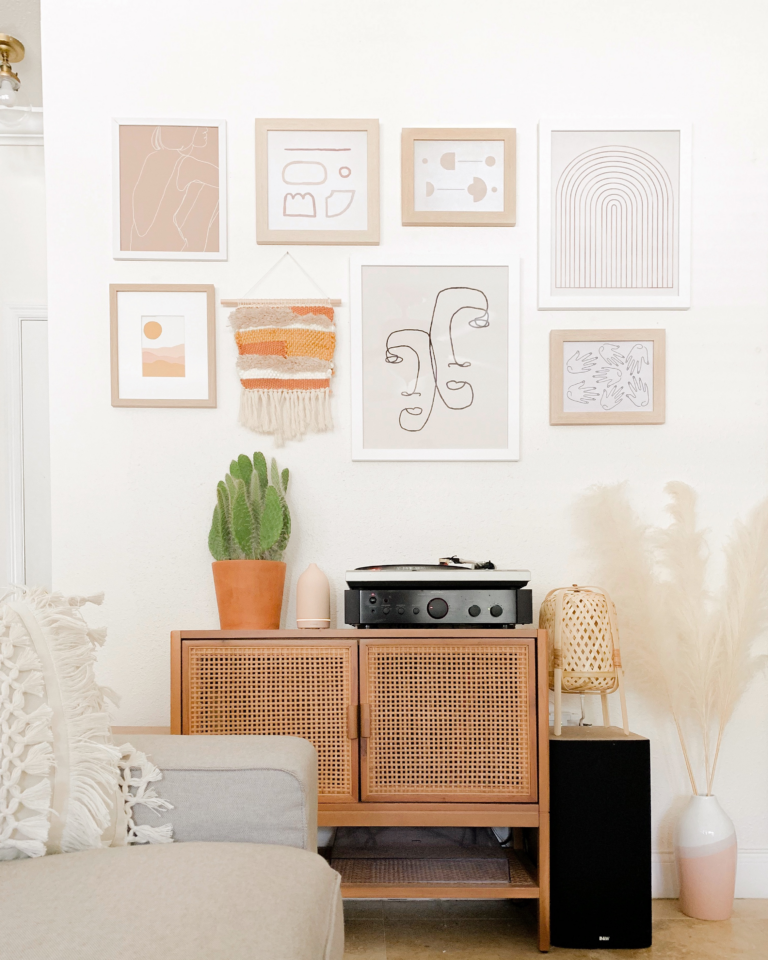 ---
Amazing Bohemian Office Decor Ideas: Decor
Decorative accessories will help fill your office with thoughtful designer touches. You'll want to keep earth tones front and center as you style your workspace, and you'll need to layer in textures and muted patterns for a plush, comfortable aesthetic.
What to look for:
Snake and pothos plants
Wicker and rattan desk accessories
Earth tone rugs, pillows, and blankets
Macrame wall hangings
Desk accessories
Swap out any plastic trays for rattan or wicker paper trays, and find an earthy ceramic cup for your pens, pencils, and scissors. Find a decorative whitewashed wooden box for odds and ends. Add a plant or two to a corner for a pop of green.
Plants
Plants are a big part of any bohemian decor scheme, so don't overlook their importance. We recommend a Pothos plant because it's easy to care for and brings an eclectic touch to a room with its long trailing vines. We also recommend a snake plant; they're low maintenance and add a tropical, international vibe.
Rugs and pillows
Rugs add a focal point to a room, while pillows help soften things and add warmth. For rugs, look for creams, whites, and muted grays with minimal designs. Urban Outfitters has a selection of trendy options. Additionally, sisal and jute rugs look fantastic in boho spaces too!
If you have an extra chair or sofa, don't forget a throw pillow (follow the same design guidelines). For an added designer touch, drape a plush blanket over a chair to amp up the cozy factor!
Decorative accessories
Macrame is a must for boho spaces! Whether you DIY your own macrame wall hanging art or you purchase it new, be sure to include it in your office. Baskets and woven hats also look great fastened to a boho wall, as do floating shelves (don't miss our guide to styling the perfect shelfie!) with hanging plants and candles.
Lighting
We always recommend at least two light sources in your office. Good lighting is key to staying productive, so you'll want one task light for your desk and a floor lamp for background lighting. In terms of style, a retro or midcentury modern desk lamp (in white or black) along with a more modern white floor lamp should be perfect!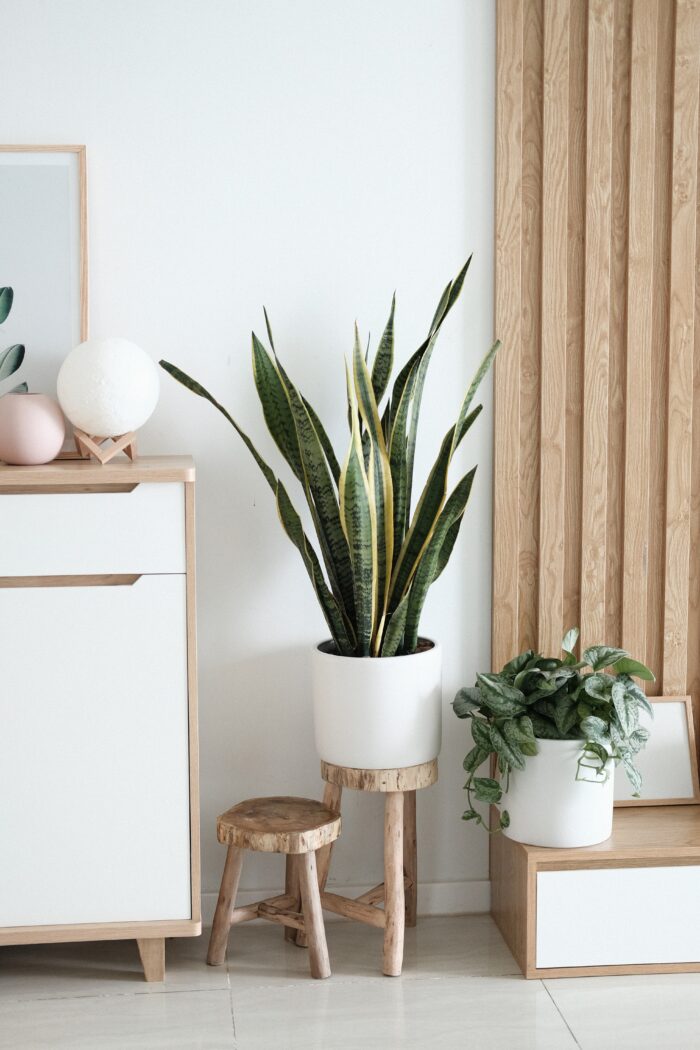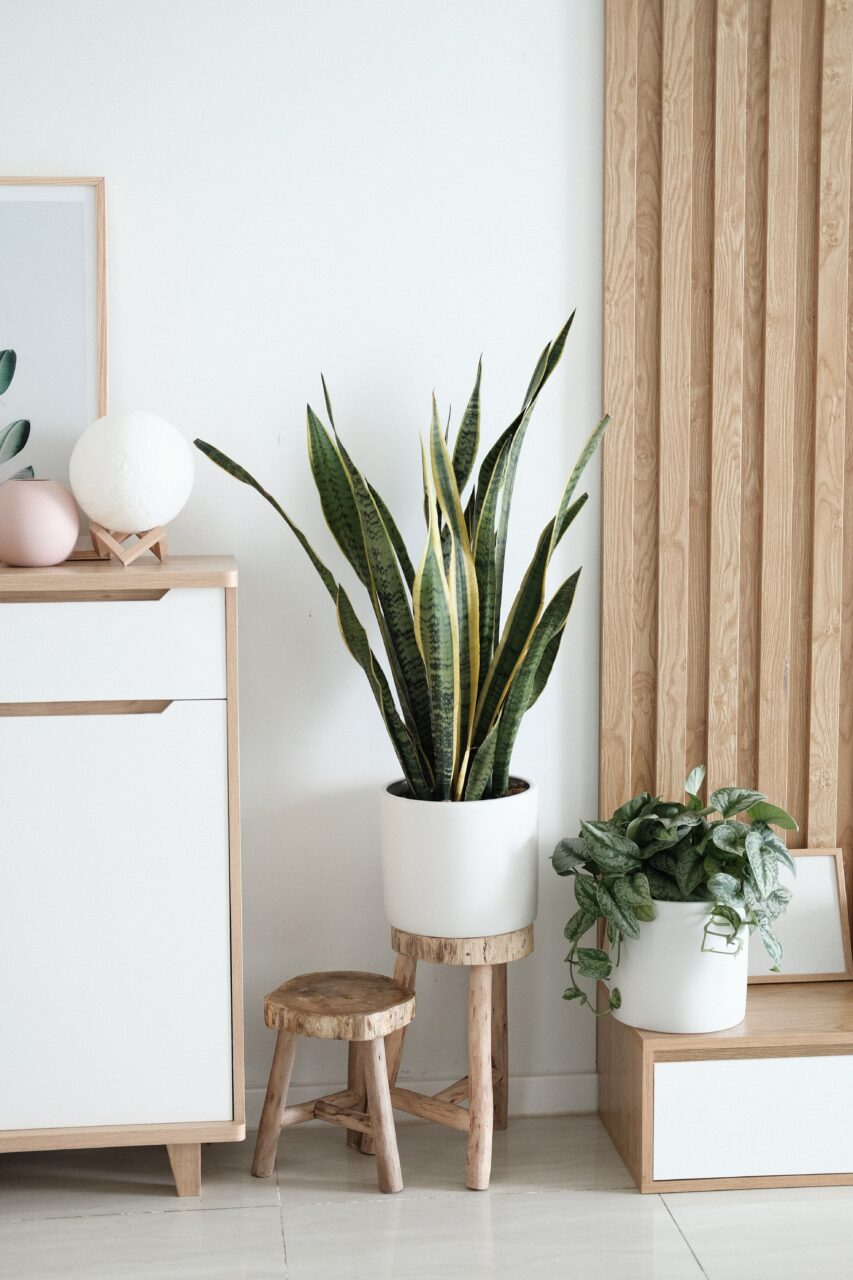 ---
Final thoughts
The carefree, casual lifestyle bohemian decor evokes – feels comfortable and sophisticated. It's easy to see why this style has fast become a designer go-to, and it's a great reason to bring a boho-chic vibe into your office! With a few pieces of artwork, decor, and swapping out tired furniture, you can instantly transform your workspace into the bohemian haven you've always wanted (and if you're loving this style, don't miss our guide on decorating a boho bathroom)!
Once your office makeover is finished, be sure to share it with us on social media! And before you go, why not think about a conference room or break room facelift?
Free Art Prints
Join our mailing list for design tips and exclusive freebies and get 2 free bohemian art prints instantly!
This post first appeared as Can't Miss Bohemian Office Decor Ideas on Frame It Easy - Learning Center for Custom Picture Framing.