With its sleek lines, minimalist design, and iconic furniture pieces, midcentury modern decor has become a popular choice for those seeking a sophisticated and stylish home. Whether you're looking to revamp your entire home or simply add a touch of midcentury modern flair to your existing decor, we'll cover furniture, lighting, art, and accessories that will elevate your space and bring the essence of midcentury modern design into your home or office!
Take the first step towards creating your dream midcentury modern space today with our guide to midcentury modern decor ideas for your home and office!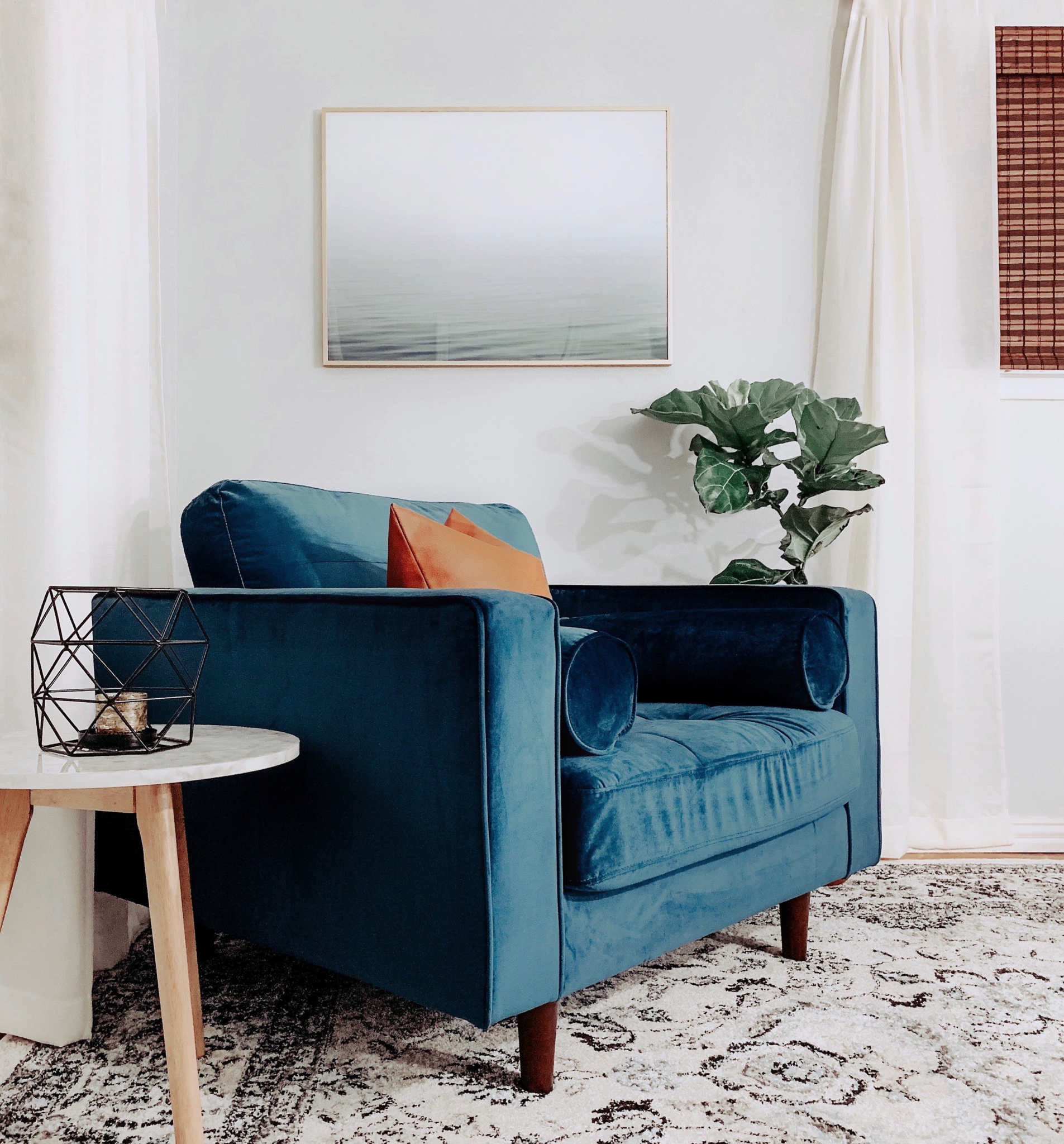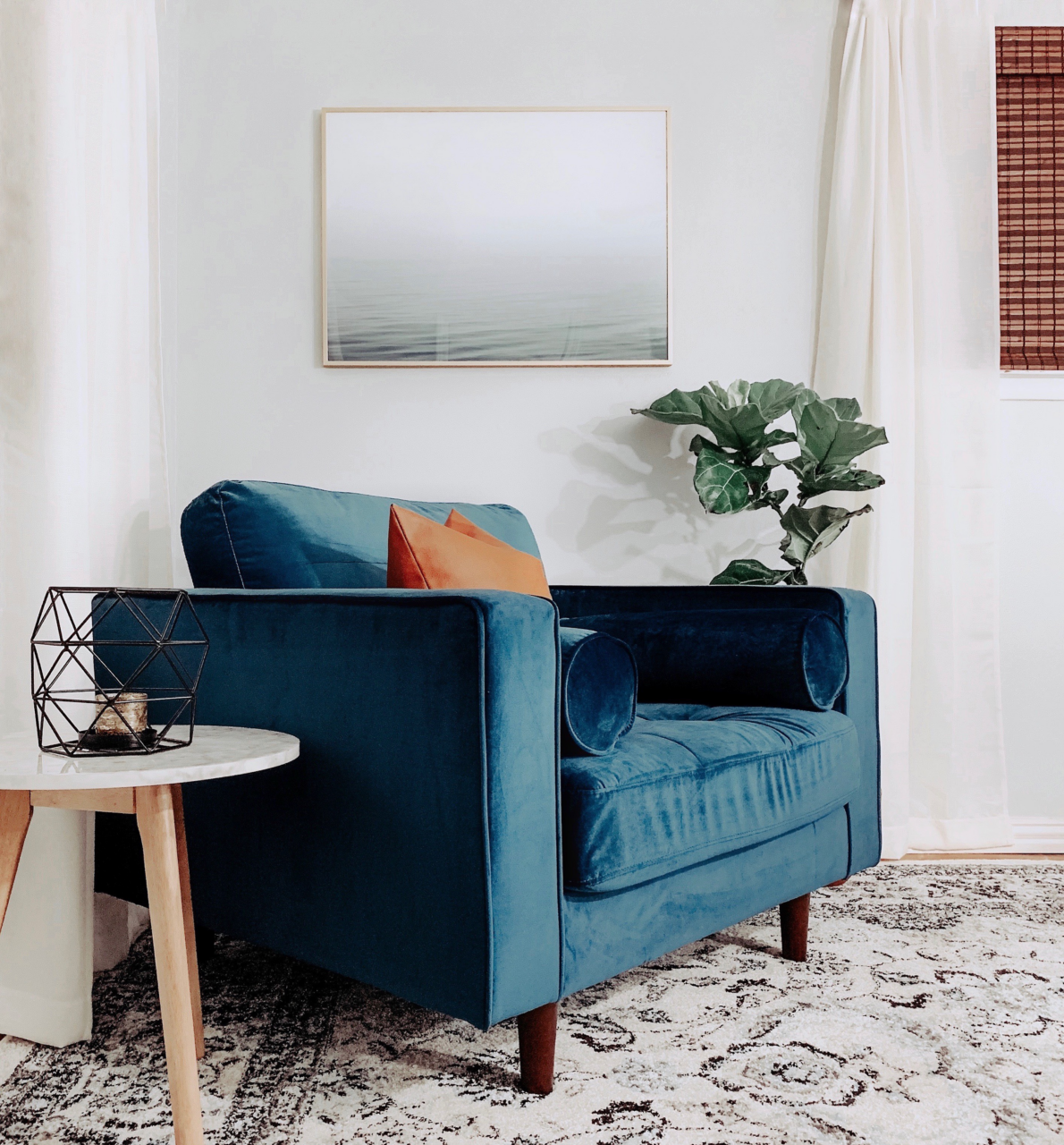 ---
🪑 Midcentury Modern Decor Ideas: Furniture
Secondhand furniture: When sourcing secondhand midcentury furniture, look for pieces with simple designs and strong curves made from teak wood, wicker, and glass. Fabric can have bold colors (think burnt orange, mustard yellow, lime green, and pastel pink and blue) and patterns; vinyl and leather coverings are appropriate as well.
New furniture: When sourcing new midcentury furniture, try local shops first. Many independent furniture makers follow this design language and create beautiful pieces.
Refinishing or reupholstering: If you have office furniture that could work, consider refinishing or reupholstering it! Sometimes painting wood furniture makes all the difference in refreshing your pieces and saving you money. You can also consider vinyl wraps for furniture if you don't want to sand, paint, or refinish an item.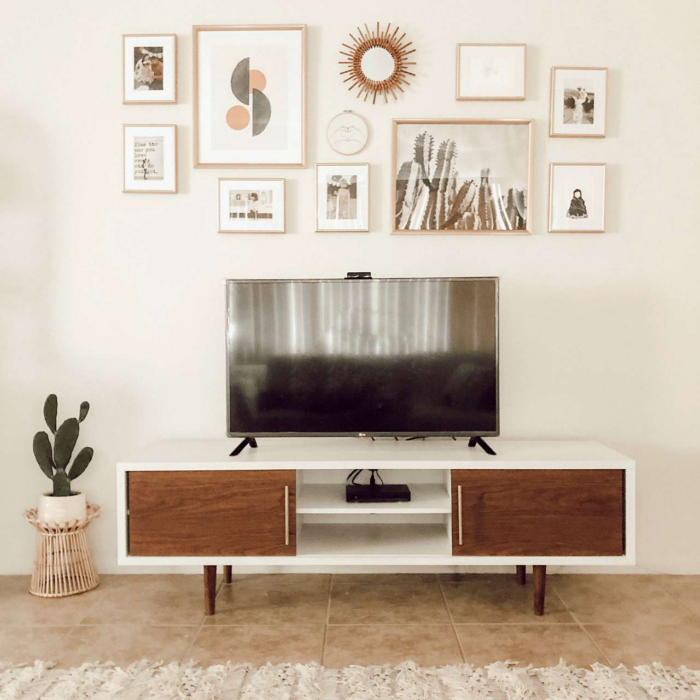 ---
Free Art Prints
Join our mailing list for design tips and exclusive freebies and get 2 free midcentury modern prints instantly!
---
🖼 Midcentury Modern Decor Ideas: Artwork
Free artwork: First, check out our handy guide on finding free downloadable art. Be sure to visit the Library of Congress and browse their free collection of colorful vintage posters (and if you find one you like, read more about buying poster frames). Look for retro images (animals and abstracts are especially appropriate in midcentury homes), bold patterns, graphic art, or geometric designs. If you're feeling creative, you could always try your hand at making your own midcentury DIY artwork. ⭐️ Designer tip: If you already have midcentury art that's looking a little tired, try swapping out the frame and matboard with new ones for an instant art refresh, that will save you money and keep your art looking fantastic for years to come.
New artwork: Buying new art prints? Make sure to browse our expert guide that covers where to buy art online. You can also find prints at popular online retailers, local art fairs, art galleries, and even thrift stores!
Selecting frames: We have a couple of wonderful frames that look perfect with this style. Our Hanover frame is a thin, rounded metal frame, which perfectly echoes the curves and clean lines associated with midcentury modern design. Our Ashford frame also works well with its classic lines and a modern build, it'll blend nicely with other modern decor. We recommend adding one of our matboards in a popular midcentury color like Buttercup, Tangerine, Pistachio, or Aqua Blue.
Ordering frames: If you have a digital image, upload your photo to our interactive custom frame builder, select your frame and mat style, and we'll print, frame, and ship you a ready-to-hang picture! If you don't need us to print for you, no problem – simply add in your art measurements, choose your frame design, select your frame cover (standard acrylic or non-glare acrylic) and your paper type (art paper or photo paper) and we'll send a custom frame right to your doorstep.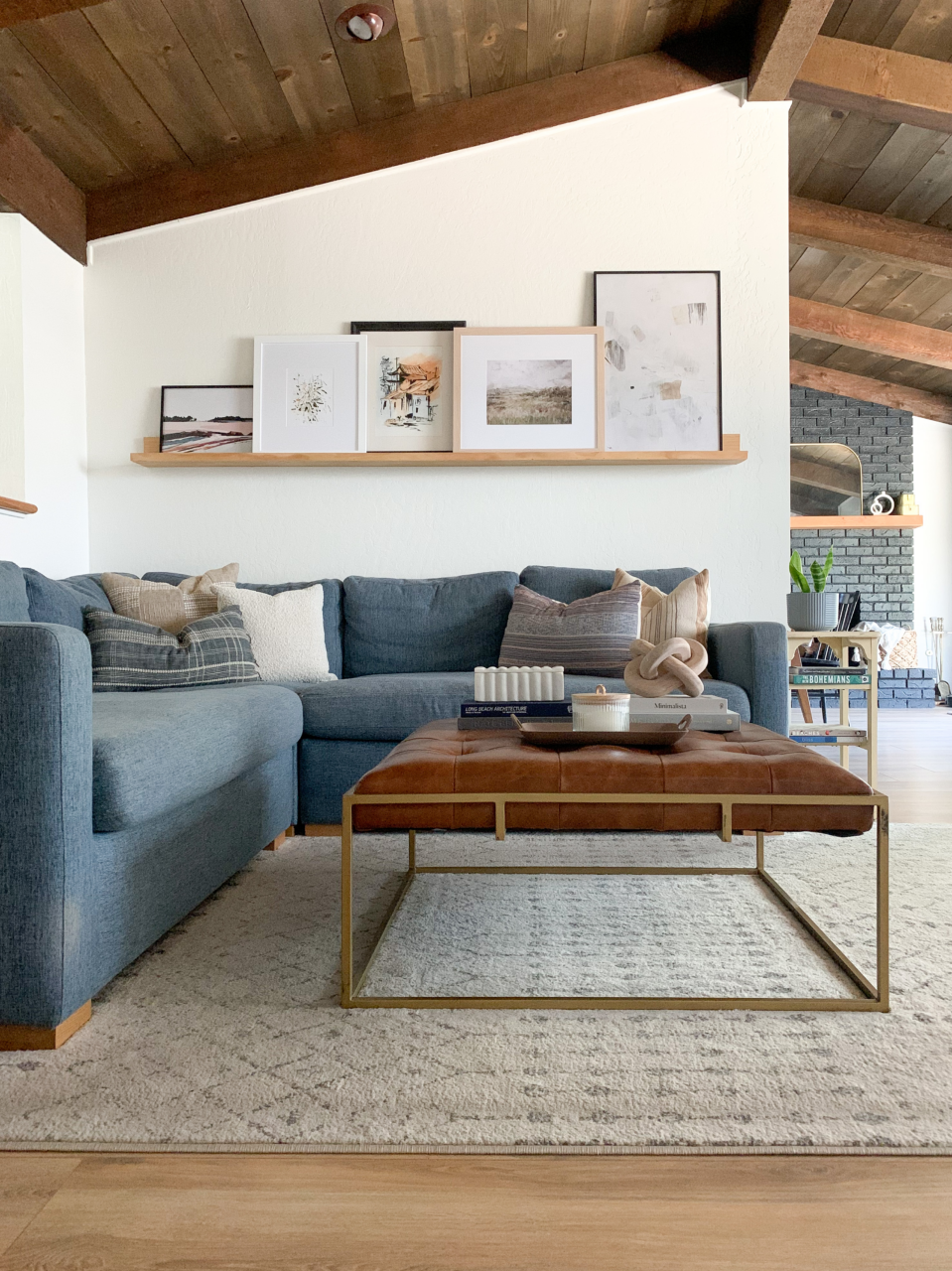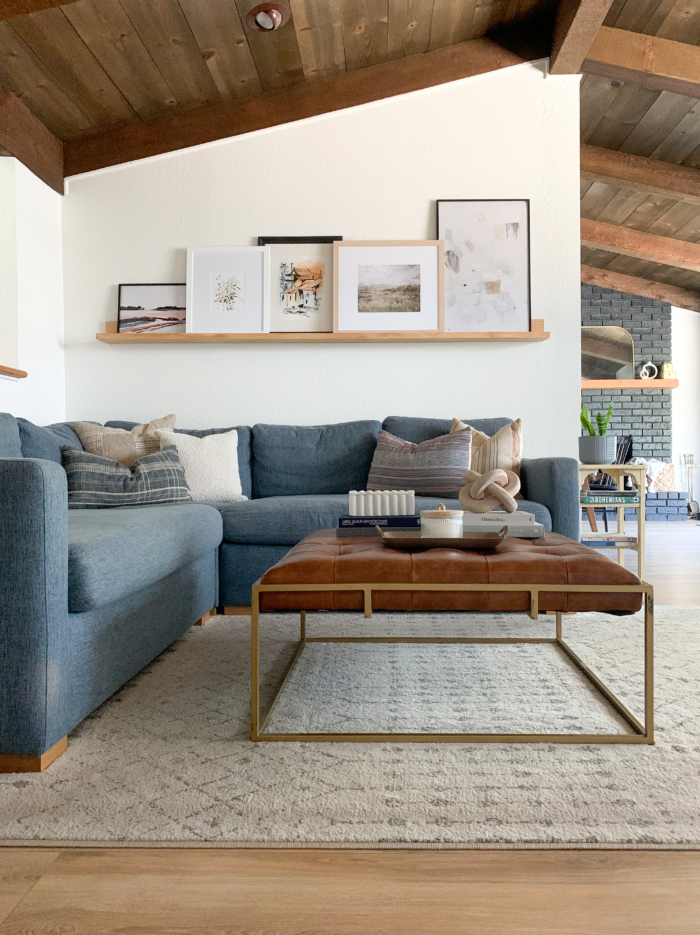 ---
🪴 Midcentury Modern Decor Ideas: Accessories
Plants: We're big fans of plants! Not only do they boost your mood, but they look great doing it! We recommend snake plants or a Fiddle-Leaf Fig tree. Snake plants are extremely easy to care for and don't need daily watering or maintenance. Fiddle-Leaf Figs need a bit more sunlight and care, but grow and fill out quickly.
Desk accessories: Swap out your plastic paper trays for some vintage metal trays. Add a ceramic pen cup in a funky color and a chrome bowl for push pins and paper clips. If you'd like to create a tabletop frame display on your desk using framed photos, consider our EaselMate accessory. Feel free to incorporate a potted plant or two if you have the space!
Lighting: Good lighting is essential for any space. We recommend a pairing retro table lamp for your desk/end table, and a modern chrome floor lamp for background lighting. Mixing and matching modern and vintage elements adds a designer touch to a room, and lighting is an easy way to achieve this.
Decorative accessories: It's always a good idea to sprinkle a few decorative accessories around your space to pull a design together. Try adding brass candlesticks to your bookshelf decor with one or two pieces of vintage pottery.
Rugs: Add a focal point and bring some warmth to your design with a midcentury rug. Look for a neutral base (cream, gray, or tan) with overlayed geometric designs in an accent color that matches other colors found in your office.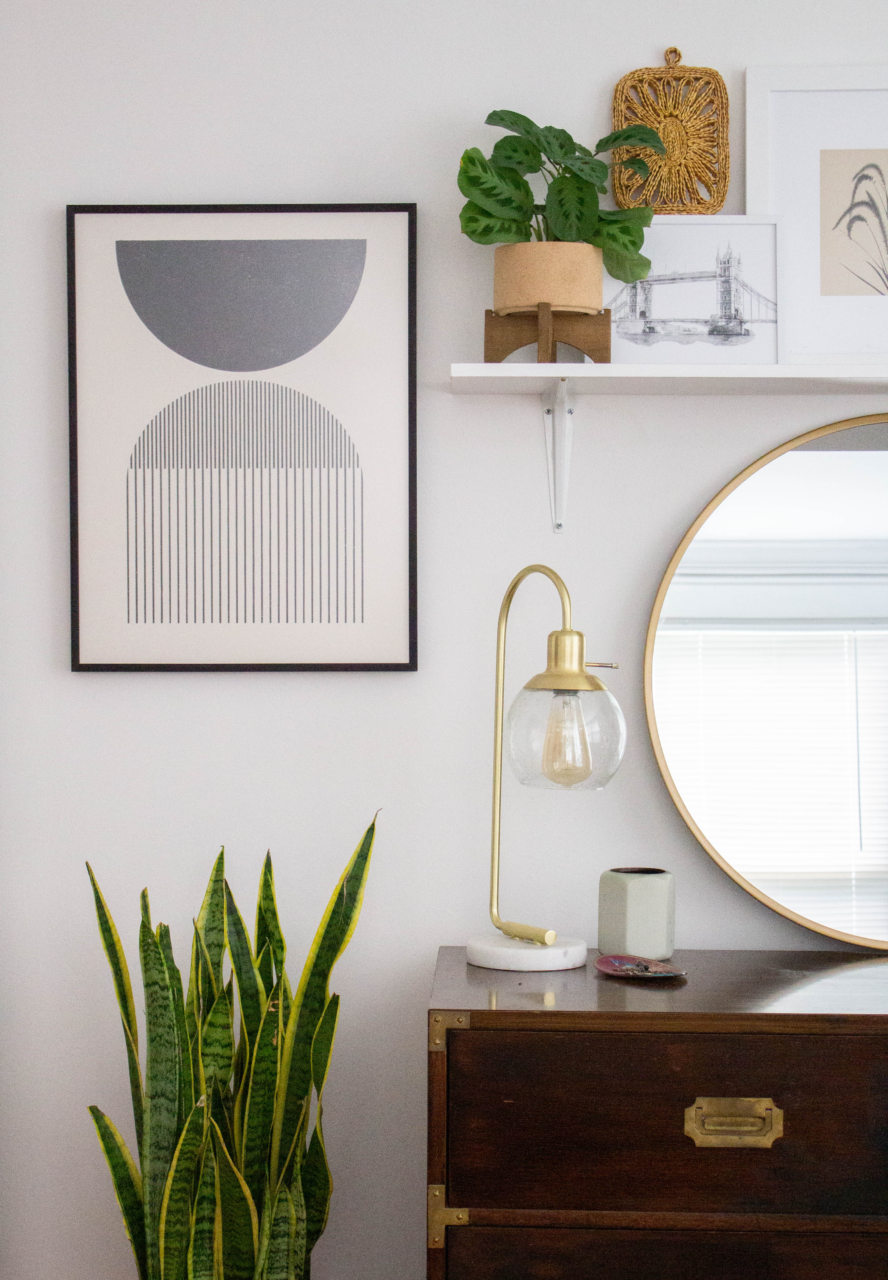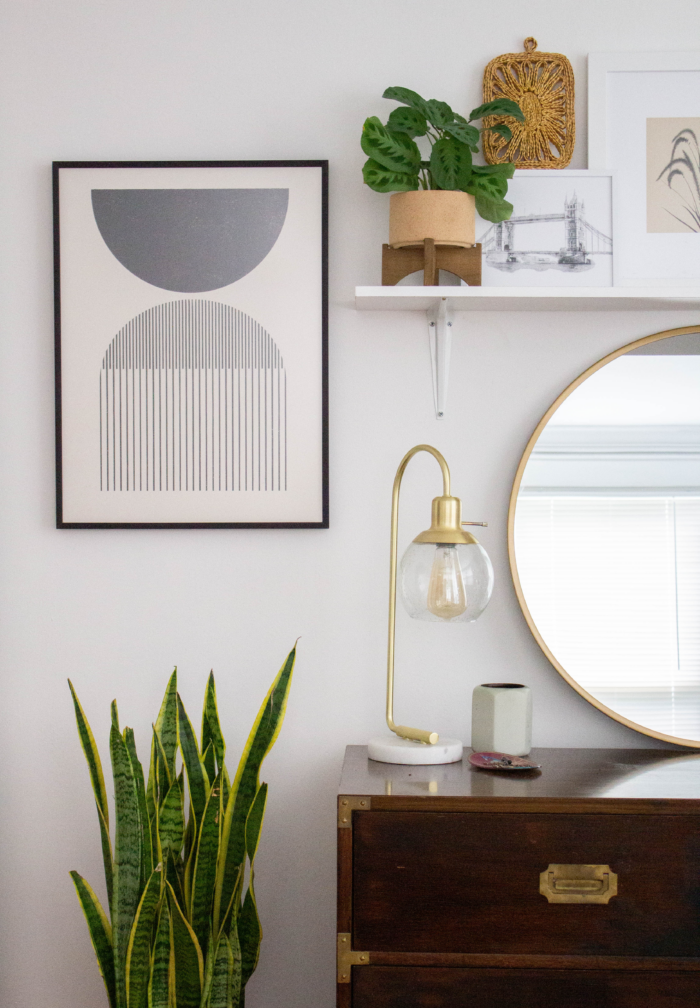 ---
🎬 Midcentury Modern Decor Ideas: Final thoughts
From furniture to accessories, midcentury modern pieces are known for their timeless appeal and ability to effortlessly blend with any existing decor. Whether you're looking to revamp your entire home or just add a few key pieces, midcentury modern decor is the perfect choice for creating a stylish and inviting atmosphere!
We hope this guide has given you the inspiration you need to start your next design project! Looking for even more styles to explore? Then you won't want to miss the video below – learn all about cottagecore decor, plus get framing tips from the pros 👇
Free Art Prints
Join our mailing list for design tips and exclusive freebies and get 2 free midcentury modern prints instantly!
This post first appeared as Beautiful Midcentury Modern Decor Ideas For Your Home & Office on Frame It Easy - Learning Center for Custom Picture Framing.