If you're looking for the best way to display your favorite photos and artwork, black picture frames are an elegant choice designers have relied on to decorate homes and offices for decades! They're a go-to selection because of their versatility and ability to mesh harmoniously with so many different decor styles. Whether you have a sophisticated, modern office, or an elegant, traditional home, black picture frames offer a sleek solution to your framing needs!
Join us as we cover different styles of black picture frames, how to match a frame to your decor style, and get hanging tips from the pros you can start using today!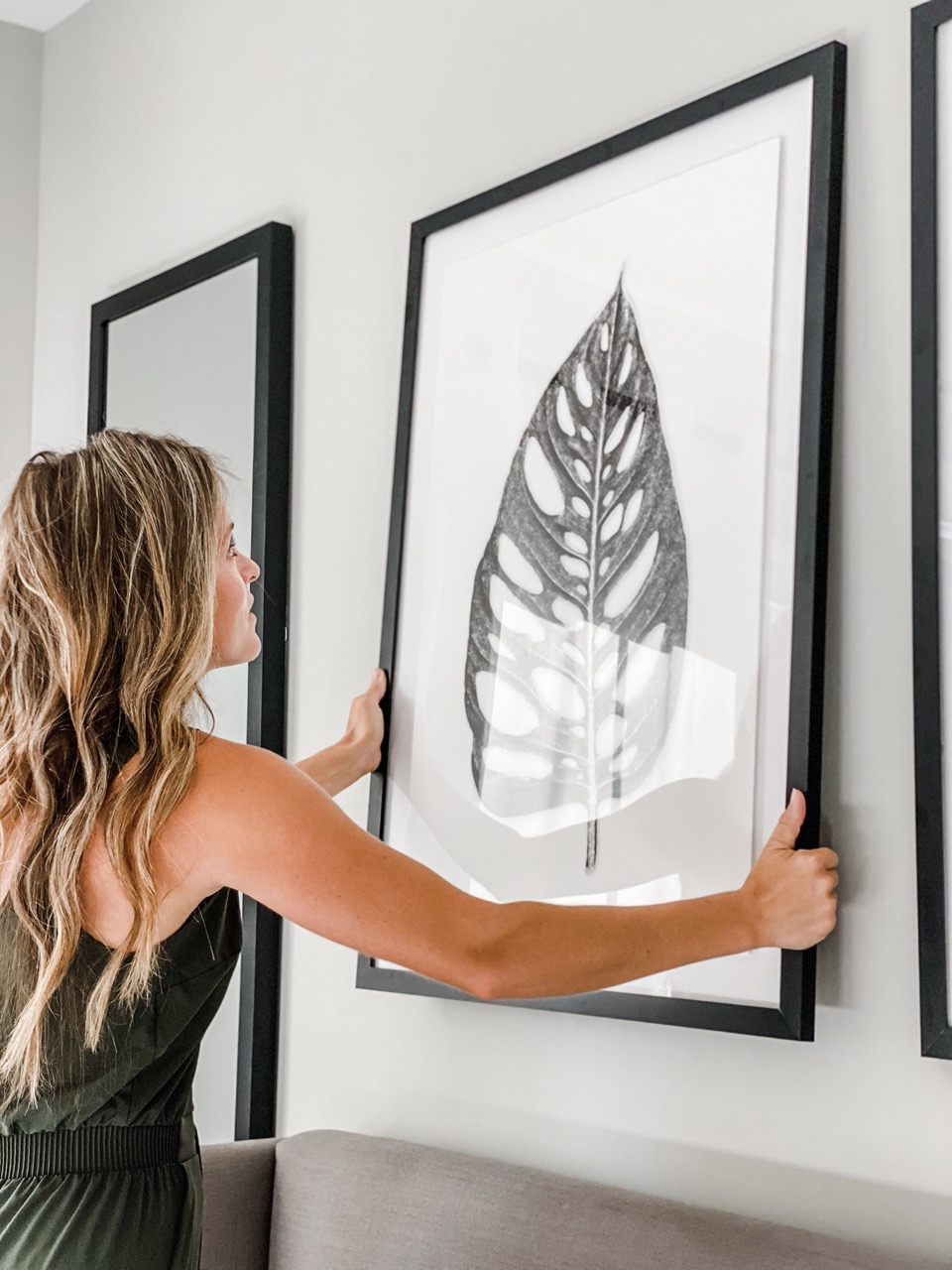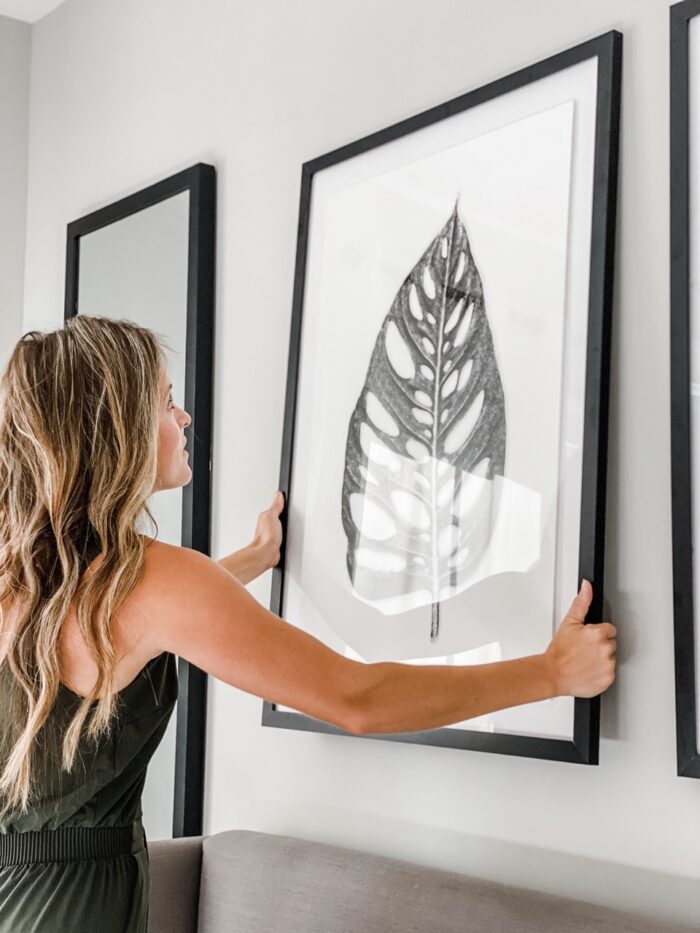 ---
Black Picture Frame Options
Black picture frames have surged in popularity for a good reason: They look great no matter where you place them, and they showcase art and photography spectacularly! Plus, you can find them all over, making it easier than ever to get exactly what you want. That said, it's important to note that not all black frames are created equal!
While big box chains offer a variety, you're limited to whatever sizes they have in stock. Plus, they use cheaper materials that break down (and can damage your art) over time. When you get a high-quality frame from Frame It Easy, you get a product made right here in the USA with premium eco-friendly materials and acid-free components that stand the test of time, all made to order to your exact specifications at an affordable price!
Ready to make a smart framing investment? Check out our exciting black frames below you can use to frame your favorite pieces:
Derby frame
Our Derby frame is our most popular wood option, with a flat, thicker face. Featuring clean straight lines, this frame functions well in both modern and rustic spaces and is available in black. Pair it with simple artwork or serene photography.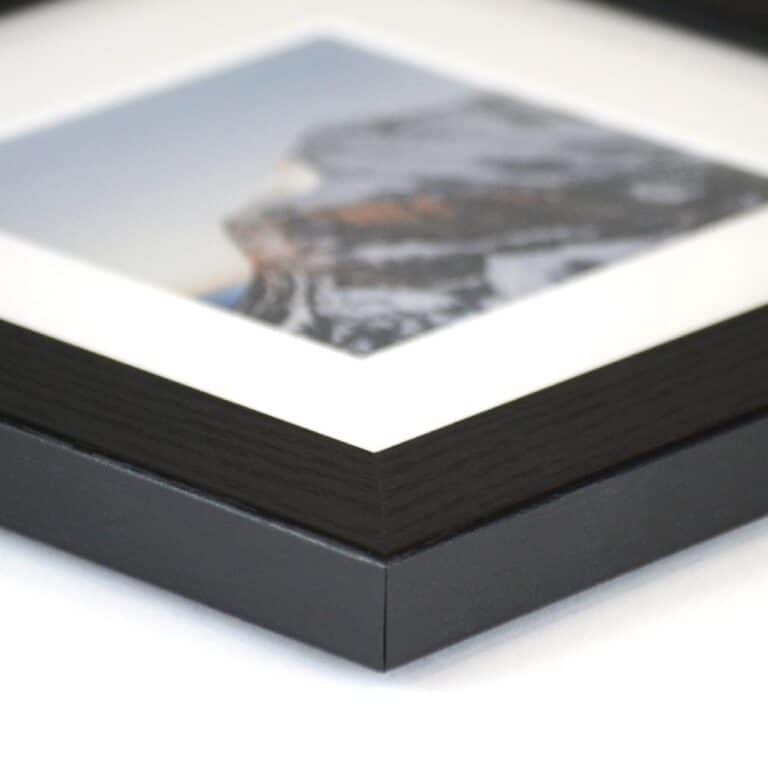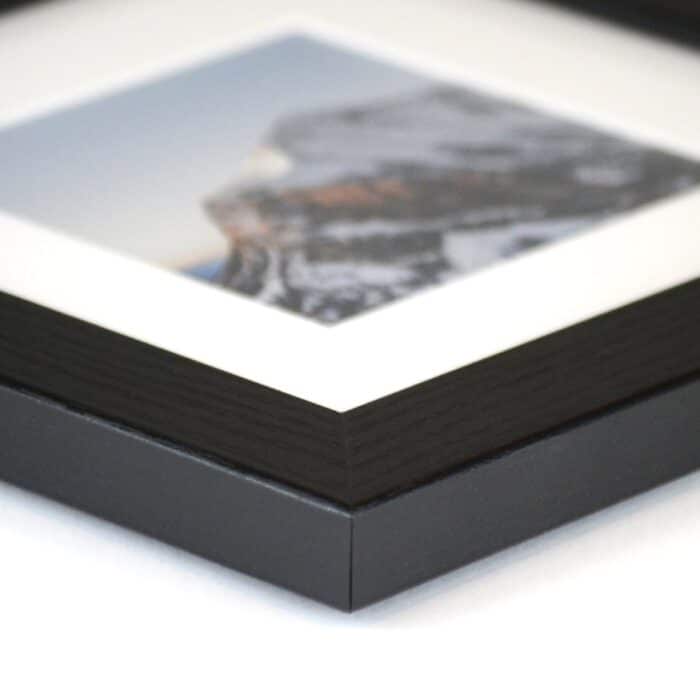 Dayton frame
Our Dayton frame is another wood option with more robust natural graining! A flatter face and profile give this frame clean lines that are well-suited for more rustic or traditional spaces. Pair it with your favorite black-and-white photography or nature art!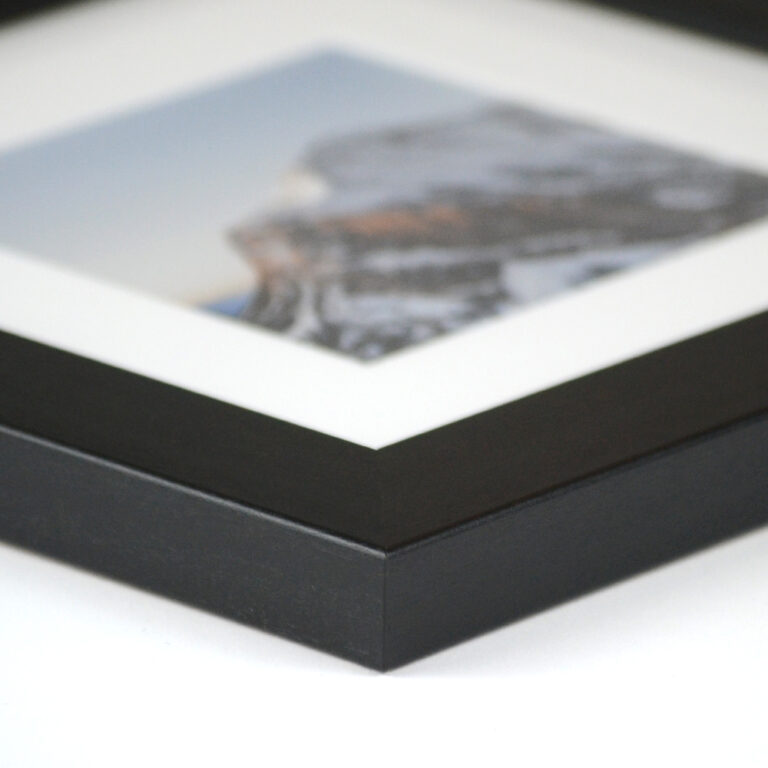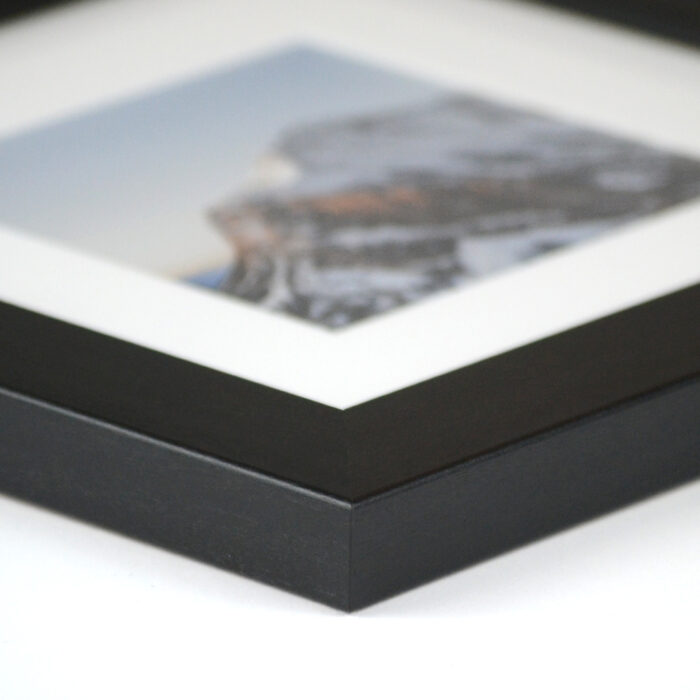 Granby frame
Our Granby frame is a customer favorite, with ornate detailing that instantly feels elegant and elevates the decor of any room it's placed in! The Granby is perfect for more traditional or old-word spaces and can showcase a variety of artwork or photos!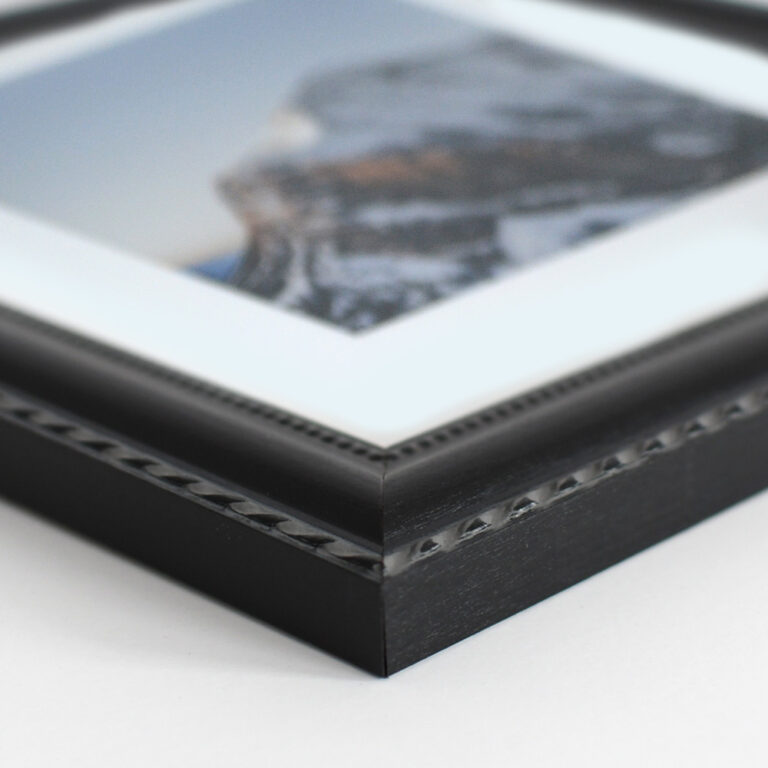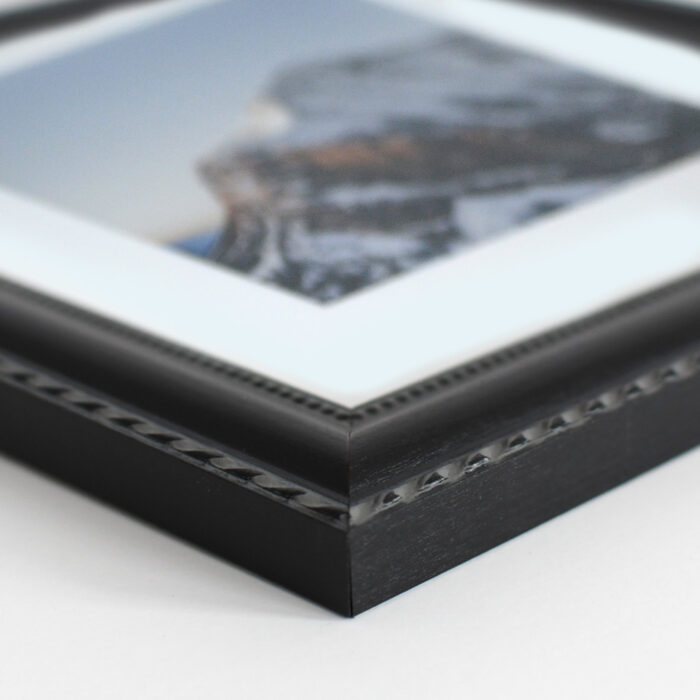 Ashford frame
Our Ashford frame is a thinner-faced metal option with handsome straight lines. Perfect for more modern spaces, this is the frame to get if you have artwork with busier patterns or shapes, a lot of color, or bold patterns, plus it comes in both a Satin and Gloss Black!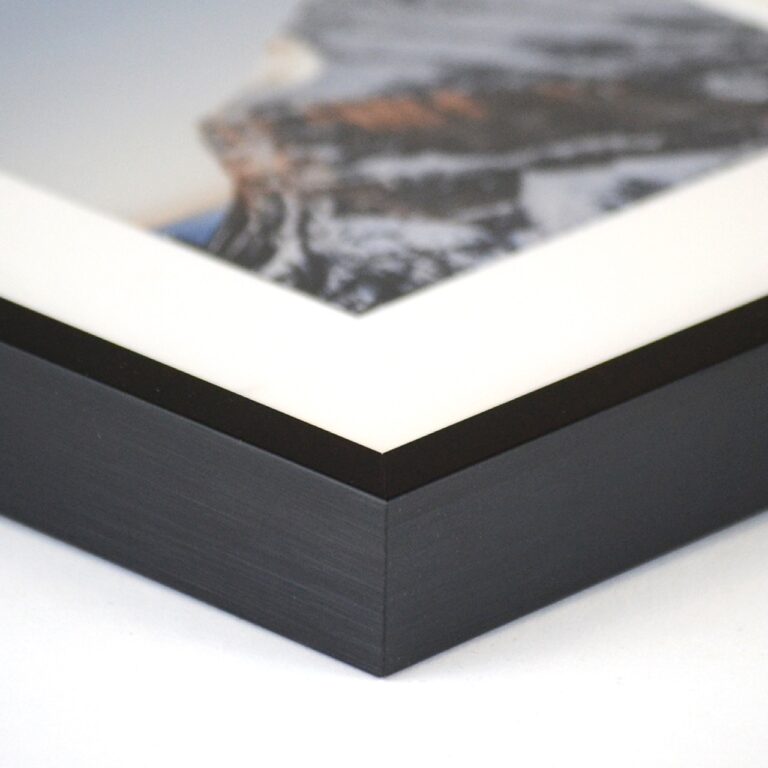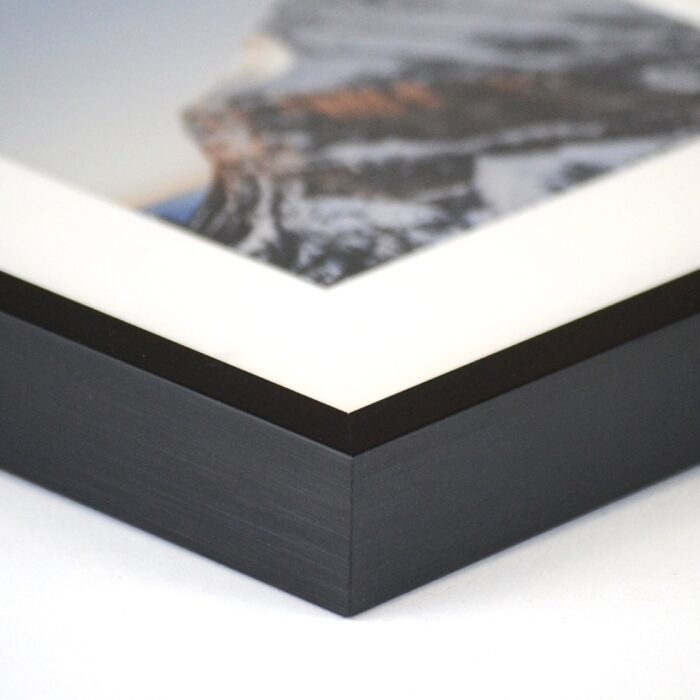 Hanover frame
Our Hanover frame is another thinner metal selection, however, the Hanover offers a more rounded face which lends itself to more contemporary or youth-oriented spaces. Another excellent frame to showcase your busier art and photos, or as part of a trendy gallery wall, which is available in both a Satin and Gloss Black finish.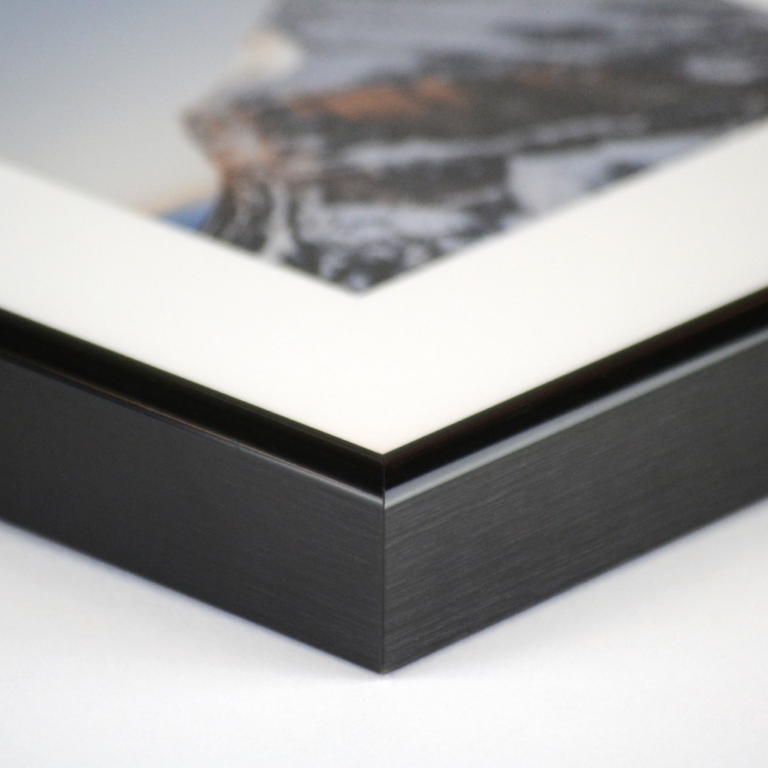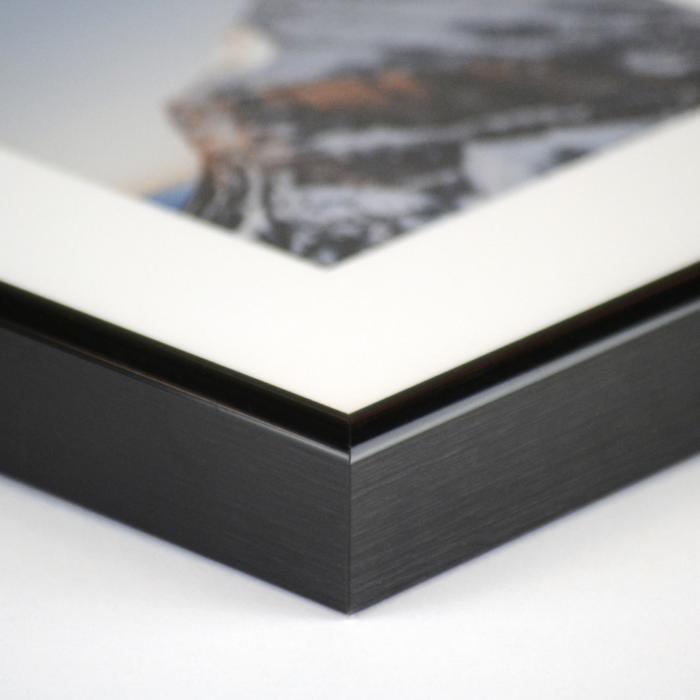 Bradford frame
Our Bradford frame is a wider metal frame with a flat face that will look amazing in industrial spaces! A great middle point between thicker and thinner entries, this frame can showcase pretty much any kind of art or photography you might have!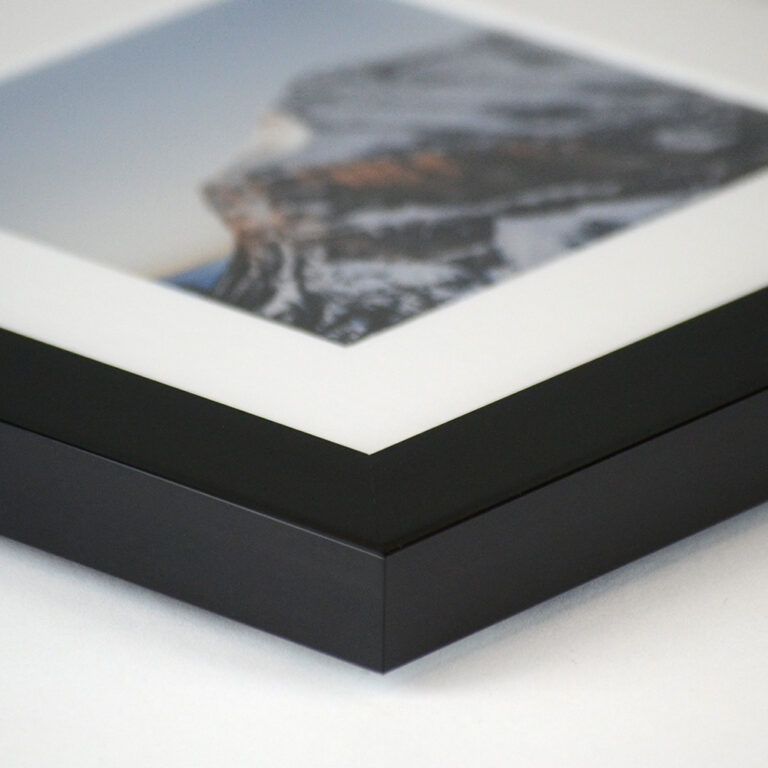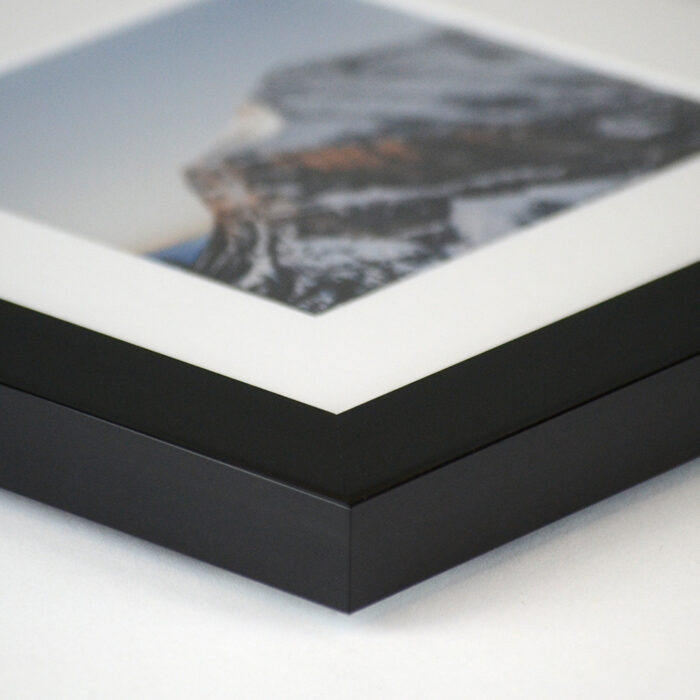 Stafford frame
Our Stafford frame is our widest metal frame with a flat profile face that would blend nicely in both modern and industrial spaces. Perfect for simple art or photos, this elegant frame comes in both a Satin and Gloss Black finish.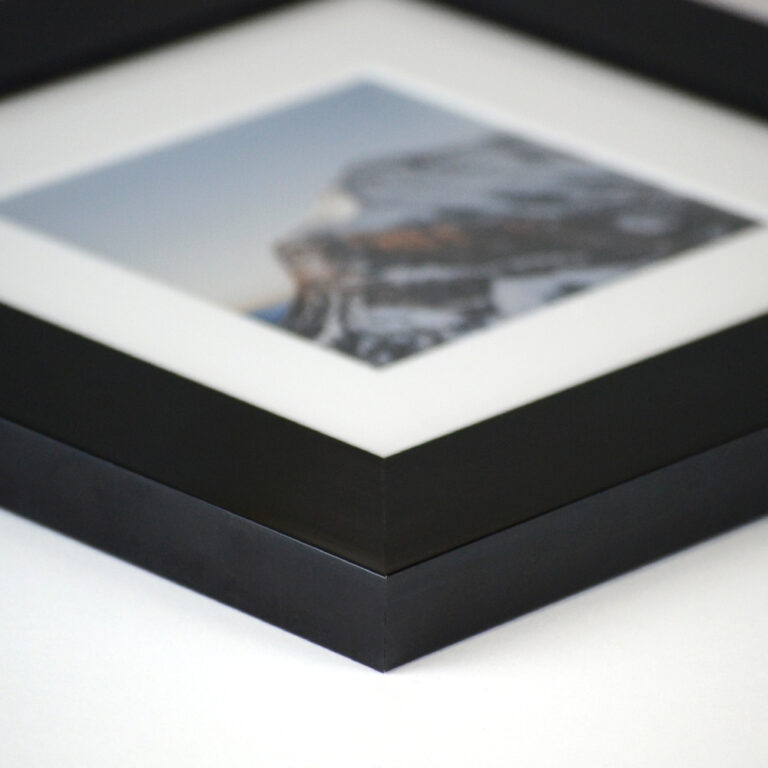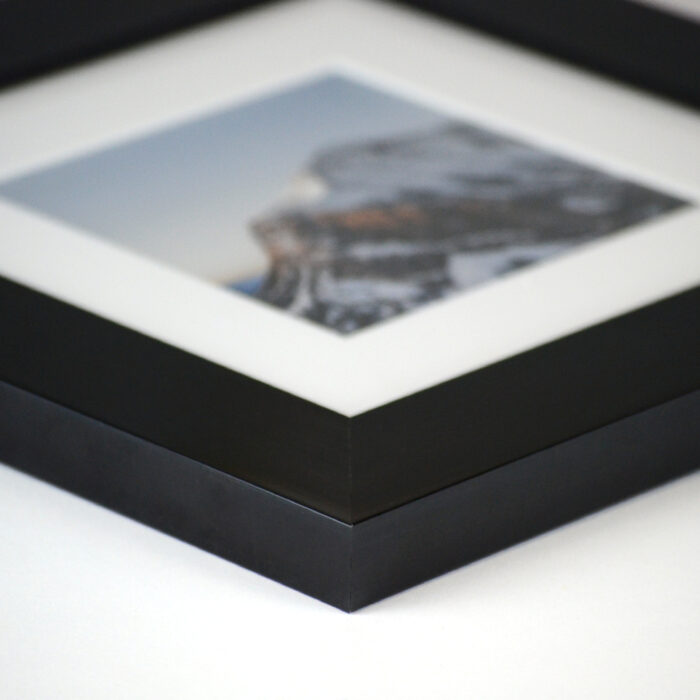 ---
Matboards & Black Picture Frames
Choosing the ideal black picture frame for your room is a great first step, but to give your frame a sophisticated finishing touch, you'll definitely want to include a matboard with your frame! Matboards can serve as an additional decoration to your photograph or artwork. When the right color is chosen, it can help draw your eye toward the framed piece. Matboards also protect the photograph or artwork by separating it from the acrylic cover. This is important because condensation can build up inside, which can result in moisture damage to your framed piece.
Take a look at our matboard and frame pairing tips below to get started:
For modern spaces: Select a Smooth White matboard for modern spaces. Its crisp white color will look sharp against your art or photos!
For traditional spaces: Check out Pale Laurel, Deep Red, Heron, or Toasted Almond. These hues tend to mesh well with traditional decor.
For rustic spaces: A matboard in Pistachio, Valley Green, Umber, or Terra-Cotta will blend nicely with the earth tones of rustic rooms.
For industrial spaces: Source a matboard in Smooth Black, Clapboard, or Bluestone. The cooler colors mix with industrial elements seamlessly.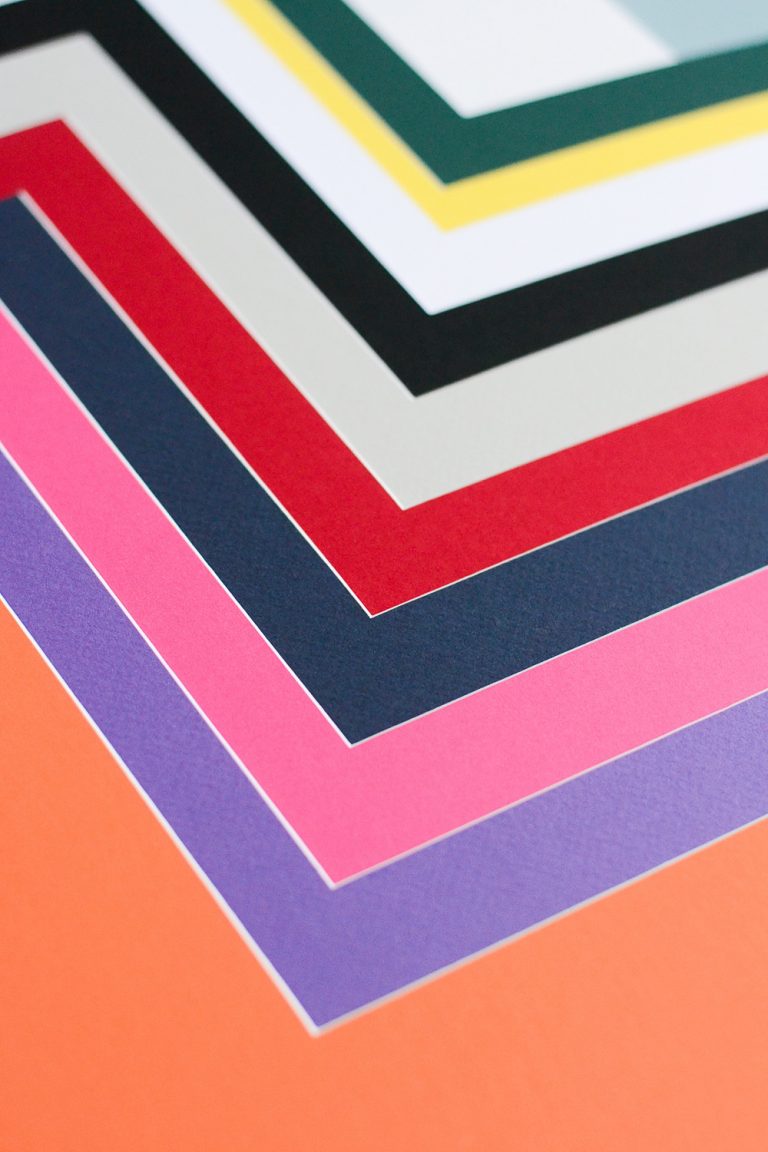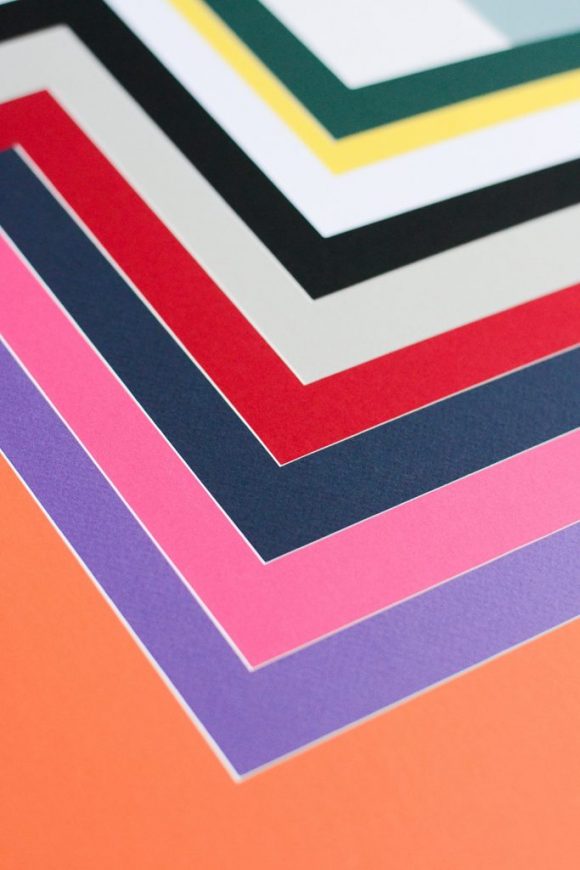 ---
Ordering & Printing
Have you decided on the perfect frame and matboard combination? Head to our interactive frame designer to get started on your order! If you have digital photos or artwork, we can print them for you. We use large-format, professional-grade printers with archival-quality ink on premium paper so your art and photos will always be vibrant and sharp!
Simply upload your art and our intelligent designer will automatically select the ideal frame and art size for optimal clarity, then choose your cover (acrylic or non-glare acrylic are available) and paper (choose either photo or art paper), select your design options, and we'll print, frame, and send you a ready-to-hang picture! Don't need us to print? No problem! Enter your art size, choose your cover, select your design options, and we'll send a custom frame directly to your doorstep!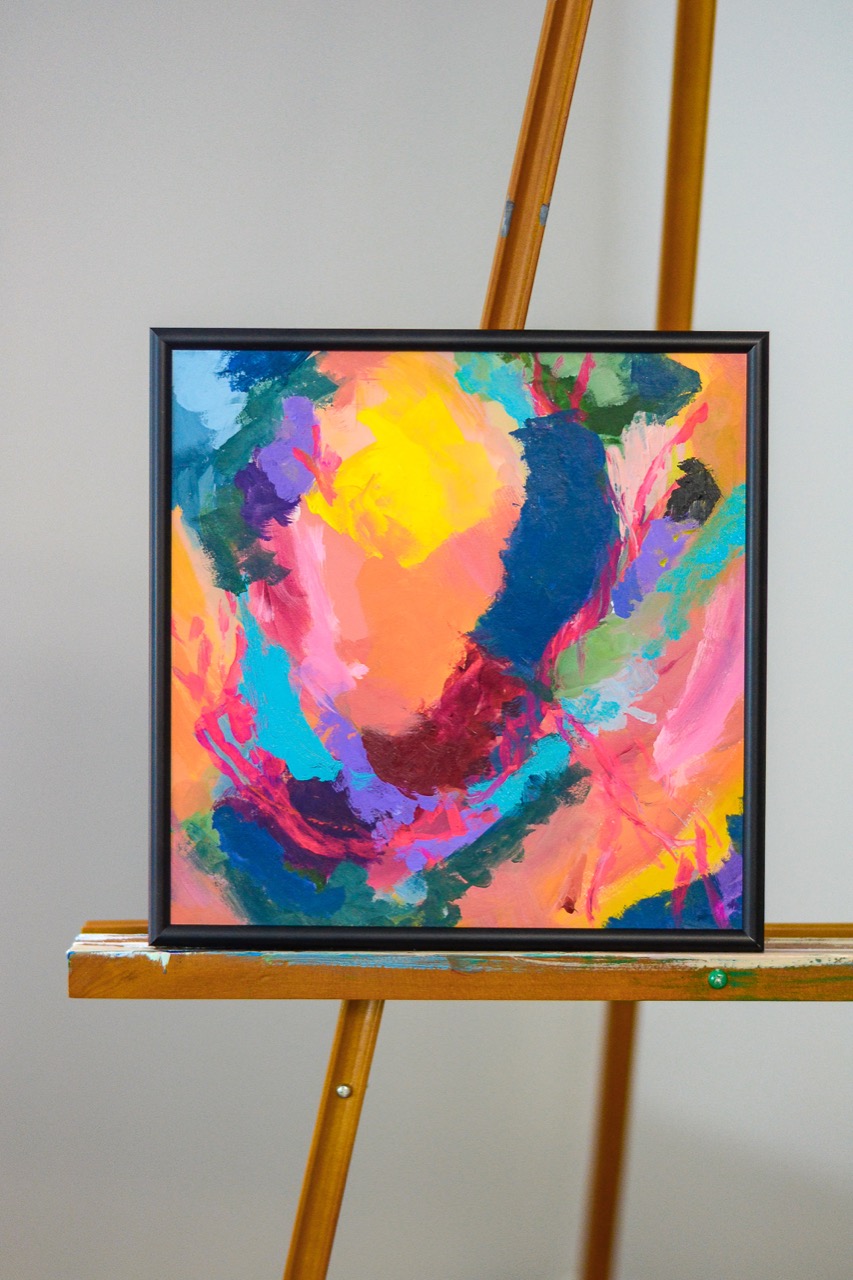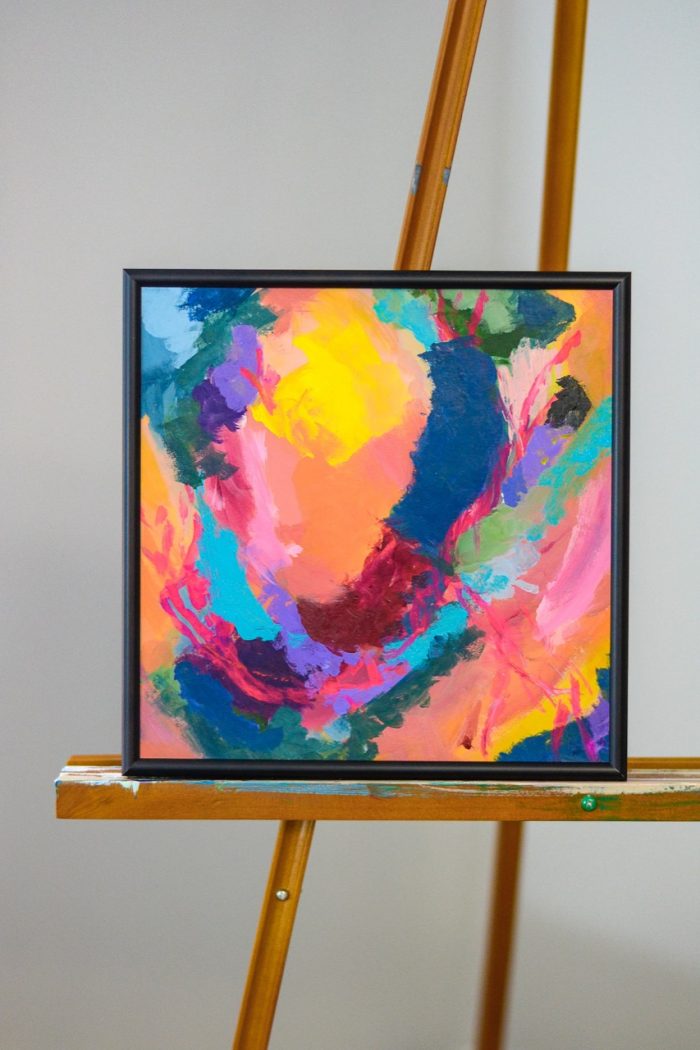 ---
Hanging & Display Tips
Once you've acquired the perfect black picture frames, you'll need to consider where (and how) you'll hang them! If you've ordered a Frame It Easy frame, everything you need to hang it is included, just grab your hammer! But before you nail anything on the wall, check out our hanging recommendations for a designer-inspired look:
The midpoint or center of your frame should be roughly 57 to 60 inches from the floor.
If you're hanging artwork above a couch or table, we recommended it be 6 to 8 inches above the furniture piece.
Have high ceilings? Try hanging picture frames 67-70 inches from the floor.
Hanging more than one piece? Aim for each picture being 2-3 inches apart.
And if you have a big collection of framed art or photos you want to showcase, we recommend a gallery wall to display groupings of more than 3 pieces. They look snazzy and are a great way to get all your favorite memories off your phone and onto your wall! Watch the video below to get started on your dream gallery wall today!
---
Final Thoughts
Are you looking for a stylish solution to frame your favorite art and photos? Look no further than black picture frames! Known for their versatility, black picture frames are the designer go-to because they look great no matter what they're framing or where they're displayed! But with so many options, it can be a challenge to find the best fit! With our guide, we hope you've found the inspiration you need to find the perfect black picture frame for your home or office!
And before you go, don't forget to join the framing fun – Follow us on Instagram and LinkedIn for exclusive content and decor ideas!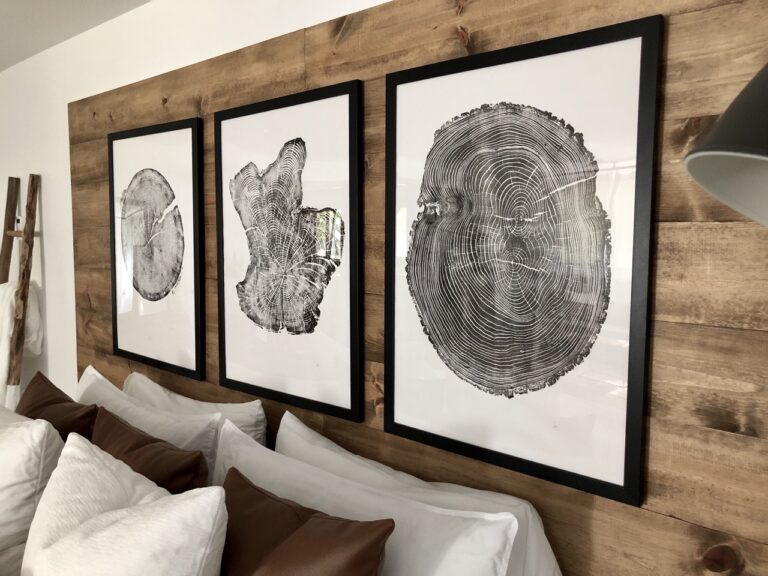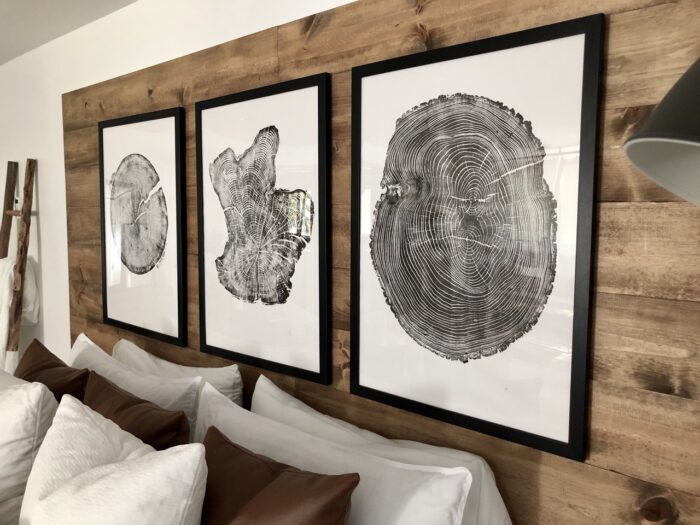 This post first appeared as The Ultimate Guide To Black Picture Frames: Easy Designer Tips on Frame It Easy - Learning Center for Custom Picture Framing.