Welcoming a new baby into your life is a joyous and often overwhelming occasion, and it's something you and your family will want to remember and cherish forever. One of the best ways to preserve these memories is by creating the perfect display of baby picture frames. Whether it's their first ultrasound photo, a tiny hospital baby bracelet, or an adorable first outfit, these moments deserve to be showcased!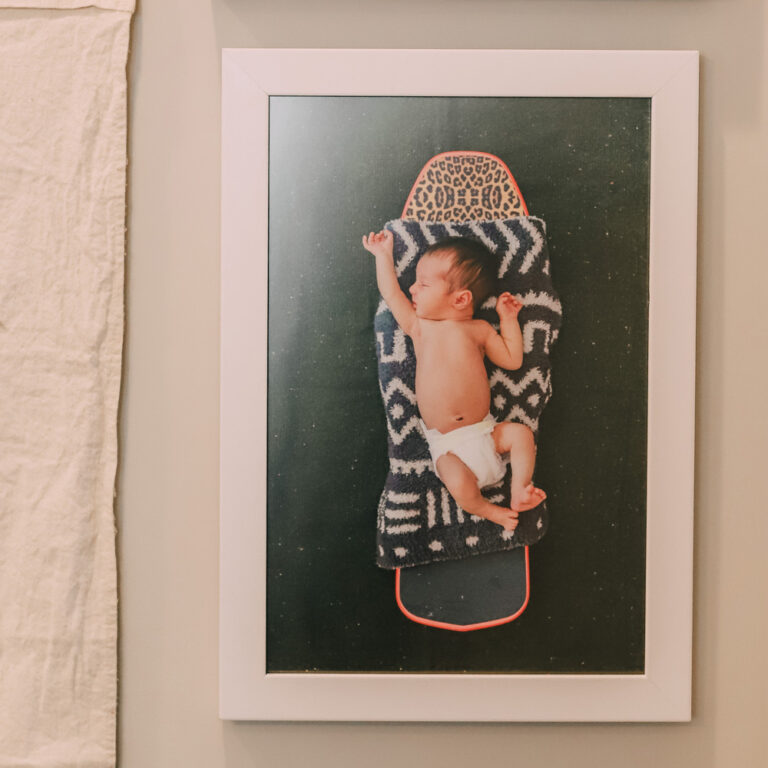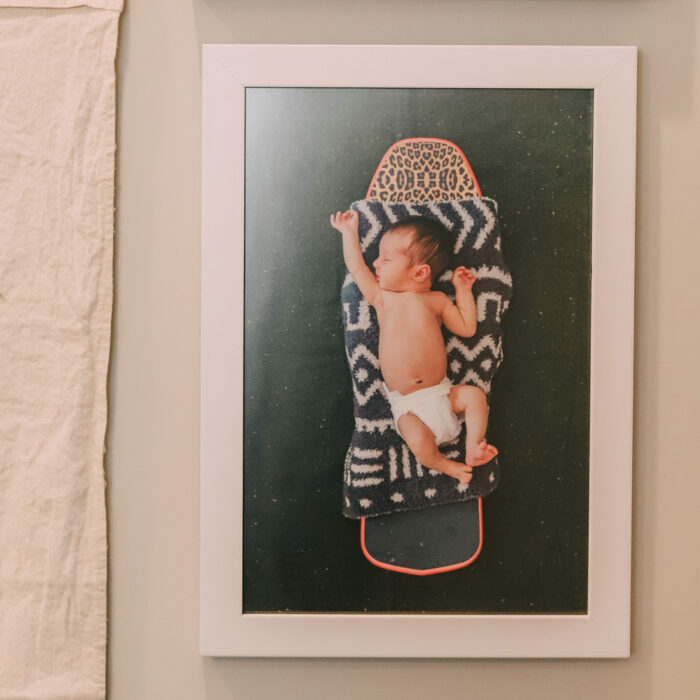 In this post, we'll guide you through choosing the best baby picture frame, offer our favorite picks for wood and metal frames as well, and go over some top frame + matting combos!
How To Choose The Best Baby Picture Frame
Selecting the right baby picture frame and matboard involves considering various factors to ensure your cherished memories are displayed in the best possible way. From photo style, to frame materials, and more these are factors to consider when looking to frame your precious little one! 🍼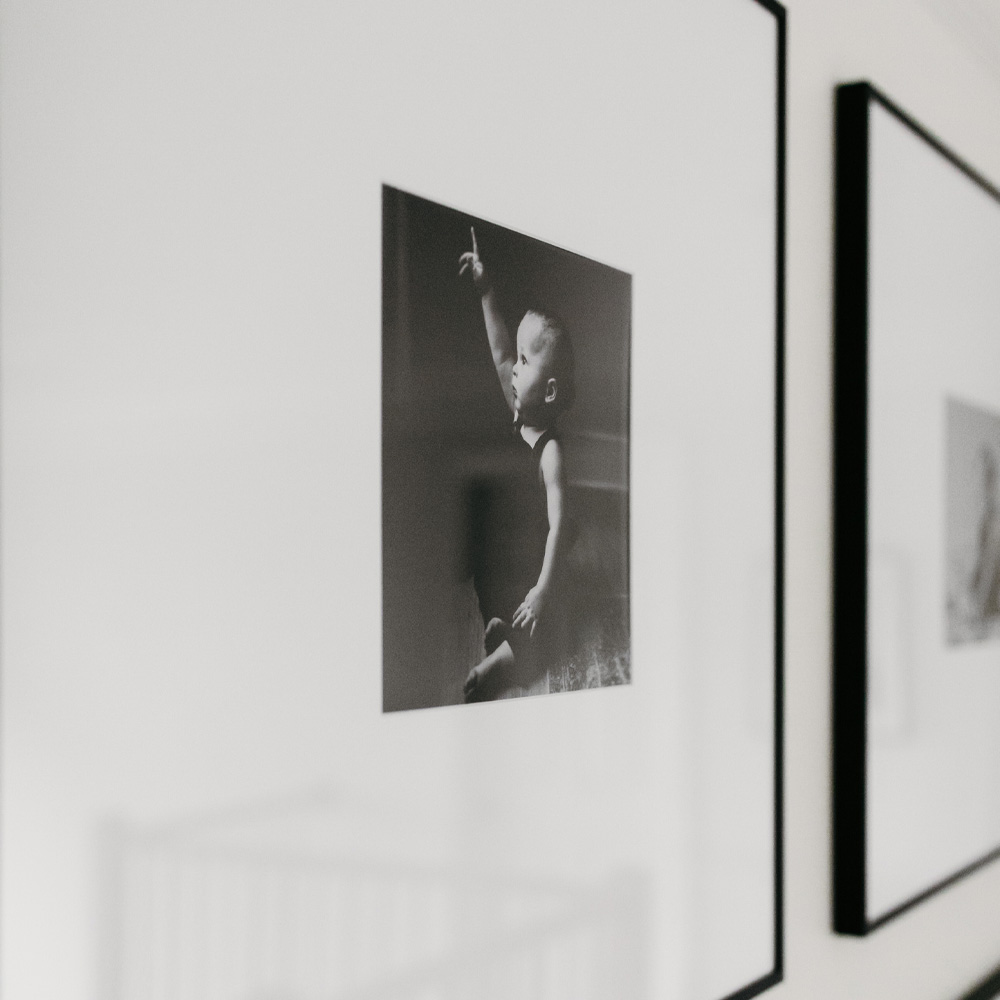 Here are some tips to help you make the perfect choice:
Photo Style – Framing a black and white photo? Consider adding a pop of color with either a matboard or your frame. Framing a vibrant baby photo? Let your picture shine by selecting a black, silver, or gold frame with white matting. Can't decide? Drop your photo into our interactive frame designer to preview how your final display will look.
Frame & Cover Material – The material of your frame will play a crucial role in overall aesthetics. Wood frames often bring warmth and a classic touch, while metal frames exude modernity and elegance. Think about your space and what feel you'd like to bring to it. Be sure to consider non-glare and matte cover options as well.
Frame Style – Choose a frame design that complements your baby's nursery or wherever you plan to display it. From ornate detailing to minimalist styles, we have a frame design for every taste.
Photo & Space Size – Thinking about going for the oversized-frame trend, or maybe a large poster print size? Think about your wall display and how much space you want to fill.
Matting – Matting can add depth and sophistication to your baby picture frames. Choose colors from your photos, stick with a classic white, or double up!
Our Favorite Baby Photo Frames:
When it comes to selecting the perfect baby photo frame we realize sometimes the amount of options can be overwhelming, so we've curated a few of our favorite options in both wood and metal:
The Perfect Baby Picture Frames: Wood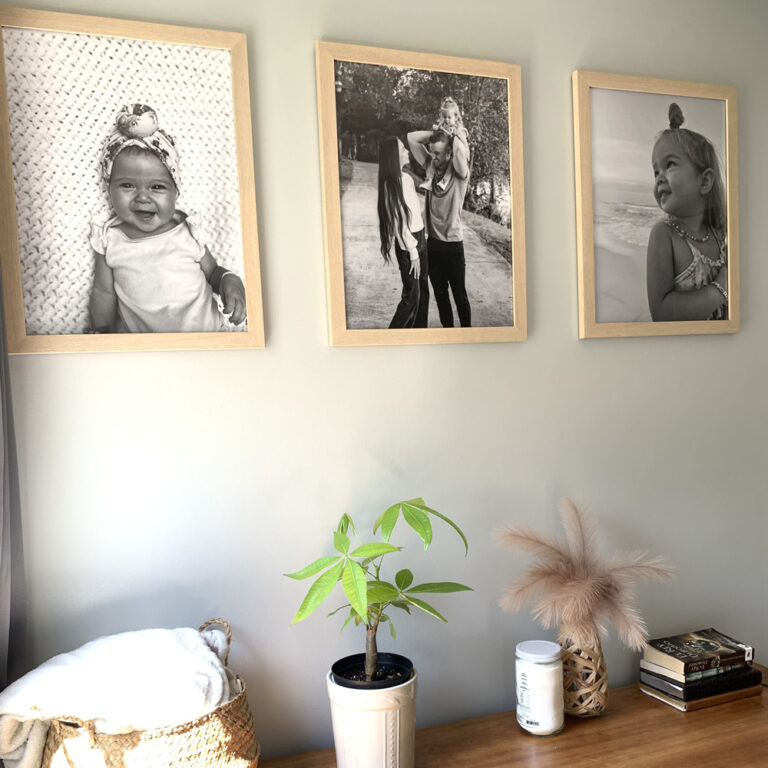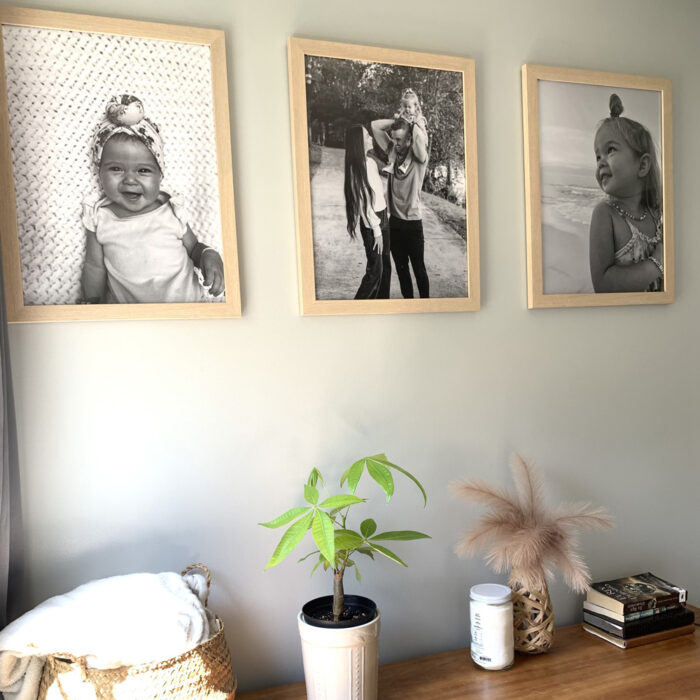 The warmth and timeless charm of wood frames make them a popular choice for baby photos. Perfect for beach day photos, picnics, and any outdoor or nature activities fits perfectly encased in a wood-style frame! Here at Frame It Easy, we have 3 wood-style frames with endless color, sizing, and matting combinations to choose from, but our top baby picture frame picks are…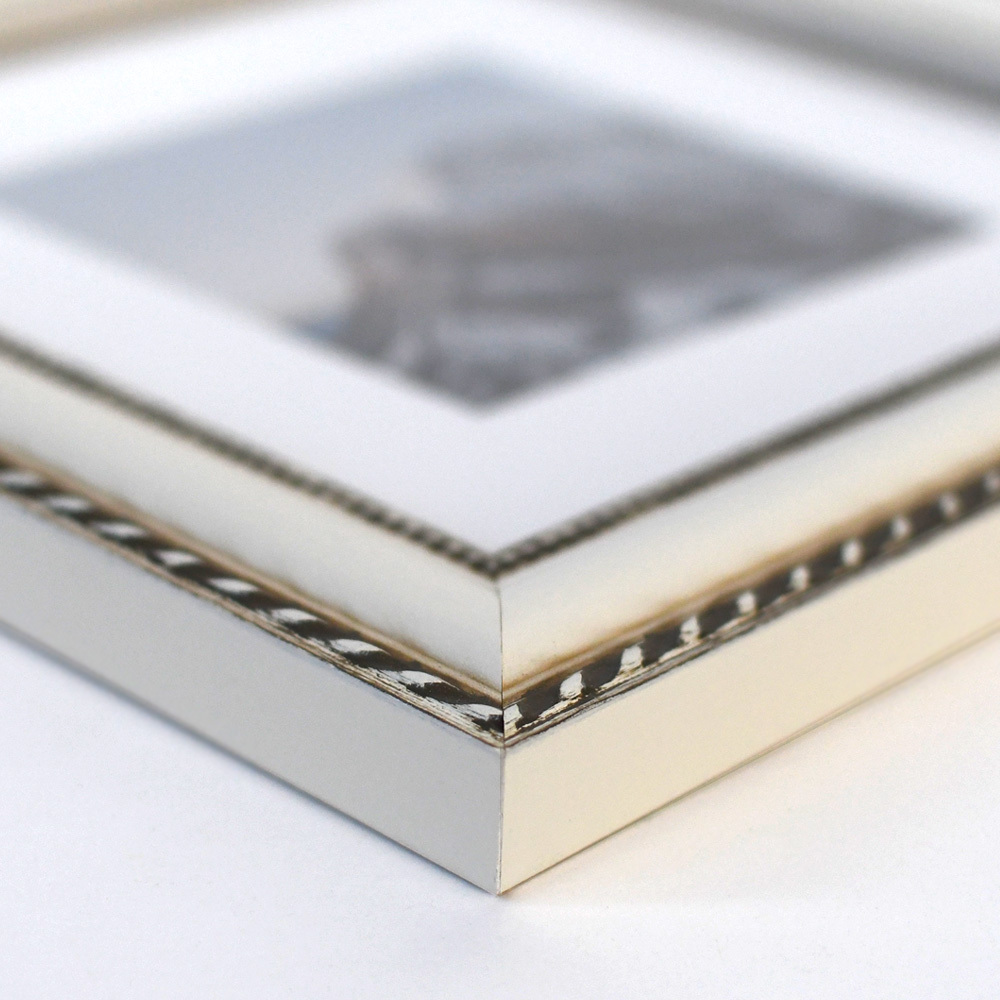 Granby in Antique White
The Granby is our ornate wood frame style. Made from North American hardwood (Poplar) that's finger-jointed, decoratively pressed, and finished with an antique-style gilded pattern wrap!
Elegant and sophisticated, the Granby in Antique white works perfectly in multiple rooms and with almost all color themes. We especially love this frame in baby nurseries and family rooms!
Derby in Hazel
The Derby is our most popular flat profile face wood frame style. It's made from North American hardwood (Poplar) that's finger-jointed and finished with a decorative wood pattern wrap.
We love the rustic and warm feel that the Derby in Hazel brings to a space! The stained wood look works perfectly in kitchens and cozy bedrooms, it's the perfect frame to house fall photos of your little pumpkin! 🎃
The Perfect Baby Picture Frames: Metal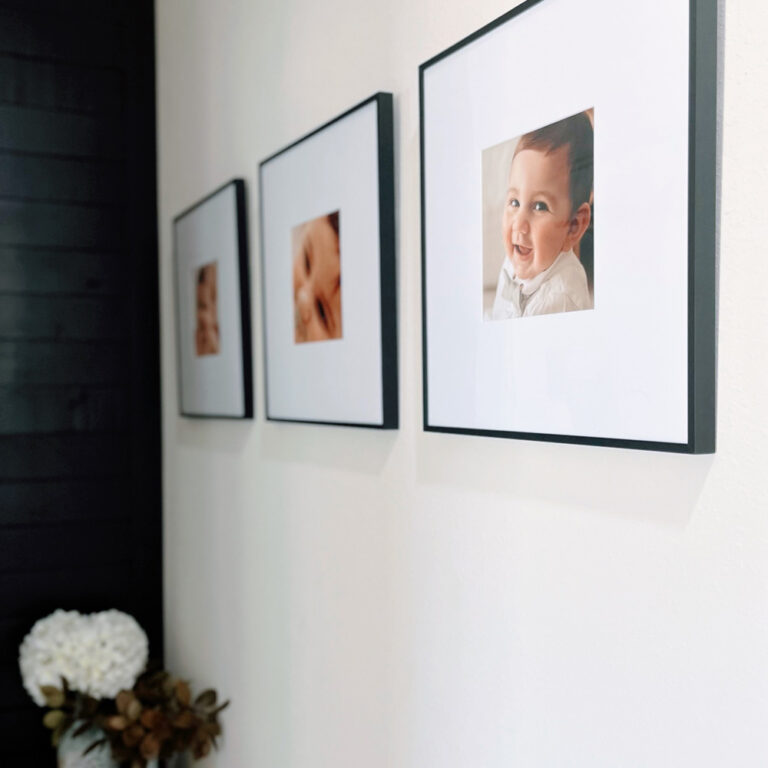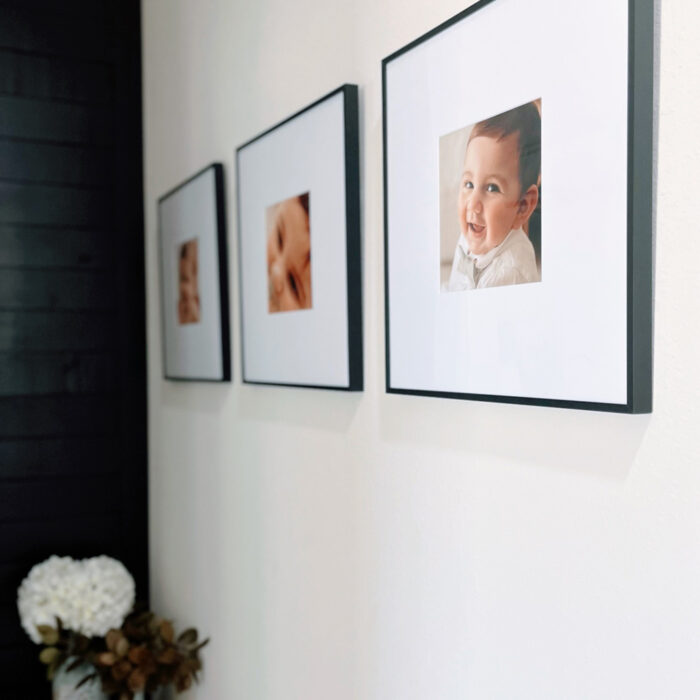 For those who prefer a sleek and modern aesthetic, metal frames are an excellent choice. With a minimalist style, these frames let the personality within the photo shine through. With 5 metal-style frames to choose from, we've narrowed it down to our top 2 most popular styles!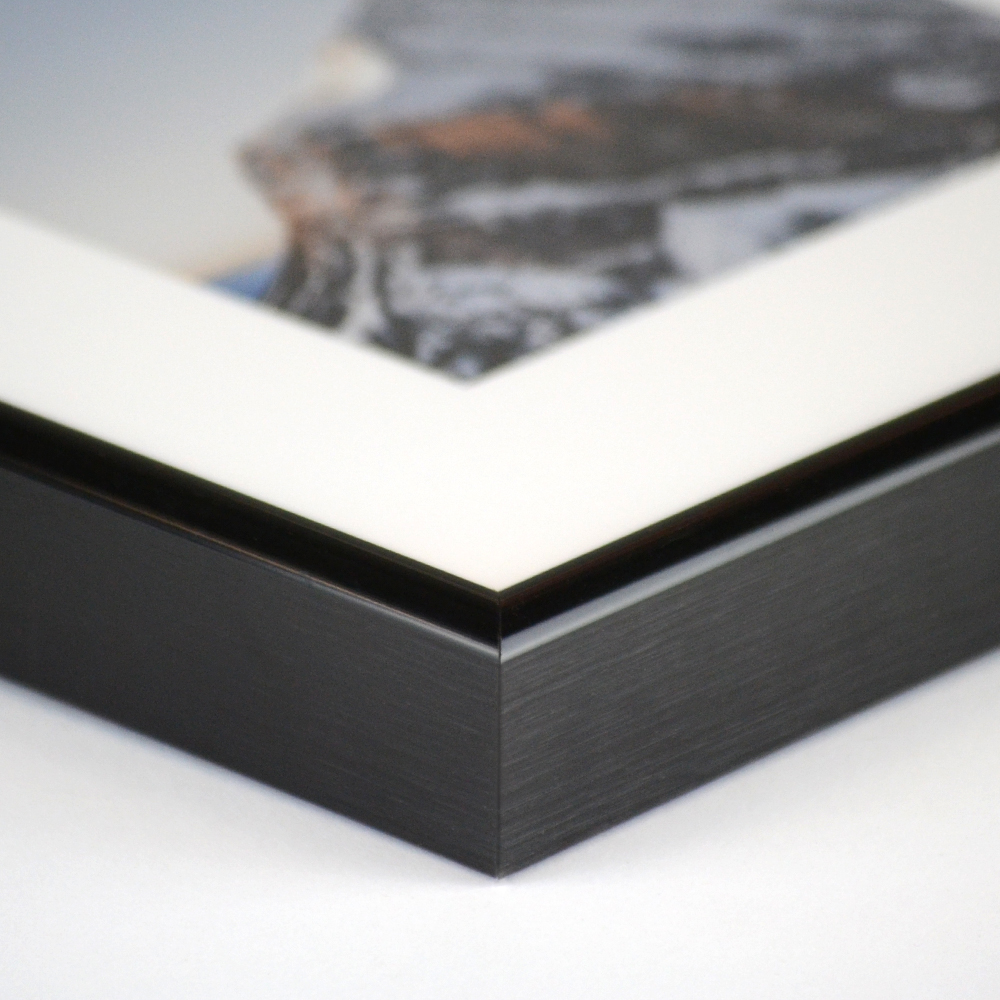 Hanover in Gloss Black
The Hanover is a thinner, rounded-faced metal frame style. It's made from extruded aluminum that's either anodized or powder-coated.
The Hanover is perfect for the oversized frame trend that's extremely popular in home decor accounts on TikTok and IG. With a ton of color options and finishes to choose from you're sure to find something that fits your style (and budget!).
Hammond in Gloss Silver
The Hammond is a more expansive, rounded metal frame style and is made from the same extruded aluminum as our Hanover style.
We like to think of Hammond as Hanover's big brother – with a broader frame face (⅞" wide vs. ⅜" wide) the Hammond frame packs a bigger punch!
Our Favorite Baby Photo Frames & Matboard Combos:
Combining frames with matboards can create an entirely different mood and really bring out the best parts of a photo. Here are our top picks for both wood and metal frames paired with matboards:
The Perfect Baby Picture Frames: Wood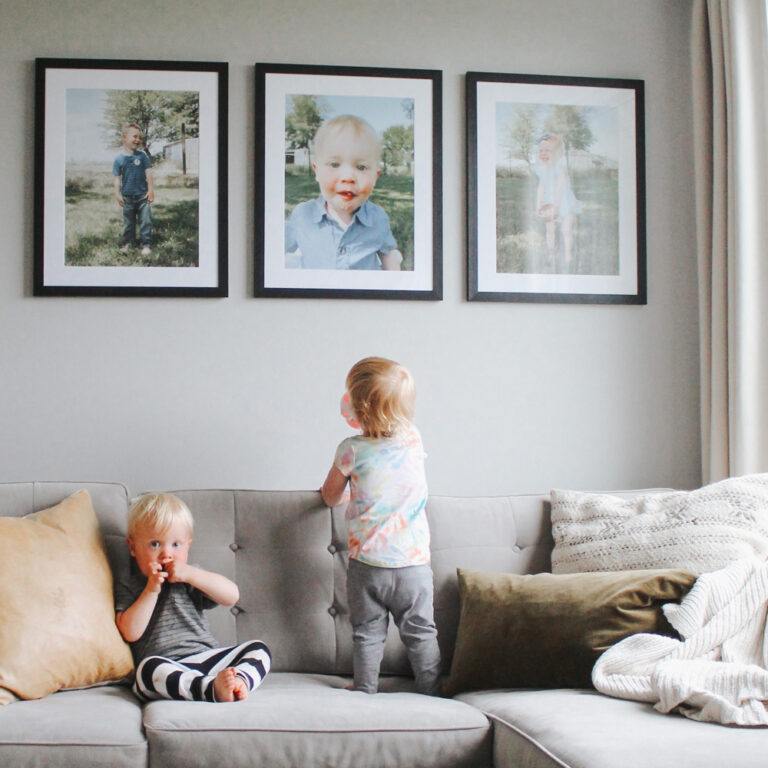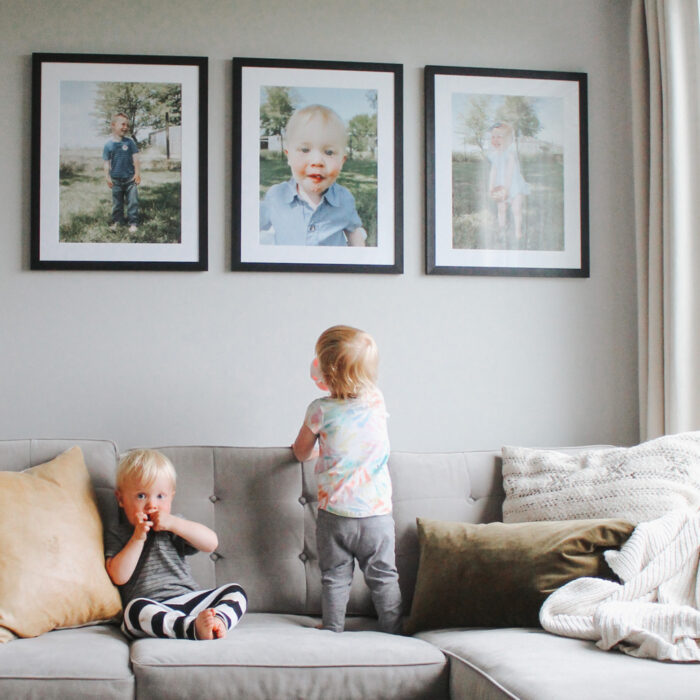 🪵 Rustic Elegance: The Derby style frame in Rustic Gray with 1 1/2″ matting in Smooth White.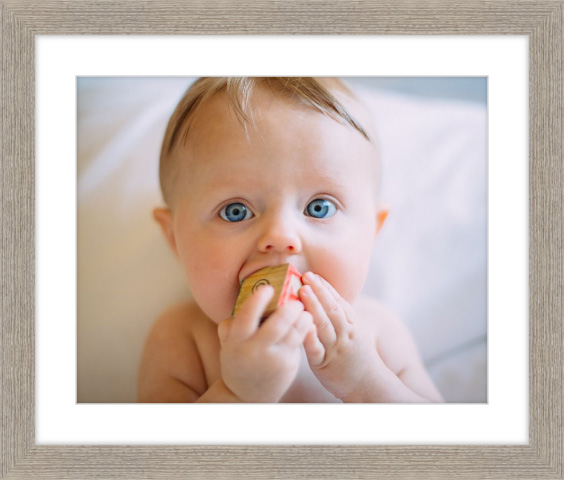 🫖 Vintage-Inspired: The Granby style frame in Gold with 1″ matting in Herbal.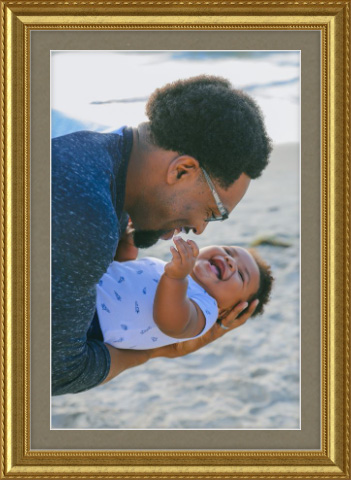 The Perfect Baby Picture Frames: Metal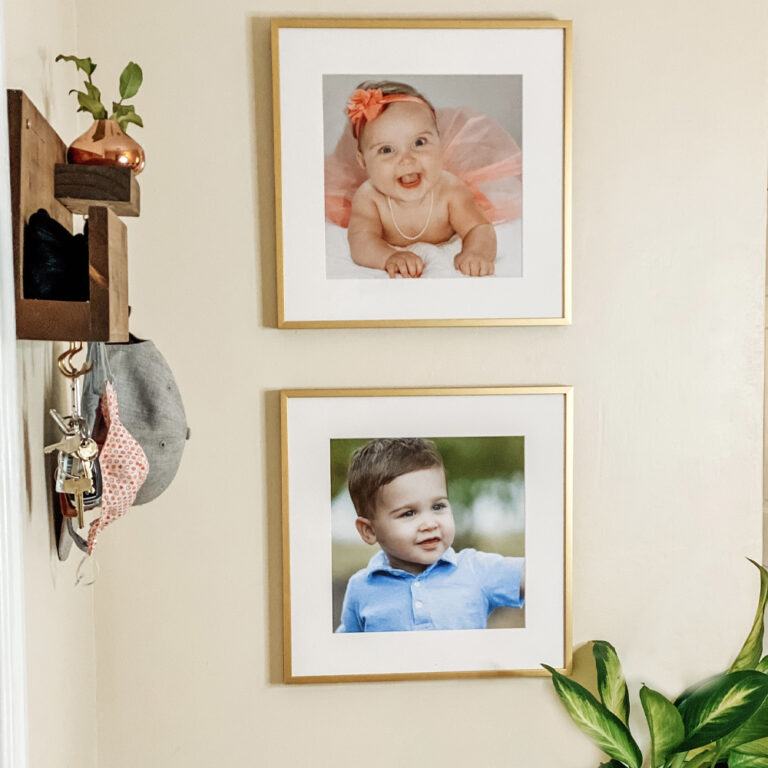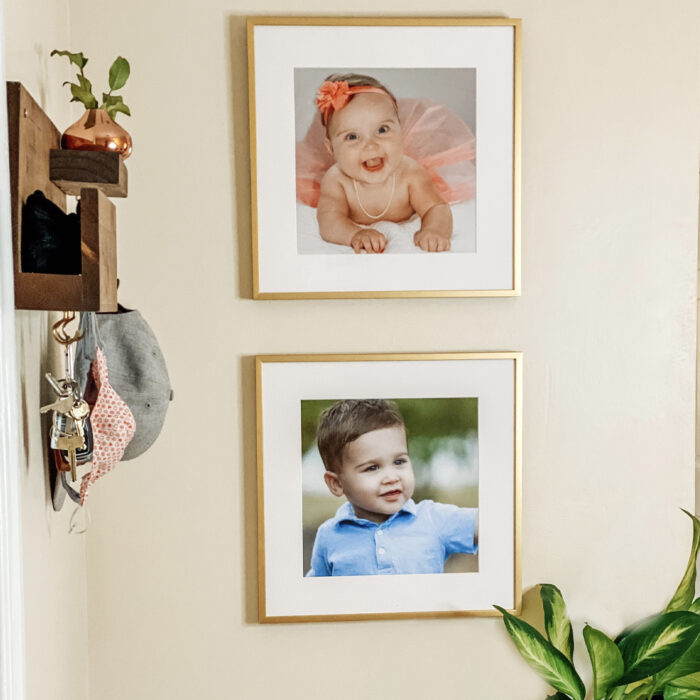 ◼️ Minimalist Modern: The Ashford style frame in White with 2″ matting in Smooth Black.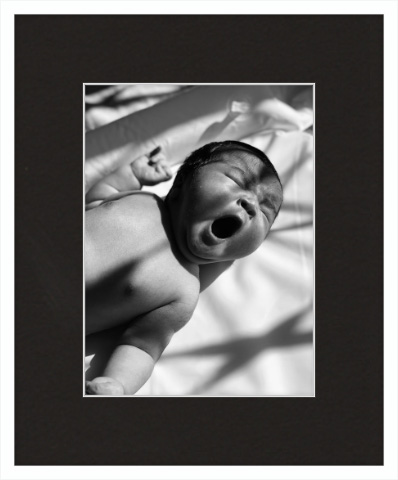 ⚙️ Brushed Metal: The Stafford style frame in Satin Silver with 1″ matting in Grape.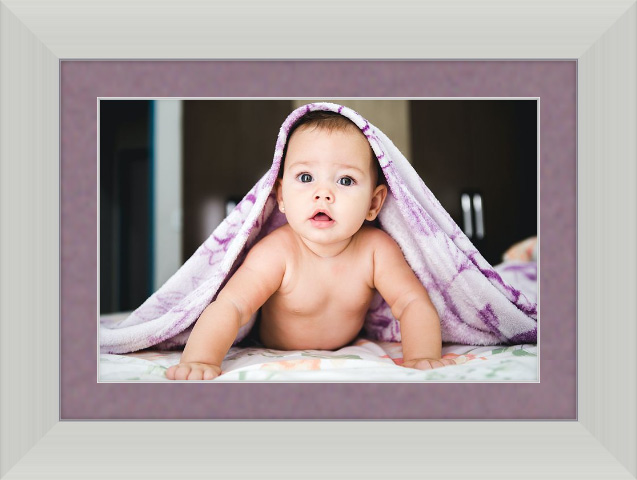 The Best Baby Photos For Your Frames
Certain baby photos hold enormous sentimental value and are perfect for framing and proudly displaying, we love the following baby picture frame photo ideas: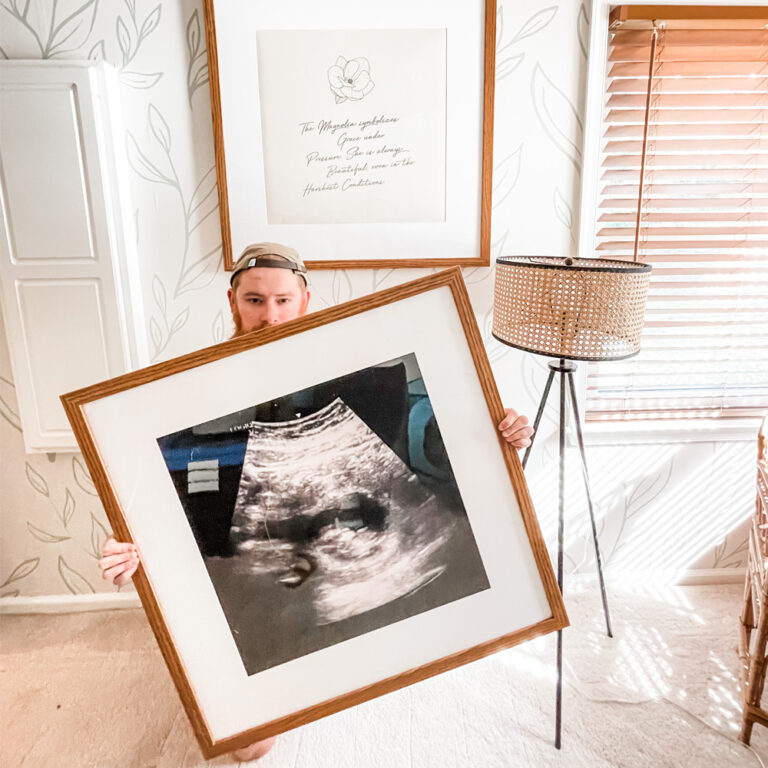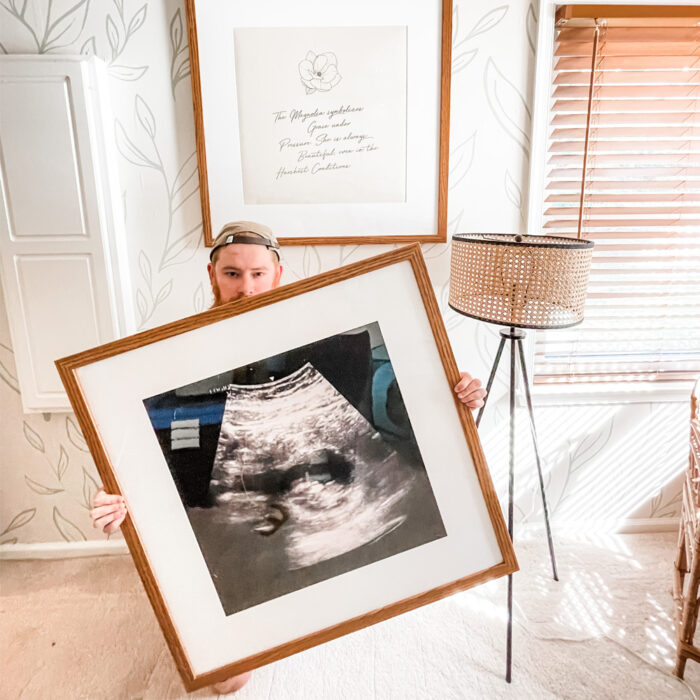 📡 Ultrasound Photos – The first glimpse of your baby, how heartwarming and exciting!
🍼 Baby Bracelet – Frame the tiny hospital bracelet your baby wore in the earliest days as a symbol of their delicate beginnings.
🧥 First Outfit – Savor the cuteness of their very first outfit, a reminder of how small they once were.
📏 Growth Chart (Monthly Milestones) – Create a visual timeline of their growth by framing monthly milestone photos, or save the whole first year and create a framed photo grid collage!
🤿 First Swim – Commemorate their first aquatic adventure, a joyful or terrifying experience? You'll soon find out!
---
---
Final Thoughts
Becoming a parent is a life-changing experience filled with joy, love, and countless precious moments. From the first ultrasound to the first steps, every milestone holds a special place in our hearts. As parents, we want to capture these moments and preserve them for a lifetime.
Choosing the best baby photo is hard enough! (They're all so cute!) But, when your favorite photos are paired with your selected baby picture frames – it's a match made in heaven! Whether you opt for a sweet ultrasound photo housed in a warm wood frame or a silly smile in a sleek metal frame, one thing is for sure, baby is going to look adorable! 👶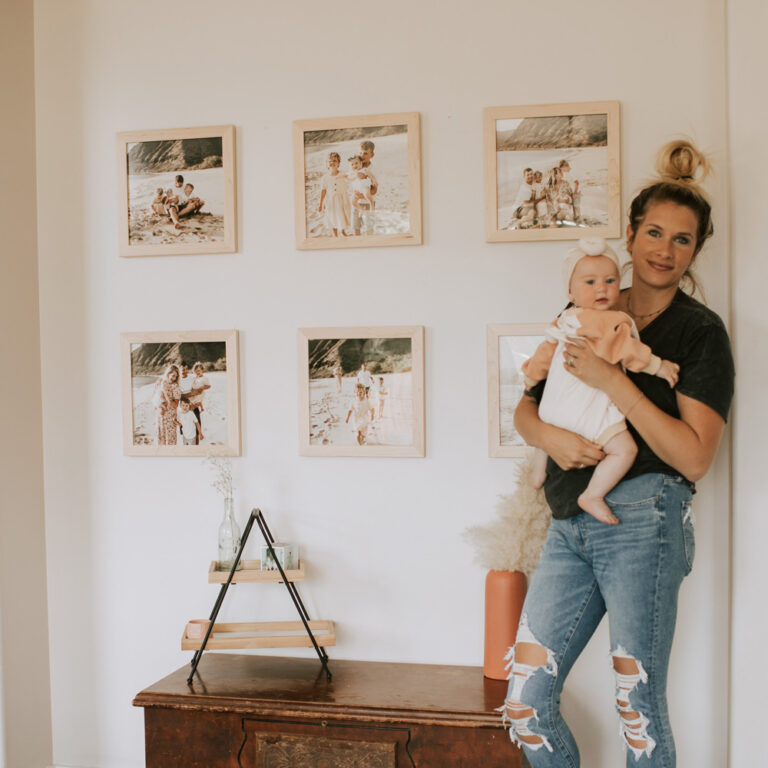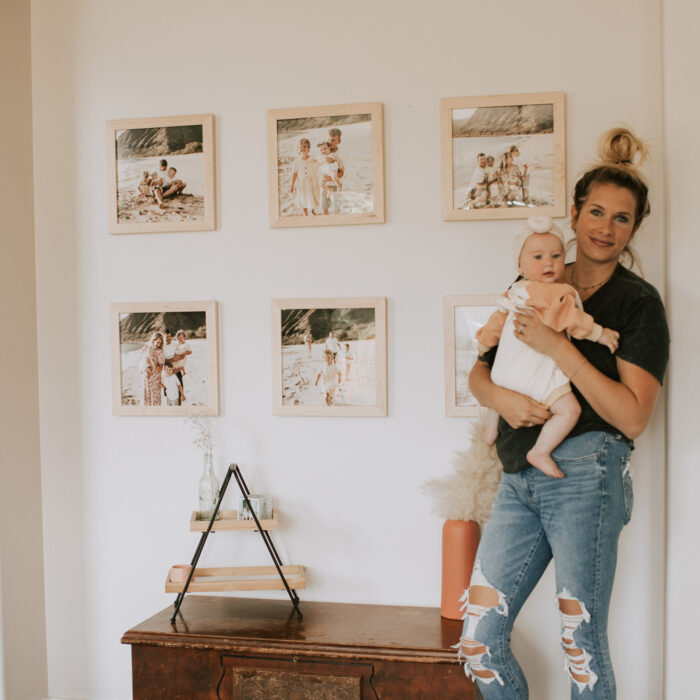 Show off your framed artwork, photos, & other items! – Inspire others by sharing your photos, tell us your story! If we share it, you'll receive a coupon for 15% off your next order!
Be sure to follow us on our socials for more daily inspiration – check out our Shopify app to start selling your own framed prints!
This post first appeared as The Perfect Baby Picture Frames: Capturing Precious Moments on Frame It Easy - Learning Center for Custom Picture Framing.