First, we want to congratulate you on welcoming a new bundle of joy into your family! While this might seem like a hectic time it is also very magical and you probably want to document every stage of their life, starting with the newborn stage, of course! But, time is ticking, and they only stay this tiny for so long, so it's time to get to work.
If you are looking for some photo ideas for a newborn baby photo shoot, we've got you covered. We will also be sharing some inspiration for the best frames to use for your newborn and tips for decorating a nursery. We guarantee you are going to want to keep these images for a long time.
1. Keep It Simple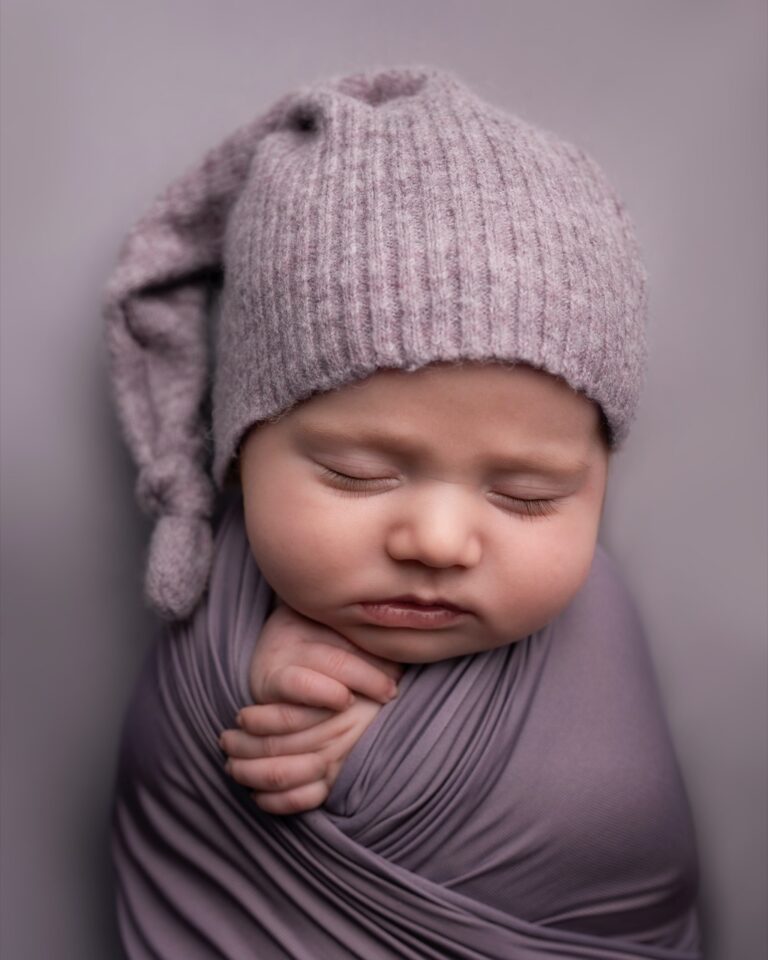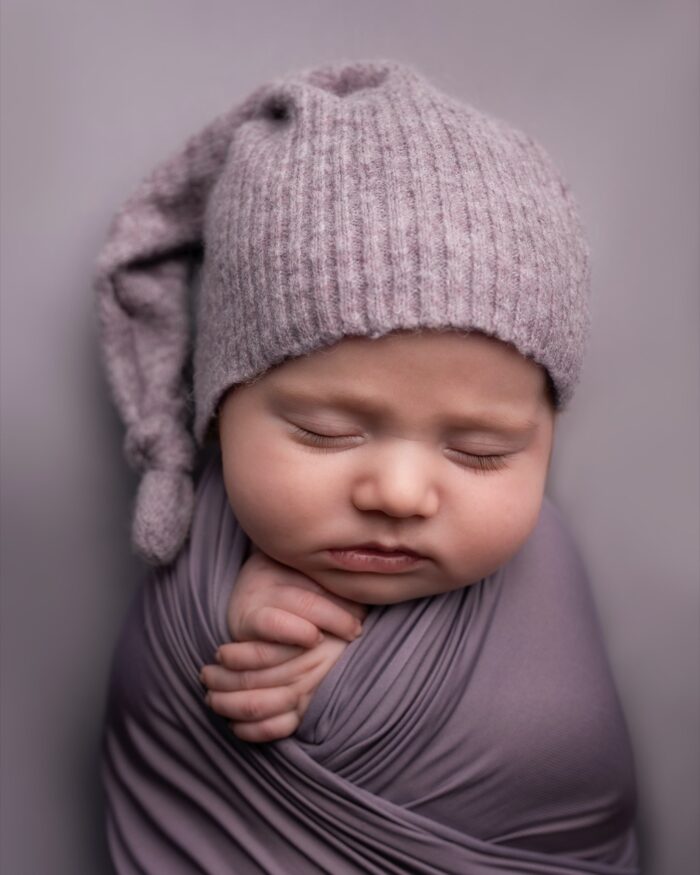 These are photos that you will have for life, so you don't want to go too overboard with a theme or current event that might be considered tacky or outdated in a few years. Instead, keep it simple. Try choosing a solid color, neutrals being the best option, or a simple pattern if you want to add a little extra spice.
2. Accessorize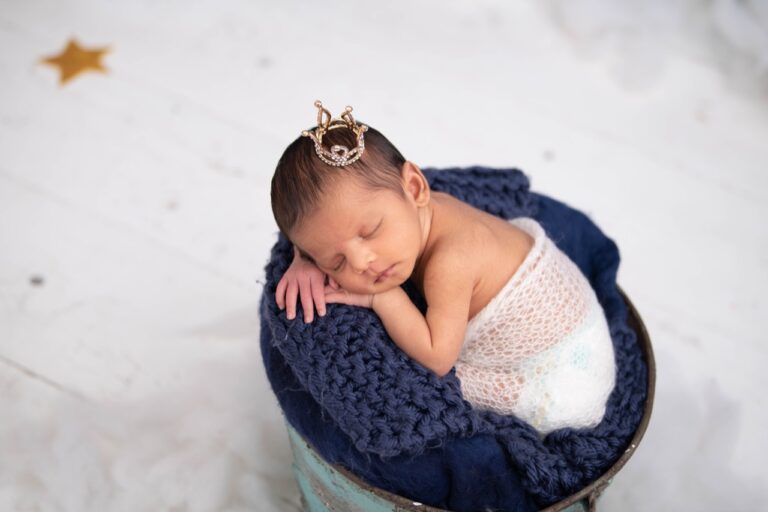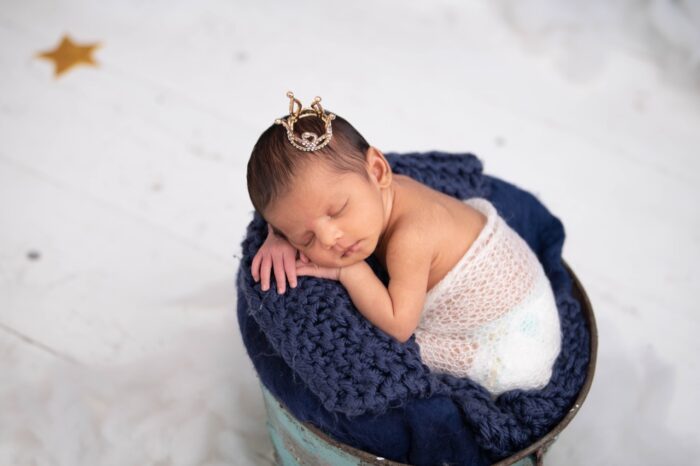 You can still jazz up the photo even if you are using neutral colors. Get a few cute outfits to change into, add a headband or hat, or wrap them in their favorite blanket. Accessories can give your photoshoot that extra pop it was looking for without distracting or taking away from the main subject — your newborn.
3. Plan Your Poses Ahead of Time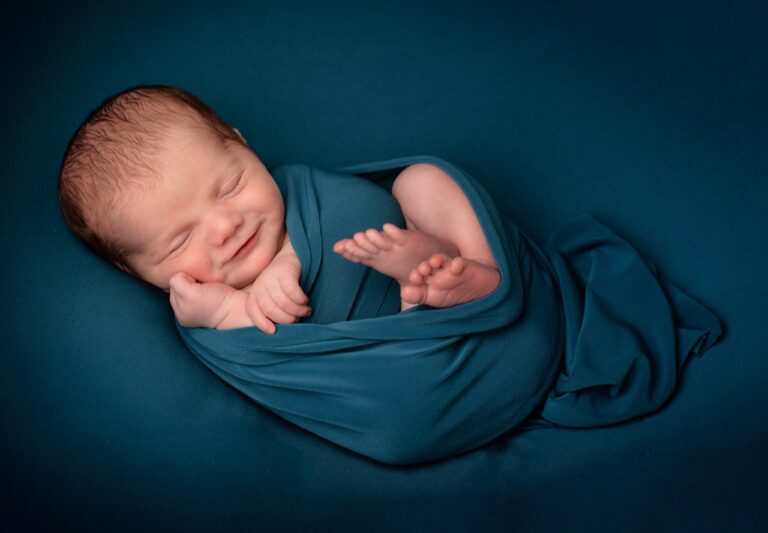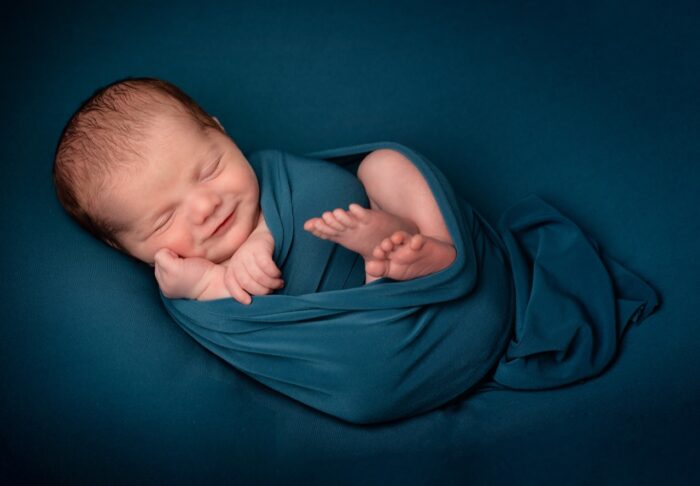 Do some research on some poses you definitely want to be captured. Some of our favorites are the frog pose, wrapped pose, taco pose, side profile pose, tushy up pose, and hands-on chin. Be sure to jot down a few of your favorite poses so you can be sure the photographer captures those sweet moments.
4. Don't Forget The Close Up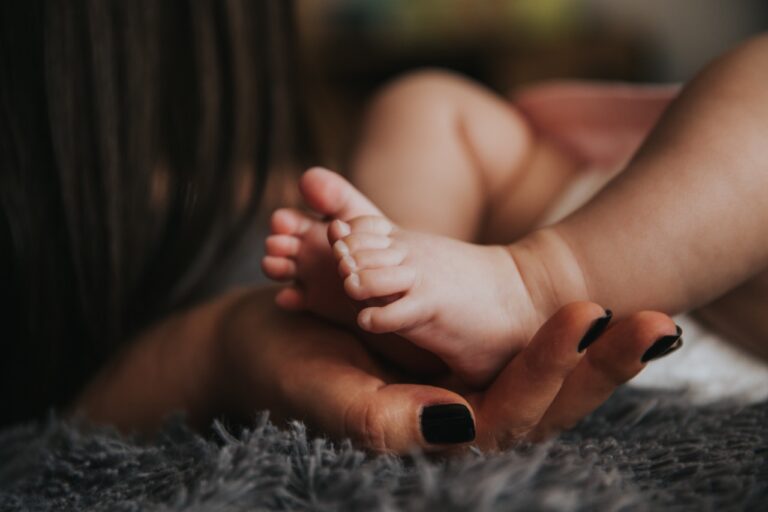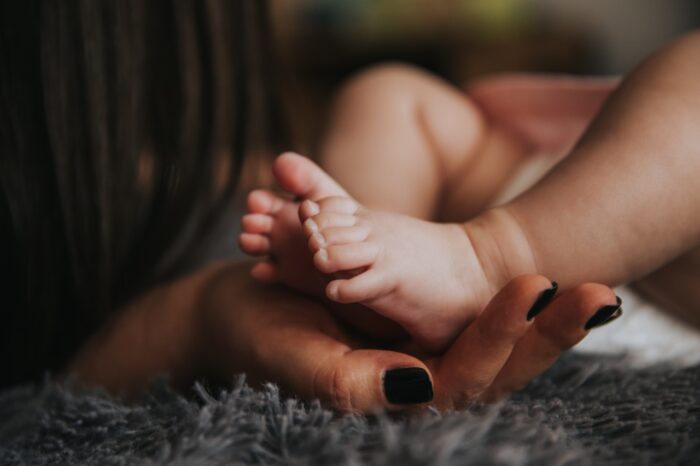 Their hands and feet only stay that tiny for so long. Be sure to get a close-up of their 10 little fingers and 10 little toes. In just a few short months you won't believe they were ever that small, so this is a must photo idea. Trust us, you'll want to look back and remember this moment!
5. Snap a Few Photos Together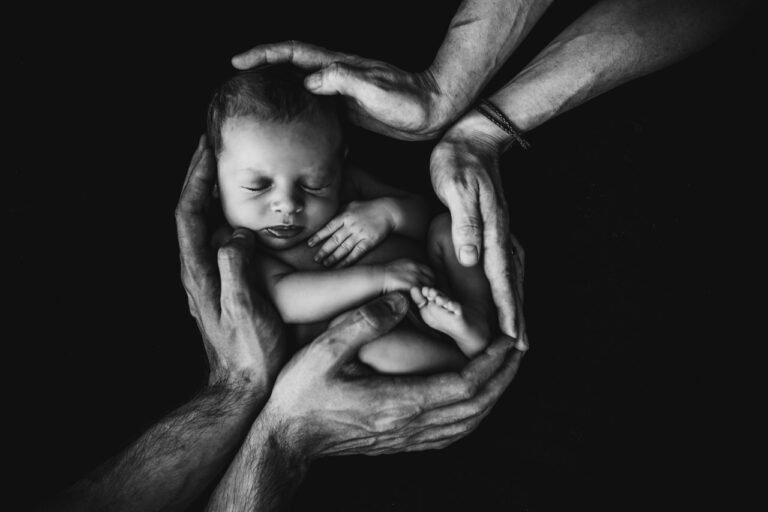 Of course, this photoshoot is all about your little one, but they wouldn't be here without you! If you're feeling up to it, be sure to hop in a few pictures with your newborn. You can even just use your hands as props to hold them up. It will be a great bonding experience! This picture will mean a lot for your little one to look back on and remember, so consider framing it or putting it in a photo album for them to always cherish.
6. Book Early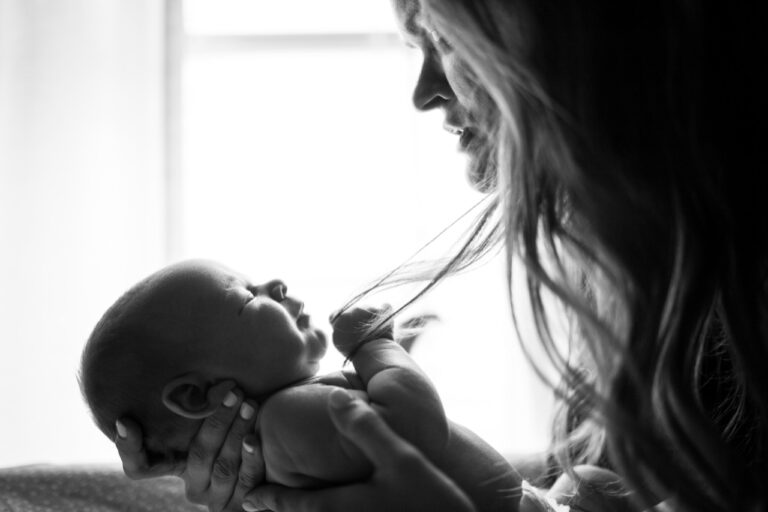 As we mentioned, time flies when you're having fun (or up until 4 am every night with a crying baby). Be sure to find a photographer and book your photoshoot early. You can even start planning when you are still pregnant to ensure you find the best photographer and the perfect date. You can look up photographers in your area or get recommendations for friends that have done a newborn shoot. You'll want to make sure you are choosing the best photographer that will capture all these special moments.
Time To Decorate Your Nursery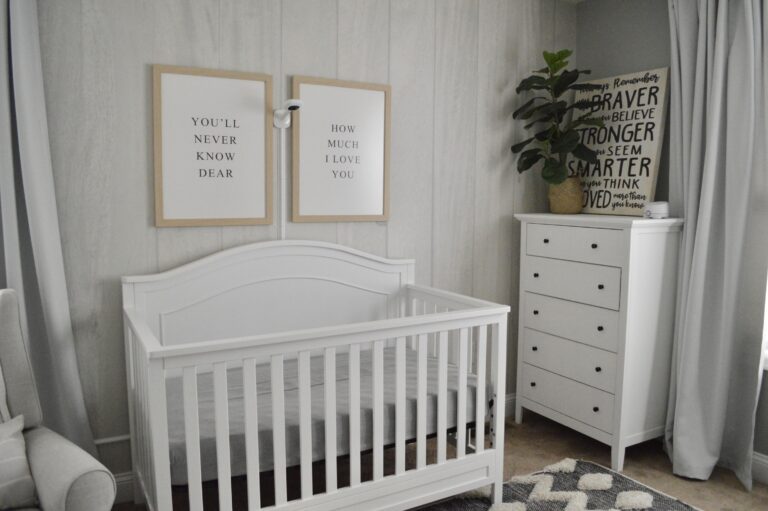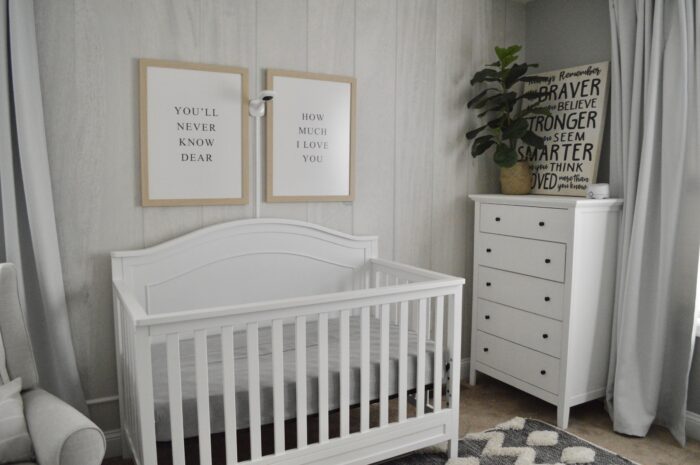 What an exciting time for you….you are planning, creating, and decorating a nursery in your home! You know you want it to be a warm, loving environment, but it should also be functional and safe for you and your baby. We want to help make it as easy and simple as possible, so we thought we would share a few tips on how to make this process as smooth as possible for you.
Here are a few things to consider when it comes to styling and decorating a nursery for your newborn.
Choose A Theme/Color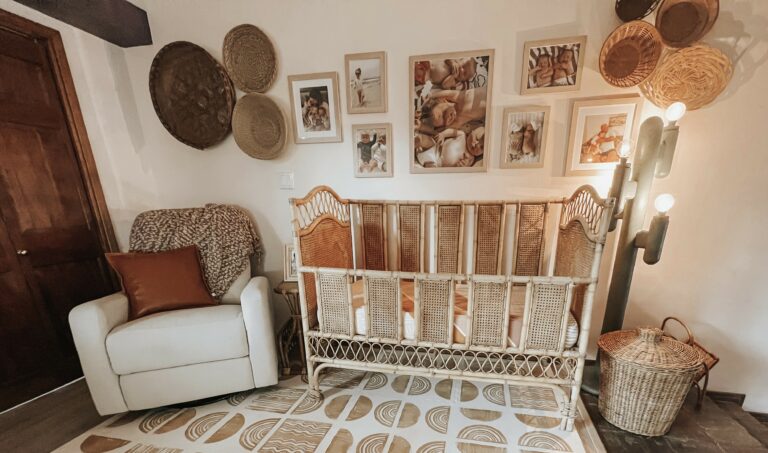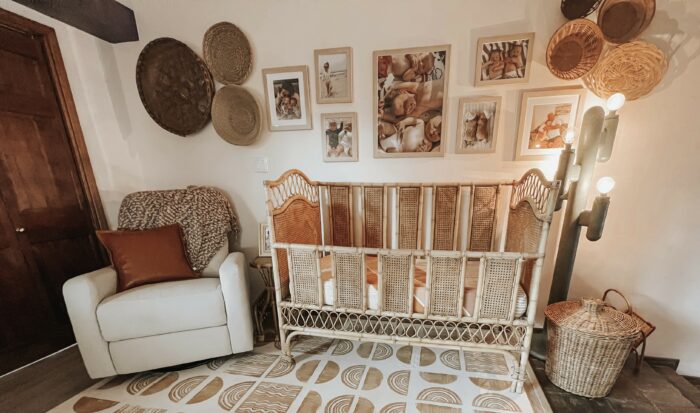 If you don't have your heart set on lambs, dinosaurs, bunnies, or trucks, think outside of the box when choosing a theme. Etsy is filled with nursery decor that can jumpstart your project. Or use a print that caught your eye, one of your favorite storybook covers, or an inspirational quote you've always loved to get your creative juices flowing. Frame it and you've got the beginnings of your one-of-a-kind motif!
You can now use your framed artwork as a starting point to choose a wall color by pulling a background color from it to coordinate your decor. Many of you have already had the popular gender reveal party soon after announcing the upcoming arrival of your baby so a traditional boy/girl color is a likely choice. If you are waiting to be surprised during delivery, the customary yellow or green hues have long been a safe option and will most likely work well with your chosen piece. But there's a third choice. Using light, neutral colors is popular these days. These soft, muted colors emit a calming effect and will likely complement any artwork you choose.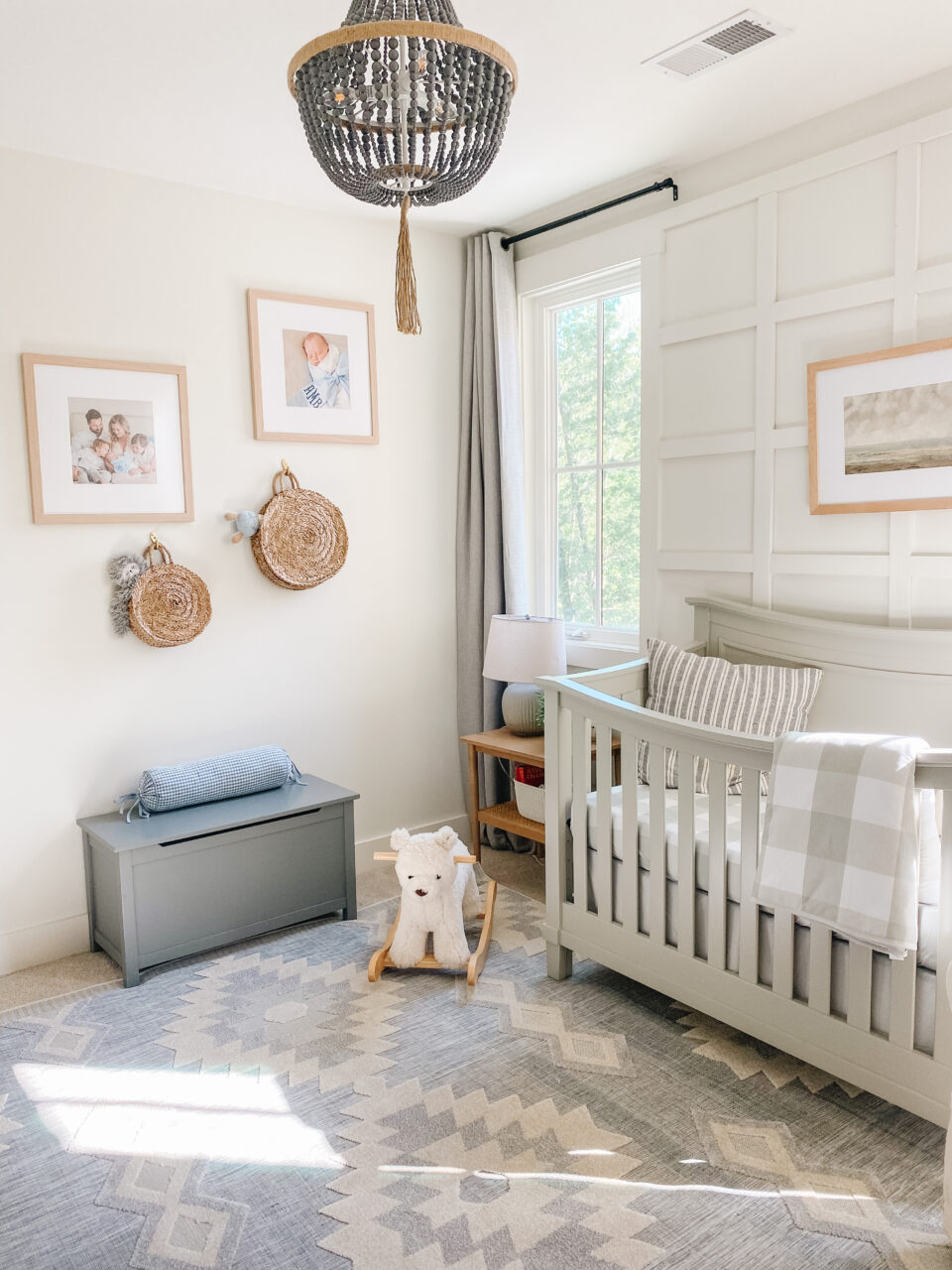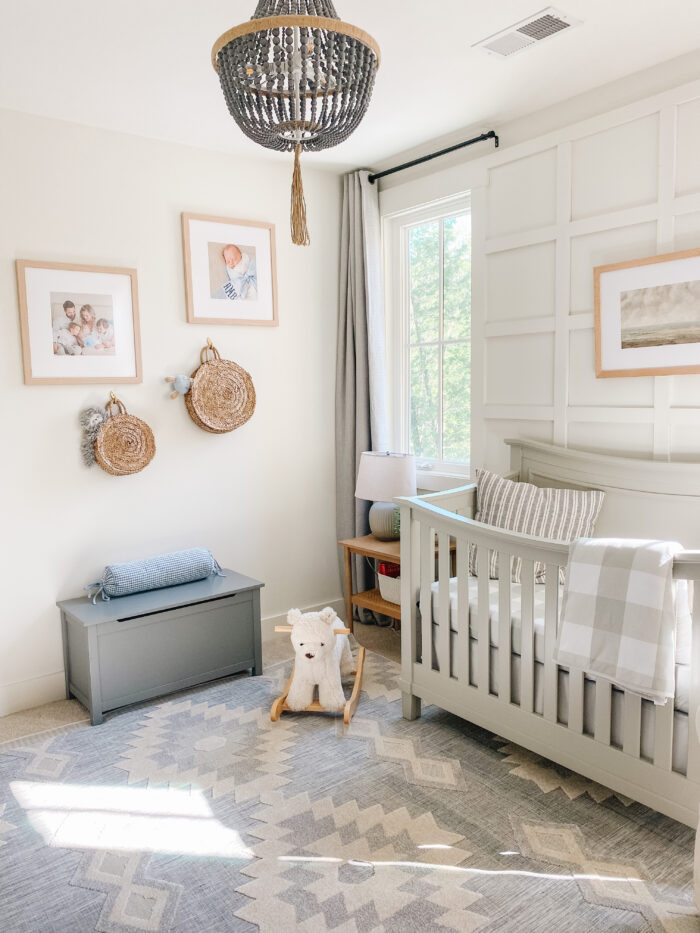 Make It Practical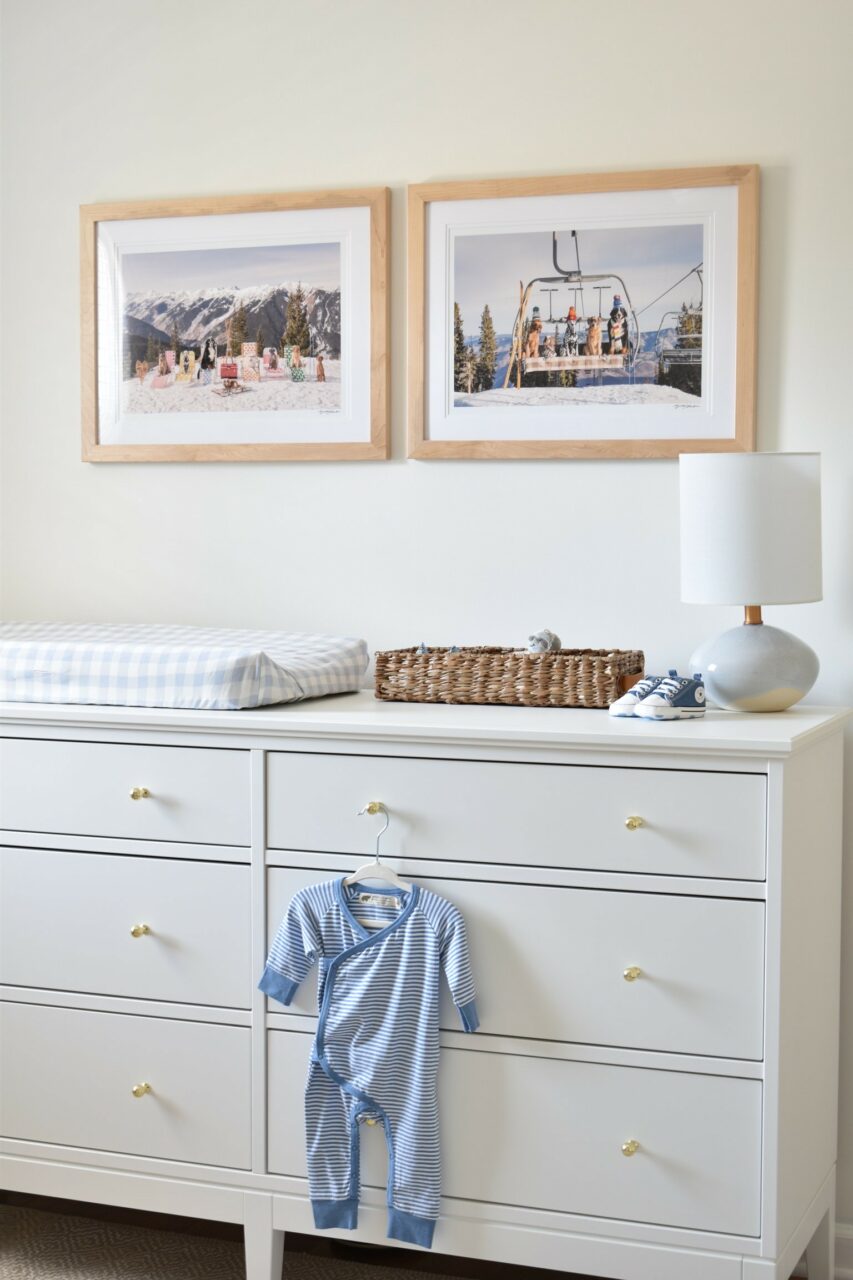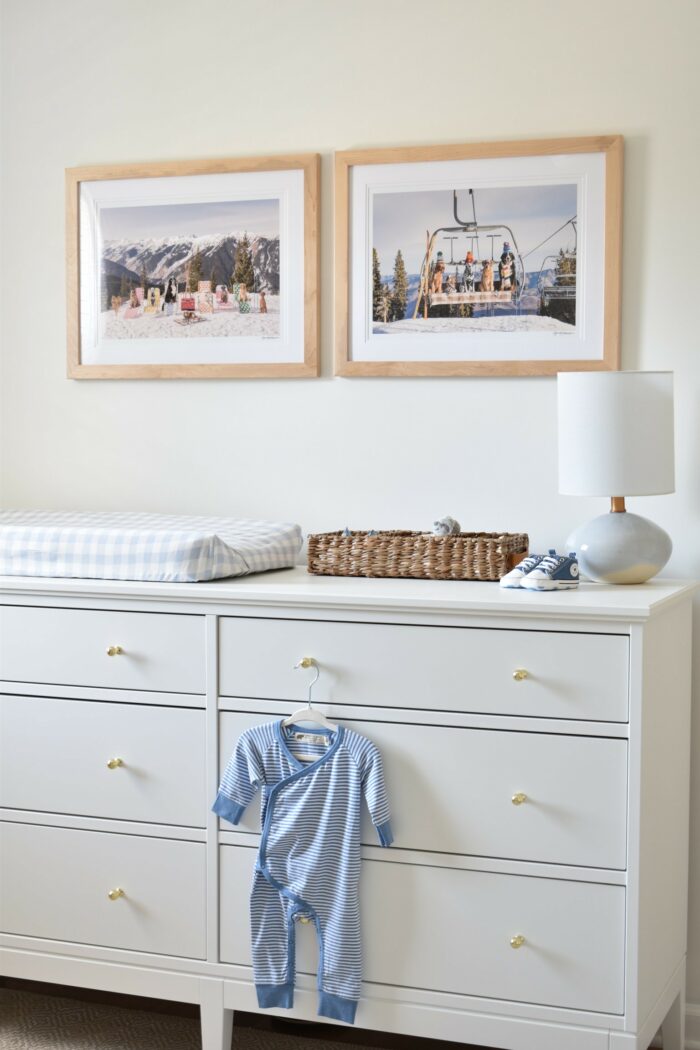 For such tiny things, babies need a lot, and it gets worse as they grow! Adequate storage is a must in any nursery. Try to get ahead of any clutter and mess and incorporate baskets, bins, and modular cubes into the room. Storage ottomans are a great way to stow away things like crib sheets, blankets, and other items while providing additional seating besides the obligatory rocking chair.
When planning the layout of your nursery, keep everything you will need within reach. At 3 a.m. you don't want to be searching for diapers, wipes, pacifiers, etc. Your crib, changing table, and rocking chair should be in close proximity to each other. Consider keeping toys, activity mats, books, and other non-essential items in a corner of the room.  And following the advice of WebMD, the crib should always be placed as close to the door as possible and never near a window.
Lighting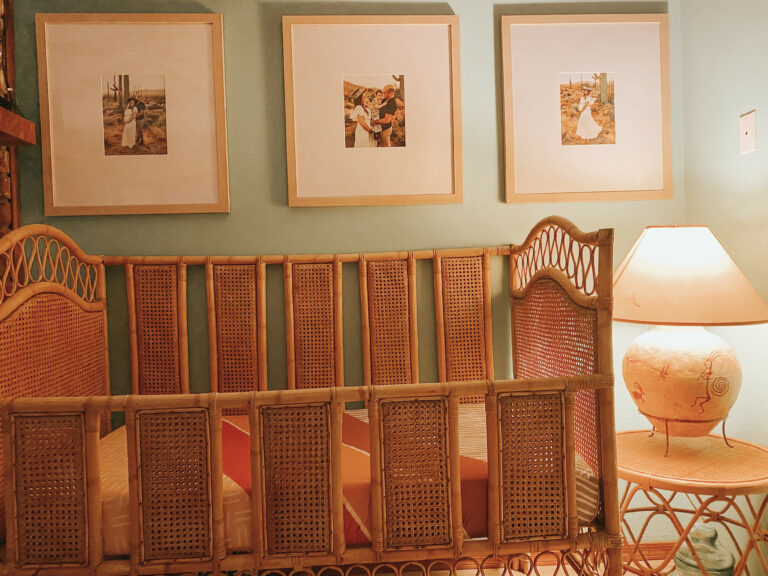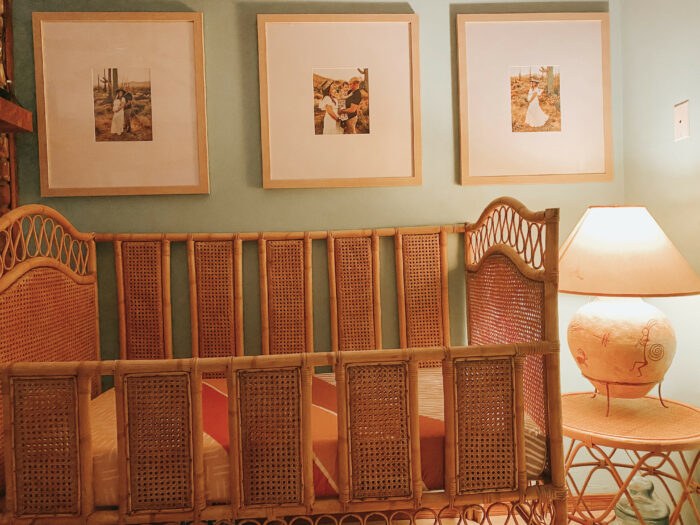 The nursery should be a calming space where your baby will eventually associate it with relaxing and sleeping. The first thing to keep in mind with lighting is that you should be able to have full control over it at any time of day or night. In emergency situations, you must have easy access to lighting. That being said, for the rest of the time, there is no need to be afraid of the dark! Blackout shades or curtains can be helpful when it's time for a daytime nap and at bedtime. Don't forget to open them back up during the day or playtime for the powerful energy natural light brings into any room.
Three separate points of light are ideal in a nursery. If your room has overhead lighting that is too harsh, use low-watt bulbs and consider adding fixtures that will diffuse the lighting even more. It's equally important to have a strong enough light available for the middle of the night diaper changes. The third source of lighting can be a reading lamp near your rocker which adds just the right amount of illumination during storytime.
Although floor lamps in nurseries are not recommended, it is recommended to use nightlights. There are many models to choose from that simply plug into existing outlets. However, you can also turn any lamp into a night light by simply switching out the bulb for a nightlight bulb.
Add Some Photos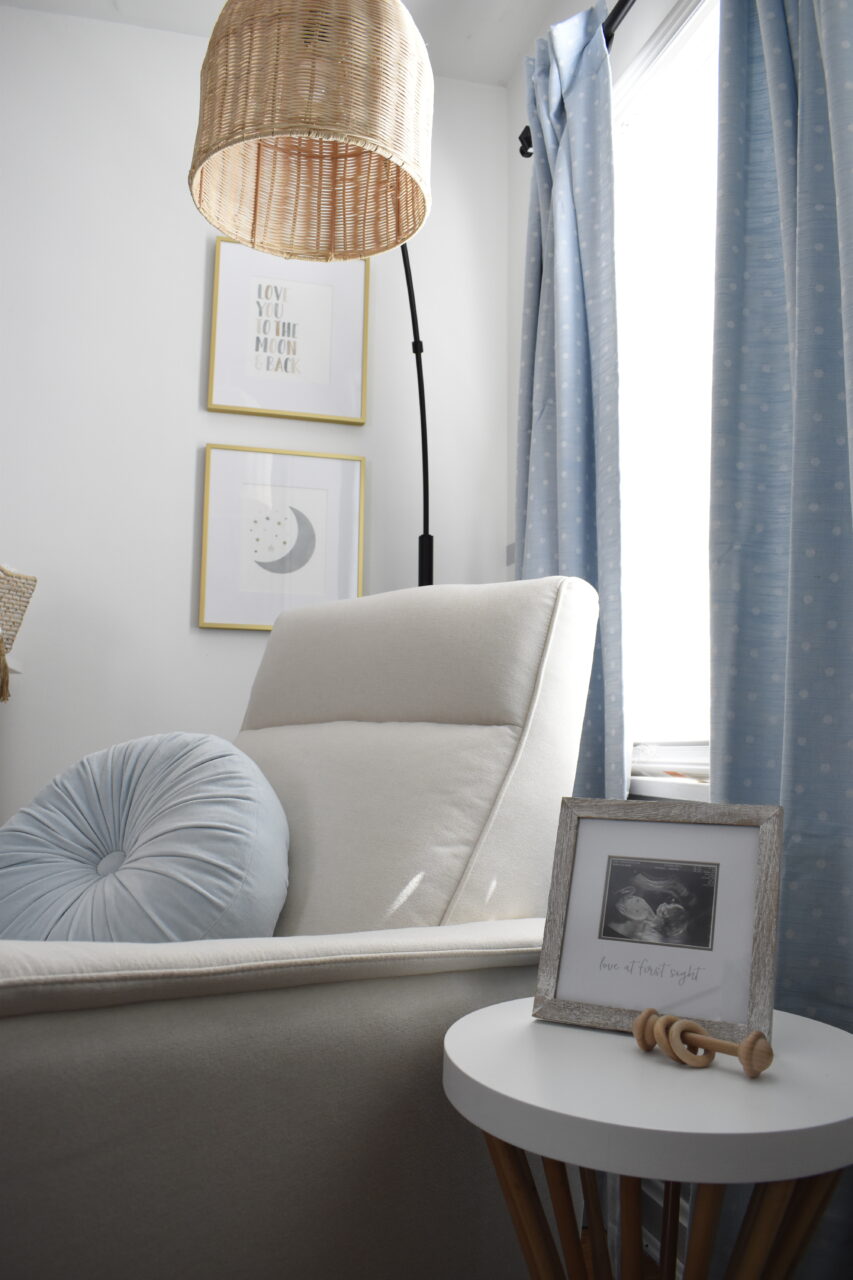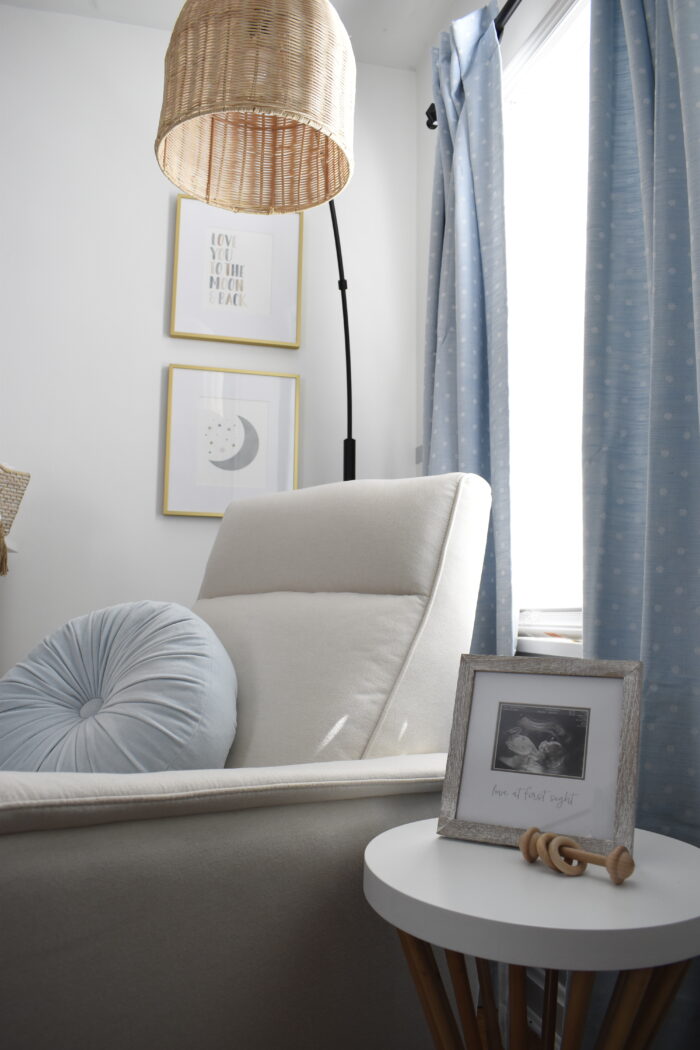 We just talked about the best photos to take with your newborn, so why not frame them for your nursery? In fact, photos can be a learning tool for children as they grow older and can be important for them as far as remembering key memories in their childhood. Plus, it's nice to have a familiar face near them throughout the night.
Once your photo shoot is all completed and your photographer gets back to you with the edited photos, it's time for the hardest part: narrowing down which ones to frame. Of course, with Frame It Easy's affordable custom framing, you can frame all of them without breaking the bank.
When you have your frame-worthy photos picked out, head over to our Frame Designer to start designing your custom frame. We have 8 different frame styles that come in various colors and styles and over 75 matboard colors to choose from — making your frame truly custom. Our Ashford frame style is a thin metal frame style, with a flat profile face that is ⅜" wide. This is a simple frame that won't distract from your photo but will only add to your photo. Or you can choose our Granby frame style for a truly elegant frame that will give your photo the grand display it deserves.
Final Thoughts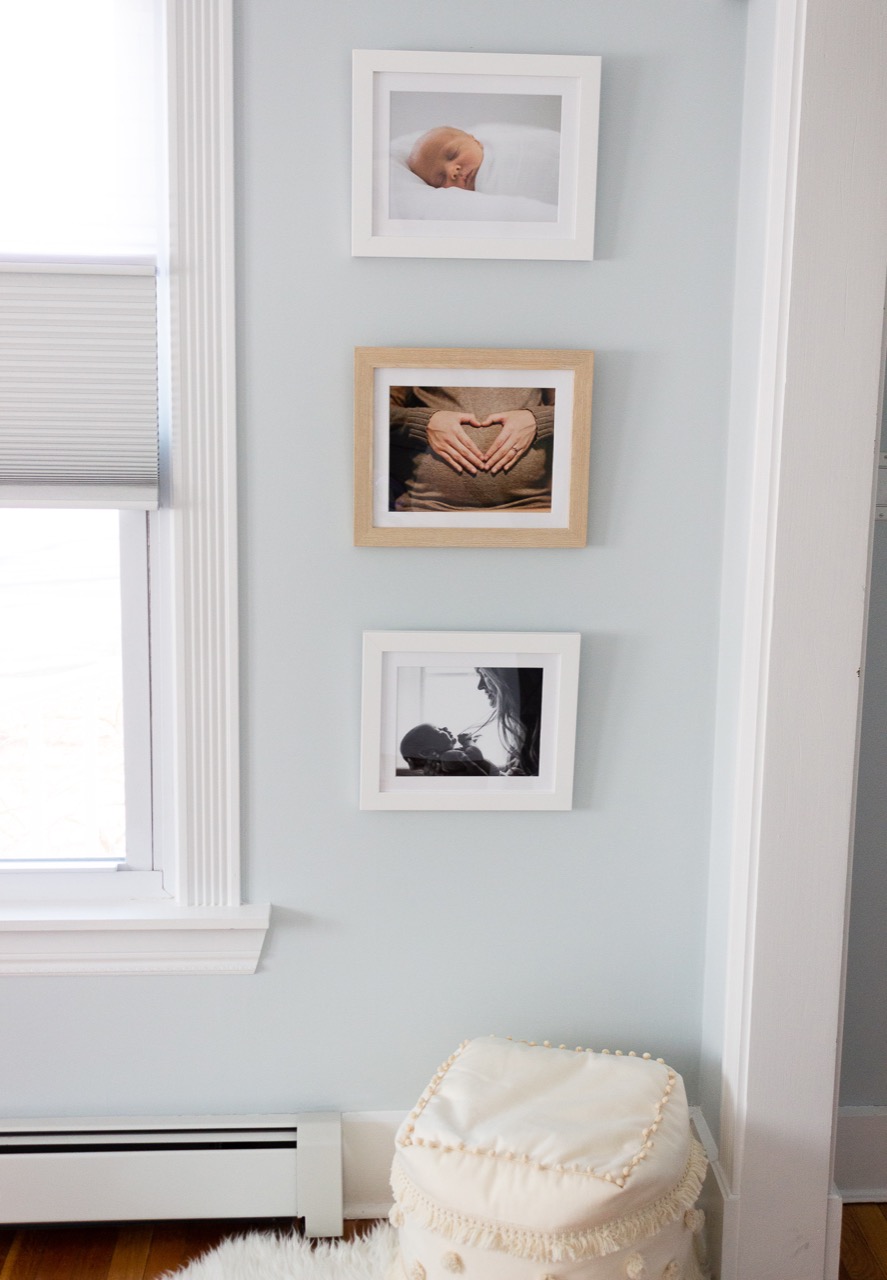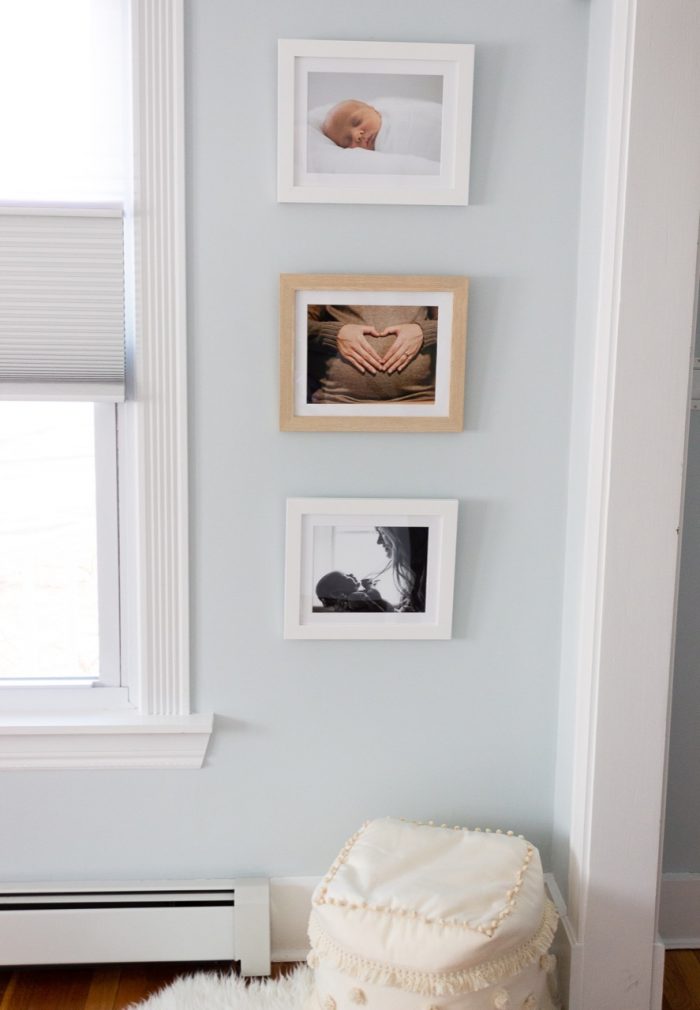 We hope that we helped make things easier for your newborn photoshoot and the planning of their nursery. We understand that this is an exciting and emotional time in your life and we are thrilled that you are letting us be a part of it in some way.
Be sure to share your final project with us on social media. We would love to see what you designed and of course, see your new bundle of joy!
This post first appeared as Newborn Baby Photo Ideas and Tips For Decorating Your Nursery on Frame It Easy - Learning Center for Custom Picture Framing.