If you've been to our Learning Center before, you know that we are big fans of gallery walls. I mean who wouldn't be? They are a great way to display all your favorite photos in one place, (well, maybe not all your favorites, but you get the picture!)
So, if you are looking for a new home decor project and ready to transform an empty wall in your space, look no further! We've got you covered with 5 tips to create an eye-catching, artistic and awesome gallery wall!
1. Find Your Theme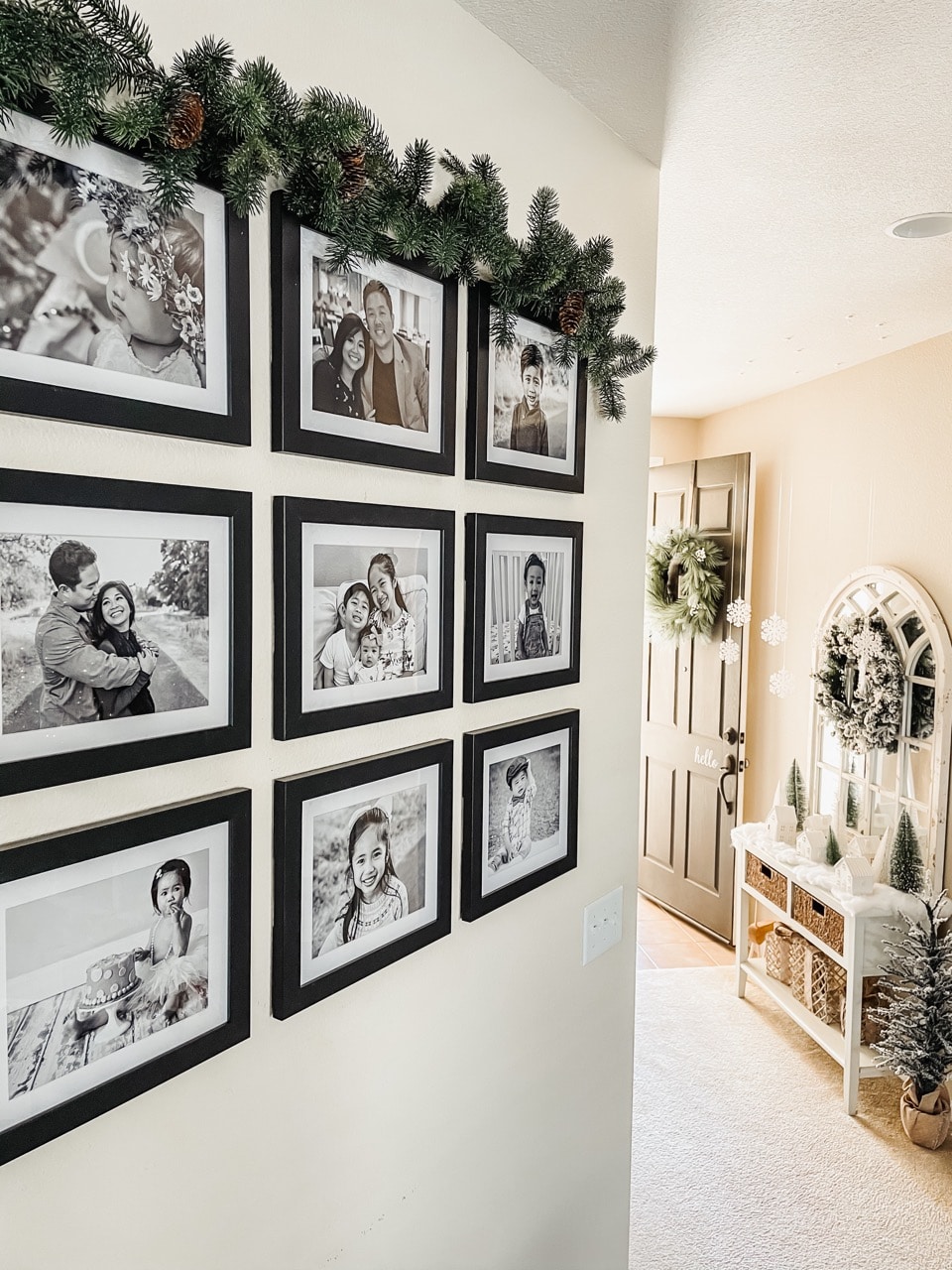 The first step you will need to take is to find your theme. Family photos, travel destinations, furry friends, and original artwork are always great options. Think about what is most important to you and what deserves this grand display in your home. You probably won't have to think too hard, because you most likely already know the answer to this. All those pictures of your growing family, your obsession with vintage movie posters, or your collection of black and white photography make the perfect gallery wall theme.
Of course, since this is your home, there are no real rules! You can add a little bit of chaos and mix up your gallery wall. A theme doesn't necessarily have to be exactly the same; instead, mix and match photos, wall art, and frame styles to create a beautiful madness.
2. Look For Inspiration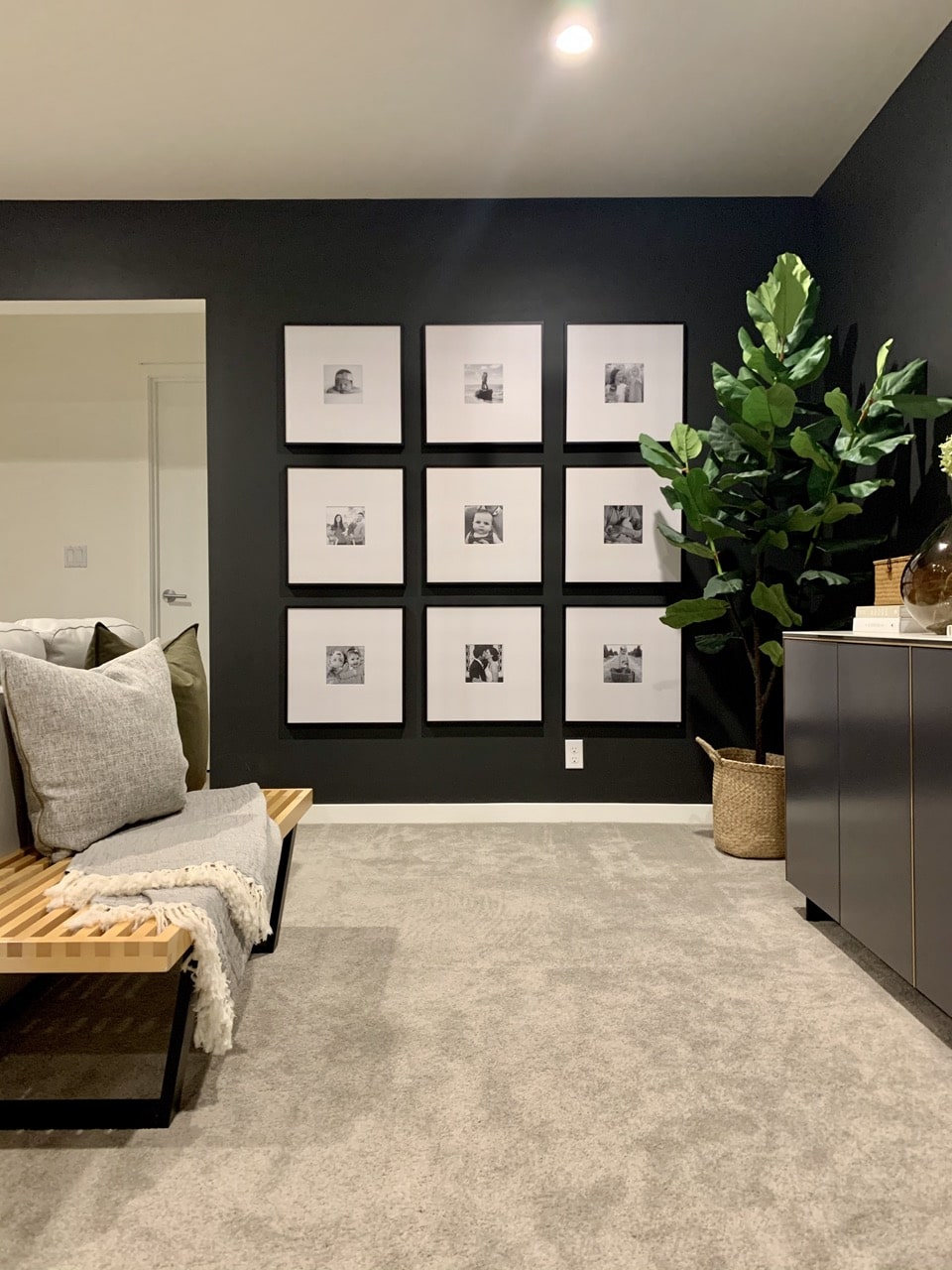 So, if you don't already have your theme but you have an empty wall that is begging for some decor, don't sweat it. We understand that visualizing a gallery wall can be quite intimidating, but don't let that stop you from creating something amazing! We got some advice from Instagram experts on how they created their gallery walls and what helped them along the way. Check out their advice to get you started.
There are plenty of other places to find inspiration for your gallery wall. Besides our Learning Center, check out Instagram for home decor bloggers and Pinterest for idea boards as well. And remember to take baby steps….sometimes just one photograph or piece of art can be all the inspiration you need to get you started!
3. Try Different Layouts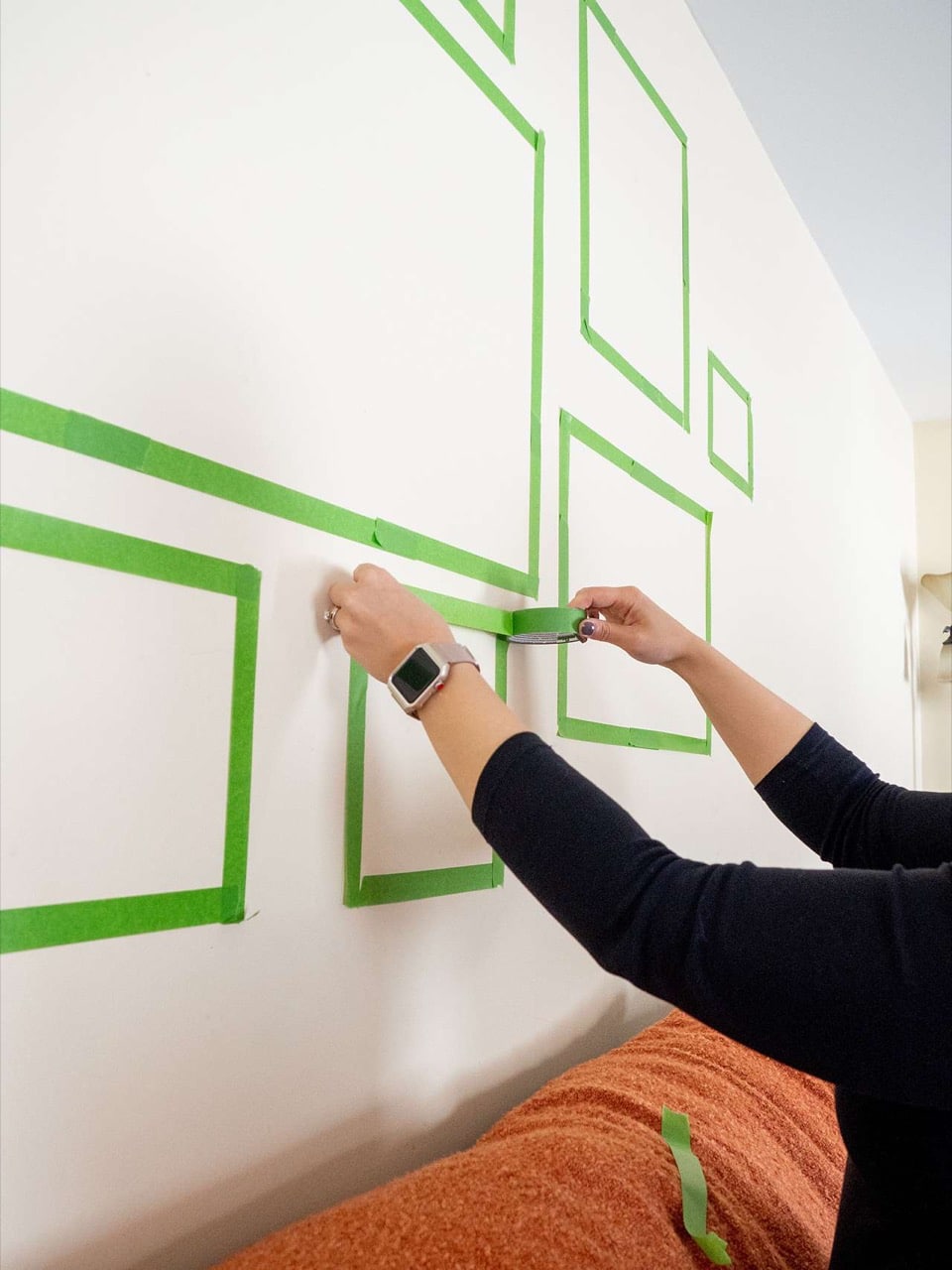 It's very unlikely that you will get the perfect layout you want in the first shot. If you do, consider yourself lucky. Less work for you. But if you don't, don't fret. A gallery wall often takes careful planning (or what we call trial and error.) But before you purchase your frames, try different arrangements until it works for you
This can be as simple as drawing it out on a piece of paper. It's not precise, but it can get you started in the process. Using painter's tape or craft paper to try multiple layouts is a great way to see what your wall will look like before you commit and start making holes in the wall. A gallery wall takes a bit more planning than hanging a single frame, but it will be well worth the added effort.
If you're not familiar with gallery walls, there are tons of different layouts that give off a different vibe but are equally impactful: asymmetrical, grid style, layered, and more! Take an in-depth look at the different arrangements you can try for your gallery wall.
4. Add Other Decor Pieces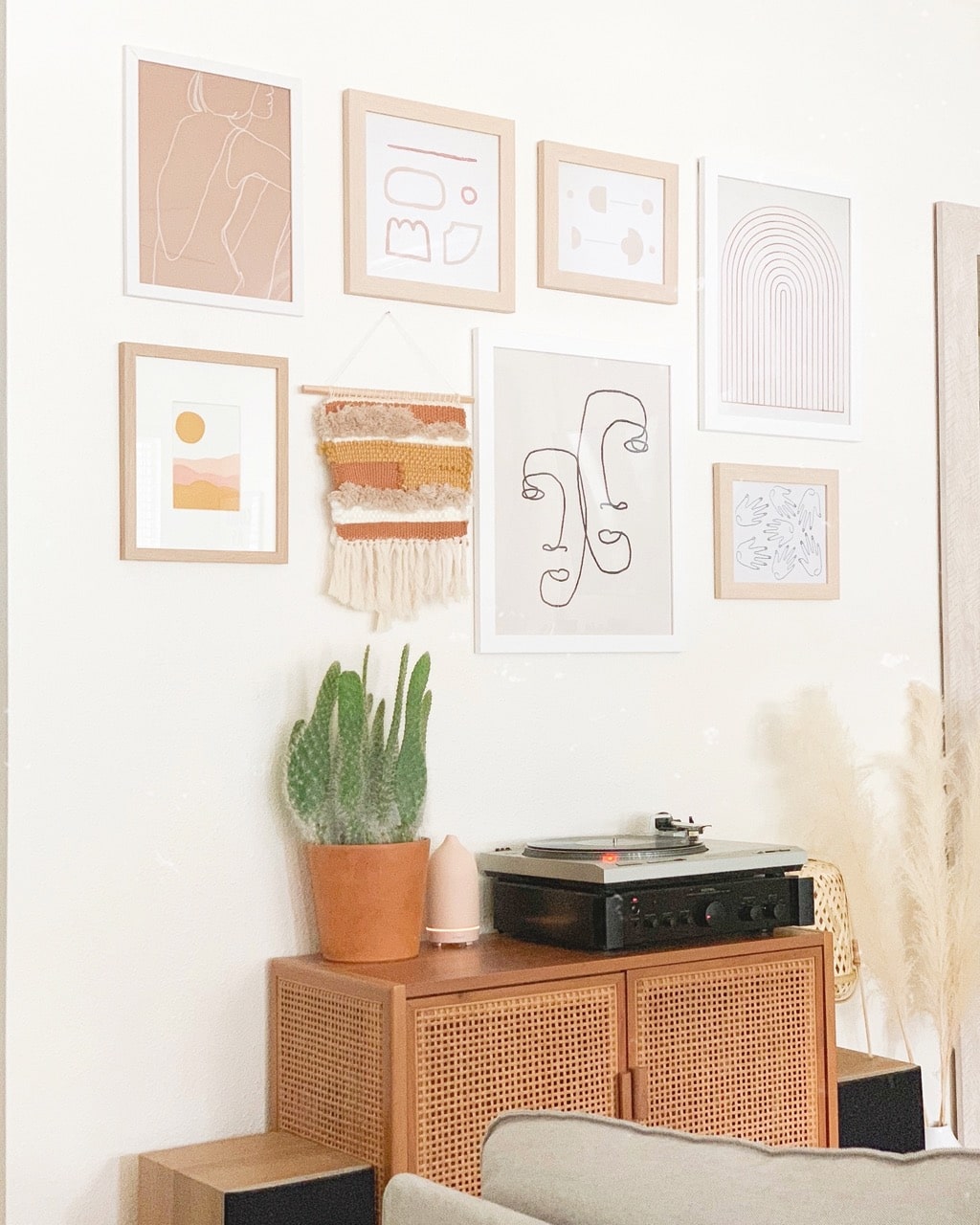 Of course, since we are a framing company, we are fans of frames, but a gallery wall doesn't need to be only picture frames. Add some other decor pieces such as typography, mirrors, shelves, clocks, or any of your favorite things. This is a great way to spice up your gallery wall, plus you can switch up the decor depending on the season, holiday, occasion, or even just your mood!
Gallery walls are a great way to show off your personality, so have fun with it and do whatever works for your space. Get creative and see where it leads you.
5. Let It Grow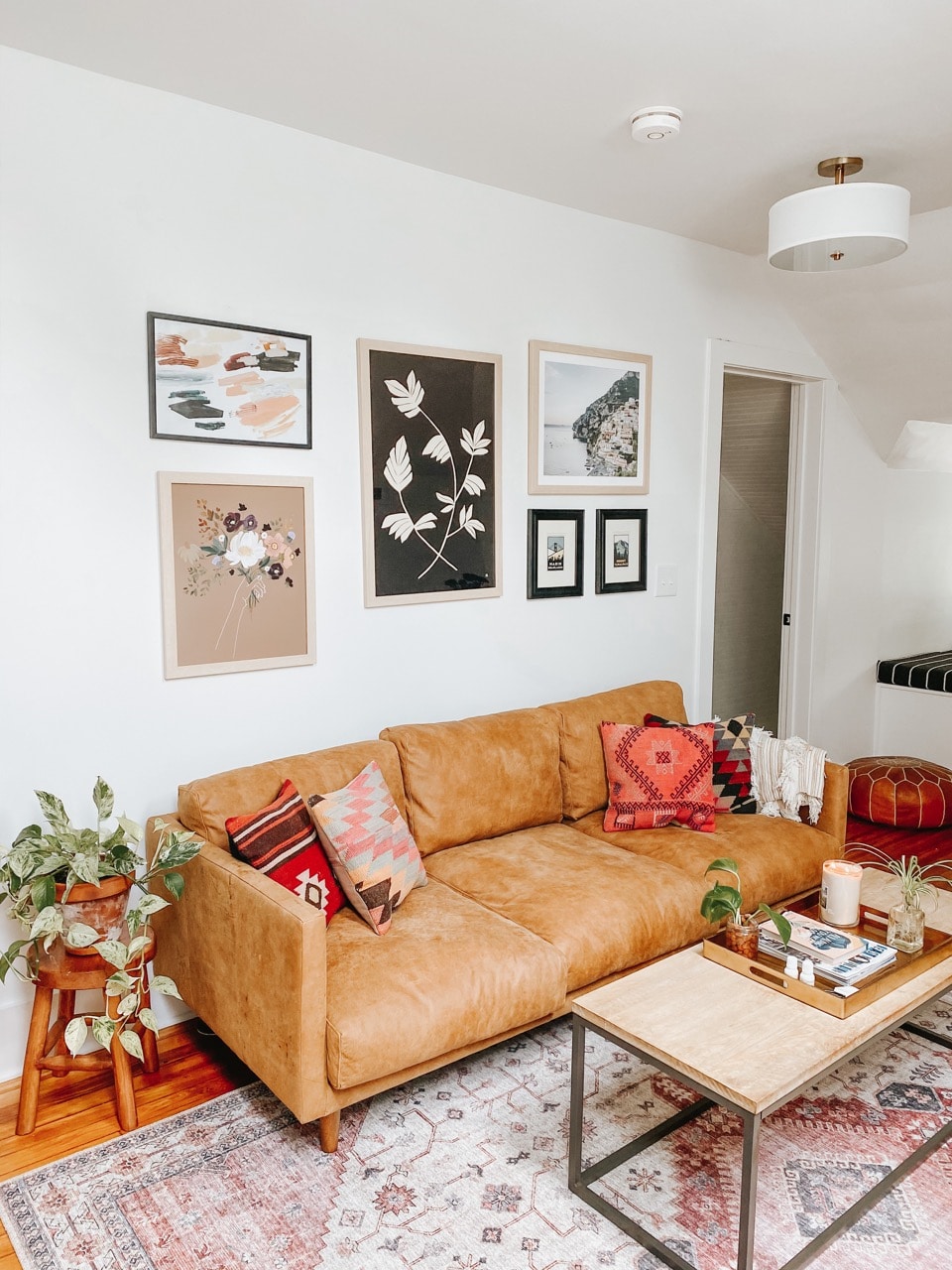 Just because you're ready to start your gallery wall now doesn't necessarily mean it needs to be finished right away. Baby steps here, too! Envision a layout that you love that leaves room for more pieces if you decide to add them later on. You can start with one piece (centered, of course) and build off of it.
Life and your interests are constantly changing and your gallery wall can reflect that change! Adding or changing up pieces in your gallery wall can make it feel brand new with every addition or change.
Final Thoughts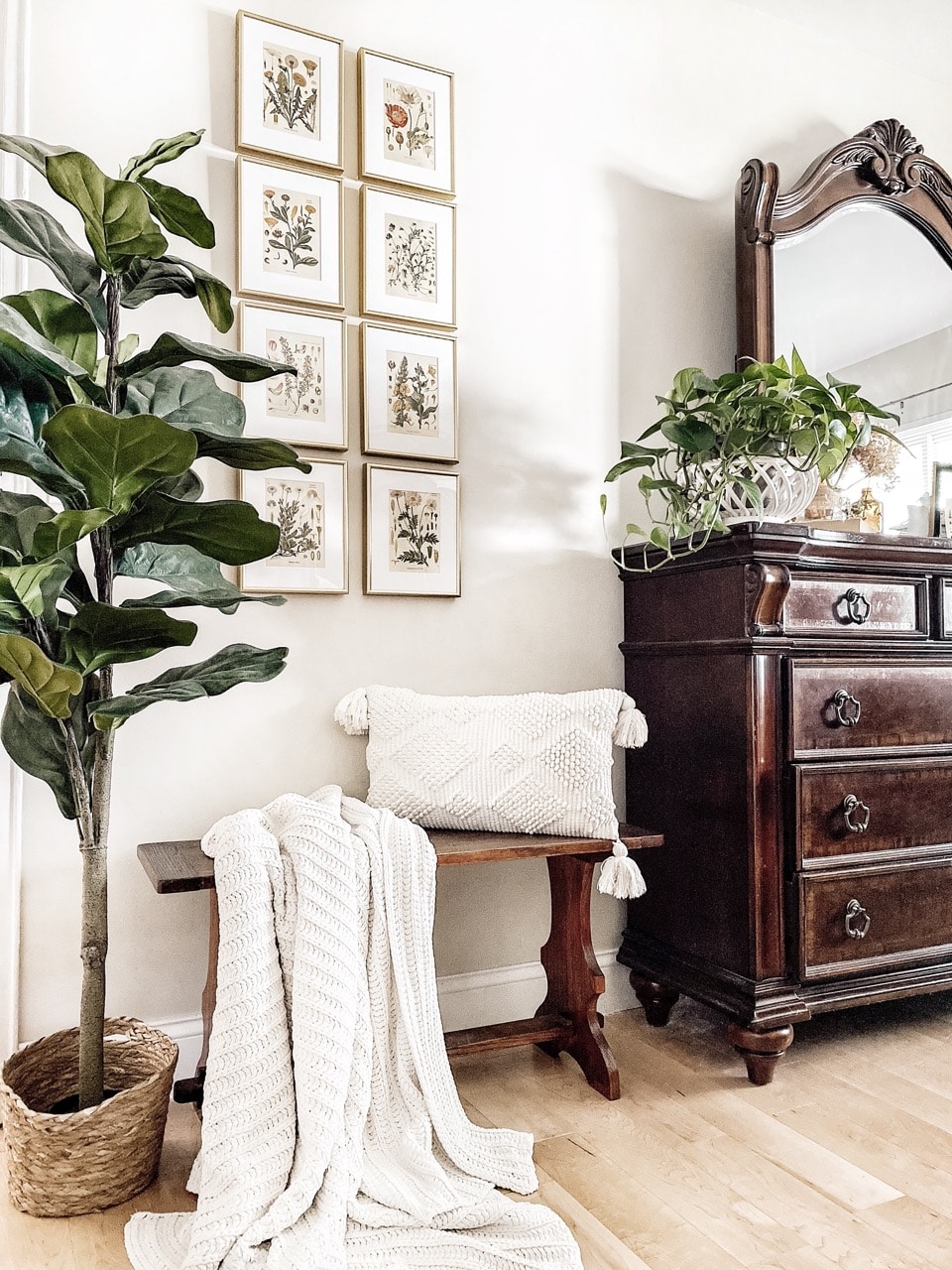 We understand that creating a gallery wall for your home can be a daunting task, but we hope with these tips you feel more confident to take on the challenge! Be sure to send us photos of your gallery wall once it's all complete. And if you need any help along the way, be sure to check out our Learning Center or reach out to our support team who is always here to help!