Are you looking to elevate your home or office decor? White picture frames are a sophisticated way to showcase your favorite art or photos, complimenting both modern and traditional decor while blending harmoniously with a variety of furniture and artwork. But with so many white frame options available, how do you select the best one for your needs?
Join us as we explore how to source the ideal white picture frame, plus get expert hanging tips from the pros you won't want to miss!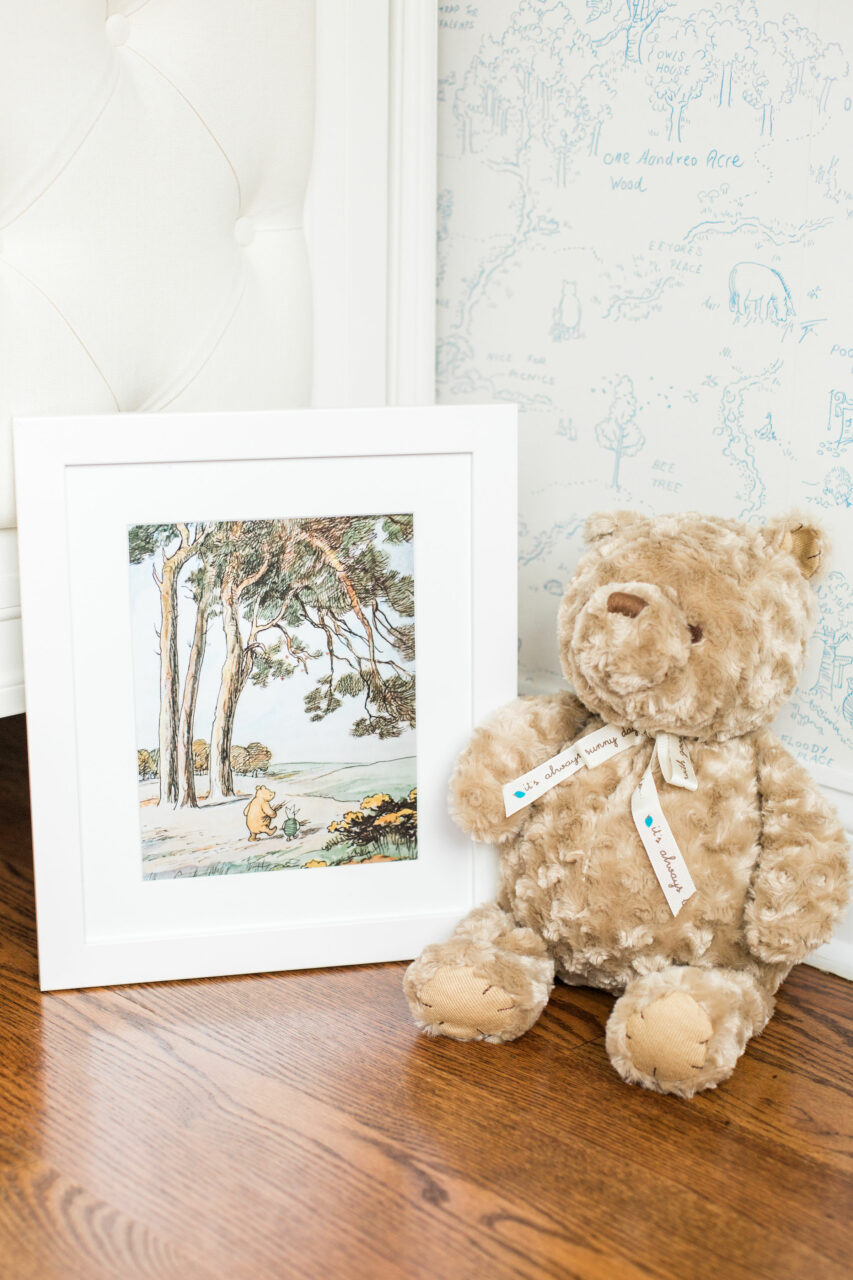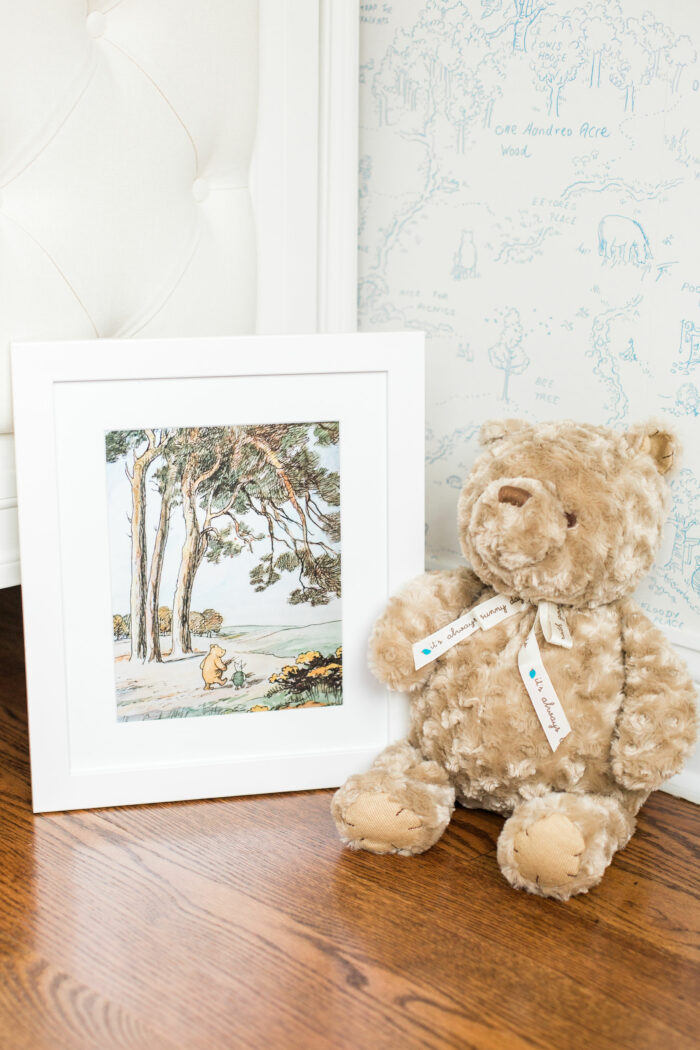 ---
White Frame Options
Before you head to your favorite big box chain decor store to pick up a white frame, be aware that not all frames are created equal, and while at first glance many frames may look the same, looks can be deceiving.
Big box options limit you to one or two sizes, plus they're made using materials that are cheaper and tend to break down over time while offering limited to no protection for your art or photos. When you select a Frame It Easy frame, you'll rest easy knowing your frame was hand-crafted in the USA using high-quality materials designed to protect its contents and stand the test of time! Take a look at the options below to find the perfect frame for your decor!
Derby Frame
Our most popular wood frame with a chunky, flat face, the Derby frame is a fan-favorite for a good reason! It's a versatile frame style that comes in a variety of exciting finishes, including white and whitewash! Pair it with your best black-and-white photography for a stunning wall display!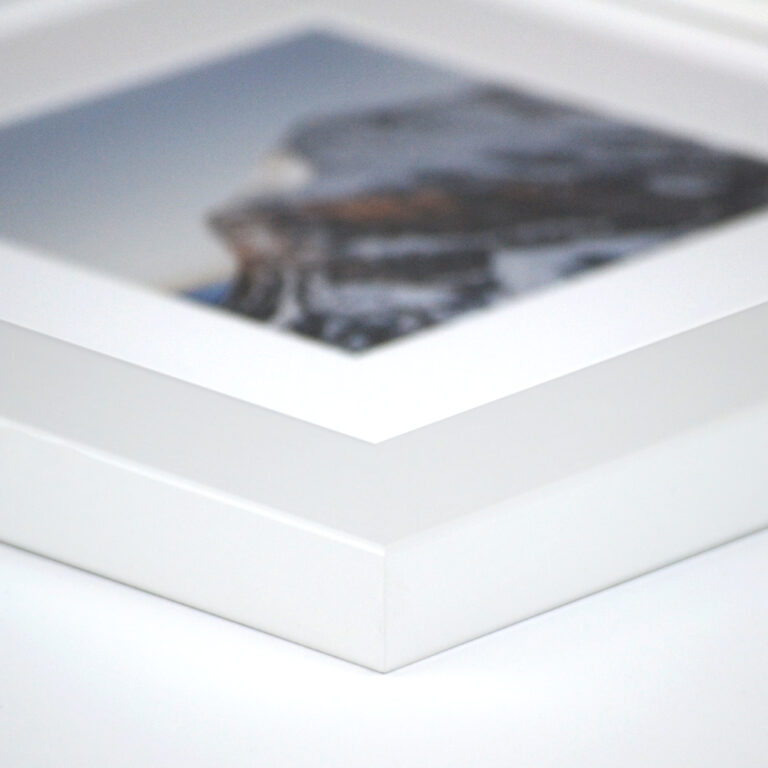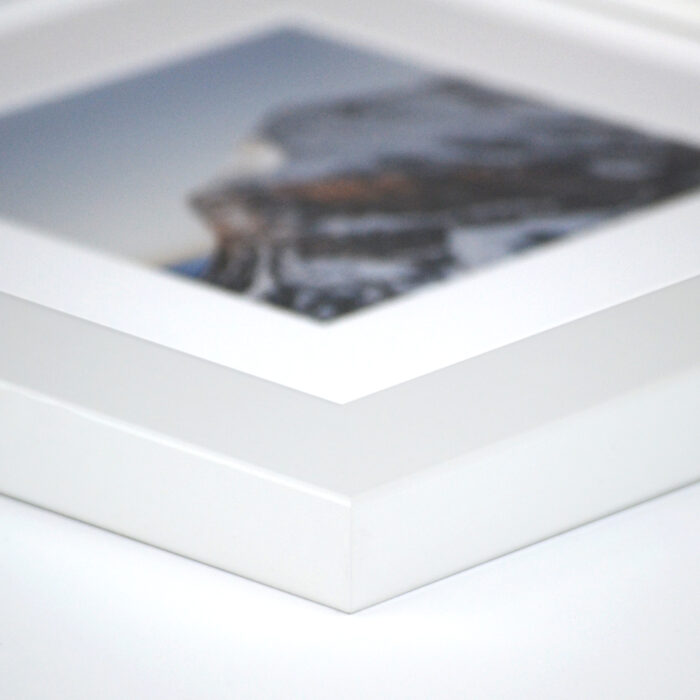 Dayton Frame
Another wood frame option, our Dayton frame features expressive wood graining with a flat, clean face which is available in white! Its straight lines are perfect for your modern or abstract art, either in your home or the office.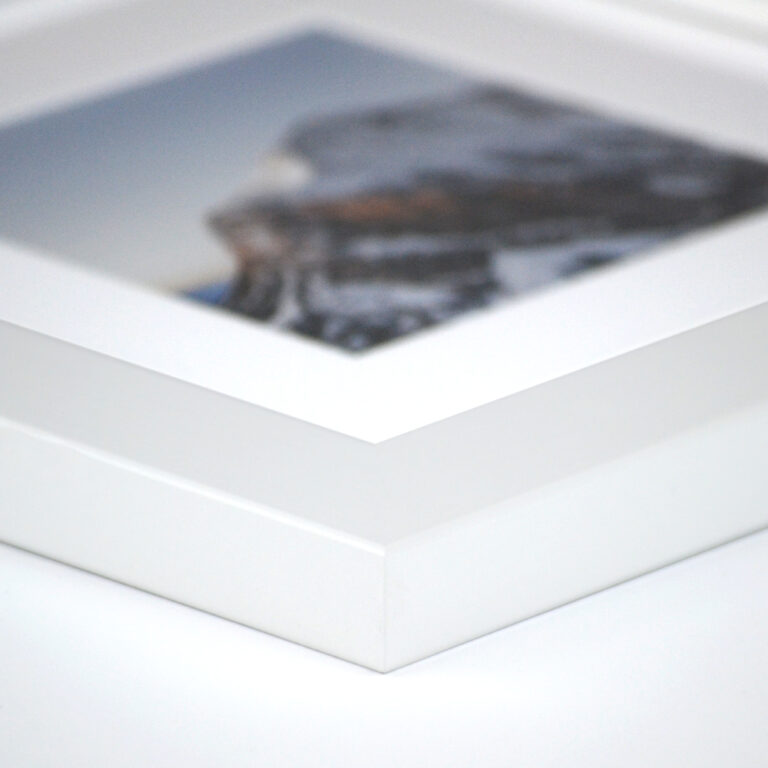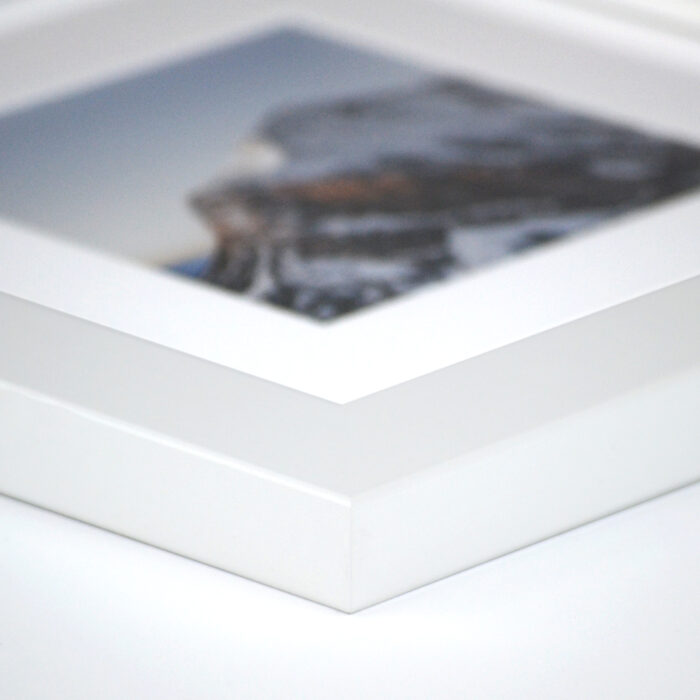 Granby Frame
Looking for something a tad more elegant? Look no further than our beloved Granby frame! It's a wood frame available in antique white with intricate detailing and millwork that'll look stunning with your decor. Combine it with your favorite photos or landscape art.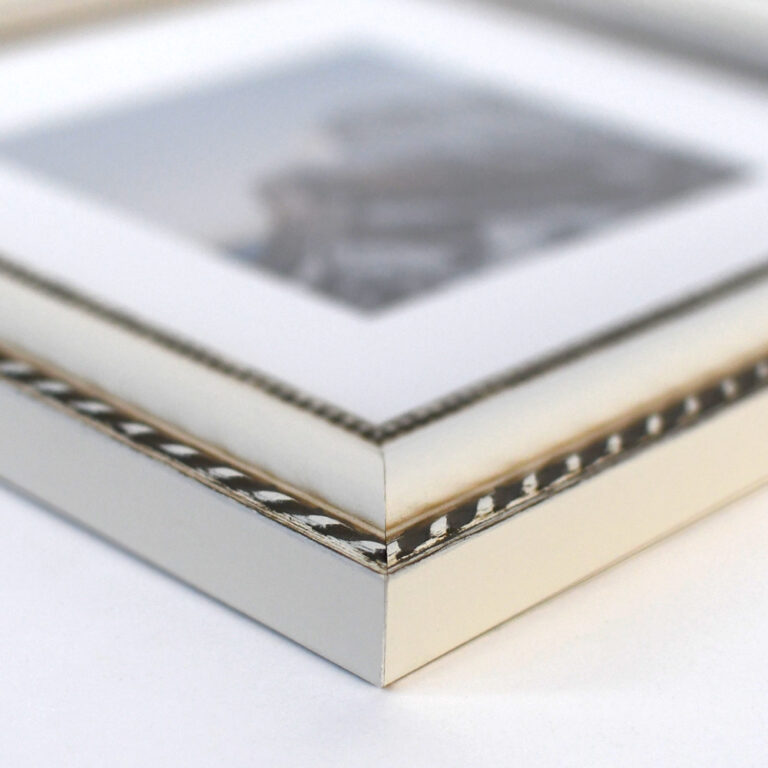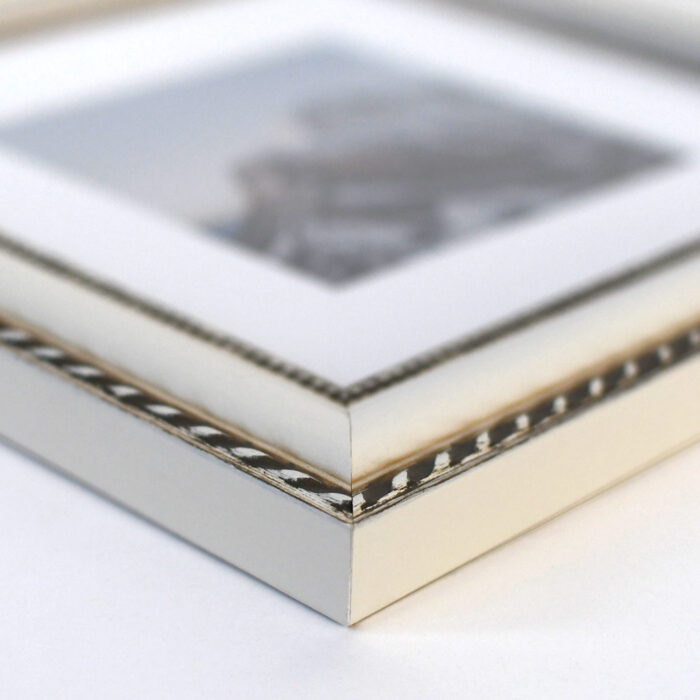 Ashford Frame
Looking for a more modern entry? Check out our Ashford frame, a thinner metal selection with straight lines that look sophisticated and contemporary. This is the ideal frame for your more complex art featuring patterns or geometric shapes.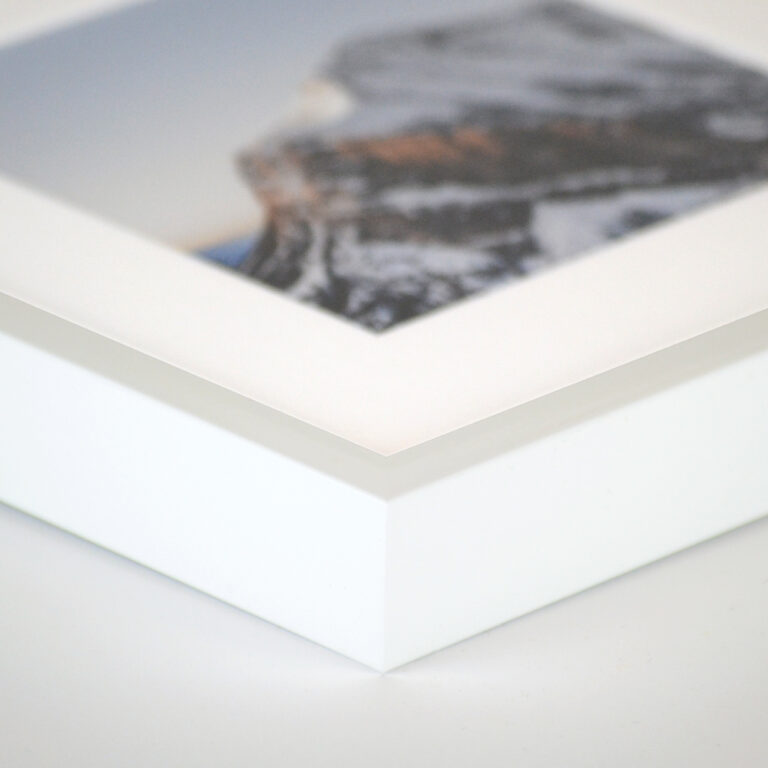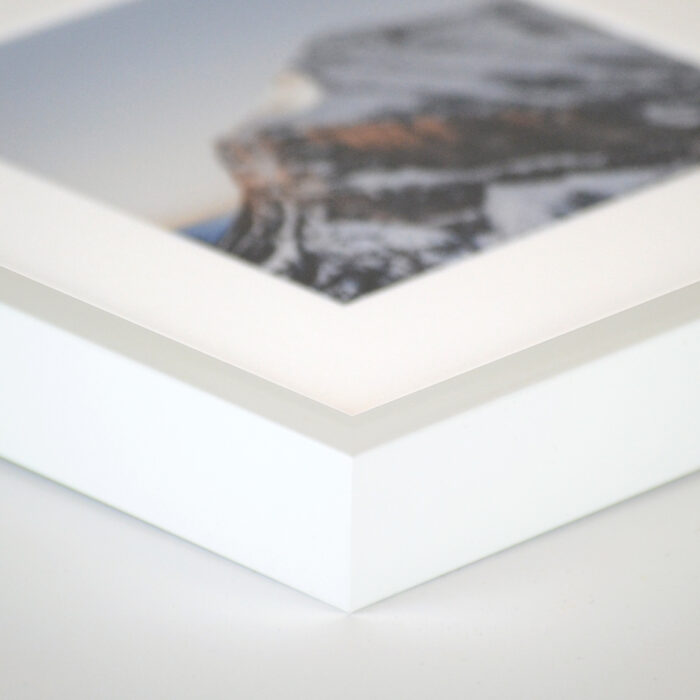 Hanover Frame
Our final selection, the Hanover frame is a metal frame with a slightly rounded face and a thinner profile. Available in a variety of exciting finish colors, including white, this frame looks best featuring bold and vibrant art that stands out.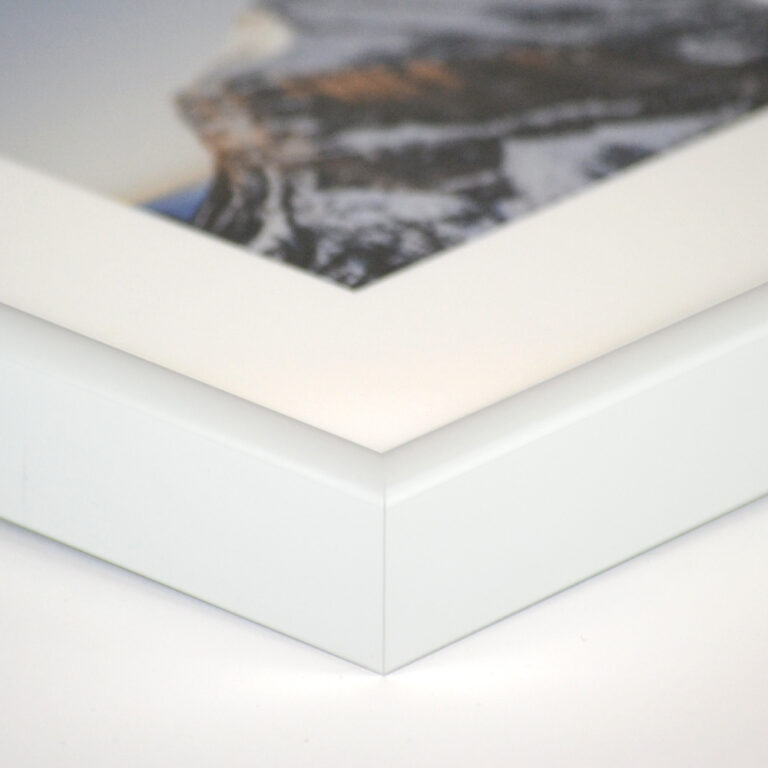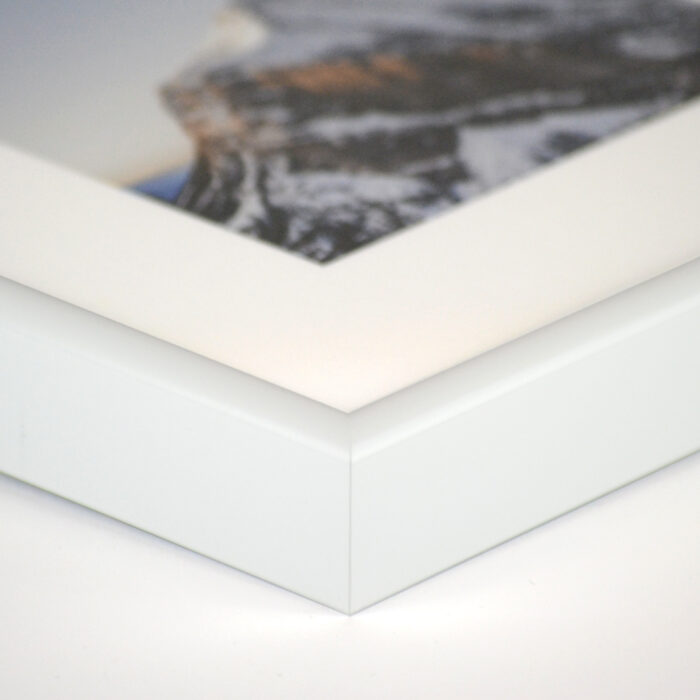 ---
Pairing Matboards With Your White Frame
Have you found a white picture frame that just can't live without? Once you think you've narrowed it down to one or two options, you'll need to consider if you want to add a matboard to your art. A matboard not only serves as a colorful compliment to your frame, but it acts as an additional layer of protection for your art by separating the artwork from the lens cover which prevents the buildup of moisture over time. So, while not necessary, we definitely recommend it!
Confused about where to start? You can't go wrong with a classic white matboard. It's a versatile selection that blends well with any kind of art or photography and helps your artwork pop. In the same way that white matboards are the go-to for designers and artists, black matboards also look striking against a white picture frame! The contrast between two opposites creates a lot of visual interest which draws the viewer's eye to your display.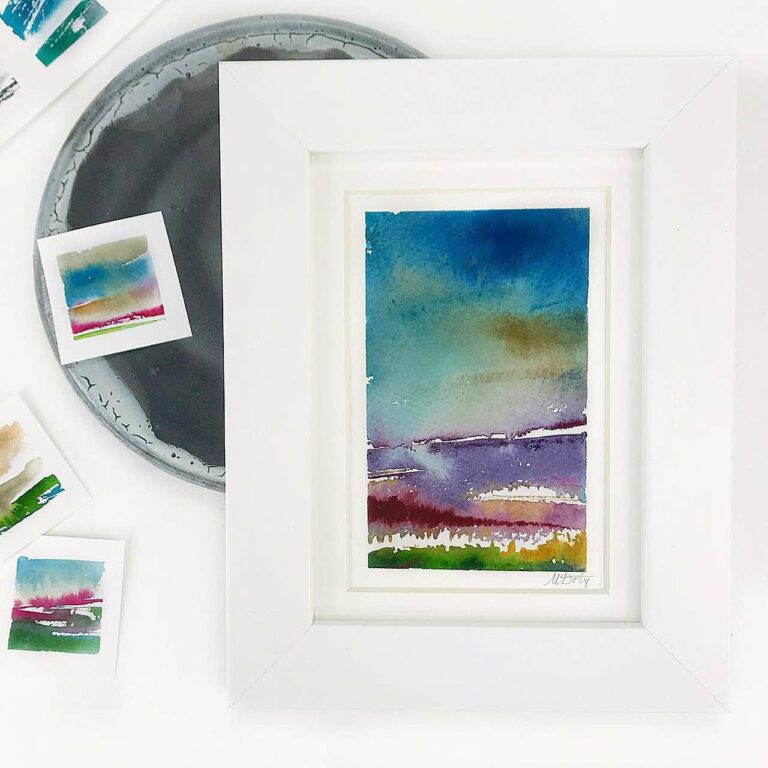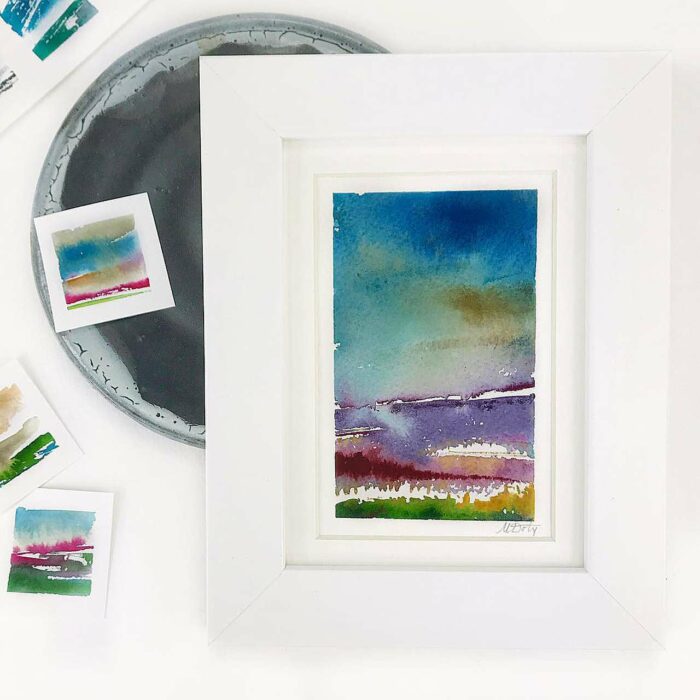 ---
Ordering White Picture Frames
Once you've decided on your perfect frame and matboard, head over to our interactive frame designer! If you have a digital file, we can print your art for you! We use large-format, professional-grade printers with archival-quality ink for sharp, vibrant prints. Simply upload your file to our frame designer, choose your paper (either art or photo paper are available) and cover (standard acrylic or non-glare acrylic), select your frame design options, and we'll print, frame, and send a ready-to-hang picture directly to you!
Don't need us to print? No problem! Just enter your artwork dimensions, select your cover and design options, and we'll ship a custom frame to your home or office.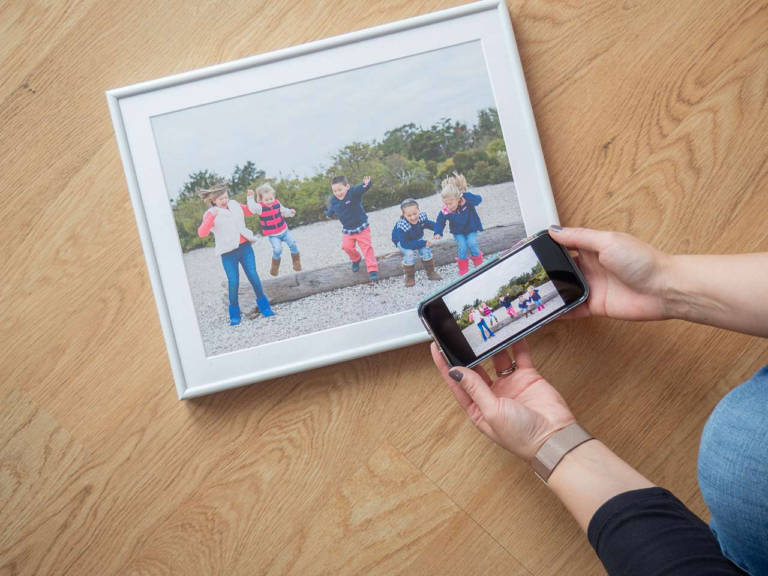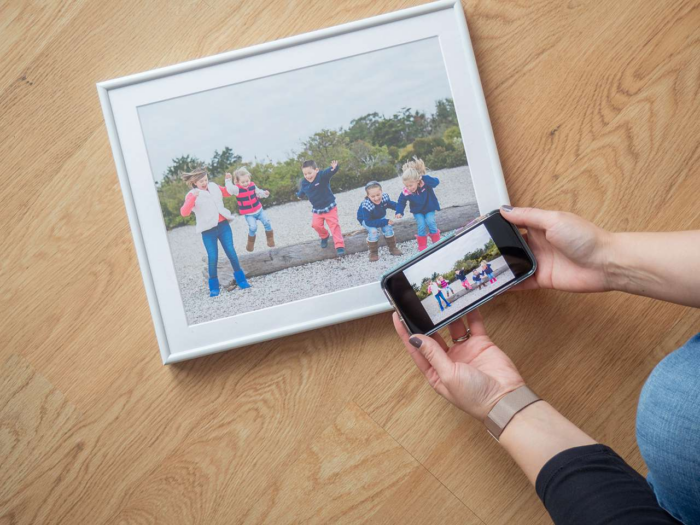 ---
White Picture Frame Display Options
Once you receive your white picture frames, you'll need to decide where and how you'll display them. If you order from us, you'll get USA-made, eco-friendly frames, sourced using sustainable materials with super-efficient, fully recyclable packaging. Even better, everything you need to hang your art on your walls is included – just bring a hammer!
If you have a single picture and limited wall space, check out our EaselMate™ accessory which acts as an easel for any of our wood or metal frame styles up to 13″ x 19″. It installs in seconds and adjusts to any angle – perfect for a tabletop or desktop display you'll be proud to show off!
If you have more than one framed picture, we absolutely recommend a gallery wall! Gallery walls are the trendy way to showcase groups of images in a single, snazzy display. Watch the video below to learn how to design your own gallery wall today!
---
Final Thoughts
If you're looking for a sophisticated solution to display your cherished memories and favorite art, white picture frames are a fantastic choice to transform your space! Whether you have a modern living room, a traditional office, or a whimsical nursery, white picture frames are incredibly versatile and look elegant no matter where you place them. Plus, when you order a high-quality custom frame, you get the right fit that will protect your cherished memories for years to come!
And before you go, are you an artist or photographer looking for an easy solution to sell your framed art and photos? Don't miss our Shopify app, with no minimums and no upfront inventory costs!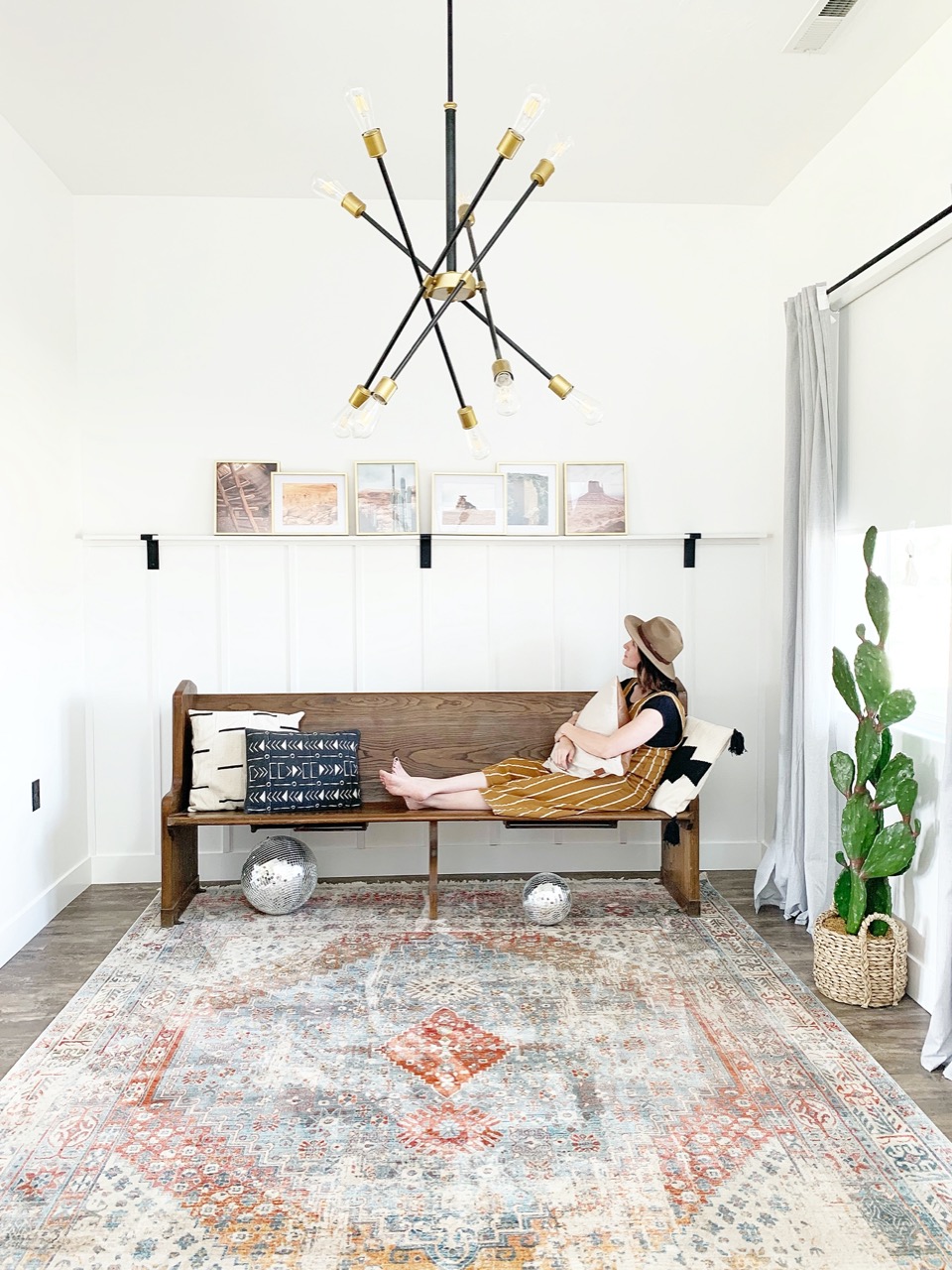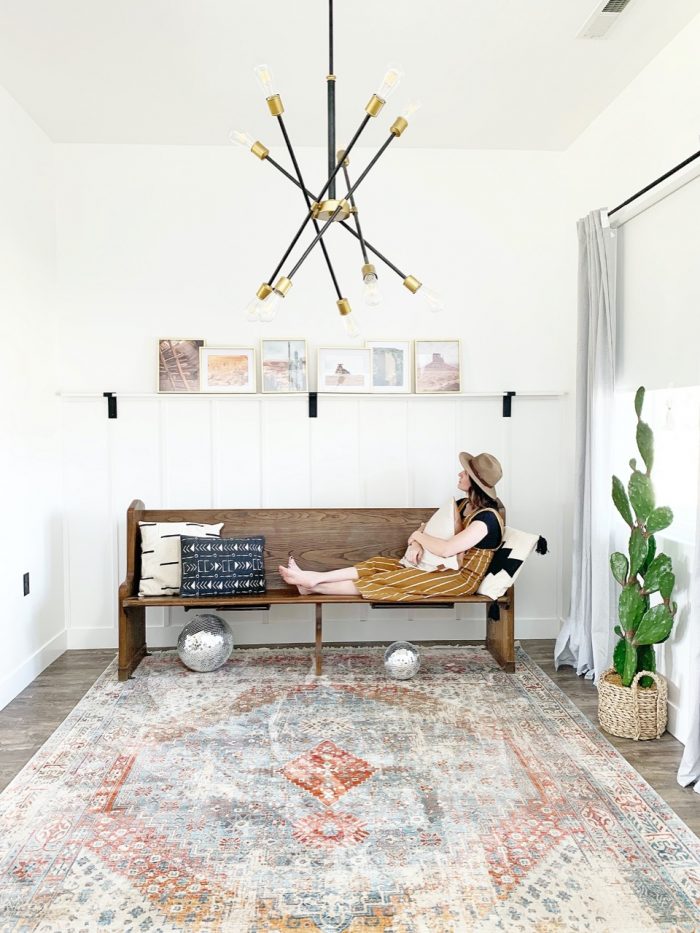 This post first appeared as The Definitive White Picture Frames Guide on Frame It Easy - Learning Center for Custom Picture Framing.