An engagement is such a special milestone in a couple's life, & what's a better way to capture the joy and celebrate the moment than with some stunning engagement photos? While traditional style engagement photos are beautiful & timeless, sometimes thinking outside the box can reflect a couple's uniqueness, personality, & interests.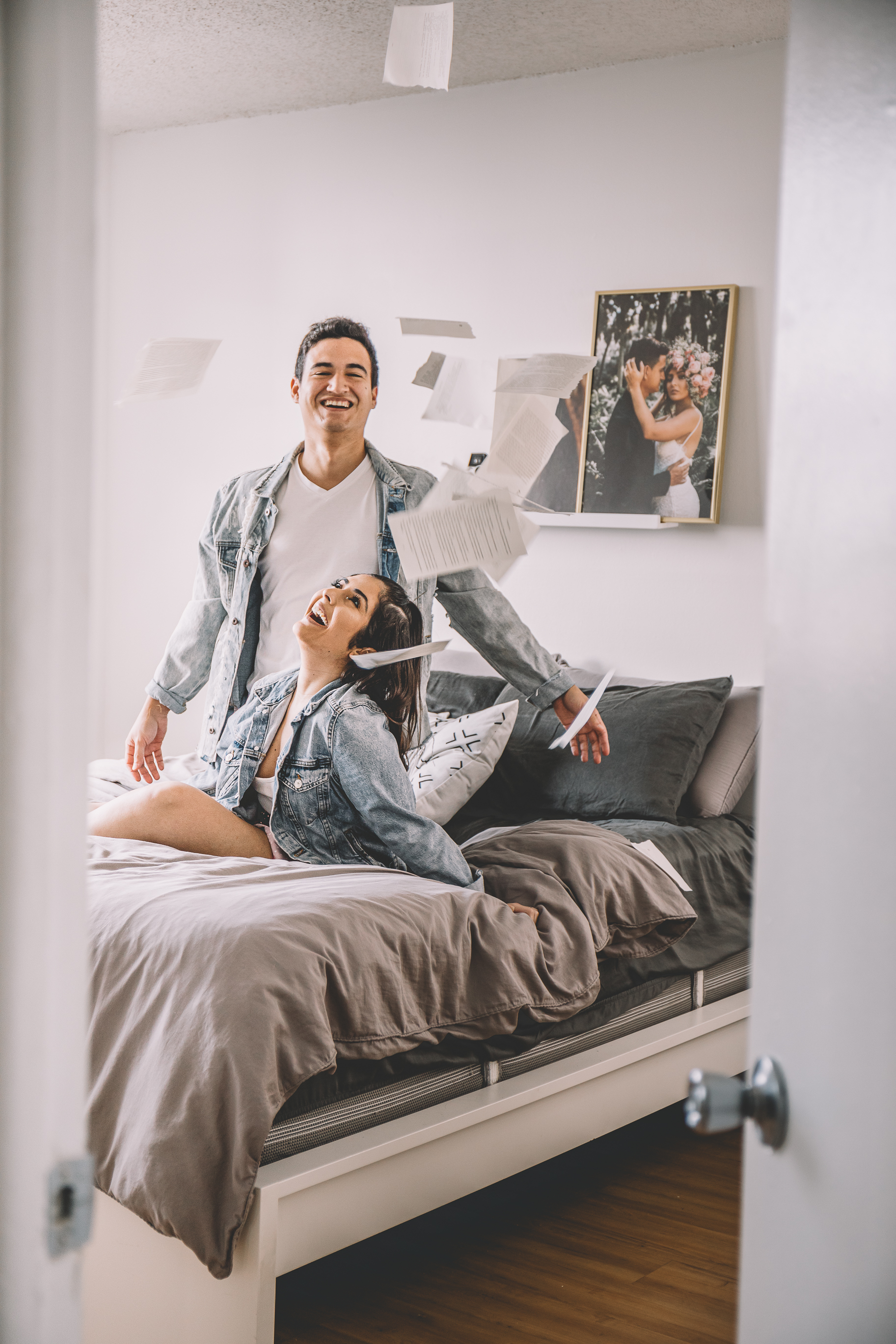 Engagement photos are the perfect way to capture the joy & celebration of your upcoming wedding. Whether you're looking for something traditional or something a little more unique, we've got a few creative engagement photo ideas that will make the perfect framed keepsake for years to come.
You may have asked…
What are some creative ideas for an engagement photoshoot?
Why is engagement photography important?
What should I include in my engagement announcement?
Are engagement photos expected or necessary?
---
Traditional Ideas VS. Unconventional Or Creative Ideas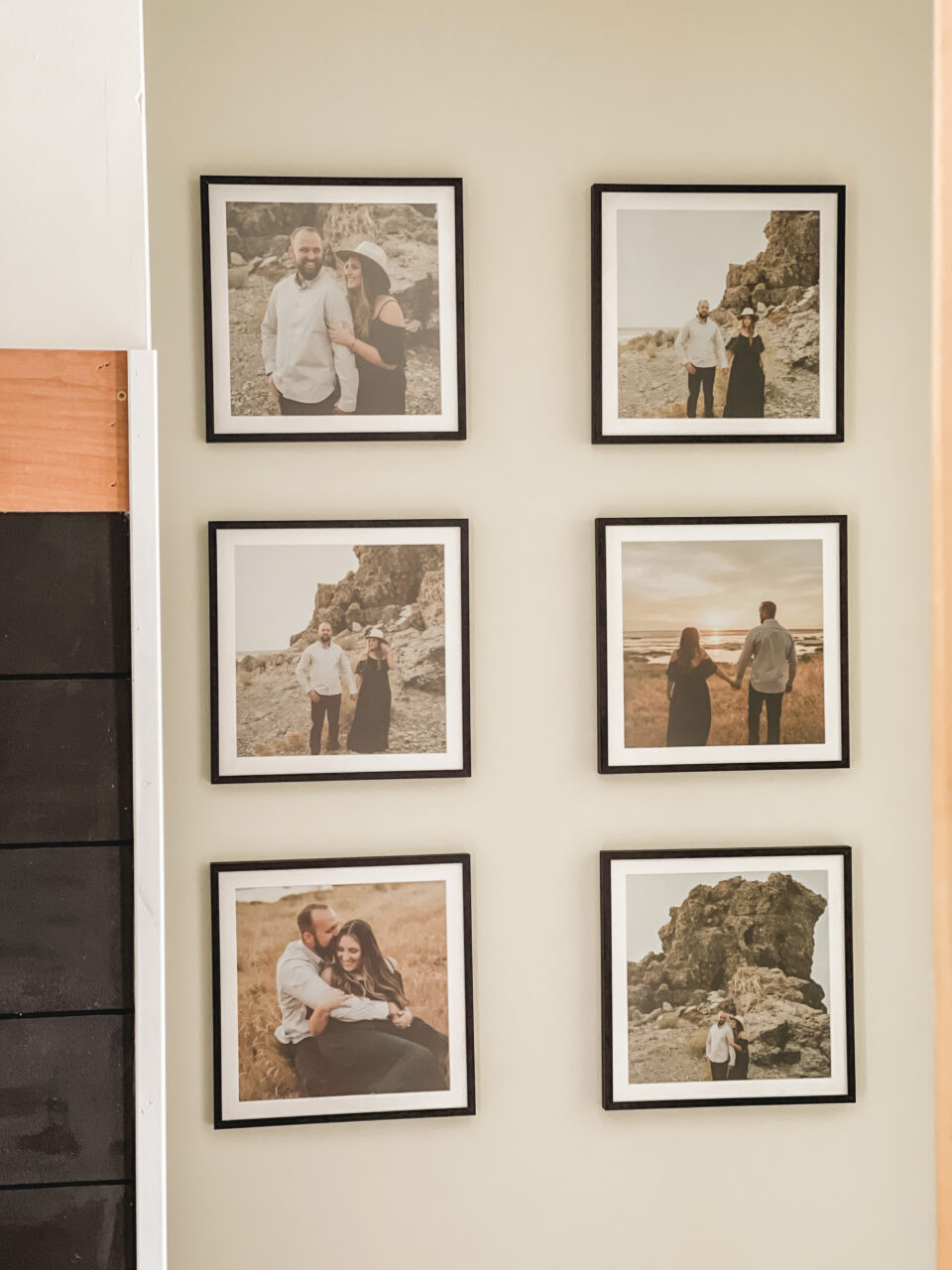 🚂 Incorporate Interests – One way to jazz up your photos with a litter personality is to incorporate some of your favorite interests or hobbies. Whether you're passionate about music, sports, books, or movies, finding a way to incorporate these elements into your photos is a fun & unexpected twist.
👗 Dress Up – Who doesn't love to dress up or wear a costume? Channel your inner fashion model & dress to the nines, or if you love thrifting or a certain era wear some time-specific clothing. You can even go as far as creating a themed era photoshoot.
🧸 Use Props – Props are a great tool to use – especially if you get nervous jitters when getting your photo taken! (What do I do with my hands?!?) They add a layer to the couple's love story. Consider using props that hint at something in your relationship. Was your first date at a pizza shop? 🍕 Share a slice or two in your engagement images!
📐 Consider Different Angles – Sometimes, changing your perspective can make all the difference in the world! Opting for a different angle can create some visual interest & make things unique. Shoot from above, a mirrored reflection in a lake, or utilize some drone photography!
📸 Capture Candid Moments – While posed photos have their charm, sometimes the best photos are the unexpected ones. Candid shots can often convey genuine emotions & create an authentic atmosphere without looking awkward & stiff. Consider allowing your photographer to capture you & your significant other "safari style". This allows you as a couple to walk around, chat, steal kisses, & laugh together. Candid engagement photos can evoke a sense of intimacy & make your photos feel more personal.
We recommend our Ashford or Hanover frame styles when framing your engagement photos. Both come in a wide variety of colors & fit both traditional & unconventional photo styles!
---
Outdoor Engagement Photo Ideas
Ah…nature, what's better than a gorgeous green lush location? (did we mention it's free!?) No need to rent studio space when you can just walk outside & find a patch of grass! Find lush locations like a local community garden, a forest, or even your front yard. Here are a few outdoor engagement photo ideas to spark your creativity: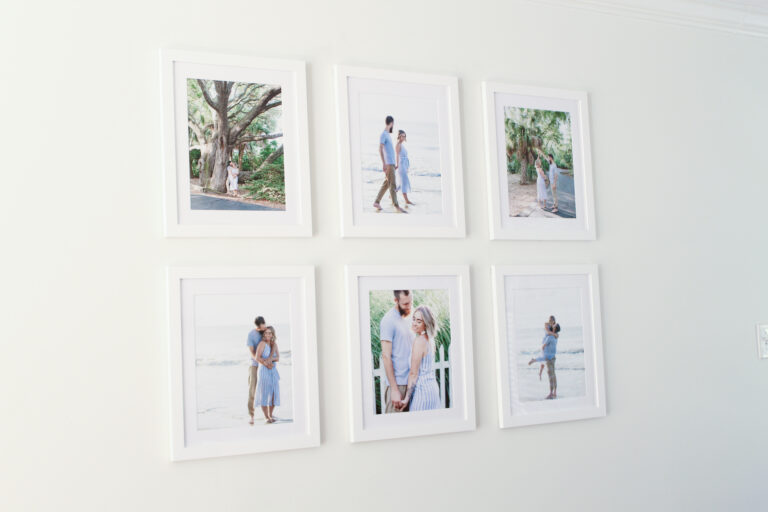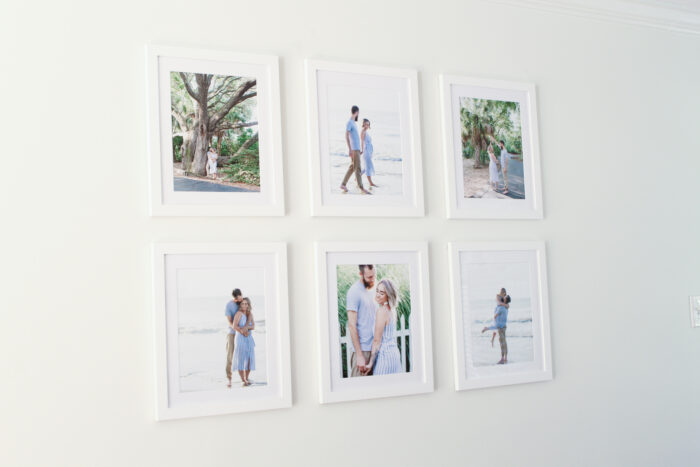 🏖️ At The Beach – Beach engagement photos are not a new thing but are one of the most romantic & sought-after shoots. Capture shots during the golden hour, or take a sweet stroll along the shoreline during sunrise. Feeling the sand between your toes & the salty wind in your hair will make anyone smile.
🌊 Lakes – Everyone loves a day at the lake – This is the perfect spot for a picnic-themed engagement shoot! If you're a fan of the cottagecore trend this might be the perfect couple photoshoot for you. Take advantage of the still water & consider some reflective shots for a more creative angle. Consider taking some pictures on a dock, in a boat, or if you're camping – by a lakeside campfire for some cozy intimate shots.
🗻 Mountains – If you are drawn to majestic landscapes & incredible vistas, mountains offer a beautiful setting for engagement pictures. The best part, mountainous regions look great & offer a different atmosphere all year long – no matter the season. Consider doing some rock climbing or taking a trail hike to add some interesting twists to your photos as well!
🛝 Parks – Parks are perfect for those outdoorsy types & offer a great mix of nature & urban elements. With a wide array of photo ops at your disposal take time to explore nature trails, gazebos, cute park bench locations, & wildlife.
🌧️ In The Rain – Taking some engagement inspo from "The Notebook" here! – Snap some photos in the rain for that romantic & poetic look. Grab an umbrella, dance, jump in some puddles, & let the rain work its magic! Your photos will be filled with spontaneity & emotion.
🌆 Cityscapes – Not big on nature, favor city life? incorporate the cityscape into your photos! Skyscrapers, busy streets, & even some of your city's iconic landmarks can create a vibrant & exciting backdrop for your photos.
☃️ Seasonal – Take advantage of the changing seasons! Whether it's blooming flowers in the spring, red & orange leaves of fall, snowfall in winter, or the rays of sunshine in the summer – each season brings its charm, holidays, & photo opportunities.
Consider creating a gallery wall with your engagement photos! We're sharing 5 Tips To Creating The Perfect Gallery Wall For Your Home!
---
Indoor Engagement Photo Ideas
If outdoor photos really aren't your thing, no worries we have plenty of indoor engagement photos ideas that may strike your fancy.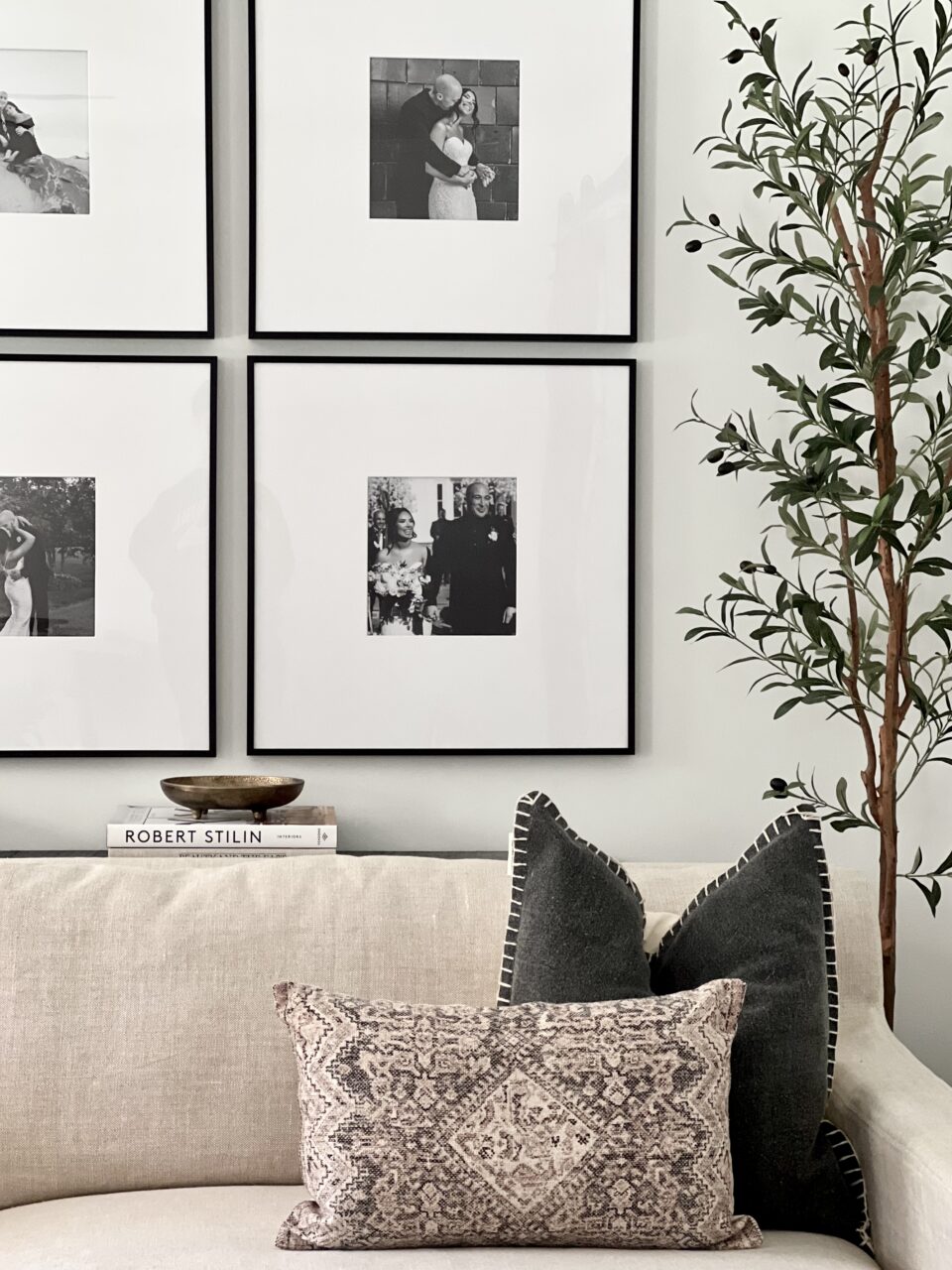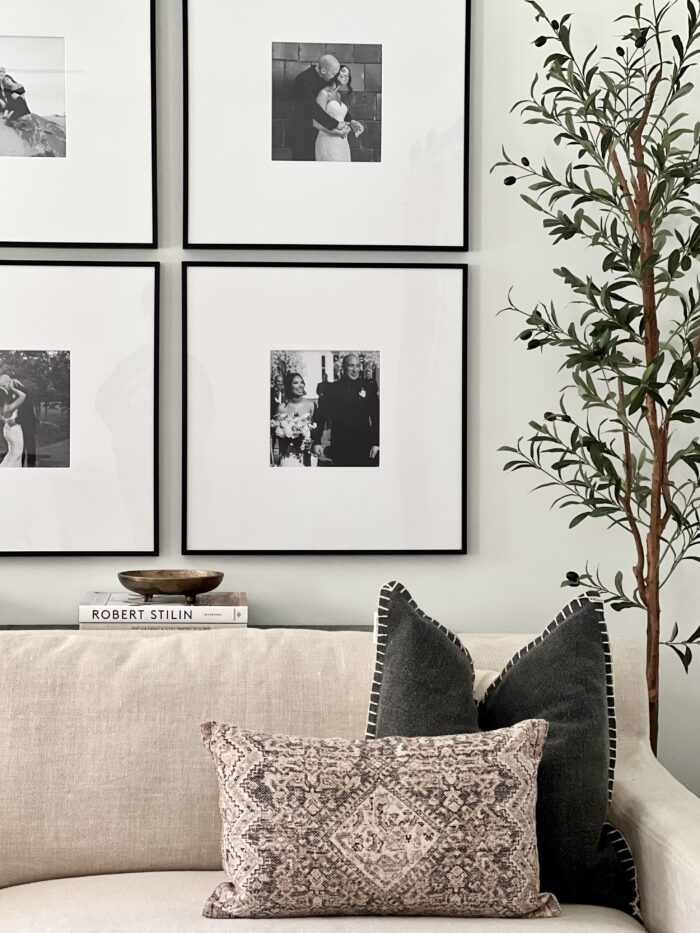 🏡 At Home – What's more comfortable than being at home? Create a cozy & intimate setting by snuggling on the couch, sharing a snack in the kitchen, or hanging out on the back porch.
🎟️ Museums – If you have a shared passion for history, consider taking your photos at a museum. Explore different exhibitions for multiple settings & scenery in one shoot & be sure to take advantage of any architectural elements in the museum.
🥐 Restaurants – Have a favorite place to eat, or maybe you had your first date as a couple there? Considering capturing that part of your love story in your photos! Plus grab a meal while you're at it!
🎨 Art Galleries – If you & your partner have a love for the arts consider visiting an art gallery as a location for your engagement photos. Bold colors & unique works can add an artistic flair to your photos!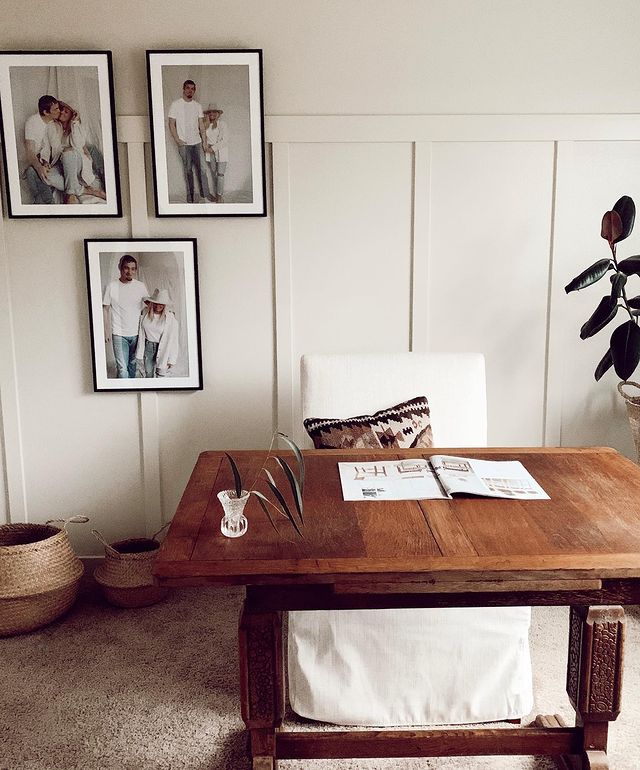 ---
Other Creative Photo Ideas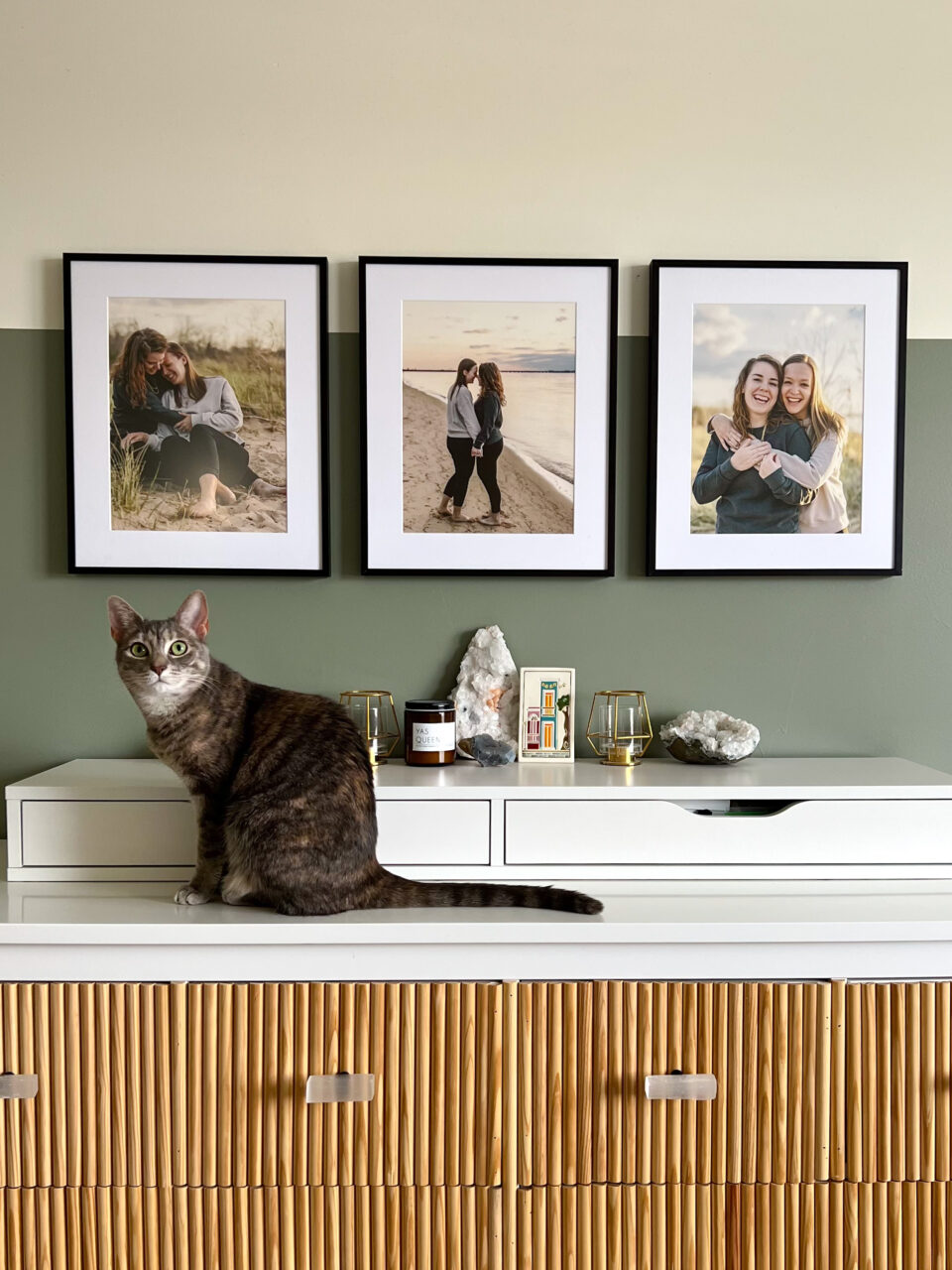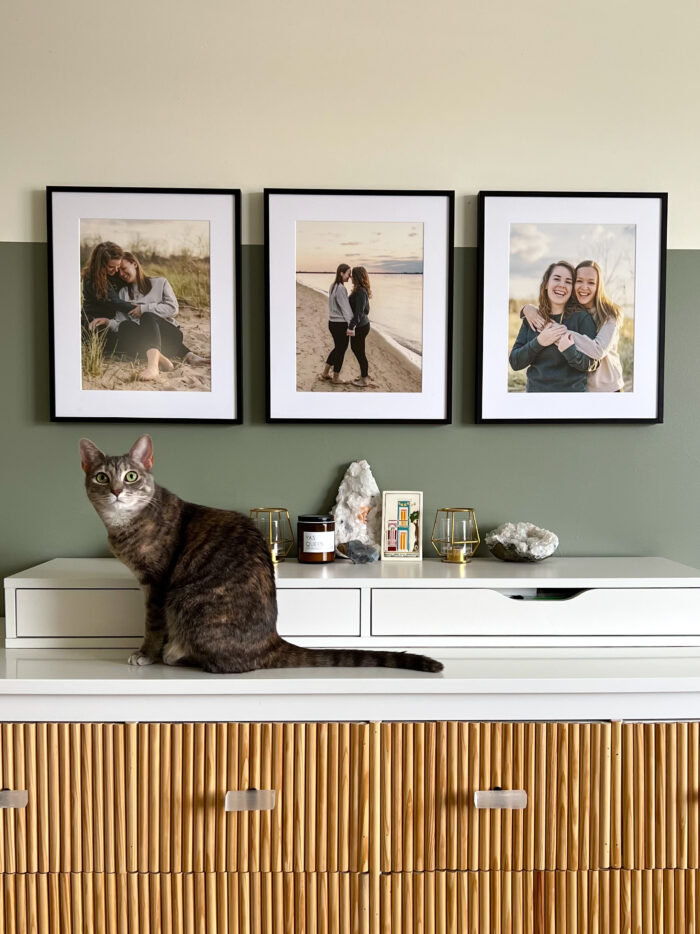 👯 Costumes – Love cosplaying or Halloween? Incorporating costumes into your engagement photo shoot can be a fun & whimsical idea! Dress up as your favorite movie couple, or historical figures, or just play dress up!
🐈 Pets – If you have a furry family member, why not include them in the merriment? Especially if you both adopted your pet together, it's a sweet & thoughtful touch that adds a ton of smiles & warmth to your photos.
🎠 Carnival Rides – Love going to the fair, carnival, or amusement parks? Capture the thrill & excitement of being in love while riding on a rollercoaster! The flashing lights & vibrant colors of these locations can create a striking backdrop. So play some games & share a stick of cotton candy!
🏎️ Motor Sports – Have a need for speed? If you & your partner have a passion for adventure & automobiles, consider adding motorcycles or vintage cars to your photos. You may even pose on a race track!
---
Final Thoughts
We hope these engagement photo ideas gave you some inspiration & drive to get started! Your engagement photos should be a true reflection of your love story & who you are as a couple. While traditional ideas are timeless, adding your own twist & creativity will make them truly unforgettable! Whether you choose to shoot out in the wilderness or in the comfort of your own home be sure to enjoy the journey. When it's all said & done you'll have created timeless memories that can be framed & live on your walls for years to come!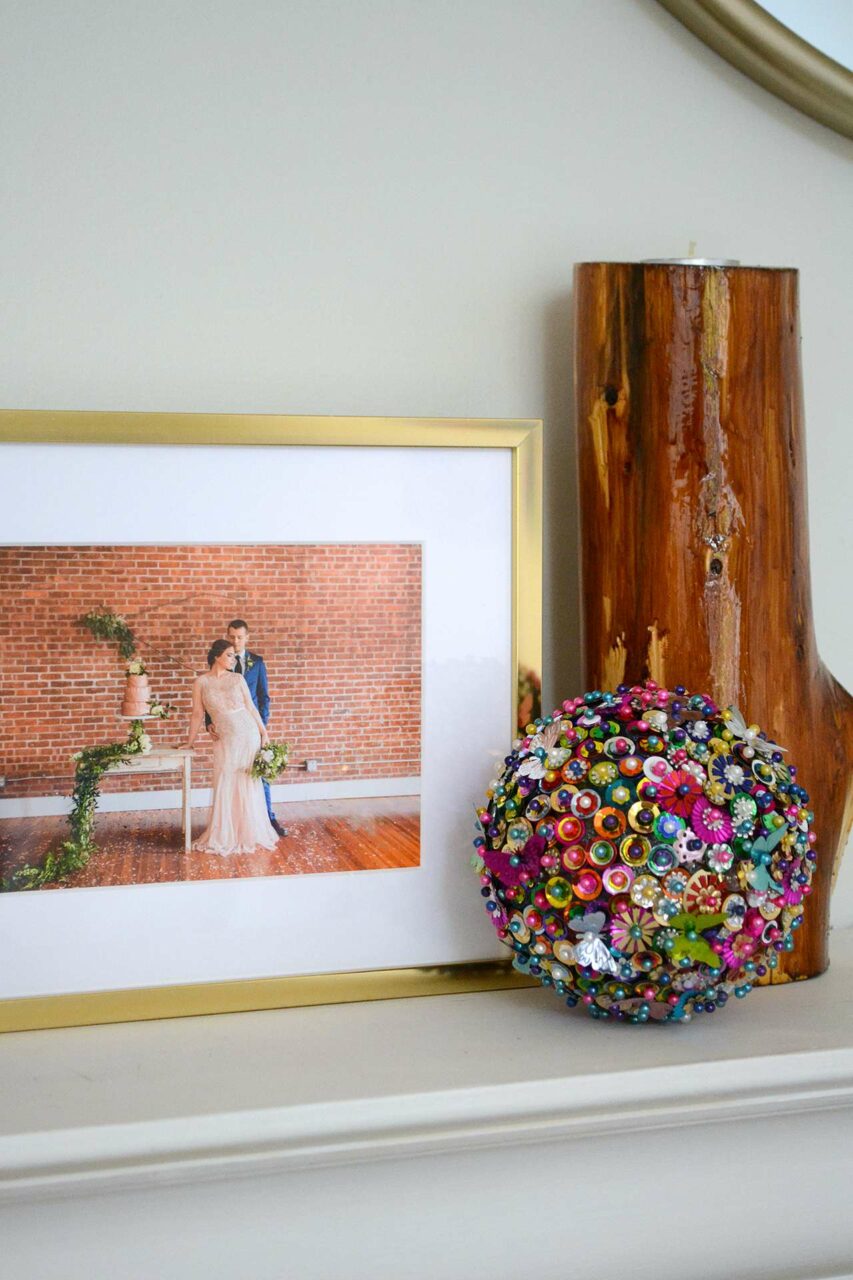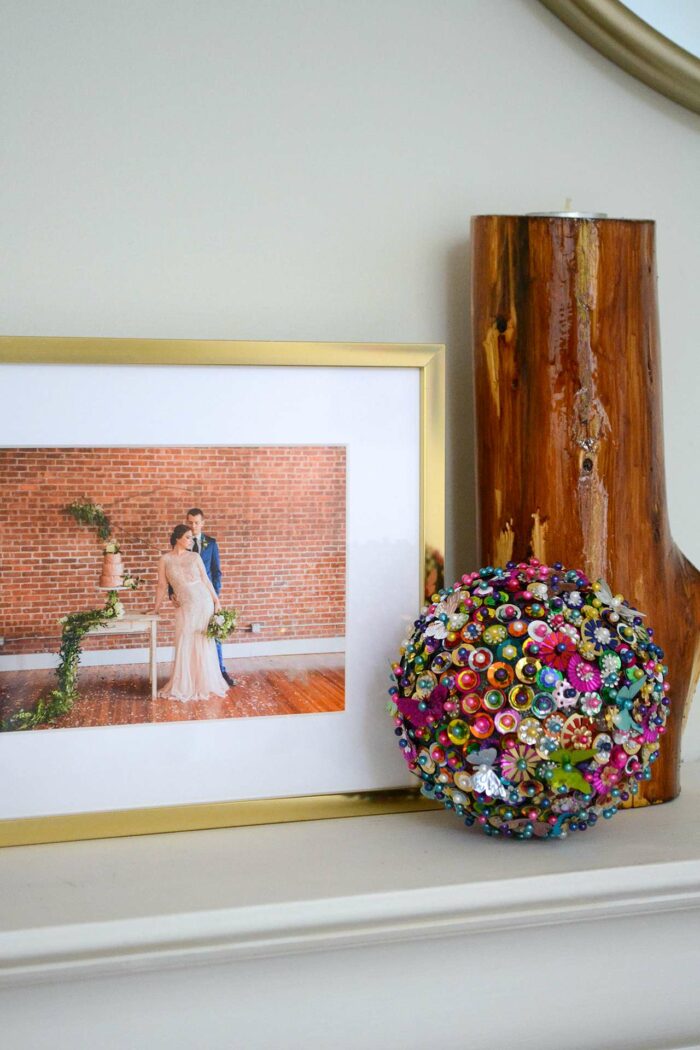 Show off your framed artwork, photos, & other items! – Inspire others by sharing your photos, tell us your story! If we share it, you'll receive a coupon for 15% off your next order!
Be sure to follow us on our socials for more daily inspiration – check out our Shopify app to start selling your own framed prints!
This post first appeared as 20 Unique Engagement Photo Ideas for Unforgettable Memories on Frame It Easy - Learning Center for Custom Picture Framing.