Imagine transforming your space into a captivating traditional haven! With these easy ideas, you can effortlessly infuse elegance and charm into your home. From timeless furniture pieces to colors and patterns, you'll learn how to create a traditional design that exudes sophistication and style. Get ready to impress your guests and enjoy a space that feels warm, inviting, and full of character! Start designing today and elevate your space to a whole new level of beauty and elegance.
Keep reading to discover easy traditional decor ideas you can incorporate into your home and office!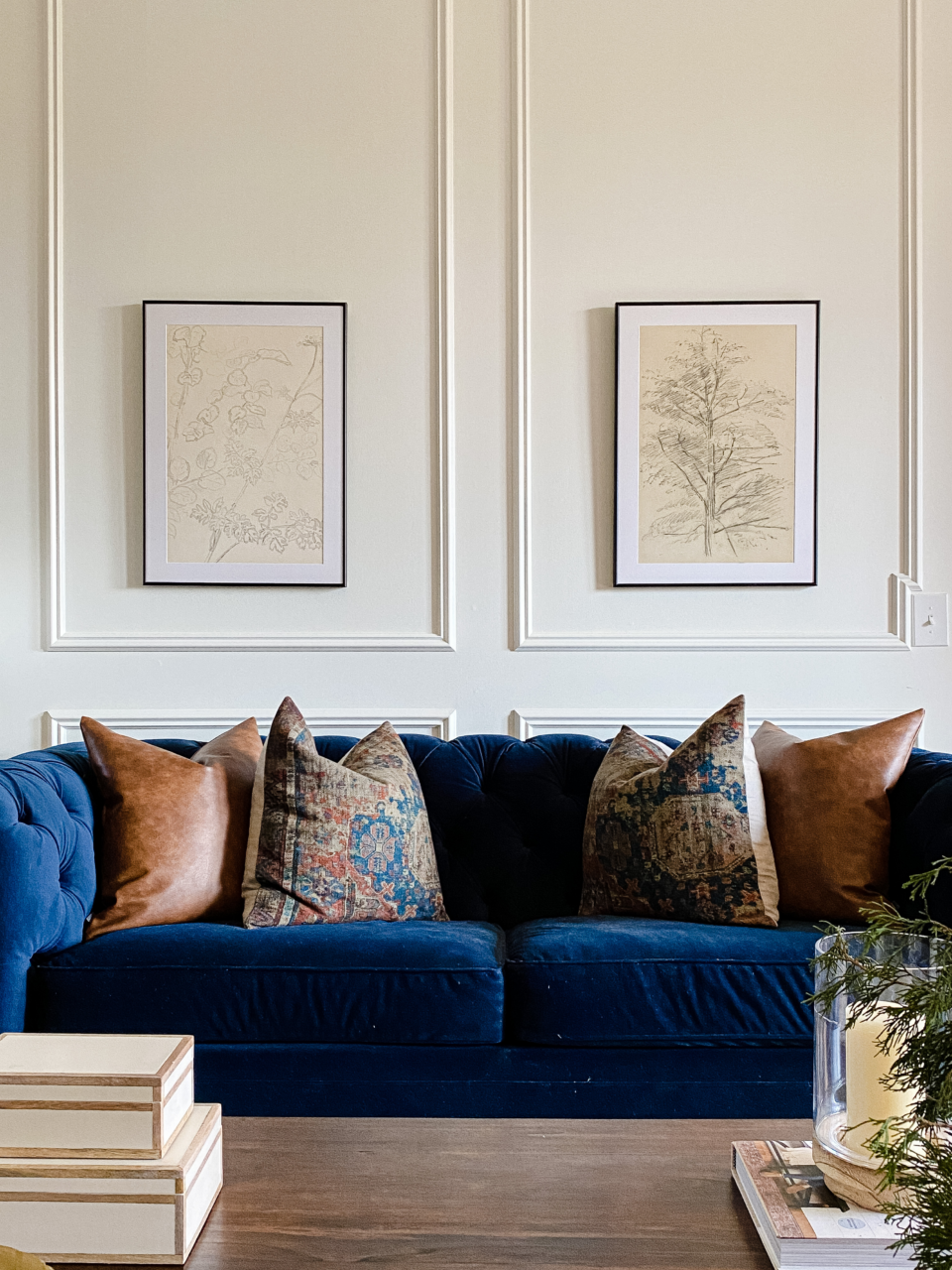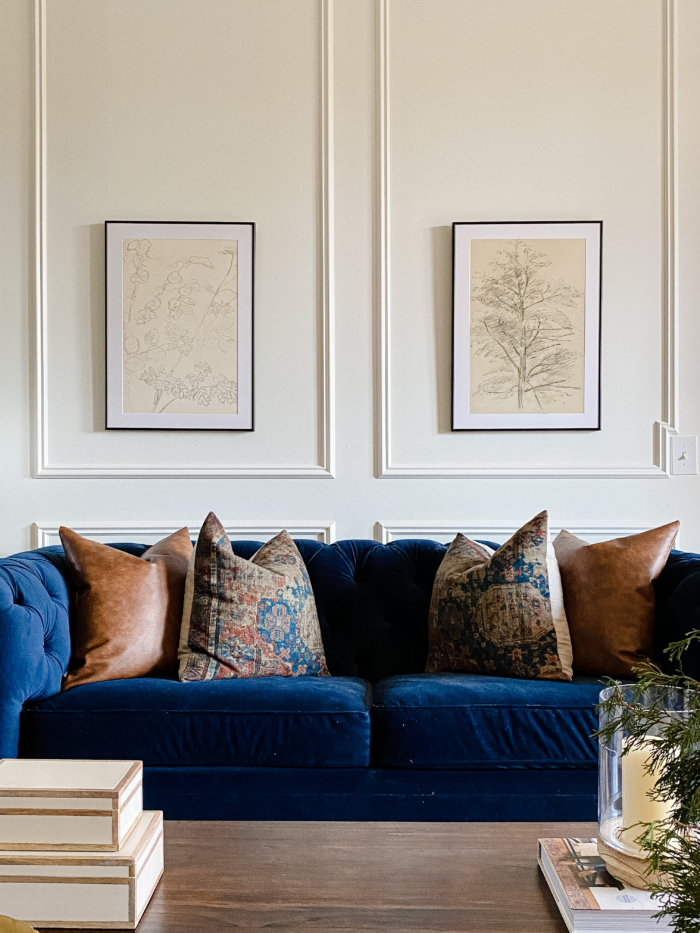 ---
🪑Traditional Decor Ideas: Furniture
Traditional furniture comes in many forms. Whether it's new, a reproduction, or an antique, you'll want to look for a few specific details: Dark wood, muted earth tones, classic lines, damask and floral textiles, soft jeweled tones, black accents, and minor ornamentation. Since symmetry is important to traditional home decor, furniture sets are totally acceptable. However, your room will feel more curated if you thoughtfully mix in some vintage elements with newer pieces.
What to look for:
Dark wood
Jeweled tones
Damask, striped, floral patterns
Minor ornamentation
Muted earth tones
Black accents
A mix of new and vintage
Where to Buy New and Vintage Furniture
There are a lot of great options when it comes to sourcing traditional furniture. First, you'll want to visit Pottery Barn for a big selection of timeless pieces, while Hayneedle has a variety of affordable options. For vintage furniture, we recommend you visit local flea markets, antique shops, and yard sales for the best deals. If you're not finding what you like locally, try a site that specializes in vintage pieces.
Refinishing or Reupholstering Furniture
Since traditional furniture comes in many shapes and sizes, you could consider refinishing or reupholstering furniture that you already own if they're looking tired. Your first option is to paint a piece; you'll want to stick to neutral colors like white, cream, or soft gray. Reupholstering is also an option, especially if you have heirlooms whose fabric is worn and dated. For smaller accent pieces (an armchair or footstool, for example) source patterned fabric that makes an elegant statement, and for anything larger stick to a plain neutral color.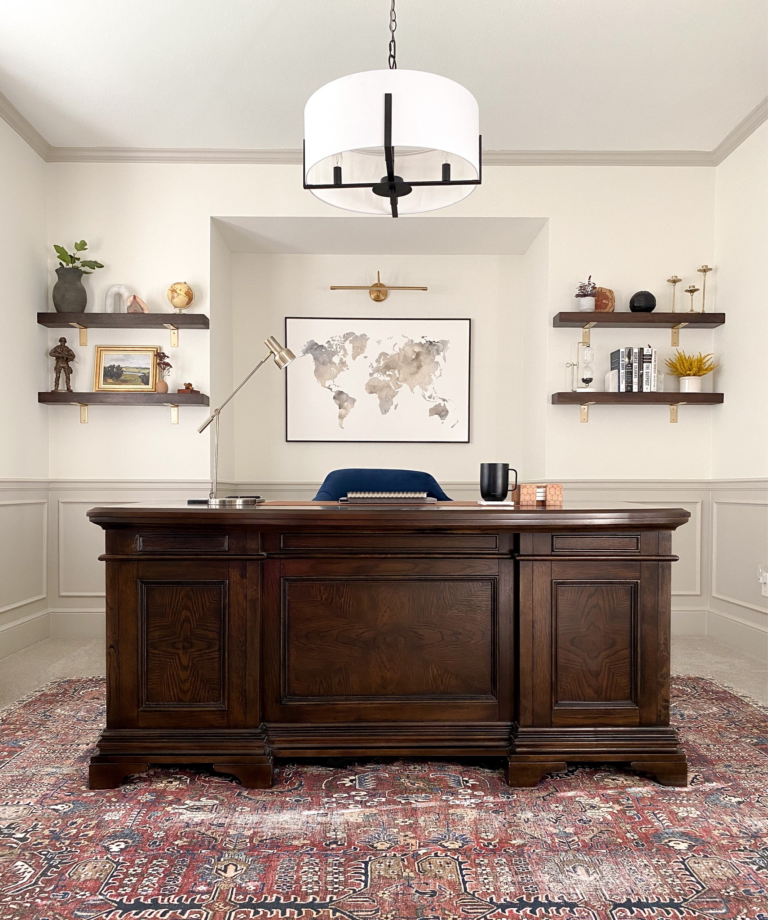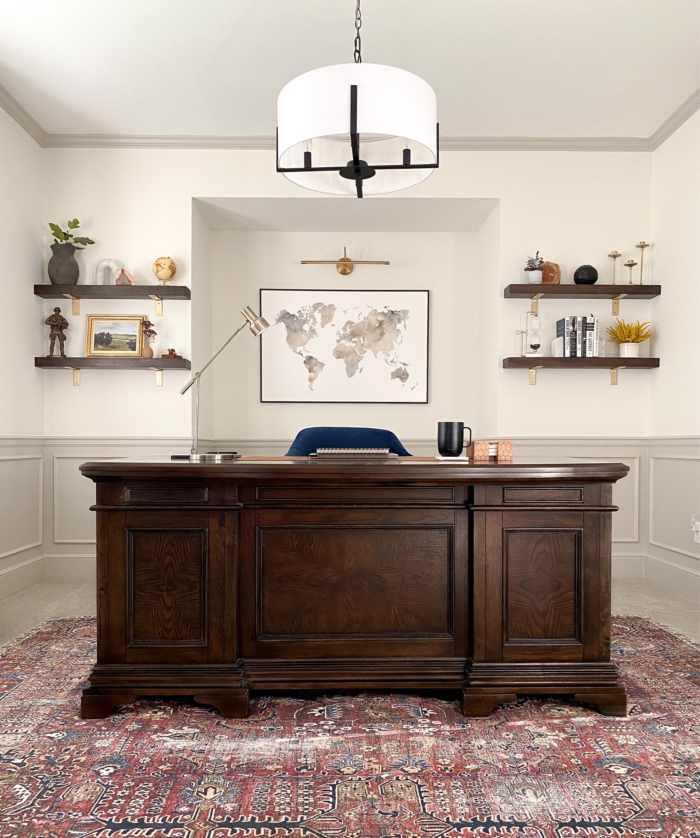 ---
🖼Traditional Decor Ideas: Artwork
Traditional artwork uses tried and true classic European style as inspiration. You'll want to look for landscapes, architecture, wildlife, portraits, maps, and flora while avoiding anything more contemporary like abstracts or collages. Stick to a more neutral color scheme and keep symmetry in mind as you consider how you'll display your artwork. A standard gallery wall would both work, just maintain a sense of balance as you plan it out. Try to select 4-5 smaller pieces for a gallery wall or 1-2 larger pieces for a statement wall.
What to look for:
Architecture, landscapes, portraits, and floral art
Neutral color scheme
Symmetry and balance
Sourcing Artwork
If you're on a budget, your first stop should be our handy guide on where to find free downloadable art online. Alternatively, you could pick up a free vintage skyscraper image from the Library of Congress. If you're feeling creative and would rather DIY something, why not try making your own landscape painting? Additionally, you can swap out your old frame and matboard for a new one if you have art that's feeling tired, for an instant art makeover!
Selecting Frames
We have a few frames that look spectacular in traditional spaces. Our Granby frame reflects old-world style with its ornamentation and gold finish that blends beautifully with traditional home decor. Our Dayton frame in Cocoa is a timeless choice, with handsome lines and organic graining that compliments sophisticated spaces. Finally, our Ashford frame in Satin Black is a modern interpretation of a classic style perfect for showcasing eye-catching art! If you're planning a gallery wall, we recommend a matboard for at least a couple of your pieces (stick to a neutral matboard color like Pear, Hay, or Smooth White).
Ordering Frames
Ordering frames is simple! Visit our interactive picture frame designer, upload your image and select your options, then we'll print and frame it and send you a ready-to-hang picture! If you don't have a digital image, just add your art's height and width to our frame designer, choose your options, and we'll send a custom frame to your doorstep!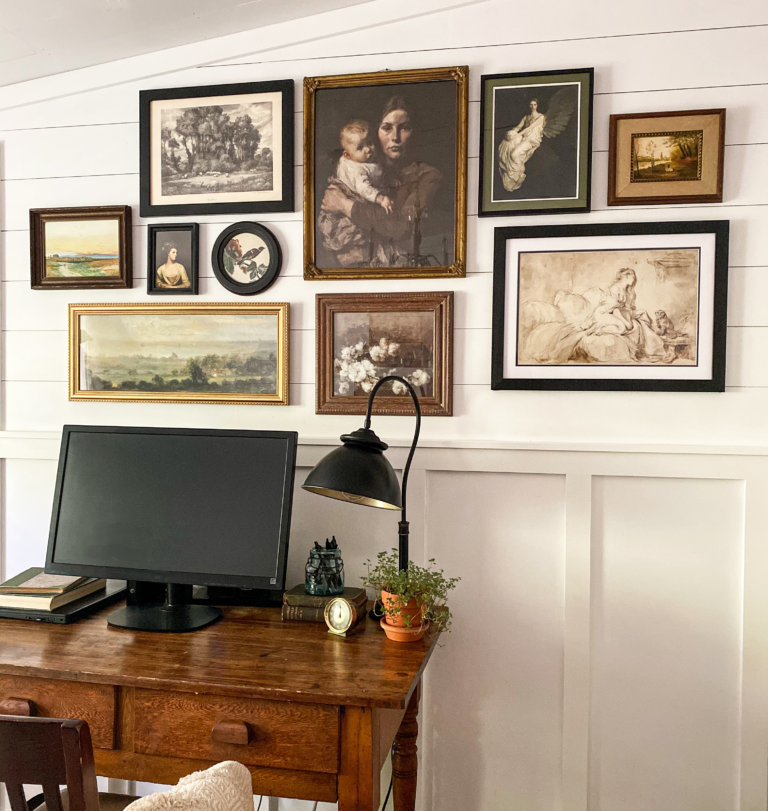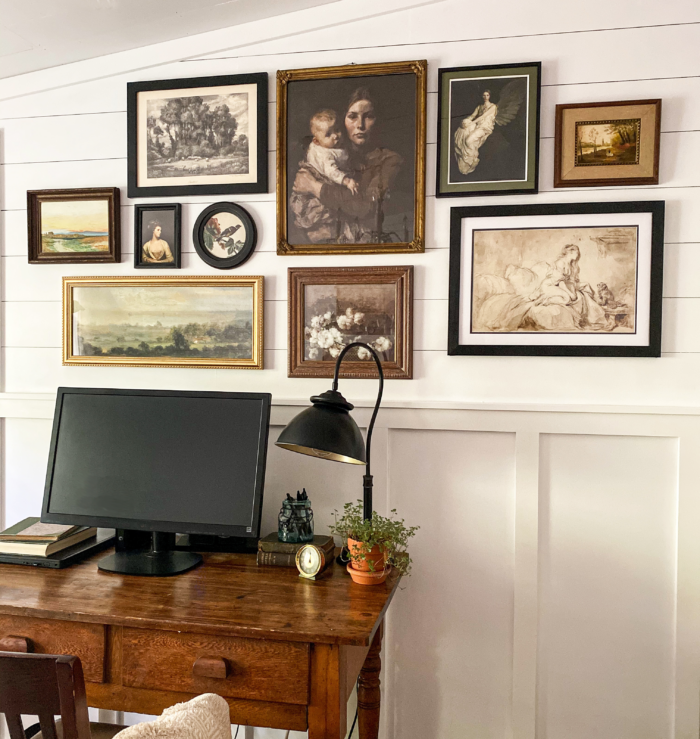 ---
🪴Traditional Decor Ideas: Accessories
Adding thoughtful decor throughout the room will bring a designer touch to your workspace. Keep the idea of symmetry front and center as you design, and avoid over-decorating and clutter. It's totally fine (and actually encouraged) to mix vintage and new decorative objects. You'll want to look for materials like brass, marble, glass, and dark wood while your textiles can be in a range of neutrals, jeweled tones, stripes, or floral patterns.
What to look for:
A mix of new and vintage objects
Brass, marble, glass, and dark wood
Textiles with neutral and jeweled tones
Textiles with stripes and floral patterns
Brass or matte black lighting
Mantel clock, leather-bound books, classic ceramics
Plants
We recommend including a couple of plants in your traditional home decor plans! They'll improve your mood and give your room an organic touch of green. First, a Pothos plant is a traditional favorite because it's relatively easy to care for and grows in a variety of lighting. Next, a Ficus tree is a classic choice with its traditional green canopy and presentation.
Lighting
Generally, you'll want at least two light sources for your office: one for your desk and a floor lamp for background lighting. Try a brass table lamp with a matching brass floor lamp. Alternatively, you can try matte black fixtures instead of brass. Matte black looks especially nice on lighter furniture, while brass tends to look best against darker tones.
Decorative Accessories
Start with a few decorative accessories, then layer in more as needed. You want to keep your decor balanced without overpowering or cluttering the space. Look for items like leather-bound books, a mantel clock, candles, classic ceramic pottery, and historical memorabilia.
Desk & Table Accessories
Swap out your plastic paper trays for wooden ones, then get a marble (or faux marble) pencil cup for pens and scissors. Follow that up with a white ceramic bowl for odds and ends. Finally, place your Pothos plant, your lighting, and any other decorative objects you may have. If you'd like to display your framed photos on your desk, consider a tabletop display with our EaselMate accessory.
Rugs and Pillows
Rugs add a focal point to your room and pull your entire design scheme together. We recommend focusing on oriental rugs; they're a decorating classic with a historical presence that lends itself particularly well to traditional offices. Look for throw pillows that borrow colors from your rug, however, feel free to source something with interesting damask or floral patterns.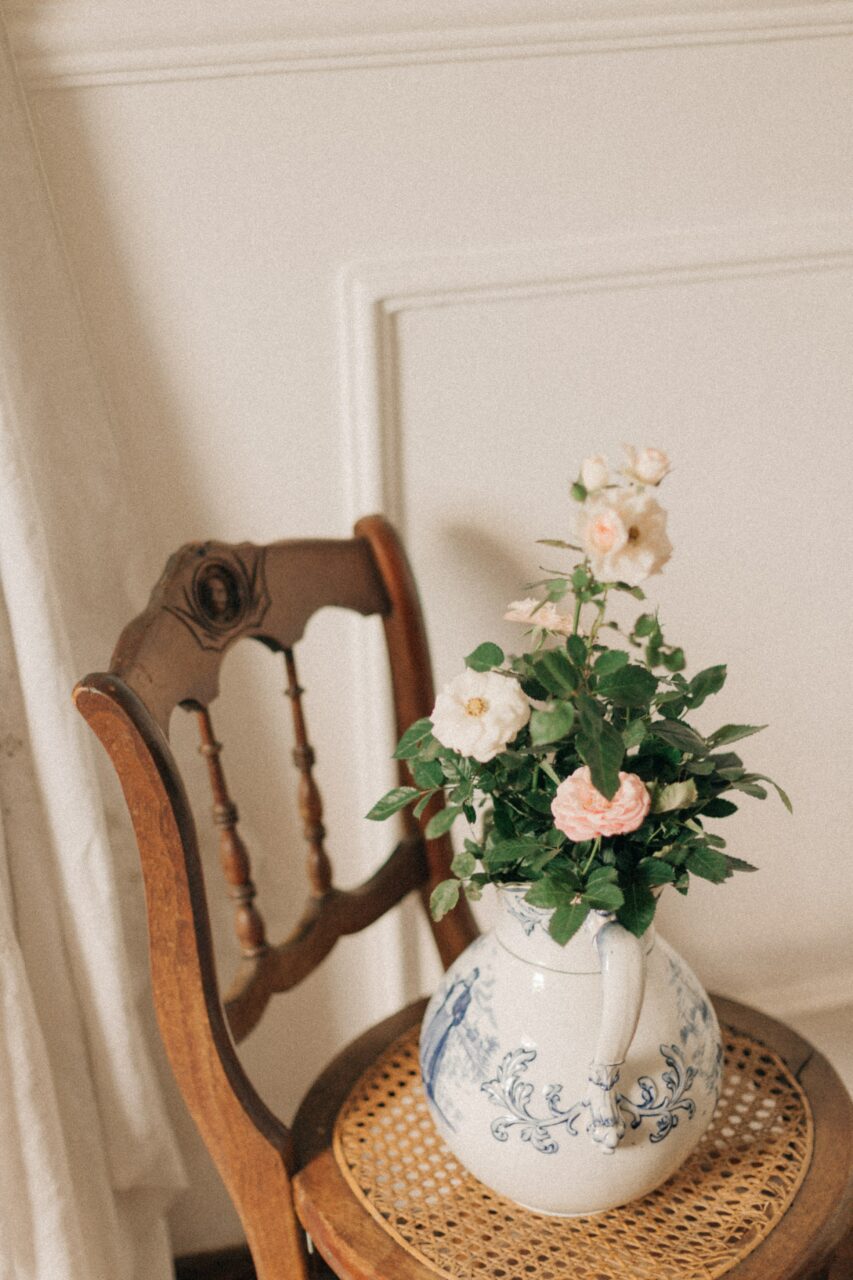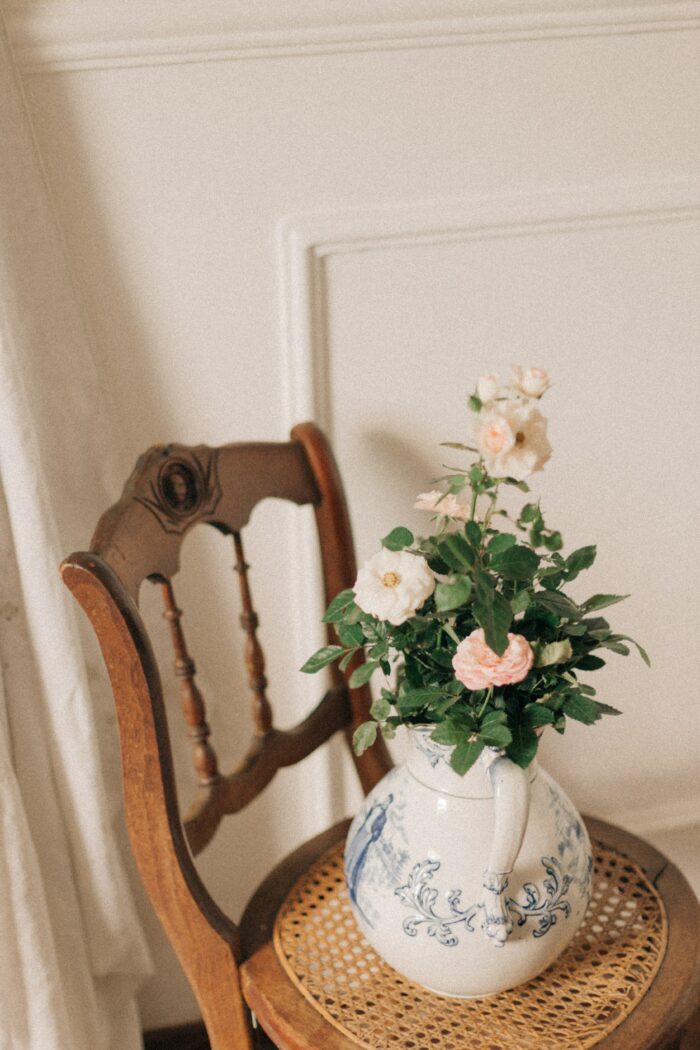 ---
🎬Final Thoughts On Traditional Decor Ideas
Traditional home decor is a classic style that embodies casual elegance, combining modern principles with historical elements for a comfortable, sophisticated space. We hope this has given you some amazing traditional design inspiration, so don't forget to share your space with us on social media once your design transformation is complete!
And before you go, are you interested in exploring even more interior design styles? Don't miss the video below to learn everything you need to know about cottagecore decor 👇
This post first appeared as Stunning Traditional Decor: Easy Ideas To Design Like A Pro on Frame It Easy - Learning Center for Custom Picture Framing.