Committing to a rocking piece of art for the rest of your life is a big step, and the act of receiving a permanent piece isn't exactly a walk in the park. While getting a tattoo isn't for everyone, we can still appreciate the culture, dedication, and craft that go into this art form. (As well as Tattoo shop decor and interior influence!)
Tattoos and flash art are now more popular than ever! 36% of Americans between the age of 18 and 29 have at least one tattoo and about 32% of people with tattoos claim they're addicted to collecting them! These statistics show that the 6,000-year-old phenomenon is alive and well.
Keep reading to learn more about how to frame flash art from your favorite artists as well as learn some tips and tricks on how to craft your own awesome tattoo shop decor.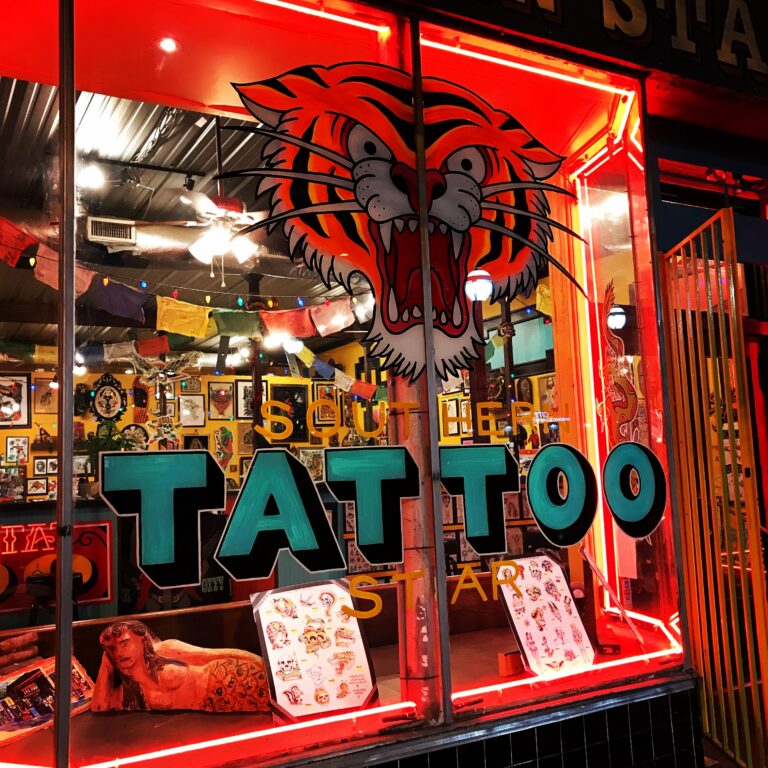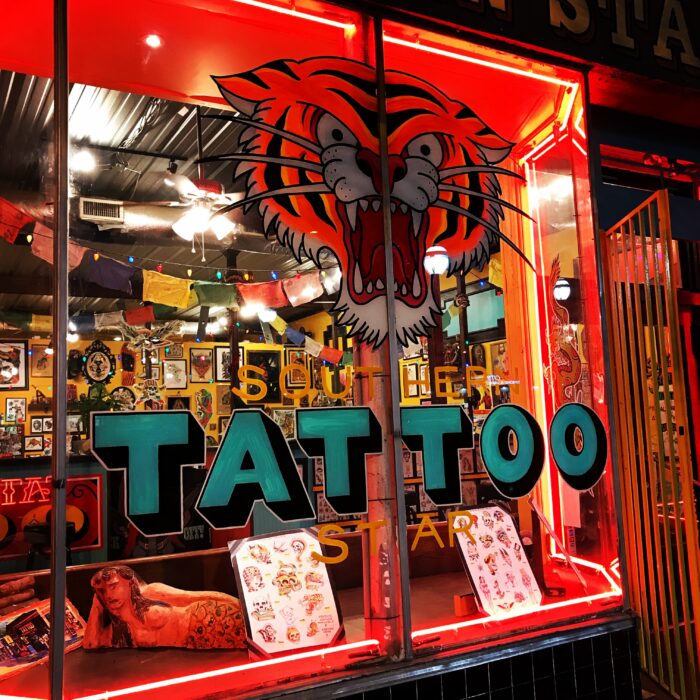 ---
---
Tips & Tricks: Creating Awesome Tattoo Shop Decor
Creating a clean, welcoming, and visually interesting shop is not only important to entice customers and inspire artists but will also be the first visual example of what sets your studio space apart from others.
Setting up a shop with a welcoming reception desk, seating area, artist booths/spaces, and clean washrooms are one piece of the puzzle in crafting a successful and busy shop.
Reception & Client Seating Area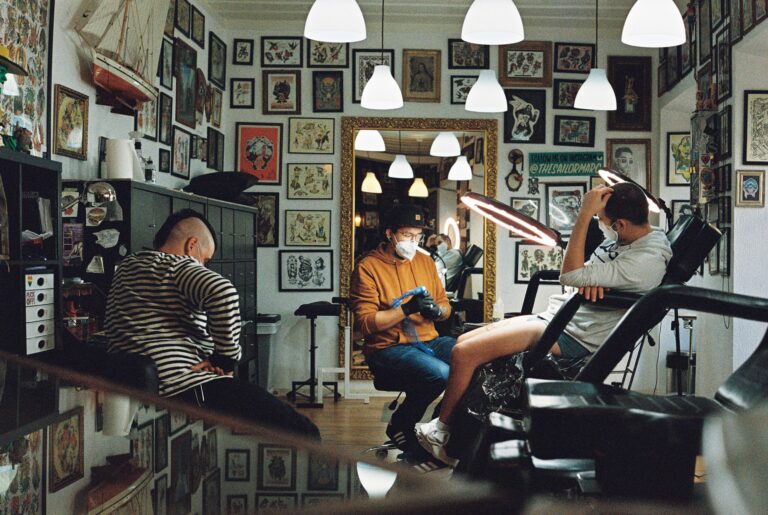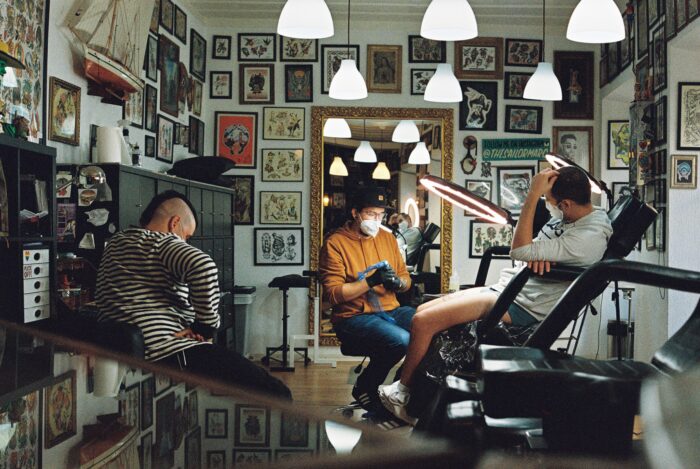 The first place your clients will lay eyes on is your entryway holding your reception desk (if you plan to include one) and the waiting area. This is your first chance to make a BIG impact.
Before opening your door we recommend adding a few things to your shop entry walls:
🔖 Up To Code – Display your framed permits, licenses, and any other state or health regulation papers to show your customers that you are up to date on all requirements. We recommend ditching the boring frames and going for something a little more elaborate like our Granby style!
✍️ Shop Artist Flash – Show off your artist's flash sheets, tattoo art one-offs, or canvas works. Not only will this showcase their talent but it gives clients a chance to see what your resident artists offer style-wise. We recommend our Ashford style frames to keep things simple and let the artwork do all the talking!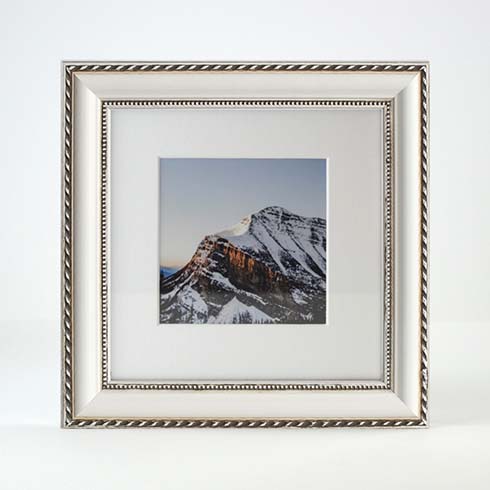 ---
Artist Spaces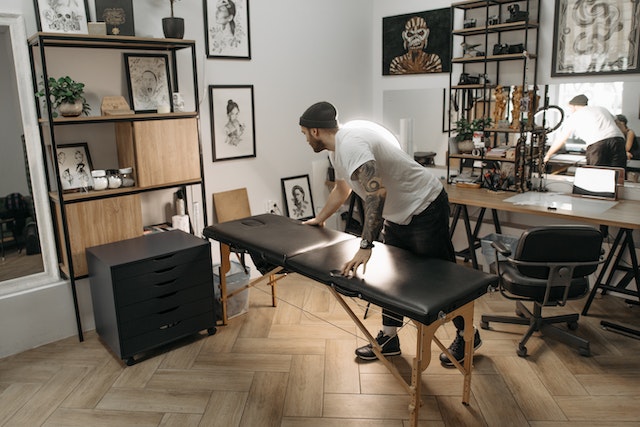 Each artist's space should be representative of the tattooist who works in it. That being said, if you're fine with your shop having an eclectic design style let your resident artists style their booths however they see fit. However, if you're looking to have a themed tattoo studio style in mind we recommend putting the following style guidelines in place for tattoo artist spaces:
🗃️ Display Cases – Allow artists to show off flash sheets, jewelry, or any other artsy wares their selling in the shop. Major bonus: Most display cases are almost completely made up of glass, which easily translates into any decor style your shop is after!
🖼️ Frame Choice – If you want your shop to have a cohesive look throughout but don't want to put too many creative restraints on your resident artists' interior design ideas, consider having an approved frame style or frame color when hanging flash art or any other wall decor. This way your shop will have a singular element that flows even if each booth holds different works.
---
Washrooms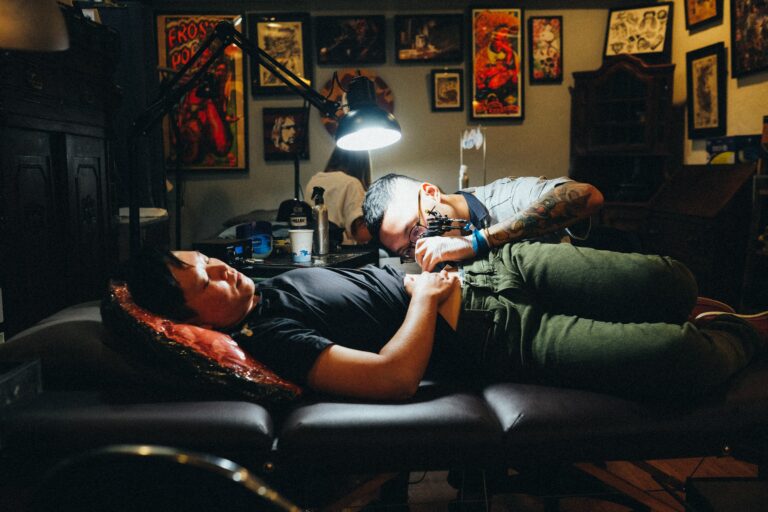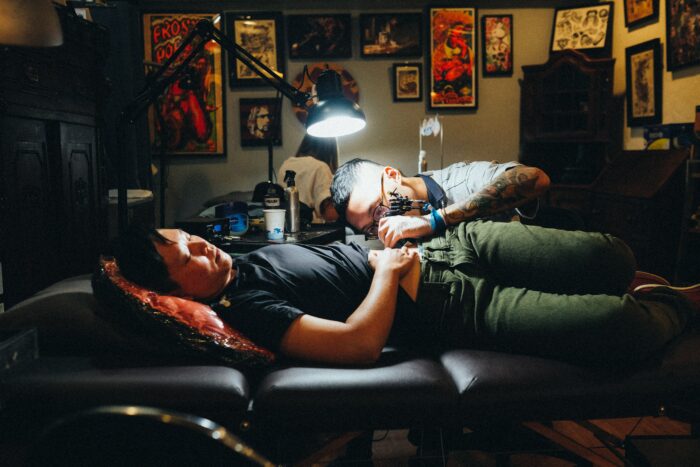 A bathroom articulates a lot about an establishment, so it's absolutely imperative that you keep yours up to par! In a business that handles medical-grade supplies and deals with some bodily fluids, you'll want to keep everything spick and span! But that doesn't mean your restroom decor has to be as boring as a hospital bedside. Give these cool and clean decor tips a go:
🙅 Keep It Minimal – More decor means more to clean! Hang just a few pieces to keep surface cleaning to a minimum. Hanging wall art in a bathroom can be risky so, make sure they're stable. Consider adding a plant or interesting soap dispenser to add a bit more flair to the space.
💡Lighting Matters! – The phrase "dark & dingy" is not something you want to hear when clients or staff enter your bathroom. Make sure there is efficient lighting and that all "wash hands" or other signages are easily legible.
---
Join Us
Join our mailing list for design tips, freebies, and product news!
---
Framing Flash Art
What is Flash Art? – Designs drawn on paper and displayed on the walls of tattoo parlors and in binders to give walk-in customers ideas for tattoos. Traditional tattoo flash was designed for quick tattooing and used frequently for walk-in customers and in shops with heavy foot traffic.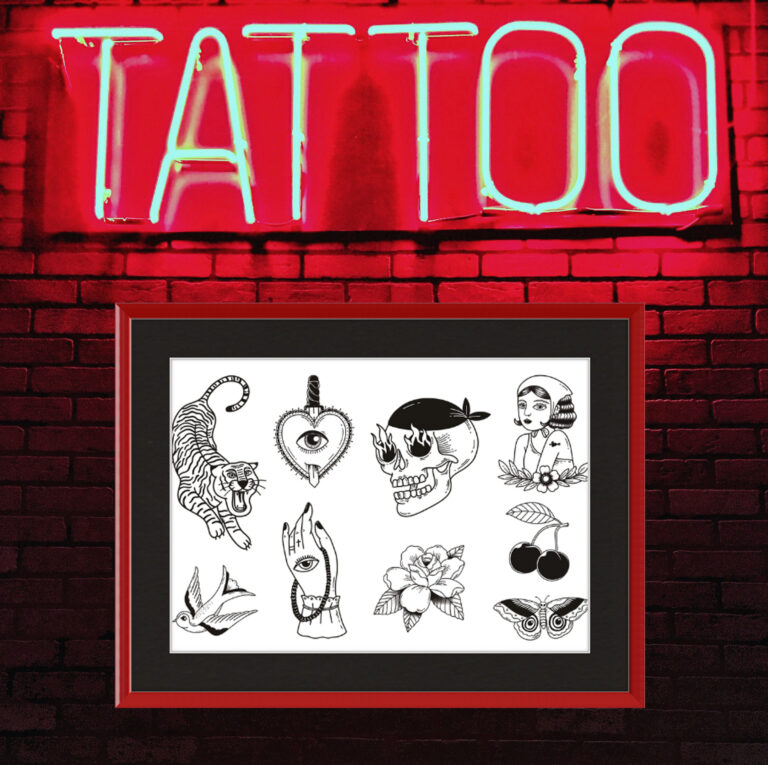 For Artists & Collections
Want to show off some bangers for a flash event? Maybe you want to showcase quick walk-in options? Or perhaps, you're just a collector who loves flash! Whatever your reasoning make sure you choose the right frame to not only protect your art but to play into your piece's personality as well. Here are a few factors to consider when framing flash:
📜 Mounting – Float Mounting, traditional mounting, or something totally off the wall! How you wish to showcase your art with a matboard is totally up to you.
🪟 Cover – Here at Frame It Easy we offer clear & non-glare acrylic covers. Clear is generally best for bright & colorful works, while our non-glare option works best for black and grey art as it tends to soften colors.
😄 Profile Face – Your frame's profile face width (the distance between the molding lip and back) is something to consider when styling. If you want the main focus to be on the artwork, opt for a smaller width. Want something bold and dramatic? The bigger the profile face width the better!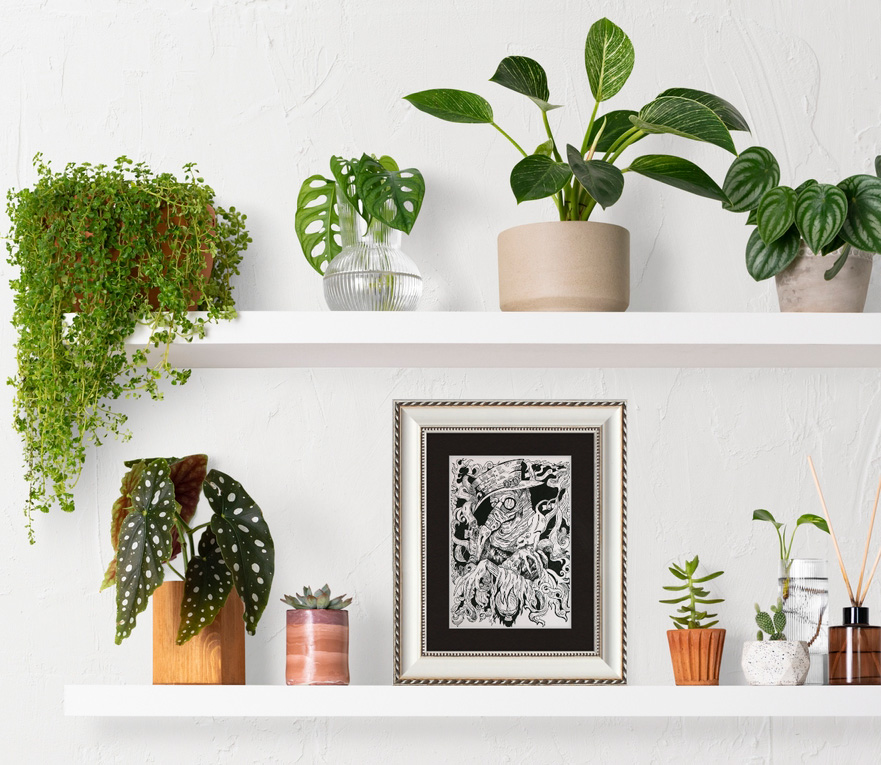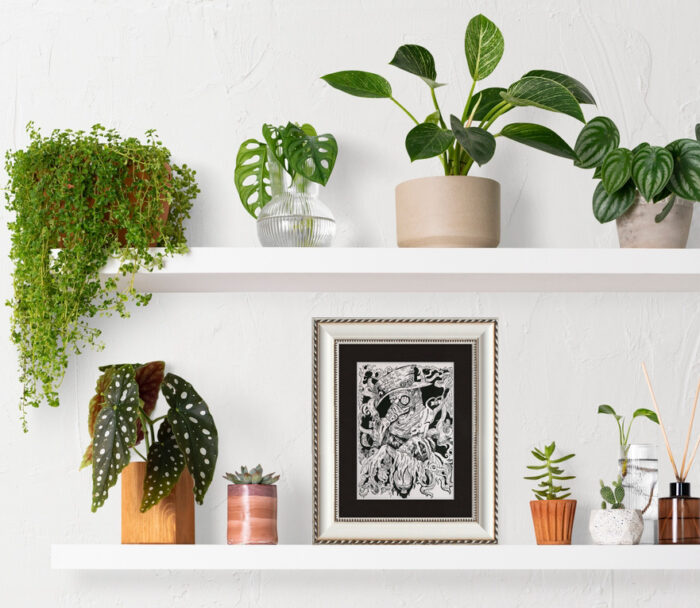 ---
Why Flash Art?
Flash has quite the history and many iconic designs were created by some of the most well-known tattoo artists like Bert Grimm and Norman Collins ("Sailor Jerry"). These images and designs are still inspiring other artists and collectors to this day.
Enhance Brand Image
Every flash design and sheet is crafted specially by each artist, which means not only is it unique to them but also each shop. By highlighting and showcasing your flash you're letting your customer base what your shop artists can do as well as establishing an image and possible niche within the industry.
Increase Artwork Visibility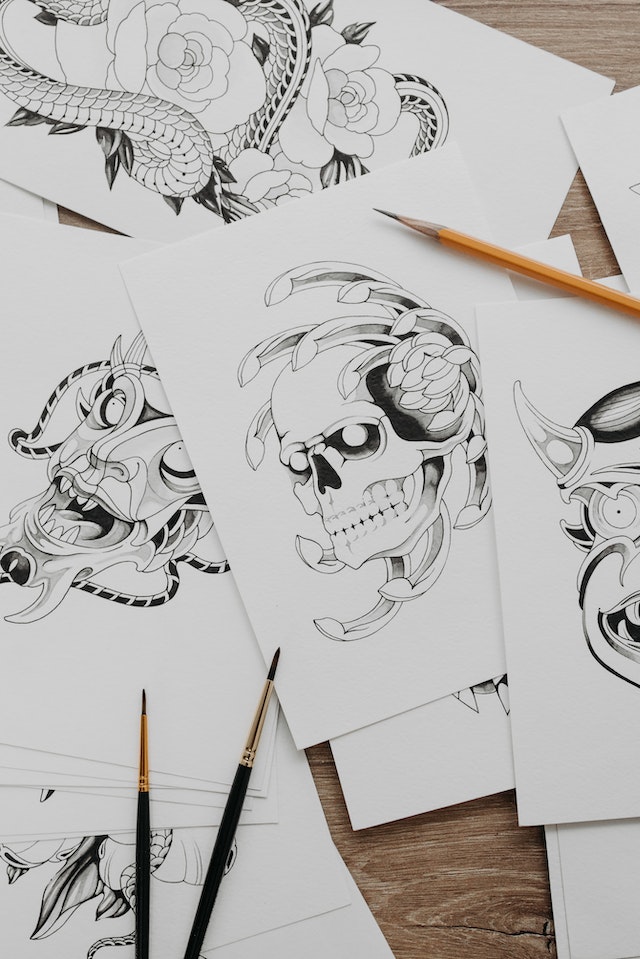 Every artist wants their artwork to be seen, and for a tattooer, hanging a design on the wall before it hits the skin, is the first step in the process. By displaying your designs and other works in your shop, the more likely it is to be seen by a potential client interested in getting the piece tattooed!
Increase Artist Demand
For artists just breaking into tattooing as well as artists with unique styles or offerings, gathering regular clientele is essential. Showcasing what you have to offer on your walls is one way to increase demand for your artwork.
Improve Customer Experience
Walking into a tattoo shop can be a tad scary or overwhelming for some. The buzzing of tattoo machines and the sight of artists digging into skin can be a stimulation overload for newbies and seasoned collectors alike. Make the experience a bit easier by showcasing your framed designs in the reception and sitting area for clients to get an idea of the styles and individualistic pieces your shop artists have to offer! By including both framed art and portfolio binders your clients will know they're in good and experienced hands.
---
Wrapping It Up
We hope this post has given you some creative ideas on how to design your tattoo shop interior juuuussst the way you want it! As well as giving you some useful tips on how to approach flash art and flash sheet framing. At the end of the day, it's your studio and your space. So remember there is no wrong or right way to decorate.
Live life and decorate your way, NO REGRETS!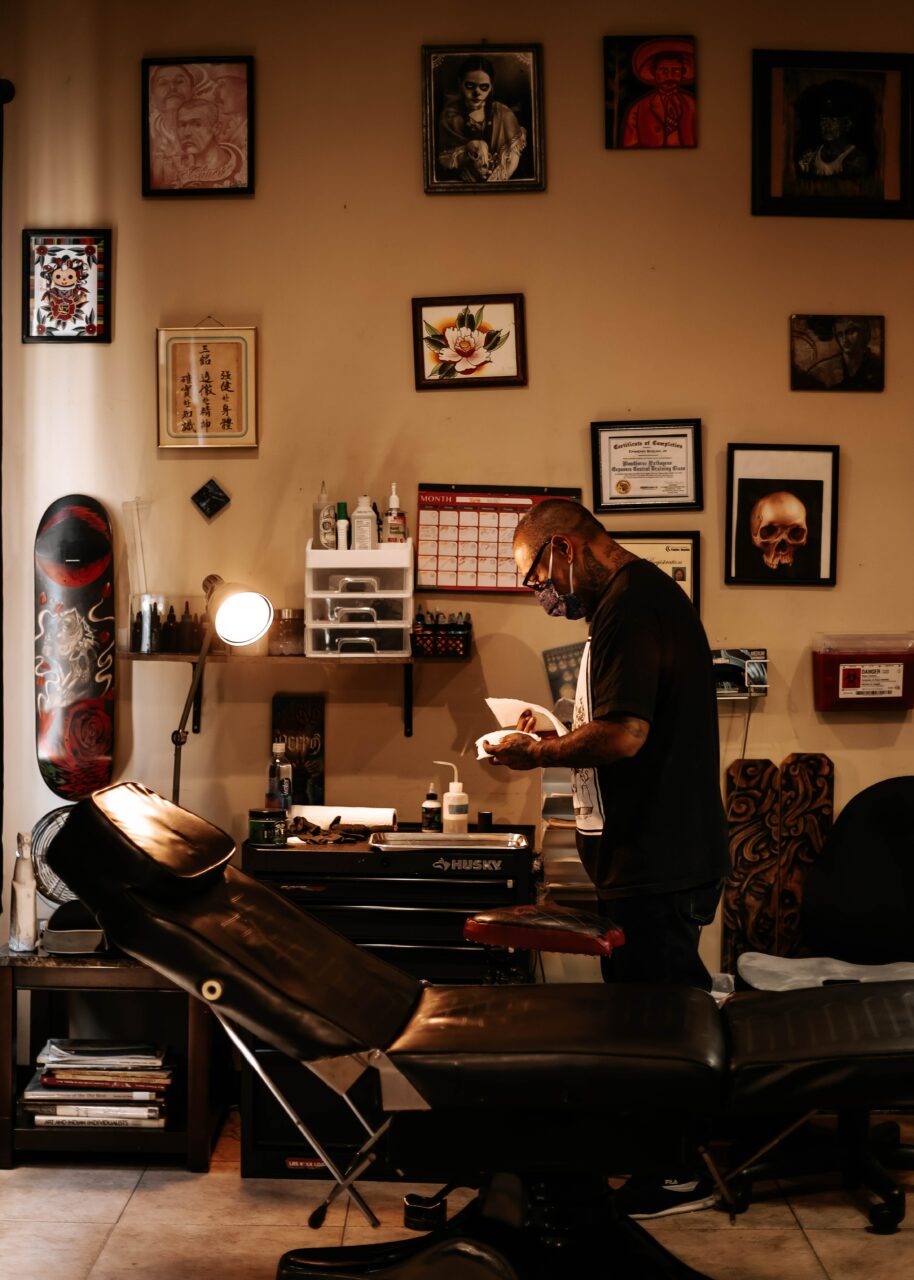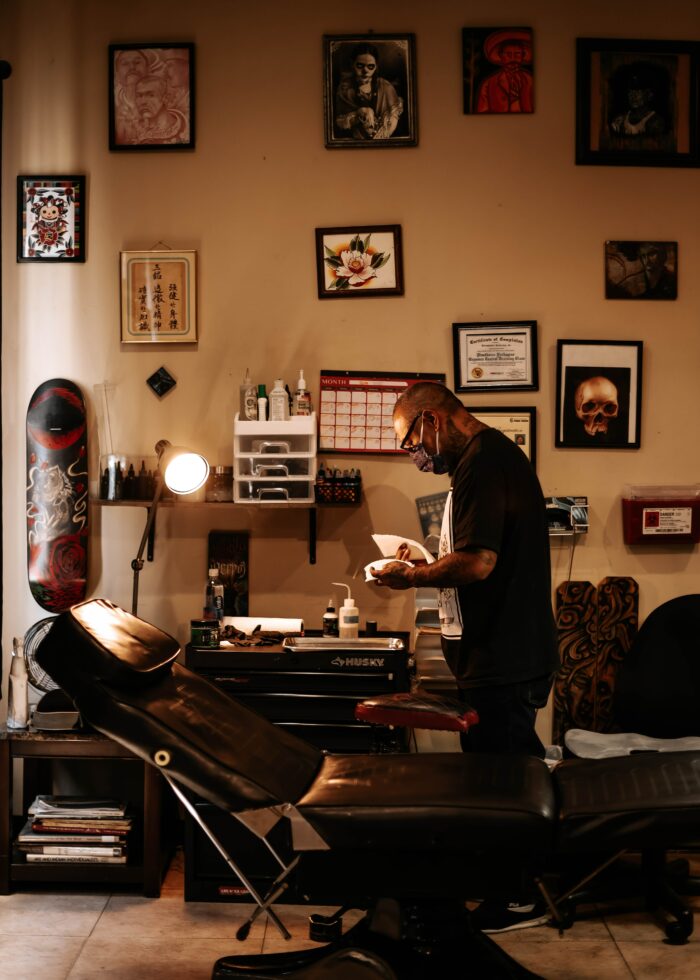 Show off your tattoo shop or flash art – Inspire others by sharing your photos, and tell us your story! If we share it, you'll receive a coupon for 15% off your next order!
Don't forget to follow us on our socials for more daily inspiration!
This post first appeared as Terrific Tattoo Shop Decor & Framing For Flash Art on Frame It Easy - Learning Center for Custom Picture Framing.