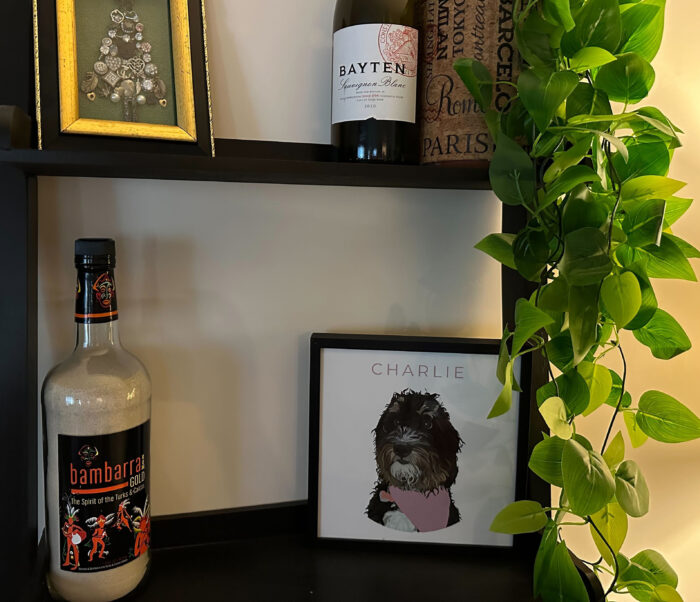 Decorating with pet art is a great way to showcase your pet's unique personality! Framing also allows you to create home decor that is reflective of your style. Over the years we've seen tons of pet photography, animal paintings, custom pet canvas, and much more pet art come through our custom frame builder!
Framed pet art is an innovative way to turn your pet's photo into a beautiful piece of art. By working with professional artists or by DIYing it yourself with a few tricks, you can create a unique, personalized portrait of your pet that will be an enduring tribute to your furry friend!
From traditional framed prints to custom pet portraits, there are a variety of options to choose from to create the perfect pet art display.
It's Time To Unlock Your Pet's Personality!
What is pet art?
What is a pet portrait?
How do I make pet art?
---
---
Framing Pet Art: The Benefits
Protection
Preserving the moment for as long as possible is made possible with pictures, but to keep them looking as great as possible it's best to frame them!
Acids aren't good for any print product, and there's the issue of ultraviolet rays (UV), which can severely fade and damage your photograph. With Frame It Easy's acid-free materials and UV-protective acrylic covers, you're off to a great start!
Personality & Personalization
Your pet is unique, from their personality to their quirky habits. Naturally, they deserve a display just as special as they are. At Frame It Easy, every frame is made to order so you can tweak measurements, select the perfect matboard color combo, and find a fitting frame for your fuzzy buddy.
So go crazy, if your pet lives life on the wild side consider a bright double mat color pairing. Does your frisky feline prance around like royalty? Opt for an ornate-style frame with one of our glistening metallic mat colors, a combo fit for a king!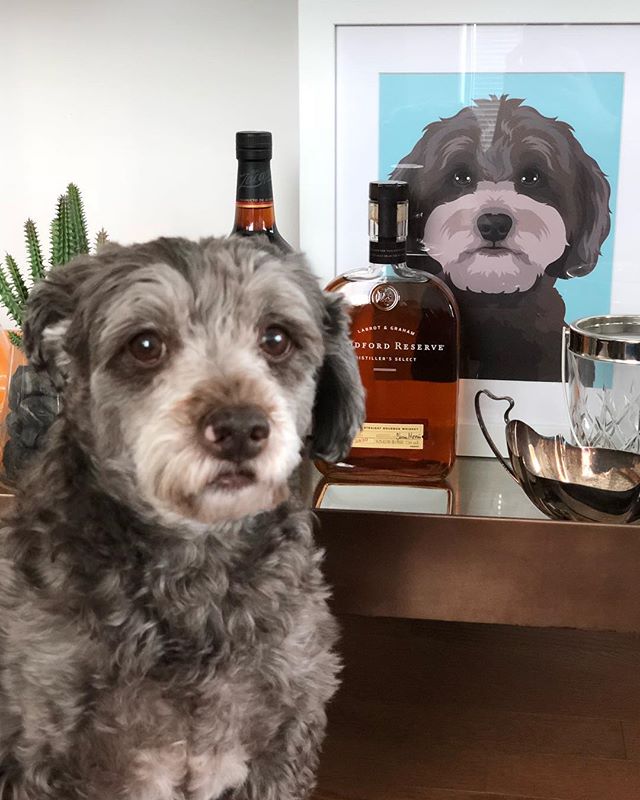 Conversation Piece
Family photos are commonly seen in many homes, but let's be real here, family pet photos are a crowd favorite! Selecting a pet photo or artwork to display is an instant conversation piece, so make sure you find one that really puts its best paw forward.
Holiday costume pictures, adoption photos, and shots with their favorite people or toys all give viewers an inside look into your pet's life and they'll be asking to know more!
Remembrance
Unfortunately, many of our beloved companions don't live as long a life as we do. So it's important to not only give them a happy and loving life but to create lasting memories to cherish when they're gone. By framing the happy moments of you and your pet's time together, you'll be able to relive the good times for many years to come.
---
Trending Pet Art & Styles
There are a variety of styles and mediums, from traditional paintings to modern digital art to choose from to celebrate a beloved pet!
We've listed a few of the top trending pet decor styles that have come to us for framing:
Royal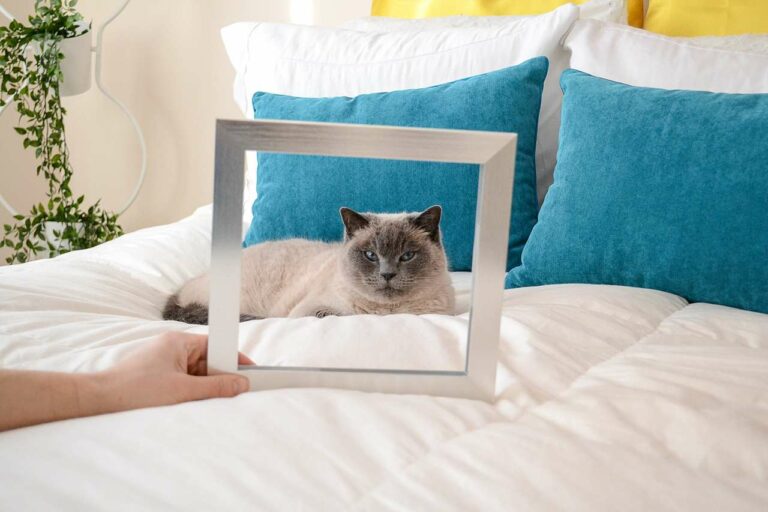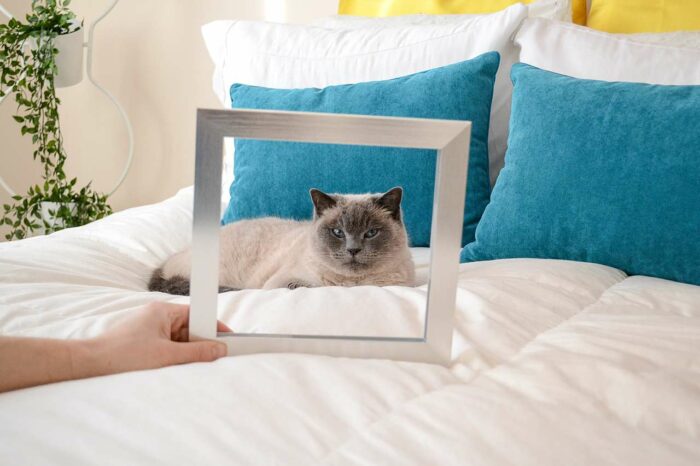 We all know a cat or dog who walks around the house like they own the place. You may have a cat who will only eat a certain brand of food (and only if it's served on a silver platter!), or you may know a dog who has more clothes and dresses better than their owner!
For pets who live for the finer things in life, we recommend the royal treatment! Several artists can turn your beloved pet into a royal or renaissance masterpiece. Or if you're crafty with photo editing apps, go ahead and give it a go yourself!
A few things to keep in mind before giving your pet the royal crown 👑 :
Find The Perfect Costume – Going for layered gowns or maybe military garb? Do some deep diving on the internet or your favorite art museum to find the perfect royal style for your pet.
Snapping The Best Shot – Time to sit down with your pet and get the best head angle shot you possibly can to fit your image!
Select Your Style – Silly or serious? Depending on your art style, photo choice, and frame selection!
Go Big Or Stay Small – Go big to show off his royal highness, or keep it small to see who notices your regal pal.
We took a shot at making our own "Regal Pet Portrait" Here!
---
Illustrative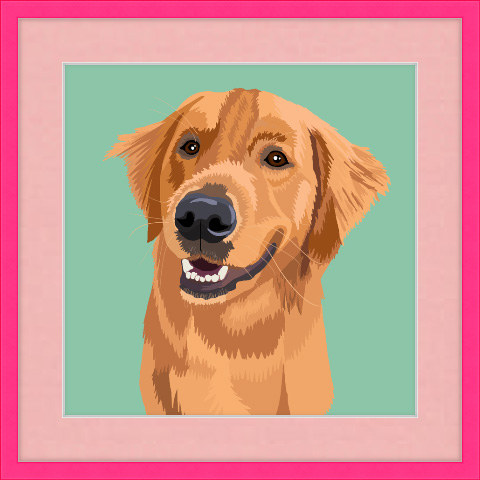 Does your pet have the personality and antics of a cartoon character? Ever think they should have their own show? You might want to get your buddy drawn up!
For goofy and mischievous pets, illustration pieces really capture their personality, letting whoever enters your home who the real star of the show is!
Steps for the perfect pet illustration ✍️:
Find Your Reference – Grab your favorite photo to recreate in an illustrative style.
Consider Color – Think about background colors, nameplates, or any other style considerations you may want to include in this project.
Select The Artist – If DIY is not in the cards, find an artist who specializes in animal illustrations and set up a consultation!
Frame It Up – Try to order your frame ahead of time! As soon as you get your final art piece, you can frame it ASAP for optimal protection!
Here's a few great examples of illustrative pet art!
---
Pop Art & Comic Book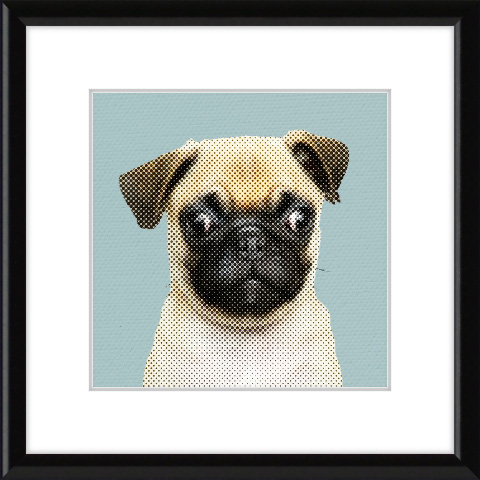 If you're worried about pet art fitting in with your current art collection, consider making or commissioning a fine artwork of your special buddy! Pop art was made famous by artists like Roy Lichtenstein and the ever-popular Andy Warhol.
Commission a designer, or give it a go yourself with a photo editing tool.
How to make your pet "POP" in a few easy steps 🎨:
Get The Shot – A print or scanned-in photo works best for this old-school pop art feel, or just snap a digital photo and apply a vintage filter.
Play With Composition – Check out some pop art and comic designs to get a feel for how to lay the subject matter.
Find Your Artist or Edit Tool – Hire an artist to see your vision through or find an editing tool to DIY it yourself.
The Big Finish – Once your pop art is complete, consider housing it in one of our colored frame options to complete the look. Hot Pink, perhaps?
We channeled our inner Andy Warhol and tried a pop art DIY challenge here!
---
Fabulous Filters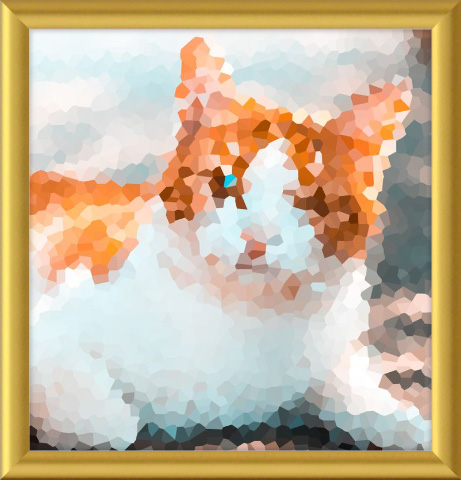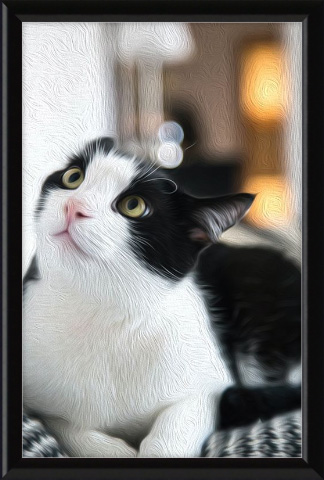 If you're looking for something a little more stylistic – check out filter art. It's quick, simple, and quite fun to make. Although you can find artists to make more complicated and detailed versions, filter photos make a fun rainy-day DIY craft!
Finding the right photo filter for Fido & friends 🐶:
Get Photo Ready – Find a phone or digital photo for this project, as this art form works best on computerized images!
Consider Background – To make sure your pet stands out and your filter is applied properly, be sure to edit out or choose an image with a minimal background – busy backgrounds will take away from your pet!
Artist or Edit? – Grab a graphic designer for this project or DIY it yourself with tools like Photoshop or Lightroom.
Print & Frame! – Once your digital file is complete, head over to our custom frame builder, upload your file and design your frame – we'll handle the rest!
Consider trying one of these filter projects!
---
---
AI Art Generation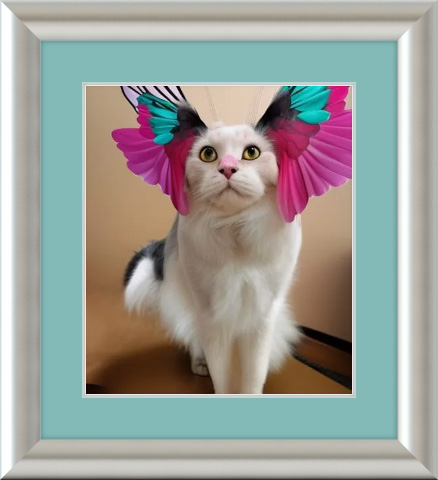 AI art has been in the news quite a bit this year – for good and bad – It's a useful tool to play with! If you're interested to see what the algorithms can do, give it a go. (Just be sure to read the fine print!)
Some AI animal art possibilities 🤖:
Pile on The Pics – AI learns best when it has multiple images, so find all your favorite pet pics to upload!
Find Your Tool – There are a ton of AI generators to choose from. Check out our list here!
Practice Prompts – Make sure your text-to-image prompts are clear. The more descriptive the better!
Upload & Frame! – Once your digital file is complete, head over to our custom frame builder, upload your file and design your frame – we'll handle the rest!
---
Sketch Work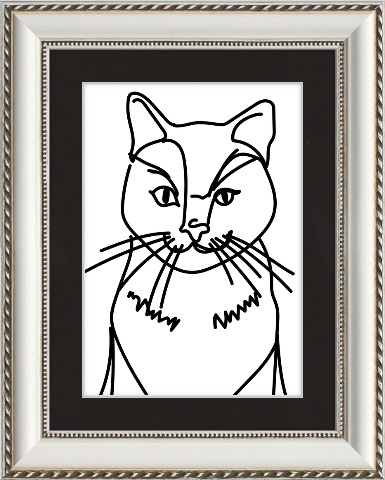 If you're looking to decorate a minimalist or neutral-styled space, sketch work and line art fit the bill perfectly! Grab a pencil and paper to start tracing or commission an artist to capture your picture-perfect pet.
Super cute sketch ideas 📝:
Reference Photos – Find a portrait or profile view pet photo – these work best!
Style Considerations – Looking for line work or more of a rough sketchy draft? Consider your style options.
DIY or Pro – Ask an artist or go at it alone with a lightbox and some tracing paper!
Perfect Protection – Once complete, be sure to seal off any charcoal or ink and frame it up!
Check out our fancy sketch work here!
---
Memorial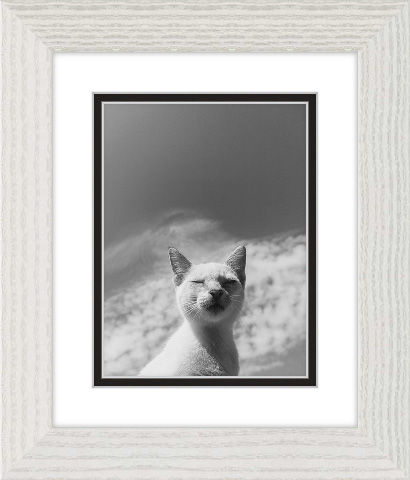 You'll never forget a pet who's touched your heart and made your life that much better. Never forget the times you spent together with a memorial piece in your home.
Remembering a life well lived ❤️:
Find Your Favorite – Take some time to find your favorite photo of your pet. If you can't decide check out this photo mosaic art.
Any Additions – Consider adding dates, a passage, or your pet's name on their memorial photo.
Putting It All Together – Work with a graphic designer or photo editing program to finalize your pet's memorial picture.
A Forever Frame – Once you're ready, frame and display your forever friend proudly.
Check out This beautiful memorial edit here!
---
Furry Framing: A How-To
Choosing The Right Frame
Your pet has a style of their own, so why not match it to a frame? For pets rocking a collar or other stylish neck piece we recommend matching it to the frame! Our Hanover style comes in Red, Green, and Blue for matching colors or even eye colors!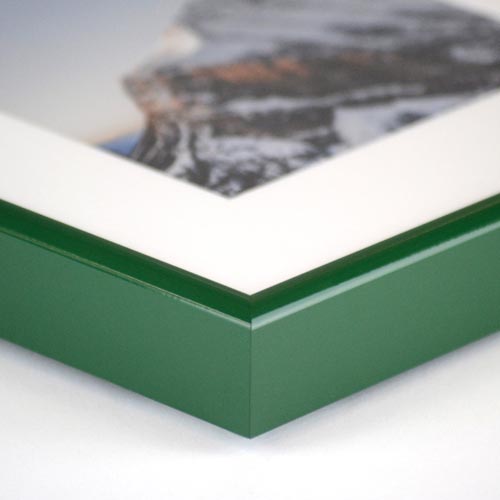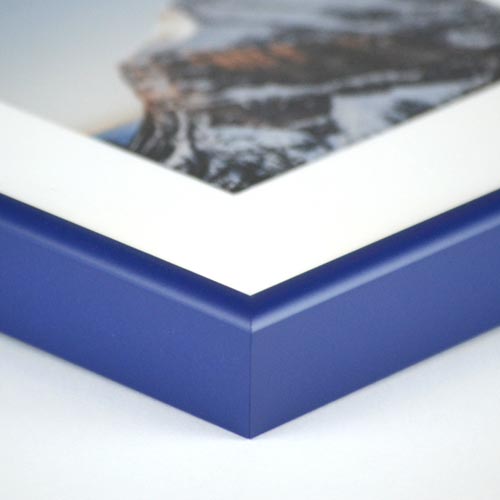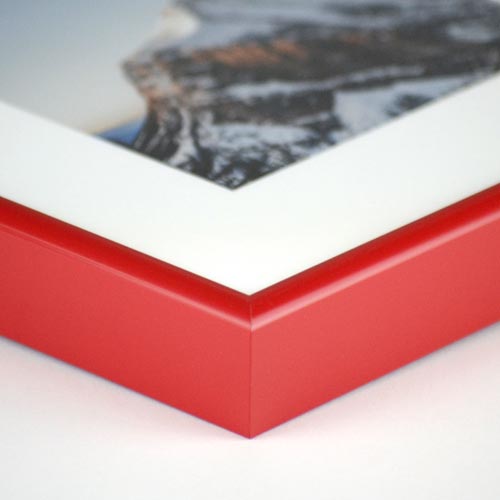 We also offer our Ashford style in Red, Rose Gold, and Hot Pink for those seeking alternative styles and shades. Need some more examples? Head over to Framing Your Furry Friends for more inspiration on how to find the purrfect 🐱 photo/frame combo to complement your home and pet's personality!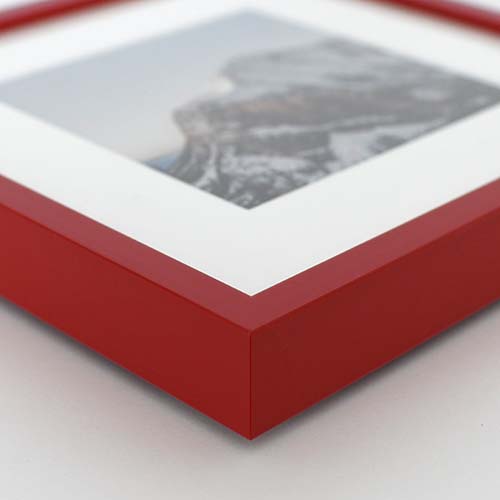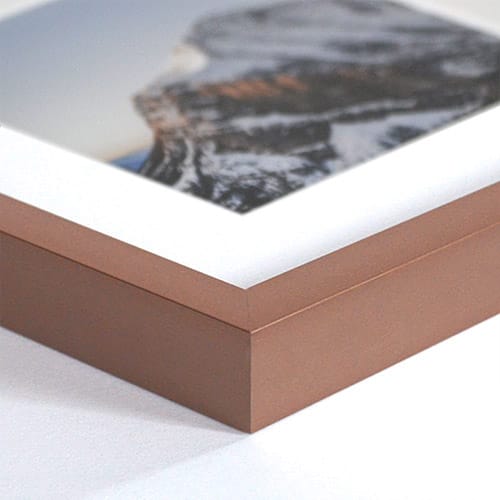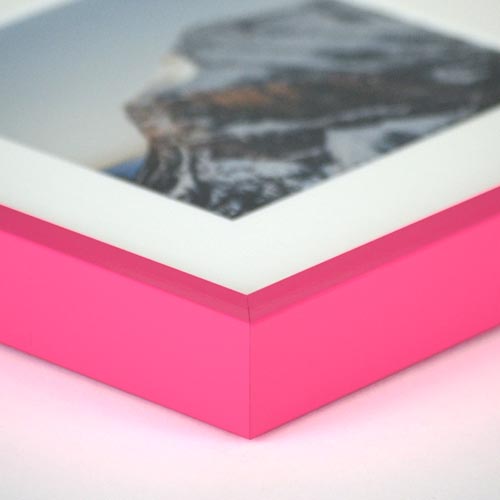 Preparing Your Artwork
Patience is key when it comes to working with animals and babies! They have big plans and most don't sit in one place for too long! Although you may have an idea of the perfect photo or artwork in mind, sometimes it's just best to go with the flow. Candid takes typically express their silly and wild side! (Which is one reason why we love them after all!)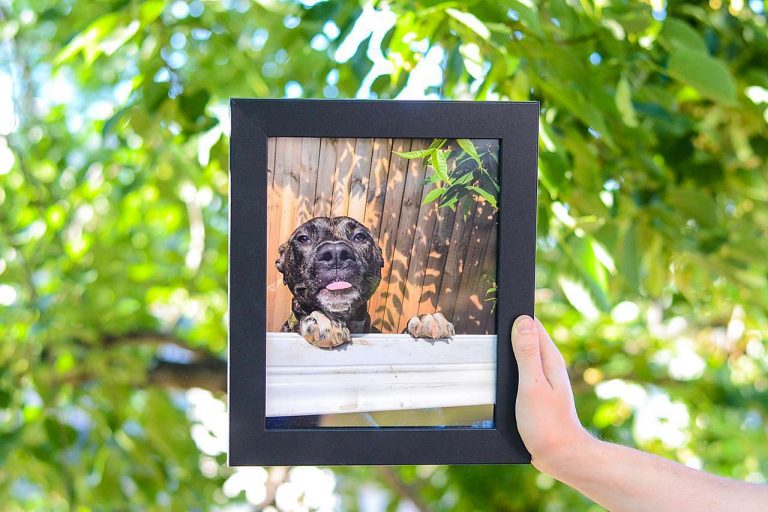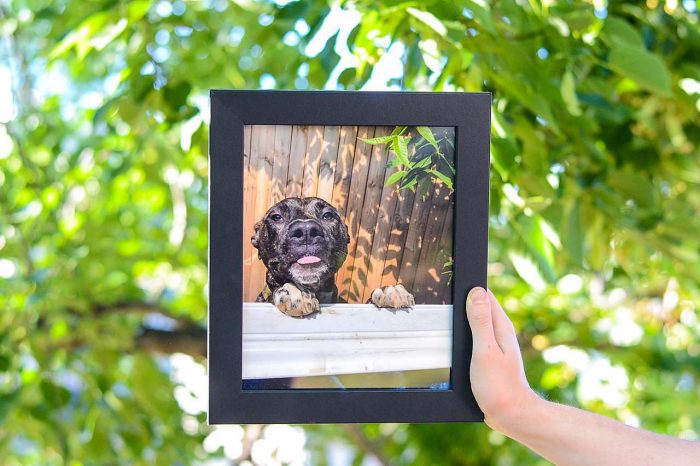 While most pet art prompts require reference photos, you will need to snap some shots for the final art. We recommend keeping some toys and treats on hand to hold their interest while you snap away. If you have a family member or friend who can assist with your shoot – get all the help you can! Pets can be a handful and two sets of hands are better than one! Check out more pet photo tips at the ASPCA.
---
Final Thoughts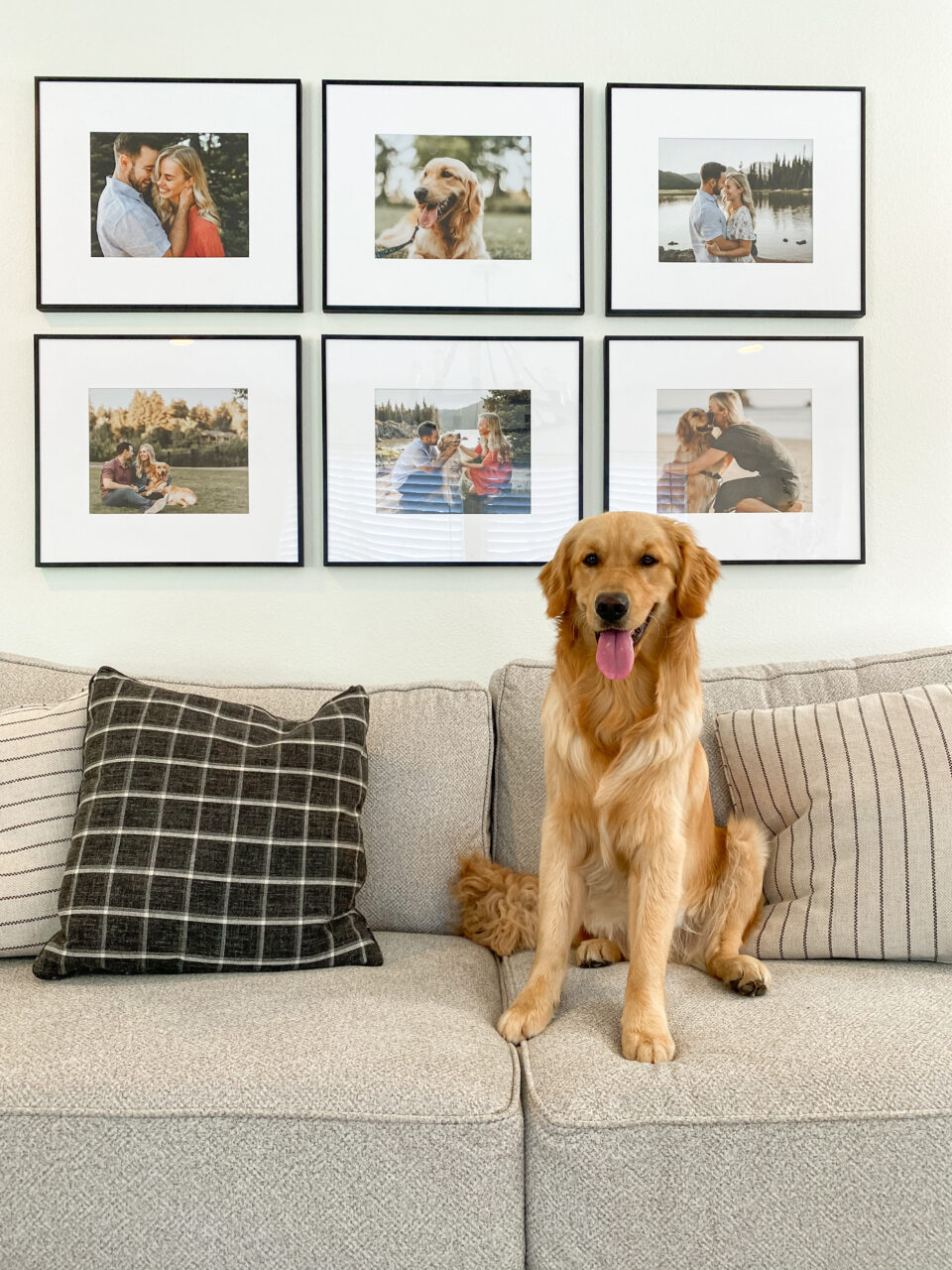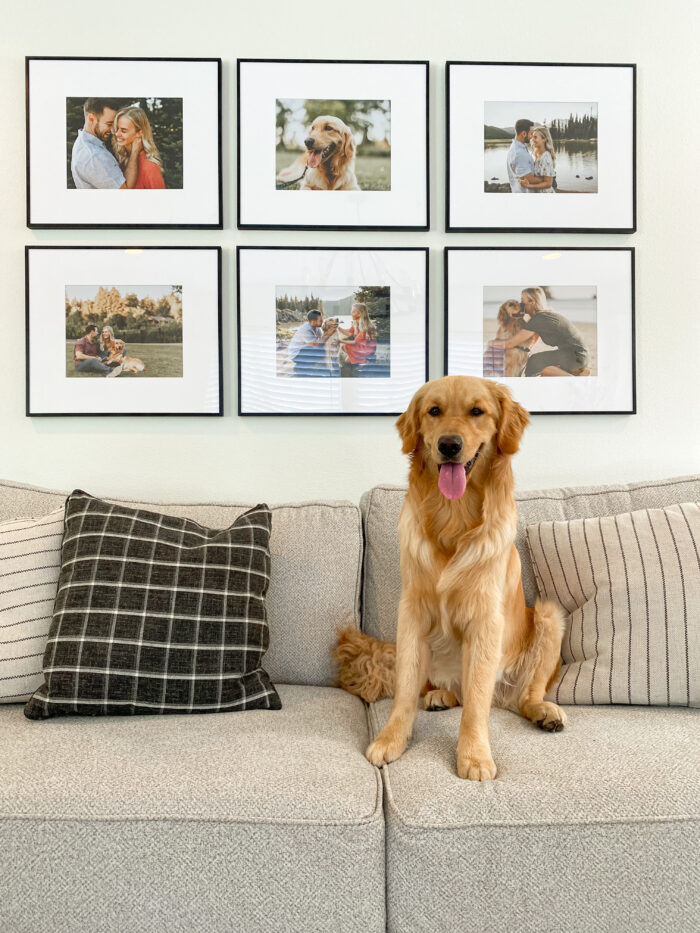 Cat art, dog art, and all forms of pet art are amazing ways to celebrate the animal companions in your life! We hope this post inspires you to create a lasting memory of your pet through art and framing. Whether you're looking to redecorate or just add a few family pictures, don't forget man's best friend! We all know how much our pets mean to us, they're a big part of the family, so give them the wall space they deserve!
Show off your pet frames! Inspire others by sharing your photos, and tell us your story! If we share it, you'll receive a coupon for 15% off your next order!
Don't forget to follow us on Instagram, Facebook, and Twitter for more daily inspiration!
Check Out Our Pet Art Edits!
This post first appeared as Adorable Pet Art: Hot Trends & How To Frame Them! on Frame It Easy - Learning Center for Custom Picture Framing.