One of the hardest choices a designer or DIYer can make is whether (and where!) to make an accent wall. They're perfect for adding a pop of color, great wall decor, shelving, and lots of personality. We've all seen accent wall ideas in magazines like House Beautiful and Livingetc and boy, are they beautiful!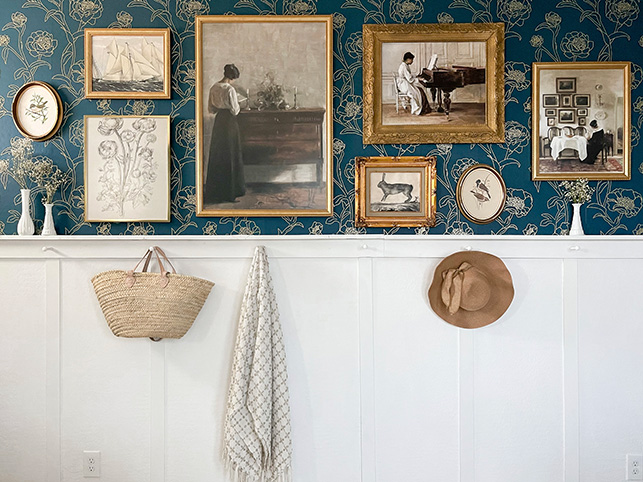 You may think it's impossible to get the perfect accent wall without hiring a pro, but we're here to give you a few pointers on how to DIY one yourself as well as a few ideas on how to style your wall accents!
What Is An Accent Wall
An accent wall or feature wall is an interior wall whose design differs from that of the other walls in the room. The accent wall's color can simply be a different shade of the color of the other walls, or have a different design, color, and material altogether.
You may have asked…
What is the rule for accent walls?
Are accent walls still in style?
How do you make a nice accent wall?
What is the point of an accent wall?
How To Choose An Accent Wall
Choosing the perfect accent wall for your home or office can be a fun and creative process. Here are five tips to help you make the right choice…
🤔 Consider The Purpose – Redoing a bedroom wall? Maybe it's best not to go too funky as you will be sleeping there! Consider the room's purpose before going overboard!
🎯 Find The Focal Point – See if you can identify your room's natural focal point. It may be a fireplace or a large window – whatever catches your eye! Accentuate this focal point within your wall.
🏠 Locate Your Ideal Wall – Normally, an accent wall is the one that first catches your eye when you enter the room. This is often the wall directly across from an entrance or one with interesting architectural features like a nook or alcove.
🏁 Colors & Patterns – Don't be afraid to experiment with different colors and patterns, especially in rooms with neutral color schemes.
🧪 Test & Sample – Before committing to a particular color or pattern, it's a good idea to test samples on a small portion of the wall.
🤗 Want More? Check out Accent Wall Ideas For Your Next Home Update.
---
If you're looking for inspiration to revamp your space, here are 10 stunning accent wall ideas that will boost the aesthetics of any room...
1. Small Artwork Gallery Wall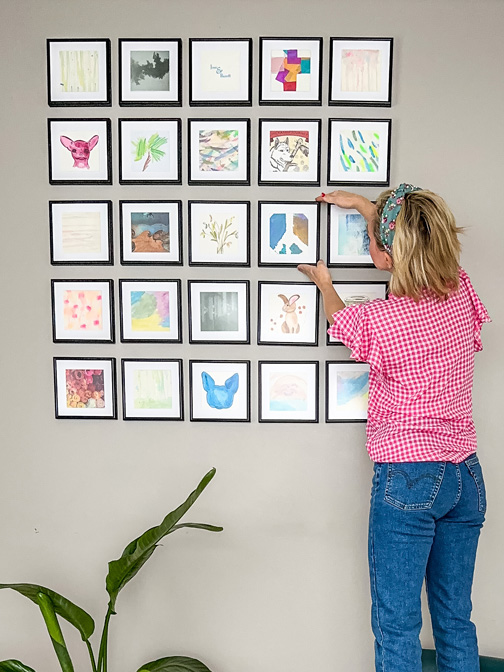 Create a mini art gallery by arranging a collection of small, framed artworks on one wall. Mix and match different styles and sizes for an eclectic look. Consider personalizing your accent wall even more by creating your own works of art! The best part is, that you can keep adding to your wall with more mini creations.
2. Featured Corner Wall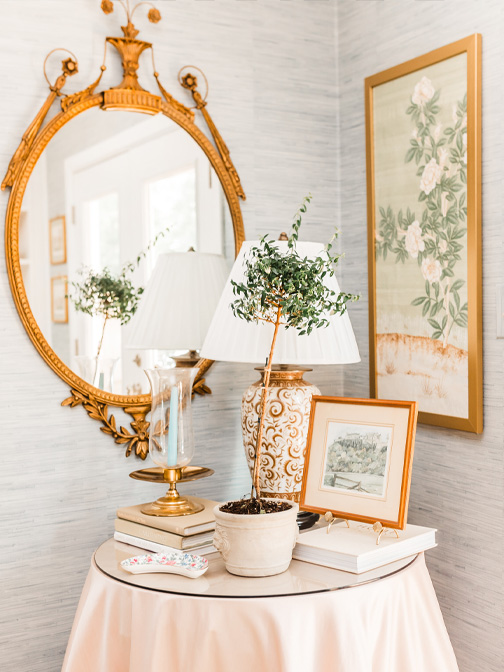 Utilize the corner of a room to make a statement. Paint or wallpaper one corner in a bold color or pattern to draw the eye and add depth to the space. Use peel-and-stick vinyl to create shapes if you don't want to commit to wallpaper.
3. Black & White Grid Gallery Wall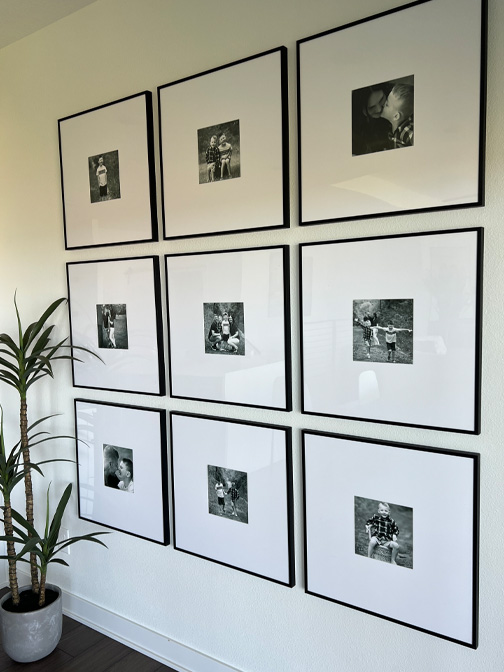 For a chic and modern look, consider a grid gallery wall with black and white photographs or artwork. The simplicity of this design creates a striking visual impact. This theme and style work perfectly for bedrooms as it has a mellow and serene look. Pair your accent wall with some of our top frames for black and white photos.
4. Eclectic & Mismatched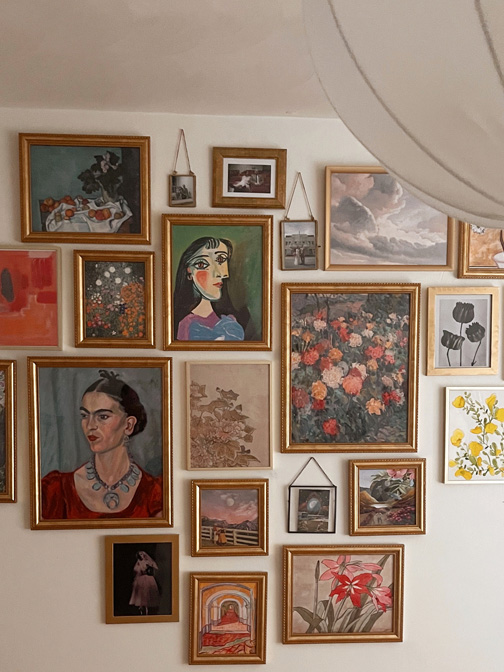 Embrace an eclectic aesthetic by incorporating various elements like vintage signs, mirrors, and artworks. The key is to celebrate the mix-and-match style. This works especially well with wood accent walls or walls with warm-toned colors.
5. Dark & Mysterious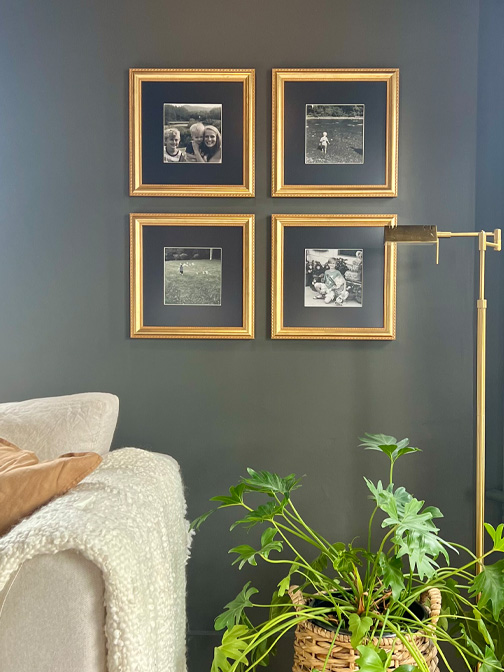 Experiment with dark, moody colors like deep navy, charcoal gray, or forest green. These colors can create a cozy and intimate atmosphere in bedrooms or living rooms. Add a pop of color with frames in gloss gold and silver!
---
Sign up for our weekly newsletter and receive
tips, inspiration, and discounts on our custom frames!
---
6. Festive Family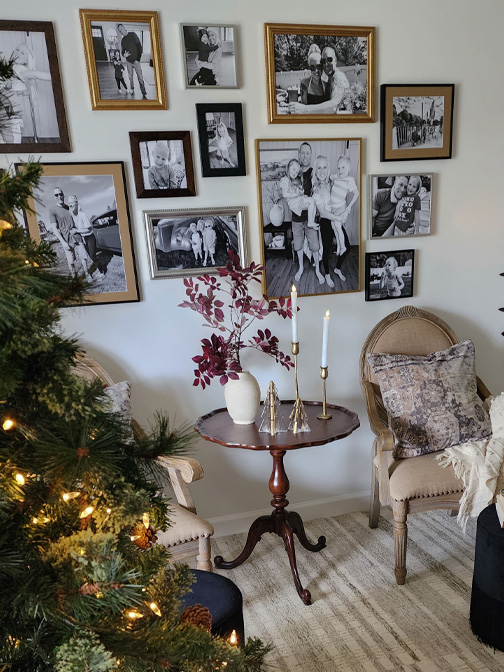 Showcase your family's memories by creating a wall filled with framed photographs, artwork from your kids, and other sentimental items. It's a heartfelt way to personalize your space and works so well in living and dining rooms.
7. Decals, Paints & Wallpapers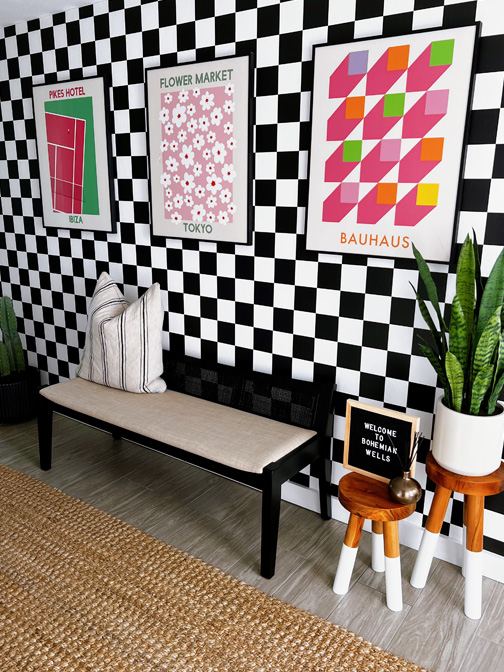 Play with decals, paints, and wallpapers to achieve unique patterns and textures. Geometric designs, floral prints, or even a chalkboard wall can make a statement. We love a bold look for big rooms and entertainment spaces! Be wary when considering loud patterns for bedrooms and offices; you still want to be able to focus or fall asleep!
8. A Growing Photo Wall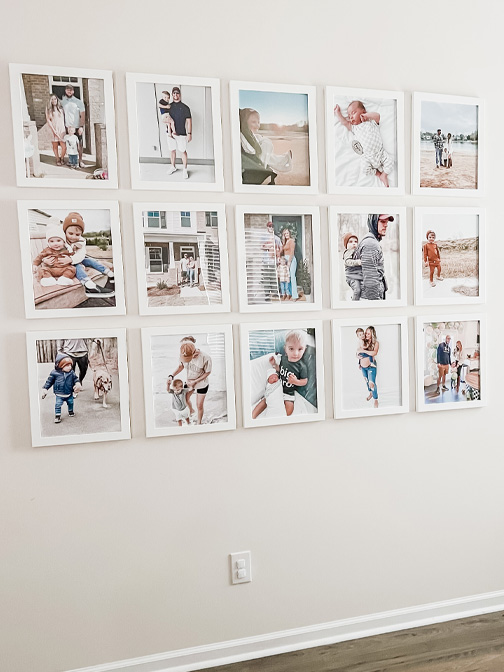 We love this idea for young couples and growing families! Start small with a few photos and gradually expand your photo wall over time. It's a great way to capture the evolution of your family and your space! We recommend choosing the biggest wall you have for this ongoing project!
9. Staggered Wall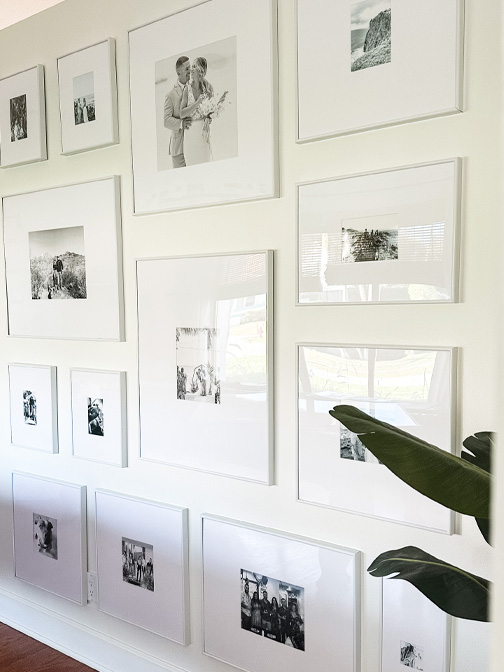 Add your frames in a staggered or asymmetrical pattern to create a fun and visually appealing accent wall. It's easy to install and learn how to create a staggered gallery wall! Try planning your wall with cut-out stencils (we recommend using craft paper) as a template and arrange them on your wall until you find a formation you like.
10. Shelves, Mirrors, & More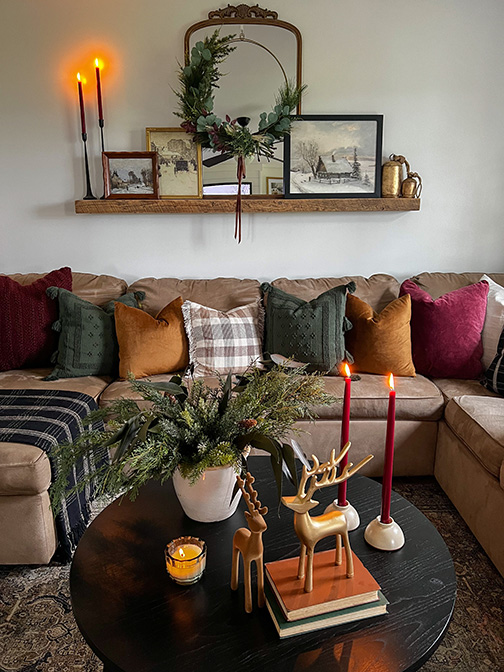 Combine shelves, mirrors, and other decorative elements to create a multi-dimensional accent wall. Mirrors, in particular, can make smaller rooms feel more spacious. We love this idea for family rooms, consider adding candles to your shelves for the perfect scary movie night in the living room!
---
Stunning Accent Wall Ideas: Final Thoughts
Choosing the perfect accent wall can breathe new life into your space and reflect your unique style and personality! Whether you opt for a chic gallery wall, a moody color palette, or an eclectic mix of decor elements, make it your own. So, transform your space with one of these stunning accent wall ideas and watch as your room comes to life!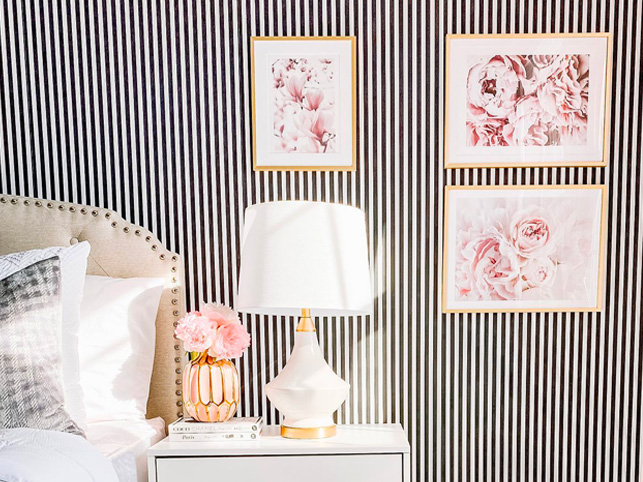 Show off your framed artwork, photos, & other items! – Inspire others by sharing your photos, tell us your story! If we share it, you'll receive a coupon for 15% off your next order!
Be sure to follow us on our socials for more daily inspiration – check out our Shopify app to start selling your own framed prints!
This post first appeared as 10 Stunning Accent Wall Ideas To Transform Your Space on Frame It Easy - Learning Center for Custom Picture Framing.