You look at most walls, and they're, well, pretty flat. This makes it easy to hammer a nail into the wall, hang the frame, and then be done with it. Some walls, though, are just as much part of the home decor ensemble as the frame itself. Indeed, you see brick walls and things like that, and they certainly do give off a certain aesthetic that other types just can't. That said, the grid accent style is a modern and simple way to make the walls of your home pop.
This may take some extra planning and prep, as it's not as easy as just painting the wall, but a grid accent wall can take your wall to a whole new level. There are many different styles of grid walls, which we will go over in this post, so be sure to do some research to find the perfect one for your wall. Of course, as great as grid walls are on their own, why not take it up a notch and add some frames? This will take your wall from wow to WOW in an instant!
If you want to find out more about grid accent walls and how to add one to your space, keep reading!
What Is a Grid Accent Wall?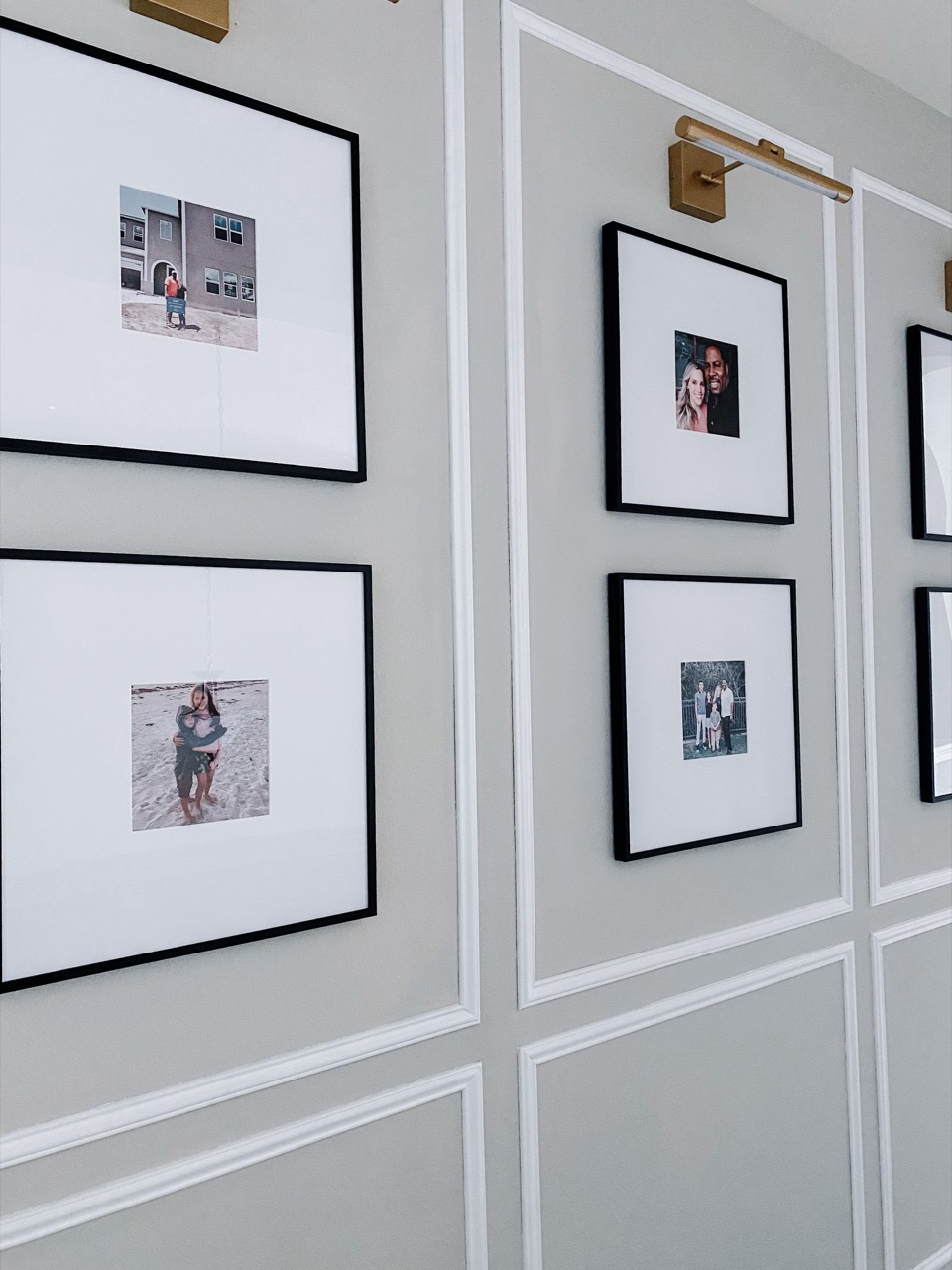 What is a grid accent wall, though? It's pretty simple. It's just raised moldings that go on your wall to form, well, a grid. They form shapes, usually squares, all throughout the wall. Like this look? Awesome. Don't let the fear of difficulty or expensiveness deter you if that's the case. First, you shouldn't need a professional to do this; there are tons of great DIY tutorials on the internet on how to do this to your walls, with no need to call a craftsman or specialist.
If you look at other accounts of grid accent wall installations, making one can take only a few days — not long at all! Especially if you have a busy schedule and need to get things done quickly.
So if this is a project you want to do on your own home, there are resources out there to get it done. As we said, they may take an extra step in planning and creating, but it will be well worth it in the end. After you have created the perfect grid accent wall in your home, you will want to decorate it, and what better way to do that than with frames? Custom frames are personal, meaningful, and draw attention instantly, making them the best choice for wall decor!
Making a Checkerboard Is Never a Bad Idea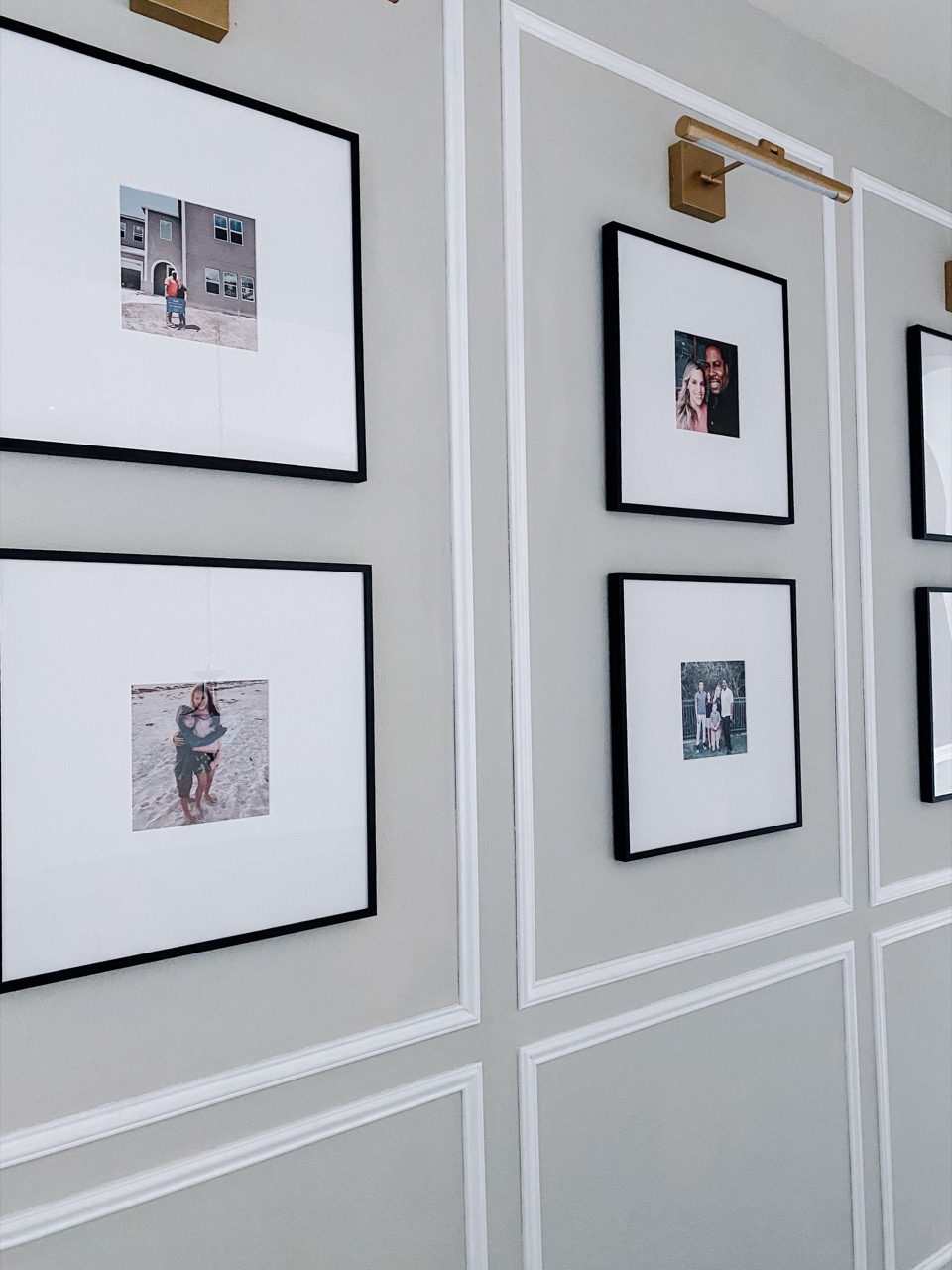 Grid accent walls are already sort of like checkerboards. They have squares with a bunch of dividing, raised lines of wood. That said, checkerboards have alternating colors that differentiate each square. Instead of that, why not distinguish each square on your wall by having them alternate from having a frame to just being plain? This would be a great way to accent and complement that checkered aspect of the wall already. Of course, you could also add a frame in each square, as well. Remember our golden rule — do whatever you think will look best, it is your home after all!
What the frames could be is totally up to you. We do have some great guides on wall galleries, though, which you could certainly transpose over to this concept if that's something you wanted to do. You could mix and match styles, or go for a uniform look. It's all up to you.
That said, there might be some things you'd want to consider, at least technically, about this. First, we would recommend getting a softer wood as the board for the grid accent wall. This way, you could easily hammer a nail into them to hang the frames on. Don't want to hammer any nails, you could also use command strips, or the like. Just keep in mind we don't officially make them, so we can't guarantee how long they'll be able to hold your frame up!
Horizontal Lines or Shiplap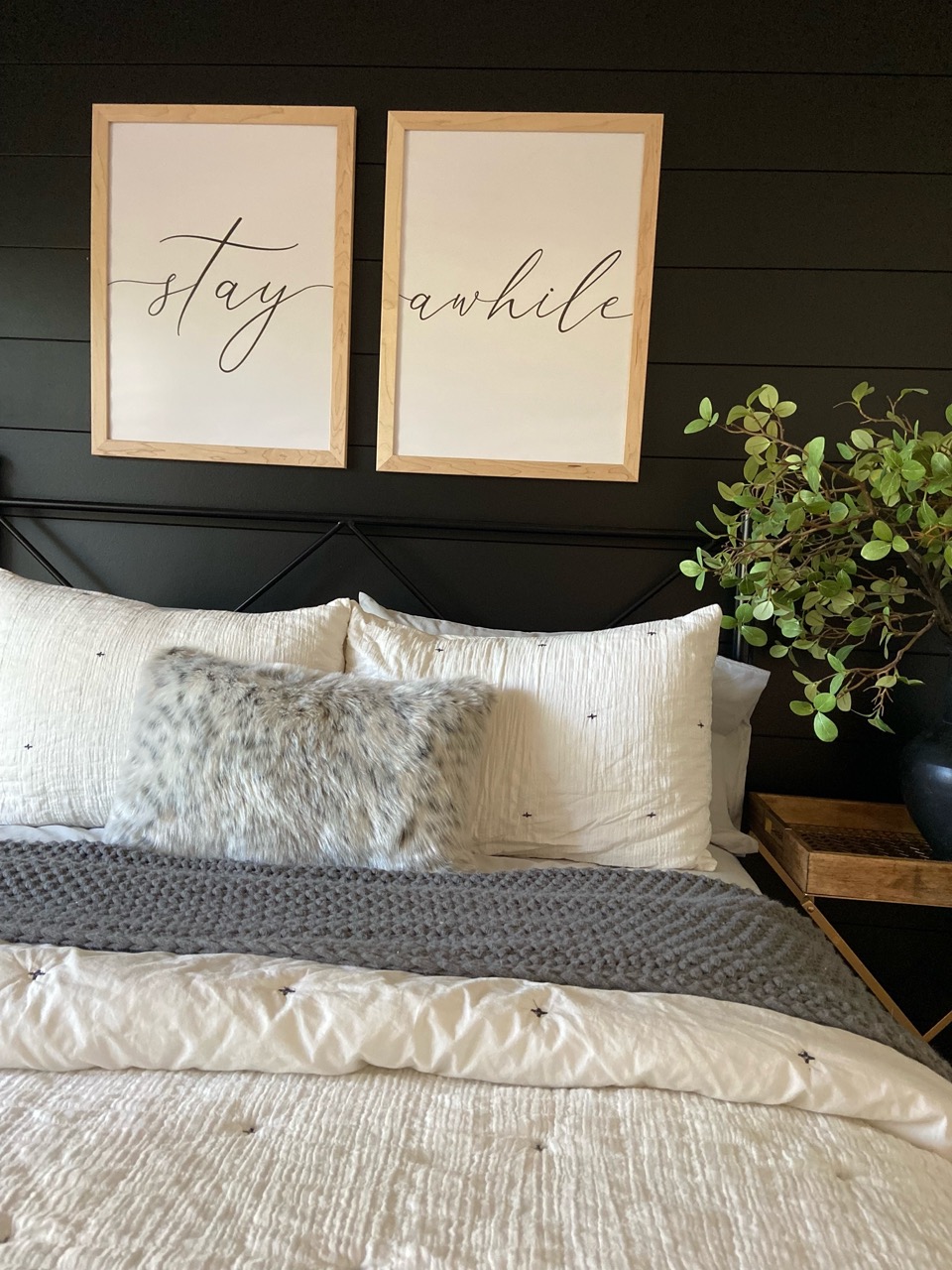 Shiplap, a style of wall siding that is usually mounted horizontally (but don't let that stop you from mounting it vertically) and has a tiny gap between each plank. The wood used for shiplap can be painted any color you desire and creates something extraordinary in your home. It can take a plain wall and add some spice without going over the top.
Shiplap gives your space dimension without overshadowing your other decor pieces. In the photo featured above, they decided to put even more of a twist on it by painting it black to coordinate with their other decor. Shiplap is most popular in decor styles like farmhouse, minimalistic, modern, coastal, rustic, or industrial. You can change up the look of your shiplap as much as you want and adjust it to fit your style! Shiplap has been around for years and it is definitely a trend that is here to stay.
Vertical Rows Could Work Too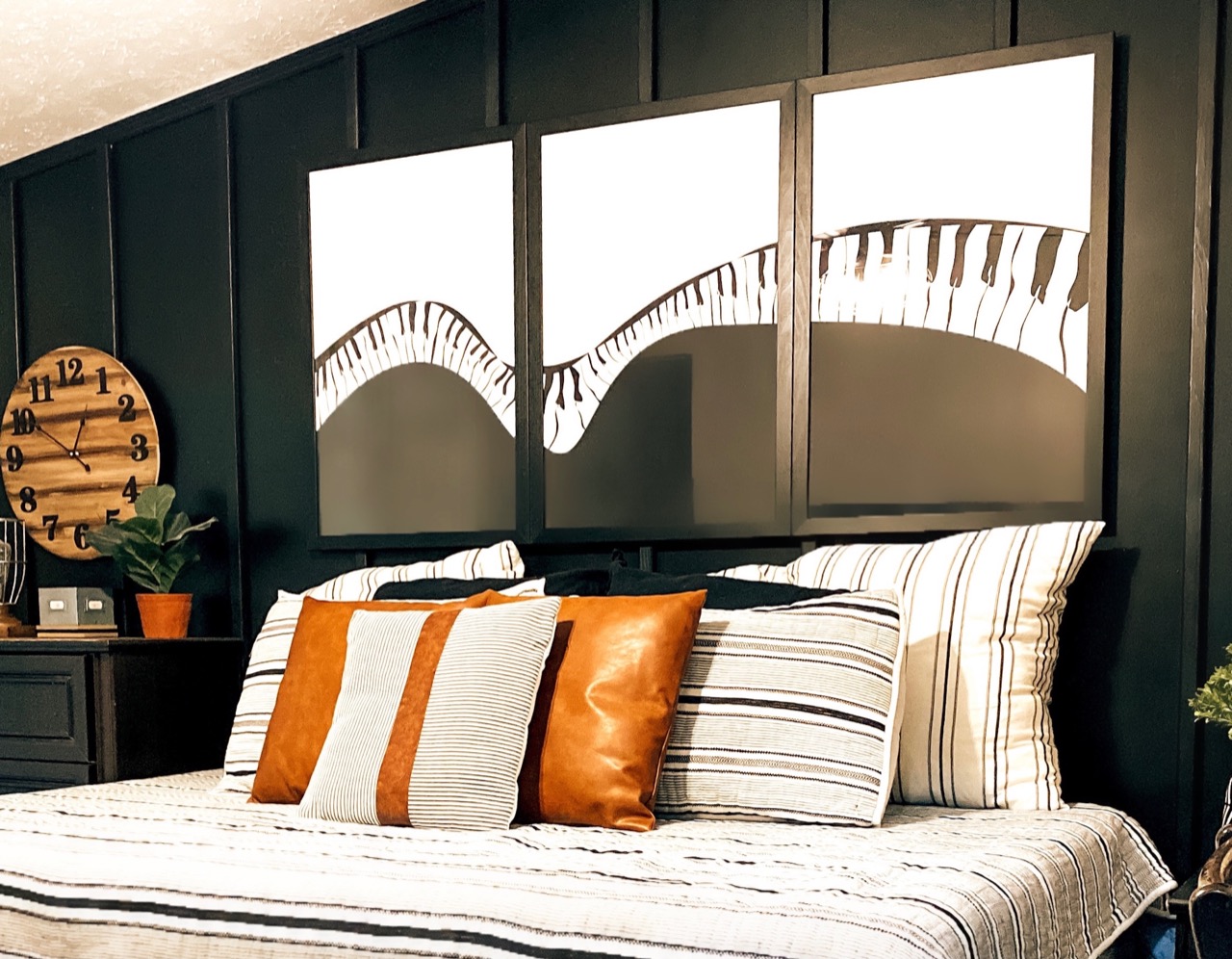 Vertical rows work just as well! This will also give your space some dimension and can even make the room feel taller, which would be a good thing if you are working with a small space.
How would you organize them, though? Well, you could do themed rows, if you want. The theme could be differences in frame styles, or just the content of the photos. You could remember in what order the photos were taken and do some chronological-based timeline. Let your imagination run wild on this one. If you need help with mixing and matching frame styles, we have some good guides on that, too. Just in case you need someone to point you in the right direction.
Keep in mind, too, that you're going to want to keep the outside measurements of the frame equal to or within the confines of each square on your wall. You could absolutely have a frame go past a certain square on your wall, but it might disrupt the even fashion of your grid accent wall.
Framing In Grids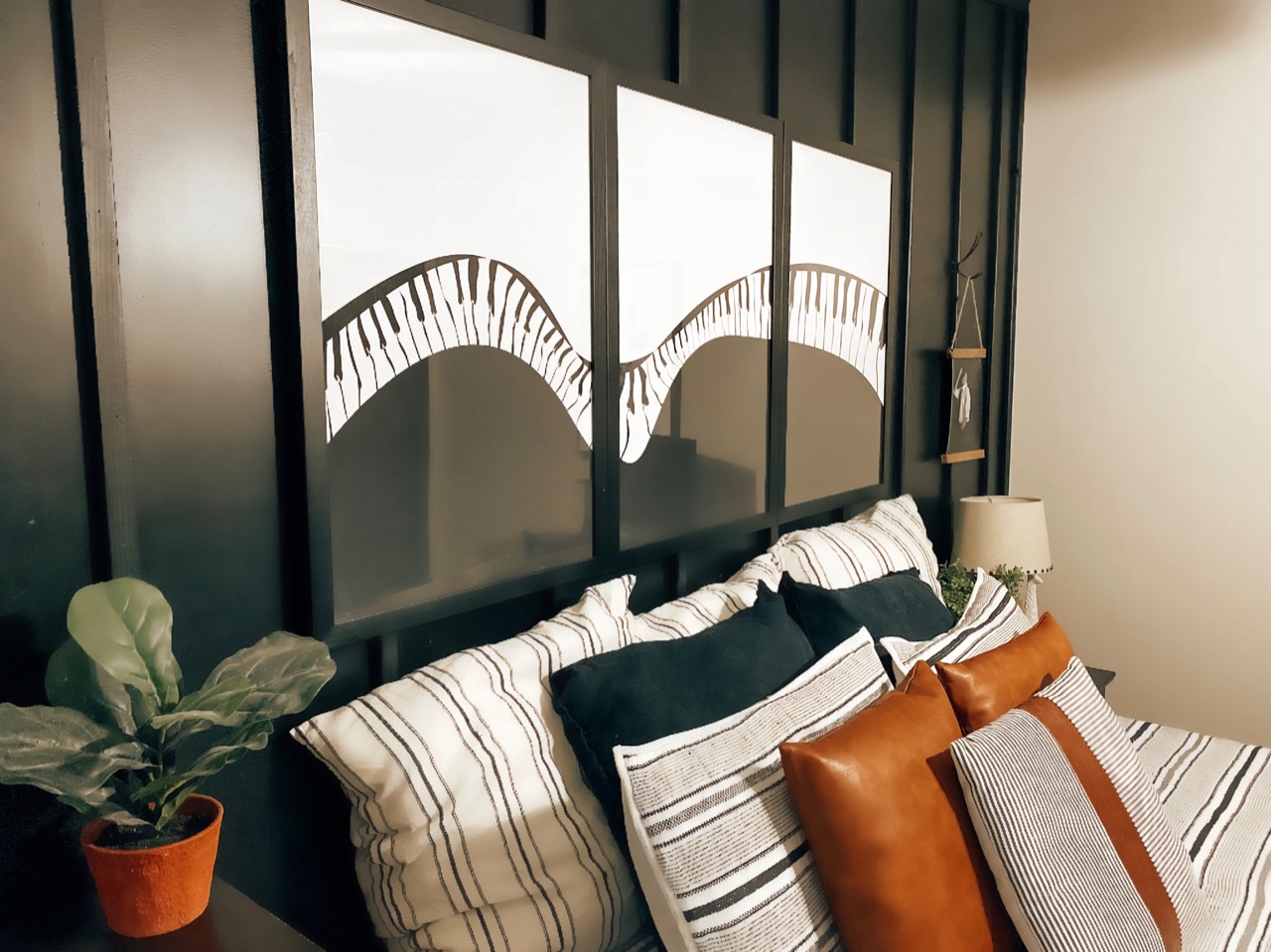 Sometimes, the wall you're putting the frame on has its own decor vibe. Grid accent walls are one such example of this. Indeed, they have a great DIY vibe, as well as complement the frames that you're displaying. Creating and framing on a grid wall may take some extra planning, but in the end, you create something special for your home! Home decor is something that should reflect your personality and the best part about it, is that you can do whatever makes you happy.
Have a display similar to what we talked about in this post? Feel free to share with us on Instagram. We would love to see it.