Colorful picture frames can instantly transform the look and feel of any room. By adding a burst of color to your space, you can create a vibrant and lively atmosphere. Whether you want to showcase your favorite artwork or display cherished memories, colorful picture frames are the perfect solution.
With a wide range of finish and matboard options available, you can easily find frames that complement your existing decor. From bold and bright frame hues to vibrant matboard options, there is a color combination to suit every taste and preference. Don't settle for boring, plain framed art when you can add a pop of color and personality to your space!
Discover designer-inspired tips and tricks to enhance your home or office with colorful picture frames, plus get art and DIY project pointers!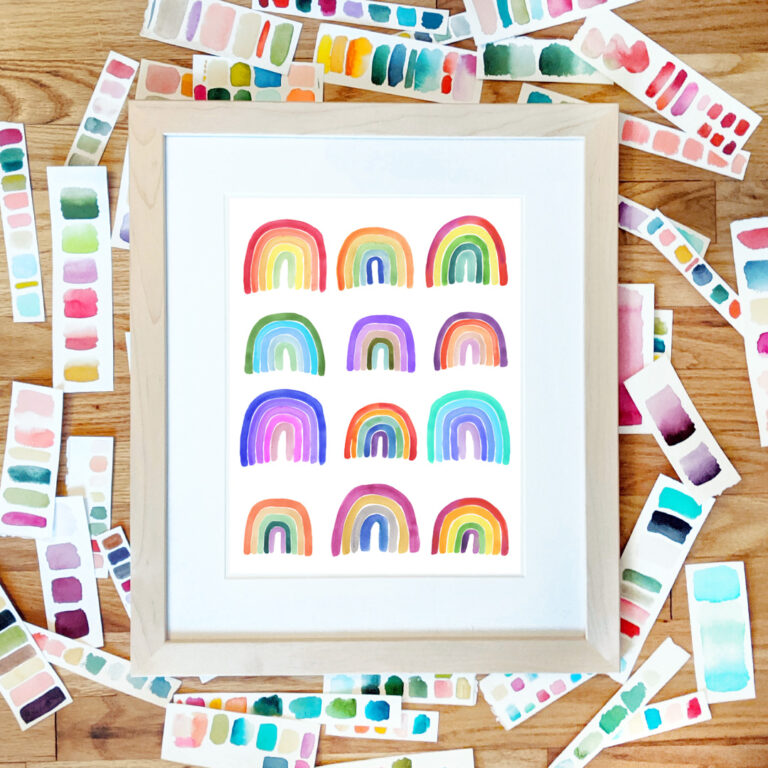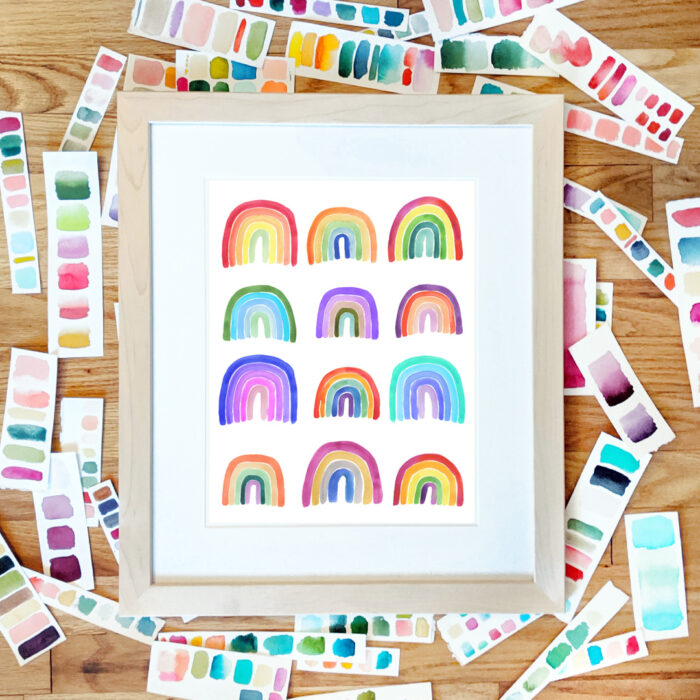 ---
Colorful Picture Frame Options
If your home or office is feeling a bit drab or uninspired, the best way to boost the visual aesthetic of your space is to add a dash of color! While you can always paint, there are easier ways to introduce color to your walls. Here at Frame It Easy, we feel you should be able to decorate how you want, which is why we offer some fun finish options on our most popular frames! Take a look at our bright and cheerful alternatives to really showcase your art or photos.
🌸Ashford In Hot Pink
Bright and bold, our Ashford in Hot Pink is a fabulous selection if you need a classic-styled wood frame! Your art or photos will be sure to stand out with a splash of neon pink; plus its thinner face and clean lines make it a customer favorite!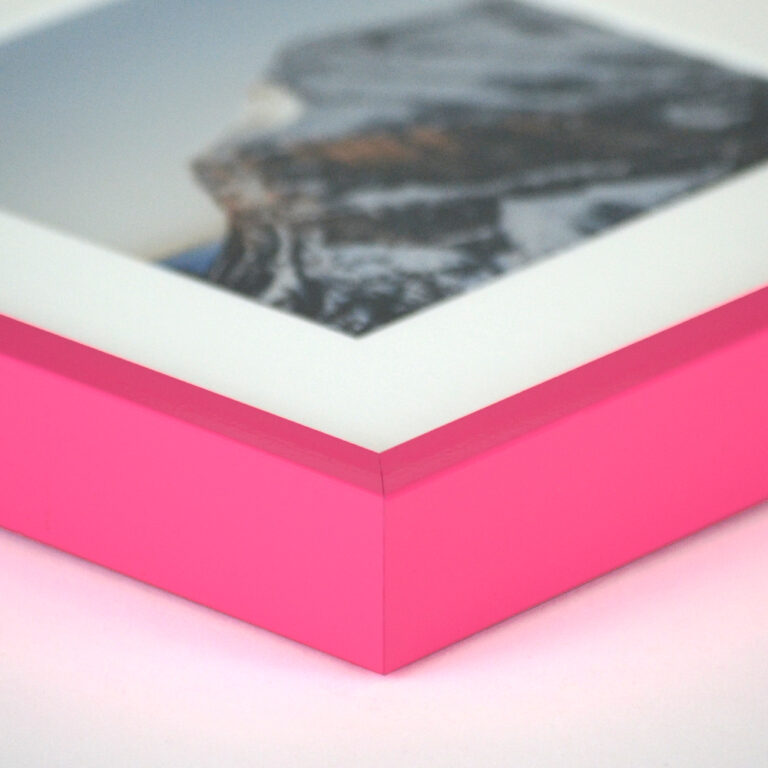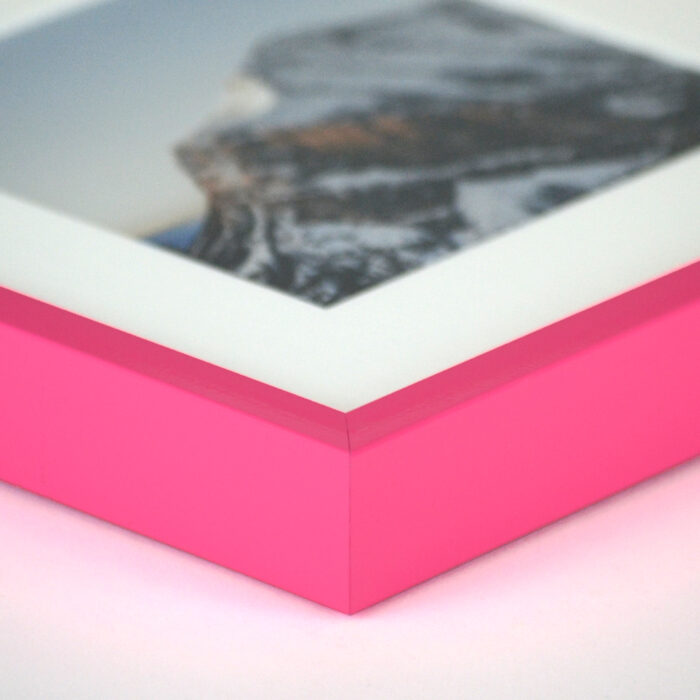 ❤️Hanover In Red
Our Hanover frame is a thinner-faced metal frame, with slightly rounded edges. Better yet – you can order it in Red! Perfect for warmer-toned art or rooms, the red finish adds a vibrant pop to any wall you add it to! Pair it with a white matboard to help your art stand out!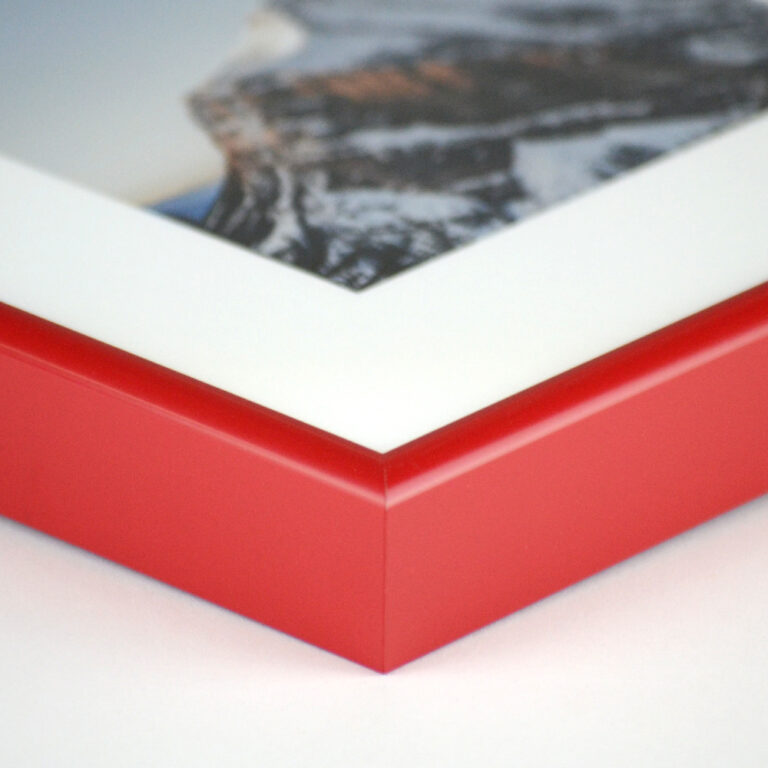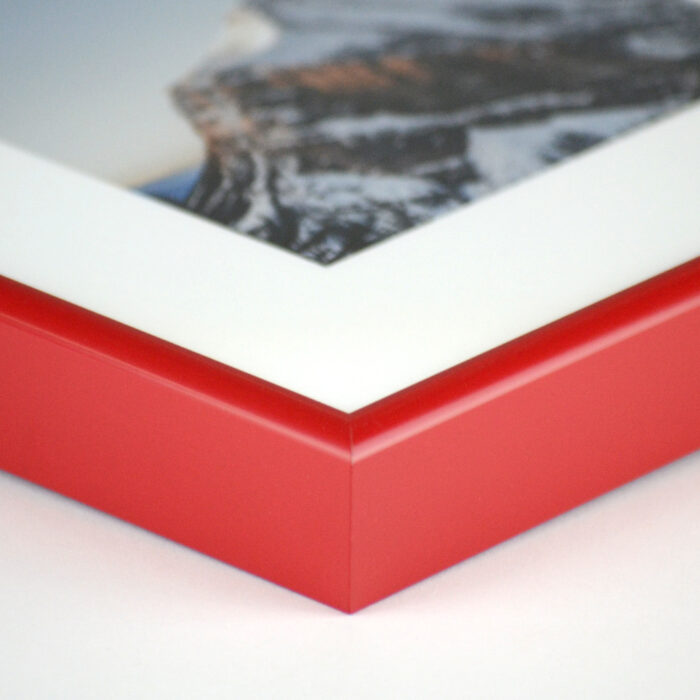 🍏Hanover In Green
If you love the contemporary look of our Hanover frame but are looking for another exciting color that better compliments your decor? You're in luck! Our Hanover frame also comes in a beautiful green finish too! Perfect if you have a lot of plant life in your space!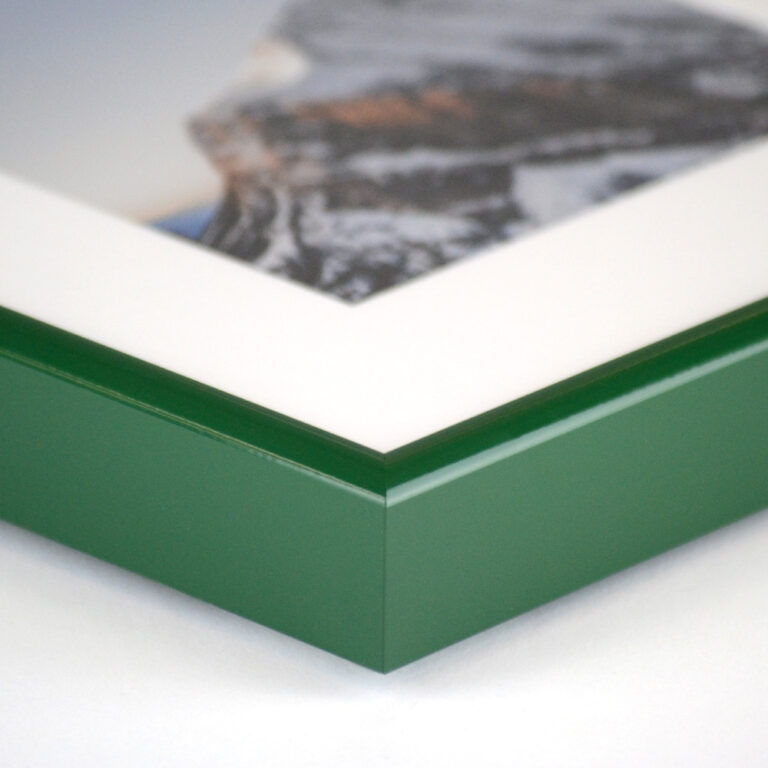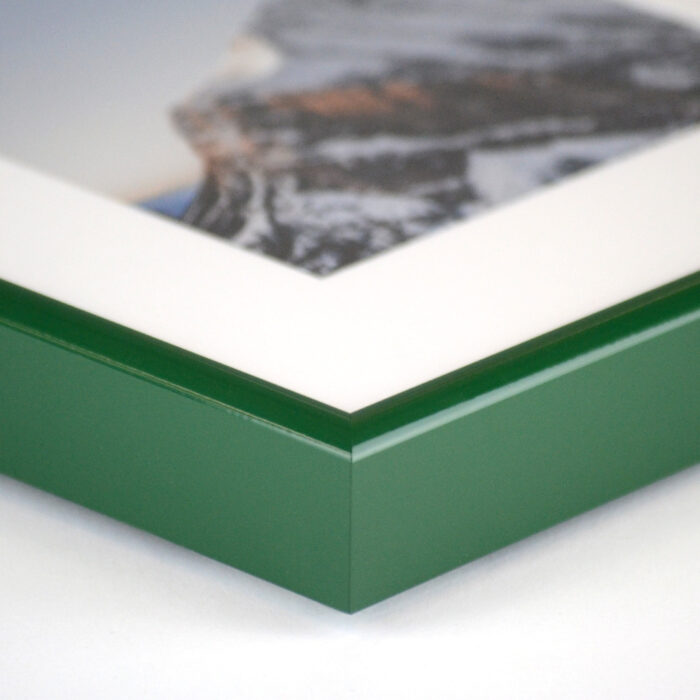 🦋Hanover In Blue
Still, searching for the ideal color to enhance your space? Our Hanover frame can also be ordered in Blue! It looks wonderful against gray, white, or taupe walls and meshes perfectly with a variety of decor schemes and artwork.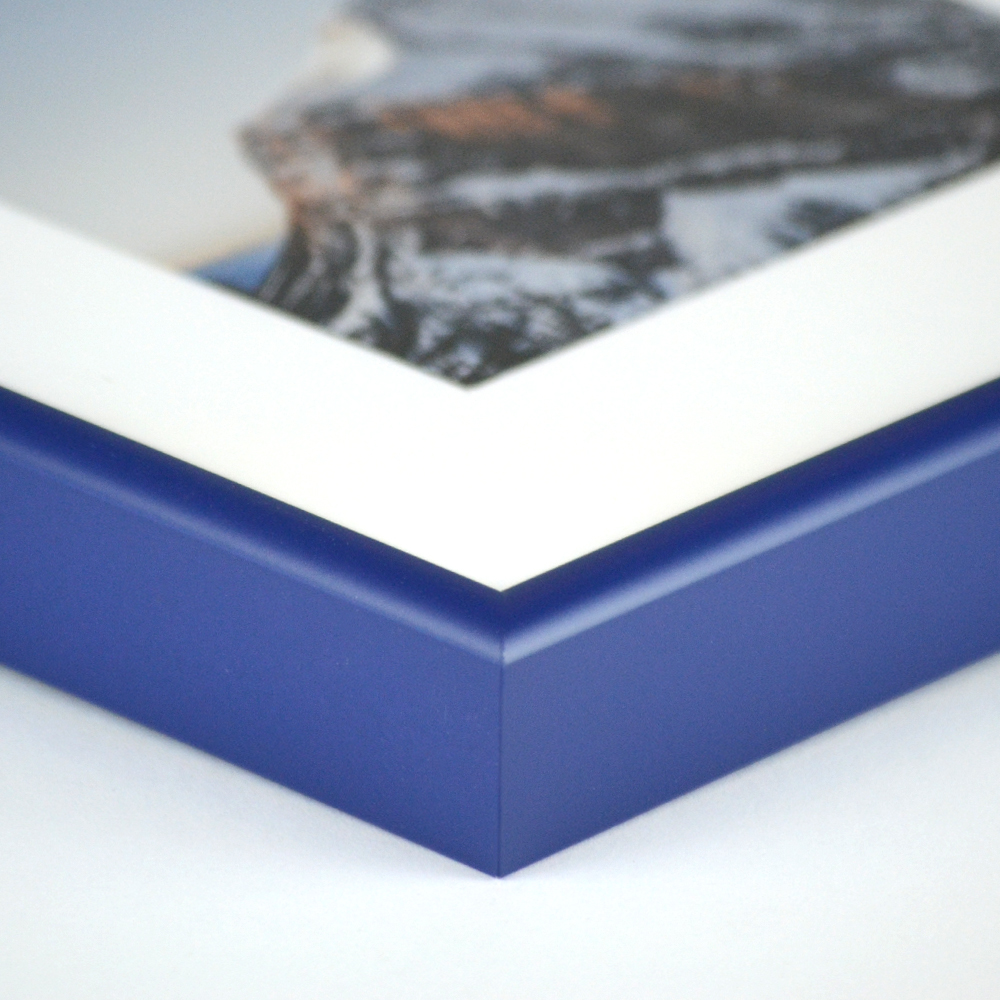 ---
Colorful Picture Frames & Matboards
Looking to add color to your walls, but don't want to commit to a bright frame? You can still get the desired effect by opting for a more neutral color frame and pairing it with a fun matboard color instead! The two main purposes of matboards are for decoration and protection. Matboards can serve as an additional decoration to your photograph or artwork. When the right color is chosen, it can help draw your eye toward the framed piece!
Matboards also protect the photograph or artwork by separating it from the glass (Lens Cover). This is important because condensation can build up inside the glass, which can result in water damage to the framed piece. It's a great option for those who may want to swap artwork out occasionally, or if you have really busy artwork that's difficult to match to a frame color.
Our favorite matboard vibrant colors to inspire you, include:
💧Aqua Blue
🦩 Hot Pink
🍋 Buttercup
🧡 Tangerine
🌺 Hollyhock
🍇 Grape
Check out our huge variety of available matboards here. We recommend pairing it with a frame in a white or black finish, like our Ashford frame – a wooden frame with straight lines and classic styling that lends itself to both modern and traditional decor.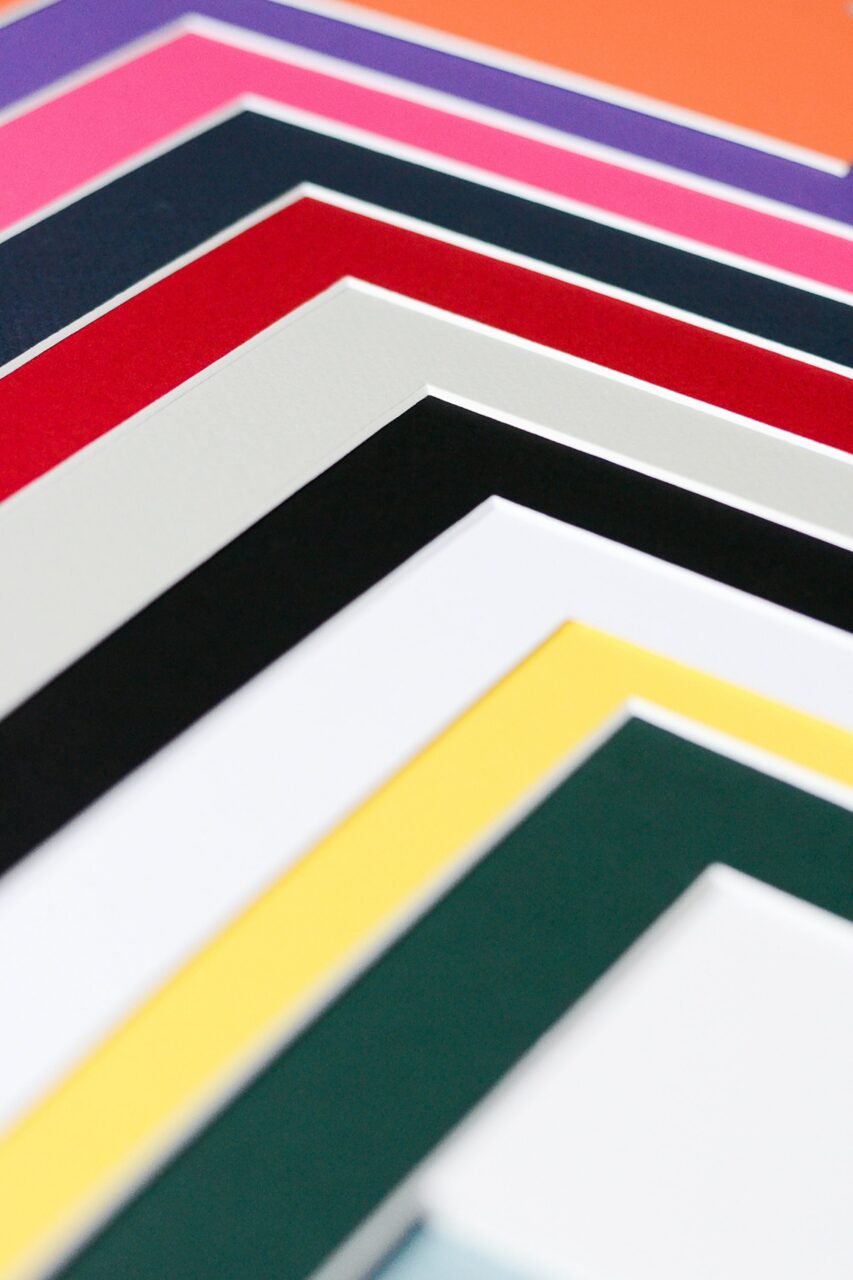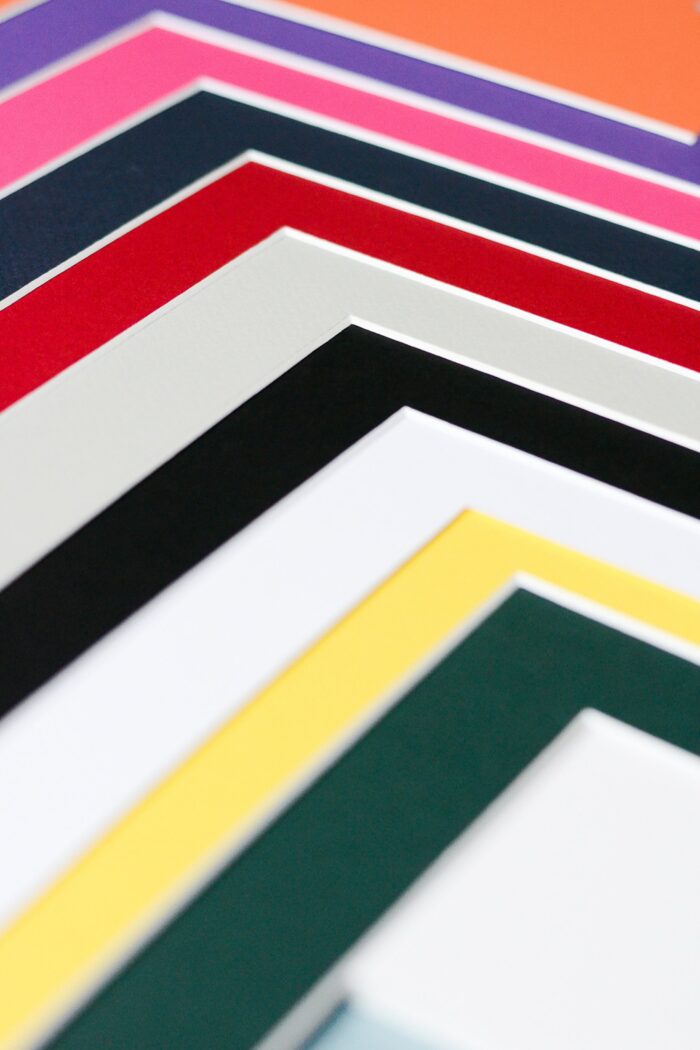 ---
Colorful Picture Ideas
Don't want to commit to a vibrant frame or matboard? You don't have to! You can get colorful designer space by using a neutral frame finish and matboard and using colorful artwork instead. By combining a neutral frame and white matboard, your art will stand out in stark contrast and will draw the viewer's eye directly to it! This is a great option for art collectors who want to focus on the artwork more than what's framing it!
You can source a free colorful picture from a variety of places! Your best bet is to explore our guide to our favorite sites for free downloadable art. If you'd rather start browsing images now, head to Unsplash for a plethora of colorful imagery. Once you find the perfect art piece, we can print your digital file for you! We recommend you pair it with a gold, white, or black frame, like our Dayton frame, and a smooth white, cloud, or bamboo matboard.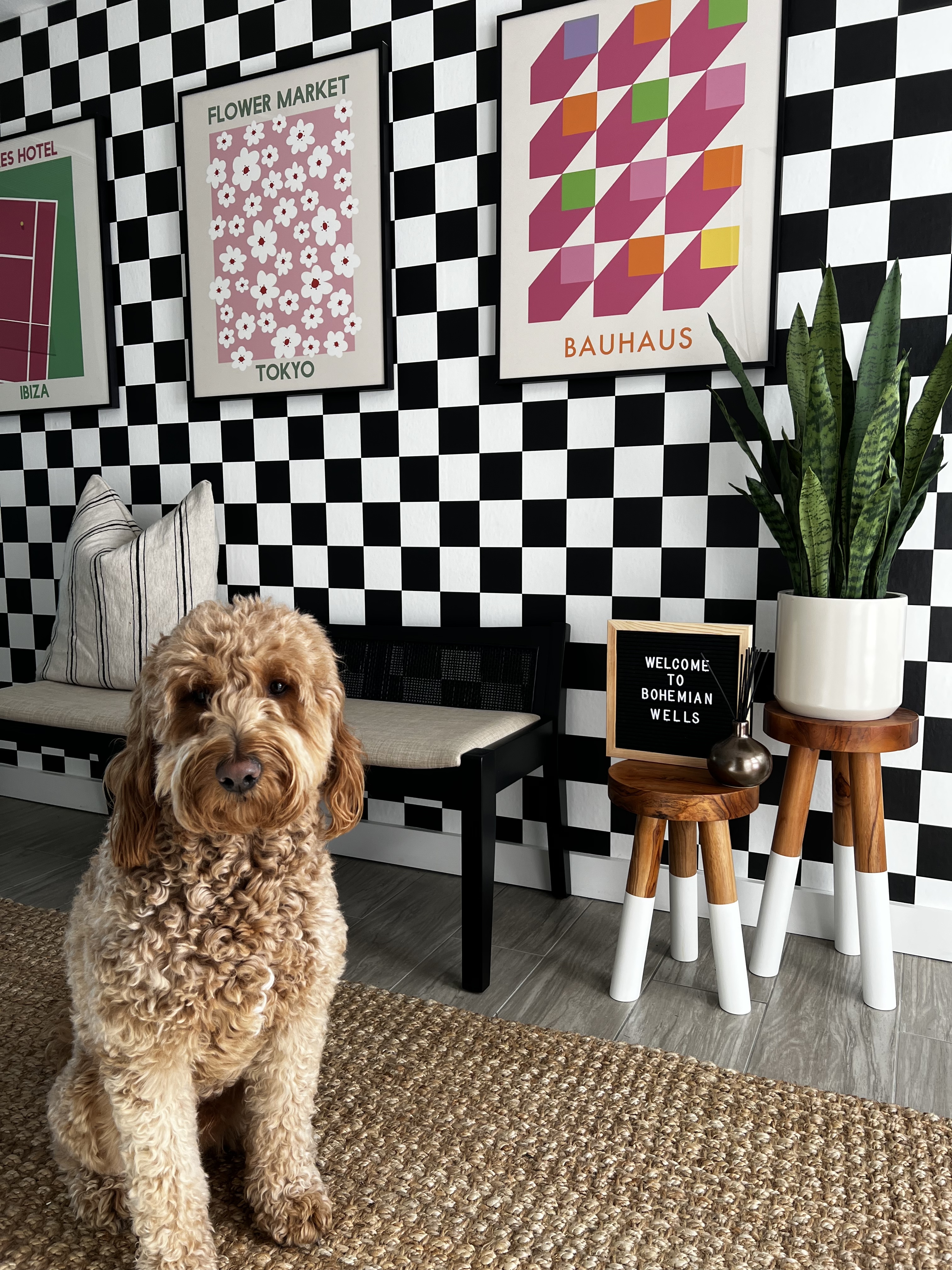 ---
Accent Walls
If you're feeling extra crafty, you can amp up your decor with a visually stunning accent wall! Accent walls are usually single feature walls with either a splash of bright paint, wallpaper, or shiplap. They add warmth and depth to a room, and they look great with a few pieces of snazzy framed art displayed on them! Depending on what colors you select for your accent, you'll want to adjust your frame and matboard selections accordingly. The brighter the color, the more neutral you'll want your frame and matboard combo.
💡Ready to design your own accent wall? Don't miss Accent Wall Ideas For Your Next Home Update for fun and unique feature wall ideas!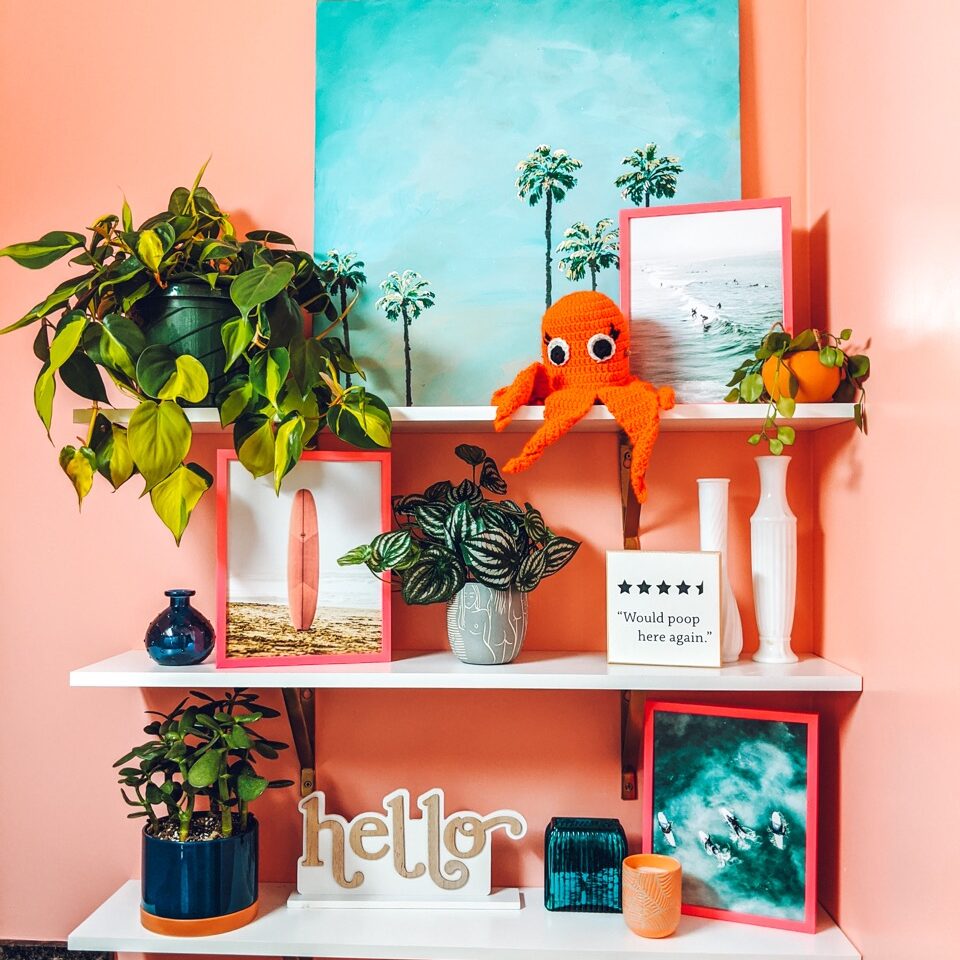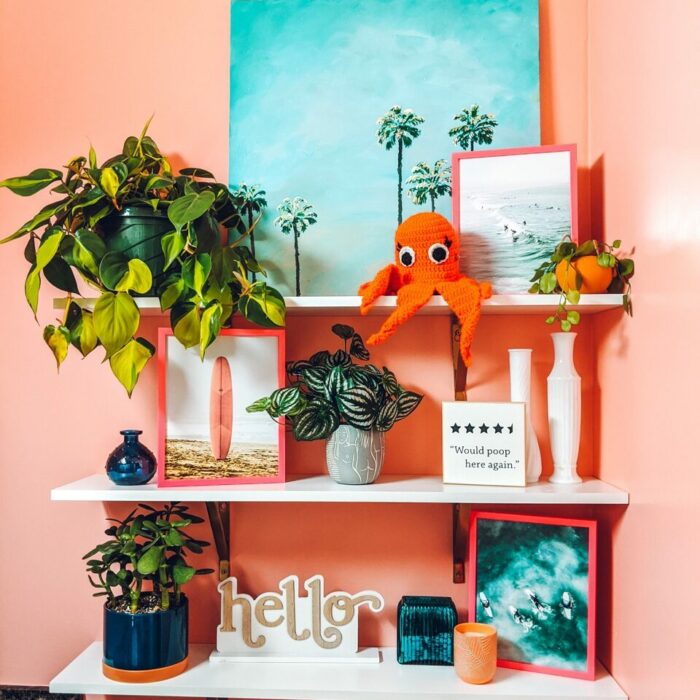 ---
Ordering Your Colorful Picture Frame
Have you found a winning frame and matboard combo you can't wait to see on your walls? We've made it simple and fun to get exactly what you need! Start by heading to our interactive frame designer to build your ideal combination. All you'll need to do is enter your art size, select your design options, choose your cover (we offer acrylic and non-glare acrylic), and we'll send you a custom frame!
Need us to print your art for you? No problem! We use professional-grade printers and premium archival-quality ink to produce vibrant and sharp images. Navigate to our frame designer where you'll upload your digital art file (we accept .JPG/.JPEG, .PNG, and .GIF file formats). After that, choose your design options, your cover, your paper (both art and photo paper are available), and we'll print, mount, and ship you a ready-to-hang picture!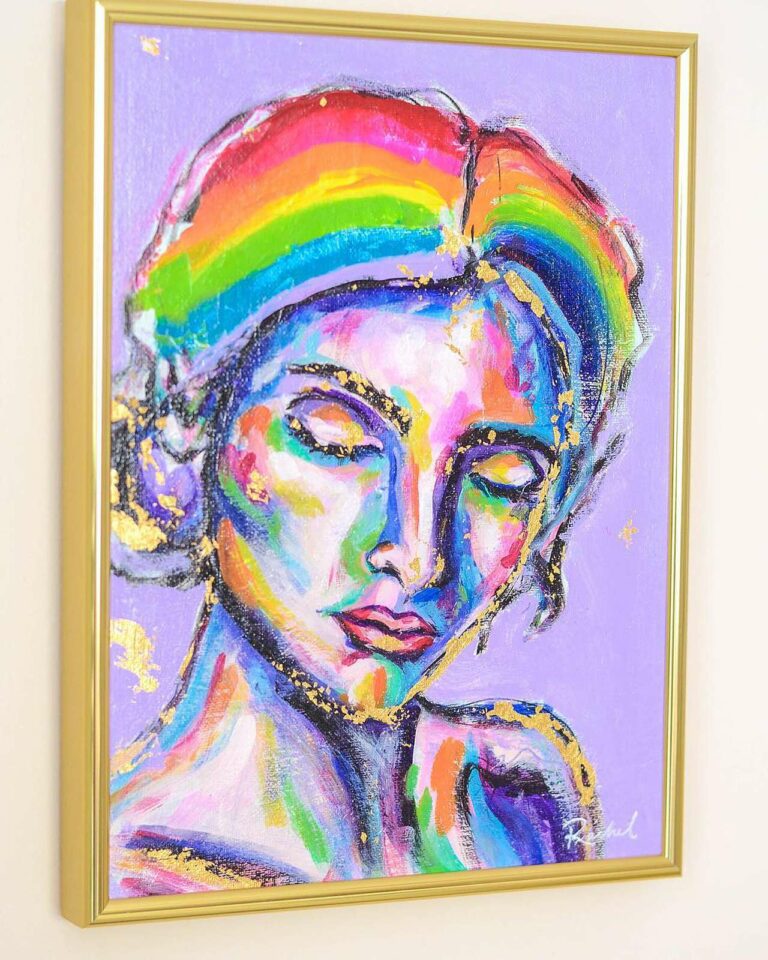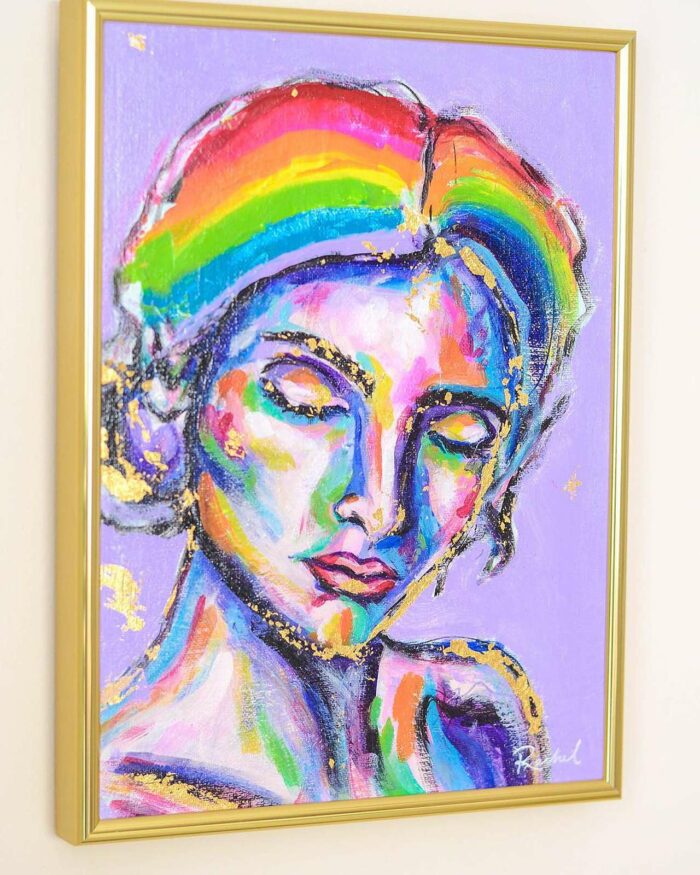 ---
Final Thoughts On Colorful Picture Frame Decor
If you're looking to add vibrancy and personality to your space, colorful frames, art, and matboards can help you achieve that! We've made it easy to find the perfect frame and matboard combo, and you'll be guaranteed to love our eco-friendly, USA-made frames! Plus, your colorful picture art will be protected for years to come from dust, staining, and UV damage. We hope this guide has given you the inspiration you need to add a burst of color to your space!
And before you go, are you looking for even more unique ways to add character to your framed art? Don't miss the video below to learn how to create a fun custom matboard! 👇
This post first appeared as Colorful Picture Frames: How To Add A Burst Of Color To Your Space on Frame It Easy - Learning Center for Custom Picture Framing.