In business, it's essential to recognize important milestones of your employees! Whether it be for completing training courses, meeting and exceeding goals, or learning and improving skills, teams love to be recognized for their hard work! A certificate of completion or an achievement certificate is a great way to honor an employee's dedication and perseverance and show your appreciation. Keep reading to learn how to design your own certificates and how to proudly showcase them in your office!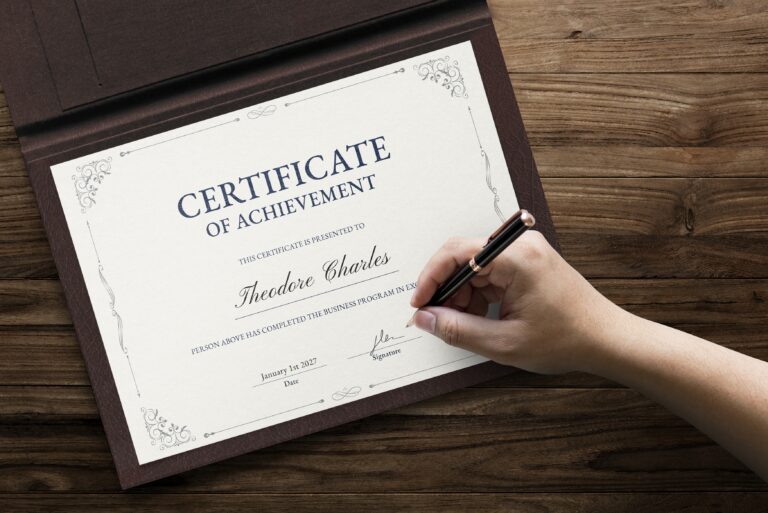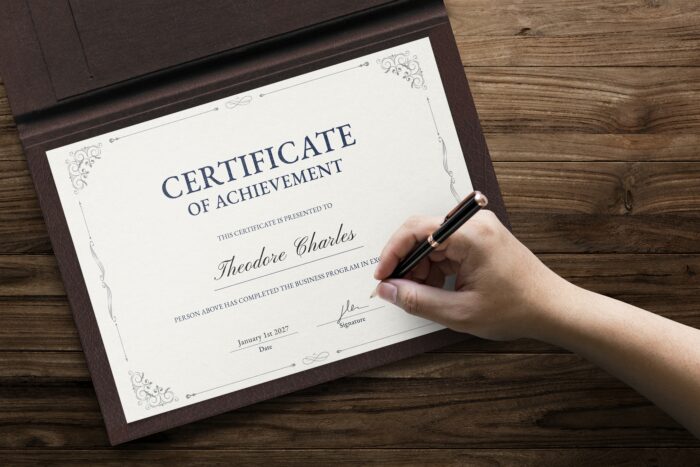 ---
What Is A Certificate Of Completion Or Achievement?
A certificate of completion or achievement is simply a form of recognition for completing a program, improving a skillset, or meeting a team or company goal. Usually, these awards come in the form of a plaque, certificate, or imprinted object (a paperweight or pen cup, for example). Recognition certificates are an important part of any company's employee retention plan because they help build a sense of pride, encourage self-improvement, and increase employee morale.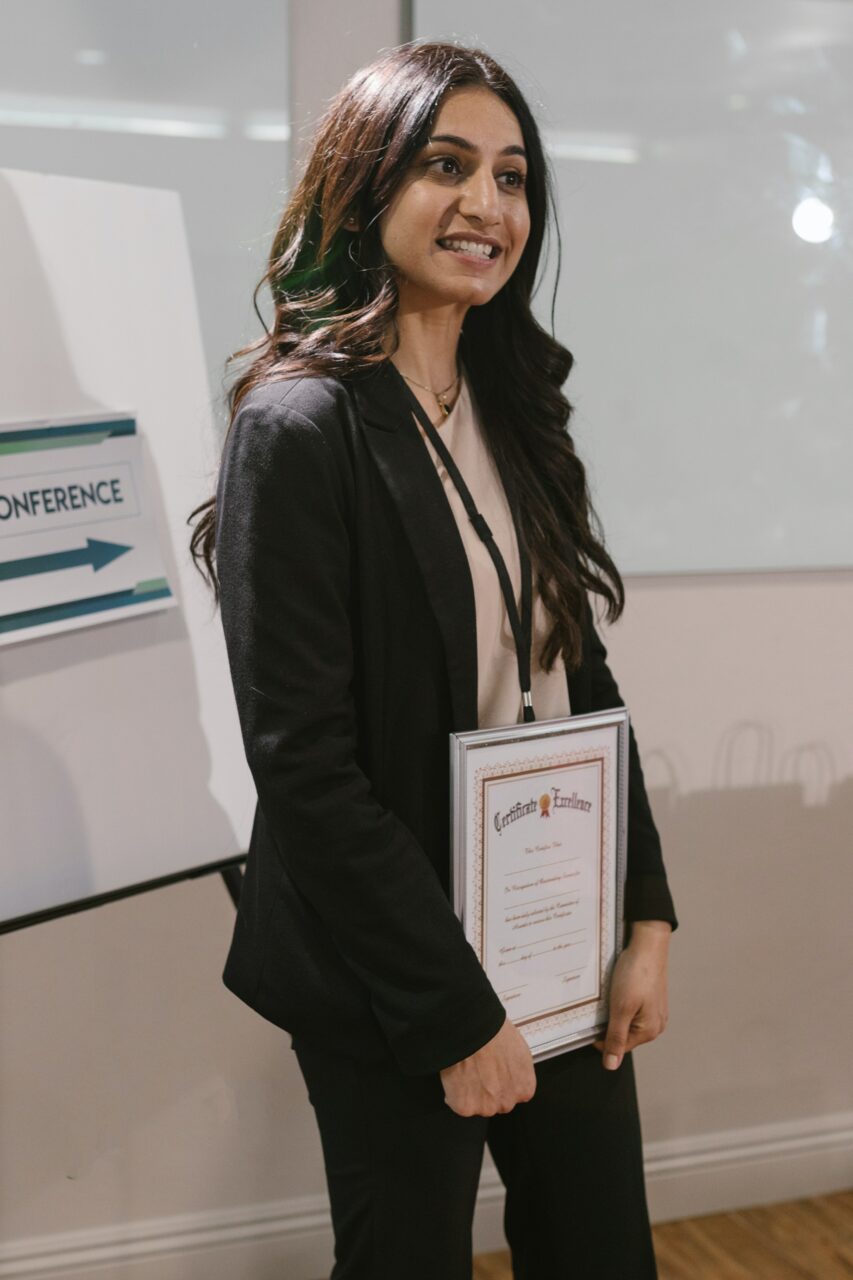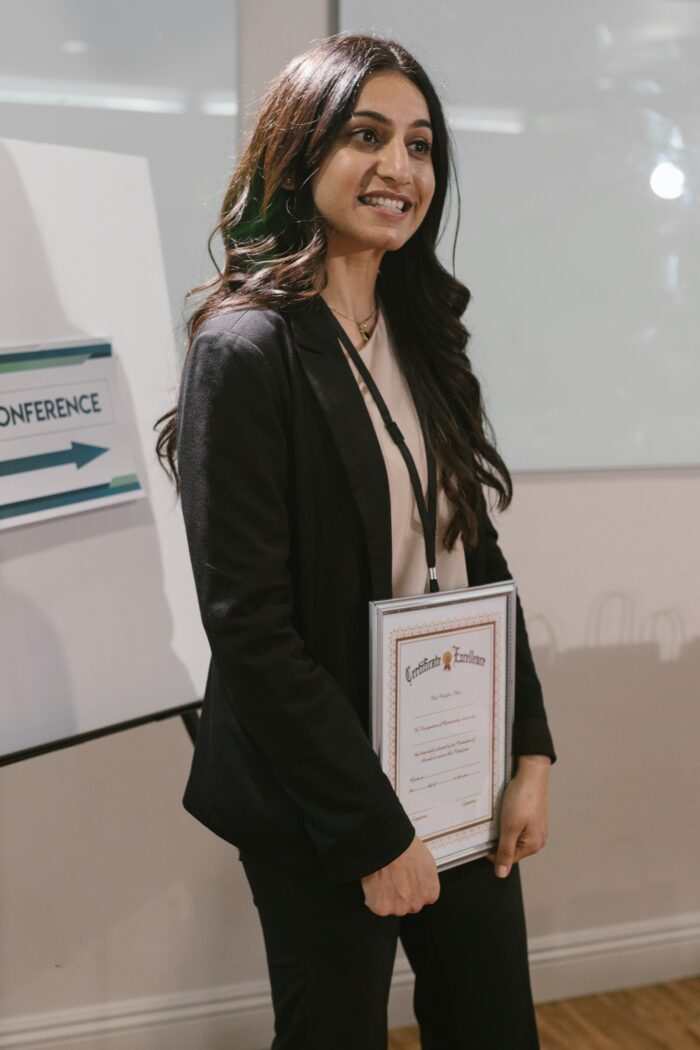 ---
How To Design A Completion Or Achievement Certificate
There are so many options when it comes to recognizing achievements and showing employee appreciation. An official document is a cost-effective method to achieve this because it's inexpensive to print while being relatively quick to design. If you decide to go this route, you'll want to spend time designing something thoughtful; a black-and-white photocopy with dated clip art will not work here. The good news is that there are a lot of options to help you create a striking certificate of completion that employees will love!
The Basics
Every completion or achievement certificate needs to have some basic elements to be effective:
Label (Certificate of completion, certificate of achievement)
Recipient name
Achievement, goals met, skills learned
Date
Witness or official signature
Company name/logo
Design Style
You'll need to select a style to design your certificates. From traditional to modern, the options can be a bit overwhelming. To help narrow things down, take a look at how your office is currently decorated. We recommend sticking with whatever theme you currently have to promote brand consistency. For more modern spaces, you'll want a certificate with less ornamentation (design elements like decorative borders) and a sans-serif font (like Helvetica or Futura). For more traditional spaces, ornamentation is encouraged with a serif font (like Garamond or Times New Roman).
Accent Colors
As we mentioned, black-and-white documents are boring and won't get noticed. You'll absolutely want to incorporate color into your certificates, whether that be in design elements, fonts, or background colors. Looking for inspiration? Again, look to your office for ideas. Is there a specific color used in your workspaces more than others, like a colorful accent wall or decor pieces? Then use that color for your certificates! If not, pull a color or two from your brand or logo to use as an accent for your achievement certificate.
Design Software & Programs
There are plenty of word processing and design programs available for both designers and newbies alike! For beginners, widely available word-processing programs like Microsoft Word or Google Documents offer users the ability to make basic certificates and some customizations, with free templates available to Microsoft users. For intermediate and advanced users who want a lot more design freedom, you'll feel more at home using a program like Canva or Adobe InDesign.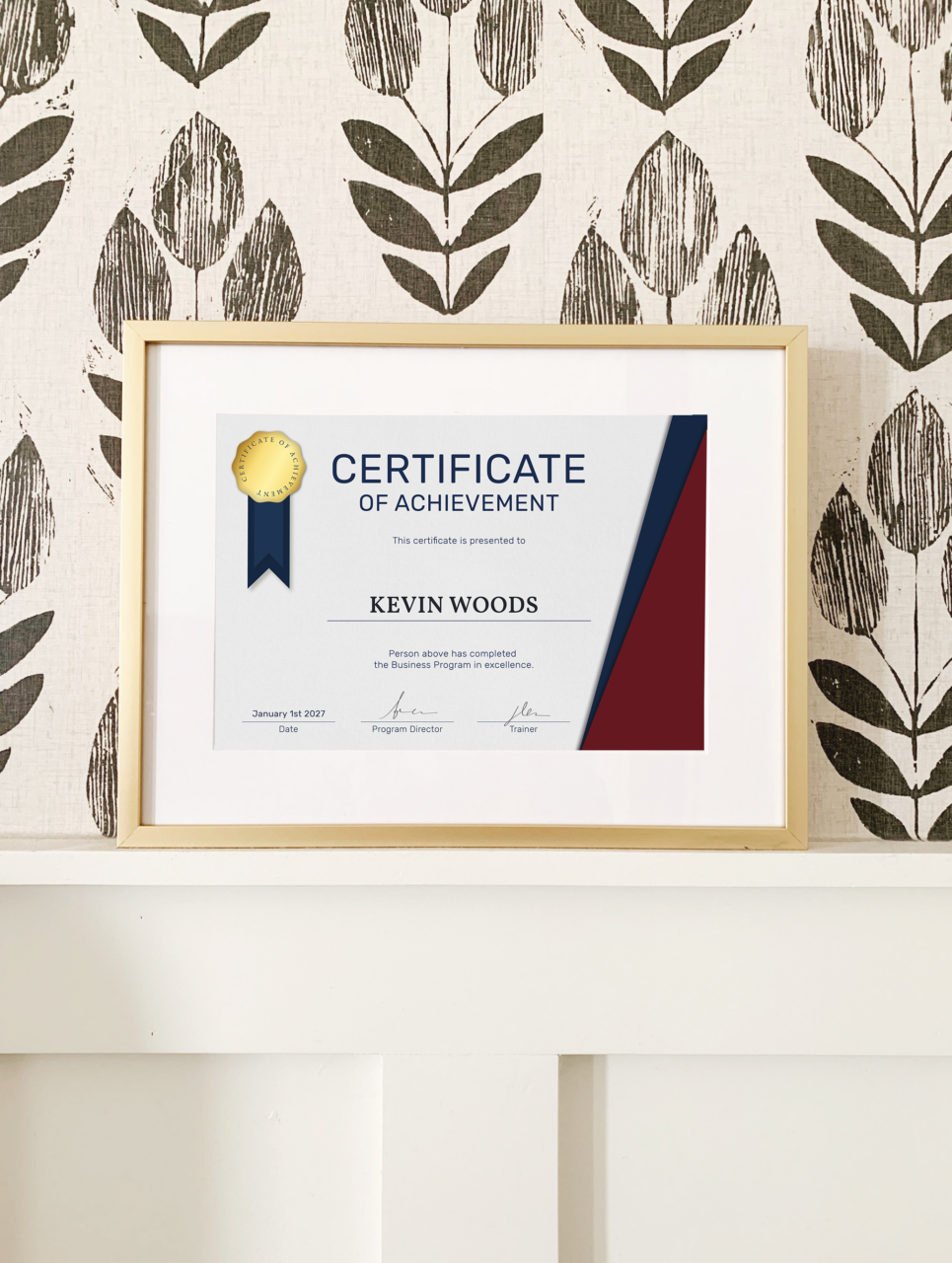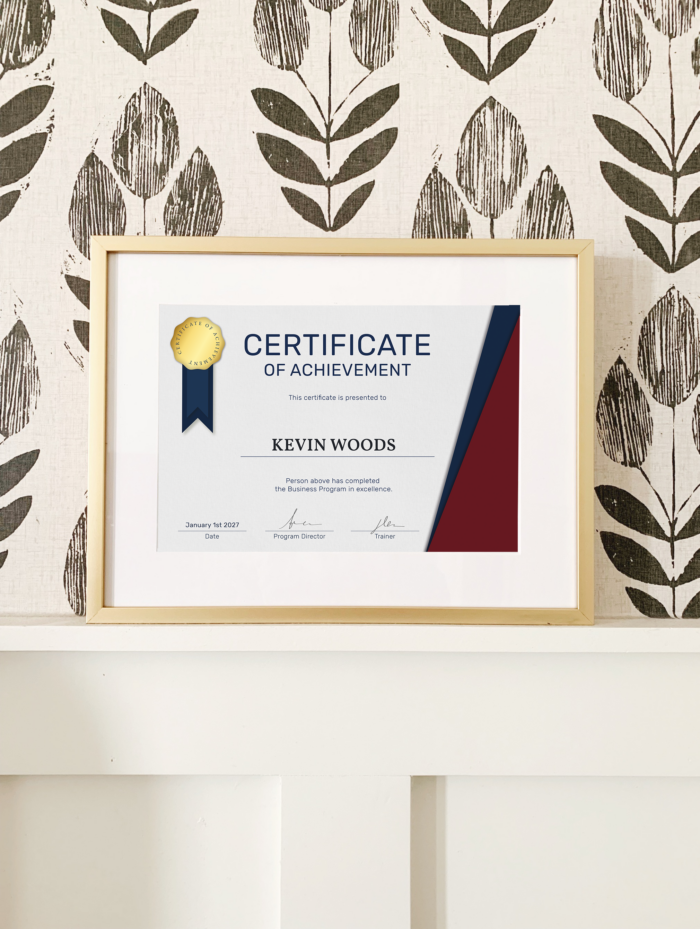 ---
How & Where To Display Certificates
Once you've got your design down, it's time to think about how you'll present and display your certificates. While printed certificates are acceptable, we recommend you frame them for a few reasons: First, it'll protect the document (paper copies tend to get torn, stained, or lost); second, it's more meaningful to the employee (a framed document has a much higher perceived value than unframed); third, you have a chance to showcase how talented your employees are, so display those accomplishments for clients, visitors, and prospective employees to see as it'll be sure to impress everyone!
Frame Options
We have several stunning frames that will complement any office decor! For modern workspaces, we recommend thinner face frames, like our Ashford frame. Pair it with a neutral-colored matboard for the ultimate contemporary expression! Alternatively, if you're looking for a more traditional option, our Granby frame comes in a variety of elegant finishes that blend beautifully with classic style. Choose a matboard that mimics your certificate's accent color to amp up the visual interest!
Ordering Frames
Once you've found the perfect frame and matboard combination, head over to our interactive frame designer! If you have a digital file, simply upload it, select your paper (we offer both photo and art paper) and cover (standard acrylic and non-glare acrylic are available) options, then we'll print, frame, and ship a ready-to-hang picture right to your doorstep. If you have a print, enter your achievement certificate size, select your frame and finish options, and we'll ship a custom frame straight to your office!
Where To Display
While it's totally acceptable to let employees hang their framed certificates in their own spaces, we recommend designating a specific wall to showcase all your employees' achievements! Adding a striking gallery wall to your break room, waiting room, or conference room, is a wonderful way to keep employee accomplishments organized and contained in a space where everyone can enjoy them. When hanging your gallery wall, be sure to leave at least 1″ between each frame with the center of your gallery measuring about 57″ from the ground.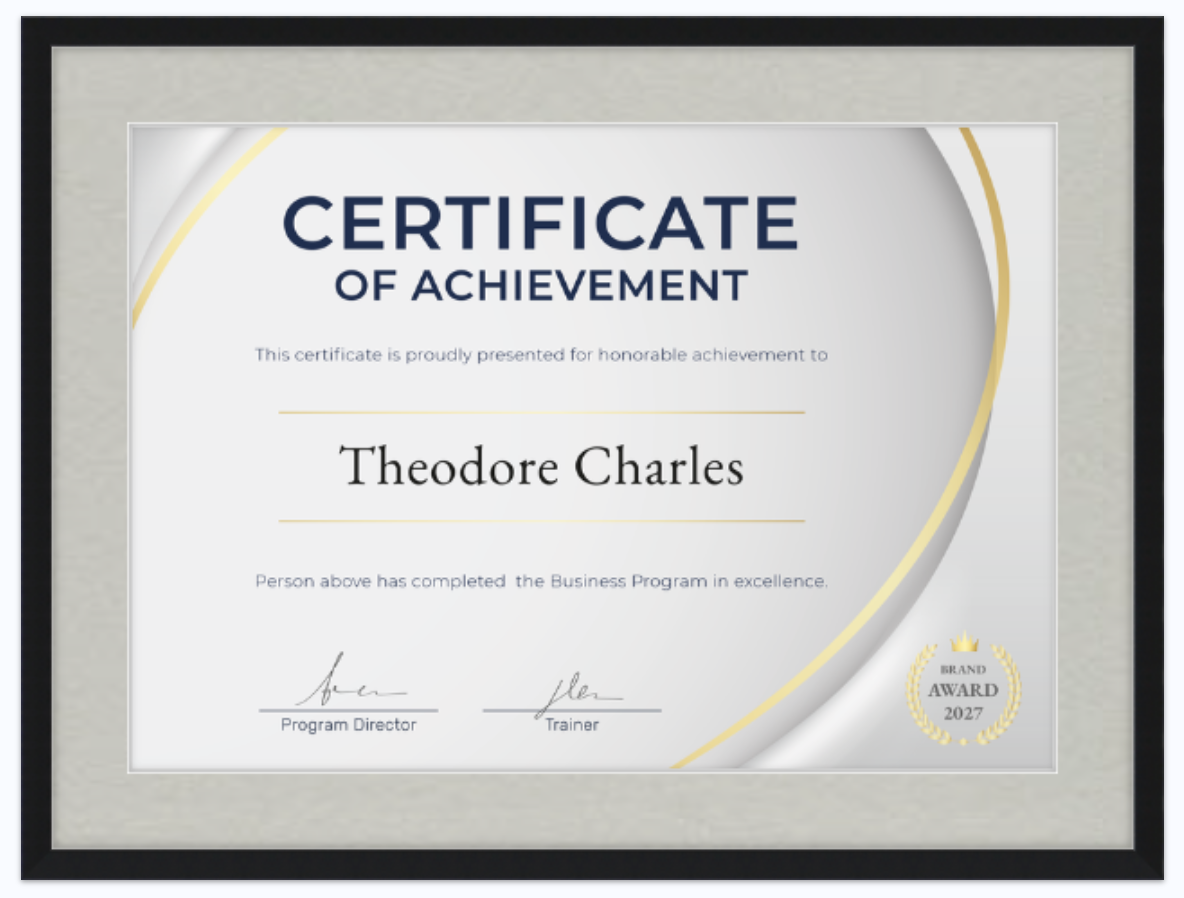 ---
Final Thoughts
Certificates of completion or achievement are a great way to recognize and reward your employee's hard work and dedication. Whether it's for meeting a goal, mastering a skill, or completing training, make sure to showcase accomplishments with a framed certificate! We hope this has been helpful and given you enough creative inspiration to start designing and framing your own certificates! And don't forget to share those framed masterpieces with us on social media!
Join our mailing list for instant access to a FREE achievement certificate!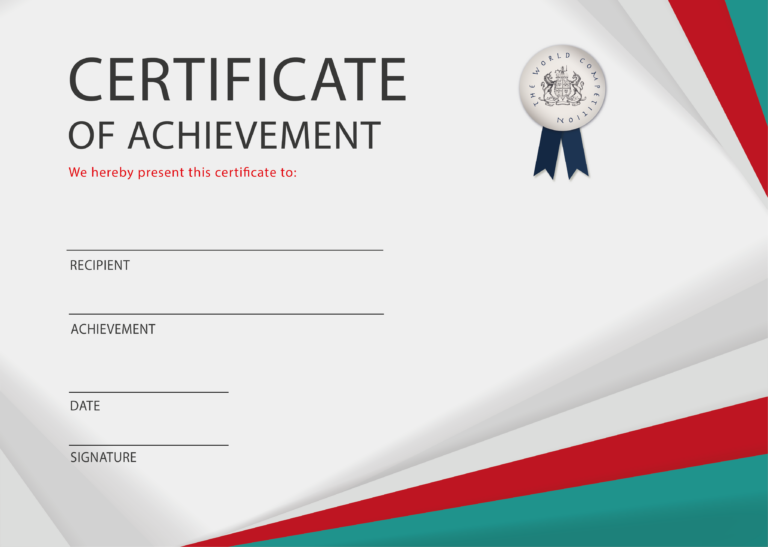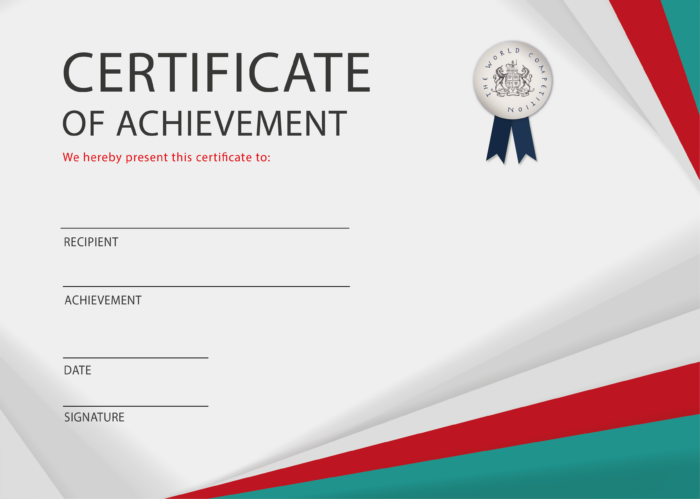 This post first appeared as Design & Display A Brilliant Certificate Of Completion Or Achievement on Frame It Easy - Learning Center for Custom Picture Framing.