There's something so clean and fresh about modern spaces. Sleek lines, reflective surfaces, and an emphasis on minimalism are all hallmarks of modern office decor, and when combined, they create some fantastic workspaces. Why is this such a popular style choice? Light, bright, and distraction-free, modern office decor lends itself to productivity and efficiency with an unadorned, no-frills design ethos.
If you want to get in on this red-hot design trend, keep reading for our favorite decor ideas to turn your average office into a modern marvel!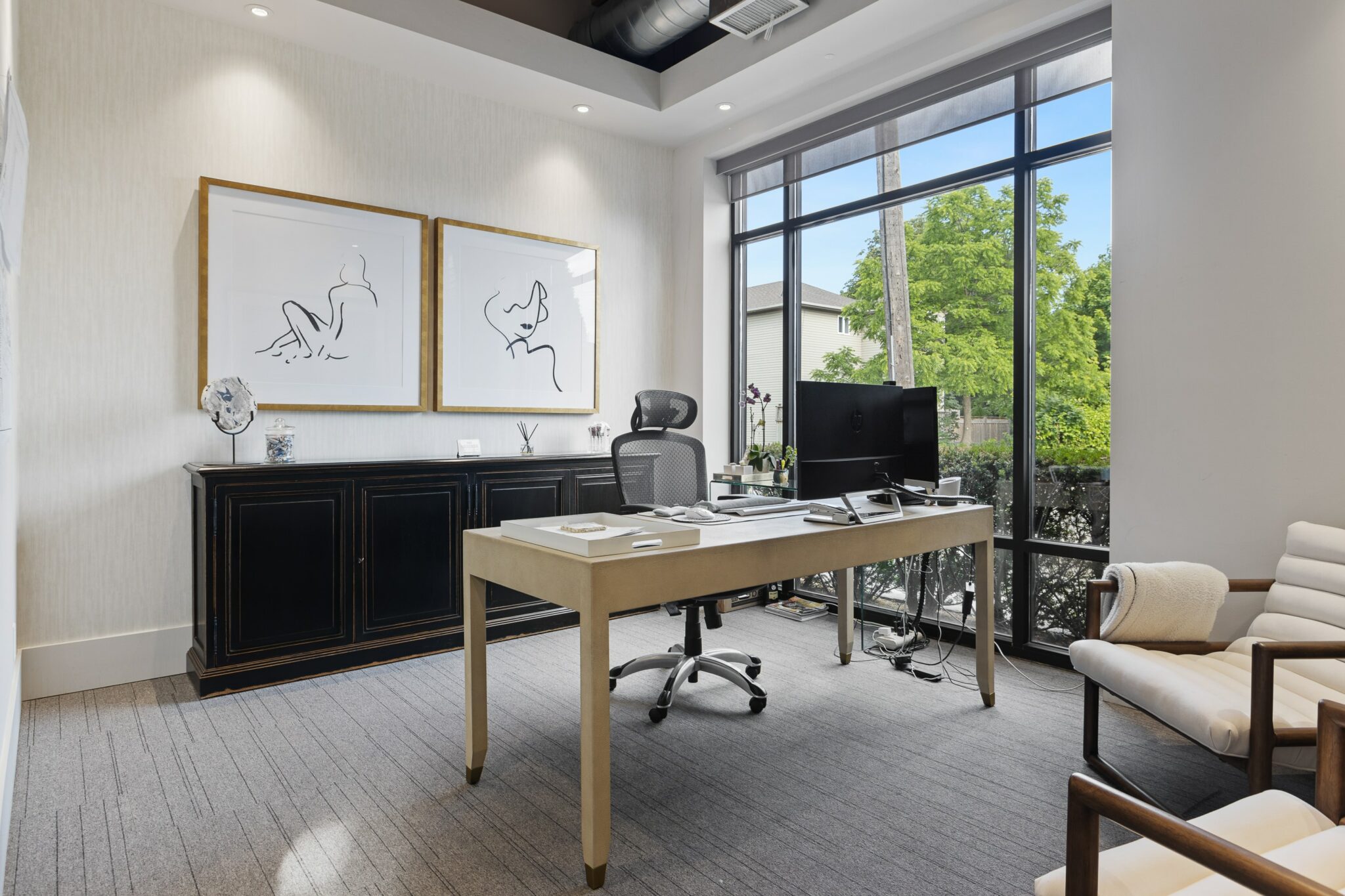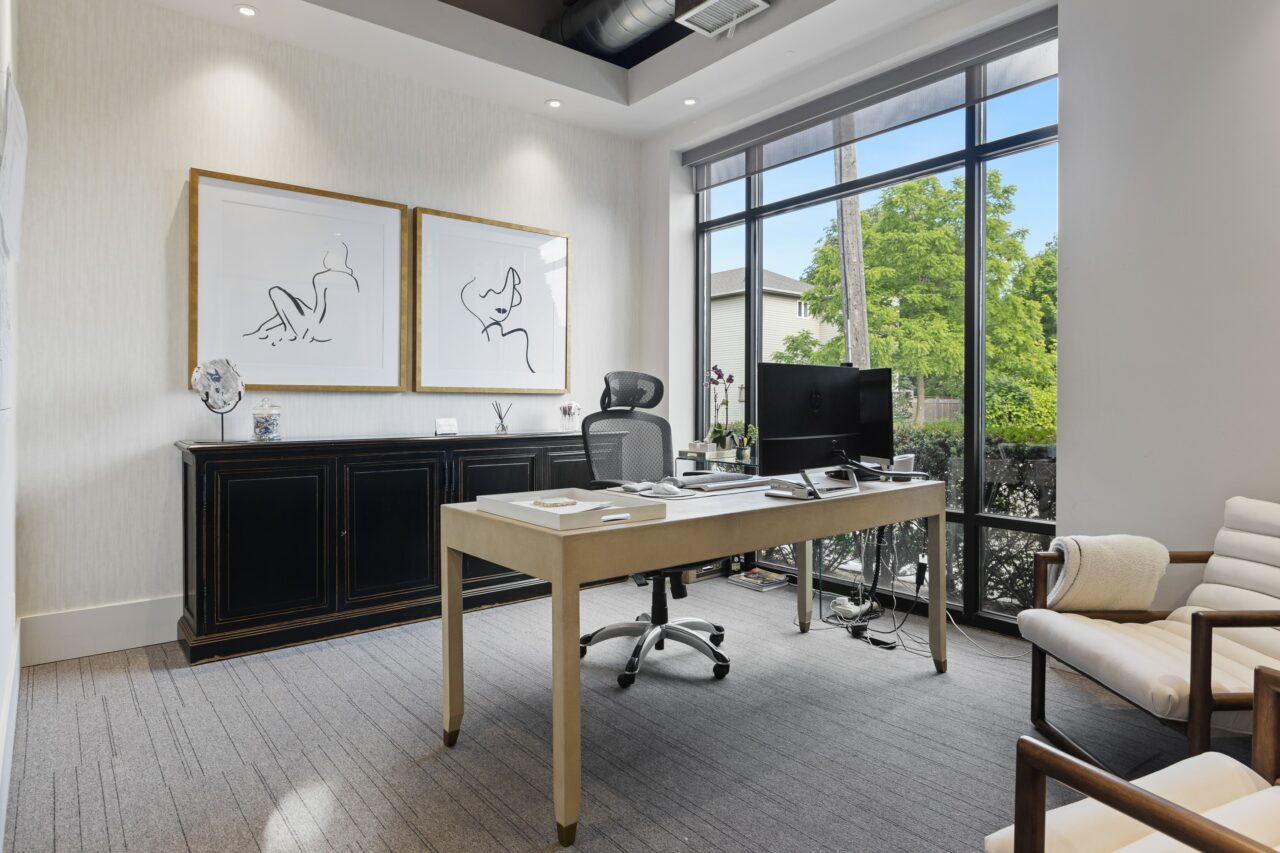 ---
Modern Office Decor: Furniture
Begin your search for furniture with pieces that have straight lines and a clean profile, and are made with glass, chrome, or metal. Wooden furniture with a thinner profile and no ornamentation works nicely too.
Anything in white, black, or monochromatic tones blends well, so white leather is especially popular in modern furniture. Vibrant but selective pops of color also enhance modern spaces; don't be afraid to add a yellow accent chair or bright green ottoman into the mix!
Secondhand Furniture
The most economical way to refresh your office furniture is to source secondhand or used pieces. Start with local yard sales, flea markets, estate sales, and Craigslist. If you're not finding exactly what you want, you can try Etsy for a unique mix of used and up-cycled pieces.
New Furniture
There are a variety of options if you're looking for new furniture at almost every price point. If you're not finding what you need locally, take a look at some of the furniture at AllModern, or head over to CB2 for even more options.
Refinish Furniture
Do you have furniture that could work for your modern space, but that's maybe a little tired looking? You can absolutely refinish or repaint your old furniture and transform it into something that looks brand new for a fraction of the cost. If you do choose to go this route, stick to light wood stain or a neutral paint palette.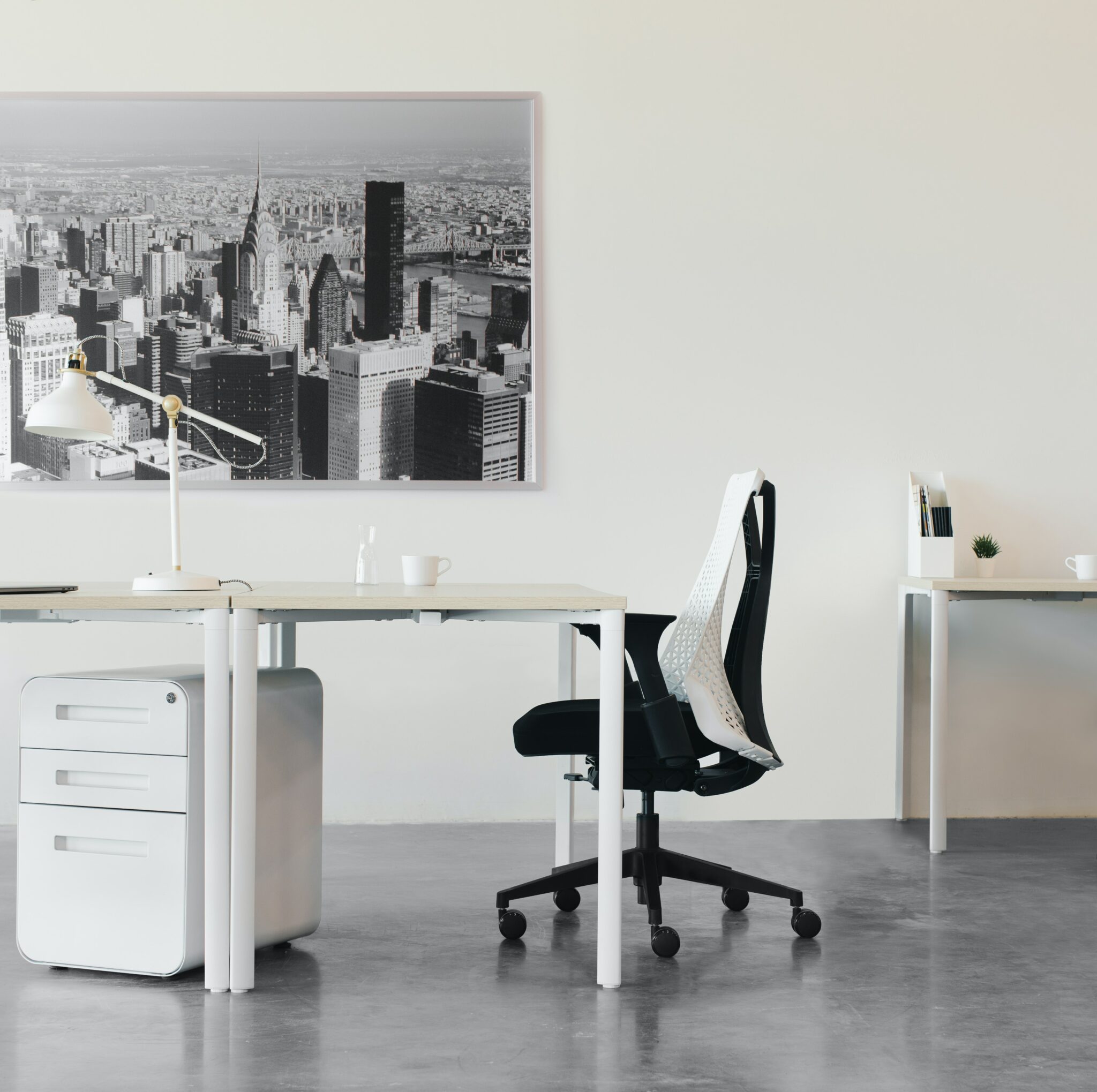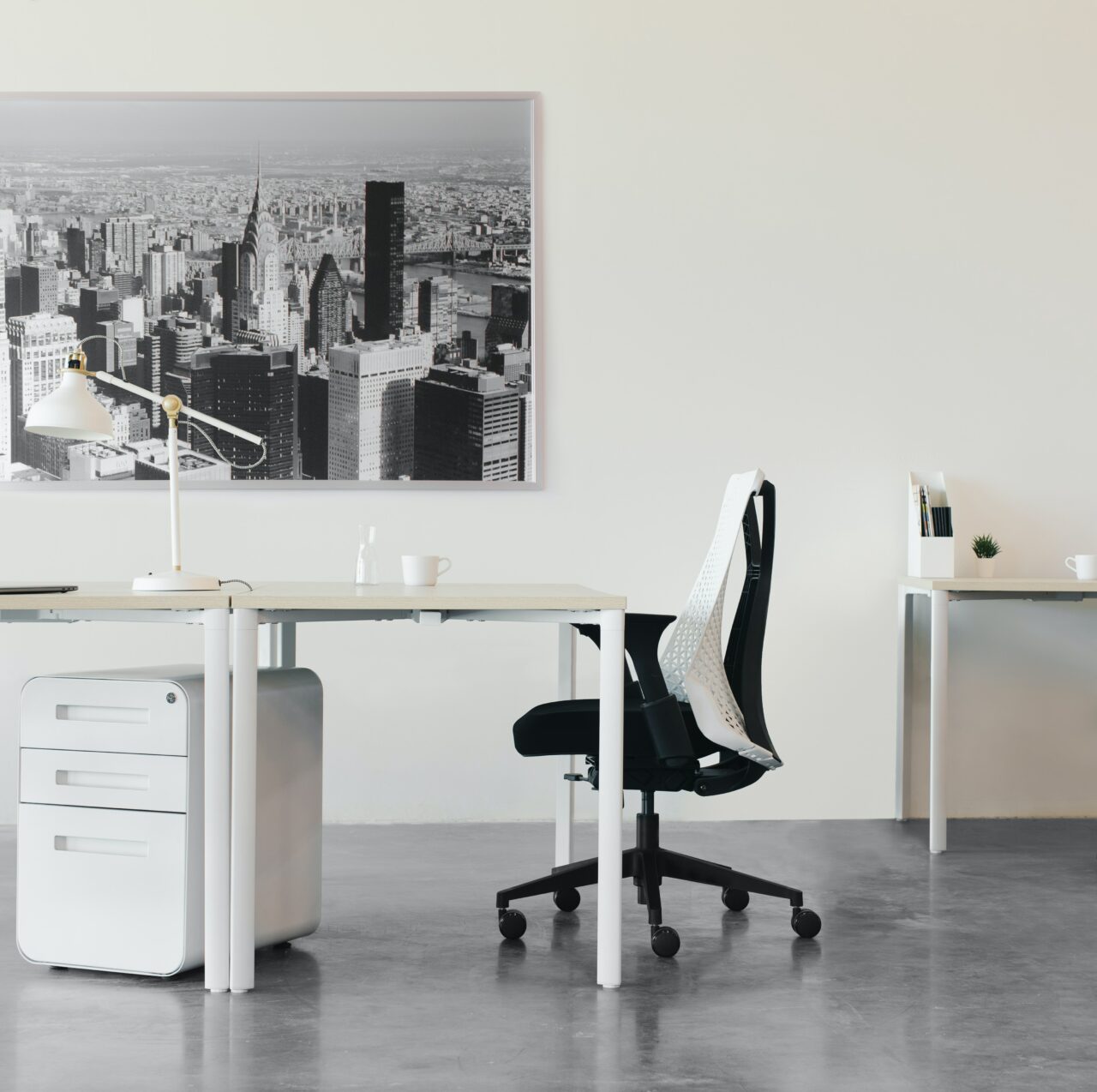 ---
Get office decor tips plus corporate framing advice, delivered right to your inbox!
---
Modern Office Decor: Wall Art
Artwork helps dress walls and pulls a room together. Modern art can take many forms, from photography to paintings, so it's important to decorate with pieces you not only love but blend well with your room style. Look for neutral tones with accent colors that mirror your others. In terms of content, abstracts, black and white photography, pop art, and geometric patterns all work well.
Free Artwork
If you're on a tight budget, your first stop should be our nifty guide on where to find free downloadable art online. One of our favorite places to find modern images is on Unsplash, it has a huge variety of free photos, collages, and paintings ready for download! If you'd like to flex your creative muscles a little more, why not try your own hand at abstract art? Additionally, if you own art that may work, try switching out the frames for an instant art makeover (pro tip: thinner profile frames, like our Ashford frame, with a white mat can instantly modernize art)!
Purchasing Artwork
Your options are almost endless when it comes to purchasing new modern artwork. Luckily, we've narrowed it down to help make your selection easier with a handy guide that covers where to buy art online! If you're still looking for that statement piece, you'll find and a fun selection of pieces on Society 6 as well.
Choosing Frames
Now that you've selected your art, it's time to frame! We have several excellent options that would blend beautifully in a modern space. First, we'd recommend our Ashford frame for its thin profile, and being metal instantly adds a modern twist to a traditional classic. We also love the Hanover frame for its minimalistic style and gently rounded face. Our Bradford frame is also a good match with its contemporary metal build and handsome lines. We recommend a white matboard with each for a clean, polished look. And, if you're hanging your pieces across from windows or doors, consider our non-glare cover to reduce glare caused from excess light!
Ordering A Frame
If you have a digital image, upload your photo to our interactive custom frame designer, select your frame and mat style, and we'll print, frame, and ship you a ready-to-hang picture. Don't have a digital image? That's alright! Enter your artwork size in the frame designer, and once you've selected your mat and frame styles, we'll ship you your frame!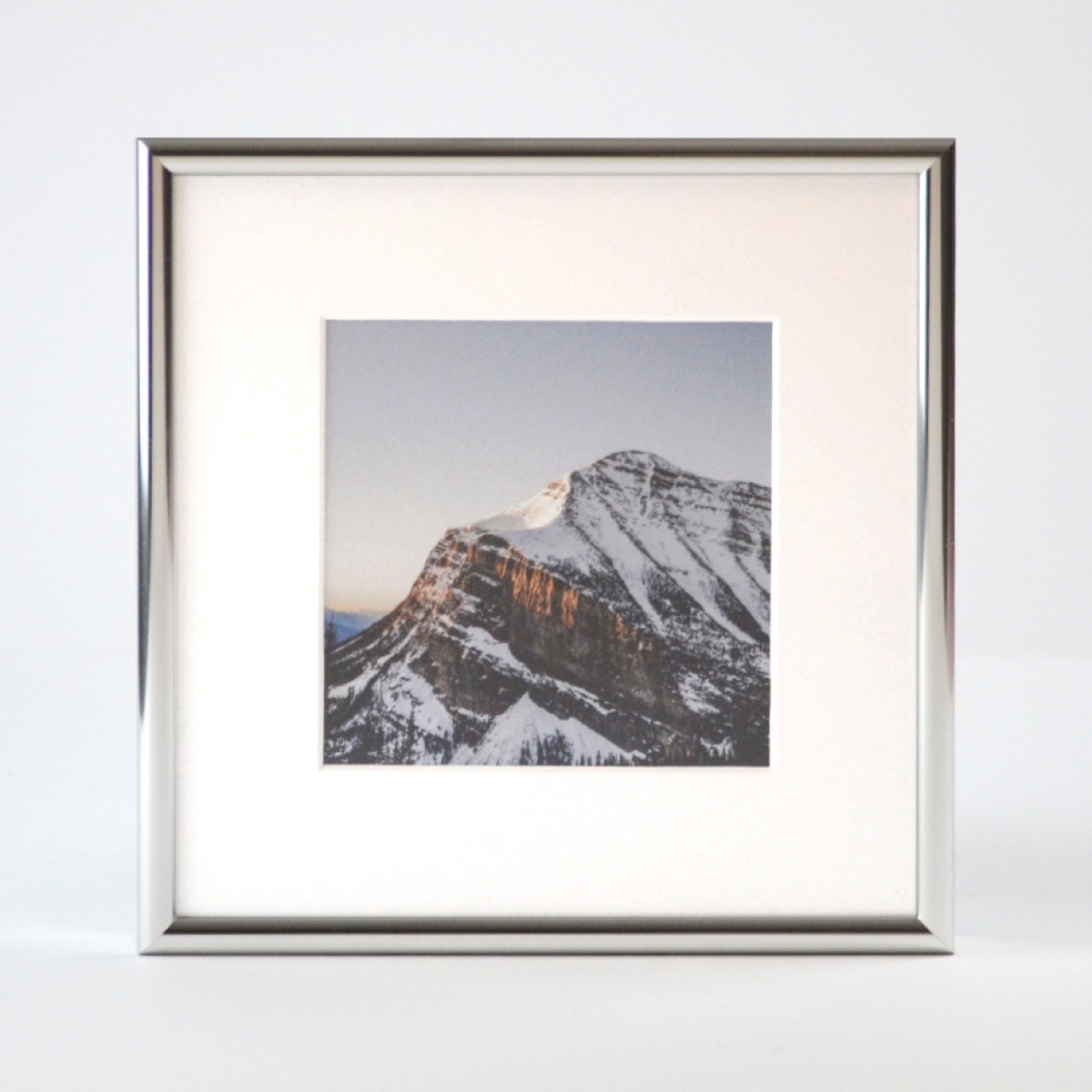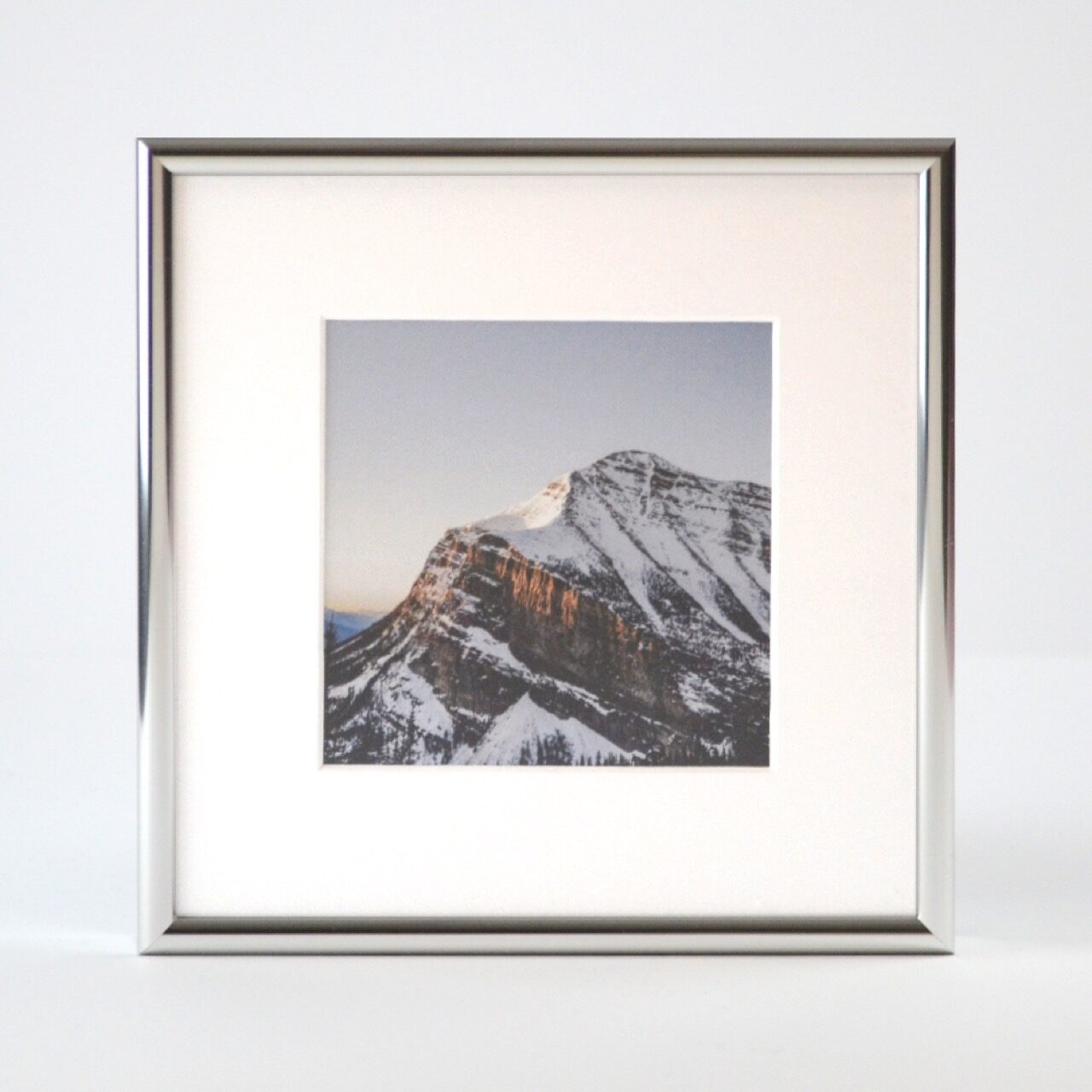 ---
Modern Office Decor: Accessories
Plants
We're big fans of plants because they add a beautiful organic layer to the room, plus they can boost your mood and productivity. For modern office deocr, look for a Monstera, a Snake Plant, or a Fiddle Leaf Fig. All three are relatively easy to care for and blend nicely with contemporary decor. Make sure to replace the pots they came in with bright white ones that have water drainage to ensure your plant stays healthy and looks great doing it!
Desk Accessories
Get a hand-crafted modern pencil holder made from concrete, metal, stone, or painted wood. Trade in your plastic paper trays for wooden or metal versions. Add a contemporary bowl to collect odds and ends, along with a potted plant to complete the look.
Rugs & Pillows
Rugs help pull a design together and add a sense of warmth to a space. For modern office decor, you'll want something with a neutral-toned base, and a simple design in either your accent colors or black. Look for straight lines, geometric patterns, or abstract swirls. Etsy has a nice selection of modern rugs in a diverse variety of styles and price points. Look for similar patterns and color schemes for your throw pillows.
Lighting
Good lighting is essential to staying productive, so don't overlook it! We'd recommend a table lamp or task lamp for your desk, and a floor lamp for background light. Look for contemporary fixtures finished in chrome, shiny metallics, white, or black.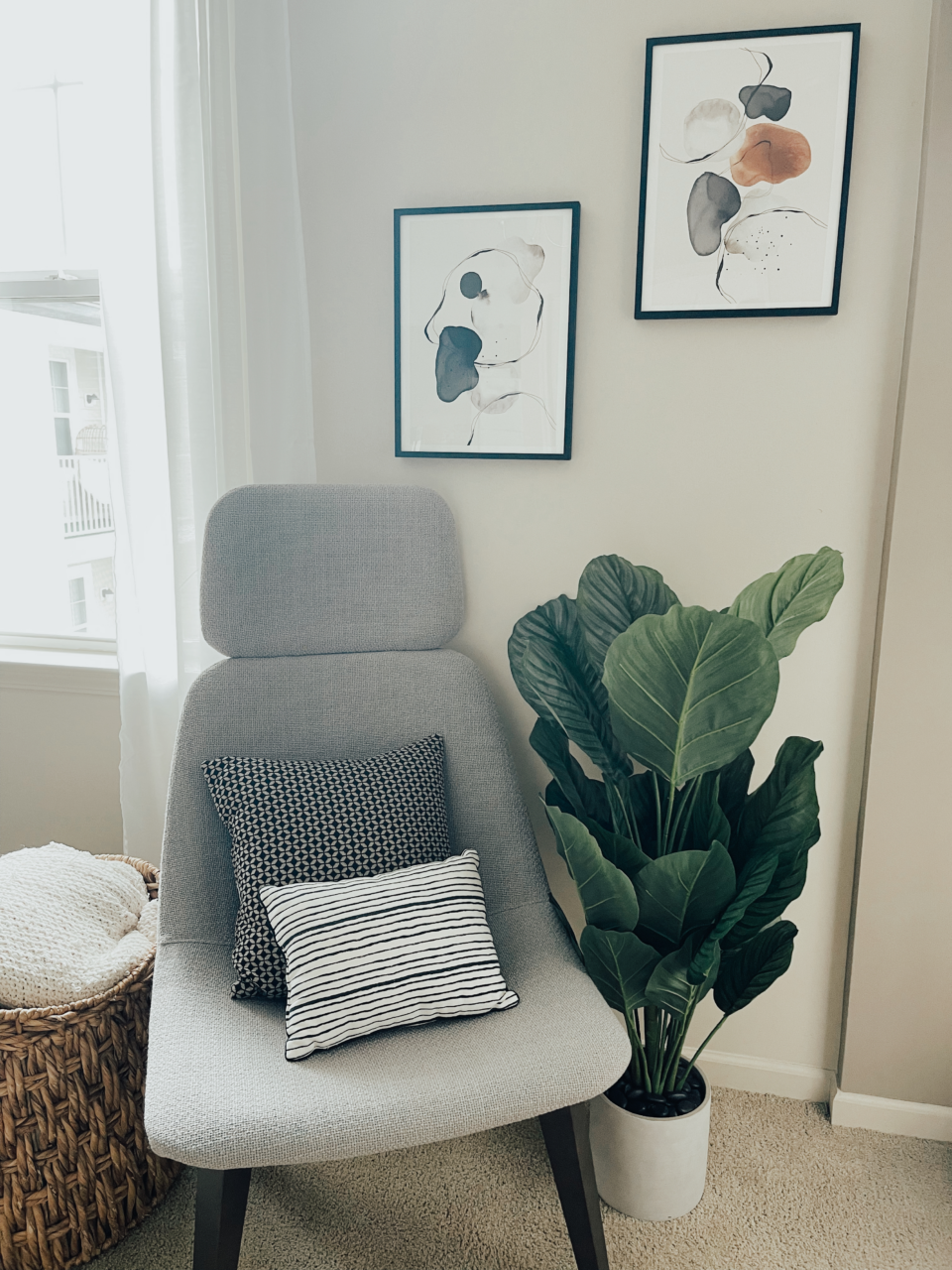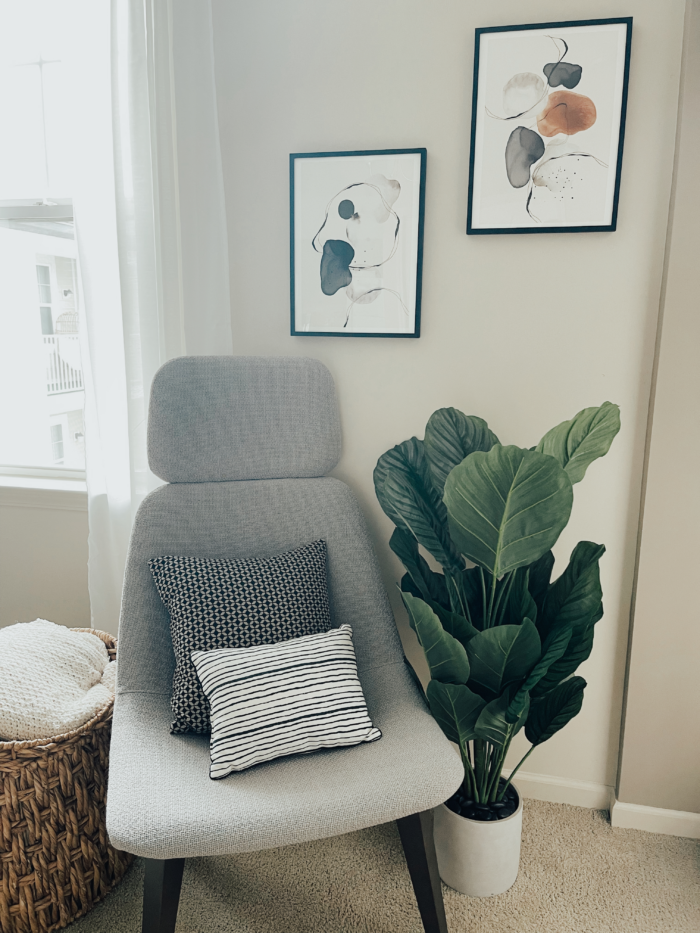 ---
Final Thoughts On Modern Office Decor
Turning a tired space into a modern masterpiece doesn't have to be difficult! Modern office decor calls for clean lines, unadorned furniture, and neutral tones with pops of color. Carefully selecting furniture, artwork, and decor will have your office turned around in no time! We hope that this has given you some brilliant design ideas, so once you're finished decorating, share your creativity with us on social media!
And before you go, do you have an empty shelf in your office that could use some sprucing up? Watch the video below to learn how to style your shelves like a pro 👇
Free Art Prints
Join our mailing list for design tips and exclusive freebies and get 2 free modern art prints instantly!
This post first appeared as Must-Have Modern Office Decor Ideas on Frame It Easy - Learning Center for Custom Picture Framing.