We get it — choosing a color for your home can be quite a daunting task. What if you don't like it in a few years, what if it doesn't match your updated decor, or goes out of style quickly? Trends are constantly updating and changing and it can be hard to keep current with all of them. If you've been to our Learning Center before, you probably know our golden rule — when it comes to home decor, it's important to do whatever you think will look the best, since you are the one living there.
If you're having a hard time choosing a color for your home or can't decide on just one, why not add a color block to your wall? If you've never heard of color blocking before, great, let us be the first to introduce you to it. If you have heard of color blocking, keep reading below, maybe you'll find some new inspiration on how to add it to your walls!
Home decor should be fun and it should reflect your personality. If you're someone who likes bright colors and lots of patterns, be sure to add that around your home. If you're someone who likes neutral colors and simple things, go for that! Be sure to do whatever you like and what you think will look best. Our suggestions are simply just that — suggestions! So take what you will and leave what you won't and don't be afraid to put your own little twist on things.
Now, let's get into what color blocking is and how you can add it to your space!
What Is A Color Block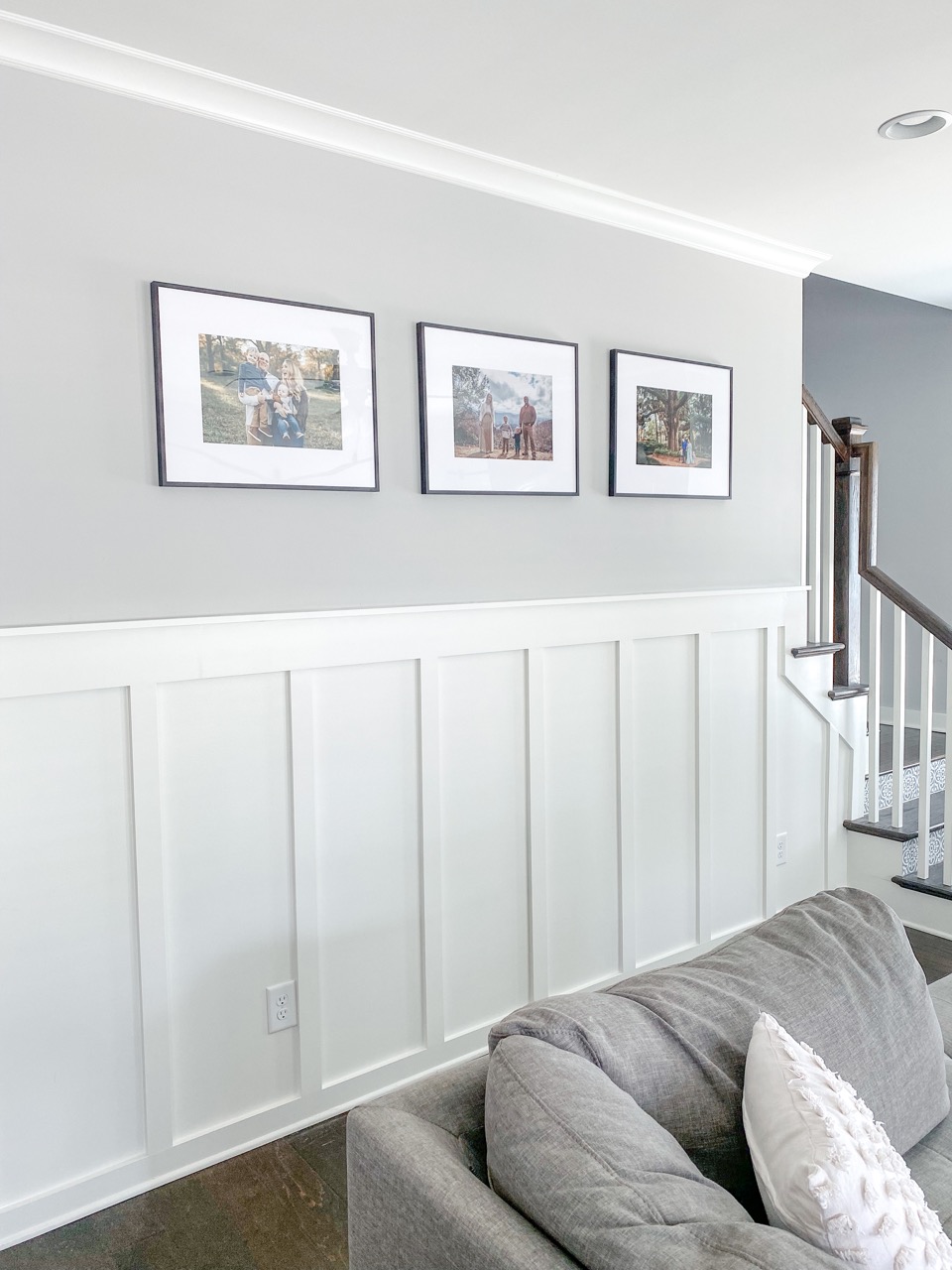 Color blocking is defined as the use of contrasting blocks or panels of colors. The use of two different colors, whether they are neutral or bold, can create a unique and eye-catching look. Color blocking usually uses bold, unexpected colors and steers away from the neutral, subtle shades. However, this is your home, so all rules go out the window! If you are up for the challenge though, try to pick colors that you might not normally use together on your walls such as pink and blue, emerald and amethyst, turquoise and yellow. The list of color combinations that you can use is endless.
Color blocking originally started in the fashion world but quickly became popular in the home decor world because of its unique look. There are so many great ways to add color blocking to your home and it is the perfect time to get creative and try something new. With the new year coming up, why not try something new and exciting that you haven't tried before?
Now, let's get into some of the many ideas on how to add color blocking to your decor.
Start High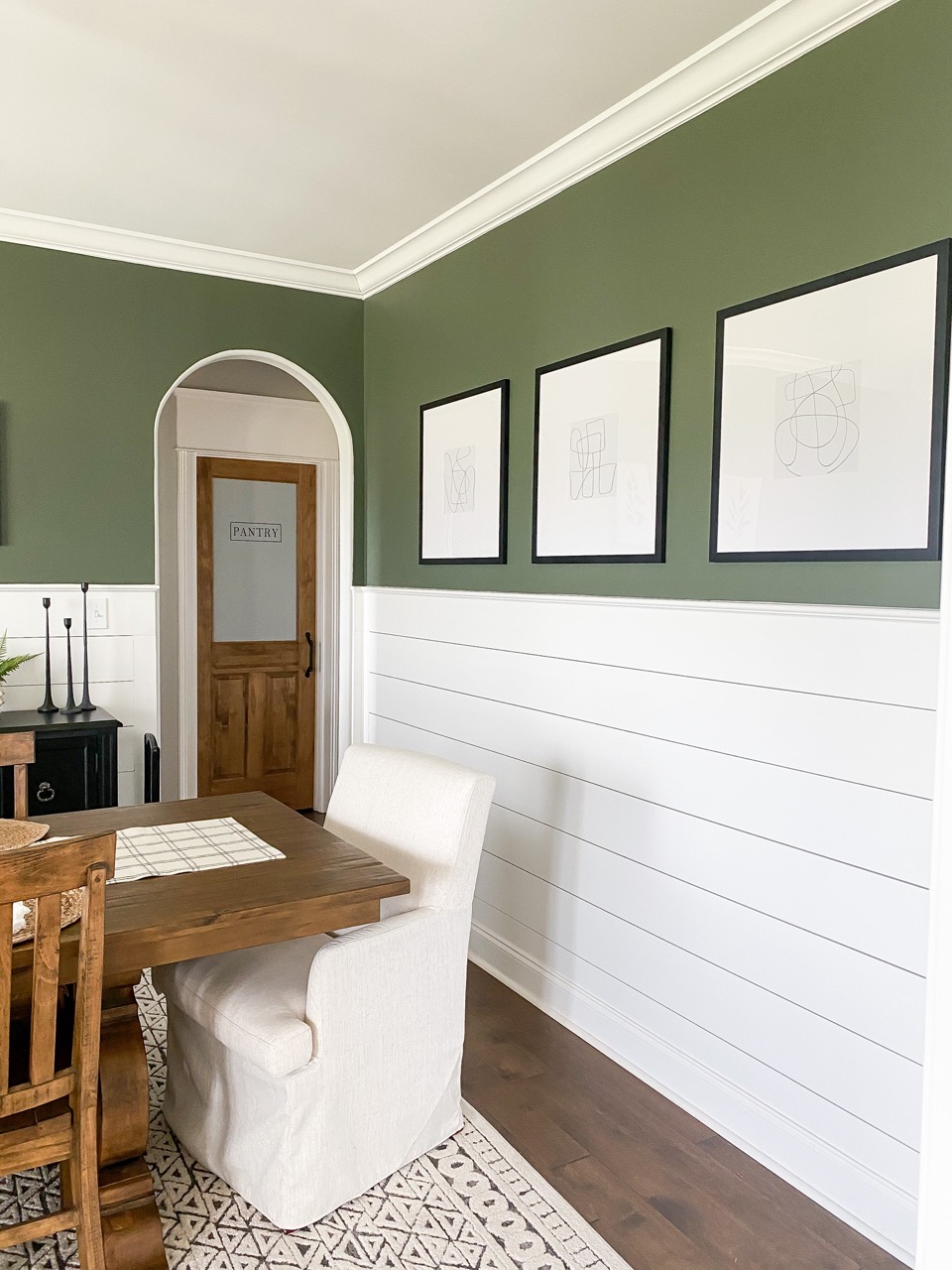 Instead of painting your whole wall one color, why not split it up. In the photo above, they chose to paint the top half of their wall green and added white shiplap to the bottom half. This creates a statement without having to say too much. The contrast between the bright white and the green is bright enough to catch anyone's eye instantly. The use of natural materials such as the wood floor, dining table, and chairs connect everything to give the room some texture.
Want to go even higher? Don't be afraid to take the paint up to your ceiling. We've talked about the fact that statement ceilings are going to be big in 2022, the bring a new dimension to your space by not limiting your decor to just 4 walls. It's not limited to just paint, however. You can choose a fun patterned wallpaper which can make it easier to switch up in case you get bored or want a refresh.
Take It Low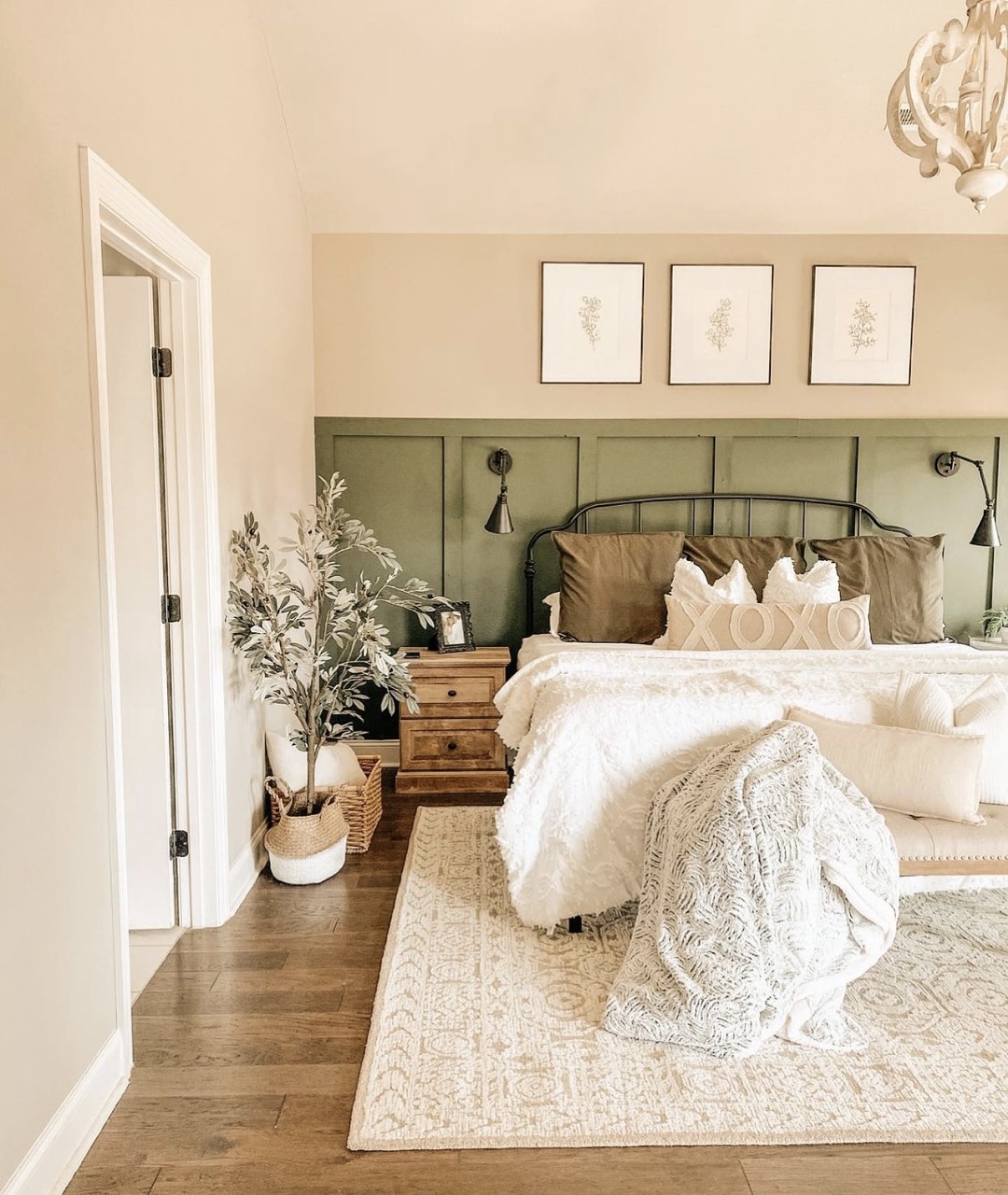 Is the section above not for you? Why not try the complete opposite. Make a statement with a painted grid wall on the bottom half of your wall. The mix between the warmer tan shade and green gives a cozy and comforting feel to the bedroom. Your bedroom should be the most personal and relaxing space in your home, so the warm shades of color work exceptionally well, but don't be afraid to use bright colors instead.
Just like your ceiling, the color block doesn't have to stay just on your walls. Bring the color down to the floor to highlight your woodwork. It can be the same color as your walls or can be a pop of color while you keep your walls neutral. The possibilities are truly endless!
Start Small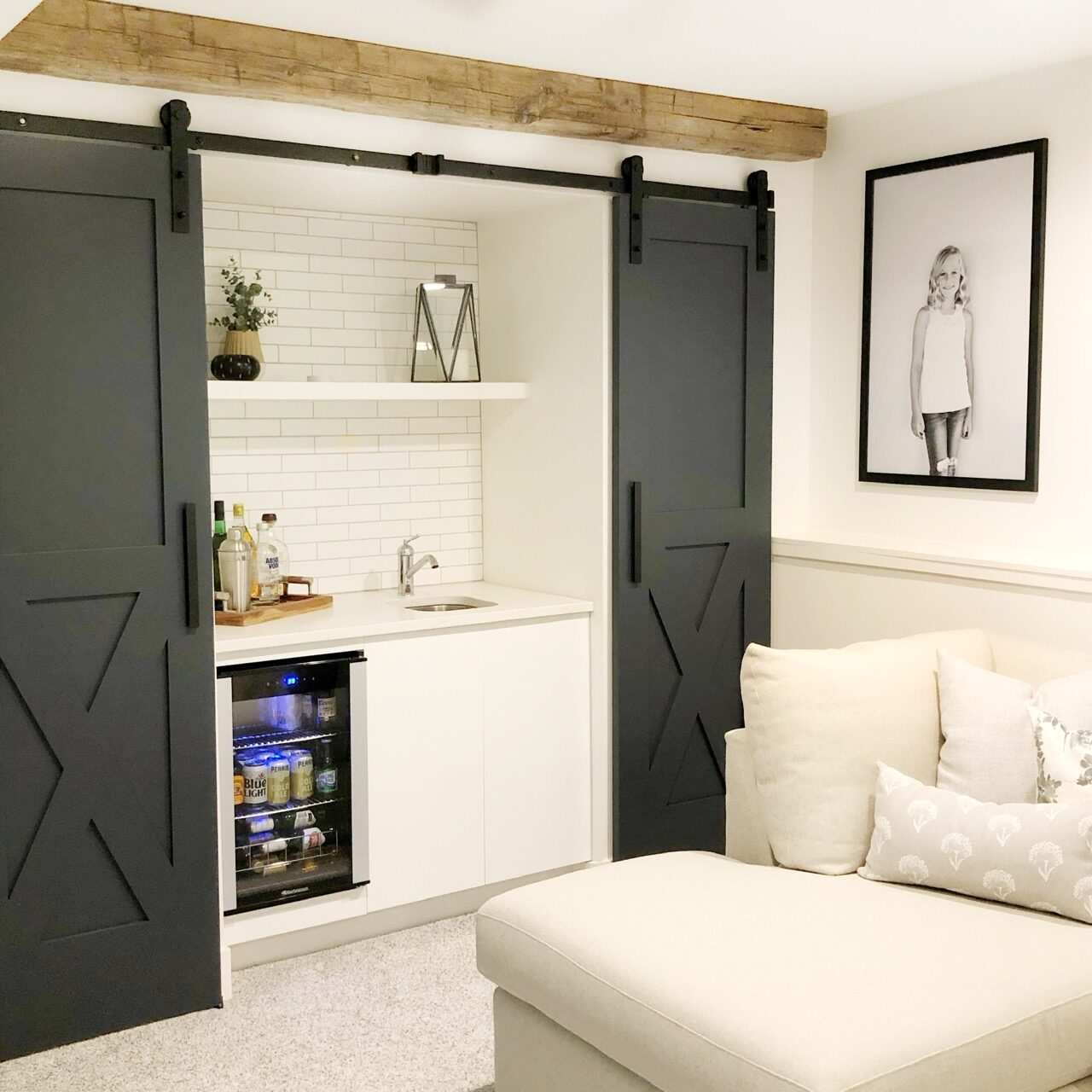 Not quite ready to go full out with the walls? Start small and try adding it to your door or other furniture items. Pick the color of your choice and create an appealing look for any room. You can try different abstract designs, paint the entire thing, or try painting shapes and objects to create a bold look.
Painting the doors black creates a statement without going overboard. They are simple enough to not distract from the rest of your decor but add enough to make people look. Another great idea is to paint an armoire, closet, or other furniture item and give it an upscale look. Whether it's an old piece of furniture that has been stored away or a piece your recently found at your local thrift shop that needs a little revamp — try something new and give it a fresh look.
Go Big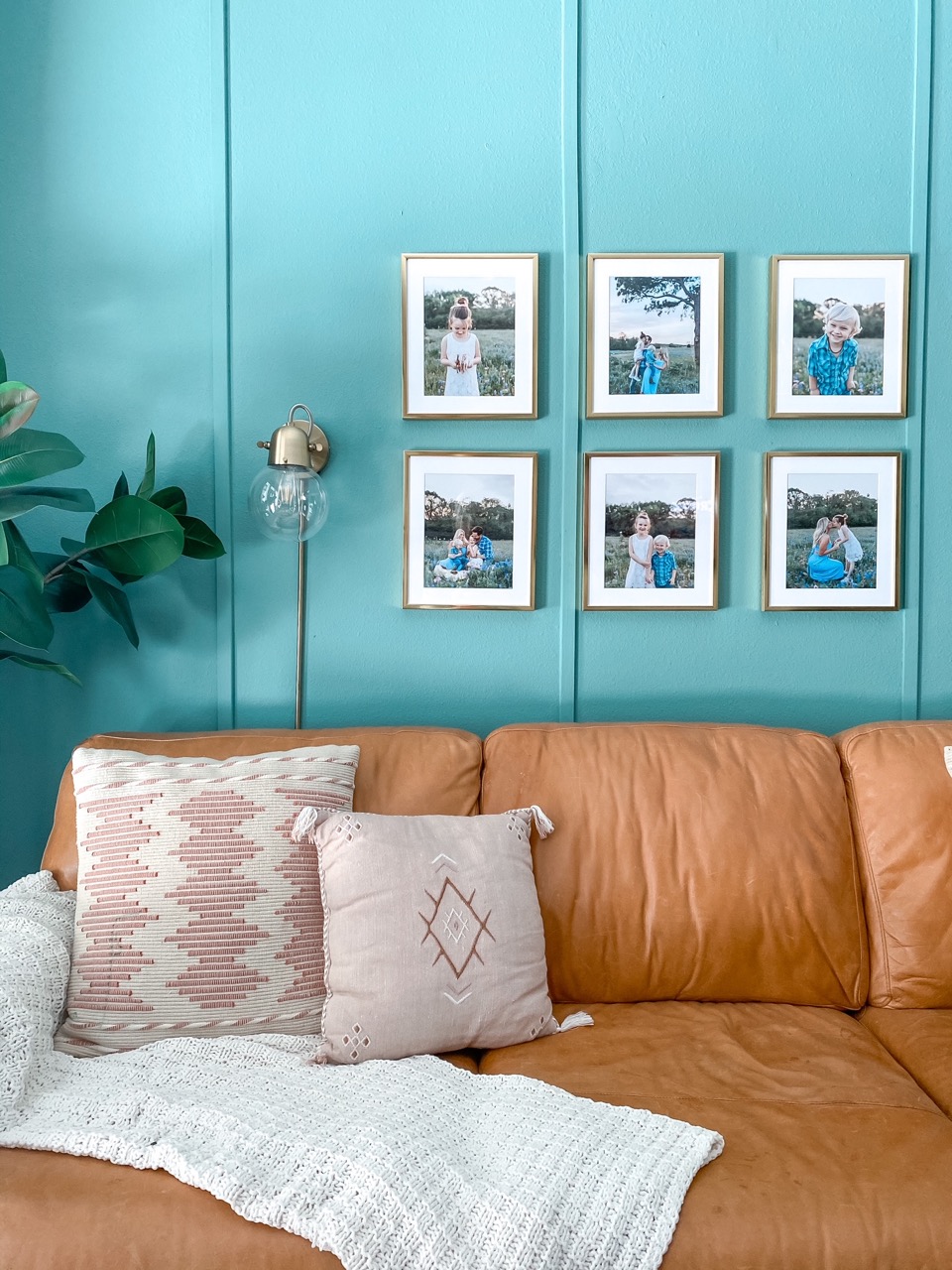 Color blocking is known for its bright and vivid colors, so if you're not afraid to go all out, go for it! Let's liven up your walls with some bright colors and make them pop. The contrasting tones between the blue wall and the brown sofa create such a grand presentation. Home decor should be fun and creative and this room does just that! Paired perfectly with our Ashford frame style in Gloss Gold creates the perfect match.
Dark and Gold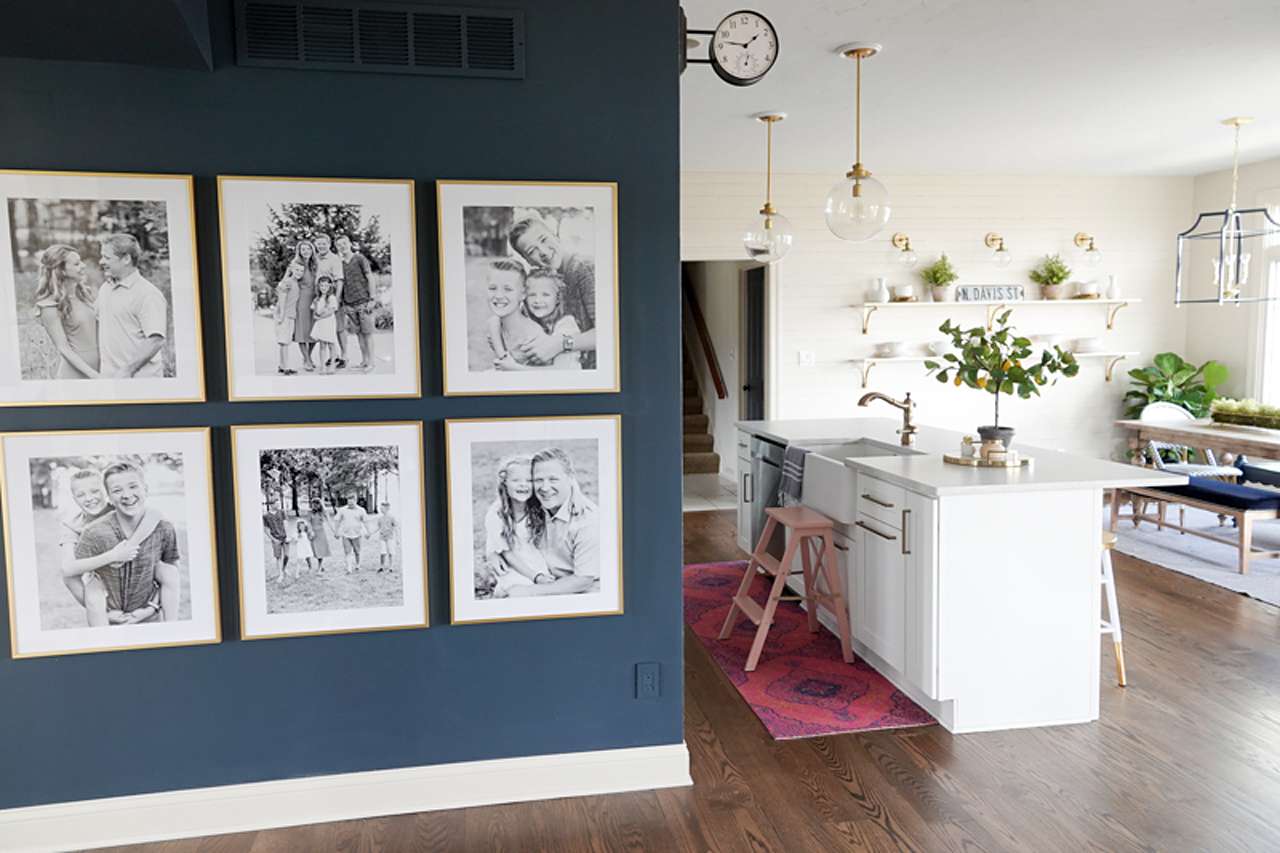 Dark colors in your room may seem scary. It can make your space feel small and like it's closing in on you and that's why many people tend to go with lighter colors to liven up the room. But they don't have to feel that way if done correctly. In the photo above, they painted the entire room a dark blue but kept the trim white. This lets the eyes depict where the wall ends and where the floor begins. They also used our Ashford frame style in Satin Gold to liven up the wall and make the photos pop. The dark walls and black and white photos also create an amazing contrast that would make any guest stop and stare.
Final Thoughts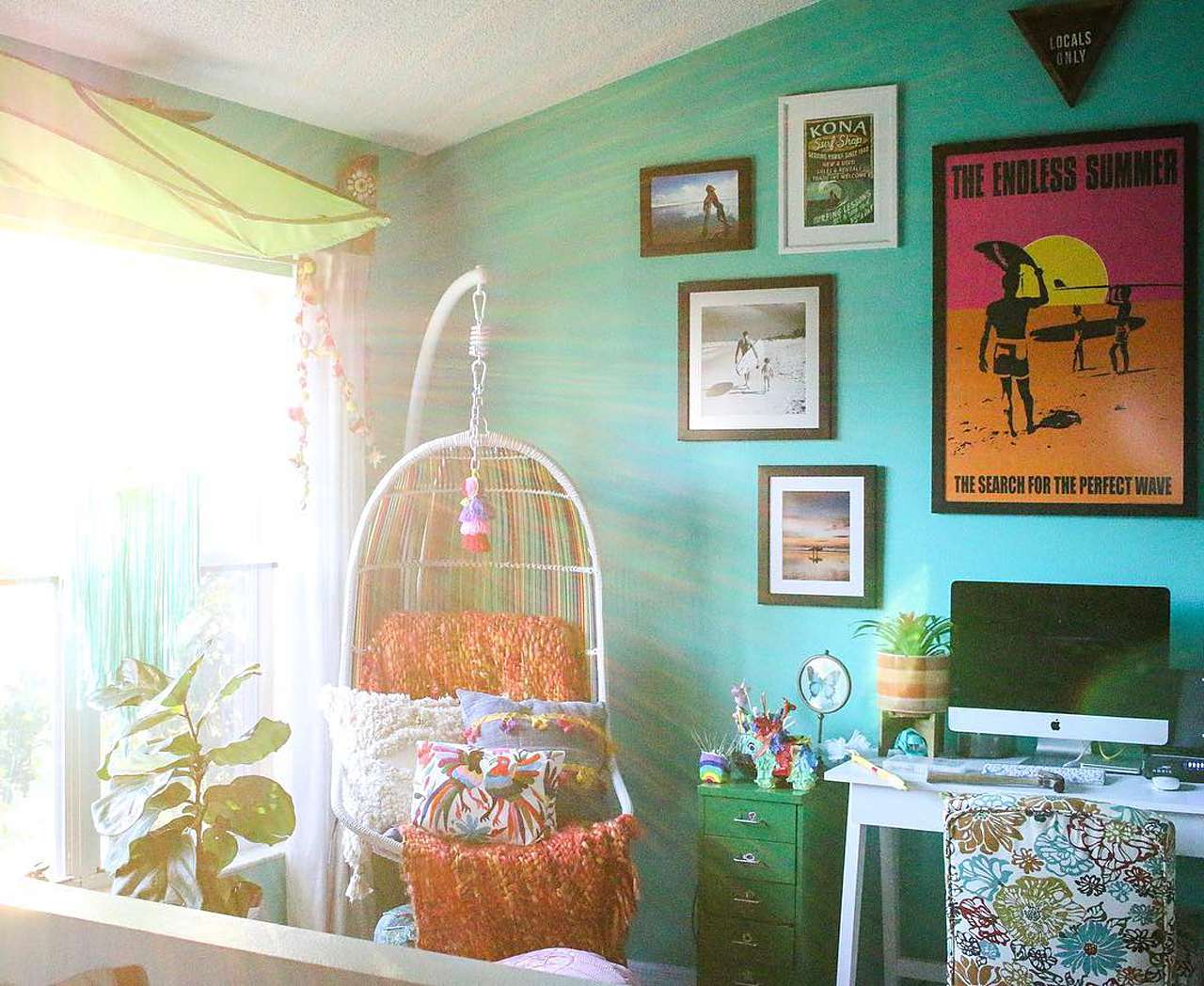 We hope that you found some new inspiration for your home with color blocking. It can truly transform any ordinary decor into an outstanding work of art. Remember — home decor should be fun, so don't take it too seriously and try something new!
If you took any of our tips or came up with something on your own, don't forget to share it with us on social media so we can see what you decided to do with your decor.
Looking for more inspiration? We have tons of ideas on our Learning Center for you to look at!